Finding the best gifts for photographers is no easy task. Not only is photography an expensive hobby or job, but photographers can be a picky bunch when it comes to their equipment.
But after years of shooting ourselves, we are going to show you 50 excellent gift ideas for photographers spanning the entire budget range.
So whether you are looking for a Birthday present, Christmas gift or shopping for Black Friday deals, we have compiled an extensive list of thoughtful gifts for photographers ranging from $10 to expensive!
Our popular photography gift list includes items for both beginner and pro photographers. You can shop based on the following categories:
Best photography accessories
Tripods and gimbals
Drones and GoPros
Peak Design products
Photography books and subscriptions
Best cheap photography gifts
Camera and lenses
The goal here is to give you a useful list featuring gifts for photographers they will actually love and use in the field. Our recommendations are based on our own photography experiences.
Now, let's find the perfect gift for your photographer!
Best Accessories Gifts For Photographers
We are going to start this gift list off with the best photography accessories on the market. The price of the items throughout this first section typically fall within the mid-range budget price.
This photography accessories gift list will help save you time researching what brands to buy because we only suggest top rated products. Every item below has been tried and tested by us.
Any of these photography accessories would make for a useful birthday gift or Christmas present for the photographer in your life.
We know because we have personally asked for these photography items from family and friends for both Christmas and birthday occasions. It's taken us a few years, but we have finally stock piled enough photography accessories for our needs.
Here are the accessories photographers can't live without when shooting or traveling:
---
---
Photography Tip: We always carry at least 3 spare batteries no matter what. Battery life decreases significantly when shooting in cold weather so it's smart to have a few back ups just in case.
---
---
---
---
---
---
---
---
Best Tripods And Gimbal Gifts For Photographers
Next on this photographers gift list is tripods and gimbals which can be used to stabilize their equipment when in the field.
Tripods are essential for photographers to capture images using slow shutter speeds for best results. A tripod is typically used in low light scenarios like shooting at night as well as for astro, sunrise and sunset photography.
We own both a travel tripod as well as a much larger photography tripod for when we are home in the United States.
---
---
---
---
---
---
Best Drones And GoPro Gifts For Photographers
Photography and videography have been elevated to new heights (pun intended!) in recent years with the introduction of drone technology for the everyday consumer.
There can be many flying restrictions and drone operators may require a license to fly, but in our honest opinion, drones are a game changer for content creating.
We purchased our first drone in 2020 and it has been one of the best purchases we have ever made because it gives us an edge with our photography.
Many of our drone shots are featured in Gestalten's Great American Road Trip.
Photography usually begins as a fun hobby but quickly transforms into a costly addiction. We now have a drone amongst a lot of other expensive top spec equipment.
But the beautiful thing about photography is anyone can start learning with very basic equipment. We started our photography journey with just a smartphone and a GoPro.
---
---
---
Photography Tip: A GoPro is nothing without accessories. Don't miss these GoPro Hero 11 accessories as well as this GoPro protective casing to keep your investment save when driving, mountain biking, running, scuba diving and exploring.
---
---
Peak Design Gift Ideas For Photographers
Peak Design are a camera carry solutions company based out of San Francisco and their ultra-useful products are exploding in popularity among photographers.
We personally own half of the stockroom at Peak Design and fully intend to systematically mop up the remainder. Initially, we included PD's products in the accessories list, but decided it deserves its own section.
Almost all Peak Design products are interchangeable as they use the same attachments and anchors, genius!
You photographer recipient would love a Peak Design gift, trust us! The gifts items below range between a few cheaper ideas to expensive photography options.
---
Interested in the Peak Design Everyday Backpack? Read our detailed review for the Peak Design Everyday Backpack which we use to hold our camera bodies and lenses every time we travel.
---
---
---
---
---
Best Photography Books And Subscriptions To Gift
We believe photography is a never ending journey. There is always something to learn and a good photographer uses everything they can to learn new tips and tricks.
Most of the books we list below are particularly useful for both beginners and intermediate level photographers who need a helping hand with a certain style of shooting.
Lack of internet access on road trips or in less developed countries can be a real problem. But having all of the information at hand in one resource is certainly worthy of a few books.
Below are a few of the photography books or subscriptions we have personally used and love. Keep in mind you can also purchase kindle versions as a gift idea for your photographer.
---
---
---
---
Does your photographer love the US National Parks? You could also consider gifting them an America the Beautiful Pass or Passport to America's National Parks to help them document their adventures.
---
---
---
---
Best Cheap Gifts For Photographers
Overall, photography gear is expensive, so instead of cheap, let's go with affordable gift ideas for photographers instead.
But keep in mind affordable and cheap does not certainly mean useless. On the contrary, all gift ideas in this section are actionable and useful for any photographer's needs.
We have included a range of useful or fun items your photographer can use both at home and out in the field when shooting.
This is the section of our photography gift guide our friends and family will look through at Christmas!
---
Photography Tip: Because we shoot Sony, we use Sony Tough-M Series SD cards but these are very expensive. SanDisk Extreme are more than capable for all types of camera. We started with SanDisk and currently use SanDisk for our DJI drone.
---
---
---
---
---
---
---
---
---
---
---
---
Want more photography quotes? Don't miss our inspiring list of photography quotes to motivate your next shoot.
---
---
Best Cameras And Lens Gifts For Photographers
Bringing up the rear of this list featuring gifts for photographers, we have included our favorite camera and lens combinations. We won't sugar coat it because these last gift ideas are expensive.
When we first started our photography journey, we made a pros and cons list for every photography brand to help us decide which brand we were going to use.
In the end, it was Sony's Alpha Series mirrorless cameras that won us over. These cameras pack a lot of punch because they are lightweight yet deliver incredible quality.
As full time travelers and avid hikers with no home base, we are always on the move. We needed equipment that would be comfortable and easy to carry around. So sony, you did it!
Personally, we always purchase large photography tickets items from Best Buy.
If you wait for a sale, you can typically save a few hundred dollars with every purchase, but you can also purchase from the Sony Store directly on Amazon.
Want to see whats it's like buying a camera in Japan? Don't miss one of the first guides we ever wrote about how we bought our first Sony Camera in Tokyo!
---
---
---
---
---
---
Gifts For Photographers FAQ's
Let's take a quick look at some of the most frequently asked questions regarding best photo gift ideas.
Our Popular Gift Guides
More Photography Guides
Looking for another gift? Head to our Gift Guides or Product and Tour Reviews to find something truly unique.
---
We hope this list of best gifts for photographers helped you pick out the perfect present this holiday season!
Please let us know if you have questions about any of these photography gift ideas in the comments below.
If you are not exactly sure which gifts your photographer needs, send them a link to this webpage and let them choose for themself!
Happy Shopping,
Mark and Kristen
Enjoy This Gift List For Photographers? Pin It For Later!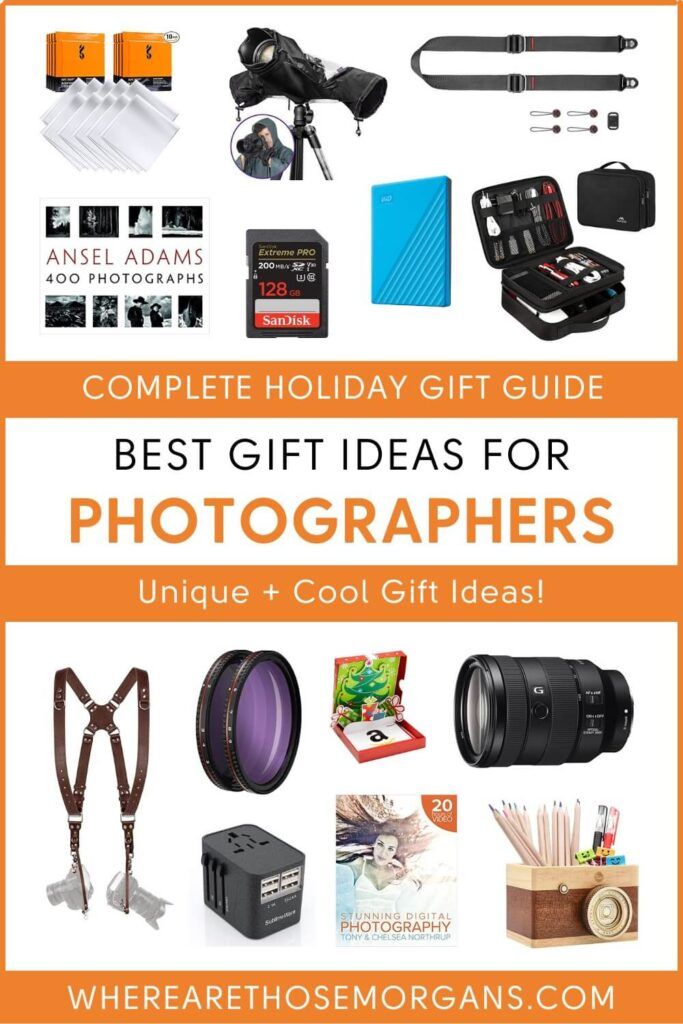 Note: This article contains affiliate links. When you make a purchase using one of these affiliate links, we may earn a small commission at no extra cost to you.
All Rights Reserved © Where Are Those Morgans, LLC. Republishing this article and/or any of its contents (text, photography, maps, graphics, etc.) in whole or in part is strictly prohibited.