Welcome to Washington, the Evergreen State. This is where you will find all of our Washington Travel Guides!
Washington is located in the pacific northwest region of the United States, bordered by Oregon, Idaho and Canada.
This is the 18th largest state by area and the only state to be named after a US president.
Capital City: Olympia
Population: About 7.5 million
Time Zone: Pacific Standard Time (PST)
Washington Travel Highlights
Washington state is known for its lush green forest, snow called volcanic mountains, multiple national Parks, the first Starbucks and so much more.
We lived in Seattle for the entire summer of 2021 and spent as much time as possible exploring the endless hiking trails this state has to offer.
Even though we are currently full time travelers, Washington ranks at the top of our list for when we finally settle down.
National Parks In Washington:
Mount Rainier National Park
North Cascades National Park
Olympic National Park
Popular Places To Visit In Washington:
Seattle
Spokane
Leavenworth
Tacoma
Port Angeles
Puget Sound
San Juan Islands
Mount Baker-Snoqualmie National Forest
Mount St. Helens National Volcanic Monument
Want more National Parks? Visit our National Parks page.
Seattle Travel Guides
The skyline of Washington's famous city features the iconic Space Needle as well as Mount Rainier looming in the distance. After living here, we can honestly say there is no view quite like Seattle.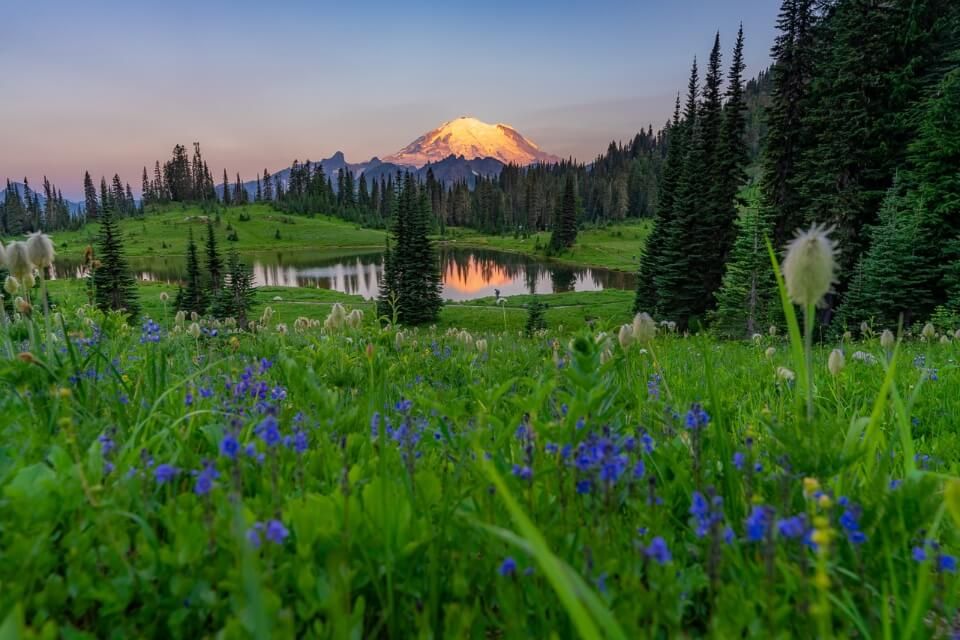 Mount Rainier National Park
We will never forget the day we first drove into Seattle and witnessed the massive stratovolcano of Mount Rainier appear out of nowhere like a mirage.
No matter where you are located, Mount Rainier always seems to be the perfect painting in the sky.
Spray Park Trail – This lesser known hike is a hidden gem leading you to a waterfall and gorgeous meadows.
Bench And Snow Lake Trail – A wonderful short hike featuring lush green meadows, inviting azure lakes and majestic volcano views.
Need a travel itinerary? Shop our travel ebooks.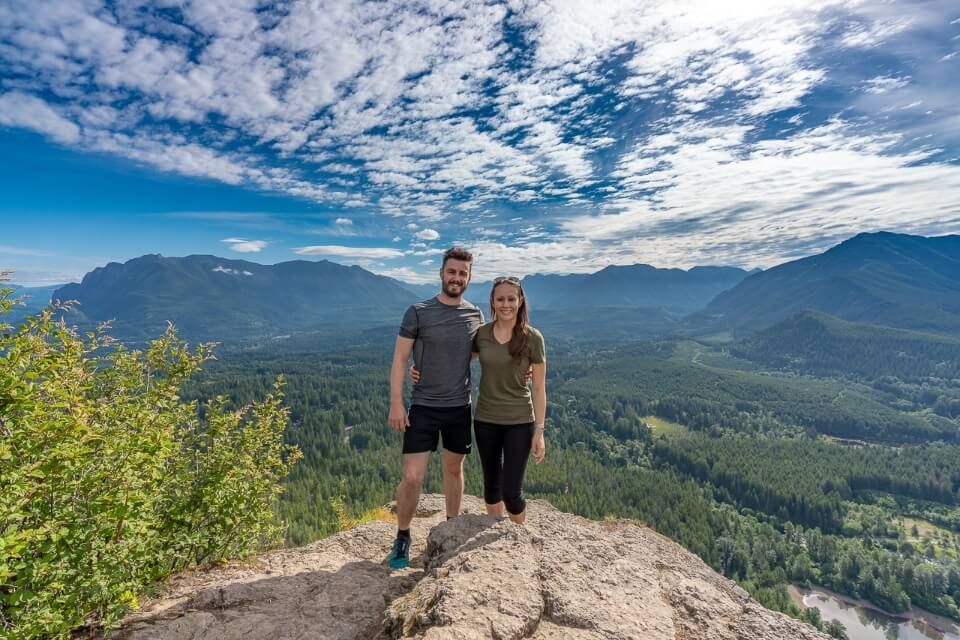 Popular Hiking Trails
There is no shortage of amazing hiking trails in Washington. If you base yourself in the Seattle area, you will be able to scratch some of these trails off your hiking bucket list.
Poo Poo Point Trail – The incredibly popular family friendly hike less than 30 minutes drive from Seattle.
Lake 22 Trail – A moderately difficult day hike near Granite Falls in northwest Washington.
Need a new hiking app? Check out the best hiking apps and get 20% off a Gaia GPS subscription with our special link.
The Enchantments Day Hike
One of the most popular hikes in Washington, the Enchantments features sparkling blue lakes, jaw dropping scenery and if you time it right for the fall season, beautiful glowing golden larches.
This 18.6 mile thru hike is amazing, challenging, rewarding and exhausting.
More Washington Travel Guides