Capitol Reef National Park offers a different take on photography to its 'Mighty 5' siblings.
It is true Canyonlands, Arches, Zion and Bryce Canyon are blessed with stunning rock formations that Capitol Reef can't compete with.
However, none of the others have an iconic barn pre-loaded with an incredible backdrop, beautifully colorful trees in fall or a quaint wooden schoolhouse!
We expected amazing photo ops at the bigger name parks, which made photography at Capitol Reef a welcome surprise package.
We hope our favorite images will inspire you to visit this underrated National Park!
*Please note this post may contain affiliate links. If you click on one, we may earn a small commission at no extra cost to you!*
Capitol Reef Entrance & Visitor Center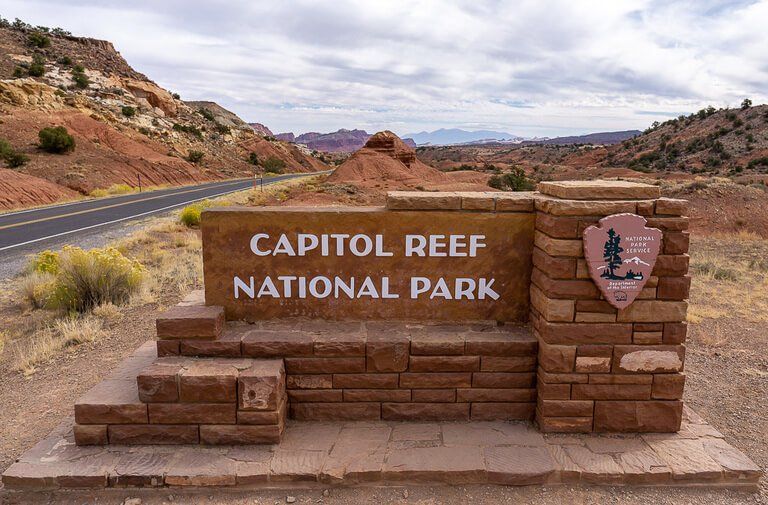 The National Park entrance sign is the first stopping point at any park in America! Capitol Reef's has an awesome background with towering rocks as far as the eye can see.
Visitor Centers are the best place to start the day, check out any Ranger led programs and learn about Capitol Reef's history.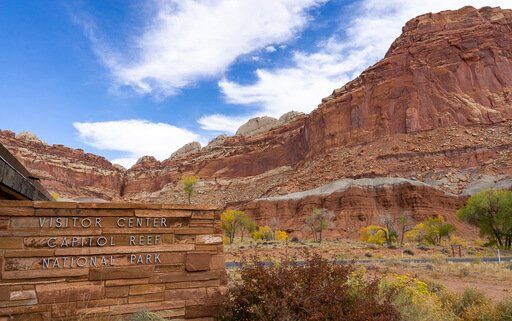 When there is a great view right next to the visitor center – you know you're in Utah!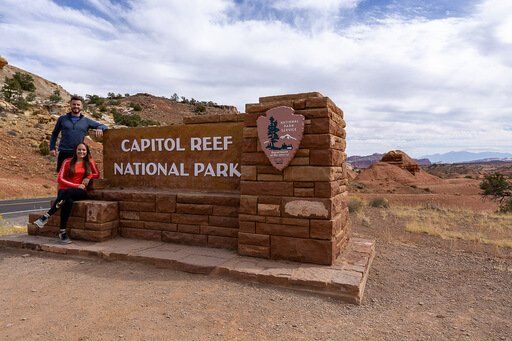 We always make sure we grab a quick photograph of ourselves next to / on top of / underneath each national park sign!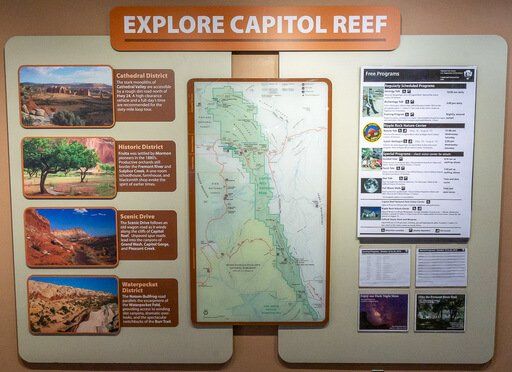 Keep any eye our for any information boards which offer history of Capital reef and activities in the area.
Gooseneck & Sunset Points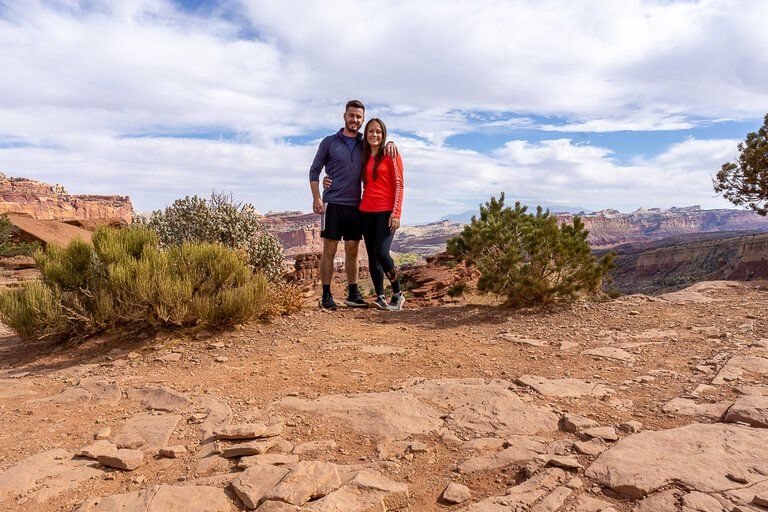 We left the tripod in the car at Sunset and had to set the set the camera on a rock. This is the place to be at the end of the day if staying in Capital Reef!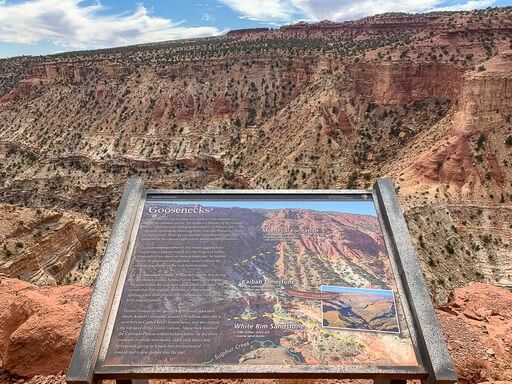 We try to read as much information as possible in the National Parks as there is always so much to learn.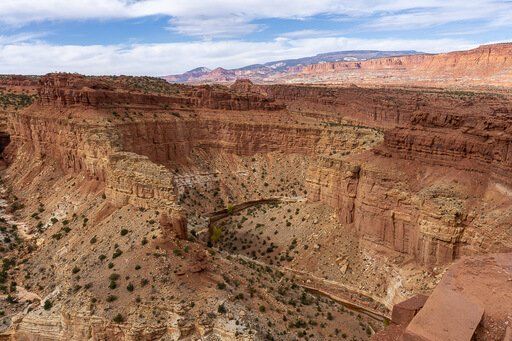 The geology in Utah is fascinating, just check out the views into the canyon!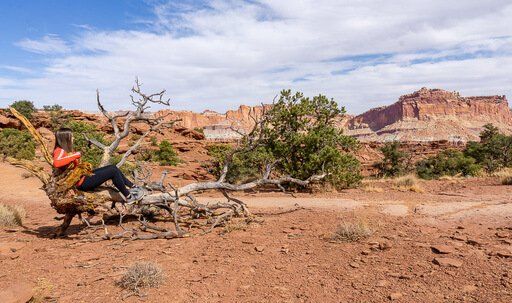 Kristen found the perfect spot to take a breather from the relentless desert heat.
And Mark couldn't get enough of these amazing views!
Need help planning your visit to Capitol Reef? Don't miss our complete guide to Capitol Reef National Park.
Gifford Homestead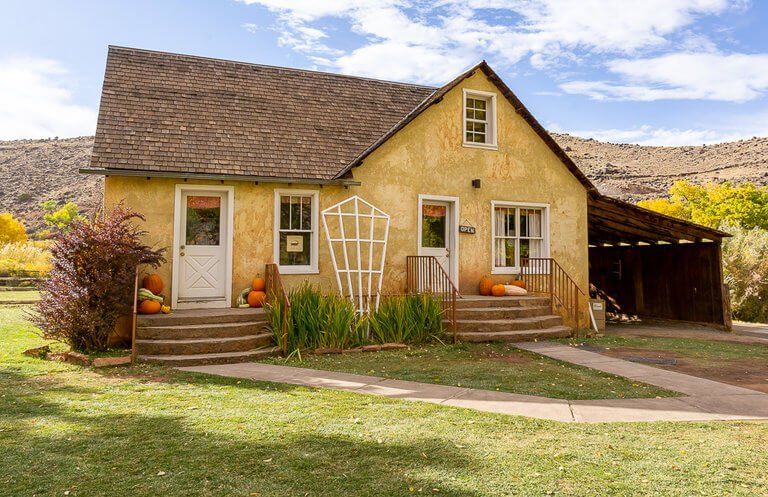 The Historic Gifford House belonged to the last residents of Fruita before selling to the US Government in 1969. It is now a café, museum and gift shop. Be sure to arrive early before they sell out of delicious homemade pies!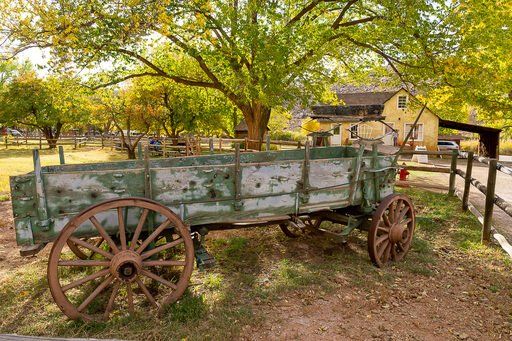 We loved the ornate old wagon with wooden wheels, previously used for hauling hay!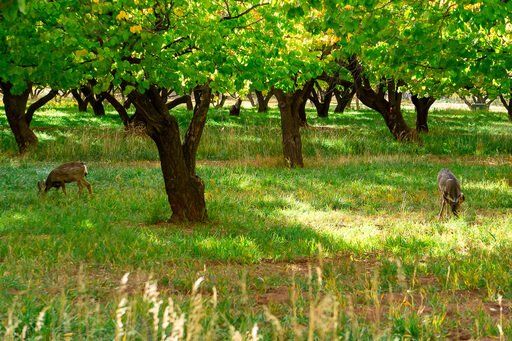 It is also common to see deer feeding among the apple orchards close to the Gifford Homestead.
Here is a close up shot of a fawn munching on grass!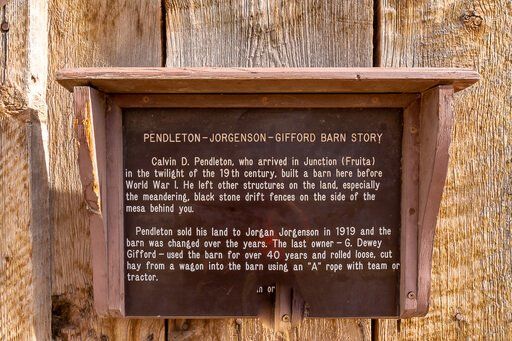 There is also a plaque explaining the recent history of the Fruita Barn.
Fruita Barn: The Best Capitol Reef Photography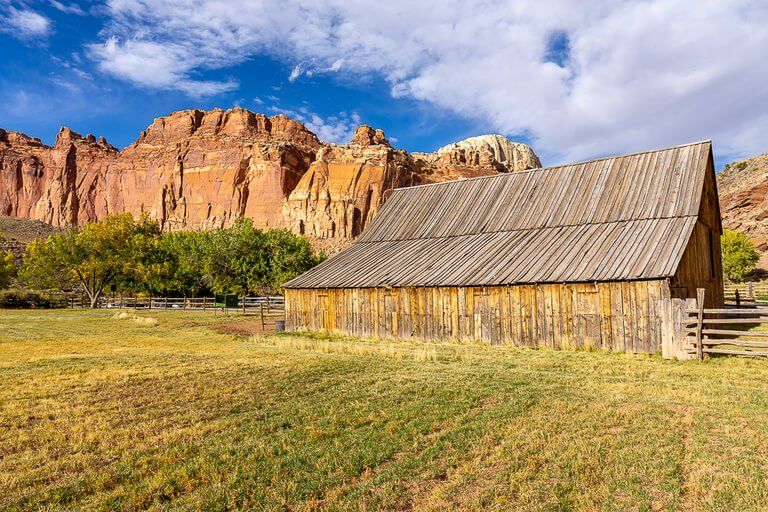 This barn was one of the main reasons we made the extra effort to drive out to Capitol Reef and it did not disappoint! The unique backdrop with huge red rocks is absolutely stunning and there was barely anyone else around (keep in mind, we took this photo mid-day)!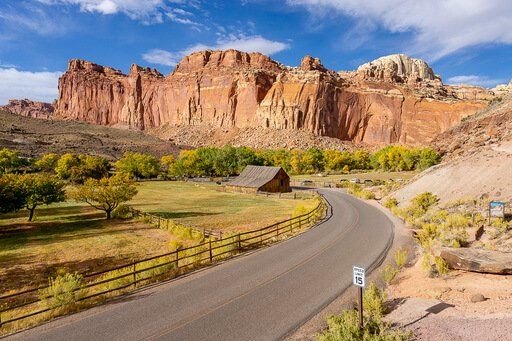 Taken from further afar, at the beginning of the Cohab Canyon Trail.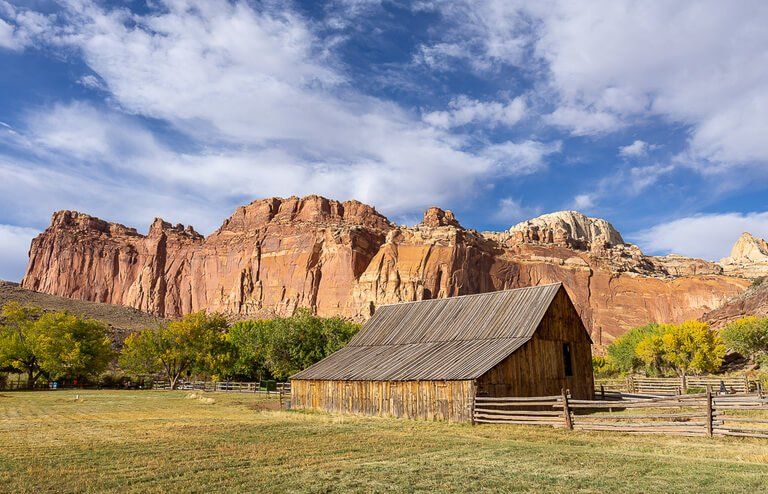 Followed by a closer up photo of the famous barn – one of our favorites!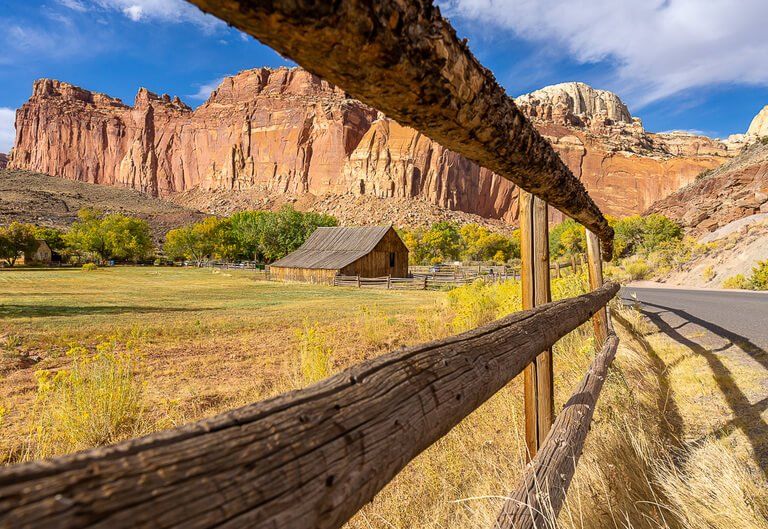 There is plenty of space to work with to find some interesting perspectives. Get creative with your photography! This one is simple but we think it is very effective.
If you're enjoying these photos, don't forget you can check out our Badlands National Park Photography from South Dakota too!
Fruita Schoolhouse & Surrounding Area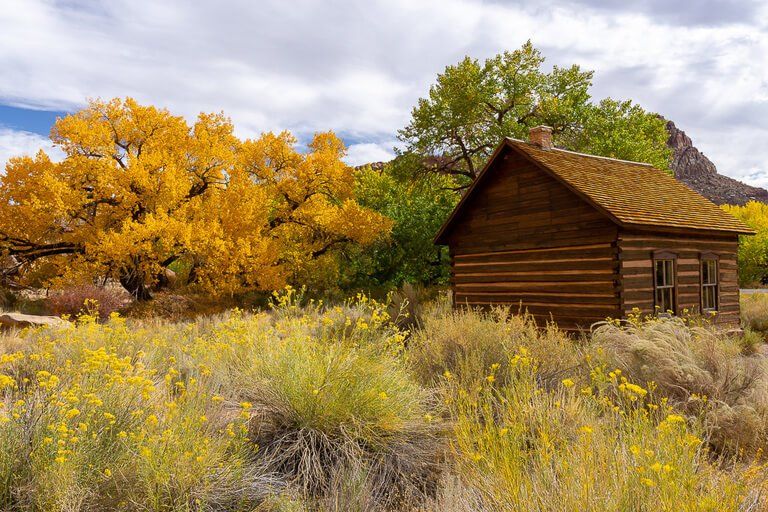 One of our favorite's from Capitol Reef! The rusty orangey yellow and deep green colors surrounding the wooden building are gorgeous!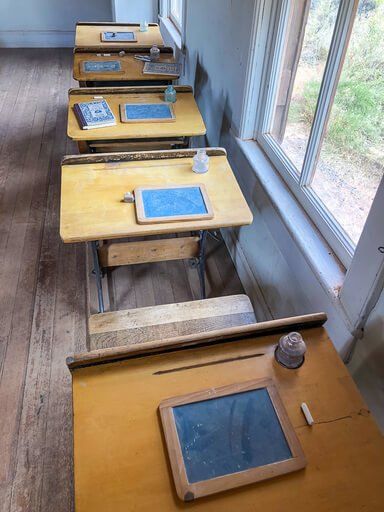 Traditional wooden desks with chalk and blackboard inside the old communal schoolhouse. Ranger led programs are often held here.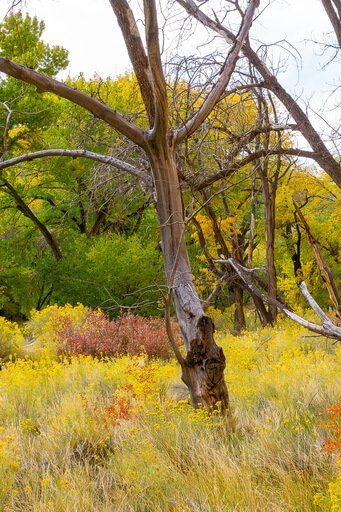 We loved the bright yellow colors against the red rocks and brown trees. The colors here just took our breathe away.
Don't you agree this looks like it could be a portal to a new land straight out of a fantasy novel?! Maybe Narnia on the other side? We had this entire place to ourselves.
The front of Fruita Schoolhouse, a better perspective of the area and those awesome colors.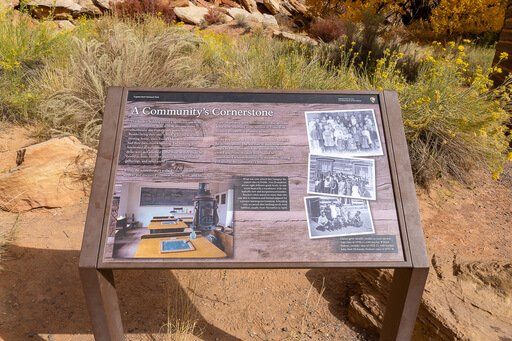 If you are interested in learning about the Fruita schoolhouse history, be sure to read the boards in the area!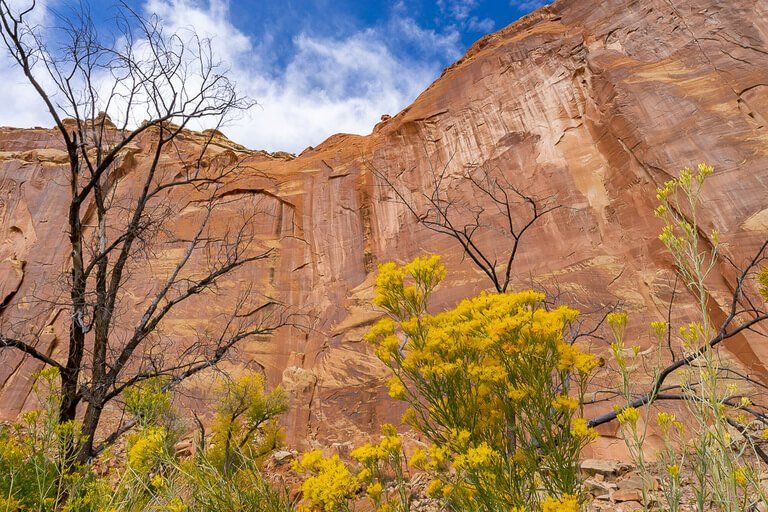 Although Capitol Reef's rock formations are far less impressive than its Utah family members, it doesn't mean there are no cool features here! This photo depicts the grandeur of this rock face perfectly and the lifeless tree draws the eye, right?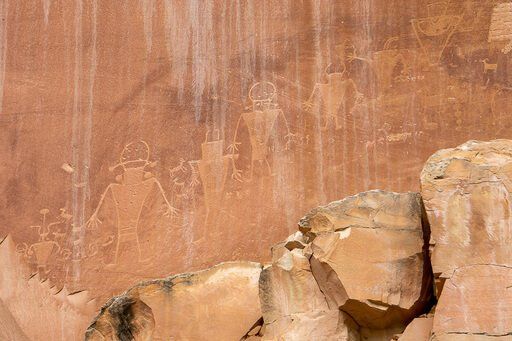 The Fremont petroglyphs are easy to see and great for kids. Interesting how they all look like they should be in a sci-fi movie.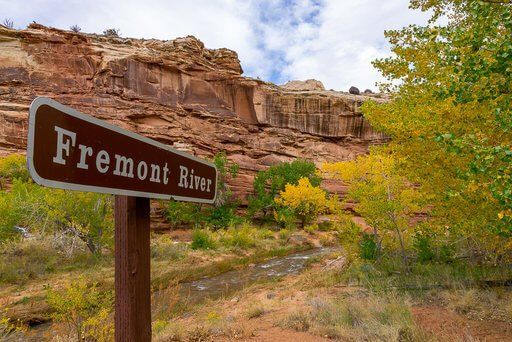 The Fremont River runs right through the park. When surrounded by red rocks and colorful leaves we couldn't resist pulling the camera out!
Hickman Bridge Hike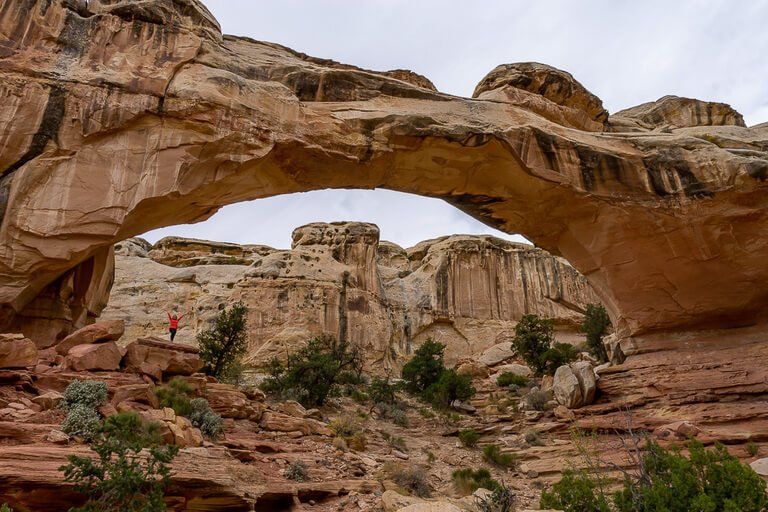 The Natural Bridge on the Hickman Bridge hiking trail is the highlight of Capitol Reef. At just 1.8 miles roundtrip and with some interesting rock features along the way, it's perfect for the family. Kristen is the tiny red blob underneath the arch.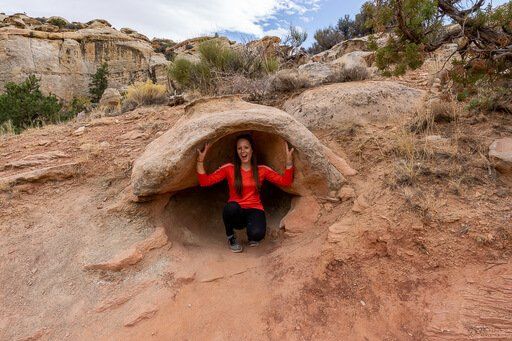 One of the strange but interesting erosion/weathering features along the trail. It looks perfect for small animals to shelter in heavy rain!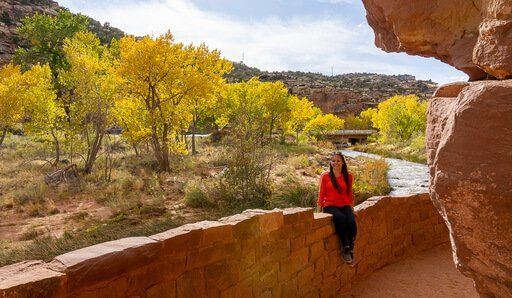 The photo was taken close to the beginning of the Hickman Bridge Trail with the Fremont River in the background.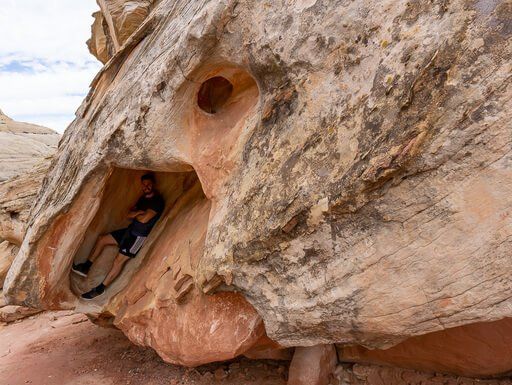 Mark trying to climb inside all the rock openings. There are so many fun obstacles along this trail.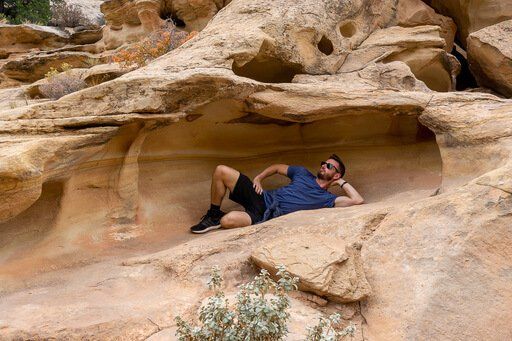 And we have no words for this one!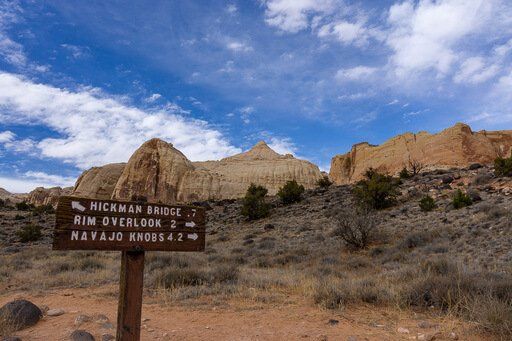 The trail splits here for Hickman Bridge or Rim Overlook / Navajo Knobs. If you have spare time, head up to the rim overlook after Hickman Bridge for panoramic views of Fruita.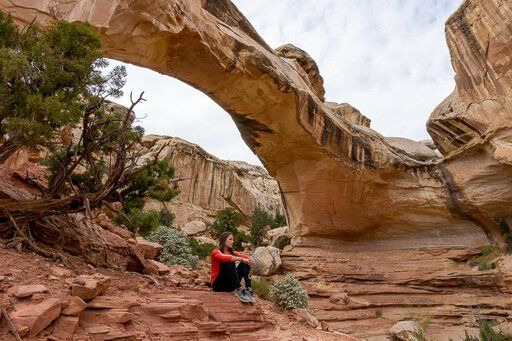 Kristen chilling at the top of Hickman Bridge Trail and looking rather ponderous!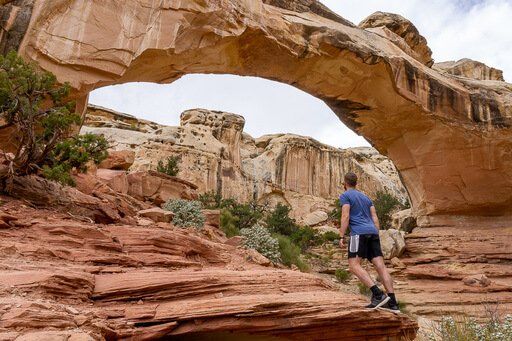 It might look as though Mark is performing a poor attempt at a Michael Jackson Smooth Criminal lean … but the drop behind was enough to overcompensate!
Other Trailheads and Signs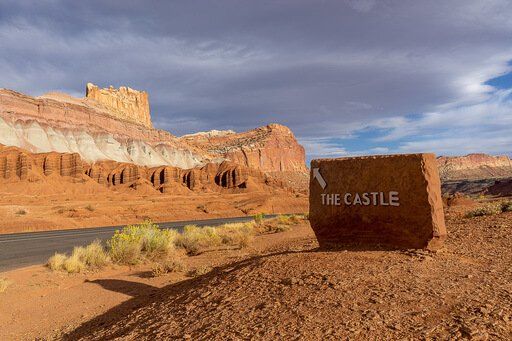 The Castle is named so because it resembles a hilltop fortress from an angle closer to the visitor center. From this angle, it's a great shot of the rock layering between the tip and bottom.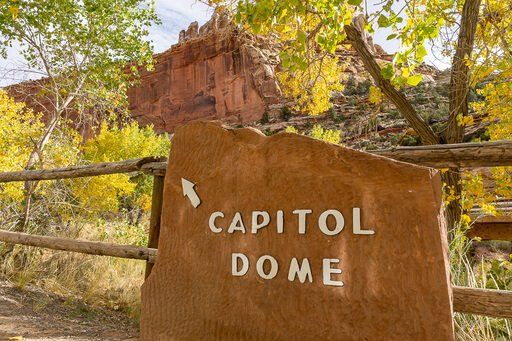 This sign is close to the Hickman Bridge / Rim Trail Overlook trailhead. The National Park is named Capitol Reef because settlers thought the white stone domes resembles the Capitol building in Washington DC.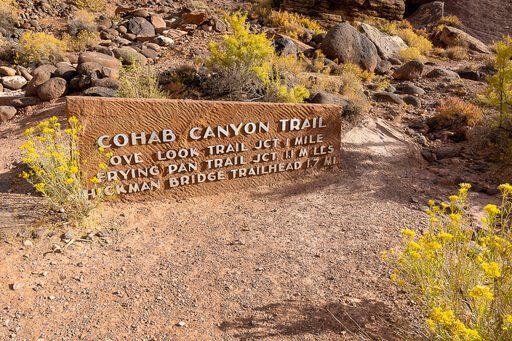 The Cohab Canyon trailhead starts right off the road as it bends around Fruita Barn before the campsite and scenic drive. There are some fun switchbacks on extremely narrow paths!
Capitol Reef Scenic Drive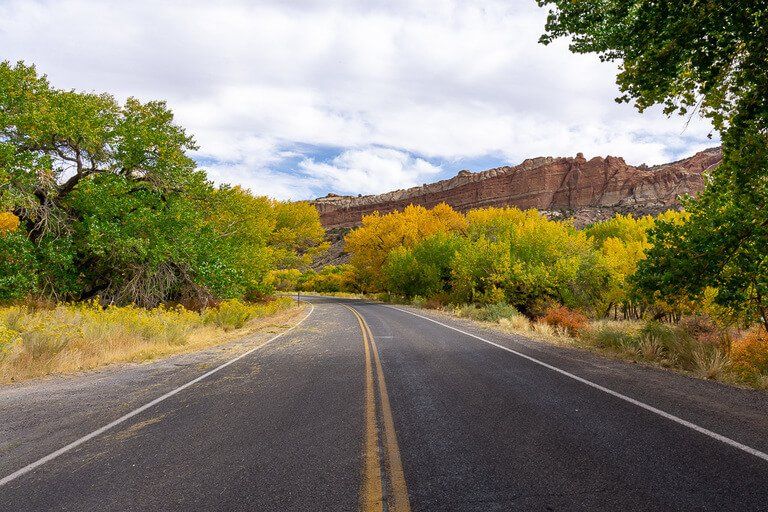 One of the best aspects of photography inside Capitol Reef? The solitude. Compared to the other Utah parks, this was like a ghost town. We didn't have to rush this photo! Just another one to show the bright colors.
Scenic Drive signpost to explain that you will need to come back on yourself. Everything is quaint and pretty at Capitol Reef, even the signs!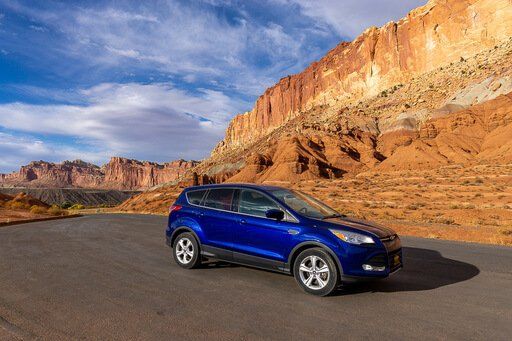 Getting a photo of your car with a cool background is harder than you might think! Most places you stop but can't a clear shot without interference. We liked the separate foreground and background rock formations on this one.
Sunset Highway 12
We were lucky to witness a fantastic sunset as we drove out of Capitol Reef. This was taken from Scenic Highway 12 towards Escalante and Bryce Canyon. It looks like a flaming phoenix! The deep red colors were mind blowing.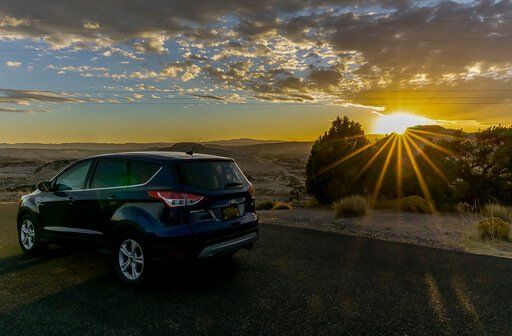 Definitely got a little carried away with aperture here! Probably should have opened up to f11 but we loved the huge sunburst at f16!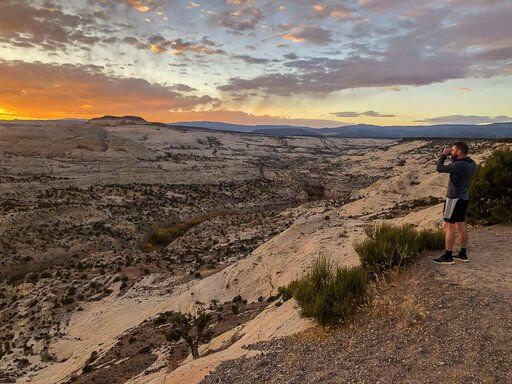 Mark with the Sony A-6000, the camera got a workout throughout that incredible sunset!

The sunset on Highway 12 was far too awe inspiring to watch from the inside of the car, so we parked up and watched the whole 'event' on the edge of a cliff.
Read More Photography Guides

…
Read More From Utah

…
---
We hope this helped you plan some of your Capitol Reef Photography spots!
What types of photos were you able to capture?
Please let us know if you have any questions or need help planning your trip to Capitol Reef National Park!
Happy Snapping,
Mark and Kristen
Was This Post Helpful? Pin It For Later!