Capitol Reef National Park is certainly one of the best places you can visit in Utah, but this smaller park offers a different take on photography compared to its Mighty 5 siblings.
A visit to Arches and Canyonlands or a road trip through Zion and Bryce Canyon showcase stunning rock formations that Capitol Reef can't compete with.
However, none of the other bigger parks have an iconic wooden barn pre-loaded with an incredible backdrop, an orchard for picking fruits or a quaint wooden schoolhouse.
In this Capitol Reef photography guide, we will show you:
Now let's explore photo locations in Capitol Reef!
Our Capitol Reef Photography Experience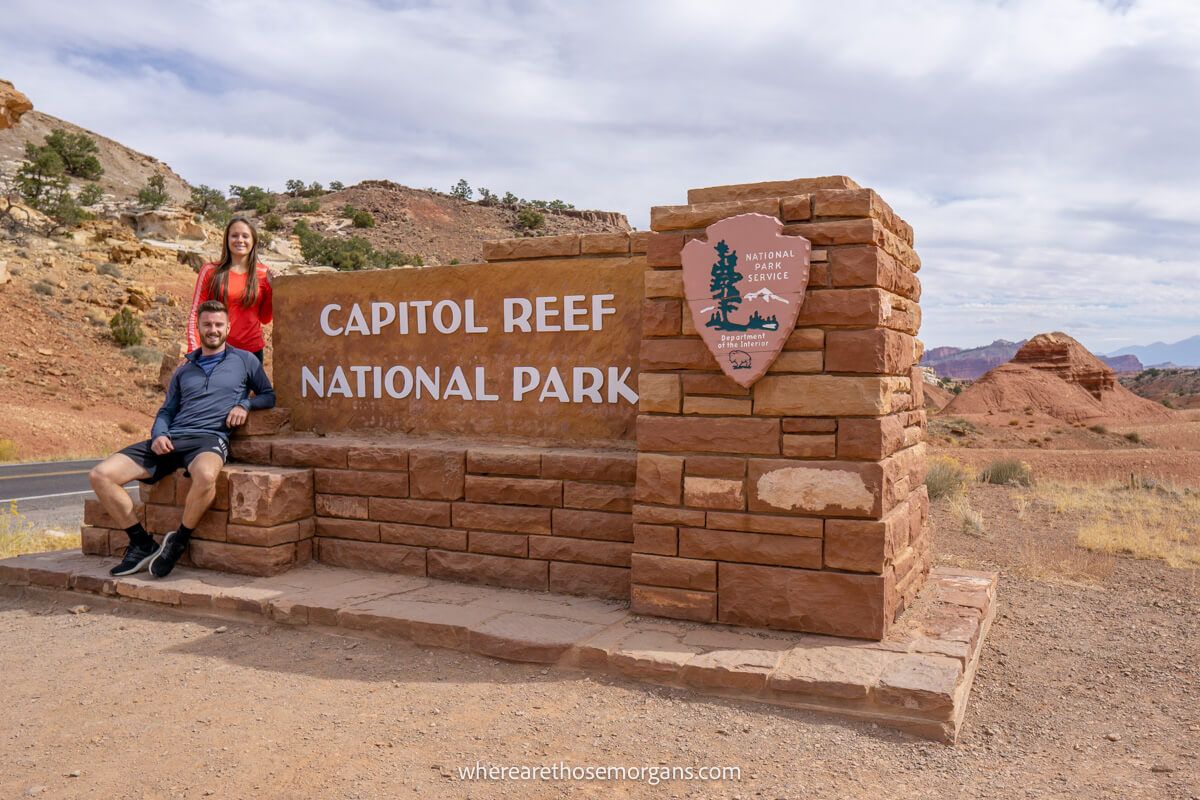 We first visited Capitol Reef in October 2019 as part of a three month US road trip. During our visit, we spent one amazing day photographing the vibrant fall colors in this smaller park.
However, the one mistake we made was not giving ourselves enough time because we had a jammed packed Utah road trip itinerary.
We expected amazing photo ops at the bigger name parks, which made photography at Capitol Reef National Park a welcome surprise package.
When we visited, we were still using our beginner level Sony a6000. Since then, we have seriously upgraded our camera equipment so we hope to return in the future to recapture this stunning national park.
Our main goal in this photo guide is to show you the best Capitol Reef photography locations so you can take home amazing photos from your trip.
Love photography? Shop our professional photo gallery here.
10 Best Photography Spots In Fruita
There are three main regions of Capitol Reef National Park including the Historic Fruita District, Cathedral Valley District and the Waterpocket Fold District.
Most visitors spend their time in the Fruita District because this is the most accessible region of the park. This district is located along Highway 24 which is part of the Mighty 5 circuit.
The good news is you can easily visit many of these photography locations in one day because they are very close together.
So without further ado here are the best photography spots in the Fruita District of Capitol Reef:
1. Capitol Reef Entrance: An Easy Photography Spot
The National Park entrance sign is the first stopping point at any national park in America for many visitors. We like Capitol Reef because there is a small lot where you can safely park to snap this photo.
Capitol Reef's entrance sign has an awesome background with towering rocks as far as the eye can see.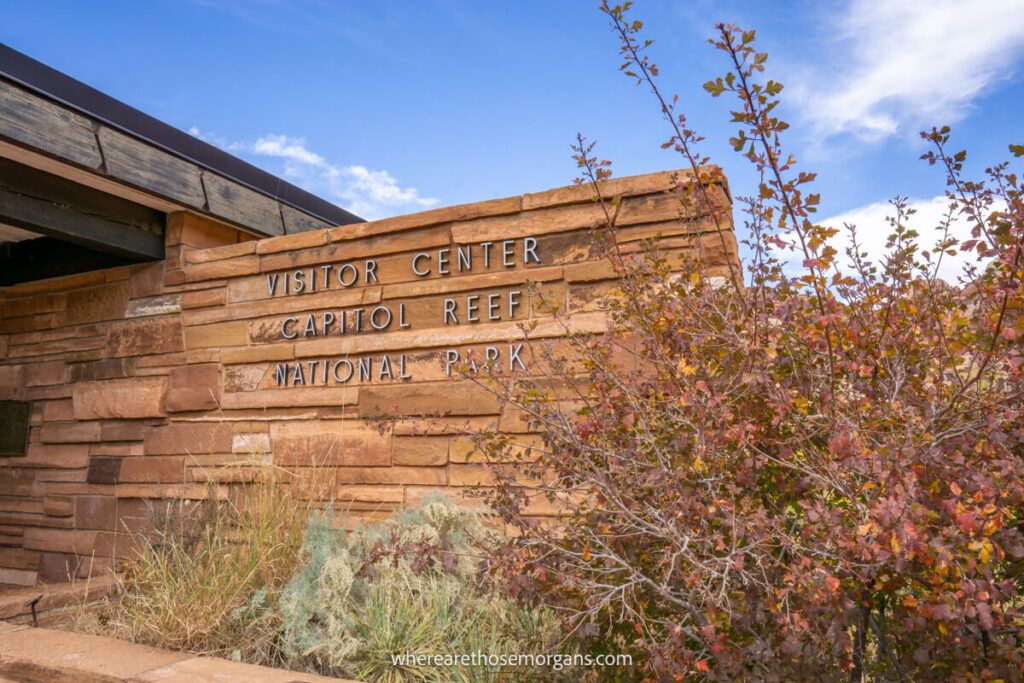 After snapping a photo with the Capitol Reef entrance sign, we recommend you make your way to the Visitor Center.
We believe national park visitor centers are the best place to start the day because you can find informational boards and park maps to help you make the most of your visit.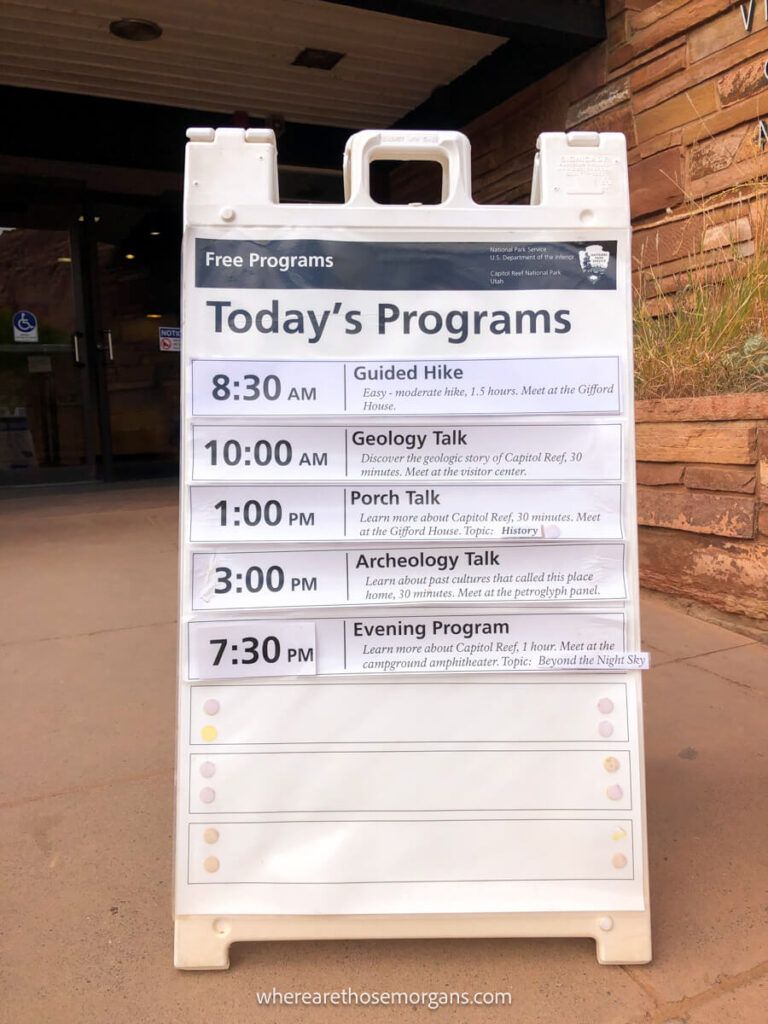 Be sure to check out any Ranger led programs and learn about Capitol Reef's history. Year-round programs include the Geology Talk (30 minutes) and the Junior Ranger Program.
Love the US National Parks? You should consider a National Parks Passport to help document your adventures.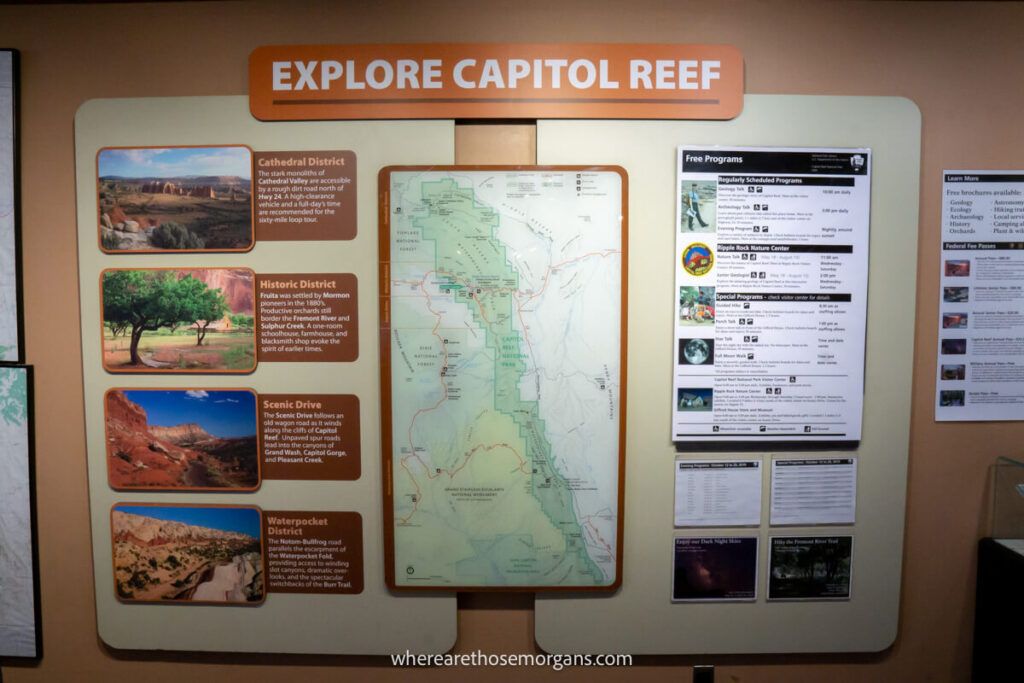 Plan to spend a little bit of time checking out the visitor center to learn more about the region, especially if you have never visited before.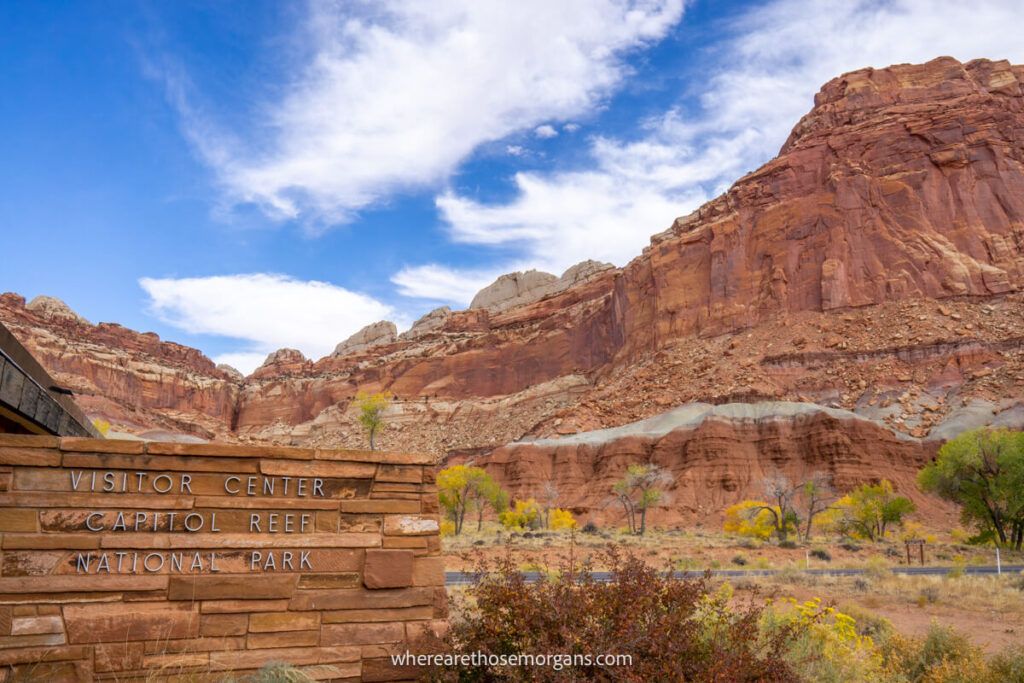 As you leave the visitor center, it's hard to miss all of the gorgeous views in the area. We always like to joke that when there is a great view right next to the visitor center, you know you are in Utah!
Planning to visit many National Parks? You should consider an America the Beautiful Pass.
2. Goosenecks And Sunset Point: A Quick And Easy Hike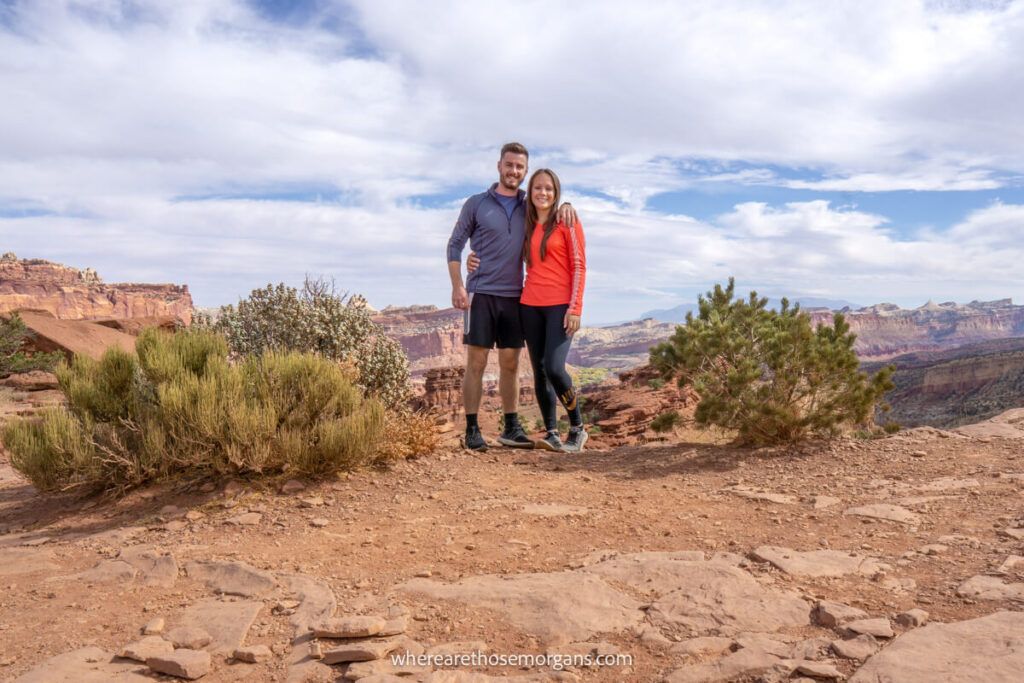 Goosenecks and Sunset Point are very popular trails in Capitol Reef because it's an easy hike to a very photogenic spot.
Sunset Point is the best spot for sunset if you are staying at a hotel near Capitol Reef.
As you hike through Capitol Reef, take note of the various information boards scattered throughout the park. You can learn so much about Utah's incredible geology just by reading these boards.
The Goosenecks viewpoint features white rim sandstone, Moenkopi formations and Kaibab limestone.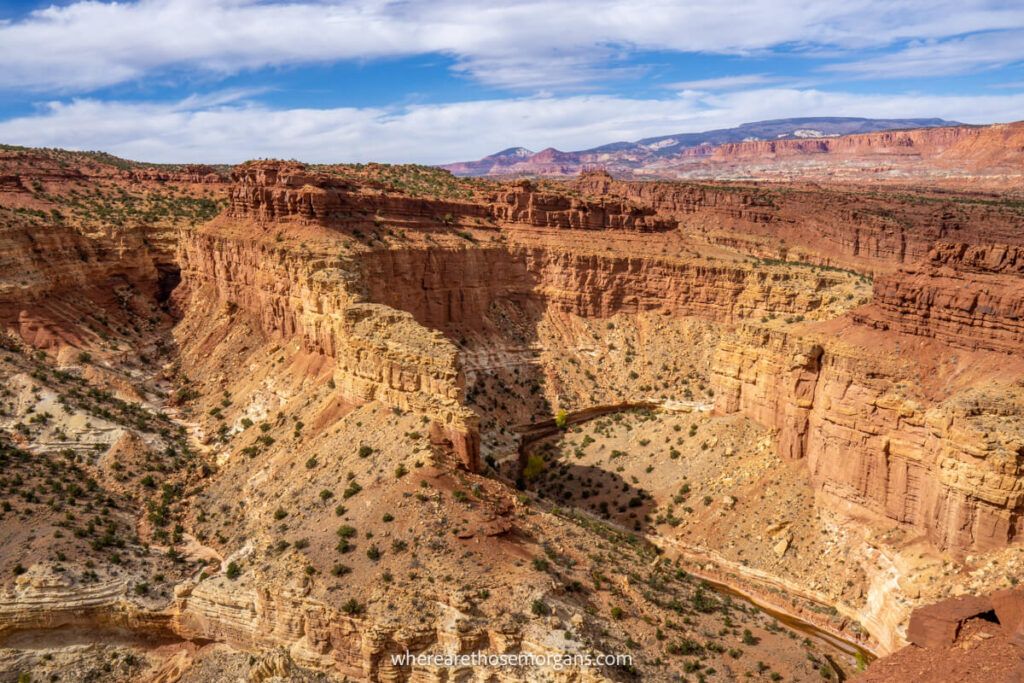 The geology in Utah is fascinating, just check out the views into the canyon. If you look closely, you will be able to see Sulphur Creek at the bottom of the canyon.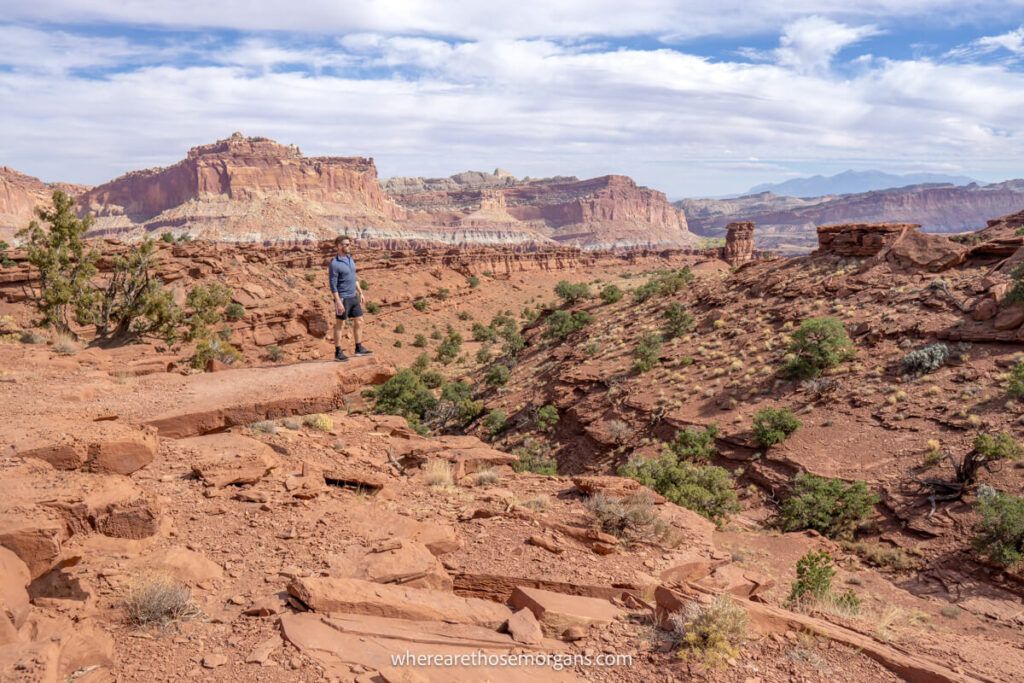 Goosenecks and Sunset Point are a great place to explore because the photo opportunities are endless. But we promise, it's about to get even better!
Need help planning your visit to Capitol Reef? Don't miss our popular guide featuring the best things to do in Capitol Reef.
3. The Gifford Homestead: A Unique Photo Spot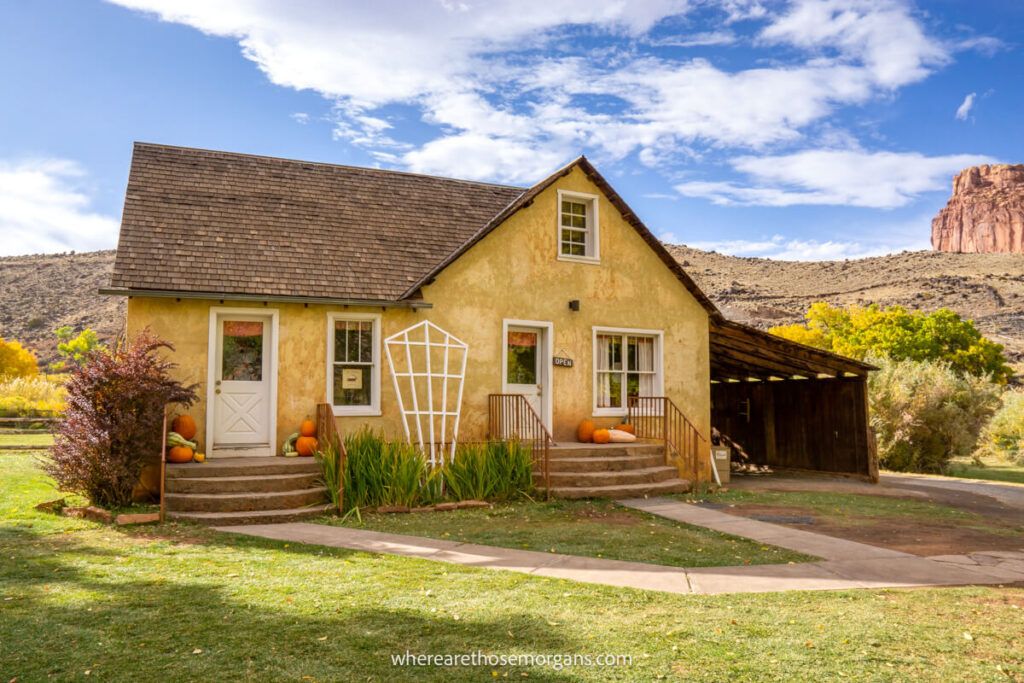 The Historic Gifford House belonged to the last residents of Fruita before selling to the US Government in 1969. It is now a café, museum and gift shop in the heart of Fruita Valley.
Be sure to arrive early before they sell out of delicious homemade pies. We missed the pies during our visit so arriving early for the pies when they are in season is one of our top tips!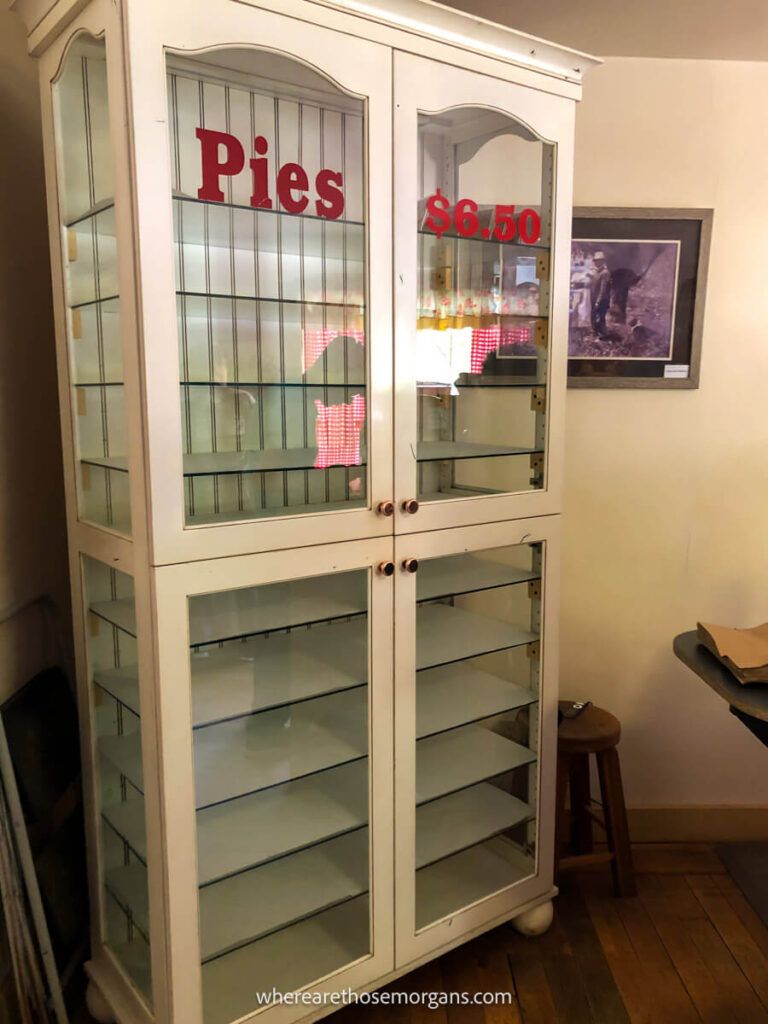 Today, the Gifford Homestead has been converted into a Natural History Association sales outlet. You can find reproductions of household tools and utensils Mormon pioneers used daily.
In addition to pies, visitors can also purchase books, postcards, jams, jellies and homemade ice cream.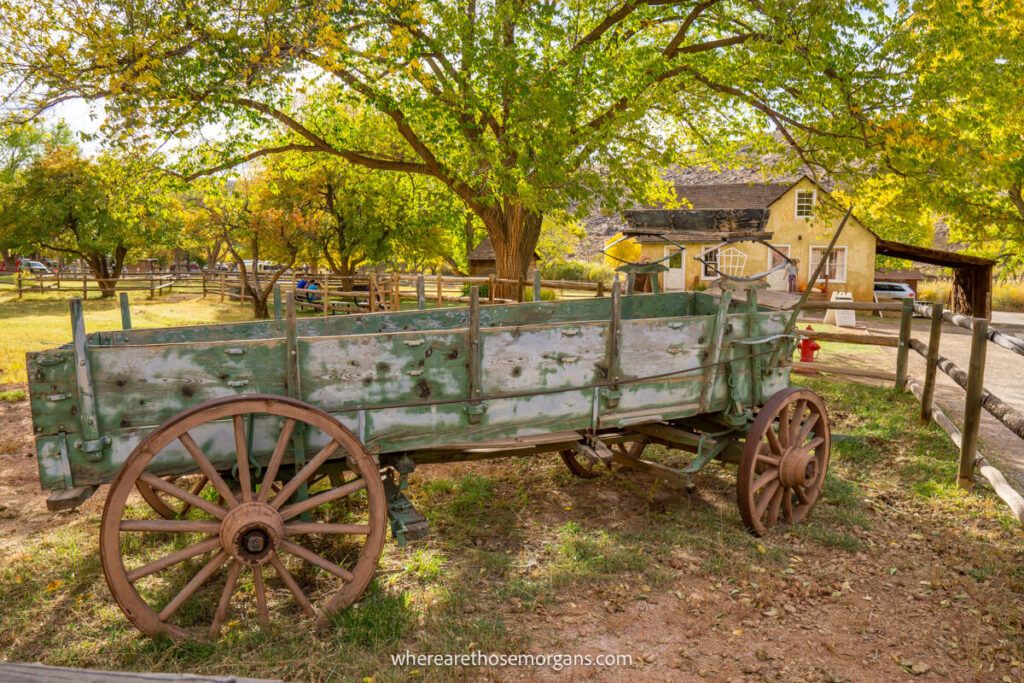 If you explore the areas around the Gifford House, you will come across a beautiful ornate wooden wagon. This makes a stunning photo spot in Fruita with the Gifford Home in the background.
It is also common to see deer feeding among the apple orchards close to the Gifford Homestead.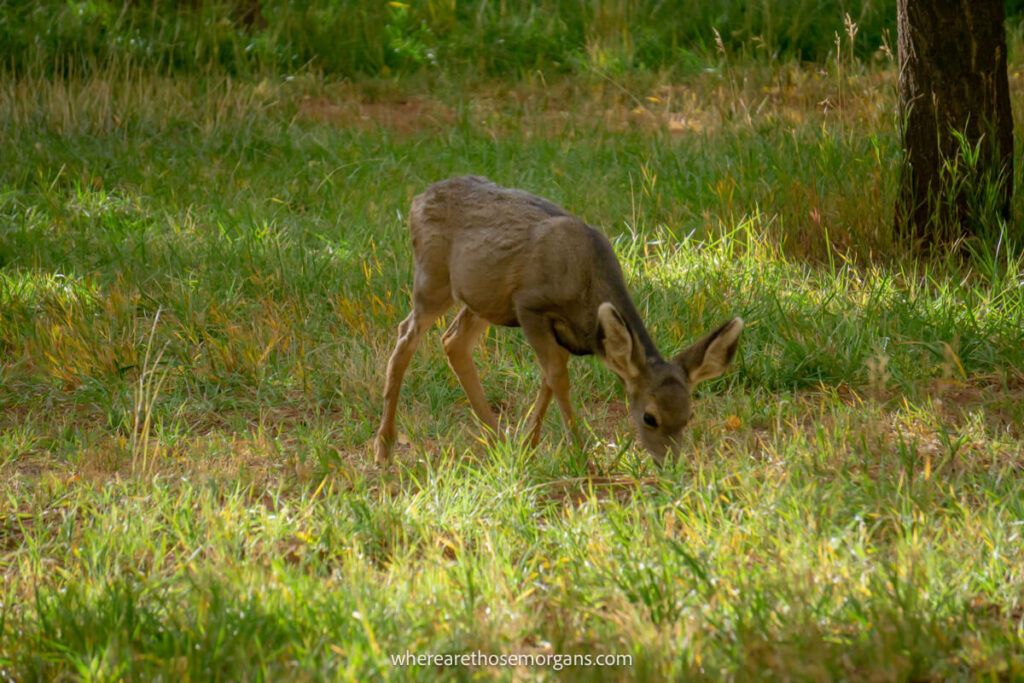 Here is a close up shot of a fawn enjoying a meal in the beautifully manicured orchards of Capitol Reef. Please just remember to keep a safe distance from all animals during your visit.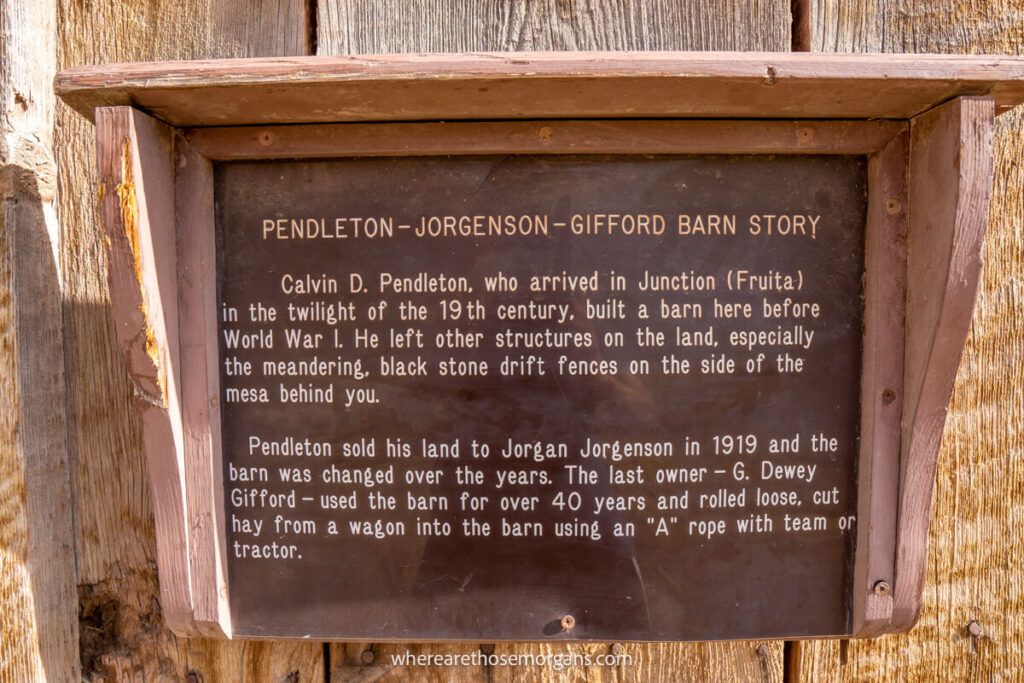 For those who love history, we recommend you make your way towards the Fruita Barn. There is a plaque explaining the recent history of the Fruita Barn.
Sometimes also known as the Pendleton Barn, this structure is now part of the Gifford Homestead, but was originally built by Calvin Pendleton.
5. Fruita Barn: The Best Photo Location In Capitol Reef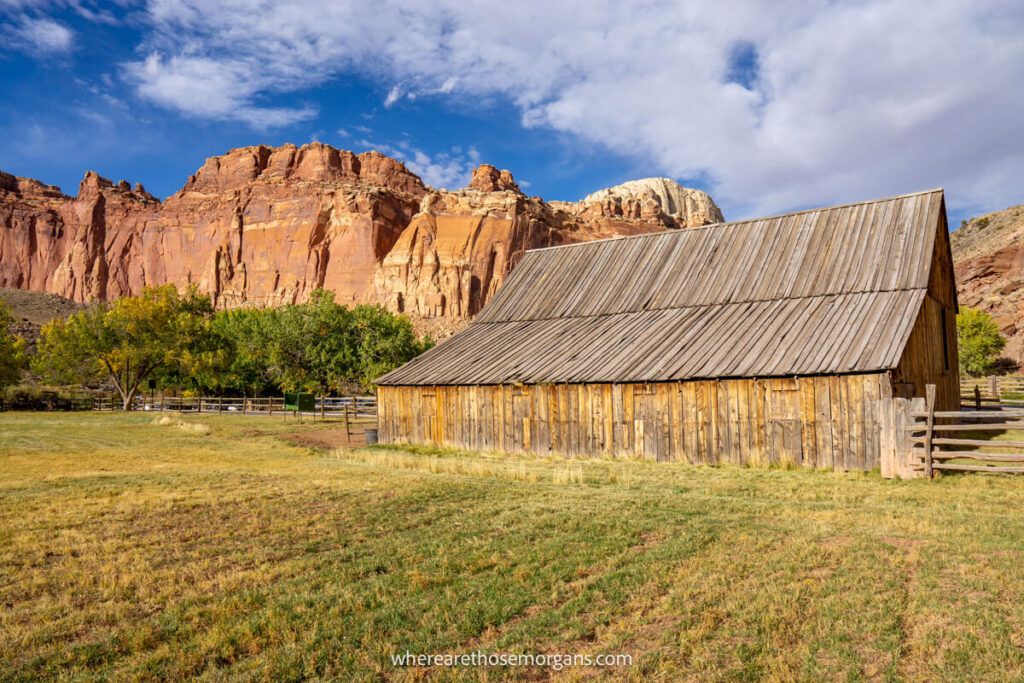 The Fruita Barn was one of the main reasons we made the extra effort to drive out to Capitol Reef and oh boy, it did not disappoint.
The unique backdrop with huge red rocks is absolutely stunning and there was barely anyone else around even though it was mid-day. This is why October is a fantastic time to Capitol Reef!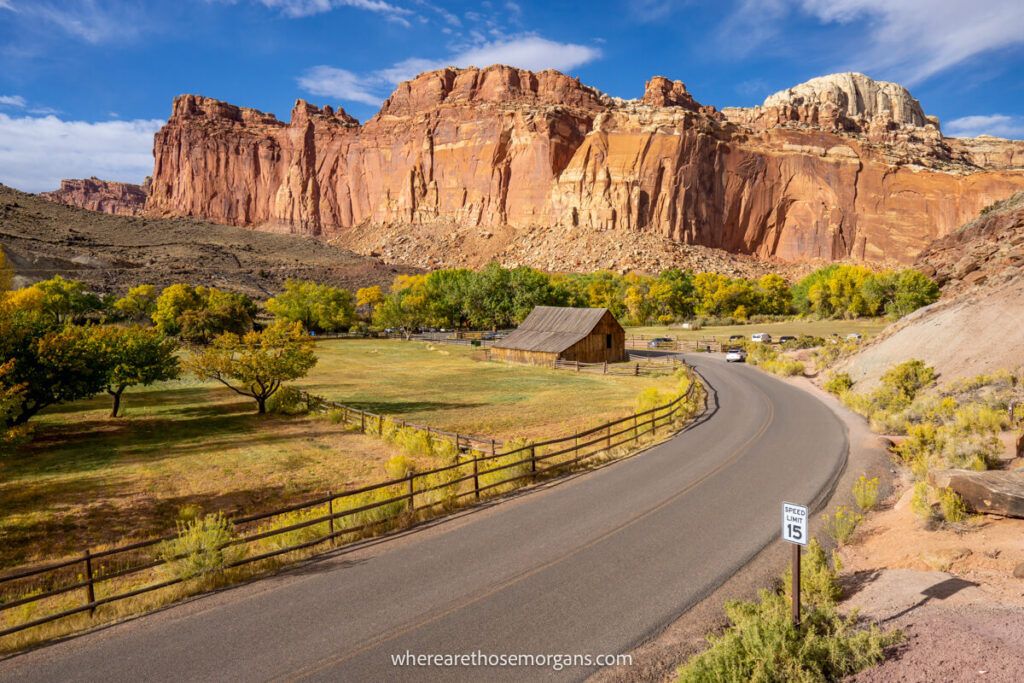 Once you snap a photo of the Fruita barn from close up, get creative about your angles. This next photograph is taken from further afar, at the beginning of the Cohab Canyon Trail.
We could have easily spent days taking photos of the Fruita Barn and it was difficult to pull ourselves away.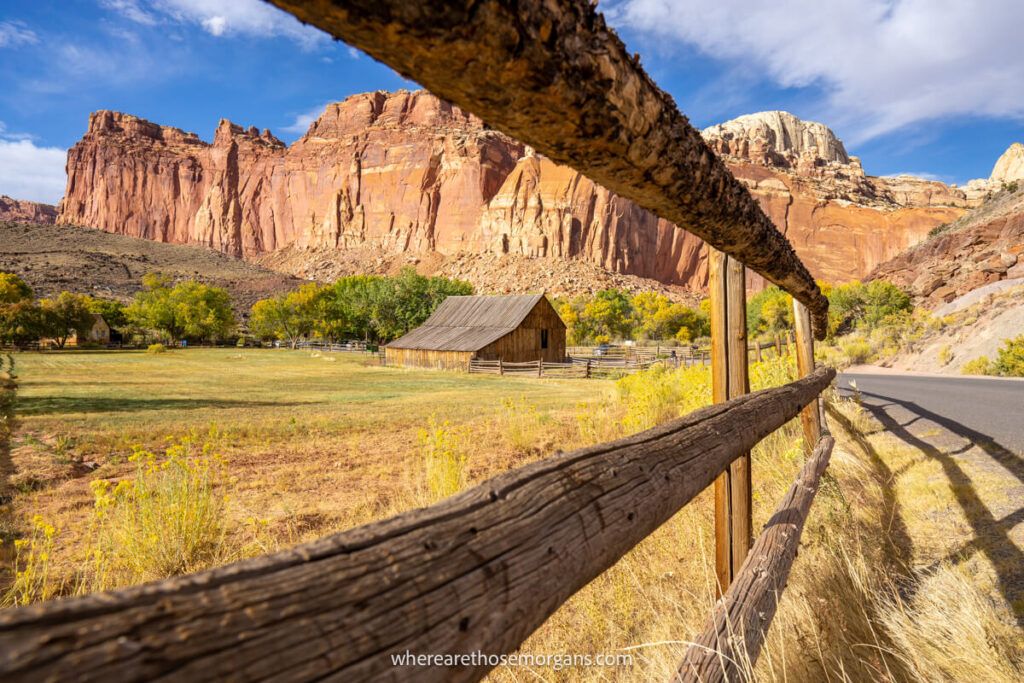 Next up, we have a different take on the Fruita Barn for you. This Capitol Reef photography spot is a closer up shot, but it's certainly a good one.
There is plenty of space to work with to find interesting and new perspectives. Try getting creative with your photography. This one is simple but we think it is very effective.
Enjoying these photos? You might like to read our Badlands National Park photography guide from South Dakota next.
6. The Fruita Schoolhouse: Don't Miss The History Lessons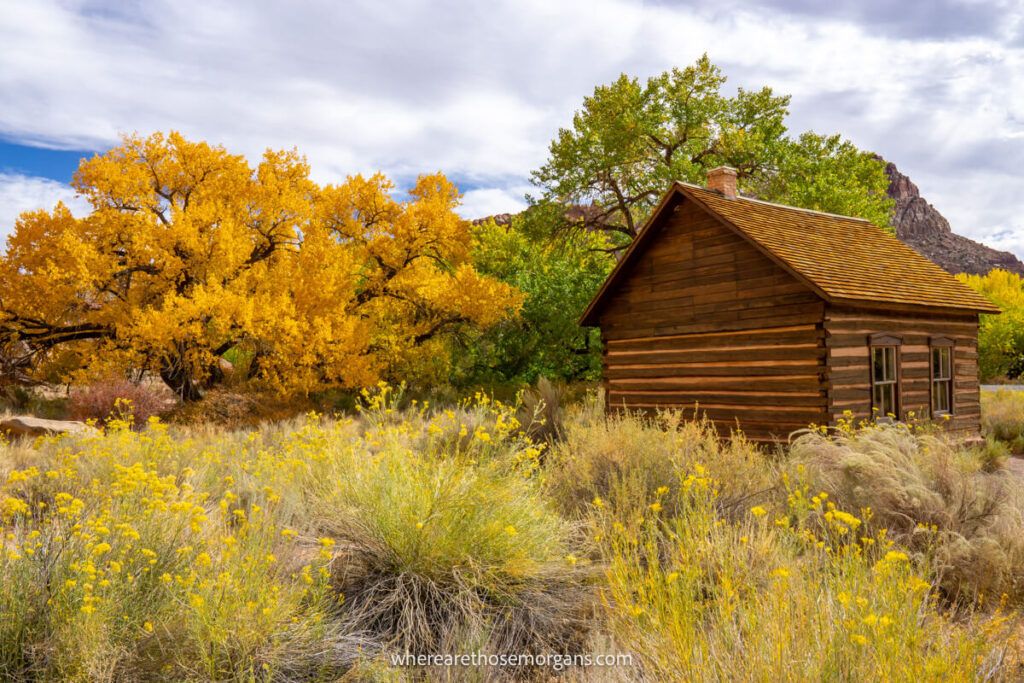 Another one of our favorite Capitol Reef photo spots, the Fruita Schoolhouse.
The rusty orange yellow and deep green colors surrounding the wooden building were absolutely stunning during the fall season.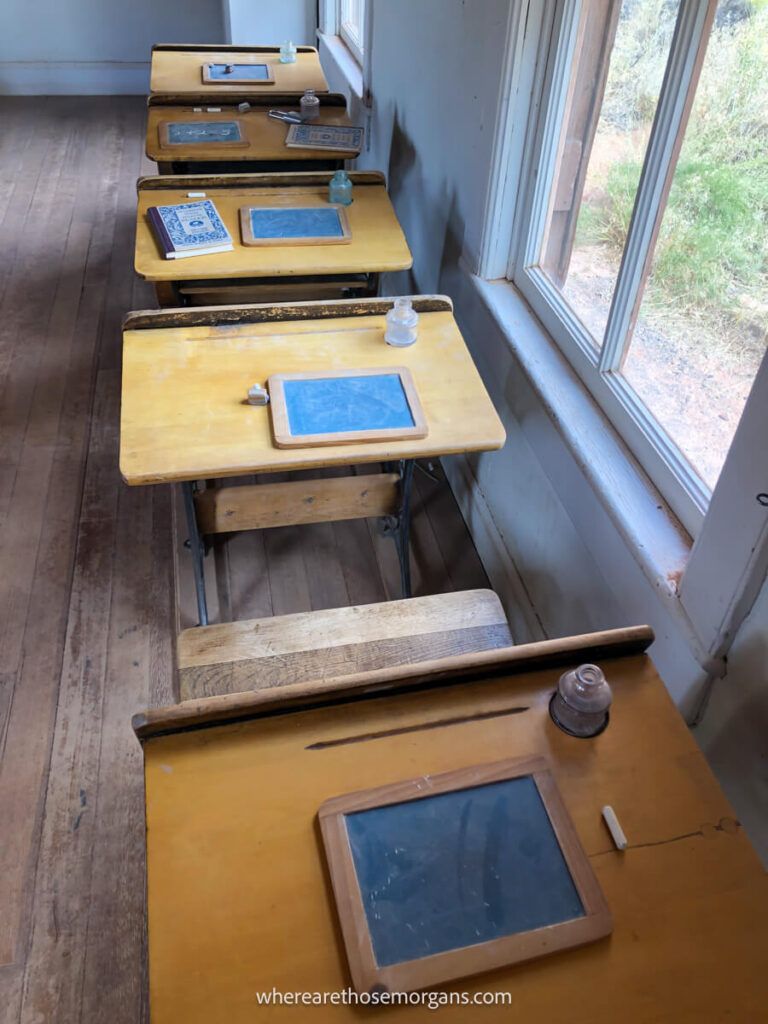 You will find traditional wooden desks with chalk and blackboards inside the old communal schoolhouse. Ranger led programs are often held here and one was in session during the time of our visit.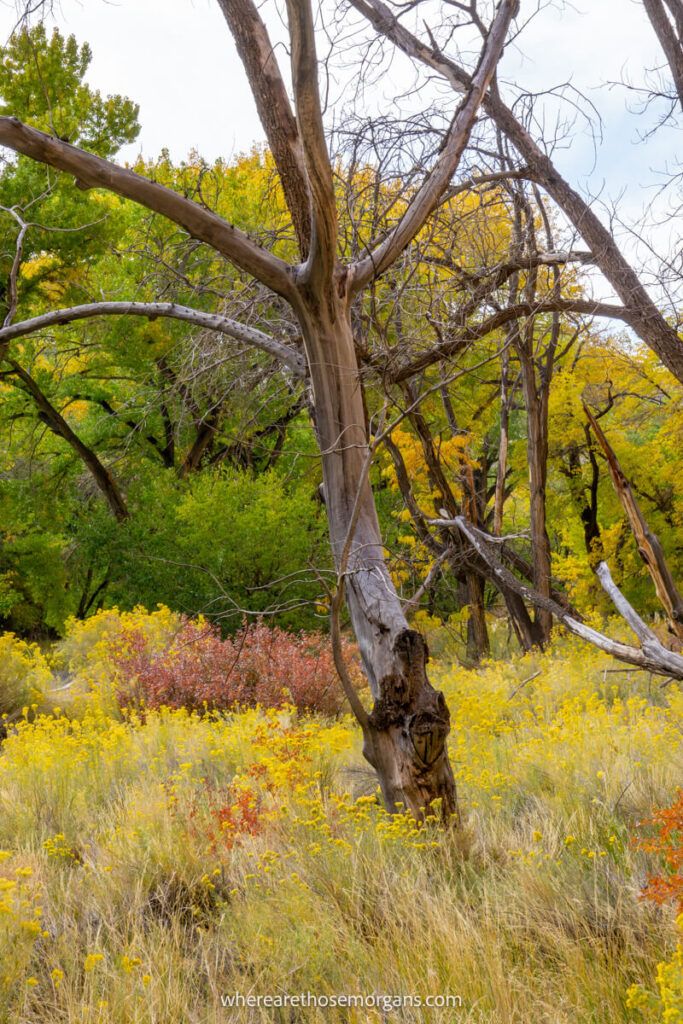 We loved the bright yellow colors against the red rocks and brown trees. The colors here just took our breathe away.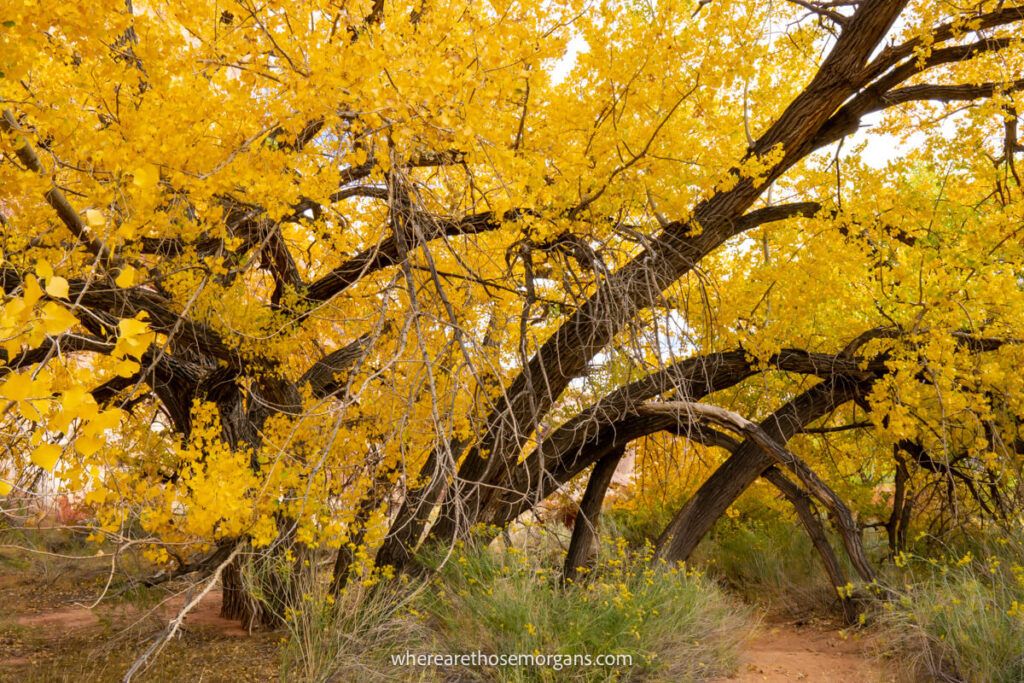 Don't you agree this looks like it could be a portal to a new land straight out of a fantasy novel?!
Maybe Narnia on the other side?
We had this entire place to ourselves and enjoyed every second.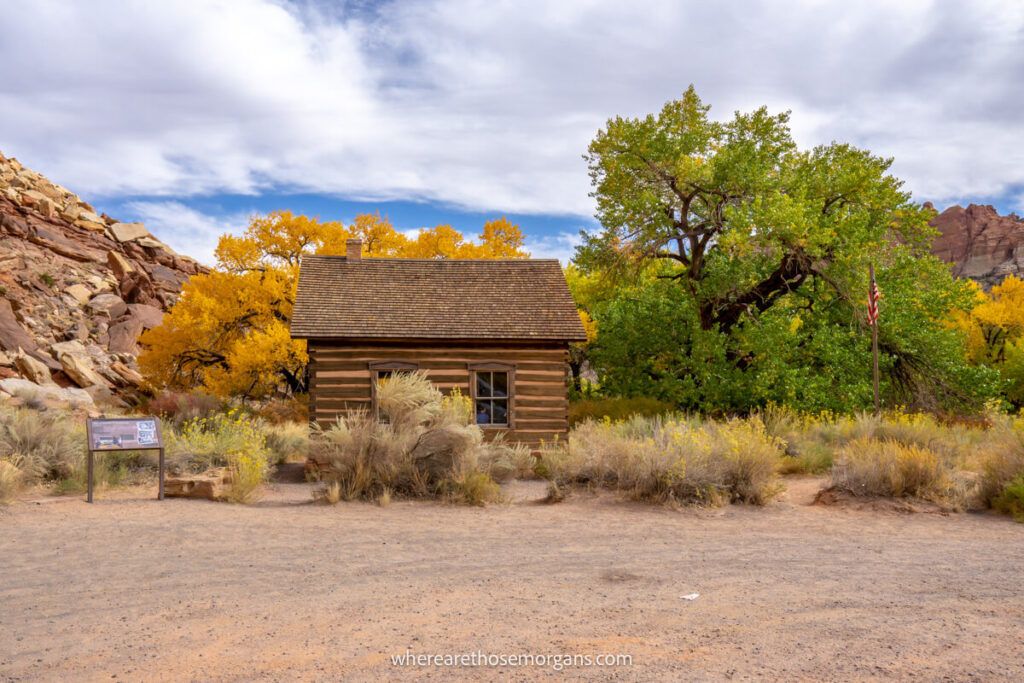 If you make your way to the front of Fruita Schoolhouse, you can get a better perspective of the area and those stunning fall colors.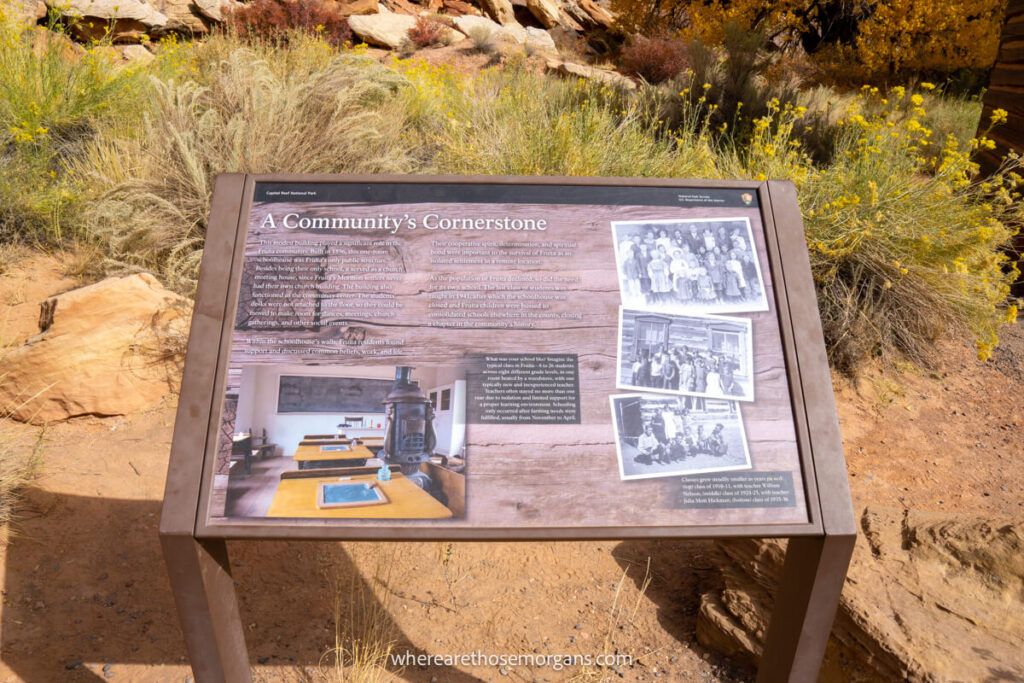 If you are interested in learning about the Fruita schoolhouse history, be sure to read the informational boards in the area. Photographers will love looking at the old photos of those who once lived here.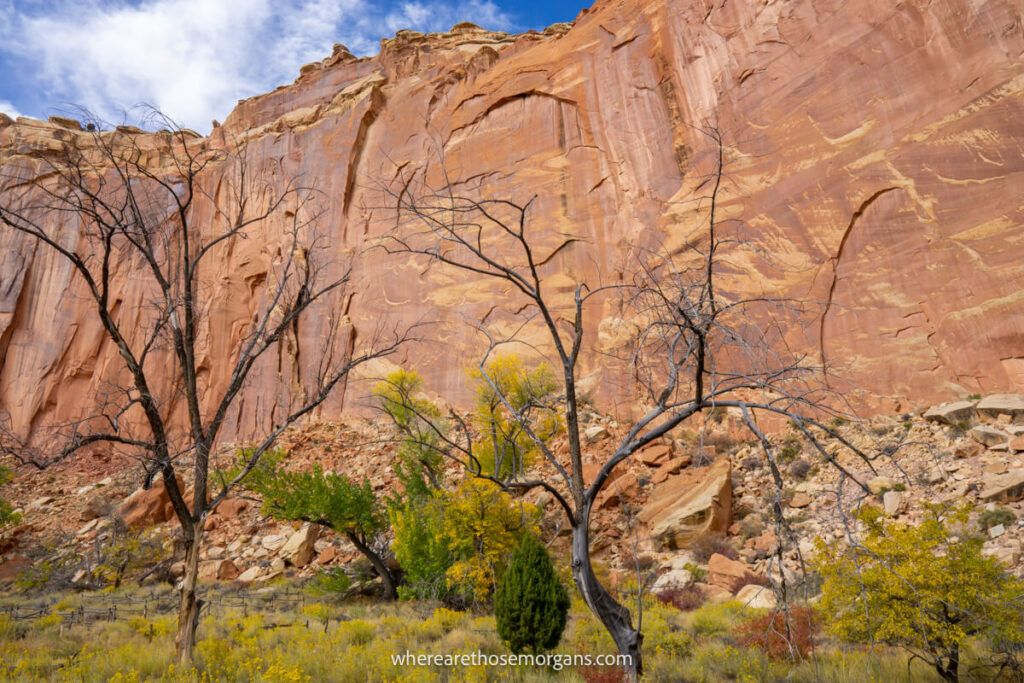 Although Capitol Reef's rock formations are far less impressive than its Utah family members, it doesn't mean there are no cool features here.
This photo depicts the grandeur of this rock face perfectly and the lifeless tree draws the eye, right? The large towering red walls command attention almost anywhere you look in Capitol Reef.
7. The Fremont Petroglyphs: A Unique Photo Location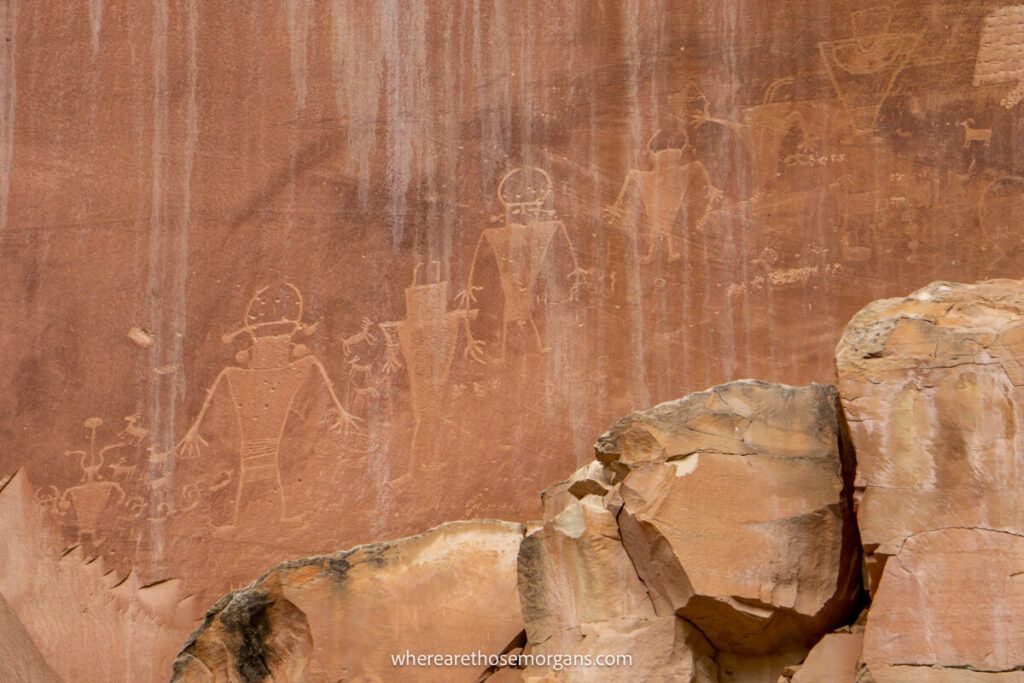 Another photography location in Capitol Reef you should not miss is the Fremont Petroglyphs Panel.
The petroglyphs are easy to see and make a great stop for kids. We thought many of these images looked they should be in a sci-fi movie.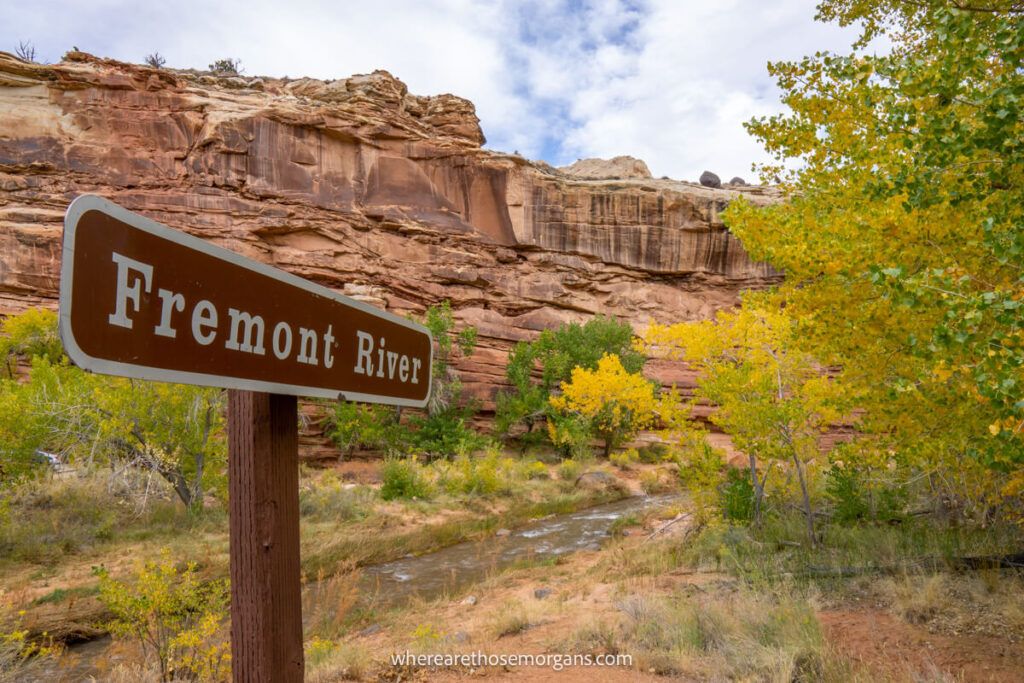 The Fremont River runs right through the park. When surrounded by red rocks and colorful leaves we couldn't resist pulling the camera out.
This photo spot is accessible when you park for the petroglyphs.
8. Hickman Bridge: A Natural Photo Location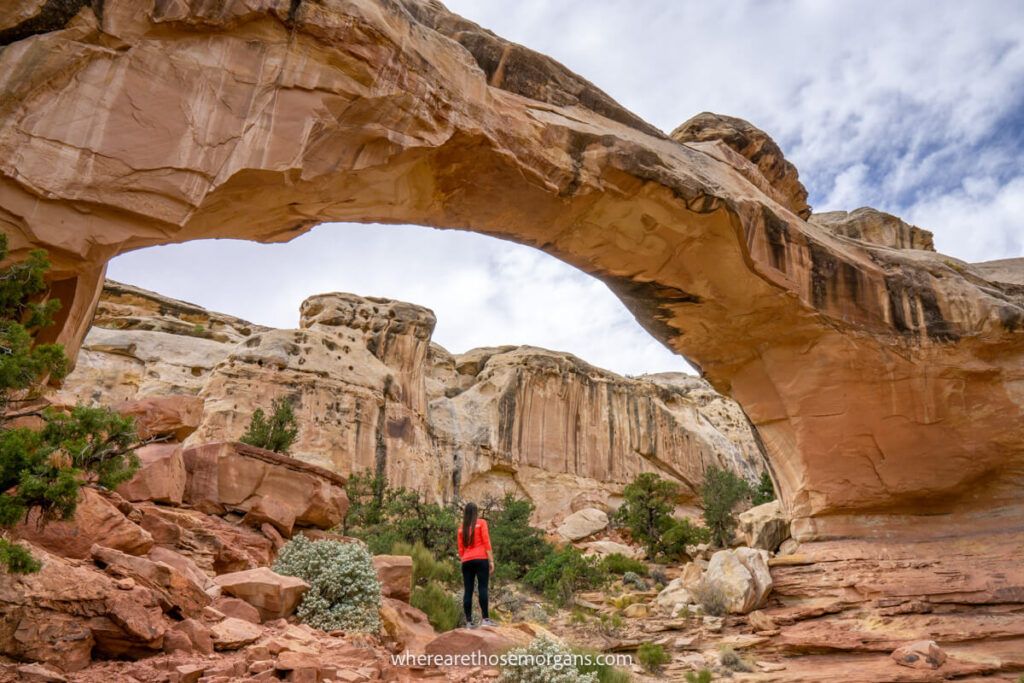 The Hickman Bridge hiking trail is one of the most popular hiking trails in Capitol Reef. At just 1.8 miles roundtrip and with some interesting rock features along the way, it's perfect for the entire family to enjoy.
As you walk the trail, be sure to take note of the very interesting erosion and weather patterns scattered in the area.
The path is easy to navigate with brown wooden signs posted to help you find the way. Depending on the time of year you visit, you may need to keep an eye open for hazardous trail conditions.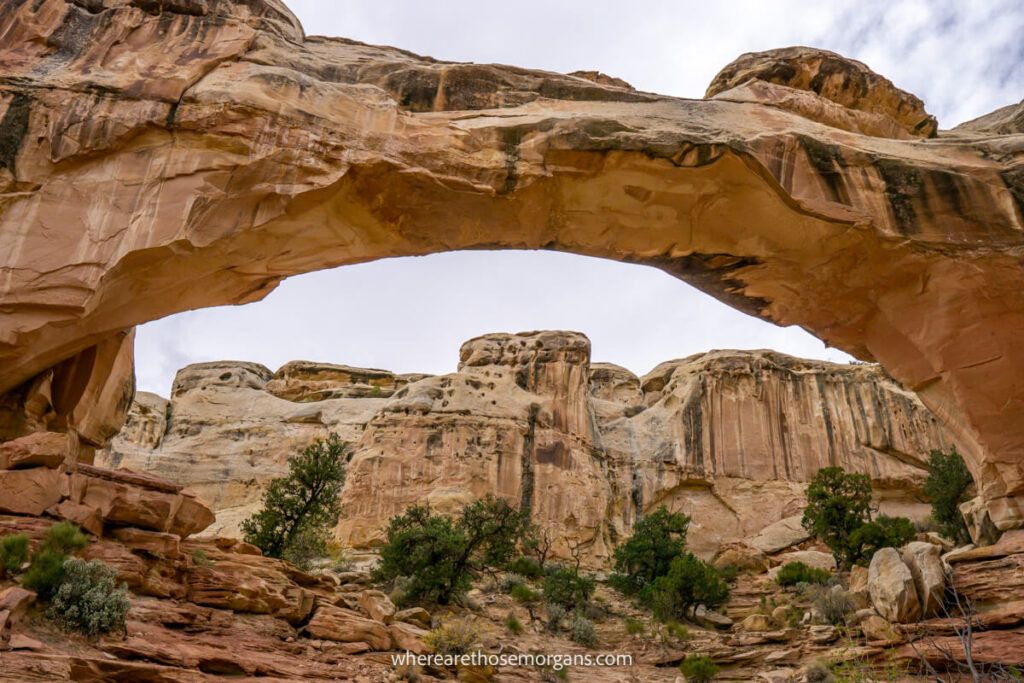 Test our your photography skills by achieving different angles of Hickman Bridge. You will be surprised how large the natural stone bridge is in person when you see it for the first time.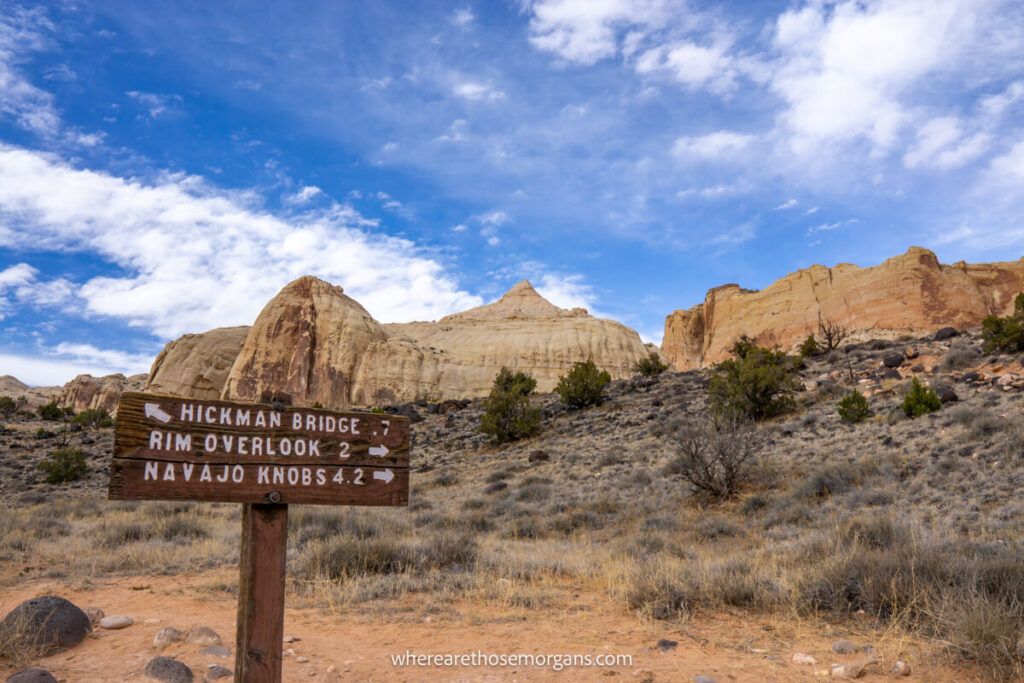 The trail splits here for Hickman Bridge or Rim Overlook as well as Navajo Knobs. If you have spare time, head up to the rim overlook after Hickman Bridge for panoramic views of Fruita.
Need a new hiking app? Don't miss our top recommendations for hiking apps on the market today.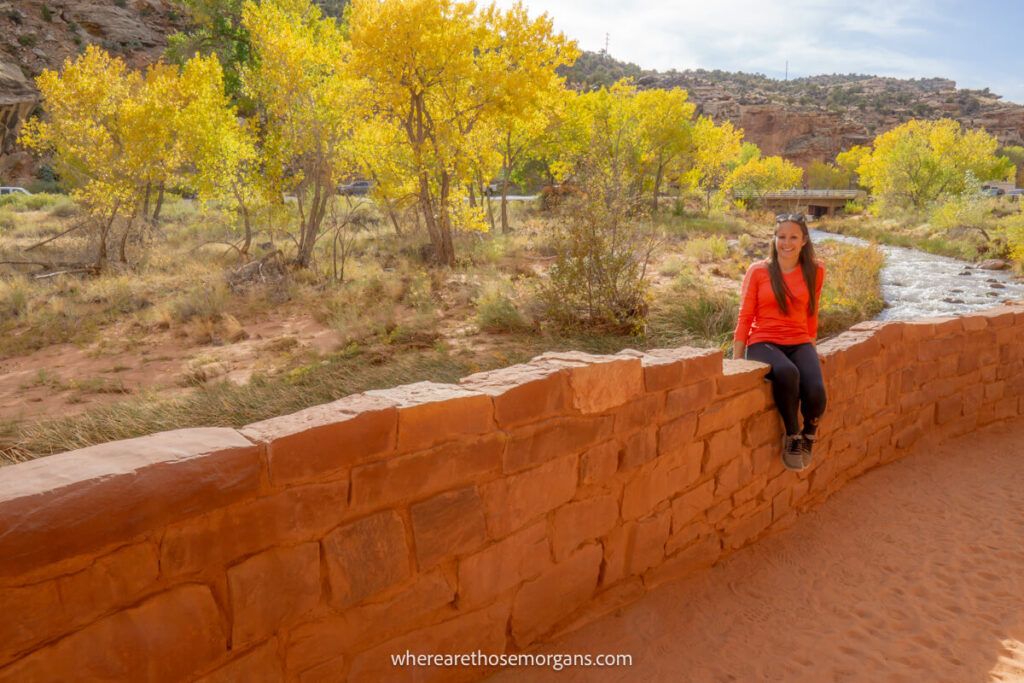 The photo was taken close to the beginning of the Hickman Bridge Trail with the Fremont River in the background.
9. Trailheads And Signs In The Park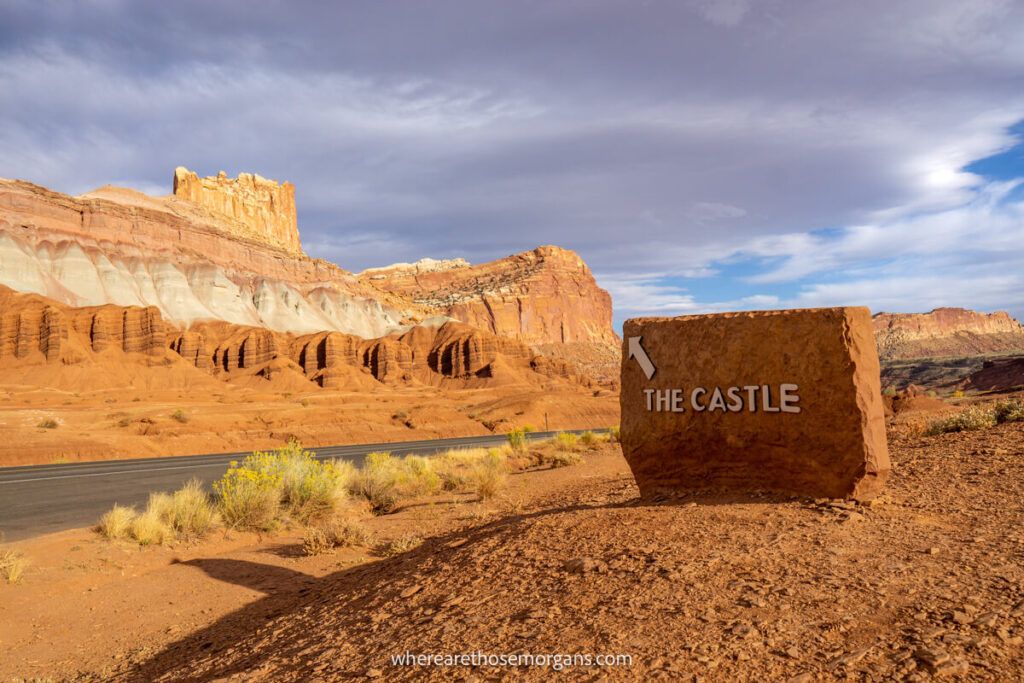 The Castle is named so because it resembles a hilltop fortress from an angle closer to the visitor center. From this angle, it's a great shot of the rock layering between the tip and bottom.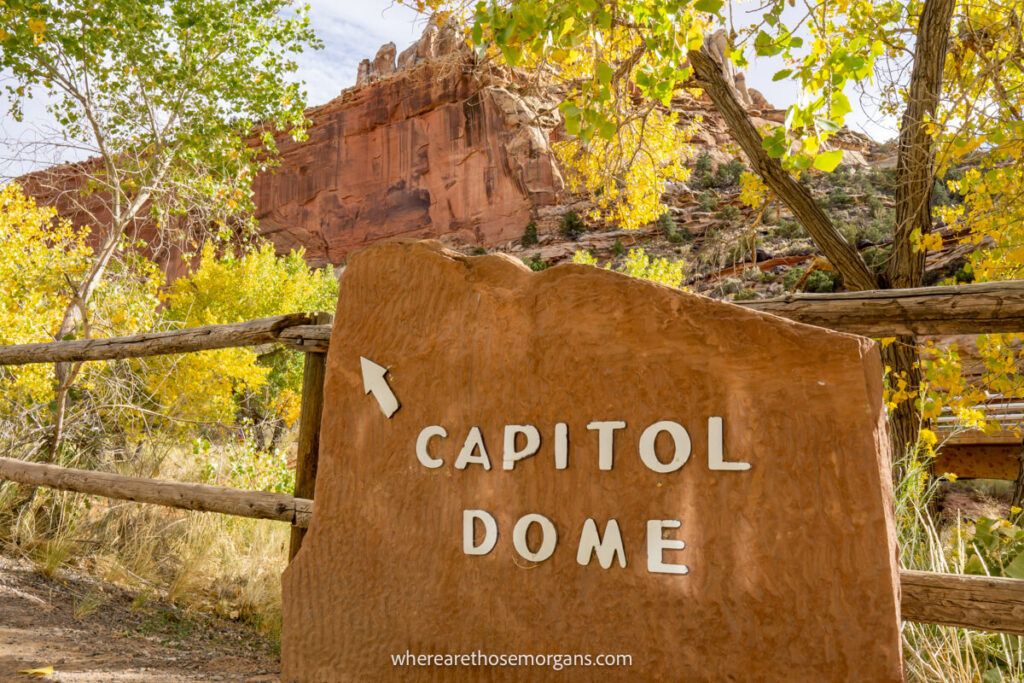 This stone sign pointing to Capitol Dome sign is close to the Hickman Bridge and Rim Trail Overlook trailhead.
If you didn't already know, Capitol Reef received it's name because early settlers thought the white stone domes resembles the Capitol building in Washington DC.
It's only fitting that you try to snap this photo of Capitol Dome to remember your trip.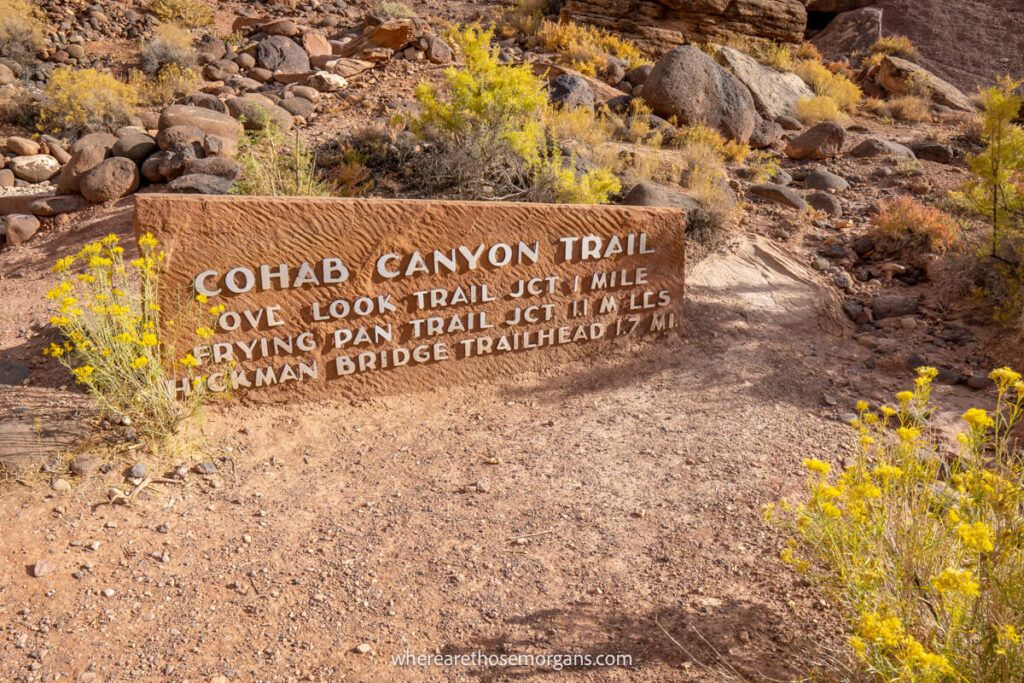 The Cohab Canyon trailhead starts right off the road as it bends around Fruita Barn before the campsite and scenic drive. There are some fun switchbacks on extremely narrow paths.
Need help packing for a hike? Use our tried and tested day hike packing checklist.
10. Capitol Reef Scenic Drive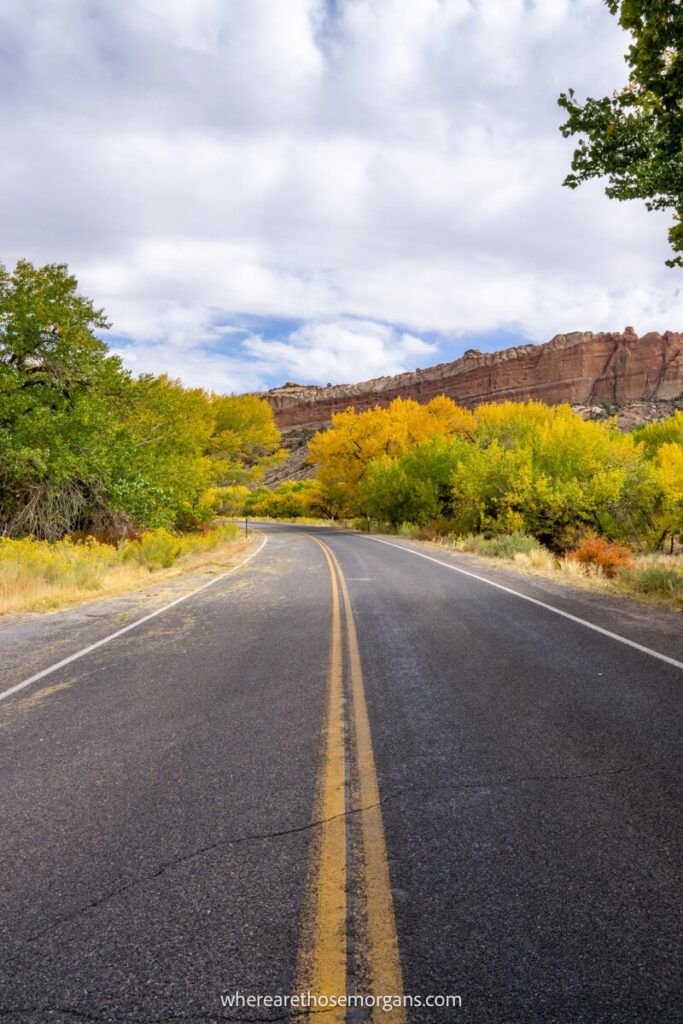 One of the best aspects of photography inside Capitol Reef? The solitude.
Compared to the other Utah parks, this was like a ghost town. We didn't have to rush this photo and it perfectly shows the vibrant fall foliage contrasting against the red rocks.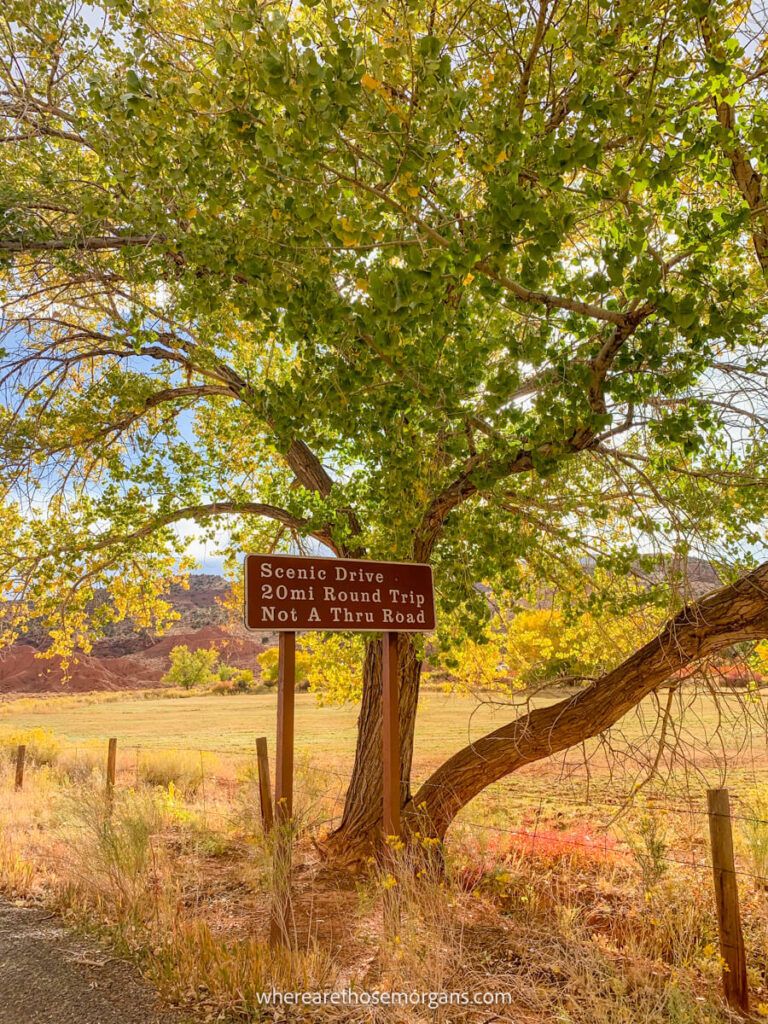 This signpost indicates the 20 mile paved scenic drive in Capitol Reef. This is just another example that everything is quaint and pretty at Capitol Reef, even the road signs.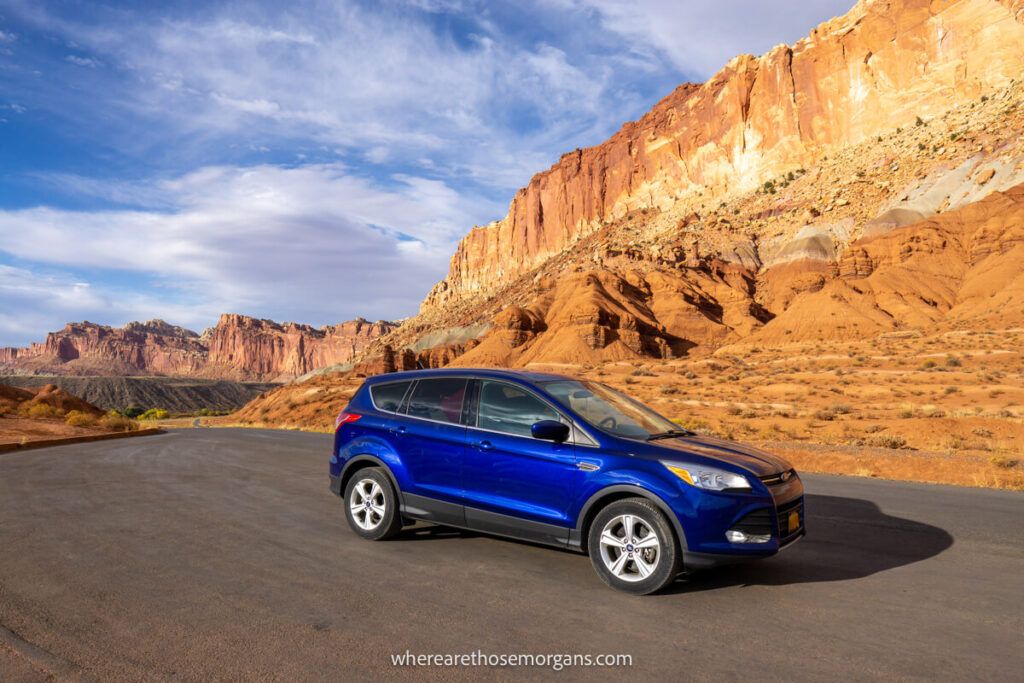 Last but not least, there are numerous places where you can find a great backdrop for taking a photo of your road trip vehicle.
We liked the separate foreground and background rock formations on this one. Please just keep an eye our for other visitors when taking a photo of your car.
Planning a road trip? Check out this road trip packing list with everything you will need.
A Surprise Sunset On Highway 12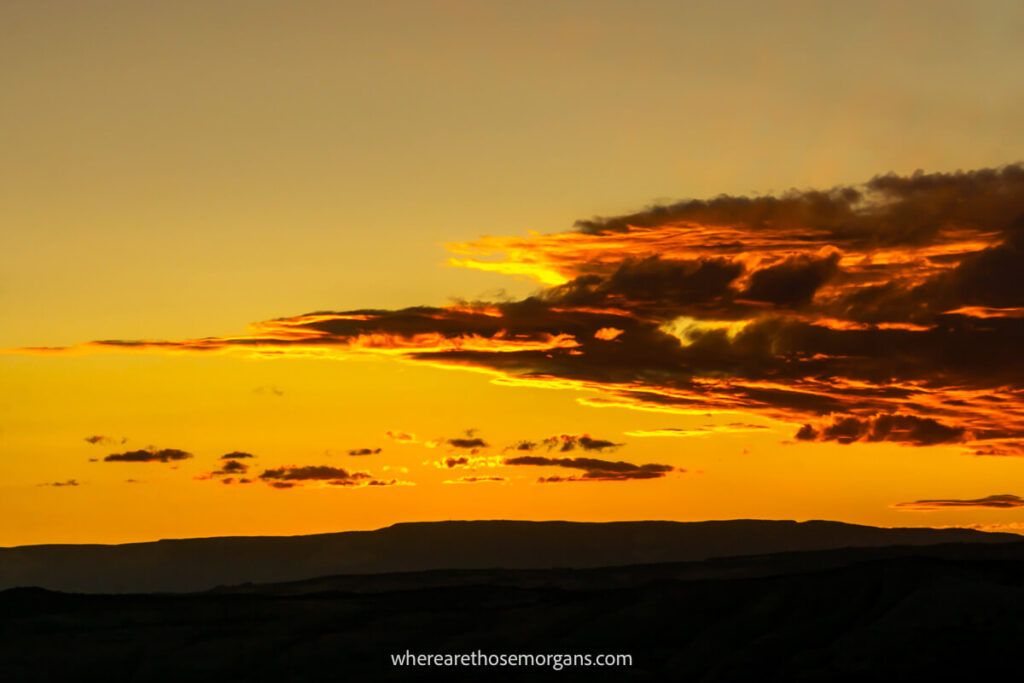 We were lucky to witness a fantastic sunset as we drove out of Capitol Reef.
We decided to drive Highway 12 between Capitol Reef and Bryce Canyon National Park. That night, we enjoyed the views over Larb Hollow Overlook.
The photo from above was taken from Scenic Highway 12 towards Escalante and Bryce Canyon. It looks like a flaming phoenix! The deep red colors were mind blowing.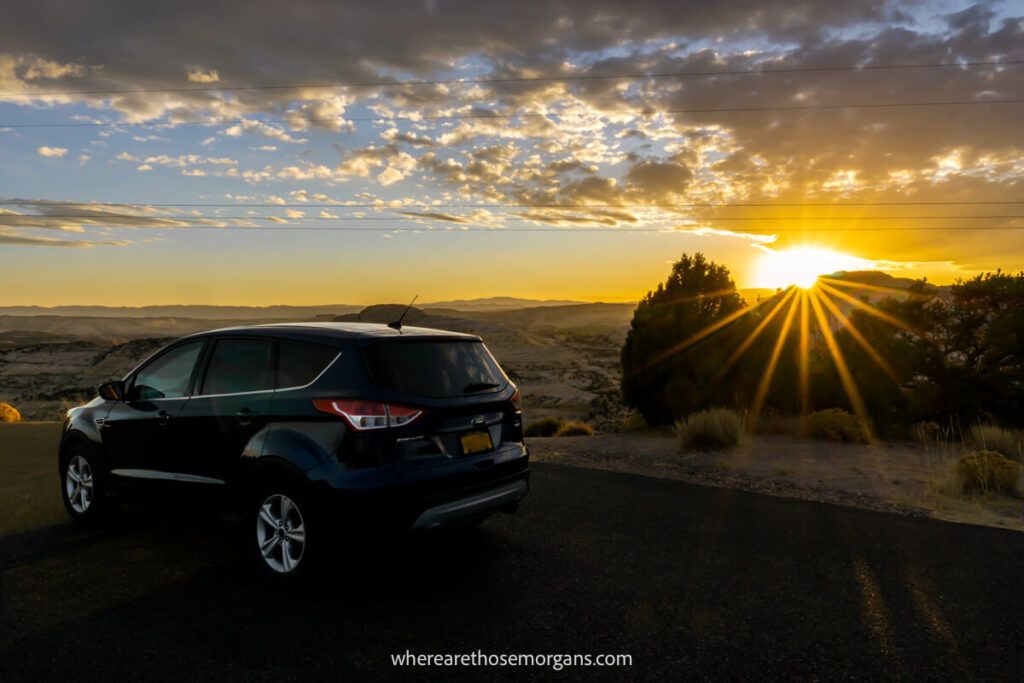 Definitely got a little carried away with aperture here. Probably should have opened up to f11 but we loved the huge sunburst at f16.

The sunset on Highway 12 was far too awe inspiring to watch from the inside of the car, so we parked up and watched the whole event on the edge of a cliff.
More Utah Road Trips
If you are visiting Capitol Reef, there is a good chance you are on a road trip. Below you can find more resources to help you explore the American Southwest:
Capitol Reef Photography FAQ's
Let's finish by taking a quick look at some of the most frequently asked questions about finding the best photo locations in Capitol Reef.
Where are the best photo spots in Capitol Reef?
Fruita is the best district to photograph in Capitol Reef because it is easily accessible. The Fruita Barn, Hickman Bridge, the Gifford House and the scenic drive are great photo locations.
Is Capitol Reef worth It?
Capitol Reef is worth visiting because it's smaller national park that can be visited in one day and the photography locations are amazing.
Should you visit Capitol Reef or Monument Valley?
We preferred visiting Capitol Reef over Monument Valley because it was less crowded and we were granted free entry with our National Park Pass.
Our Popular Photography Guides
More US Hiking Guides
Want more Utah content? Head over to our Utah Travel Guides to explore the Mighty Five National Parks and beyond.
---
We hope our photography guide to Capitol Reef helps with planning your visit to this underrated Utah National Park!
Please let us know if you have any questions about Capitol Reef photography spots or traveling through Utah in the comments below.
Happy Travels,
Mark and Kristen
Enjoy This Capitol Reef Photo Guide? Pin It For Your Visit!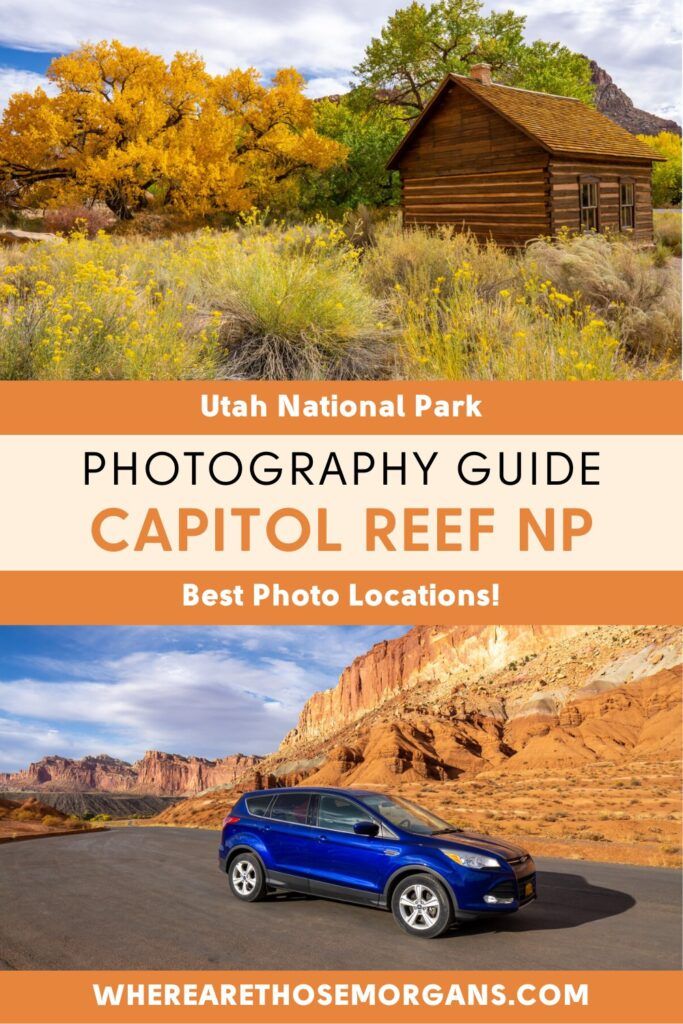 Note: This article contains affiliate links. When you make a purchase using one of these affiliate links, we may earn a small commission at no extra cost to you.
All Rights Reserved © Where Are Those Morgans, LLC. Republishing this article and/or any of its contents (text, photography, maps, graphics, etc.) in whole or in part is strictly prohibited.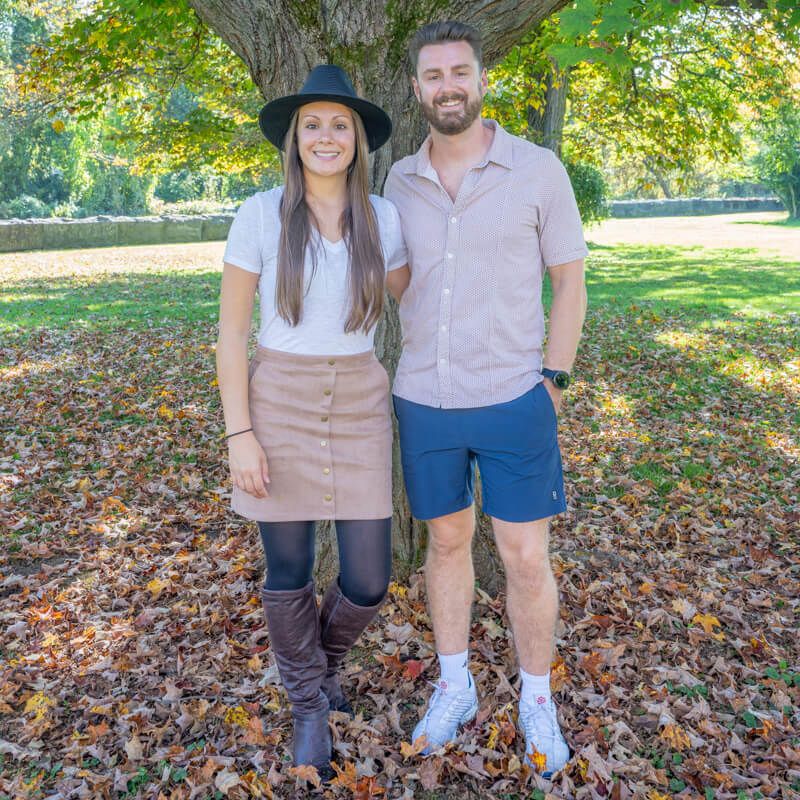 Mark and Kristen Morgan are travel, hiking and photography experts. Over the last 6 years traveling full time, they have explored more than 40 countries and 30 US states.
Their work has been featured in USA Today, Gestalten, Get Your Guide, CityPASS and Condé Nast Traveler along with various other publications.