Don't be fooled by the adjective 'bad' in the name Badlands National Park, South Dakota. There is nothing 'bad' about this stunning vast landscape brimming with extraordinary rock features … Except maybe the weather in Winter! In this guide we're going to walk you through the very best things to do in Badlands National Park.
Badlands is among the most underrated and unique USA national parks. It is perfect for a day trip or a 2 day visit for the whole family. You will find a handful of fun and picturesque hiking trails in Badlands National Park, countless awe inspiring scenic overlooks and a surprising abundance of wildlife.
We would strongly recommend including the Badlands as part of a longer South Dakota road trip, with both Custer State Park and Mount Rushmore just a few hours drive away.
Let's get stuck into the best things to do at Badlands National Park!
*Please note this post may contain affiliate links. If you click on one, we may earn a small commission at no extra cost to you!*
How Did The Name 'Badlands' Originate?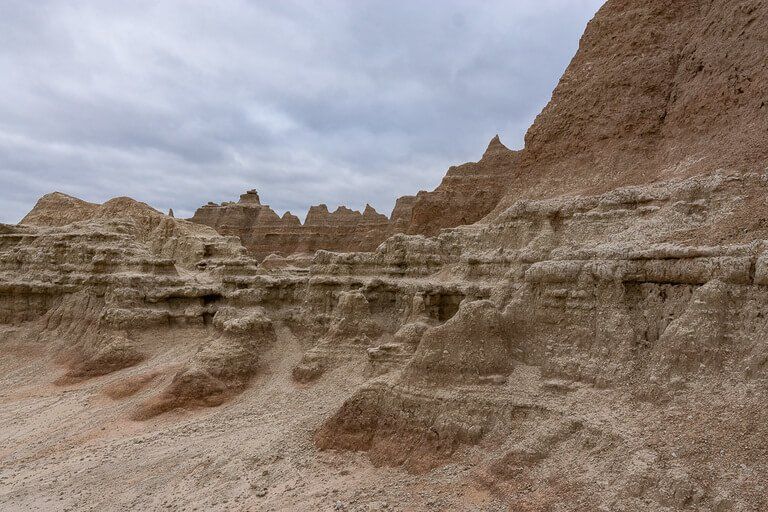 For both Lakota Indians and French fur trappers, there was a translation for this hostile environment. The Indian translation was 'mako sica' and the French 'les mauvaises terres a traverser'. Both mean 'bad lands.'
This is in reference to a harsh climate, lack of water and jagged rock walls. The scorching summers, freezing winters and relentless Arctic winds blowing from the North have created an inhospitable semi arid region. It's very easy to see how this land got its name.
But one man's meat is another man's poison. The Badlands have been an archaeologists Disneyland for the last 200 years. You see, the Badlands are home to one of the world's richest fossil beds.
Millions of years ago the National Park we now know today was underwater. Gravel, mud and sand from the Black Hills river runoff, coupled with volcanic ash from the Rocky Mountains carved out a new layer in the rock formations.
Harsh winds and heavy downpours are the primary forces that sculpt the landscape we see today. Erosion is destroying the Badlands wall at an alarming rate.
Better visit soon before Mother Nature inevitably wins the war.
Do you prefer to be inspired through photography? We have you covered, check out our favorite Badlands National Park Photographs.
Why Should You Visit Badlands National Park?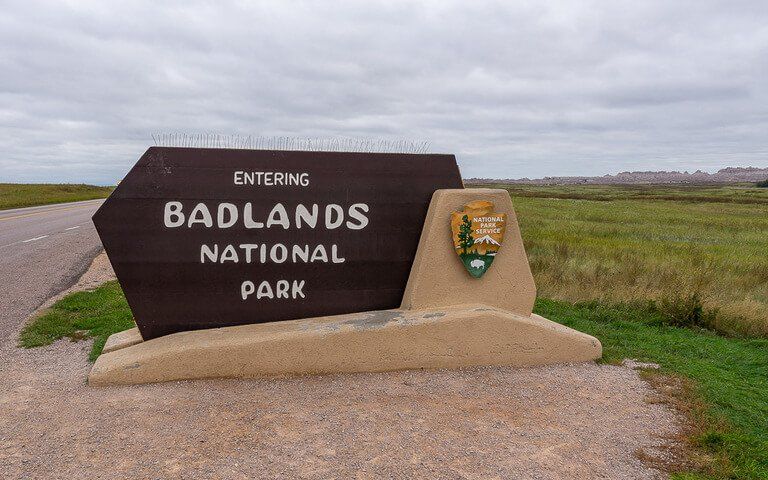 Badlands National Park is perfect for all age groups and levels of fitness. You don't need to be a seasoned hiker to see the best views, heck you barely need to leave the car to see the natural beauty of this park!
This is not an adventurous hiking National Park, it's more suited to those who enjoy unique landscapes and wildlife. Badlands is one of the more educational national parks we visited, with tons of information boards to explain what you are looking at.
We think the geologic highlights can be seen in under 6 hours but would recommend allowing 2 days and 1 night if time allows.
That way you can head out into the wilderness areas to spot wildlife, see the stars and get both a sunrise and sunset over the rocky arena.
Read next: Best Places To Stay Near Badlands National Park
Where Is Badlands National Park?
Badlands is located in a desolate part of Northern Central USA. The government used this area as one of its nuclear missile launch sites for a reason.
It's a 7 hour drive from Denver and 8 hours from Minneapolis, two of the larger nearby cities.
Many people visiting the area fly into Rapid City and hire a car to visit Badlands with the Black Hills.
Use Skyscanner to book the best flight deals into Rapid City.
Use Rental Cars for awesome deals on hire cars.
West of the Black Hills you can find Yellowstone and Grand Teton, while to the South you have Rocky Mountain National Park. Any option would make for an awesome road trip combined with Badlands and the Black Hills.
For those heading West from New York, Chicago, Boston, Philadelphia, DC or any other big city in the East – the I-90 is one hell of a slog but it's worth it once you reach Badlands National Park.
Related: Our 15 Top Tips For Finding Cheap Flights
Badlands National Park Fact File
Address: 25216 Ben Reifel Road, Interior, SD 57750
Website: nps.gov/badl/
Phone: (605) 433-5361
Park Opening: All day, every day
Entrance Fee: US$ 30 Car (US$ 25 Motorcycle) / Free with America the Beautiful Pass
Visitor Center: 8am – 4pm Winter / 7am – 7pm Summer / 8am – 5pm Apr, May, Sept, Oct
Campgrounds: Cedar Pass – US$ 22 per night (more info) / Sage Creek – Free (Primitive)
Backcountry camping: Allowed – permit not required
Accommodation: Cedar Pass Lodge ~US$ 180 per night
Top Activities: Hiking, Camping, Stargazing, Wildlife Spotting
Annual Visitors: ~ 1 million
Best Time to Visit: May, June & September
Video: We bundled together a GoPro video of the best things to do at Badlands to give you an idea of what you can expect at Badlands National Park!
What Are The Best Things To Do In Badlands National Park?
Badlands is a small, scenic and simple national park. You won't have to rush around and you don't need to take on any adrenaline pumping trails.
Various scenic overlooks, picturesque hikes and wildlife spotting are your main priorities when visiting the park.
Most of the best things to do at Badlands National Park can be seen and done within 5-6 hours, but that does only cover the shorter hikes and most popular viewpoints.

As we mentioned earlier, you'll have a better Badlands experience if you stay a night so you can enjoy sunrise, sunset and stars.

Photographers will enjoy the harsh but smooth and colorful landscape, wildlife and open sky.
On a road trip? Read our amazing 10 day road trip itinerary from Mount Rushmore To Yellowstone National Park, which takes in the best of South Dakota and Wyoming.
Badlands National Park Scenic Drive & Overlooks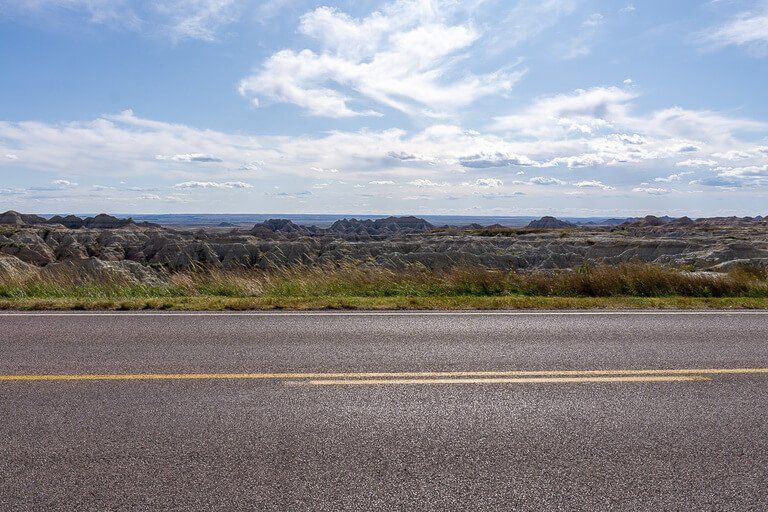 Every visitor will drive the Badlands loop road, also known as Highway 240. The 240 begins at the Northeast entrance and ends at Wall (via the Pinnacle entrance).
This 40 mile scenic tour is one of the best fuel consumption to quality of scenery ratios you are likely to experience!
It would take around 60 -80 minutes if you were to drive right through without stopping. Compare that to under 20 minutes by I-90 between the 2 entrances. But of course you are going to stop, many times!
We strongly urge you to continue your drive onto Sage Creek Rim Road instead of exiting at Pinnacles.
Although the road becomes gravel and mud, it is worth the car taking a little bit of a beating for the wildlife and alternate viewpoints.
There are around 15 'overlooks' to stop at along both roads, here are a few of our favorites.
1. Big Badlands Overlook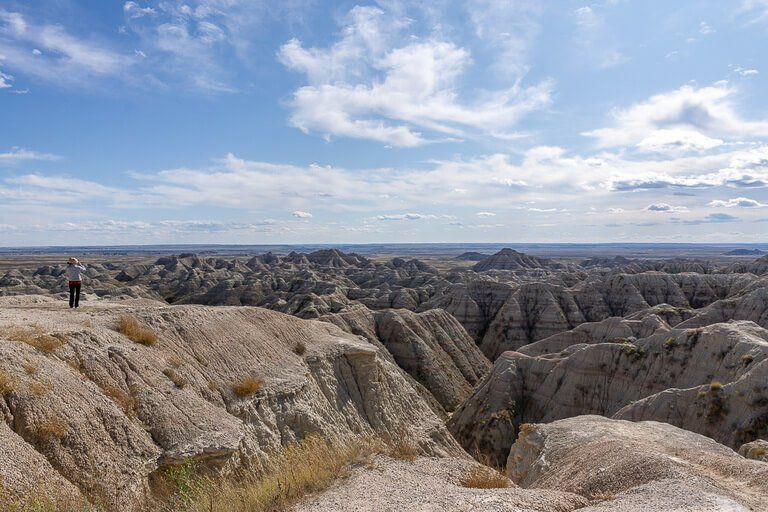 Depending on which way you drive through the park, this will either be the first or last overlook. We prefer to enter at the Northeast entrance, which makes Big Badlands Overlook the first time you will lay eyes upon this otherworldly landscape.
By all means jump out and grab a few photos but don't linger too long as the best is yet to come! To the right you will be able to see a rock wall – this is known as the heart of Badlands.
By the next overlook you will have hiked a few short trails.
2. White River Valley Overlook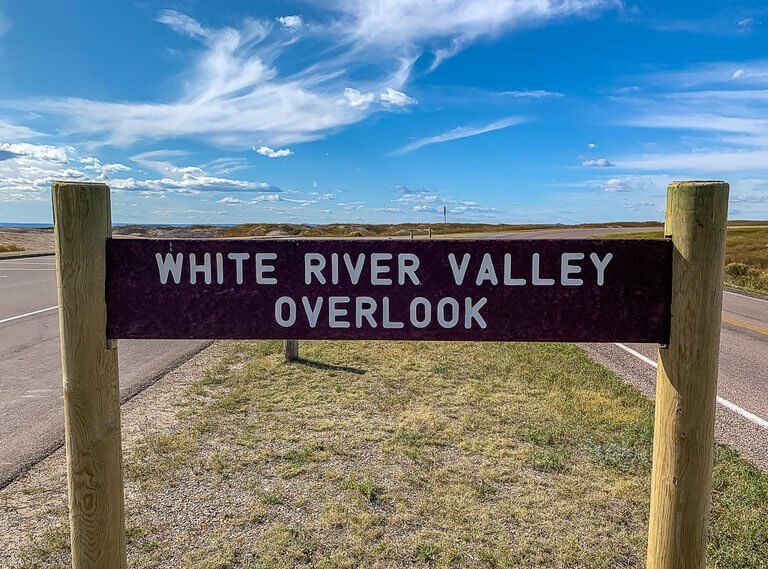 White river valley is where many of the archaeological fossil discoveries have been made over the years. It's the perfect stop off to look at the different layers in the rocks, including the red colored fossil soils.
3. Panorama Point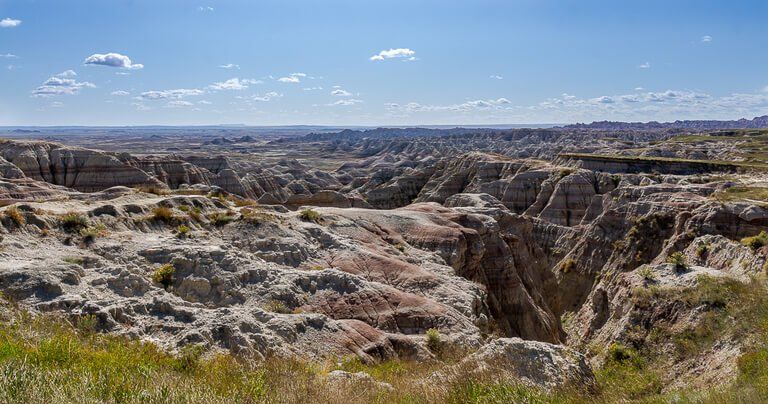 Although only a short distance from the previous overlook, Panorama point offers its unique view over the jagged rock formations.
Each viewpoint has a different angle to appreciate the dramatic features of Badlands National park.
4. Yellow Mounds Overlook – Our Favorite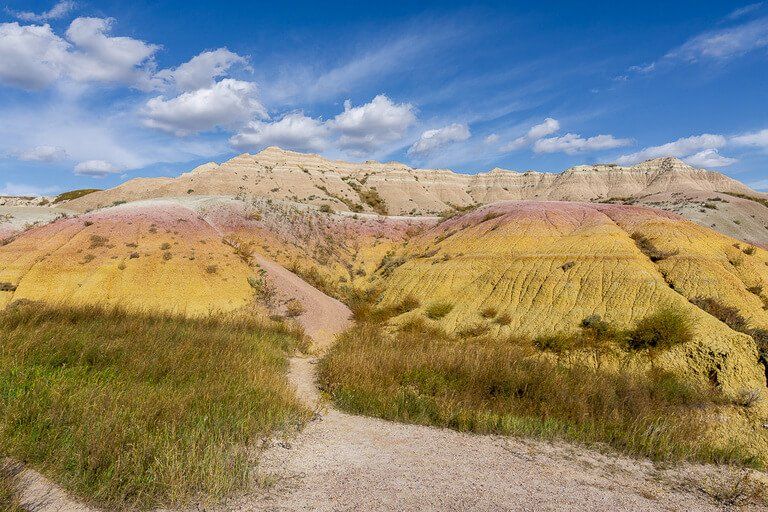 Just look at that incredibly vibrant and unique mustardy yellow hue! How could this not be the best overlook?
All the rocks here are formed by left over shale weathering into fossilized soils but this distinct yellow get its color from a mineral called Goethite.
This was the only place we saw a tour bus in Badlands National Park!
Insider secret: When editing this photo on Lightroom, we had to reduce saturation of Blue to -25 because the brilliant blue sky was so vibrant it didn't look real! That's how awesome the open blue sky is at the Badlands.
5. Pinnacles Overlook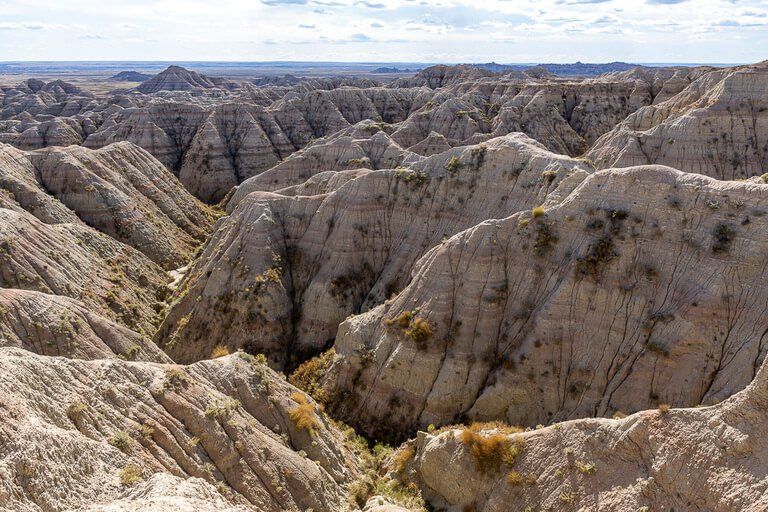 As you leave the towering wall behind, your focus switches to gullies below once more. These water torn ravines are perhaps more impressive features than the eroding wall.
6. Hay Butte Overlook (Sage Creek Rim Road)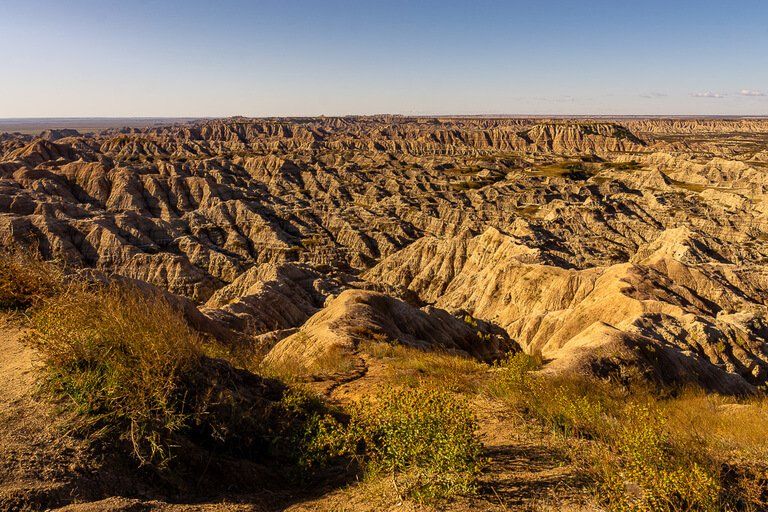 Hay Butte overlook isn't far onto the dusty Sage Creek Rim Road but you can see how the topography is equally as spectacular. Particularly if you are lucky enough to behold a stunning sunrise as we did here.
One of the many reasons staying the night is worthwhile!
7. Badlands Wilderness Overlook (Sage Creek Rim Road)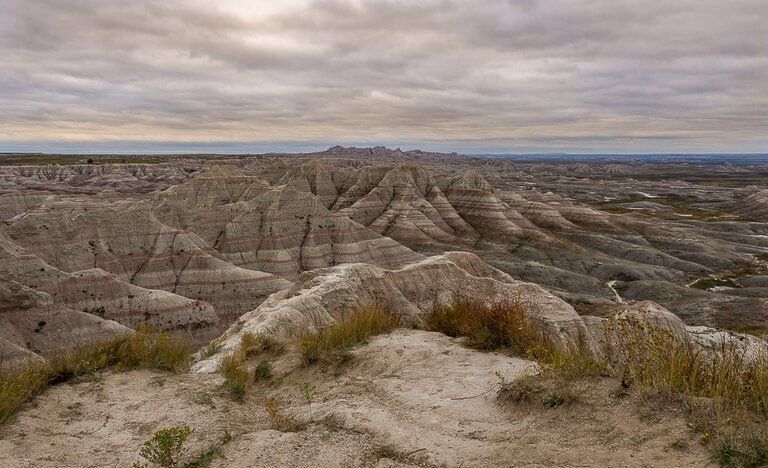 Sage Creek with its river beds and prairies is the ideal place for wilderness to thrive. Badlands wilderness overlook is one of the best places to observe wilderness from above but don't forget your binoculars or telephoto lens!
Early morning and early evening are prime spotting hours here.
8. Roberts Prairie Dog Town (Sage Creek Rim Road)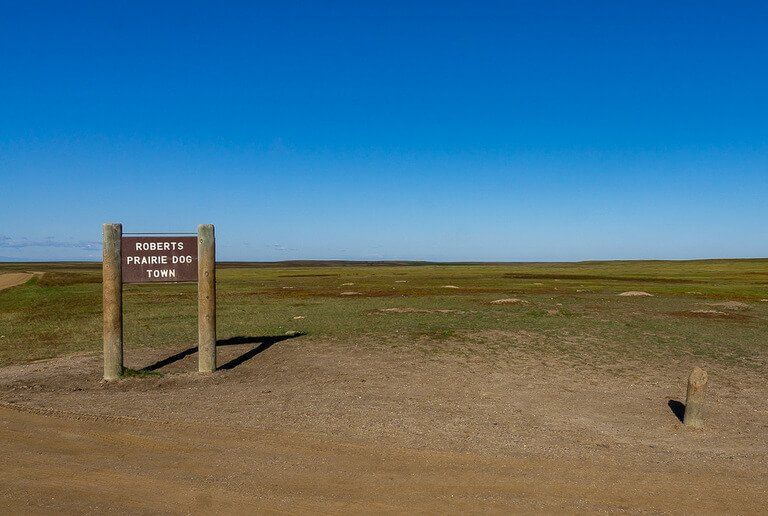 This is one huge open flat grassland area with thousands of tiny holes in the ground and the odd head poking out to nosey around. The prairie dogs are interesting to watch scuttling around as they bark to one another.
Again, telephoto lens required!
Badlands National Park Hiking
Hiking will never be the primary reason to come to Badlands National Park. There are just a few short trails and one longer if you have time.
The way we saw it was the shorter hiking trails were an added bonus to the main reasons for visiting the park and offer the chance to see rock formations from different perspectives.
You won't need any seriously specialist gear and the only dangers are the sharp jagged rocks … and rattlesnakes!
Door, Window, Notch and Castle trails all begin at the car parking area before the visitor center.
9. Door Trail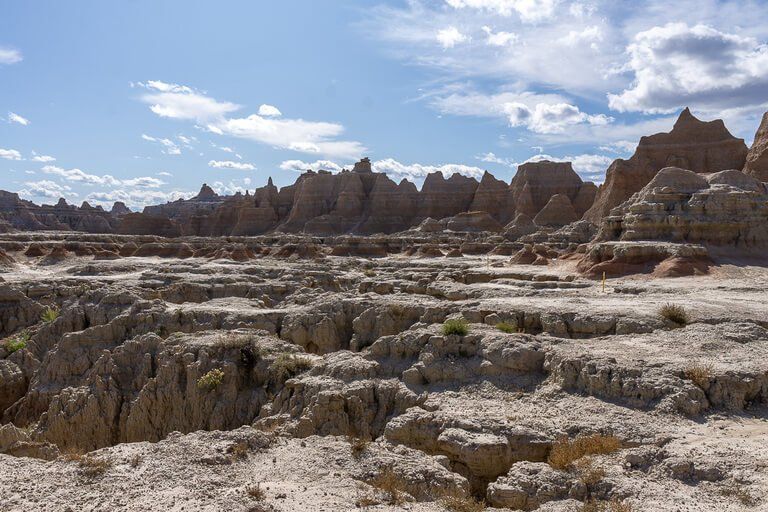 Name: Door
Difficulty: Easy
Distance: 0.75 Miles Roundtrip
Recent Comments: All Trails
The beauty of door trail is how it allows you to walk around the other side of the Badlands wall and wander among sharp rocks, ravines and gullies.
If you want to walk an easy trail but still get a good feel for the topography, this is definitely the best choice.
You'll be able to pick up some awesome photography looking back at the wall.
Follow the yellow sticks with white numbered tops and you will know you reach the end when you see the 'End of Trail' sign!
10. Window Trail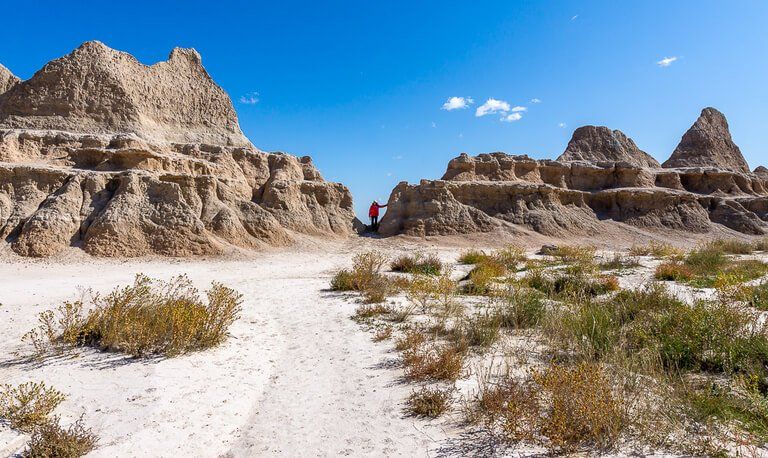 Name: Window
Difficulty: Very Easy
Distance: 0.25 Miles Roundtrip
Recent Comments: All Trails
Window trail is not a hike! It's too short to be classed at anything more than a quick walk. But it is still worth making your way over to the U shaped gap in an otherwise tall wall.
Through the 'window' you will gaze upon yet another mind blowing image of Mother Nature waving her magic wand.
11. Notch Trail (Best Hike)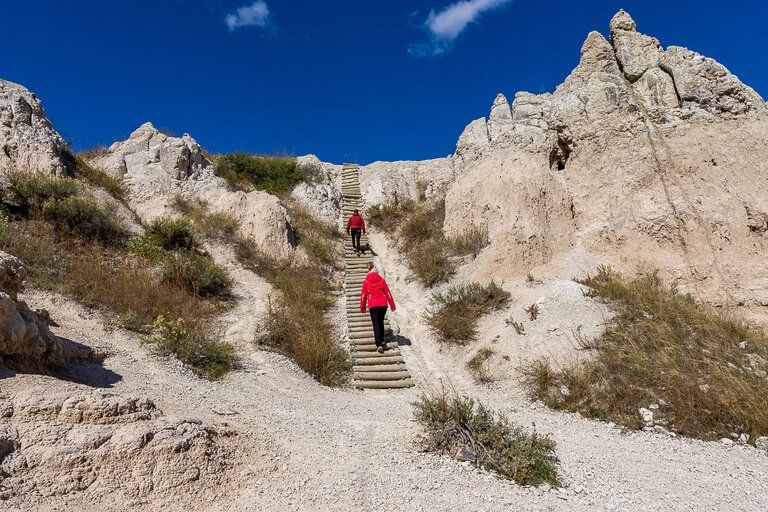 Name: Notch
Difficulty: Easy /Moderate
Distance: 1.3 Miles Roundtrip
Recent Comments: All Trails
Notch Trail is the most popular hike in Badlands National Park and one of the best hikes in the US thanks to its unique surroundings. At just 1.3 miles return (out and back), it's a quick hike but it packs a punch.
The trail cuts through a canyon with towering buttes and spires to either side until it reaches a 50 ft tall wooden ladder hugging a rock face.
If the trail is busy, take care on the ladder to allow enough space between climbers. The bottom section is no problem, but it does get a little bouncier toward the top. Lean into the rock as you ascend and descend.
Follow a steep cliff edge, a few scrambling sections and you will be on top of Badlands Wall. The trail opens up and a right spur leads you to a stunning viewpoint.
Top tip: The Notch Trail viewpoint is West facing, which means it could be a fantastic elevated location to watch sunset in the park.
Read our complete walkthrough with tips and photographs for Badlands best hike – The Notch Trail.
12. Castle Trail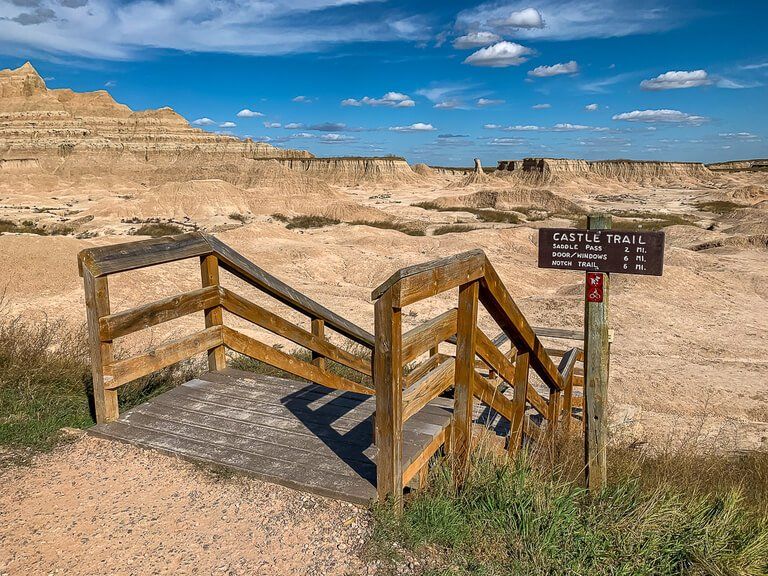 Name: Castle
Difficulty: Moderate (due to length)
Distance: 10-11 Miles Roundtrip
Recent Comments: All Trails
Castle is by far the longest trail in the Badlands National Park and it connects the door/window/notch parking lot to the Fossil Exhibit parking lot.
There is an option to do a loop by beginning on Castle, then looping back on Medicine Root or alternatively – if someone in your group doesn't fancy the walk – you could go one way and meet them at Fossil Exhibit parking area.
Castle is a predominantly flat walk passing by plenty of cool rock formations but it is a long one so we would only recommend it if you have time and suitable weather conditions.
The photo above was taken at the Fossil Exhibit car park to the West of Castle trail. Notice the solitary rock that looks like a giant Meerkat?!
13. Medicine Root Trail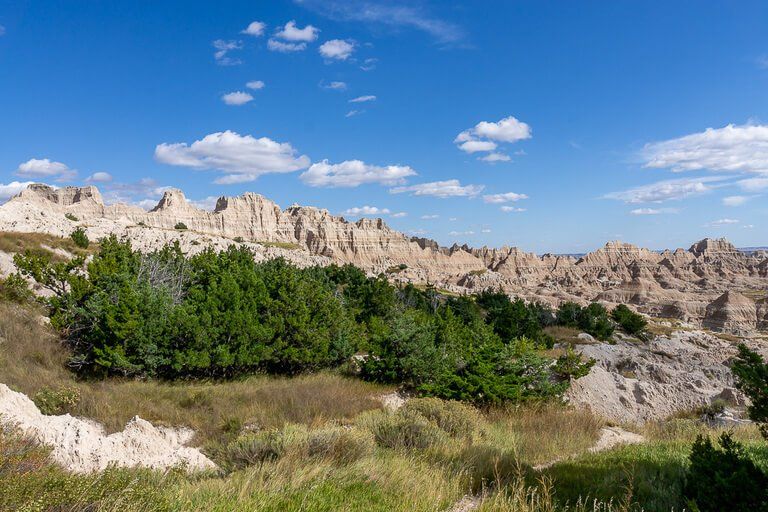 Name: Medicine Root
Difficulty: Moderate
Distance: 4.5 Miles Roundtrip
Recent Comments: All Trails
Medicine Root trail is more of a detour from Castle that allows you to walk through a mixed grass prairie. There's a good chance you'll see some wildlife but there aren't many rock formations here until you get back on Castle if you plan to loop back around.
The key thing to mention here is that if you approach from Saddle Pass trailhead to keep the route shorter you will be faced with a fairly intense climb at the beginning.
14. Saddle Pass Trail
Name: Saddle Pass
Difficulty: Moderate
Distance: 0.25 Miles Roundtrip
Recent Comments: All Trails
The most difficult part of any trail inside the Badlands National Park is the short, steep but awesome climb directly up the wall!
Your effort is rewarded with more awe inspiring views of eroded and deposited rock formations. This trail connects to Castle and Medicine Root. Be careful on the way down!
14. Fossil Exhibit Trail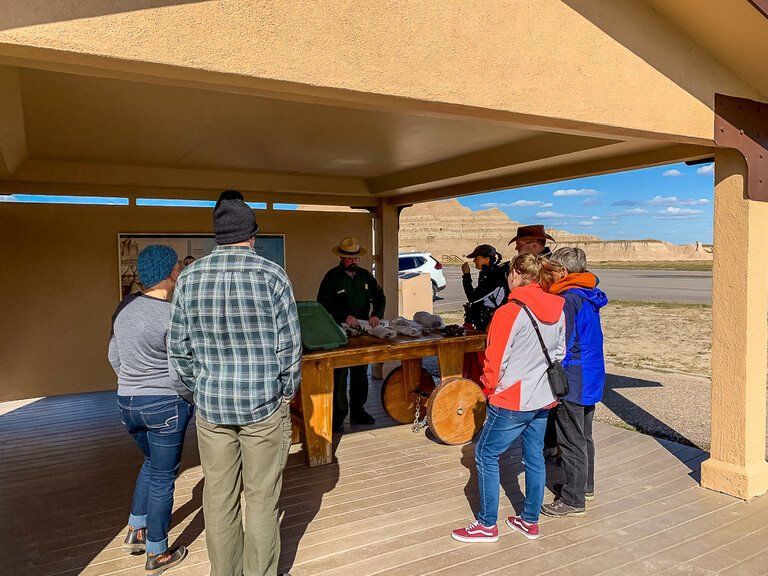 Name: Fossil Exhibit
Difficulty: Very Easy
Distance: 0.25 Miles Roundtrip
Recent Comments: All Trails
This is another of the 'not a real hike' short paths that you explore by boardwalk loop. But this is the perfect family stop off location in the park.
If you don't stop at the visitor center to learn about fossils, archaeology or paleontology this is the place to visit. Hopefully you will time it right for a ranger led program like we did! If not, follow the boardwalk and read all the information boards.
The kids might lose interest and run around on the rocks but the adults can learn more about fossil discoveries at Badlands.
Doesn't sound interesting?
Well some of the fossils include camels, rhinos and turtles. How about now?!
New to Hiking? Don't miss our 21 most important Hiking Tips For Beginners (tips also apply to experienced hikers).
Badlands National Park Wildlife Spotting
Okay, have you ever heard Badlands mentioned in the category of best National Park for spotting wildlife? We can almost guarantee the answer is no. And although it is no Yellowstone or Glacier, we saw an unexpected amount of wildlife at Badlands!
The trick to wildlife spotting is getting up early or staying out late. The middle of the day is packed with tourists and the animals often rest during the day, unless you time it right for mating season!
At the Badlands, your best bet for spotting wildlife is on Sage Creek Rim Road and wilderness area close to the primitive campsite.
Be alert when driving as wildlife is all around. And please don't be that idiot who abandons the car in the middle of the road and runs up to an animal to take a selfie!! It happens!
15. Bighorn Sheep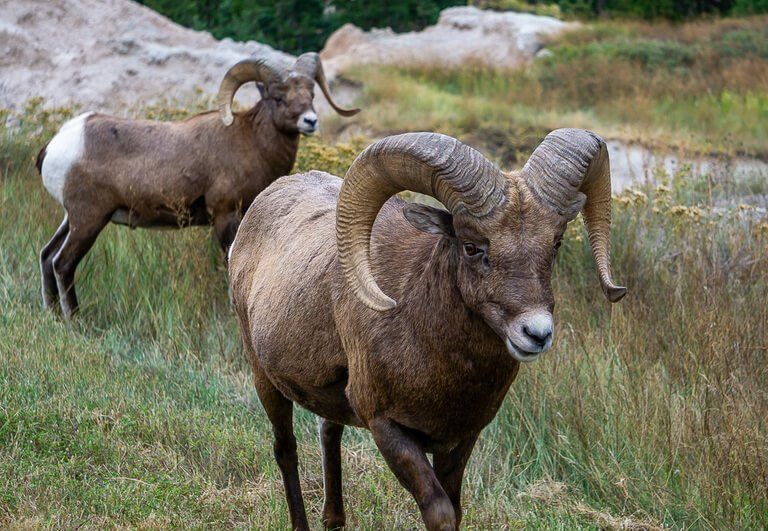 We were shocked to see bighorn sheep because we just didn't expect it! These cool customers were chilling near cliff shelf nature trail between Door/Window/Notch and the visitor center.
Fortunately they were on the passenger side and no other cars were around, so we pulled over gently and got some great photos with the telephoto lens.
These guys were our first ever bighorn sheep sighting and we were both very excited!
16. American Bison
There are plenty of Bison spotting opportunities across the Western US, but we were thrilled by how quiet the Badlands were compared to Yellowstone and the Grand Tetons parks.
It meant we could sit quietly alone, watching and waiting for the Bison to move so we could photograph them instead of invading their space to get a quick shot.
This big beast was hanging around Sage Creek campground in the early evening.
17. Rattlesnakes (Aghhh!)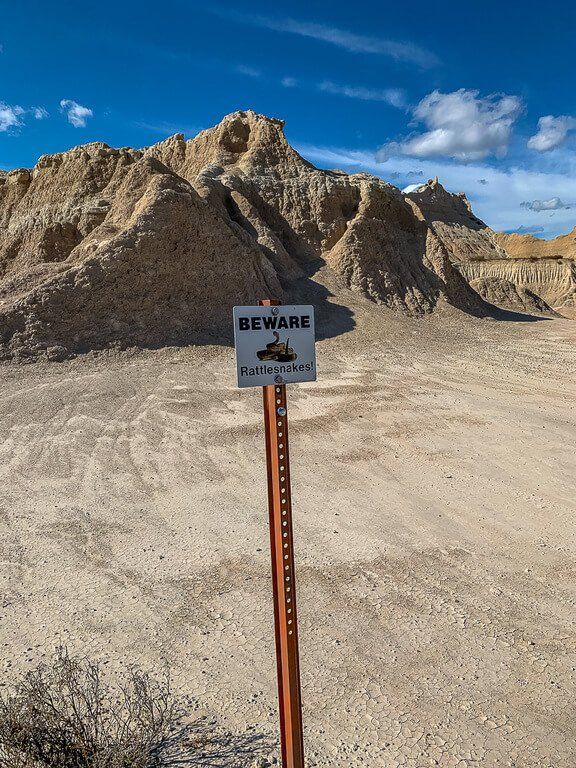 Yes, seriously. There are 'beware of rattlesnakes' signs everywhere! Not being the biggest fan of snakes makes for an interesting couple of days.
You're probably thinking "well, did you see one?" and our answer is thankfully no.
We saw a snake but it was small, green and raced away quickly as we approached. But after seeing a sign saying beware of rattlesnakes, we of course still soiled our pants!
Rattlesnakes are the only venomous snakes in Badlands but there are quite a few other species.
In Winter, rattlesnakes hibernate in Prairie Dog holes.
18. Prairie Dogs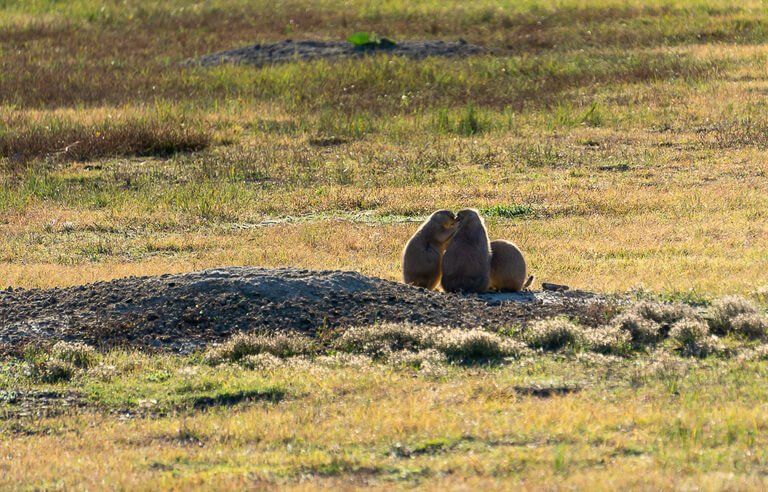 These cute little rodents can be found all over the Badlands, but are most prevalent in Prairie Dog town and Sage Creek campground.
When we were setting our tent up at Sage Creek in the evening, we could see tons of holes and the thought of rattlers crossed our minds more than once!
Early in the morning, the Prairie Dogs were extremely active, often running from one hole to another or congregating on one particular hole.
Bonus – Badlands National Park Stargazing
With almost no light pollution, the night sky above Badlands National Park is bursting with stars. If you have any interest at all in stars, night photography or just plain cool stuff, spend the night at a campground and enjoy the show.
In Summer, there are ranger led stargazing activities – be sure to check the calendar.
We had a pretty windy night at the campground which gave us a little vibration even with the tripod on its shortest setting for maximum stability. But we were a little late in the season and can't complain!
Is There Anything Else To Do Nearby?
Minuteman Missile Museum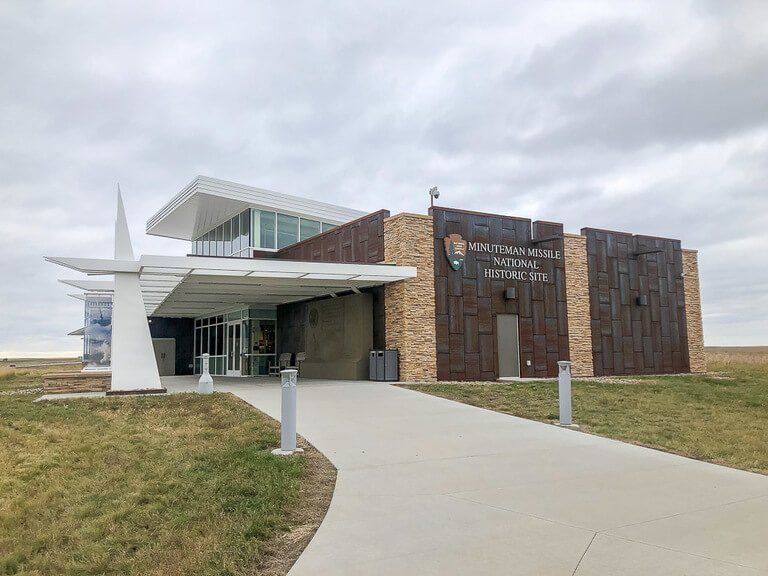 If you have a little time spare before moving on after Badlands, please take an hour to visit the minuteman missile museum. We promise it will be worth your while! The museum is clean, well laid out, educational and has great exhibits.
There are also demilitarized missile silos close by just off the I-90 that still contain the nuclear missiles. There's not much to see on these sites but it's intriguing to lay eyes upon what once could have changed the world.
If you can get super organized, there is a guided tour inside one of these missile silos.
Wall (The Town)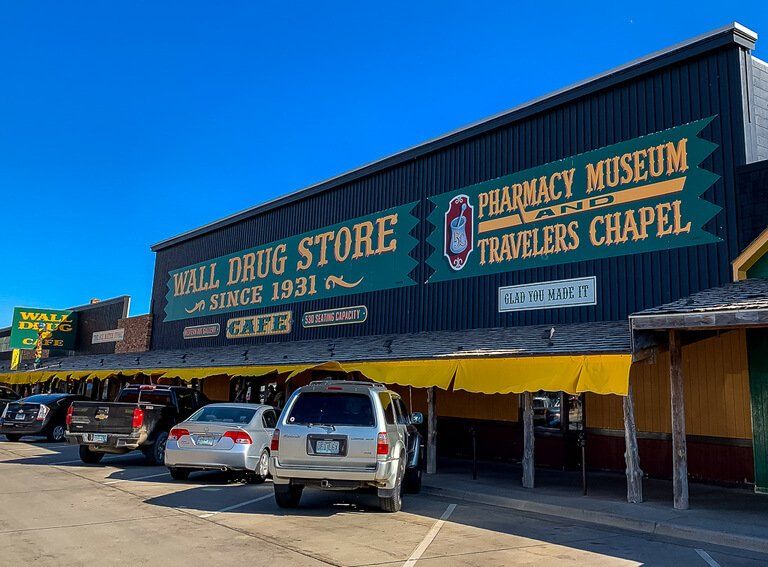 Wall is a tiny hub town for South Dakota's best attractions. If you've traveled West on the I-90, you will have seen billboards for Wall Drug Store over the best part of 300 miles!
The drug store is a series of buildings with colorful wooden facades created to look a bit like the Wild West. We stopped into the drug store for breakfast on our second day and had a look around the many shops. It is quite tacky, but also intriguing.
Things To Do In Badlands National Park Interactive Map
Where To Stay Near Badlands National Park
Having spent one night in Sage Creek campground and one night in a nearby hotel, we can tell you from experience that Badlands isn't the easiest US national park to find a range of lodging options.
It's easy to visit this park in half a day but we would recommend staying some where close by or overnight in a campground if possible.
You can camp in Sage Creek for free or Cedar Pass paid campground and RV park.
Sage Creek Lodge is the only national park hotel option, which is a series of log cabins and has a set fee of US$ 182 + tax per night.
Nearby, hotel availability is limited and in high demand between May – October. Our top recommendation is Wall, which has a better selection of amenities and is within 8 miles of the park.
Read: The Best Hotels Near Badlands National Park – We have written a very helpful and detailed guide breaking down all lodging options inside and near Badlands.
In summary, here are the most convenient towns to book a hotel for your visit:
1. Wall
Wall is the closest and most convenient place to stay near Badlands National Park. There are three hotels in Wall and they are all within 10 minutes of the scenic drive lookout points inside the park.
2. Rapid City
Another option is to base yourself in Rapid City, which is a 1 hour drive to the scenic drive but is also close to the Black Hills, Mt. Rushmore and even Deadwood to the North.
3. Keystone
Your final option is to base yourself in Keystone, which gives perfect access to Mt. Rushmore, Black Elk Peak and Custer state park. It is only 1h 30m to Badlands scenic drive by I-90, or 1h 50m via Sage Creek Road near Scenic.
What To Pack For Badlands National Park
Badlands National Park experiences extremes in weather so be aware of weather reports prior to your arrival.
In particular, if you are camping you will need thicker layers outside of Summer. Trust us, it gets cold!
In Summer, don't forget your sunscreen. In Spring/Fall, down jackets are perfect for regulating temperature.

Another vital thing to remember is to take a packed lunch with you. Don't get caught out with no food, there aren't any restaurants or cafes in the park.

If you plan to scramble up Notch trail or walk the 11 mile Castle trail, take a pair of robust trail shoes, like

the

Salomon Speedcross 4.
You can fill up your reusable water bottles at the visitor center and of course you will need a quality day pack to store everything.
The final thing is to remember your camera to create memories of Badlands National Park.
Read More About Badlands National Park …
Read More About Things Nearby …
---
We hope this best things to do in Badlands National Park guide helps plan your visit!
What was your favorite part of Badlands?!
Please let us know if you have any questions about Badlands National Park or need help planning your trip in the comments below.
Happy Travels,
Mark and Kristen
Was This Post Helpful? Pin It For Your Visit!