Visiting Yellowstone National Park in October will be an unforgettable experience with many benefits, but the fall season might just throw a few curve balls at your plans.
We know from first hand experience the challenges involved with visiting Yellowstone in October and we want you to be fully prepared for your own fall vacation to northwest Wyoming.
Is October a good time to visit Yellowstone National Park?
Yes! Visiting Yellowstone in October allows you to experience the park when it is quieter, cheaper and full of surprises with ever changing weather systems. If you prefer to avoid the crowds when you travel, the fall season is a fantastic time to plan your trip to Yellowstone.
In this guide we will show you:
10 key things to know about visiting Yellowstone in October
In depth information about temperatures, prices and tourism
What you need to know about hiking, hot springs, geysers and photography
Where to see wildlife around Yellowstone National Park in October
Let's get right into the 10 most important things you should know about planning a trip to Yellowstone National Park in October!
*Please note this post may contain affiliate links. If you click on one, we may earn a small commission at no extra cost to you. Thank you for supporting the free content we provide! Read more in our disclosure policy.*
Our Experience At Yellowstone In October
We have been lucky enough to explore the unique Yellowstone landscape several times on different trips out west in the US. But the very first time we visited Yellowstone was back in October 2019.
After spending time in South Dakota, we drove the awesome Mt Rushmore to Yellowstone road trip route and planned to enter via east entrance from Cody WY. However, an overnight blizzard meant we had to drive up through Cooke City to enter via northeast entrance.
We had an amazing first experience in Yellowstone. The park was so quiet and we were able to book last minute into lodges around Mammoth and Canyon.
It was definitely cold in the mornings and evenings, but that was a trade off we were happy to take!
1. Yellowstone Is Not Crowded In October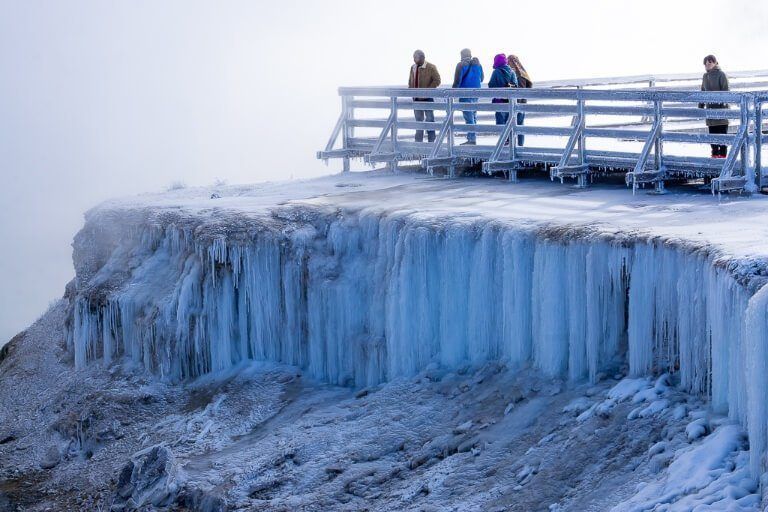 Yellowstone National Park leads the most popular places to visit in Wyoming race, hosting a little over 4 million tourists every year. That's an enormous amount of people sharing attractions and cars sharing the Yellowstone grand loop road.
If you divide 4 million by 12 months you get 333,333 people per month or roughly 11,000 per day.
Sounds like you'll be sharing the park with a lot of other people, right?
Well, more than 2 million visitors to Yellowstone arrive in June, July and August alone. Those 3 months account for well over 50% of total visits each year.
May and October are the two best months to visit Yellowstone if your top priority is avoiding huge crowds of tourists, while still benefiting from reasonable temperatures and the park being completely open.
Yellowstone Visitor Statistics In October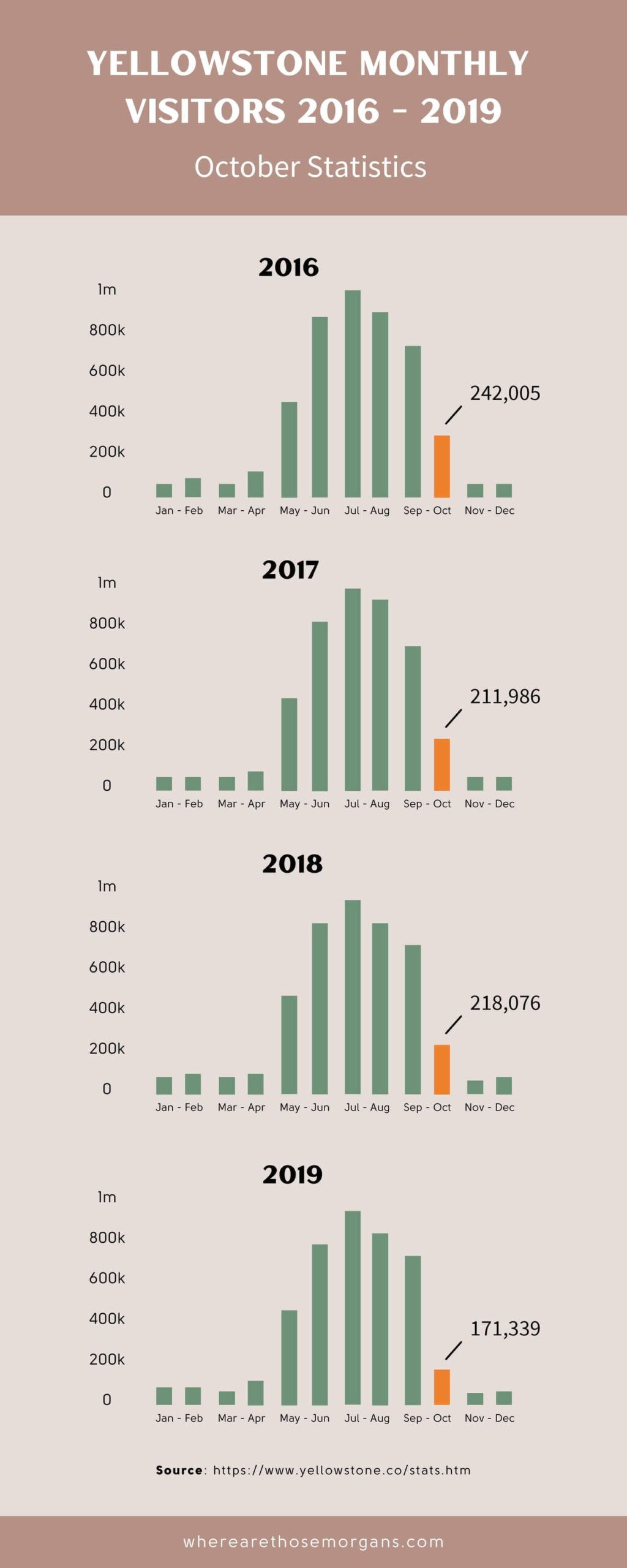 As you can see in the infographic above, October is the month of real transition in crowd numbers at Yellowstone National Park following the much busier summer season.
We included data from 2016, 2017, 2018 and 2019, but didn't include any data for 2020 or 2021 due to the coronavirus pandemic significantly skewing results.
According to Statista 3.81 million visited Yellowstone in 2020, 4.86 million visited in 2021 and 3.29 million visited in 2022. These numbers show how much of an impact the covid lockdowns and subsequent aftermath had on Yellowstone visitation.
Visitor numbers to Yellowstone National Park in October were as follows:
2016 – 242,005
2017 – 211,986
2018 – 218,076
2019 – 171,339
In October 2019, Yellowstone only welcomed 171,339 tourists for the entire month. A daily total of 5,527 people is pretty sparse for a park the size of Yellowstone.
July is consistently the busiest month at Yellowstone National Park, welcoming just short of 1 million visitors each year.
In July 2019, a total of 936,062 people visited Yellowstone. That makes for a daily average of 30,196 tourists, which is almost 5 and a half times more than October in the same year.
See more data and sourced statistics here.
How Do Fewer Crowds In October Benefit You At Yellowstone?
You stand a much better chance of booking into a hotel, cabin or campground inside the park.
In summer, you can expect to see anywhere between 70-100 thousand visitors per month just from tour buses. We saw a grand total of 1 tour bus in October.
Hiking trails will be empty and you will have better wildlife spotting opportunities.
Photography will be much easier at the star attractions.
The roads won't be backed up every time you try to get anywhere and there will be parking spaces.
Essentially, you will be able to tick off the best things to do in Yellowstone National Park more comfortably.
Are There Any Other Months You Can Visit Yellowstone Without The Crowds?
Yellowstone is one of the best national parks to visit in the USA and it will be extremely busy throughout summer months.
However, you can visit either in October as we are discussing in this guide, or you can visit Yellowstone in April to enjoy the freedom of the park right as it opens for the season half way through the month.
Just be aware there are a number of important things to consider before arriving, such as weather, roads access and lodging.
2. Weather Is Unpredictable At Yellowstone In October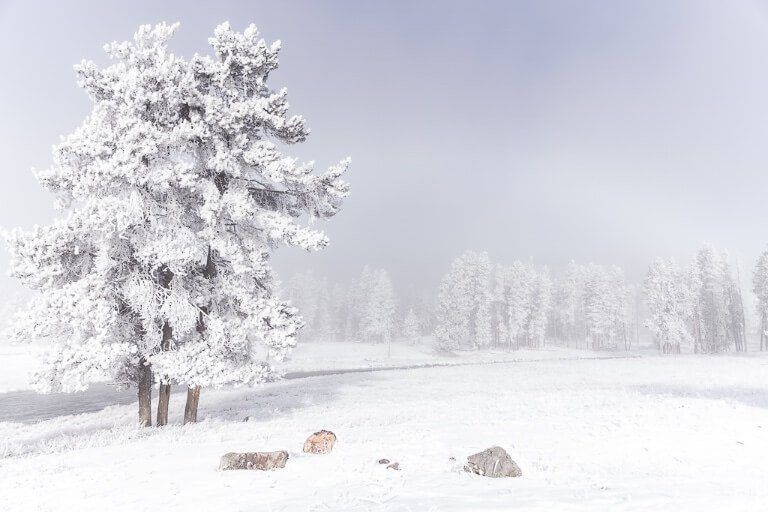 We typically recommend visiting US National Parks in April, May, September and October because the shoulder seasons are far more relaxing than summer months.
However, Yellowstone is in northwest Wyoming and in October the weather can be extreme or entirely unpredictable. Weather in other popular places like Yosemite National Park and Acadia National Park is more predictable at this time of year.
The changeable weather in Yellowstone during October is both good and bad.
On one hand it keeps the hordes of tourists at bay but on the other hand it can impact your plans, like road closures, hiking trails closing and even safety.
If you visit Yellowstone in summer, the likelihood is warm sunny days and occasional cloud or rain showers. But in October, anything can happen.
You could get lucky with clear blue skies but you could also end up having to scramble and adapt your Yellowstone itinerary last minute as we did.
Our Negative Experience With Weather
As we mentioned earlier, we had just finishing driving an amazing South Dakota road trip before heading west to Yellowstone.
However, an almighty snow dumping overnight put the brakes on us entering the day we were supposed to begin our itinerary. All roads in, out and around Yellowstone closed, with the exception of north entrance (Mammoth).
As a result, people in southern areas of the park such as Old Faithful and central parts like Canyon couldn't leave. And of course, we couldn't get in.
Fortunately, our bookings at each hotel inside the park were moved back by one night so we didn't lose any money.
Instead of entering via east entrance, we had to drive north and then west over WY-296 (which turned out to be incredibly scenic) to enter the park via northeast entrance (Cooke City) a day later than planned.
The extra 4 hours of driving didn't concern us but we had to drive through Lamar Valley at lunch time. Lamar is the best place to see wildlife in Yellowstone and midday is the worst time for animal activity!
That same downpour of heavy snow also resulted in the seasonal closure of the road between Tower-Roosevelt and Canyon, which meant the Mt Washburn hike wasn't accessible.
Every Cloud Has A Silver Lining
With all that said, Yellowstone covered in snow is a truly magical place. We felt fortunate to see both sun and snow in the park.
Trees were covered in frozen snow and colorful hot springs were vibrant against white snow. It was like a winter wonderland with eerie mist and dense fog creating a surreal but beautiful natural environment.
It never got above freezing during the 4 days we spent inside Yellowstone National Park in October.
This meant mornings and evenings were dangerously cold to be out taking photographs but we had full ski gear on. And at least we didn't have to share the photography dance floor with dozens of others!
How Does This Impact You?
Pack for winter but hope for fall. Snow pants, winter jackets and appropriate footwear are required. It's better to be safe than sorry!
Hiking trails may close without much warning. If Tower-Roosevelt (Tower Falls and Mt Washburn) is open when you arrive and the forecast looks ominous, prioritize this area.
Have a backup plan in case roads in or out close unexpectedly. Keep a close eye on live Yellowstone weather reports in the days leading up to your visit and each day you are in the park.
Yellowstone is one of the most popular places to visit in the USA for domestic and international travelers. Planning your trip to Yellowstone in October can be risky but if the weather plays ball it can significantly improve your overall experience.
Need help organizing your visit to Yellowstone? Our popular 60+ page Yellowstone Guidebook can help you with planning every aspect of your trip.
3. Yellowstone Logistics Can Be An Issue In October
Potentially adverse weather conditions in October naturally leads us into travel logistics for your visit to Yellowstone.
It is more than likely you will not face any travel issues but it is prudent to keep on top of roads and logistics around the park.
The roads don't officially close in Yellowstone until the beginning of November. It would take a huge snow dumping like we experienced to close any roads earlier but it can happen.
Planning a USA road trip around the Yellowstone area in October is a bit of a gamble, but the rewards are superb if you are lucky with weather.
If the weather plays nicely, you will enjoy freedom of Yellowstone's loop road and you will be able to park at all attractions without too much fuss.
Are you planning to fly to a nearby airport and hire a car to explore Yellowstone? Read our in depth guide on the best airports near Yellowstone to help plan your visit.
What Can You Do To Prepare?
Keep abreast of the current road status report for Yellowstone. This also shows ongoing national park projects which can keep certain areas closed (not just in October but all year in some instances).
Add a day or two of fudge around your itinerary if possible in case you can't get in our out of the park.
Have a backup plan for entering the park. For example, South entrance closes, so you will enter via West entrance.
Read our detailed guides on how to plan a road trip and how to pack for a road trip.
4. Yellowstone Hotels Begin To Close In October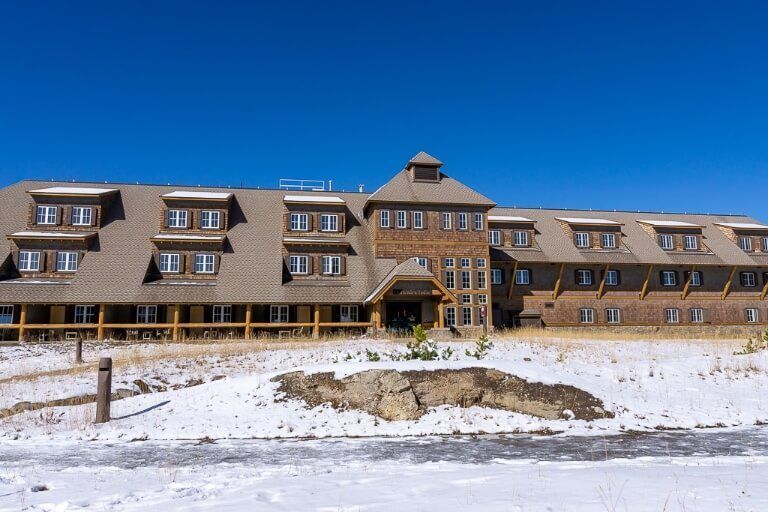 All being well with the aforementioned weather and logistics, visiting Yellowstone National Park in October has some serious benefits, including better hotel room availability and more affordable prices.
Getting booked into national park hotels is notoriously difficult for the majority of the year. But at the beginning of October right before Yellowstone closes for its winter season, there are usually some rooms free even if you book late.
If you left things late in summer you would have no chance getting a hotel room within Yellowstone boundaries and you would have to leave each day to stay in Gardiner, West Yellowstone, Cooke City, Cody or even Jackson.
However, this comes with a very important notice:
Most Yellowstone hotels close around October 11 each year. So if you're planning a late October visit you have very limited options which can affect your itinerary.
When Do Yellowstone Hotels Close?
Canyon Village – All lodges and cabins close mid-October (Canyon campground closes in Sept)
Madison – Campground closes mid-October
Mammoth – Campground open all year, cabins close Sept but hotel open until late November
Inn at Old Faithful – Hotel closes mid-October
Lodge and Cabins at Old Faithful – Cabins close mid-October
Snow Lodge at Old Faithful – Hotel and cabins close mid-October
Grant Village Lodge – Hotel closes early October
Lewis Lake – Campground open until early November
Keep in mind these closing times will slightly differ each year. Check this list of all Yellowstone accommodation opening and closing dates for your visit.
Mammoth hotel and Old Faithful Snow Lodge are your best bet for accommodation at Yellowstone if visiting mid to late October.
Book ahead of time if you know your dates in advance to guarantee your rooms.
Camping Exclusive
Are you planning to camp inside or around Yellowstone National Park?
Take advantage of our exclusive 30 day free trial of The Dyrt PRO to get reservations at sold out Yellowstone campgrounds with no extra booking fees, and gain access to free dispersed camping locations around Yellowstone National Park. You can try The Dyrt PRO for free, no strings attached!
Where To Stay In West Yellowstone And Gardiner
If national park hotels are closed, too expensive or fully booked during the dates you plan to visit Yellowstone, your next best option is to stay in either West Yellowstone or Gardiner.
West Yellowstone is the larger town with more hotel and dining options. It also has a central location which makes access to more areas of the the park much more convenient.
Gardiner is located just a few miles from Mammoth Hot Springs to the far Northwest of Yellowstone. Perfect for Mammoth and Lamar Valley (top wildlife viewing), but quite a drive to Old Faithful and Grand Prismatic Spring.
Ideally, you would book a night or two in each town to help split up the park with less drive time required.
Read our popular guide on the best places to stay in Yellowstone to help with booking your accommodation. This popular guide has helped thousands of visitors to Yellowstone work out the best place to stay.
Or if you'd rather see a quick summary, here are the top two hotels we see travelers book for both West Yellowstone and Gardiner (with guest ratings as per Booking.com):
West Yellowstone
Gardiner
Update for 2023: We have written extensively about the best hotels in both Gardiner and West Yellowstone on our sister site Best Hotels Anywhere. If you want to take a much closer look at lodging in the two popular areas, you can read our guides below.
5. Fall Colors Are A Yellowstone Bonus In October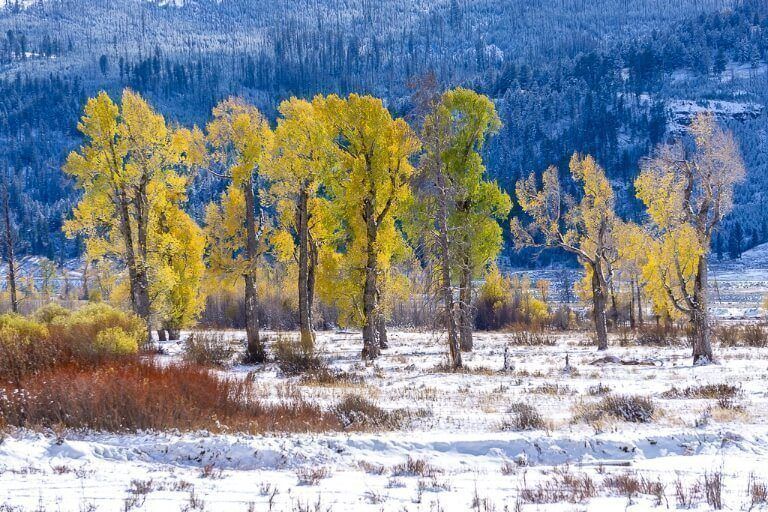 The day before we were snowed in at a hotel in Cody WY, the entire grassy landscape around us was a stunning burnt orange color with yellow and green leaves glowing from trees.
You don't need us to tell you about fall colors but if you do visit Yellowstone in October, you can expect to see gorgeous colors bringing an already beautiful landscape even more to life.
Don't expect Yellowstone's fall colors to be anything like they are on a New England road trip in fall. But if you are able to see some colors around the park you can put that down to an unexpected bonus.
This is just another feather in the cap of a visit to Yellowstone National Park in October.
6. Yellowstone Wildlife Is Abundant In October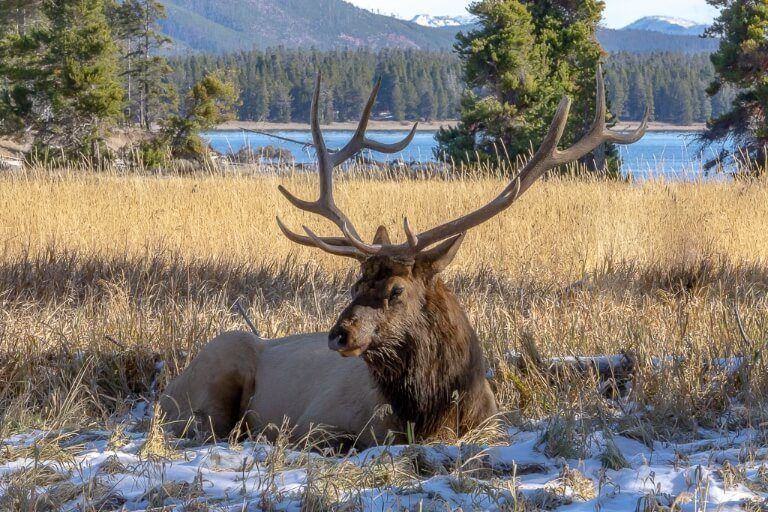 Autumn brings out the best of Elk in Yellowstone as they enter breeding season, which is called the rut.
This means you not only get to see Elk as they migrate from higher elevations to lower ground but also enjoy listening to male Elk bugling as they vie for female attention.
Bears are preparing for hibernation season, so expect to see them on the hunt for nuts to keep in their dens over the harsh winter period. You will need binoculars or a telephoto lens for your camera if you want to see bears in the wild.
Bison are easier to see at Yellowstone than most other wildlife. They are numerous, feed throughout the day and tend to have a nonchalant approach to humans and cars.
You will see Bison wandering around grassland across the park, elk freely roaming around built up areas (such as Mammoth hotel) and maybe catch a lone coyote or wolf prowling through long grass from the loop road.
Lamar Valley and Hayden Valley are traditionally the best places to spot wildlife in Yellowstone.
During summer when hundreds of people and cars are in the area you can expect wildlife to find quieter areas. However, you have a much better chance of seeing wildlife during October when Yellowstone is quieter.
Do's And Do Not's When Wildlife Spotting In Yellowstone
Do not simply drive into Lamar and Hayden Valley and expect every animal in the park to walk by for your photographs.
But do hike a mile or so away from the roads to increase your chances of seeing wildlife exponentially.
Do not abandon your vehicle in the road if you see a few people with cameras out.
Instead Do drive to less well known spots where fewer people will be making noise.
Do not go looking for animals.
Rather Do quietly wait for them to come to you.
Do not approach any wildlife if they are close by, especially for selfies.
On the contrary, Do watch quietly from your car and enjoy photographing animals in their natural habitat.
7. Hiking Is Peaceful At Yellowstone In The Fall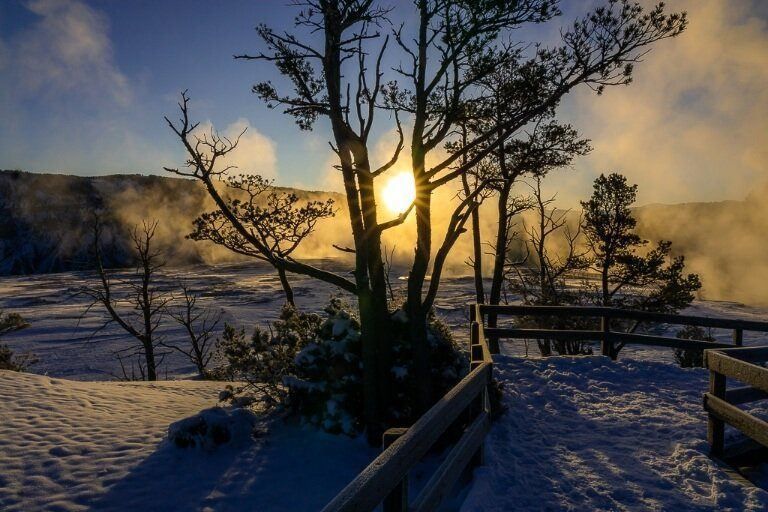 Hiking the popular Yellowstone trails in October is quite literally a breath of fresh air.
Trails are unbearably busy in the summer months but in fall you can expect far fewer tourists to be stomping the paths with you.
Mount Washburn is the quintessential hike at Yellowstone and it is one of the best hikes in the USA. If you get a clear day we suggest you hit the trail in case bad weather closes in during your visit to Yellowstone in October.
There are a ton of other hikes you can choose between but be sure to check the current backcountry situation report for updates on trail closures and safety.
Even on a clear day, it will be cold in the morning so you will need to wrap up well with layers and take plenty of water and snacks.
Do not forget your bear spray if you intend to hike into backcountry and take everything back out of the wilderness with you.
New to hiking? Read our top tips for beginner hikers before heading into Yellowstone National Park.
8. Yellowstone Waterfalls Are Not In Full Flow In October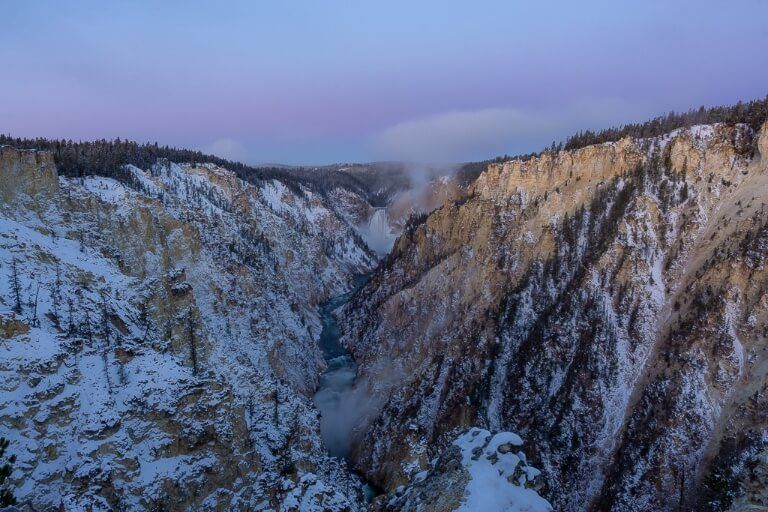 Autumn is most certainly not the best time to go waterfall hunting anywhere in the US.
We can tell you from lots of experience including visiting Yosemite National Park in October and the New York Finger Lakes waterfalls in September that water does not flow heavily, or sometimes even at all!
However, we are talking about northwest Wyoming here and Yellowstone's waterfalls do still have a relatively high volume of water in October.
Tower Fall was inaccessible when we visited but Upper and Lower Falls of the Yellowstone River were both crashing immensely into the river below.
You won't see waterfalls such as Mystic Falls and Fairy Falls in their full majesty if you visit Yellowstone in October but they are still worth a visit.
The Grand Canyon of the Yellowstone is worth seeing on any day of the year, period. Our best advice is to visit Artist Point on south rim drive for sunrise.
9. Yellowstone Geysers And Hot Springs May Be Less Impressive In October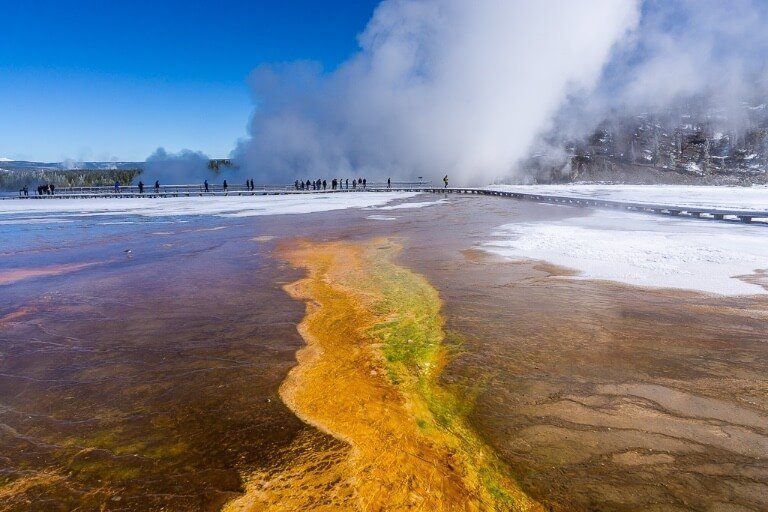 Yellowstone National Park is famous and unique for its geothermal geysers, hot springs and bubbling mud pots. However, the time of year does matter for seeing them in all their glory.
Have you seen photos of Grand Prismatic Spring with incredibly bright colors in a huge circular shape?
Well, they were not taken in October. It is more likely they were taken on a sunny day in the middle of summer when the air is much warmer, resulting in less steam.
When we visited Yellowstone National Park in October, Grand Prismatic Spring was still vibrant but it was shrouded in billowing steam and a layer of snow.
Cold air and hot water clash as winter approaches which results in most geysers and hot springs in Yellowstone being less clear.
On a brighter note, Old Faithful will be unaffected if you visit Yellowstone in October. The trusty geyser will blow almost right on schedule all day, every day and season will not impact on its majesty.
Hidden gem geothermal features: Steamboat Geyser, Artists Paint Pots and Turquoise Pool are some of the best lesser known attractions to include in your itinerary.
10. Yellowstone Photography Is Stunning In October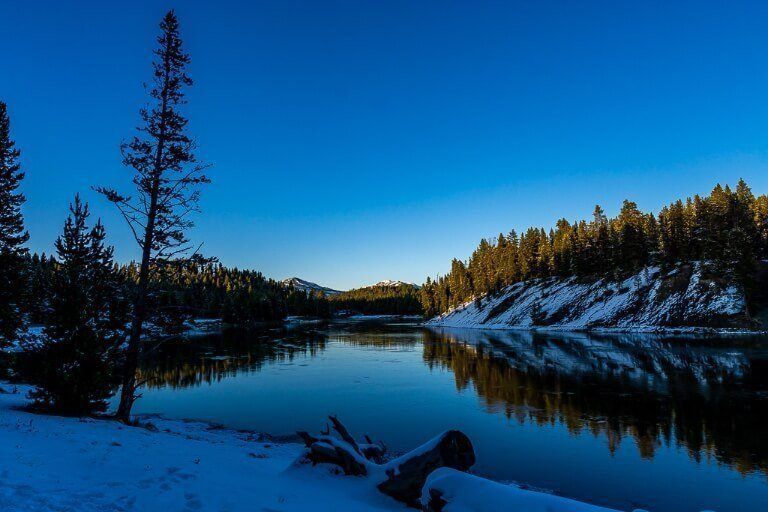 Both Yellowstone and nearby Grand Teton National Park are staggeringly beautiful landscapes to photograph in October.
Changeable weather means you can shoot the park in snow, sun, fog, fall colors, heavy clouds, no clouds and many other scenarios. Remember your lens cleaning kit, it will be used a lot in Yellowstone.
We also enjoyed the freedom of Artist Point in the Grand Canyon of the Yellowstone because there were so few people around.
Animals are out and about because they are migrating or preparing for winter so you get a lot of opportunities for wildlife photography. Telephoto lenses are essential in Yellowstone and make sure you are in the field at dawn and dusk for the most activity.
Shorter daylight hours means you don't have to get up excruciatingly early for sunrise or stay out late for sunset. And the Milky Way appears around 8pm in Yellowstone during October so no waiting until 3am like the spring months.
Pro tip: Wide angle lenses work best for landscapes in the park but you will also need a telephoto lens for wildlife. Take both!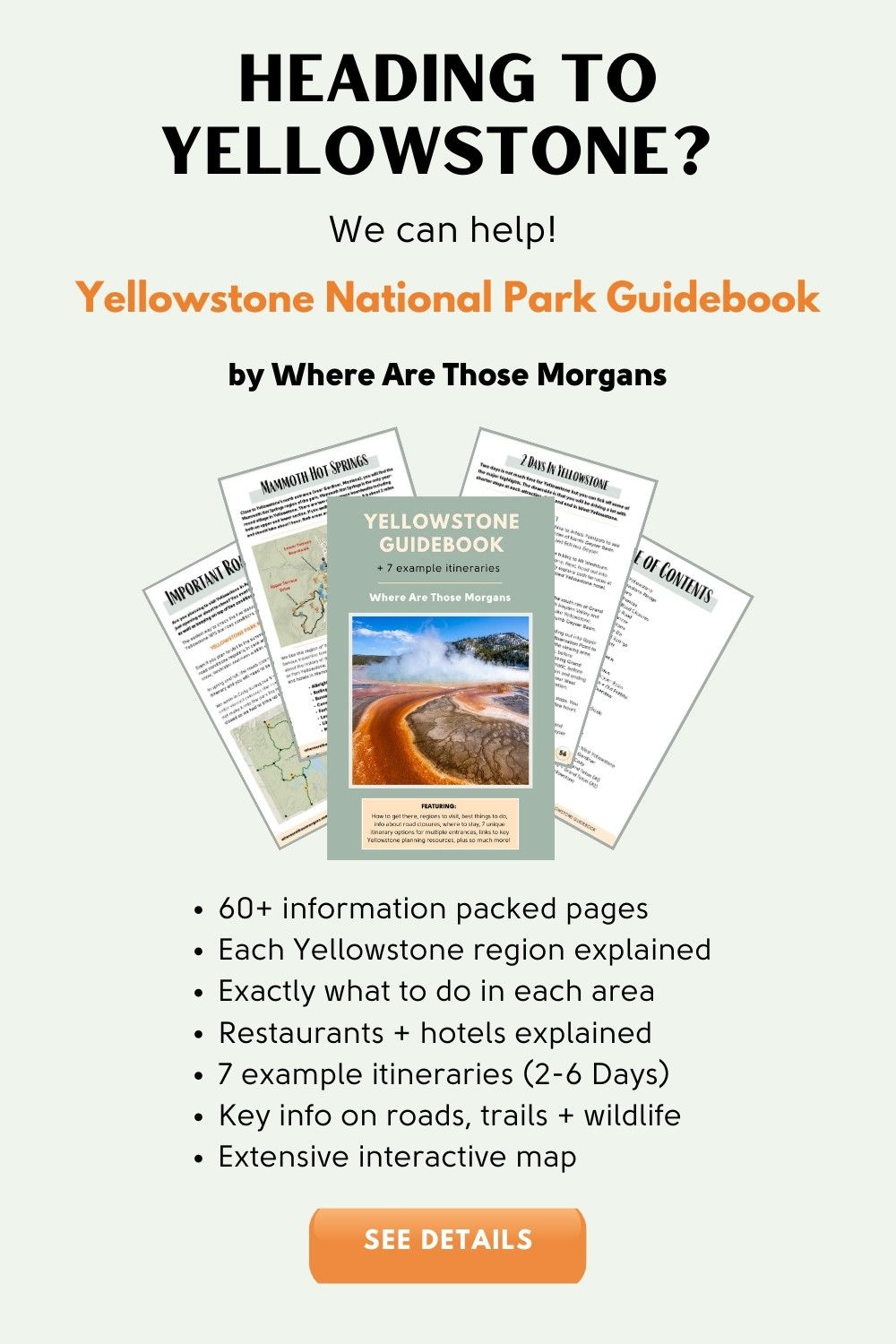 Our Popular Yellowstone And Grand Teton Guides
More From The West
---
We hope this guide on visiting Yellowstone National Park in October helps with planning your trip to Wyoming!
Please let us know if you have any questions or need any help planning your visit.
Happy travels,
Mark and Kristen
Find this guide helpful? Pin it for your visit!