Wyoming is a wild, untamed and sparsely populated landscape filled with rugged natural beauty and unique geological features. We're going to show you 10 of the most fun things to do and best places to visit in Wyoming, including two of the most popular US national parks in Yellowstone and Grand Teton.
We have traveled extensively throughout Wyoming and can't wait to show you the best of what we have experienced, so you can start planning your top WY vacation spots today!
Here's how we will help you plan the perfect trip to Wyoming:
Alphabetical order list of the 10 best things you can do in Wyoming
Best things for families and couples to do in WY
Wyoming road trip itinerary example
Best time to visit Wyoming
Let's get right into the most fun things you can do on a visit to Wyoming!
*Please note this post may contain affiliate links. If you click on one, we may earn a small commission at no extra cost to you. Thank you for supporting the free content we provide! Read more in our disclosure policy.*
1. Buffalo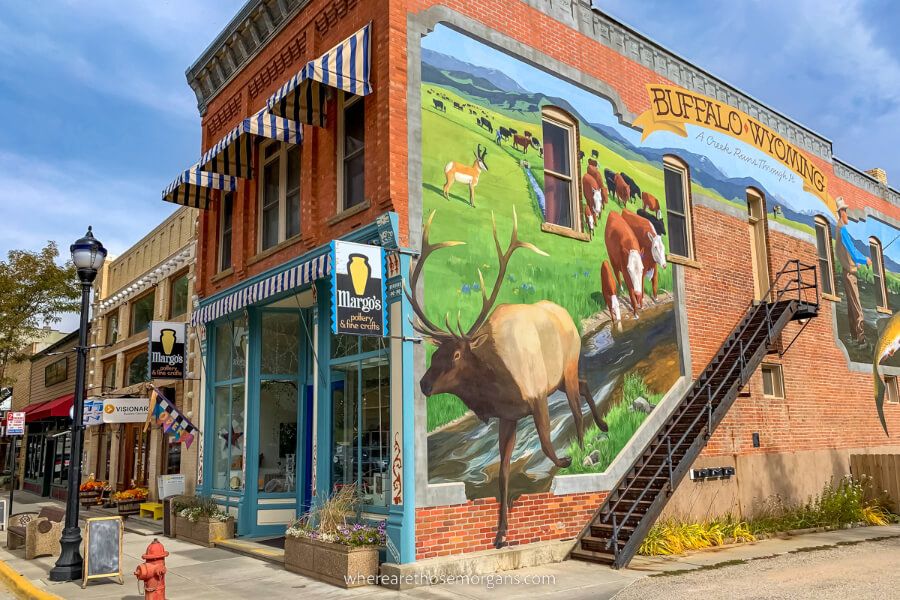 What Is Buffalo?
Buffalo is a small city located at the base of the Bighorn Mountains at the intersection of I-90 and I-25 in northern Wyoming.
It is almost exactly the halfway point between Mount Rushmore and Yellowstone National Park, and it marks the eastern side of Cloud Peak Skyway scenic byway.
Why Is Buffalo A Fun Place To Visit In Wyoming?
Buffalo WY is more than just a stop gap on your road trip between the Black Hills and Yellowstone.
The historic downtown includes the Occidental Hotel which hosted several legendary figures from the Wild West.
It is also a popular base for outdoor enthusiasts with an array of activities on the doorstep.
Best Things To Do In Buffalo, Wyoming
Walk through historic downtown Buffalo
Stay at the Historic Occidental Hotel
Explore nearby Bighorn National Forest
Visit the Jim Gatchell Memorial Museum
Hike Clear Creek to the base of the Bighorns
Shop for antiques, jewelry and art on main street
Explore Crazy Woman Canyon
2. Cloud Peak Skyway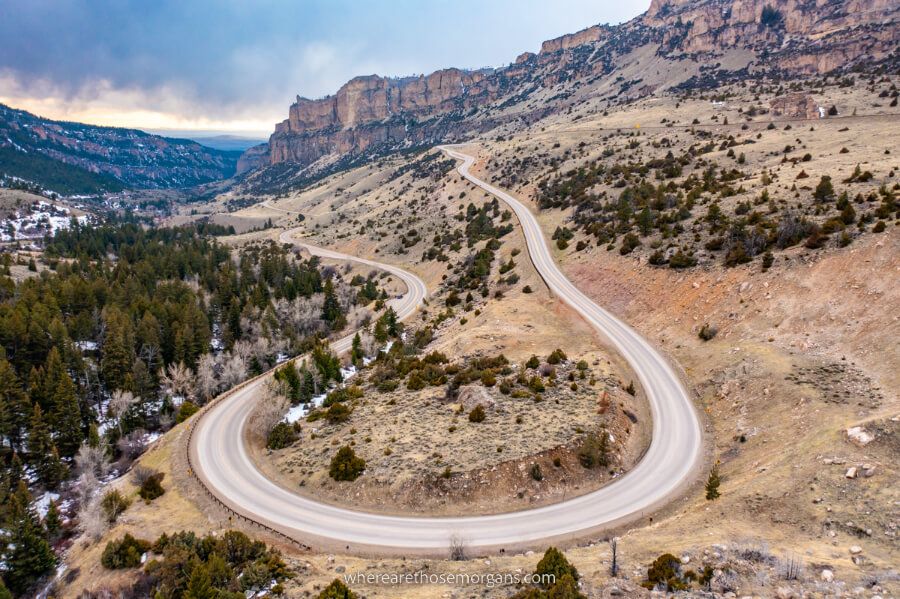 What Is The Cloud Peak Skyway?
Cloud Peak Skyway is a scenic byway connecting Buffalo with Ten Sleep in central northern Wyoming.
Also known as US-16, this scenic route takes drivers across the southern portion of the mighty Bighorn Mountains.
The highest point on the drive is 9,666 feet.
Why Is The Cloud Peak Skyway A Fun Place To Visit In Wyoming?
Driving the awesome Cloud Peak Skyway is by far the most scenic route to take on a Mount Rushmore to Yellowstone road trip.
The road twists and turns, dips and climbs, and it is loaded with spectacular views. Our favorite part is the steep and narrow descent through canyons right into Ten Sleep.
Best Things To Do Along The Cloud Peak Skyway, Wyoming
Stop at several Big Horn Peaks overlooks

Grab lunch or a picnic at Meadowlark Lake

Pull over to take photos of the awesome terrain
Fly your drone to get awesome aerial photos of the road
3. Cody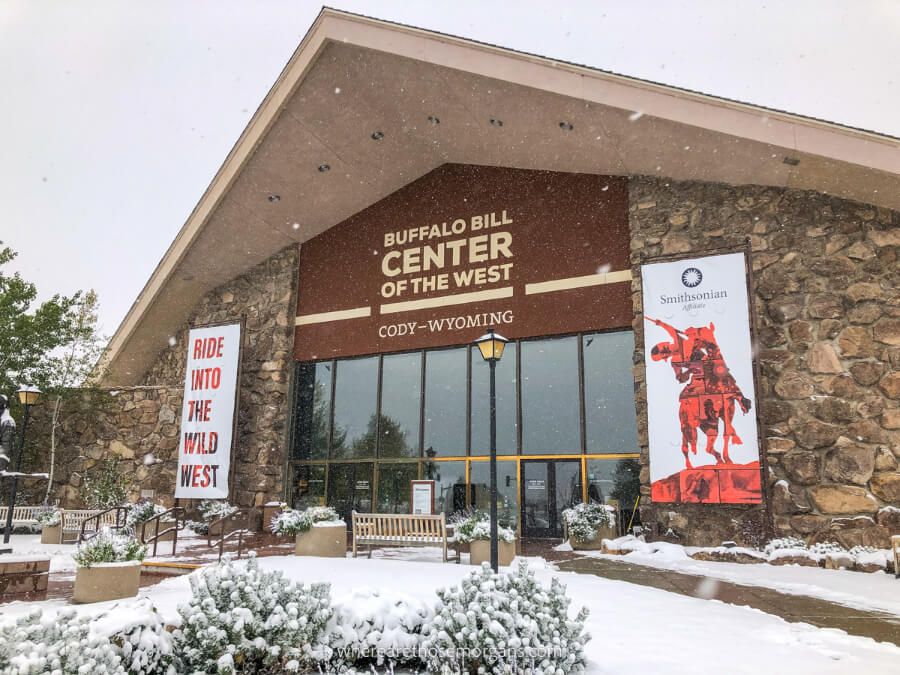 What Is Cody?
Cody is a small town in northwestern Wyoming primarily used as a base for entering Yellowstone National Park via its east entrance along Buffalo Bill scenic byway.
It has a rich Wild West history and this is represented in its showpiece museum, the Buffalo Bill Center of the West.
Why Is Cody A Fun Place To Visit In Wyoming?
Cody WY is our favorite of the three main towns on the outskirts of Yellowstone.
We've stayed in Cody twice and enjoyed walking through the town, visiting museums and exploring the Old Town Trail with its western frontier buildings.
Cody is a wonderful family friendly town to spend a night.
Best Things To Do In Cody, Wyoming
4. Devils Tower National Monument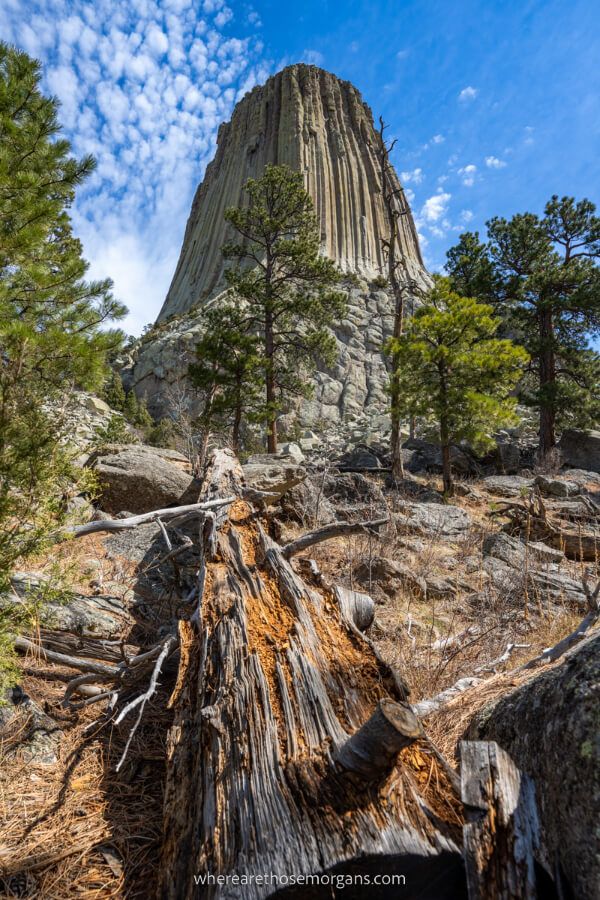 What Is Devils Tower?
Devils Tower National Monument in Wyoming is a unique 867 ft tall igneous rock formation located in northeastern Wyoming.
Tall hexagonal shaped tubes featuring deep cracks form the natural Devils Tower structure, which is regarded as one of the top rock climbing destinations in the US.
Why Is Devils Tower A Fun Place To Visit In Wyoming?
Devils Tower is one of the most striking and peculiar natural formations we have seen in the US outside of national parks.
A family friendly paved path circles the base of Devils Tower and there are plenty of fun photo spots. It can be visited as part of a trip to Wyoming or as part of a South Dakota road trip.
Best Things To Do At Devils Tower, Wyoming
Walk around the base of the tower on a paved footpath
Photograph Devils Tower from Joyner Ridge
Hike around Prairie Dog Town
See the Wind Circle sculpture
Outside of June you can climb the tower
5. Flaming Gorge National Recreational Area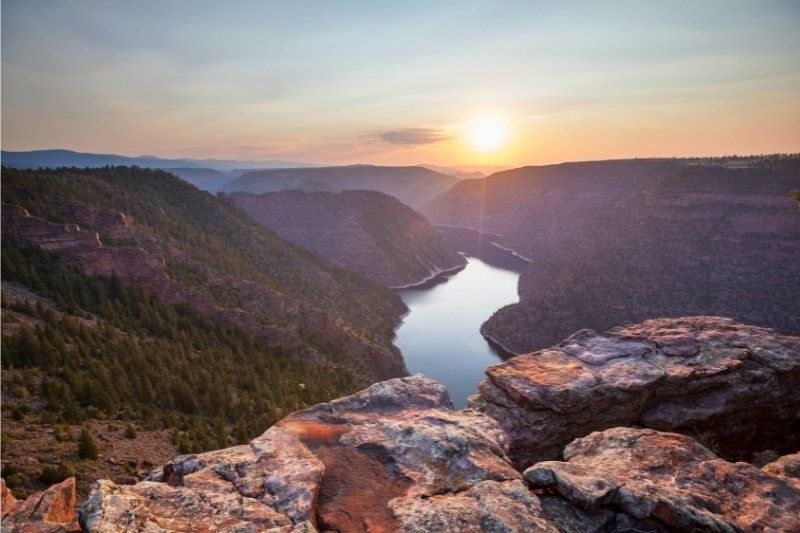 What Is Flaming Gorge?
Flaming Gorge is a National Recreation Area located in southwest Wyoming and northeast Utah.
The Green River, which eventually flows into the Colorado River, carved out a 90 mile long reservoir in the Flaming Gorge and the entire area is flanked by dramatic red canyon walls.
Why Is Flaming Gorge A Fun Place To Visit In Wyoming?
Flaming Gorge is the perfect place for the whole family to hike, mountain bike, horseback ride, photograph, jet ski, fish and tour a dam.
Visitors can camp underneath dark skies and relax in a tourist free landscape. Flaming Gorge can be visited as an alternate route between the WY and UT parks.
Best Things To Do At Flaming Gorge, Wyoming
Photograph stunning canyons and still rivers
Enjoy wonderful sunrises and sunsets
Backcountry hiking. biking and camping
Boating, swimming, tubing and waterskiing
Fish for trout and other species
Tour the Flaming Gorge Dam
6. Grand Teton National Park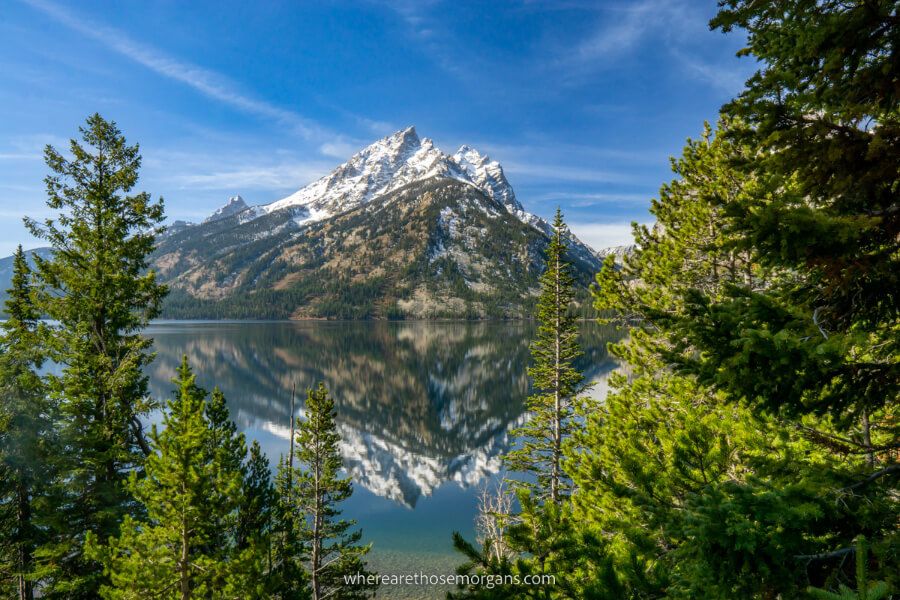 What Is Grand Teton?
Grand Teton National Park is a spectacularly beautiful landscape in northwestern Wyoming.
The visually striking landscape is centered around the Snake River, pristine lakes and flat plains from which the rugged Teton mountain range suddenly bursts high into the sky.
Why Is Grand Teton A Fun Place To Visit In Wyoming?
Grand Teton has it all, hikes, camping, an abundance of wildlife and some of the most stunning photography spots in the United States.
This is a place visited by millions each year and it is perfect for the entire family. You cannot miss a visit to Grand Teton on your trip to Wyoming.
Best Things To Do In Grand Teton, Wyoming
7. Jackson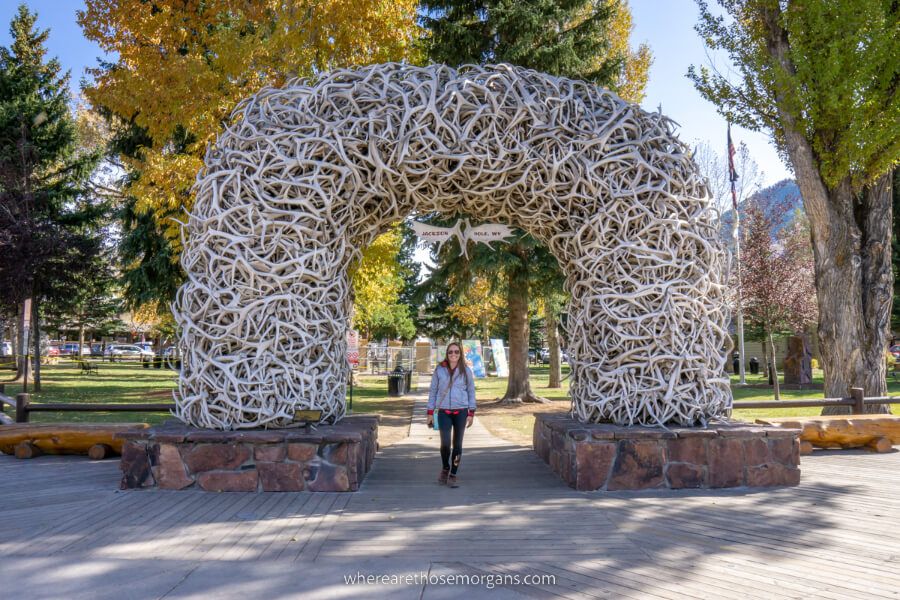 What Is Jackson?
Jackson is a popular resort town in the Jackson Hole Valley region of northwest Wyoming.
Many visitors to Grand Teton National Park use nearby Jackson as a base thanks to its quaint downtown area with shops, restaurants and hotels.
In winter, Jackson transforms into an upmarket ski resort.
Why Is Jackson A Fun Place To Visit In Wyoming?
Jackson is one of our favorite national park towns in the US.
It is located just 15 minutes drive from the Grand Teton loop road but it is also a relaxing place for the whole family to explore.
There are plenty of things to do around town to keep you busy, including the Jackson Hole rodeo.
Best Things To Do In Jackson, Wyoming
8. Medicine Bow-Routt National Forests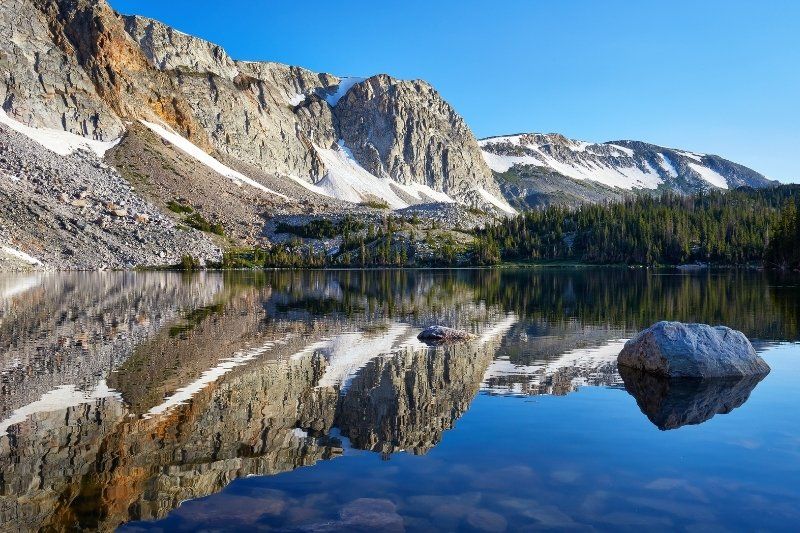 What Is Medicine Bow-Routt?
Medicine Bow-Routt National Forests encompasses an enormous area of north central Colorado and south central Wyoming.
This region contains several mountain ranges including Medicine Bow Range and Laramie Mountains. The best place to visit is Snowy Range Pass scenic drive.
Why Is Medicine Bow-Routt A Fun Place To Visit In Wyoming?
Medicine Bow Routt is a genuine hidden gem in Wyoming.
This scenic byway has pristine lakes, mountain hikes, stunning vistas, wildlife spotting, picnic areas and endless photography opportunities.
Remember, it's not far to Rocky Mountain National Park in Colorado from Medicine Bow Routt.
Best Things To Do In Medicine Bow-Routt, Wyoming
Drive scenic and hugely underrated Snowy Range Pass (closed Nov-May)
Walk around the Libby Flats Observation Area
Hike Medicine Bow Trail or West Lake Marie Trail to Medicine Bow Peak
Picnic at Mirror Lake and stop at several vistas
Photograph the lakes and mountains at dawn or dusk
9. Sinks Canyon State Park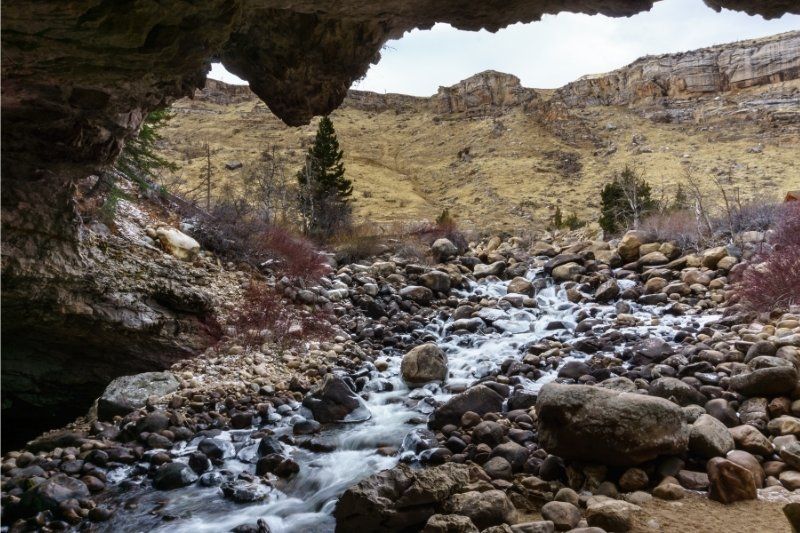 What Is Sinks Canyon?
Sinks Canyon State Park is a popular locals recreation area located at the southern end of the Wind River Mountain Range in central Wyoming.
It is so named because the Middle Fork of the Popo Agie disappears underground before resurfacing a quarter mile downstream at the Rise.
Why Is Sinks Canyon A Fun Place To Visit In Wyoming?
Sinks Canyon is another bona fide Wyoming hidden gem.
Vibrant wildflowers bloom alongside a river that vanishes and plunges underground before bubbling back up into another pool nearby. And you can slide down a waterfall into the pool below.
This place has perfect for the kids written all over it!
Best Things To Do In Sinks Canyon, Wyoming
Photograph wildflowers in bloom and waterfalls cascading over boulders
Hike to Popo Agie Falls
Swim in the pool and slide down the waterfall if you dare
Go caving in Boulder Choke Cave

Camp

at one of several sites along Middle Popo Agie River
Watch the river disappear underground
Then see the river "rise" as it resurfaces in a trout pool
10. Yellowstone National Park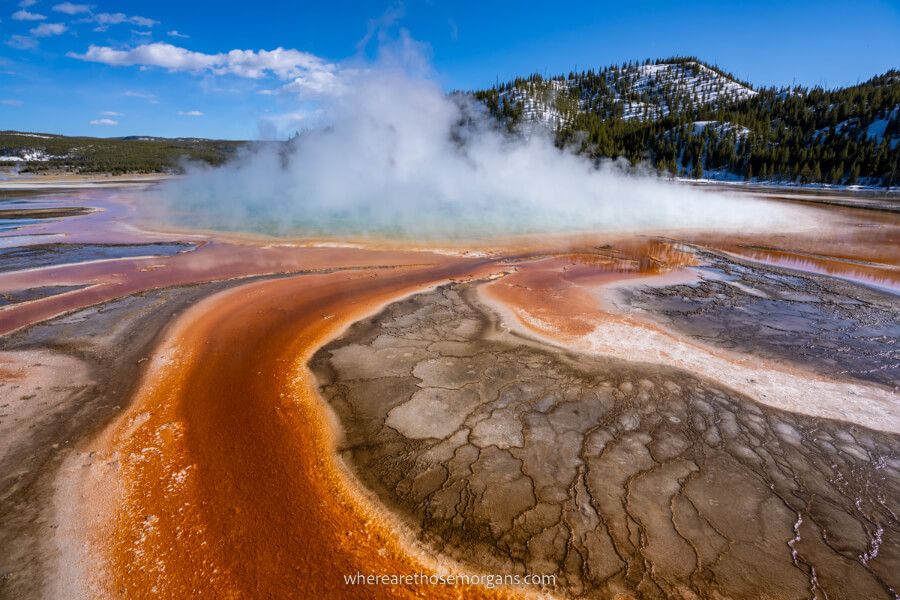 What Is Yellowstone?
Yellowstone National Park is volcanic landscape featuring hot springs, geysers and bubbling mud pots sat on top of caldera measuring 30 by 45 miles.
The Yellowstone supervolcano creates a truly unique experience for visitors to see erupting geysers and vibrantly colored hot springs.
Why Is Yellowstone A Fun Place To Visit In Wyoming?
Yellowstone is widely regarded as one of the most extraordinary landscapes on the planet.
Millions of people each year journey to Yellowstone to hike, see freely roaming wildlife, photograph remarkable geologic features.
If you are researching what to do in Wyoming, Yellowstone is about as good as it gets for solo travel, groups, couples and families alike.
Best Things To Do In Yellowstone, Wyoming
Spot wildlife in Lamar Valley and Hayden Valley
Explore several geyser basins and hot springs
Hike Mt Washburn with the family or Avalanche Peak for a challenge
Watch Old Faithful erupt and see the colorful Grand Prismatic Spring
Hike to multiple waterfalls
Photograph everything!
Best Things To Do In Wyoming With Kids
Are you visiting Wyoming with the kids?
Let's take a look at the most fun things you can do as a family:
Walk around Cody's Old Trail Town
Camp under the stars at Flaming Gorge
Visit the Elk Refuge and watch a rodeo in Jackson
Slide down the waterfall in Sinks Canyon State Park
Explore the best of Yellowstone National Park
Fun Things To Do In Wyoming For Couples
Taking a couples trip to Wyoming?
Let's take a look at the top things you can do as a dynamic duo:
Hike around and photograph Devils Tower
Mountain bike around Flaming Gorge
Explore the best of Grand Teton National Park
Hike around stunning lakes on Snowy Range Pass
Hit the top attractions in Yellowstone National Park
Map Of The Best Things To Do In Wyoming
Above you can find our interactive Google Map showing the locations of the best places to visit in Wyoming.
Click or touch the map to activate, zoom in and out, scroll around and familiarize yourself with the area.
You will find icons at the exact locations of all things to do in Wyoming mentioned in this guide.
Planning Your Wyoming Road Trip Itinerary
Planning a road trip through Wyoming is usually a straightforward task.
Seven of the ten top places to visit in Wyoming are on a popular and heavily traveled route from Mt Rushmore to Jackson.
However, there are three fun things to do in Wyoming that are a little harder to reach for most:
Medicine Bow Routt (unless driving between Denver and Yellowstone)
Sinks Canyon due to its remote location
Flaming Gorge which can potentially be visited in place of Salt Lake City for those on a combined Wyoming and Utah road trip
If you are only interested in visiting the best places in Wyoming, you can drive a C shaped road trip starting in Rapid City South Dakota and ending in Denver Colorado.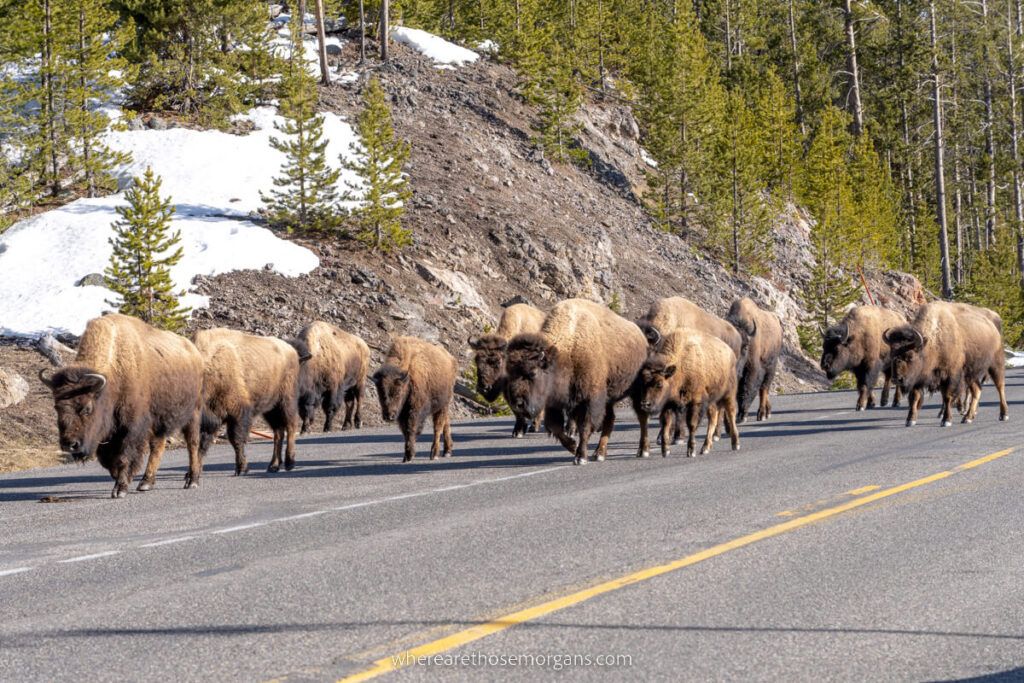 Wyoming Road Trip Example Itinerary
Let's take a brief look at an example 11 day Wyoming road trip itinerary featuring most of the fun things to do in the Equality State.
This road trip route starts in Rapid City SD and ends in Denver CO. It does not include stopping anywhere in Utah, which is how many people like to visit this part of the United States.
The Black Hills of South Dakota are another hugely popular place to visit, but for the sake of this example itinerary we will begin the road trip by heading straight to Devils Tower in Wyoming.
Here's how you can drive counter clockwise around Wyoming in the shape of a C:
Devils Tower and Buffalo – Day 1
Fly into Rapid City SD and drive straight over to the impressive Devils Tower
Spend a few hours walking around the base and stopping at Joyner Ridge
Drive to Buffalo and spend the late afternoon walking around town
Stay at the historic Occidental Hotel
Cloud Peak Skyway and Cody – Day 2
Get an early start and drive over the Bighorn Mountains on Cloud Peak Skyway

Take a right turn at Ten Sleep and head for Cody

Spend the afternoon in Buffalo Bill Center of the West and Old Trail Town
Stay at Buffalo Bills Historic Irma Hotel
Yellowstone National Park – Days 3 to 6
Grand Teton and Jackson – Days 7 to 8
Leave Yellowstone early on the seventh day so you get a full day in Grand Teton
Spend both night seven and night eight at an upscale hotel in Jackson
Explore the best of Jackson and Grand Teton before leaving early on the ninth morning
Sinks Canyon – Day 9
Leave Jackson via a final drive through Grand Teton but take the turn onto US-26 at Moran
Drive down to Sinks Canyon and spend the day enjoying the wonderful recreational area
Drive on to Green River later in the day and stay in a Green River hotel
Flaming Gorge – Day 10
Get an early start and drive a clockwise loop around Flaming Gorge into UT and back to WY
Stop to hike, swim, bike, fish or enjoy any other water sports activity
You can easily spend a full day driving this loop
Stay in Rock Springs
Medicine Bow Routt – Day 11
Get one final early start and drive to Saratoga to start the Snowy Range Pass scenic byway
Grab food in town before stopping at the lakes and hiking to Medicine Peak
If it is getting late in the day or you have a later flight the next day you can stay in Laramie
Or drive straight back to Denver if you have an early morning flight the next day
Best Time To Visit Wyoming
The best time to visit Wyoming is between late spring and early fall. Winter brings about harsh weather conditions which prevents major tourist attractions from opening to the public.
Summer is by far the most popular time to visit the likes of Yellowstone and Grand Teton thanks to favorable weather conditions and school holidays. However, this is also the time when hotel prices are inflated and the parks are most overcrowded.
If you want to visit the top tourist attractions in Wyoming during summer, it is imperative you plan ahead and book hotels for your vacation.
In winter, you can take a completely different type of trip to Wyoming. Yellowstone and Grand Teton transform into a magical winter wonderland with cross country skiing, snowshoeing and snowmobiling taking center stage.
Top 10 Fun Things To Do In Wyoming
Here's a summary of the top 10 things to do in Wyoming:
Walk around the town of Buffalo
Drive the awesome Cloud Peak Skyway
Explore museums in Cody
Hike and photograph Devils Tower
Hit the water in Flaming Gorge
Hike and photograph stunning Grand Teton
Enjoy nature and wildlife around Jackson
Hike around lakes in Medicine Bow-Routt
Slide the waterfall at Sinks Canyon
Explore the best of Yellowstone
FAQ's For The Best Things To Do In Wyoming
Let's finish by taking a quick look at the most asked questions about the best places to visit in Wyoming.
Is It Worth Visiting Wyoming?
Yes, Wyoming is definitely worth visiting! Yellowstone and Grand Teton are close to the top of many travel bucket lists and are well worth the visit alone. But there are so many more underrated places to enjoy in rural parts of Wyoming.
What Is The Number One Attractions In Wyoming?
Yellowstone is without question the number one attraction in Wyoming. America's first national park draws over 4 million visitors every year to the northwest corner of Wyoming and many choose to double up with Grand Teton, which is the number two attraction in the Cowboy State.
When Is The Best Month To Go To Wyoming?
The best months to visit Wyoming are April, May, September and October during shoulder seasons in Yellowstone and Grand Teton. You will avoid the enormous crowds of summer and park closures in winter.
Our Most Popular Wyoming Guides
Visit More US States
Want more USA content? Head over to our USA travel guides to explore the best cities, national parks and road trips in America.
We hope this guide listing the best things to do in Wyoming helps with planning your visit to the American Northwest!
Please let us know if you have any questions about visiting Wyoming below in the comments and have a great trip.
Happy Travels,
Mark and Kristen