Waterfalls evoke emotion, raise questions about nature, inspire us and are even regarded as world famous landmarks. We're on a hunt to visit the most awe-inspiring, fun, intriguing and beautiful waterfalls in the state of New York.
Many people consider New York to be yellow taxi's, towering skyscrapers and Kevin McCallister's favorite place to set up traps for Harry and Marv in Home Alone 2.
But New York State is so much more than its flagship city.
In fact, New York is larger in area than Mark's home country, England – and Upstate New York (which many consider to be anything North of the city) is literally overflowing with waterfalls.
You can visit one of the world's most famous waterfalls on the Canadian border, head North into the Catskills and towering Adirondack Mountains or road trip the dramatic Finger Lakes gorges.
Try as hard as you like, but it is difficult not to be impressed by plunging and cascading waterfalls.
This is the guide you need to start your own New York waterfall hunt!
*Please note this post may contain affiliate links. If you click on one, we may earn a small commission at no extra cost to you!*
What Can You Expect From This New York Waterfall Guide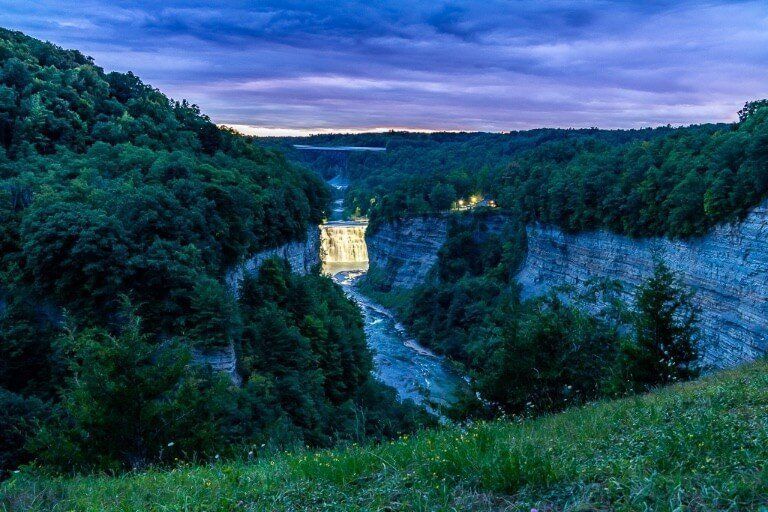 We plan to visit as many New York waterfalls as possible and each time we will add to this list. It will be a continuously growing article filled with information to help all lovers of nature plan their waterfall trips.
We would appreciate any suggestions for waterfalls you know of that we should include in this list, you can comment right at the end of this article to let us know. Thank you!
(Niagara Falls is top of our list once COVID restrictions are lessened and we can cross to the Canadian side)
Short hikes are sometimes required to reach waterfalls, therefore we will include any hiking trail details so you know what you're up against. It also helps decide what to wear!
You will find our top recommendations for lodging near each waterfall. We've only suggested the best value for money hotels with a focus on best location.
We've written comprehensive travel guides about many of the waterfalls / State Parks and you can click any of the buttons to read those full articles.
Okay, in no particular order, let's dive into the list!
Lower Falls At Letchworth State Park
Waterfall Height: 30 ft
Waterfall Crest: 70 ft
Waterway: Genesee River
Nearest Major City: Rochester, NY (55 miles)
Best Time to Visit: Spring, Summer & Fall
Where to Stay: Letchworth Farm
Letchworth was voted the best US State Park (chosen by USA Today readers) back in 2015 and it is clear to see why the park is so popular.
Often referred to as the 'Grand Canyon of the East', Letchworth's deep gorge is flanked by towering rock cliffs as high as 600ft through which the Genesee River flows towards Rochester and eventually Lake Ontario.
You can hike over 60 miles of trails throughout the 17 mile stretch of Genesee River inside Letchworth State Park. However, the stars of the show are three stunning waterfalls: Upper, Middle and Lower.
Not the most original names but easy to understand!
Lower Falls is the smallest, least visited but arguably most picturesque and quaint waterfall at Letchworth State Park.
Our top tip here is to cross the beautifully ornate stone bridge (very Lord of the Rings-esque) and follow a path hugging the cliffside until you reach an observation area.
Turn around to look up-gorge at Lower Falls behind the bridge for a wonderful view.
Hiking: Park anywhere between Inspiration Point and Lower Falls Trailhead. But you will have to descend (and then ascend) 127 uneven / irregular steps in order to see Lower Falls.
Middle Falls At Letchworth State Park
Waterfall Height: 107 ft
Waterfall Crest: 250-300 ft
Waterway: Genesee River
Nearest Major City: Rochester, NY (55 miles)
Best Time to Visit: Spring, Summer & Fall
Where to Stay: Letchworth Farm
Middle Falls is the tallest, widest and most powerful of the three Letchworth waterfalls. Several viewpoints from extremely close up to hundreds of feet away allow you to choose the perspective you like most.
Our personal favorite is from Inspiration Point, far enough back to open up the landscape and include the Genesee River as well as Upper Falls complimented by its 200ft high bridge. This is the best place to watch sunset at Letchworth and also the ideal place for astrophotographers to set up at night.
When you're ready to get up close and personal, you can stand a stone's throw away from the drop and walk into a rounded observation platform directly in front of the waterfall. Chances of being soaked by water vapor are high to certain!
Hiking: You can hike along the Gorge trail to Inspiration point but you can also park just 50 meters away, take a deck chair and watch the sun set just to the right of Middle Falls.
Upper Falls At Letchworth State Park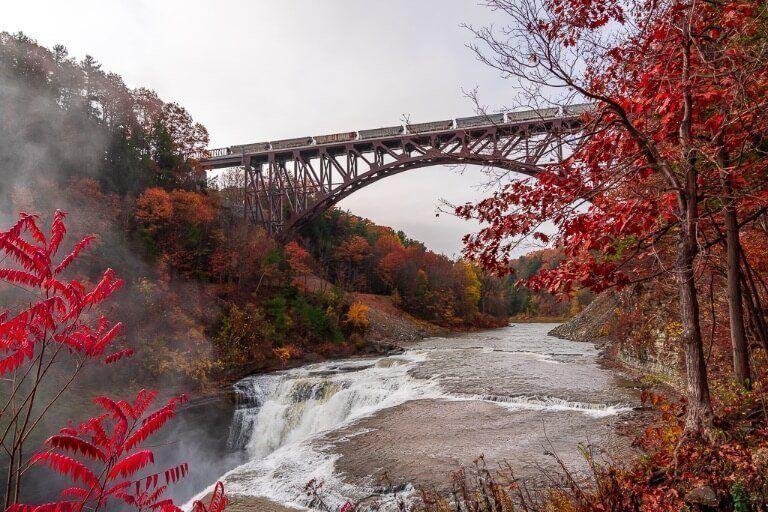 Waterfall Height: 70-80 ft
Waterfall Crest: ~200 ft (Horseshoe)
Waterway: Genesee River
Nearest Major City: Rochester, NY (55 miles)
Best Time to Visit: Spring, Summer & Fall
Where to Stay: Letchworth Farm
Rounding off the Letchworth Waterfall trifecta is narrow horseshoe shaped Upper Falls.
Due to its shape, Upper Falls typically creates a billowing cloud of water vapor that slightly obscures the left portion of the falls (as you look at it), which adds a slightly eerie and cold element, particularly on overcast rainy days.
Upper Falls outstanding feature isn't naturally created by erosion, it is a steel arched railroad bridge built by man. The bridge forms the perfect frame behind the waterfall and if you time it just right, you might see a freight train crossing.
Be sure to walk around the Upper Falls area, including standing directly in front and walking up the nearby stone stairs to its side for the best views.
Hiking: Park either at Middle/Upper Falls parking lot or a smaller parking area very close to the top of the railroad bridge. If you park at the bridge, you will have to descend gradual steps to reach the front view of Upper Falls.
Lucifer Falls At Robert H. Treman State Park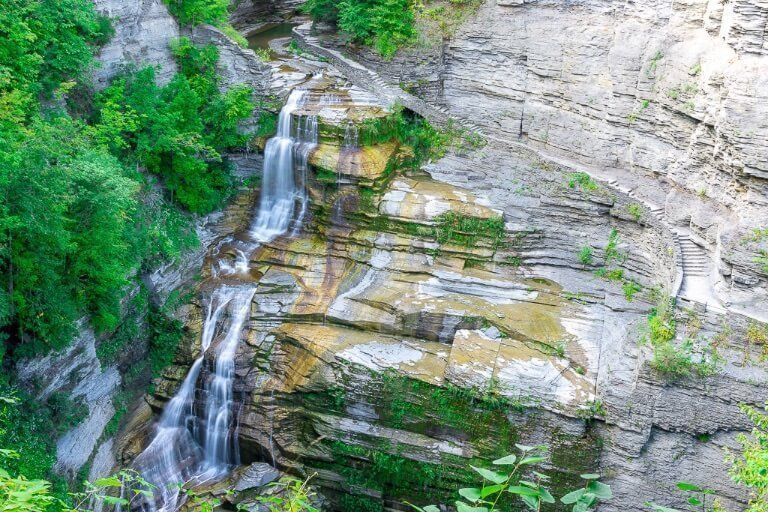 Waterfall Height: 115 ft
Waterfall Crest: 25-30 ft
Waterway: Enfield Creek
Nearest Major City: Ithaca, NY (5 miles)
Best Time to Visit: Spring, Summer & Fall
Where to Stay: Hampton Inn or La Tourelle
Lucifer Falls is an incredibly attractive cascade waterfall flowing out of a stunning gorge and plummeting 115ft over multiple tiers of rock into Enfield Creek.
What makes it so attractive is the dramatic gorge opening up into the Creek and a fairytale-like stone path hugging tightly to the cliff edge.
Two viewpoints offer entirely different perspectives of Lucifer Falls. Rim trail is the quintessential distant view from which you can absorb the beautiful scene uninterrupted and Gorge trail brings you to within 10 meters of Lucifer Falls' upper section.
Further down Robert H Treman State Park 2.25 mile Gorge Trail you can enter Enfield Creek and wade as close as you dare to the drop zone of Lucifer Falls, as long as the waterfall is lightly flowing.
Hiking: Park at Upper Entrance for much shorter hiking distances to Lucifer Falls from both Rim overlook and Gorge viewpoint (around 0.5 miles).
Lower Falls At Robert H. Treman State Park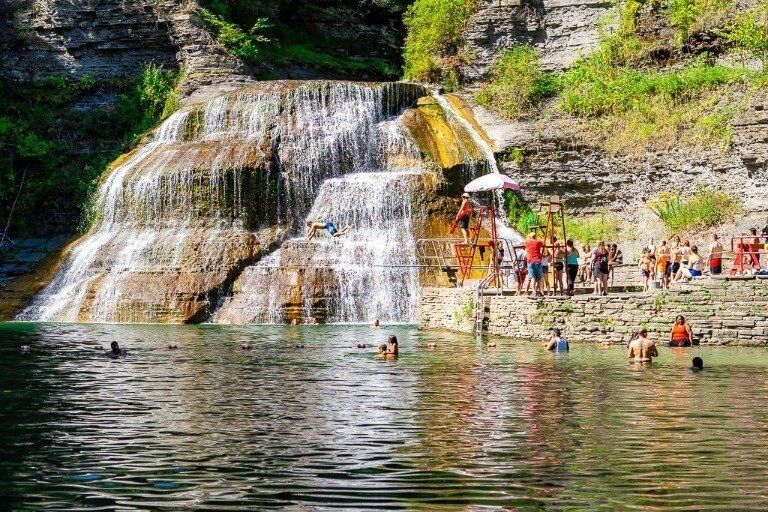 Waterfall Height: 30 ft
Waterfall Crest: 20 ft
Waterway: Enfield Creek
Nearest Major City: Ithaca, NY (5 miles)
Best Time to Visit: Spring, Summer & Fall
Where to Stay: Hampton Inn or La Tourelle
Lower Falls is located a few miles downstream of Lucifer Falls at Robert H Treman State Park. It's worth hiking the fantastic 2.25 mile Gorge trail from top to bottom to see the entire creek.
Lower Falls admittedly would be more impressive if it hadn't been transformed into a swimming hole complete with its very own elevated diving board. But hey, we all need a little fun in our lives, right?!
Enfield Creek narrows into a tunnel-like ravine as it nears the end of its flow and plunges 30ft into the designated swimming area which has become so popular with families.
Although not the most beautiful, powerful or exhilarating, it is quite rare to swim (without breaking rules or being in danger!) at the base of a waterfall of such scale, which is why we had to include it in this list of New York waterfalls.
Hiking: Lower Falls is less than 5 minutes walk along a flat, mobility friendly path from Robert H Treman main parking lot and features picnic areas.
Buttermilk Falls At Buttermilk Falls State Park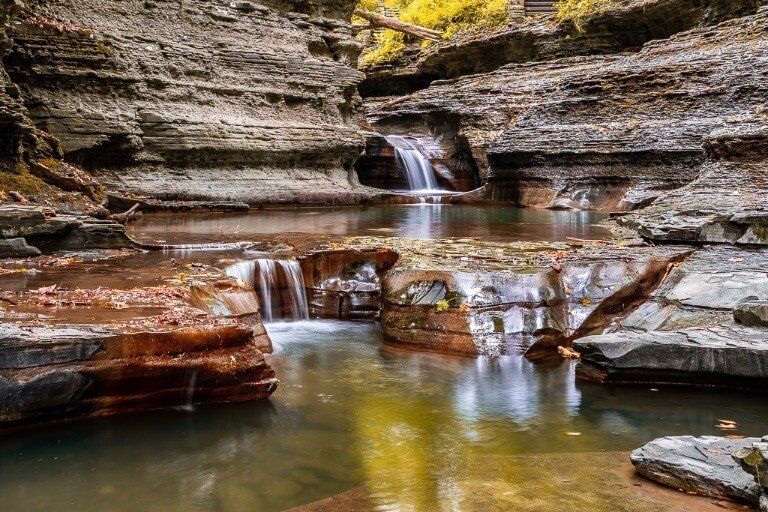 Waterfall Height: 165 ft
Waterfall Crest: 45 ft
Waterway: Buttermilk Creek
Nearest Major City: Ithaca, NY (3 miles)
Best Time to Visit: Spring, Summer & Fall
Where to Stay: Hampton Inn or La Tourelle
Buttermilk Falls State Park is one of the most popular parks around Ithaca, NY thanks to a short but exceptionally scenic Gorge trail featuring pothole pools and dozens of small waterfalls dropping from less than 1 meter.
You get a lot of bang for your buck at Buttermilk Falls State Park and its namesake waterfall is the perfect way to begin your visit. Right at the entrance, 165ft high creamy frothing water (like Buttermilk!) slips, slides and glides down an angled slab of rock into a swimming pool.
The most striking feature of Buttermilk Falls is how the water seemingly bursts out of a dense tree lined hillside, much like an enormous waterslide. When we visited, water was so low that Buttermilk Falls was almost dried up.
Therefore, instead of including 2 photographs of a dry rock, we thought it better to share an image of the beautiful gorge from further upstream, showcasing Buttermilk Falls' most photogenic attribute.
Top-tip: Don't visit after a long drought. There won't be any water running down sloping Buttermilk Falls!
Hiking: Buttermilk Falls is at the entrance but to reach the fantastic multi step punchbowl falls you will need to hike 0.75 miles up Gorge trail.
Ithaca Falls In Downtown Ithaca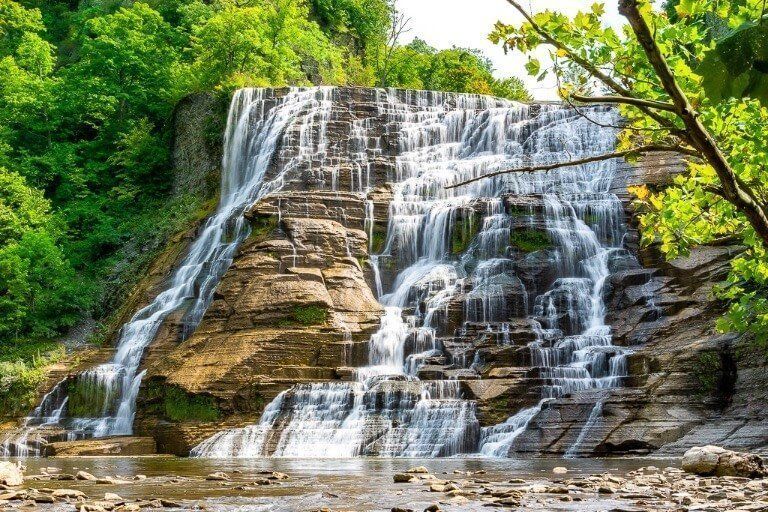 Waterfall Height: 150 ft
Waterfall Crest: 175 ft
Waterway: Fall Creek
Nearest Major City: Ithaca, NY (1 mile)
Best Time to Visit: All Year
One of the surprise packages of New York waterfalls has to be 150ft high and 175ft wide Ithaca Falls, which is completely unexpected considering it is in a city center.
Surrounded by Cornell University student housing districts, Lower Falls is the must visit waterfall of a half dozen found along Fall Creek.
You can also visit Rocky Falls, Forest Falls and Triphammer Falls if you follow Fall Creek as it cuts through Cornell University campus, which is basically a small town of its own!
Reaching Lower Falls requires a very short and easy walk alongside a rocky river bed but the area is small and often jam packed full of tourists or families of students. In Spring when the snow melts and water levels rise, there will not be much room to maneuver for photographs.
Top-tip: There is a small graveled parking lot right opposite the trail entrance with free parking.
Hiking: No more than 0.2 miles to reach the falls from parking lot.
Taughannock Falls At Taughannock Falls State Park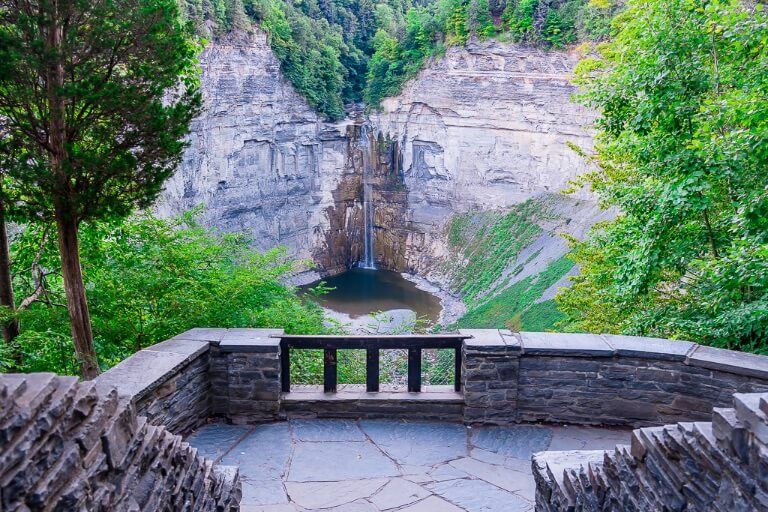 Waterfall Height: 215 ft
Waterfall Crest: 30-40 ft
Waterway: Taughannock Creek
Nearest Major City: Ithaca, NY (9 miles)
Best Time to Visit: All Year
Where to Stay: Taughannock Inn or Glass Magnolia
Taughannock Falls is one of the most visually impressive waterfalls in New York, if not the entire United States, although we know it doesn't look that way in our photo – we visited after a drought!
The spectacular single drop plunge waterfall plummets 215ft into a deep bowl-like depression in the Earth and can be viewed from right at the drop zone or from an incredible viewpoint hundreds of feet away.
You can walk along a flat gorge trail (or even the dry creek bed itself when dry) to reach the base of Taughannock Falls, which in Spring and early Summer will be crashing over the ledge 215ft above.
Taughannock Falls overlook has to be one our favorite views in New York. It is perfectly positioned for a front-on unobstructed view of heart shaped cliffs encircling the waterfall which lead to Taughannock Falls itself in the distance.
Top-tip: Visit in peak Fall season to see the waterfall surrounded by beautiful Autumnal foliage and take home the most amazing photographs.
Hiking: 1.5 mile roundtrip to the base of Taughannock Falls is flat, very easy and well worth it.
Rainbow Falls At Watkins Glen State Park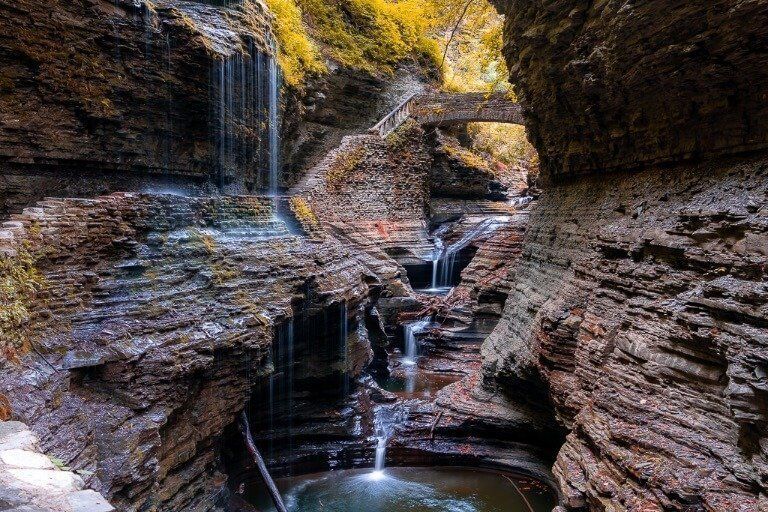 Waterfall Height: 101 ft
Waterfall Crest: 20 ft
Waterway: Glen Creek
Nearest Major City: Rochester, NY (81 miles)
Best Time to Visit: Spring and Fall
Where to Stay: Harbor Hotel or Idlwilde Inn
Watkins Glen is one of the most spectacular gorges we've ever seen and we genuinely felt as though we'd been transported into another world.
Although Watkins Glen State Park gorge boasts 19 waterfalls, none compare to the spellbinding scene at Rainbow Falls. We're talking front cover of nature magazines imagery here and this is one tough act to beat in the best New York waterfall race.
See the wafer thin but wide sheet of water plunging from the ledge and meeting Triple Cascade in those smooth potholes below?
That is Rainbow Falls and it is one of 2 waterfalls you can walk underneath as you hike the popular one way Watkins Glen Gorge Trail.
Prepare to be awe-struck but also prepare for crowds, unless you visit early on a weekday morning in Spring or Fall.
Hiking: Rainbow Falls is roughly 1 mile into Gorge trail from the main entrance. The total Gorge / Indian Trail loop is around 3 miles and contains 800 steps.
High Falls In Rochester City Center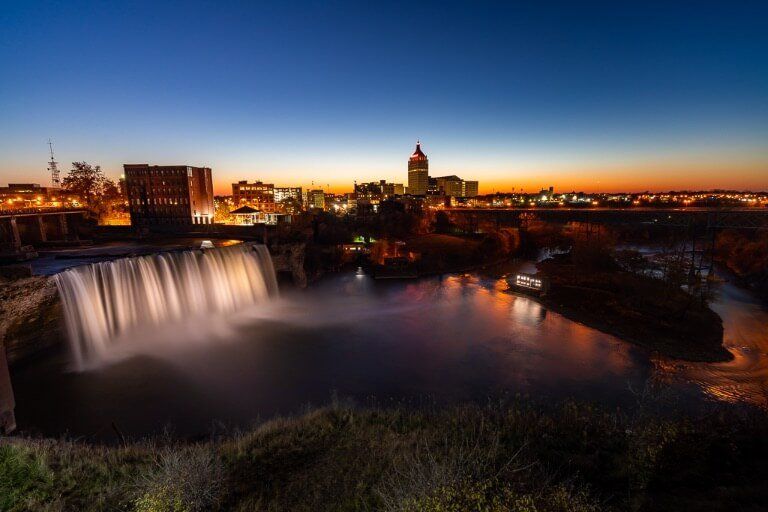 Waterfall Height: 96 ft
Waterfall Crest: ~200 ft
Waterway: Genesee River
Nearest Major City: Rochester, NY
Best Time to Visit: Year Round
Where to Stay: Hilton Garden Inn Downtown
Rochester's historical industry was built around High Falls waterfall and today the single drop plunging water is harnessed as hydro-electric power.
Two smaller waterfalls can be found within a mile and half downstream – middle and lower falls – but they are far less impressive than powerful High Falls.
What makes High Falls great to visit is how unique it is within this list of New York Waterfalls. Most are in gorges surrounded by rocks and vegetation, whereas Rochester's High Falls is bang smack in the middle of a city, surrounded by buildings and bridges.
An observation platform has been provided from which you will get the best view of the waterfall.
With a wide angle lens you will be able to capture a railroad bridge (with train crossing if you're lucky!), High Falls, buildings, Kodak Tower and the Genesee River curving underneath a pedestrian bridge.
Visit High Falls any time of day, but we recommend you plan to visit at sunset because the sun sets directly behind Kodak Tower. A stunning deep blue and orange sky contrast beautifully against High Falls – which is illuminated green, pink, blue, red and white after dark.
Parking & Hiking: Park in a small parking lot at High Falls Terrace or in the Genesee Brewery parking lot. The observation platform is 100 meters walk away, plus you can go inside the brewery for a quick beer on the way back.
Bonus-tip: Genesee Brewery has a first floor patio looking over High Falls for a different perspective of the waterfall.
Want more waterfall inspiration? Don't miss our guide to the best waterfall quotes.
New York Waterfalls Photography Tips
While smartphones today can easily cut it for social media platforms, in order to take home some truly memorable images (and be able to edit them well) you need a mirrorless or DSLR camera.
Waterfalls are one of our favorite types of photography because you can really change how an image looks using a camera. Running water is the same as falling water so these tips remain true for both.
Mirrorless or DSLR camera, lens with focal length to suit the scene. Close up like Rainbow Falls or underneath Taughannock Falls, use a wide angle (12-35mm). Middle Falls from Inspiration Point would be better at 50-80mm.

Tripod for stability to capture the silky waterfall effect OR find a spot you could set your camera on a wall. Put a spare hoodie or jacket between the wall and your camera for protection.

Shoot 0.3 second to 3 second exposures using shutter speed priority mode with ISO as low as possible (100). Start at 1 second and then at faster / slower shutter speed until you're happy with how the water looks.

Alternatively, use a fast shutter speed like 1/1000th to freeze water droplets as they fall. You can then hand-hold without tripod or blur.

If you're just starting out, shoot in RAW & JPEG. You can use your jpeg now but once you have more experience you will be grateful for the RAW file you can go back to and edit in post.

Visit early in the day before intense daylight but if it is bright, use an ND filter to stop down the light or CPL filter to dim any glare.

Check for spray on your lens regularly.
Pictures of America: Use our favorite US Photographs to find inspiration for new travel destinations when planning your next vacation!
Our Photography Equipment
To give you an idea about what is 'in our bag' we've listed below the equipment we use for photography. We started small and have expanded as we developed.
You certainly don't need the most expensive gear and can easily get amazing images with entry level or mid-range cameras/lenses – although it does help! We used our entry level camera for some of the waterfalls in this post.
New York Waterfalls Map
Click into the interactive map, zoom in / out and move around the area to find all waterfalls and nearby hotel recommendations.
Maroon

– Locations of all New York waterfalls covered in this expanding list

Purple – Best value for money hotel recommendations close to each waterfall
---
We hope this helped you plan your New York waterfalls hunt!
Which is your favorite waterfall? Have you visited any of the Finger Lakes falls?
Please let us know if you have any questions or need any help planning your visit to any falls.
Happy Travels,
Mark and Kristen
Like This Post? Pin It For Later!