In this comprehensive first time visitor guide we are going to explain everything you need to know about planning the perfect trip to Devils Tower National Monument in northeast Wyoming.
Devils Tower is a remarkable geological wonder that simply can't be missed on a visit to South Dakota's stunning Black Hills. Although the striking igneous rock formation is in fact in the state of Wyoming, it is just 2 hours drive from world famous sculpture Mount Rushmore in South Dakota.
We will talk about what Devils Tower is, how it formed, where it is and how to get there from Mt Rushmore and Yellowstone, the best way to spend a few hours at the monument, each of the 5 hiking trails, climbing, where to stay nearby, camping and even a hidden gem.
Let's get right into how to plan the perfect visit to Devils Tower National Monument!
*Please note this post may contain affiliate links. If you click on one, we may earn a small commission at no extra cost to you!*
What Is Devils Tower?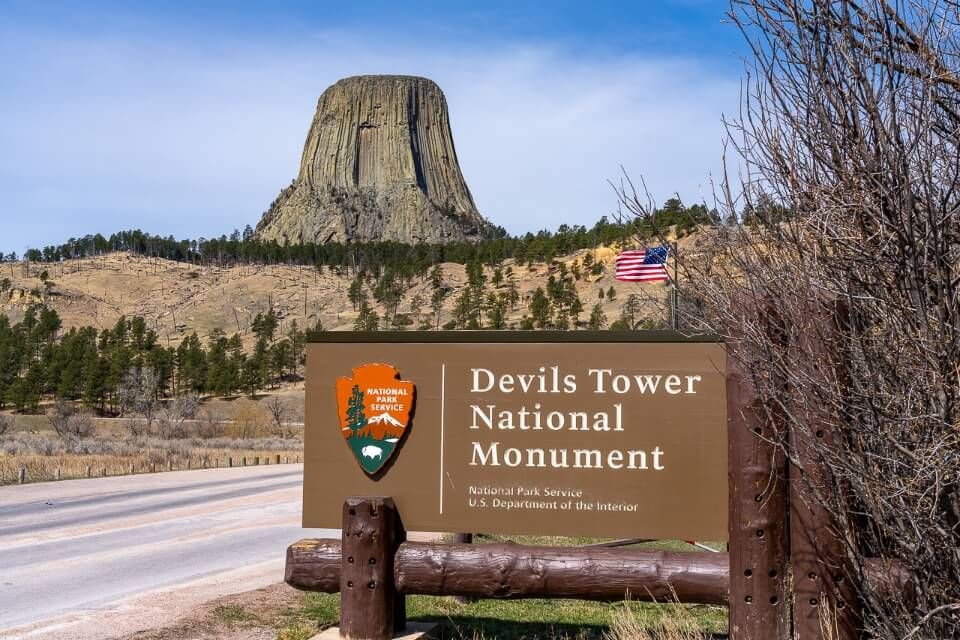 Devil's Tower is in equal parts intriguing and mind-boggling.
In some ways it is similar to Mount Rainier in Washington (but to a much lesser extent), where the landscape is flat and then boom, out of nowhere there's this enormous natural feature dominating the skyline.
Devils Tower started out as igneous rocks originating from lava or magma, which cooled via weathering and caused cracks from contracting stresses. These cracks are why Devils Tower is made up of 5 sided and 6 sided columns and it is the largest known example of 'columnar jointing'.
The cracks formed by molten rock cooling have created one of the most popular rock climbing faces in the US.
Sections of Devils Tower are subject to weathering and erosion, which is evident when you see the large boulder field at its base. The Tower used to be even taller and wider than it is today.
How Was Devils Tower Formed?
You are probably asking the same question we asked ourselves the second we saw the mighty natural structure:
How did Devils Tower form?!
Well, there is no conclusive answer. Geologists have studied, pondered and theorized but are yet to come to one final agreed upon explanation.
Complex geological terms aside:
Devils Tower is the result of magma buried beneath the Earth's surface, which cooled as sedimentary rock layers around and above the molten rock tower eroded and it was exposed to typical erosion elements (rain, snow, wind and ice). These natural processes formed the tower we see today.
How Tall Is Devils Tower?
Bursting high into the sky out of northeastern Wyoming prairie land, Devils Tower dominates an otherwise flat horizon for miles in all directions.
Height: It currently stands at 867 ft (265 m) from base to summit but is 5,112 ft (1,599 m) above sea level.
Devils Tower is eye-catching from afar, it looks tall. But when you stand at its base, the looming and leaning Tower suddenly looks enormous.
Where Is Devils Tower?
Devils Tower is located in northeastern Wyoming, close to its border with neighboring South Dakota and the beautiful Black Hills.
The small towns of Hulett, Moorcroft and Sundance are close to Devils Tower. The latter two are located right off I-90 between the Black Hills of South Dakota and Bighorn National Forest in Wyoming.
Devils Tower To Mount Rushmore
Arguably the most popular way to visit Devils Tower is to include the awesome national monument as part of a wider South Dakota Black Hills road trip, including Mount Rushmore, Custer and Badlands National Park.
There are a huge amount of amazing things to do near Mount Rushmore on a South Dakota road trip and many of those things are within close proximity to one another.
Devils Tower is a little further out of the way but we can assure you it is worth the effort. It can be tied in with a visit to Deadwood, Spearfish and the awesome Spearfish Canyon scenic drive.
Distance from Mount Rushmore to Devils Tower is anywhere between 125 to 140 miles depending on which route you take.
Here's how we did it and recommend you do the same:
Mount Rushmore / Keystone to Deadwood

Deadwood to Spearfish via Spearfish Canyon Byway (Alt-14)

Spearfish to Devils Tower
Devils Tower To Yellowstone
For those taking a longer (and more epic!) road trip from South Dakota's Black Hills to Yellowstone and Grand Teton, a stop off at Devils Tower is an easy decision to make.
You're heading over that way anyway so why miss it?
Passing high over the Southern edge of Bighorn National Forest on scenic highway 16 (Cloud Peak Skyway) is incredibly picturesque.
But other than this wonderful drive between Buffalo and Ten Sleep, the journey from SD to Yellowstone doesn't have many obvious stop off points. Therefore, Devils Tower is even more unmissable.
Distance from Devils Tower to Yellowstone is roughly 350 miles and 6h 15m to East entrance (Cody) / 435 miles and 6h 45m to North entrance (Gardiner).
How Much Does It Cost?
Entrance Fee (valid for 7 days):
Vehicle: US$ 25

Motorcycle: US$ 20

Walk / Bicycle: US$ 15

Camping: US$ 20 / night
Top tip: Entry is free with America the Beautiful Annual National Parks Pass (listed as 'Interagency Annual' on sign).
Relaxing Visit to the Monument
The average visitor will only need 2-3 hours on site at Devils Tower, but climbers, photographers and avid hikers could easily spend a full day on the grounds.
Here's a brief outline of the perfect way to visit Devils Tower in just a few relaxing hours:
Arrive at the parking lot and check out the visitor center.

Walk up the steep path to begin your loop around the base of Devils Tower.

Choose either clockwise or anti clockwise direction – we chose anti.

Look through gaps in gorgeous ponderosa pine trees as you walk the flat, easy and well maintained paved trail.

Look up at cracks in the rock face to see tiny ant-sized climbers.

Take a ton of photographs on the short loop trail.

Look how the Tower changes shape as you circumnavigate the base.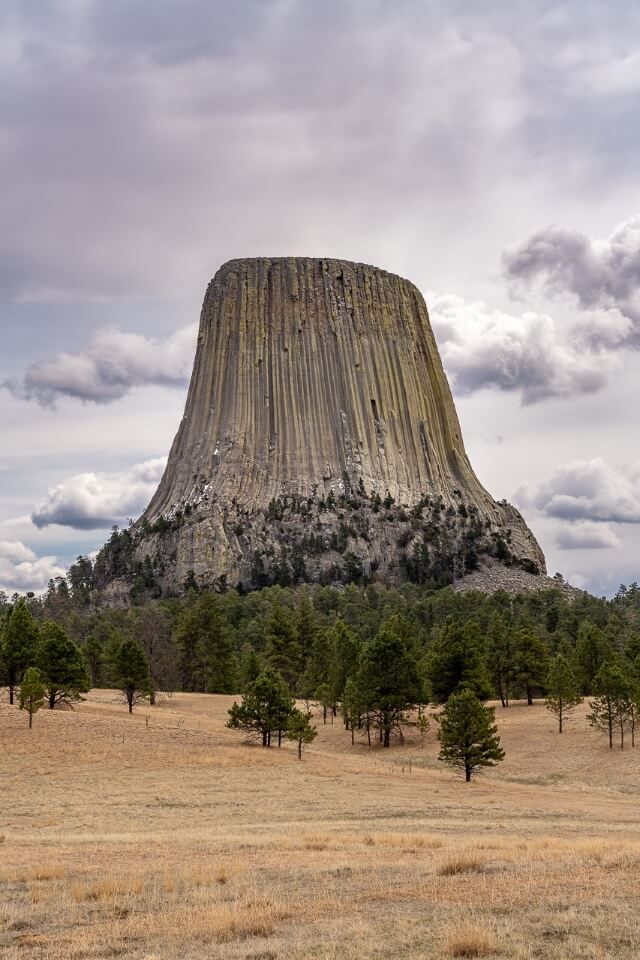 For those looking to make a little more of a visit to Devils Tower, don't miss this easy to reach area: Joyner Ridge.
The ridge is a very secluded section of the monument grounds that we can't recommend highly enough. As you leave the main parking lot to exit you will see a right turn onto W rd around half a mile down the road.
Take that road for 0.3 mile until you reach a very small parking lot at Joyner Ridge. There is a 1.5 mile roundtrip loop here but you don't need to hike the trail to enjoy spectacular views over grassland, trees and eventually Devils Tower.
It's not exactly a 'hidden' gem, but it certainly will be much quieter than the Tower itself. We spent an hour walking the loop and saw only one other group the entire trail.
Devils Tower Hikes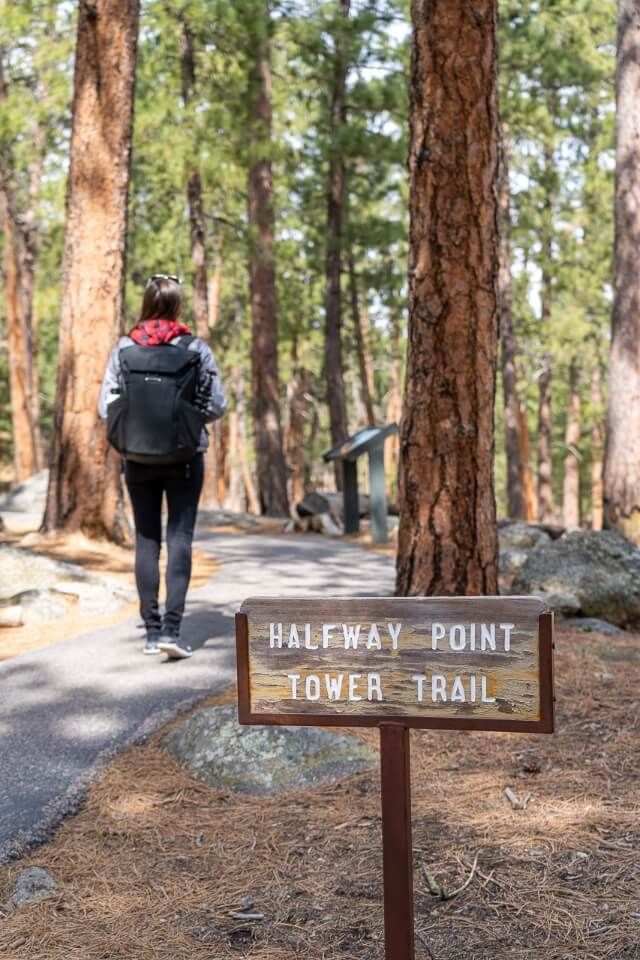 There are 5 hiking trails at Devils Tower, spanning the length and difficulty range. Each trail is interconnected, which means you can walk between loops and spend as much time as you like hiking.
It's important to note that pets are not allowed on any trail.
Let's take a brief look at the 5 Devils Tower hikes:
1. Devils Tower Trail
The most popular hike at Devils Tower begins right at the visitor center parking lot and loops around the Tower base. Tower Trail is paved, easy and just 1.3 miles long. It has a steep section at the beginning / end but otherwise is flat. Expect this trail to be exceptionally busy and parking to be challenging during peak season.
2. Joyner Ridge Trail
As mentioned above, this trail was deserted when we visited and it offers fantastic views over Devils Tower with trees and prairie as stunning foreground. This hike is a 1.5 miles roundtrip loop but does feature a sharp elevation change.
3. Red Beds Trail
Red Beds effectively circles around the Tower in a much wider loop. The trailhead is located at the visitor center but is different to the traditional Tower Trail. A little more challenging with steep sections, Red Beds clocks in at 2.8 miles roundtrip and connects to each of the other trails.
4. South Side Trail
This is technically an out-and-back 0.6 mile spur from Red Beds to an amphitheater near the campground and Belle Fourche River. However, most hikers will include South Side Trail with Valley View Trail to create a separate loop from Red Beds. This is flat, easy and takes you through prairie dog town.
5. Valley View Trail
The other 'half' of the South Side / Valley View loop. This section of trail also begins / ends at the amphitheater and winds through prairie dog town before joining back up with Red Beds. Flat, easy and scenic.
Devils Tower Climbing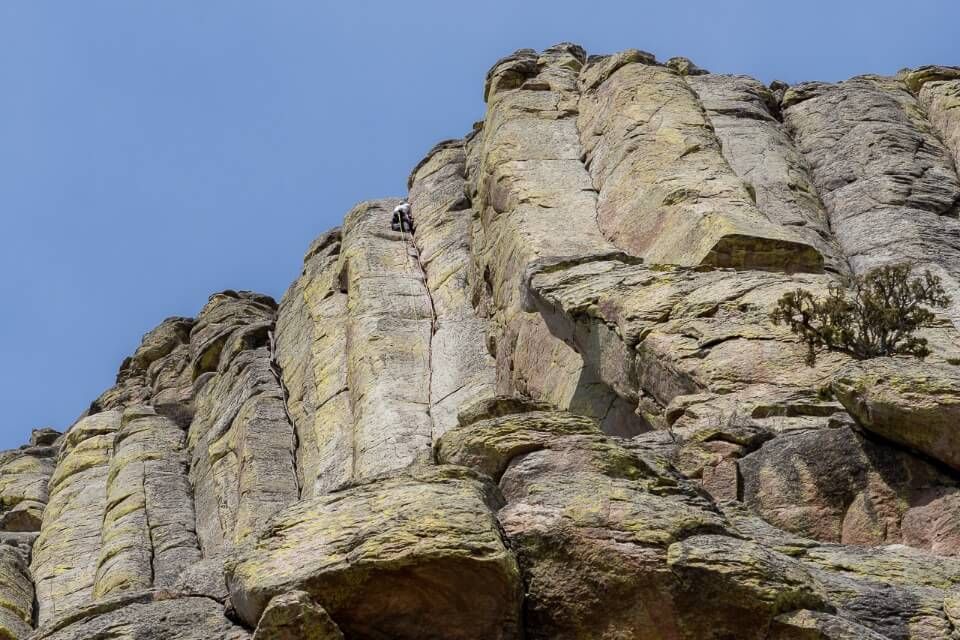 Devils Tower National Monument is one of the most sought after and best examples of crack climbing in the US and North American continent.
Cracks are found in all shapes and sizes: Some pencil wide and others legs- in-splits wide; some are centimeters tall and others are up to 400 ft tall.
Climbers must register at the kiosk located in the visitor center parking lot before ascending.
Non climbers can look out for what remains of the old Rogers & Ripley Stake Ladder built from the base to two-thirds of the way up back in 1893. Read the brilliant story of Rogers & Ripley.
Note: Be aware that climbing access is closed off each year for the entire month of June.
Tips For Visiting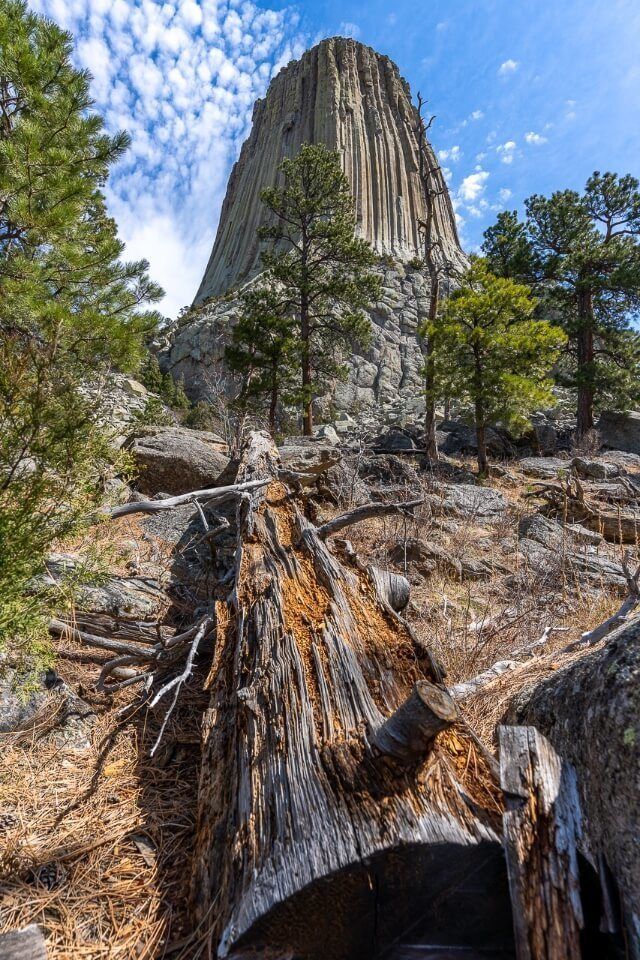 There are no real 'best' sunset locations in the monument grounds, but Joyner Ridge is the perfect sunrise location for photographers and lovers of early mornings!

Parking is very limited at the visitor center so plan to arrive early if possible.

Hike the Tower Trail before any other trails to beat the mid-morning rush.

Top tip: Remember, entry is US$ 25 per vehicle but if you have an America the Beautiful Annual National Parks Pass you get in for free.
Where To Stay Near Devils Tower Wyoming
Devils Tower National Monument is located in a very rural part of northeastern Wyoming. There are no major cities or even big towns nearby.
If you are planning to visit Devils Tower as a day trip from South Dakota's Black Hills, read our guide to the best hotels near Mount Rushmore to pick the perfect lodging option for your visit.
However, if you'd rather stay close to Devils Tower, there are a number of excellent lodging options in the nearby surrounding rural areas:
Devils Tower Lodge
Located close to Joyner Ridge trailhead, this lodge has the best location and views by far of any accommodation near the monument itself. It is rated at 8.7 / 10 by previous guests on Booking.com.
Lake Guest Ranch
Around 6 miles further along the same road past Joyner Ridge trailhead, you will find this farm stay with fantastic homemade breakfast and optional dinner. Guest ratings of 9 /10.
Sawin' Logs Inn
With a whopping 9.5 / 10 guest rating and within just 6 minutes drive of the monument entrance, this popular B&B comes with sun terrace and excellent homemade breakfast.
Devils Tower Camping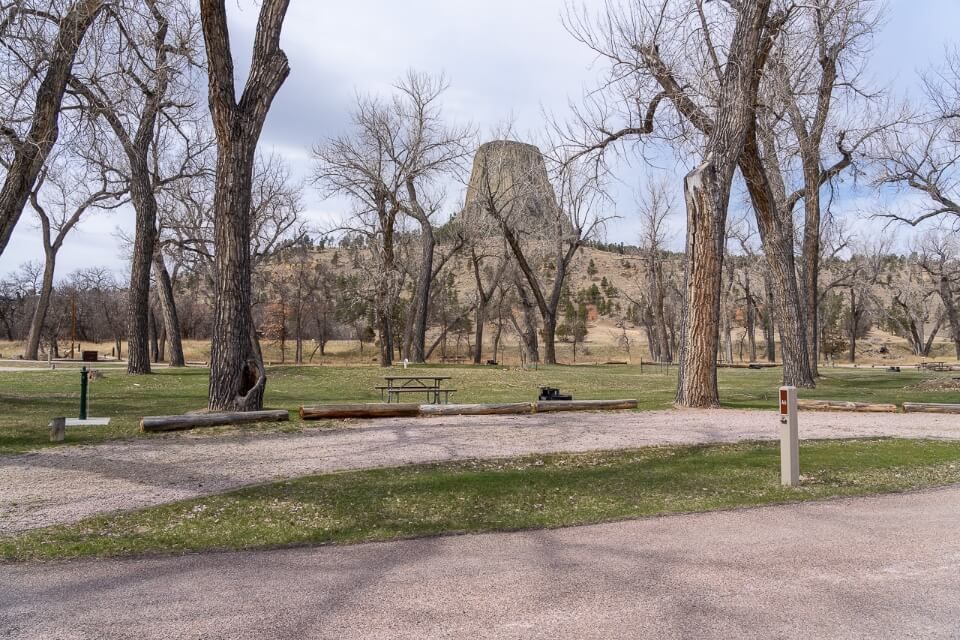 There is only one campground inside Devils Tower National Monument in Wyoming – Belle Fourche River Campground. All sites are first come first served, there are no reservations.
Total of 46 sites across 2 loops (no electrical hookups).

Drinking water and restrooms.

The campground is shaded by trees.

RV maximum length is 35 ft.
More From Wyoming …
Use our comprehensive Mount Rushmore to Yellowstone Road Trip planner to create your entire itinerary when visiting the beautiful Black Hills and Wyoming regions.
More From South Dakota …
---
We hope this guide to the awesome Devils Tower National Monument in Wyoming helps you plan your trip!
Have you been to Wyoming or South Dakota? Which places did you enjoy the most?
Please let us know if you have any questions or need any help planning your visit.
Happy Travels,
Mark and Kristen
Was This Post Helpful? Pin It For Your Visit!