Badlands is more like 'Goodlands' when photography is concerned. South Dakota's popular National Park is fairly isolated but once you arrive, you know it's worth the extra effort.
Surprisingly excellent wildlife spotting, an extra-terrestrial landscape and a light-pollution-free night sky create the perfect environment for photography to thrive.
The easiest way to display our many photographs is to break them up into subsections. We hope our favorite images will inspire you to visit Badlands National Park!
*Please note this post may contain affiliate links. If you click on one, we may earn a small commission at no extra cost to you!*
Badlands Hiking Trails Photography
Door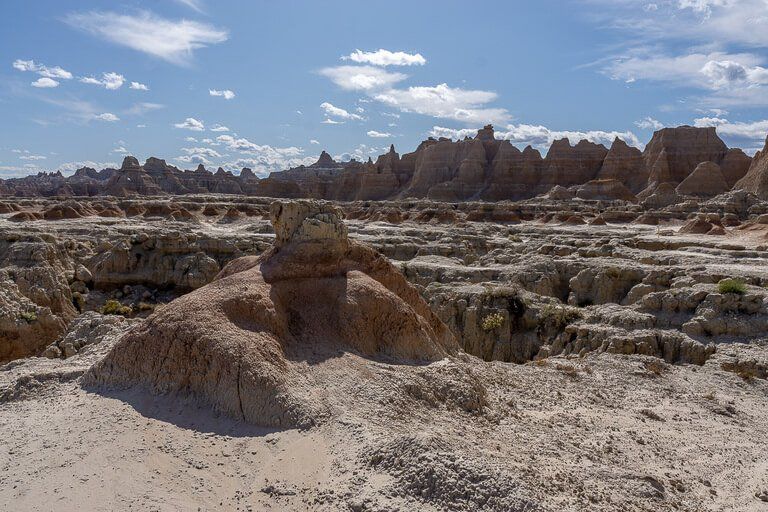 Door trail allows you to get 'behind' the wall and opens up this spectacular landscape.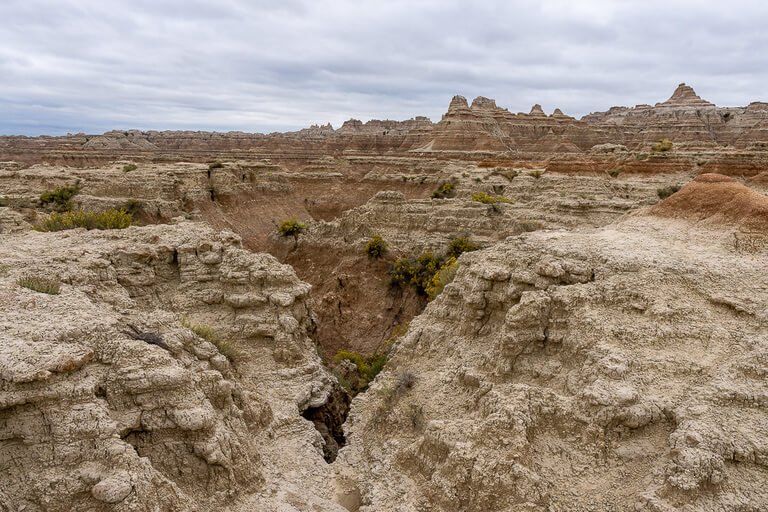 Door is one of the only places you can explore the gullies and ravines by erosion and deposition.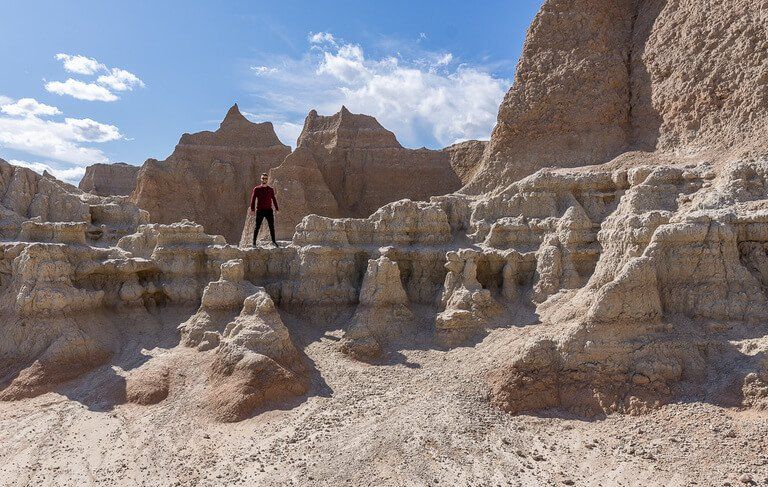 Mark climbing some of the rocks at the beginning of Door trail for a better vantage point.
Window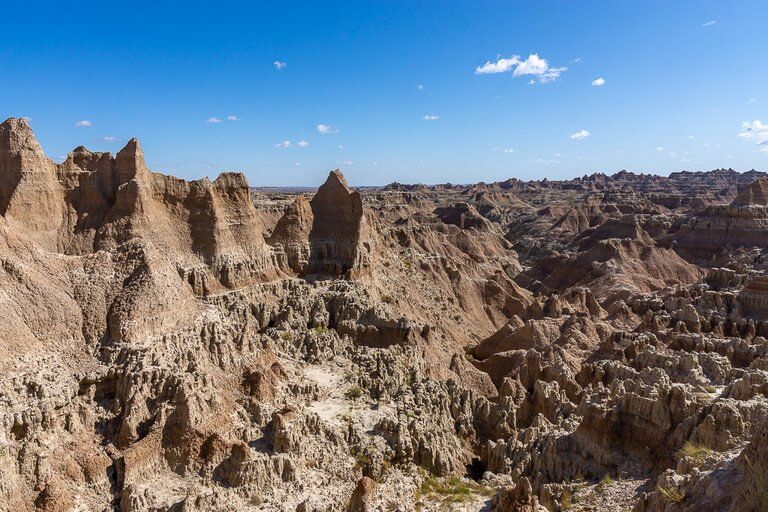 Window is a very short walk from the car park and this is the view for your efforts!
Notch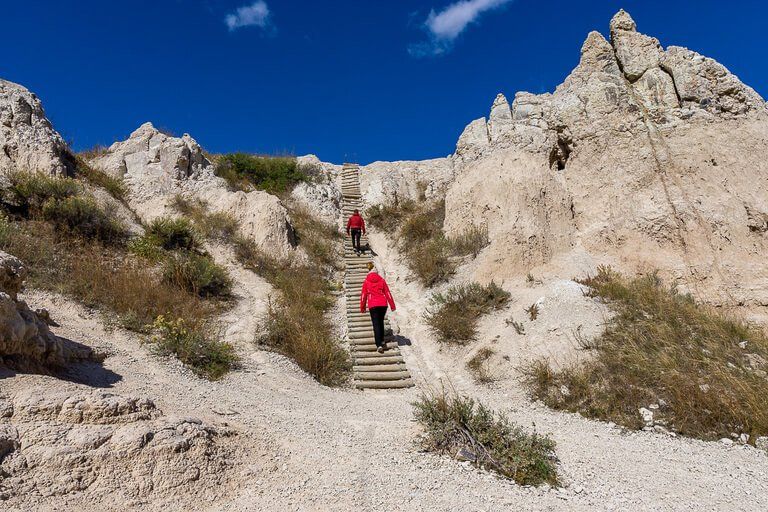 Mark and Kristen climbing the Notch trail ladder. We had the tripod and a 10 second timer set up for this one so had to run up the ladder!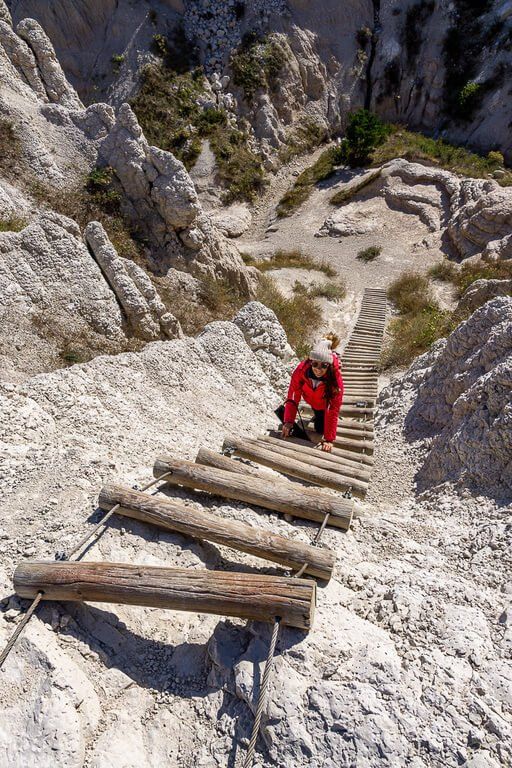 See what we mean? Looks steeper from the top! On the way down, there's a moment where you need to work out whether to turn and go backwards or chance it forwards.
The awesome views over White River Valley from the end of Notch trail. Badlands visitor center is somewhere down to the right center of the photo.
Read our complete hiking walkthrough for Badlands best hike – The Notch Trail.
Castle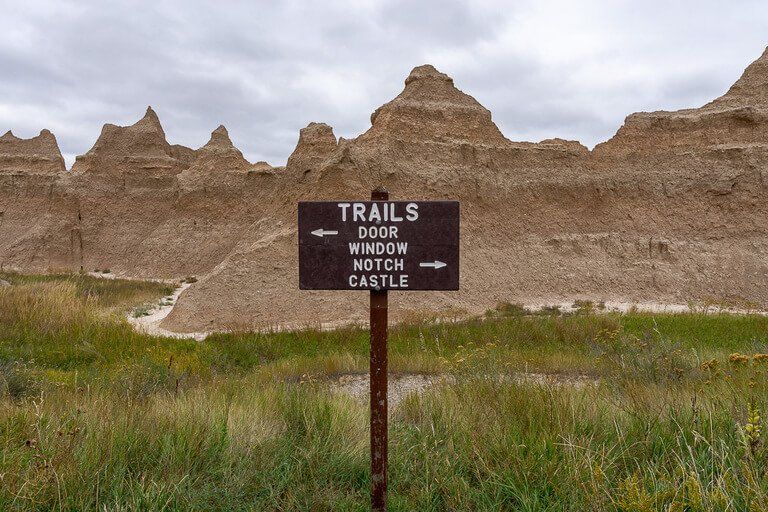 Badlands main hiking trails are all signposted from a car park not far after arriving via the Northeast entrance.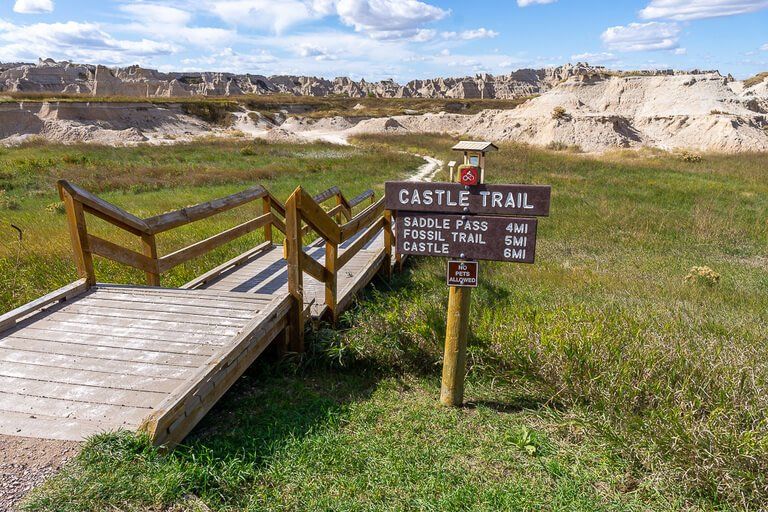 At 5.4 miles, Castle trail is the longest maintained trail in Badlands National Park.
As you can see, Castle Trail is a maze of spires, buttes, sod tables, and fins in the beginning. The trail will eventually lead to an open prairie filled with multiple badland formations.
Badlands Wildlife Photography
Bison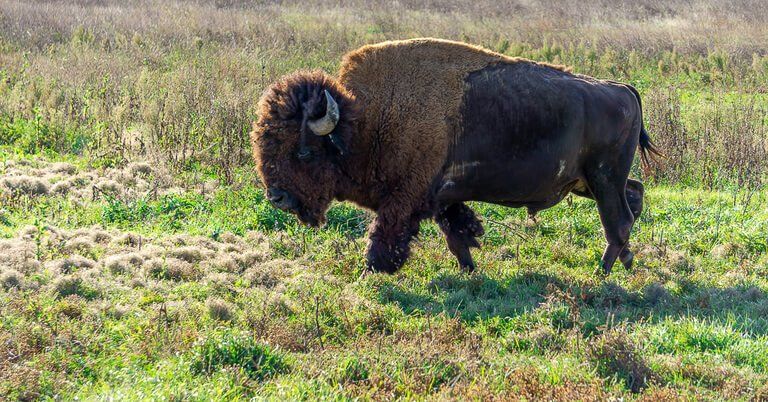 America's national animal can be found in many parts of the country but Badlands gave us our very first sighting! The Bison here were solitary and walked right through Sage Creek Campground.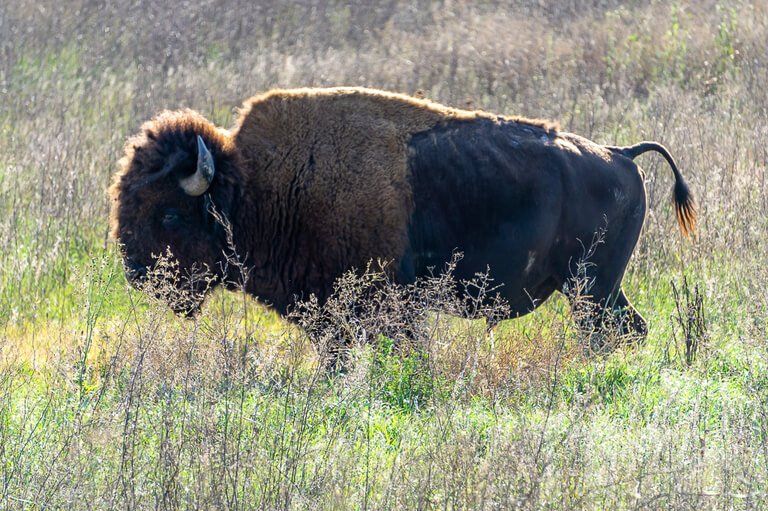 It was much quieter here in Badlands compared to other National Parks so we were able to observe this Bison with no distractions or other tourists. This guy was lapping up the sunshine!
Bighorn Sheep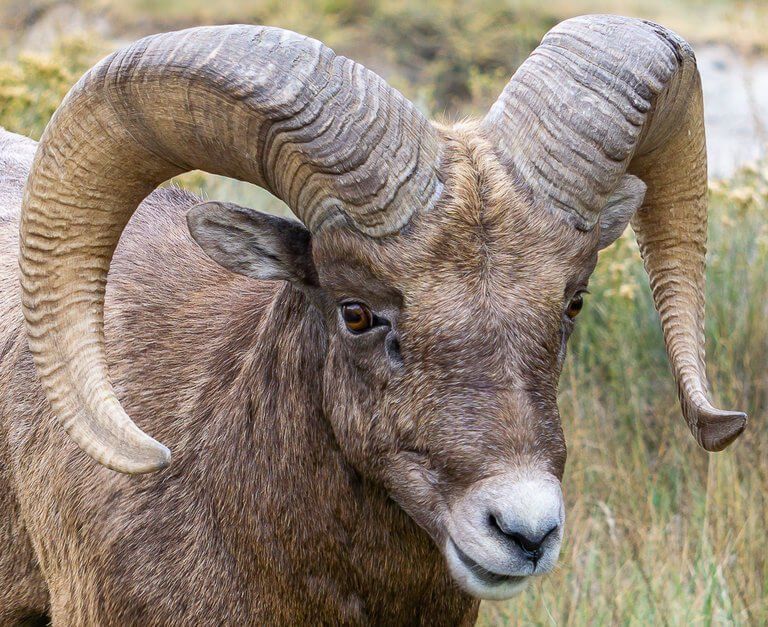 This photo of a Bighorn Sheep is one of our favorite wildlife photos from our 18 months honeymoon. We had never seen one before and we didn't expect to be so close to a herd as they were grazing right next to the road. Luckily, we caught this Bighorn perfectly with our telephoto lens.
Prairie Dogs
How cute are these fluffy little rodents?! These 3 were congregating on one hole in the morning sunlight at Sage Creek Campground.

This Prairie Dog was mischievous as he ran between holes, while keeping an eye out for predators!
Badlands Scenic Overlooks Photography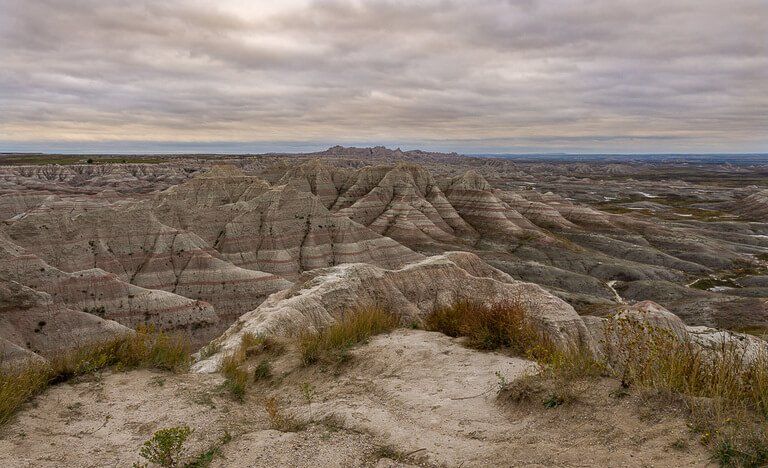 We were fortunate during our badlands visit to have changeable weather, which is great for photography. A sunset illuminated the clouds perfectly on Sage Creek Rim Road!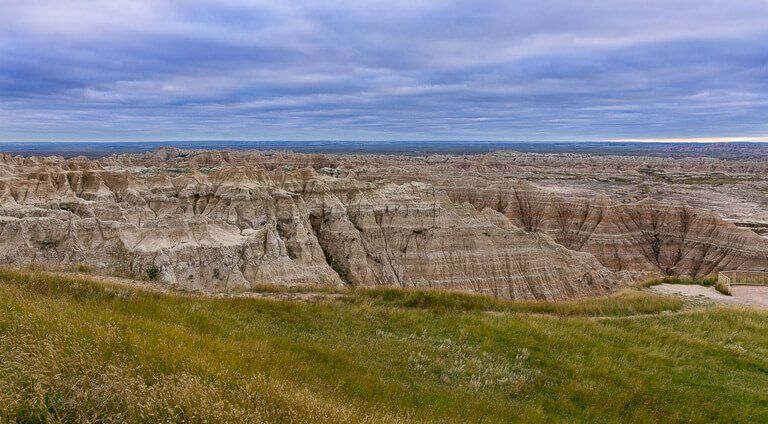 And here is the change in weather… These dense and dark rain clouds persisted for a good few hours!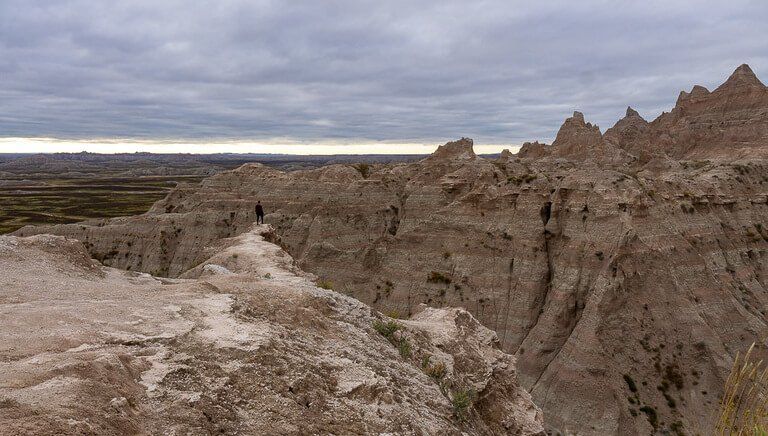 Without Mark as the perspective, it's hard to determine and appreciate the size of these rocks.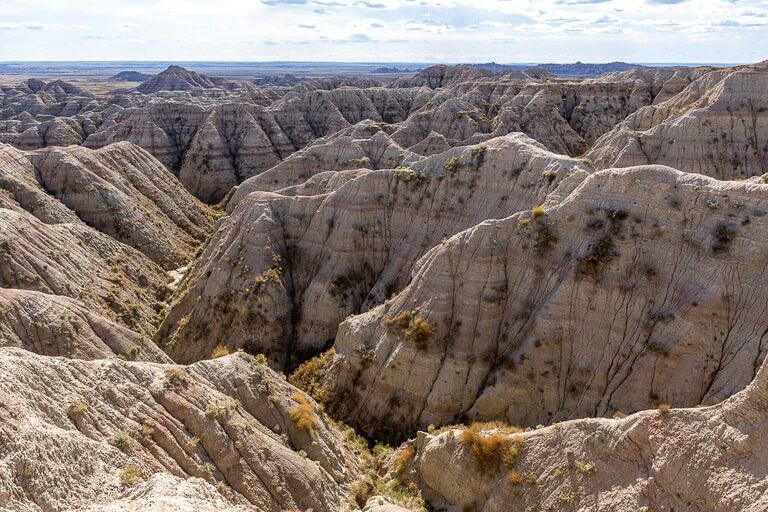 This is the perfect image to see the layers of fossil soils at Badlands, look at the thin bands of red in the rock. It's hard to imagine there was once a sea covering this area.
Badlands Camping Photography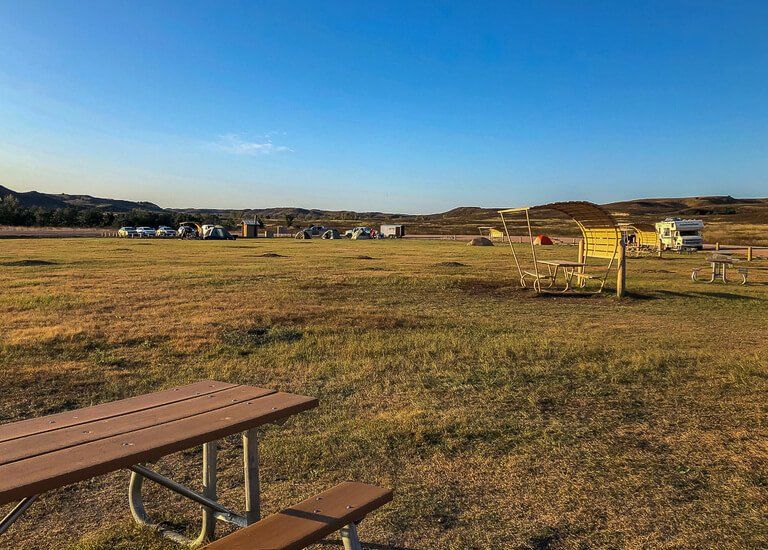 Welcome to Sage Creek campsite in Badlands, South Dakota! There's not much here, just a circular dirt road surrounding a grassy area with one dump toilet. Look for numbers on wooden poles to secure your spot. It is first-come, first-serve after all!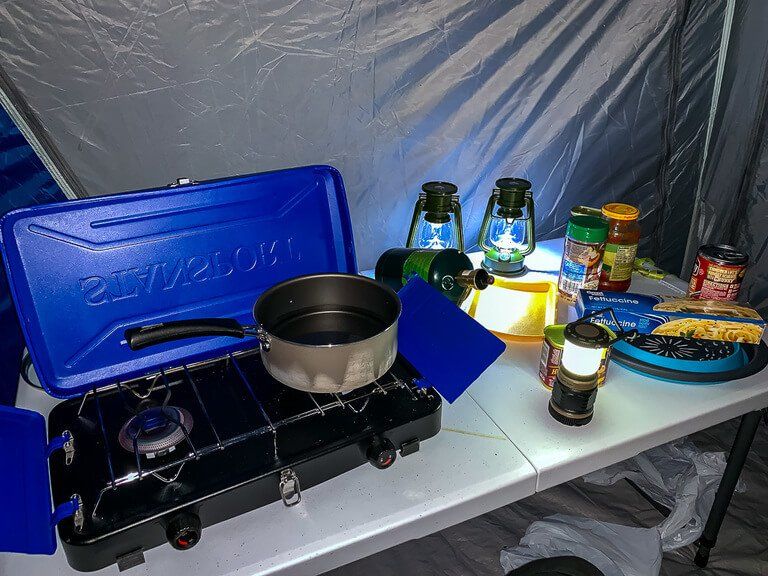 If you plan to spend the night, don't forget your camping essentials! We made a typical camping meal of spaghetti, tomato sauce and cheese, but spruced it up with some Spam we had bought at the Spam Museum in Austin, MN on the way to Badlands!
Minuteman Missile Museum (Nearby & Awesome)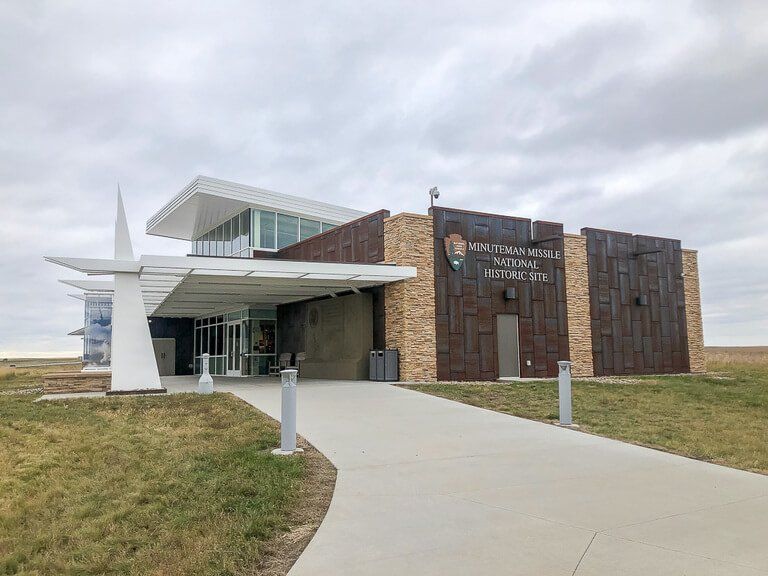 Minuteman Missile Museum is definitely worth a visit if you have a spare hour after visiting Badlands. This museum tells the important story of the Cold War.
Wall (Nearby Town)
Wall is a tiny town close to the Northwestern entrance to Badlands. It's the only town within a few miles of the park that has hotels. This drug store is advertised for miles and miles along the I-90 with hundreds of billboards. You can't miss them!
A Few Last Words On Badlands Photography
Badlands is definitely worth a visit if you can work it in to a wider road trip. We didn't see Bighorn Sheep like these again on our entire 3 month US road trip.
Although the rock formations here aren't as mesmerizing as the Grand Canyon, they're still interesting enough to make the effort.
For photographers, the key is to stay a night. Sunrise, sunset, golden hours, stars and animals. You won't get any of those on a 10am-3pm visit!
Don't forget you can read our Complete Guide to Visiting Badlands for more information about this special and unique National Park.
Read More Photography Guides

…
Read More About Badlands National Park

…
---
We hope this helped you plan some of your Badlands Photography spots!
What types of photos were you able to capture?
Please let us know if you have any questions or need help planning your trip to Badlands National Park!
Happy Snapping,
Mark and Kristen
Was This Post Helpful? Pin It For Your Visit!