South Dakota's popular National Park is fairly isolated but once you arrive, you know it's worth the extra effort. So we think Badlands is more like Goodlands when photography is concerned.
Surprisingly excellent wildlife spotting, an extra-terrestrial landscape and a light-pollution-free night sky create the perfect environment for photography to thrive.
The easiest way to display our many photographs is to break them up into subsections:
Badlands hiking trail photos
Wildlife photography
Best scenic overlooks
Additional photos spots near Badlands
We hope our favorite images will inspire you to visit Badlands National Park. Let's find the best Badlands photo spots!
Our Badlands National Park Experience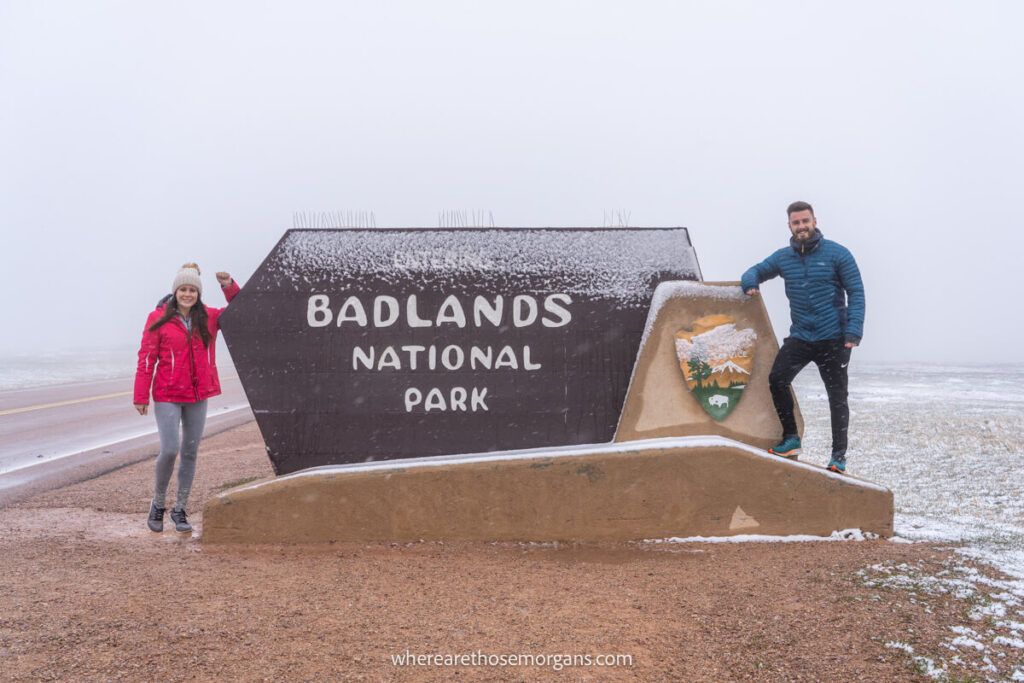 We first visited Badlands in September 2019 as part of a three month US road trip. But we loved the park so much, we visited again in April 2021 when we moved from New York City to Seattle.
During our first visit, we were still using our beginner level Sony a6000. Unfortunately, we experienced snow and lots of grey skies during our second visit.
So we hope to return in the future to recapture this stunning national park. However, we enjoyed the snow in Badlands because it made our trip unique and to our surprise, the animals were very active.
Our main goal in this photo guide is to show you the best Badlands photography locations so you can take home amazing photos from your trip.
Love photography? Shop our professional photo gallery here.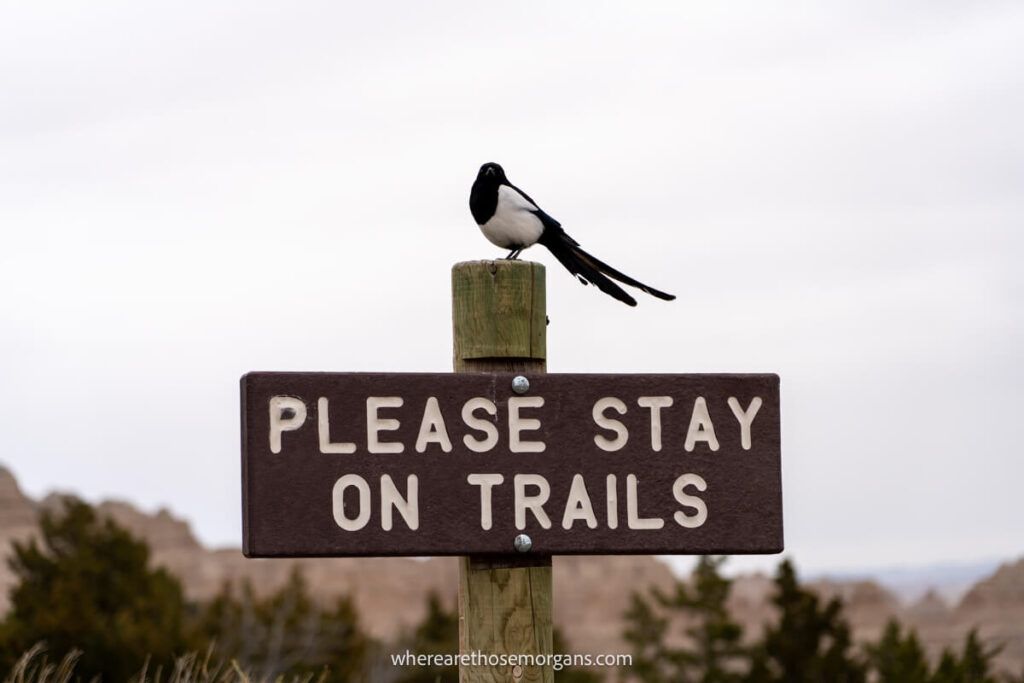 Badlands Hiking Trail Photography
There are 10 hikes in Badlands you should consider when visiting this South Dakota national park. Many of these hikes make for great photography locations in the Badlands.
Let's start with an easy hike:
1. Door Trail
Door Trail is a unique Badlands photo spot because you will venture behind the Badlands Wall during this hike. A short boardwalk opens up into a spectacular landscape.
Badlands National Park has an open hike policy which means you can hike just about anywhere, which not the case in most US National Parks.
After the boardwalk, you are free to roam the opposite side of the Badlands Wall and the photography opportunities are endless.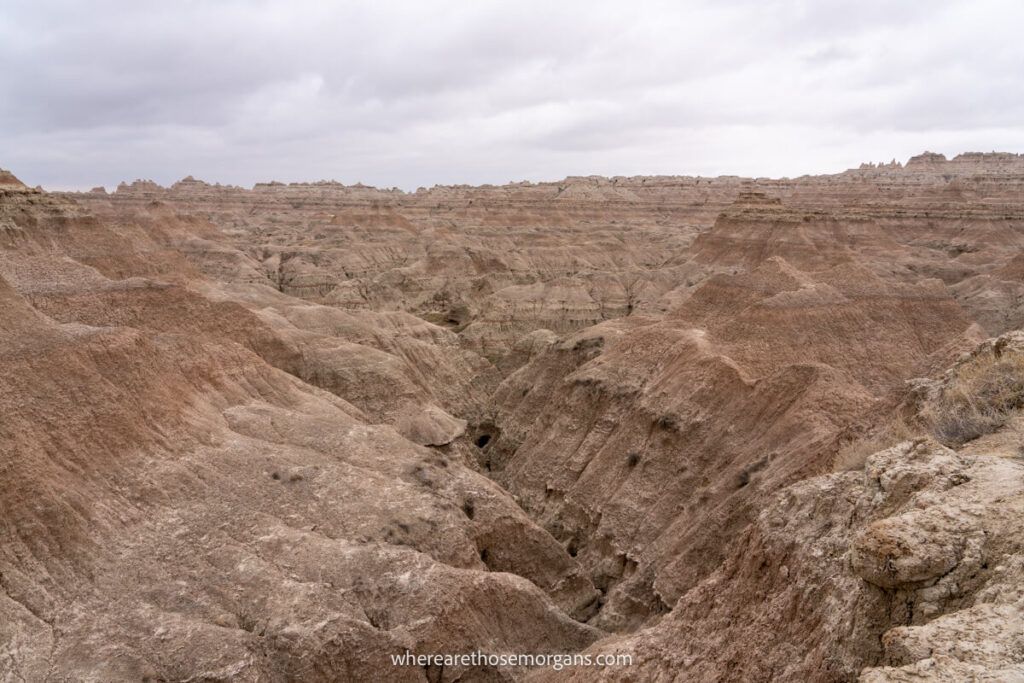 The Door Trail is one of the only places you can explore the gullies or ravines created by years of erosion and deposition. This area has some of the most dramatically striking features in the Badlands.
Hiking Tip: There are rattlesnakes in Badlands National Park and they like to hide in rock crevices. Always err on the side of caution when walking past cracks and holes in the ground.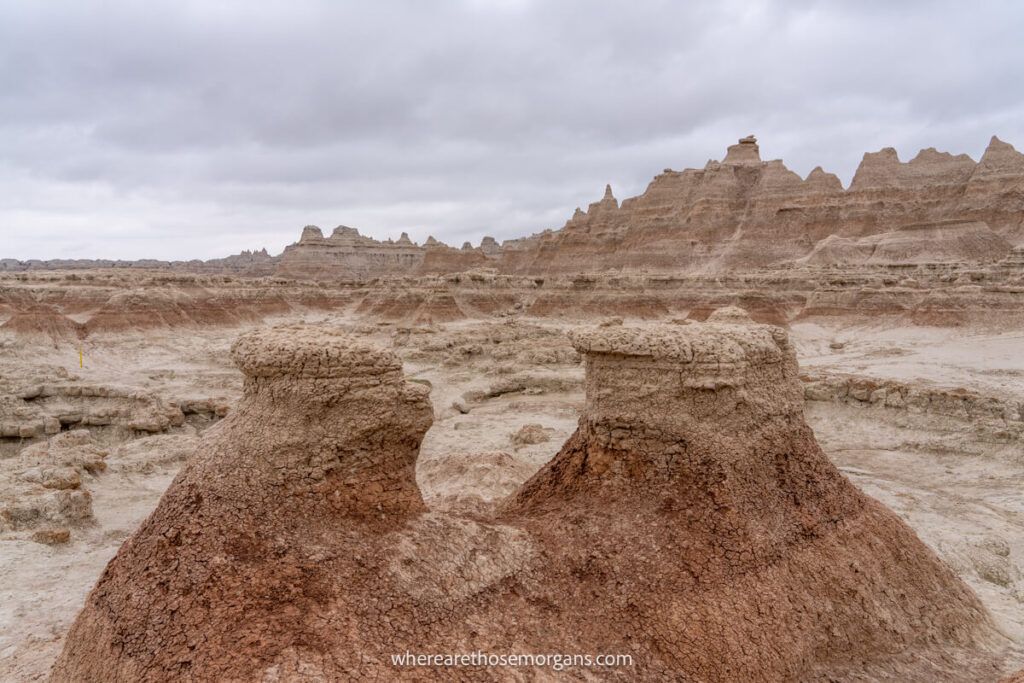 We like Badlands because you can get up close and personal when exploring the formations found throughout the park.
2. Window Trail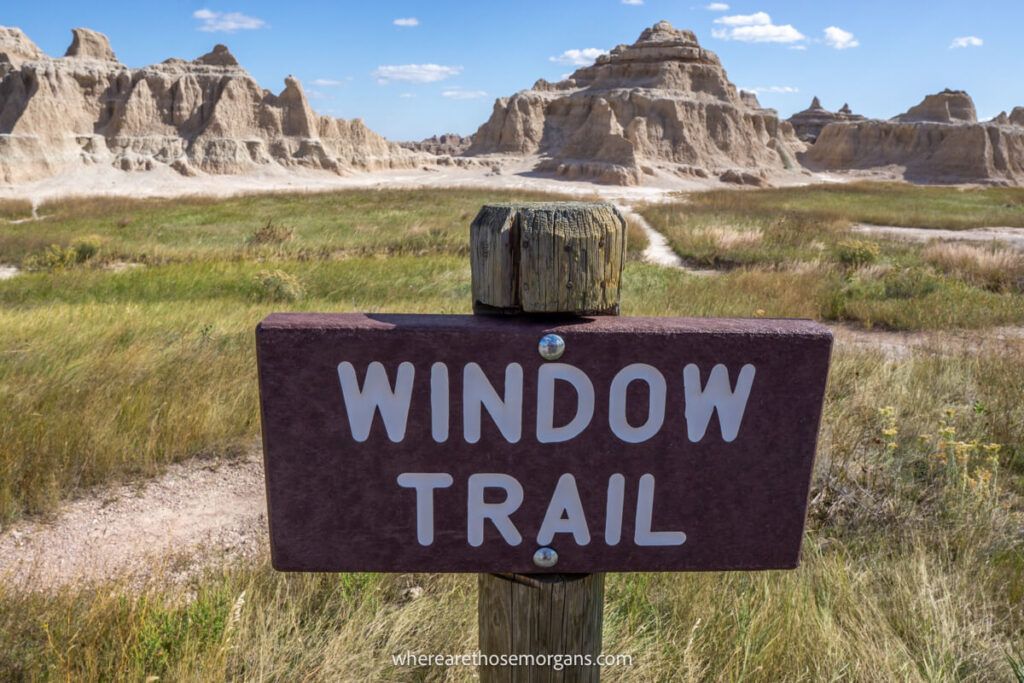 Window Trail is a very short walk from the car park and the view is worth your effort. If the sun is out, you can capture sunlight bouncing off the tops of the Badlands formations.
Dark grey skies may limit your visibility, but this is still a great view and photo location.
3. Notch Trail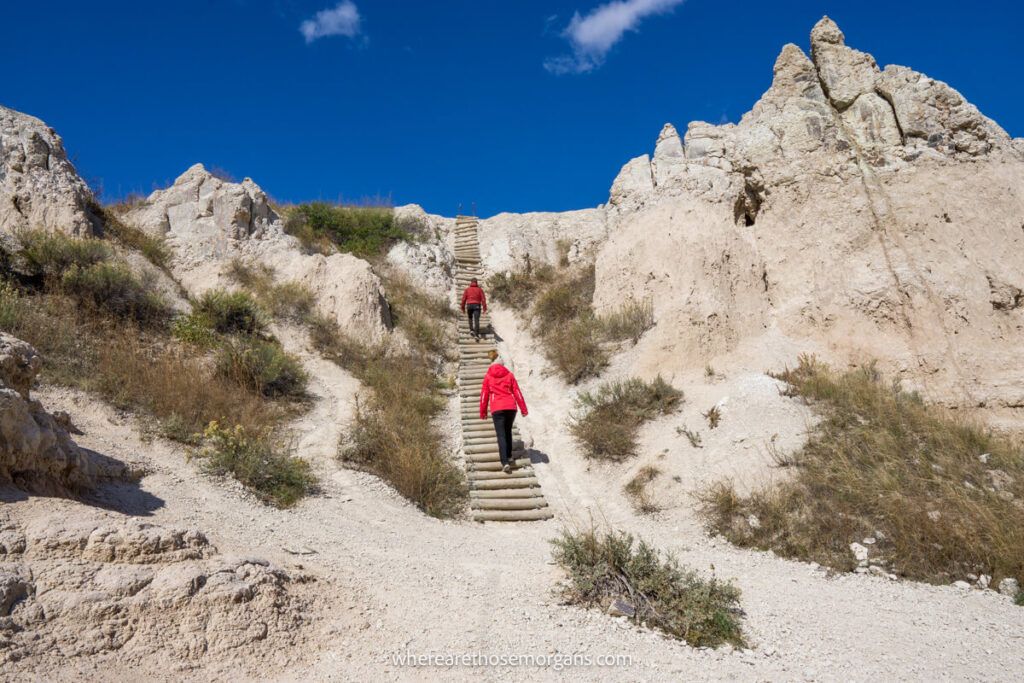 The Notch Trail is the best hike in Badlands National Park because it features a 50 ft wooden ladder up a steep rock face.
We had the ladder to ourselves we we visited in both April and October, but if you visit in peak season of summer, this section can get very congested.
Try to arrive early in the day if you want to snap a good photo of the famous ladder along Notch Trail.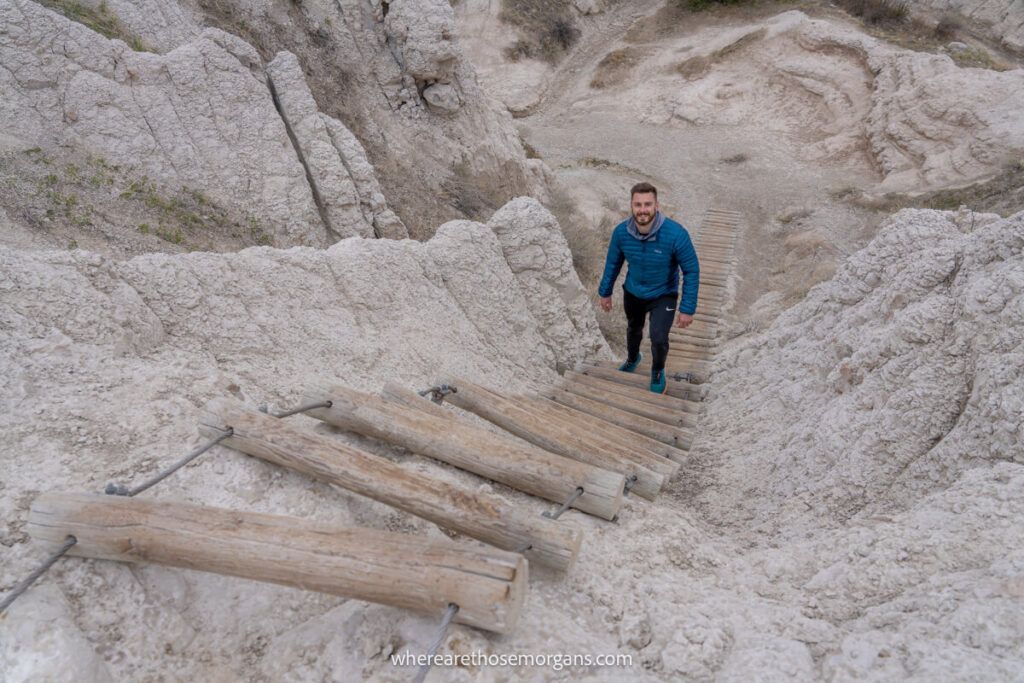 This is a great place to capture some fun photos so get creative with your angles, but be careful on the ladder!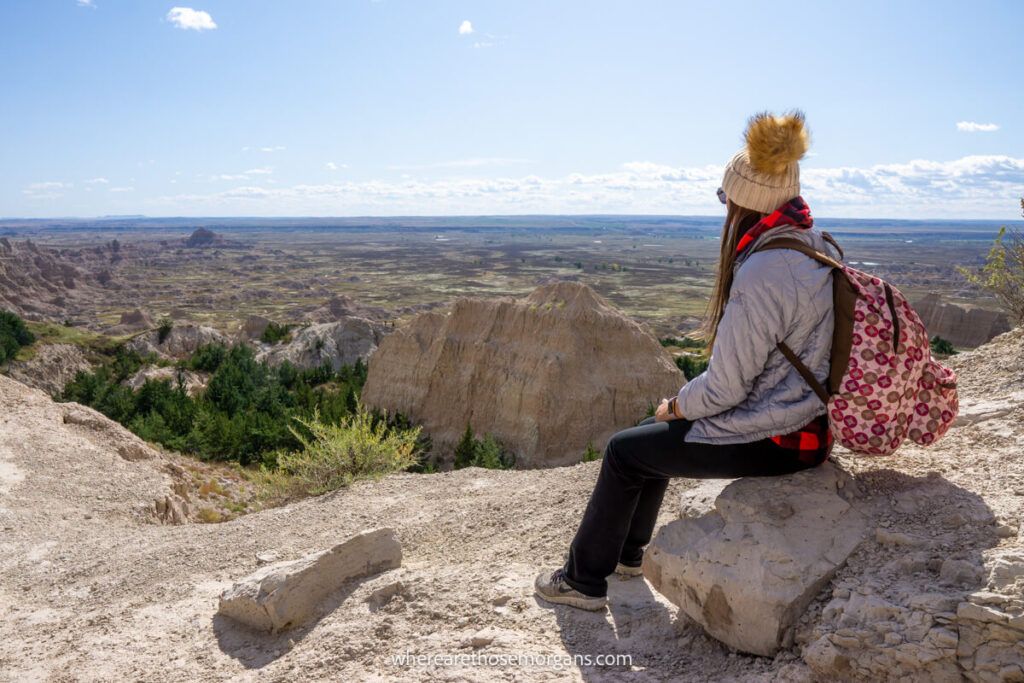 Once you reach the summit of the Notch Trail, you are rewarded with sweeping views of the White River valley. You will be able to see the Ben Reifel Visitor Center from this vantage point.
Want to learn more about this hike? Don't miss our Notch Hiking Trail walkthrough.
4. Castle Trail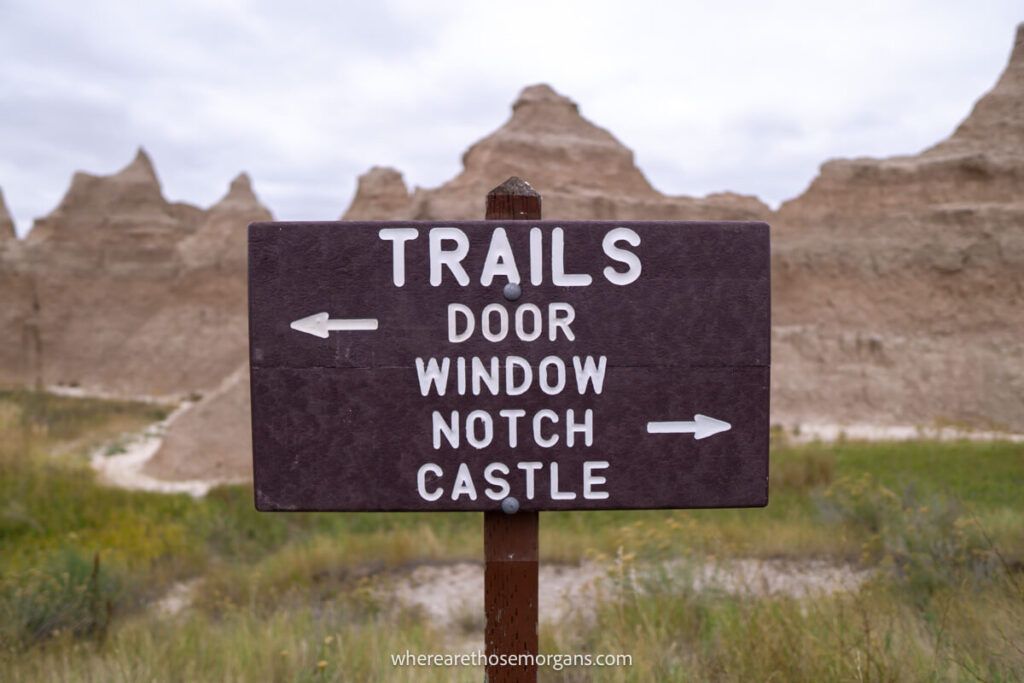 The hiking trails we have listed up until now all begin at the same parking lot with the exception of the Castle Trailhead across the road from this main parking lot.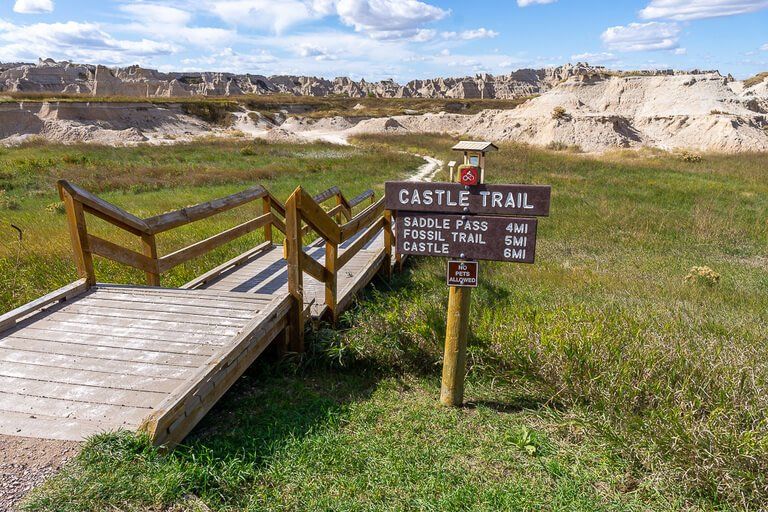 At 5.0 miles, Castle Trail is the longest maintained trail in Badlands National Park. This hike will guide you through a section of the Badlands Backcountry so it's a great area for spotting wildlife.
As you can see, Castle Trail is a maze of spires, buttes, sod tables, and fins in the beginning. The trail will eventually lead to an open prairie filled with multiple Badlands formations.
Planning to hike many trails in Badlands? Use our day hiking essentials guide to ensure your pack everything you need.
Wildlife Photography In The Badlands
We had really bad weather during both our visits to Badlands National Park, but we got really lucky when it came to seeing wildlife in the park.
Here are a few of our favorite photos with tips on where to see animals in the park:
1. American Bison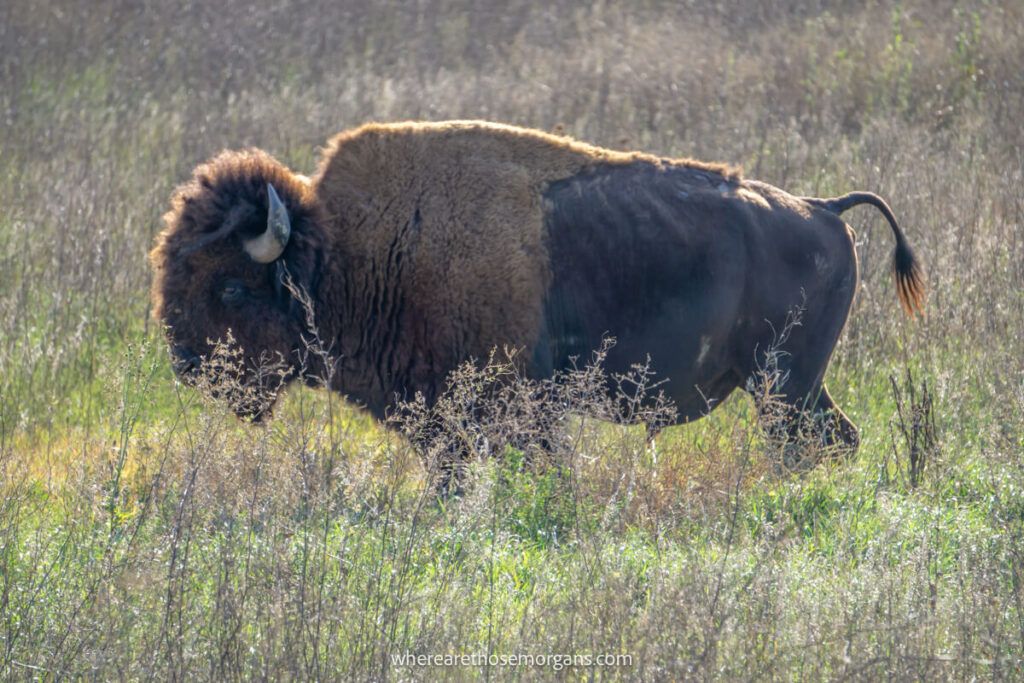 On May 9th, 2016, the American bison was officially named the national mammal of the United States.
These gentle giants can be found in many parts of the country, but we saw bisons for the very first time in Badlands so it's a remarkable memory for us.
One of the best regions to see Bison in Badlands National Park is near Sage Creek Campground.
Travel Tip: A bisons tail is a good indicator of it's current mood. If the tail hangs down and switches naturally, the bison is calm. However, if the tail is standing straight up, be careful because it may charge.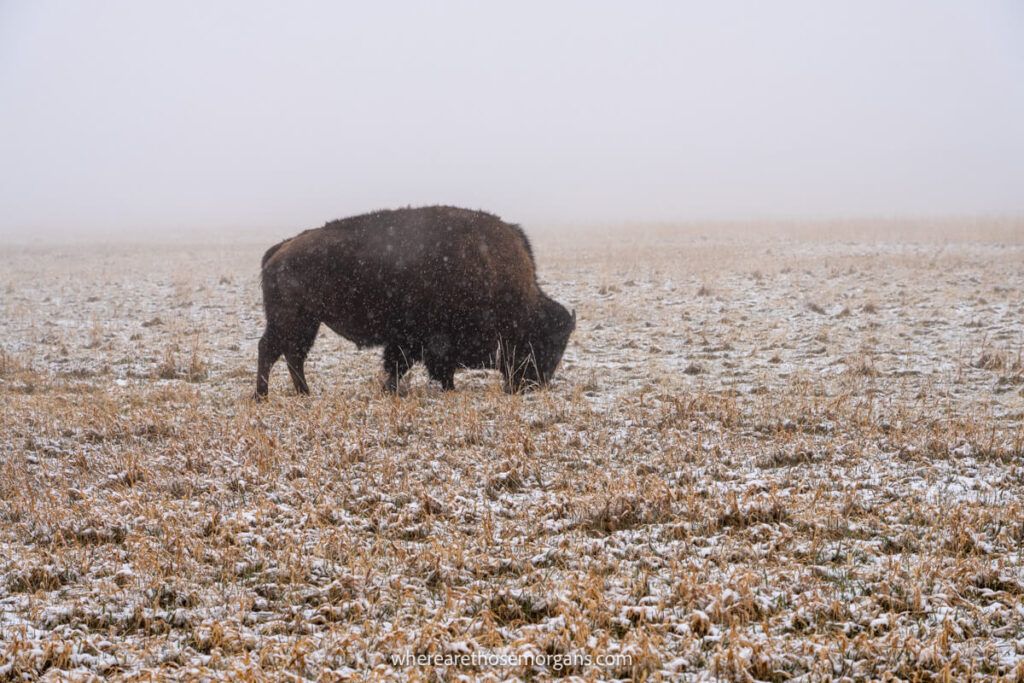 It was much quieter in Badlands compared to other national parks so we were able to observe this Bison with no distractions or other tourists.
This handsome guy was enjoying the peace and quiet of the snowy day in Badlands National Park.
2. Bighorn Sheep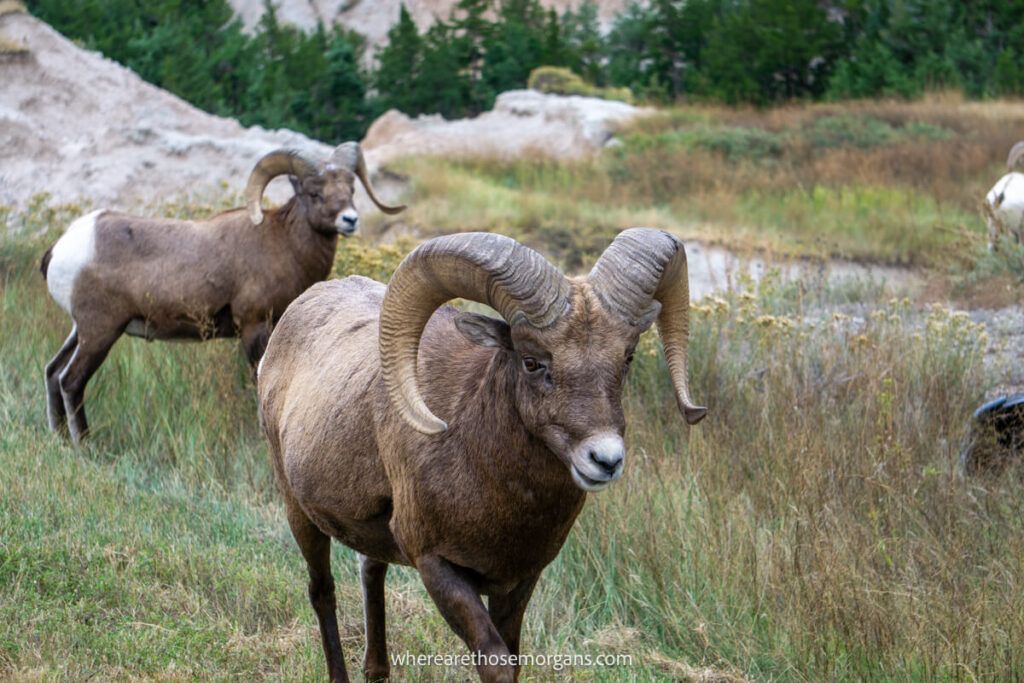 This photo of two bighorn sheep is one of our favorite wildlife photos to date and it just so happens that we were able to capture it in the Badlands.
It was taken with a telephoto lens and we were patiently waiting for this handsome guy to walk by our car parked on the side of the road.
3. Prairie Dogs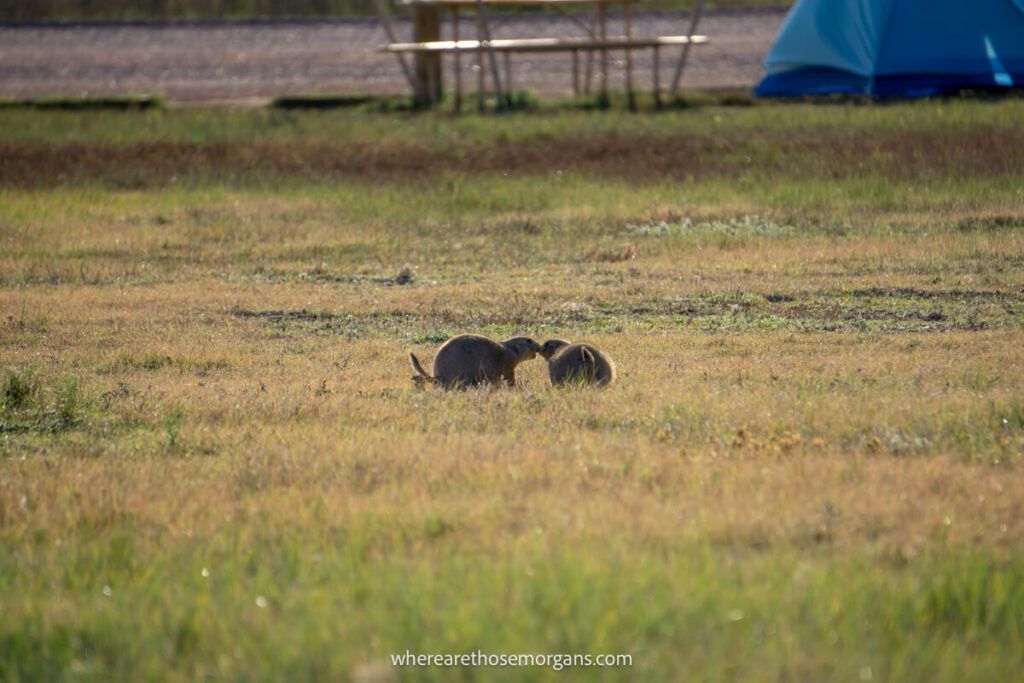 How cute are these fluffy little rodents?!
Prairie dogs belong to the Scuiridae family just like ground squirrels and chipmunks. The most common prairie dog species is the black-tailed prairie dog, which is the one you will find in Badlands.
These two were congregating on one hole in the morning sunlight at Sage Creek Campground. Morning is a great time to catch these cuties in action so be sure to bring your telephoto lens.

This Prairie Dog was mischievous as he ran between holes, while keeping an eye out for predators. He would occasionally call out to his friends to notify them of his findings above ground.
Badlands Scenic Overlook Photography
There are 15 scenic overlooks in Badlands National Park.
We won't discuss every single overlook in this photography guide, but if you want to see them all, read our guide featuring the 32 best things to do in Badlands next.
1. Yellow Mounds Overlook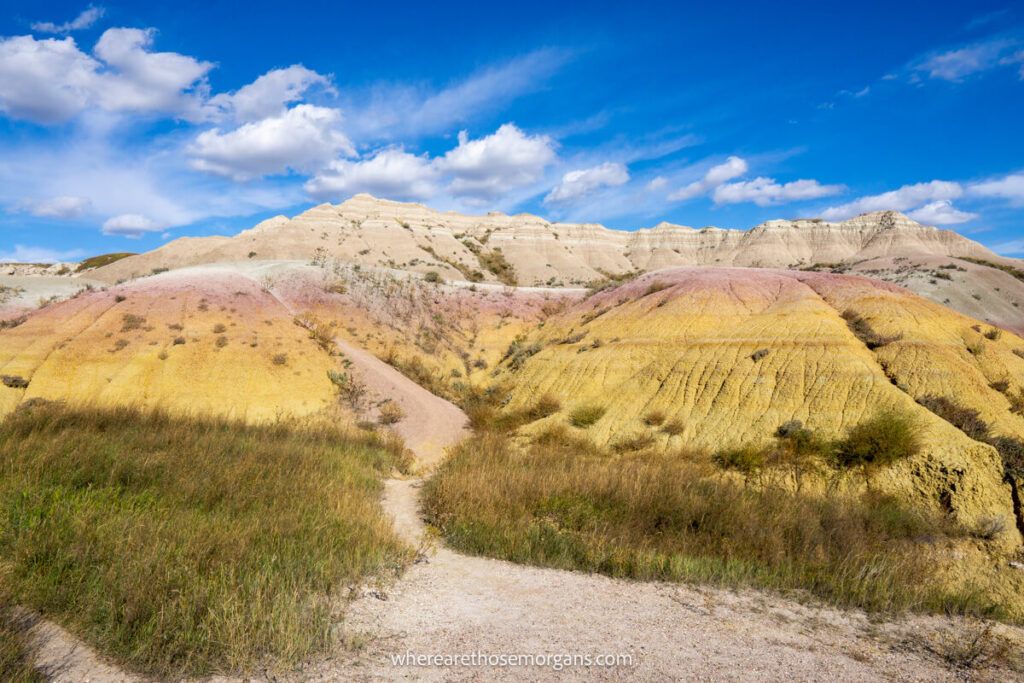 One look at Yellow Mounds Overlook and you know exactly how it got it's name. This scenic overlook is one of our favorite Badlands photo locations just because of the vibrant colors.
However, this overlook is very different when the skies are grey and the snow is falling.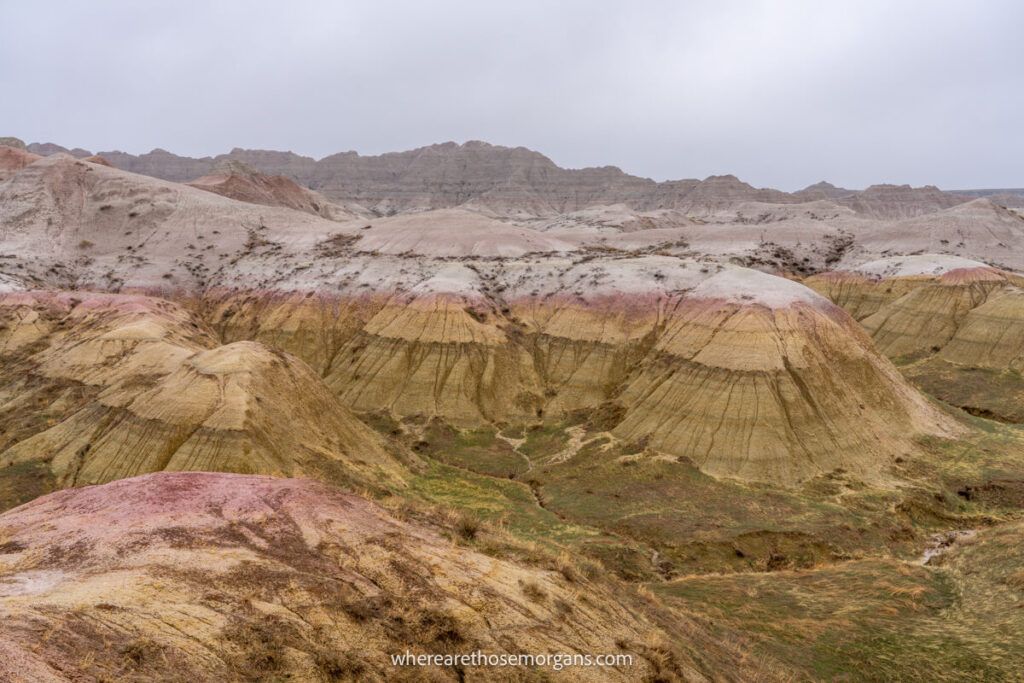 Even in the snow, the yellow color is still visible, but it's much less pronounced. If you look closely, you can see yellow, purple, gray, and striped reddish beds throughout Yellow Mounds.
2. Big Badlands Overlook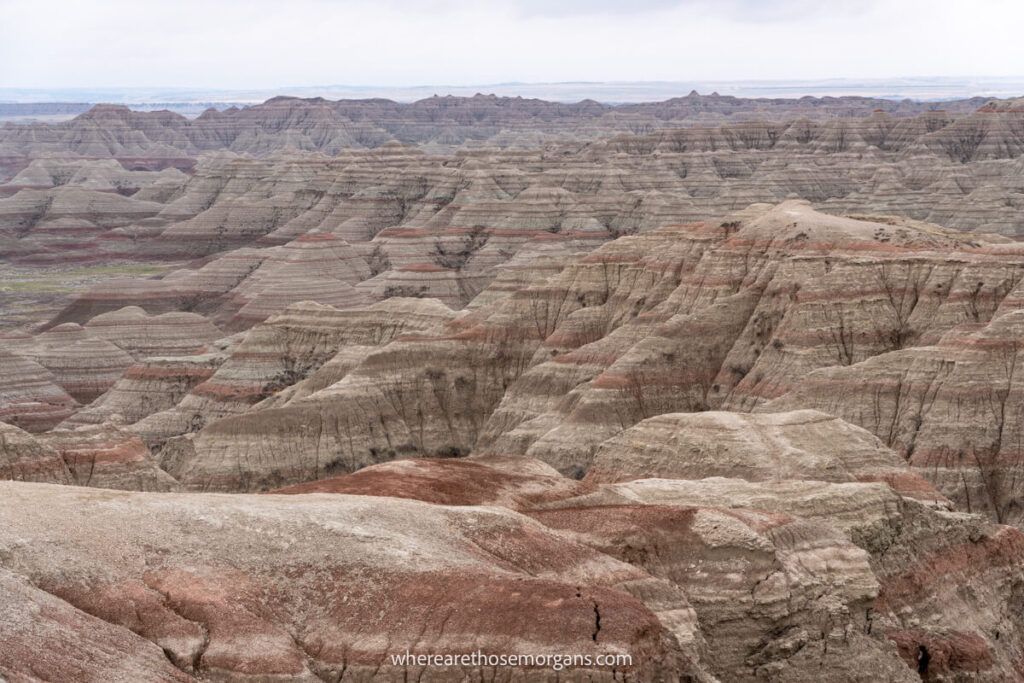 The Big Badlands Overlook is another great photo spot in the park because it features reddish stripes of the Brule Formation.
We like this overlook because it's a very short walk to incredible views. Next time we visit Badlands, we will stop at Big Badlands Overlook for sunrise.
3. Miscellaneous Overlook Views
We could easily add many more photos to this section, but we encourage you to drive the Badlands Loop Road and put those photography skills to the test.
Here are a few more scenic overlook photos from various places in the park to give you a few ideas: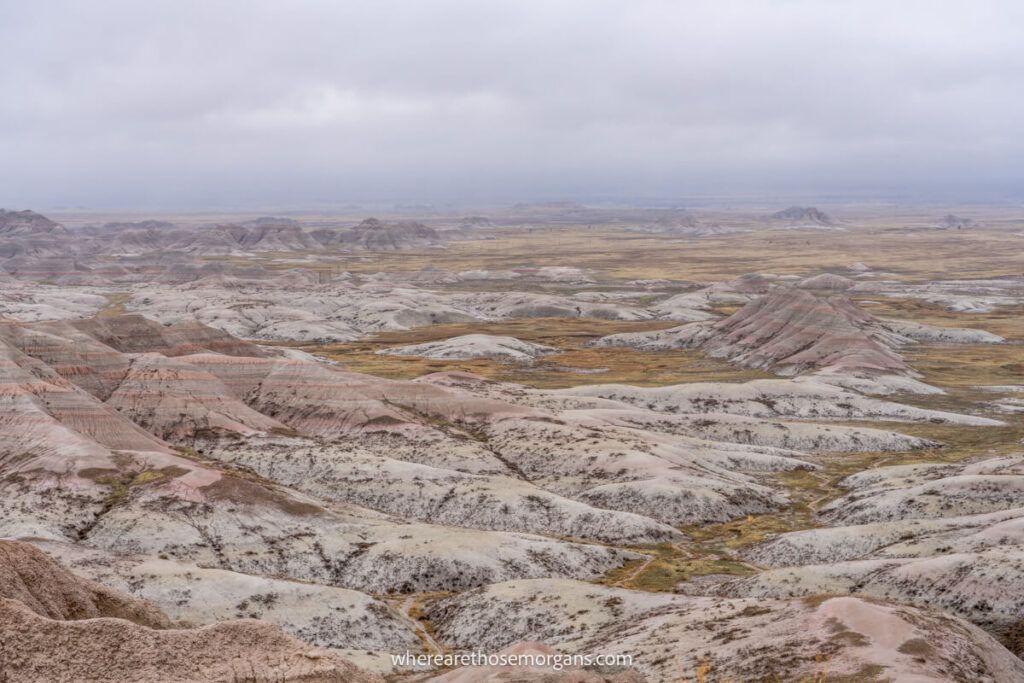 The weather is extremely changeable in Badlands National Park, but grey skies are sometimes a great thing for photography because you can really capture dramatic photos.
These dense and dark rain clouds persisted for a good few hours so you might have to be patient with your photography in the Badlands!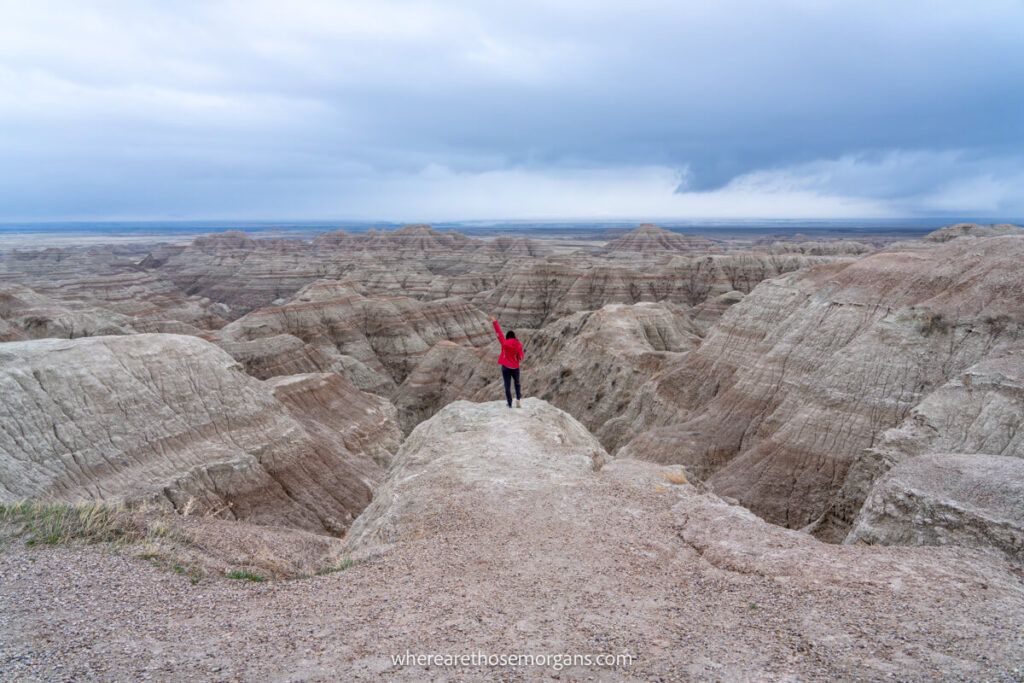 Depending on the sunlight in the park, you will notice different colors in the formations. Pierre Shale, is the bottommost layer in Badlands and it was deposited 75-69 million years ago.
It might be difficult to imagine, but a shallow inland sea once occupied this region. Many of the fossils found in the Badlands include ancient marine life.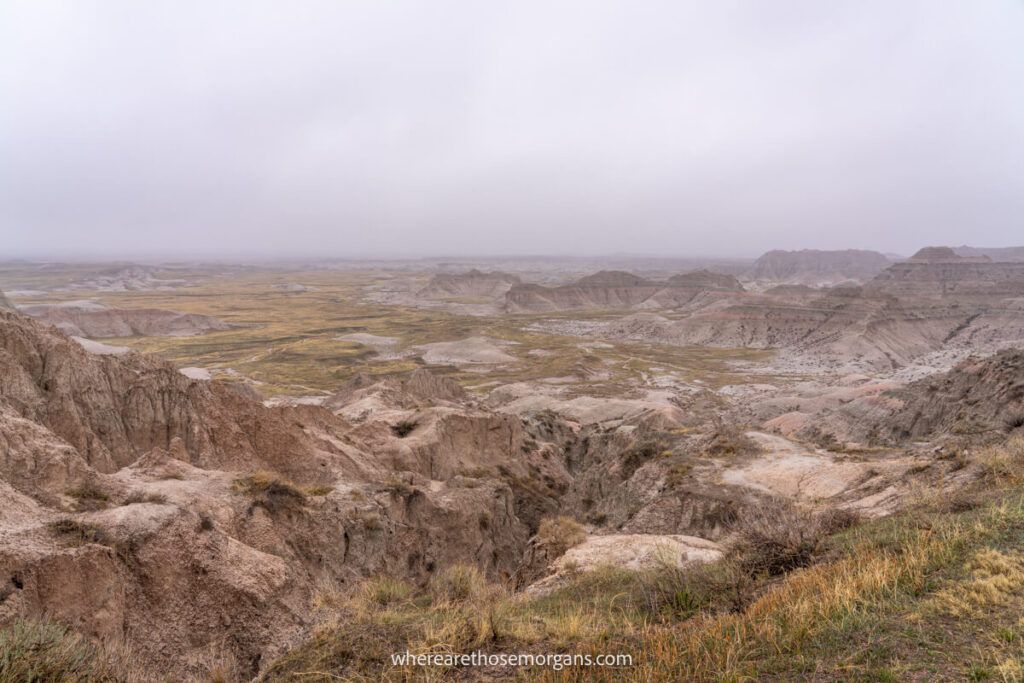 Until you visit Badlands for the first time, it can be hard to determine and appreciate the size of these formations. But it's the sheer vastness that makes Badlands National Park special.
Badlands Camping Photography
Sage Creek Campground not only provides great wildlife viewing experiences, but you also have access to the Sage Creek Wilderness hiking region.
In this area, many of the badlands formations have eroded so you will find grasslands which are frequented by Bison. We loved following the Bison trails through the Sage Creek Wilderness.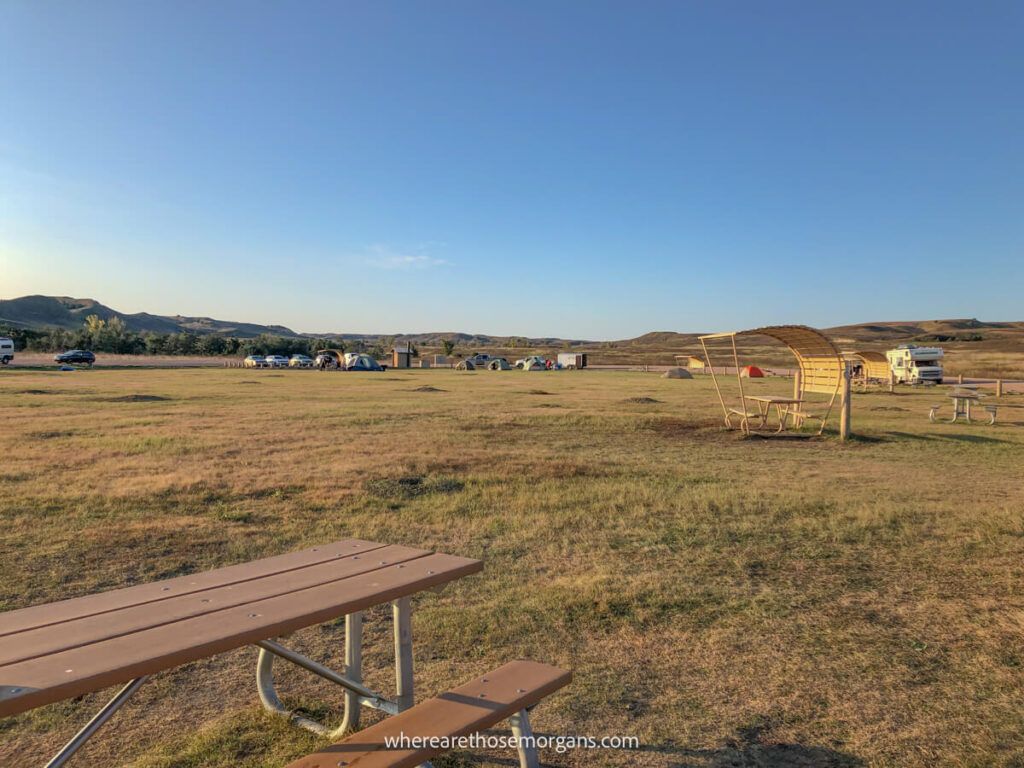 Welcome to Sage Creek campsite in Badlands, South Dakota! This is a first come, first serve camping area that was crowded during our visit in October.
There is not much here, just a circular dirt road surrounding a grassy area with one dump toilet. Look for numbers on wooden poles to secure your spot.
Can't find a campground? Use our exclusive 30 day free trial of The Dyrt PRO to find both free and paid campsites near Badlands or use Dyrt Alerts to snag a spot at a sold out campground nearby.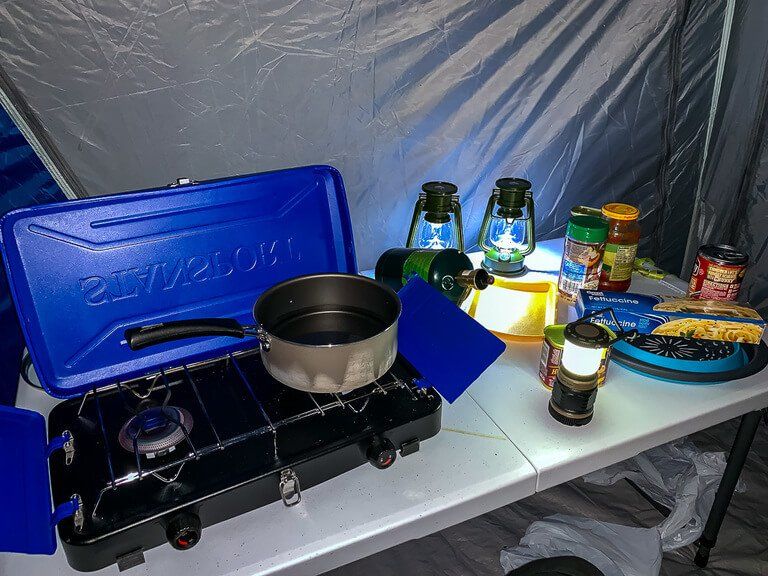 If you plan to spend the night, don't forget your camping essentials.
We made a typical camping meal of spaghetti, tomato sauce and cheese, but spruced it up with some Spam we had bought at the Spam Museum in Austin, MN on the way to Badlands.
The Badlands makes for an epic astrophotography location because there is very minimal light pollution.
When we camped, our original plan to was to capture a few astro shots, but it was so windy we couldn't keep our weighted tripod still. Our tent even blew down in the middle of the night.
If you are planning to shoot some star photos at Badlands National Park, we hope you have much better luck!
Additional Photo Locations Near Badlands
Are you visiting the Badlands as part of a larger South Dakota road trip? If so, we have a few additional stops you can add to your itinerary.
These next few photography spots aren't typical photography locations, but they are certainly worth your time.
1. Minuteman Missle Museum
The Minuteman Missile Museum is definitely worth a visit if you have a spare hour after visiting Badlands. This museum tells the important story of the Cold War through interpretive exhibits.
We learned this location in the Great Plains held 1,000 missiles on constant alert for about 30 years during the Cold War era. Today, this region serves as a nuclear deterrent to maintain peace.
If you are a history buff, you might like to visit the Delta-01 Launch Control Facility nearby. Visitors can walk up to the large entrance gate and guided tours of Delta-01 are offered here.
2. Town Of Wall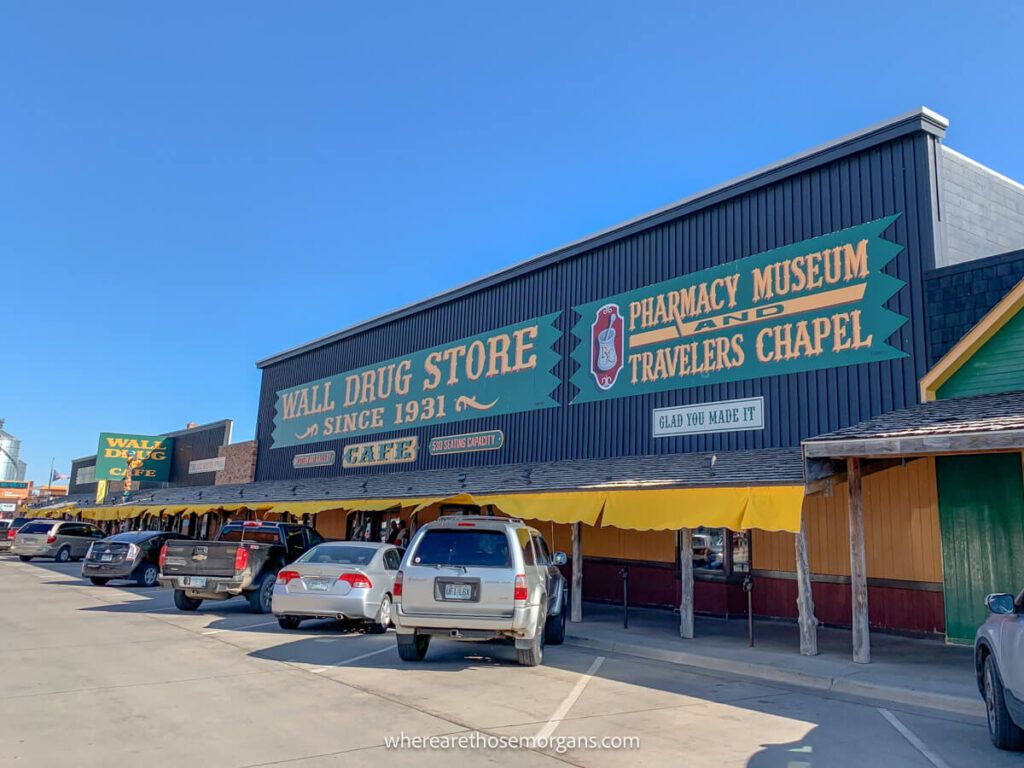 Wall is a tiny town close to the Northwestern entrance to Badlands.
It's the only town within a few miles of the park that has hotels. This drug store is advertised for miles and miles along the I-90 with hundreds of billboards. You can't miss them!
The drug store itself is very tacky and a bit over priced, but it's still cool to see.
3. Devil's Tower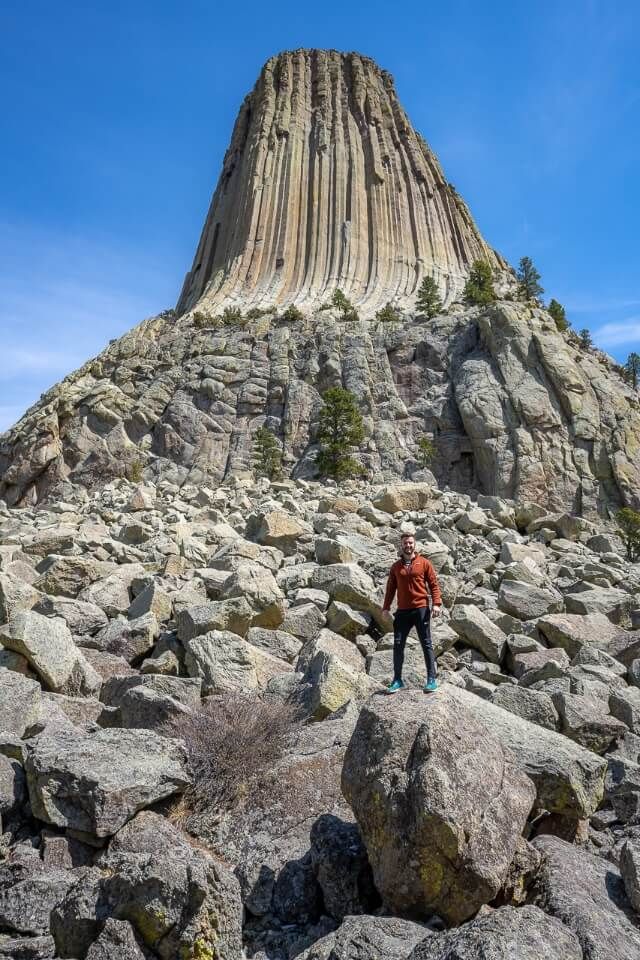 We missed this national monument the first time we drove through this region of the US because we did not have enough time. But we made sure not to miss it the second time!
Devil's Tower National Monument is located just over the border in Wyoming, and it's about 2.5 hours west from Badlands National Park.
Want to know more about Devil's Tower? Don't miss our popular guide featuring everything you need to know about Devil's Tower National Monument.
4. Mount Rushmore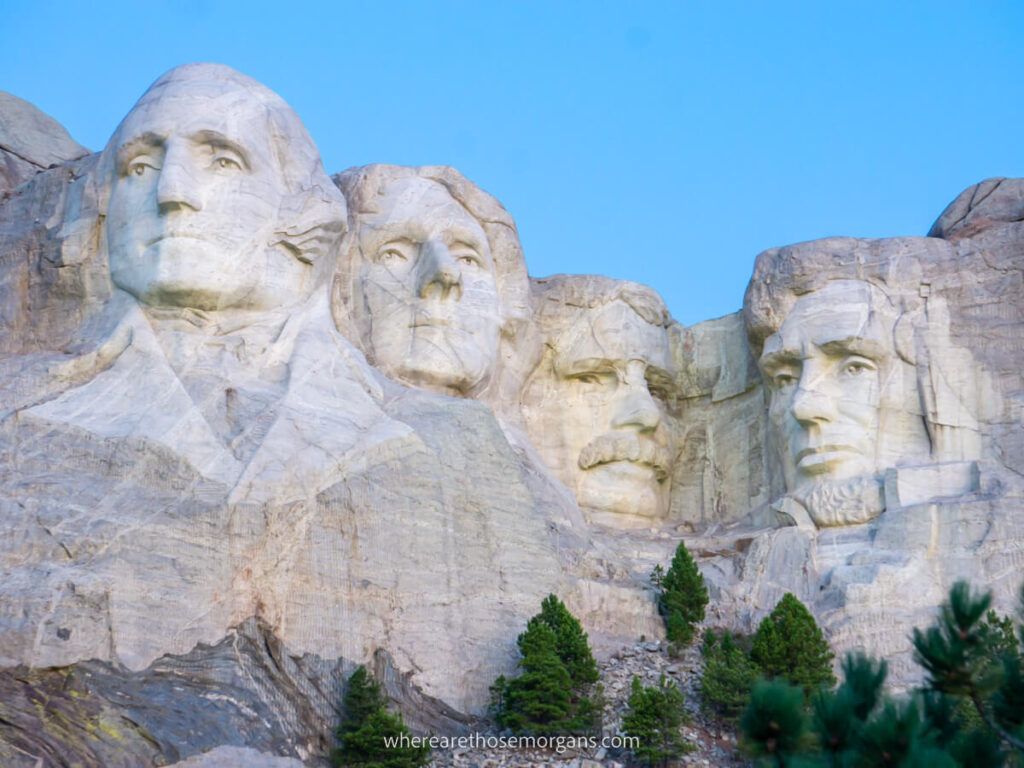 Mount Rushmore famously depicts faces of US presidents George Washington, Thomas Jefferson, Theodore Roosevelt and Abraham Lincoln in the Black Hills of South Dakota.
This is one South Dakota photography location you do not want to miss.
Heading to Mount Rushmore? Use our popular Mount Rushmore vacation planner for your trip.
Badlands Photography Tips
The Badlands might not be as popular as Yellowstone or the Grand Canyon, but this underrated national park in South Dakota offers amazing photo opportunities.
Here are a few of our tips when shooting photography in Badlands:
Make use of the 15 overlooks along Badlands Loop Road. These viewing points will look different throughout the entire day so you should visit them more than once.
If you want to get away from the crowds, head towards Castle Trail, Deer Haven Trail or the Sage Creek Wilderness. These areas make for fabulous photo locations.
We love the Yellow Mounds as a Badlands photography spot because it's very colorful, especially when skies are clear.
If you are visiting for photography, we recommend you stay the night to experience both sunrise and sunset. The blue and golden hours in Badlands are magical and this is when animals are the most active.
Be prepared for extreme weather. Summer is very hot and winter is very cold. Bring extra food and water because there are no stores or restaurants in the park.
Bring the right camera gear. You will definitely need a wide angle to capture the vast landscape and you will need a telephoto lens for wildlife or capturing detail in the formations.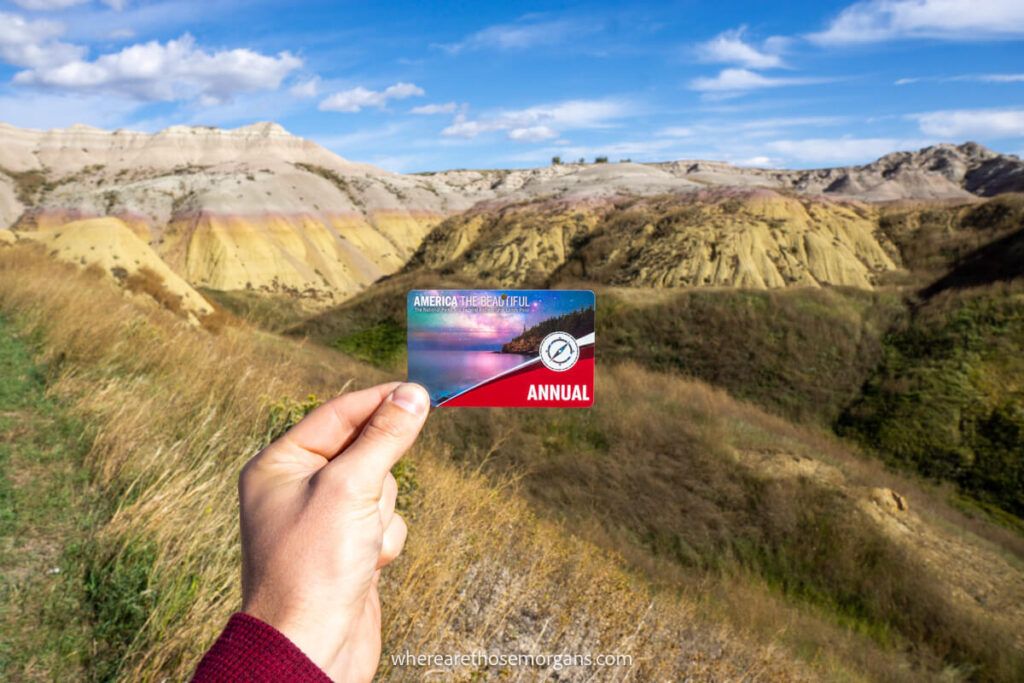 Best Photo Spots In Badlands FAQ's
Let's take a look at some of the most frequently asked questions about photography locations in Badlands National Park.
What is the best way to take photos of the Badlands?
The Badlands are best photographed early in the morning just before sunrise (blue hour) or in the evening just before sunset (golden hour). During the middle of the day, the sun is too harsh to achieve nice photos.
Where is the best scenic overlook in Badlands?
Many visitors recommend Pinnacles Overlook because it features panoramic views and makes for a stunning sunset location.
What is the scenic drive through the Badlands?
Badlands Loop Road (SD 240) is the main paved road through the national park, but you can also drive Sage Creek Rim Road which is a dirt road leading to a primitive campground.
Our Popular Photography Guides
More South Dakota Guides
Want more South Dakota content? Head over to our South Dakota Travel Guides to explore Mount Rushmore, Badlands, the Black Hills and beyond.
---
We hope our detailed guide about the best photo spots in Badlands National Park helps with planning your South Dakota trip!
Please let us know if you have any questions about photography in the Badlands or South Dakota in the comments below.
Happy Snapping,
Mark and Kristen
Enjoy This Badlands Photography Guide? Pin It For Your Visit!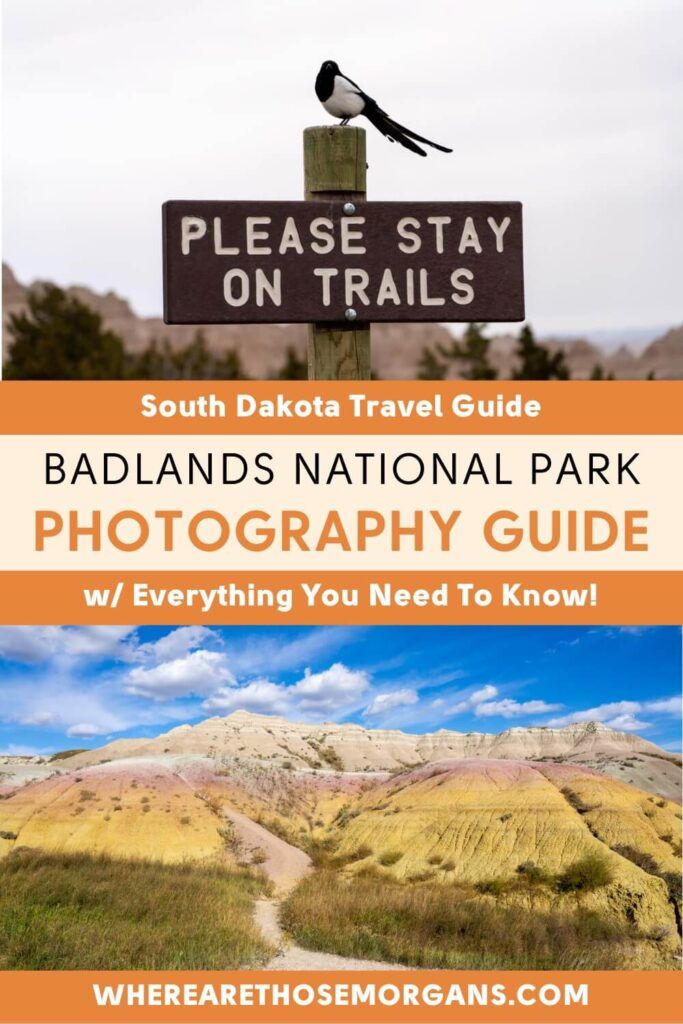 Note: This article contains affiliate links. When you make a purchase using one of these affiliate links, we may earn a small commission at no extra cost to you.
All Rights Reserved © Where Are Those Morgans, LLC. Republishing this article and/or any of its contents (text, photography, maps, graphics, etc.) in whole or in part is strictly prohibited.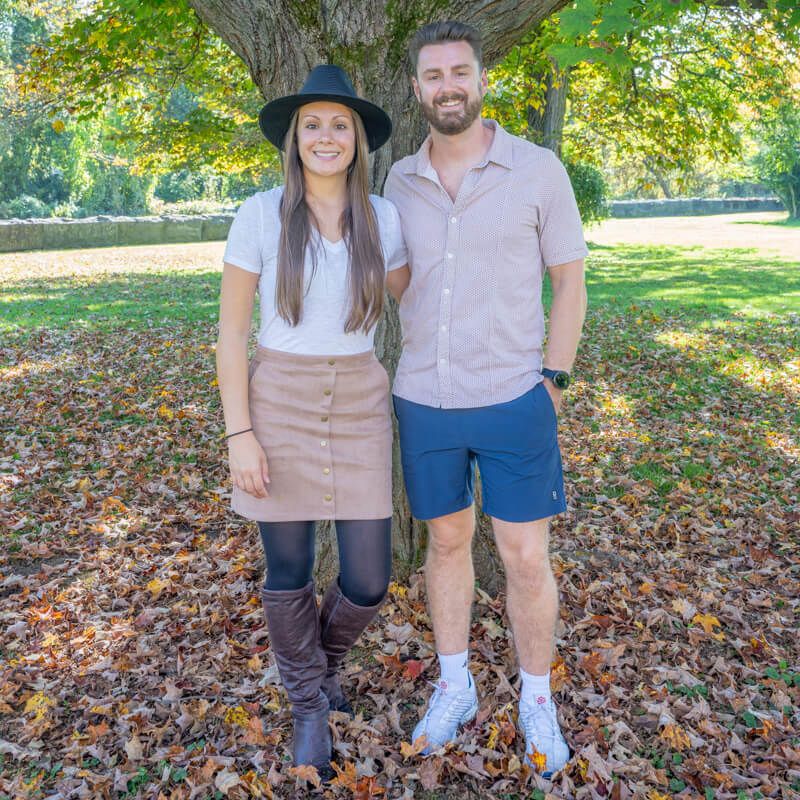 Mark and Kristen Morgan are travel, hiking and photography experts. Over the last 6 years traveling full time, they have explored more than 40 countries and 30 US states.
Their work has been featured in USA Today, Gestalten, Get Your Guide, CityPASS and Condé Nast Traveler along with various other publications.