Custer State Park is one of the largest, most diverse State Parks in the United States and a firm contender for our personal favorite. What isn't to like about stunning scenic drives, fantastic family friendly hiking and up-close wildlife spotting?! We're going to show you the 6 best things to do in Custer State Park South Dakota to help you plan your visit to the Black Hills.
We were shellshocked by the sheer beauty of this 71,000 acre region of the Black Hills in South Dakota and would return in a heartbeat.
Whether you're planning a vacation around Custer or you're just looking for the best things to do near Mount Rushmore, we're confident you will love what we have in store for you here.
We suggest either spending an action packed 2 days in and around Custer State Park or including this area as part of an unforgettable South Dakota Road Trip.
Let's get stuck into the 6 best things to do in Custer State Park!
Why Choose Custer State Park?
Custer State Park is widely regarded as one of the best in America and we can't argue with the consensus.
But why is it rated so highly?
Scenic drives here blow most other scenic drives out of the water.

Hiking opportunities in Custer State Park are right out of the top drawer.

Wildlife spotting is fantastic for a State Park.

All of the best things to do are close to each other & easy to visit.

Perfect for families and all ages, plus far less busy than National Parks.

Consistent spectacular views and scenery across the entire region.
Sounds too good to be true? Well, it's not.
We find it difficult to conjure up any negatives when we consider Custer State Park.
Perhaps one – If it were a National Park, entry would be included with the America the Beautiful national park pass. Instead, you will pay US$ 20 to enter.
We visited in peak Fall season and highly recommend you do the same if possible. Bright yellows, burnt oranges and deep greens contrasting against needle-like granite rocks truly is a sight to behold.
Visitor Information
Address: Custer State Park, 13329 US Highway 16A, Custer, SD 57730
Website: gfp.sd.gov/parks/detail/custer-state-park
Phone: (605) 255-4515
Park Hours: All day, every day
Entrance Fee: US$ 20 Vehicle (good for 1 week)
Visitor Center: Open 8am – 4.30pm daily (8am – 6pm in Summer)
Campgrounds: 9 Campgrounds (see options here)
Backcountry camping: French Creek – Reservations not required / self registration required
Accommodation: Lodges at campgrounds or hotels in Custer / Keystone
Top Activities: Hiking, Camping, Horseback Riding, Rock Climbing, Wildlife Spotting, Swimming
Annual Visitors: ~ 2 million
Best Time to Visit: Spring or Fall (comfortable temperatures and fewer crowds)
Getting To Custer State Park South Dakota
Custer State Park is in a truly stunning part of South Dakota, but it is remote and it can be a pain to reach if driving.
Unless you live nearby or you're taking a 2 or 3 month US road trip and South Dakota is on your way, it's highly likely you'll need to fly into Rapid City and hire a car.
Once you reach Custer and the Black Hills, all of the best things to do are close to one another.
Resources
Read our 15 money saving steps to follow when searching for flights.
We always recommend and personally use Skyscanner for booking the cheapest and most flexible flight times
Similarly, we always hire our cars using Rental Cars, who have the biggest and best selection of vehicles.
Don't forget to read our popular 10 day road trip itinerary from Mount Rushmore to Yellowstone if you plan to travel West from Custer State Park.
6 Awesome Things To Do In Custer State Park
OK, let's get stuck into the best things you can do on a visit to Custer State Park in the stunning South Dakota Black Hills National Forest.
1. Cathedral Spires – Excellent Family Friendly Hike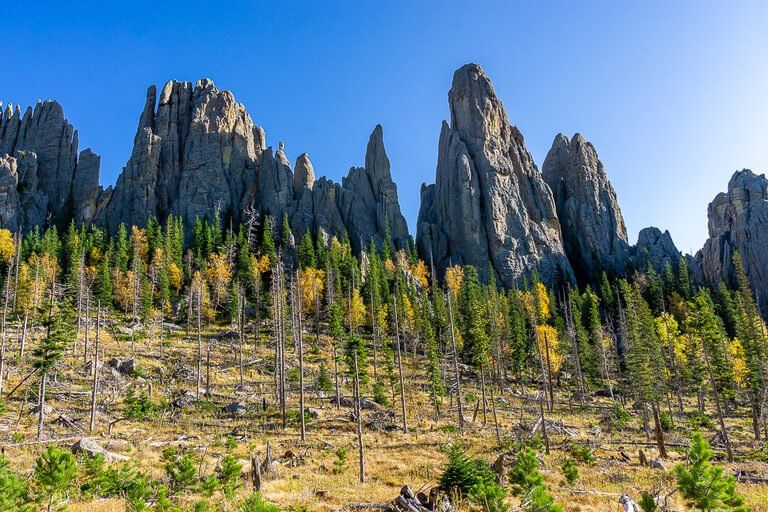 What is Cathedral Spires?
Cathedral Spires trail is a family friendly easy / moderate difficulty 3 mile roundtrip out-and-back hike. Allow roughly 1 hour 30 minutes – 2 hours depending on stops.
Its first section is flat with a shallow incline through forest, followed by a short rock scramble around 2/3 of the way up in which you gain a little elevation.
Finally, the trail turns East into a flat valley flanked by awesome razor sharp needle-like granite rocks bursting out from colorful ponderosa pine trees.
Why hike the trail?
This short trail packs a heavy nature and scenery punch. You will find this hike to be much quieter than Black Elk Peak and others around Sylvan Lake.
We recommend this hike to those who are shorter on time or prefer an easier, slower and quieter trail.
Cathedral Spires is perfect for families and any age group. This is a lovely trail with just one slight negative for us – the trail end is slightly anticlimactic. Look out for tiny colorful specks as rock climbers ascend the spires.
Where is the trailhead?
Hiking begins right at a small car parking area on Needles scenic highway, around 2.5 miles from Sylvan Lake. Be careful when parking up as the trailhead is situated on a U bend in the road.
Top Tip?
Add on an extra 0.8 miles spur trail to Little Devil's Tower for awesome summit views. Just be aware there's a little scrambling involved near the top.
2. Custer State Park Wildlife Loop – Animals and More Animals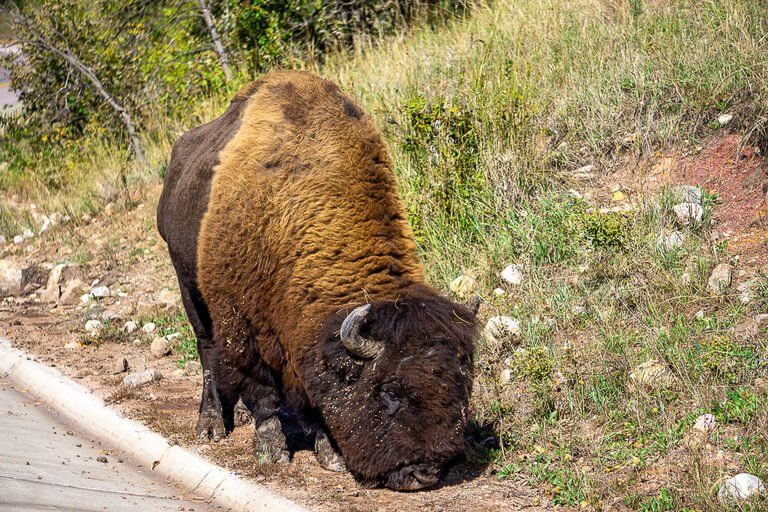 What is the Custer State Park Wildlife Loop?
Custer State Park is home to a famous 18 mile one way driving wildlife loop through open grassland.
This is one of the best places in the entire US to see Bison roaming across rolling plains by the herd. But there are also Pronghorn, Burros, Deer, Elk, Prairie Dogs and Eagles.
It is important to respect the animals by driving slowly and cautiously. Allow anywhere between 1 and 2 hours to complete the loop, depending on how many animals you see and photos you take.
Why drive the loop?
Custer's wildlife loop is an amazing opportunity to get up close and personal with many animals that you would usually only see from afar. It's worth it for the Bison alone – spotting other species is a bonus.
The landscape is gorgeous as you drive through huge open spaces and there's a constant anticipation of spotting wildlife.
If you're traveling with your family, does it get any better than this?!
Also, you might run into some 'Begging Burros' along the way. We had to very slowly slalom our car around 5 Burros (Donkeys) who were looking at us with sad eyes.
Where Custer wildlife loop?
The one way road begins right at the Custer State Park visitor center. It's definitely worth having a look around inside the visitor center – particularly the movie which is narrated by none other than Kevin Costner.
The loop is easy to drive around and of course is ideal for all age groups.
Top Tip?
Visit either earlier or later in the day when the animals are more active. Our schedule meant we had to visit in the middle of the day and we certainly saw less wildlife than we had hoped.
3. Needles Highway – Extremely Popular Black Hills Scenic Drive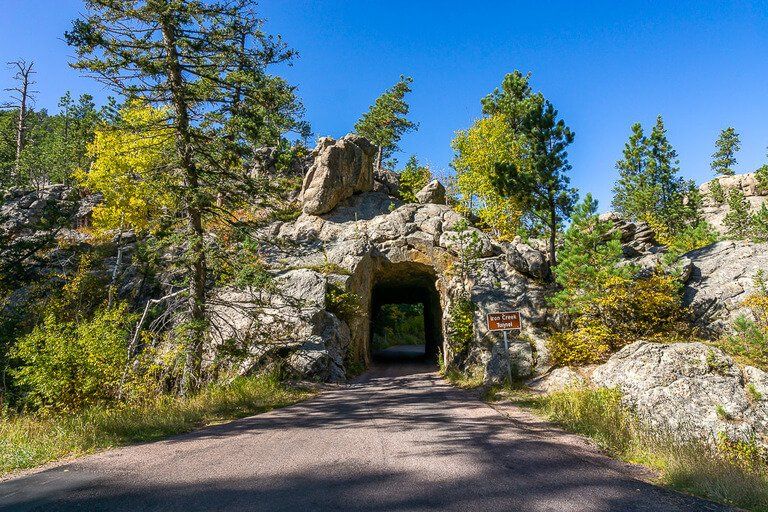 What is Needles Highway?
Needles highway is an exceptionally scenic 14 mile drive through spruce and ponderosa pine forest, surrounded by meadows and stunning needle-like granite towers.
This road is meant to be driven slowly to enjoy the views so give yourself an hour to drive the 14 miles.
Also, it is important to note that there are a number of low and narrow tunnels along the drive, which means RV's can not take this road.
Why drive it?
Aside from non-stop beautiful scenery, you can expect multiple switchbacks and tunnels, making the drive feel adventurous and exhilarating.
If you plan to take on Cathedral Spires or Black Elk Peak you will have no choice but to drive along this road anyway.
Where is the scenic drive?
The Northwest entrance is off 16, not far from Hill City and the Southeast entrance is off 87 towards Custer Wildlife Loop.
This road is closed in Winter so be sure to plan your visit Spring through Fall and remember these narrow roads do get congested.
Top tip?
Pull over as often as possible just to get out of the car and admire views as far as the horizon. Scenic drives don't come much more scenic than this.
4. Black Elk Peak Trail – Best Hike In South Dakota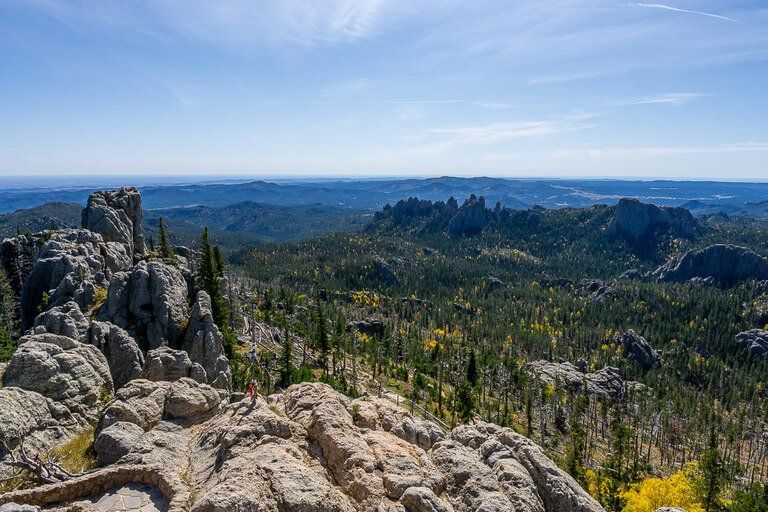 What is

Black

Elk Peak?
Black Elk Peak is the highest peak East of the Rockies and West of the Pyrenees Mountains in France/Spain, standing at 7,102 ft (2,165m).
This is a non-technical 7 mile moderate roundtrip hike that should take between 4-5 hours. Expect exceptional 360 degree views at the summit.
The trail is suitable for all age groups and abilities. So, as long as you have a little stamina, this trail is the one for you.
Hiking Black Elk Peak was one of our favorite things to do in Custer State Park and we enjoyed it so much we wrote an entire article about what you an expect from hiking the stunning Black Elk Peak trail.
Why hike this trail?
At the summit of Black Elk Peak you will find Harney fire watchtower and views across South Dakota, Nebraska, Montana and Wyoming. You can see as far as the horizon in a 360 degree panorama.
The trail is easy to follow and well signposted, scenery for the entire roundtrip is wonderful and this is not a challenging hike. Black Elk Peak is our top hiking recommendation for your visit to the Black Hills area.
We have included Black Elk Peak in our list of the very best hikes in the USA.
Where is the trailhead?
Black Elk Peak trailhead begins at picturesque Sylvan Lake just off 89 onto Needles highway. There are plenty of lodges and camping opportunities around this area to consider.
Top tip?
Take Route 9 up and Route 4 down for a steeper ascent and a more gradual descent.
5. Iron Mountain Road – Beautifully Scenic Drive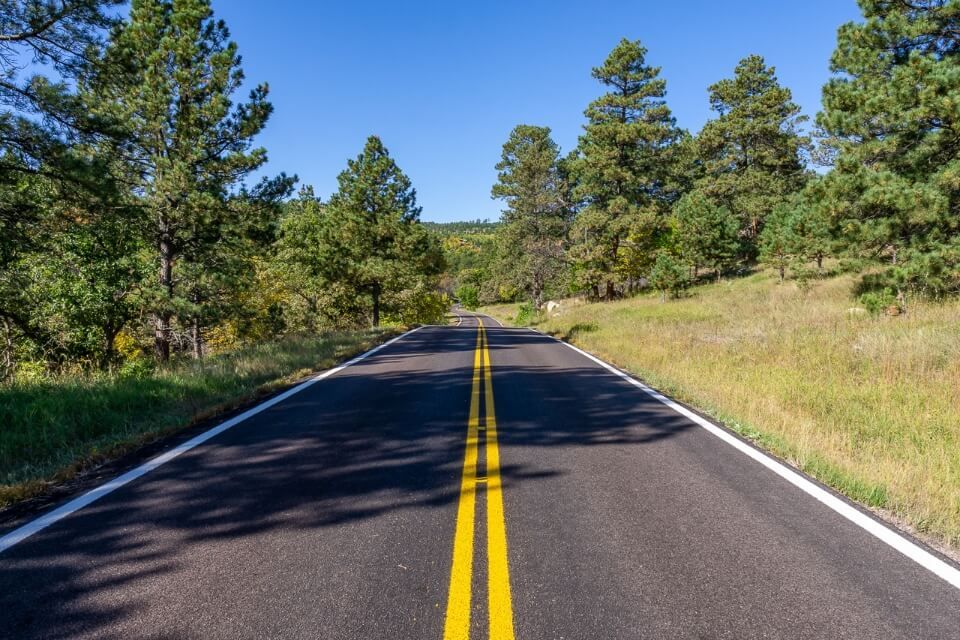 What is Iron Mountain Road?
Iron Mountain Road is an awesome scenic drive stretching 17 miles between Mount Rushmore National Memorial and Custer State Park entrances.
This is a road engineers once claimed 'could not be built' and requires excellent driving skills!
How intriguing does this sound?
Driving around 314 curves, 14 hairpin bends/switchbacks, 3 tunnels and 3 pigtails (a 270 degree bend that climbs and loops back over itself).
Why drive it?
Because it is one hell of a drive! Watch our Iron Mountain Road YouTube video we took with a GoPro during the drive.
The first time we didn't know what to expect but it blew us away, so we did it again and shot a timelapse on our GoPro of the entire road!
Unfortunately, it was right in the middle of the day so glare and sun beams were strong. therefore our top tip is to drive this road before or after the sun is at its strongest.
Where is the scenic drive?
The Northern entrance begins between Keystone and Mount Rushmore and its Southern entrance can be found 2 miles from Custer State Park visitor center.
Keep in mind, Iron Mountain Road is not open in Winter so be sure to plan your trip between Spring and Fall to experience this exciting scenic drive.
Top Tip?
Tunnels along Iron Mountain Road were built with one thing in mind – to frame Mount Rushmore in the distance.
As you leave the tunnels, look straight ahead and you'll see the memorial head on. Superb planning and craftsmanship on the positioning along the scenic drive.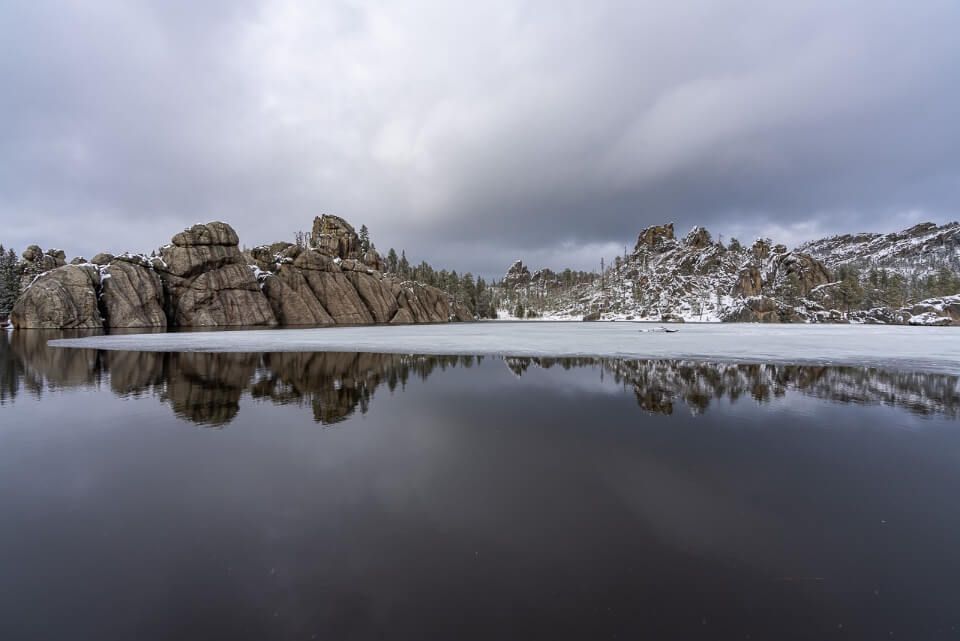 6. Sylvan Lake – Best For Family Activities
What is Sylvan Lake?
Sylvan Lake is a gorgeous family activity setting at the heart of the Black Hills.
If you look at a map of Custer State Park you will see an unusually long and narrow section of official park land leading up to Sylvan Lake. That's because it is too attractive to leave out of the park grounds.
If you have seen the movie National Treasure 2 you may recognize the huge boulders pictured above as the 'entrance' to Mt Rushmore.
Why visit the lake?
In Summer, the whole family can swim in the lake or kayak on its surface. There are tables for picnics and plenty of space for visitors to spread out among its grounds. In early Spring, the lake looks beautiful when frozen over.
The trailhead for Black Elk Peak begins at Sylvan Lake. But there's also a wonderful family friendly trail circumnavigating the lake and another amazing trail called Sunday Gulch loop begins / ends behind those same huge boulders.
Where is Sylvan Lake?
Sylvan Lake is located along Needles Highway close to 89 which connects with the town of Custer just 7 miles away.
Top Tip?
The lake is perfectly still most morning and reflects the smooth granite boulders perfectly. Don't forget your camera!
Things To Do In Custer State Park Interactive Map
Our Custer State Park interactive map shows each of the 6 best things to do in Custer State Park, plus nearby towns to consider booking your hotel.
Click into the map and move around, zoom in and out, click on the icons to orientate yourself with the area. Blue lines follow Iron Mountain Road, Needles Highway and Custer State Park Wildlife Loop.
Where To Stay In & Near Custer State Park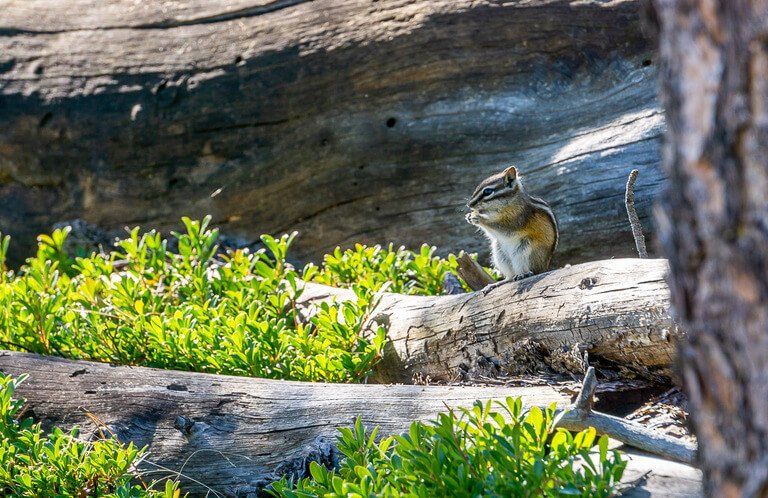 Campgrounds
There are 9 campgrounds in and around the park to choose between, check this map for locations of each campground. Sylvan Lake and Center Lake are great places to set up base for closeness to each of the best things to do in Custer State Park.
Lodges
Sylvan Lake, Blue Bell, Legion Lodge, State Game (all located at campgrounds – use same map as above).
Hotels
You will have an abundance of lodging options when visiting the Black Hills region of South Dakota.
After taking two trips to the area ourselves, our advice is to stay in either Custer, Keystone, Hill City, Rapid City or the northern parts of the Black Hills around Deadwood or Spearfish Canyon.
We have written a complete guide to the best hotels near Mount Rushmore, which includes all of the popular places to stay around the Black Hills.
Alternatively, you can head over to our hotels blog Best Hotels Anywhere for a deeper dive into the following:
We also recommend reading our helpful guide on exactly how to get the best deals on hotels to save a few dollars with your booking for Custer State Park.
What To Pack For Custer State Park
For basic hiking clothes to take on Cathedral Spires and Black Elk Peak, we recommend the following:
Summer – Moisture wicking shirts, shorts, and sunscreen. Don't forget swimwear to jump in the lake!
Spring / Fall – Layers are your best friend for the differing temperatures as you hike and stop.
Winter – Several warm layers, jackets, hats and gloves because it can get mighty cold up in South Dakota!
We visited in October and layers were the key for us. Evenings were chilly and mornings were freezing but days were warm.
Down jackets are the perfect balance between lightweight and warmth for Spring and Fall. We never leave home without ours.
For hiking shoes we use and recommend:
These trails are meant for day hikes and are extremely well maintained so there's no need for heavy hiking boots.
---
We hope these awesome things to do convinced you to include Custer State Park on your next visit to South Dakota!
Please let us know if you have any questions in the comments section below.
Happy Travels,
Mark and Kristen
Was This Post Helpful? Pin it For Your Visit!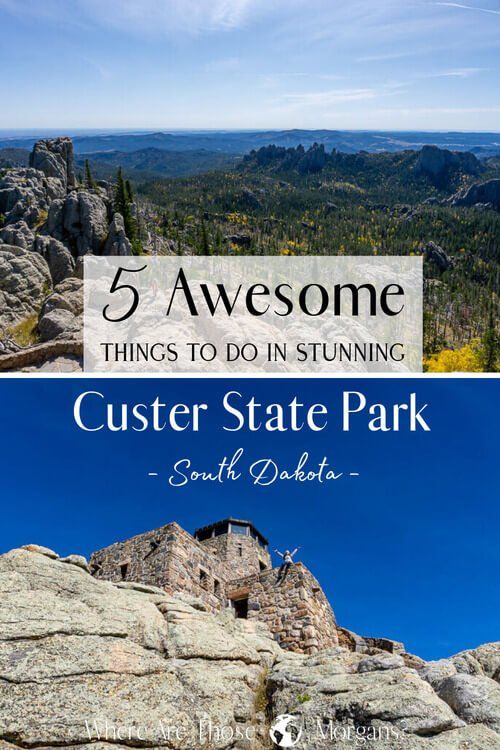 Note: This article contains affiliate links. When you make a purchase using one of these affiliate links, we may earn a small commission at no extra cost to you.
All Rights Reserved © Where Are Those Morgans, LLC. Republishing this article and/or any of its contents (text, photography, maps, graphics, etc.) in whole or in part is strictly prohibited.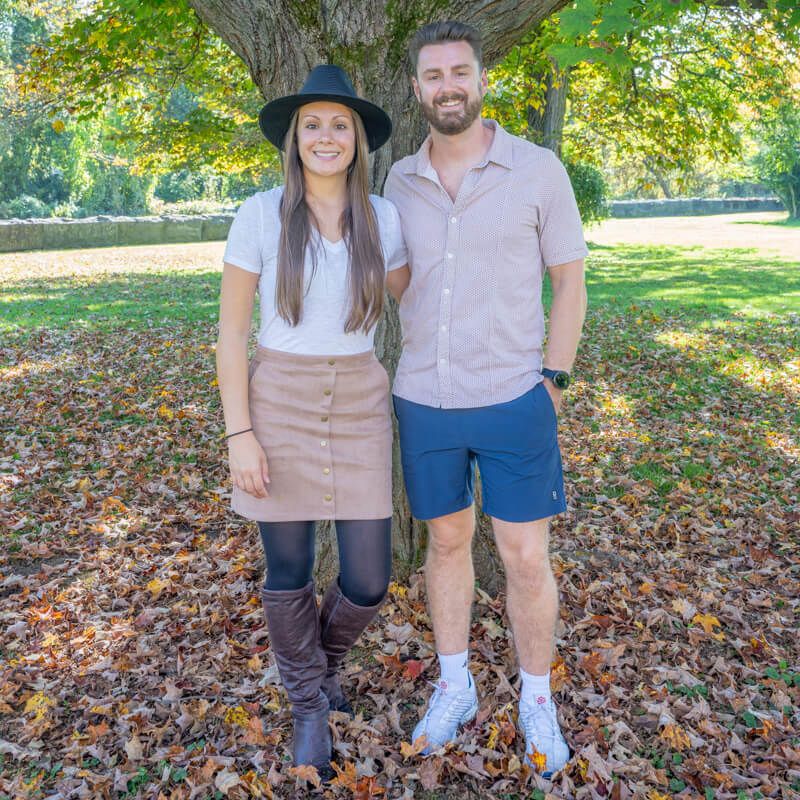 Mark and Kristen Morgan are travel, hiking and photography experts. Over the last 6 years traveling full time, they have explored more than 40 countries and 30 US states.
Their work has been featured in USA Today, Gestalten, Get Your Guide, CityPASS and Condé Nast Traveler along with various other publications.