Mount Rushmore is one of the United States most iconic and revered landmarks. Who among us hasn't always wanted to go on vacation to the see those gigantic expressionless sculptures of the 4 former presidents who helped shape America?!
We certainly had.
Visiting this colossal National Memorial was a dead cert on our first 3 month US road trip, right after Badlands National Park and before Custer State Park in Fall 2019.
We couldn't resist a second visit when passing through South Dakota again in Spring 2021. Both of our experiences were polar opposites, which we'll get into and will help you with planning your own vacation to Mt Rushmore.
Once you arrive at the Memorial, we think 3 hours is easily enough time to explore the surprisingly attractive grounds and sculpture itself.
In this guide, we will walk you through exactly what you can expect from the Memorial grounds, amphitheater, Presidential boardwalk trail and much more.
Let's get right into planning your Mount Rushmore vacation!
Mount Rushmore Vacation Update 2021
During our first visit to Mt Rushmore, we entered the memorial before sunrise at around 7am so we could watch as the famous sculpture radiated at first light.
We passed through open barriers and left without paying for parking because entry barriers didn't begin operation until 7.30am. However, that is no longer possible.
There are no longer entry barriers but a ticket must be taken upon entry, which is inserted into a parking payment machine before exiting. You must present a paid parking ticket to exit the parking lot.
Parking is US$ 10 per vehicle.
Note: Mount Rushmore is a National Memorial, so your America the Beautiful Annual Pass will not work here. It is only valid at National Monuments, such as nearby Devils Tower in Northeast Wyoming.
Where Is Mount Rushmore?
Mount Rushmore is located in Southwest South Dakota, at the heart of the stunning Black Hills National Forest.
Keystone is the nearest town and one of the most convenient locations to set up base for your vacation if you prefer to stay in hotels. But campers also have plenty of options in the area.
More on lodging/camping later.
Nearest airport – Rapid City 31.5 miles / 40 minutes drive away.
Mount Rushmore Vacation Information
Address: 13000 SD-244, Keystone, SD 57751
Website: nps.gov/moru
Phone: (605) 574-2523
Park Hours: All day, every day
Entrance Fee: No entrance fee but US$ 10 to park at the memorial (after 7am)
Accommodation: Keystone, Custer, Rapid City, various campgrounds
Top Activities: Sightseeing, short walks, much more in surrounding area
Annual Visitors: Between 2 – 2.5 million
Best Time to Visit: May – October (wet Spring, hot & busy Summer, best Fall)
Video – We got a little video footage of Mount Rushmore with our old GoPro and threw a quick video together. This certainly won't win any oscars but it's a fun take on arriving for sunrise!
Construction and Closures
Hopefully by the time you visit there will be no further construction work taking place but from our own experiences, we have to admit that we found certain area closures very disappointing.
During our first visit we explored the Presidential Trail and found a fantastic 'hidden' spot with great view of the sculpture. The amphitheater and main concourse were closed for construction.
However, on our second visit in 2021, the amphitheater was open but the remainder of the entire memorial was closed for construction.
Having been twice, we have to say that despite entry only being US$ 10, we did find the experience a little underwhelming when the Presidential Trail was closed.
After planning your Mount Rushmore vacation, read our South Dakota Road Trip guide detailing all the best stops nearby and including Mt. Rushmore as part of an action packed 4 day itinerary!
3 Hour Mount Rushmore Vacation Itinerary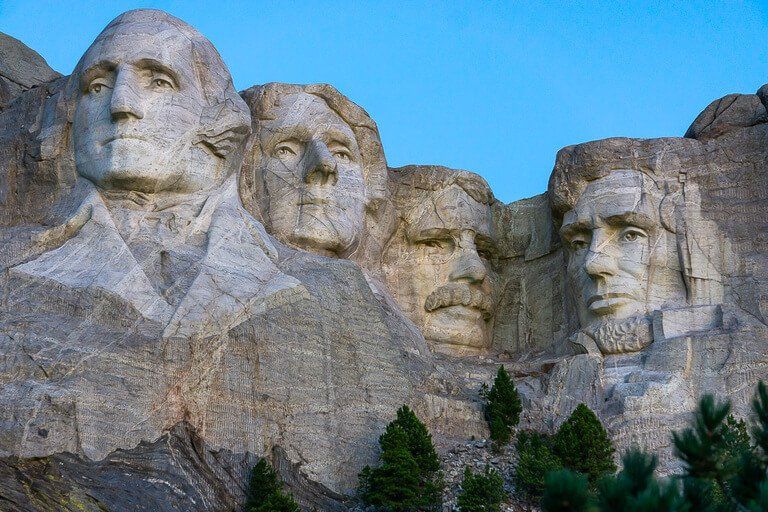 If everything is open on site, 3 hours is ample time to soak up Mt Rushmore views, walk the trail and visit educational exhibits.
Also, if you're visiting between late May and the end of September, don't forget you can catch an evening lighting ceremony held in the Lincoln Borglum visitor center amphitheater. Each night at 8pm or 9pm, Mt Rushmore is illuminated by powerful lights from below.
Our top recommendation is to wake up (agonizingly!) early to see the presidents faces glow with the first rays of sunlight. The sun rises directly in front of Mount Rushmore.
Let's take a look at the perfect 3 hour Mount Rushmore vacation itinerary, which has been laid out for a sunrise visit but of course still applies to any time of day:
Arrive Before Sunrise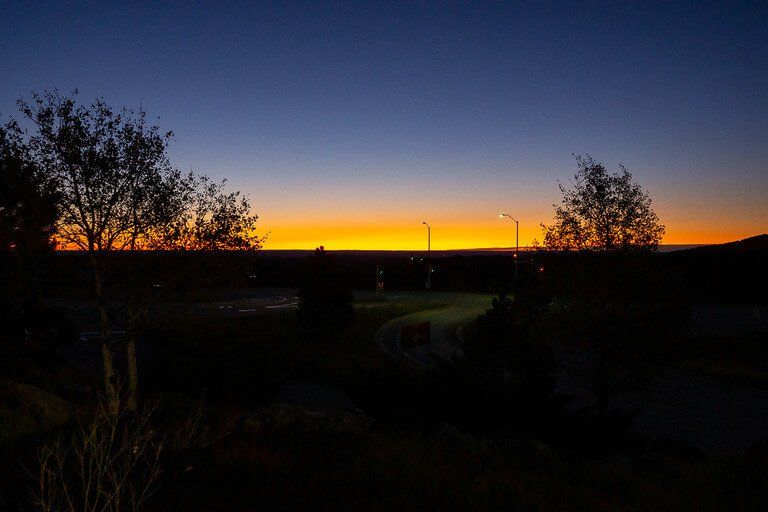 We know this sounds like a lot of effort, arriving anywhere before sunrise is not easy. But trust us, it is worth setting that early alarm.
We would never recommend something we haven't done ourselves and you will stand a good chance of having the entirety of Mount Rushmore to yourself.
The solitude is worth the effort alone, but the best part is still to come…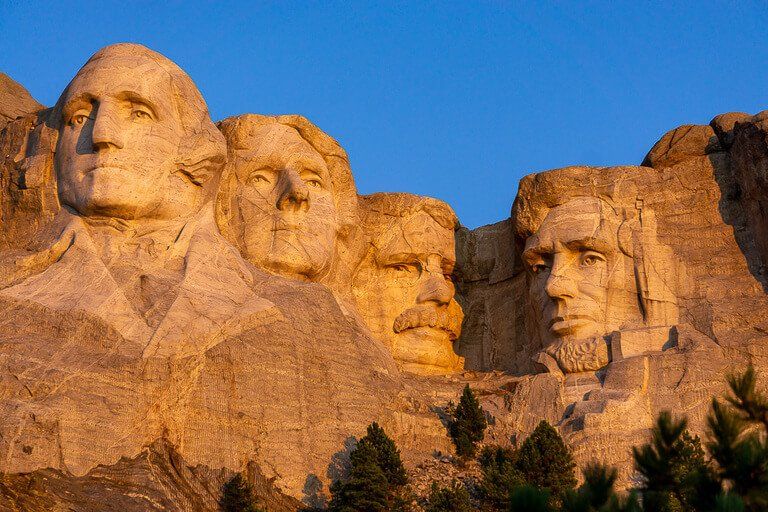 You will be able to witness an incredible sunrise as the 4 presidents are dramatically bathed in unobstructed orange, yellow and red rays.
The reason we suggest arriving before sunrise is so you can photograph the memorial before and during golden hour, which means no shadows, followed by a beautiful red aura and bright orange.
Arrive any later and you will only be able to see the granite stone color, full of shadows.
Park Up and Enter the Memorial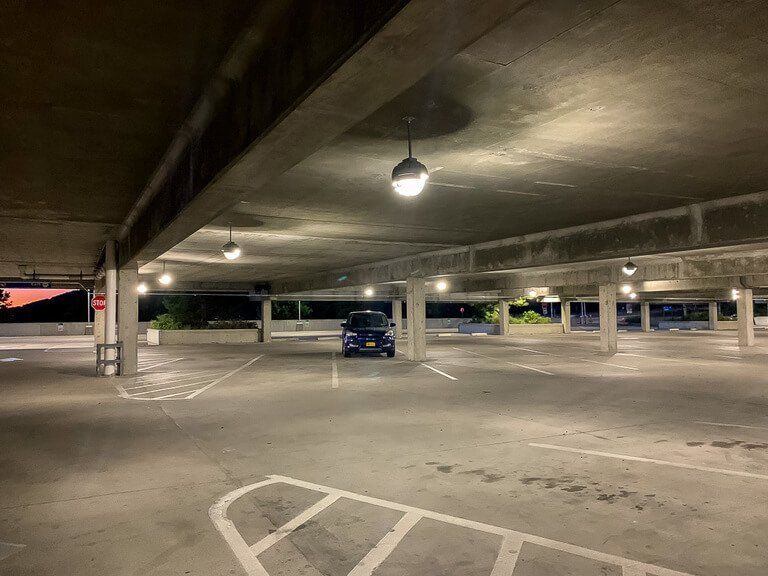 Drive through the entry barriers, picking up a ticket and head inside the parking lot. It is very likely you will be the only car in the parking garage, just as we were.
If there are no tickets available this early, pick one up as you return to your car and explain you arrived for sunrise.
If the sun is beginning to creep up, leg it up the stone staircase until you arrive at the entrance to the memorial. Don't forget your camera!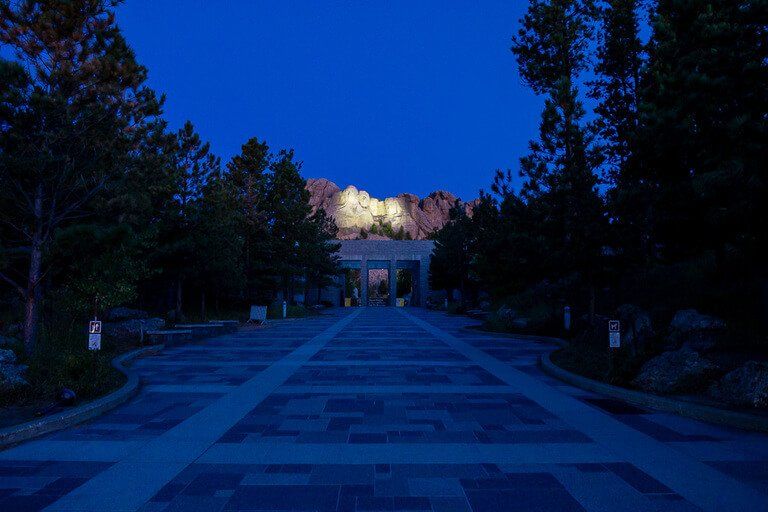 Walk under the columned gate and you will catch your first Mount Rushmore glimpse of the vacation, looking smaller than you imagined in the distance. That will change as you get closer.
Quickly Find The Best Vantage Point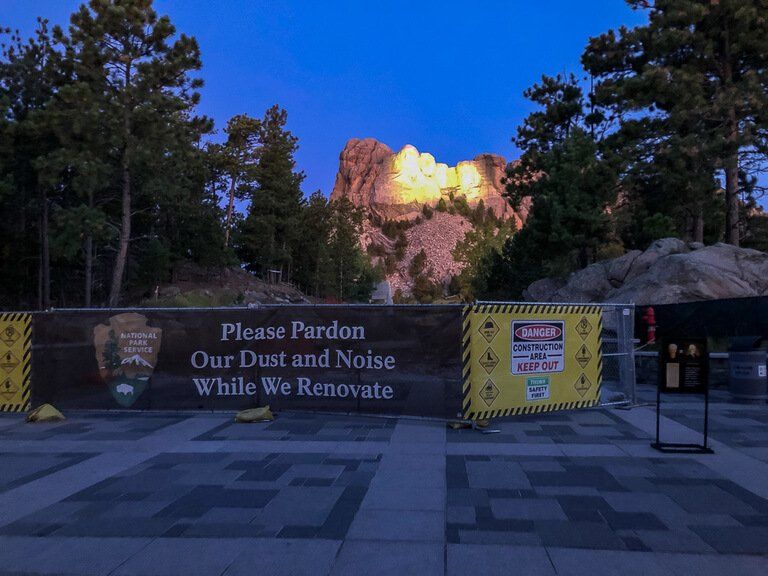 You won't have long before sunlight begins to illuminate the polished granite stone. Quickly observe where you want to set up your camera and try out a few angles to make sure you're happy with your spot.
You will probably be happy enough in the amphitheater with a 24-70mm or 24-105mm to shoot multiple focal lengths.
We first visited in October and discovered this was out of season for both Keystone and Mount Rushmore. Much to our shock and dismay the amphitheater had been cordoned off with a closed for renovation sign.
Oh crap!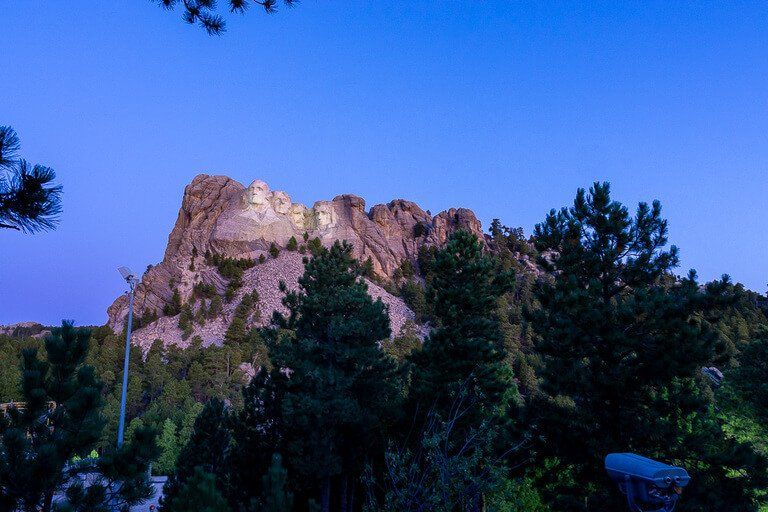 We were stuck with a terrible view as you can see in the photo above. Under pressure, we managed to formulate a rough idea of where we could get a better vantage point.
Fortunately, we quickly found another location to set up and had an excellent view. This place will work for you if you don't visit at sunrise and the amphitheater is packed…
Our 'Secret' Viewing Terrace
Okay, it's not exactly secret, it's on the map.
So, grab a map, keep the entrance to the South and the presidents to the North. Look for the Nature Trail that takes you to Sculptor's Studio but only follow it as far as Borglum View Terrace.
Take a left and another left, follow the path up some stairs and take a right to a little square directly to the right of the amphitheater.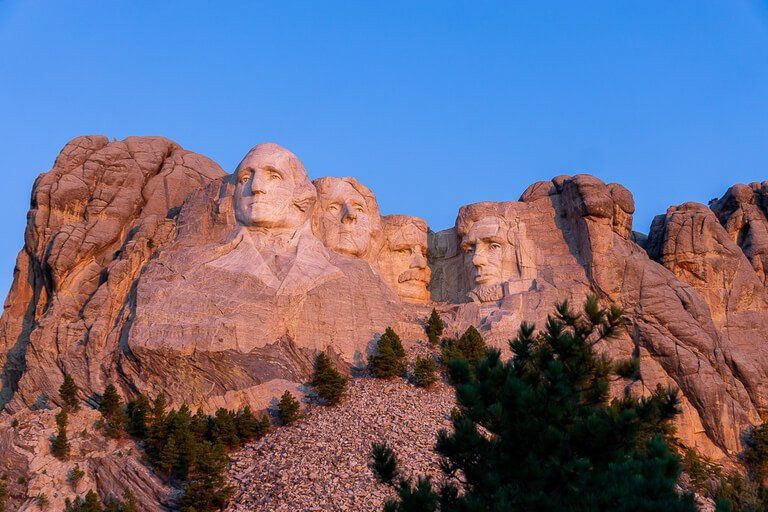 This is at a higher vantage point than the amphitheater and is where we were able to set up just in the nick of time. The only issue here is overgrown treetops that – even with the telephoto lens on – just about creep into the bottom of the frame.
Mount Rushmore might just be a sculpture, but it is iconic and emblematic. This is a great vantage point for one of the most famous photographs in the US.
Sculptor's Studio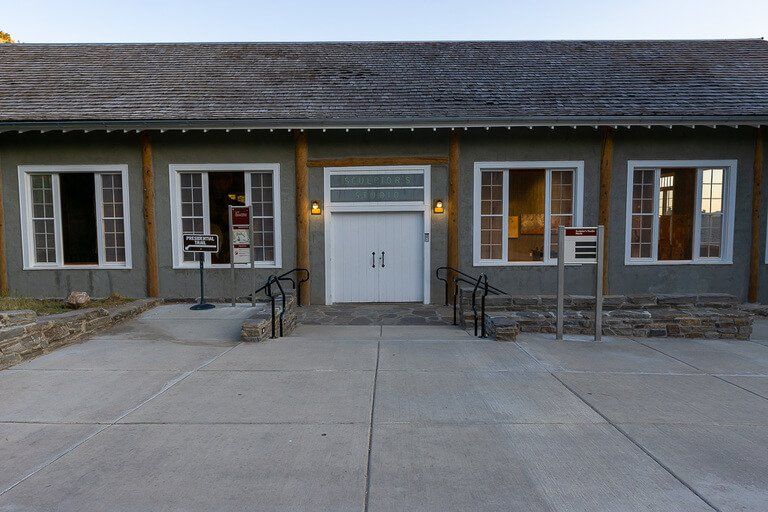 Once you have your sunrise photographs, take a very short walk to the Sculptor's Studio. It was originally built as a second on-site sculpting studio for Gutzon Borglum to design and sculpt Mount Rushmore.
Construction of the National Monument took 14 years from 1927 to 1941, the second half saw Borglum's son Lincoln join his father as assistant sculptor.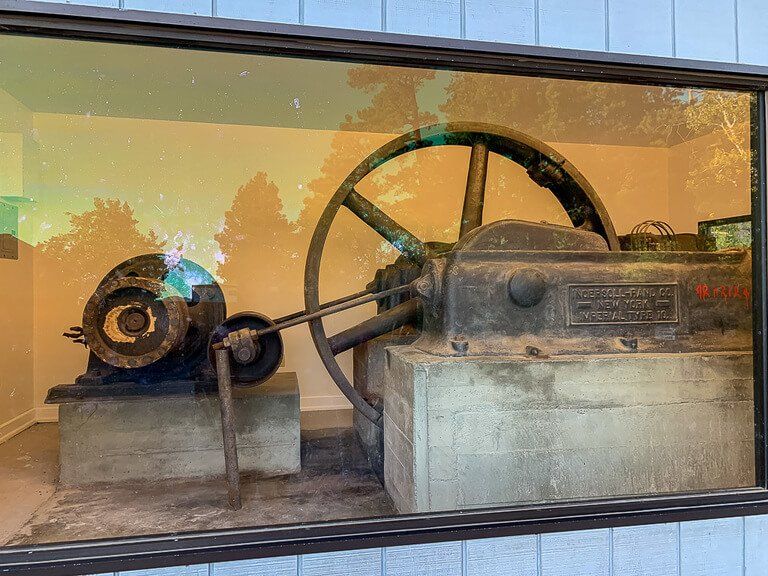 Models and tools related to the design and construction of Mount Rushmore can be found in the studio for those interested in the history of the memorial.
Read: Our top 10 things to do near Mount Rushmore next to fill the rest of your itinerary in the stunning South Dakota Black Hills.
Walk the Presidential Trail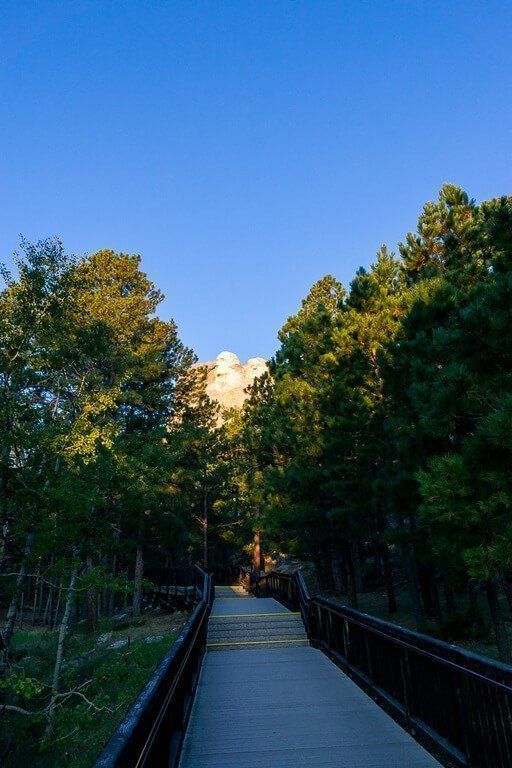 Once you've marveled at the range of colors glowing on the four presidents intricately carved faces, it's time to blow the early morning cobwebs off with a brisk uphill walk.
And by uphill, we mean up-stairs. A lot of stairs! 250 to be precise.
The Presidential Trail loops from Sculptor's Studio, up to a closer view of the presidents faces, then back down to the amphitheater – an anti clockwise route. Alternatively, take it clockwise and end at Sculptor's Studio.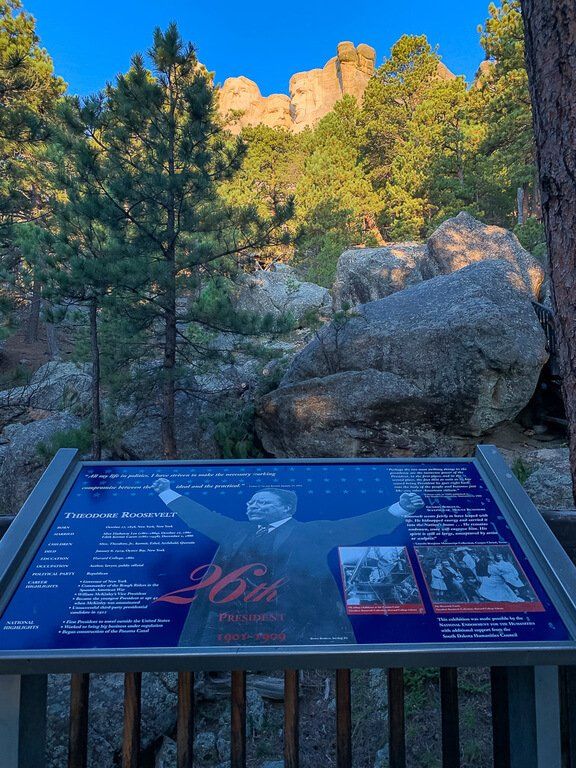 The trail is a lovely walk following pristine wooden boardwalks through low hanging trees and a low sun in the sky behind you.
There are plenty of stop off points but keep an eye out for the 4 information boards detailing the lives of the 4 presidents faces you have been looking at all morning: Abraham Lincoln, George Washington, Thomas Jefferson and the father of America's National Parks – Theodore Roosevelt.
The Top (and Cave View)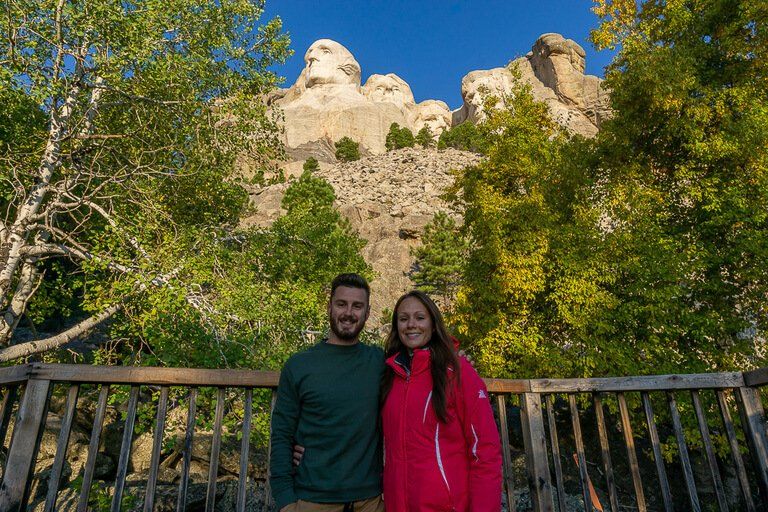 In all honesty, the top is a little disappointing because the trail doesn't lead to anything in particular.
Perhaps another viewing platform directly below the sculpture would help. Or finding the gold from National Treasure 2, which was actually filmed at nearby Sylvan Lake.
There are some areas you can see views of the faces but it's more like under-chin views and many of the facial features are hidden because of the angle.
We're actually kneeling on the boardwalk and leaning forwards slightly to get a not-up-the-nose photo!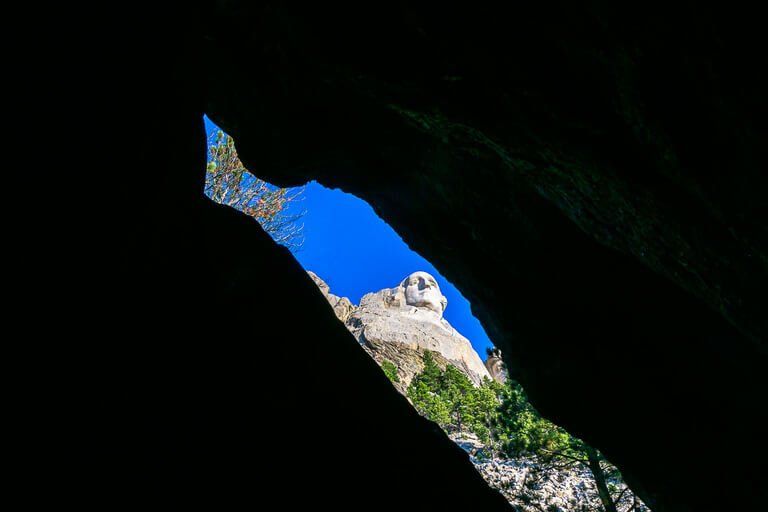 There is one cool shot to look for though, it's just off the main boardwalk and you can see Washington through a cave shaped like an eye. If it had flames inside, it would look just like the eye of Sauron.
Mount Rushmore Amphitheater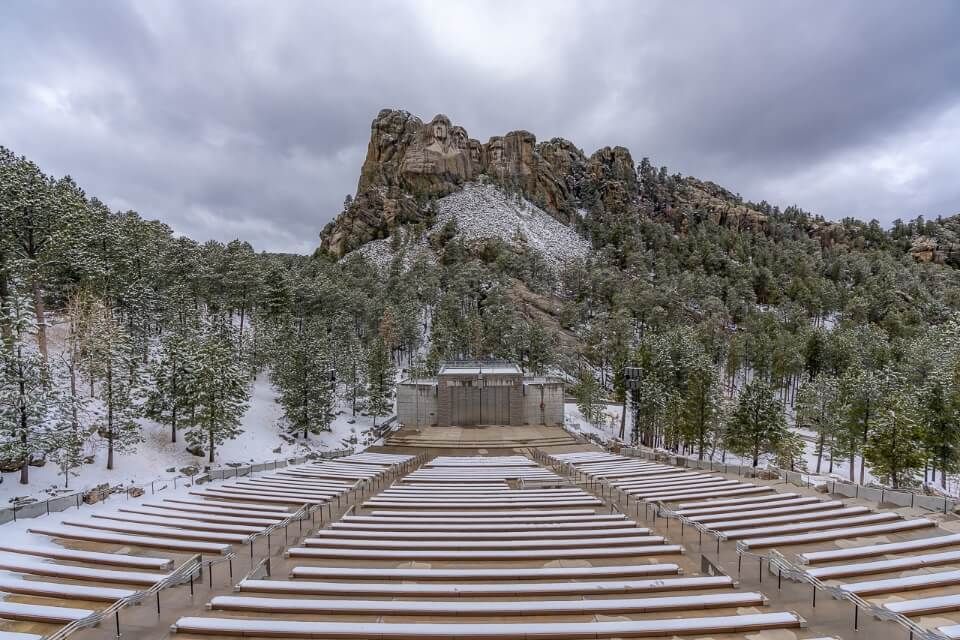 Our second visit in April 2021 allowed us to finally make it inside the amphitheater.
It had recently snowed and melted, which resulted in wet presidential faces as though they had all been crying about the cold weather.
You will find hundreds of seats at the newly renovated amphitheater, which will provide a fantastic atmosphere for the nightly light shows in Summer.
If you have time, we highly recommend planning an amazing 10 day road trip itinerary taking in both Mount Rushmore and Yellowstone National Park.
The Best Things to do Near Mount Rushmore
Custer State Park & Wildlife Loop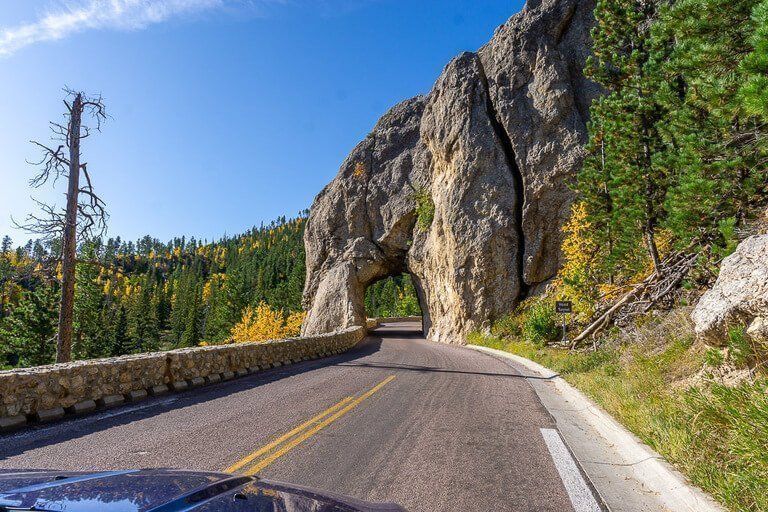 Custer State Park is regarded as one of the best state parks in the US. You can drive along the incredibly scenic Iron Mountain Road and Needles highway, plus visit Custer's famous wildlife loop.
This 18 mile one-way road takes you through rolling hills and meadows filled with Bison, Deer, Donkeys, Elk, Antelope and more. Visit early or late in the day for the best chance of spotting active animals.
Distance from Mount Rushmore – 20.7 miles / 50 minutes with stunning views from Iron Mountain Road and Needles highway.
Read More About Custer State Park:
Black Elk Peak Hike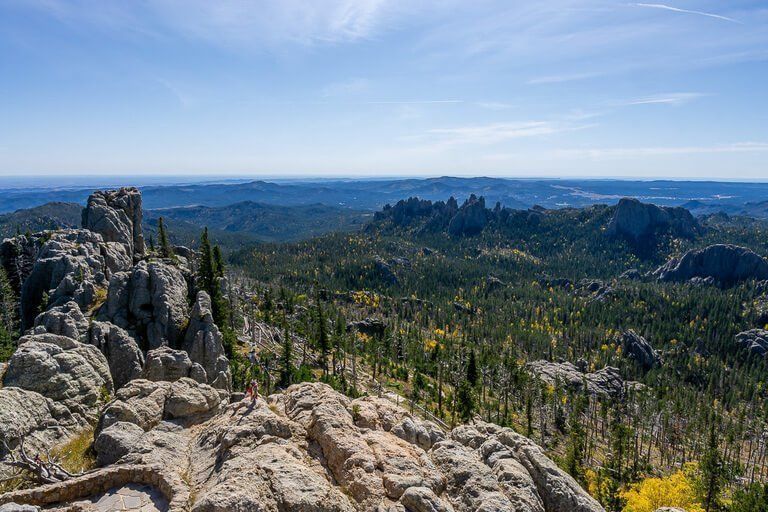 Our top hiking recommendation near Mount Rushmore is without question the Black Elk Peak trail. Formerly known as Harney peak, Black Elk Peak hike is around 3.5 miles up and 3.5 miles back down for a total of 7 miles.
It should take approximately 4-5 hours but allow more time for stops and 30 minutes at the summit, which has spectacular views over 4 states.
Distance from Mount Rushmore – 15.8 miles / 32 minutes.
Read More About Black Elk Peak:
Badlands National Park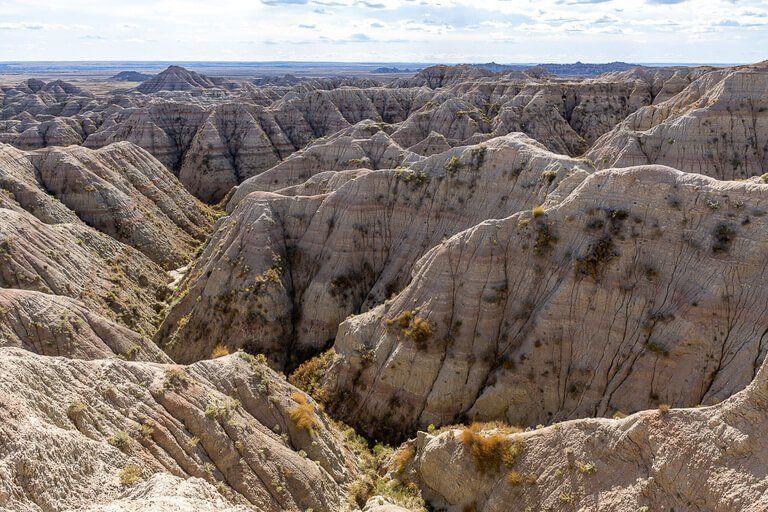 If time allows, you should not miss the spectacular martian landscapes at Badlands National Park. We do recommend staying a night at or close to Badlands, but it can easily be seen on a day trip from the Keystone/Mt Rushmore area if you don't have spare days.
Short hikes with dramatic viewpoints and photography are the best things to do at Badlands. Need convincing about visiting? Check out our favorite Badlands photographs.
Distance from Mount Rushmore – 85 miles / 1 hour 30 minutes.
Read More About Badlands National Park:
Mount Rushmore Vacation Interactive Map
Where To Stay Near Mount Rushmore
Campgrounds Near Mt. Rushmore
There are a handful of campsites within close proximity to Mount Rushmore but our top selection would be Horse Thief Lake campground, only 3 miles away.
A more suitable family location for camping could be around the Sylvan Lake area of Custer State Park. Sylvan Lake campground is 16 miles (30 minutes) from Mount Rushmore but offers much more in its immediate area.
Black Elk Peak trailhead begins at Sylvan Lake. Plus, the lake is half way along Needles scenic highway, which has tunnels, switchbacks and stunning views over the Black Forest.
Best Hotels In Keystone, SD
There are several options for setting up your vacation base close to Mount Rushmore.
The most obvious choice for those who prefer a built up area is the small town of Keystone, under 10 minutes drive from the stoic faces of Lincoln, Washington, Roosevelt and Jefferson.
However, please be aware there are many more excellent places to stay in South Dakota's Black Hills.
We stayed in Keystone for a night and can vouch for its convenience with a handful of restaurants and bars open in peak season.
There are a lot of hotels to choose between but be aware that Summer is extremely busy so it's a good idea to book in advance.
You might find our essential tips on booking the cheapest hotels helpful by learning how we save when traveling.
Click each Keystone hotel name below to check prices and availability.
Read our complete guide about exactly where to stay in Keystone SD for any budget on our sister site Best Hotels Anywhere.
Best Locally Owned Lodges Near Mt. Rushmore
Would you prefer to set up base in a tent or cabin surrounded by nature and support the local community near Mount Rushmore?
You are spoiled for choice in the stunning Black Hills region! Here are three highly rated and varied options close to Mt Rushmore but outside of the town.
Read More Things To Do Nearby …
---
We hope this helped you plan your Mount Rushmore vacation!
Did you visit for sunrise? What did you think?
Please let us know if you have any questions about the area or your vacation plans in the comments below.
Happy Travels,
Mark and Kristen
Was This Post Helpful? Pin It For Your Visit to Mount Rushmore!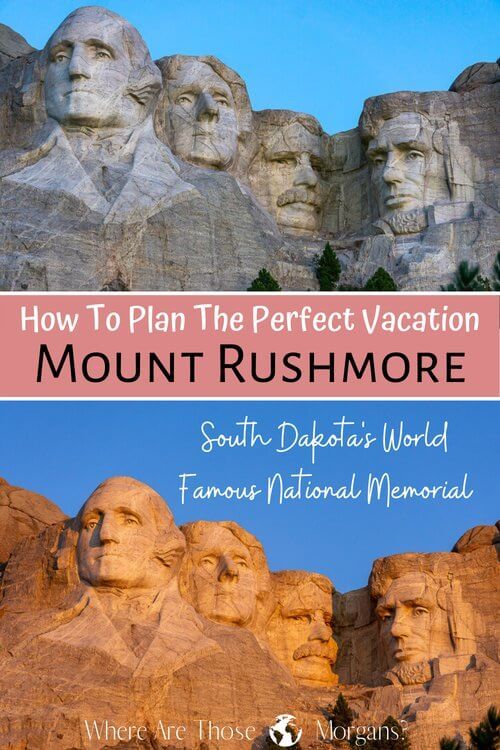 Note: This article contains affiliate links. When you make a purchase using one of these affiliate links, we may earn a small commission at no extra cost to you.
All Rights Reserved © Where Are Those Morgans, LLC. Republishing this article and/or any of its contents (text, photography, maps, graphics, etc.) in whole or in part is strictly prohibited.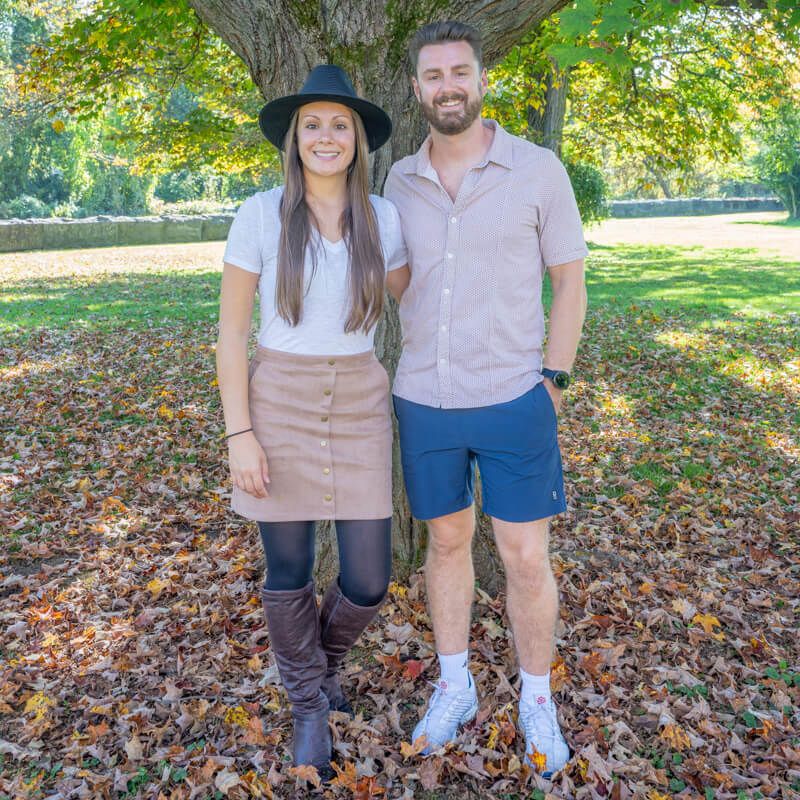 Mark and Kristen Morgan are travel, hiking and photography experts. Over the last 6 years traveling full time, they have explored more than 40 countries and 30 US states.
Their work has been featured in USA Today, Gestalten, Get Your Guide, CityPASS and Condé Nast Traveler along with various other publications.