The short but adventurous Notch Trail at Badlands National Park is the best hike in the region.
Badlands is more of a scenic overlook national park rather than an epic hiking arena. But Notch Trail goes a long way to giving Badlands a fun and unique hike, with an exciting ladder section as the star attraction.
Notch Trail is the most popular of the 10 best Badlands hikes. This trail features a wide open overlook crescendo, but in our opinion the journey is even better than the destination.
Cutting through intriguing Badlands buttes and spires, climbing a surprisingly intimidating ladder and skirting a cliff edge will lead you right inside and on top of the Badlands Wall.
We're going to show you exactly what you can expect from hiking the Badlands Notch Trail, with tips and a complete walkthrough.
Now, let's hike Badlands Notch Trail!
*Please note this post may contain affiliate links. If you click on one, we may earn a small commission at no extra cost to you. Thank you for supporting the free content we provide! Read more in our disclosure policy.*
Our Badlands National Park Experience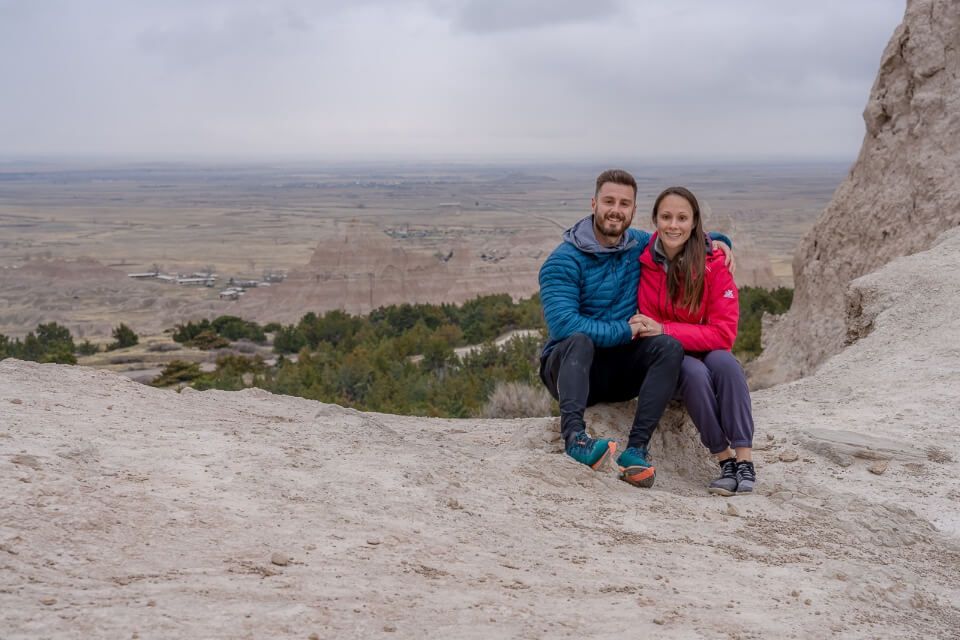 We first visited Badlands in September 2019 as part of a three month US road trip. But we loved the park so much, we visited again in April 2021 when we moved from New York City to Seattle.
During both of these visits, we hiked the Notch Trail in Badlands. Most of the photos in this guide feature images from our April 2021 visit where we experienced snow and very overcast skies.
Notch Trail is the unmissable hike at Badlands and we have even included it as part of our popular guide to the best hikes in the USA.
But in this South Dakota travel guide, we are going to walk you through how to hike Notch Trail in Badlands National Park.
Heading to the Badlands? Don't miss the 32 best things to do in Badlands, South Dakota.
Badlands Notch Trail Facts
Distance: 1.5 miles round trip
Time: 1 – 2 hrs
Difficulty: Moderate
Elevation Gain: 130 ft
Best For: Adventure, ladder climb, great view
Unique Element: 50 ft ladder climb
Recent Comments: AllTrails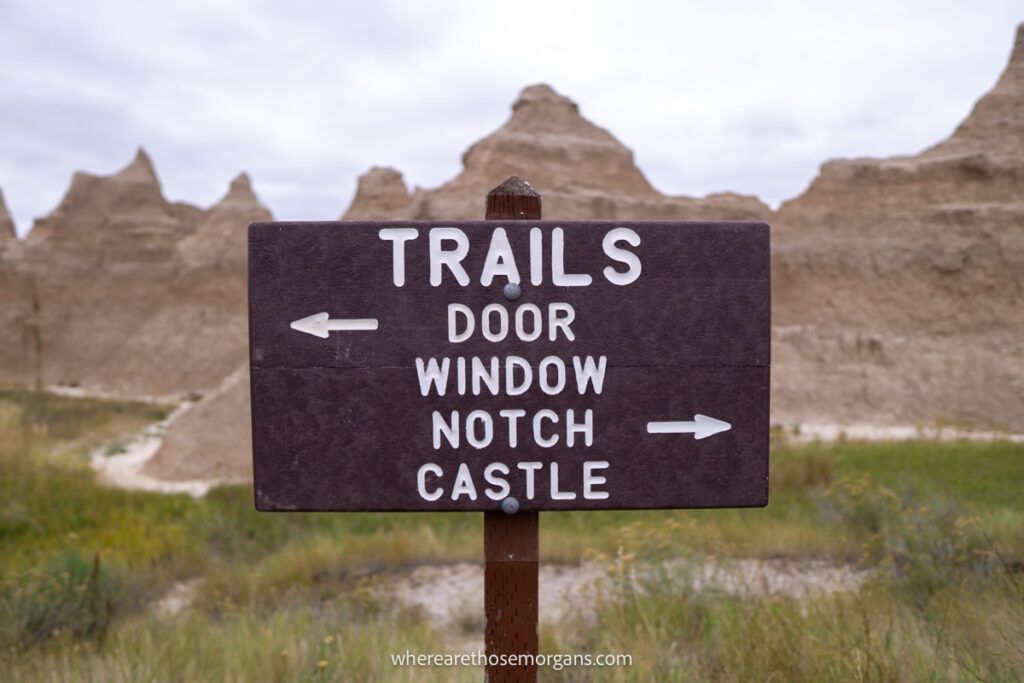 Where Is Badlands Notch Trailhead?
Badlands Notch Trail is conveniently located right on Badlands Loop Road (SD-240).
You can reach the Notch Trailhead either by entering at the Minuteman Missile entrance or the Wall entrance. Trailhead parking is closer to the Minuteman Missile entrance at just 6 miles from I-90.
This trailhead is a great place to start your Badlands itinerary because Door, Window and Notch trails all begin from the same parking lot. Castle Trail is also located across the street from this parking lot.
Here are small descriptions of the other hikes in the area:
Window Trail – A short 0.25 mile boardwalk trail featuring views through the Badlands Wall.
Door Trail – Another boardwalk trail at the north end of the lot which is good for kids.
Castle Trail – The longest trail in Badlands National Park.
Notch Trailhead is the southernmost path in the parking lot. There are restrooms available and plenty of parking spaces.
Notch Trail Badlands Hike Walkthrough
Badlands Notch Trail is a nice, easy and enjoyable hike.
This popular trail is heavily trafficked in summer but usually very quiet in shoulder seasons. Badlands is among the best USA national parks to visit if you're looking to escape the crowds.
Let's get right into a walkthrough of the Notch Trail with plenty of photographs so you can see exactly what to expect:
1. Door, Window And Notch Parking Lot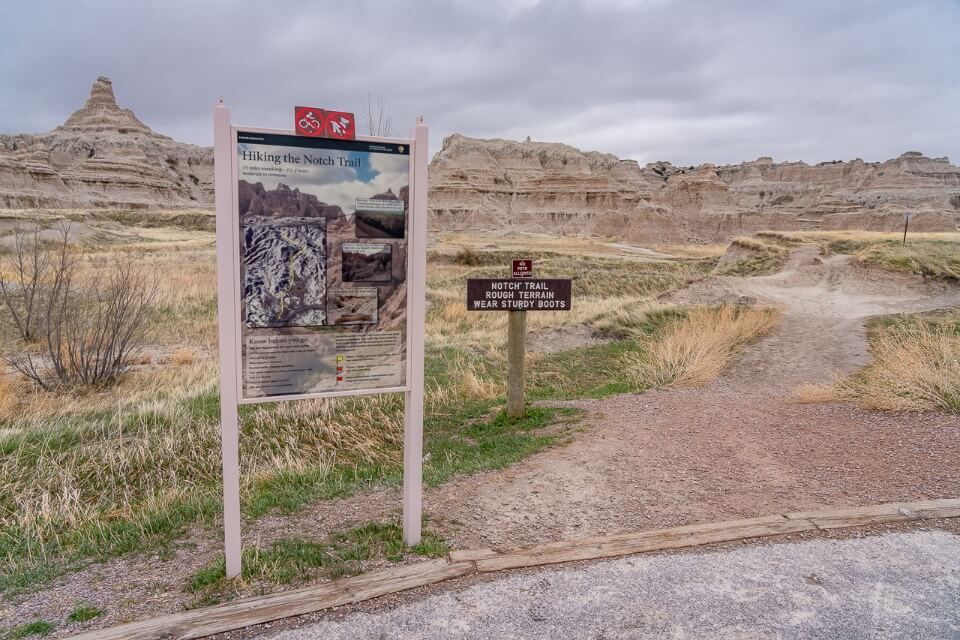 Begin at the southernmost point of the parking lot where you will find an information board showing the trail and a sign stating "Notch Trail, Rough Terrain, Wear Sturdy Boots."
Sturdy footwear is certainly recommended when hiking Badlands Notch Trail. This is important not only for slippery surfaces but because the hiking surface is very uneven and it's easy to roll an ankle.
There are rattlesnakes in the Badlands so wearing the right kind of shoe will also help you to avoid snake bites.
As you begin the Notch Trail, you will head south along the dusty path surrounded by yellowish-green grass.
Hiking Tip: Wear closed toed shoes while hiking Notch Trail (we recommend hiking boots or shoes).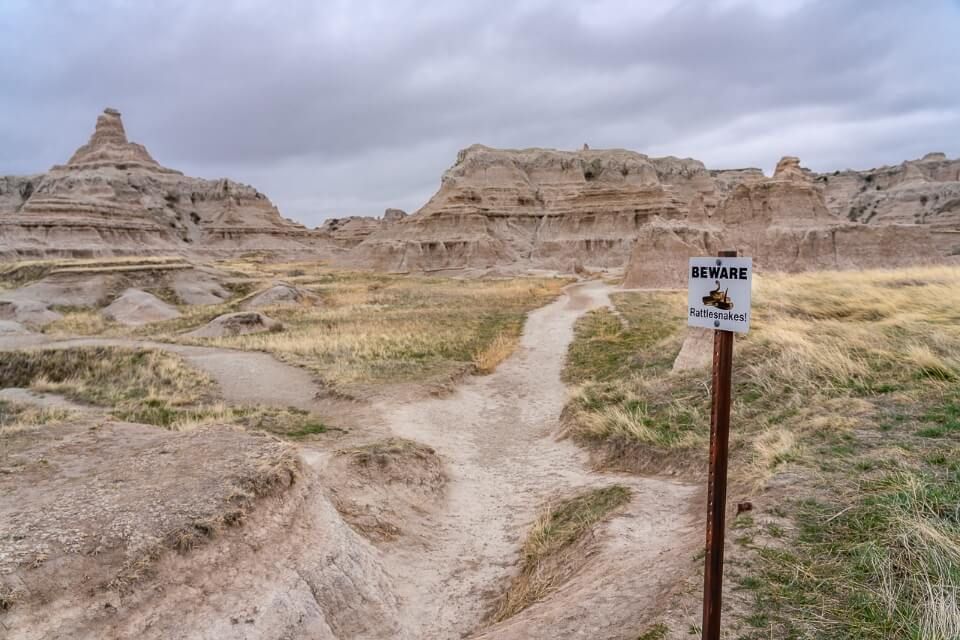 A little after walking along Notch Trail in Badlands National Park, you will pass a second rattlesnake sign which you should take seriously.
If you haven't already seen a snake, your senses will be in hyperdrive now and every time a blade of grass whistles in the wind, you'll think it's a rattler.
We did not see a rattlesnake on either of our visits, but it's important to note they are in the area so always err on the side of caution.
Chances are you might see a small snake that will slither off away from you. If you aren't the biggest fan of snakes, Badlands might not be your favorite US National Park.
You can follow white tipped flag poles for directions, but try keep to the beaten trail as much as possible.
During the next part of the Notch Hike, you will enter a narrow gorge-like section surrounded by buttes of all shapes and sizes.
After around 0.3 miles, you will see the highlight of the trail, a wooden ladder shooting up a steep rock face.
Need a way to track your hike? Use one of the top 25 hiking or outdoor apps on the market.
2. The Badlands Notch Trail Ladder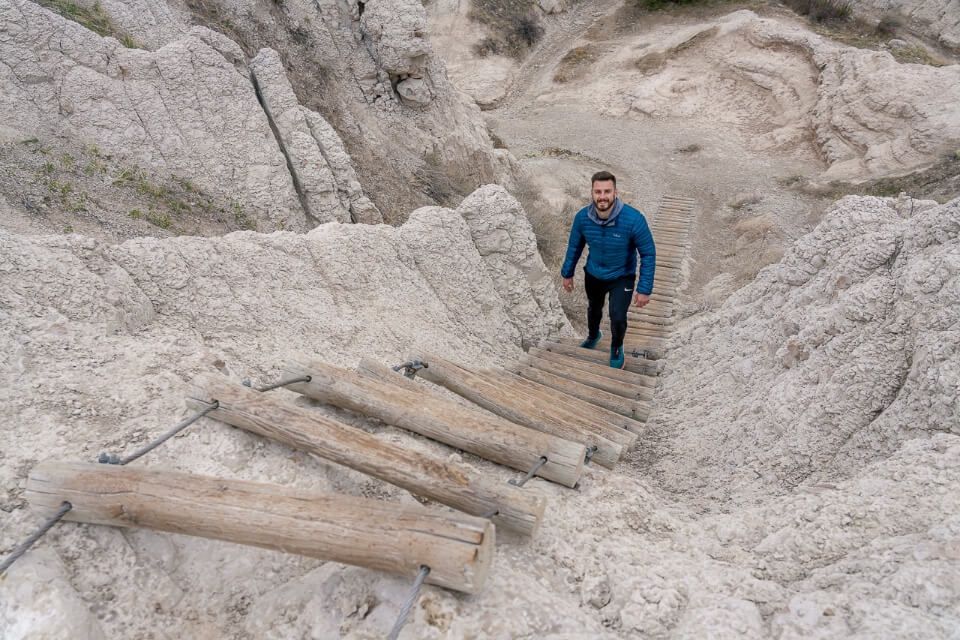 The best part of the Badlands Notch Trail is climbing up the 50 ft wooden step wire ladder.
We had the ladder section completely to ourselves both times we visited Badlands National Park. But Notch Trail will be much busier in summer, so be sure to allow enough space between climbers.
The bottom section is easy because it tightly hugs the stone, but the higher up you climb, the more bouncy and springy each step becomes.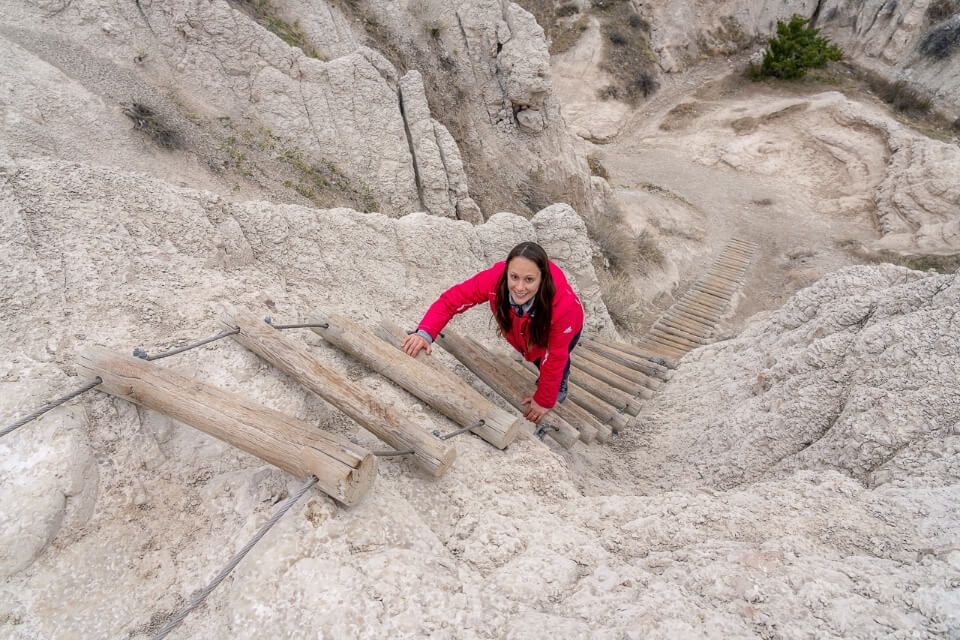 The wooden steps have a slightly awkward distance between each pole. They are far enough apart for a longer stride at a good momentum to take one step at a time all the way up.
However, for those less confident about the ladder, take each step as slowly as you need and put both feet on every pole before moving on.
Hiking Tip: To minimize the bounciness, make sure you lean forwards toward the rock and not outward from the rock face.
3. Climbing To The Notch Trail Summit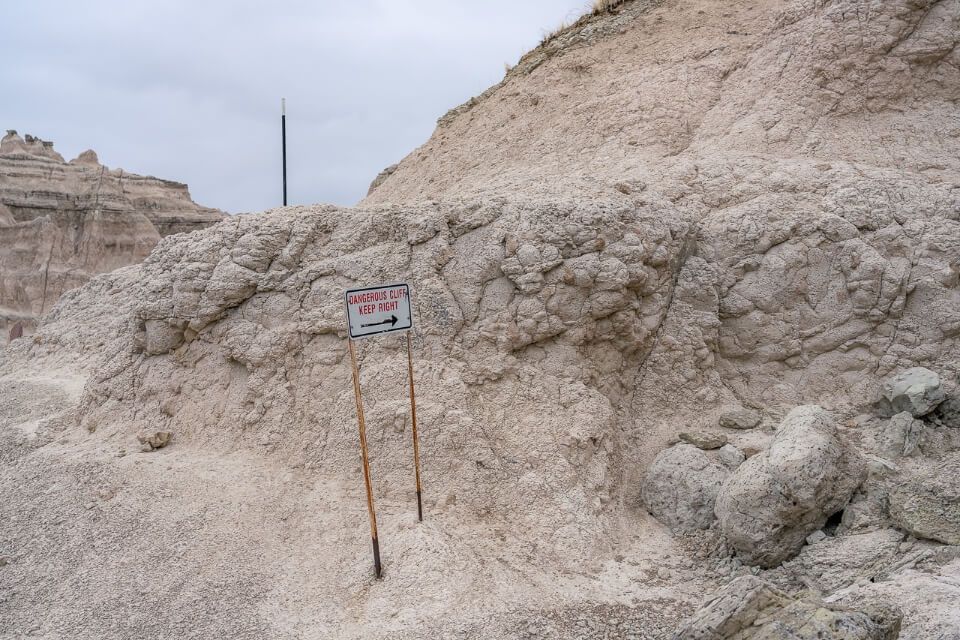 Once you have successfully scaled the Badlands ladder, you will then follow the trail as it narrows and hugs a rock face with a fairly substantial drop into a canyon.
You should have no problems here, but be careful with footing if wet and stick tightly to the rock if winds are strong. You will see another sign stating, "Dangerous Cliff, Keep Right."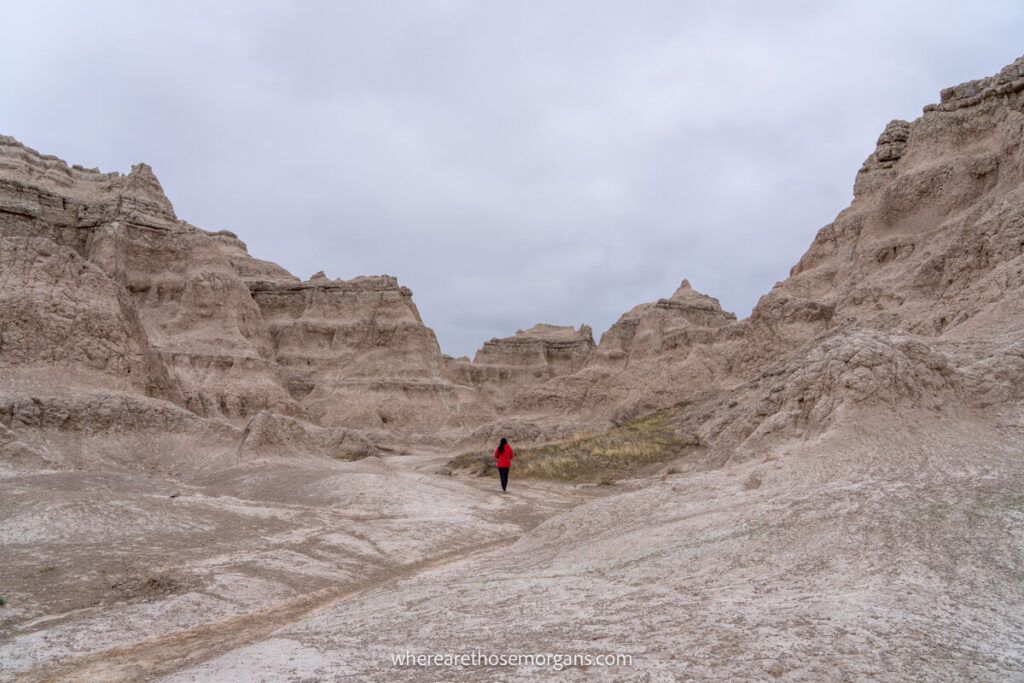 Make sure you heed the advice and scramble over the right hand side rock to the next pole. This is the only technical or challenging part of the hike now complete so give yourself a pat on the back.
Once you reach this point along the hike, the trail opens up on top of the Badlands Wall. Continue straight ahead and turn right when the rocks open up.
This short spur will lead you to the Notch Trail overlook with 180 degree elevated views over the lower altitude flat expanse of Badlands National Park.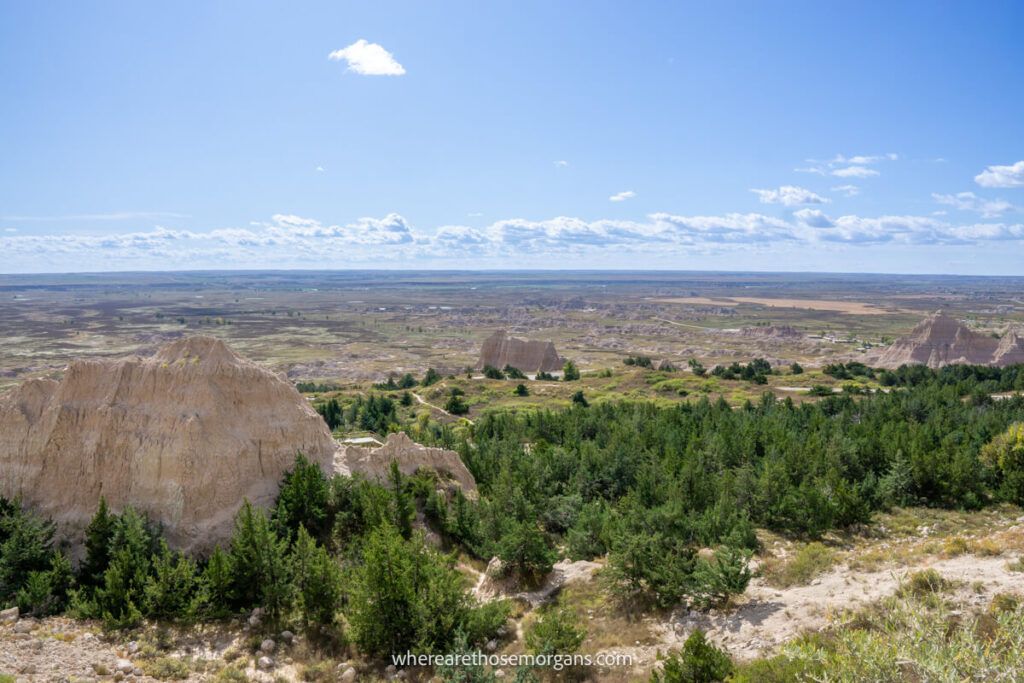 On a clear day, you can expect stunning views. This section is west facing so sunset seekers might enjoy this hike later in the day.
Take care along the crescent moon shaped overlook edge. There is a serious drop off over the edge, not one to take any chances with.
4. Return Via The Same Route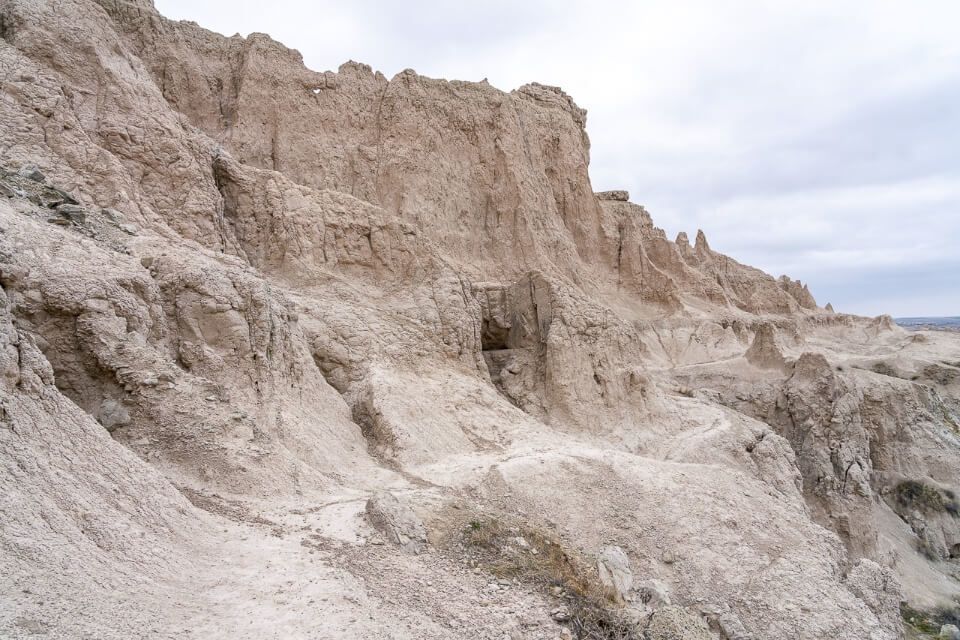 Take the exact same route as you return to the parking lot, taking care around the narrow sections and underfoot.
The ladder section might have felt easy coming up but going down is another story.
If you don't feel comfortable going down looking straight ahead, turn around and climb down as though you were on a normal ladder.
Once you have conquered the first few poles, the rest of the ladder is easy.
And that's a big 'Notch in the box' for the best trail at Badlands National Park!
Not sure what to bring when hiking Notch Trail? Read our popular guide featuring important things to bring on a day hike if you plan to hike in Badlands.
How To Avoid The Wooden Ladder
If you are scared of heights, there is a path you can take to avoid the wooden ladder along the Notch Trail in Badlands National Park.
Once you reach the ladder, look for the wash on the left (as you face the ladder) and follow the wash until the summit of the Notch Trail.
By taking this route, you will cut out the ladder section. There will be a very small climb when the trail meets the summit, but nothing compared to the ladder climb.
Use our photo below to find the wash to avoid the ladder when hiking badlands Notch: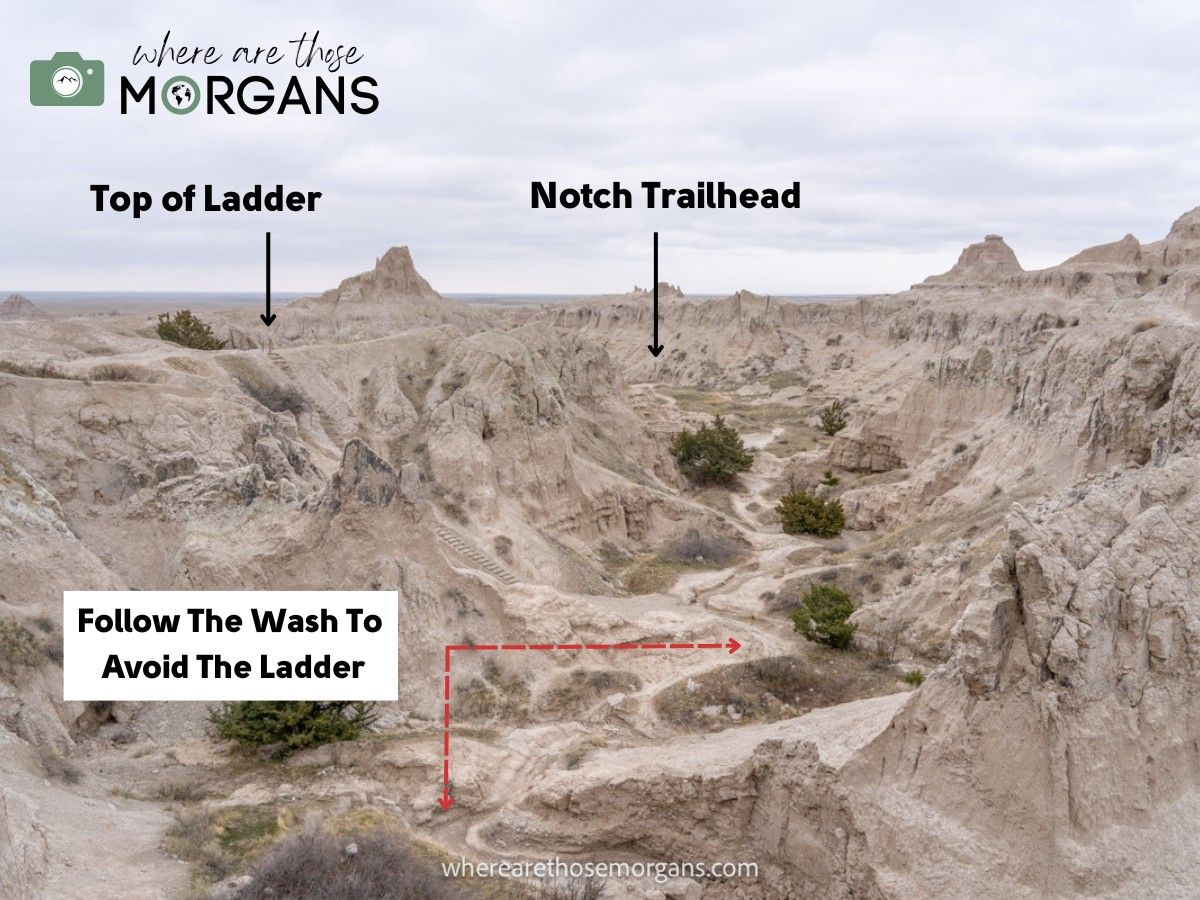 Hiking Tips For Badlands Notch Trail
Since we have hiked the Notch trail twice ourselves, once in October and once in April, under two very different weather conditions, here are a few tips you should consider before hiking Notch Trail:
Check current wether conditions on the official NPS website prior to hiking.
If the weather report shows high winds or rain, wait for conditions to improve if possible. Water on Notch Trail can cause the rock to turn sludgy which becomes slippery very quickly.
Strong winds can be a problem for the upper section which skirts a ledge with a fairly high drop off.
Notch Trail is extremely exposed so sun protection and water are a must, especially in summer.
We recommend a hiking boot or shoe because you will climb a ladder and may experience a slippery trail if the weather does not cooperate.
The ladder section is unique and fun but take care on the steep upper portion. Use the wash section of the trail if you are scared of heights.
Hike early in the day to avoid the heat and crowds if visiting in peak season.
Views at the end of the Notch Trail in Badlands are west facing so this is a prime sunset location.
Notch Trail Interactive Map
If you want the exact location for the Notch Trailhead and the points of interest along this hiking trail, use our interactive map.
You can also access our Notch Trail Badlands map via this link here.
We want you to be confident when you hike Notch Trail in Badlands National Park.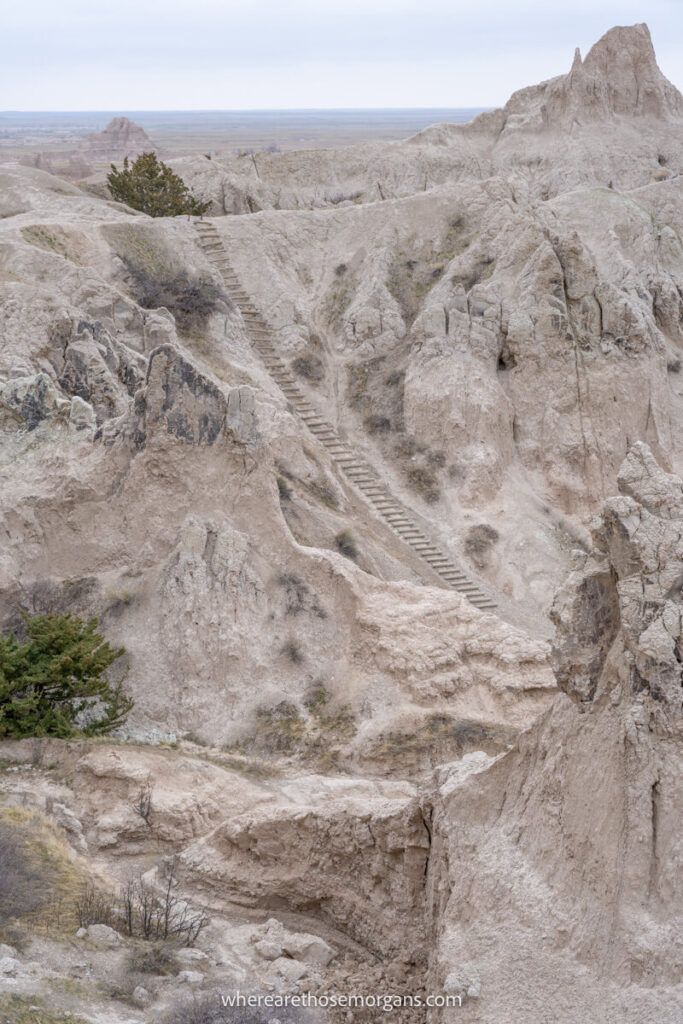 Badlands Notch Trail FAQ's
Let's take a look at some of the most frequently asked questions when hiking Badlands Notch Trail:
Is Notch Trail in Badlands an easy hike?
According to AllTrails, Notch Trail is a moderate hike requiring a scramble and walking across a steep ledge before reaching the summit.
Are dogs allowed on Badlands Notch Trail?
No, dogs are not allowed on the Notch Trail in Badlands National Park.
Can kids hike Notch Trail in South Dakota?
Notch Trail is suitable for kids because there is a small wash detour you can take to avoid the wooden ladder climb if your kids are not comfortable with heights.
Our Popular Badlands Travel Guides
More South Dakota Guides
Want more South Dakota content? Head over to our South Dakota Travel Guides to explore Mount Rushmore, Badlands, the Black Hills and beyond.
---
We hope our detailed Badlands National Park Notch Trail guide helps with planning your South Dakota trip!
Please let us know if you have any questions about the Badlands ladder hike or South Dakota in the comments below.
Happy Hiking,
Mark and Kristen
Enjoy This Notch Hike Guide? Pin It For Your Visit!