The beautiful hike to Black Elk Peak in South Dakota's stunning Black Hills National Forest is one of the best hiking trails in the US and it among our personal favorites. We're going to explain everything you need to know about the wonderful Black Elk Peak hike, including tips and photos for inspiration.
We hiked the Black Elk Peak trail as part of an amazing South Dakota road trip and admittedly didn't expect it to be as spectacular as it turned out to be.
Being permanently surrounded by postcard perfect scenes of deep green and golden yellow ponderosa pine trees bursting out of hillsides made from enormous smooth granite boulders blew us away.
The hike to Black Elk Peak is non-technical and long but gradual. So, anyone with a good level stamina can make the summit. Plus, views from the top are breathtaking.
And we save that often overused word for rare occasions.
Hiking the fantastic Black Elk Peak trail is one of the best things to do near Mount Rushmore for those who love to hit the trails, enjoy nature at its finest and can't get enough of 360 degree summit views.
Let's hike!
Why Hike The Awesome Black Elk Peak Trail?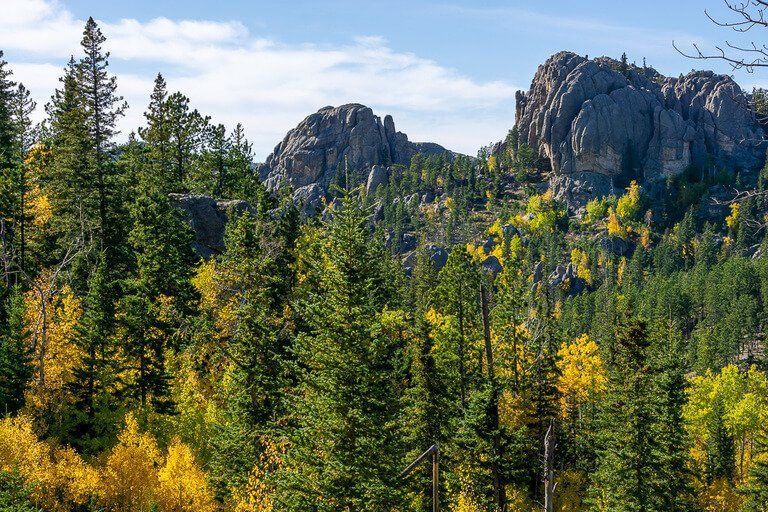 If you're visiting Badlands National Park, Mount Rushmore or Custer State Park – Black Elk Peak is the perfect way to round off awesome sightseeing with an active day out in the hills.
Did you know that Black Elk Peak (7,244ft) is the highest peak East of the Rockies and West of the Pyrenees Mountains of the French/Spanish border?
The trail is rated as moderate due to its length but it is an easy going and inclusive hike for most age groups and abilities. Just be aware of time.
You can ascend and descend Black Elk Peak via route #4 or route #9. So it can be hiked either as an out and back or as a loop.
The roundtrip should take between 4-5 hours, but will be longer with more stops and time at the summit – which you will need. There are also a number of spur trails you may want to add on.
Formerly known as the Harney Peak trail, its name was changed in 2016 by the US Board on Geographic Names to Black Elk Peak, honoring an old Lakota Sioux shaman.
At the summit you will find Harney Lookout Tower, which was once used as a fire detection viewpoint. The lookout is no longer used and actually, it's quite strange to be inside an empty tower at the top of a mountain.
If possible, plan to hike Black Elk Peak in Fall (we visited October 7) to take advantage of the captivating colors on display.
Video
We got a little Black Elk Peak GoPro video footage from the trail and knocked up a fun short video of what you can expect.
It was freezing in the morning so Mark had to wear a pair of Kristen's shiny blue base layer pants!
Black Elk Peak Hike Factfile
Daily Visitors: In peak (pun intended) season, hundreds of hikers per day
Best Time to Visit: May – October (comfortable temperatures)
Hike Length: Roughly 7 miles round trip – depending on ascent/descent trail number
Elevation Gain: ~1,500 ft
Estimated Hike Time: Around 4 – 5 hours hiking time – account for breaks and 30 minutes at the summit
Hike Difficulty: Moderate – not technical but stamina required
New to Hiking? Don't forget to check out our 21 most important hiking tips for beginners.
How To Get To Black Elk Peak Trailhead
Black Elk Peak trailhead is located on the shores of Sylvan Lake, which can be found half way along Needles scenic highway in Custer State Park, South Dakota.
The scenic highway offers spectacular views but it also means slow going, due to the meandering nature of scenic roads.
Keystone is just 18.6 miles away, yet it can take the best part of 40 minutes because of traffic around Mount Rushmore and the aforementioned slow roads. Take 244 past Mt Rushmore, take a left onto 16 and an immediate left onto Needles highway (87).

Custer is much closer and easier to access Sylvan Lake. Take the 89 for around 7 miles and you will arrive in under 20 minutes.
This is a truly scenic area to drive around. We found ourselves driving the same roads over and over.
If you're flying into Rapid City to visit the Black Hills region, read our expert tips on finding cheap flights and search for flights using Skyscanner for best prices and flexibility.
Once your flights are booked, compare hire car prices using Rental Cars for the best deals to pick up at Rapid City airport.
Black Elk Peak Hike Route Options (Trail #4 and #9)
It's important to know there are route options for ascending and descending the Black Elk Peak trail hike. The most popular (and route we took) is trail #9 up and trail #4 down.
You can take #4 up and #9 down if you prefer, but we will walk through #9 up and #4 down in this guide.
Route 9 is a little steeper, whereas route 4 is more gradual. Both have amazing scenery and we recommend you do hike Black Elk Peak as a loop so you can maximize views and allow yourself the opportunity to add on spur trails.
Personally, we typically prefer to get the steep trail out of the way on the climb, so the way down is nice and relaxing.
Here are two things you can do before hiking:
Check recent comments from hikers regarding trail conditions at Black Elk Peak on All Trails.
Download an offline map to your smartphone using one of the best hiking apps like Gaia GPS to track your progress.
Black Elk Peak Trail Hike Overview
OK, let's get stuck into the trail.
We would suggest aiming to set off no later than 11am, just in case you want to spend longer at the top. That way you'll be back to Sylvan lake before dark.
However, as always with popular hikes, setting off early means the trail will be much quieter.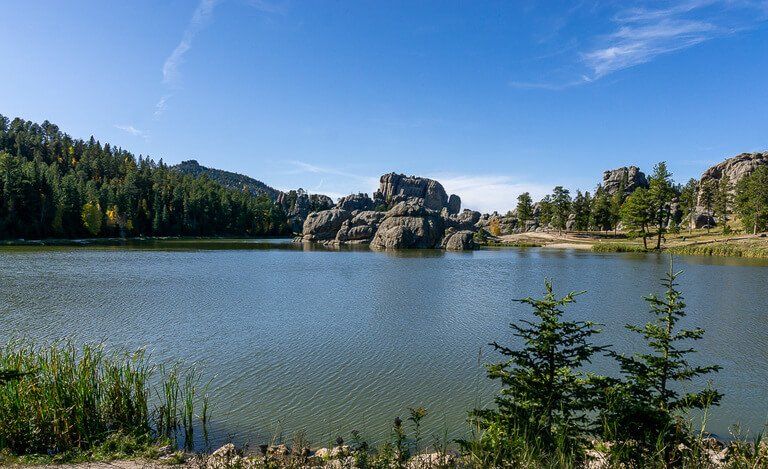 Sylvan Lake & Route # 9 Ascent
You might recognize Sylvan Lake from National Treasure II when Nicolas Cage and his band of treasure hunters find the entrance to 'Mount Rushmore' on the boulders found here at this lake.
Sylvan Lake is a South Dakota tourist attraction in itself. It has a swimming beach, a nearby lodge a family friendly hike circumnavigating the lake and another fantastic hike called Sunday Gulch.
More hiking: If you have time, hike both Black Elk Peak and Sunday Gulch when in the Sylvan Lake area. It would be a long day, so might be best to split into 2 days.
Use the vault style restrooms before beginning the Black Elk Peak hike because you won't see another until you're almost back at the trailhead.
Right at the start of the hike to Black Elk Peak you will find information boards and maps of the routes. Remember about the different route numbers up and down.
Beautiful Scenery
It doesn't take long before you are hiking among gorgeous meadows and partially forested areas with soft dirt packed paths underfoot.
You an expect to see long grass as high as your hips to one side and bright yellow leaves on an overhanging tree to the other.
If you are fortunate enough to have clear deep blue skies, you will be blown away by contrasting green and yellow colors throughout this hike as they pop under sunlight.
Tread carefully to avoid catching your feet on thick tree roots or small boulders protruding from the path.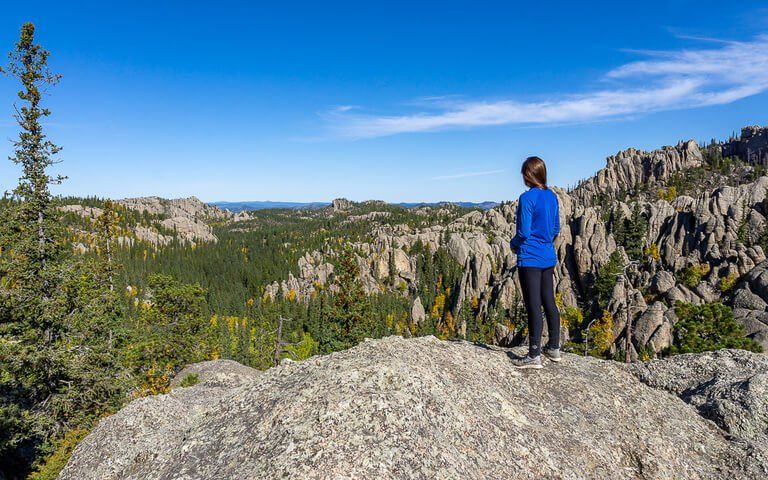 Awesome Viewpoint
After some (mostly!) gentle climbing, you will find the trail becomes more enclosed within trees.
This dense forested area blocks the sun out almost completely, except for the occasional ray beaming through the canopy.
Then all of a sudden, there's an opening. To your left, you will spot an open rocky ledge leading to an incredible view overlooking a valley covered in trees and sharp granite rocks surging out from within.
This wonderful viewpoint is around 1 mile into the hike to Black Elk Peak. It marks the perfect place to take your first break and grab some photos.
But this is only a fraction of the view you will get at the summit so save space on your memory cards!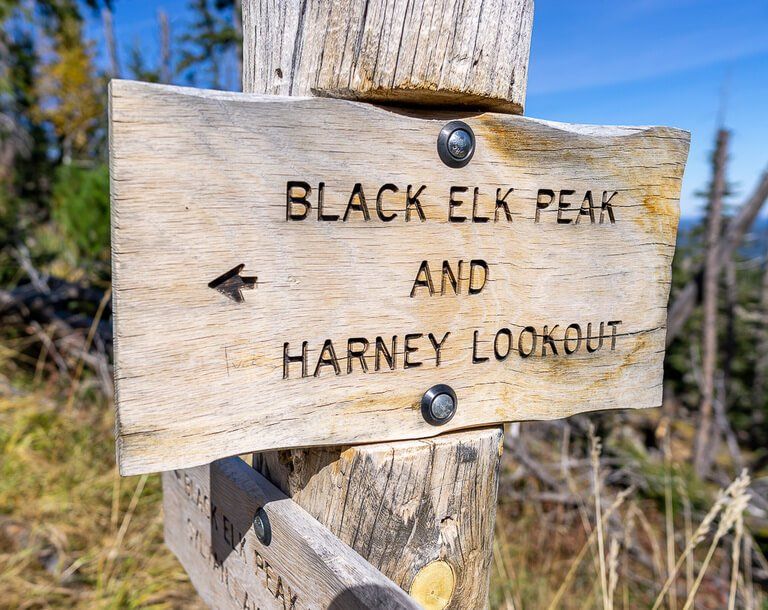 Near the Top
Black Elk Peak is excellently signposted throughout various parts of the hike, particularly where there are route turn offs. It would be harder to get lost, which is isn't always the case with hiking trails.
There are a handful of more strenuous sections of ascent to be aware of as you climb ever closer toward Harney Lookout Tower.
As you approach the latter stages of the climb, you will pass through an interesting cave like gap in a wall and walk up a man-made narrow metal staircase.
Once you reach this point you are almost at the summit.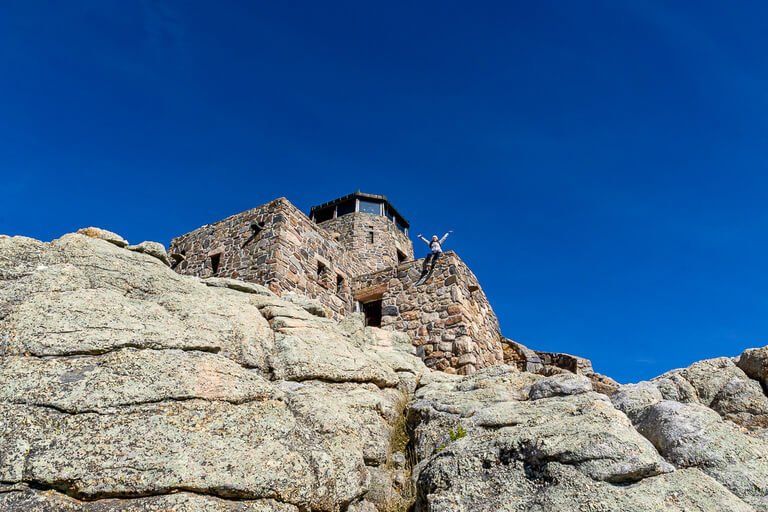 Black Elk Peak Summit
As you make your final steps to the flat top summit, spin around in a full circle and reap the rewards of your effort.
The views were worth the effort, right?! You can let us know when you've finished the hike!
You are looking at 360 degree panoramic views overlooking the states of South Dakota, Nebraska, Wyoming and Montana. Summit views don't get much better than this one.
Once you finally tear yourself away from endless views over the Black Hills, be sure to explore Harney Lookout Tower.
Go inside and have a good look around the 3 floors:
To the bottom is an empty room similar to a house basement

The middle where you enter is small in area but there's a door leading out onto a veranda style viewing platform and there's also a steep black metal staircase leading up to the third floor.

Up on the top floor you will find the watchtower area with windows covering 360 degrees.
Take some time to walk around on the boulders back outside and take A LOT of photos.
The best photography spots (apart from in every direction to the horizon!) are the summit flagpole, the steps leading up to Harney lookout tower and perspective shots when you walk further out/down the boulders.
Take Route 4 Down
Route No. 4 is slightly more gradual than route 9. We found it was much quieter on this route but that certainly doesn't mean it is any less scenic.
In fact, you get to see different parts and views of the Black Hills and you can avoid the 'going back on yourself' disappointment.
Note: Don't worry, Route 4 is completely separate from Route 7 aka Grizzly Bear Creek. We don't think are any grizzlies up in the Black Forest anymore anyway?!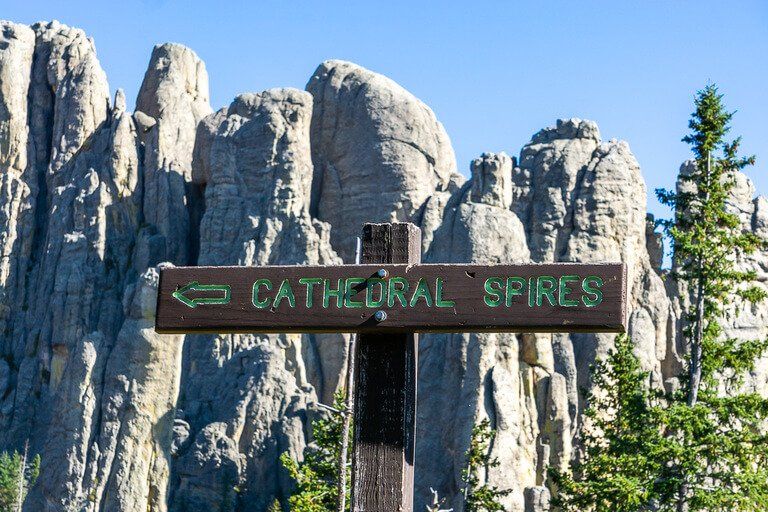 Cathedral Spires And Little Devils Tower
If you set off early, have the spare time and also the spare energy – why not hike some more?!
Route #4 is also known as Norbeck Trail and after around 2 miles of descent you will find a spur trail leading off signposted for Cathedral Spires.
It's around 0.3 miles to the amphitheater style needle rocks of Cathedral Spires from this intersection but it is out and back. So you would add on 0.6 miles total distance.
We hiked the full Cathedral Spires trail the day before from Needles Highway and its official trailhead. It doesn't have a traditional 'summit view' but the end of the trail is stunning.
There are usually ant sized rock climbers scaling the sharp needle like rocks, visible only because of their colorful clothing contrasting against the towering grey granite rock faces.
Just 0.2 miles after the intersection to Cathedral Spires is another spur trail, this time leading to Little Devil's Tower. This out and back spur trail is around 0.4 miles each way, adding another 0.8 miles total distance to your hike.
The hike to Little Devil's Tower is gradual at first but it does require some light scrambling / climbing and dexterity. Views from the top of the tower are fantastic, if not a little windy!
These two spur trails are excellent options for adding more views and accomplishment to an already amazing day of hiking to Black Elk Peak.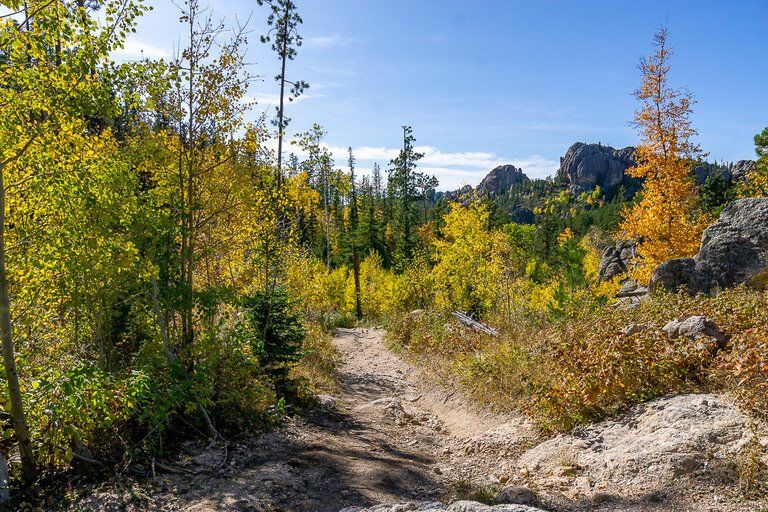 You're Almost Back To The Lake
We must admit the final few miles on the descent of route #4 seem to take forever. You will hike along flatter ground but through some of the most attractive scenery of all towards the final stages.
As the sun begins to move across the sky into the hottest part of the day, it can get a little tiring around now so be sure to take on plenty of water throughout the hike.
You will walk over a small hill and think you're back at the car park when you see 2 restroom blocks (the first since setting off) but this isn't the car park you are looking for just yet.
It's just a little further, one final push and you'll see the car park through hundreds of narrow ponderosa pine trees.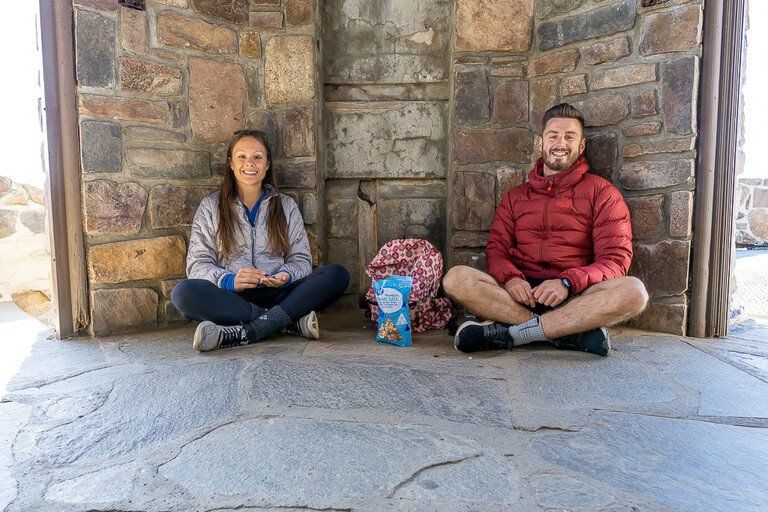 What To Pack For Black Elk Peak Hike
Although the trail is easy going – with no technical climbing ability required – a robust but flexible pair of hiking shoes would work best.
We prefer Salomon men's and women's hiking shoe – they're solid, cushioned and durable.
Visiting in Spring or Fall? Take layers.
Hiking is a sweaty business, until you stop. At over 2,000 meters, you will get cold when you stop, even the slightest breeze would be enough to chill. Don't forget your men's and women's lightweight down jackets.
A good quality reusable water bottle will help you to keep your water fresh and cool throughout the hike to Black Elk Peak.
Snacks are essential, this is a long day hike. We took trail mix as you can see in the photo of us at the summit. Please excuse the grey socks, Mark was on his last pair…!
The last thing to remember is your camera, you don't want to leave the car without one.
Our essential guide to the 10 most important things to bring on a day hike goes into great detail about packing for a day hike the right way.
Where To Stay Near Black Elk Peak
When you begin to plan your visit to South Dakota's Black Hills region, read our ultimate guide to booking the cheapest hotels to learn about ways you can save money on hotels.
For Black Elk Peak, we highly recommend setting up base in either Custer, Hill City or Keystone. That way you are at the heart of the Black Hills and can easily reach the best things to do in the area.
Read our guide to the best hotels near Mount Rushmore and the Black Hills of South Dakota to choose the perfect lodging option for your visit.
What Else Is Nearby?
The Black Hills ended up being one of our favorite areas on our first 3 month US road trip. It took us by surprise and we couldn't resist a second visit to the region in early 2021.
Nearby things to do include:
Custer State Park
Widely renowned as one of the better US state parks. Although, technically Sylvan Lake is considered part of the state park, we are referring to the wildlife loop road.
Mount Rushmore
No visit to the Black Hills would be complete without taking in the stoic faces of 4 former US presidents intricately carved into granite.
Badlands National Park
Keystone to Wall (entrance to Badlands) is around 1 hour 15 minutes drive. If you have the spare time, we would strongly recommend you take a half day visit of the National Park. Better yet, spend the night for some amazing astrophotography and wildlife spotting.
Devils Tower National Monument
Devils Tower is around 2 hours drive from Sylvan Lake, just over the border into Wyoming. It is a mind blowing natural rock formation dominating an otherwise flat landscape and can't be missed on a visit to South Dakota.
More Amazing US Hiking Trails

…
---
We hope this trail guide helped you plan your Black Elk Peak hike!
Please let us know if you need any more information about this trail or anything else in the area.
Happy Hiking,
Mark and Kristen
Was This Post Helpful? Pin It For Your Hike!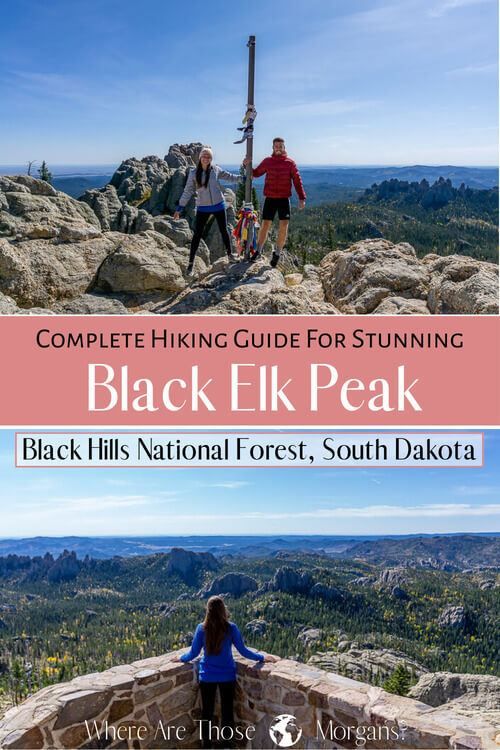 Note: This article contains affiliate links. When you make a purchase using one of these affiliate links, we may earn a small commission at no extra cost to you.
All Rights Reserved © Where Are Those Morgans, LLC. Republishing this article and/or any of its contents (text, photography, maps, graphics, etc.) in whole or in part is strictly prohibited.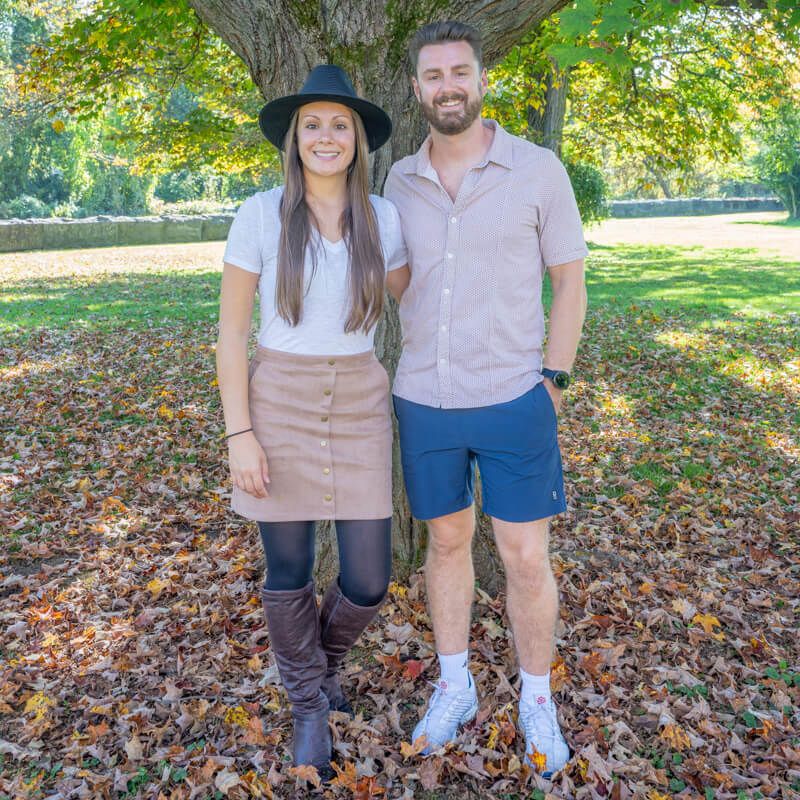 Mark and Kristen Morgan are travel, hiking and photography experts. Over the last 6 years traveling full time, they have explored more than 40 countries and 30 US states.
Their work has been featured in USA Today, Gestalten, Get Your Guide, CityPASS and Condé Nast Traveler along with various other publications.