Looking for the best hotels near Badlands National Park? Perfect! This first hand experience guide on exactly where to stay near Badlands, South Dakota will help you determine the best places and lodging options for your travel budget and itinerary.
Where do you stay when visiting Badlands National Park?
Visitors to Badlands can choose between staying at Cedar Pass Lodge inside the national park or staying at a hotel in a nearby town. Wall is the closest town to Badlands but has few hotel options, Rapid City is the closest major city to Badlands and has plenty of hotel options, but Keystone is another popular choice because it is close to Mt Rushmore.
Here's what we will show you:
How many days you need for Badlands
Your one official Badlands National Park lodging option
The 4 best places to stay near Badlands
12 top rated Badlands hotels from those 4 areas
Campgrounds at Badlands
Let's get right into the best places and hotels near Badlands National Park, South Dakota!
Our Badlands National Park Hotels Experience
We have camped at Sage Creek Campground inside the park and stayed at a hotel near the park in Wall, SD on separate visits to Badlands.
We can tell you from experience that lodging at Badlands National Park isn't the easiest to organize when compared to other popular US National Parks.
You won't find any built up towns filled with amenities on the doorstep for Badlands, like Zion has Springdale hotels or Acadia has Bar Harbor hotels.
We are going to share our experiences as well as thousand of previous guest ratings at hotels to help you pick the perfect Badlands lodging option.
How Many Days Do You Need For Badlands?
Easy hikes, a short park loop road and condensed natural attractions means most visitors are able see and do the best of Badlands National Park in one day.
Rapid City, Keystone and Custer are popular places to set up base for South Dakota vacations. Badlands is an easy day trip from Rapid City or the small towns around the Black Hills.
Why Stay At A Hotel Near Badlands?
Well, Badlands usually marks the first attraction on a South Dakota road trip for those living anywhere east or southeast of the Black Hills. We have driven west along I-90 from New York twice and Badlands is the first place we stopped in South Dakota both times.
Chances are you will arrive into the area later in the day after a long drive, spend a few hours in Badlands and want a hotel nearby.
The good news is you can stay a cheap hotel in Wall, SD just a few miles drive from Badlands. That way you can watch a sunset and maybe get up early to watch sunrise over Badlands before driving on to visit Mount Rushmore.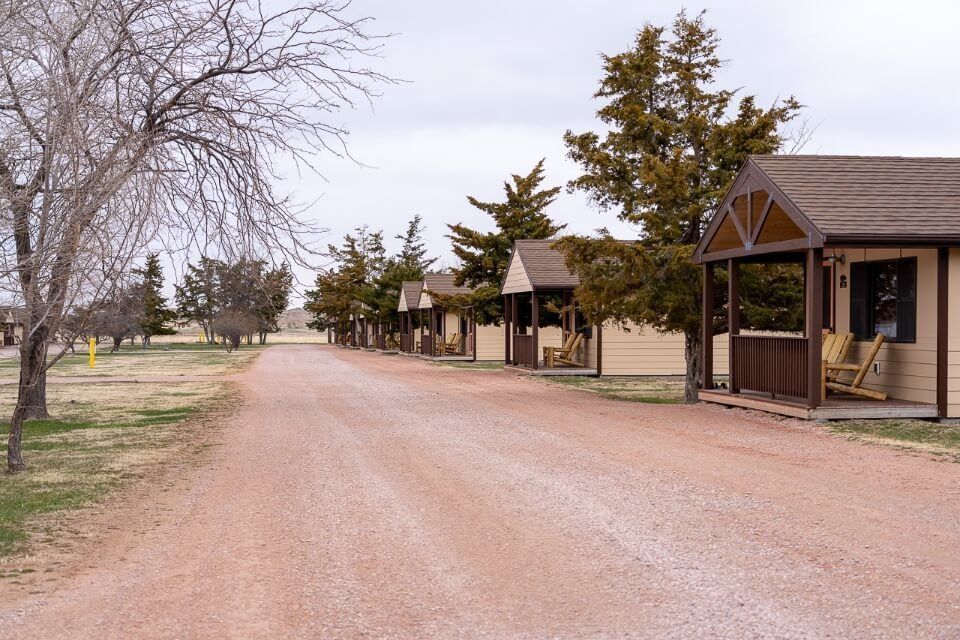 Badlands National Park Hotels
Popular national parks like Yellowstone, Yosemite and Grand Canyon all have a range of official national park run hotels, lodges and cabins inside park boundaries.
At Badlands National Park, you have one option called Cedar Pass Lodge. But this isn't a hotel style lodge, it is 2 rows of detached cabins.
The location of Cedar Pass Lodge is as good as it gets for visiting Badlands. There are around 20 cabins total and they fill up very quickly in peak season. Each wooden log cabin has a small porch area and wooden bed frames.
Cost + Opening Dates
Cedar Pass Lodge cost: $182 + tax / night
Opening dates: 4/23/2023 – 10/23-2023
Booking Options
4 Best Places To Stay Near Badlands National Park
Let's take a look at each of the 4 places you can stay near Badlands.
You will find the top rated hotels in each of the popular places to stay around the park along with previous guest ratings on both Google and Booking.com.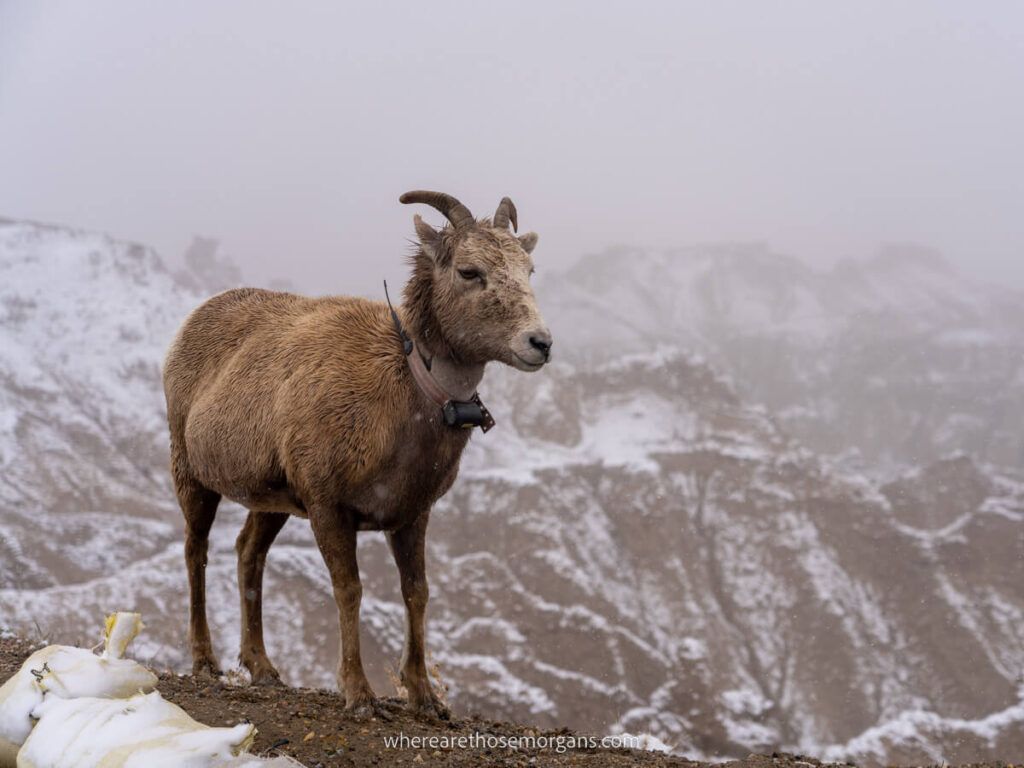 1. Interior
Interior is the closest place you can stay to Badlands National Park but it is a tiny village with just one lodging option. It is located 2 miles from Badlands Loop Road and Ben Reifel visitor center.
In terms of location, it doesn't get any better if you want instant access to the park. However, services are extremely limited.
Badlands Motel + Campground (also known as Badlands Budget Host) is the single option you have to stay in Interior.
It is open from April through October and is incredibly affordable when compared to the far more expensive Cedar Pass Lodge.
Badlands Motel is the best place to stay near Badlands for location, it is dog friendly, there is a restaurant in Interior and it even has an outdoor pool!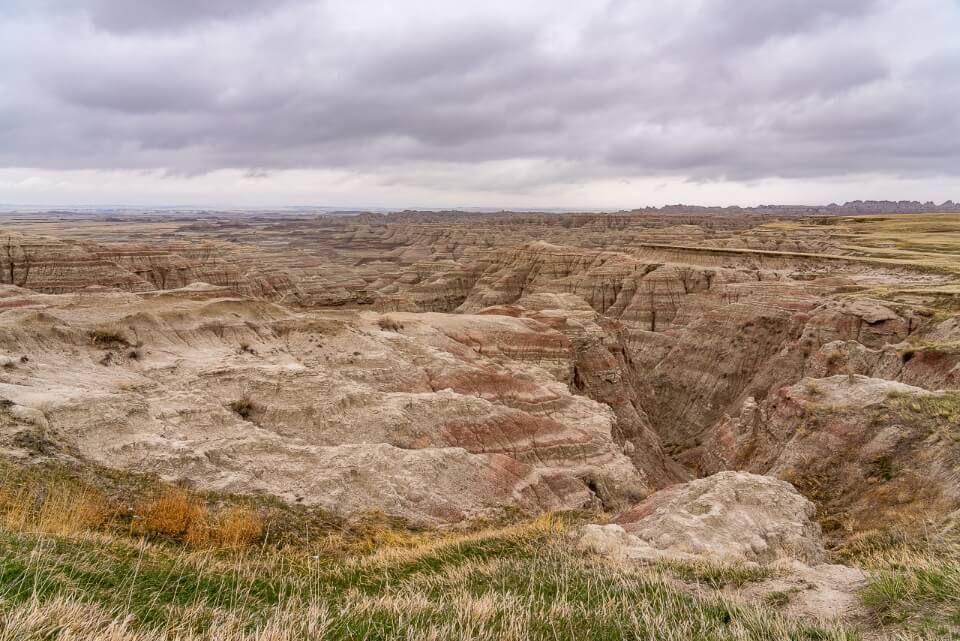 2. Wall
Wall, SD is the best overall place to stay near Badlands with 5 hotels and more varied amenities on offer. At just 7.5 miles from Badlands Pinnacles Entrance (West), Wall is the closest small town to Badlands.
You will find several restaurants, grocery stores, gas stations, cafes, fast food and of course the famous Wall Drug Store.
For years there have only been 4 similarly priced chain hotels in Wall. However, in 2022 the more luxurious Badlands Frontier Cabins opened to guests and quickly became the best place to stay in Wall, SD.
Best Hotels In Wall, SD
Here are your 5 hotel options in Wall, South Dakota in order of highest to lowest guest ratings:
Frontier Cabins didn't exist during our two visits to Badlands but if we ever need to stay near the park again, this is definitely the place we will book.
The cabins are where to stay near Badlands if you're looking for a little luxury and a cozy cabin style lodging. We always try to get detached log cabins because Mark is a light sleeper and there are no shared walls in a log cabin!
However, we did spent a night at Best Western Plains Motel and had an excellent stay. It was fractionally more expensive per night than the other three chain hotels in Wall, but it is also the higher rated hotel.
Note: Only Best Western, Americas Best Value Inn and Days Inn provide free breakfast.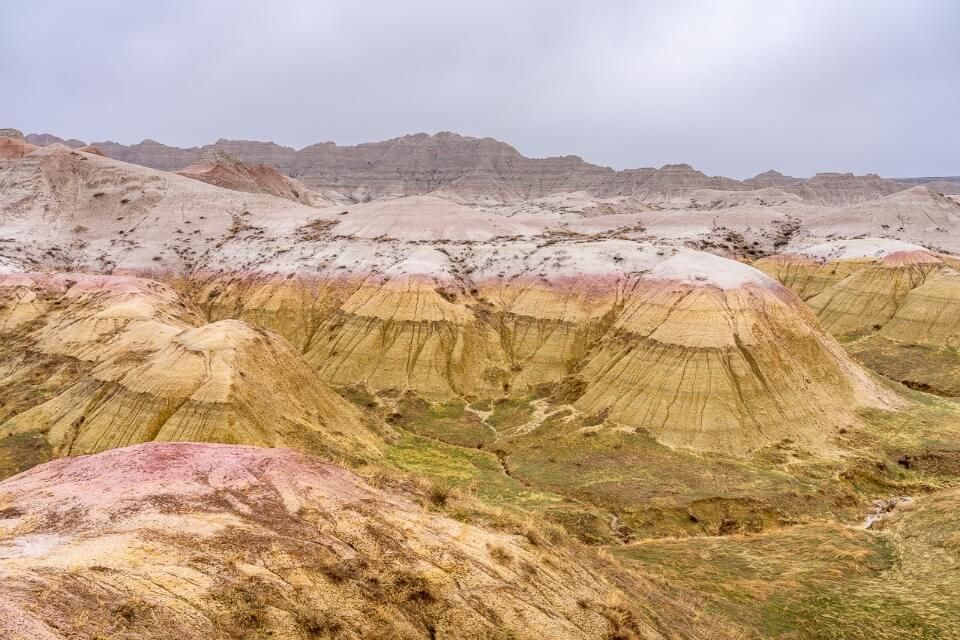 3. Rapid City
Rapid City is the major tourist hub for western South Dakota's stunning natural landscapes and it is a fantastic place to stay near Badlands National Park.
Most visitors to Mt Rushmore, Badlands and the rest of South Dakota's Black Hills will fly into Rapid City airport and hire a car.
Be aware there are no hotels at Rapid City regional airport.
Note: We always use and recommend Skyscanner for booking flights and Rental Cars for hiring cars. They are the two platforms we find easiest to use.
There are two ways you can explore the best of South Dakota:
1. Stay at one hotel for the duration of your trip
2. Move hotels each night according to attractions
If you are going to choose just one place to set up base for exploring the region including Badlands, we suggest you use Rapid City because it has the most varied selection of hotel ranging in price and far more quality places to eat.
Rapid City is 60 miles from Badlands Pinnacles Entrance (West) but it's an easy drive on the I-90 for under 1 hour.
Best Hotels In Rapid City, SD
Here are the top rated hotel options within each budget category for Rapid City, South Dakota in order of highest to lowest guest ratings:
Cheap
Mid Range
Downtown Rapid City
According to thousands of previous guests on both Google and Booking.com, Best Western Plus is the top rated hotel in Rapid City.
Most hotels in Rapid City are located in clusters on the outskirts of town. These hotels have easier access to I-90 for Badlands and US-16 for Mount Rushmore.
There are very few hotel options available downtown, so if you want to book a hotel in the center of Rapid City we suggest booking as soon as you have dates.
Staying in the center of town means you have access to independent eateries and the walkable downtown area of Rapid City.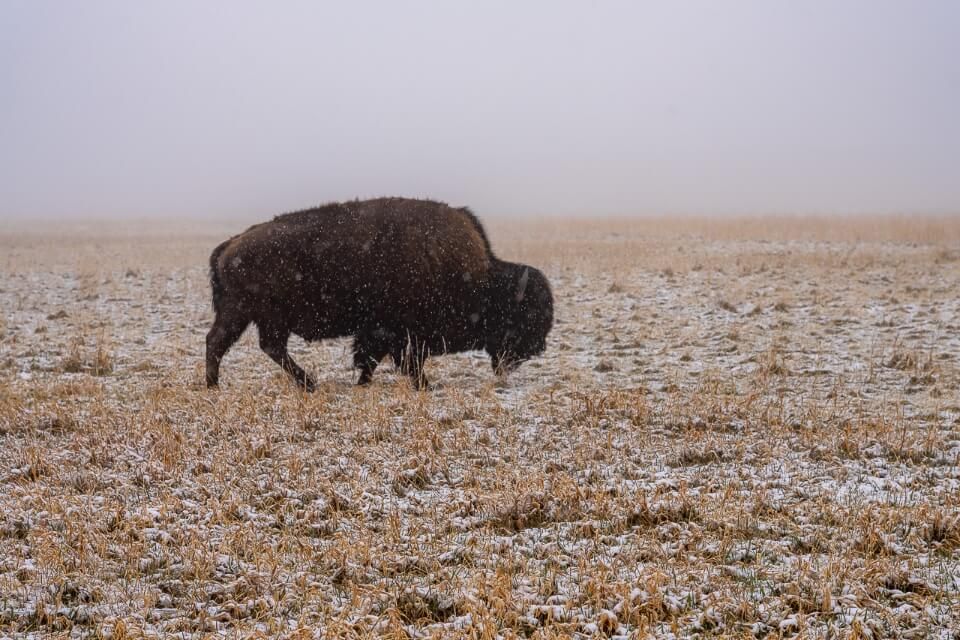 4. Keystone
Keystone is the most convenient place to stay for ticking off the best things to do near Mount Rushmore. It is close to Iron Mountain Road, Needles Highway and Custer State Park.
However, it isn't as close to Badlands as the other places mentioned in this guide.
We recommend choosing Keystone as your place to stay near Badlands if you plan to day trip only to Badlands National Park but spend most of your time in the Black Hills.
Keystone is 80 miles from Badlands Pinnacles Entrance (West) but again, once you get onto I-90 it's an easy drive. You can drive to Badlands in 1 hour 20 minutes from Keystone, which is still convenient.
Keystone has a lot going on in peak season but in low season you will find most places are closed. Check opening dates for restaurants in and around Keystone for your travel dates.
You might want to read our popular guide on how to book cheap hotels next to see if you can save on hotels in Keystone.
Best Hotels In Keystone, SD
Here are the top rated hotel options in Keystone, South Dakota in order of highest to lowest guest ratings: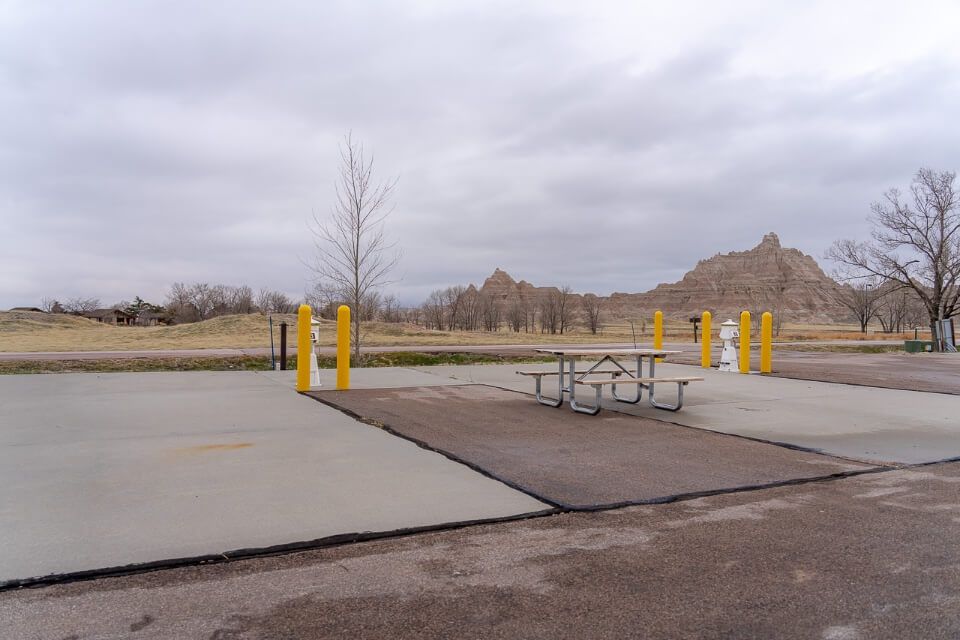 Badlands Campground + RV Park
If you can't find a hotel to fit your travel budget near Badlands National Park, you might want to consider camping or RV'ing instead.
Camping isn't for everyone but it is a way to stay inside Badlands for convenience and save money at the same time.
There are 2 campgrounds at Badlands:
1. Cedar Pass Campground – Near the main Badlands visitor center, easily accessible, has both tent and RV sites for a fee.
2. Sage Creek Campground – Primitive camping area accessed via a long gravel road, has no services but it is free, based on first come first served but only has around 20 sites.
Note: Backcountry camping is allowed without obtaining a permit in advance.
We spent a night at Sage Creek Campground during the month of October and our tent completely collapsed at 4am under very strong wind.
The campground is open and exposed, something to bear in mind!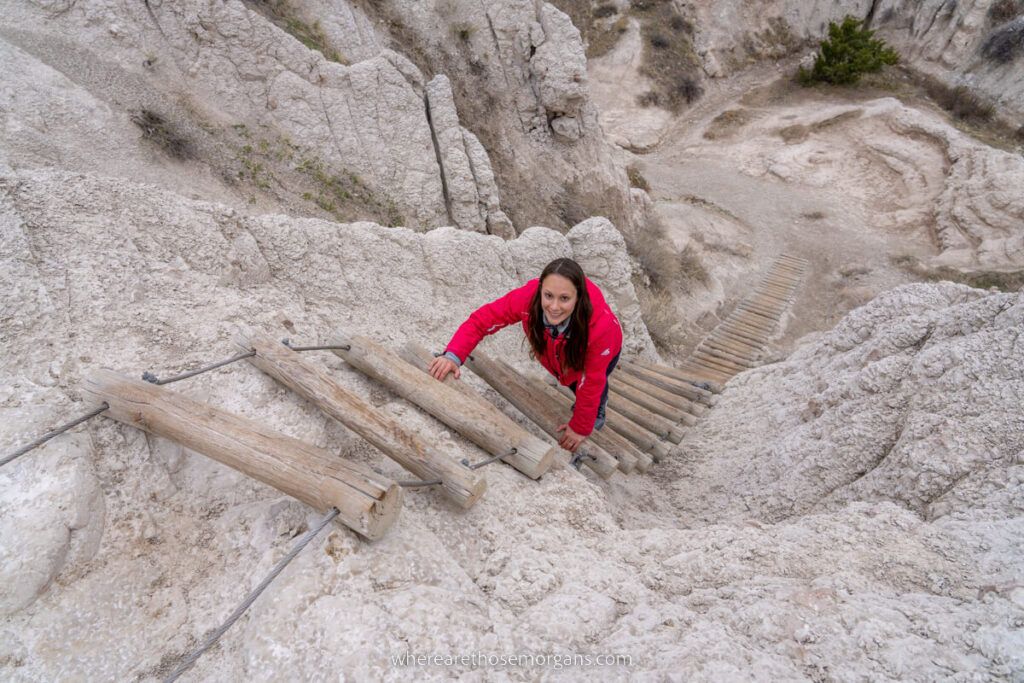 Best Badlands Hotels FAQ's
Let's take a quick look at some of the most asked questions about where to stay near Badlands National Park, South Dakota.
What City Is Closest To Badlands?
Rapid City South Dakota is the closest city to Badlands National Park. It is a popular base for visitors to explore the Black Hills, Mount Rushmore, Custer and Badlands. Rapid City also has an airport with rental cars available for those visiting from afar.
Is It Better To Stay In Wall Or Rapid City For Visiting Badlands?
Wall is much closer to Badlands so it is more convenient and it works better for watching sunrises or sunsets in the park. However, Rapid City has far more hotels and places to eat, which makes it a better place to stay overall. You can always day trip into Badlands from nearby Rapid City.
Our Popular Badlands Guides
Our Popular "Best Hotels" Guides
Want more South Dakota content? Head over to our South Dakota Travel Guides to explore Mount Rushmore, Badlands, the Black Hills and beyond.
---
We hope this guide on where to stay near Badlands National Park helps you book the best hotel for your trip to South Dakota!
Please let us know if you have any questions or need help planning your visit to Badlands in the comments below.
Happy travels,
Mark and Kristen
Find This Guide Helpful? Pin It For Your Visit!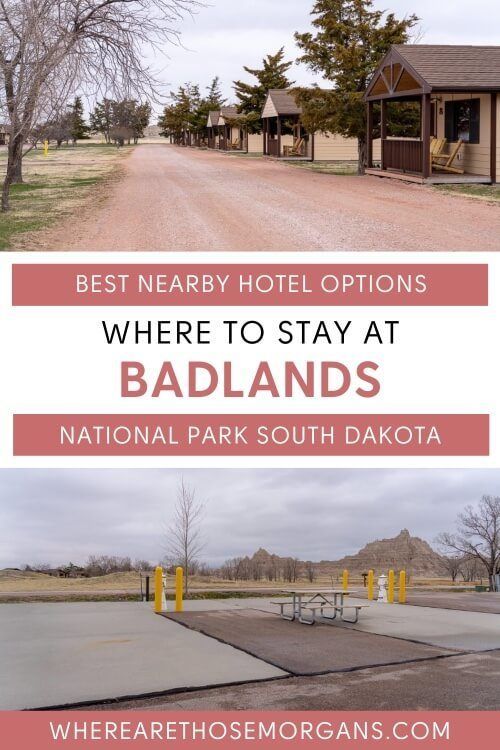 Note: This article contains affiliate links. When you make a purchase using one of these affiliate links, we may earn a small commission at no extra cost to you.
All Rights Reserved © Where Are Those Morgans, LLC. Republishing this article and/or any of its contents (text, photography, maps, graphics, etc.) in whole or in part is strictly prohibited.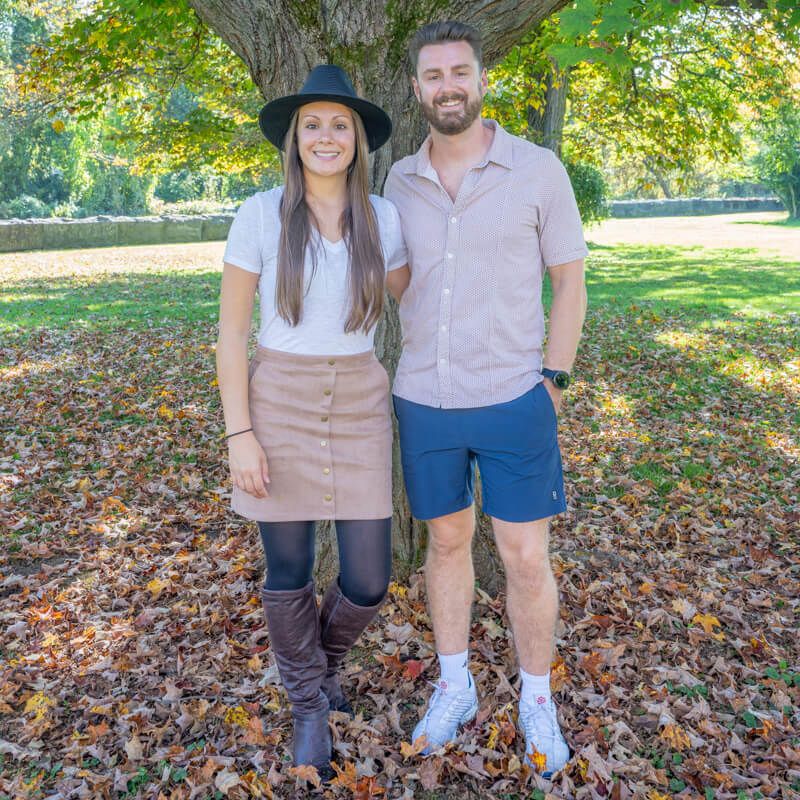 Mark and Kristen Morgan are travel, hiking and photography experts. Over the last 6 years traveling full time, they have explored more than 40 countries and 30 US states.
Their work has been featured in USA Today, Gestalten, Get Your Guide, CityPASS and Condé Nast Traveler along with various other publications.