This first hand experience guide to the very best hotels inside and near Badlands National Park will help you determine where to stay near Badlands in South Dakota.
Badlands National Park is a harsh but beautiful and unique landscape, ravaged by wind and rain in a desolate part of South Dakota.
Easy hikes, a short park loop road and condensed areas of interest means many visitors can see and do the best of Badlands National Park in half to a full day.
However, we can tell you from experience that Badlands isn't the easiest US national park to find a range of nearby accommodation options.
We have both camped at Sage Creek campground inside the park and stayed in a hotel near the park on separate visits to South Dakota. We're going to share our experiences and help you pick the perfect place to stay for your visit.
Let's get right into finding you the best hotels near Badlands National Park!
*Please note this post may contain affiliate links. If you click on one of them, we may earn a small commission at no extra cost to you!*
Why Stay Overnight?
Let's take a look at major reasons and who might benefit from staying a night or two near Badlands National Park:
You might be on a road trip – Badlands is the perfect place to explore for a day and then sleep before continuing the next day.

Extreme and changeable weather could affect plans on one day but look clear the next.

Photographers will want to enjoy stunning sunrises, sunsets and stars at the park.

Avid hikers may want to take on all of the trails, not just the shortest and most popular.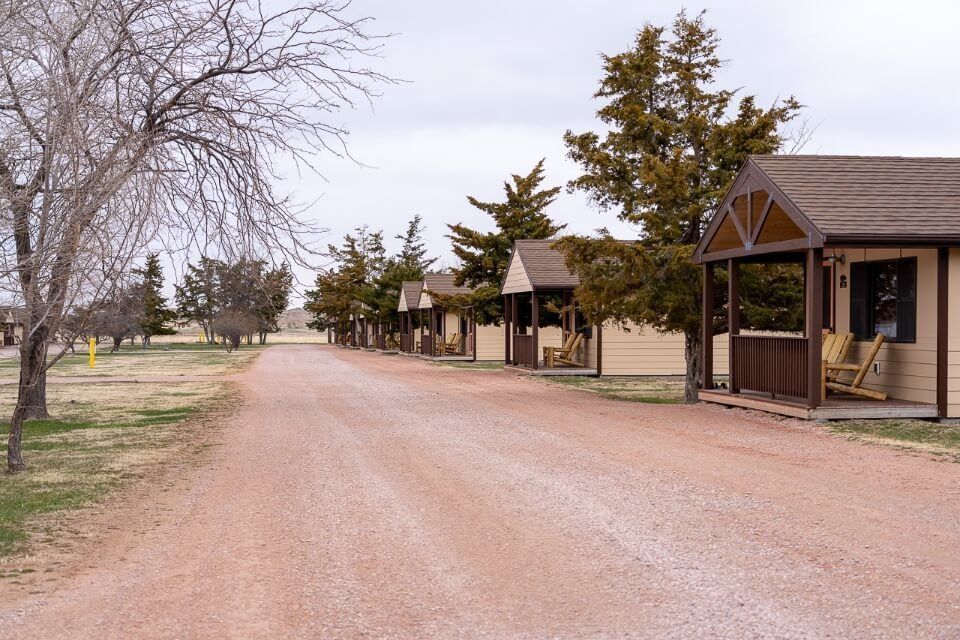 Badlands National Park Hotels
The most popular USA national parks such as Yellowstone, Yosemite and Grand Canyon all have a range of national park run hotels, lodges and cabins inside the park boundaries.
At Badlands National Park, you have one option – Cedar Pass Lodge.
But this isn't a hotel style lodge, it is 2 rows of individual lodge cabins.
Each wooden log cabin has a small porch area out front and wooden bed frames inside.

There are around 20 cabins and they fill up very quickly in peak season.

Location is the best you will get for Badlands National Park.
Cost: US$ 182 + Tax / per night set price.
Booking Options:
Interior – Best Hotels Near Badlands National Park
Interior is a tiny village located just 2 miles from the Badlands loop road and Ben Reifel visitor center.
In terms of location, it doesn't get any better for the park. However, services are limited.
Badlands Motel & Campground (also known as Badlands Budget Host) has a rating of 8.1 / 10 on Booking.com, with a location score of 9.4 / 10.
If you're looking for basic, budget and location, book a room in Interior.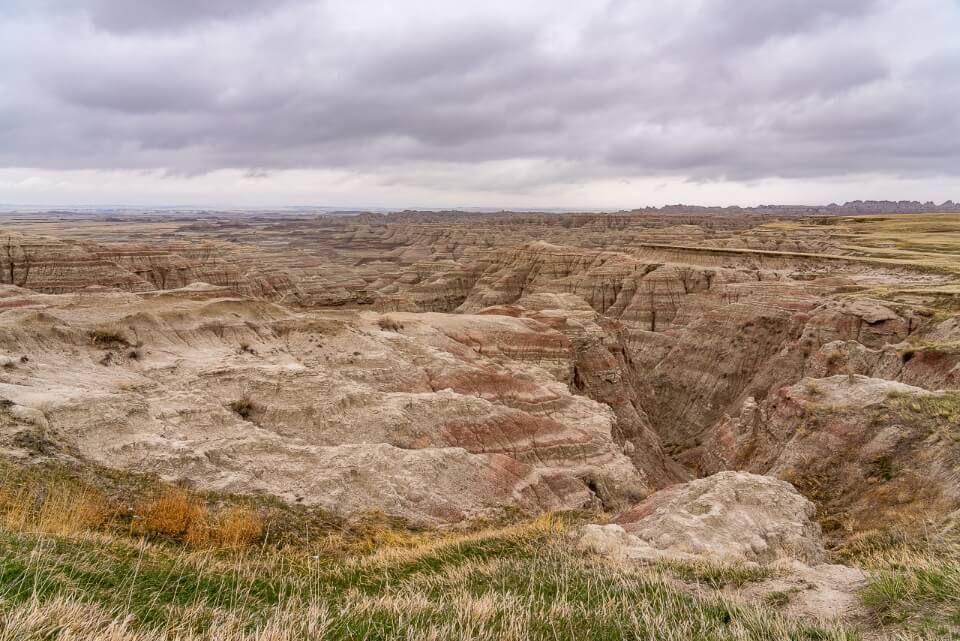 Wall – Best Hotels Near Badlands National Park
Wall is the best overall place to stay for anyone who needs to spend a night close to Badlands National Park, with 4 hotels and more varied services on offer.
At just 7.5 miles from the Pinnacles entrance (West), Wall is the most built up town anywhere near Badlands.
You will find several restaurants, grocery stores, gas stations, cafes, fast food and of course Wall Drug Store.
The 4 hotels in Wall are similarly priced but some offer breakfast and are slightly better rated. In busy season, you might have to take what is available but in shoulder season you should be able to take your pick.
In order of highest to lowest rating by guests:
We spent a night at Best Western and had an excellent stay. Full disclosure, it is fractionally more expensive per night than the other three, but it is also the higher rated hotel.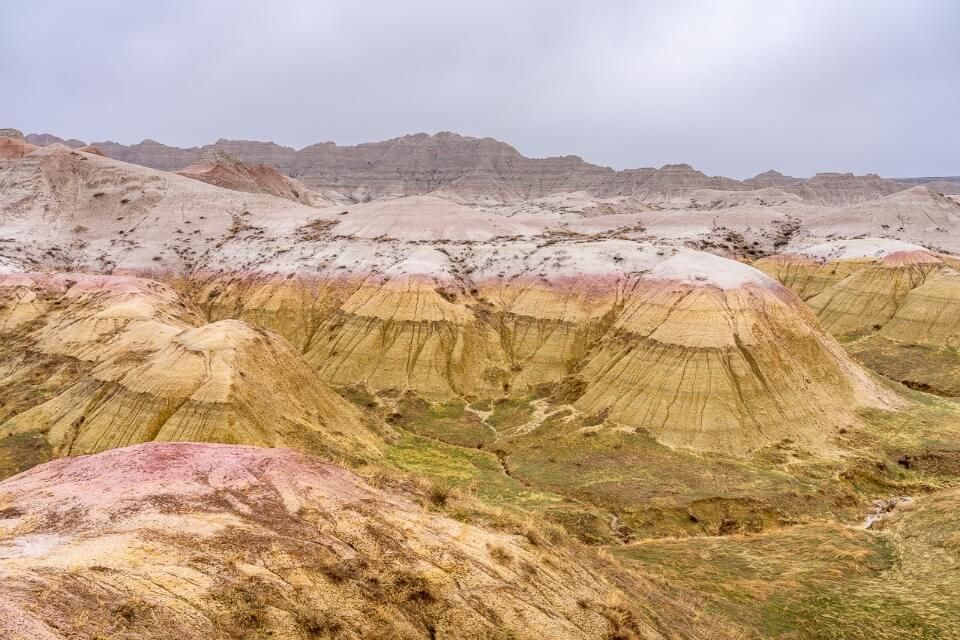 Rapid City – Best Hotels Near Badlands National Park
Rapid City is the major tourist hub for western South Dakota's stunning natural landscapes. Most visitors to Mt Rushmore, the Black Hills and Badlands will fly into Rapid City airport and hire a car.
There are no hotels at Rapid City regional airport. We recommend using Rapid City as a base if you want to explore Badlands, before moving hotels the next night as you visit Mt Rushmore / Custer area.
We always use and recommend Skyscanner for booking flights and Rental Cars for hiring cars. They are the two we find easiest to use.
Rapid City is 60 miles from Badlands Pinnacles entrance (West) but it's an easy drive on the I-90 for under 1 hour.
You will find a wide range of excellent choices for dining in town.
Here are some of the top rated hotels in Rapid City with easy access to I-90 and Badlands: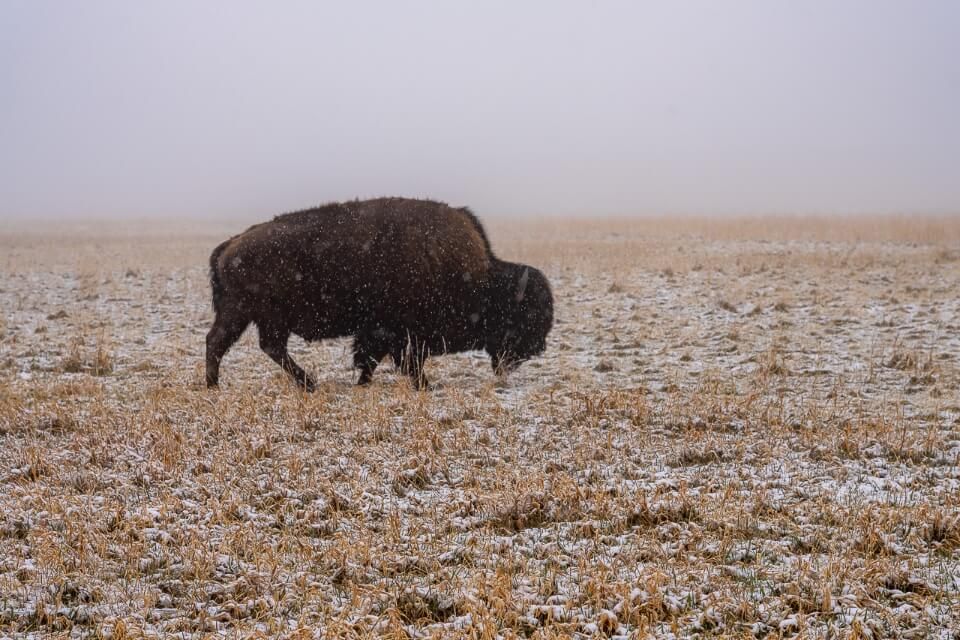 Keystone – Best Hotels Near Badlands National Park
Keystone is the most convenient place to stay for Mount Rushmore access. It is at the heart of the best things to do in the Black Hills, with scenic drives and hikes all close by.
We recommend choosing Keystone as your place to stay and find hotels if you plan to day trip Badlands National Park but spend most of your time in the Black Hills.
Keystone is 80 miles from Badlands Pinnacles entrance (West) but again, once you get onto the I-90 it's an easy drive. You can drive to Badlands in 1 hour 20 minutes from Keystone, which is very convenient.
Keystone has a lot going on in peak season but outside of peak, you will find most places closed. Check opening dates for restaurants in and around Keystone for your travel dates.
Here are some of the top rated hotels in Keystone, SD: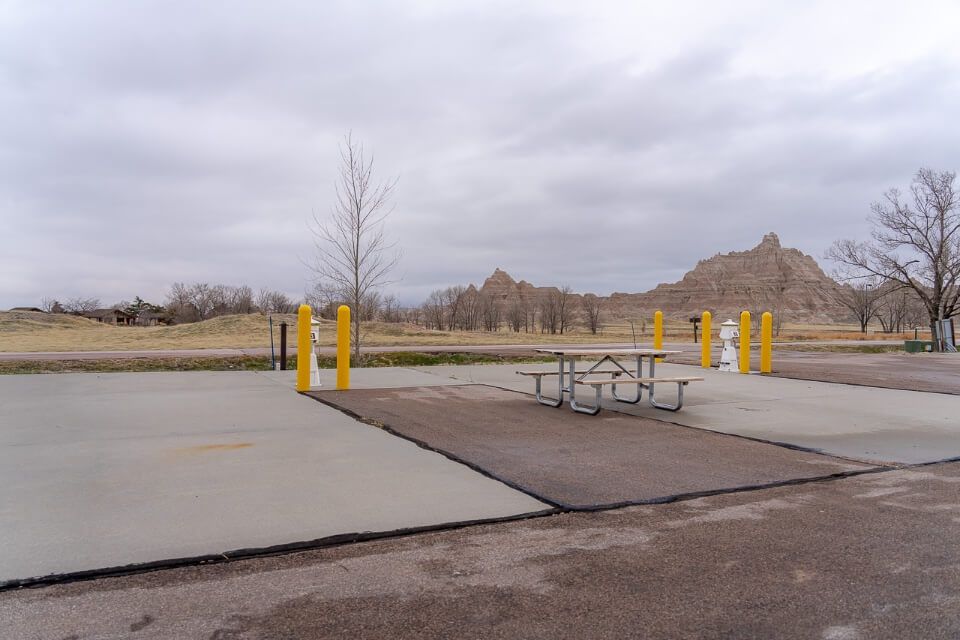 Badlands Campground & RV Park
If you can't find a hotel to fit your travel budget near Badlands, you might consider camping or RV'ing instead.
Camping isn't for everyone but it is a way to stay inside the park and save money.
There are 2 campgrounds at Badlands – Cedar Pass and Sage Creek.
Cedar Pass is near the visitor center, easily accessible and has both tent and RV sites for a fee – check availability

Sage Creek is accessed via a long gravel road, has no services but is free (primitive). It is first come first served and only has around 22 sites.
Note: Backcountry camping is allowed without obtaining a permit in advance.
We spent a night at Sage Creek campground in October and our tent completely collapsed at 4am under strong wind. The campground is open and exposed – something to bear in mind!
More From Badlands …
Use our comprehensive South Dakota Road Trip planner to create your entire itinerary when visiting the beautiful Black Hills region.
Best Places To Stay In …
---
We hope this guide to the best hotels near Badlands National Park helps you plan your trip!
Have you been to Badlands? Where did you stay and how was your experience?
Please let us know if you have any questions or need any help planning your visit.
Happy Travels,
Mark and Kristen
Was This Post Helpful? Pin It For Your Visit!