Mount Rushmore National Memorial is an unmissable landmark attraction for anyone planning a South Dakota road trip vacation – but what else is there to do nearby? Well, we're going to walk you through the 10 best things to do near Mount Rushmore and we think you will be impressed by what you find in the beautiful Black Hills.
Supremely-scenic drives, two very different national parks and a handful of memorable hiking trails are just the beginning.
We visited the gorgeous Black Hills for the first time in October 2019 and revisited in April 2021 to explore more of this hugely underrated region.
You will only need around 3 hours to visit Mount Rushmore National Memorial, so the rest of your vacation in South Dakota will need to be filled.
Add some (or all!) of these 10 amazing places to your travel itinerary and read our best hotels near Mount Rushmore list next to pick the perfect lodging!
*Please note this post may contain affiliate links. If you click on one, we may earn a small commission at no extra cost to you!*
Map of Best Things To Do Near Mount Rushmore
This map will show you the exact locations of Mt Rushmore and the best things to do nearby.
Click or touch to activate the map, zoom in / out and move around South Dakota to find each attraction.
Dark Red

– Location of Mount Rushmore National Memorial
Dark Blue – Locations of the 10 best things to do near Mount Rushmore
10 Unmissable Things To Do Near Mount Rushmore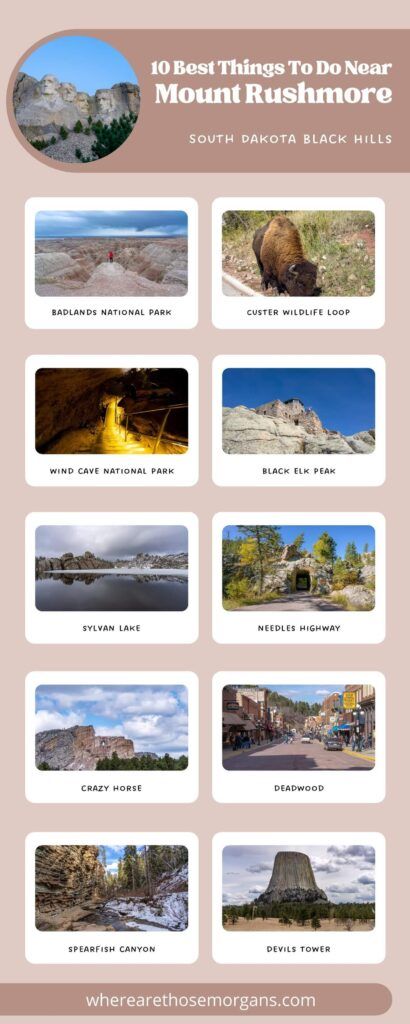 1. Badlands – Best National Park Near Mount Rushmore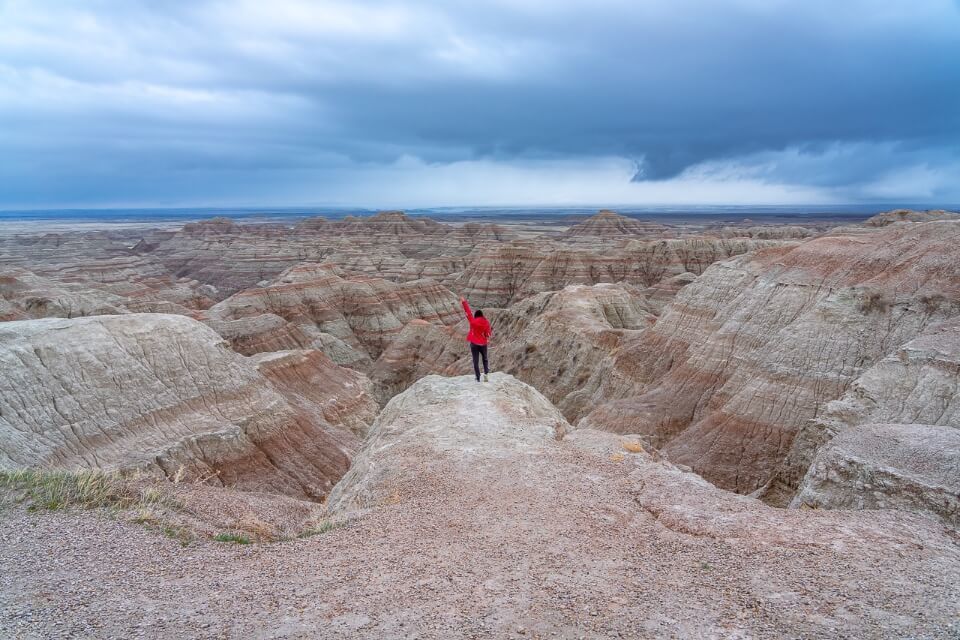 What is Badlands?
Badlands National Park is a harsh, hostile and extraordinary landscape.
Smooth and jagged buttes and spires, colorful geological layer lines and a wide open flat expanse sit isolated in rural South Dakota.
Why visit Badlands?
Badlands is surprisingly beautiful. Photographers will enjoy sunrises, sunsets and stargazing, hikers can take on the 7 most popular trails and it is a very easy park to visit in just a few hours.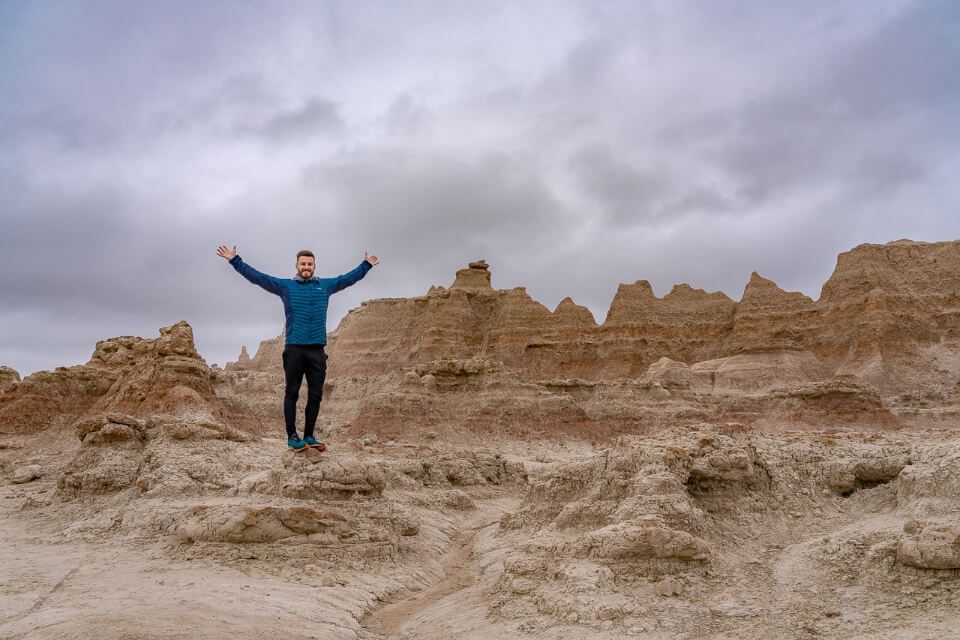 Best things to do at Badlands?
Drive the scenic loop stopping at every overlook

Yellow Mounds is a tourist favorite

Hike Notch Trail for a bit of adventure

Door Trail for an easy walk with excellent Badlands Wall views

Spot a surprising amount of wildlife
How far is Badlands from Mount Rushmore?
83 miles from Mt Rushmore to Badlands Loop Road

Drive time under 1h 30m via I-90
Despite being a 3 hour round trip, Badlands National Park is one of the better things to do near Mount Rushmore and we highly recommend you include the park on your itinerary if time allows.
Our Badlands resources:
2. Custer Wildlife Loop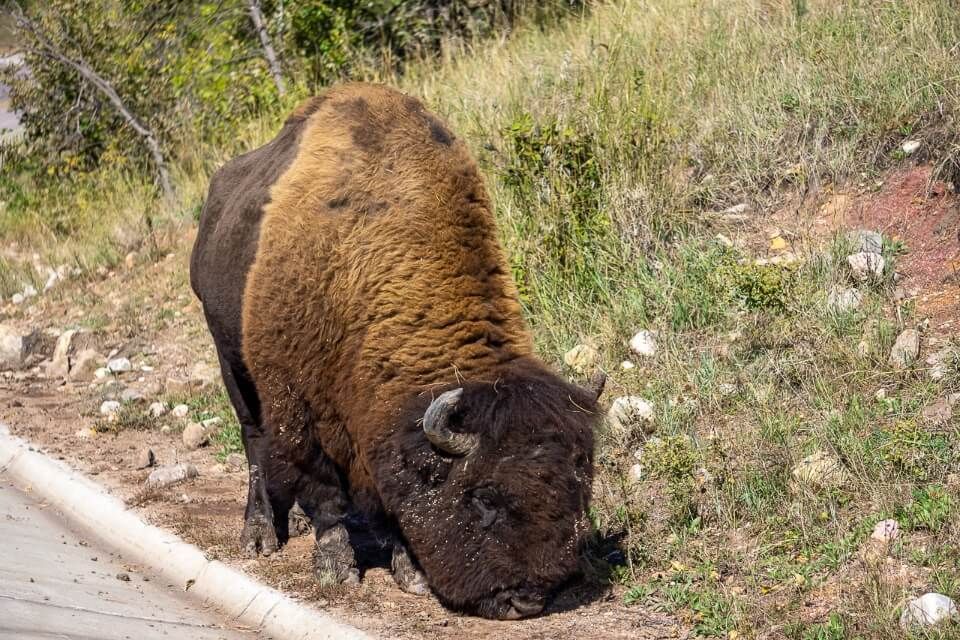 What is Custer Wildlife Loop?
Custer State Park is a wonderful family friendly state park containing a handful of the places on this list of best things to do near Mount Rushmore within its boundaries.
Custer's 18 mile one-way wildlife loop is at the heart of what makes this such a popular park.
Why visit Custer Wildlife Loop?
Driving slowly along Custer's 18 mile loop is perfect for the kids, with plenty of animals to spot roaming in natural environments.
Wildlife spotting include bison (a lot!), burros, deer, elk, prairie dogs, pronghorn and eagles.
What makes Custer Wildlife Loop great?
One of the best places in the US to see bison

Very relaxing and easy going

See everything from the car with no hiking required

Begins at Custer visitor center with educational exhibits

Wildlife!
How far is Custer Wildlife Loop from Mount Rushmore?
20 miles from Mt Rushmore to Custer State Park visitor center

Drive time 45m via US-16A (scenic and epic road!)
Custer wildlife loop is unmissable on a visit to the Black Hills and the best part is you get to drive the amazing Iron Mountain road (US-16A) from Keystone to Custer visitor center.
Read more about Custer State Park:
3. Wind Cave National Park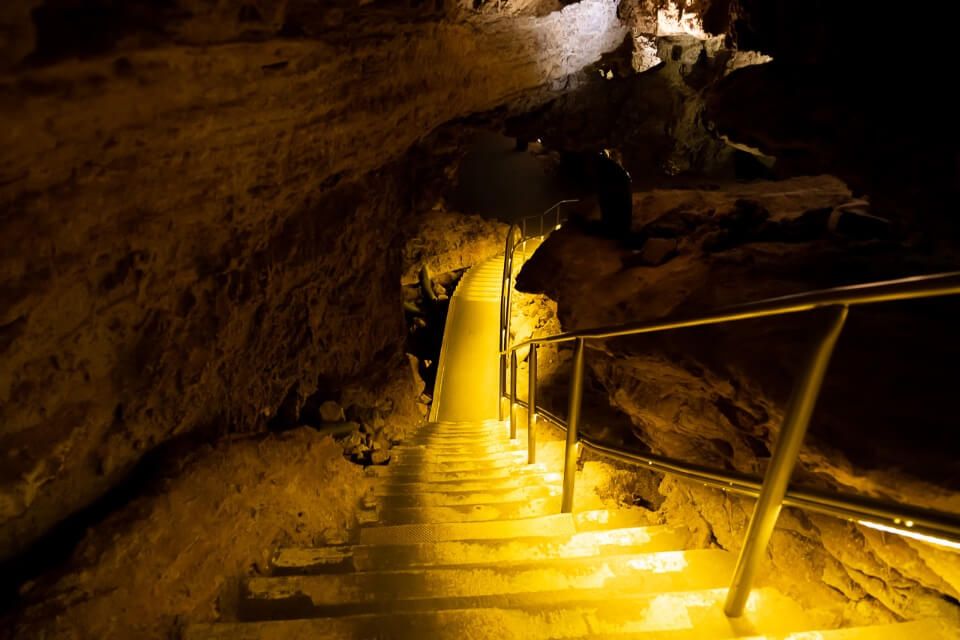 What is Wind Cave National Park?
Wind Cave is one of the longest and most complex cave systems on the planet, featuring unique formations known as boxwork.
But on the surface, rolling prairies are home to wildlife, hikes and viewpoints.
Why visit Wind Cave National Park?
If you've ever wanted to walk through caves, this safe and controlled environment is the place to try it out for the first time with the whole family.
Various tours run all day in the cave networks, ranging from basic to serious caving.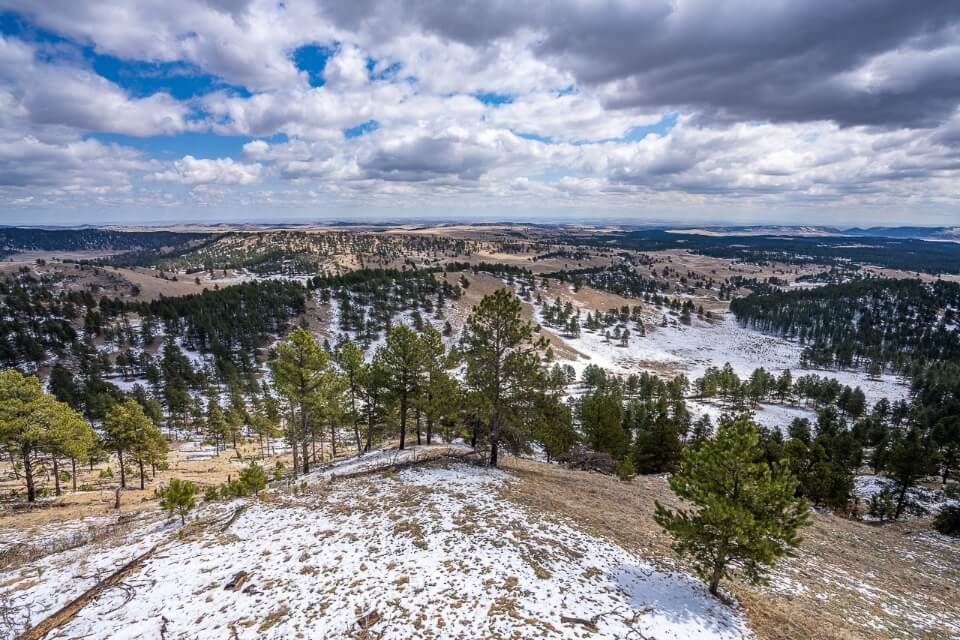 Things to do at Wind Cave National Park?
Ranger led cave tours (first come first served each day)

Wildlife spotting (more bison!)

Very quiet hiking trails such as Rankin Ridge and Centennial

Backcountry camping
How far is Wind Cave National Park from Mount Rushmore?
40 miles from Mt Rushmore to Wind Cave visitor center

Drive time 55m via US-385
Wind Cave is South Dakota's much lesser known and less visited National Park and it's located right inside the Black Hills.
Hiking trails are typically quiet but cave tours sell out quickly each day, so our top tip is to arrive as early as you can.
4. Black Elk Peak – Best Hike Near Mount Rushmore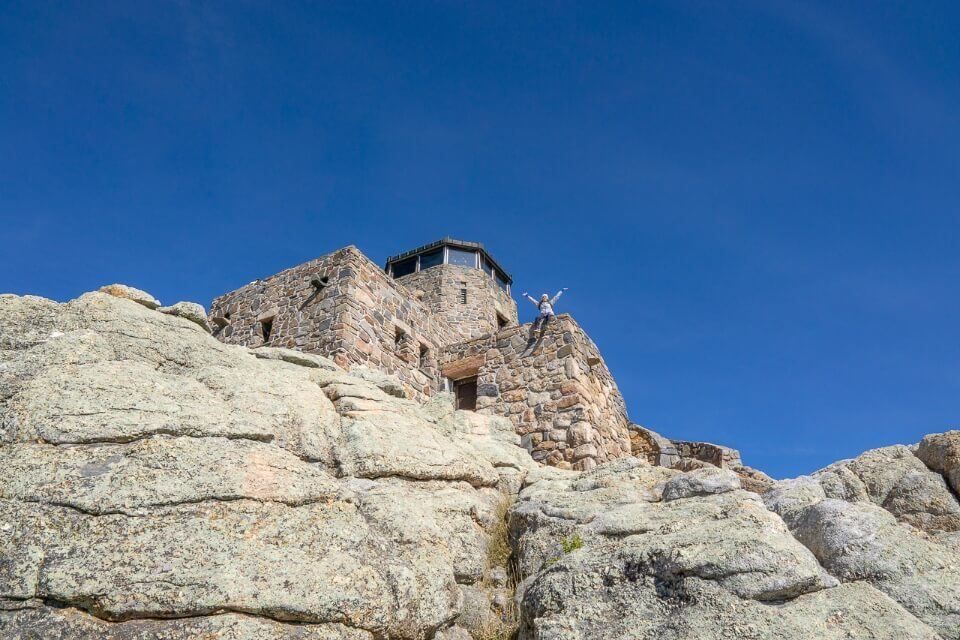 What is Black Elk Peak?
Black Elk Peak (formerly known as Harney Peak) is a fantastic moderately rated 6.5 mile roundtrip loop beginning at Sylvan Lake.
The trail is gorgeous but 360 degree panoramic views from its summit and fire watchtower are spectacular.
Why hike Black Elk Peak?
We personally think Black Elk Peak is the best all-round hike in the Black Hills.
It isn't too steep or demanding, the scenery is beautiful and the summit view over 4 US states really is special. We will certainly hike this trail again the next time we are in South Dakota!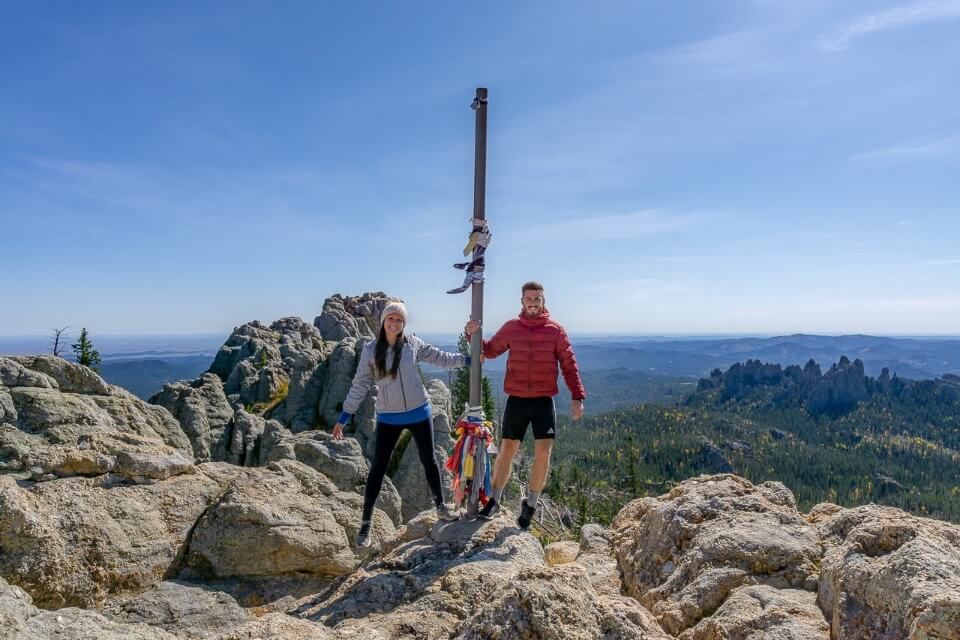 Black Elk Peak Hiking Tips?
Hike early in Summer when temperatures are high

Take layers in Spring and Fall for stops and the top

Don't forget a packed lunch and plenty of fluids

Fall is the most stunning time to hike for Autumnal foliage
How far is Black Elk Peak from Mount Rushmore?
16 miles from Mt Rushmore to Black Elk Peak Trailhead

Drive time 35m via SD-244 and SD-87 (Needles Highway)
If you're looking for an epic trail to hike in the morning before visiting Mount Rushmore later in the day, Black Elk Peak is by far our top recommendation.
Read more about Black Elk Peak:
5. Sylvan Lake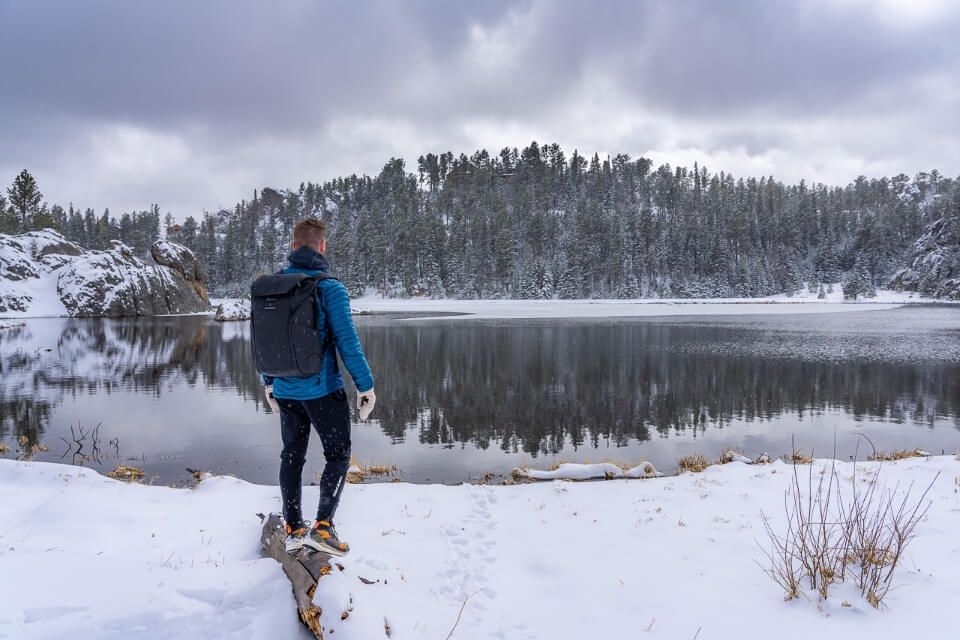 What is Sylvan Lake?
Sylvan Lake is a postcard perfect and family friendly resort at over 6,000 ft elevation.
At 17 acres in surface area, the lake is only 30 ft deep at its deepest and on a still day you can see boulders with trees reflecting immaculately.
Why visit Sylvan Lake?
Water sports and hiking are the two major activities but it is also the perfect place for a picnic and to relax in beautiful surroundings.
It is one of the more popular places to visit near Mount Rushmore.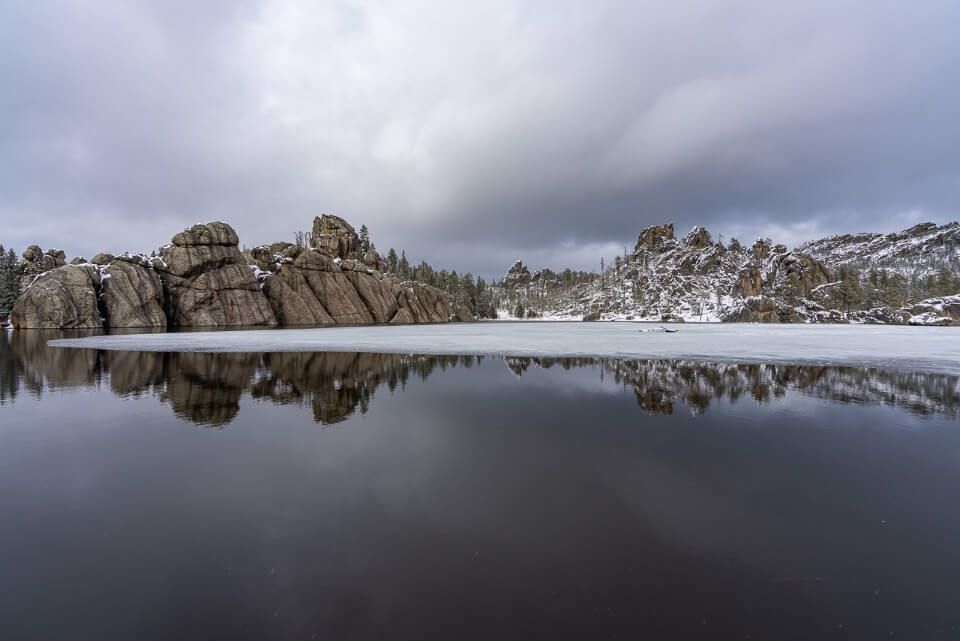 Best things to do at Sylvan Lake?
Swimming in Summer

Canoeing, Kayaking, Paddle boarding

Photography year round

Hiking around the lake in a picturesque loop

Sunday Gulch Trail 4 mile loop (moderate) for more experiences hikers

Starting point for Black Elk Peak
How far is Sylvan Lake from Mount Rushmore?
16 miles from Mt Rushmore to Sylvan Lake

Drive time 35m via SD-244 and SD-87 (Needles Highway)
Sylvan Lake is the perfect place to spend a day if some members of your party want to take on Black Elk Peak and / or Sunday Gulch while others relax by the lake.
It is very central along Needles Highway and is easily one of the best things to do near Mount Rushmore.
Fun Fact: Smooth granite boulders on the lake edge were used as filming location for an entrance to the treasure room in National Treasure 2.
6. Needles Highway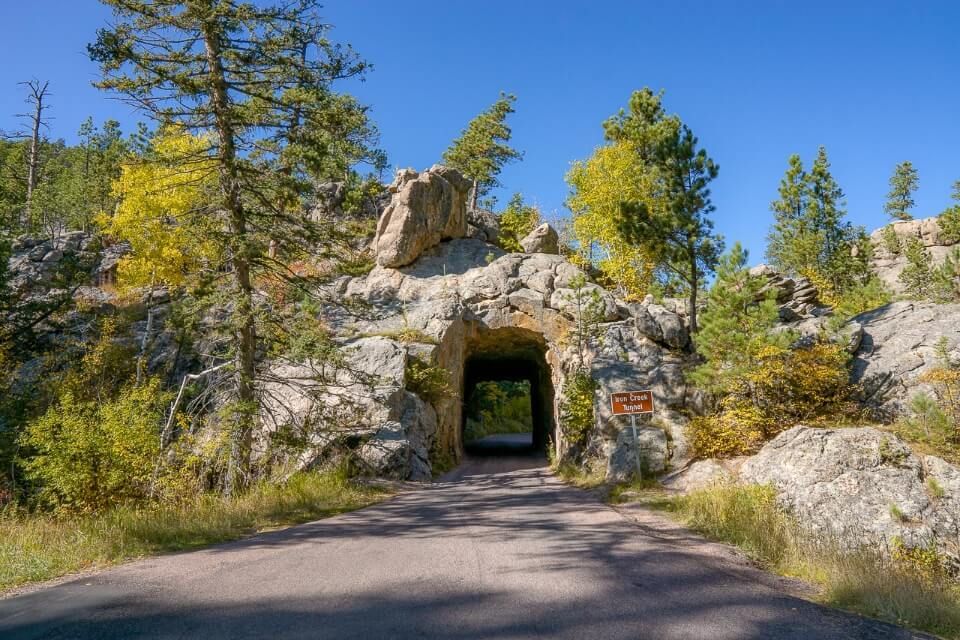 What is Needles Highway?
Needles Highway is a super-scenic road twisting and turning through the most stunning parts of South Dakota's Black Hills National Forest.
Expect tunnels, hairpin turns, granite needles and unforgettable views.
Why drive Needles Highway?
You have to drive up Needles Highway to reach Sylvan Lake and Black Elk Peak. It just turns out that it's an amazing drive! Pull over as often as possible to soak up the region's immense beauty.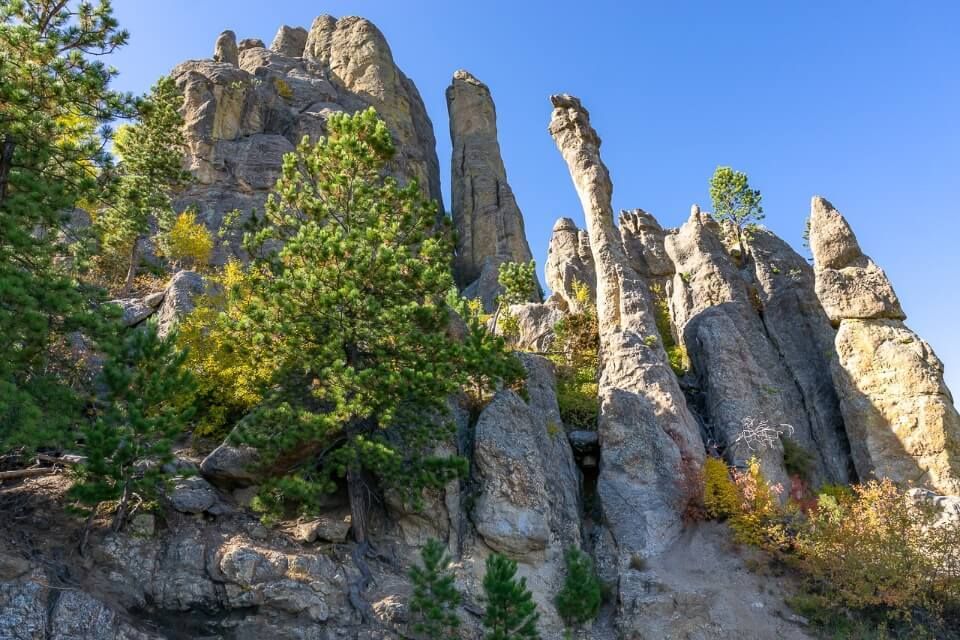 Tips for driving Needles Highway?
Drive slowly and take care of other vehicles

Tunnels funnel into one lane

Don't miss Cathedral Spires hike trailhead on Needles Highway

Parking for Cathedral Spires is on a tight U bend

This road will be busy in Summer so arrive early

RV'ers max width 8 ft and max height 11 ft to pass through tunnels

Needles and Iron Mountain Road form a scenic loop between Keystone and Custer
How far is Needles Highway from Mount Rushmore?
9 miles from Mt Rushmore to west Needles / 14 miles east Needles

Drive time 15m west Needles / 30m east Needles

Needles Highway is 17 miles long and would take 40 mins without stopping
We've driven Needles Highway 4 times now for various reasons.
The main reason being that it is truly a wonderfully scenic route surrounded by granite needle like rocks and vibrant ponderosa pine trees.
If you're not big into hiking, this is the perfect way to see the best of Black Hills National Forest close to Mt Rushmore.
7. Crazy Horse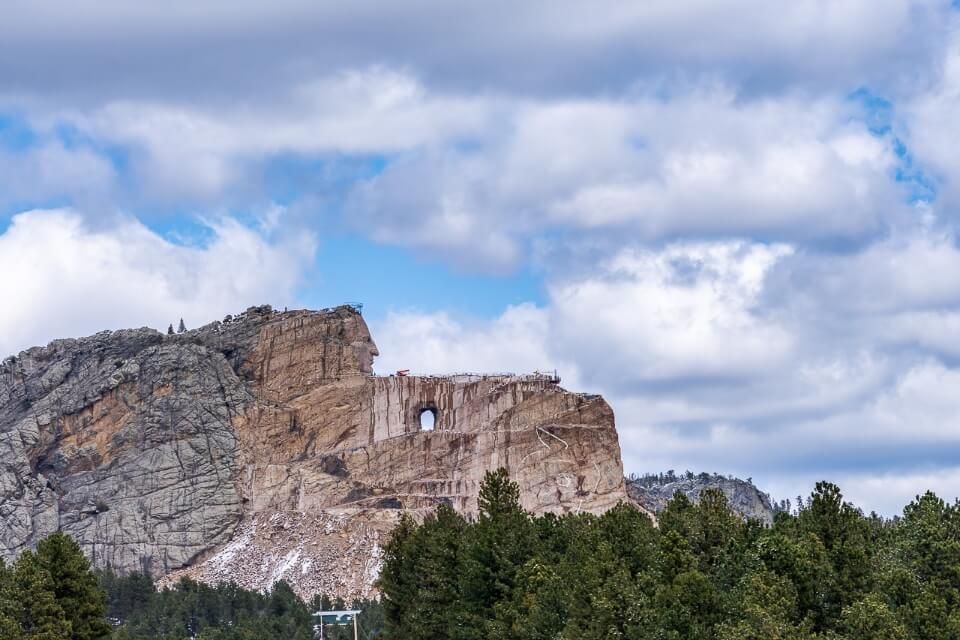 What is Crazy Horse?
Crazy Horse is a partially carved mountain monument, which has been under construction since 1948 and is still a long way from completion.
If and when it is finished to the original design, it would become the second tallest statue in the world.
Why visit Crazy Horse?
To help with funding the project!
The memorial does not accept funding of any type except entry fees from visitors. It is unfinished but there's enough to see what it could become in time.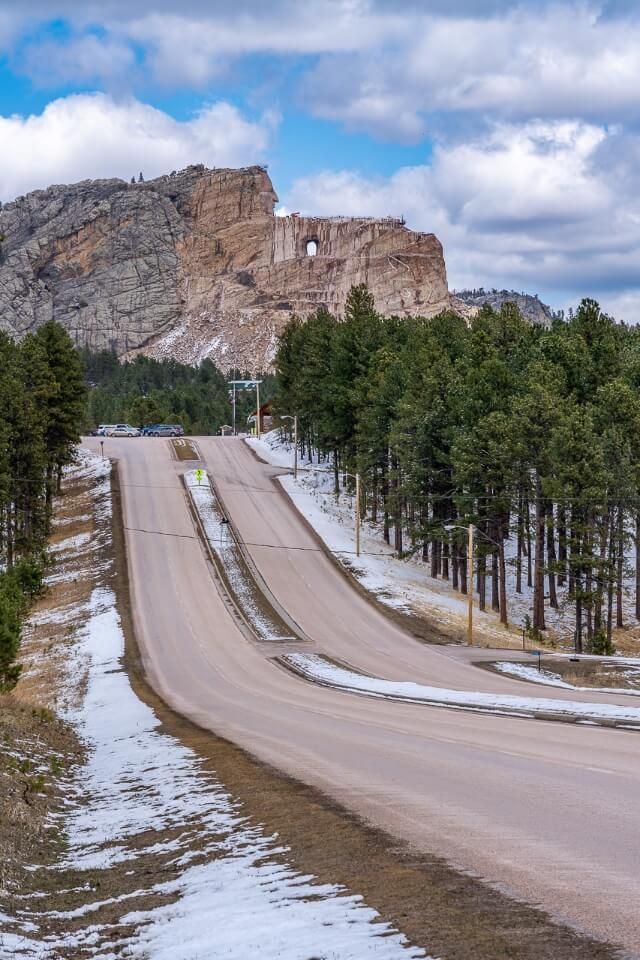 Tips for visiting Crazy Horse?
Ticket prices vary depending on season

You will pay per person not per vehicle

There are 3 museums and orientation film

You can see the sculpture from the main road
How far is Crazy Horse from Mount Rushmore?
22 miles from Mt Rushmore to Crazy Horse

Drive time 35m via US-16 and US-385
Crazy Horse is a popular tourist destination in this region but we have to be honest and say if you're traveling on a tight budget, don't bother.
It is at least twice as much (if not three times as much) the cost of visiting nearby Mount Rushmore and it isn't finished. If budget is of no concern, go ahead and visit / support the project.
8. Deadwood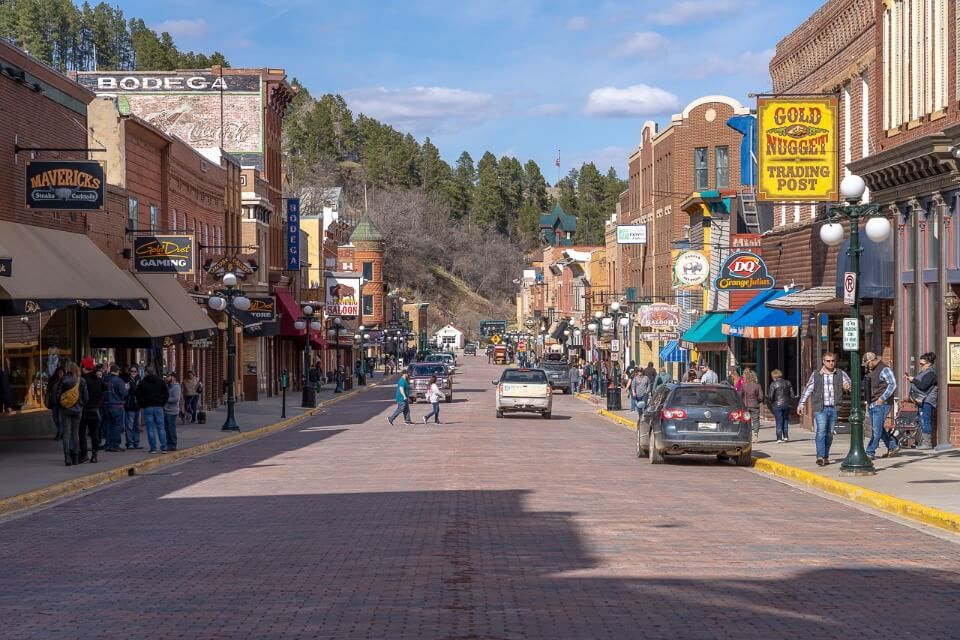 What is Deadwood?
Deadwood gained notoriety in the 1870's thanks to the Black Hills Gold Rush and legendary old west characters such as Wyatt Earp, Calamity Jane and Wild Bill Hickok.
Deadwood town is listed as a national historic landmark district thanks to its old-west architecture.
Why visit Deadwood?
Deadwood might now be a Black Hills gaming resort but if you look past the casinos, there are still plenty of historic references, quaint coffee shops and old buildings to enjoy for a few hours.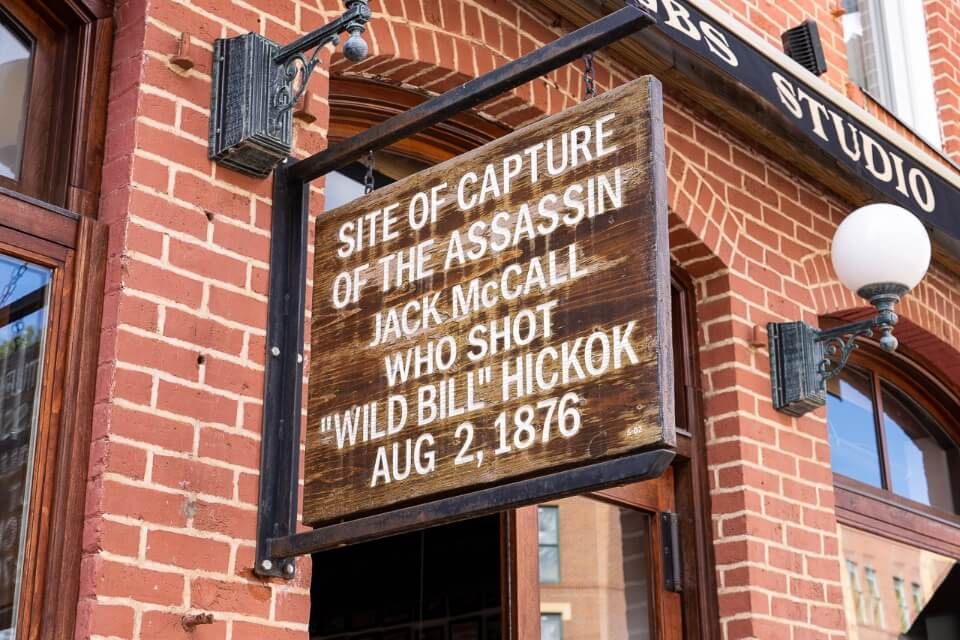 Best things to do in Deadwood?
Walk the historic main street downtown

Embrace the Wild West theme in town

Summer reenactments of Wild Bill assassination

Hike or bike the George S Mickelson trail

Visit the Adams museum for Deadwood history

Broken Boot gold mine tour
How far is Deadwood from Mount Rushmore?
50 miles from Mt Rushmore to Deadwood

Drive time 1h via US-385
Deadwood has lost some of its old world charm but it is still a fun place to visit for an hour or two between Mount Rushmore and Spearfish Canyon.
We just walked the historic main street, stopped for hot chocolate in an old cafe and continued to a hike along Spearfish Canyon.
9. Spearfish Canyon – Most Underrated Thing to do Near Mount Rushmore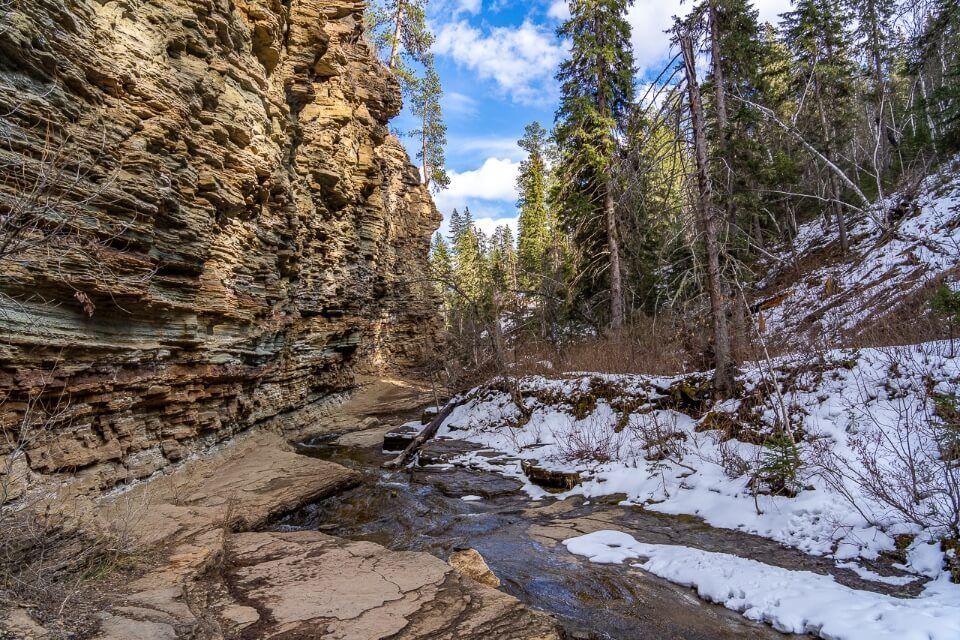 What is Spearfish Canyon?
Spearfish Canyon is a 20 mile scenic byway in the northern Black Hills.
Spearfish Creek is flanked by narrow 1000 ft tall limestone cliffs and a winding road for drivers to relax and enjoy the scenery with a 35mph speed limit.
Why drive Spearfish Canyon?
Spearfish Canyon is more than just a drive. You can stop to hike various trails, photograph a number of picturesque waterfalls or just pull over to gaze up at the magnificent canyon walls.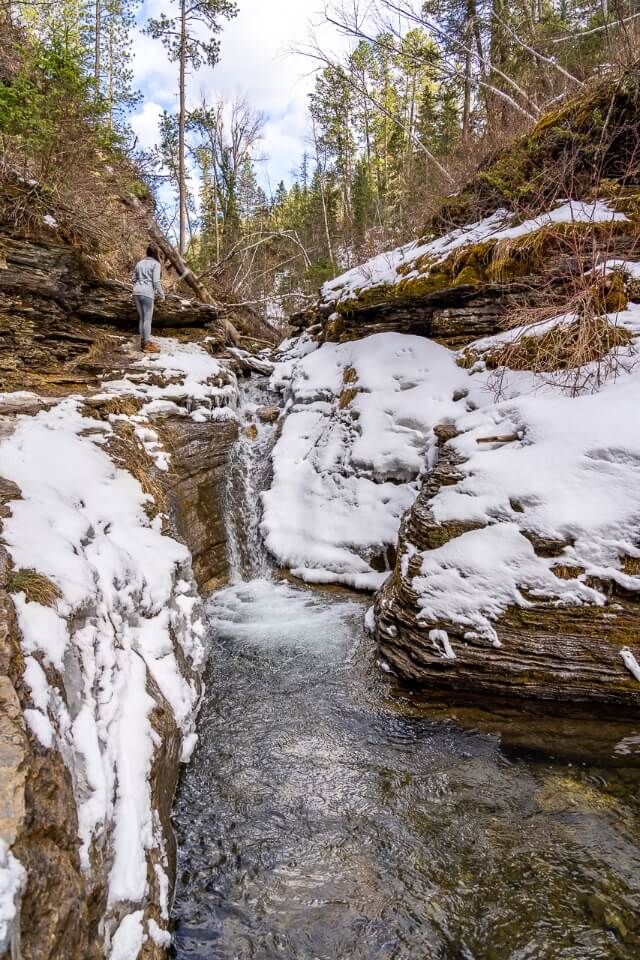 Best things to do in Spearfish Canyon?
Bridal Veil Falls, Roughlock Falls and Spearfish Falls

Hike Iron Creek, Eleventh Hour Gulch or Devils Bathtub

Cycle up or down the uniform 3% grade

Wildflowers, wildlife and stunning natural environment
How far is Spearfish Canyon from Mount Rushmore?
51 miles from Mt Rushmore to Cheyenne Crossing (start of Spearfish Canyon descent)

Drive time 1h 12m via US-385, 277 and US-14 ALT
Spearfish Canyon is our top rated 'hidden gem' for your visit to South Dakota. It's not exactly a secret, but far fewer people venture up to the northern parts, preferring to stay near Mount Rushmore instead.
However, Spearfish Canyon is seriously awesome and a certain must-visit, especially if driving onto Devils Tower / Yellowstone afterwards.
We hiked the fun Devils Bathtub trail one late April afternoon in lots of snow!
Are you on a road trip? Don't forget to read our in depth guides to road trip planning and road trip packing before visiting South Dakota.
10. Devils Tower National Monument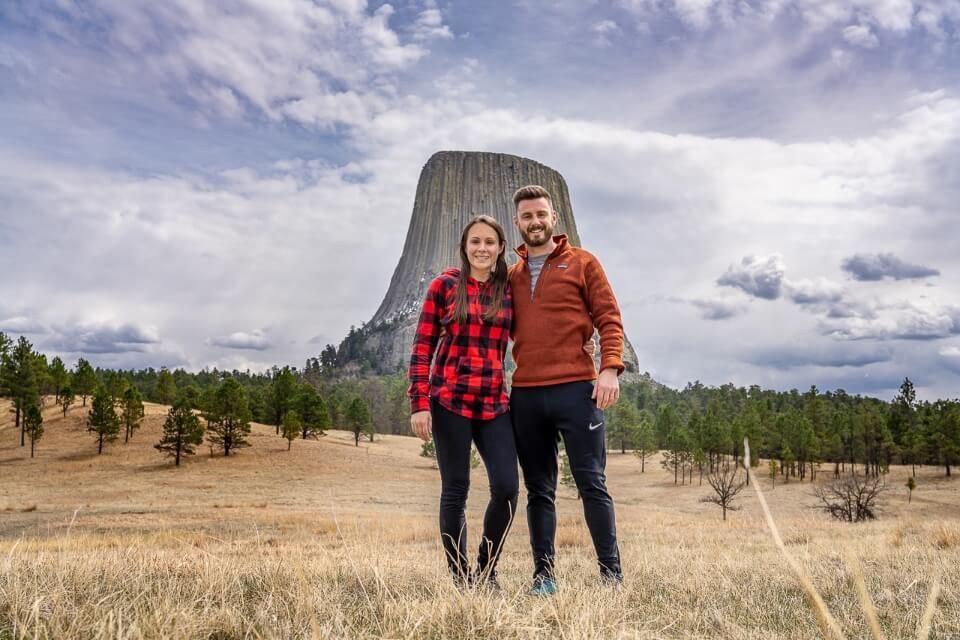 What is Devils Tower National Monument?
Devils Tower is a unique, remarkable and unmissable natural rock formation in northeast Wyoming just over the border from South Dakota.
Igneous rock (once magma) cooled by weathering and eroded over time has resulted in one of the most popular rock climbing arenas in North America.
Why visit Devils Tower?
Photos don't really do Devils Rock justice, it's much easier to appreciate in person.
Easy and scenic hikes circle the impressive rock formation and you can watch climbers on the rock. It is arguably the most significant stop off on a Mount Rushmore to Yellowstone road trip.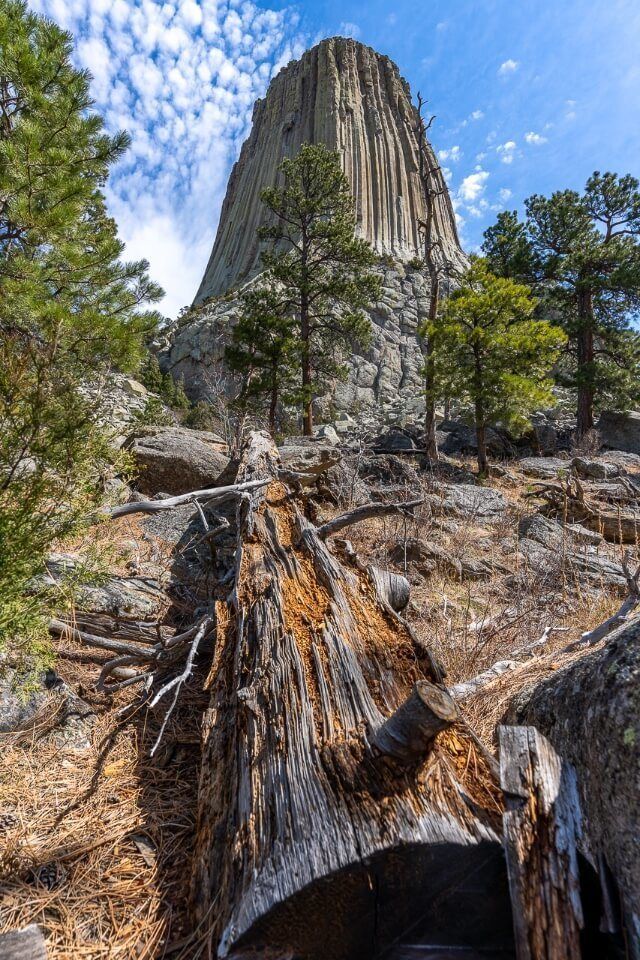 Best things to do at Devils Tower?
Hike the Devils Tower trail

But don't miss hidden gem Joyner Ridge trail

Awesome photography opportunities, particularly sunrise

Rock climbing

Campground for tents and RV's on site
Top tip: Entrance is free to Devils Tower if you have America the Beautiful Annual National Parks Pass.
How far is Devils Tower from Mount Rushmore?
130 miles from Mt Rushmore to Devils Tower

Drive time 2h 10m via US-16 and I-90

Or drive through Deadwood and Spearfish Canyon on the way to Devils Tower
For us, Devils Tower is a dead cert stopping off point if you plan to drive from Mount Rushmore area to Yellowstone / Grand Teton.
If you're just on a short South Dakota road trip, we still think it's worth visiting but give it more thought as it is a 4 hour round trip.
Read more about the Devils Tower:
More From South Dakota

…
Plan your entire South Dakota road trip with our in depth planning resource, including where to stop, where to stay and itinerary.
More From Wyoming

…
---
We hope this guide to 10 of the best things to do near Mount Rushmore helps you plan your visit to South Dakota's stunning Black Hills!
Have you been to the Black Hills? Where would you recommend visiting near Mt Rushmore?
Please let us know if you have any questions or need any help planning your visit.
Happy Travels,
Mark and Kristen
Was This Post Helpful? Pin It For Your Visit!