If you are in the market for a new carry on or larger suitcase, a LEVEL8 luggage set may be just what you need. As professional travel bloggers, we fully understand the need for long lasting products you don't have to worry about when on the road.
There is nothing worse than being a trip only to experience a broken suitcase or a tear in your backpack. We believe travel gear should be made with quality and durable materials so it can last multiple trips.
But what makes LEVEL8 a good contender for your new suitcase needs?
This is exactly what we will cover in this guide, including:
Who are LEVEL8 and products overview
Our LEVEL8 suitcase review
Suitcase features with detailed descriptions
Information about the LEVEL8 warranty
Pros and Cons to why you should consider LEVEL8
A special discount code for your purchase
Now, let's shop for a new LEVEL8 luggage set!
*Please note this post may contain affiliate links. If you click on one, we may earn a small commission at no extra cost to you. Thank you for supporting the free content we provide! Read more in our disclosure policy.*
Disclaimer: This is a sponsored post with LEVEL8, but all opinions expressed in this post are based on our personal experience using LEVEL8 suitcases. We only feature products we already own or have used ourselves.
Who Are LEVEL8?
The LEVEL8 mission stems from understanding that travelers are constantly on the move and need to travel efficiently. So you can be sure LEVEL8 products are created specifically with the traveler in mind.
Each product is designed with strong quality materials to allow the traveler to focus on the journey as well as the destination.
As full time travelers, we often live out of our suitcases. We like LEVEL8 products because this company strives to create products which maximize comfort, functionality and reliability.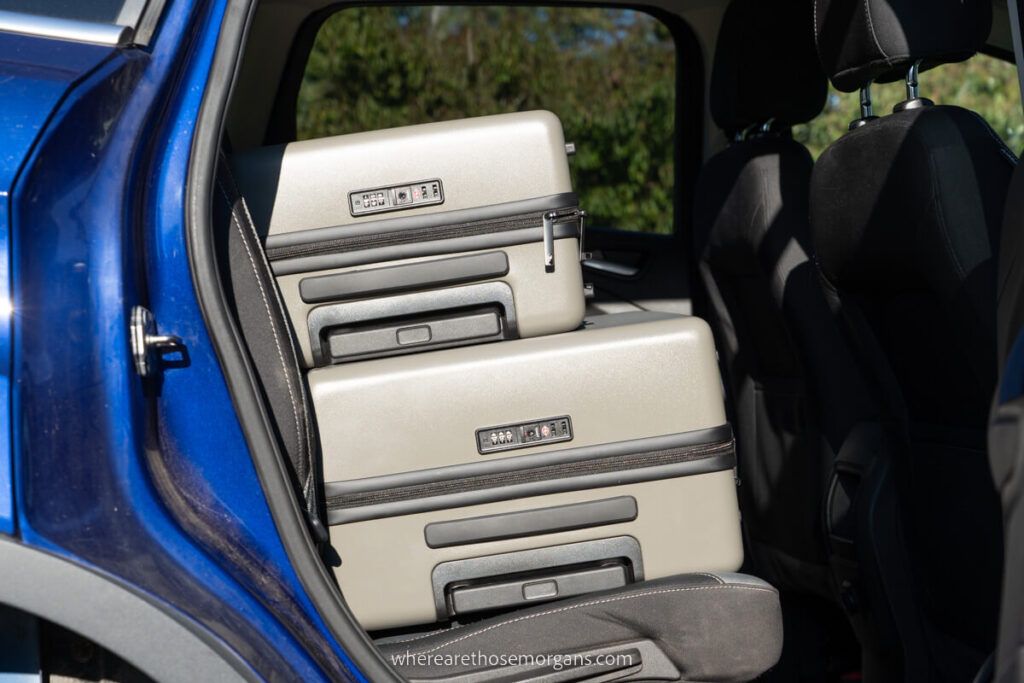 LEVEL8 Product Overview
Between individual suitcases, complete luggage sets, travel backpacks and a handful of travel accessories, LEVEL8 offers many products for all your travel needs.
Here is a quick overview of the products you can expect:
Luggage sets – LEVEL8 luggage sets are available in many different styles including matte, textured, aluminum, glitter, vintage and many more. There is truly a set for every need.
Carry-on options – These smaller suitcases are suitable for most airline baggage dimensions (22" x 14" x 9") and also feature a specialized laptop pocket.
Backpacks – Available in different sizes, LEVEL8 backpacks are designed with heavily padded back straps and numerous organizing pockets to help you store everything you need on the road.
Accessories – Ranging from pack cubes to tech organizers and make up bags to luggage tags, this is where you can find the little extras to make your trip even more comfortable.
Browse LEVEL8 products here or for a full product comparison guide click here.
LEVEL8 Suitcase Review
This review will cover the two piece matte collection luggage set along with the 4 piece packing cube set.
Overall, our first thought when we received the LEVEL8 suitcase set was that the suitcases seemed durable and we absolutely loved the olive color.
We appreciate the varied colors the LEVEL8 luggage sets are available in because a unique colored suitcase can save so much time and hassle at the airport.
Dark colored suitcases are also great for hiding normal wear and tear which keeps our gear looking fresh for as long as possible.
Travel Tip: The most popular suitcase color is black so try to avoid purchasing a black suitcase. Choose a unique colored suitcase to help you properly ID your case among the sea of others on the baggage carousel at the airport.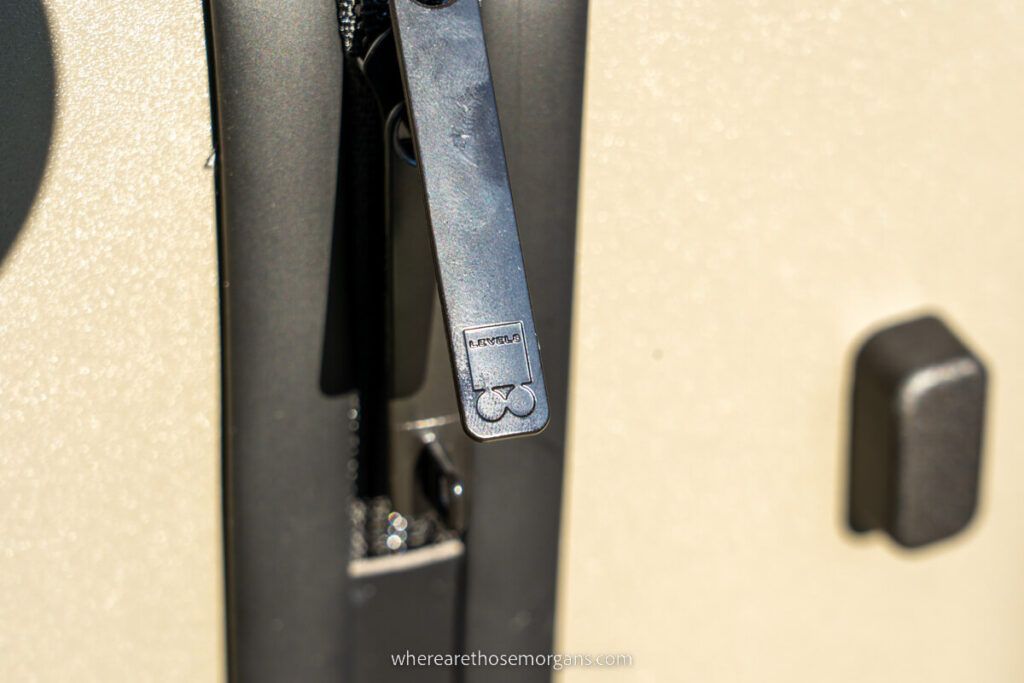 Features Of The LEVEL8 Matte Collection
Below we will show you our favorite features from the LEVEL8 Matte Collection including photos.
If you purchase the Matte Collection set, you will receive two pieces of rolling luggage with a hard outer shell along with the 4 piece packing cube set in various sizes.
The Matte Collection has two sizes available: 20″ & 24″ or 20″ & 28″
With three color choices available: Dark Olive, Black or Navy
Not only does this luggage set look and feel great, but it has many small details which make it unique.
Matte Collection Technical Specifications
Capacity: 41L & 68L or 41 L & 105L
Weight: 7.1 lbs & 9.1 lbs or 7.1 lbs & 12.1 lbs
Material: Makrolon® PolyCarbonate
Warranty: Lifetime
Shipping: Free if in USA
Overall Dimensions:
4.6″ L x 9.3″ W x 21.5″ H
17.5″ L x 10.4″ W x 26″ H
14.6″ L x 9.3″ W x 21.5″ H
30″ L x 20″ W x 11.8″ H
Outside LEVEL8 Suitcase Features
Before we get into the goodies on the inside of this suitcase, let's take a look at the exterior.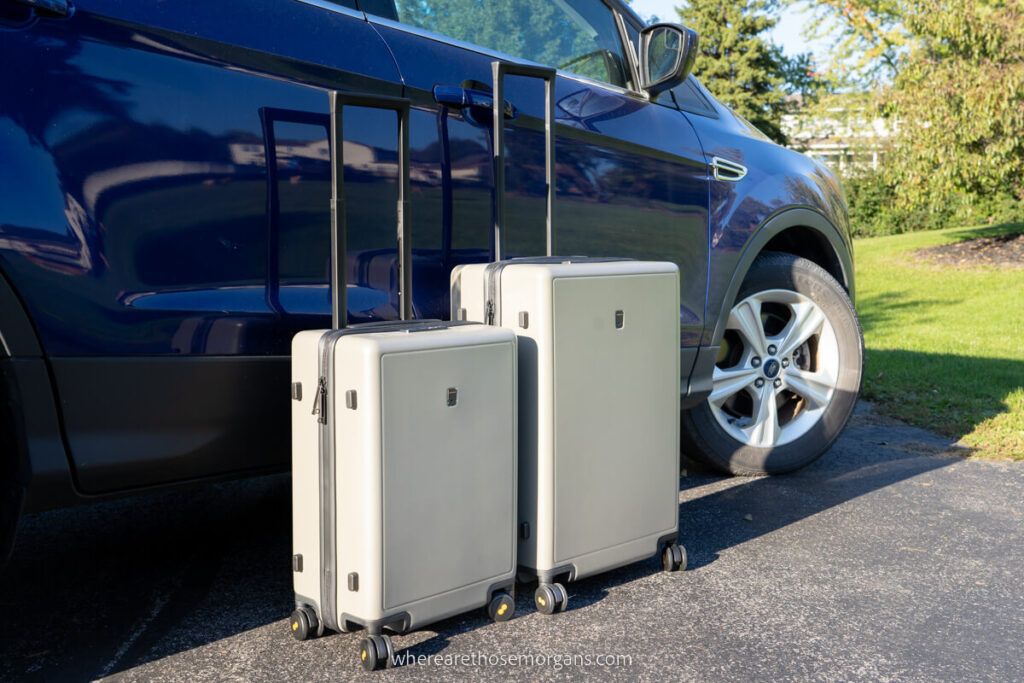 1). Anti-scratch and waterproof shell
The LEVEL8 Matte luggage set has a durable polycarbonate hard shell which is combined with anti-scratch surface technology. This will help to keep your luggage protected during any kind of trip.
Inside the case, you will also find a thin white cover which can be placed over the suitcase when not in use. We love this feature to protect our case when not in use.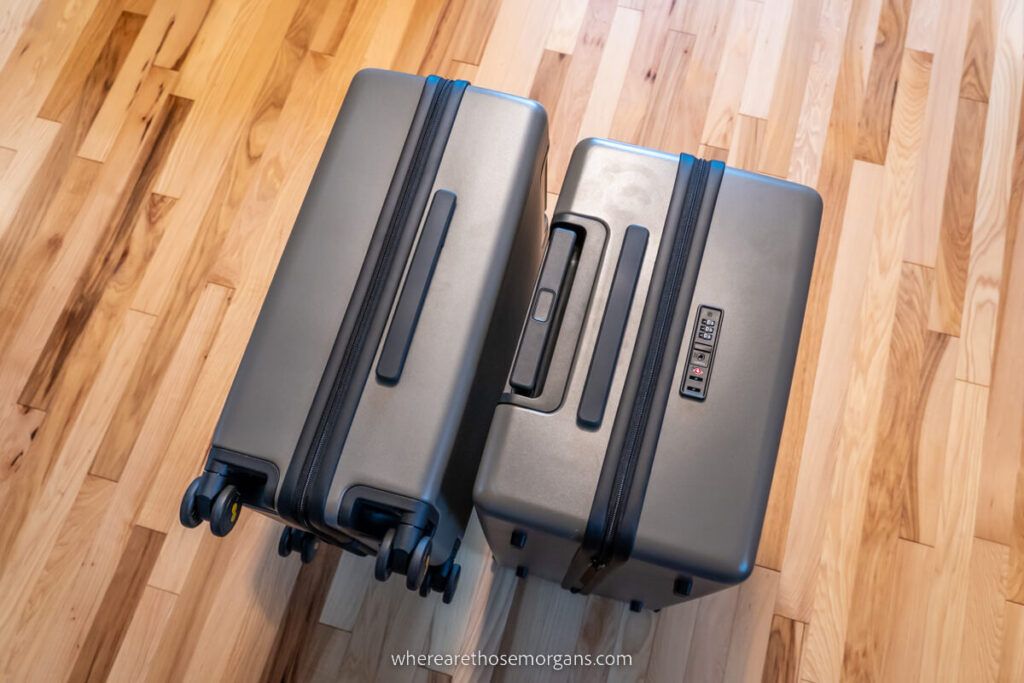 2). Aluminum alloy trolly system and sturdy handle
The adjustable handle on the top of the Matte Collection set can be adjusted to several different lengths.
There are also two outer hands on each suitcase, one on the side and one on the top. This is a great feature because you can hold the suitcase vertically or horizontally if you don't want to roll it.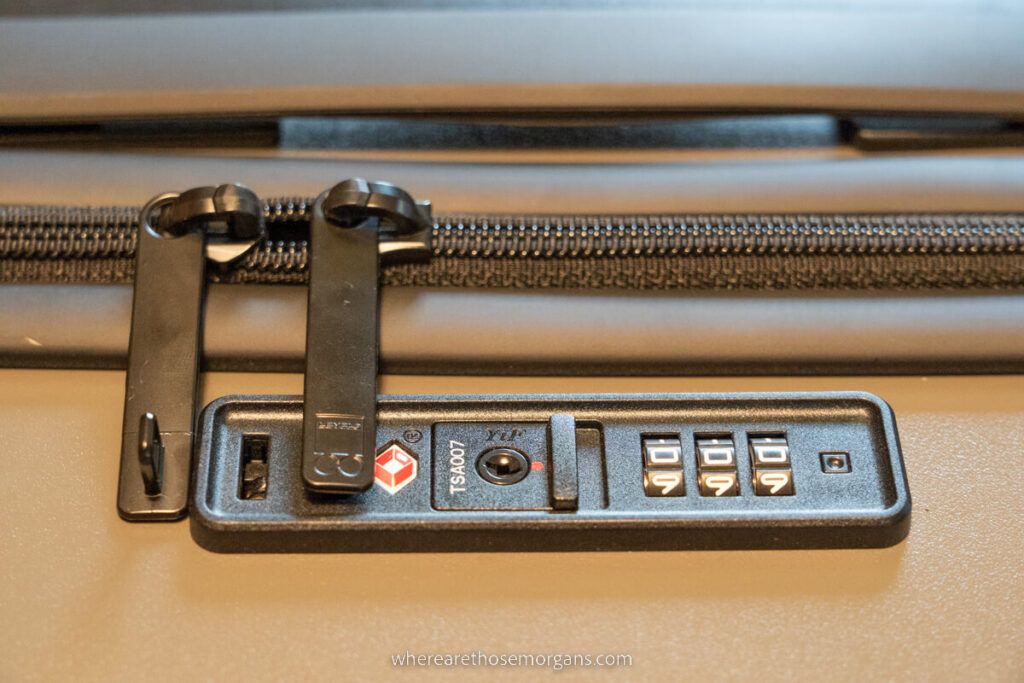 3). TSA Approved Locking System
Both outside zippers lock into place with the embedded TSA locking system. There is also a universal TSA key hole included which allows TSA to gain access if needed without damaging the lock.
Each suitcase will come with additional information about how to properly set the TSA lock.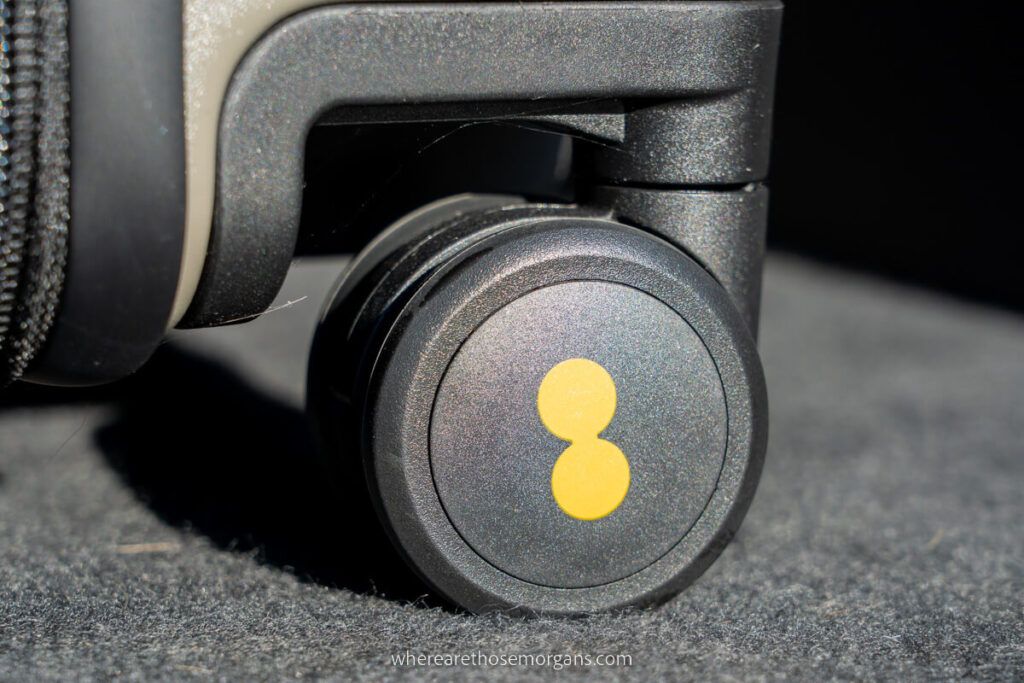 4). 360° spinner wheels
Our favorite feature is the multidirectional spinner wheels.
After traveling long term, we have learned to never travel without a suitcase that has wheel capabilities to spin in all directions. These wheels are tough and glide easily as you pull the suitcase.
Inside LEVEL8 Suitcase Features
Now, onto the good stuff, this is what we loved about the inside of each suitcase.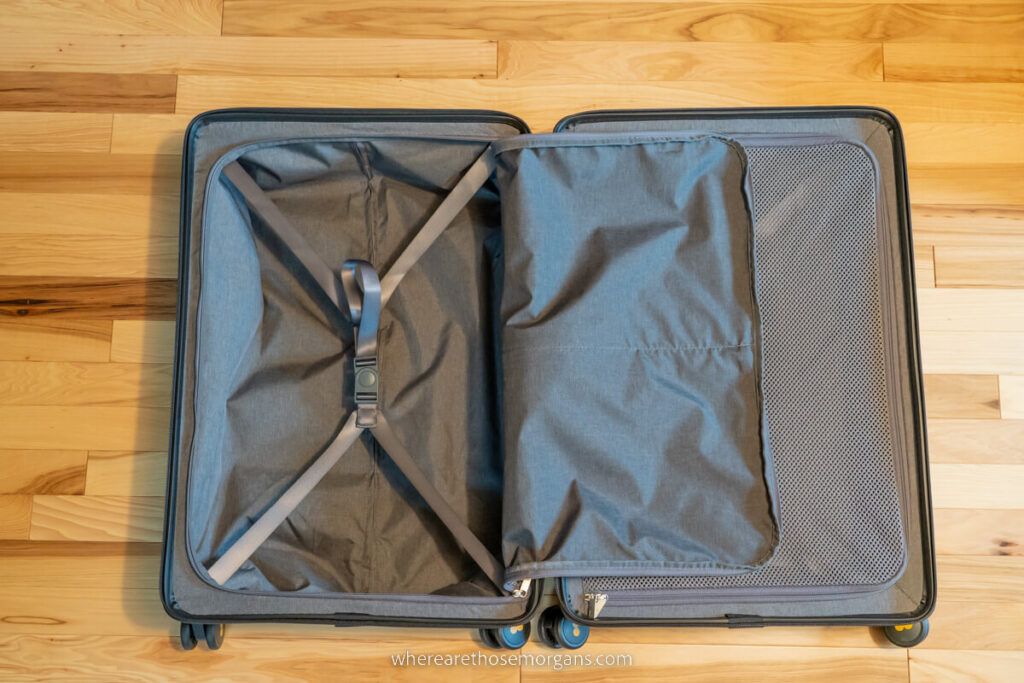 1). 41L, 68L or 105L Packing Capacity
We like the varying suitcase sizes offered by LEVEL8. Depending on where you plan to travel, you can purchase the capacity which best fits your needs.
If you tend to overpack, purchase a smaller suitcase size to help you pack less.
Airlines are as strict as ever when it comes to weight limits. So if you have a smaller case, you will have a better chance of meeting the weight limit every time you travel.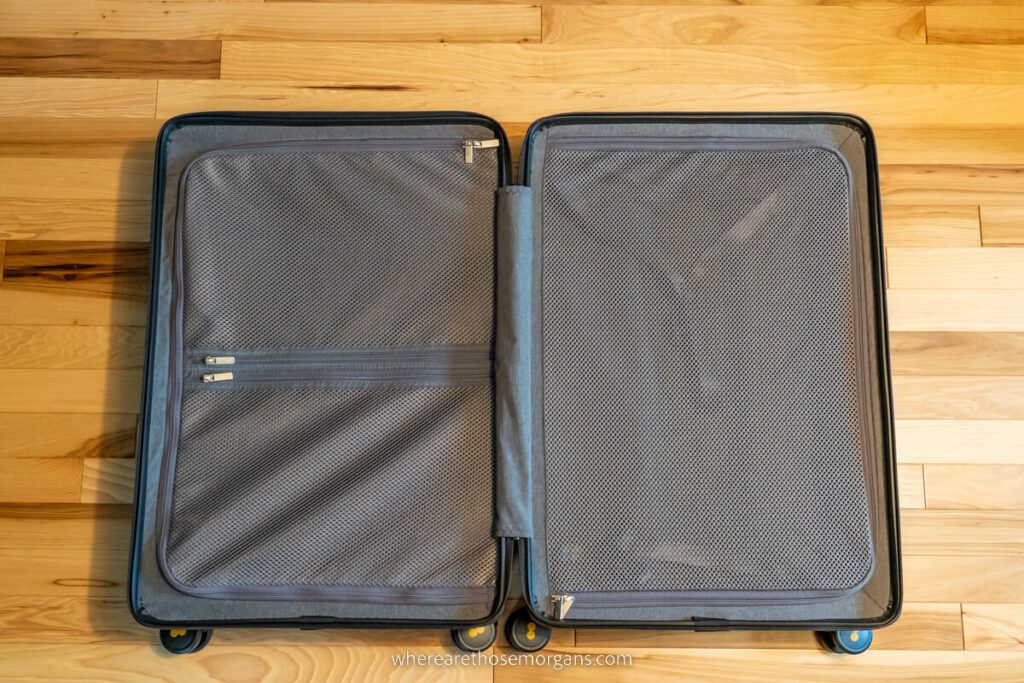 2). Polyester fabric lining and interior mesh pockets on both sides
The entire interior of these suitcases have a polyester lining. This material is extremely strong, lightweight and flexible making it extremely resistant.
Because of these characteristics, you can expect these suitcases to withstand a decent amount of wear and tear.
Additionally, the zippered compartments on each side of the suitcase easily fit anything you need. If you are an over packer, these compartments will help you to keep it minimalistic.
The zippers on each compartment are also good quality and easily zip where ever you need them.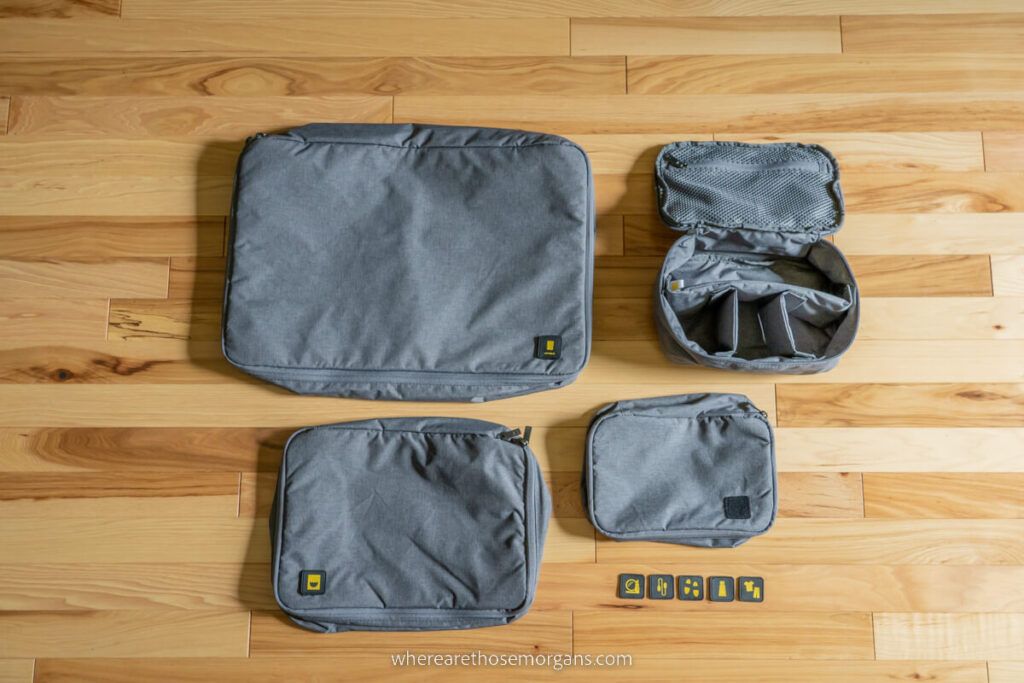 3). 4 piece LEVEL8 packing cube set
The Matte Collection luggage set comes with 4 varied size packing cubes. You can expect an extra large, large and medium cube as well as a cosmetic bag.
Personally, we never travel without packing cubes. These babies will save you space and keep you organized. Priced at $50, this additional bonus is a great deal.
We love that each LEVEL8 packing cube has a velcro section on top of the cube which allows you to attach rubber patches to identify what each cube holds.
Looking for a new camera backpack? You might like our Misshattan X Backloader Backpack review.
LEVEL8 Warranty
We like LEVEL8 because they not only test, but back up their products.
The Matte Collection luggage set comes with a lifetime warranty covering any functional damages to the shell, wheels, handles and zippers.
Just as a side note, if you purchase a LEVEL8 product on the official website, the service warranty is automatically activated. But if you purchase a LEVEL8 product though other channels, you will need to activate your warranty.
Final Thoughts With Pros And Cons
Overall, we love our LEVEL8 luggage set and the piece of mind it provides.
As professional travel bloggers, we need gear that can not only stand up to the test of time, but can last us for many domestic and international trips.
If you are still on the fence about a new suitcase, take a look at our pros and cons for the LEVEL8 Matte Collection set.
Here are a few reasons why you should consider the Matte Collection set:
Pros For The LEVEL8 Matte Collection
Spacious interior with zip pockets
Simple and sleek lightweight design
Durable and hard outer shell protects the contents of the suitcase
Multidirectional spinner wheels allow for easy transport
Set comes with both a carry on and checked bag size
Lifetime warranty on the Matte Collection set
And here are a few reasons why the Matte Collection set may not be the best option for you:
Cons For the LEVEL8 Matte Collection
Limited ability to be compressed due to hard outer shell
No outer pockets for storage
Harder shell suitcases can scratch easier
Wheels are externally mounted and may snap off
>> Buy Matte Collection Set: Official LEVEL8 website | Amazon
Want to save 10% on your purchase? Use code 'MORGANS10' at checkout.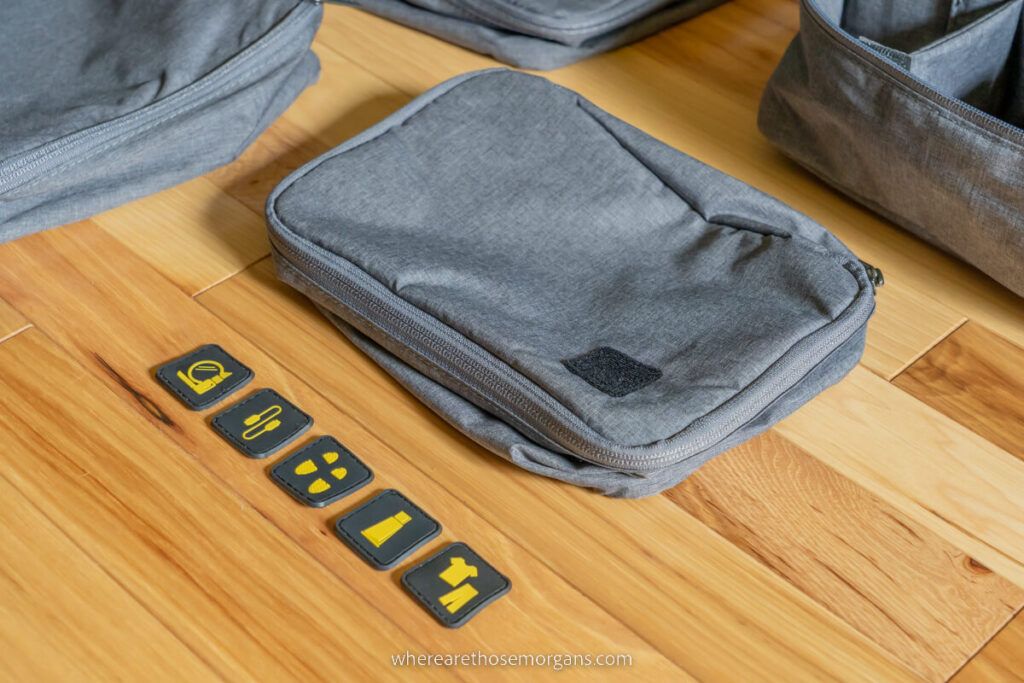 Additional LEVEL8 Products
Maybe you don't need a new luggage set, but you want a new backpack or carry on?
Great, because LEVEL8 will have you covered there too.
Kristen has her eyes on the new Glitter carry on and Mark loves the Reboot Backpack.
Head on over to the Level8 website and shop around for yourself.
>> Shop LEVEL8: Official LEVEL8 website | Amazon
Don't forget to use code 'MORGANS10' at checkout for 10% off your purchase!
Our Popular Reviews
Our Popular Travel Planning Guides
Interested in more reviews? Head over to our travel, hiking and photography product reviews and tour reviews page.
---
We hope this review for LEVEL8 luggage helps with preparing for your next trip!
Please let us know if you have any questions about LEVEL8 or travel planning in the comments below.
Happy Travels,
Mark and Kristen
Enjoy This Level8 Review? Save It For Later!