Are you looking for the very best things to do in New York City? Perfect! We're going to walk you through the top 50 free, cheap and fun things you can do on your visit to NYC.
You will be pleased to hear that the overwhelming majority of best things to do in New York City are completely free. This means you can save your travel budget for only the most iconic attractions, eating out and getting around the city.
We have personally lived in New York City and we're excited to show you the things you can't miss during your visit to the Big Apple.
Here's what we will show you in this guide to help get your NYC bucket list in tip top shape:
50 best free, cheap and fun things to do in New York City
Best things for families and couples to do in NYC
Should you buy a NYC attractions pass?
Top travel tips and how to save money
Let's get stuck into the 50 best things to do in New York City!
What Should You Do On Your First Trip To New York City?
If this is your first visit to New York City and you're wondering "what are the most unmissable NYC attractions for my trip?", well, we would suggest you start with 5 major tourist classics.
Central Park
Statue of Liberty
One (or more) of the awesome Observation Decks
Brooklyn Bridge
One (or more) of NYC's exceptional museums
There are of course dozens more free, cheap, fun and cool things to do in New York City. But the 5 listed above are arguably the "can't miss" places to visit on a first trip to NYC.
We will cover each in greater detail, along with 45 other things to see, do and eat in New York.
It goes without saying, New York City is one of the best places to visit in the USA and the whole world. We're here to help you formulate the perfect wishlist of activities for your visit.
Let's begin with the best free things to do in NYC, before moving onto cheap and finally fun, which usually means expensive!
Best Free Things To Do In New York City
Contrary to popular belief, there are so many fun things to do in New York City for free. In fact, 30 out of the 50 NYC activities in this guide are entirely free.
Who said you can't visit New York on a budget!
Are there any other places on Earth you can do and see so many iconic attractions without ever opening your wallet? Not in our experience.
When we lived in NYC, we spent far too many days doing many of the free things listed below over and over again.
Why? Well, because they are free and awesome!
So if you're looking for cheap things to do in New York City on a low travel budget, you should start with this attraction heavy list of the best free things to do in NYC.
Do you need help planning your visit to New York City?

Our best selling 40 + page NYC Guidebook & Itinerary covers every aspect of planning a trip to New York including hotels, restaurants, getting around, things to do, example itineraries and so much more!
1. Walk Over The Brooklyn Bridge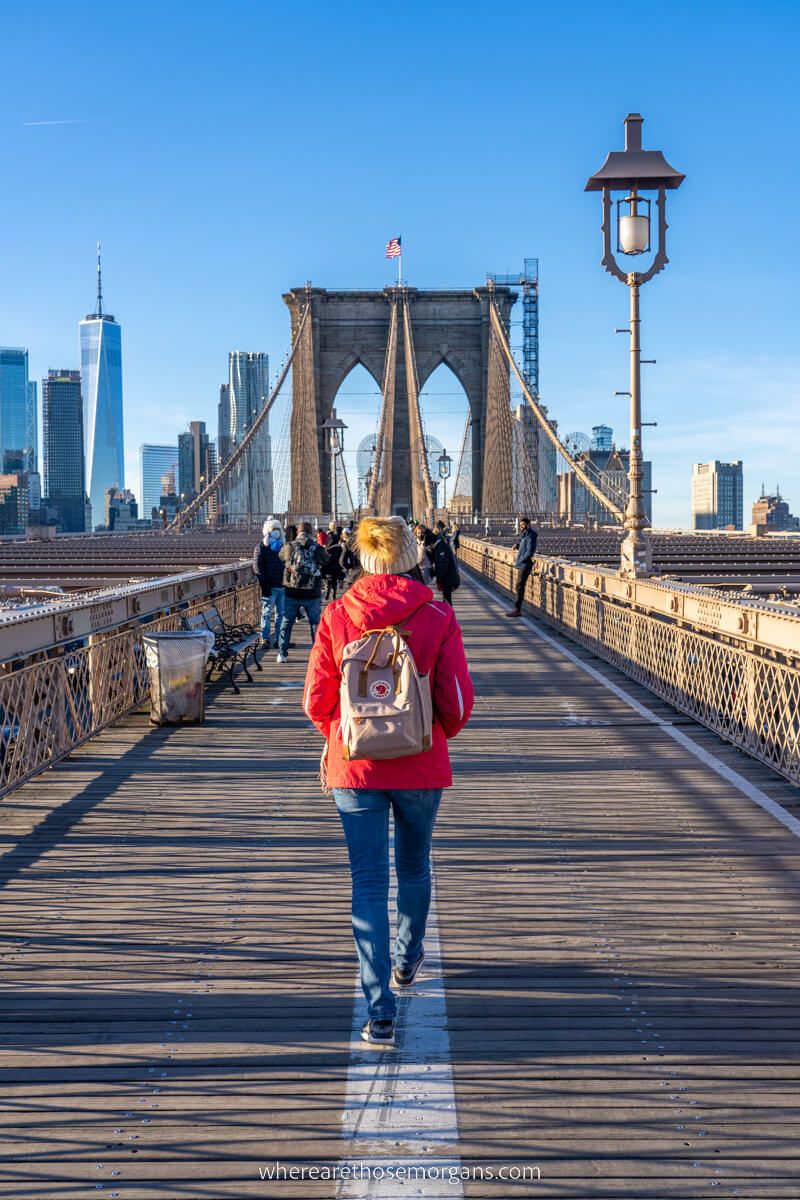 Walking over the legendary Brooklyn Bridge is undoubtably one of the very best free things to do in New York City. This should be close to the top of your NYC bucket list!
Taking a stroll across the Brooklyn Bridge is among the most romantic things to do for couples and it is among the best things for families to do in New York City.
It is an all around winner.
Everyone can do it, the bridge is open 24 hours a day 365 days a year and it is always free.
You can walk across from Manhattan, explore Brooklyn and then walk back across to Manhattan later in the day. Or simply take a subway to Brooklyn and walk back across to Manhattan.
When should you walk across the Brooklyn Bridge?
Well, you could walk over any time of day and be blown away. However, we strongly recommend you choose to walk across the Brooklyn Bridge either for sunrise or for sunset.
Sunrise – No crowds, you might have the bridge to yourself, far more peaceful and the perfect opportunity for photos if you want one of just yourself on the bridge.
Sunset – Very busy, electric atmosphere, unique experience and arguably more beautiful. Make sure you stay after sunset to see the bridge light up at night.
Planning to visit Brooklyn Bridge? Read our guides to Brooklyn Bridge at sunrise and walking Brooklyn Bridge at night.
2. Explore Central Park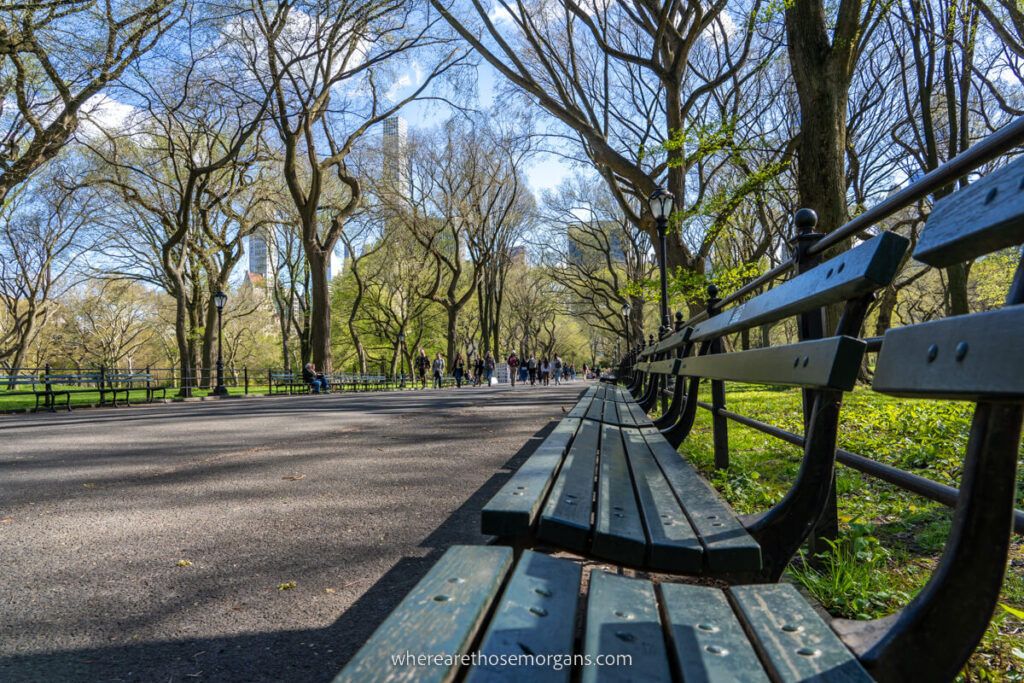 Every first time visitor to New York City should plan to visit world famous Central Park. It is the crown jewel of city parks and arguably the most special on the planet.
Brooklyn Bridge and Central Park are the two free things to do in New York City that you simply cannot miss. They also happen to be the two hotspots for marriage proposals.
Central Park is a truly magical place. It is a four season romantic oasis among an ocean of concrete skyscrapers.
Here's what you can expect in each season:
Spring – Stunning cherry blossoms
Summer – Emerald green leaves
Autumn – Vibrant Fall foliage
Winter – White snowy wonderland
It really doesn't get much better for couples looking for romance in NYC.
Best Way To Visit Central Park
The only problem with Central Park? It is huge and you could easily lose a full day from your itinerary.
We would suggest spending time in the Southern part of the park if you only have a few days in the city. Try a self guided walking tour through the following areas in this exact order:
Wollman Ice Rink

The Mall

Bethesda Terrace

Bow Bridge
Wagner's Cove
Strawberry Fields
The Ramble
Belvedere Castle
Visiting NYC in Winter? Don't miss our photography guide to the 12 best places to visit in Central Park in the snow.
3. Stand In Times Square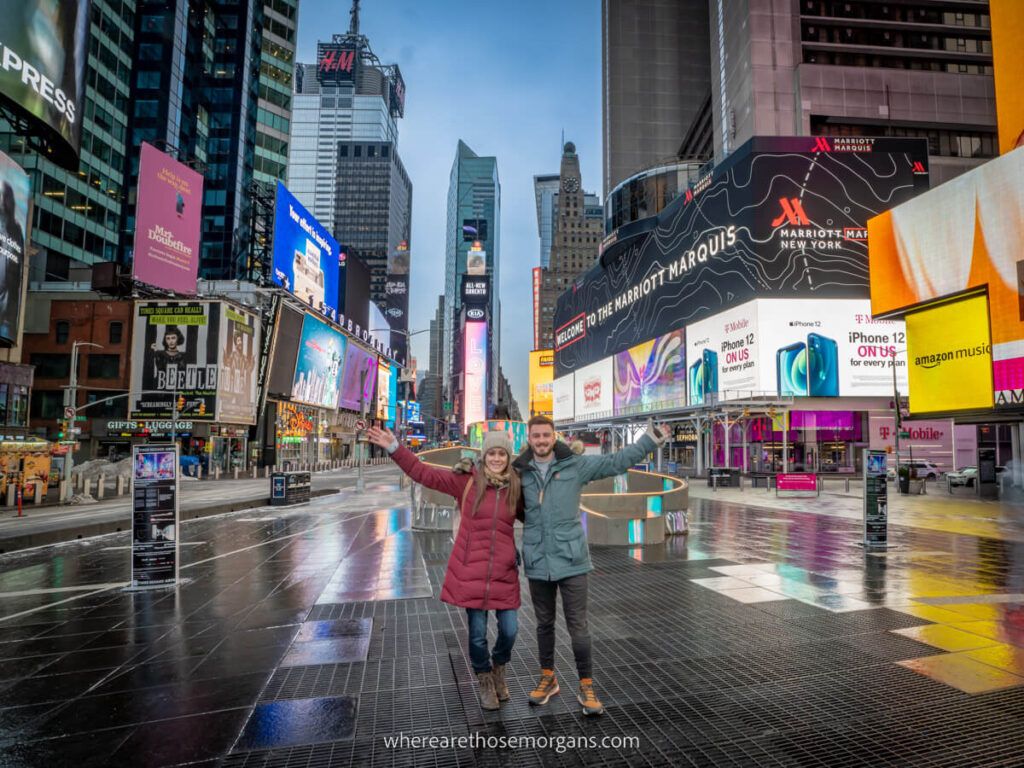 Ah, where to begin with Times Square. Gimmicky tourist trap or must visit free thing to do in New York City?
Well it is both.
Yes, it is loud, crowded beyond belief, chaotic and a sensory overload. But Times Square is also intriguing and it is definitely something you don't see every day, so we would suggest you visit at least once.
And then perhaps for some, not ever again!
Times Square is best seen at night when the flashing lights and crowds are at their loudest and most intense. But if that isn't your idea of a good time, go back around sunrise to see the lights with nobody else around.
Best Things To Do In Times Square
Many of the top broadway shows are in and around Times Square
Huge M&M's world, Hershey's, Krispy Kreme,
Grab a slice of pizza at Joe's Pizza near Times Square
Attractions like Madame Tussauds and Rise NYC
Watch the ball drop on New Years Eve
Sit on the red steps and watch the chaos unfold
4. Go To Chelsea Market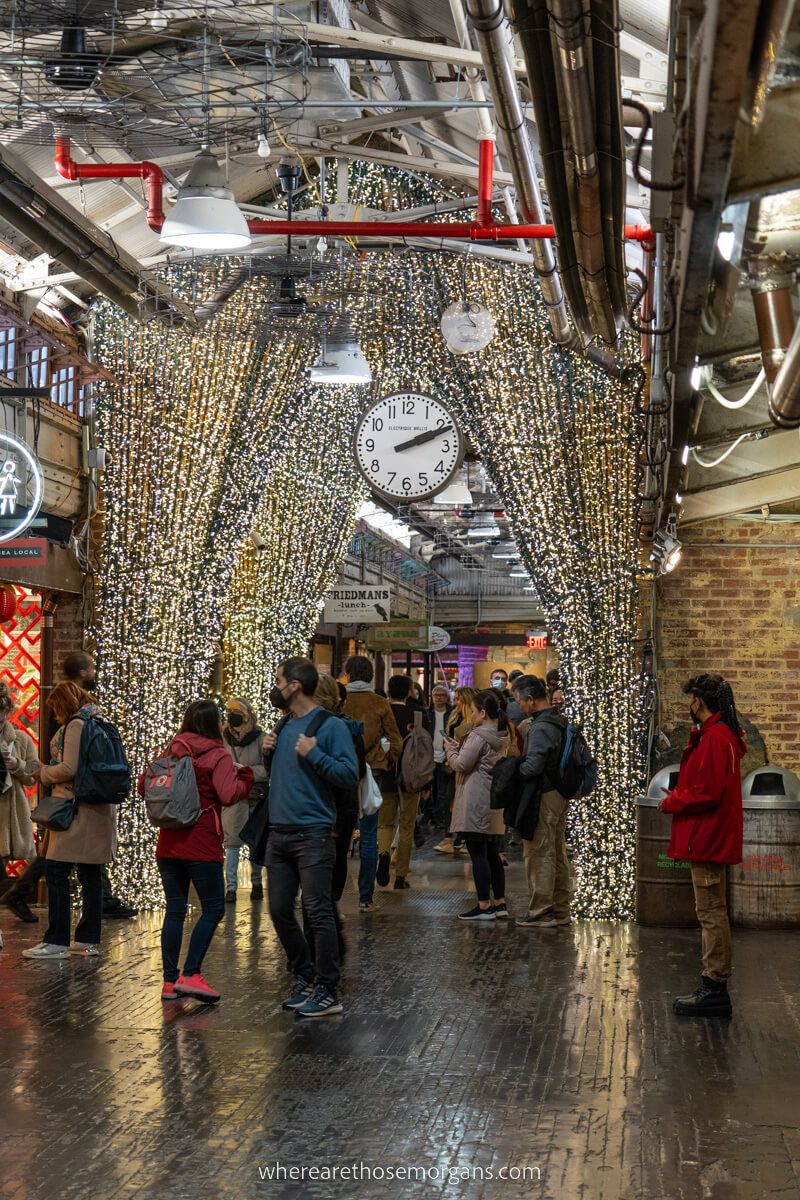 The beating heart of popular residential NYC neighborhood Chelsea is the famous Chelsea Market.
Filled with independent stores and a global selection of food, Chelsea Market is a very popular stop on the typical NYC tourist itinerary.
The best thing to do here is simply take a slow walk through the narrow walkway, stopping often to sample the delights of Chelsea Market, such as tacos and ice cream.
Most visitors combine a visit to Chelsea Market with a walk along The High Line or eating and drinking in nearby Meatpacking District.
What Can You Expect At Chelsea Market?
The walkway through Chelsea Market is longer than we imagined it would be

but you will get through it quickly if you don't stop much.

It is touristy so expect big crowds.

There are plenty of places to eat cuisine from places across the world

.
5. Walk The High Line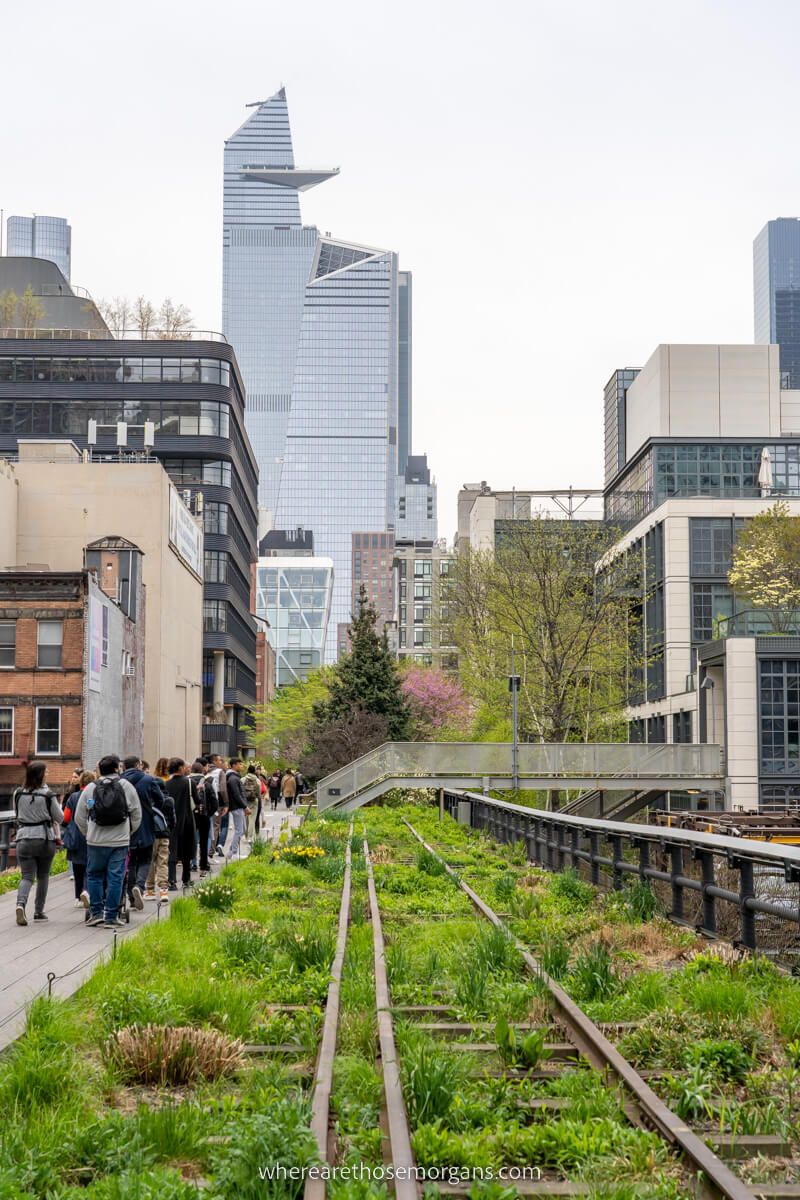 Walking The High Line is a locals and tourist favorite alike, and it is without question one of the best free things to do in New York City.
Starting on the corner of Gansevoort and Washington in the Meatpacking District and ending at Hudson Yards (or the other way around), The High Line is an elevated pedestrian walkway following an old disused railway line.
In Spring and Summer, The High Line features lush gardens and flowers. In Winter, you can walk the path with snow shoveled to either side.
Taking a relaxing stroll along The High Line is easily among the most romantic things to do in New York City.
Be warned, on warm and sunny days between May and September, The High Line may well be busier than the streets below!
6. Photograph Vessel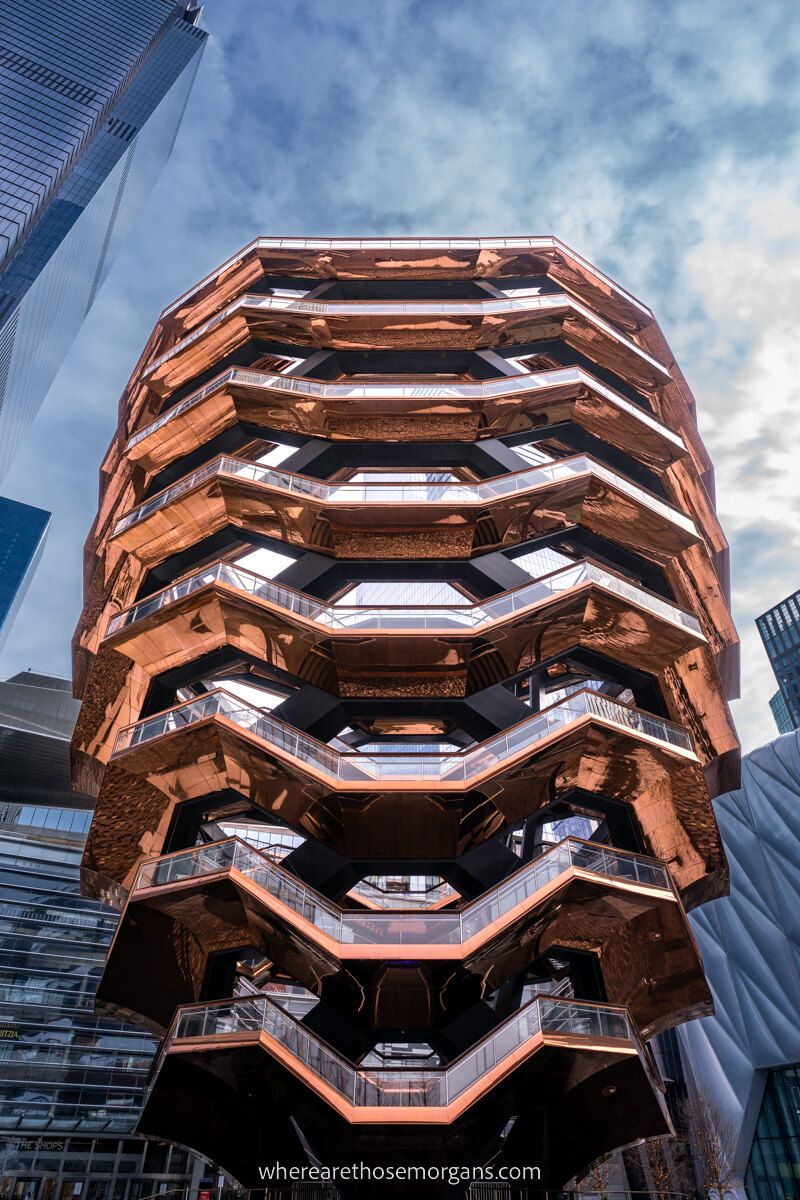 Vessel is one of our favorite pieces of NYC architecture. The vibrant metallic copper color is incredibly eye catching and the design of staircases crossing one another looks a bit like a giant vertical maze.
Vessel is one of many recent developments in the up and coming Hudson Yards neighborhood and it will be of certain interest to any photographers out there.
You won't have to go out of your way to see Vessel. It is at one end of The High Line and it is at the entrance to observation deck Edge NYC which we will cover later.
7. Step Inside Grand Central Terminal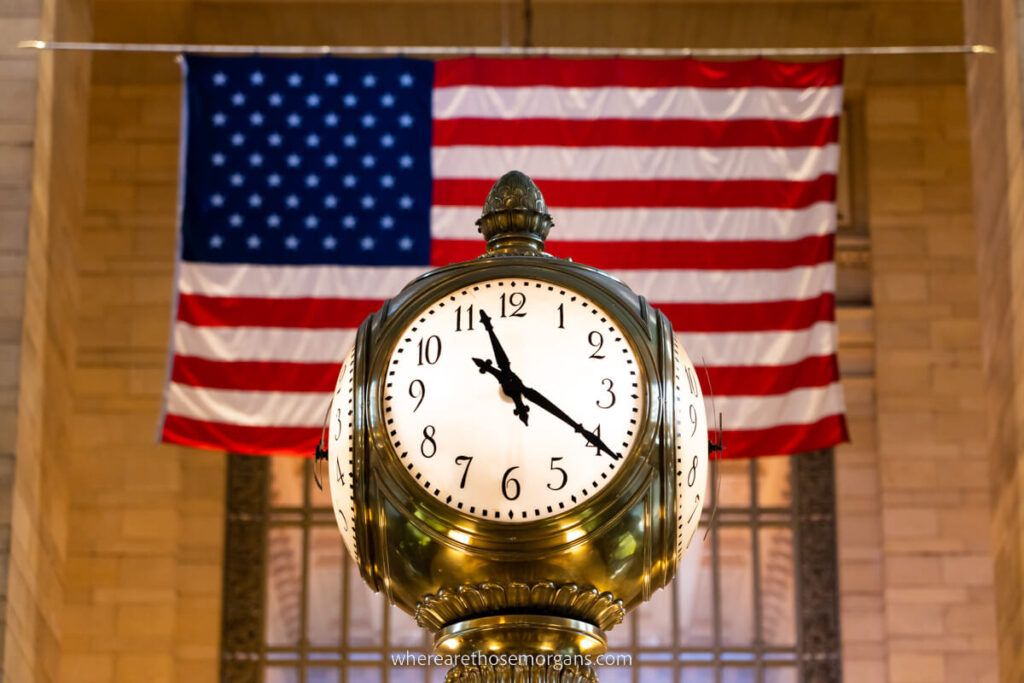 Grand Central Terminal is the iconic New York City transit hub with a spectacular interior hall.
You've more than likely seen Grand Central in movies, but it is so much more special to see it in person.
From the ornate arched bridge outside to the special exhibits on rotation throughout the year inside, this is one place you can't miss on your NYC itinerary.
Things To Do In Grand Central
Head up the stairs to grab a photo looking down on hundreds of people in a hurry.
Go down to the Whispering Galley and whisper something to your friend or partner through a pillar and they will hear it from a pillar opposite.
Take a Metro North train from Grand Central to Yankee Stadium.
Walk through Grand Central market to find cheeses and other tasty foods.
8. Explore Brooklyn
Brooklyn is most populated borough of New York City, covering over 3 times the land area of Manhattan Island. It is known for diverse residential neighborhoods, a huge social scene and a diverse culture.
Before, after or even instead of attraction hunting in Manhattan if you have been to New York several times, you could spend a few days in Brooklyn surrounded by local residents socializing throughout the varied neighborhoods.
Dumbo and Brooklyn Bridge areas are the two best places to start if it is your first time visiting New York City.
With more time, start to explore further into Brooklyn, which is where you will leave the tourists behind and begin to mix with the locals.
Neighborhoods To Explore In Brooklyn
Prospect Park

Red Hook

Greenwood Cemetery

Downtown Brooklyn

Coney Island

Brighton Beach

Sunset Park

Cobble Hill
9. Photograph Manhattan Bridge From Dumbo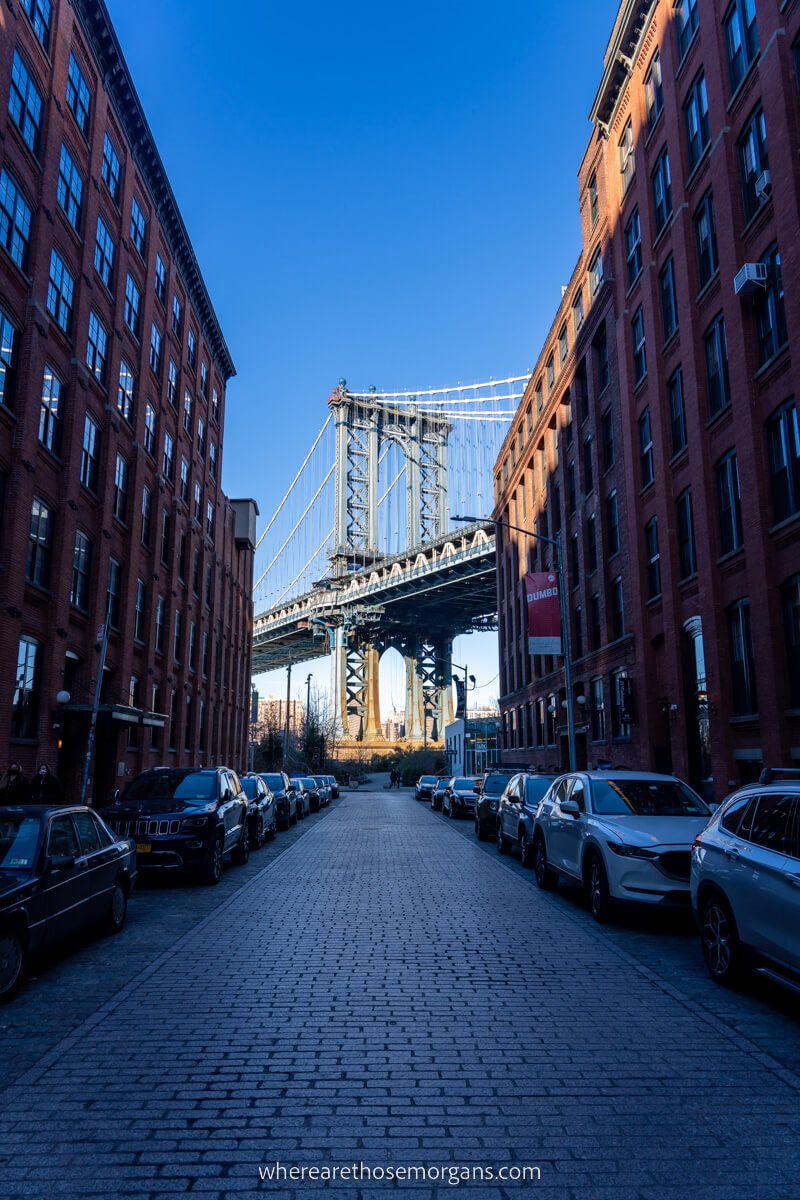 Dumbo is the most popular place to explore in Brooklyn for first time visitors to NYC.
It is the first neighborhood you reach after crossing Brooklyn Bridge and it is set up perfectly for tourism, with plenty of places to eat and some of the best NYC skyline views.
Things To Do In Dumbo
Walk Brooklyn Bridge Park for amazing New York skyline views.

Don't miss

Old Pier 1 in Brooklyn Bridge Park if you are a serious photographer.

Eat at legendary Grimaldi's Pizza (or Juliana's next door by the same team).
Explore

Time Out Market.

Photograph the iconic

Washington Street Manhattan Bridge view you can see above (NYC instagram favorite).
10. See The Apartment From Friends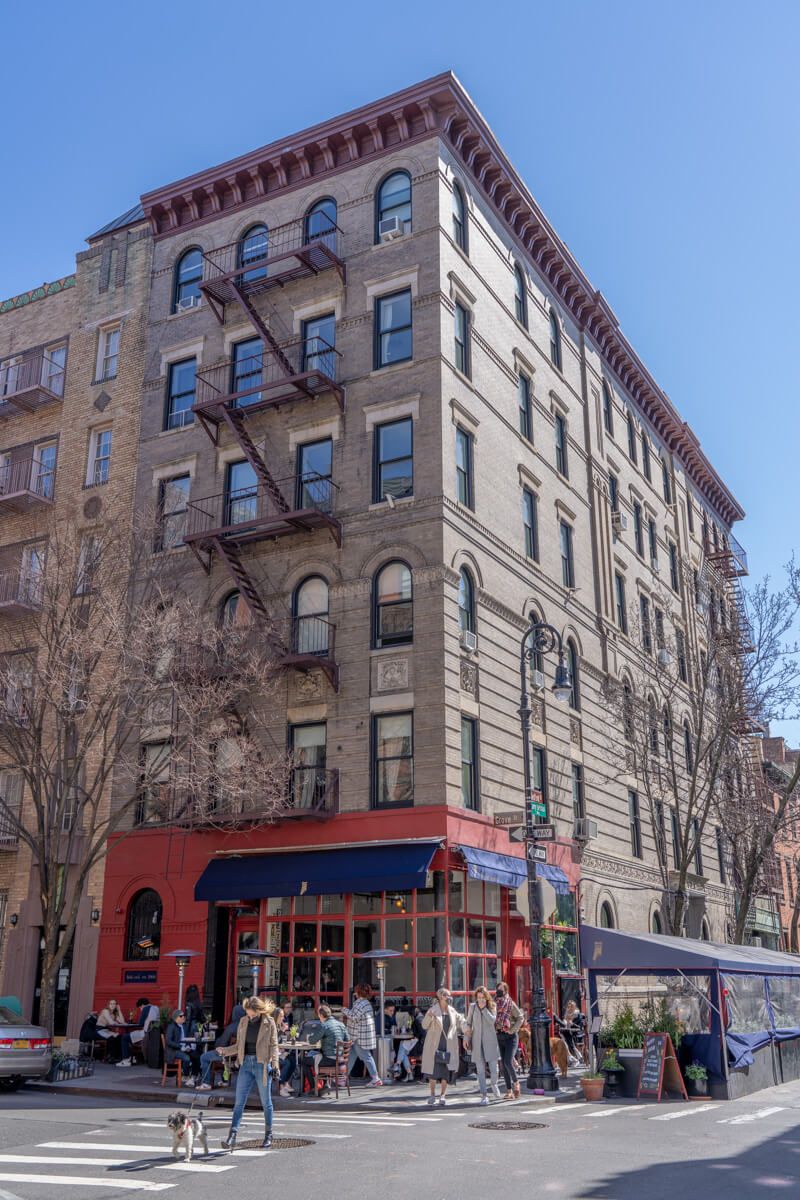 This modest and pretty standard looking NYC building is in fact the exterior apartment shot used throughout the remarkably popular sitcom Friends.
Although the cast filmed Friends entirely in Warner Bros studio Hollywood, LA around 2,500 miles away, all outdoors scenes were shot in New York City.
The apartment is located in Greenwich Village among a maze of stunning residential streets.
Right at the bottom of the building you will find highly rated Mediterranean restaurant The Little Owl, just in case you're in need of a spot of lunch.
11. Shop In Macy's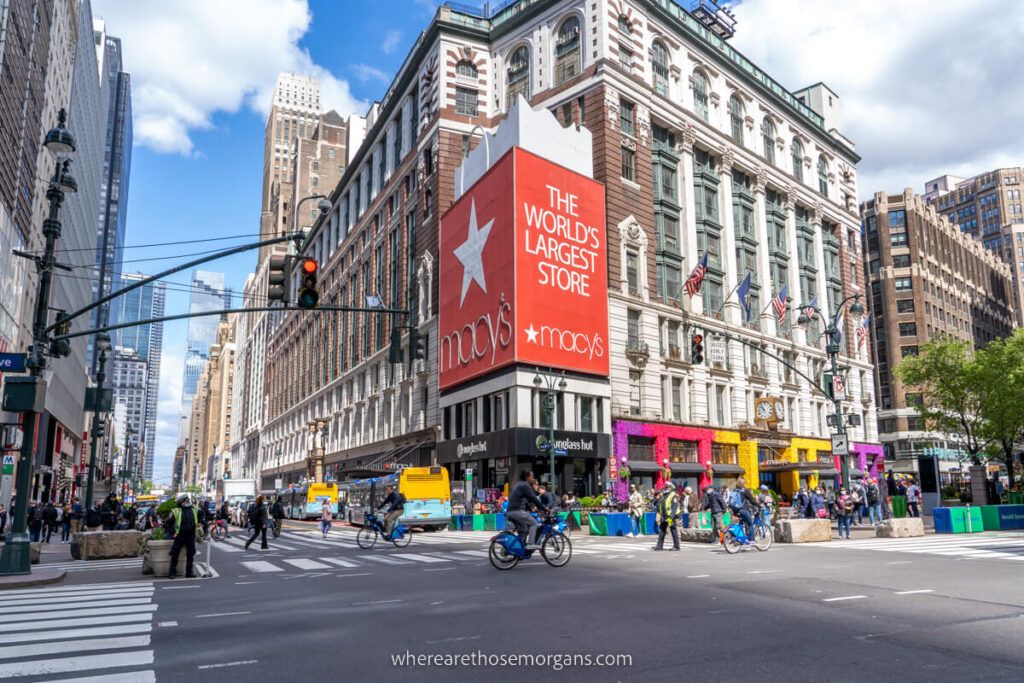 You can't visit New York City without going for a walk around Macy's, the 'world's largest department store'.
Ride the old wooden elevators up 11 floors, explore each floor of the shoppers paradise or eat at one of the many restaurants inside Macy's Herald Square.
Macy's is a NYC staple and going inside (even with no intention of buying anything!) is one of those unmissable free things to do in New York City.
Consider this, if it's raining heavily one day during your visit to NYC, what are you going to do? You got it, head into Macy's department store!
Best Times Of Year To Visit Macy's
Thanksgiving – If you're lucky enough to be visiting NYC near the end of November, you might even catch the famous Macy's Thanksgiving Day Parade.
Christmas – In both November and December you get to see Macy's adorned inside and out with festive Christmas decorations.
12. Photograph Flatiron Building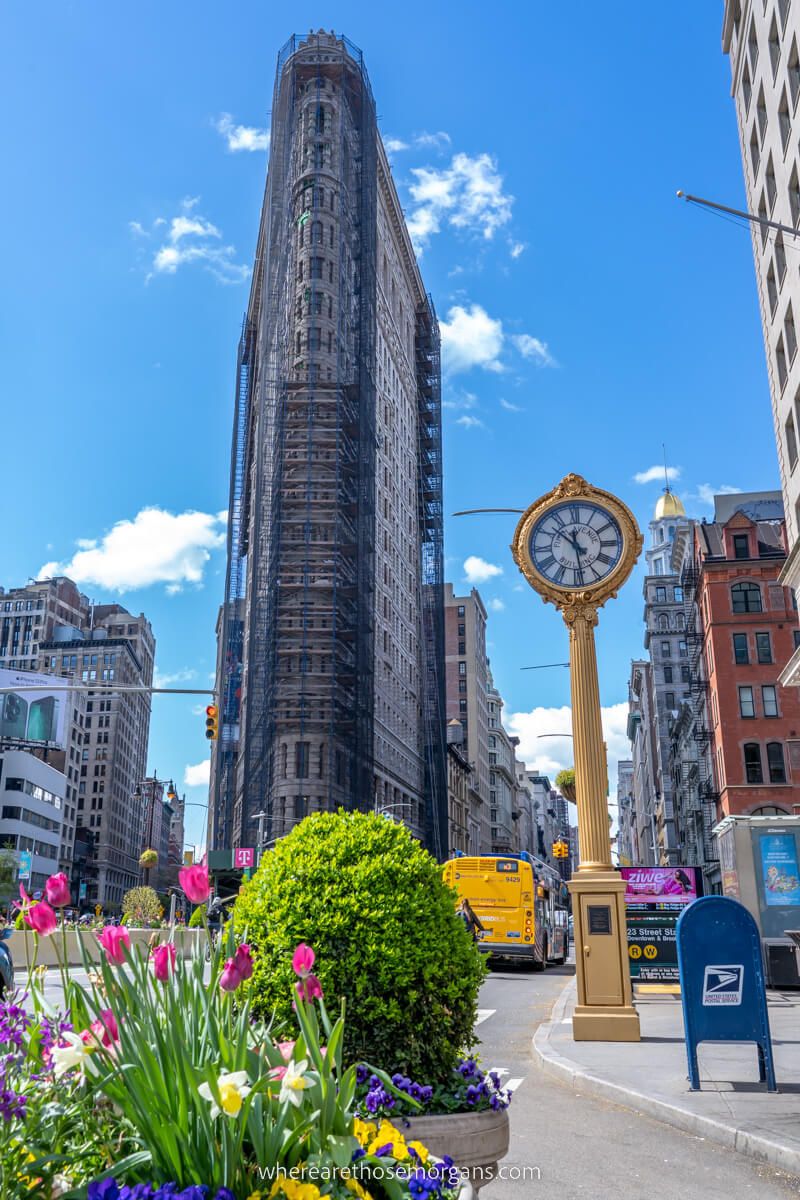 From famous store to famous structure, the Flatiron Building is a distinctive isosceles triangle shaped architectural treat located directly down fifth avenue from the Empire State Building.
The entire time we lived in New York City, the Flatiron Building was unfortunately covered in scaffolding and tarpaulin. We had hoped the next time we visited it would be clear, but it wasn't. Nor the time after.
And so we are still yet to see the Flatiron in all its glory. At least the Flatiron Clock is scaffold free!
If you've see the movie John Wick you might think Flatiron Building looks like the fictional Continental Hotel?
Well it does look like it, but it isn't the building used in the move. That is in fact One Wall Street Court further down in Lower Manhattan.
13. Walk The Manhattan Bridge
Often overlooked in favor of the tourist hungry Brooklyn Bridge, we very highly recommend a walk over the Manhattan Bridge if you have time on your NYC itinerary.
The walk itself is not as attractive as Brooklyn Bridge, but it is much quieter and offers a completely different perspective overlooking Lower Manhattan.
Plus, you get a stunning Brooklyn Bridge view from Manhattan Bridge, which is especially attractive around sunset.
There's also a classic NYC photography spot known as hole-in-the-fence which looks down a Chinatown street to look out for.
This is one of our best "hidden gem" free things to do in New York City.
Want to know what the Manhattan Bridge walk is like? Read our complete guide to walking over the Manhattan Bridge for plenty of photos and details on how to access the bridge.
14. Go Inside The New York Public Library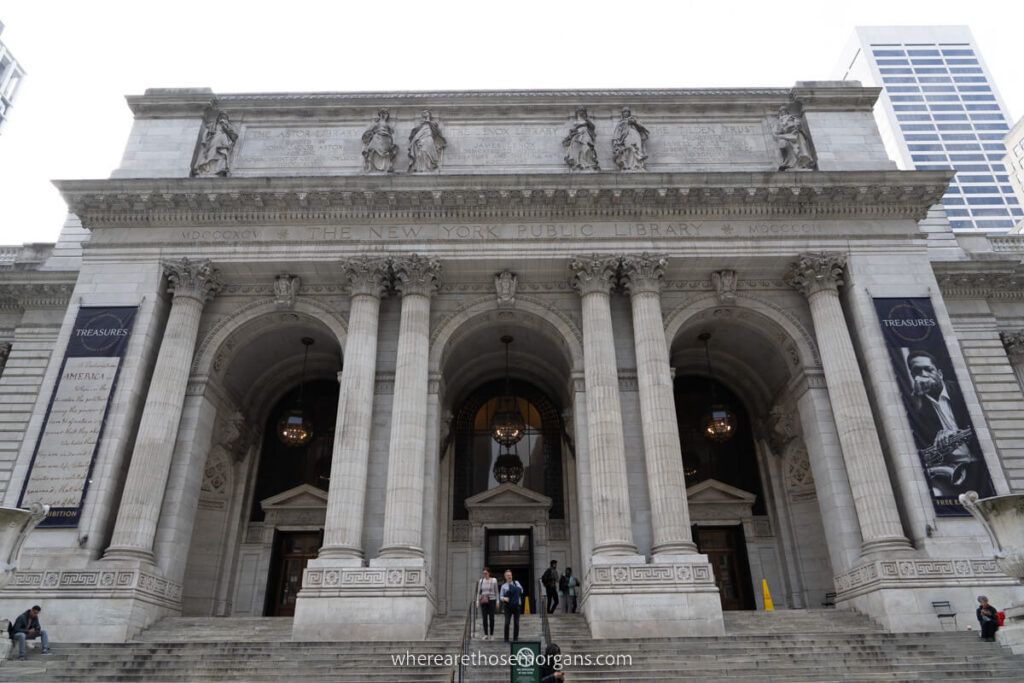 The New York Public Library is the fourth largest public library in the world and it is another short but popular stop on the classic first time NYC itinerary.
Built in 1895, New York's library is one of the most prominent buildings along fifth avenue, with ornate lion statues named Patience and Fortitude flanking a wide stone staircase leading to the magnificent structure.
But don't just see it from the outside, take a minute to head inside and see the beautiful interior design work. It is completely free to enter, but certain rooms may only be accessible for 'studying'.
Historians and architects aren't the only visitors who will enjoy looking around the library!
15. Buy A Book In Strand Bookstore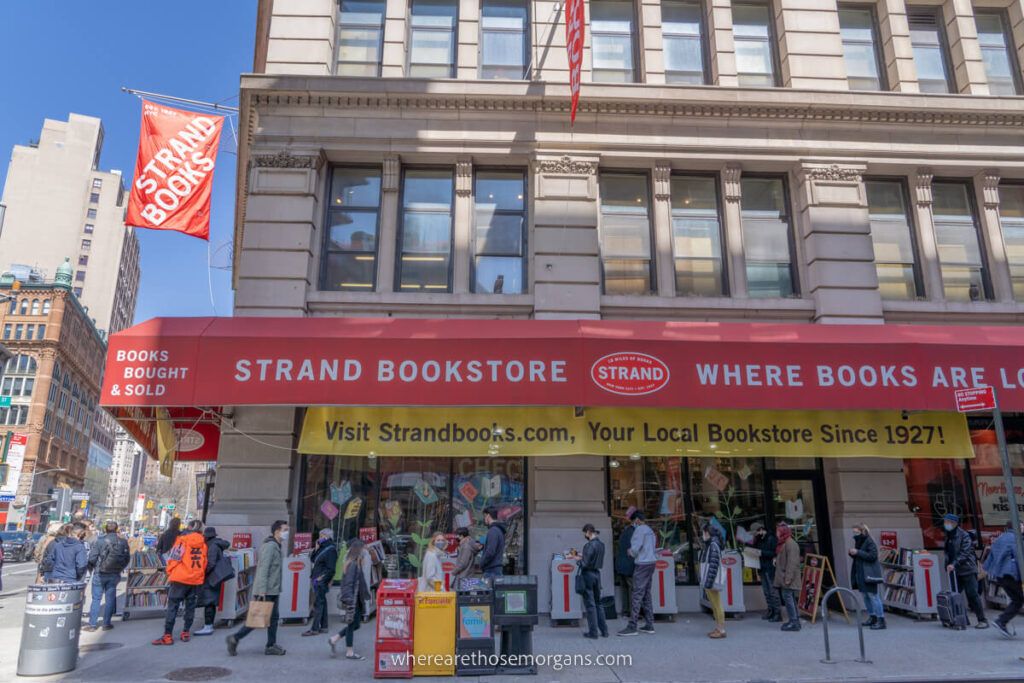 Strand Bookstore is New York City's incredibly popular independent bookstore lovers' paradise.
It is located in a part of South Midtown with few other tourist attractions around, which means extra effort is required to reach the store.
However, even that doesn't keep the crowds away, so expect a long line to get inside.
What will you find inside? Oh, just the 18 miles of book shelves!
Head for Union Square 14th Street station and continue two blocks south on Broadway. Strand Bookstore is on E 12th Street.
16. Photograph The Iconic NYC Skyline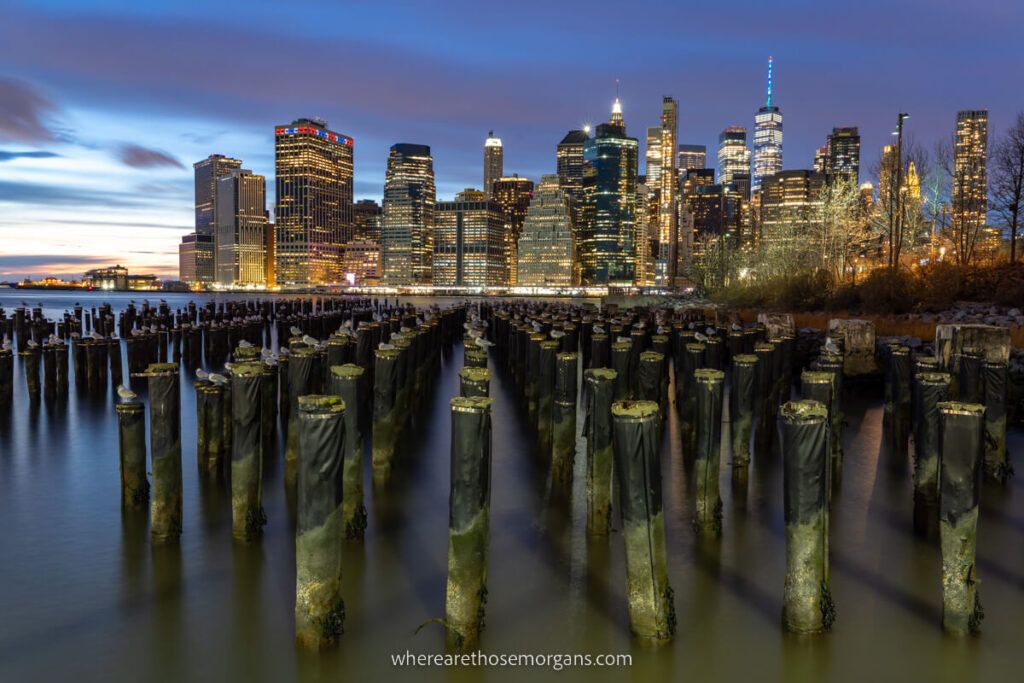 Thanks to popular culture, the New York skyline is arguably the most famous in the world. Personally we think photographing the legendary buildings easily qualifies as one of the best free things to do in New York City.
You can see the skyline from several spots both above and below the buildings, and at different times of day for a completely different experience.
You'll have to pay to go up observation decks or on a helicopter tour (we'll cover those later). But you can head down to Brooklyn Bridge Park area to see the photogenic buildings of Lower Manhattan and that isn't going to cost you a thing.
Sunset is a beautiful time of day to see the Lower Manhattan buildings glowing, but it is nighttime that really shines the brightest.
Best Places To See The NYC Skyline
Walking across Brooklyn Bridge and Manhattan Bridge (free).

From

Brooklyn Bridge Park and Old Pier 1 (free).

Boat tour

looking back from the Hudson River and East River (below $30).
Standing on top of observation decks ($30+).

Helicopter tour looking down from the sky

(expensive).
17. Stand On Top Of Time Out Market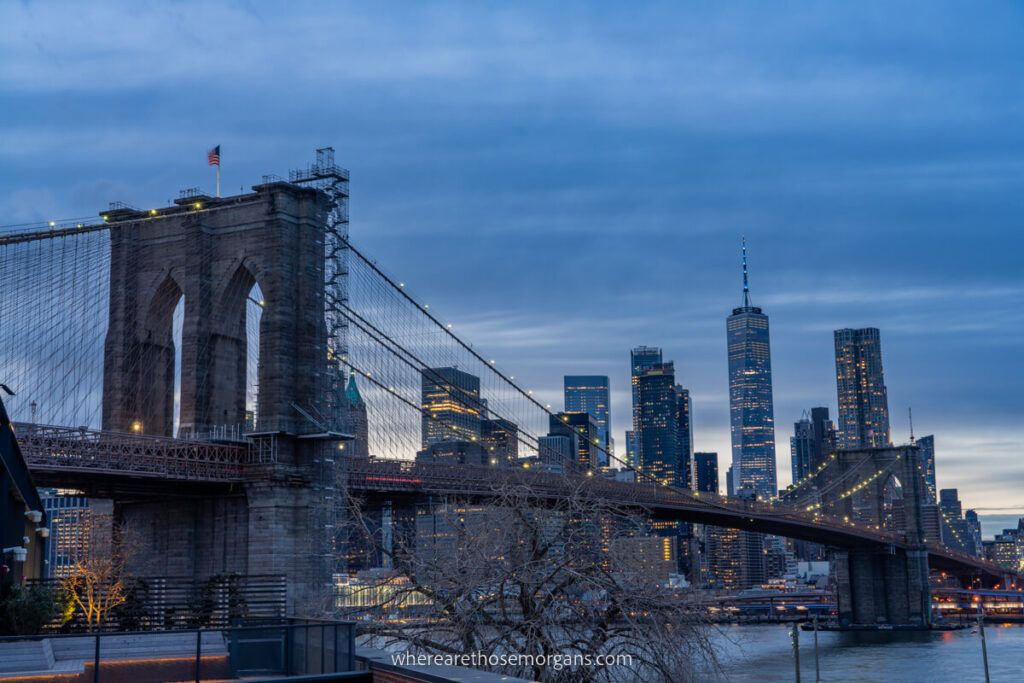 Time Out Market is a small but fun shopping and dining experience located in Dumbo, Brooklyn.
It sits right on the banks of the East River and offers upscale shops with a riverside restaurant directly overlooking Brooklyn Bridge.
However, the reason we think you should visit is to head up to the roof of Time Out Market. You will be rewarded with wonderful elevated views over both Brooklyn Bridge and Manhattan Bridge.
This is another of our best "hidden gem" free things to do in NYC.
18. See Wall Street + The New York Stock Exchange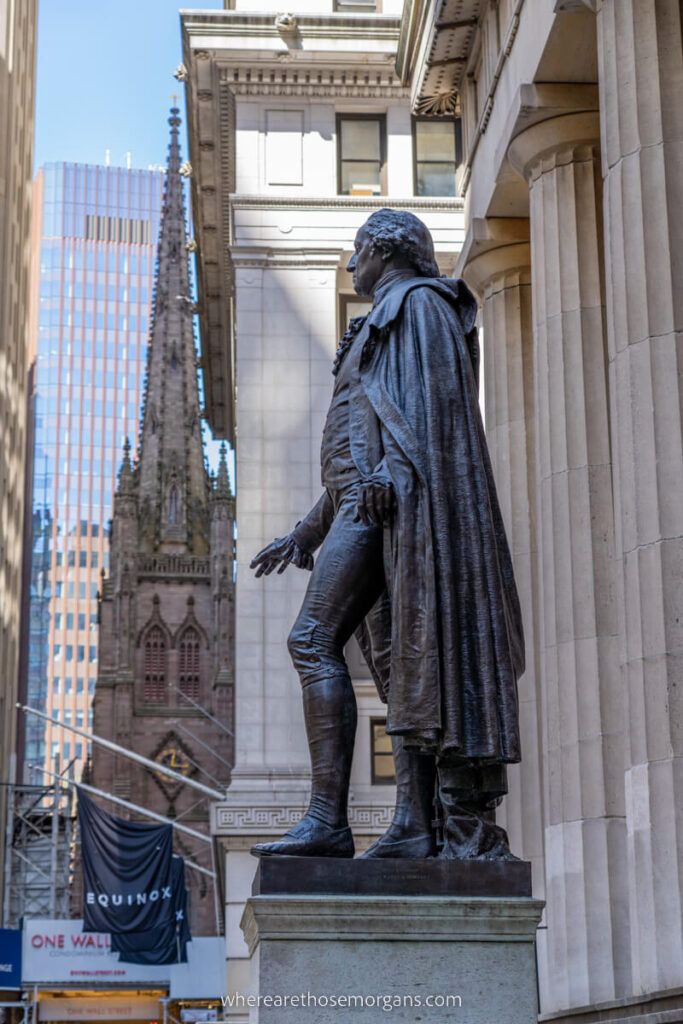 Walking along Wall Street is one of the most iconic free things to do in New York City. Everyone has heard of Wall Street and intrigue alone draws thousands to the area each day.
Narrow, winding and cobblestoned streets, tall buildings to either side and eerily still air – you can almost hear the sound of money being made.
Wall Street may be the hub for Manhattan's Financial District but you can't do anything tangible with money here. This is not a traditional tourist attraction in the sense that you "do" something.
However, there are plenty of things to keep you occupied during your visit to Wall Street.
Places To Visit Around Wall Street
Federal Hall and George Washington statue

New York Stock Exchange and Fearless Girl Statue

40 Wall Street (Trump Building)

Trinity Church

Charging

Bull (nearby)
19. Admire Street Art At The Bushwick Collective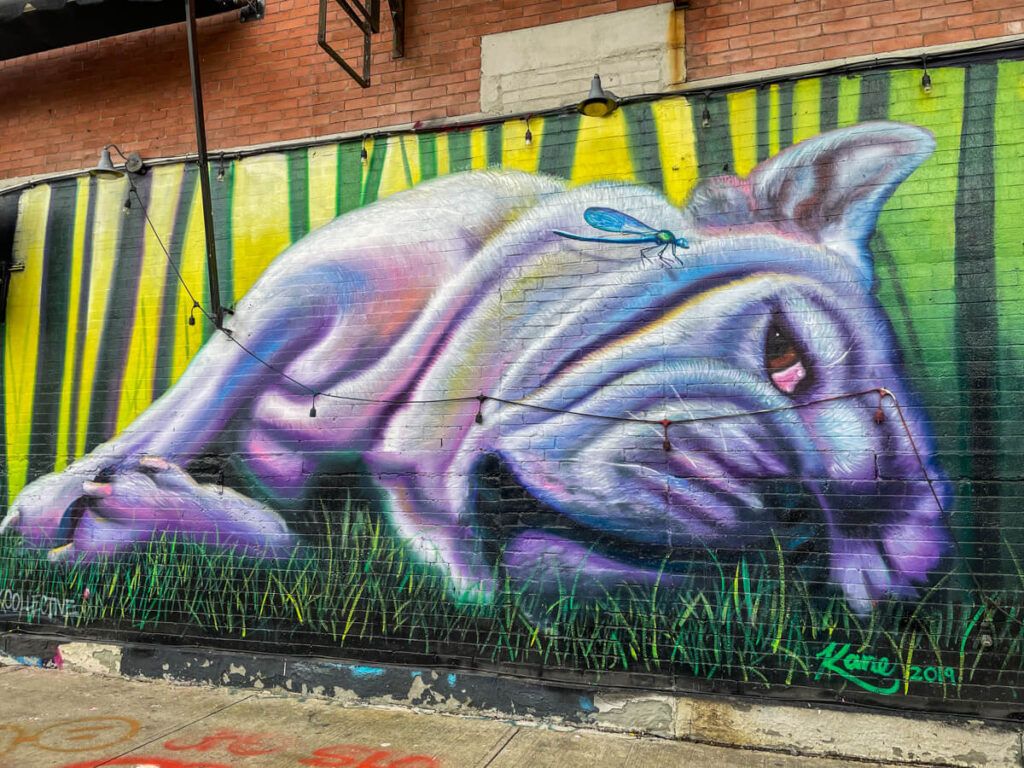 Bushwick is a popular artsy neighborhood to the east of Williamsburg. The world's top street artists and local graffiti artists from the area have adorned several streets in outstanding wall art.
You can take the L train to Jefferson Street and within a minute or two you can be admiring some of the highest quality graffiti art in any city on the planet.
Head for Starr Street, Troutman Street and Jefferson Street between Wyckoff Avenue and Cypress Avenue for the main cluster.
Alternatively, you can explore the Bushwick Collective as part of this popular guided tour, where you will learn about the artists and murals.
The wall art here is well worth the visit alone. But better yet, stick around for a beer and a bite to eat with the locals.
20. Step Inside Oculus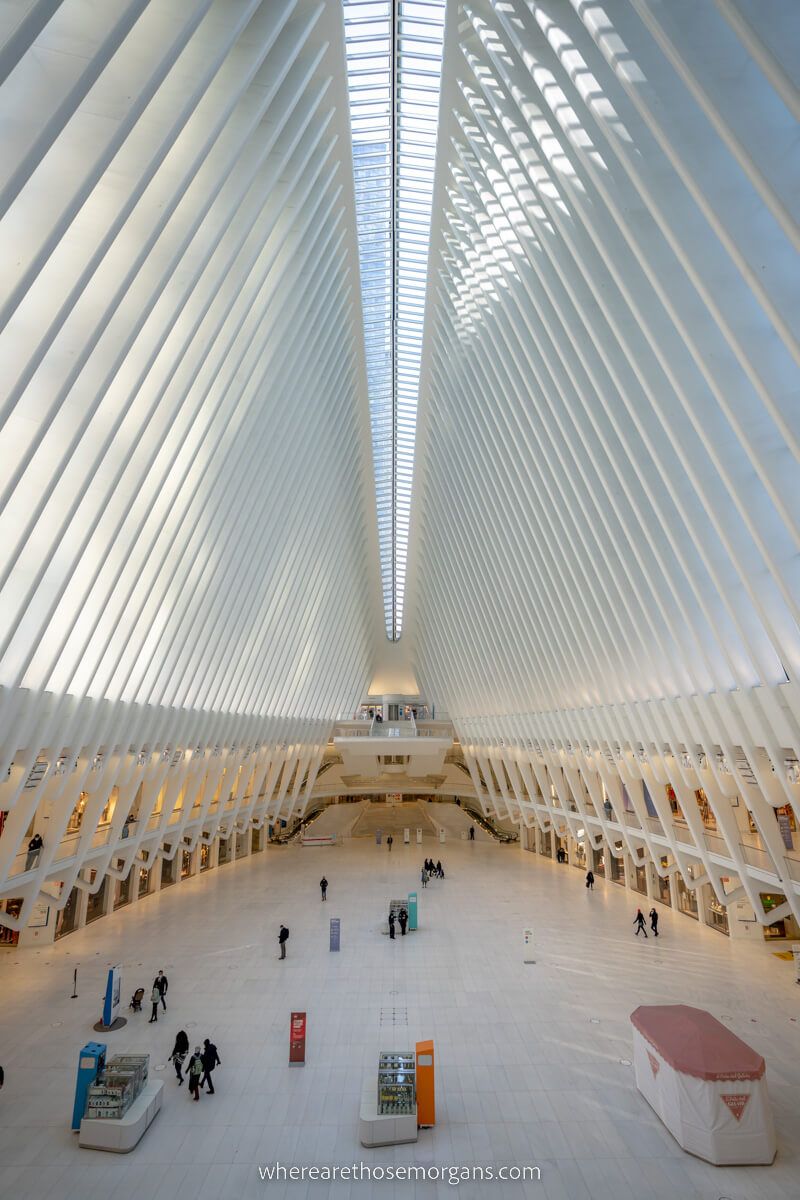 Oculus is one of our favorite examples of unique New York City architecture. In fact, building design doesn't get much more original than Oculus!
Brilliant white curving 'wings' spread like a dove in flight stick out like a sore thumb from the outside around the World Trade Center complex.
But it isn't until you enter the relatively small building that Oculus blows you away. The cavernous white hall located underneath the city streets of Manhattan is a sight to behold.
Oculus is one of our favorite free but outrageously photogenic attractions in New York City. It is actually a transport hub and shopping center.
21. Explore SoHo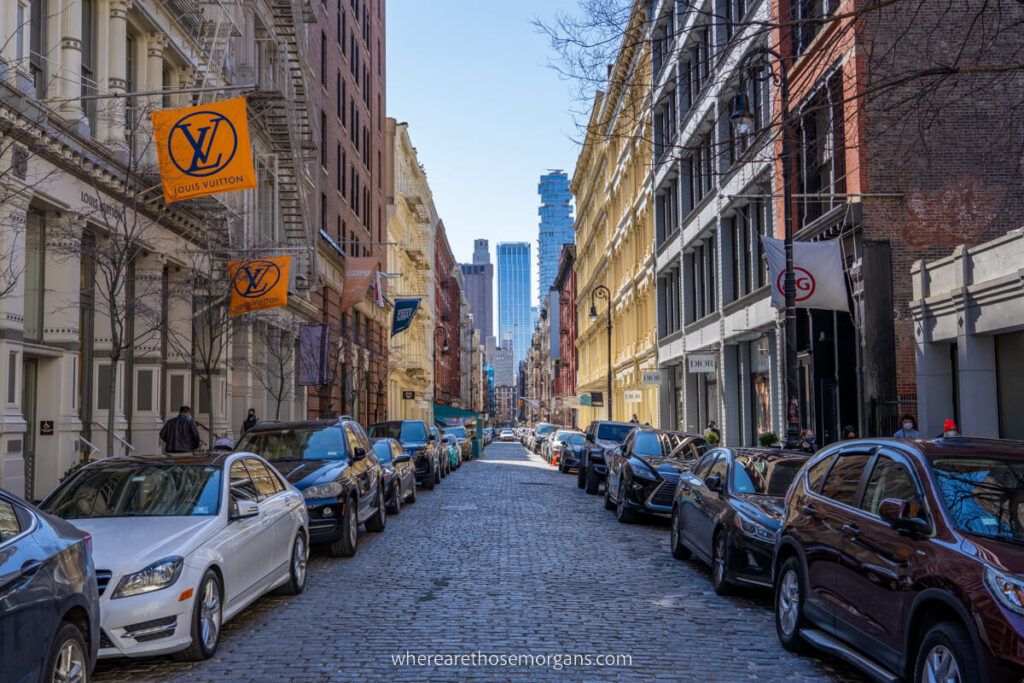 SoHo stands for South of Houston Street, and despite being crowded with both tourists and locals, SoHo's cobblestone streets and high end shops make it an exceptionally picturesque neighborhood to walk around.
Narrow sidewalks and heavy one way car traffic lanes add a frustrating but exciting buzz to SoHo.
Reserving ahead for restaurants is strongly recommended.
We tried on 3 separate occasions (weekend and midweek) to grab lunch and they were all booked up. But we learned by the 4th time and have been back several time since with reservations!
What we like most about SoHo is its 'feel good' aura. It is also a fantastic people watching part of NYC.
High end shopping and a trendy residential scene make SoHo a highly desirable part of the city to live but it is expensive.
Things To Do In SoHo
Shop til' you drop (better if you have a few thousand dollars spare in your NYC travel budget)

.
Check out the Museum of Ice Cream.

Enjoy the cobbled streets and people watching.

Visit the Drawing Center.

Eat a Cronut at Dominique Ansel bakery

(we'll explain later)

Get your Insta game on!
22. See The Sunrise At Seaport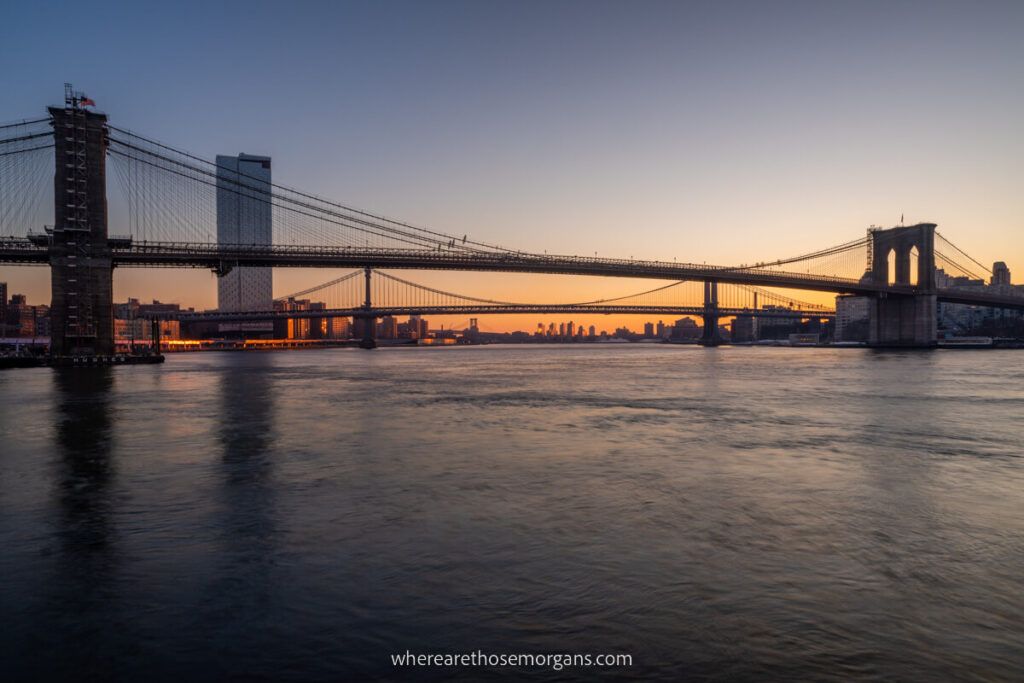 The Seaport District is where it all began for Manhattan and New York City.
The Dutch West India Company settled and developed streets known as Pearl Street, Front Street, Water Street and South Street.
Trade routes from China and Britain opened up with what became the Port of New York at South Street.
Its demise as a prominent port began when advancements in ship building methods left the port in ruins as the water was too shallow for newer ships to dock.
Today, Seaport is a shopping and dining area facing out over the East River to Brooklyn. It also happens to have one of the best sunrise spots in all of New York City.
Head out to the far back end of Pier 17 behind the shops and bars, set up your tripod looking at Brooklyn Bridge, pull out your flask of coffee and watch the sun rise behind Brooklyn.
Watch the buildings on your side of the East River as they start to glow a deep and intense orange.
Things To Do In Seaport
Go to

Pier 17 for an incredible NYC sunrise location.

Head to

Pier 15 to relax on a public esplanade.

Shop in independent stores.

Visit the South Street Seaport Museum.

Check out Bowne & Co stationers.
23. See The Sunset At Manhattanhenge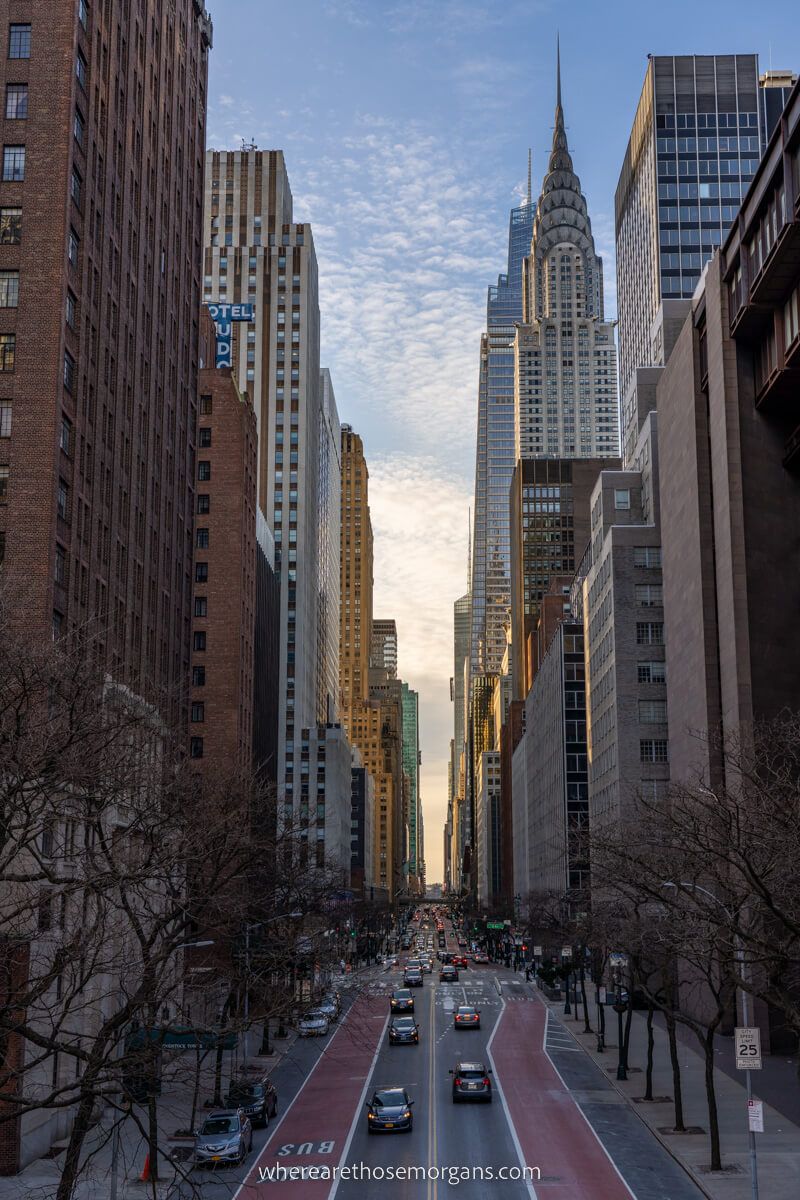 Manhattanhenge is a famous sunset event that only happens twice annually, around three weeks either side of the Summer solstice. In 2022, the two Manhattanhenge dates fell on May 30 and July 12.
What is Manhattanhenge?
Well, it is when the sun sets right at the very end of long tunnel-like streets in Manhattan's east-west grid pattern. It can be seen through streets such as 14th, 23rd, 34th, 42nd and 54th.
We took the photo above from 42nd street at the Tudor City Bridge.
Not many people know it, but there is also the reverse Manhattanhenge which is when the sunrise occurs at the opposite end of those same streets.
This happens three weeks either side of the winter solstice but far fewer people are interested.
Check your travel dates and if they align with Manhattanhenge, you are going to witness one of the most unique and sought after free things to do in New York City.
24. Take The Free Staten Island Ferry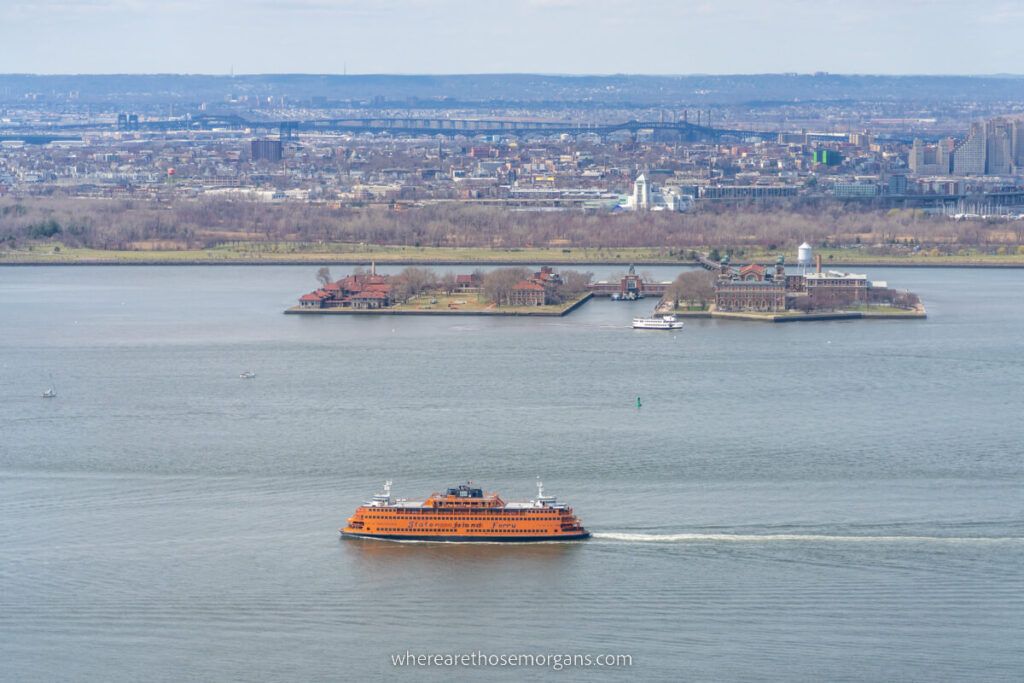 The Staten Island ferry is a free passenger transporter carrying New Yorkers from Manhattan to the southernmost borough of Staten Island.
Look out for the gigantic orange ship in Hudson Bay and you've spotted the Staten Island Ferry.
Many first time visitors to New York take the free Staten Island ferry to get close up views over the Statue of Liberty without having to pay.
It's a great idea if you're traveling on a frugal budget but we have to say it is nothing like taking the tour of Liberty Island.
South Ferry red subway line terminal is where you can board the Staten Island ferry.
With just a few days in NYC we wouldn't recommend visiting Staten Island, there's just too much else to see and do. But if you have a week in the city, you can afford to spare a half day here.
Things To Do In Staten Island
25. Check Out The New Penn Station
Penn Station is New York City's major transportation hub and right above is world famous events center Madison Square Garden.
You will pass through Penn Station if you're taking a train from JFK or Newark, and you'll be there to watch a concert, see the Knicks play basketball or see the Rangers play ice hockey.
What could you do in Penn Station for free?
Well, there's a really cool photography spot on 34th street at the entrance to the newly refurbished Moynihan Hall area within Penn Station.
If you've ever been to the London Natural History Museum, the escalator is like going up through that globe. This is brand new instagram photo spot in NYC.
26. See Radio City Lit Up At Night
Radio City has been one of the best free things to see in New York City at night for years.
Those gorgeous purple and dark blue colors from Radio City radiate out into the NYC night sky and provide an easy photography opportunity.
Stand on the corner of 6th avenue and 50th street after sunset for the iconic night photo.
If you can catch a show, all the better.
Shows At Radio City
General – For general tickets and to see which comedians, opera singers and artists are playing, here's the official MSG site.
Christmas – The Radio City Rockettes perform a wildly popular Christmas Spectacular each year, find tickets here.
27. Feel The Festive Spirit At Rockefeller Christmas Tree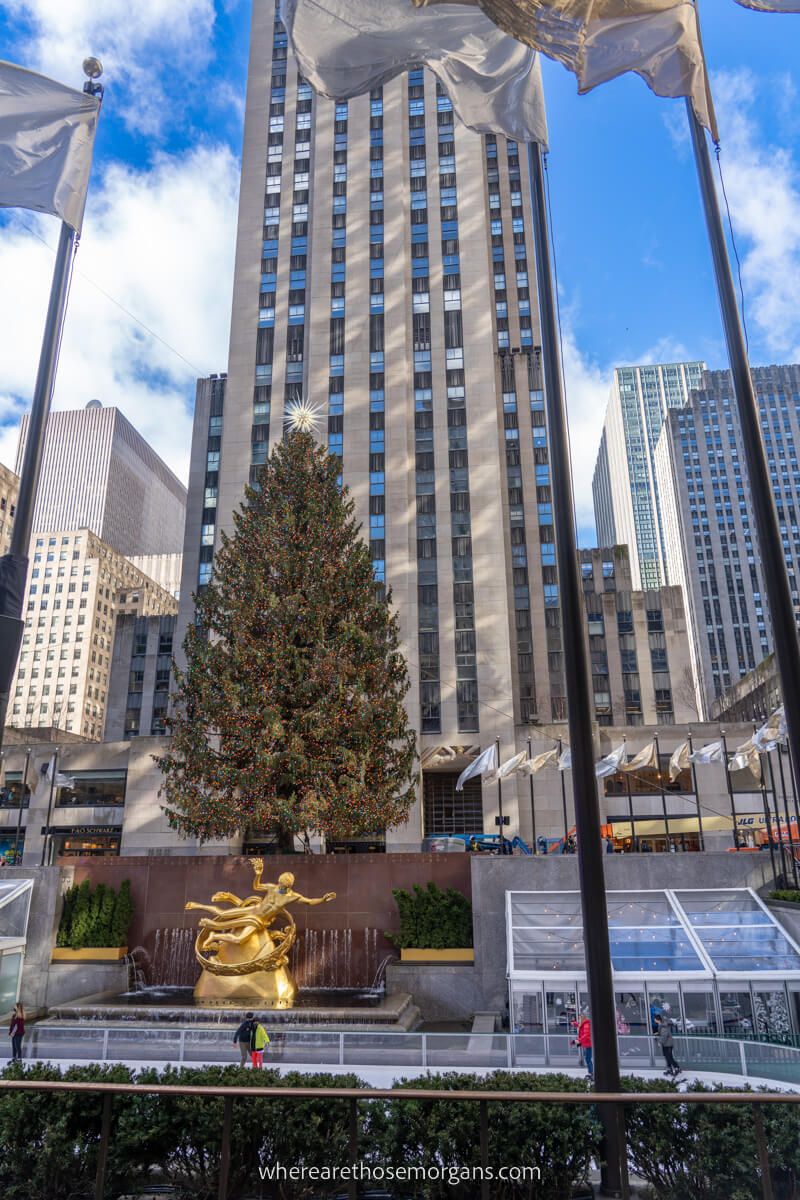 Does it get any more romantic than the icon of the festive holiday season – The Rockefeller Christmas Tree?
We're sorry it's another time sensitive event but this really is one of the truly best free things to see in New York City that just has to be included.
If you're visiting NYC in November or December before Christmas, you simply cannot miss the legendary 75 ft tall Christmas Tree from the scene at the end of Home Alone 2!
Rockefeller Tree Information
The tree is located right outside the Rockefeller Center in Rockefeller Plaza.

It goes up the Wednesday after Thanksgiving and goes down in early January.

You can ice skate on the rink in front of the tree for the most amazing (but costly!) experience.
28. Mingle With Locals In Greenwich Village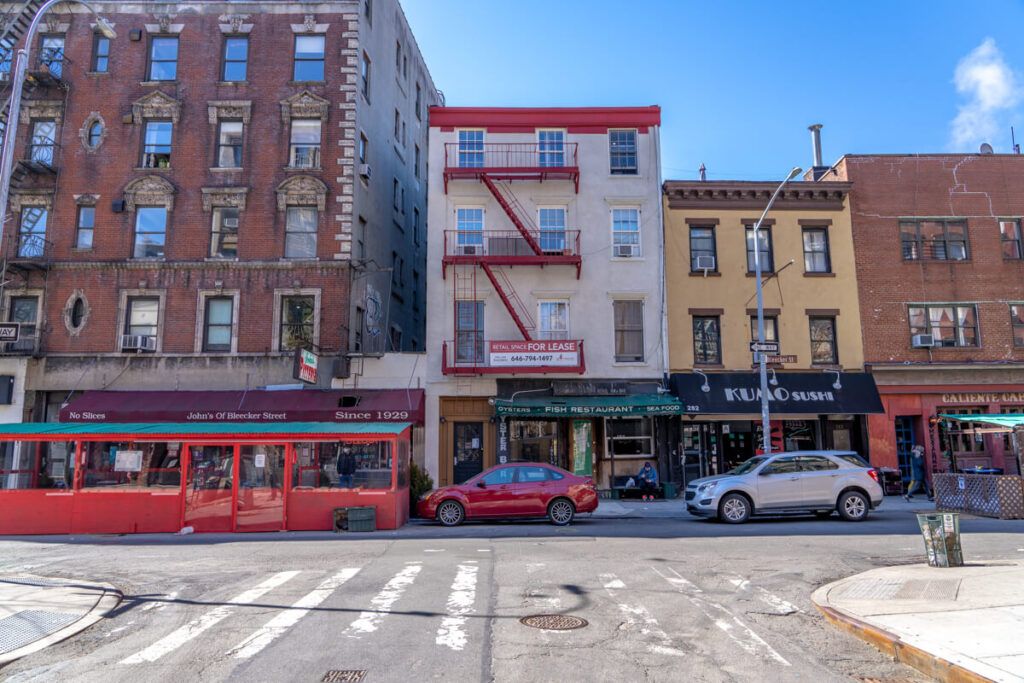 Greenwich Village is another of Manhattan's most attractive residential neighborhoods. Tree lined streets host cafes, bars, restaurants and a big party scene, particularly along Bleecker Street.
New York's bohemian capital is home to a spirited, artistic and friendly community.
Washington Square Park is at the heart of Greenwich Village and you can expect to see live music, chess games and a diverse mix of age ranges.
Things To Do In Greenwich Village
Relax in

Washington Square Park.

See the Friends apartment.

Enjoy stunning NYC residential rows of houses.

Eat, drink and party.
29. Walk Through Chinatown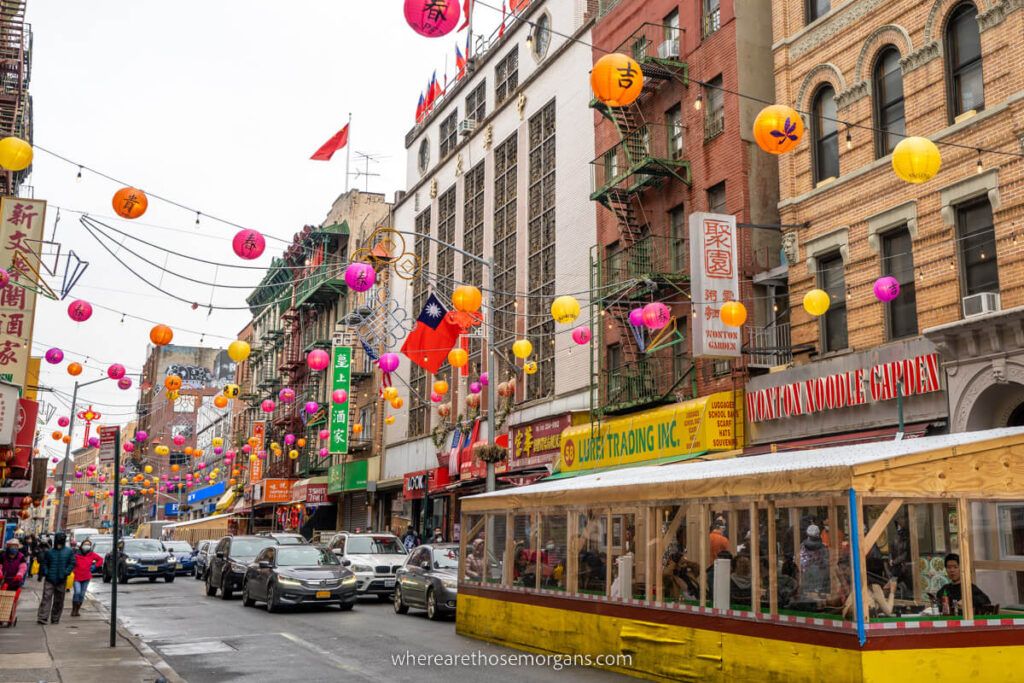 Chinatown is sandwiched between Lower East Side and Little Italy on the South side. It has a high population density and that means dozens of amazing places to eat, drink and party.
Expect vibrant hanging lanterns, exceptional Asian food, temples, bakeries, galleries, museums bars and nightclubs.
It is more gritty and less attractive than the likes of SoHo but you can get a real feel for working class Manhattan here.
Things To Do In Chinatown
Visit the Museum of Chinese in America.
Explore the best of

Canal Street shopping.

Drink cocktails in Apotheke Bar (famed for Chemistry Lab theme).
Eat at some of the best south east Asian places in NYC.
Explore nearby modern natural history museum Mmuseumm.
30. Shop 'Til You Drop On Fifth Avenue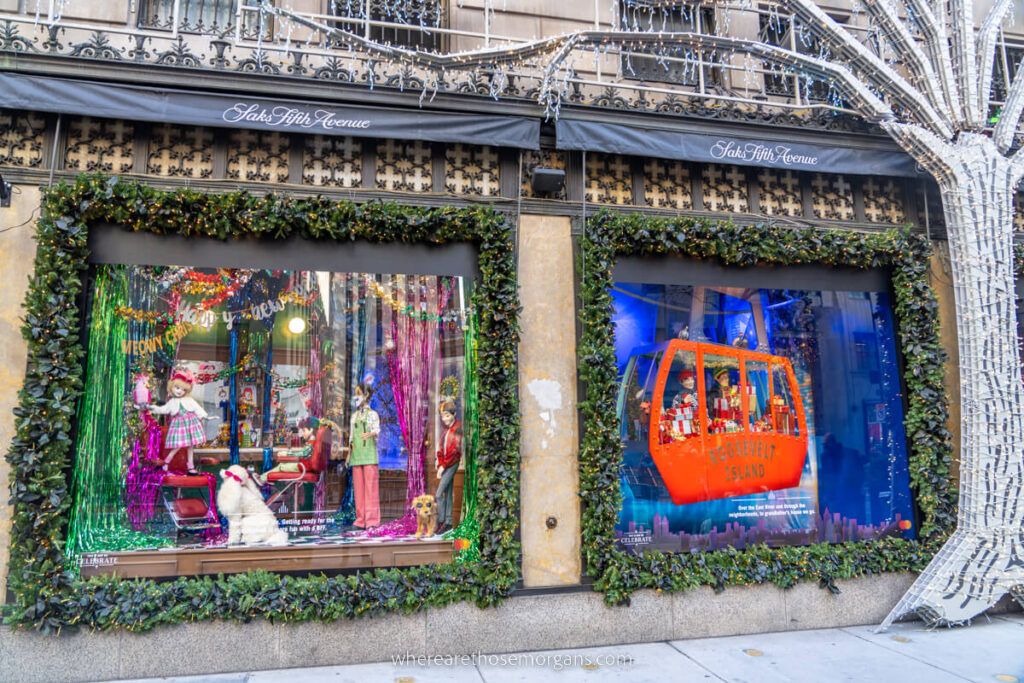 Is there a more iconic shopping street in the world than Fifth Avenue, New York City?
Groups of friends and shopaholics won't be able to stay away from the likes of Saks and huge flagship stores for many famous brands.
Families visiting from abroad with teenagers in tow are likely to be gravitating towards Fifth Avenue very early in the itinerary.
You can of course simply window shop as you slowly walk up and down the avenue, soaking it all in.
However, although we are including Fifth Ave in the best free things to do in NYC, that can change very quickly!
Best Cheap Things To Do In New York City
So that's the top free things to do in NYC covered, let's move onto the best cheap things to do in New York City next.
Everything in this section is priced below $30, which is well within reason and certainly won't break the bank.
We think you'll be happy with what is on offer for a reasonable price point in New York. Don't worry, we have some luxury splurges coming later for you to check out!
31. Go To The Statue Of Liberty + Ellis Island
Lady Liberty is the poster girl of NYC and she is one of the most recognizable landmarks in the world. Taking a ferry to Liberty Island is one of the few things we strongly recommend you pay for in New York City.
She is a mightily impressive sight as you gaze up from below, but you can also learn about her history, construction and unveiling at the museum on Liberty Island.
You don't pay to enter or access the Statue of Liberty, you pay for the ferry which makes stops at both Liberty Island and Ellis Island.
Ellis Island Immigration Museum is incredibly interesting and thought provoking.
Many Americans reading this guide will have grandparents or great grandparents who once entered the US through Ellis Island.
Tips For Visiting Statue Of Liberty
Take a ferry departing from Castle Clinton inside Battery Park in Lower Manhattan.

The free Staten Island ferry will pass by Liberty Island for those on a tighter budget but we highly recommend you take the paid island tour.

Ellis Island immigration museum is part of the same self guided tour and is included in the price.

Ellis Island is not compulsory but again, we highly recommend you visit the museum.

Take the first ferry of the day to Liberty and Ellis Islands for a much quieter experience.

Your reservation time is for entrance to the security screen, not the ferry.
Cost:
US$ 23.50 adult.

You can purchase tickets on the day or in advance with Statue Cruises or Get Your Guide.

Additional charges are required for pedestal and crown access.

Statue of Liberty ferry is included on all New York attractions passes.
Do you want to visit Liberty Island? Read our complete guide on exactly how to get the ferry to Statue of Liberty and Ellis Island.
32. Go To A World Class Museum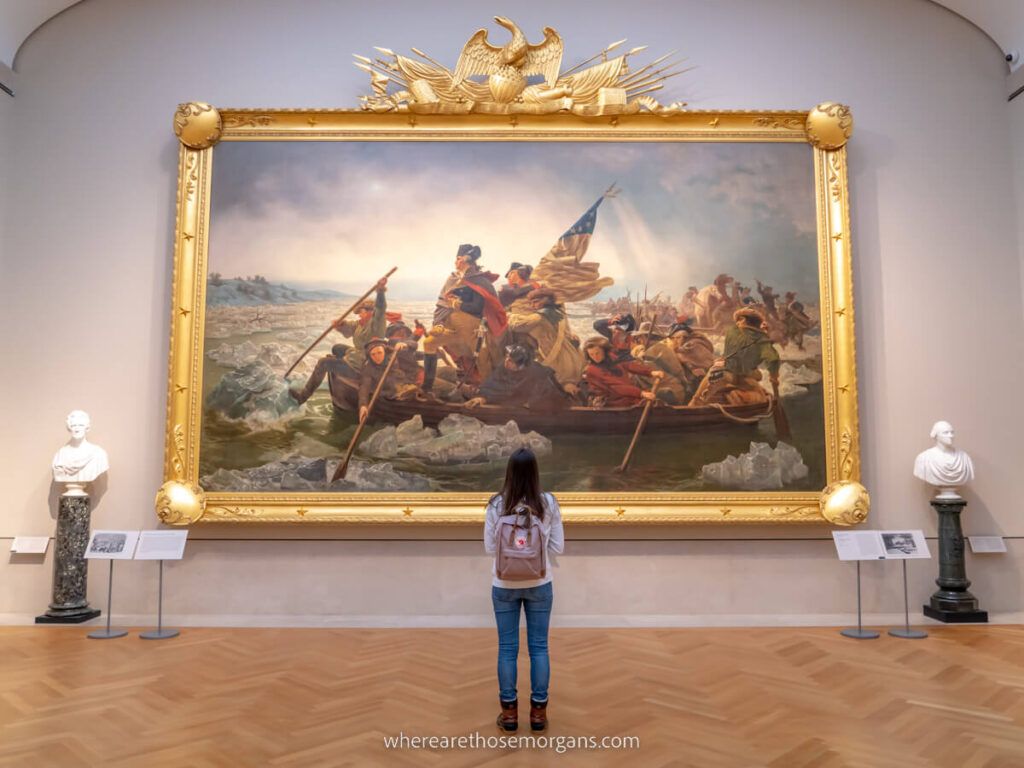 Museums in New York City are on a level you can only find in a handful of cities around the world.
We very highly recommend you allow time for at least two or three museums to suit your preferences. If you can squeeze in a few more, fantastic.
Our personal favorites are The Met and 9/11 Memorial + Museum. Obviously they are very different, but both blew us away in their own right.
The NY Transit Museum in Brooklyn was closed when we lived in New York, but it is top of our list for the next time we visit.
Most Popular NYC Museums
Not sure which museums to visit? Read our detailed guide on the very best museums to visit in NYC to see which you should include in your itinerary.
33. Ride The New York City Subway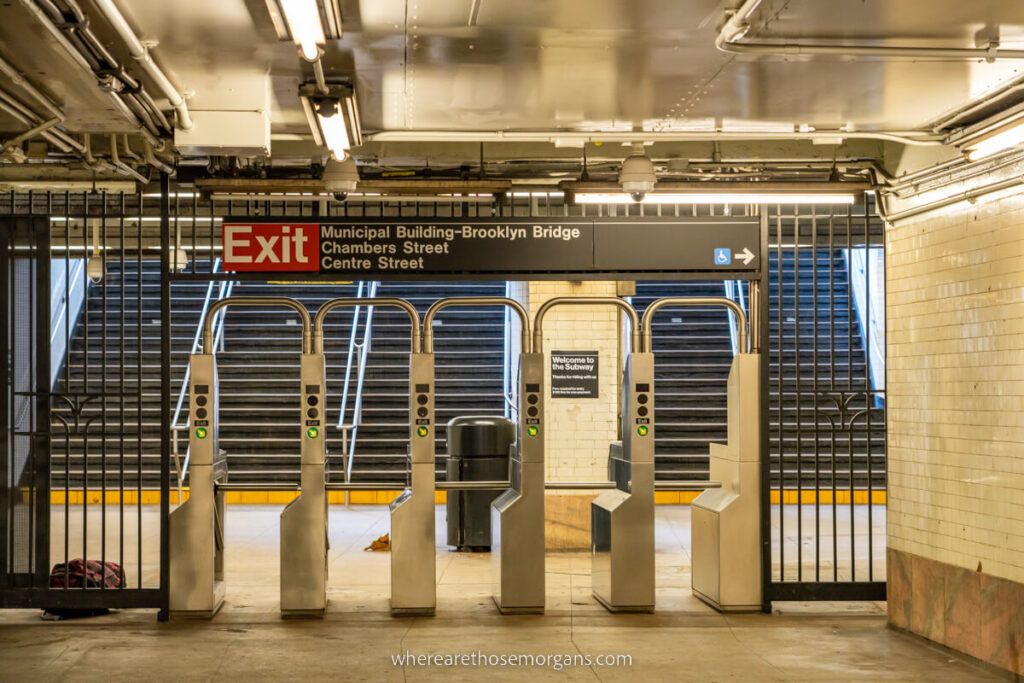 The New York subway system is one of the most iconic in the world.
Even though it seems quite trivial on the surface, you will definitely take a subway ride at some point, if not to get somewhere then at least for the experience.
The city is well connected by subway stations and it is by far the easiest way to get around NYC.
We love to walk as much as possible in cities, but New York is huge and you will need to use it to cover any longer distance trips.
Tips For Riding The New York City Subway
Download this pdf version of the subway map before you go to NYC.

Each ride costs $2.75 (at time of writing).

When you first arrive, buy a subway card and fill it with $11, which gives you 4 rides.

If you will be in town for 3 or 4 days, put more on but make sure it can be divided by 2.75.

If traveling the full length up or down Manhattan's east side, use #4 green line the Lexington Ave Express, which only stops a few times instead of at every station.
34. Visit Governors Island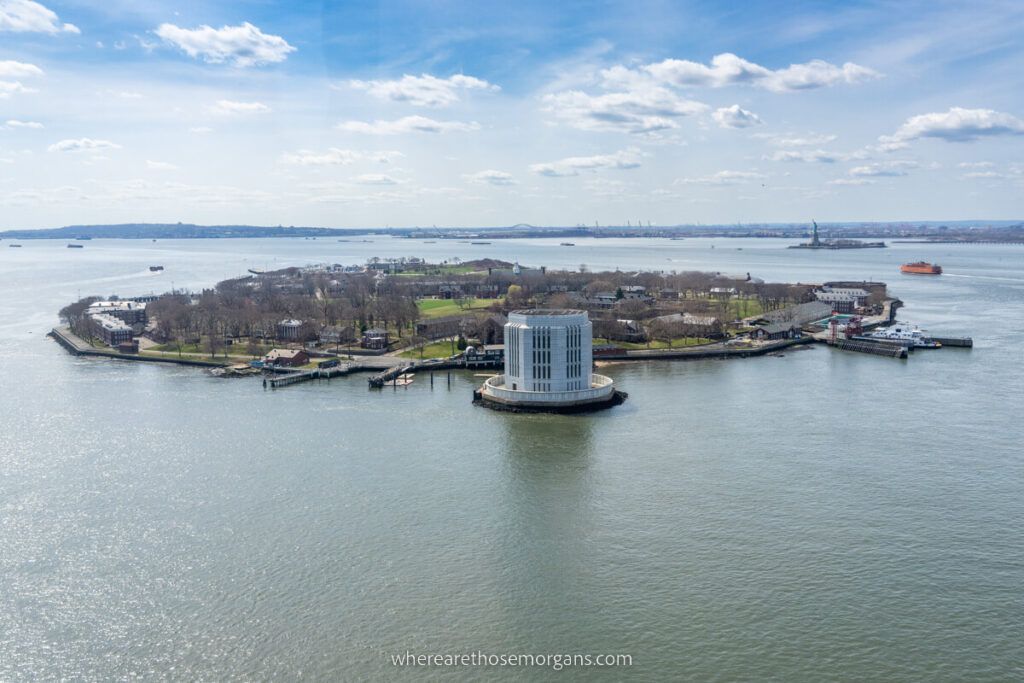 Once a revolutionary war military installation, Governors Island today is a public green space floating in Hudson Bay, perfect for tourists to explore in warmer months.
The US army and coastguard have both used Governors Island for training purposes but it was ultimately opened to the public in 2005.
Things To Do On Governors Island
Free public arts and cultural events take place on the island.

Walk around historic buildings such as Castle Williams and Fort Jay.

Or just enjoy the relaxing gardens.
Taking the ferry:
Tickets are just $3 return.

Ferry leaves Lower Manhattan from Battery Maritime Building Slip 5 (next to Staten Island Ferry).

Here's more Governors Island ferry information.
35. Grab Lunch At Katz's Delicatessen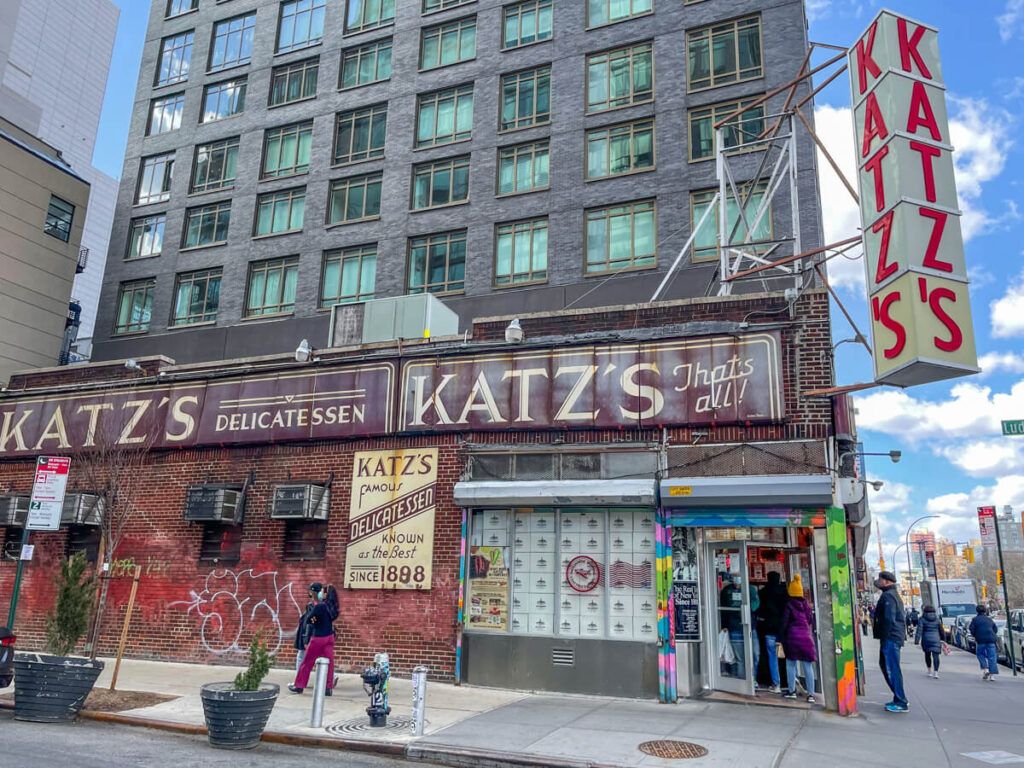 Want to taste the best pastrami on rye in New York City?
Head over to Lower East Side and step inside Katz's Delicatessen. You'll get a ticket upon entry, look up at the menu and make your order.
Katz's is famous among locals and tourists for its food but it has also featured in movies such as When Harry Met Sally.
A sandwich here is likely to set you back around $20-25 which doesn't sound cheap (and it's not), but it is because of the higher quality and cost to produce this quality.
Maybe the fame of this place has added an extra few bucks to bottom line as well.
What To Do
Get pastrami, corned beef or a hotdog

(preferably pastrami on rye).

Do not lose your ticket or you will face a hefty surcharge.

Staff are kind of rude but it's all theatrical.

Enjoy the delicious sandwich.
36. Grab A Beer In Williamsburg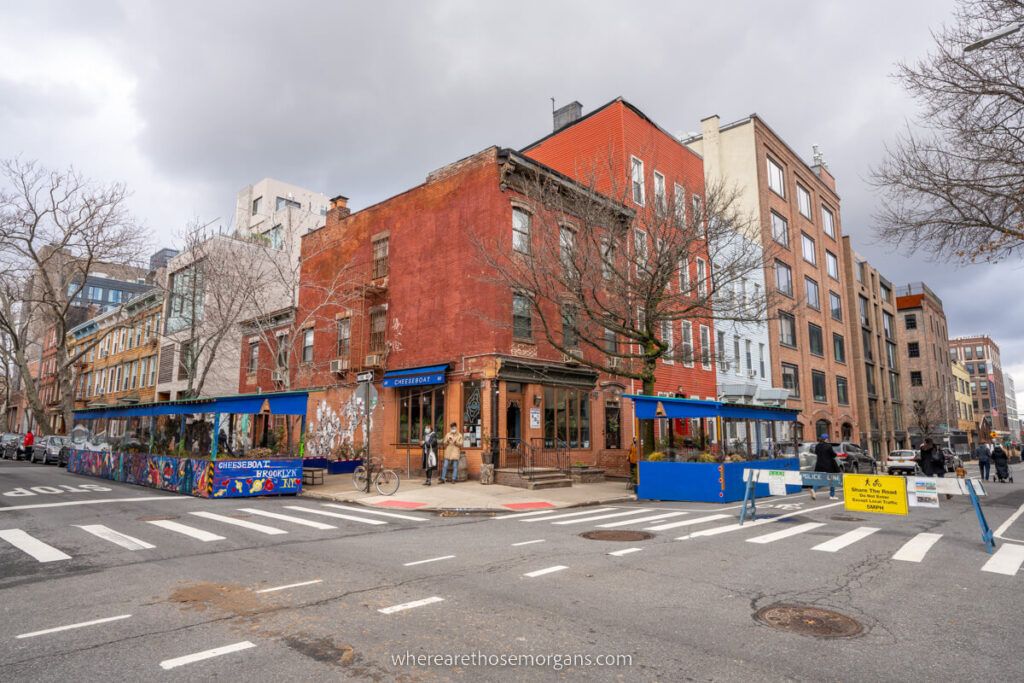 Williamsburg is a trendy and cool residential neighborhood north of Brooklyn and across the East River from Midtown Manhattan.
There's a younger crowd living in Williamsburg, all enjoying the vibrant and bustling social scene.
If you're looking for hipster, bars spilling out onto streets, artsy, chilled and quite frankly awesome, Williamsburg is the place you should spend an afternoon on your NYC itinerary.
We really enjoy walking around Williamsburg's main food and drink scene around Bedford Av and Berry St. If we were to move back to NYC, we would spend more time exploring this area.
Williamsburg is one of those places you eat, drink and chat your way through. The problem is you won't want to leave!
Things To Do In Williamsburg
Eat and drink at trendy cafes, bars, restaurants and clubs.

Hang out in

Domino Park.

Take the L train to

Bushwick Collective street murals.

Listen to music at Brooklyn Bowl.
37. Ride The Roosevelt Island Tramway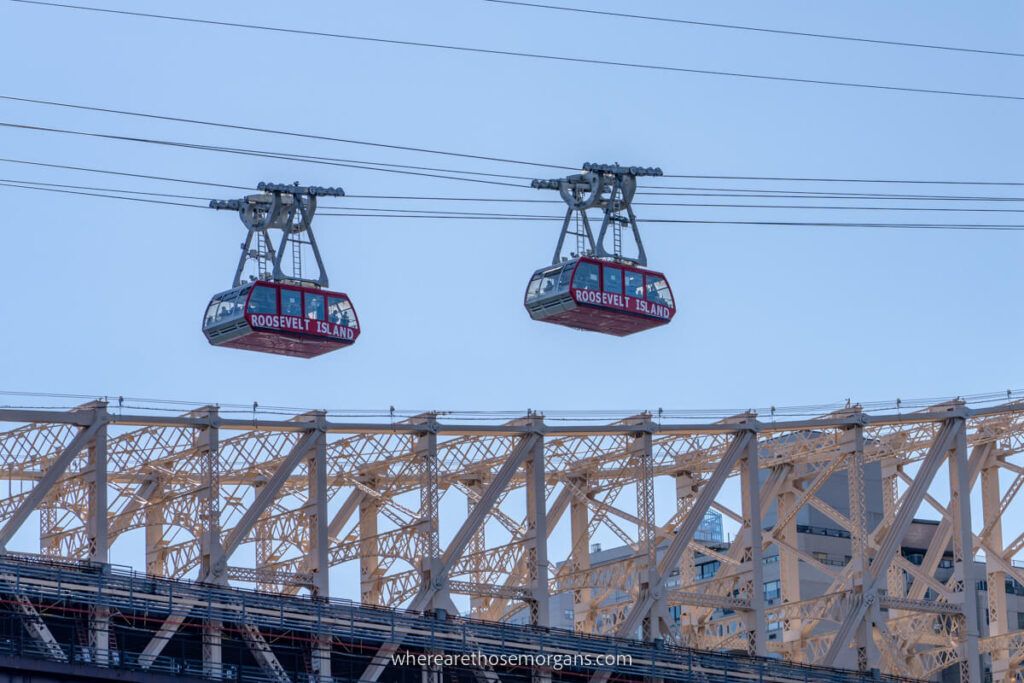 The Roosevelt Island Tramway costs less than $3 and it gives you one of the best views in New York City as it passes over the East River from Manhattan to Roosevelt Island.
If you're looking for the best cheap things to do in NYC in pure terms of bang for your buck, this is up there.
Hop on the tramway at the corner of 2nd Ave and 59th Street in Midtown East. You'll pass over the East River close to the Ed Koch Queensboro Bridge set down right in the center of Roosevelt Island.
Things To Do On Roosevelt Island
38. Visit The Stunning New York Botanical Gardens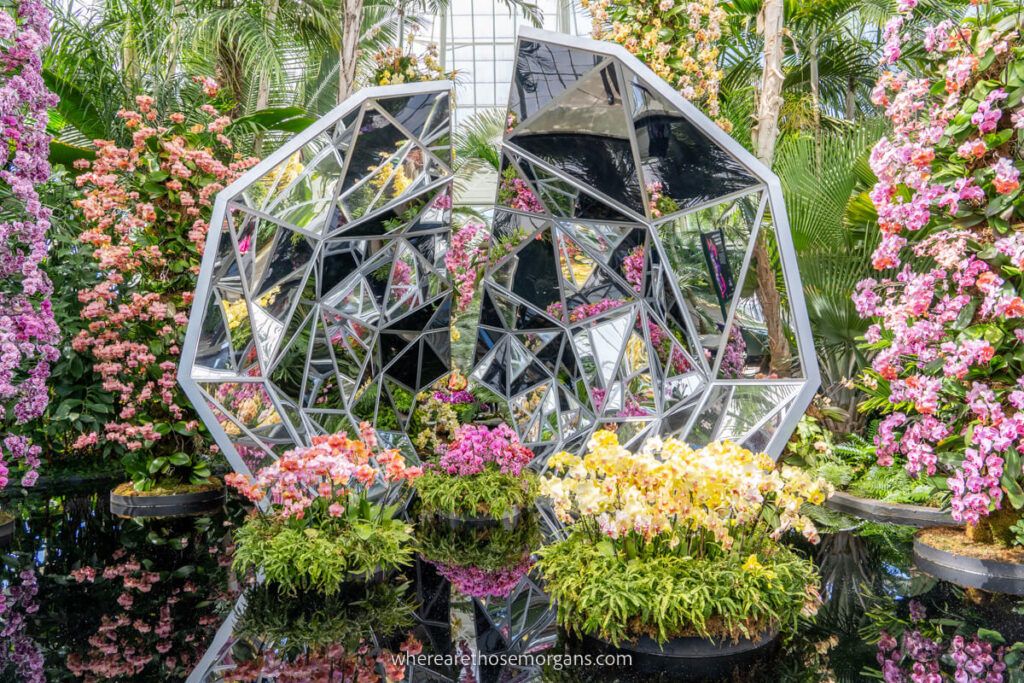 The New York Botanical Gardens is one of our personal favorite places to visit in the city.
Thanks to its location up in The Bronx (near Bronx Zoo), it is far less overrun with tourists than other more popular places in Manhattan.
A special orchid show runs annually between the very end of February and the beginning of May.
Visit the Botanical Gardens in April to see stunning cherry blossoms. This is the best place to see cherry blossoms in all of NYC.
But orchids and cherry blossoms aside, the gardens and grounds here are beautiful and full of color.
You'll need a good few hours in the NY Botanical Gardens and you will have to take the Metro North train from Grand Central to Bronx and back, so don't undercut yourself for time.
Planning to visit NYC in Spring? Read our guide to the 10 most important things to know about visiting New York City in April, which includes cherry blossoms along with weather, costs and crowds.
39. Eat A Slice Of Classic NYC Pizza
If you're only going to eat one thing when you come to New York City, it has to be a famous slice of classic NY pizza.
Truth be told, those old famous 99¢ slices are hard to come by these days. It's more likely you'll pay somewhere around $3-4 a slice, especially in the popular tourist joints and neighborhoods.
We ate so much pizza when we lived in New York City that when we left we couldn't face another slice for a few months. Pizza cool off period!
Popular NYC Pizza Places
Joe's Pizza – Times Square, Greenwich Village, Financial District, Williamsburg.

Grimaldi's & Juliana's – Both in Dumbo, Brooklyn.

Underground Pizza – Financial District.

L'Industry – Williamsburg.
Want to try pizza in NYC? Read our popular guide to the 22 top rated pizza places in NYC to find the best pizza close to where you are staying.
40. Try The Legendary NYC Breakfast Bagel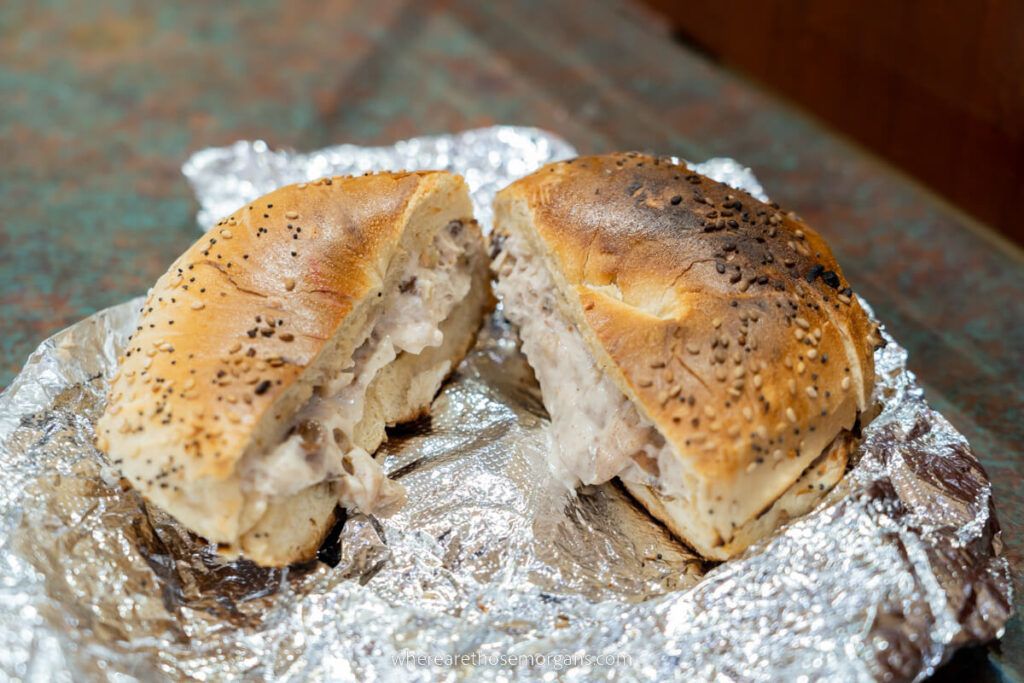 Breakfast in New York City can only mean one thing – bagels and coffee. Try a new bagel place out each morning throughout your NYC itinerary.
You will find breakfast bagels with egg, bacon etc but also a whole host of flavored cream cheese and flavored bagels.
Make sure you spend some time exercising before you visit NYC so you can clear up space for pizza and bagels every day!
Best Bagel Places In NYC
Want to try delicious NYC bagels? Read our guide to the very best bagels in NYC featuring several top rated places and our personal favorites.
41. Buy A Hotdog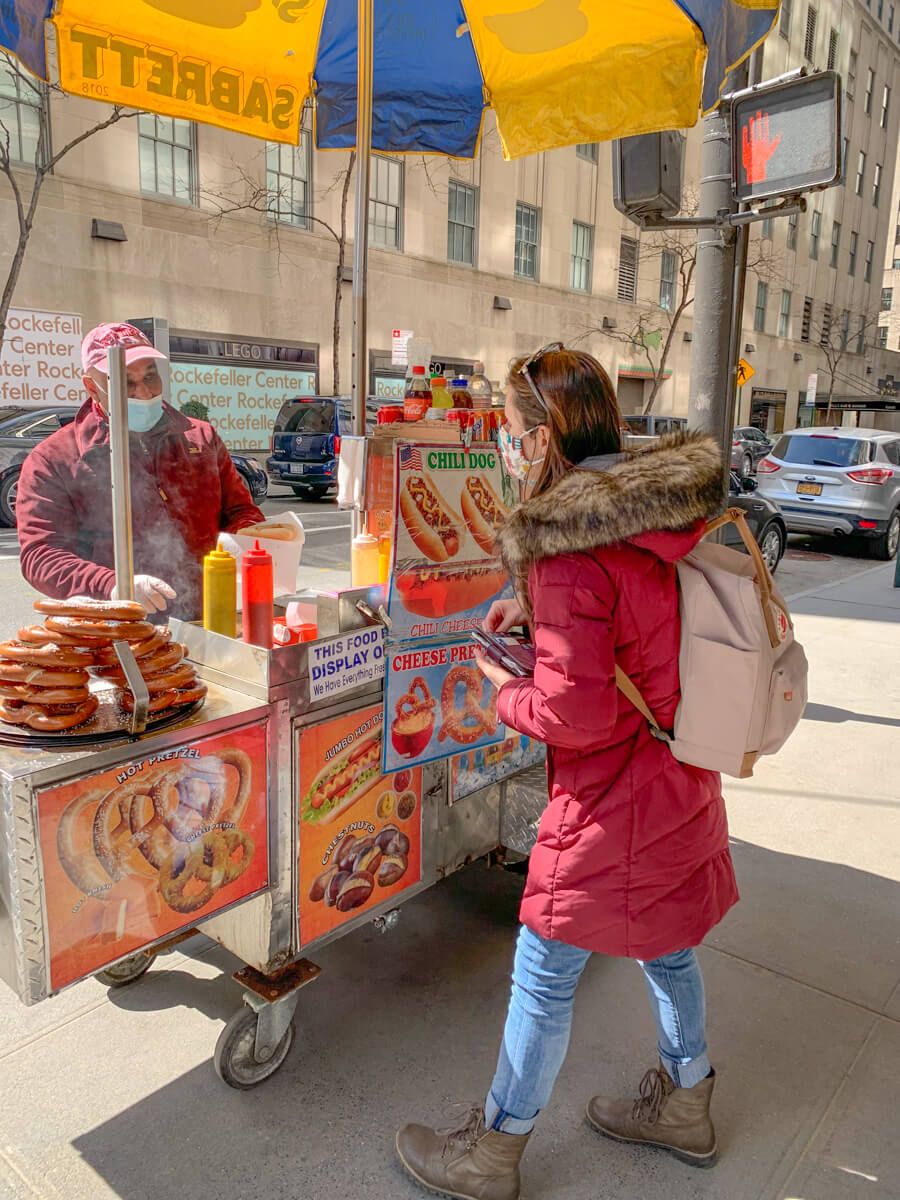 Does anything scream NYC tourist more than snacking on a hotdog from a mobile hotdog stand?!
Who cares, you have to try at least one during your visit to New York. You will find hotdog stands pretty much everywhere across the streets of Manhattan.
And guess what? They're really good.
All that shopping and exploring works up an appetite, the perfect way to fill a corner and crack on with the insane amount of fun things to do in New York City is to throw down a hotdog every now and again!
Where To Try A New York Hotdog
Any of the major sports arenas, concerts or theater shows.

Along any major tourist street like in Times Square or Fifth Avenue.

At City Hall, the start / end of Brooklyn Bridge on the Manhattan side.
42. Eat A Delicious Cronut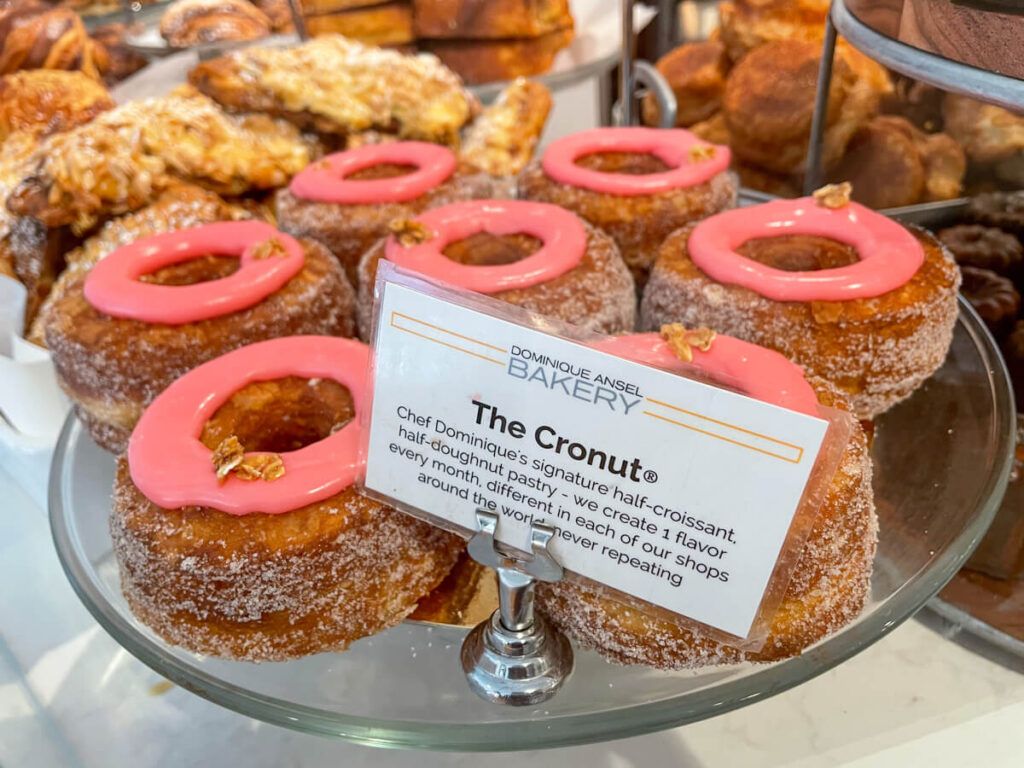 The Cronut is a unique and innovative creation from pastry chef Dominique Ansel. It is a half croissant and half doughnut pastry, filled with a new flavor each month.
This place is so famous that you will inevitably be faced with a line to get inside but it is so worth it. We each had a Cronut and a chocolate chip cookie shot filled with milk.
If you have a sweet tooth and enjoy a pastry, you simply have to try a Cronut on your visit to New York.
What You Need To Know
Dominique Ansel Bakery is located on Spring St in SoHo.

It is touristy and expensive but delicious.

The line inside is along a very narrow galley-style interior.

There are two small tables out front and a full outdoor dining area out back.
Fun And Expensive Things To Do In New York City
Rounding out this guide of the 50 best things to do in New York City are 9 attractions or activities that are considered a bit more of a splurge.
You absolutely do not have to do any of these things if you're traveling on a tight budget, but they are some of the most iconic in NYC.
Everything from here will cost you over $30 per person.
43. Stand On A New York City Observation Deck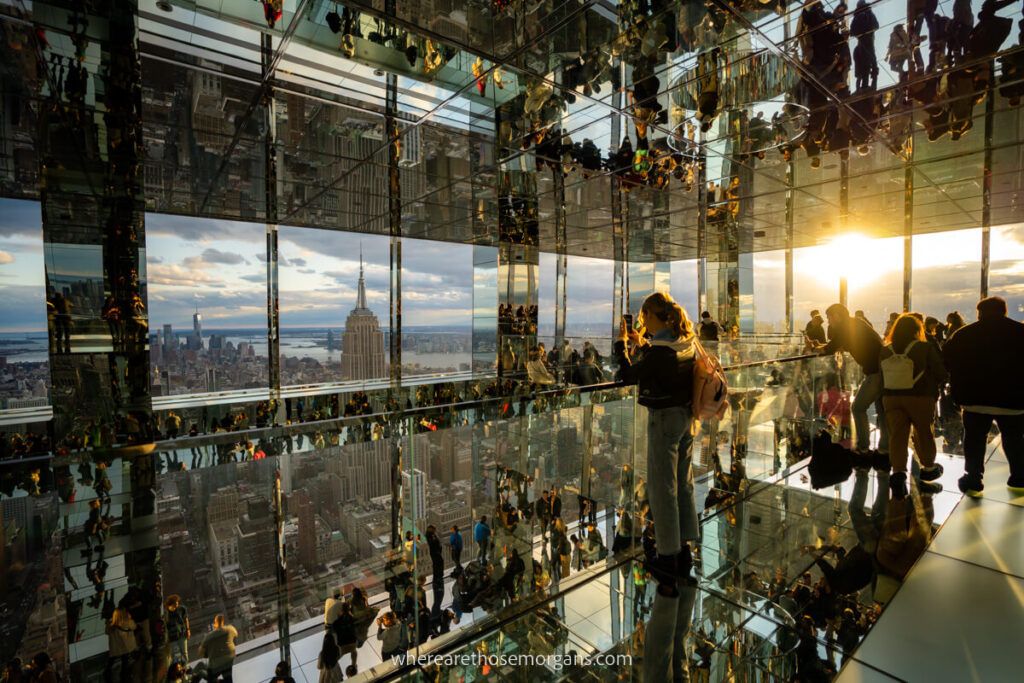 New York City observation decks are among the best in the world. They might not be the tallest, but they definitely have the best views.
You can see the extraordinary NYC skyline from high up on any of 5 fantastic observation decks.
That number is expected to increase so keep your eyes open for any new entries to the evert growing list of epic sky high viewpoints in New York.
If there is one thing you splurge on in New York, make it one of these decks. You won't regret it!
Each of the NYC observation decks comes with its own pros, cons and ticket prices. Instead of going into too much detail in this guide, you can find our full guides to each observation deck below:
Prefer a comparison? Read our popular guide to the best NYC observation decks for a comparison, our rankings and what makes each one great.
44. Watch A Broadway Show
Broadway shows in New York are among the very best quality on the planet so you really shouldn't miss the opportunity to see a show during your visit to the city.
Seeing a world class theater production on Broadway is perfect for both couples and families alike.
Ticket prices can be high but if you have room to breathe in your travel budget, this is one of the very best things you can do in New York City.
Popular Shows On Broadway
45. Take A River Cruise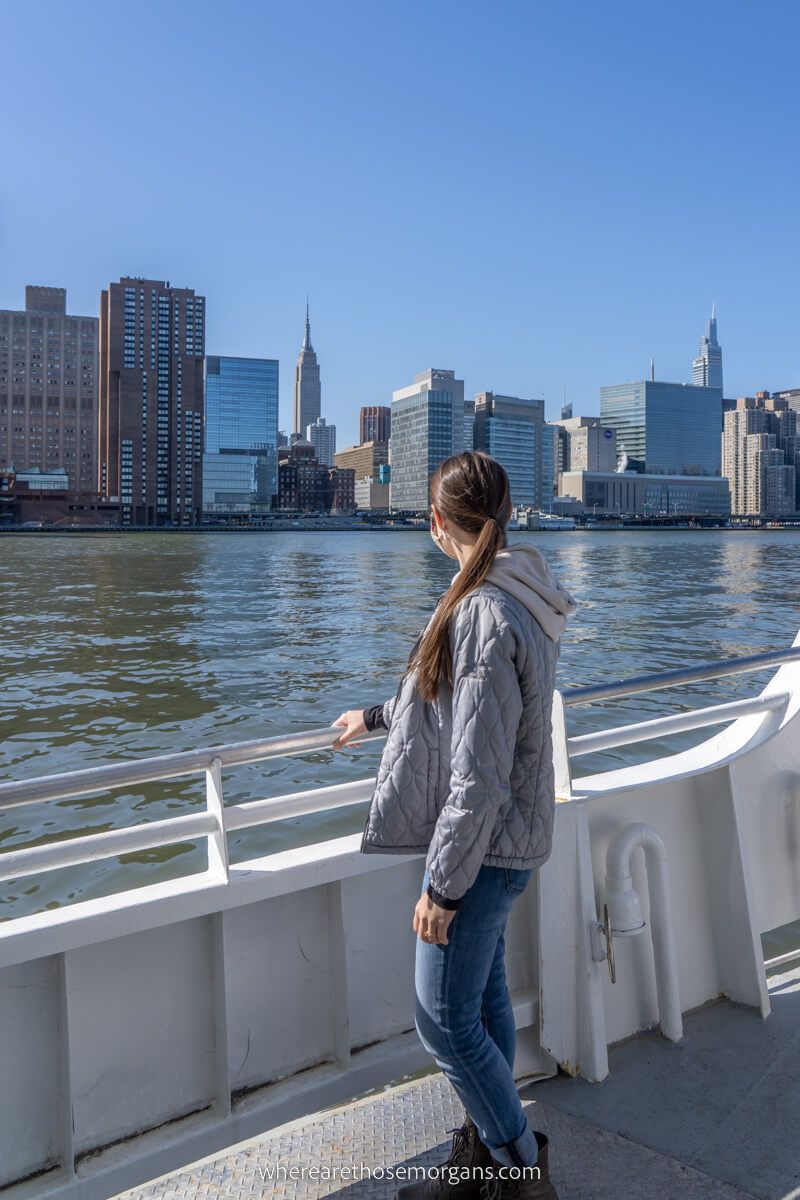 River cruises or harbor cruises in NYC are a fantastic way to sit back, relax and get a completely different perspective on the city skyline.
You will see things you otherwise wouldn't see as you loop around the island of Manhattan, or drink champagne in the harbor at night.
There are a handful of companies offering river and harbor cruises but Circle Line is the most popular.
We have personally taken a full loop tour of Manhattan Island with Circle Line and the guided tour was great.
Popular New York Cruises
Circle Line Cruise offers three different cruise experiences each day:
Landmarks Cruise – 1.5 hours, daytime, major landmarks (Departs 12.00pm and costs $30). Find landmarks cruise tickets here.
Best of NYC Cruise – 2.5 hours, daytime, completely circles Manhattan Island (Departs 3.00pm and costs between $28-44 dependent on season). Find best of NYC cruise tickets here.
New York

Harbor Lights Cruise

– 2 hours, sunset and twilight, bar and snacks (Departs 7.00pm and costs $27-41 dependent on season).

Find harbor lights cruise tickets here.
46. Drink In A Rooftop Bar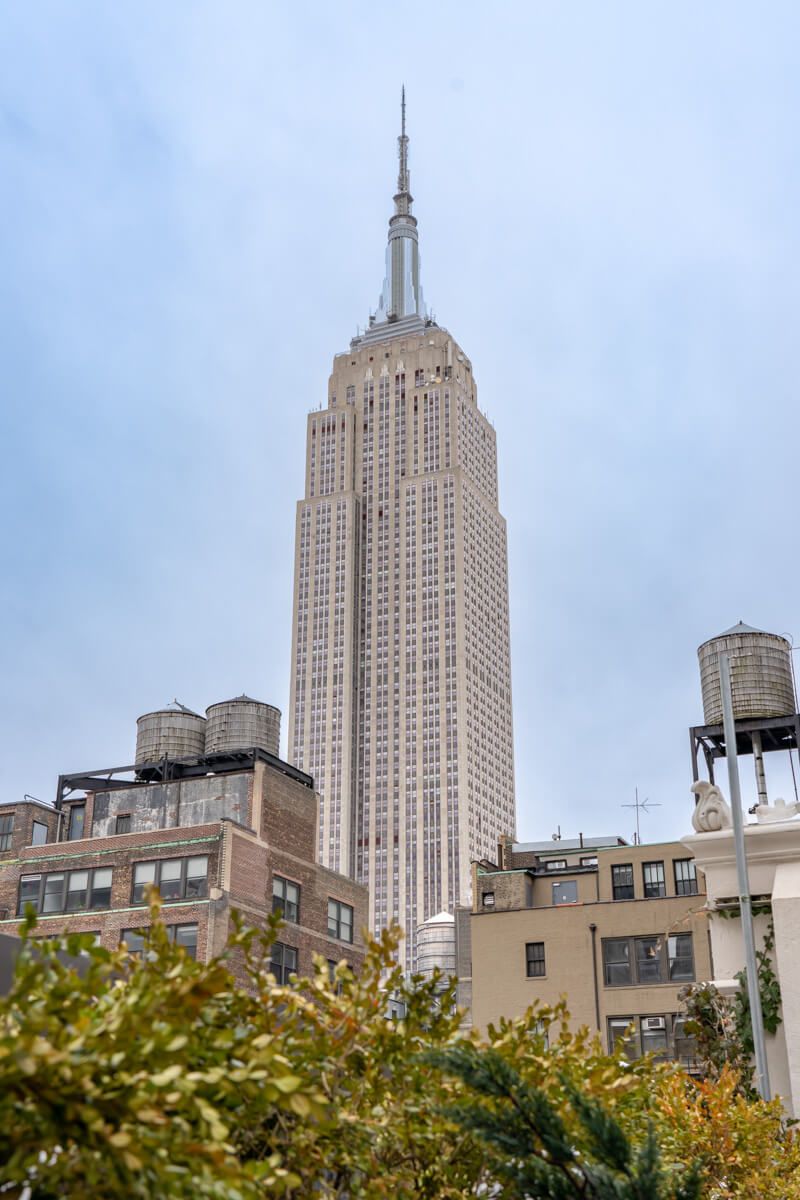 Rooftop bars have been welcoming couples for a romantic meal or cocktail in the world's great cities for decades. New York City just happens to be among the very best.
Top tip: Many of the best NYC hotels have rooftop bars, often including lower budget hotel options. Always check when booking a hotel to see if it has a rooftop bar.
Expect to pay higher than average prices for drinks and food when you are at a rooftop bar. They like to inflate the prices which acts an unofficial cover charge for the view.
You also may have to pay just to enter certain rooftop bars, especially in the evening.
Popular NYC Rooftop Bars
Refinery – Classy restaurant and bar with good views of Empire State Building.
230 Fifth – Popular drinking spot with awesome views of Empire State Building.
Westlight – Rooftop cocktail bar with skyline views in northern Williamsburg.
Bar Hugo – Stylish rooftop bar above Hotel Hugo in SoHo.
47. Go Clubbing In NYC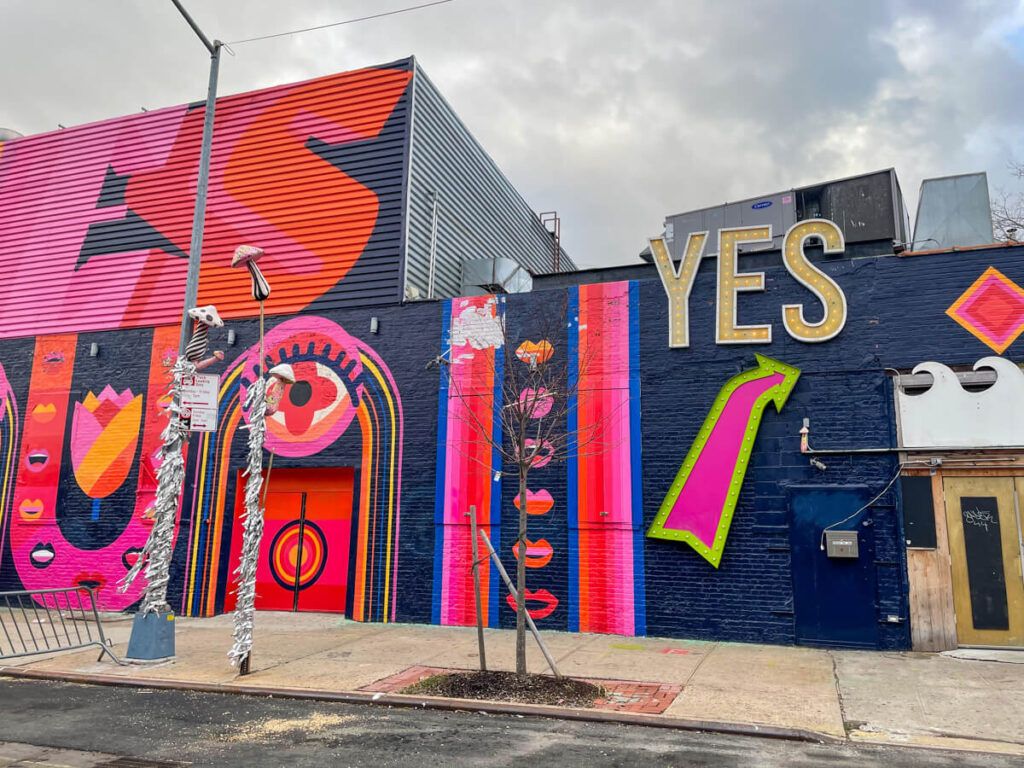 Hey, we have to cater for every visitor and where better to party than in New York City?!
If you can somehow manage to get your name on a VIP list for a nightclub, you're in for one hell of a ride. Having local friends or people who know people will help your case significantly!
Popular party spots in NYC include Meatpacking District, Lower East Side and Greenwich Village in Manhattan, as well as Williamsburg in Brooklyn.
We placed clubbing firmly in the fun but expensive things to do in New York City category for a reason!
48. Enjoy A Spot Of Afternoon Tea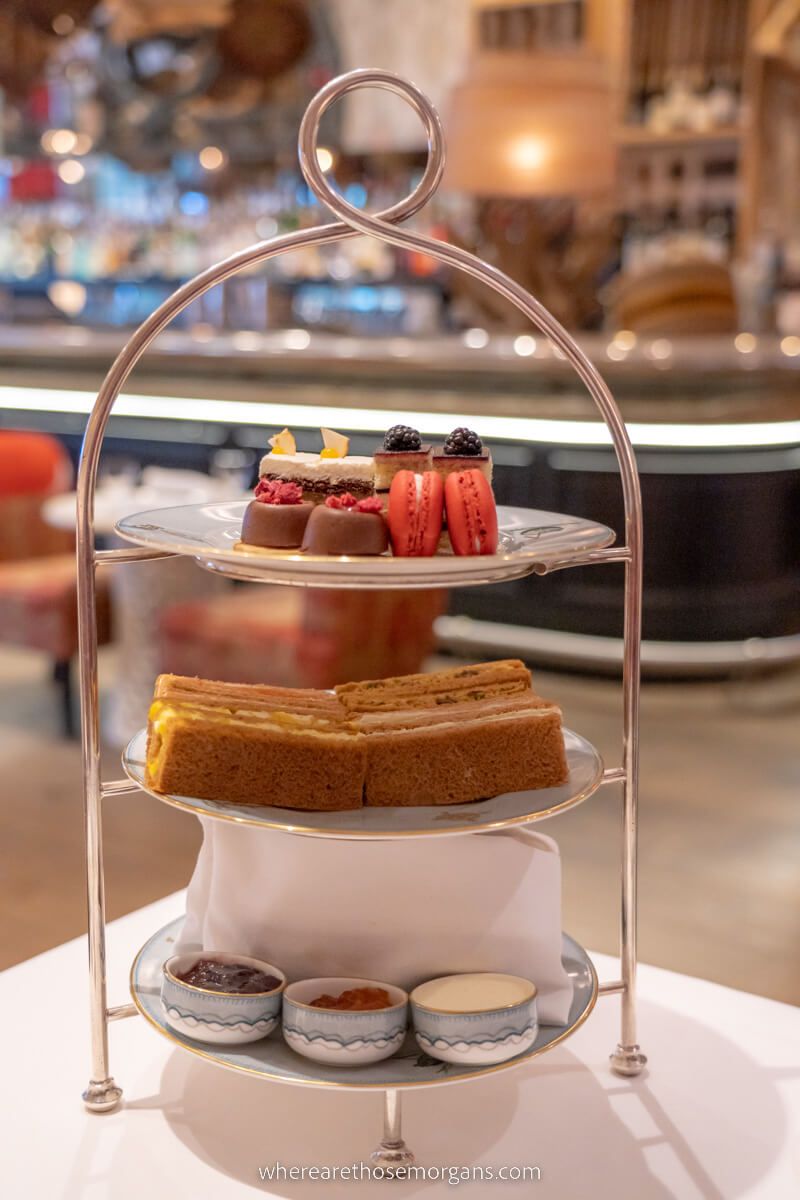 For a more luxurious and romantic experience, who not try a spot of afternoon tea in New York City?
Sandwiches, scones, desserts and tea on tap in beautiful and relaxing surroundings is a perfect break from the non stop action in NYC.
You can even upgrade to champagne for an extra special celebration!
The Whitby Hotel is one of the top rated hotels in NYC and they serve up a wonderful afternoon tea with impeccable service. But there are plenty of other options around the city.
As a Brit, Mark couldn't pass up the opportunity to devour scones with clotted cream and jam!
Afternoon tea isn't cheap but it is perfectly sophisticated and allows you time to breathe for a moment.
Interested in afternoon tea? Read our review style guide on afternoon tea in NYC from our experience at The Whitby Hotel on Fifth Avenue.
49. Watch a Yankees Game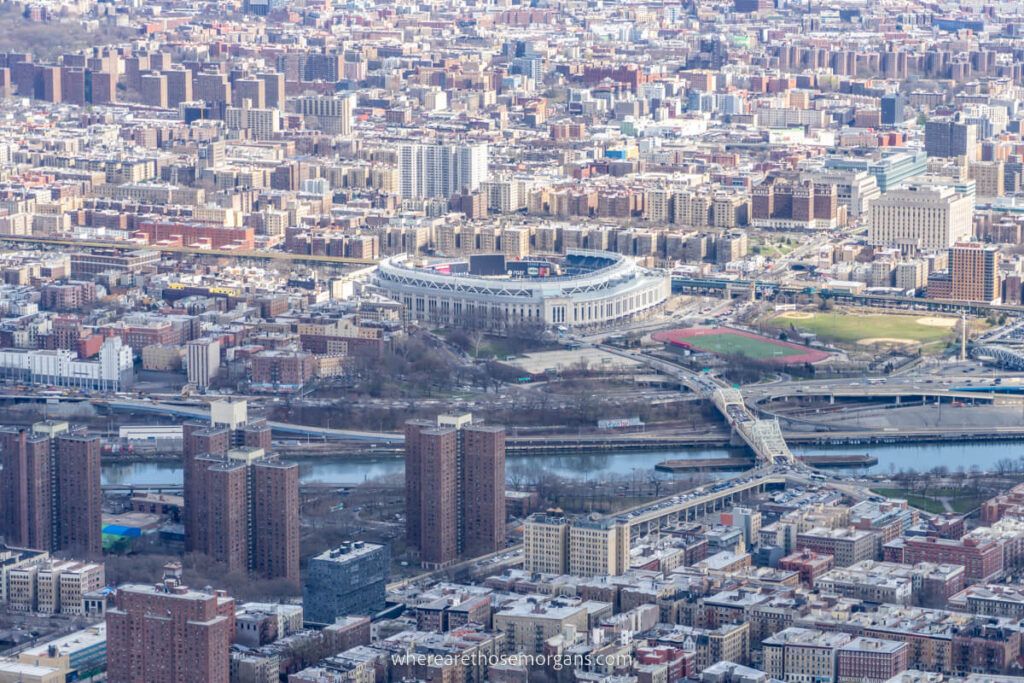 Whether you are a big baseball fan or you are visiting from abroad with no idea how the game works, you know the New York Yankees and you know you want to watch them under the flood lights.
Families or groups of friends visiting the US from abroad will love going to an American sports game. It doesn't even have to be the Yankees.
It's all about the experience, the hotdog and the beer!
Major Sports Teams In New York
Football (not soccer!) – New York Giants and New York Jets
Baseball – New York Yankees and New York Mets
Ice Hockey – New York Rangers and New York Islanders
Basketball – New York Knicks
50. Splash Out On A Helicopter Tour Over NYC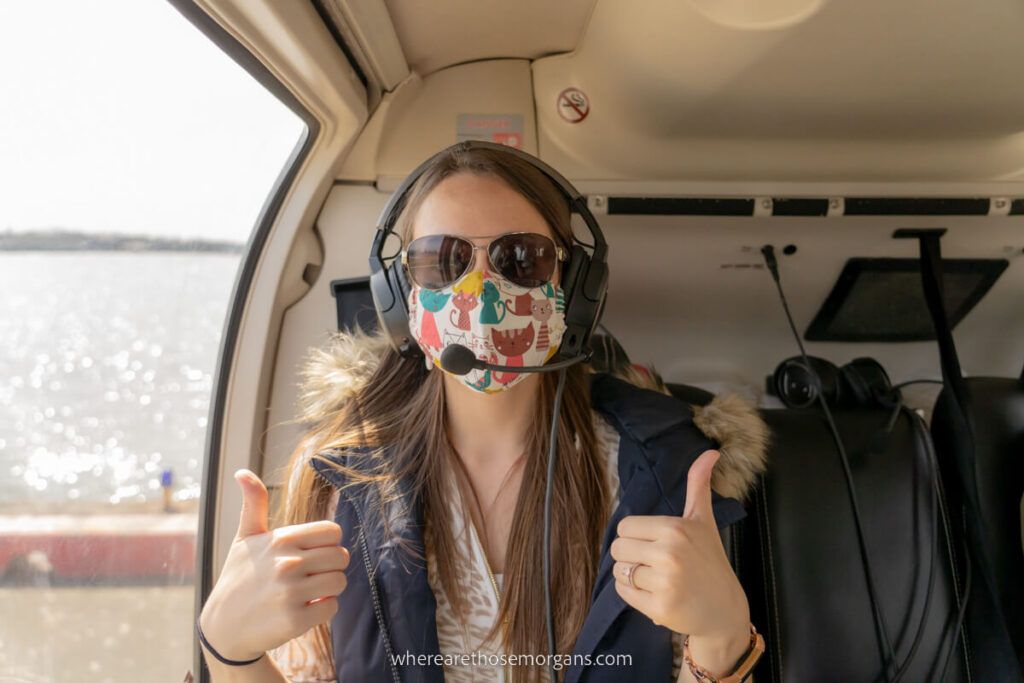 Rounding out our list of the 50 best things to do in New York City is a serious splurge but it is a fun one you won't forget in a hurry.
A helicopter tour offers the ultimate New York City skyline experience.
Imagine soaring high over the iconic landmarks and buildings of Manhattan? We did just that and although it was pricey, it was worth every penny.
Personally, we flew with Heli NY from Pier 6 in Manhattan and thoroughly enjoyed our 18 minute flight up the Hudson River.
However, certain helicopter tours offer open door rides and rides directly over Manhattan at a higher price. Others do not offer open door rides or fly directly over Manhattan.
Splurging on a helicopter ride over NYC is perfect for couples but it could also work for families who have a bit of spare cash left at the end of the trip.
Helicopter Tours
12- 18 minutes – Cheapest helicopter ride
15 – 30 minutes – Middle price bracket (highest rating)
30 – 45 minutes – Private helicopter tour for couples
Want to know what a helicopter ride over NYC is like? Read our review featuring a helicopter ride over NYC with Heli NY to see what you can expect.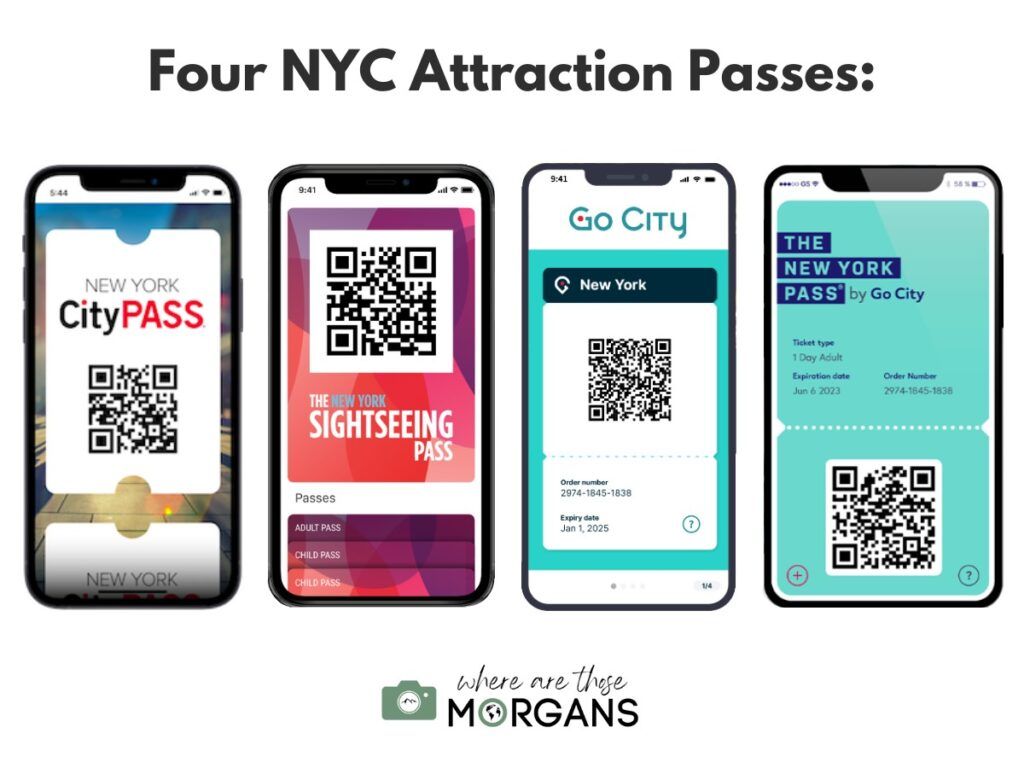 New York City Attraction Passes
Phew that is a lot of fun things to see and do in New York City.
You're probably feeling overwhelmed and have no idea how you're going to figure out a plan.
Well, you're not alone!
The good news is that you can read our popular 4 days in New York City itinerary which features most of the things listed above.
Buy if you are planning to visit the top attractions in New York, we recommend you purchase a New York City attraction pass.
The idea is simple with these attractions passes; the more attractions you visit, the more money you will save.
Having used the NYC attraction passes ourselves when we lived in New York, we recommend the New York Sightseeing Pass because its extremely easy to use while offering both flexibility and big savings.
Many of the attractions on this best things to do in NYC guide are included on the NY Sightseeing Pass and we have an exclusive 10% discount just for our readers.
Want To Save Money In NYC?
Use the button below to claim 10% off any NY Sightseeing Pass.
New York Attraction Pass Guides
You can also read our guides below to help decide which is the perfect pass for your visit to New York:
Travel Tip: If you have a New York attractions pass, you will not have to pay the extra fee for sunset time slots at observation decks when you reserve your timed entry ticket online.
Top Tips For Visiting NYC
Here are some of our top tips for visiting New York having lived in the city ourselves:
Book a hotel near a subway station to save time each morning and night.

Choose a hotel in the right area for your travel style.

When budgeting for NYC, plan to spend more than usual, it's easy to get carried away!

If you are on a tight budget, research which days certain museums have free entry.

Walk as much as possible across shorter distances to get more of a feel for the city.

Pin anything you find interesting on this list into your own google maps app.

Plan as much of your trip as possible before arriving to save time when in NYC.

Give yourself enough time, NYC is huge.

Reserve ahead of time for brunch, lunch and / or dinner if possible to save disappointment.

Book specific time slots for the big attractions ahead of time so you get the times you want.

Understand that top attractions are going to be busy

.
Visit New York City in Winter for less crowds and hopefully snow!
Where To Stay In New York City
NYC is unquestionably one of the most popular places in the world to visit, and as a result of the sheer size and scale of the city, you can book your hotel in any one of several excellent areas.
For first time visitors to NYC, we recommend looking for hotels in Midtown Manhattan so you're right in the middle of all the best things to do in New York City.
Do you know the best places to stay in NYC? If you're not sure yet, read our helpful guide on exactly where to stay in New York City in each of the 6 popular neighborhoods for first time visitors.
If you don't have time to read our full NYC hotels guide, here are the hotels we see the most bookings in each budget category with guest ratings on Booking.com.
Budget
Mid Range
Luxury
Need Help Planning Your Visit To New York City?
NYC is a vacation planning beast and it can be overwhelming trying to get every aspect right. Trust us, we know!
After living in New York City, we created a comprehensive NYC travel guidebook that will answer every question you have about where to stay, what to do, where to eat and how to get around the city.
Click see details below to read more about how we can help you plan your dream trip to New York City!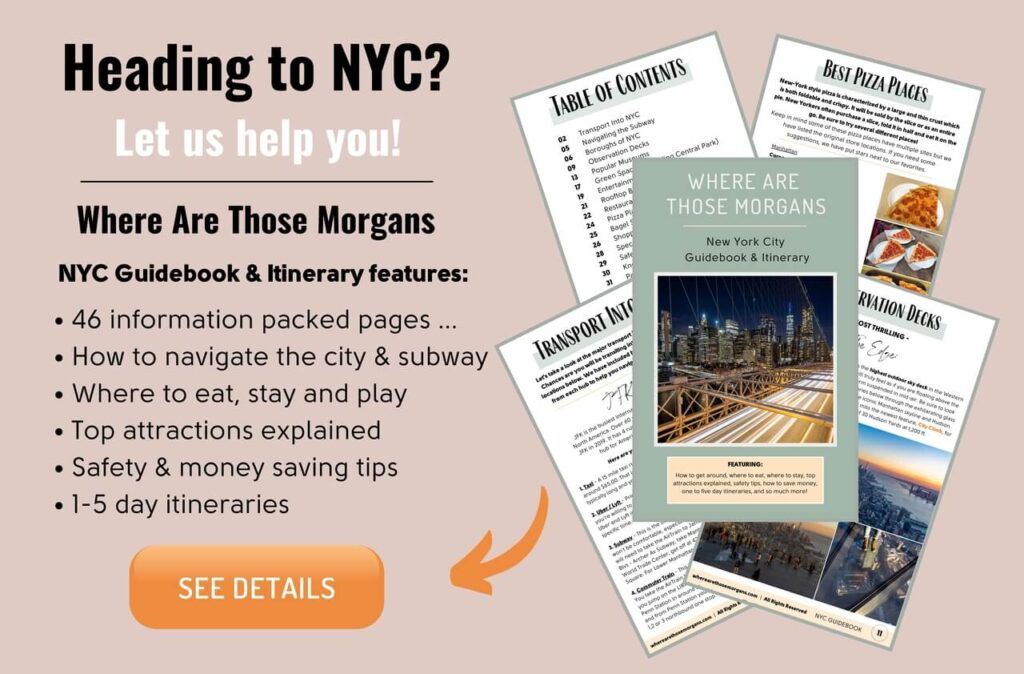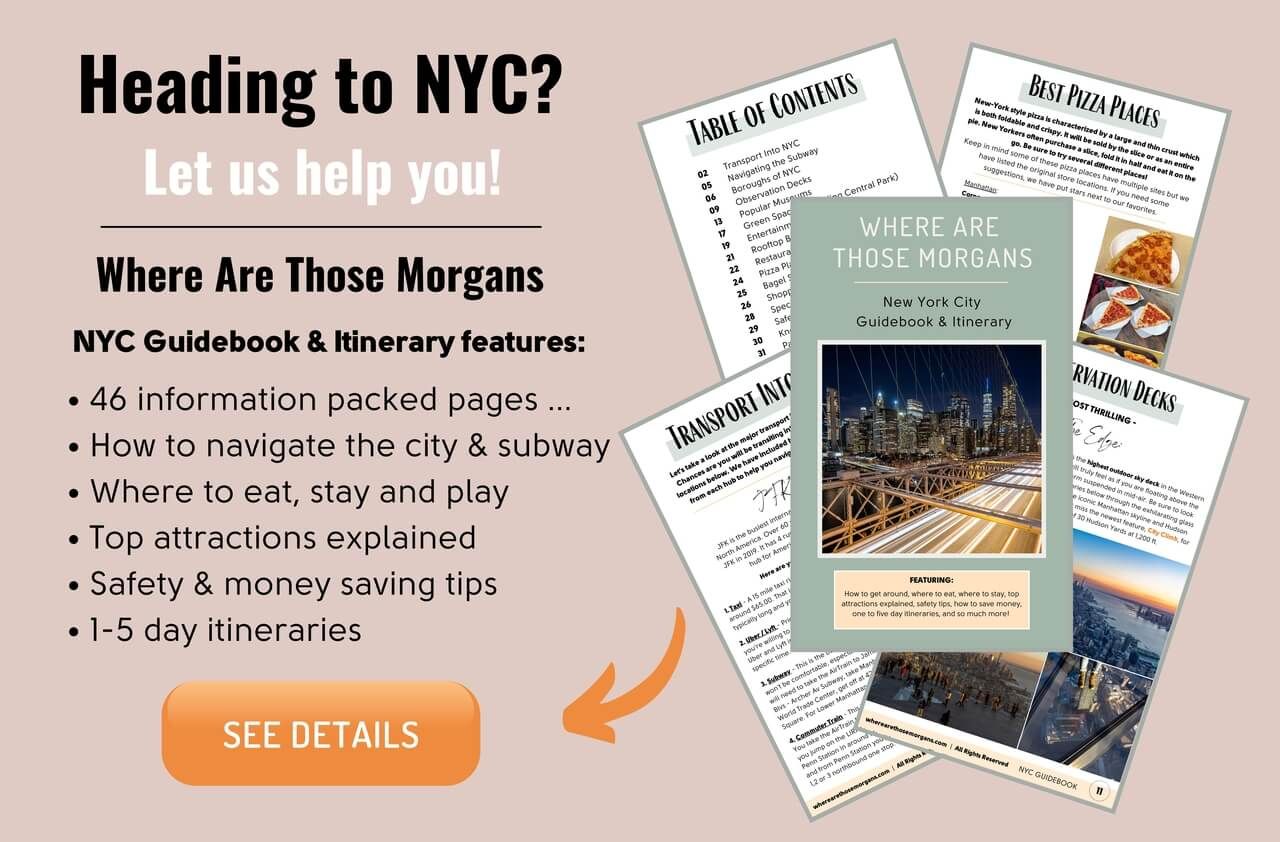 Best Things To Do In NYC FAQ's
Let's take a quick look at some of the most frequently asked questions regarding must see things in New York City.
What Is The Coolest Thing In New York?
The coolest thing to do in New York is experience the gorgeous NYC skyline from the top of various observation decks in the city at sunset. There is no greater feeling in New York than witnessing the sea of lights surround you from many different angles as you stand high in the city skyline.
What Street Is Billionaires Row In NYC?
Billionaire's row is one of the most expensive residential streets in the world and it can be found along Central Park South. This row contains ultra-luxury residential skyscrapers in the supertall category with some apartment buildings reaching more than 1,000 feet.
What Is The Most Beautiful Month To Visit New York?
The best time to visit New York City is April to June or October to December. April to June arrive with decent weather, blooming flowers and fewer visitors. October offers beautiful fall foliage and perfect weather. While the months of November and December bring Thanksgiving quickly followed by Christmas and New Year making NYC a very magical place to experience the holiday festivities.
Our Most Popular NYC Guides
Itinerary – Our popular 4 days in New York City itinerary helps thousands of visitors plan the perfect visit to New York every year.
Photography – Our guide to the best photography spots in New York City includes over 60 famous photo locations around the city.
Hotels – Here's our helpful guide on exactly where to stay in New York City in each of the six popular NYC neighborhoods.
Winter – Are you planning a trip to New York in December, January or February? There are 10 important things you need to know about visiting New York City in Winter.
Best Of New York City
Museums – With over 100 museums in NYC it can be hard to narrow down which ones you should visit, here are the 10 best museums in New York City.
New York Attraction Pass Comparison – Are you planning to visit loads of NYC attractions? You should buy an attractions pass to save money, here's our detailed comparison of the 4 major New York passes.
Want more New York City content? Head to our New York Travel Guides to explore more from the Big Apple as well as beautiful upstate NY.
---
We hope this list of the best things to do in New York City helps with planning your visit to one of the greatest cities in the world!
Please let us know if you have any questions about any of the things to do in this guide or you need help planning your trip to NYC.
Happy Travels,
Mark and Kristen
Enjoy This Things To Do In NYC Guide? Pin It For Your Visit!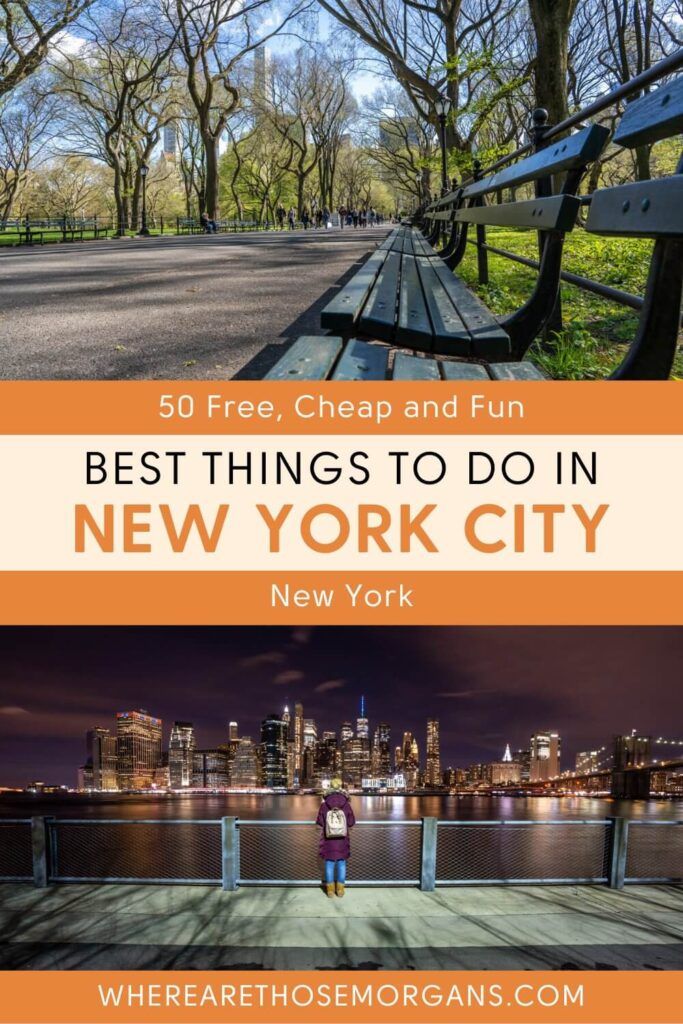 Note: This article contains affiliate links. When you make a purchase using one of these affiliate links, we may earn a small commission at no extra cost to you.
All Rights Reserved © Where Are Those Morgans, LLC. Republishing this article and/or any of its contents (text, photography, maps, graphics, etc.) in whole or in part is strictly prohibited.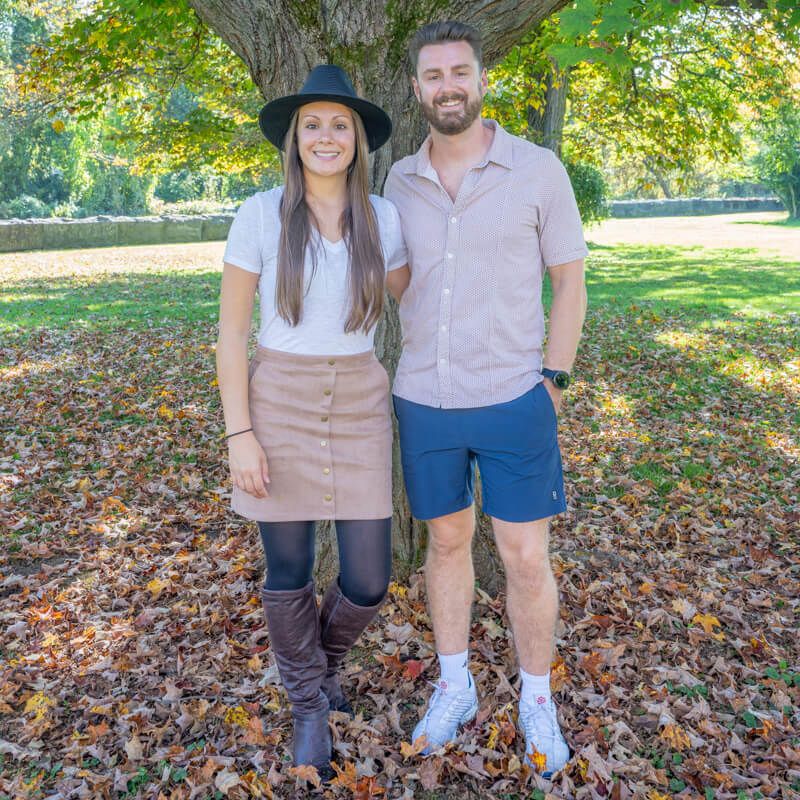 Mark and Kristen Morgan are travel, hiking and photography experts. Over the last 6 years traveling full time, they have explored more than 40 countries and 30 US states.
Their work has been featured in USA Today, Gestalten, Get Your Guide, CityPASS and Condé Nast Traveler along with various other publications.