You're looking for the very best things to do in NYC, so let's dive head first into iconic New York attractions, top free and cheap things to do in New York City, fun things to do at night, romantic city locations, best neighborhoods to explore and classic Big Apple food items to get your taste buds tingling.
New York City is a legendary icon among the world's greatest bucket list cities. Is there any other city on the planet that sits near the top of almost every travelers' bucket list? Even just saying the words 'New York City' aloud stirs up an excitable butterflies feeling.
Popular culture has played a pivotal role in creating an unrivaled desire to visit NYC, but as a result the city has arguably the highest expectations on Earth. Fortunately for all of us, it lives up to those expectations and more.
This is a long read and we're going into a lot of detail here, but by the end you will have a crystal clear picture of the very best things to do on your visit to New York City.
Let's begin!
*Please note this post may contain affiliate links. If you click on one of them, we may earn a small commission at no extra cost to you!*
What Should You Not Miss in New York City?
Brooklyn Bridge, Central Park, Empire State Building and Statue of Liberty are the classic places everyone should visit on a trip to New York. But there are hundreds more popular and hidden gem attractions you can include on your New York City itinerary.
We're going to break this comprehensive list down into categories so it is easier to digest and so you don't miss out on creating the perfect list of what to do on your visit to New York.
We'll start with some of the most famous landmarks in New York City, which are not free but also won't break the bank. Then we will move onto fun free and cheap things to do in NYC.
Afterwards, you will find amazing things to do at night in New York, romantic things to do and even some of those quintessential New York foods that just have to be on your wishlist!
Our NYC Experience
We lived in New York City for 3 months at the beginning of 2021 and here's why that is important for you:
Every single place on this list has been tried and tested, visited and photographed by us in person.

We didn't just visit for a weekend, we explored relentlessly, which allowed us to build up a deeper understanding of how the city works.

We were able to see many of the most popular tourist attractions in NYC throughout both Winter and in Spring. Two seasons among the same attractions builds perspective.

Covid lockdowns and restrictions allowed us to see the city both eerily quiet and crazily busy, so we understand crowd issues.

We spent our time exploring, learning and collecting content to bring you only the best of NYC.
New York is one of the top bucket list vacation spots in the USA and we will help you choose the perfect list of attractions for your visit.
Our Popular NYC Travel Guides
Plan your entire New York City vacation with our immensely popular travel guides to NYC:
Iconic New York City Attractions With A Small Price Tag
New York City is hands down one of the best cities in the world for truly amazing tourist attractions. Many are cheap and some of the most famous are even free, but there are small number of classic NYC attractions you do have to pay for.
So, let's kick things off with the best things do in New York City that come with a small price tag. That way you can build up an idea about how much of your travel budget you want to spend on top attractions.
Optional but Highly Recommended
The New York CityPASS covers every attraction in this section, with the exception of One World Observatory.
We strongly recommend you buy a pass if you plan to visit more than three or four of these top rated attractions. You will save money.
We each used a CityPASS and saved a stack of money that went to a better cause – pizza slices!
1. Empire State Building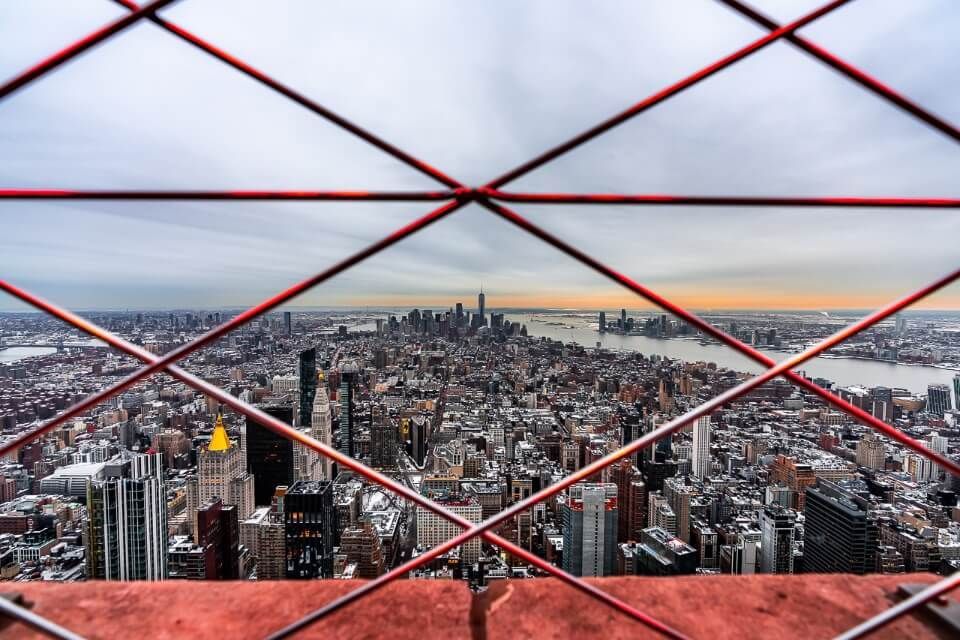 The Empire State Building is the traditional, classic and quintessential New York City observation deck. Visiting one of the most recognizable buildings in the United States is simply unmissable on your trip to NYC.
Completed in 1931, the Empire State spent almost 40 years as the world's tallest building and today remains the beating heart of Midtown Manhattan.
Here's what you need to know:
Stand on the 86th floor outdoor deck for sweeping 360 degree views over the concrete jungle.

If you want to go even higher, pay extra for access to floor 102.

Visit by day or by night for extraordinary urban landscape views over New York City.

Sunset is the most popular time of day and comes with an additional US$ 10 price tag.

The best way to visit is by choosing the time slot 1 hour before the more expensive sunset slots.

Floor 102 is floor to ceiling glass, whereas floor 82 is outside with a diamond shaped mesh fence.

Photographers can not use tripods.

More information: Empire State Building
Cost:
Tickets start at US$ 42 for floor 86 and US$ 75 for floors 86 and 102.

OR Empire State Building entrance is free with a New York CityPASS and it includes one daytime plus one nighttime slot as an exclusive perk.
2. Statue of Liberty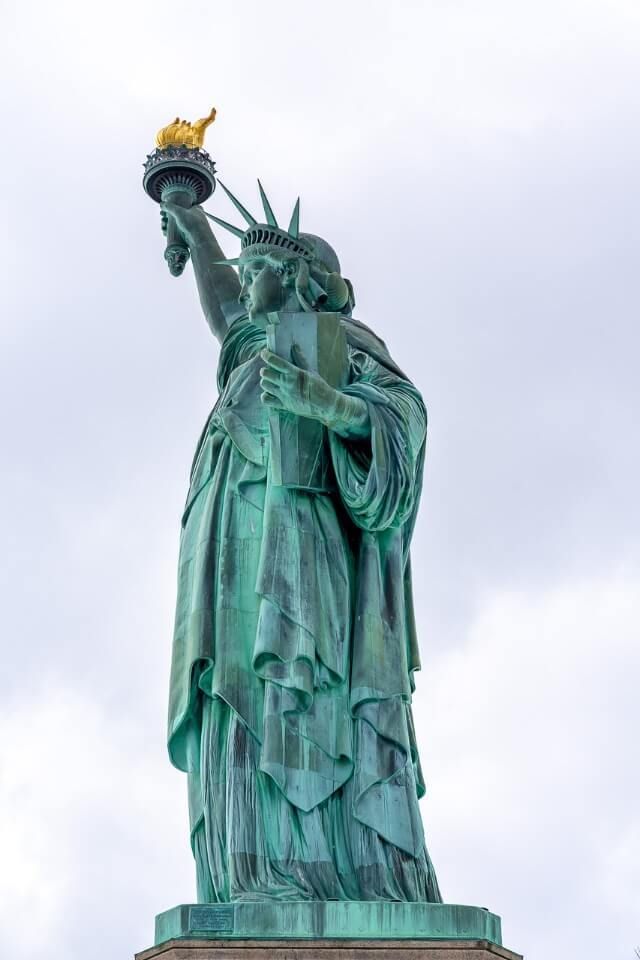 Lady Liberty is the poster girl of NYC and one of the most recognizable landmarks in the world. Taking a ferry to Liberty Island is one thing you just can't miss on your visit to New York City.
She is a mightily impressive sight as you gaze up from below, but you can also learn about her history, construction and unveiling at the museum on Liberty Island.
Here's what you need to know:
There is only one way you can get up close and personal with the Statue of Liberty.

Take a ferry departing from Castle Clinton inside Battery Park in Lower Manhattan.

The free Staten Island ferry will pass by Liberty Island for those on a tighter budget but we highly recommend you take the island tour.

Ellis Island immigration museum is part of the same self guided tour and included in the price.

It is not compulsory but again, we highly recommend you stop at Ellis Island.

Take the first ferry of the day to Liberty and Ellis Islands for a much quieter experience.

Your reservation time is for entrance to the security screen, not the ferry.
Cost:
US$ 23.50 adult.

OR ferry access to Statue of Liberty and Ellis Island is free with a New York CityPASS.

Additional charges are required for pedestal and crown access.
Read: How to get the ferry to Statue of Liberty and Ellis Island
3. The Metropolitan Museum Of Art (Met)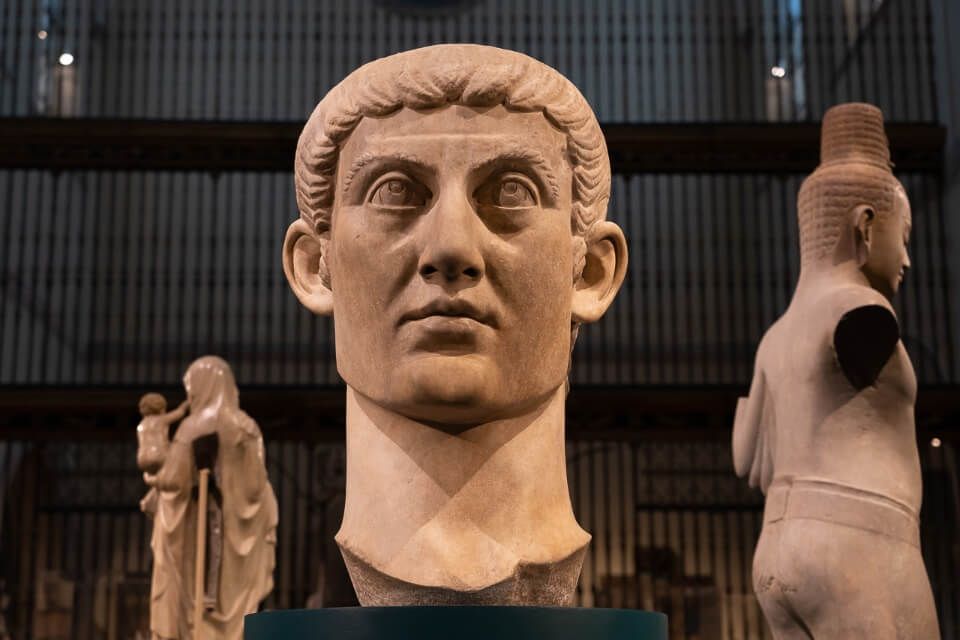 The Met blew us away. If you are only going to do one museum when you visit New York City, make it the Metropolitan Museum of Art. This huge collection is among the very best museums in New York City.
Expect enormous paintings, stunning sculptures and other forms of art from classical, European, ancient Egypt, American, Byzantine, African, Asian and so many more geographically designated collections.
The Met contains some of the most important art in the world and it is our top NYC museum selection for visitors.
Here's what you need to know:
The Met is located in Upper East Side and it is enormous.

Bring a packed lunch or plan to eat in the cafe on lower level.

You will need at least half a day to get through a decent amount of exhibits.

More information: Metropolitan Museum of Art
Cost:
US$ 25 adult (NY state residents can enter free)

OR the Met is free to all visitors with a New York CityPASS.

Closed Tues and Weds.
Do you need help planning your visit to New York City?

Our popular 40 + page NYC Guidebook & Itinerary covers every aspect of planning a trip to New York including hotels, restaurants, getting around, things to do, example itineraries and so much more!
4. Museum Of Natural History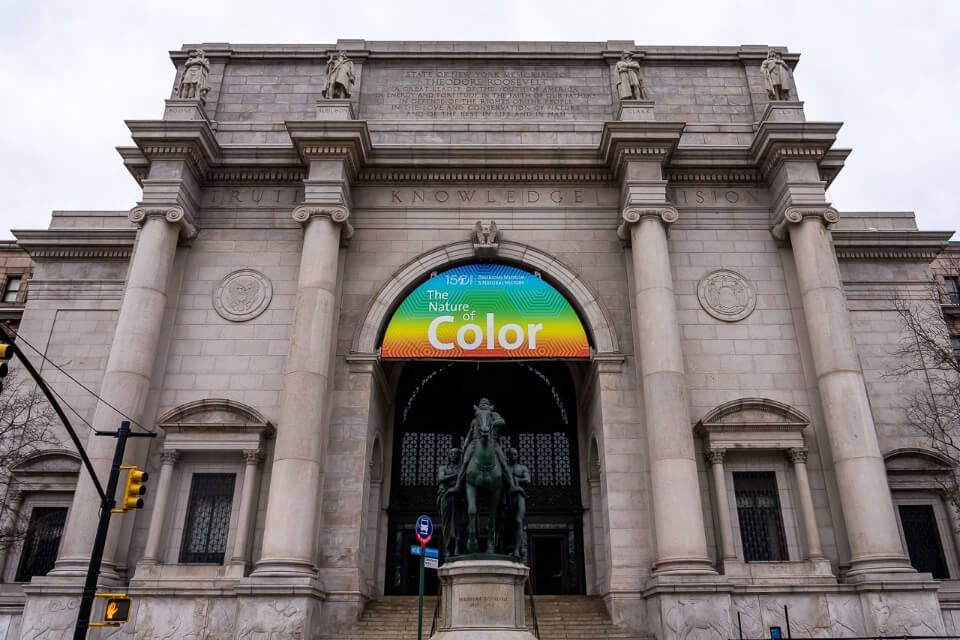 The American Museum of Natural History in Upper West Side is a giant complex consisting of 26 buildings, 45 exhibition halls, 34 million specimens, a planetarium and a library.
History museums are like playgrounds for the kids, perfect for those traveling as a family.
Here's what you need to know:
In our honest opinion, the museum is a little dated and is not on the level of the Natural History Museum in London.

But it is another huge museum that will eat up a half day of your NYC itinerary.

Special exhibits cost extra but are well worth checking out.

More information: American Museum of Natural History
Cost:
US$ 23 (+US$ 5 per special exhibit)

OR the Natural History Museum + 1 exhibit are free to all visitors with a New York CityPASS.
5. Top Of The Rock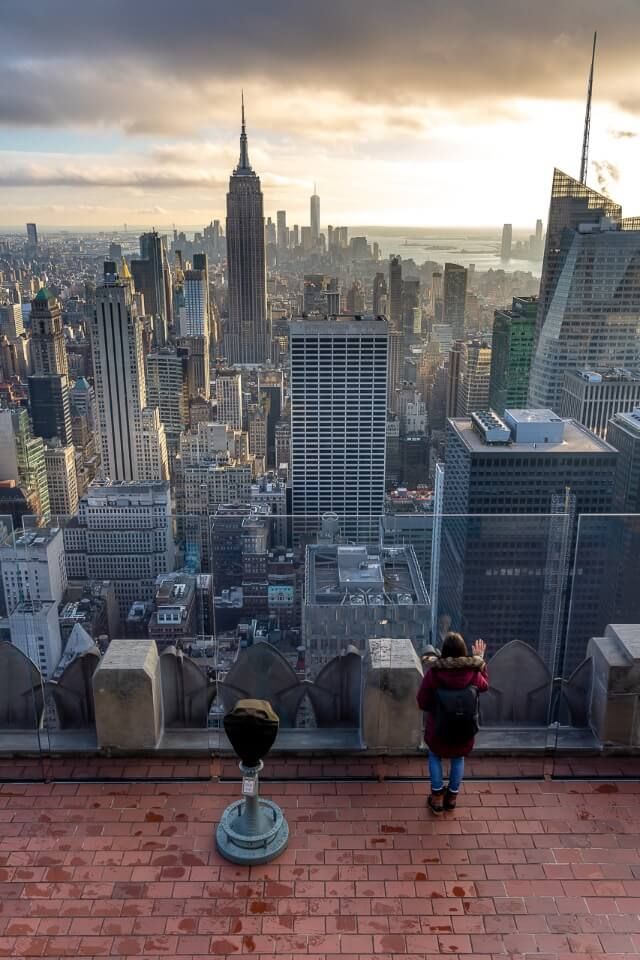 Top of the Rock is the 'other' traditional NYC sky deck but standing on top of the Rockefeller Center comes with a whole host of awesome advantages.
You can see Central Park, the sun sets behind Edge, the entirety of Midtown and Downtown are South facing, but most of all it has the best view of the Empire State Building in NYC.
In our opinion, Top of the Rock has the best overall view among the many observation platforms in New York City.
Here's what you need to know:
Floor 70 (the very top) is a completely open air platform.

Importantly for photographers, it has no glass panels obscuring the NYC view.

Additional sunset fee will be charged.
Cost:
Tickets start at US$ 36 adult.

OR anytime entry is free with a New York CityPASS.
Read: Top of the Rock vs Empire State Building NYC Observation Deck Comparison
6. Boat Cruise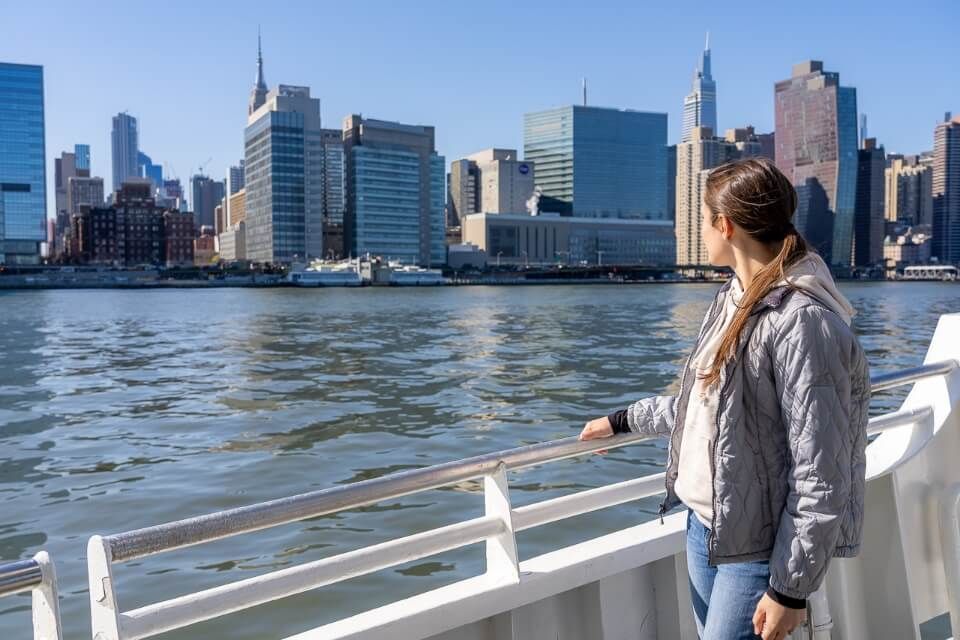 See New York City's most iconic and historic landmarks from a different perspective with Circle Line Cruises.
We took a Circle Line Cruise when living in NYC but Hornblower Sightseeing Cruises also offer a range of tours.
You can read more about Hornblower here (and both are included with CityPASS) but we will only focus on Circle Line below.
Circle Line Cruise options include:
Landmarks Cruise – 1.5 hours, daytime, major landmarks (Departs 12pm).

Best of NYC Cruise – 2.5 hours, daytime, completely circles Manhattan Island (Departs 3pm).

New York

Harbor Lights Cruise – 2 hours, sunset and twilight, bar and snacks (Departs 7pm).
Here's what you need to know:
Sit on the left side of the boat.

Manhattan is to the left side for the entire cruise and it passes the Statue of Liberty on both sides.

Indoor and outdoor seating available across two decks, suitable for warm and cold weather.

Consider weather conditions before you take your seats.

Remember it will be much colder once the boat is moving on a cool day.

Watch out for sunburn on a hot day.

Arrive early to secure the best seats.

Aim for no later than 30 minutes before departure otherwise seats on the left side will be full.

More information: Circle Line Cruises
Cost (can vary depending on season):
Landmarks US$ 19

Best of NYC US$ 28 – 44

Harbor Lights US$ 27 – 41

OR all free with New York CityPASS
7. Guggenheim Museum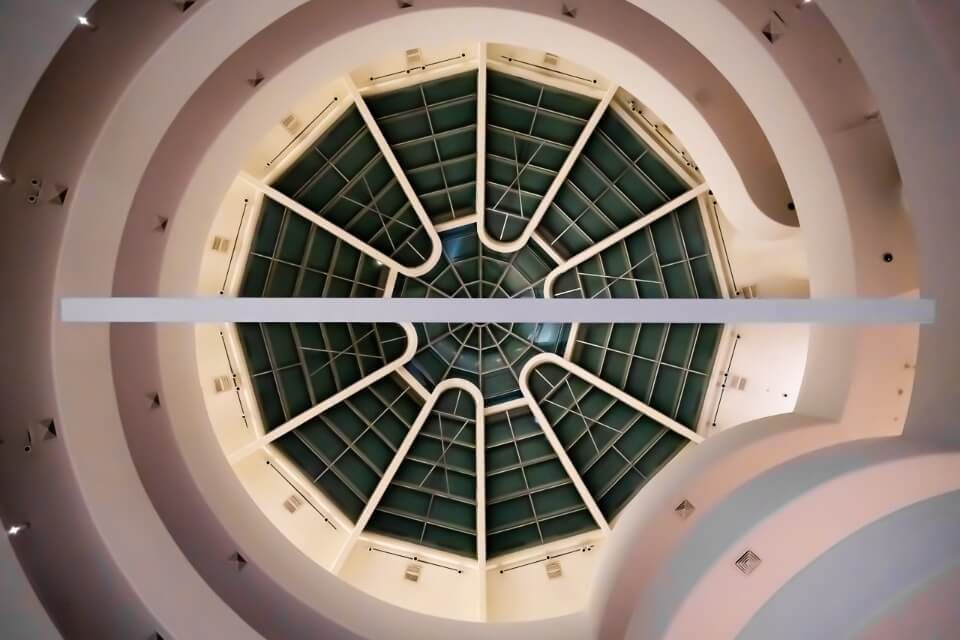 The Solomon R Guggenheim art museum features a world class collection of impressionist, modern and contemporary art. But almost as famous as the artists work inside is the building itself, designed by legendary architect Frank Lloyd Wright.
Enjoy works by famous artists like Picasso and Cezanne as you spiral up the winding atrium walkway. An enormous projector screen plays documentary style movies throughout the day, perfect for watching briefly in between exhibits.
Here's what you need to know:
Don't forget to grab a photo of the spiral walkways and ceiling from the bottom floor.

Check movie times and grab a bench when a spot is free as you climb the spiral walkway.

More information: Guggenheim Museum
Cost:
Tickets are US$ 25 adult.

OR entry is free with a New York CityPASS.
Further Reading: Why you should buy a New York CityPASS to save on the top attractions.
8. MoMA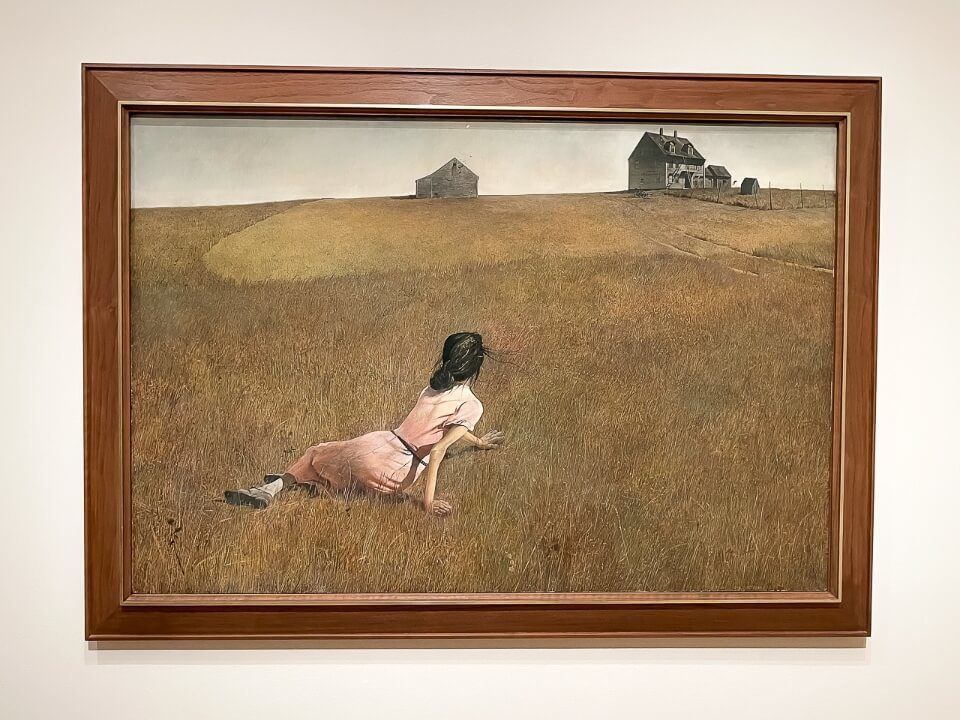 MoMA is New York City's famous Museum of Modern Art, home to one of the largest collections of modern art in the world.
You will find sculptures, photography, media and architecture along with paintings.
Van Gogh, Dali, Cezanne, Kahlo, Matisse, Monet, Warhol, Pollock and Picasso are just some of the more recognizable names among the greatest artists from the late 1800's onward.
Here's what you need to know:
Another 5 floor museum means plan for at least 3-4 hours.

Van Gogh's Starry Night is on floor 5.

More information: Museum of Modern Art
Cost:
Tickets are US$ 25 adult.

OR entry is free with a New York CityPASS.
9. Edge
Futuristic looking Edge at Hudson Yards is the latest of New York City's sky high observation decks. It is the highest 'outdoor sky deck' in the Western hemisphere and it comes loaded with spectacular NYC skyline views.
A triangular glass bottomed section and acute angled window panels are the two unique instagram spots. But the overall experience inside modern, sleek and polished Edge at Hudson Yards is magnificent.
Views over New York are remarkable, with Central Park and Top of the Rock left, Empire State dead ahead and Lower Manhattan and New Jersey off to the right side.
Here's what you need to know:
Vessel is right outside Hudson Yards and another unique structure not to be missed.

In order to access the amphitheater style seating area, you must purchase something from the champagne bar.

But don't worry, you can just grab a hot chocolate and bag of pretzels to qualify.
It can get blustery out on the deck, take extra layers – you've been warned!
Cost:
Tickets start at US$ 36 adult.

OR entry is free with a New York CityPASS.
Read: Visit the Edge NYC for a Spectacular Sunset
10. 9/11 Memorial & Museum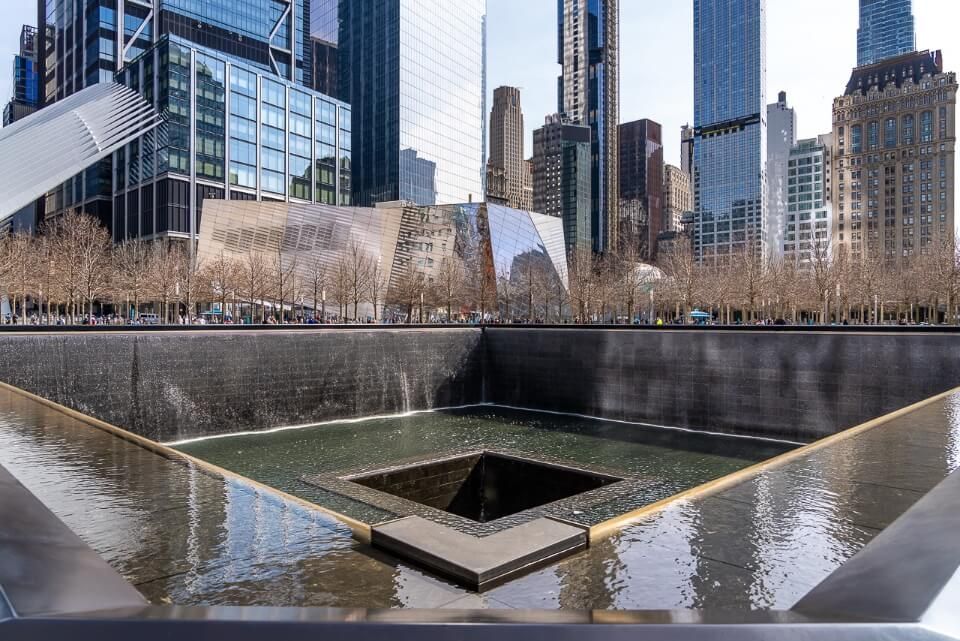 Although the 9/11 museum and memorial is an extremely sobering reminder of the tragic events of September 2001, it is one we can't recommend highly enough.
Two square shaped holes in the ground mark the exact positions of the old twin towers. But don't miss the superb museum explaining the event in great detail.
You will find memorabilia, intriguing timelines, endless amounts of information and a touching tribute to those who sadly lost their lives.
Plan to spend at least 2 hours inside, but we can guarantee you will need longer. Be warned this can be a harrowing experience and expect to leave feeling emotionally drained.
Here's what you need to know:
There is a lot to see and read in the museum so allow plenty of time.

The second half of the tour (timeline of events) is fascinating so be sure to leave enough emotional energy to appreciate the latter parts.

More information: 9/11 Museum & Memorial
Cost:
Tickets are US$ 26 adult.

OR entry is free with a New York CityPASS.
11. Intrepid Museum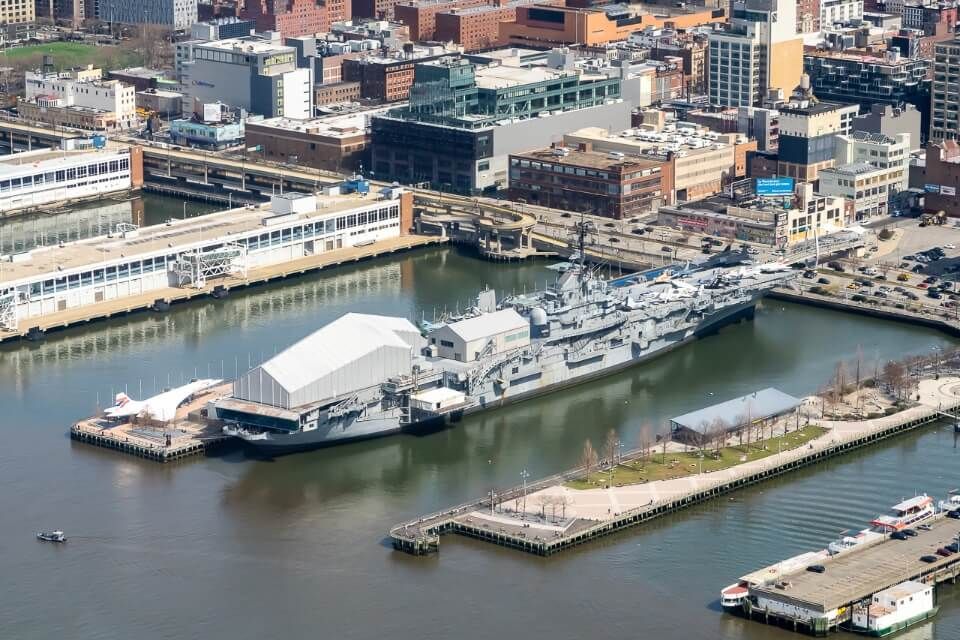 Intrepid Sea, Air and Space Museum is docked on Western Manhattan's Hudson River bank, not far from Circle Line Cruises.
The maritime history museum contains interesting exhibits from space shuttles to submarines and from fighter jets to the concorde.
Remember the scene in National Treasure 2 when Ben Gates jumps from the aircraft carrier into the water? That is Intrepid.
Intrepid saw action in WWII and the Cold War, before collaborating with NASA to serve as recovery for astronauts and serving on various tours in the Vietnam War.
Here's what you need to know:
Plan to spend 2 hours at the Intrepid museum.

Top exhibits include an old British Airways concorde and Enterprise space shuttle orbiter.

More information: Intrepid Museum
Cost:
Tickets are US$ 33 adult.

OR entry is free with a New York CityPASS.
12. One World Observatory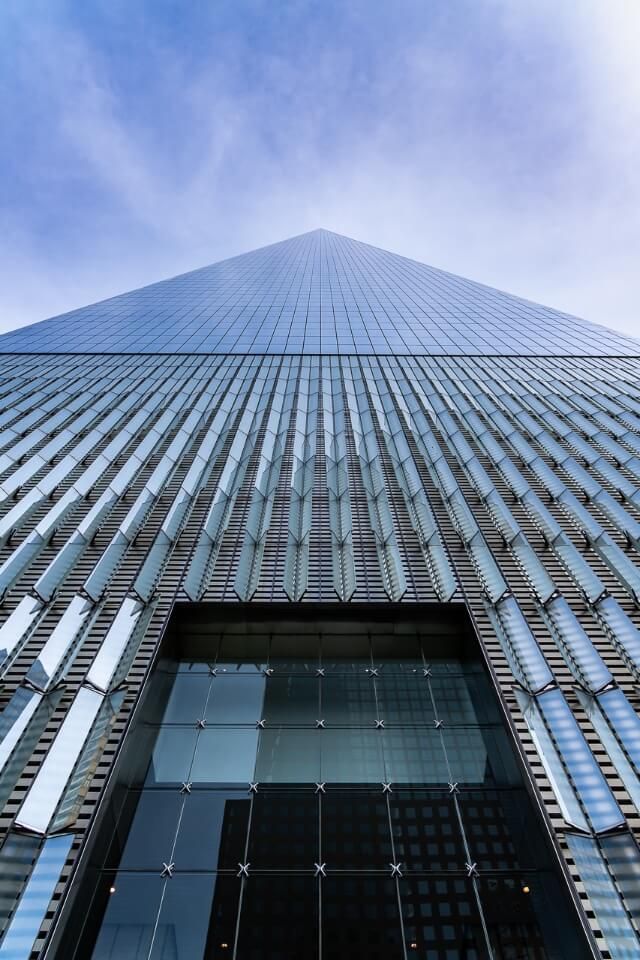 Important: Not included with New York CityPASS but has to be considered as a top NYC attraction.
One World Trade Center is currently the tallest building in the US and the Western Hemisphere, plus it sits at number 6 in the world.
At the top you can visit One World Observatory for unique views over Statue of Liberty, Brooklyn Bridge and Manhattan.
Here's what you need to know:
Sunset is far less impressive than from any of the other 3 sky decks.

But views are completely different from the South of Manhattan.

More information: One World Observatory
Cost:
Tickets start at US$ 43 adult.
Fun, Free And Cheap Things To Do In New York City
Many people planning a trip to NYC don't realize that most of the fun and iconic things you can do in New York City are free, including Brooklyn Bridge and Central Park.
New York City is as expensive as you make it. The top attractions are wonderful but you will be amazed at how many affordable options there are if you are traveling on a strictly low budget.
So let's move onto an incredibly diverse list of the best free and cheap things to do in New York City!
13. Oculus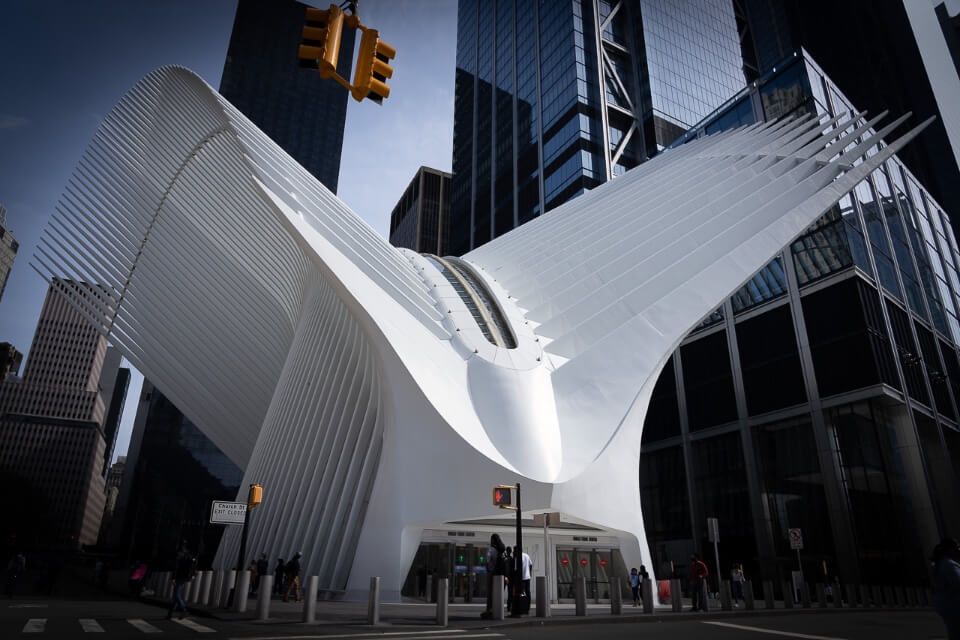 Oculus is one of our favorite examples of unique New York City architecture. In fact, building design doesn't get much more original than Oculus!
Brilliant white curving 'wings' spread like a dove in flight stick out like a sore thumb in the World Trade Center complex.
But it isn't until you enter the relatively small building that Oculus blows you away. The cavernous white hall located underneath the city streets of Manhattan is a sight to behold.
Here's what you need to know:
Oculus is a shopping center.

It is also a transportation hub for Lower Manhattan.

Brilliant white light radiates and fills the hall.
14. Friends Apartment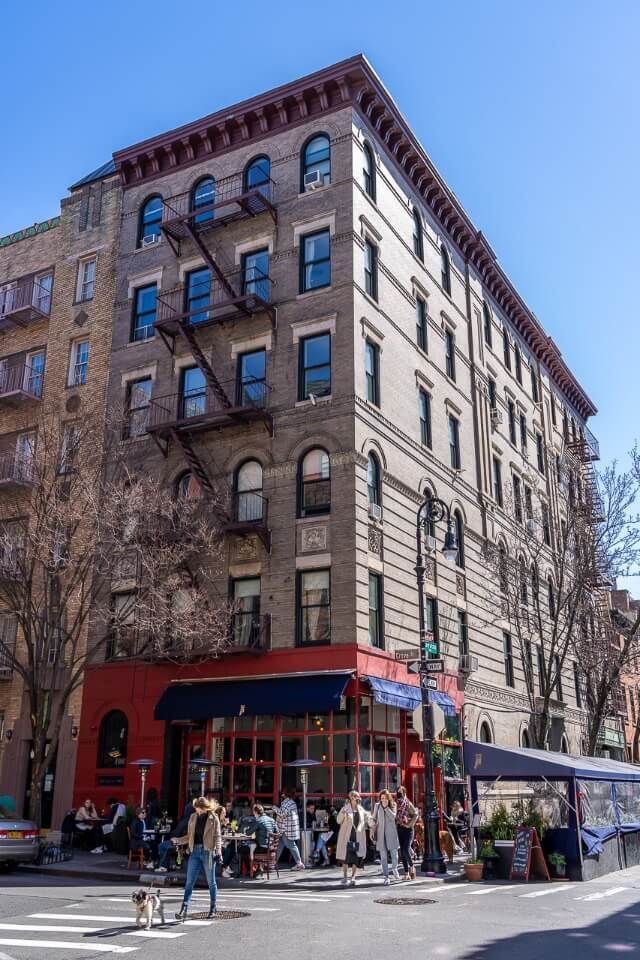 This pretty standard looking NYC building is in fact the exterior apartment shot used in ultra-popular sitcom Friends.
Although the cast filmed entirely in Warner Bros studio Hollywood, LA – all exterior scenes were shot in New York City.
The apartment is located in Greenwich Village among stunning residential streets.
Here's what you need to know:
Highly rated Mediterranean restaurant The Little Owl is at the base of the apartment building.

Central Perk is 2,500 miles away on a set at Warner Bros in Hollywood, LA.
15. Washington Square Park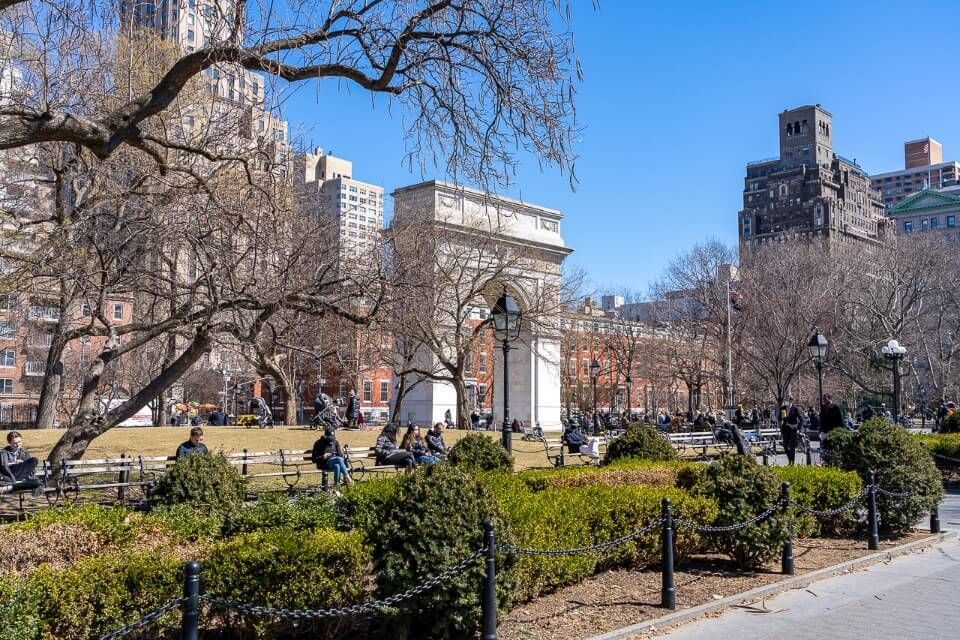 Washington Square Park is a great spot to take a minute. Crushing the tourist hot spots in NYC is tiring work and sometimes you just need a place to just hang out.
Watch people plotting chess moves, relaxing on benches with a coffee in the sun and taking photographs of the arch.
Through the Washington Square Arch you get a fine example of looking directly up one of New York's grid-style street 'tunnels'.
Here's what you need to know:
You can see right up 5th avenue as far as the Empire State Building.

These small green spaces in the heart of Manhattan are popular places among all age groups.
16. Wall Street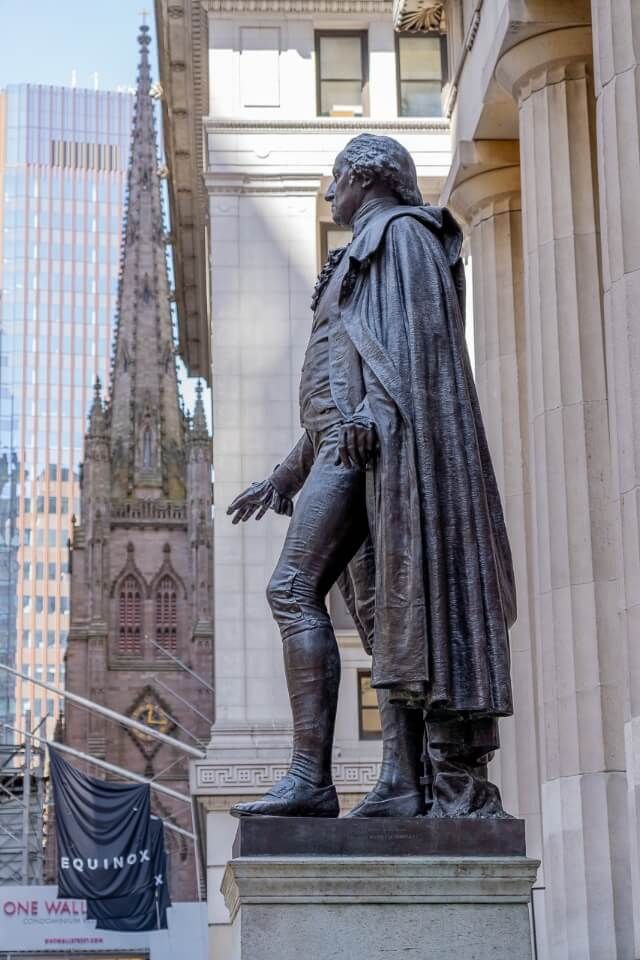 Walking along Wall Street is another of those unmistakably iconic things to do in New York City.
Narrow, winding and cobblestone streets, tall buildings to either side and eerily still air – you can almost hear the dollar signs cashing in.
Wall Street is the popular hub for Manhattan's Financial District but there's a lot more to see in the immediate area.
Here's what you can look for:
Federal Hall &

George Washington statue

New York Stock Exchange &

Fearless Girl Statue

40 Wall Street (Trump Building)

Trinity Church

Charging

Bull (nearby)
17. Bushwick Collective
The Bushwick Collective is a series of street murals centered around Troutman Street near Jefferson Street subway station in Brooklyn.
It's not the easiest place to reach and you will have to take a subway detour but it's definitely worth it if you're a big fan of graffiti and street art.
It rained heavily when we visited but the art work was seriously impressive, just look at this Frenchie!
Here's what you need to know:
Take the grey subway line from Bedford Av in Williamsburg to Jefferson St.

Visit later in the evening if you plan to party at House of YES.
18. New York City Subway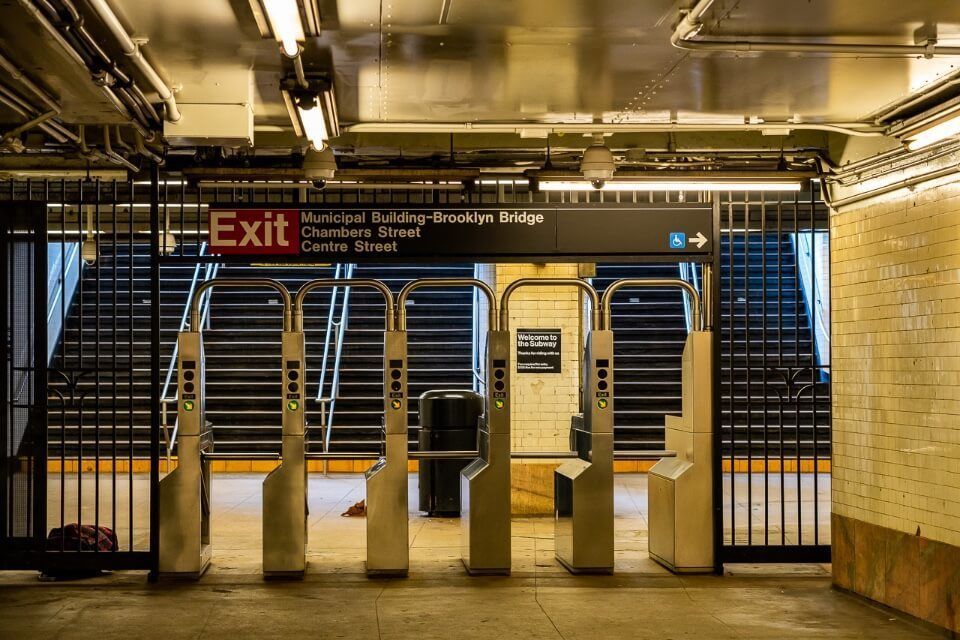 OK, so taking the subway is such a cliche thing to do in New York City … but it's still one you can't miss!
The city is well connected by subway stations and it's by far the easiest way to get around. We found ourselves jumping on subways frequently to cover any longer distance trips.
Here's what you need to know:
Each ride costs US$ 2.75 (at time of writing).

When you first arrive, buy a subway card and fill it with US$ 11, which gives you 4 rides.

If you will be in town for 3 or 4 times, put more on but make sure it can be divided by 2.75.

If traveling the full length up or down Manhattan's east side, use #4 green line the Lexington Ave Express, which only stops a few times instead of at every station.
19. Time Out Market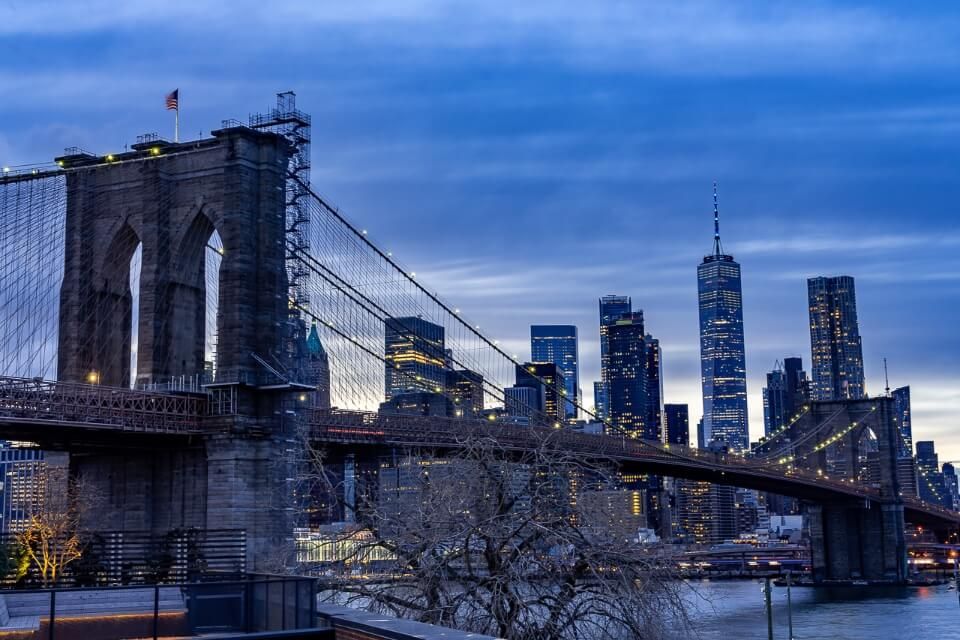 Time Out Market is a quaint shopping and dining experience located in Dumbo, Brooklyn. It sits right on the banks of the East River and offers upscale shops with a riverside restaurant.
Take a climb up the central staircase inside Time Out Market and you'll be rewarded with wonderful views over both Brooklyn Bridge and Manhattan Bridge.
Here's what you need to know:
Time Out is a great meeting point for photographers.

Iconic Brooklyn Bridge viewpoints Jane's Carousel and Pebble Beach are within a stone's throw.
20. Grand Central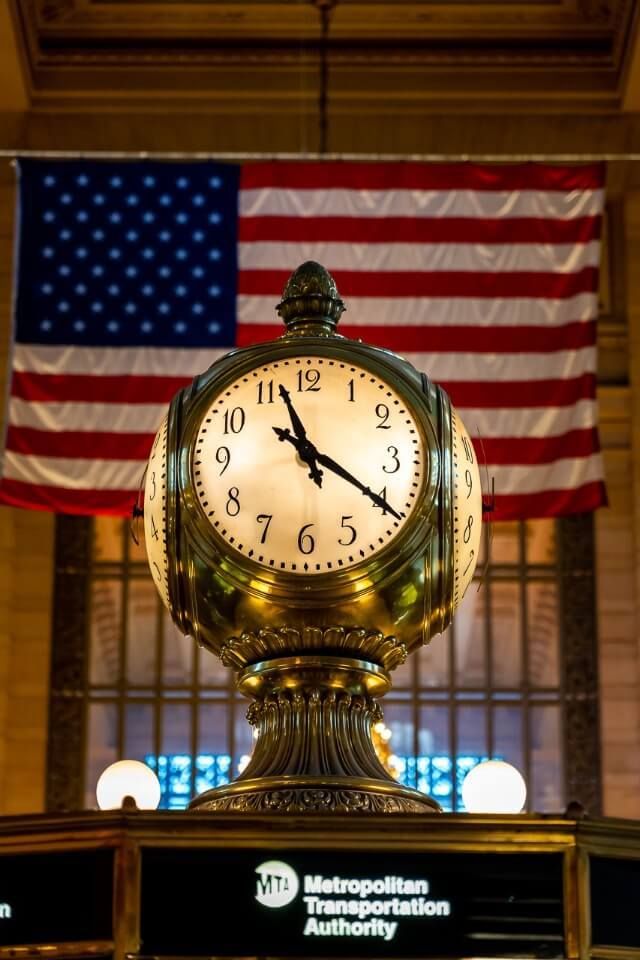 Grand Central terminal is a Manhattan transport hub loaded with stunning design features and stone masonry. It's famous opal clock in the center of the main concourse is unmissable for a selfie.
But make sure you find the Whispering Hall, in which you can stand 30 feet away from your travel partner, whisper into a stone column and they will hear you!
Here's what you need to know:
Inside, the ceiling and hall are decorated beautifully.

Vanderbilt Hall is home to the occasional temporary exhibit worth checking out.

Right outside is Pershing Square, a high end diner.

The classic yellow taxi photo can be captured at the main entrance.
21. Chelsea Market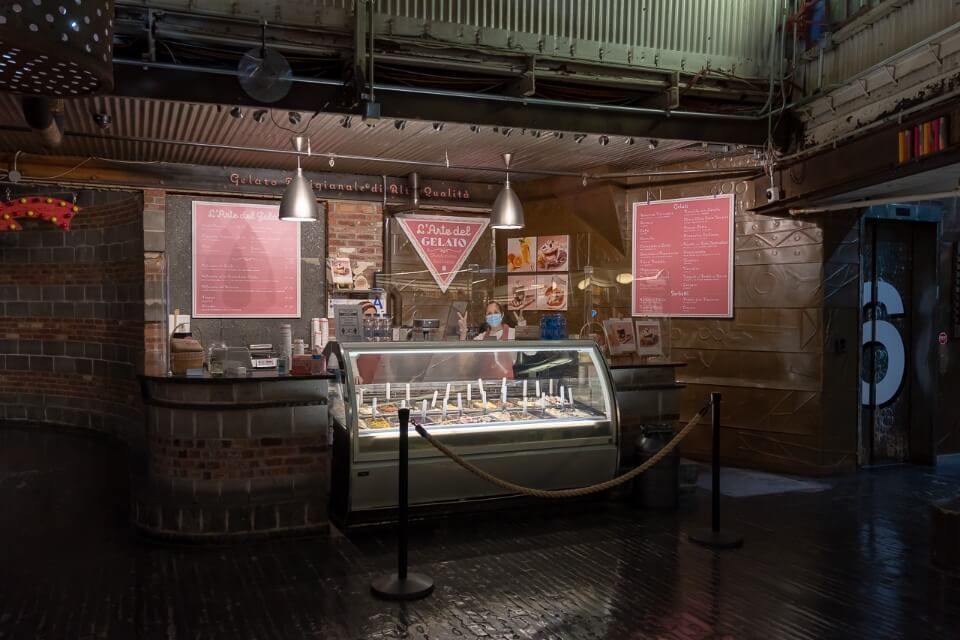 The beating heart of popular NYC neighborhood Chelsea is its market. Take a slow walk through the varied tastes and delights of Chelsea Market, stopping to sample tacos and ice cream.
Here's what you need to know:
The walkway through Chelsea Market is longer than we imagined it would be.

It is touristy so expect big crowds.

Combine a visit to Chelsea Market with The High Line or Meatpacking District.
22. Manhattanhenge
We made a concerted effort to avoid any time sensitive things to do in NYC. However, we made an exception here.
Manhattanhenge is an event that only happens twice, during two separate periods each year (4 days total) – in January and June – but we had to include such a unique and awesome event.
In a nutshell, the sun sets on the horizon right at the end of a tunnel-like NYC street.
Here's what you need to know:
Two weeks either side of the Winter solstice and Summer solstice.

Sunrise or sunset lines up perfectly with the East-West grid streets of Manhattan.

Truly incredible urban perspective photography.

Tudor Bridge becomes packed full of photographers on those special 4 days each year.

The Chrysler Building looks awesome from this vantage point.

A super telephoto lens (even a teleconverter) is required to get the very best sun shots here.
23. Staten Island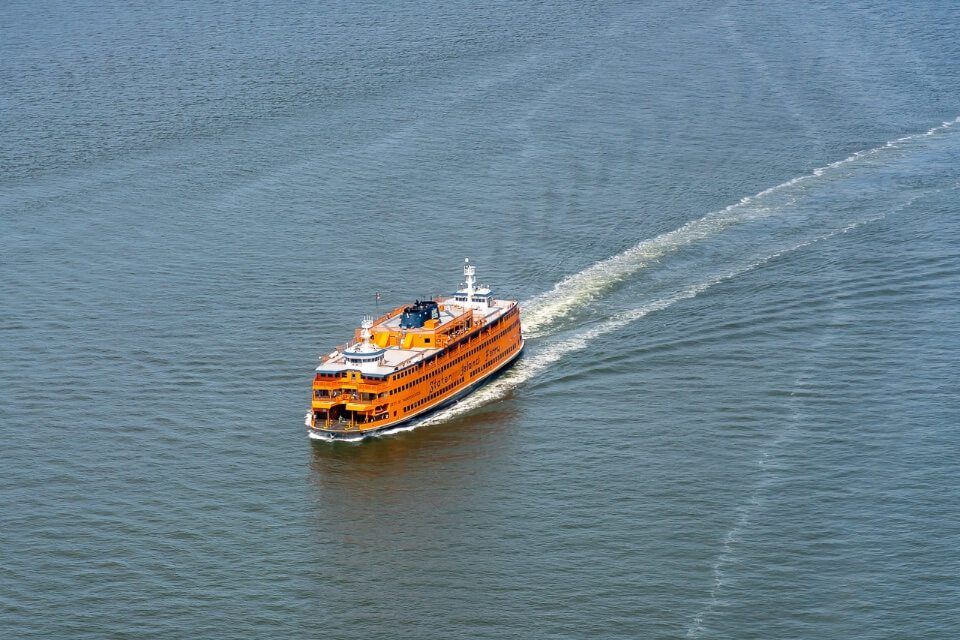 The Staten Island ferry is a free passenger transport carrying New Yorkers from Manhattan to the southernmost borough Staten Island.
It's the gigantic orange ship you might have seen out in Hudson Bay.
Many first time visitors to New York take the free Staten Island ferry to get close up views over the Statue of Liberty without having to pay. It's a great idea if you're traveling on a frugal budget but it's nothing like taking the tour of Liberty Island.
South Ferry red subway line terminal is where you can board the Staten Island ferry.
With just a few days in NYC we wouldn't recommend visiting Staten Island, there's just too much else to see and do. But if you have a week in the city, you can afford to spare a half day here.
Things to do in Staten Island:
Explore the Staten Island zoo

Snug Harbor cultural center and botanical garden

Fort Wadsworth

Staten Island children's museum

Franklin D Roosevelt boardwalk and beach
24. Governors Island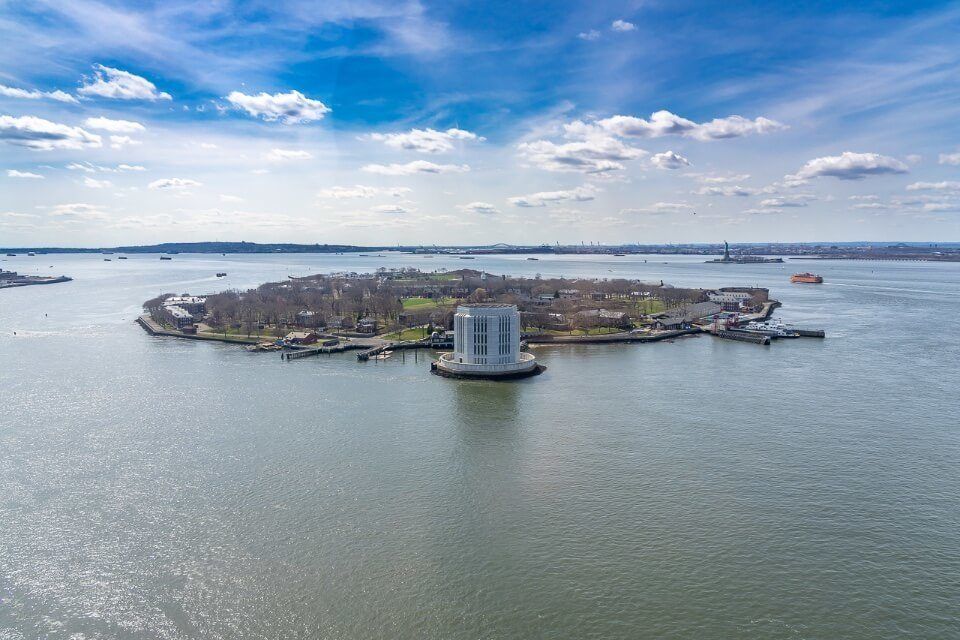 Once a revolutionary war military installation, Governors Island today is a public green space floating in Hudson Bay, perfect for tourists to explore in warmer months.
The US army and coastguard have both used Governors Island for training purposes but it was ultimately opened to the public in 2005.
Here's what you need to know:
Free public arts and cultural events take place on the island.

Walk around historic buildings such as Castle Williams and Fort Jay.

Or just enjoy the relaxing gardens.

Ferry leaves Lower Manhattan from Battery Maritime Building Slip 5 (next to Staten Island Ferry).

Tickets are US$ 3 return.

Find more information here.
25. Vessel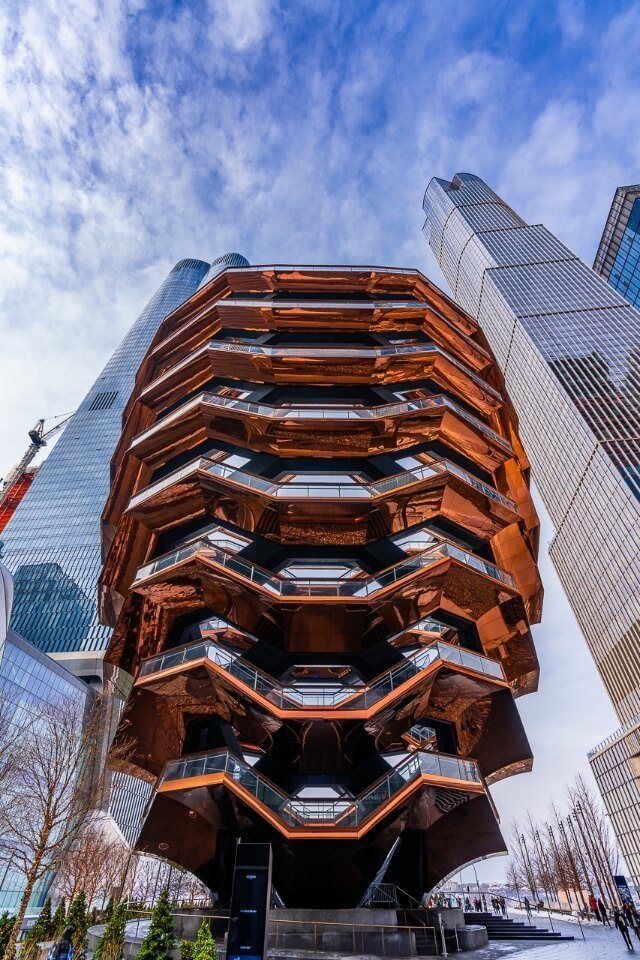 Vessel is another of our favorite pieces of NYC architecture. The metallic copper color is eye catching and the design of staircases crossing one another engages the brain.
Vessel is one of many recent developments at Hudson Yards and we think it is an unmissable thing to see in New York.
Here's what you need to know:
Vessel is located right at the end of The High Line.

Hudson Yards pristine shopping mall is a ten second walk from Vessel.

Best seen when the sun is low in the sky.
26. Bryant Park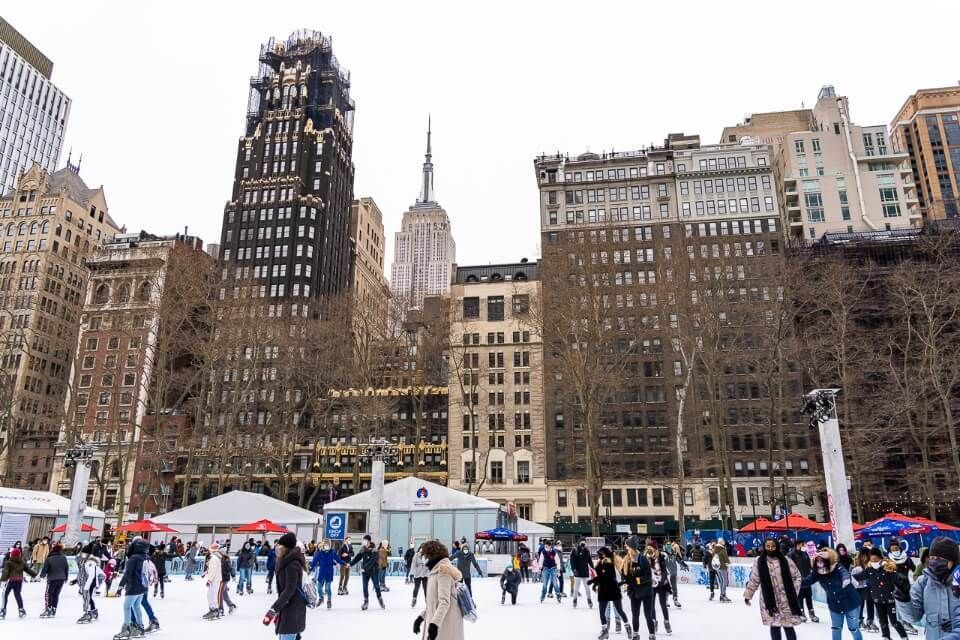 Bryant Park is a popular centrally located park right in between Grand Central and Times Square.
It is mainly used a quick stopping off point between attractions but these parks do provide a welcome relief from relentless traffic and busy sidewalks.
Ice skaters and hot chocolate drinkers flock to Bryant Park in Winter, plus views of the Empire State Building are beginning to get more interesting.
Here's what you need to know:
New York Public Library shares the Bryant Park acreage.

Try Belgian hot chocolate and waffles if visiting in Winter.
27. Macy's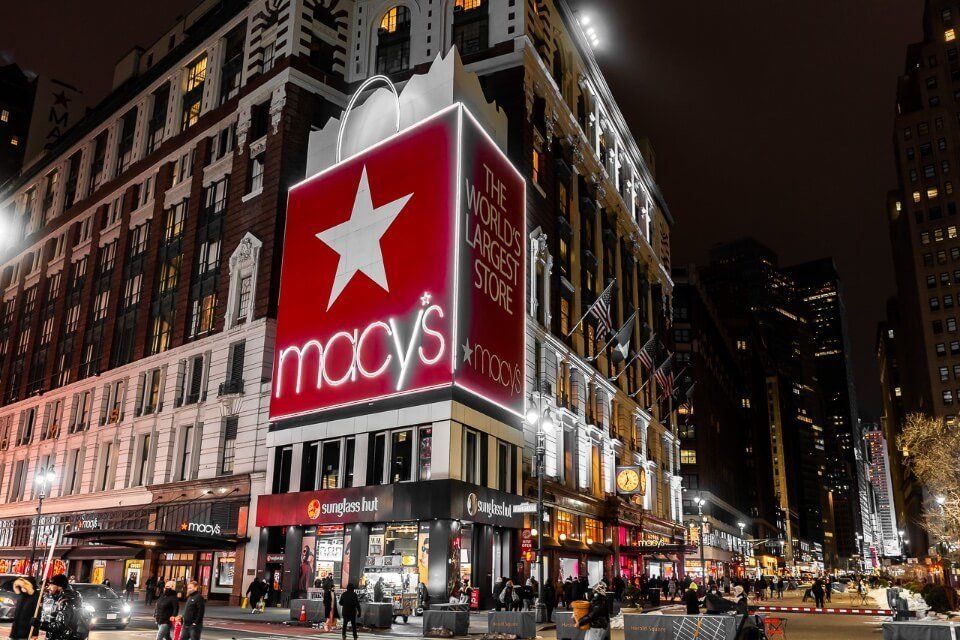 You can't visit New York City without going for a walk around the 'world's largest department store'.
Ride the old wooden elevators up 11 floors, shop in a shoppers paradise or eat at one of the many restaurants inside Macy's Herald Square.
Macy's is a NYC staple and if you're lucky enough to be visiting in November, you might even catch the famous Thanksgiving Day Parade.
Here's what you need to know:
Check your travel dates, Thanksgiving is on the fourth Thursday in November.

Christmas is one of the best times of year to visit the famous department store.

Macy's is the perfect place to shop on a rainy day.
28. Flatiron Building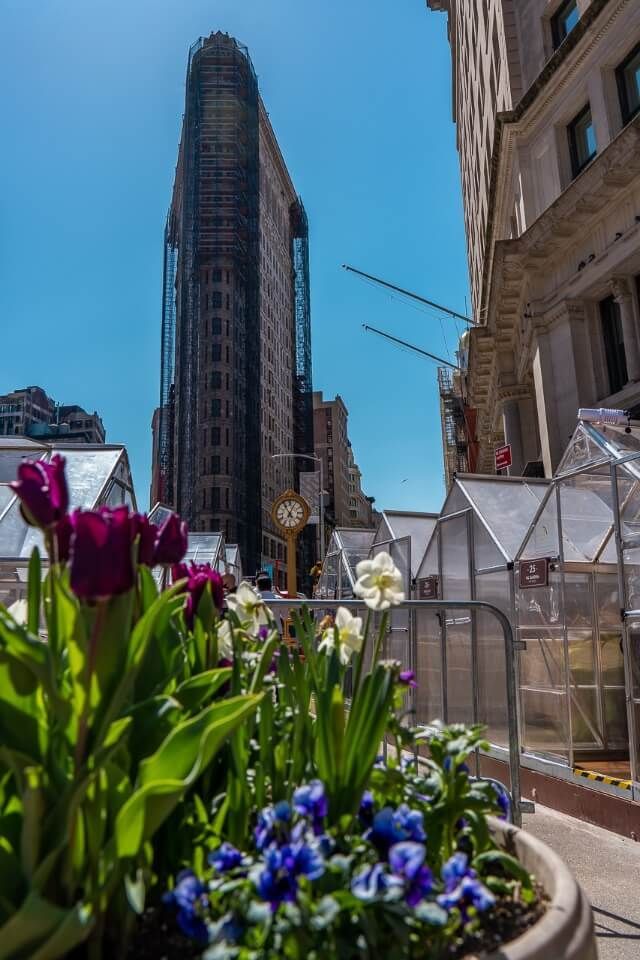 From famous store to famous structure, the Flatiron Building is a distinctive triangular shaped architectural treat located directly down fifth avenue if looking from the top of Empire State Building.
When we lived in New York, the Flatiron was unfortunately covered in scaffolding and tarpaulin.
Here's what you need to know:
The Flatiron Building is a few blocks away from any of the other major tourist sites.

Yellow subway line 23 St is 10 ft from the famous golden clock.
29. New York Public
Library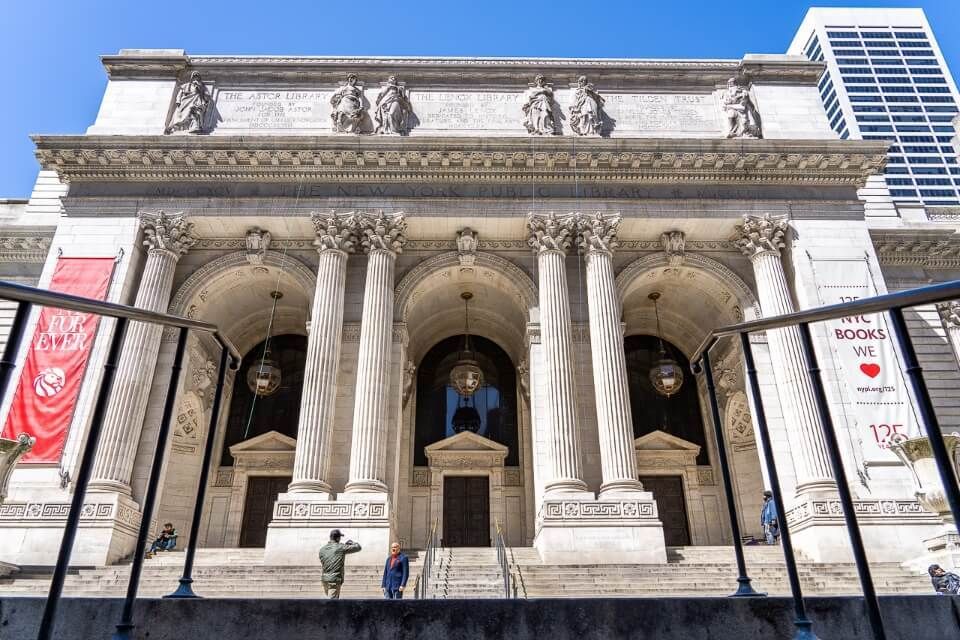 Definitely one of the most prominent buildings along fifth avenue, the NY library is the fourth largest public library in the world.
Yes, it looks attractive from the outside, but we recommend you head inside to see the beautiful the interior design work.
This is one of the best things to do in New York City if you like reading, architecture or history.
Here's what you need to know:
The enormous Lion statues outside are named Patience and Fortitude.

It is free to enter the library.
30. Manhattan Bridge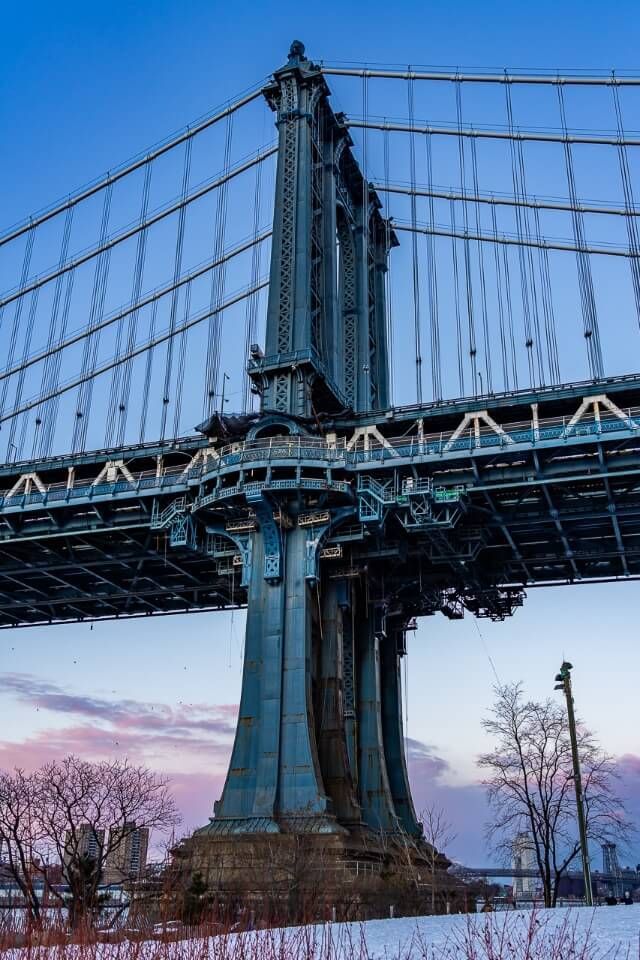 Often overlooked in favor of tourist hungry Brooklyn Bridge, we very highly recommend a walk over the Manhattan Bridge if you have time on your NYC itinerary.
The walk is not as attractive, but it is much quieter and offers a different perspective over Lower Manhattan.
Here's what you need to know:
Insta famous hole-in-the-fence photo is on the Manhattan Bridge near Chinatown.

Best view of Manhattan Bridge is from Dumbo (Washington Street).

Get a great view of the Bridge from Time Out Market.

Walk over right before sunset for the best view.
Read: Complete Guide To Walking Over the Manhattan Bridge
31. DUMBO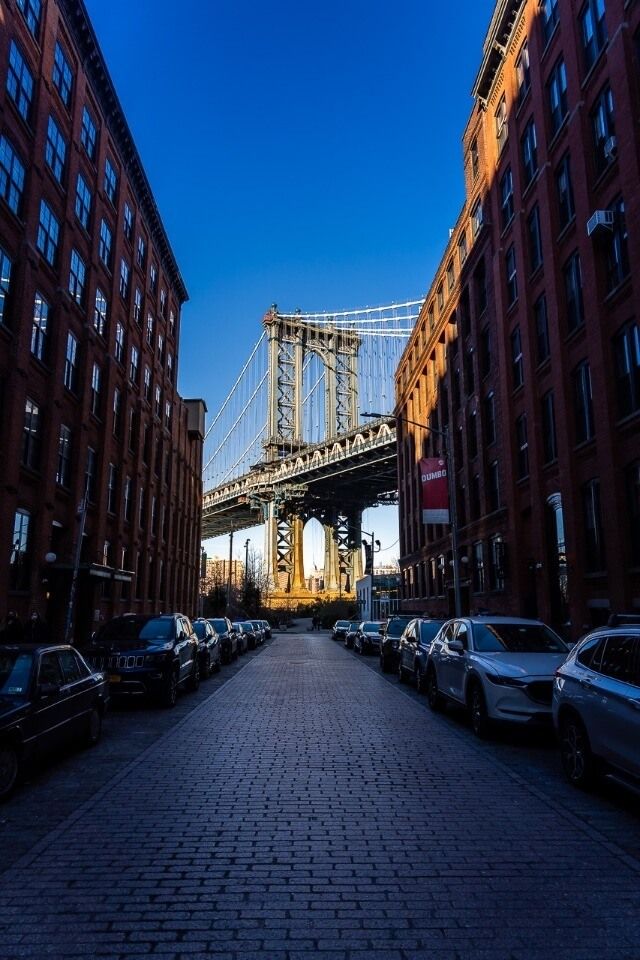 Dumbo is the most popular place to explore in Brooklyn for first time visitors to NYC. It is just over the bridge and set up perfectly for tourism.
Here's what you can check out in Dumbo:
Several of the best Brooklyn Bridge viewpoints.

Old Pier 1 in Brooklyn Bridge Park.

Grimaldi's Pizza (or Juliana's).

Time Out Market.

Washington Street Manhattan Bridge view (NYC instagram favorite).
32. Strand Book Store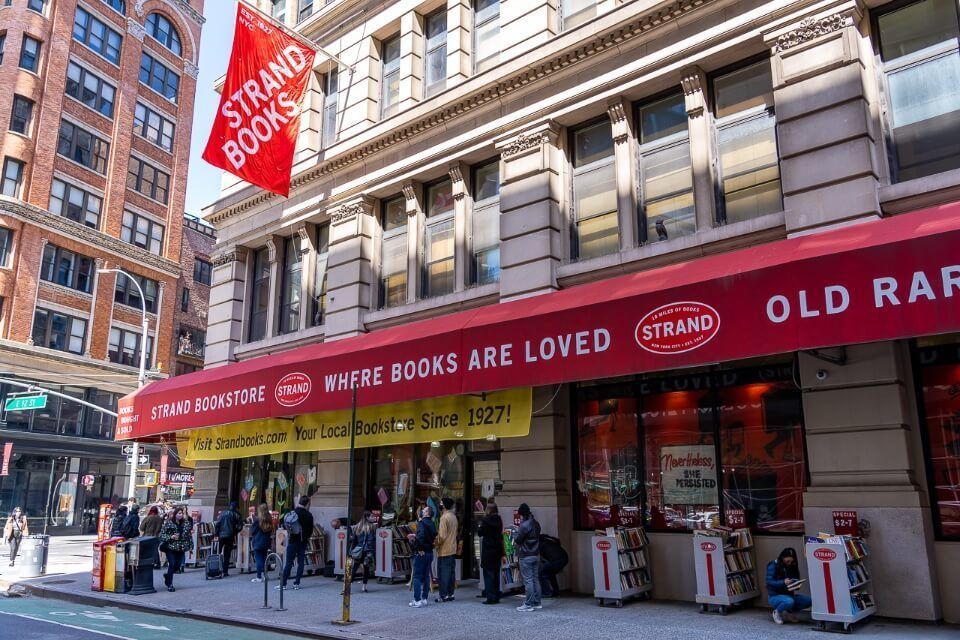 Strand Book Store is New York City's incredibly popular and beloved independent readers paradise.
It is located in an isolated part of South Midtown, which means extra effort is required to reach the store and it is always busy so expect a long line.
Here's what you need to know:
Strand Book Store is very close to Union Square 14th Street, a subway hub served by several lines.

There are over 18 miles of book shelves!
Best Things To Do In New York City At Night
In the city that never sleeps, night owls and party lovers can find fun things to do as NYC daylight turns into NYC darkness.
Certain parts of the city only begin to come alive once the sun has set and city lights sparkle.
Grab your camera and let's jump into the best things to do at night in New York City!
33. Times Square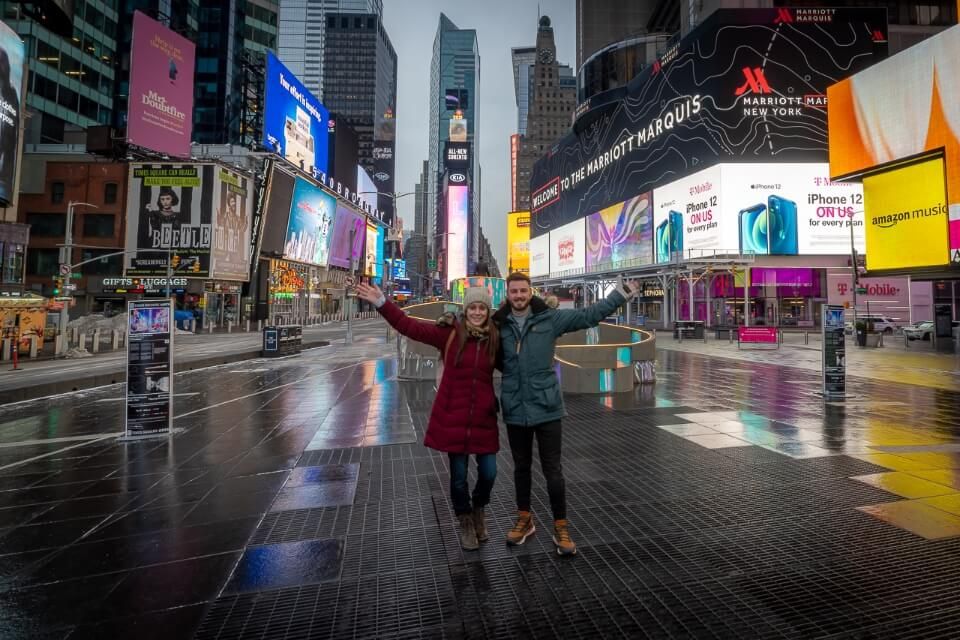 Ah, where to begin with Times Square.
Gimmicky tourist trap or must visit thing to do in New York City? Well it's both.
Yes, it is awful, loud, crowded beyond belief, chaotic and a sensory overload. But it's also fun and something you don't see every day, so we would suggest you walk through once.
And then not ever again!
Here's what you need to know:
Check it out at night but if it's too much, go back around sunrise to get the same effect but with nobody else around.

Many of the top broadway shows are in Times Square so you might have to deal with it a few more times than you might like!

It does have a very central location and is well connected.

Keep your belongings secured and accounted for at all times.

There's a great Joe's pizza spot near Times Square if you need a late night slice.
34. NYC Skyline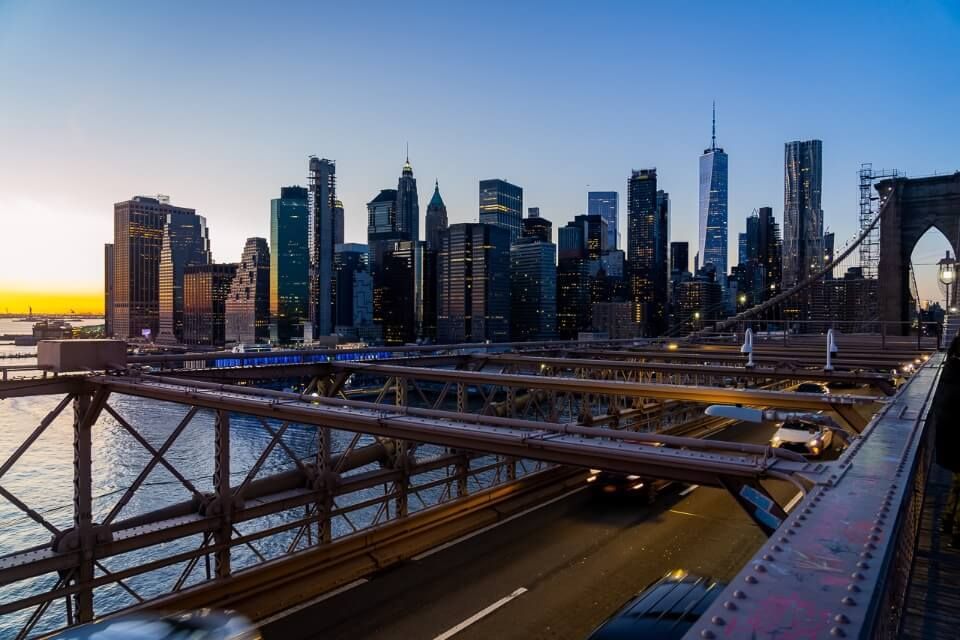 New York City's skyline is arguably the most famous in the world and it shines best at night.
Sunrise offers a stunning scene as Lower Manhattan lights up from the Brooklyn Side of the East River. Sunset is magnificent but the nighttime darkness truly brings the Lower Manhattan skyline to life.
Here are the best places to see the NYC skyline at night:
Boat tour on water.

Helicopter tour in the sky.

Walking across Brooklyn Bridge.

Brooklyn Bridge Park / Old Pier 1.
35. Brooklyn Bridge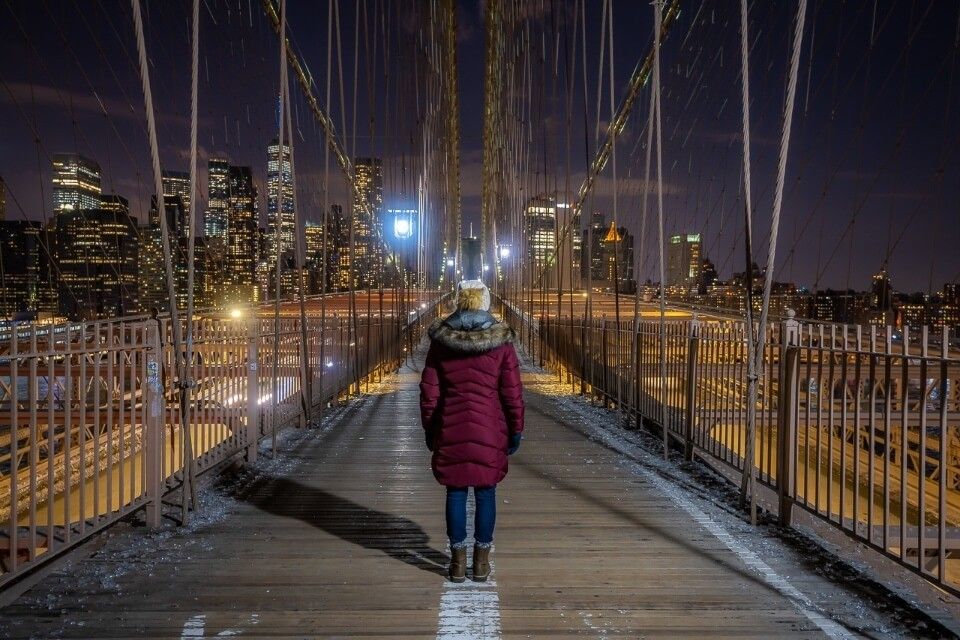 We could have categorized Brooklyn Bridge at the top of the best free things to do in New York City, or the most romantic things to do in NYC – but in the end we went with the most unmissable places to be at night.
We walked across the bridge at sunrise, sunset and at night. There's just something so unique and electrifying about crossing Brooklyn Bridge at night. The atmosphere is unforgettable.
Here's what you need to know:
Walk across very slowly at sunset and in darkness.

Stick to the pedestrian footpath to avoid cyclists.

Remember a tripod for photography.

The bridge gets incredibly busy at night.
36. Brooklyn Bridge Park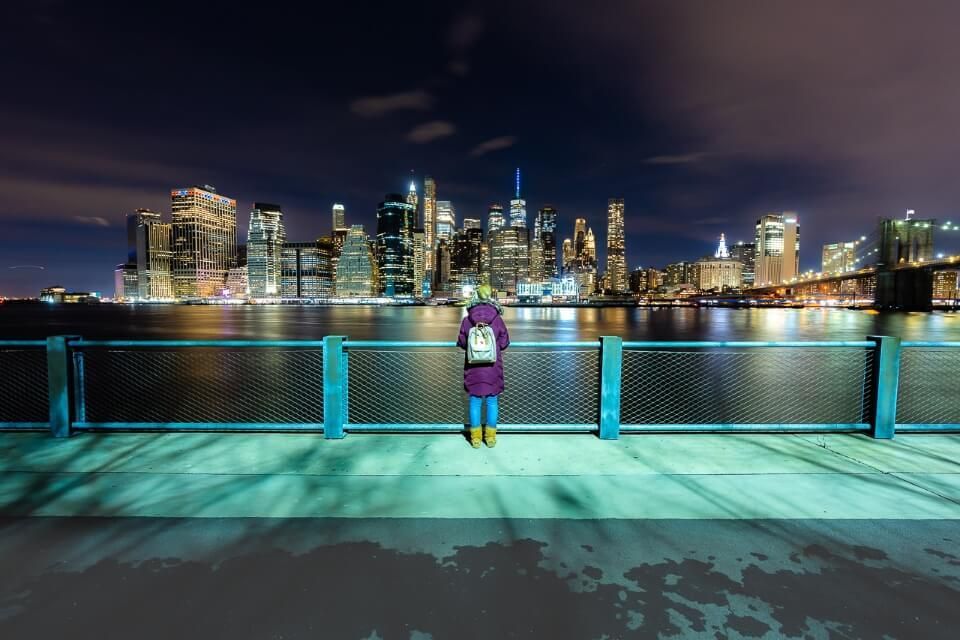 You might have noticed most of the things to do at night in New York City are centered around Brooklyn Bridge. It really is a fantastic experience and we can't recommend it highly enough.
Even if you only have one or two days in the city, this is where to spend your evening. Brooklyn Bridge Park stretches around the opposite side of Brooklyn Bridge to Time Out Market.
It offers unobstructed views over Lower Manhattan and the East River, plus it has one of the very best NYC photography locations at Old Pier 1.
Here's what you need to know:
Old Pier 1 is around the headland where you will see wooden poles in the water.

Expect to see pro photographers set up along the ramp leading into water.

Small amphitheater-style seating area along Brooklyn Bridge Park to enjoy some of the best views over Lower Manhattan's skyline.
37. Yankees Game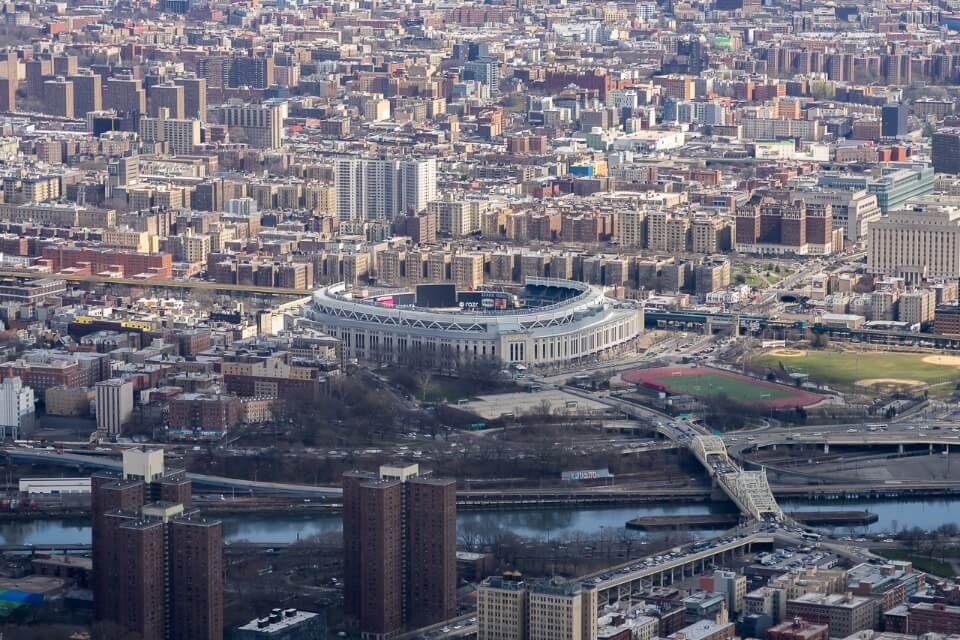 Whether you're a big baseball fan or visiting from abroad with no idea how the game works, you know the New York Yankees and you know you want to watch them under the flood lights!
Here's what you need to know:
Yankee Stadium is all the way up in The Bronx and takes a fair amount of effort to reach.

Nearby you can include the Bronx Zoo and the New York Botanical Garden.

It doesn't matter how much you will pay, you have to get a hotdog and beer!

Find tickets here.
38. NYC Clubbing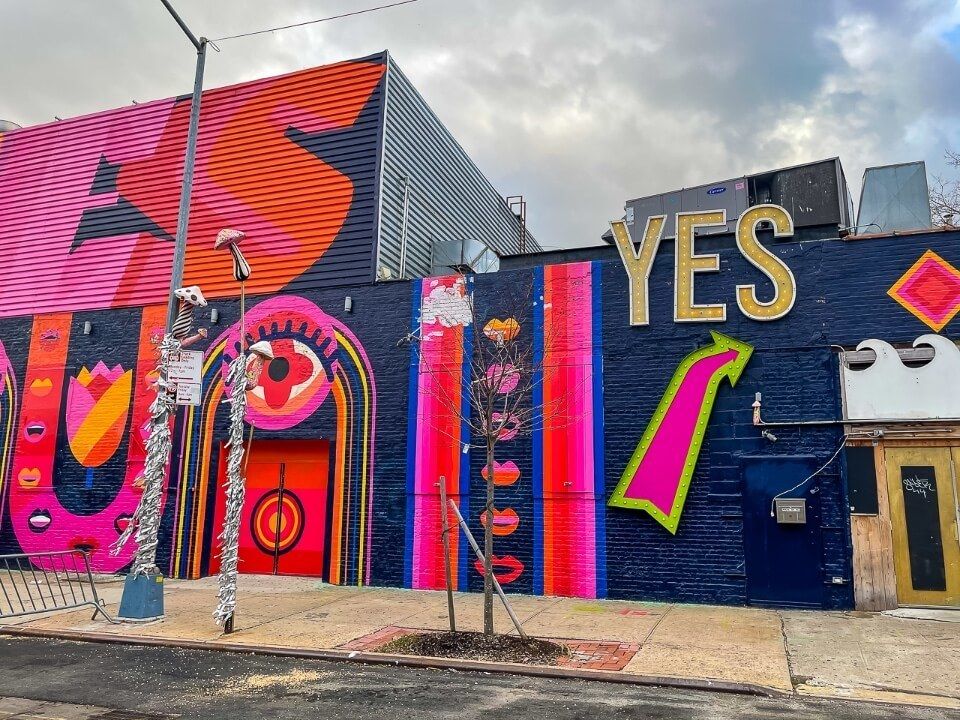 Hey, we have to cater for every visitor and where better to party than in New York City?!
If you can somehow manage to get your name on a VIP list for a nightclub, you're in for one hell of a ride.
Here's what you need to know:
Popular party spots include Meatpacking District, Lower East Side and Greenwich Village in Manhattan or Williamsburg in Brooklyn.

You will need some luck to get on a VIP list for any of the well known clubs.

Having local friends could help!
39. Penn Station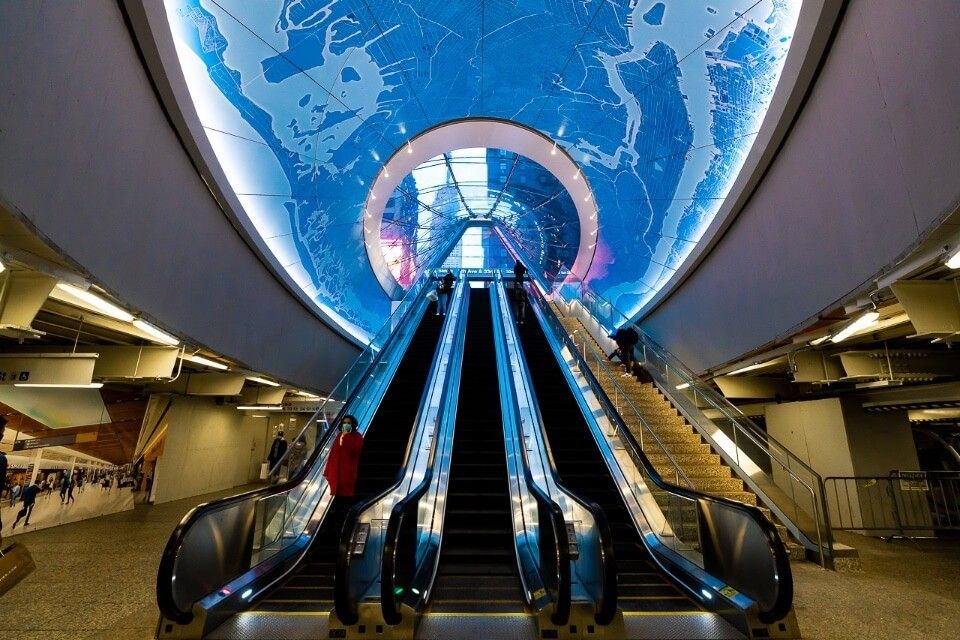 Yes we know Penn Station is a strange place to visit at night, especially if there's nothing on at Madison Square Garden.
However, there is a really cool photography spot on 34th street at the entrance to the newly refurbished Moynihan Hall train station.
Here's what you need to know:
Take the escalator down through the awesome blue planet.

It's similar to the London Natural History Museum escalator into the globe.

It might be a bit sketchy around this area so be extra careful.
40. Radio City Music Hall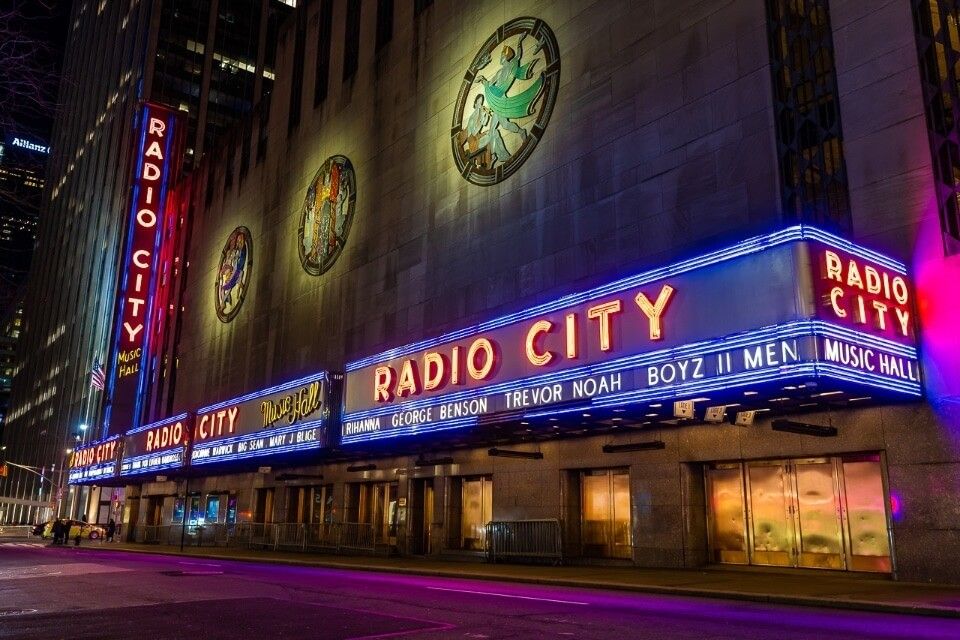 From new to old, Radio City has been one of the best things to see in New York City at night for years. Its gorgeous purple color radiates out into the NYC night and provides a unique photography opportunity.
If you can catch a show, all the better.
Here's what you need to know:
For general tickets and to see which comedians, opera singers and artists are playing, here's the official MSG site.
The Radio City Rockettes perform a wildly popular Christmas Spectacular each year, find tickets here.

Photography – both the side shot and corner shot are awesome.
Most Romantic Things To Do In New York City
Is New York a romantic city? You bet it is.
In fact, we'd go as far as saying it probably ranks at number 2 in the world for marriage proposals. After Paris, of course.
The problem with romance or even a proposal in New York City is finding the time to be romantic or propose, there's just so much to do!
We actually saw one marriage proposal in each of Central Park, Brooklyn Bridge, Empire State Building and even Times Square in just 3 months living in NYC.
Let's take a look at some of the more romantic things you can do in New York City (you don't have to propose though!):
41. Rockefeller Christmas Tree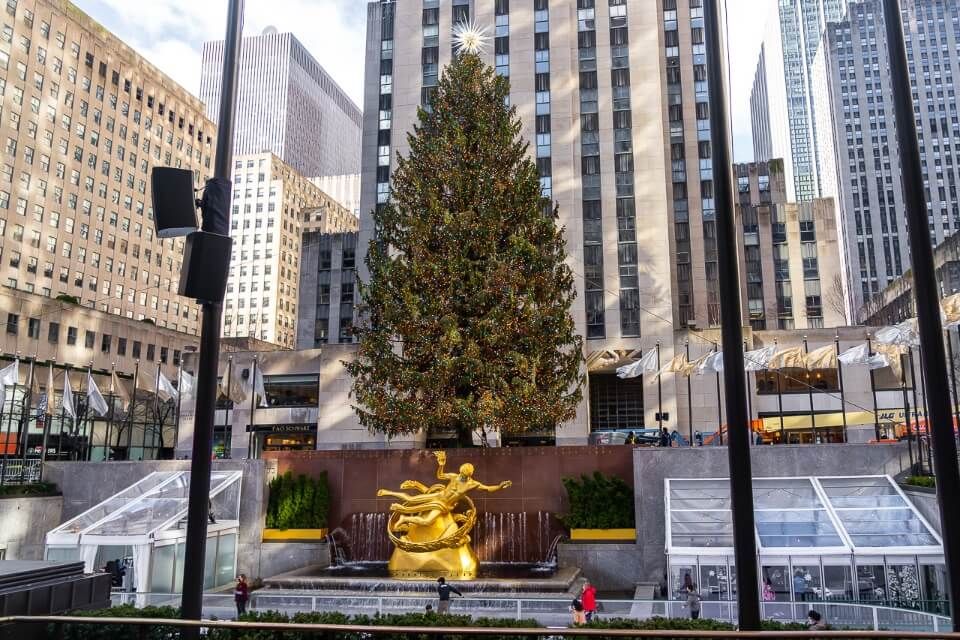 Does it get any more romantic than the icon of the holiday season – The Rockefeller Christmas Tree?
We're sorry it's another time sensitive event on our list of best things to do in New York City but this just has to be included.
If you're visiting NYC in December before Christmas, you simply cannot miss the legendary 75 ft tall Christmas Tree from the end of Home Alone 2.
Here's what you need to know:
Located right outside the Rockefeller Center in Rockefeller Plaza.

Goes up the Wednesday after Thanksgiving and goes down in early January.

Ice skate on the rink in front of the tree for the most amazing (but costly!) experience.
42. Afternoon Tea
For a more luxurious romantic experience, try a spot of afternoon tea in New York.
Sandwiches, scones, desserts and tea on tap in beautiful and relaxing surroundings is a perfect break from the chaos of fifth avenue.
You can even upgrade to champagne for an extra special celebration!
The Whitby Hotel is one of the top rated hotels in NYC and they serve up a wonderful afternoon tea but be warned, it isn't cheap.
Here's what you need to know:
Located right off fifth avenue at 56th street.

Book in advance to guarantee a table.
Read: Our Whitby Hotel afternoon tea experience in NYC
43. Helicopter Tour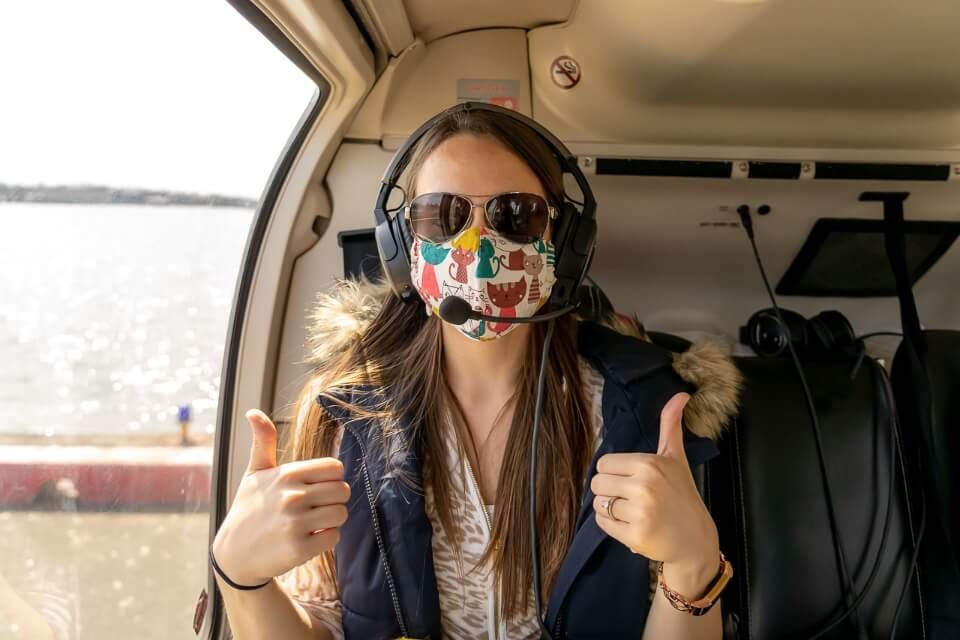 Sticking with the luxurious and expensive but awesome theme, a helicopter tour offers the ultimate New York City skyline experience.
Imagine soaring high over the iconic landmarks and buildings of Manhattan with your loved one? We did just that and although it was pricey, it was worth every penny.
This one is perfect for couples but also for families.
Here's what you need to know:
Helicopters take off and land at Pier 6 in Manhattan (near Staten Island Ferry).

You can choose between various routes, lengths and price points.

Unrivaled NYC views.

Perfect place to try your first helicopter ride.

Book: Ticket options for Heli NY.
Read: Our NYC Helicopter Experience with HeliNY
44. Central Park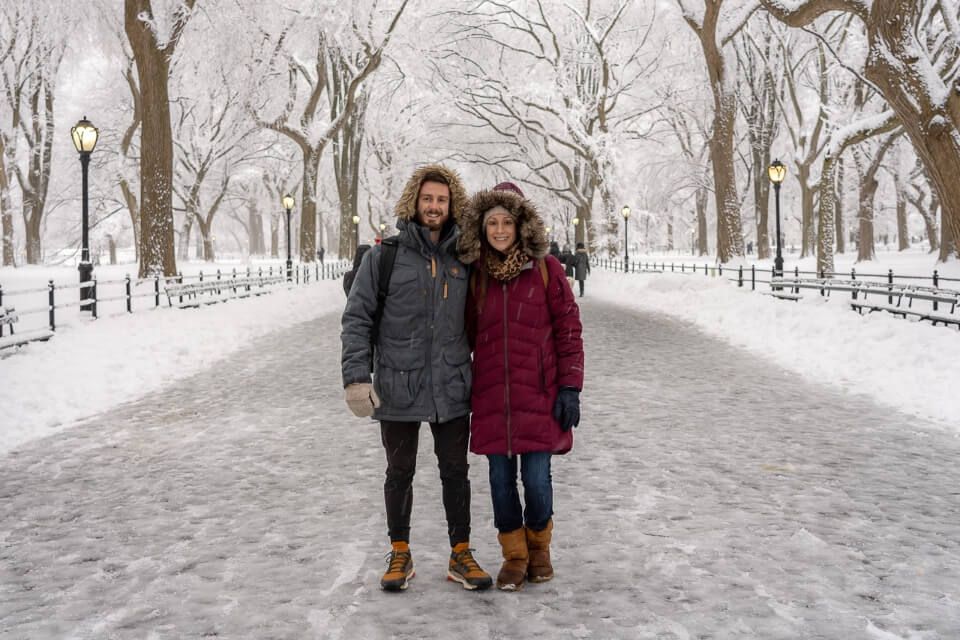 Every single visitor to NYC should plan to spend some time in Central Park. It is the crown jewel of city parks and arguably the most special in the world.
Brooklyn Bridge and Central Park are the two free things to do in New York City that you simply cannot miss on a first visit. They also happen to be the two hotspots for marriage proposals.
We could have included Central Park in the NYC free things to do category but romance top trumps free in our book!
Central Park is a beautiful place and a true 4 season romantic oasis among an ocean of skyscrapers:
Spring – Cherry Blossom season

Summer – Emerald green leaves

Autumn – Beautiful Fall foliage

Winter – Snowy wonderland
It really doesn't get much better for couples looking for a romantic stroll.
The only problem with Central Park? It is huge and you could easily lose a full day from your itinerary.
We would suggest spending time in the Southern part of the park if you only have a few days in the city. Try a self guided walking tour through the following areas:
Wollman Ice Rink

The Mall

Bethesda Terrace

Bow Bridge
Wagner's Cove
Strawberry Fields
The Ramble
Belvedere Castle
Read: 12 Stunning Places to Visit on a Winter Snow Day in Central Park.
45. Bethesda Terrace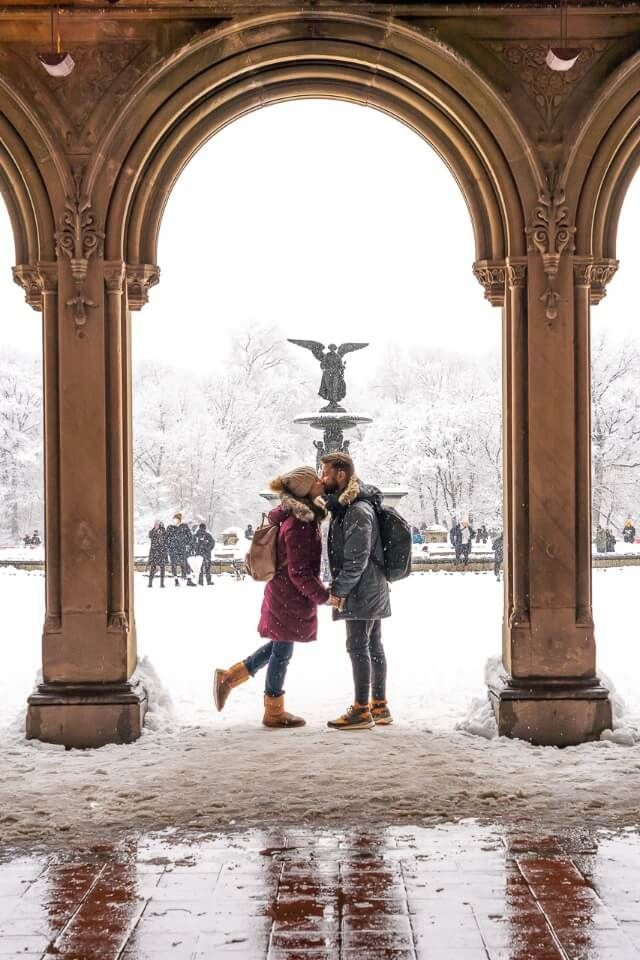 We've singled out Bethesda Terrace because it is arguably the most romantic scene in all of New York City.
Beautifully crafted stone arches and an ornate tiled ceiling lead to Bethesda Fountain, which is where endless professional engagement and wedding shoots take place.
Here's what you need to know:
Photographers should arrive at sunrise to get clear shots before the rush.

Visit on a snow day for pure romance and magic.

If you get a selfie in the center arch, don't linger because others want the same shot!
46. The High Line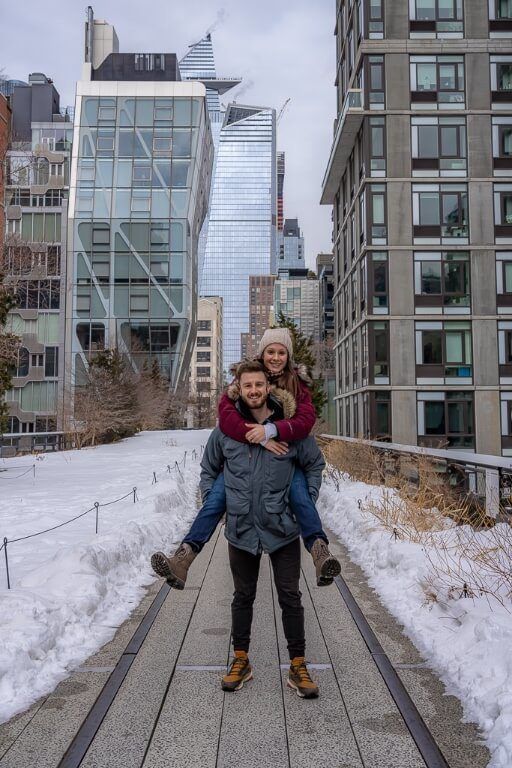 The High Line is a locals and tourist favorite, which means it can get incredibly busy on warm sunny days.
Starting in the Meatpacking District and ending at Hudson Yards, The High Line is an elevated pedestrian walkway featuring lush gardens in Summer and a welcome respite from the busy crosswalks below.
Taking a slow stroll along this old railroad line with your loved one is an extremely romantic thing to do in New York City.
Here's what you need to know:
The High Line begins on the corner of Gansevoort and Washington streets in Chelsea (Meatpacking District).

Expect huge crowds in Summer.
47. NYC Rooftop Bar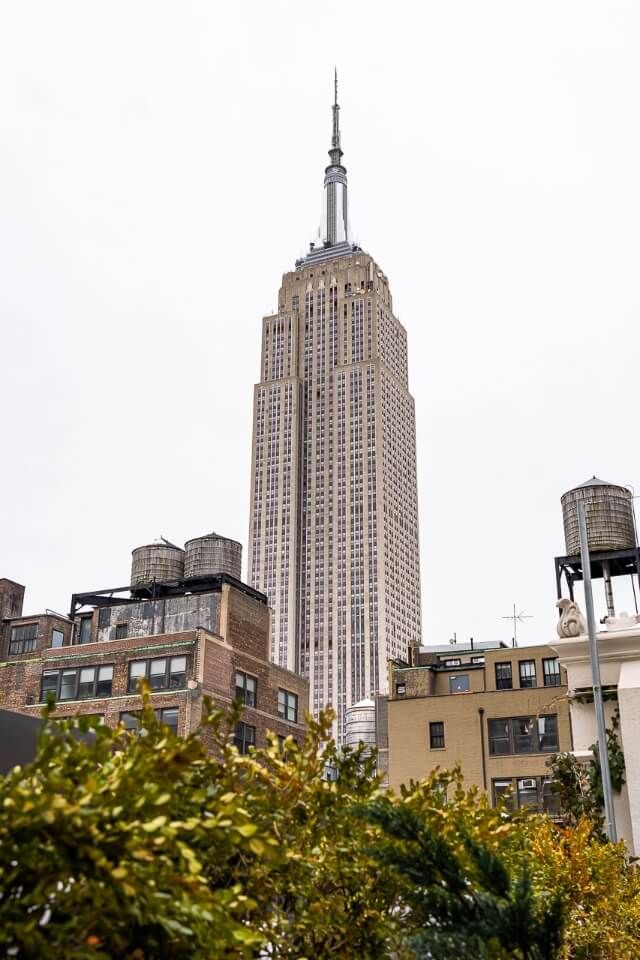 Rooftop bars have been welcoming couples for a romantic meal or cocktail in the world's great cities for decades. New York City just happens to be among the very best.
Top tip: Many NYC hotels have rooftop bars, including lower budget options. Always check when booking a hotel to see if it has a rooftop bar.
Here's what you need to know:
Expect higher than average prices, even for rooftop bars.

Some may include a cover charge just to enter the bar.

The area around Empire State Building is popular for rooftop bars.
48. Broadway Show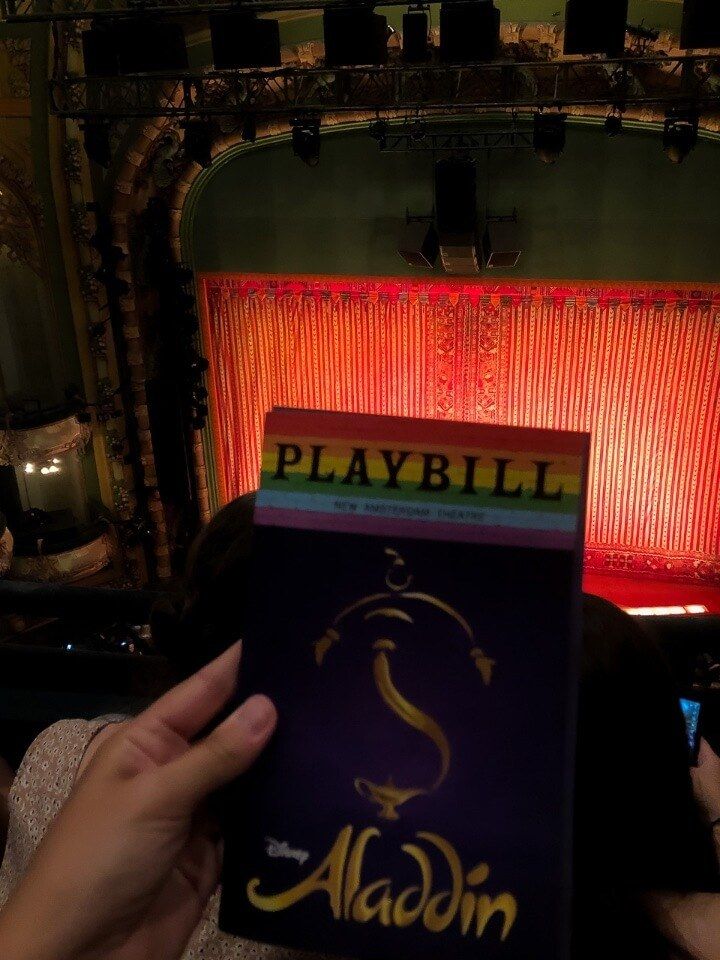 Similarly to London's West End, New York City's Broadway is filled with world class theater productions.
Couples looking for romance have to include a show on Broadway on a first visit to NYC. Pick up tickets for Phantom, Les Mis, Aladdin, Lion King or Wicked and enjoy some of the most expert acting in the world.
Here's what you need to know:
Many of the top theatre shows are located very close to Times Square.

Find tickets for your favorite show on Broadway.
49. Run Around Central Park Reservoir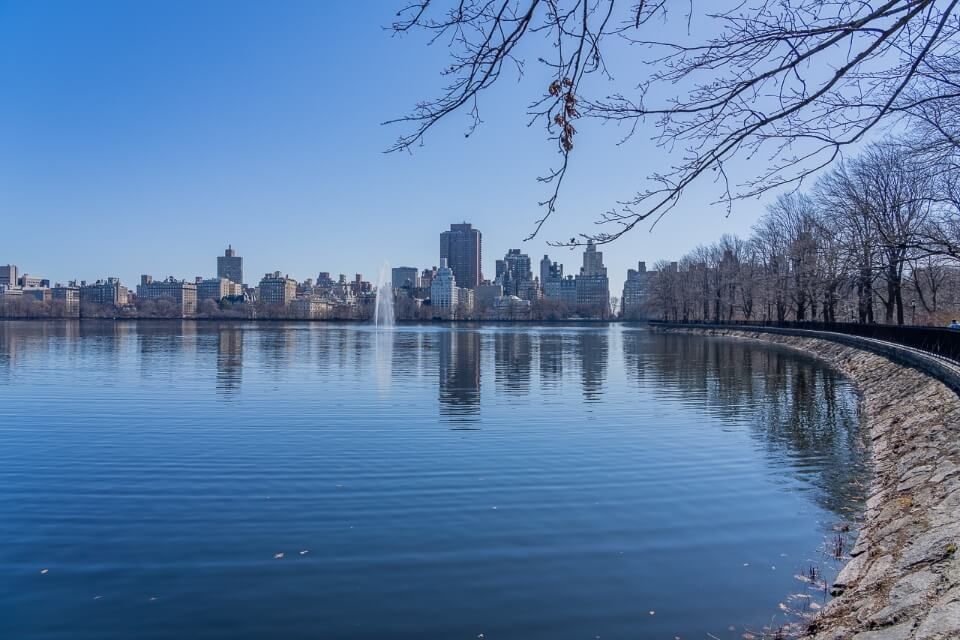 No, we're not joking! Running is romantic …
During our first visit to Central Park we saw hundreds of couples running together and we had to get in on the action.
The entire park is great for runners, but one of the more popular spots is a 1.5 mile lap around the Jacqueline Kenny Onassis Reservoir around two thirds of the way up Central Park.
Here's what you need to know:
Watch out for cyclists, other runners and dog walkers.

If you time it right at the start of November, you might catch (or even run in?!) the famous New York Marathon.
Best Neighborhoods To Explore In New York City
This is New York City. Every neighborhood has an insane amount of cool bars, restaurants, shops and unique things to do.
But we can't list them all, otherwise this would be a 1000 things to do in New York City article and it probably wouldn't even load on your device!
Instead, we will very briefly touch on the more popular trendy areas to eat and drink your way through once you're done with attraction hopping.
Here are the best NYC neighborhoods to explore:
50. SoHo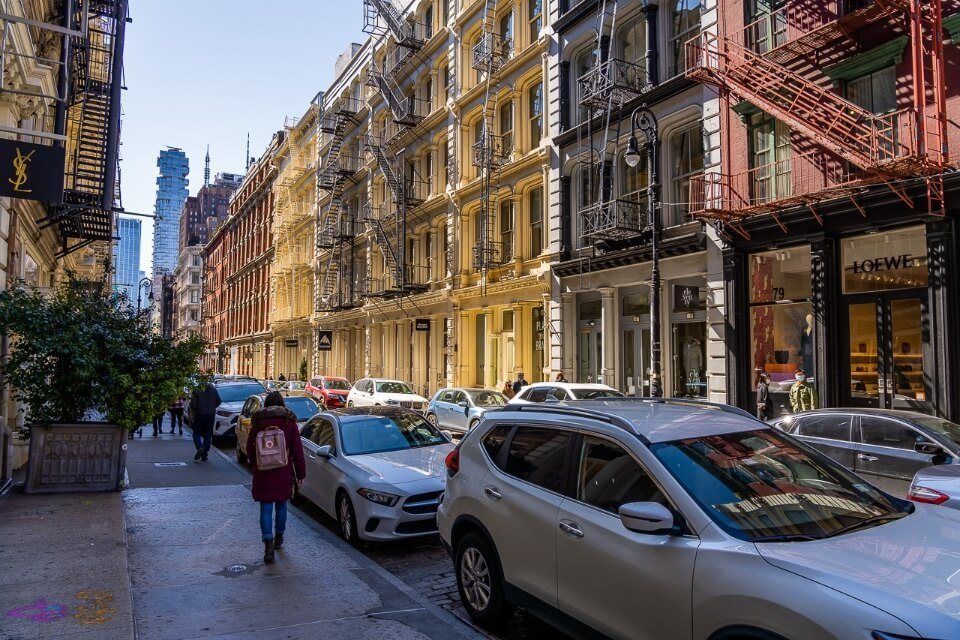 SoHo stands for South of Houston Street and despite being crowded, its cobblestone streets and high end shops make SoHo a very picturesque place to walk around.
Narrow sidewalks and heavy one way traffic lanes add a frustrating but exciting buzz to SoHo.
Reserving ahead for restaurants is strongly recommended. We tried on 3 separate occasions (weekend and midweek) to grab lunch and they were all booked up. We learned by the 4th time!
What we liked most about SoHo was its 'feel good' aura. It's also a fantastic people watching neighborhood.
High end shopping and a trendy residential scene make SoHo a highly desirable part of the city to live.
Here's what you can do in SoHo:
Shop til' you drop, if you have a few thousand spare in your NYC travel budget.

Check out the Museum of Ice Cream.

Enjoy the cobbled streets and people watching.

Eat a Cronut at Dominique Ansel bakery.

Get your Insta game on!
51. Williamsburg
Williamsburg is a very trendy and cool residential neighborhood in north of Brooklyn across the East River from Manhattan. There's a younger crowd living in Williamsburg, enjoying the vibrant and bustling social scene.
If you're looking for hipster, bars spilling out onto streets, artsy, chilled and quite frankly awesome, Williamsburg is the place you should spend an afternoon on your NYC itinerary.
We really enjoyed walking around Williamsburg's main food and drink scene around Bedford Av and Berry St. If we were to spend longer in NYC, this is where we would base ourselves.
Williamsburg is one of those places you eat, drink and chat your way through. The problem is you won't want to leave!
Here's what you can do in Williamsburg:
Trendy cafes, bars, restaurants and clubs.

Domino Park.

Bushwick Collective street murals.
52. Brooklyn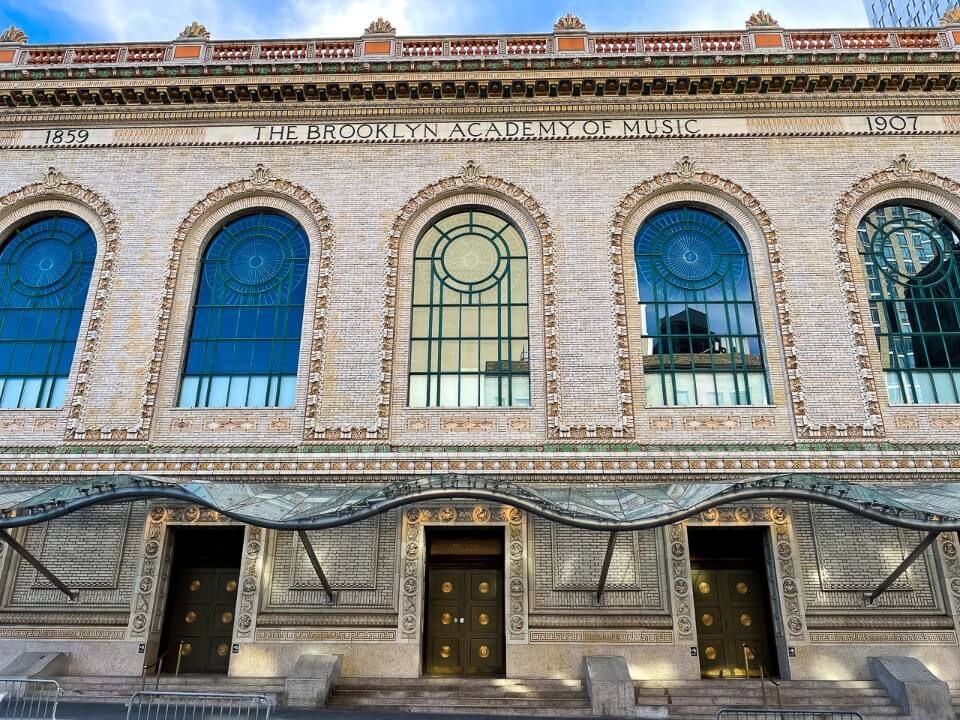 Brooklyn is most populated borough of New York City, covering over 3 times the land area of Manhattan Island. It is known for diverse residential neighborhoods, a huge social scene diverse culture.
Instead of attraction hunting in Manhattan, you could spend a long weekend in Brooklyn among commuters and local residents socializing throughout the varied neighborhoods.
Dumbo and Brooklyn Bridge areas are extremely touristy but thankfully not in a gimmicky way like Times Square. As a first time tourist to NYC, this is where you will likely spend most of your time in Brooklyn.
But here are more neighborhoods to explore in Brooklyn:
Prospect Park

Red Hook

Greenwood Cemetery

Downtown Brooklyn

Coney Island

Brighton Beach

Sunset Park

Cobble Hill
53. Seaport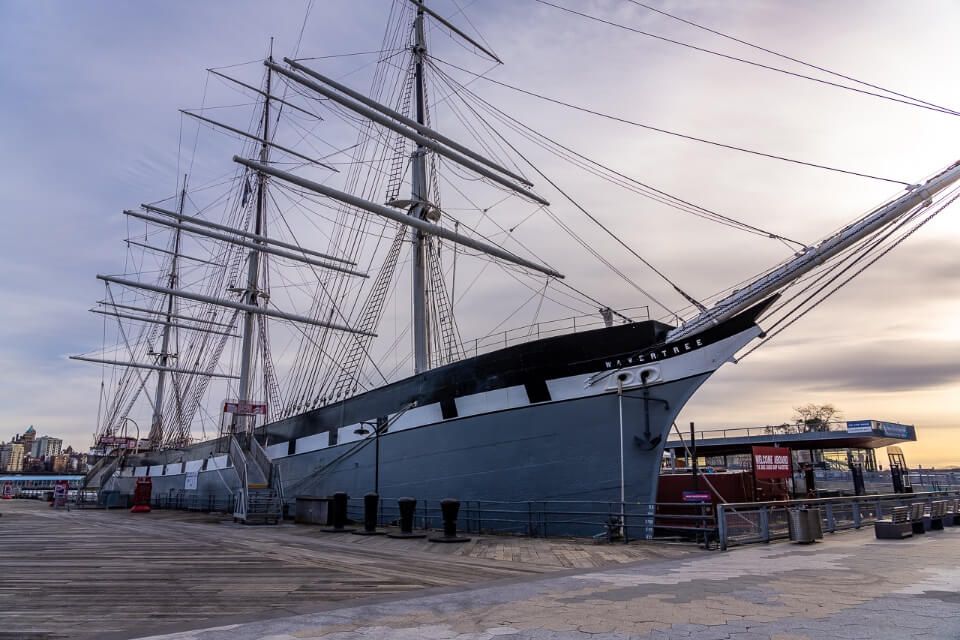 The Seaport District is not a residential area like the others in this list, but it is where it all began for Manhattan and New York City.
The Dutch West India Company settled and developed streets known as Pearl Street, Front Street, Water Street and South Street.
Trade routes from China and Britain opened up with what became the Port of New York at South Street. Its demise as a prominent port began when advancements in ship building methods left the port in ruins as the water was too shallow for newer ships to dock.
Today, Seaport is a shopping and dining area facing out over the East River to Brooklyn.
Here's what you can do in Seaport District:
Pier 17 for an incredible NYC sunrise location.

Pier 15 to relax on a public esplanade.

Shop in independent stores.

Visit the South Street Seaport Museum.

Check out Browne & Co stationers.
54. Greenwich Village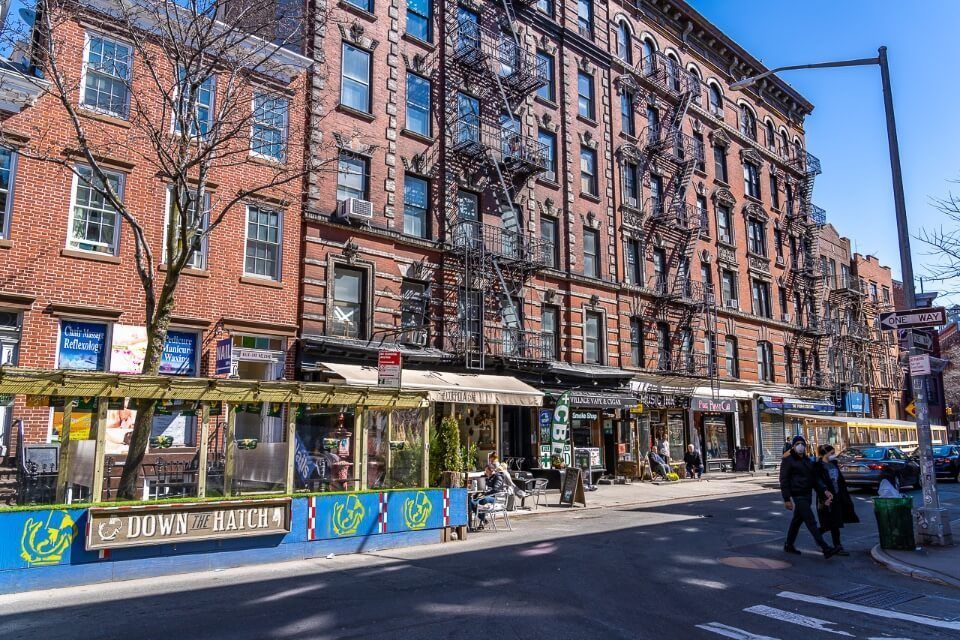 Greenwich Village is another of Manhattan's most attractive residential neighborhoods. Tree lined streets host cafes, bars, restaurants and a big party scene, particularly along Bleecker Street.
New York's bohemian capital is home to a spirited, artistic and friendly community. Washington Square Park is at the heart of Greenwich Village and you can expect to see live music, chess games and a diverse mix of age ranges.
Here's what you can do in Greenwich Village:
Washington Square Park.

See the Friends apartment.

Enjoy stunning NYC residential rows of houses.

Eat, drink and party.
55. Lower East Side
Lower East Side is making big moves in the dining and party scene. This is the place where New York City truly never does sleep.
After rapid gentrification in the 2000's, a booming culinary and nightlife scene has emerged, making it a highly sought after part of Manhattan for younger residents who want more 'going on'.
LES is quiet during the day, wakes up around dusk and comes to life at night. This is a loud, in your face but unpretentious neighborhood for a real authentic NYC experience.
Here's what you can do in Lower East Side:
Tenement Museum.

Katz's Delicatessen.

Eat, drink, party, repeat.
56. Chinatown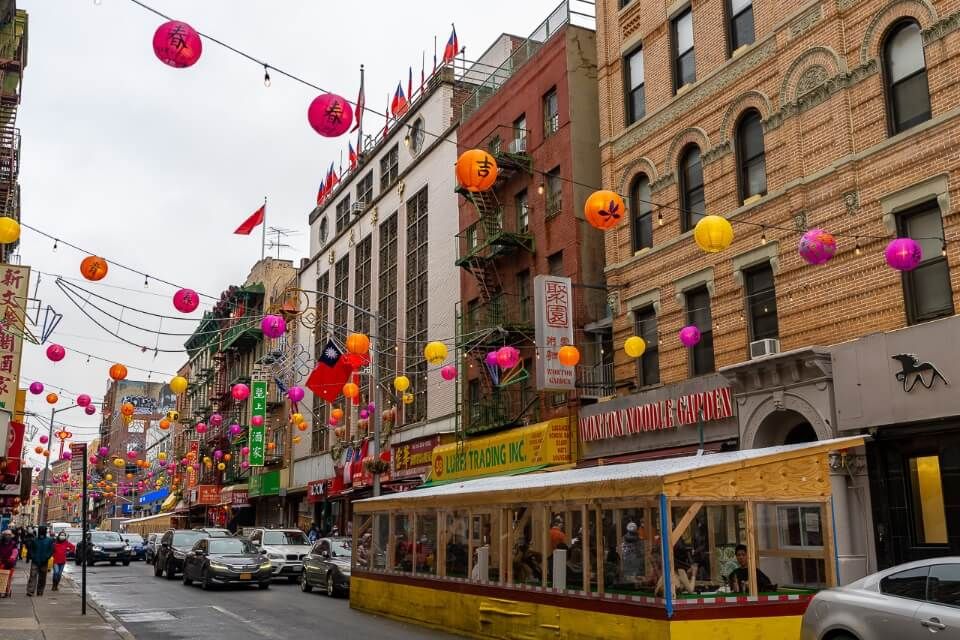 Chinatown is sandwiched between Lower East Side and Little Italy on the South side. It has a high population density and that means hundreds of amazing places to eat, drink and party.
Expect vibrant hanging lanterns, exceptional Asian food, temples, bakeries, galleries, museums bars and nightclubs. It is more gritty and less attractive than the likes of SoHo but you can get a real feel for working class Manhattan here.
Here's what you can do in Chinatown:
Museum of Chinese in America.

Canal Street shopping.

Apotheke Bar (famed for Chemistry Lab theme).
57. Meatpacking District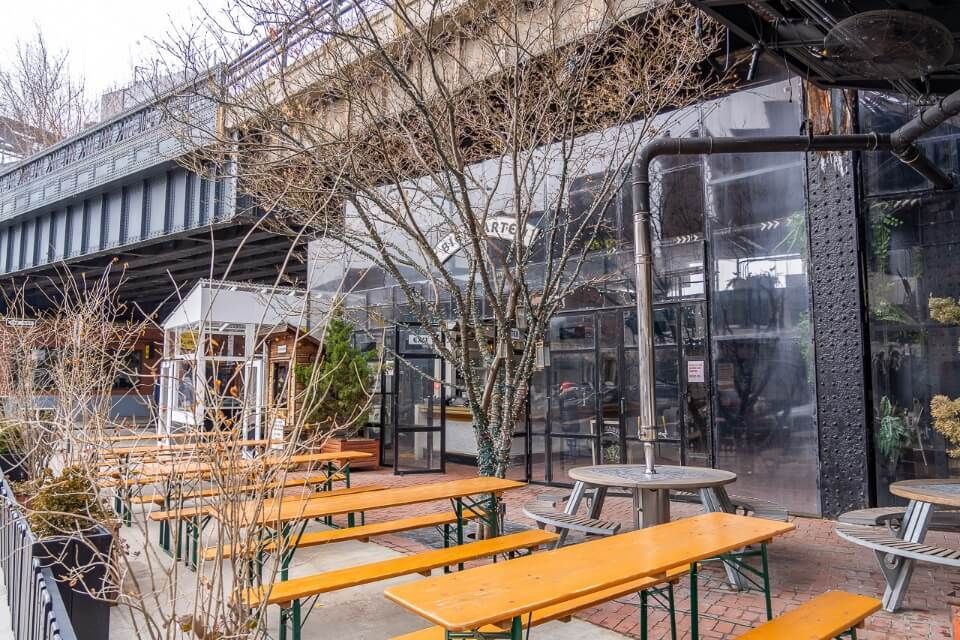 The Meatpacking District is a resurgent fashionable and hip neighborhood in the West of Manhattan. After a very colorful modern history, the area began a rapid transformation in the late 1990's and early 2000's.
During the day, the Meatpacking District has plenty of trendy restaurants and high end shopping but The High Line is the star of the show.
At night the district comes alive. Enormous nightclubs occupy old meatpacking plants, creating some truly awesome industrial dance venues.
But you will have a hard time getting in unless you book way ahead of time. Even then, you're not guaranteed.
Here's what you can do in Meatpacking District:
Party all night.

High end designer shopping.

Whitney Museum of American Art.

The High Line.

Hip and trendy restaurants scene.
Classic And Unique New York City Foods You Can't Miss
There are hundreds of insanely high quality eateries in NYC and no way we can even come close to doing the food scene justice after only 3 months living in the city.
In this foods to try in New York City section, we will list the tourist favorites and give you a handful of highly rated options to try out.
58. NYC Pizza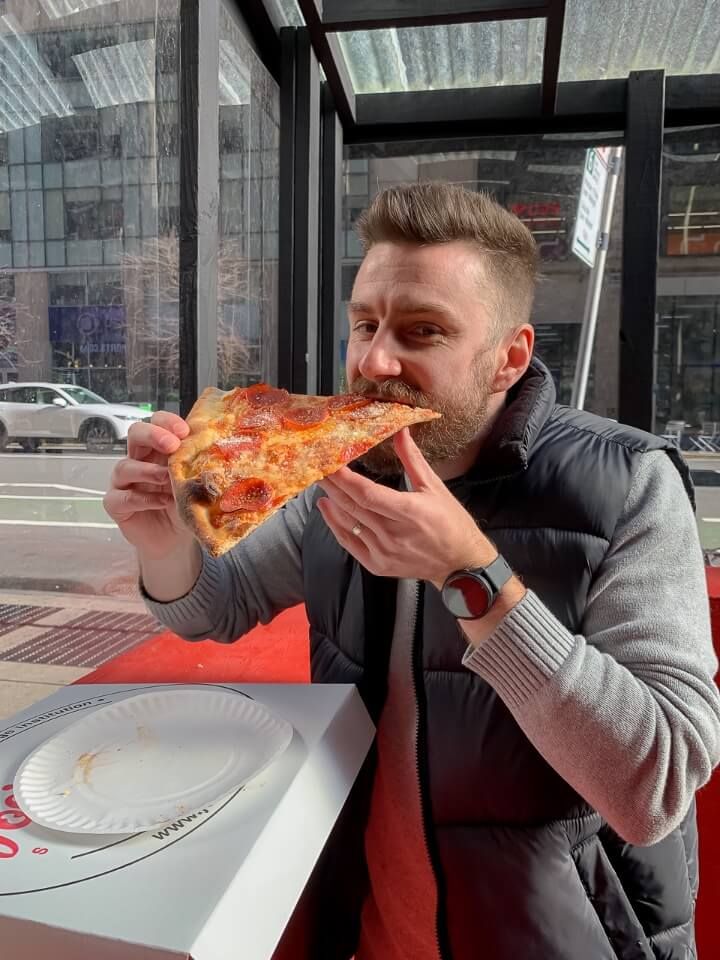 If you're only going to eat one thing when you come to New York City, it has to be a famous slice of NY pizza. Truth be told, those 99¢ slices are hard to come by these days.
It's more likely you'll pay somewhere around US$ 3-4 a slice, especially in the popular tourist joints and neighborhoods.
Top tip: There are so many pizza places in NYC it can be hard to choose one. We always looked on google maps in our immediate area, searched pizza and chose between the top rated places.
We ate so much pizza in New York City that when we left, we couldn't face another slice for a few months. Pizza cool off period!
Here are some of the top rated places to grab a slice of NYC pizza:
Joe's Pizza (Times Square, Greenwich Village, Financial District, Williamsburg).

Grimaldi's & Juliana's (both in Dumbo Brooklyn).

Underground Pizza (Financial District).

L'Industry (Williamsburg).
Update for 2022 – To help you narrow down the endless options and find the perfect style of pizza in New York City, we've rounded up a delicious list of 22 top rated pizza places in NYC to use as a guide.
59. Bagels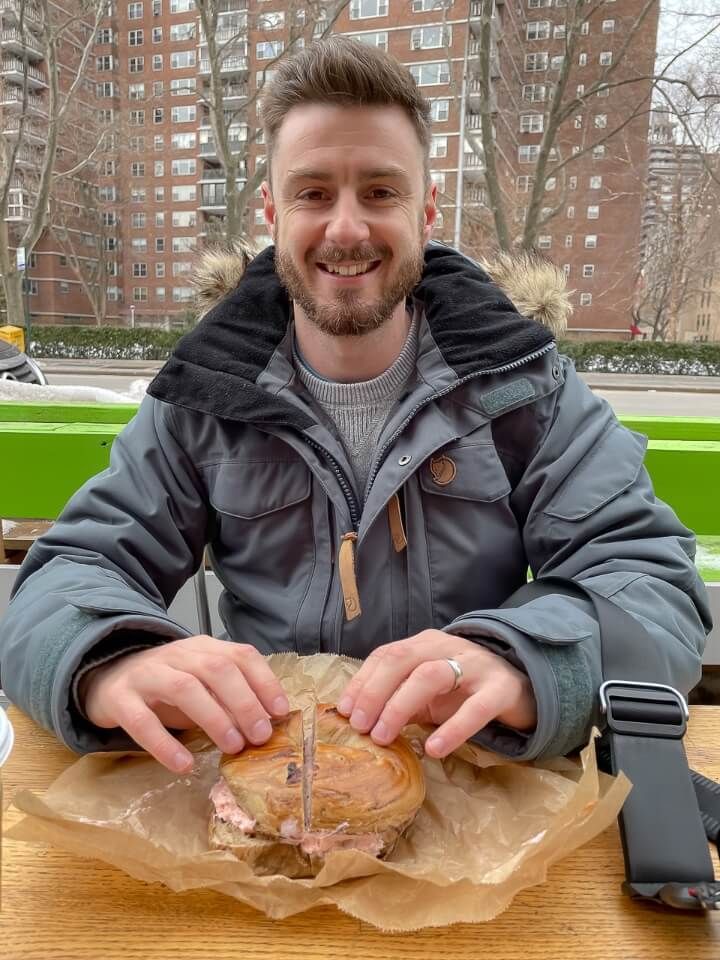 Breakfast in New York City can only mean one thing – bagels and coffee. Try a new bagel place out each morning throughout your NYC itinerary.
You will find breakfast bagels with egg, bacon etc but also a whole host of flavored cream cheese and flavored bagels.
We've rounded up the very best bagels in NYC but here are some of our personal favorite bagel joints in New York:
Brooklyn Bagel & Coffee Company (NoHo and Chelsea).

Liberty Bagels Midtown (W 35th street).

Best Bagel & Coffee (also W 35th street).

Bagels & Schmear (Rose Hill).
60. Hotdogs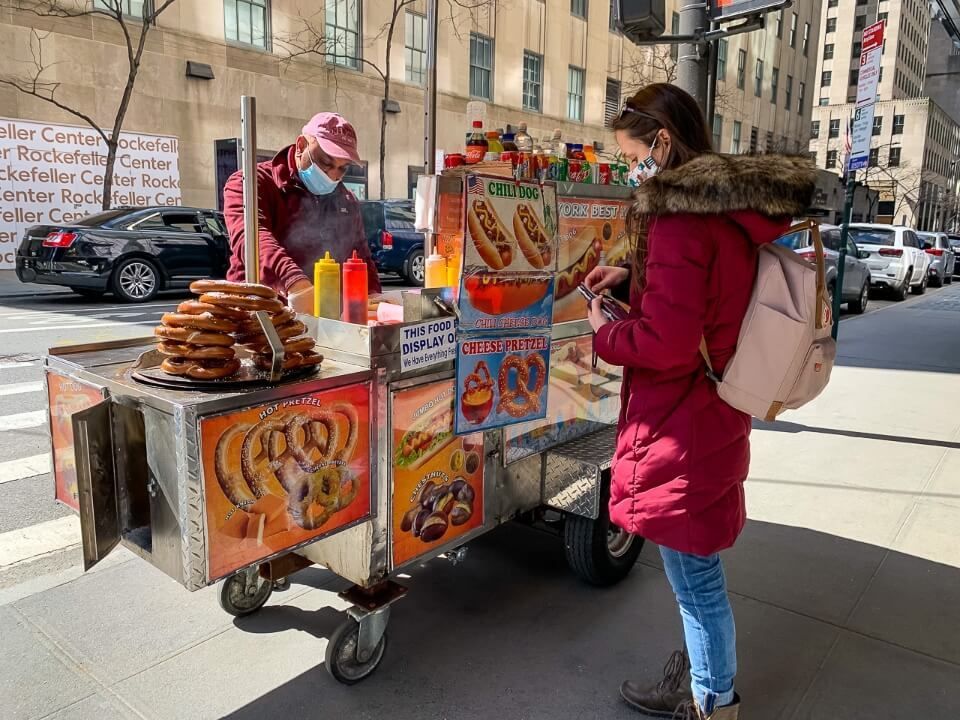 Does anything scream NYC tourist more than snacking on a hotdog from a mobile hotdog stand?!
Who cares, you have to try at least one, but preferably a dozen throughout your visit. You will find hotdog stands pretty much everywhere across the streets of Manhattan.
It's the perfect way to fill a corner and crack on with the insane amount of things to do in New York City!
Here are places you can pick up a hotdog:
Any of the major sports arenas, concerts or theater shows.

Along any major tourist street like in Times Square or Fifth Avenue.

At City Hall, the start / end of Brooklyn Bridge on the Manhattan side.
61. Key Lime Pie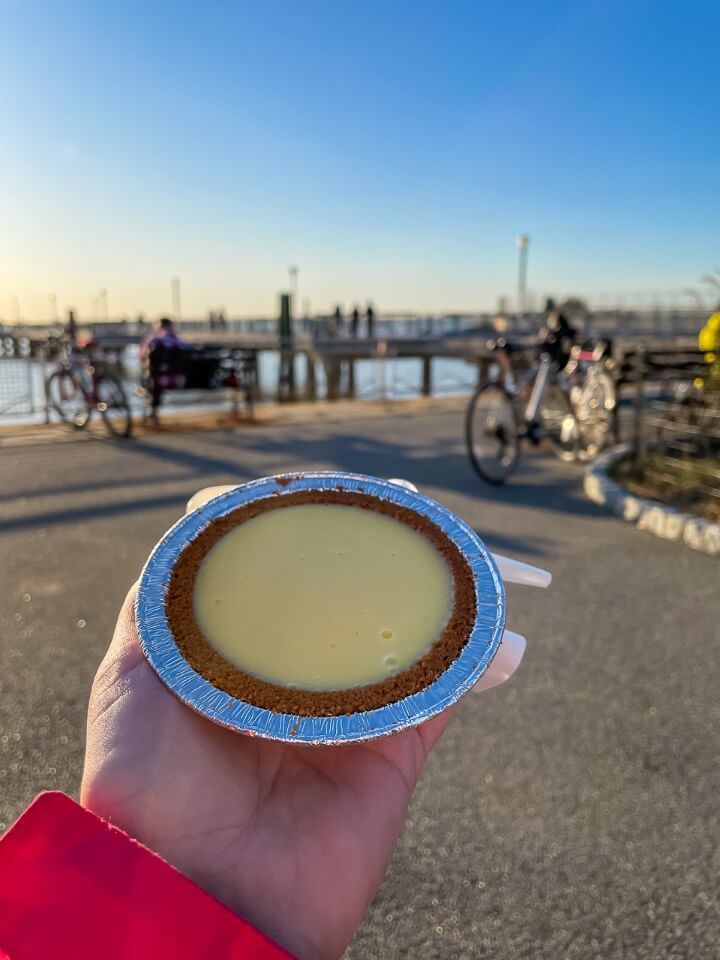 OK, so Key Lime Pie was a late addition to our list of unique NYC foods to try in town. We had some insider help from a relative who lives in Brooklyn and took us down to Red Hook.
Not only did we get to see a close up of sunset over the Statue of Liberty, we were also introduced to the most delicious key lime pie from a place called Steve's Authentic Key Lime Pie.
If you make it over to Red Hook in Brooklyn, do not miss out on this sweet and delicious treat!
62. Eataly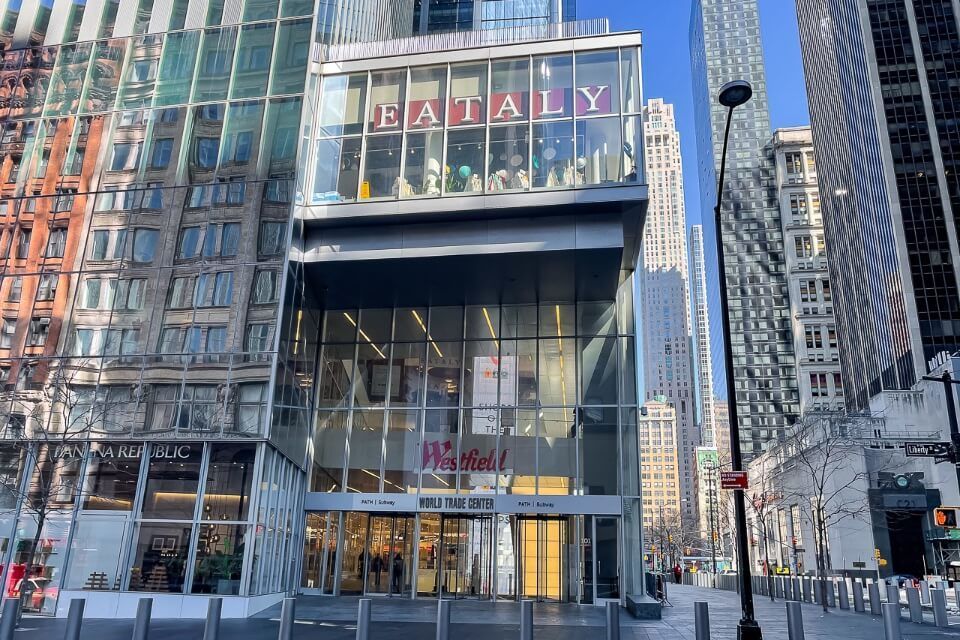 Famous Italian market place Eataly has 2 of its 35+ global locations right here in New York City. You will find cafes, groceries, fresh produce, restaurants and even a cooking school.
The 2 NYC Eataly locations are:
Downtown – Liberty Street near 9/11 memorial museum.

Flatiron – 5th ave and W 23rd street near Madison Square Park.
63. Cronut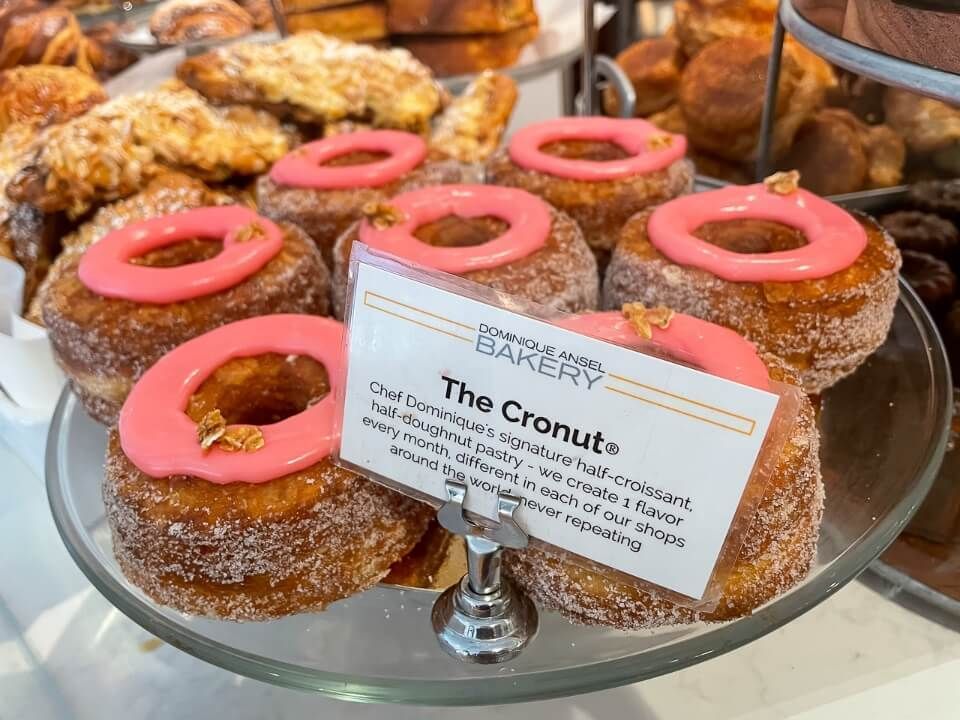 The Cronut is a unique and innovative creation from pastry chef Dominique Ansel. It is a half croissant and half doughnut pastry, filled with a new flavor each month.
This place is so famous that you will inevitably be faced with a line to get inside but it is so worth it. We each had a Cronut and a chocolate chip cookie shot filled with milk.
Here's what you need to know:
Dominique Ansel Bakery is located on Spring St in SoHo.

It is touristy and expensive but delicious.

The line inside is along a very narrow galley-style interior.

There are two small tables out front and a full outdoor dining area out back.
64. Katz's Delicatessen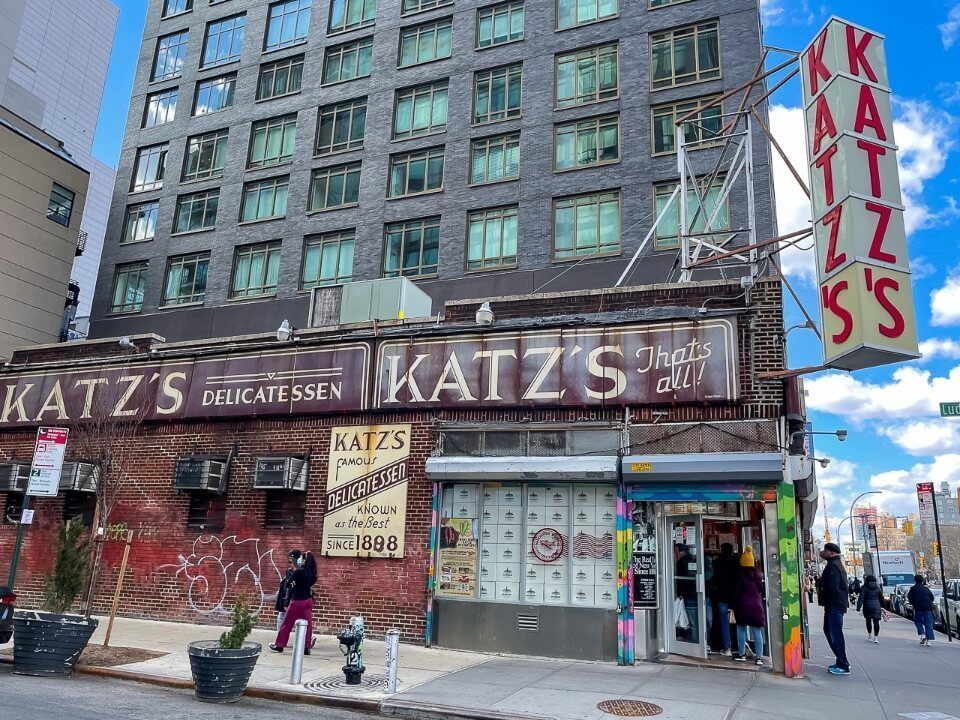 Want to taste the best pastrami on rye in New York City? Head over to Lower East Side and step inside Katz's Delicatessen. You'll get a ticket upon entry, look up at the menu and make your order.
Katz's is famous among locals and tourists for its food but has also featured in movies such as When Harry Met Sally.
Here's what you need to know:
Staff are kind of rude but it's all theatrical.

Get pastrami, corned beef or a hotdog.

Do not lose your ticket or you will face a hefty surcharge.
65. Museum Of Ice Cream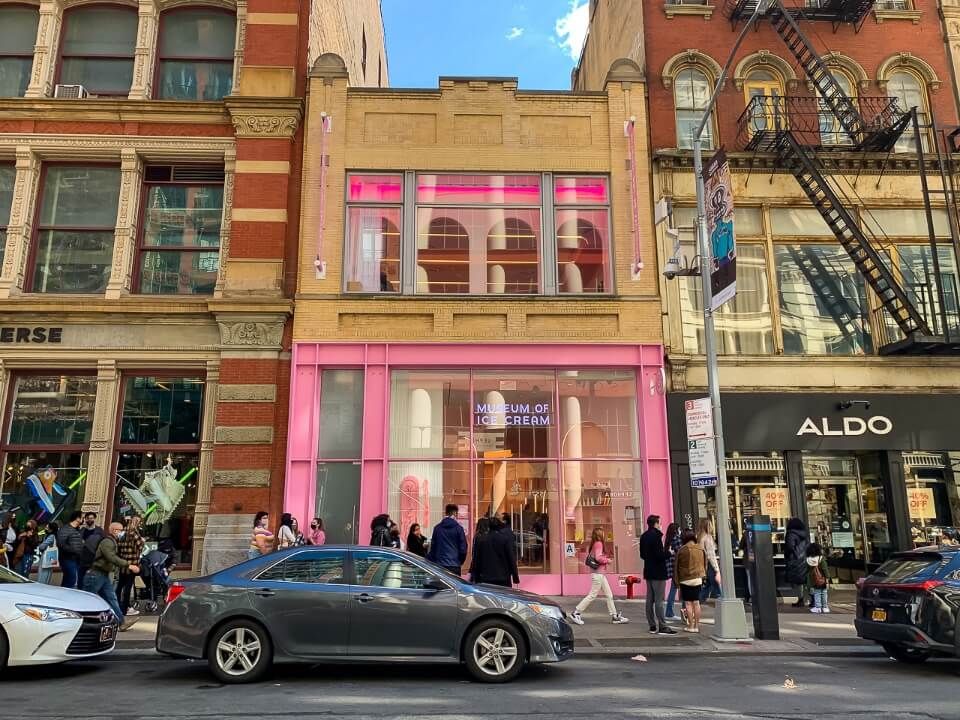 The Museum of Ice Cream might sound like a dream come true for gelato lovers, but it's actually more of an instagram adults indoor playground.
Sensory overload, super vibrant colors popping, sprinkle pools and slides await day time and even night time visits. The Museum of Ice Cream is a hugely popular tourist attraction for a reason.
Here's what you need to know:
The Museum of Ice Cream is located on Broadway in SoHo.

The line is always long.

Tickets cost US$ 43.63 at time of writing (May 2021).
66. M&M's Store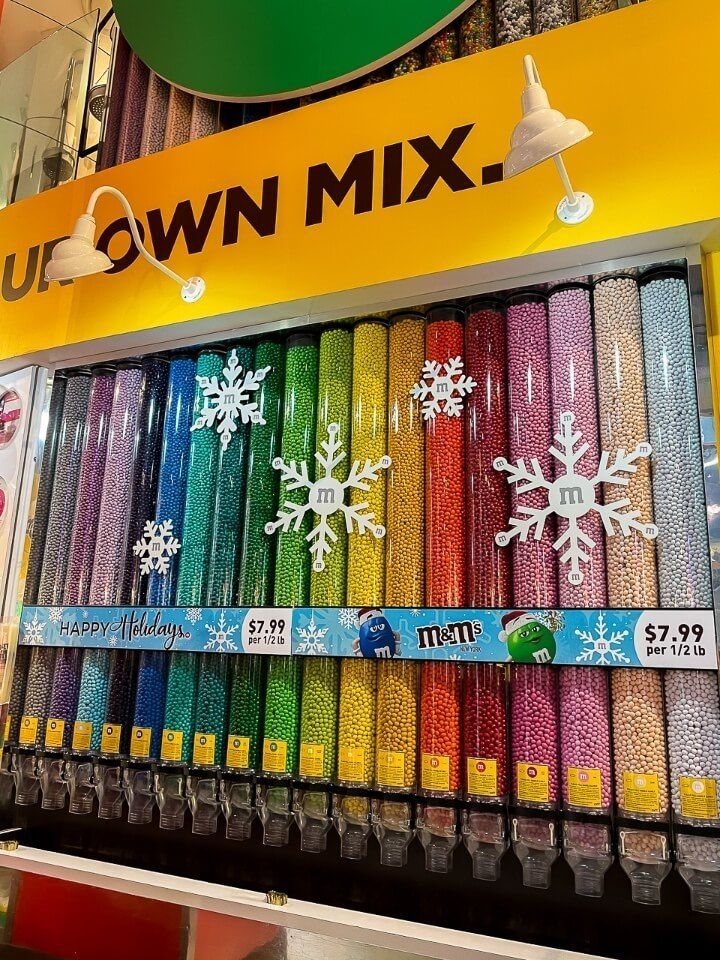 Yes, we know. The M&M's store is gimmicky and touristy. But it's also the M&M's store, so if you're traveling with the kids in tow, you better embrace the idea!
We personally couldn't think of anything worse than standing in a long line to go inside an M&M's store filled with overpriced merchandise and sweets.
However, this is the perfect place to take the little ones and let them loose.
Here's what you need to know:
The M&M's store is located in Times Square (of course!).

Again, the line is always long so expect a wait time.
67. NYC Breakfast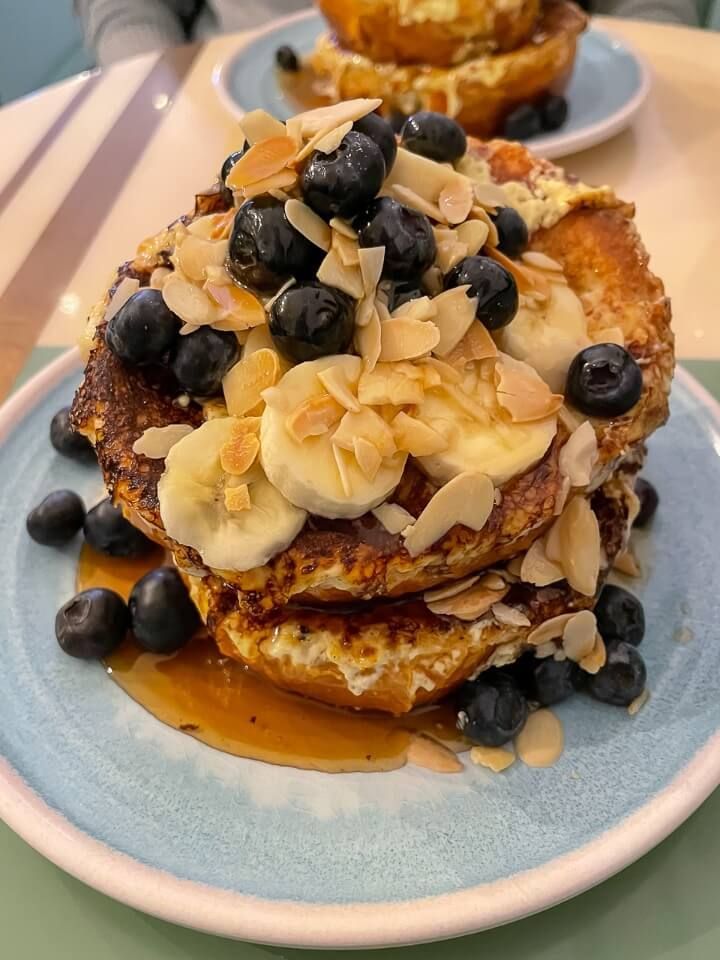 We could list a hundred amazing brunch, lunch and dinner places but there's just something special about breakfast in New York City.
We just couldn't get enough of fluffy pancakes, eggs done all ways and of course unique takes on coffee.
What we loved the most was the endless amount of options for independent and locally owned cafes or restaurants we could try out.
Once you've eaten all the bagels you can take, check out some of these epic breakfast joints:
La Parisienne (our favorite) on Maiden Lane in Downtown Manhattan.

B&H Dairy in East Village.

Clinton St Baking Company in Lower East Side.

Buvette in West Village.
Map of Best Things To Do In New York City
Explore the map to find exact locations of everything on this comprehensive list of things to do in NYC.
Click or touch to activate the map, zoom in / out, move around Manhattan and Brooklyn to find each of our top rated spots.
Red – Top attractions in New York City.

Light

Blue

– Best free things to do in New York City.

Green – Best things to do in New York City at night.
Purple – Most romantic things to do in New York City.
Dark Blue – Best neighborhoods to explore in New York City.
Orange

– Foods to taste in New York City.
Top Tips For Visiting NYC
Book a hotel near a subway station to save time each morning and night.

Choose a hotel in the right area for your travel style.

When budgeting for NYC, plan to spend more than usual, it's easy to get carried away!

If you are on a tight budget, research which days certain museums have free entry.

Walk as much as possible across shorter distances to get more of a feel for the city.

Use our map below to build up a picture of NYC geography.

But also pin anything you find interesting on this list into your own google maps app.

Plan as much of your trip as possible before arriving to save time when in NYC.

Give yourself enough time, NYC is huge.

Book ahead of time for brunch, lunch and / or dinner if possible to save disappointment.

Book specific time slots for the big attractions ahead of time so you get the times you want.

Understand that top attractions are going to be busy

.
Visit New York City in Winter for less crowds and hopefully snow!
Where To Stay In New York City
If you made it this far and you're still with us – we hope you aren't feeling too overwhelmed!
We won't get into hotels in a big way here because this things to do in New York City guide is already a monster.
Instead we will list only the top rated budget, mid range and luxury hotels in 3 of the most popular centrally located areas for first time visitors.
Read our comprehensive Where to Stay in NYC guide to find the perfect hotel for your travel style and preferences. It is a very detailed roundup of the top rated hotels in each of the 6 most popular NYC areas.
Budget
Mid Range
Luxury
Our Popular NYC Guides
Best Of New York City
Need Help Planning Your Visit To New York City?
NYC is a vacation planning beast and it can be overwhelming trying to get every aspect right. Trust us, we know!
After living in New York City and exploring non-stop for 3 months, we created a comprehensive NYC travel guidebook & itineraries that will answer every question you have about where to stay, what to do, where to eat and how to get around the city.
Click see details below to read more about how we can help you plan your dream trip to New York City!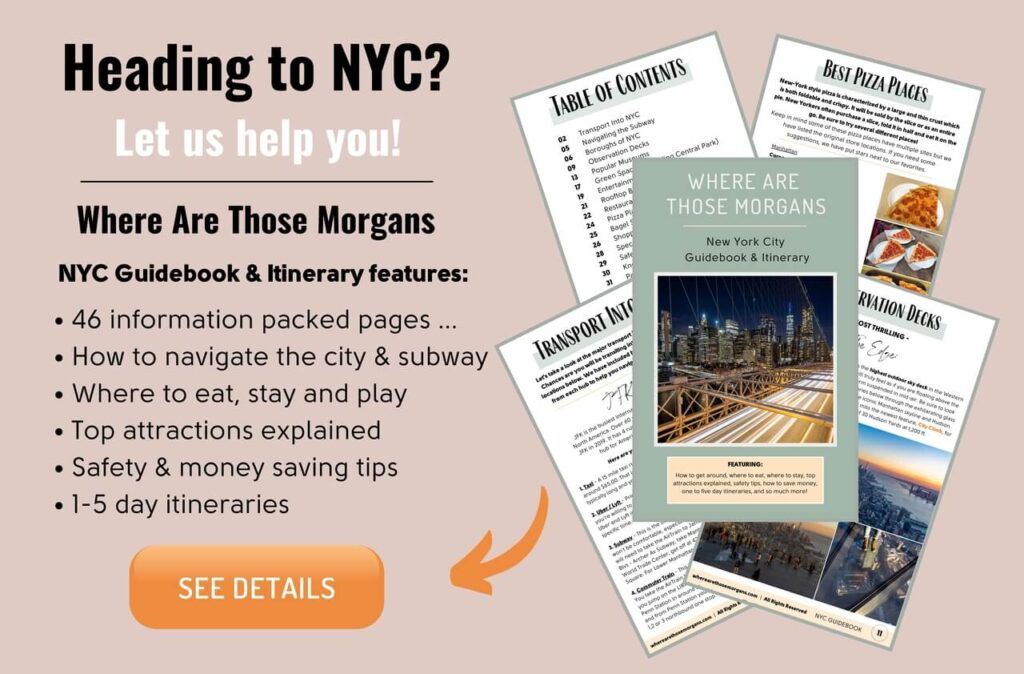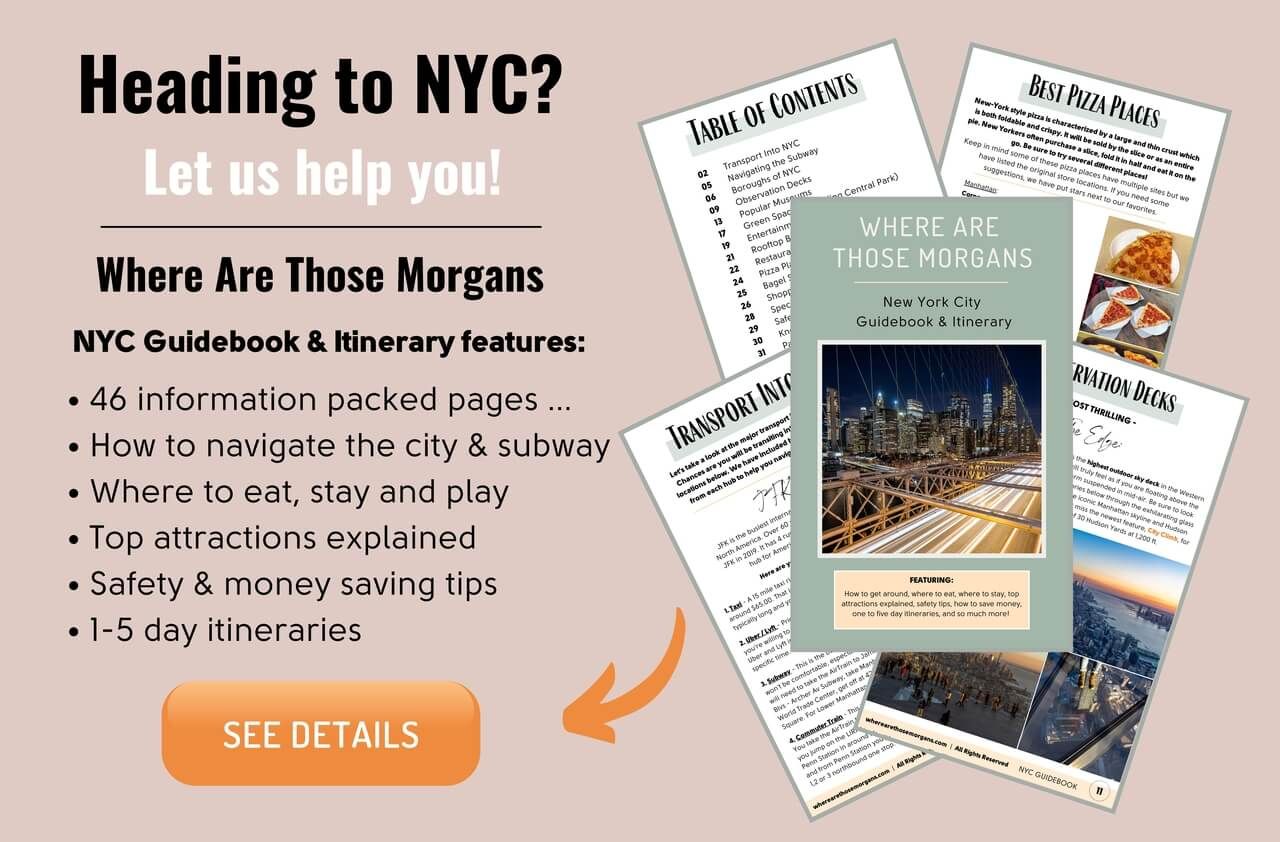 We hope this list of the best things to do in New York City helps you plan your visit to one of the greatest cities in the world!
Have you been to NYC? What do you think are the most unmissable things to do for a first time visit?
Please let us know if you have any questions or need any help planning your trip.
Happy Travels,
Mark and Kristen
Was This Post Helpful? Pin It For Your Visit!