You are: a commuter, a traveler, a photographer and a hiker. You want: a robust, practical, innovative and versatile all-in-one backpack solution. But does such a thing exist? Well, it didn't, until Peak Design created the Everyday Backpack.
Peak Design products are exploding. On a recent road trip to New England, every photographer we met at sunrise or astro shoots was neck-to-waist in Peak Design gear.
Unique innovation, exceptional functionality and sleek design are at the heart of Peak Design's cult-like following. The Everyday Backpack is a stalwart in the Peak Design arsenal and it's one of our absolute favorite products.
This is not a typical backpack review. This is much more like blowing smoke up the backside of a product and company we can't get enough of … and with good reason.
That being said, our guarantee to you is a 100% genuine 'smoke-blowing', derived directly from our own experiences.
We're going to break down the backpack into 5 key areas of analysis, before explaining our testing results for use in travel, photography and hiking scenarios.
Is Peak Design's Everyday Backpack your next all-in-one backpack solution?
Let's find out!
Who Are Peak Design?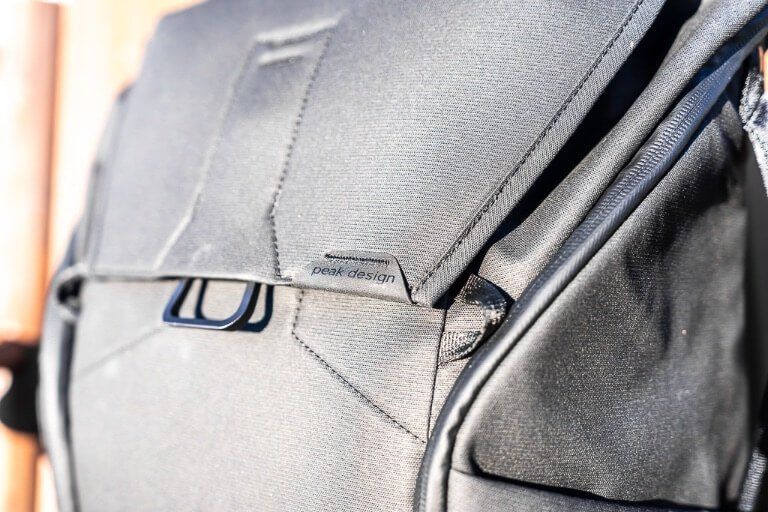 Okay, before we puff our cheeks: Who are Peak Design?
In a nutshell, Peak Design is a cool-ass carry solutions startup doing things the right way. And their story is what dreams are made of:
Guy (Peter Dering) goes traveling around the world with big camera, gets frustrated by inconveniences of carrying, packing, carrying, packing his camera. Thinks 'hmmm, I know what would help'. Goes home to San Francisco, designs a camera capture clip and asks for money from fellow photographers (crowdfunding). Gets a ton of support. Boom, Peak Design is born.
Since then (back in 2010), Peak Design has blossomed into one of the most creative, honest and revolutionary product creating companies in the industry. Everything they make is best-in-class, from camera straps and clips to everyday backpacks.
Today the company is still backed by people like you and us, as opposed to corporate investors. We, the creatives, come first. Long may it continue.
Check out PD's Facebook page or product reviews. You will have to dig deep to find an ounce of negativity.
We feel obliged to mention early on that you will probably pay more for Peak Design's products than their major competitors'. But you are paying for the best.
We love Peak Design's products.
Currently, each of us owns an Everyday Backpack, we have a Slide Camera Strap and Camera Capture Clip. The challenge is reigning in our addiction!
Prior to stumbling across PD when looking to take our travel and photography backpack game up to party with the best, we had crappy uncomfortable camera straps and no clips.
Game changer is an understatement.
Who Is The Peak Design Everyday Backpack For

?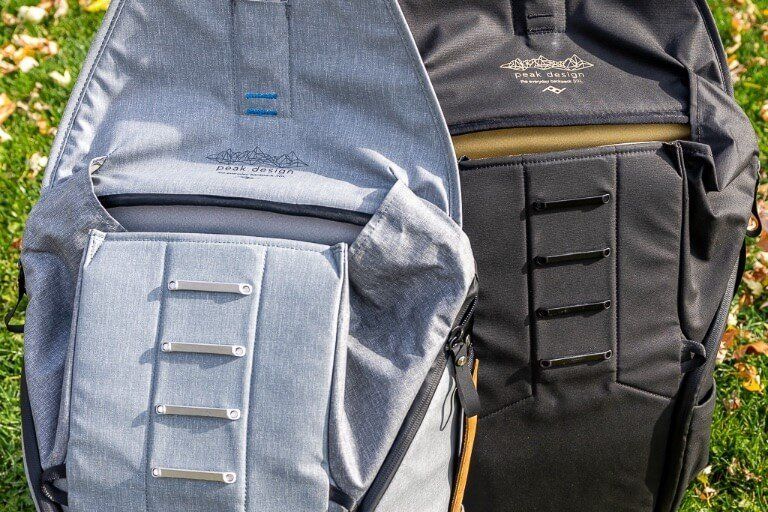 First and foremost, this is a camera backpack. Everything about the Everyday is created to improve the workflow for photographers, the same as most of Peak Design's products.
However, Peak Design have also designed the Everyday Backpack with the average commuter in mind.
Scenario: It just so happens that average commuter has a camera and likes to shoot in National Parks. That National Park is a short plane ride away and half day of hiking in warm weather is required to reach an epic viewpoint.
So, how do you go to work on a Friday, travel straight to the airport, fly a couple hundred miles, book into a hotel, get up for a sunrise hike, shoot in a National Park and then fly home on Saturday – all with one fully functional backpack fit for airports, hotels, hiking and photography?
That's right. The Peak Design Everyday Backpack.
Now, it isn't 100% perfect for each of those aspects, but it is damn close and the best all-in-one option money can buy.
Here are just some of the scenarios in which the Everyday Backpack excels:
Most photography disciplines ie. landscape, portraiture, city, night, astro, wedding…

Day hikes in warm, mild or cool weather conditions for content creating

Weekend breaks by car, train or plane as an everyday use bag

Second travel backpack or carry on for photography / media equipment (longer periods)

Any specialist media shoot – ie fits all cameras, lenses, GoPro and drone

Commuting to work via the gym by car, public transport or bicycle
Who Is The Peak Design Everyday Backpack NOT For

?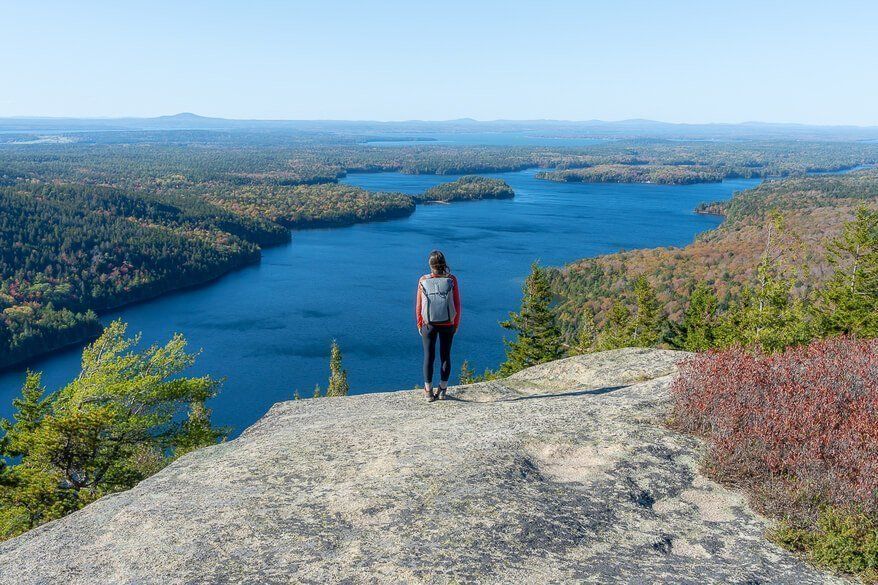 There are certain situations in which the 20 L or 30 L Everyday backpack would not be suitable. But the only ones we can think of would also apply to any other backpack of similar dimensions.
If you are traveling long term, the Everyday Backpack obviously can't be your primary backpack, there's nowhere near enough capacity. You could definitely use it as your second / carry on backpack – in fact this is where the Everyday shines.

If you have specialist gear for climbing or rafting or golfing or anything requiring greater spaces, this is not for you.

If you're hiking in extreme cold weather conditions and need a ton of gear, you will need a much larger backpack.

Basically any scenario in which you know you need more than 20 L or 30 L.
Check price of the Peak Design Everyday Backpack on: Peak Design | Amazon | REI
What Makes The Everyday Backpack Best In Class?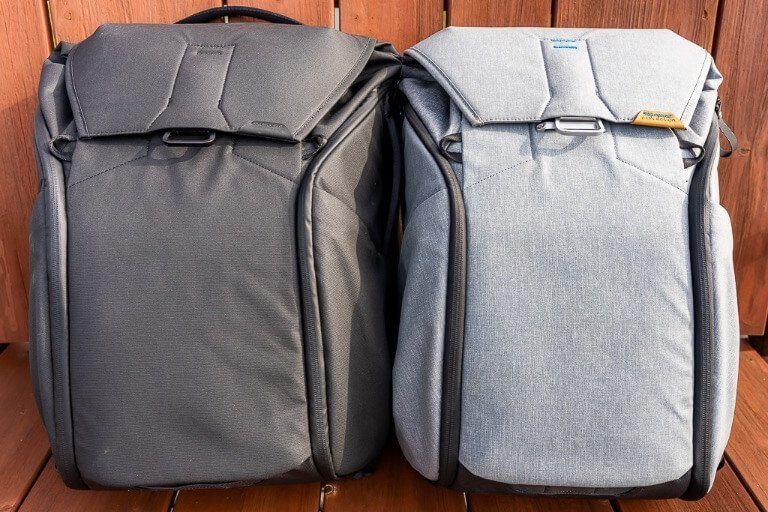 Okay, let's dive deeper into 5 aspects to consider when buying a new backpack and see why we rate the Everyday so highly.
This is not going to be incredibly technical, we're more interested in telling you about the practicalities and real life situations for each aspect.
Before we get into details, here's a brief outline:
20 L / 30 L volume, opens at the top and on each side to the left and right

Interior side pockets stretch for flexibility, exterior pockets expand (tripods / water bottles)

Three semi-rigid origami dividers inside, each can be manipulated / moved

MagLatch 'ladder' clip closing system, 4 options depending on load

Keychain attaching clip in side pocket

Four external carry clips, plus removable sternum clip

Double zippers on sides to allow entry at any given point

Three carry handles, top and both sides for easy handling

Top-rear loaded 15″ laptop sleeve with additional pockets (will hold most 16″ laptops)
1. Peak Design Everyday Backpack Sizes: 20L & 30L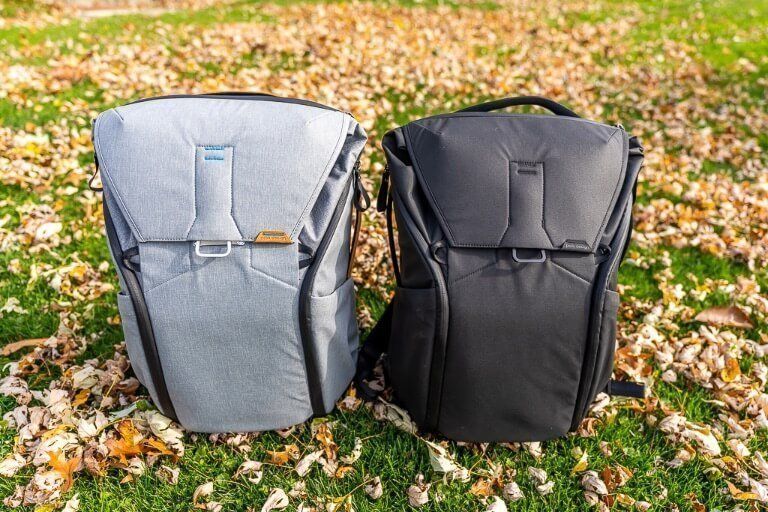 The awesome Peak Design Everyday Backpack comes in 2 sizes: 20 L and 30 L.
Our advice is to be very thoughtful about which size is better suited to your needs.
On one hand, you might not want a backpack that is unnecessarily big. But on the other hand, you don't want to start packing only to realize very quickly that you need more space.
Consider exactly the situations you will be using your backpack. Commuting to the gym and work? Photography shoots? Day hikes?
Ask yourself if you prefer to travel minimalist or with room to spare?
Our experience: Initially, we bought one 20 L and one 30 L Everyday (Version 1) Backpack. Mark got 30 L Black for hiking and all our camera gear, whereas Kristen got 20 L Tan because she wanted a more compact backpack … and could only get Tan in 20 L at the time.
However, we immediately knew that Kristen's 20 L backpack wasn't going to be big enough for our needs, so we sent it straight back and replaced it with a 30 L Ash color.
Important: The 30 L backpack will only reach the full 30 L once it has been fully packed and the top notch on the ladder is used.
The backpack has a minimum volume of 22 L, which is then expanded to suit your needs up to a maximum of 30 L. Same applies to 20 L, with a minimum volume of 17 L and maximum of 20 L.
We suggest opting for the larger 30 L option. It still looks low key and gives you more room to maneuver.
30 L Customization Options
Perhaps our primary question before buying was 'what exactly can we fit into 20 L and 30 L?'
Well, we bought a 20 L and couldn't fit what we needed inside. Therefore, our size section will focus only on the 30 L size.
So, what could we fit inside our 30 L backpacks?
The answer of course depends on what we are using them for in any given situation.
Dividers are incredibly useful for separating camera gear, or dirty from clean clothes or anything else you can think of. But they don't have to be used, particularly if you need to make full use of 30 liters.
We grabbed anything close by to set up a few crude mock packing examples to show what you can fit inside 30 L.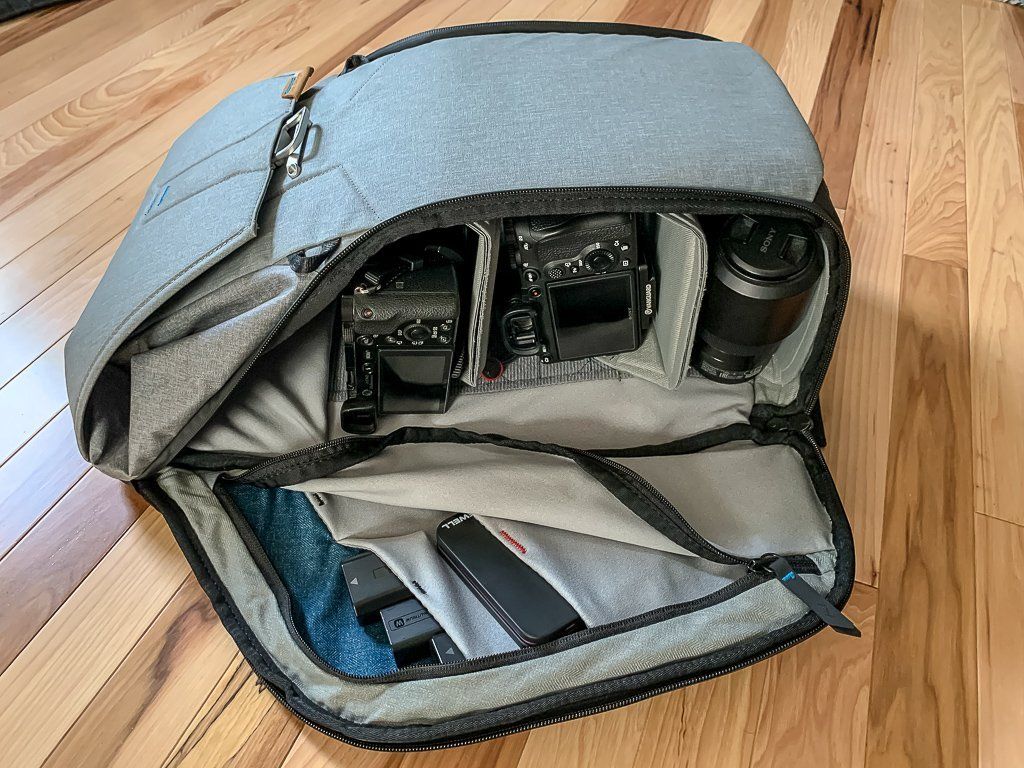 Creative Combination 1
Purely for photography, we could easily fit our Sony A7R IV with 16-35mm lens attached, Sony A6000 with Sigma 16mm prime lens attached, spare 24-105mm lens, spare 55-210 kit lens, GoPro, Freewell ND filter, SD cards in hard case, lens cleaning kit. In side compartment, PD camera strap and spare batteries.
Plenty of room left in top of main compartment including 1/3 top divider empty, plus the laptop compartment and top pocket.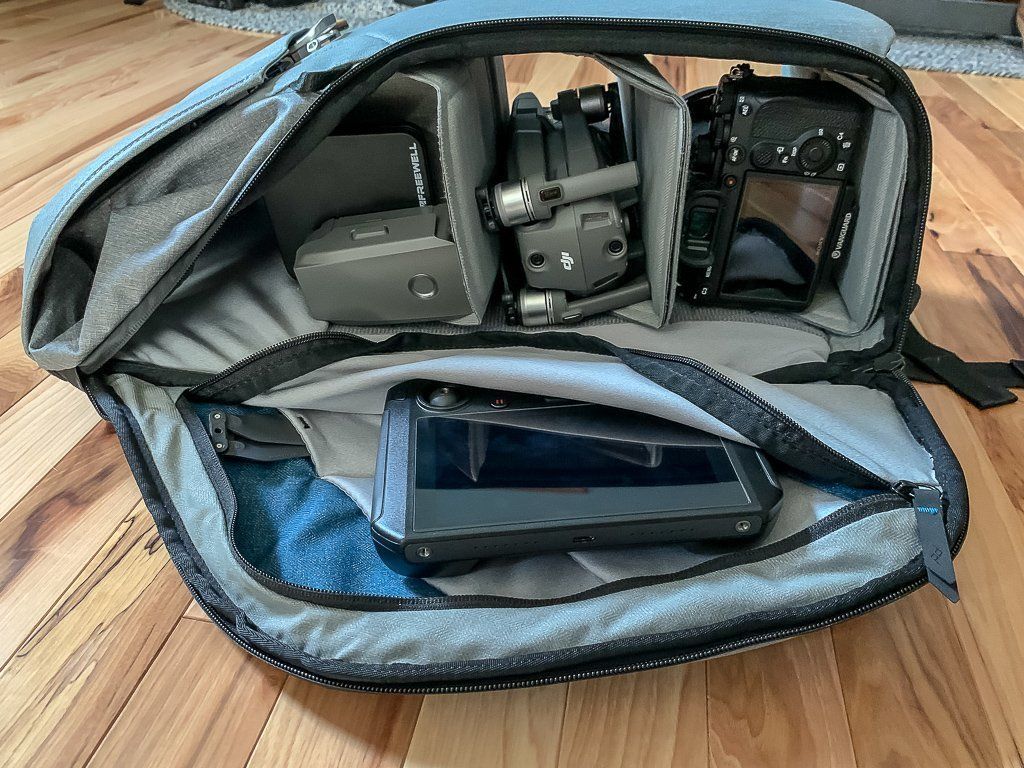 Creative Combination 2
For an all around media collection, we packed up our Sony A7R IV with 16-35mm lens attached, spare 24-105mm lens, DJI Mavic 2 Pro, Freewell ND filter and spare drone battery in main compartment. PD camera strap, spare batteries and SD cards in one side, Mavic 2 Pro Smart Controller in other side … yes, the flexible side pocket material is amazing!
That leaves the entire top section of the main compartment for warm clothes, food or more camera accessories.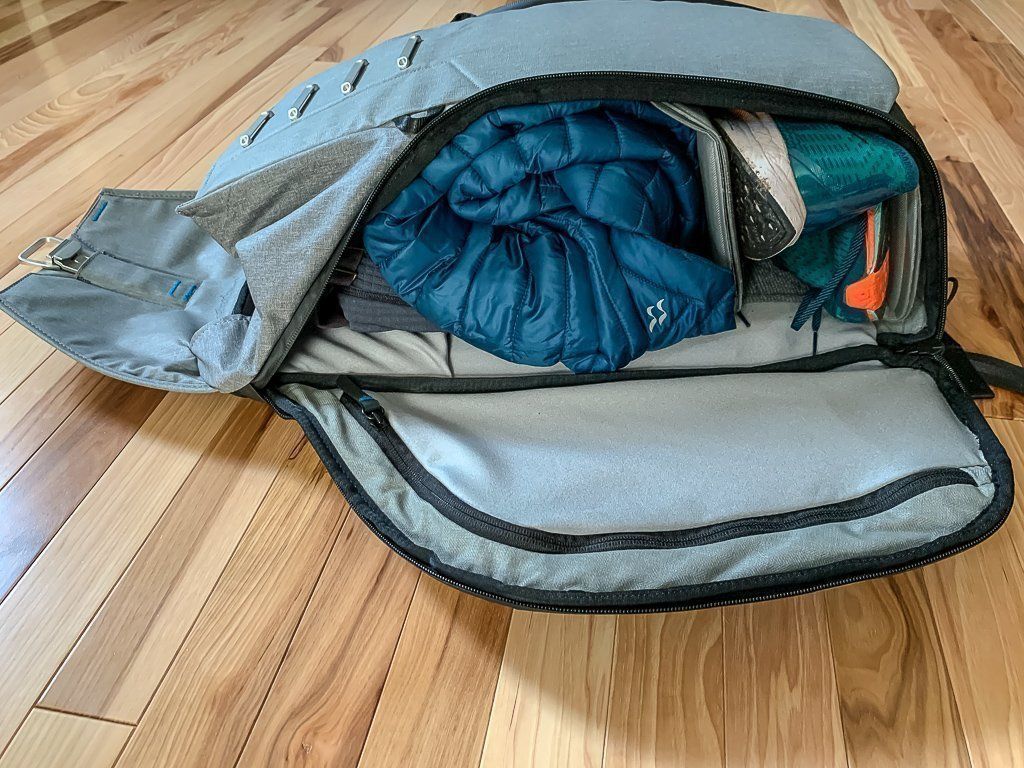 Commuter / Gym Combination
This one is just to show how you can use the backpack for commuting to work and the gym. We easily fit a pair of running shoes, gym gear and a down jacket. There's ample space for toiletries post gym in side pockets or at the top of main compartment.
Take out the dividers and you've got 30 liters of space to work with. If using the Everyday just for clothes for a weekend away, you won't need the dividers.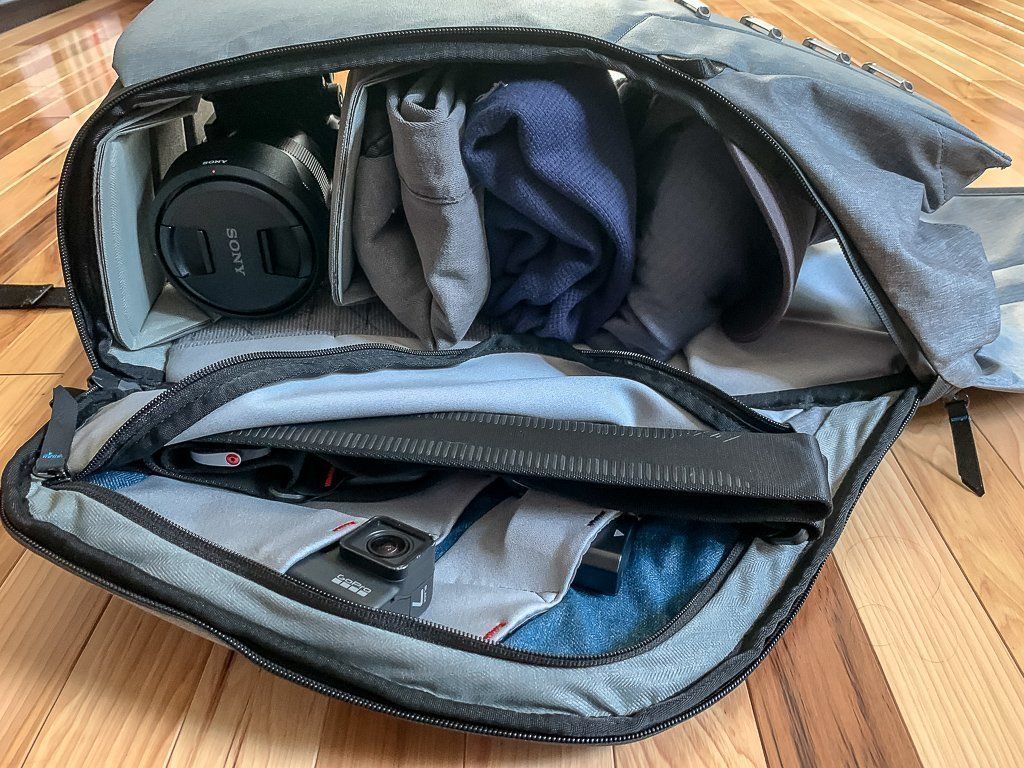 Everyday / Photography Combination
Finally, just packing for an average day and only using one divider. Jeans, middle layer, sweater, baseball cap and camera. Tons of room left.
Note how secure the camera is when stowed in its own divider space.
Pro-tip: If you buy a Peak Design camera strap or better yet – a camera capture clip, you can take your camera and primary lens out of the Everyday backpack, which means more space for cramming in a few cold ones! We always use either the strap or clip when we hike.
Take a look through the best Peak Design accessories directly on the official PD website.
2. Peak Design Everyday Backpack Design
Peak Design's Everyday Backpack displays endless innovation. Just when you thought you'd found every pocket, carry strap and zipper, you will discover something new.
Have you ever noticed a feature on a backpack and wondered what its function was? The impressive Everyday Backpack wastes no space nor opportunity to add useful elements to your packing experience.
For example, the external carry straps for larger tripods or sleeping bags are discretely stowed beneath a magnetic sleeve. Sleek.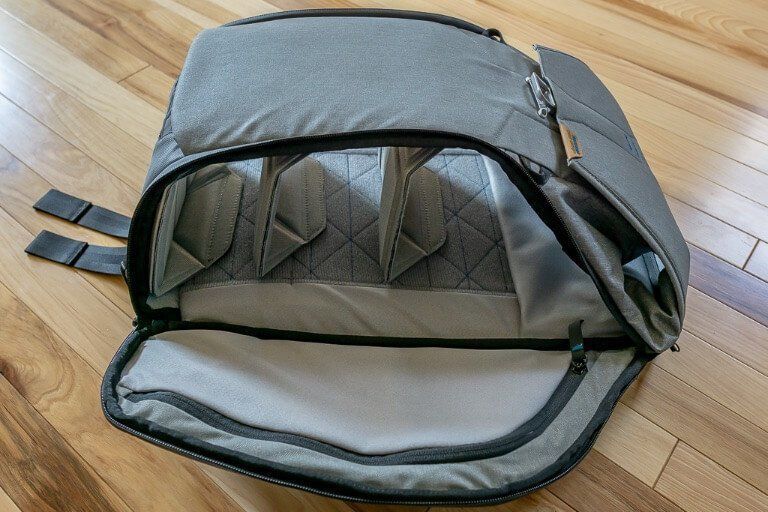 Worried about your expensive camera gear?
Wrapping your zippers through external carry loops will help deter prospective thieves.
Interior pockets are covered by a stretch fabric and feature individual slots for storing SD cards, batteries, headphones, control sticks for drone remote and all other small items you are prone to losing.
Designing the dividers with semi-rigid flexible flaps so you can create any packing combination (such as 1/3, 1/3, 1/3 – or 1/3, 2/3) is simply awesome by the creative team at Peak Design.
Being able to open up the side zipped pockets and reach in for exactly what you need should not be underestimated. If you use the dividers and fold in the flaps, you will feel confident knowing everything is completely secured.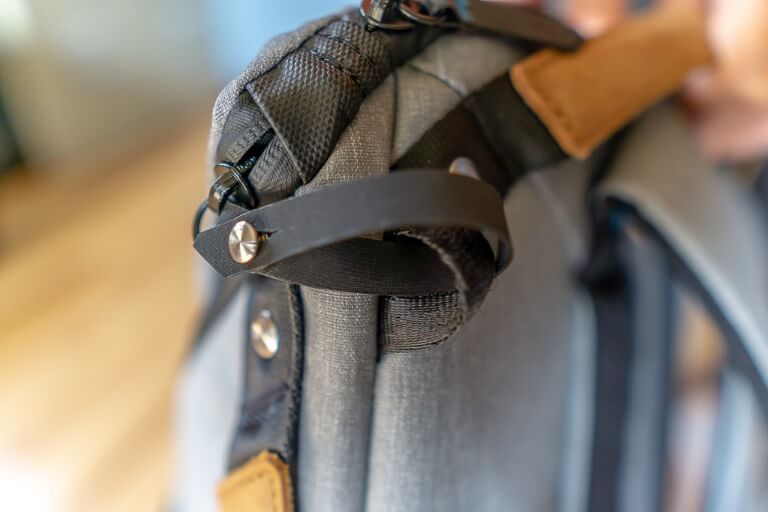 If you only want to use 1 divider or keep smaller items protected within 2 dividers – simply remove the dividers and re-velcro them into exactly the position you need.
Photographers will love being able to swing the backpack off one shoulder, grab a side handle, open a zipper and quick change a lens. This has become our go to process – until we buy the lens kit.
Packing options are limited only by imagination.
3. Peak Design Everyday Backpack Materials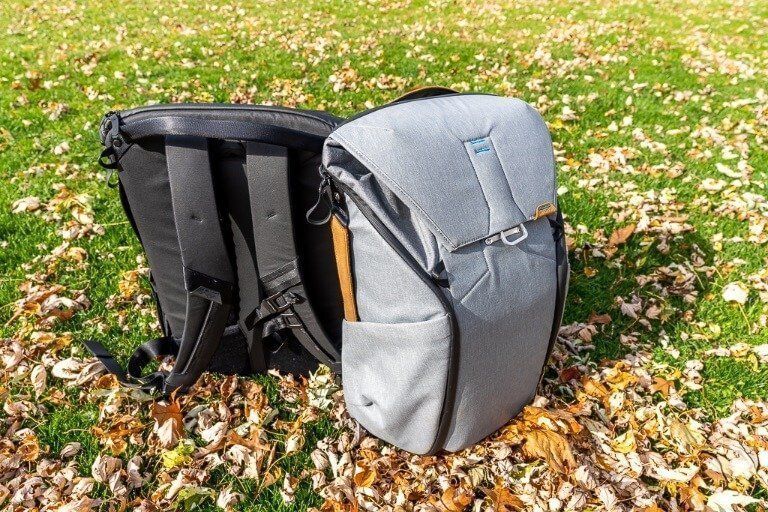 Peak Design are known for making modern, sleek and cutting edge gear. Version 2 of the popular Everyday backpack builds and improves on what users loved about Version 1.
We're not going into overkill mode with the typical advanced technology terms like Woven Nylon Webbing, EVA foam, Hypalon, Anodized Aluminum … etc.
That doesn't help any of us.
We can tell you from real life testing that materials used in the Everyday Backpack have surpassed our expectations, with one minor exception.
Let's look at some of the most important material features.
Weatherproof
Double PU-coated and DWR impregnated (taken straight from PD website) basically means that the backpack exterior shell is very water-resistant but not entirely waterproof, except for the bottom liner which is fully waterproof.
However, the remaining shell isn't far from being waterproof in our experience. Water droplets run right off the strong nylon material with little to no penetration. We've never opened to damp inside, wet clothes or most importantly wet camera gear.
Important: Always cover your camera and lenses in a protective case or material if you're outside in the rain.
Strength
100% recycled 400D Nylon – the D stands for Denier, which is a measurement of how much a single thread weighs in grams. The higher the D number, the stronger and more expensive the material.
If this backpack was made with 600D for example, it would be stronger but it would also cost a lot more, so there's a balance to find. 400D is ample for an everyday backpack shell, whereas a military grade backpack would need to be closer to 1000D.
The bottom liner is 900D, waterproof and obviously stronger at repelling scuffs or marks.
'Super-Durable UltraZips' (the zippers) are robust, beveled perfectly and designed to withstand weathering / excessive usage. The smoothness and aesthetic of the ultra zips are one of the things we've been most impressed with so far.
We haven't seen even the slightest wear and tear on our backpacks yet and we've done a fair amount of hiking and traveling.
Weight
Weight is an important consideration of every backpack. You know what certain airlines can be like when your carry on bag is too heavy…
With dividers inserted: 30 L weighs 2.2kg (4.65lbs) and 20 L weighs 2.01kg (4.43lbs).
So, the Everyday is quite a hefty weight for its size, especially when you consider that the Osprey Farpoint 40 L only weights 1.44kg (3.17lbs).
For us, weight is one of the only downsides to this backpack. That being said, with the Everyday you are compromising extra weight for added design and functionality.
Would we exchange functionality for lighter weight? No. The essence of these fantastic backpacks would be compromised.
If you don't want the extra design features and would prefer a lighter solution, consider a different backpack.
Pro-tip: If you're backpack is pushing the 7 or 8kg max allowance at the airport, grab your camera and strap, sling it round your neck and lose a huge amount of weight out of the backpack.
4. Peak Design Everyday Backpack Comfort
Comfort is critical to how much you are going to enjoy using your new backpack. It's going to be on your back a lot, so it has to feel good.
It is important to understand that comfort is relative to the user and the situation.
For example, fill any bag up with bricks and it's unlikely to be comfortable. If you use the Everyday backpack for what it has been designed for (ie photography, day hikes, everyday commuting), you should never feel like the backpack is uncomfortable.
The backpack is rigid. Let's start with that because we have heard a very small number of people say that the rigidity of this backpack wasn't what they expected.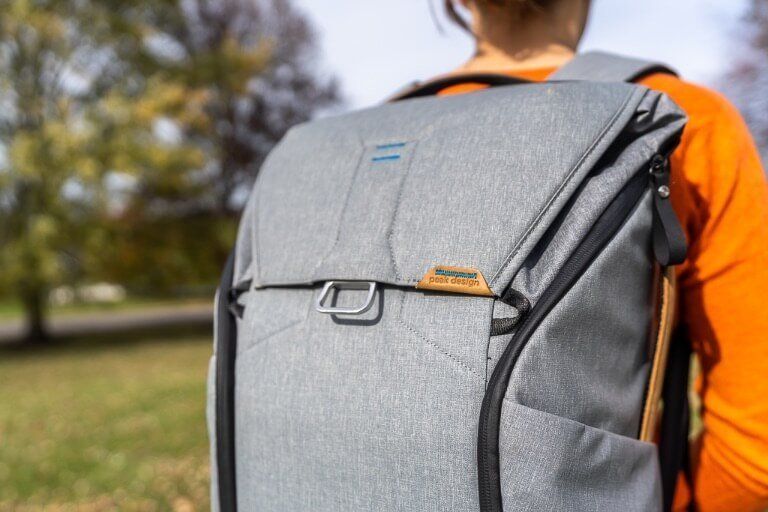 Personally, we love the feel of the shape and support. The rigid shell fills us with confidence that its strength and security will keep our expensive media equipment safe and structured within the dividers. We would not feel the same about a soft, pliable and moldable backpack.
The Everyday is fitted with quick drying and ventilated mesh padding running along the back from top to bottom. The slightly protruding padding allows air to circulate around the remaining surface area of your back, which works wonders on warmer days.
You can trust us on that one.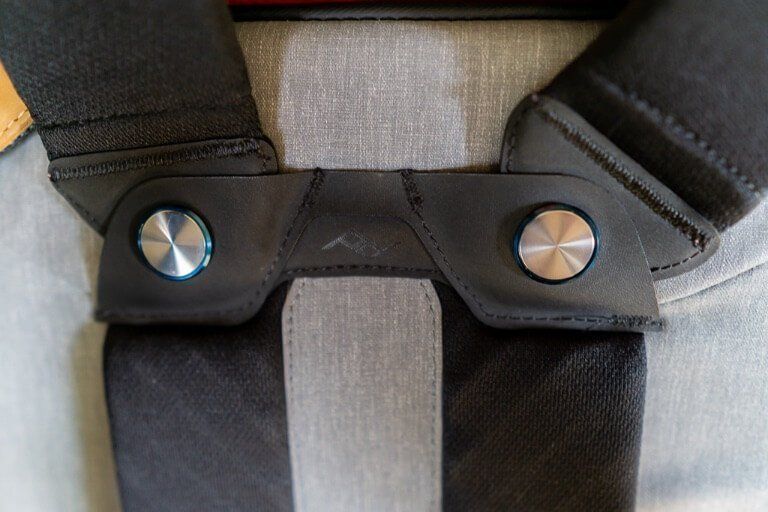 Shoulder straps have been intelligently designed to fit any body type by pivoting in a side to side motion. So whether you have flat shoulders or huge muscular traps, the straps will still sit flat against your body.
A sternum strap is removable and quick release for added support higher up the backpack. You can also purchase a waist strap at an additional cost if you want to distribute heavier loads onto your hips and away from your shoulders.
5. Peak Design Everyday Backpack Price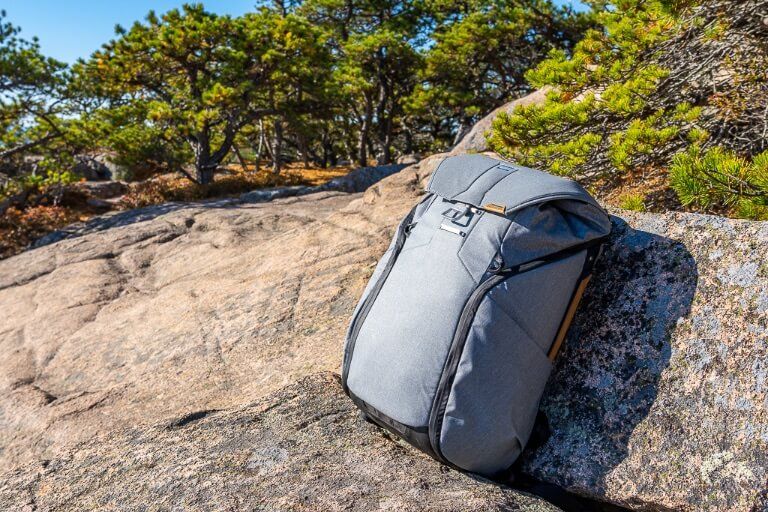 And finally onto the most pertinent of all considerations: how much will a Peak Design Everyday Backpack cost you?
Version 1 has been discontinued and Peak Design sold all of their older models. Now they're onto Version 2, which features upgrades, tweaks and other minor improvements.
The current list price for the 20 L is US$ 259.95 and for a 30 L US$ 289.95.
If the first thing you saw was this price tag, you might think we were out of our minds when you can pick up a Lowepro for US$ 100 less. But now that you know just how fantastic the Everyday Backpack is, you will completely understand the inflated price tag.
You are paying for quality here. Quality design, quality materials, quality company.
As an added incentive, that price includes a lifetime warrantee. What does that mean? It means if something goes wrong with your Everyday Backpack, Peak Design will send you out a replacement. Reviews on PD website will show you that this does really happen.
Peak Design have an extremely passionate following because their brand is true, their products are incredible and they back themselves up with excellent customer service.
Search around the internet at forums and comparisons. You will see that people buy other backpacks, then gravitate to Peak Design. Those who went for Peak Design first, they don't leave.
If you know you want to buy your own Peak Design Everyday Backpack before reading on to our function testing, click the button below to search products on the Peak Design website.
Travel, Camera & Hiking Backpack: Peak Design Everyday Put To Test
We wanted to include some brief examples of real life experiences we've had with our Everyday Backpacks.
In order, we think this backpack suits photographers, travelers (as a weekend or second bag for longer trips), commuters / everyday use and finally hikers.
Here are our results from testing each function so far:
Travel Backpack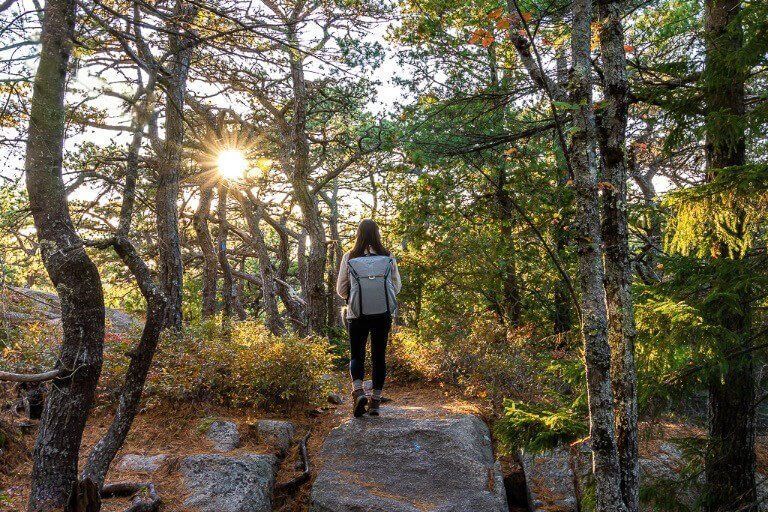 We would love to tell you that we've taken our Peak Design Everyday Backpack with us on flights around the world. However, 2020 has had other ideas.
Coronavirus has prevented us from putting the Everyday through its paces in airports and on planes. But it is pretty clear to us that the fully laden 30 L backpack will gracefully glide into overhead or under seat storage.
The same applies to trains and buses for both 20 L and 30 L thanks to the practical carry-on design.
Planes aside, we have been able to test them in our car on a 2 week New England road trip and we couldn't be happier with the results.
They barely take up any room on the back seat or in the trunk, they have 3 grab handles to choose between if surrounded by suitcases or coolers filled with beer, they are solid and they just look epic.
We hiked and photographed all over upstate NY, Vermont, New Hampshire and Acadia National Park in Maine for 2 weeks with our Everyday's on our backs.
We've taken one or both with us every time we've been to stay with family or shoot sunrises in the last few months. The organization of our equipment brings a smile to our faces every time we open the zippers.
It would take a large group of octopi to count the amount of times we said 'these backpacks are awesome' or 'I love this backpack'.
Travel Backpacks: If you're looking at the Peak Design as a photography / second backpack and want the best minimalist travel backpack for longer trips, you need to check out our review of Osprey's carry on friendly Farpoint 40 L.
Camera Backpack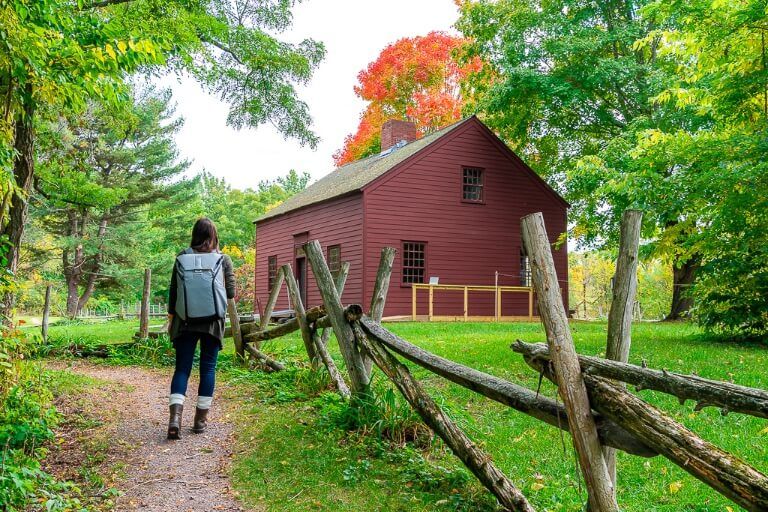 This is where the Peak Design Everyday Backpack basically transforms into the sunglasses emoji.
Photography is a huge market. There's never really been a company who provide such amazing carry on and accessory solutions like Peak Design, to a point where you can almost guarantee a fellow photographer has at least one PD product.
Our experiences of using the Everyday as a purely content creating backpack are why we are blowing so much smoke. The ability to configure 3 custom dividers to suit the gear we have on any given day is the reason we wouldn't leave home without ours.
Typically, we will carry a DJI Mavic 2 Pro with Smart Control, Sony A7R IV with Sony 24-105mm and Sony 16-35mm, Sony A6000 with Sigma f1.4 16mm and GoPro with Gimbal. Our 30L fits it all in with room left in the top section for anything else we need. Straps, clips, batteries, SD's etc all tuck away in the side pockets.
Now for the best part:
No matter what we need, we can get that one thing without having to move a single other thing in the process. It's like having Hermione Granger's bag and picking out only the exact thing you need.
Photography Gifts: If you're looking for awesome gift ideas to send to the photographer in your life, don't miss our personally recommended 35 Best Gifts For Photographers!
Hiking Backpack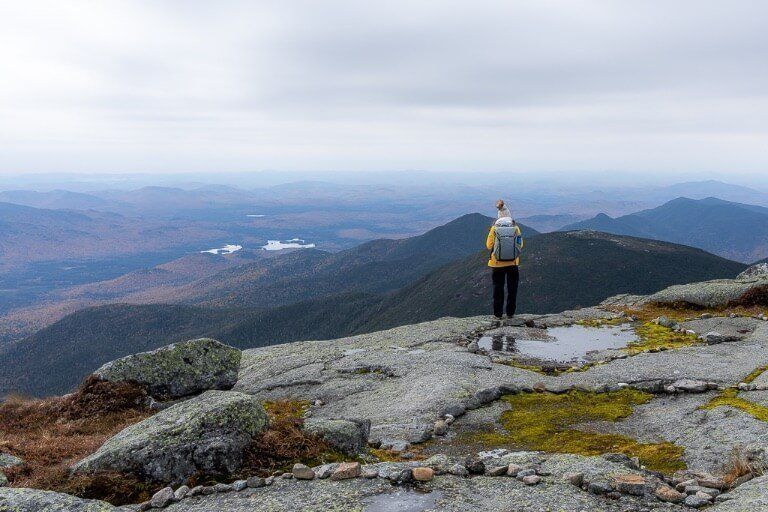 The Everyday Backpack is not designed primarily for hiking and there may be more suitable choices of backpack if hiking is your main priority for deciding on a new backpack. Let's get that out of the way first.
What we can tell you from experience is that the Everyday was a dream to hike with.
We took both our backpacks up Mount Marcy in New York's Adirondacks (highest peak in NY), hiking for around 9 hours from 6am to 3pm.
It was October, so we needed layers for weather (it snowed at the summit), plus food, water and our photography gear – which consisted of Sony A7R IV with Sony 24-105 lens f4 G lens, GoPro and Gimbal.
All spare batteries and SD cards were safely stored away in the flexible interior zipped pockets.
We both remarked at how comfortable the backpacks were throughout the day, never once feeling any shoulder burn or friction on the back. Sternum straps are built in for extra support but we didn't need to use them, nor the waist strap (which is purchased additionally) because our backpacks were not overly heavy.
For a backpack not specifically designed for hiking, the Everyday performs extraordinarily well on the trails.
Note 1: Please be aware that on multi day hikes or when extra safety or warm gear is required, consider using larger alternative backpacks.
Note 2: Example of packing for solo hike and shoot. Camera body with primary lens attached, 1 spare lens, middle, outer and waterproof layers incase the weather takes a turn, snacks inside pockets and water in external left pocket. Travel tripod either in the right external side pocket or horizontally attached to the bottom.
Ready To Up Your Travel Backpack Game?
In our opinion, the Everyday Backpack is the real deal for photographers, especially those who travel regularly for work. We couldn't imagine traveling without ours and hope they continue producing such amazing products for us to spend our hard earned money on in future!
Head right over to Peak Design's website to explore their catalogue of camera accessories and Everyday Backpacks to level up your travel equipment game.
While you're there, don't miss Peak Design's epic camera straps and camera capture clips – you can attach the capture clips directly onto your brand new Everyday Backpack.
Check price of the Peak Design Everyday Backpack on: Peak Design | Amazon | REI
For reference, here's a list of content creating gear we carry when we travel, most are mentioned in this post!
---
We hope this helped you decide if the Peak Design Everyday Backpack is the best option for your next camera, hiking & travel bag!
Please let us know if you have any questions about the backpack, we will be happy to help. And don't forget to check out our awesome gift guides for Outdoorsy Adventurers, Photographers and Travelers!
Happy Travels,
Mark and Kristen
Was This Post Helpful? Pin It For Later!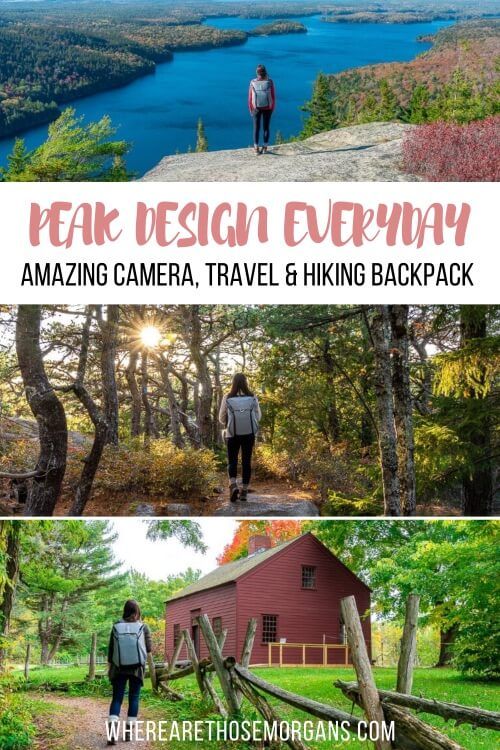 Note: This article contains affiliate links. When you make a purchase using one of these affiliate links, we may earn a small commission at no extra cost to you.
All Rights Reserved © Where Are Those Morgans, LLC. Republishing this article and/or any of its contents (text, photography, maps, graphics, etc.) in whole or in part is strictly prohibited.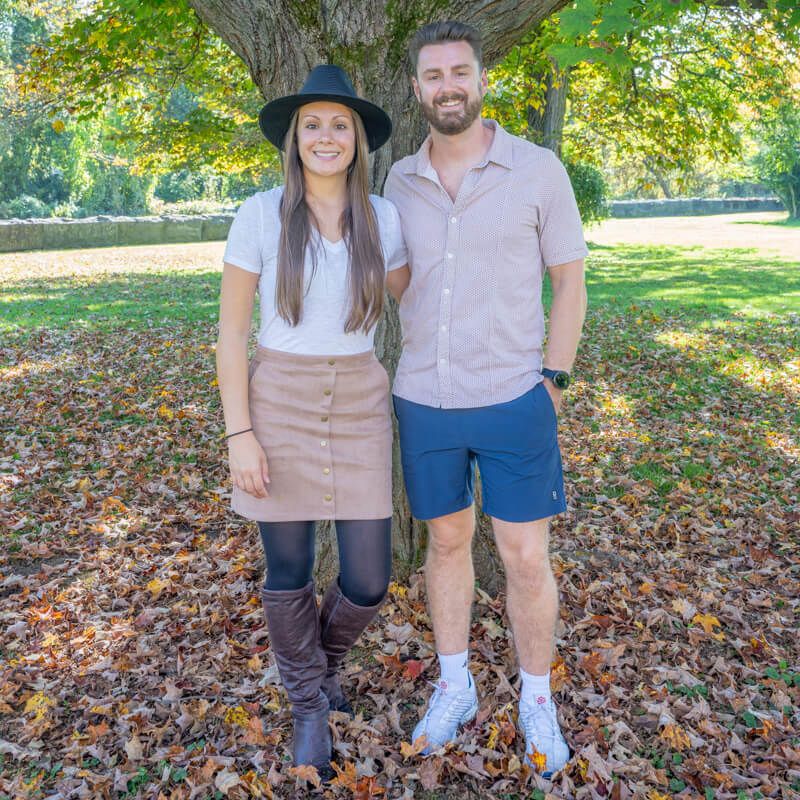 Mark and Kristen Morgan are travel, hiking and photography experts. Over the last 6 years traveling full time, they have explored more than 40 countries and 30 US states.
Their work has been featured in USA Today, Gestalten, Get Your Guide, CityPASS and Condé Nast Traveler along with various other publications.