Los Angeles is the iconic home of blockbuster movie production, sandy beaches, never-ending sunshine and 50 million annual tourists. But in the entertainment capital of the world, it can feel almost impossible to narrow down exactly what you should do when visiting LA for the very first time. This essential list of the 10 best things to do in Los Angeles on your first visit is the perfect place to start planning your trip.
Do you have to tick off all 10 to feel as though you've seen Los Angeles? Absolutely not!
Even if you manage 5 out of the 10 on this list, you will get a taste for the world famous City of Angels.
And that way, you have the perfect excuse for a second visit.
Los Angeles Factfile
City: Los Angeles
State: California

Nicknames: L.A., City of Angels, La-La Land, Tinseltown
Population: 3.9 million (13 million metropolitan)
Locals Known As: Los Angelino, Angelino
Famous For: Hollywood, beaches, sunshine, movie stars, sports, museums
Body of Water: Pacific Ocean
Annual visitors: 50 million tourists (2019)
How To Get To Los Angeles
Flights To Los Angeles International Airport (LAX)
LAX has the second highest throughput of passengers in the United States after Atlanta, Georgia, which makes finding cheap and flexible flight options a walk in the park.
Multiple flights will be available daily domestically in the US, as well as Internationally from many major cities around the world.
We always use Skyscanner flight search engine to find the best value for money flights. Flexibility is the key to saving money on flights, search by month on Skyscanner to find the top deals.
Driving To Los Angeles
San Diego to Los Angeles – Take I-5 North for 120 miles all the way up to Los Angeles. It doesn't get much easier! Without incident or worse than usual traffic, the drive should take around 2 hours. However, be prepared for a much longer journey because traffic is well known to be a problem!
San Francisco to Los Angeles – Take I-5 South for 5 hours 30 minutes. However, the incredible road trip California highway 1 runs along the coast and should not be missed if you have a few extra days.
LAX to Hollywood – If you hire a car at LAX and drive to Hollywood (the most popular neighborhood for first time visitors) you can expect a drive time between 30 minutes to 1 hour depending on traffic.
Other Notable Driving Times – Las Vegas: 4 hours, Joshua Tree National Park: 2 hours, Death Valley National Park: 4 hours and Phoenix, AZ: 5 hours 30 minutes.
Getting Around in Los Angeles
Los Angeles is huge, its sprawling metropolis can not be walked like in San Diego or San Francisco. You will need to use other means of getting around LA.
Driving through the city is stressful and time consuming but necessary at times. Consider using the Metro when possible, for example to downtown, Hollywood or Santa Monica.
10 Epic Things To Do In Los Angeles, California For First Time Visitors
Los Angeles is overloaded with amazing things to do for first time visitors, but there are some you simply can't miss. This is one of the top bucket list US vacation spots and we want you to help you make the most of your trip.
We compiled this list based upon our own experiences when visiting LA and selected only the best.
1. Hike a Dusty Trail to the Hollywood Sign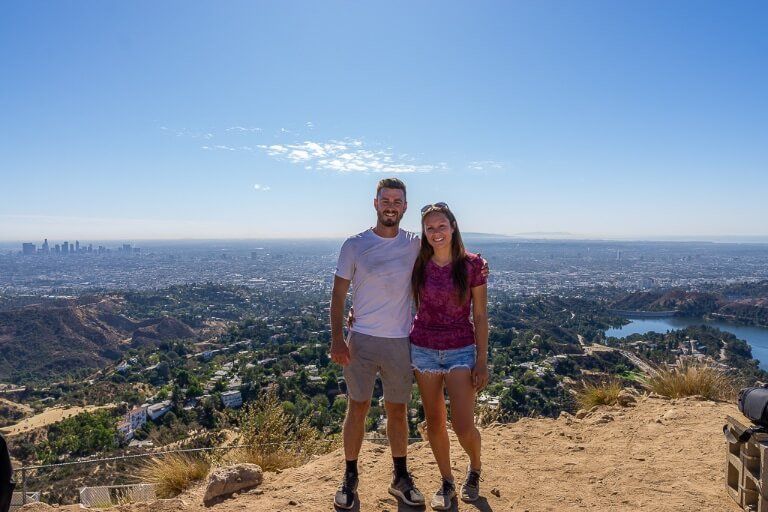 What is it?
The HOLLYWOOD Sign, the iconic landmark Los Angeles is most known for, is more than just 9 enormous white letters on the dusty hillside of Mt Lee. Hollywood's 'biggest star' is a symbol of what can be achieved by dreamers and believers. There are a number of viewpoints around Griffith Park and Sunset Boulevard but hiking to the summit of Mt Lee is the ultimate way to appreciate the reason this location for the sign was chosen.
Why visit?
Magnificent views over Los Angeles and even the Pacific Ocean on a clear day await you at the summit of Mt Lee. You will get the classic scene: the back of DOOWYLLOH, Griffith Observatory, LA city, mountains and ocean. Clear days are hard to come by but arrive before sunrise for the most amazing blue hues in the sky.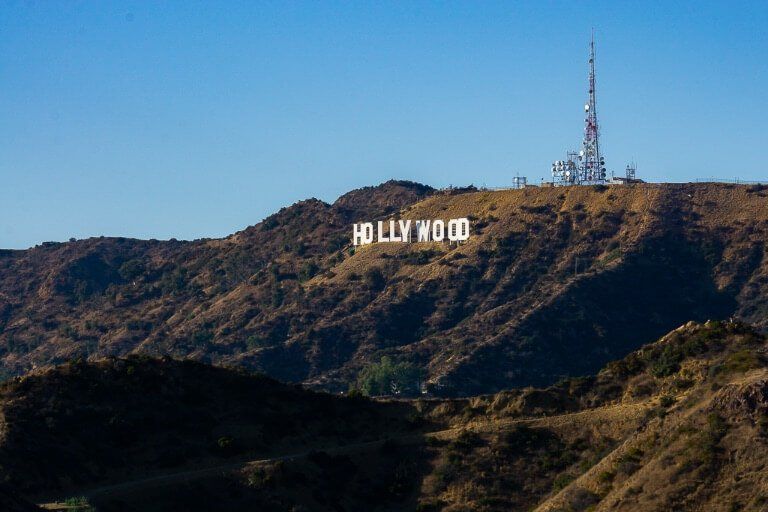 How to visit?
Many traditional hiking trails lead you to the Hollywood Sign, including Hollyridge trail, Brush Canyon trail, Innsdale Drive trail and the one we took – Wonder View trail. Wonder view was regarded as the shortest and most challenging but it is now closed permanently.
You can park on certain residential streets to begin the hikes but many are restricted. You will know where you can park when you see dozens of cars lining the streets. Here's more information.
Top Tip?
LA's heat can be relentless. The day we hiked in November was well into the 90's – as you can see, we were a sweaty and dusty mess!
Take sunscreen and as much water as you can carry.
2. Shop 'til You Drop on Rodeo Drive, Beverly Hills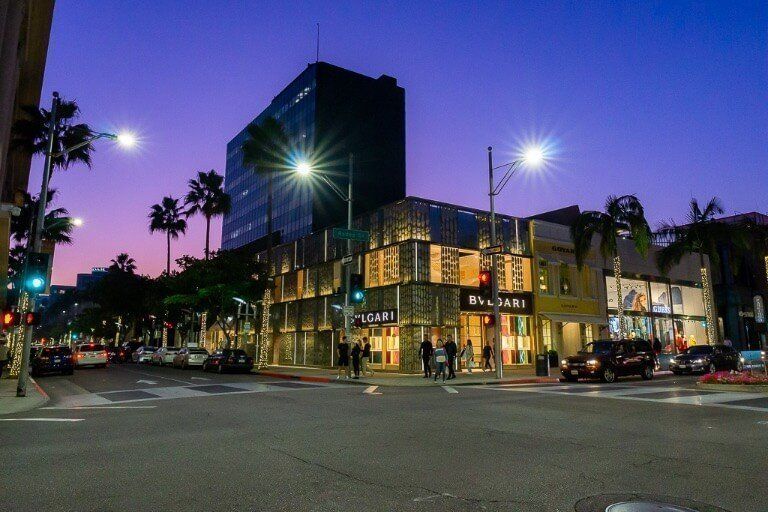 What is it?
Rodeo Drive is the world famous 2 mile stretch of road featuring some of the most expensive designer brand boutiques on the planet. It is synonymous with the rich and famous, luxury sports cars and 'the culturally elite'.
Beverly Hills is fabulously manicured and a short drive around the neighborhood will reveal countless properties valued at eye watering sums!
Why visit?
It is impossible not to be intrigued by Beverly Hills thanks to popular culture throughout the last 30-40 years. A walk down Rodeo Drive should be on every Los Angeles itinerary simply because of its notoriety but don't expect to see celebrities en mass.
A great place to visit is the eccentric Louis Vuitton exhibit on the corner of Rodeo / Santa Monica blvd. There were more security guards and employees than visitors inside the day we looked around.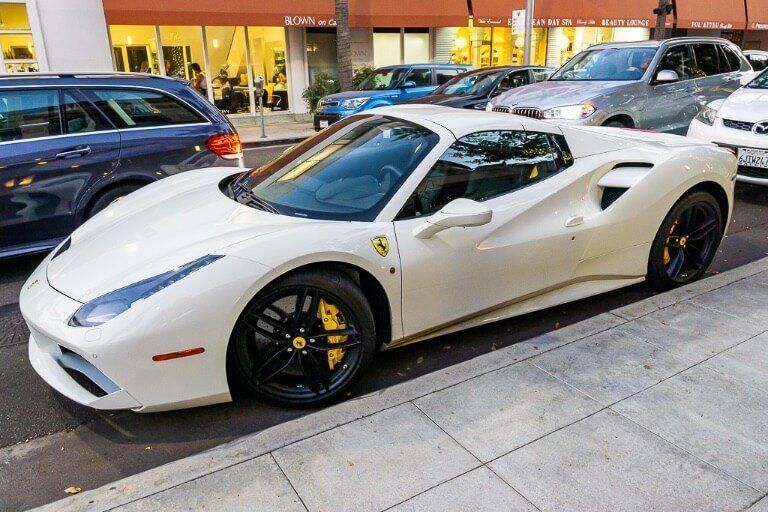 How to visit?
There are a surprising amount of multi story parking lots in Beverly Hills, so if you're driving around the city you can park up easily. The closest metro is in Hollywood but that is 3.7 miles away, which means taking a bus is the better public transport method.
Alternatively, you can take a guided 'celebrity tour' of Beverly Hills.
Top Tip?
If you're not wearing Gucci shoes with a Dolce & Gabbana shirt, expect to be followed around any store you go inside!
3. Watch a Stunning California Sunset at Santa Monica Pier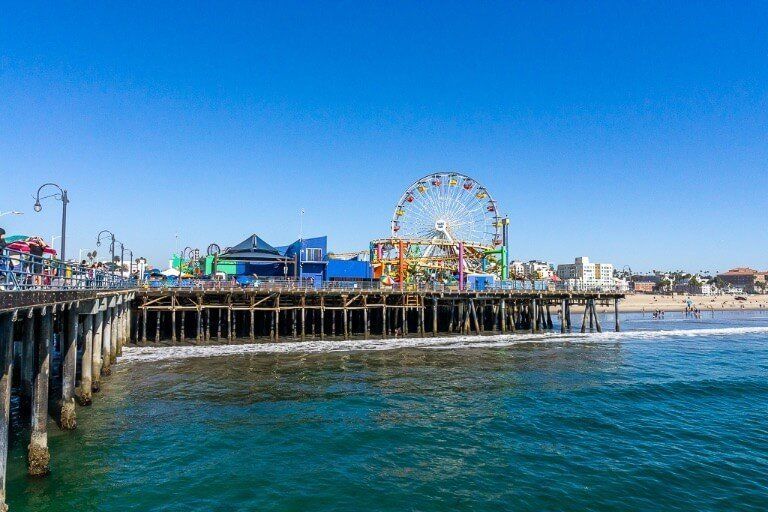 What is it?
Another of Los Angeles' world famous attractions, Santa Monica Pier has featured in too many movies and tv shows to mention. The pier contains the world's only solar powered Ferris wheel, arcades, amusement park, aquarium and is popular for sport fishing.
Santa Monica neighborhood is a lovely part of Los Angeles for a slow meander once the sun has set and sand is no longer warm underfoot.
Why visit?
Santa Monica is the most popular beach for tourists on a first time visit to Los Angeles but the neighborhood is more than worth the visit alone. Santa Monica Pier is gimmicky but perfect if you're traveling with younger kids.
California is blessed with a mediterranean climate and year round epic sunsets. Santa Monica is one of the best places in Los Angeles to watch a beautiful orange sun setting over the Pacific Ocean.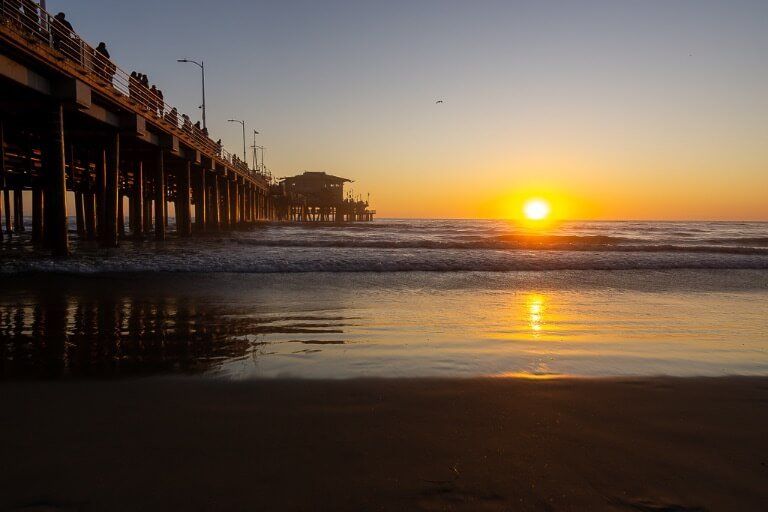 How to visit?
You will find a number of parking lots close to Santa Monica Pier. On weekends and holidays expect these to fill early. A flat fee or hourly rate will apply for parking nearby.
A better option is to take the metro expo line from downtown to Santa Monica. You can begin in Hollywood and change downtown but expect total travel time to be around 1 hour each way.
Top Tip?
Walk underneath Santa Monica Pier as the sun is setting to see some awesome sun bursts through dozens of wooden support joists, perfect for photographers.
Planning to drive the Pacific Coast Highway? Read our guide on the 23 best stops from San Francisco to San Diego on Highway 1 to see the top highlights.
4. Walk to Venice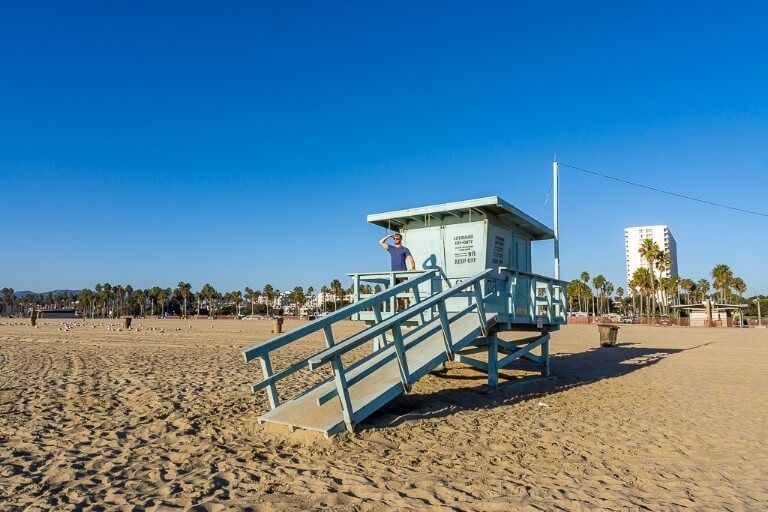 What is it?
Venice is a cultural hub known for eccentric arts, its bohemian vibe and Venice beach. The famous beach is complimented by a 2.5 mile promenade, along which you can find street art, basketball courts, coffee shops and muscle beach outdoor gym.
Why visit?
Walking from Santa Monica to Venice in late afternoon is perfect for getting a feel for the real LA, seeing the positive effects of gentrification in a sprawling city and to get out of your comfort zone before heading back to Santa Monica for sunset.
Venice Beach won't be suited to all travelers visiting Los Angeles for the first time. Personally, we enjoyed walking along the promenade to see the local artwork and didn't feel unsafe. That being said, the area can be slightly intimidating.
How to visit?
You can take your car to a number of small parking lots or take a bus directly from Union square downtown LA. However, walking from Santa Monica is by far the best way to visit Venice. We saw a tv show being filmed as we walked between the two beaches.
Top Tips?
Tip 1: Hidden behind Venice Beach are a series of picturesque canals with modern houses reflecting in perfectly still water. Don't miss Venice canals if you walk from Santa Monica to Venice Beach.
Tip 2: Walk along the promenade to Venice, then return along the beach as the sun gets lower in the sky.
5. Watch a Live Gameshow or Talk Show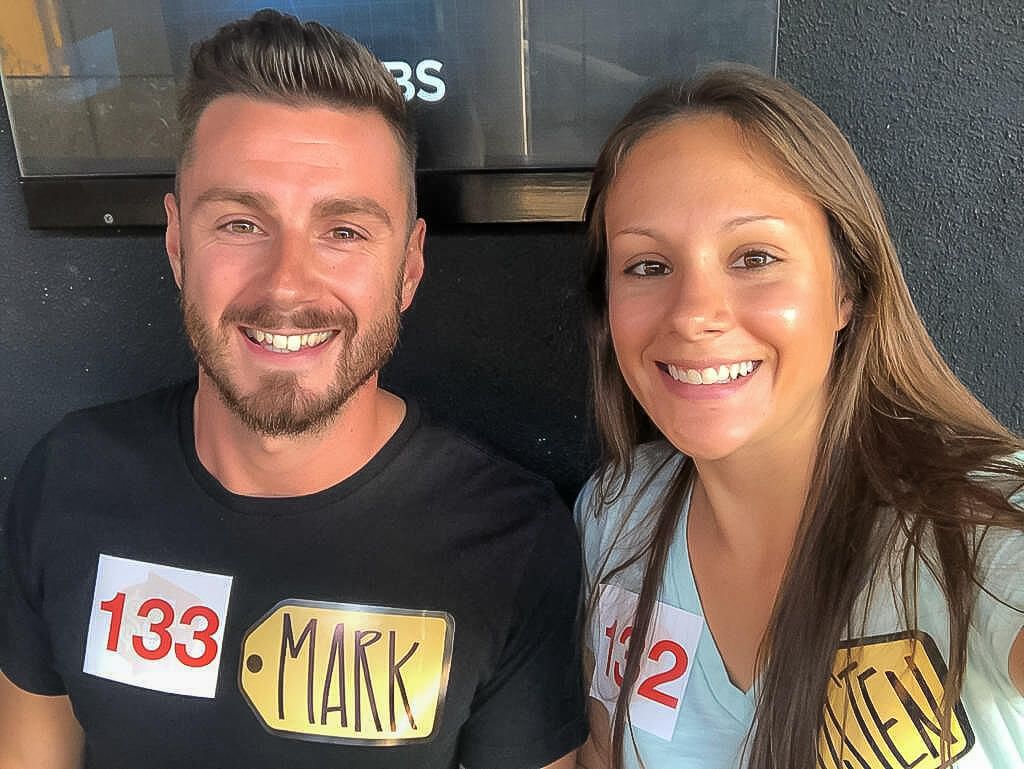 What is it?
Many of America's most popular gameshows and talk shows are recorded in studios around Los Angeles. These shows need audience members to create the excitable clapping and whooping, which is where you come in! Tickets are usually free and offered to anyone visiting or living in LA.
Take your pick between Jeopardy, Price is Right, Late Late Show with James Corden, Jimmy Kimmel and more.
Why visit?
It's not everyday you get the chance to sit in the audience of Jeopardy if you enjoy a quiz show, or see your favorite celebrities chatting to talk show hosts. Trust us, this is the only way to guarantee seeing a celeb in LA!
Choose a show like Price is Right and you might end up on stage winning $25,000 worth of prizes. We got last minute tickets to Price is Right but didn't do enough dancing or make enough noise to get the 'come on down' – and we're fine with that!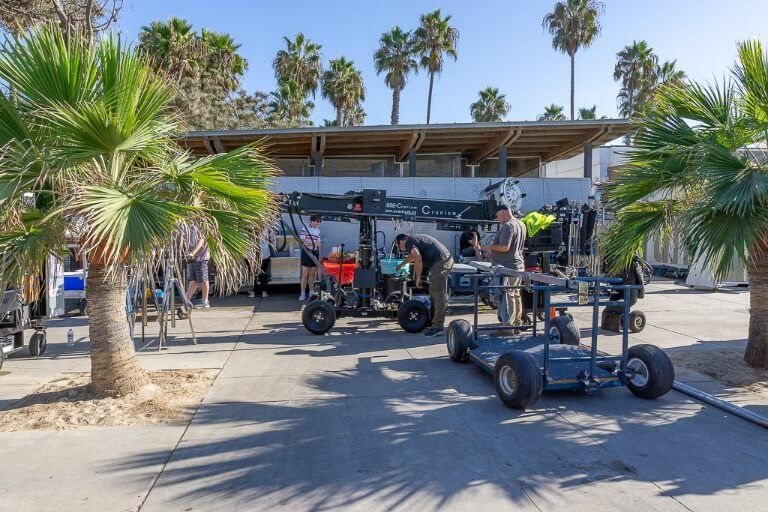 How to visit?
Simply search for tickets on any of the game shows or talk shows you prefer. Total time required for game shows is much longer than we anticipated. Expect to spend a good 4-5 hours for one episode of Price is Right. In hindsight, we might have preferred Jeopardy, especially if Ken or James were on!
Top Tip?
Loosen your hips, vocal cords and inhibitions to stand more chance of getting down to one of the 4 podiums on Price is Right.
6. Tour a Movie Studio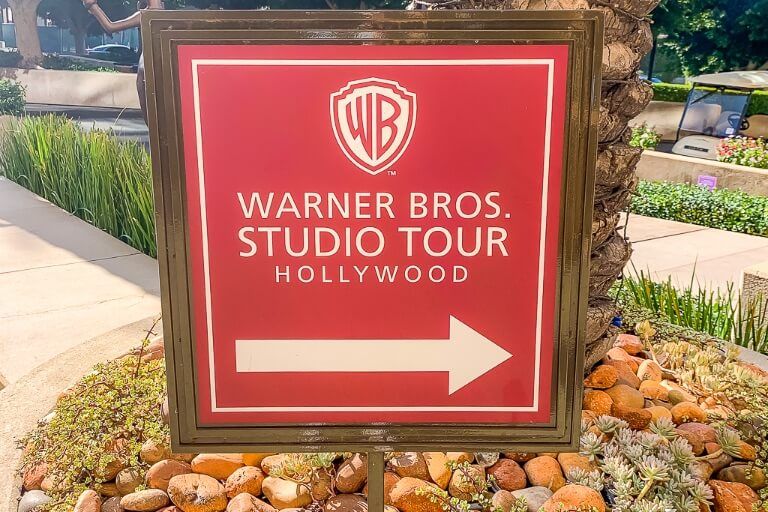 What is it?
Who isn't a fan of TV shows and movies?! When you're in Los Angeles, one of the things you must do is tour a movie studio. Take your pick between Warner Bros, Universal, Paramount and Sony for the 4 big industry players.
Spend 2-3 hours walking around exterior sets, huge interior lots, exhibits of previous movies and tv shows plus props used in your favorite movies.
Why visit?
Movie studio tours are not the place to go celeb spotting and don't expect to watch the latest blockbuster being made!
What you will get is an insight into how movies and tv shows are made, from sound and production to sets and costumes. Unless you're a mega film fan and have vip subscription to IMDb, one tour is enough to get a taste for movie making. Choose wisely!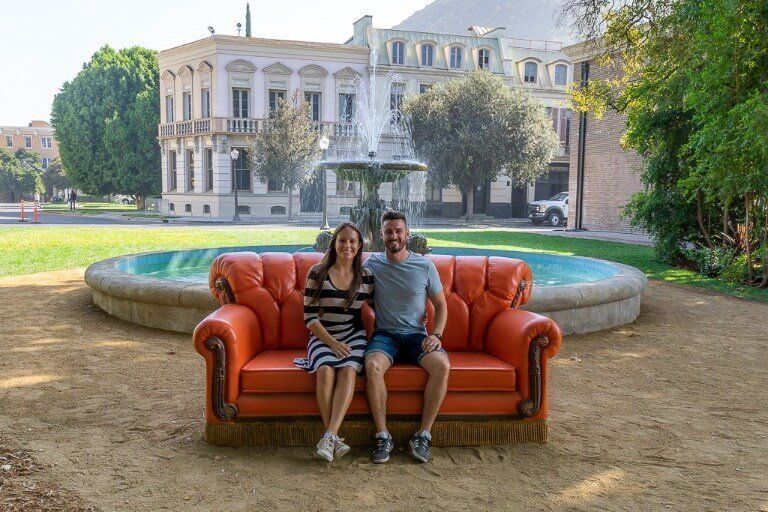 How to visit?
Choose which studio you would prefer to tour and buy tickets online. Purchasing in advance is a good idea to avoid disappointment on the day. Each tour has parking options but Paramount is the only studio walkable in Hollywood neighborhood.
Here are the websites for each of the 4 tours: Sony | Paramount | Universal | Warner Bros
Top Tip?
We chose Warner Bros movie studio tour after reading it was the purest tour for movie and tv show lovers. Friends, Big Bang, DC, Batman and Harry Potter are the main exhibits.
Read our complete guide to Warner Bros studio tour before deciding which Hollywood movie tour to take.
7. Explore Hollywood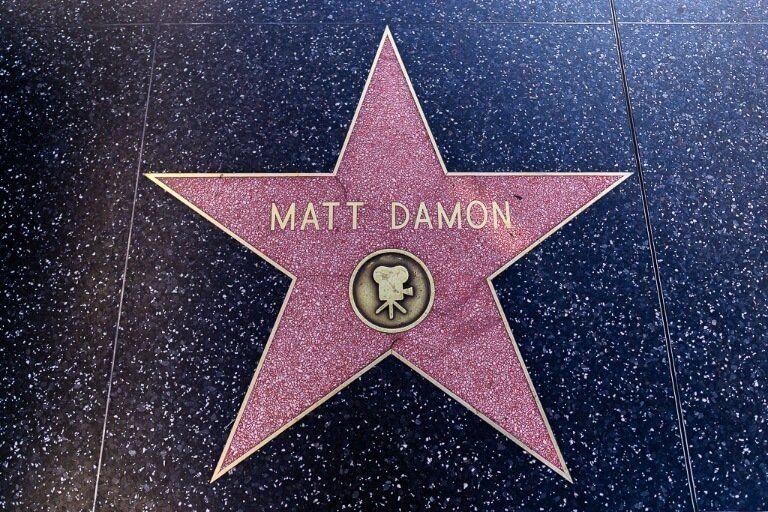 What is it?
Hollywood is tinseltown, it is the glitz and glamour entertainment capital of the world and the heartbeat of Los Angeles.
The Neighborhood of Hollywood is a melting pot of eateries, bars, souvenir shops and gimmicky tourist attractions. At night, Hollywood blvd comes to life in an array of loud noises and bright colors, definitely the best time to explore.
For a first time visit to Los Angeles, Hollywood is one of our top choices for booking a hotel because it is at the heart of things to do in LA.
Why visit?
It's Hollywood, who is going to LA and not exploring the worlds showbiz capital?!
Most tourists set up base in or around Hollywood, which means bars fill up with people from all continents and makes for great nights out.
During the day, you can't miss the walk of fame which runs along 15 blocks of Hollywood blvd and contains over 2,500 stars. TCL Chinese theater is where you will find hand and foot prints of the biggest names in movies and next door is the Dolby theater where the Oscars ceremony is held each year.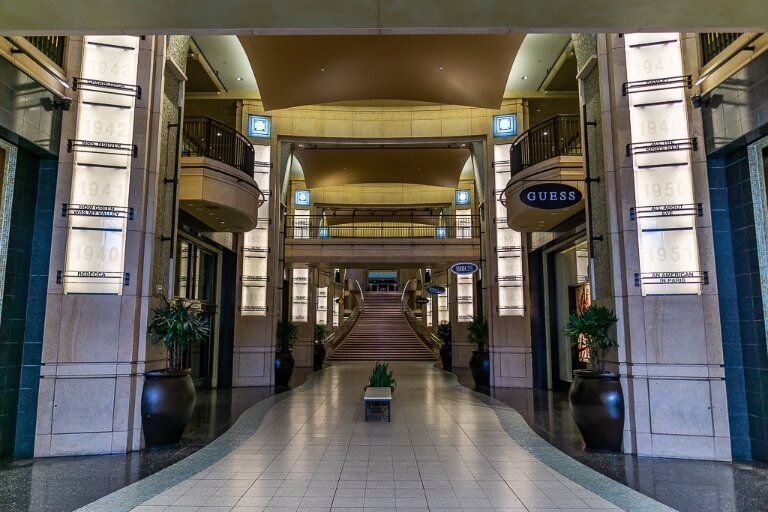 How to visit?
If you decide to book a hotel in Beverly Hills, Santa Monica or any other part of LA, you can take public transport to Hollywood. Metro (red line) from downtown or Santa Monica and bus from Beverly Hills. Visit in the late afternoon, evening or night to see the action.
Top Tip?
Go inside Dolby theater and as you walk through the hall you will see all Oscar best picture winners since the ceremony began on lighted arches.
8. Cruise Around Mulholland Drive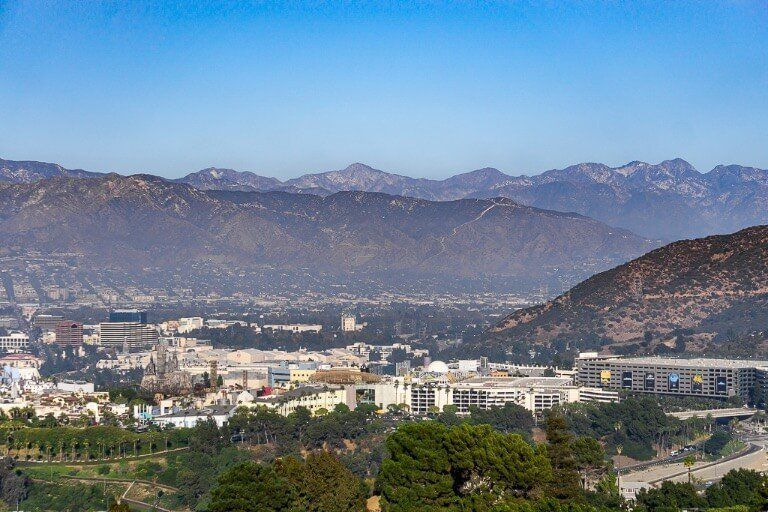 What is it?
Mulholland Drive is a 21 mile long winding road meandering through the Santa Monica Mountains just North of Hollywood. The name was made famous by David Lynch's 2001 psychological thriller 'Mulholland Drive' and many of Hollywood's finest call the Hollywood Hills home.
Why visit?
There are mansions around every corner to admire as you pass through Laurel Canyon and Nichols Canyon, some of the most expensive houses in the world.
But the main reason to drive your car around Mulholland's twisting roads is because you have fantastic vantage points to see LA, the Hollywood Sign and the Pacific on clear days.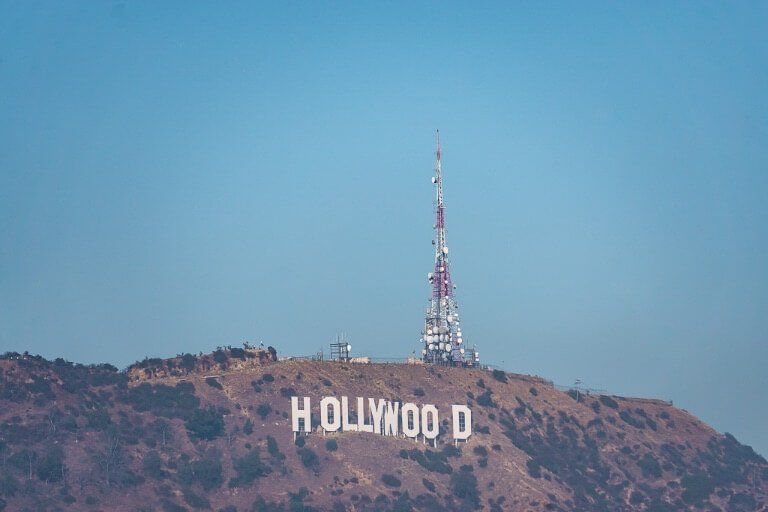 How to visit?
You will need your own vehicle for this one. Start by entering Mulholland Drive to the East from Cahuenga Blvd after visiting Universal or Warner Bros. Drive the winding roads and stop to admire the views as you pass over the hills.
Top Tip?
Tip 1: Don't miss Jerome C Daniel Overlook on the Eastern side of Mulholland Drive. From this viewpoint you can see the Hollywood Sign and with binoculars or a telephoto lens you'll get great views over the sign and Hollywood bowl.
Tip 2: Drop back down into Beverly Hills through Benedict Canyon for an efficient day ticking off the best things to do in Los Angeles.
9. Don't Miss Griffith Observatory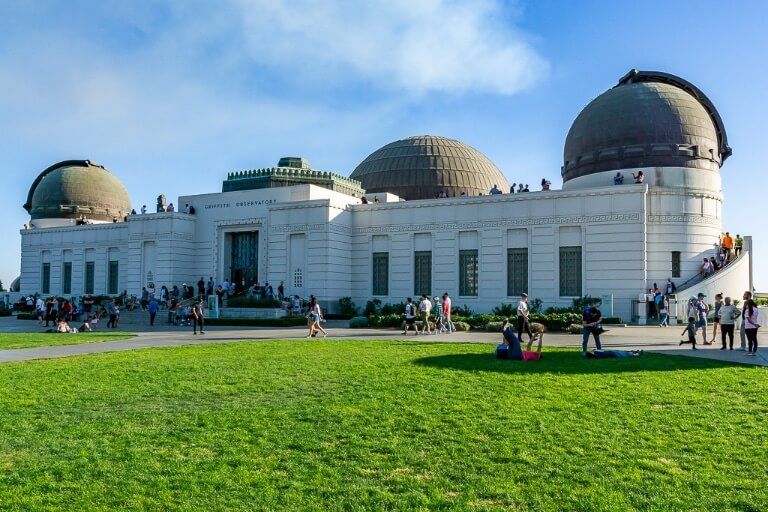 What is it?
The Griffith Observatory has one of the best locations in Los Angeles on the South facing slope of Mount Hollywood. It offers primetime views over LA city, the Hollywood Sign and the Pacific Ocean.
Inside the Greek style building are science and space exhibits, including a fantastic planetarium show. This is the perfect place to occupy teenage kids!
Why visit?
Many visit simply for the excellent views but we implore you not to miss the awesome exhibits inside. You will find a pendulum demonstrating the rotation of Earth, a Tesla coil and Zeiss Telescope at night.
Entry to the Griffith Observatory is free but you will pay US$ 8-10 to park. This is one hugely popular attraction and it will be busy, but it is absolutely worth it for the planetarium display (costs just a few dollars).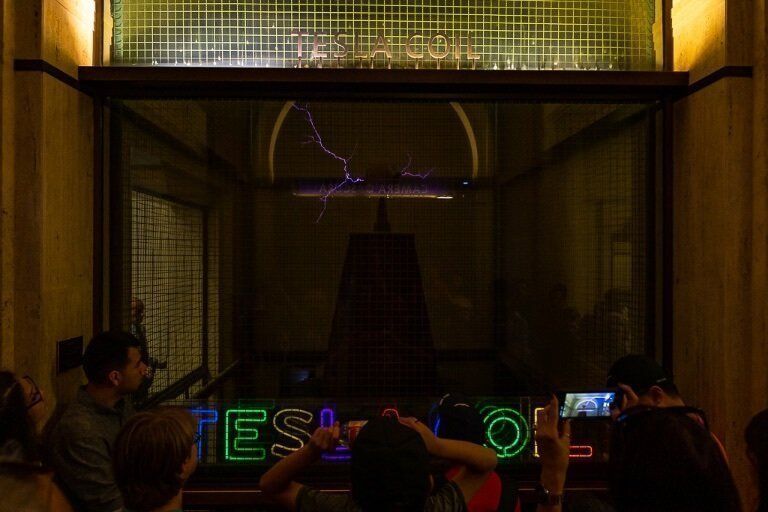 How to visit?
Drive to Griffith Observatory which has limited parking at the designated parking lot or park along Observatory / Western Canyon roads.
Alternatively, take a DASH observatory bus from Vermont/Sunset Metro (red line).
Top Tip?
Tip 1: If you visit on a busy day and cars are parked all the way up the road, try the top first because there may be spaces free. Yep, that's exactly what we did and we got a spot straight away.
Tip 2: Early evening is a great time to visit, do the planetarium before watching the sun setting and then look through the Zeiss Telescope at the night sky.
10. We're Going Downtown Los Angeles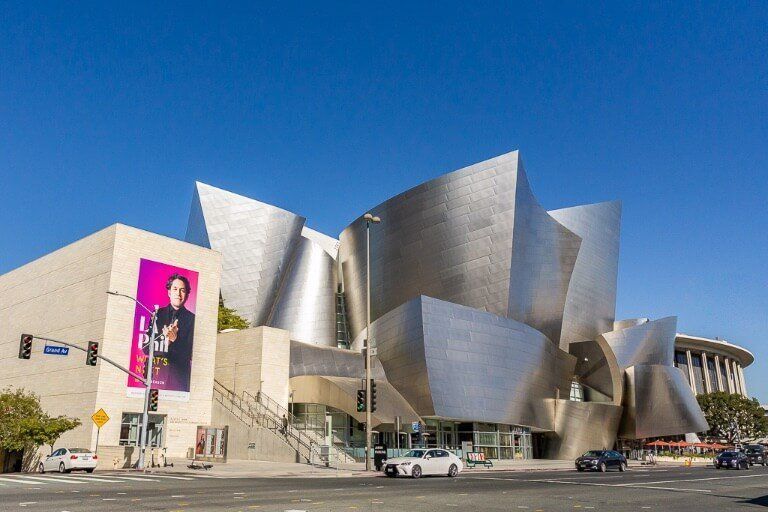 What is it?
When you've had enough of Hollywood and need a bit of history, art or culture head downtown to one of many excellent Los Angeles museums, music venues or eateries.
Downtown LA (DTLA) is diverse, exciting and overflowing with cool hangouts. You can visit Little Tokyo, Chinatown or the Fashion District and eat every type of street food at Grand Central Market.
Why visit?
Have you really been to LA if you haven't been downtown?!
The Broad is a highly rated modern art museum and next door is Walt Disney concert hall with its mind-bending stainless steel deconstructivism architectural style.
A few minutes walk away is OUE Skyspace, a 1,000 ft tall 360 degree observation platform featuring transparent slide on the outside of the building!
How to visit?
Driving isn't recommended to get into downtown LA. Instead take a metro to either 7th Street / Metro center, civic center / grand park or union station depending on what you want to do in DTLA.
Plenty of bus routes will run into downtown but the metro will be much quicker without traffic!
Top Tip?
If you're staying in Hollywood – group Santa Monica, Venice and downtown into one day of your LA itinerary. That way you can bunch together the remaining best things to do in Los Angeles North of downtown.
Where To Eat In Los Angeles
Los Angeles is the second largest US city after New York and with over 4 million residents (not including metro area) you can be sure there are restaurants galore!
We'll break LA down into its most popular neighborhoods and give you our top foodie recommendations for first time visitors:
Hollywood
Beverley Hills
Santa Monica
Dialogue – Very highly rated seasonal food | Menu
Tar & Roses – Wood, fire, smoke. American small & large plates | Menu
UOVO – Pasta made fresh daily in Italy | Menu
Downtown LA
Nickel Diner

– Famous tasty comfort food & big desserts |

Menu
Cole's French Dip – Epic French dip sandwiches, cocktails, top rated bar | Menu
Sonoratown – Popular low key, cheap and tasty Mexican food | Menu
Wurstkuche – German sausages and brewery \ Menu
Otium – Contemporary, New American & cocktails | Menu
Where To Stay In Los Angeles
With over 50 million tourists visiting each year, you can rest assured there will be no problems finding a hotel in Los Angeles!
Our advice is always to shop around and hunt for the best prices and be as flexible as possible to snag the top deals.
Want to find the perfect hotel for your trip to LA? Read our comprehensive guide to the best hotels in Los Angeles on our hotels site Best Hotels Anywhere.
Personally, we think Hollywood, West Hollywood and Santa Monica are the three best places to book a hotel when visiting LA for the first time.
In the guide we break down hotels in the 5 most popular LA neighborhoods for first time tourists into highly rated cheap, mid range and expensive options.
But if you're in a hurry, here are our top 3 picks from Hollywood, West Hollywood and Santa Monica.
Hollywood
West Hollywood
Santa Monica
Want to know our top tips for booking hotels? Here are 15 tips you can use today to help find and book cheap hotels when you travel.
Best Things To Do In Los Angeles Map
Click into this interactive map, zoom in / out and move around to find all the best things to do in Los Angeles, plus where to stay and eat:
Maroon markers – The best things to do on your visit to Los Angeles as listed above
Dark Green markers – All restaurants referenced in the where to eat section
Purple markers – Budget, Mid Range and Top End hotel options in Hollywood
Our Popular Guides From The Southwest
San Francisco – 40 free, cheap and fun things to do in SF and how to plan the perfect 3 day San Francisco itinerary.
San Diego – The 9 best things to do in San Diego with 3 day itinerary.
Death Valley – How to spend the best one day in Death Valley from Las Vegas.
Yosemite – Exactly how to spend a 1, 2 and 3 Day Itinerary in Yosemite National Park.
Joshua Tree – How to plan the perfect Joshua Tree day trip itinerary from Los Angeles.
Las Vegas – The 40 best things to do in Las Vegas, including 20 on the strip and 20 off the strip.
---
We hope this list of best things to do in Los Angeles for first time visitors helped you plan your LA itinerary!
Please let us know if you have any questions or need any help with planning your visit!
Happy Travels,
Mark and Kristen
Was This Post Helpful? Pin It For Your Visit To LA!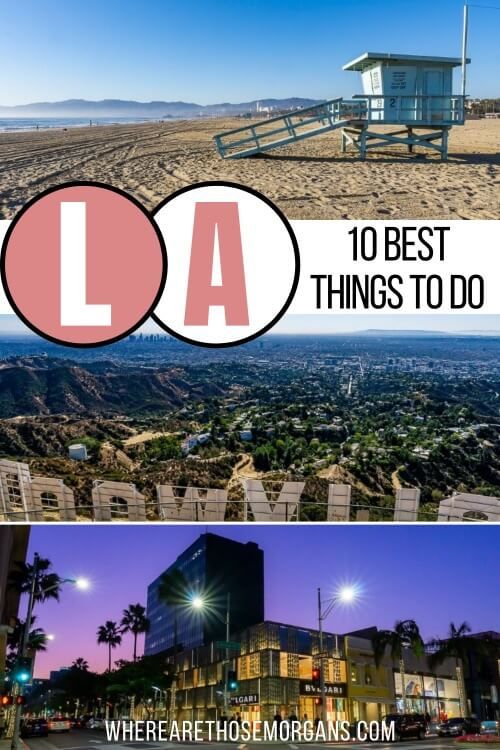 Note: This article contains affiliate links. When you make a purchase using one of these affiliate links, we may earn a small commission at no extra cost to you.
All Rights Reserved © Where Are Those Morgans, LLC. Republishing this article and/or any of its contents (text, photography, maps, graphics, etc.) in whole or in part is strictly prohibited.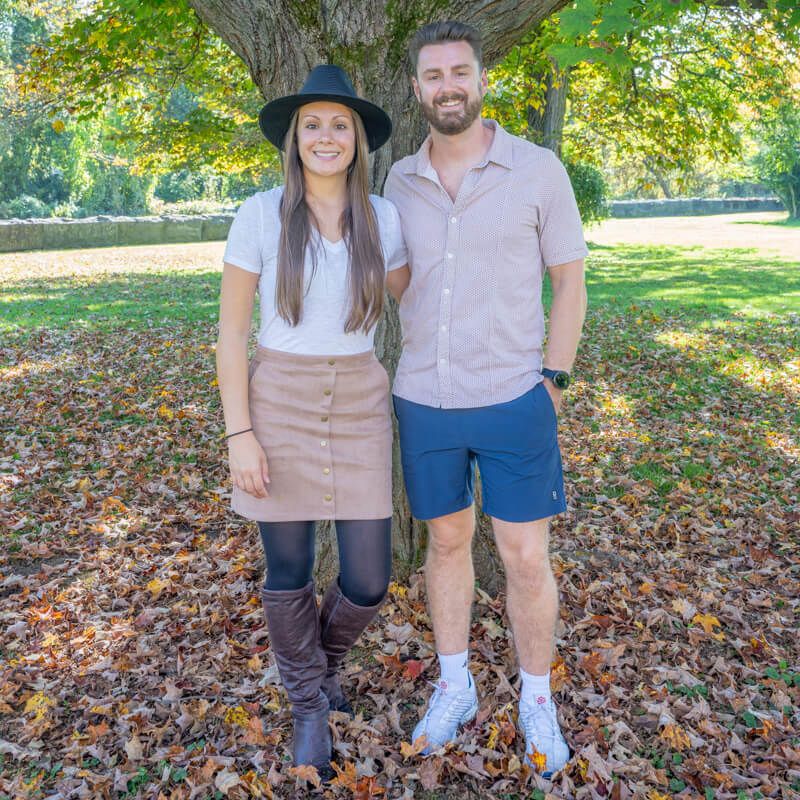 Mark and Kristen Morgan are travel, hiking and photography experts. Over the last 6 years traveling full time, they have explored more than 40 countries and 30 US states.
Their work has been featured in USA Today, Gestalten, Get Your Guide, CityPASS and Condé Nast Traveler along with various other publications.