Are you thinking about visiting the Grand Canyon in winter? We are going to answer 10 important questions you might have about your trip to the Grand Canyon in December, January or February, including key things to know about weather, costs and crowds.
Is it worth visiting Grand Canyon in winter?
Yes! We have personally photographed and hiked the best of Grand Canyon in December and we even got a snow day. In truth, we think December is one of the very best times of year to visit Grand Canyon South Rim and we would likely go again at the exact same time of year.
In this guide we will cover:
10 key things to know about visiting Grand Canyon in the winter
In depth information about temperatures, prices and tourism
What you need to know about hiking and photography
Let's get right into the 10 most important things you should know about planning a Grand Canyon winter trip!
*Please note this post may contain affiliate links. If you click on one, we may earn a small commission at no extra cost to you. Thank you for supporting the free content we provide! Read more in our disclosure policy.*
Our Grand Canyon Experience In Winter
We have been traveling the world non stop since 2018 and we can safely say there have only been a handful of landscapes that truly made our eyes widen and stoped us in our tracks. Seeing the immense vastness of the Grand Canyon for the first time was one of those moments.
During our most recent visit to Grand Canyon South Rim in December 2021, we were fortunate enough to have both a beautifully sunny and warm winter day, followed in stark contrast by a blizzard-like snow day.
It was a completely different experience to the first time we visited the Grand Canyon in October 2019. In the fall we enjoyed comfortable weather throughout and it was considerably busier around the park.
At the Grand Canyon in December we day hiked in shorts and t-shirts down to the Colorado River and back up to South Rim on our first day. The next day we built a mini-snowman at Yavapai Point!
But changeable weather is just one aspect of a visit to the Grand Canyon in winter. If you are not yet sure which season to plan your trip, read our month by month breakdown to the best time to visit Grand Canyon next.
Why Visit The Grand Canyon In Winter?
The winter months of December, January and February are all excellent times to visit Grand Canyon South Rim because you will benefit from fewer crowds, cheaper hotel rooms with more availability, quieter trails and safer conditions for hiking into the canyon.
In spring and fall months you will still find reasonably good value at hotels and the weather will be warmer but the Grand Canyon is busier with tourists.
Summer is busy, hot and expensive at the Grand Canyon. We would recommend avoiding June, July and August trips to Grand Canyon National Park, especially if you plan to hike because it can be dangerously hot.
The major downside to visiting Grand Canyon South Rim in winter is extremely cold mornings and evenings, as well as the chance that snow could prevent you from hiking.
Let's get into those 10 pressing questions!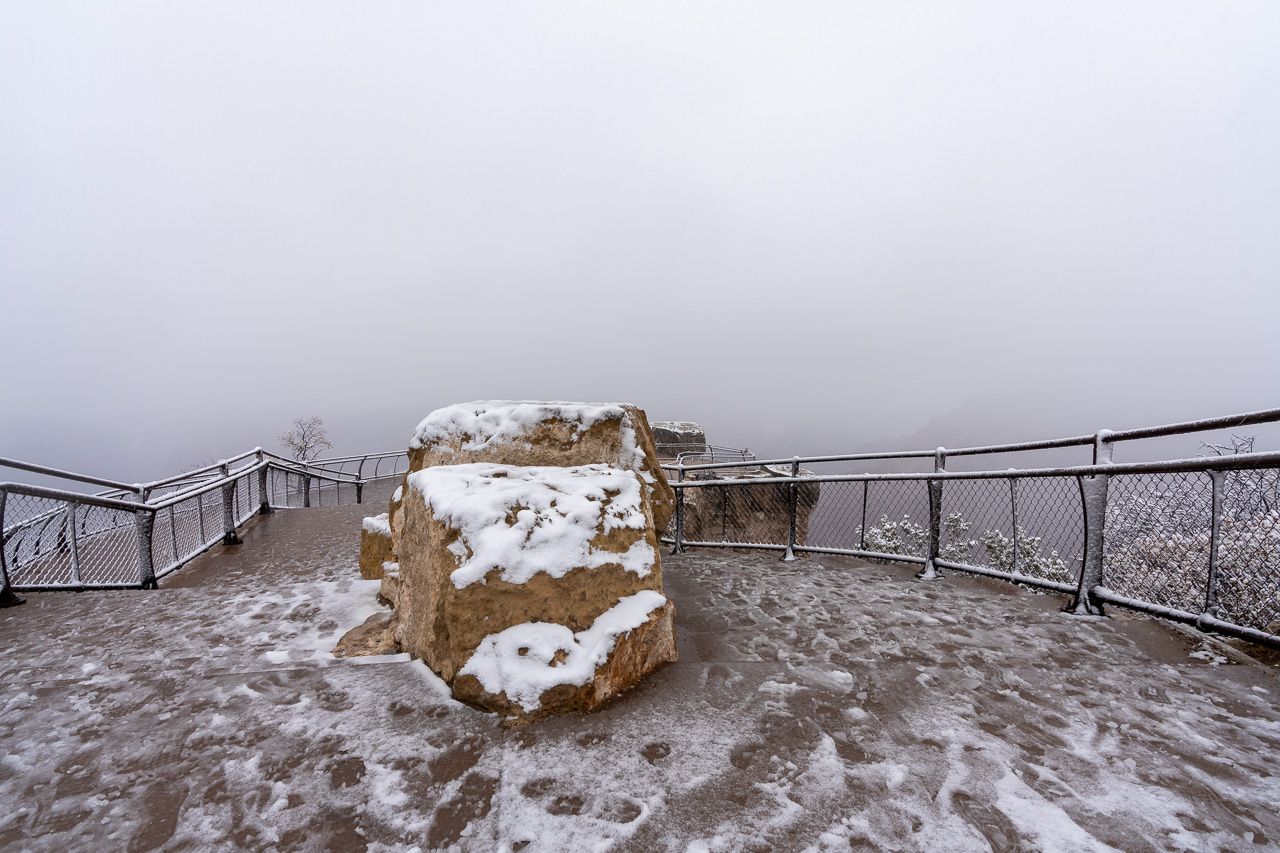 1. Is The Grand Canyon Crowded In Winter?
The Grand Canyon is one of the very best national parks in the USA and even the world. It is one of the major hotspots for millions each year who plan American southwest itineraries and it is one of those true bucket list destinations for international travelers.
But we can tell you from experience that the winter season is typically far less crowded at Grand Canyon South Rim when compared to spring, summer or fall.
We enjoyed the freedom of the park for sunrises, sunsets, hikes and picking hotel rooms when we spent 2 days at the Grand Canyon in December.
Overall, it was such a welcome relief for us because we have spent so many days in national parks when they are crammed full of people, which really isn't fun!
How Many People Visit Grand Canyon Annually?
According to NPS statistics, the Grand Canyon received the following amount of visitors between 2018 – 2022:
2018 – 6,380,495
2019 – 5,974,411
2020 – 2,911,887
2021 – 4,550,921
2022 – 4,732,101
As you can see, tourist numbers at Grand Canyon National Park were extremely high in the years before the coronavirus pandemic began.
The data is skewed for 2020 because of lockdowns, but the numbers are growing again into 2022 and will be expected to grow further in the coming years.
The good news is most tourists choose to visit the Grand Canyon between April and October. As a result, the Grand Canyon is relatively quiet and crowd free during the harsher winter months of December, January and February.
How Will Fewer Visitors Benefit You?
You won't have to deal with unbearably busy overlooks on South Rim.
The road will not backup along Desert View Road.
Fewer visitors means Hermit Road can be opened to cars in winter.
You won't have to wait long to hop on a shuttle bus in Grand Canyon village.
Hiking will be far more pleasant with fewer people on the trails.
Photography will be much easier with spaces available at popular sunrise and sunset locations.
Hotels will be more affordable and readily available at the last minute.
We will go into greater detail about these aspects later in this guide. But just these reasons alone are justification for choosing winter as the perfect time to visit Grand Canyon.
2. What Is The Weather Like At Grand Canyon In Winter?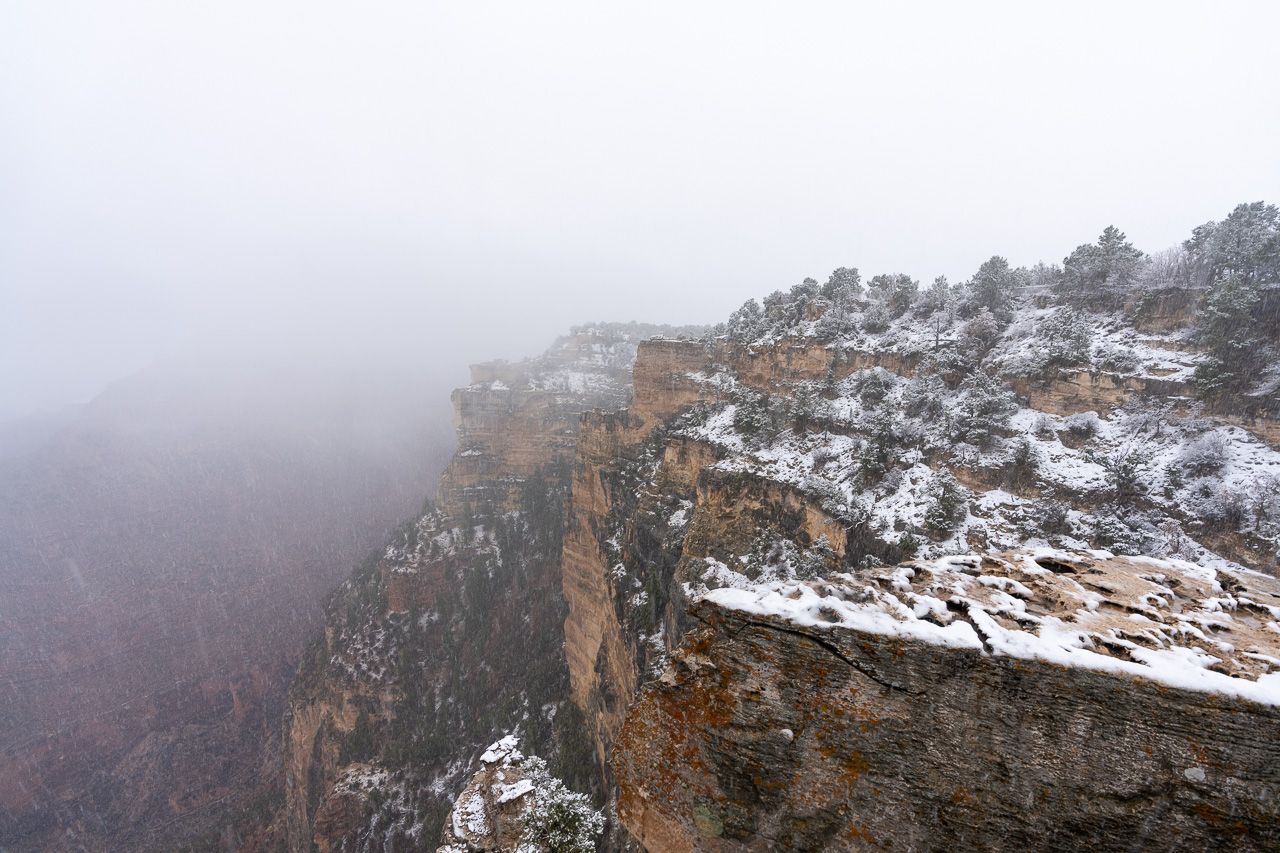 Grand Canyon winter weather is unpredictable and extremely changeable. But you should consider the uncertain weather as both a pro and con to visiting at this time of year.
Pro – You have an opportunity to experience snowfall in one of the most magical landscapes in America. If it doesn't snow, you benefit from no crowds at viewpoints and on hikes.
Con – You could potentially lose a day or two from your itinerary due to snow, fog or extreme cold. This is what happened on our second day at the Grand Canyon in December.
You might have glorious weather or the national park could be completely shrouded in fog throughout your visit to the Grand Canyon in winter. That is the risk you are taking with planning a trip at this time of year.
As far as we are concerned, it is a risk worth taking.
The Grand Canyon is among the best places to visit in Arizona but it suffers from overcrowding unless you visit in winter. It is the unpredictable weather that allows you to see this unique landscape in relative solitude.
Does The Grand Canyon Get Snow In The Winter?
Yes, both Grand Canyon South Rim and especially Grand Canyon North Rim receive significant snowfall each winter. It snowed heavily the second day we were at Grand Canyon in December.
Here are the average snowfall volumes:
South Rim – 58 inches
North Rim – 145 inches
Phantom Ranch – 1 inch
Grand Canyon South Rim receives around 90% of all tourists to the national park. Part of that reason is because Grand Canyon North Rim is closed for the winter season because it gets hit with so much more snow in December, January and February.
Meanwhile, Phantom Ranch at the bottom the Grand Canyon records just 1 inch of snow in winter because the snow melts before hitting the Colorado River 4,500ft below South Rim.
Remember to use extreme caution around the Grand Canyon if it snows or goes below freezing following rainfall. Hiking into the canyon and walking around overlooks with significant drop offs can be treacherous.
Grand Canyon Winter Temperatures
Average Grand Canyon South Rim temperatures remain extremely consistent throughout the winter months of December, January and February.
From experience, we can tell you the temperatures at Grand Canyon in winter are extremely cold on mornings, evenings and nights but it can sometimes warm up enough for comfortable conditions during the day.
Let's take a closer look:
Grand Canyon December Weather
Average High – 43F (6C).
Average Low – 17F (-8C).
The beginning of December is a little warmer compared to the end of December at the Grand Canyon. So if you are planning to visit Grand Canyon at Christmas or New Year, you will be in the depths of the coldest weather conditions.
Grand Canyon January Weather
Average High – 43F (6C).
Average Low – 17F (-8C).
January is the coldest month of the year at Grand Canyon. You will have less chance of striking it lucky with a milder day but the park will be at its quietest of the entire year and the chance of snow is highest.
Grand Canyon February Weather
Average High – 47F (8C).
Average Low – 20F (-7C).
Average temperatures at Grand Canyon begin to increase through February. There is also more daylight and chance of sunshine. You stand a good chance of enjoying milder daytime conditions for hiking.
Source: Weather Spark for Grand Canyon Village.
Phantom Ranch
It is important to remember that the sheer expanse and dramatic change in elevation in the canyon can influence weather conditions.
For example, it might be warm and dry at Phantom Ranch at the bottom of the canyon, but it could be several degrees colder and even raining or snowing at Grand Canyon South Rim.
Important Grand Canyon winter weather resources:
3. Are Grand Canyon Roads Open In Winter?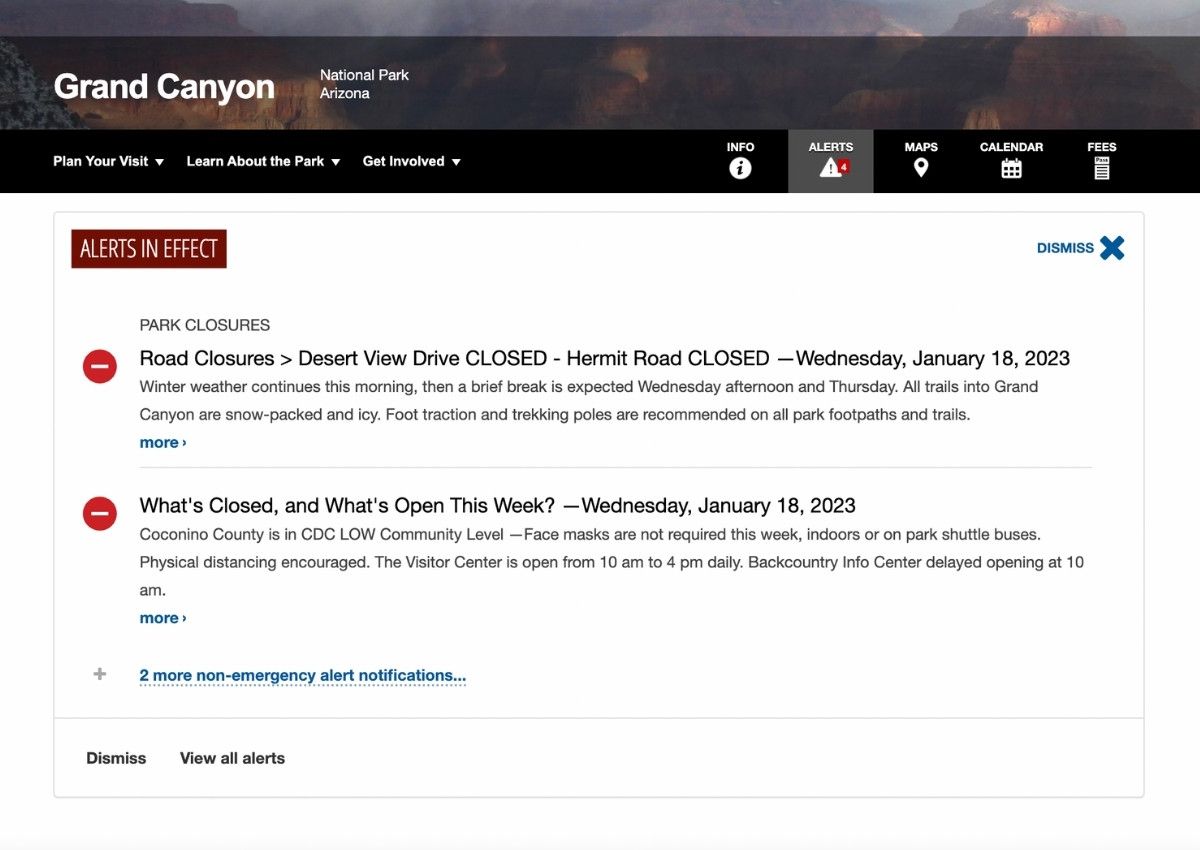 Some of the most popular US national parks close entirely during the winter season. Grand Canyon South Rim remains open year round, but roads are subject to occasional and temporary closures during significantly disruptive weather conditions.
With that said, you would be unfortunate to arrive on a day when the roads were closed. Therefore, you can plan your bucket list USA road trips including Grand Canyon South Rim any time of year.
Here are the two entrances to Grand Canyon South Rim:
Our advice is to keep a very close eye on live road conditions inside Grand Canyon if you visit in winter. Any major road closures will appear at the top of the page as you can see in the photo above.
All of the best airports near Grand Canyon will remain open throughout winter outside of exceptional circumstances. It is unlikely you will have any problems with flights or rental cars.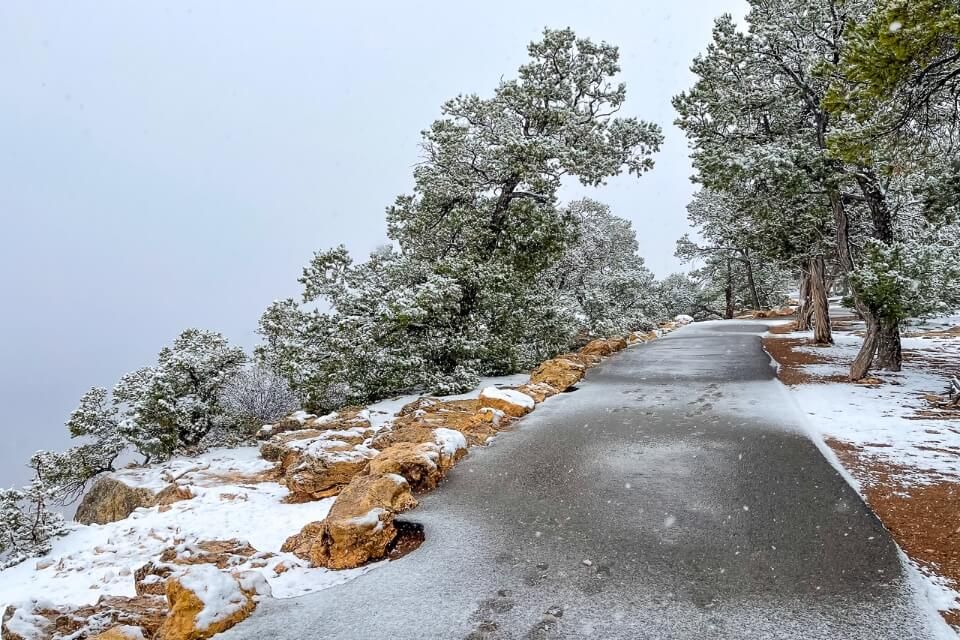 Hermit Road
In order to access the western portion of Grand Canyon South Rim you will need to travel along Hermit Road.
Some of Grand Canyon's best sunset locations are located along Hermit Road, including the most popular spot at Hopi Point.
Even if you are not interested in sunsets, Hermit Road is where you will find many of the most stunning Grand Canyon views, which means it is a must visit area in the park.
Hermit Road is accessed in the following ways:
March to November – Access to Hermit Road is strictly via shuttle bus
December to February – You can drive your own private vehicle along Hermit Road.
This is one of the biggest perks to visiting the Grand Canyon in winter.
Despite the shuttle bus service being frequent and well organized, there's nothing like being able to drive your own car diectly to and from a sunset.
Desert View Drive
There are several more extremely popular overlooks located on Desert View Drive heading east as far as Desert View Watchtower. But you can drive to these viewpoints in your own vehicle year round.
During the winter season, you can expect parking areas at each overlook to be relatively crowd free and photography opportunities easier to come by.
Need help organizing your visit to Grand Canyon South Rim?

Our popular 30+ page Grand Canyon South Rim Guidebook can help you with planning every aspect of your trip.
4. Are Grand Canyon Hotels Expensive In Winter?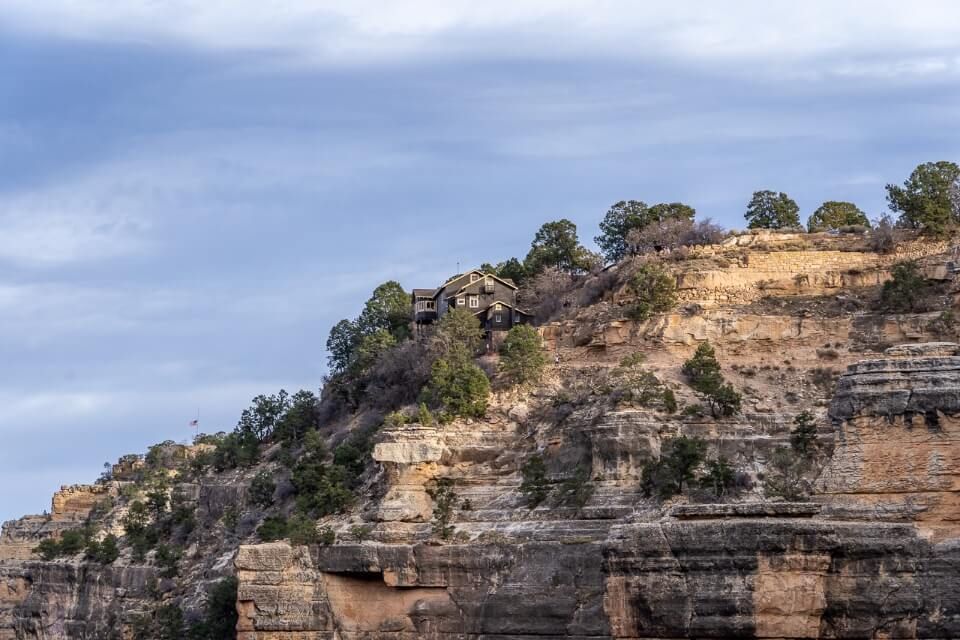 Have you visited any of the most popular US national parks in peak season?
Booking hotels for those bucket list parks like Yellowstone, Yosemite and Zion in peak seasons can be a real problem due to far higher demand than supply, seasonally inflated prices and small to medium sized travel businesses block booking certain lodging options.
Well, it is the same at Grand Canyon if you visit in peak season. Hotels on South Rim fill up months in advance and nightly prices can be eye watering.
So what does everyone do? They rush to book hotels in Tusayan, Valle, Williams and even Flagstaff.
However, if you visit Grand Canyon in winter, you are giving yourself the very best chance at picking up rooms right on South Rim or in nearby Tusayan with excellent value for money.
Booking a last minute getaway to the Grand Canyon will be also be more feasible in December, January or February because demand is considerably lower than in peak season.
We struggled to find any value with a last minute booking when we visited South Rim in October. But we had the pick of the crop when we visited Grand Canyon in December and we stayed in a great hotel at a very reasonable rate.
Lodging Options On South Rim
There are 7 official Grand Canyon lodging options on the South Rim:
El Tovar
Bright Angel Lodge & Cabins
Kachina Lodge
Thunderbird Lodge
Maswik Lodge
Yavapai Lodge
Phantom Ranch
You can book rooms at any of the Rim hotel options through Grand Canyon Lodges.
However, we suggest trying to beat the prices with hotels.com by typing the name of each lodge in the going to search box with your dates.
Where To Stay Near Grand Canyon South Rim
Many visitors (including us) prefer to book hotels in towns near Grand Canyon South Rim for more varied amenities and more affordable prices.
You might want to read our comprehensive guide to the best places to stay in and near Grand Canyon South Rim to help with finding the perfect room for your visit.
Tusayan
Tusayan is the closest place with hotels to South Rim.
We stayed at the Best Western in Tusayan and the hotel was great. The only problem with Tusayan is that eating out can be a challenge with limited quality restaurant options.
Williams
Williams offers the perfect blend of hotel and restaurant selection with proximity to Grand Canyon South Rim.
We stayed at Best Western Plus in Williams the night after our snow day at the Grand Canyon in December and it was a fantastic stay. You can day trip into South Rim from Williams.
Want to stay in Williams? Take a closer look at the 10 best Williams AZ hotels on our sister site Best Hotels Anywhere to see if a hotel here better fits your itinerary.
Flagstaff
Flagstaff is the largest city near Grand Canyon South Rim and it has a far greater selection of hotels.
It provides the perfect base if you are exploring both Grand Canyon and Sedona in the same trip but it is a longer drive for day tripping into South Rim.
5. Is Winter A Good Time For Hiking In Grand Canyon?
The winter months of December, January and February are perfect for hiking the best Grand Canyon South Rim trails. You will benefit from cool temperatures during the day and far fewer crowds on the trails.
Hiking even a portion of any trail leading down into the Grand Canyon in summer is extremely dangerous. There are several fatalities every year in the hotter months when hikers don't take heat exhaustion seriously enough.
You will have to deal with very cold mornings if you want to get an early start for Grand Canyon winter hiking, but it is worth it to know that you won't have any issues with heat when you get further down the canyon.
Our Hike In December
The primary reason for us planning a trip to Grand Canyon in December was to hike South Kaibab Trail to Bright Angel Trail via Phantom Ranch and the Colorado River in one long but amazing day.
After a bitterly cold start and a spectacular sunrise, the sun came out and warmed us up as the temperature naturally increased the further we descended.
There was no ice on either trail and we ended up taking all of our mid and outer layers off during the hike. However, the hiking roulette you play during a Grand Canyon winter visit is that conditions could be the complete opposite.
South Kaibab to Bright Angel turned out to be one of our all time favorite hikes and it easily made our list of the best hikes in the US. However, it is a very challenging trail and should only be attempted by experienced hikers in the colder months.
Tips For Safe Hiking
If you are only planning to hike a short distance down South Kaibab Trail or Bright Angel Trail, leave it until late morning when the temperature has more chance being above freezing.
You will need a very early start if you plan to day trip down to the river and back.
Watch for ice at all times, especially in the shadows.
Don't hike at all if the weather is too dangerous on South Rim.
Take plenty of water and food no matter how far you plan to hike.
You will need layers for the hike because temperature changes can be frequent and considerable.
6. Is The Winter A Good Time For Photography At Grand Canyon?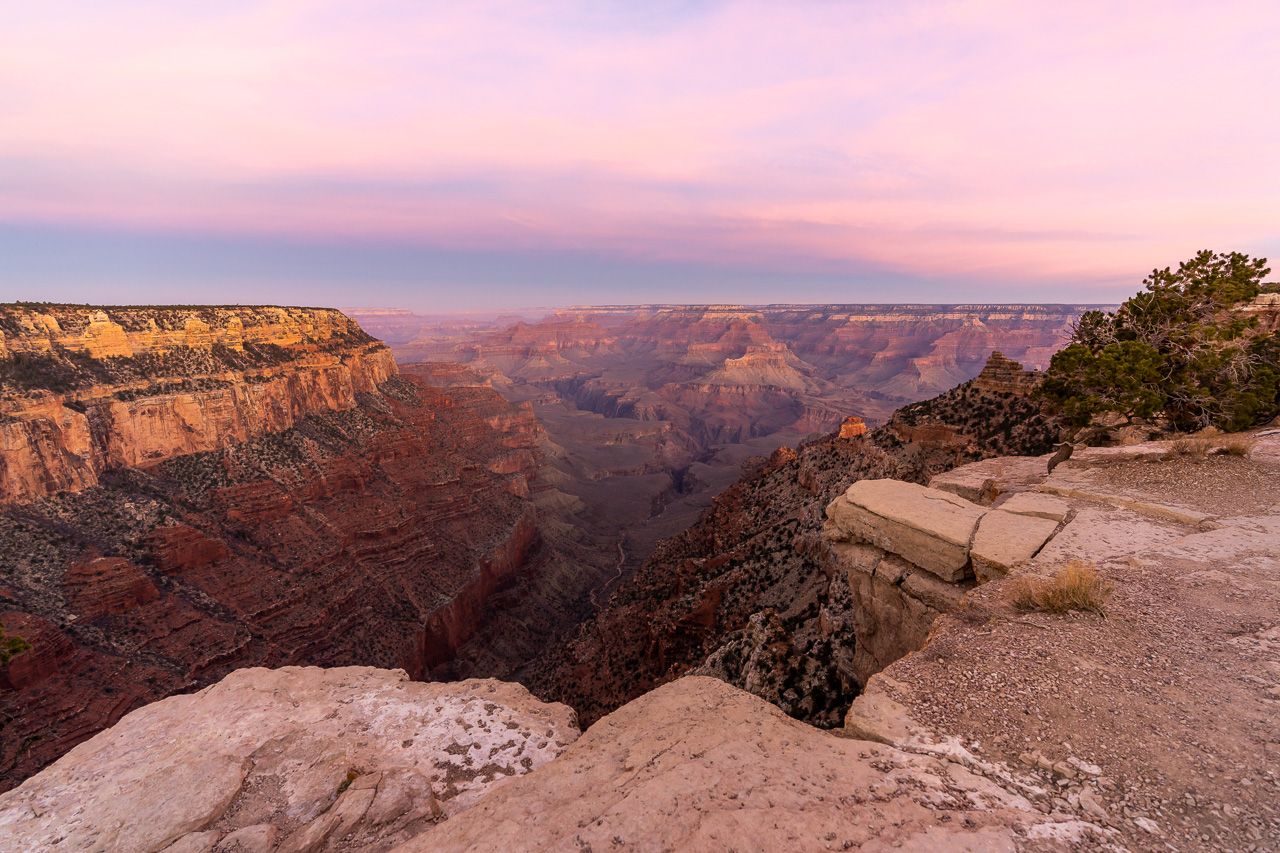 Grand Canyon National Park is one of the most photogenic landscapes in the world and in winter you have the chance to take home some truly unique images.
The first and most obvious is photographing the canyon covered in a blanket of thick white snow. But you don't want snow like we had, which was basically snow clouds completely filling our view of the canyon. You want snow on the ground without the clouds.
Remember, you will be at Grand Canyon during the shortest days of the year. That means you don't have to wake up too early to catch a sunrise or stay out too late to watch a sunset.
Our popular guide to the best sunrise and sunset photo spots at Grand Canyon is the perfect resource for knowing which place to be at the right time for photography.
Visibility, haziness, air quality, clouds, and natural colors of the clouds at sunrise and sunset all combine to create a landscape photographers adventure playground.
Grand Canyon Winter Photography Tips
If you do head out early for a sunrise, make sure you have plenty of heavy layers including fingerless gloves or mittens.
The rim alongside Mather Point is quieter and provides small shootouts you can access for clear foregrounds.
Hopi Point gets busy at sunset so arrive early to grab your favorite spot, even in winter.
Temperatures change very quickly once the sun comes up or goes away so prepare accordingly.
Don't get too close to the rim edges if there is a chance of ice.
Grand Canyon is one of the best places to visit in the USA for scenery. If you get one day with snow and another day without snow you have hit the photography jackpot.
7. What Do You Need To Pack For Grand Canyon In Winter?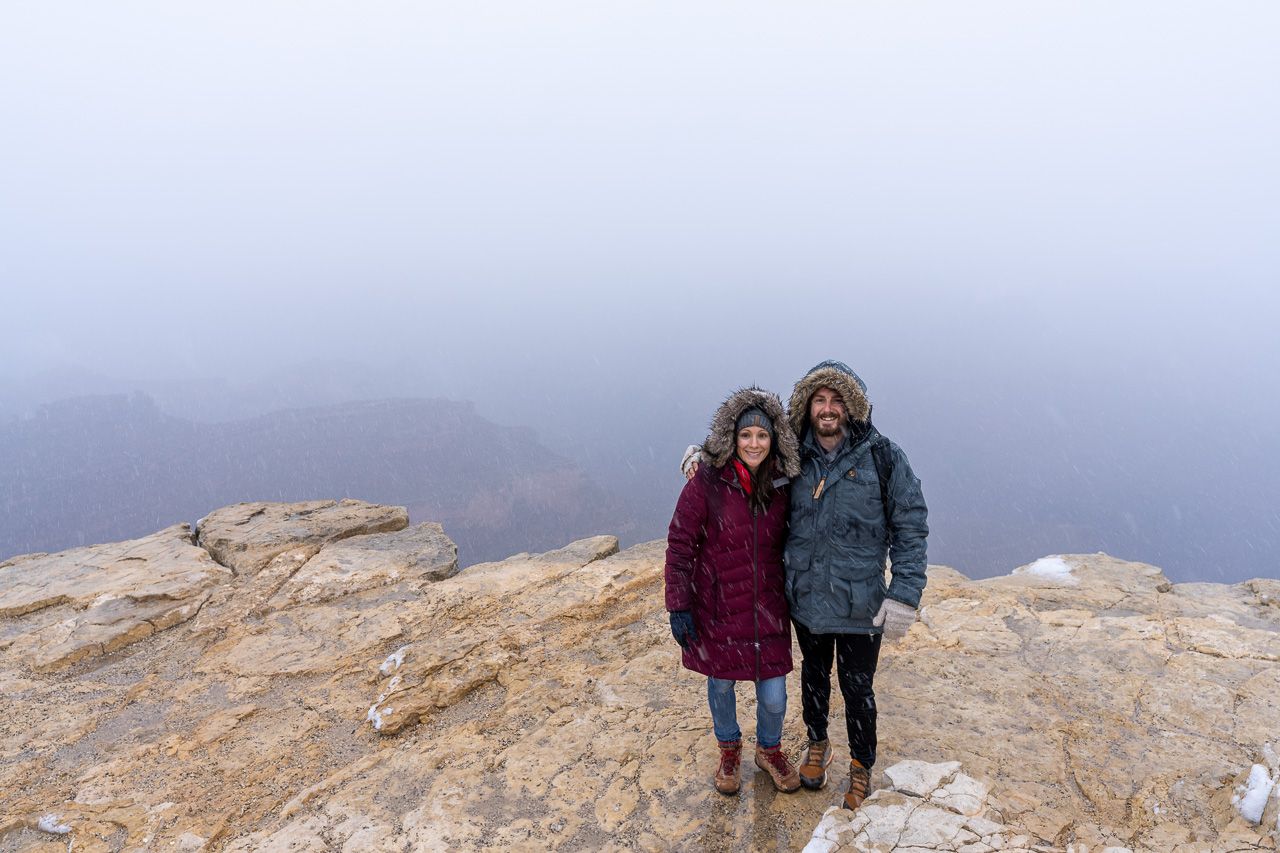 Packing for the Grand Canyon in winter can be challenging. You could pack all of your warm winter gear and it ends up being mild or you could take a risk by packing light and it ends up snowing the entire time you are at South Rim.
As you can see in the photo of us above, we have heavy coats, gloves and hiking boots on at the Grand Canyon in December because it is snowing and cold.
Yet, the day before we were hiking all day in shorts and light upper layers!
Our advice is to pack lots of layers including insulating under layers, light middle layers, thicker outer layers, rain and windproof coats, thick heavy coats and gloves.
You are going to need the warmer gear if you plan to watch sunrise or sunset.
If you want to hike you should take completely different outfits to account for mild weather or cold weather, including trail runners and hiking boots so you have options.
In essence, you should pack a lot of clothing options for every eventuality. We would rather be safe than sorry at the Grand Canyon in December, January or February.
8. Are Restaurants Open As Usual?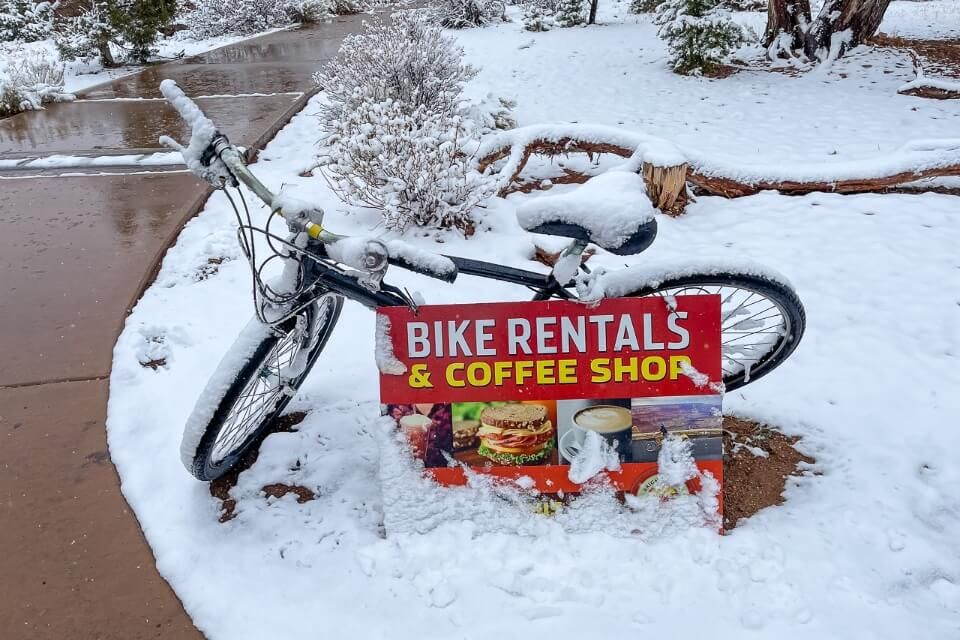 Eating out around Grand Canyon South Rim in winter is exactly the same as any other time of year. Everything is open and food is available at the lodges, restaurants and cafes.
This is just our opinion, but we have to say during both our visits to South Rim we have been disappointed by the selection of food options on offer.
Yes, it is a national park and they are usually expensive, but there aren't really any standout restaurants or eateries anywhere around the village or even in Tusayan.
Here are the best places to eat around South Rim:
Yavapai Lodge – Tavern with a bar for a quick pizza and a beer.
Market and Deli – Good if you have a kitchen or campsite but it is expensive.
Desert View Tower – Canteen style cafe for a light lunch.
Tusayan – A dozen options including typical fast food but none are rated very highly.
Williams or Flagstaff – Excellent food selections but are an hour away from South Rim.
With that said, the important thing is that all available food options will remain open for your Grand Canyon winter itinerary.
9. Is Grand Canyon North Rim Open In Winter?
You cannot visit Grand Canyon North Rim in winter because it is closed. In fact, North Rim is only open for 4.5 months of the year in 2023 from the beginning of June until the middle of October.
Did you know that roughly only 10% of all visitors to Grand Canyon National Park step foot on North Rim?
Let's say that 5 million people visit Grand Canyon in 2023. That means only 500,000 will make it to North Rim in the 4 and a half months it is open.
So far we haven't been able to make it to North Rim because it has been closed both times we have been in the area. However, we think it would be an incredible experience so we fully intend to visit the 8,000ft high North Rim at some point soon.
If you typically prioritize keeping clear of the crowds, you should head over to North Rim. Just don't do it in winter!
10. Are There Any Grand Canyon Christmas Activities For Kids?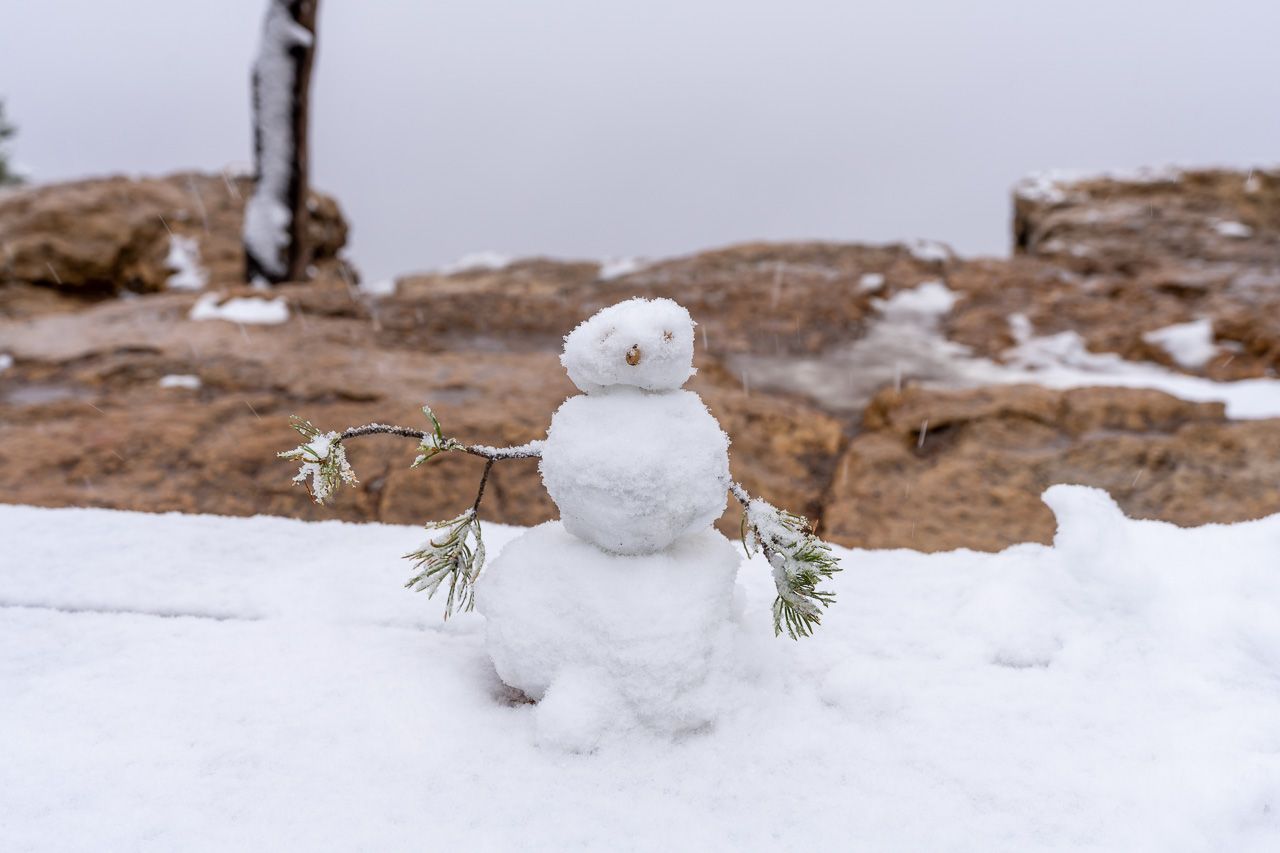 Are you visiting the Grand Canyon at Christmas with your family?
Do not miss the chance to ride the night time Polar Express from Williams to the North Pole (or Grand Canyon South Rim depot)!
The popular child friendly train ride leaves at 5.30pm and 7.30pm from Williams with a total trip time of approximately 90 minutes.
Tickets are fairly pricey beginning at $57 per adult and $38 per child (and that's if you book early) but it is family fun at its festive finest around the magical Grand Canyon South Rim.
Read more about the Polar Express train ride.
Our Popular Grand Canyon Guides
More Winter Destinations
Want more Arizona content? Head over to our Arizona Travel Guides to explore the best of Grand Canyon, Sedona and beyond.
---
We hope this guide helps with planning your visit to Grand Canyon National Park in winter!
Please let us know if you have any questions or need help planning your winter trip to Grand Canyon National Park!
Happy Travels,
Mark and Kristen
Find This Guide Helpful? Pin It For Your Visit!