Whether you are planning a visit to Arizona's most iconic iconic landscape in December, January or February, we're going to explain everything you need to know about visiting the mighty Grand Canyon National Park in Winter.
During our most recent December visit to Grand Canyon South Rim, we were fortunate enough to experience both a beautifully sunny and warm Winter day, followed in stark contrast by a blizzard-like snow day.
We day hiked in shorts and t-shirt to the Colorado River and back to South Rim, then built a mini-snowman at Yavapai Point the next morning. But changeable weather is just one aspect of a visit to Grand Canyon in Winter.
If you're not yet sure which season to plan your trip, read our month by month breakdown to the best time to visit Grand Canyon next.
Otherwise, let's break the ice and take a look at 10 things you need to know about a Winter visit to Grand Canyon National Park!
*Please note this post may contain affiliate links. If you click on one, we may earn a small commission at no extra cost to you. Thank you for supporting the free content we provide! Read more in our disclosure policy.*
1. Crowds – Grand Canyon Is Much Quieter In Winter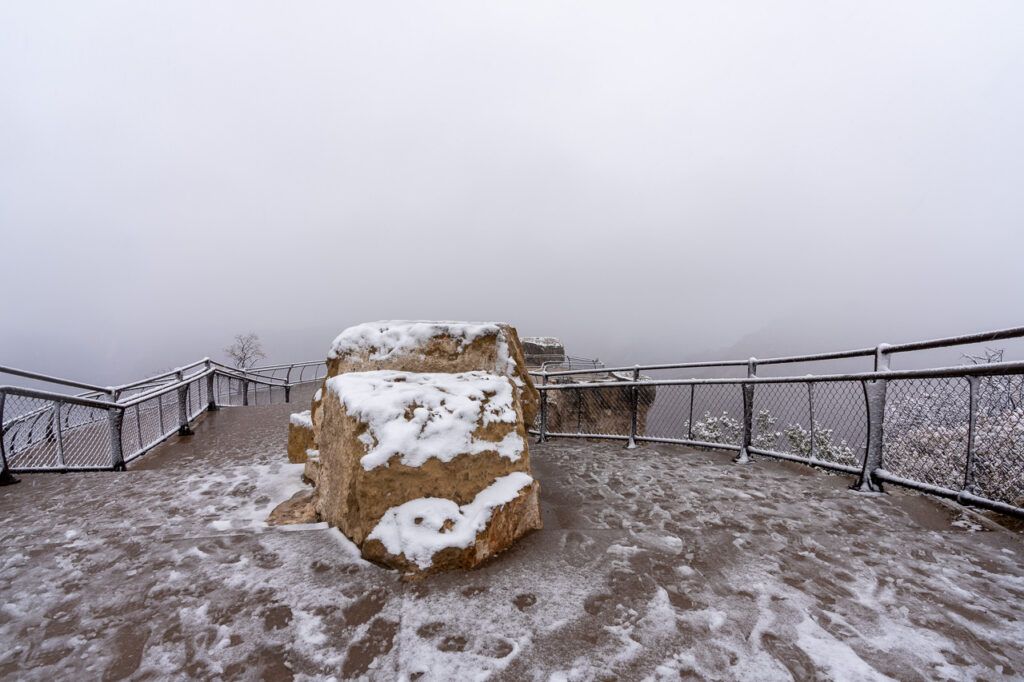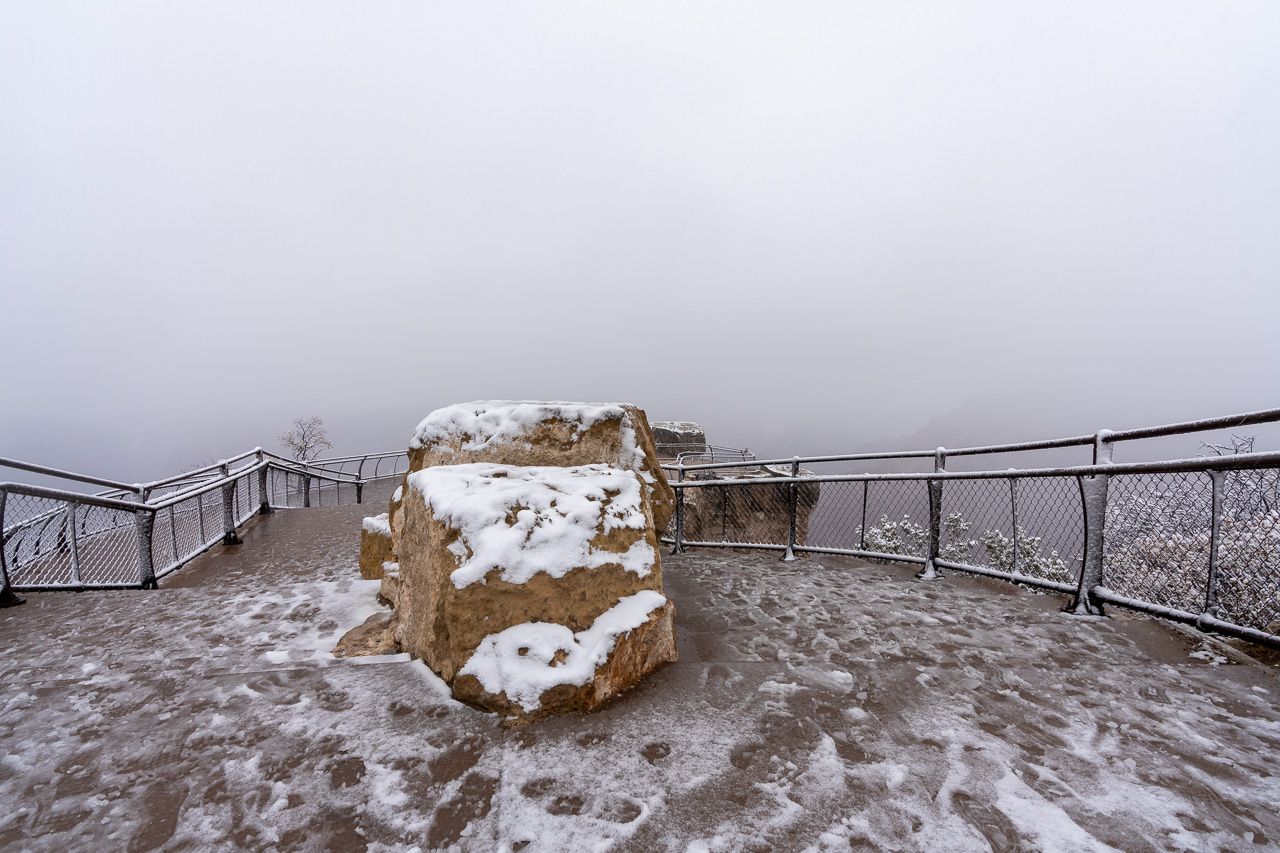 After years of traveling the world, we can safely say there are only a handful of landscapes that truly make your eyes widen and stop you in your tracks. Seeing the vastness of Grand Canyon for the first time is one of those moments.
The problem is that around 6 million other visitors both domestic and international want to experience that same wow moment each year. *Pre-covid statistics.
That's a huge number, but the good news is most tourists choose to visit between April and October. As a result, Grand Canyon is relatively quiet and crowd free during the harsher Winter months of December, January and February.
Grand Canyon is among the very best national parks in the USA and even the world. It pays to consider the time of year you visit if you want to avoid the crowds.
How Will Fewer Visitors Benefit You?
You won't have to deal with unbearably busy overlooks on South Rim.
Roads will not backup along Desert View Road.
Fewer visitors mean Hermit Road can be opened to cars.
You won't have to wait long to jump on a shuttle bus.
Hiking will be far more pleasant with fewer people on the trails.
Photography will be much easier with spaces available at popular sunrise and sunset locations.
Hotels will be more affordable and readily available at last minute.
We will go into greater detail about these aspects later in this guide. But just these reasons alone are justification for choosing Winter as the perfect time to visit Grand Canyon.
2. Weather – Expect Changeable Conditions At Grand Canyon During Winter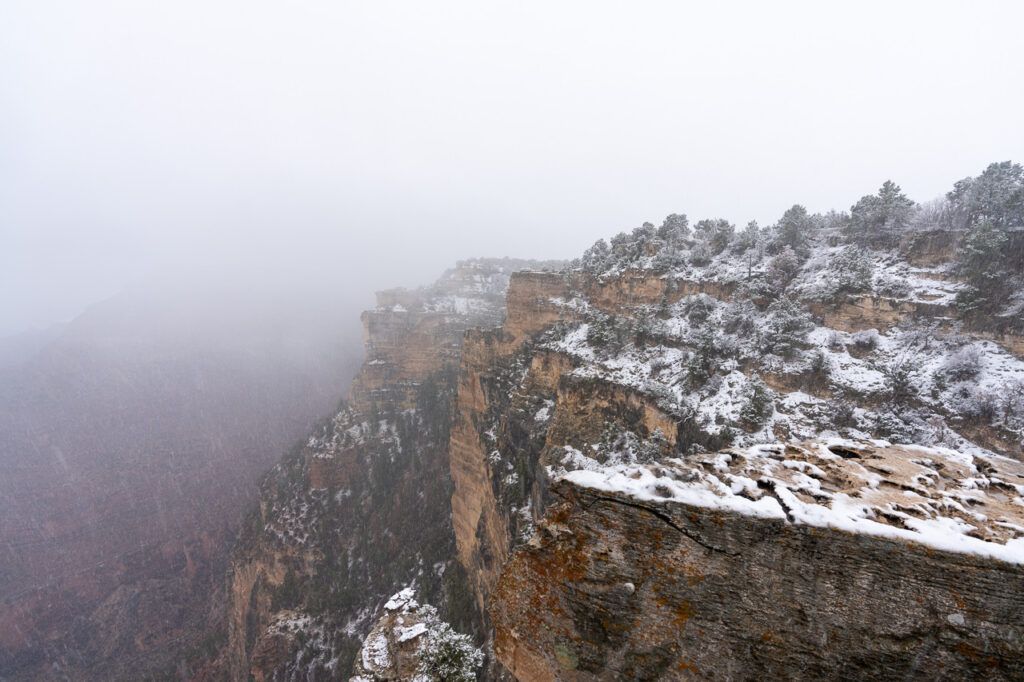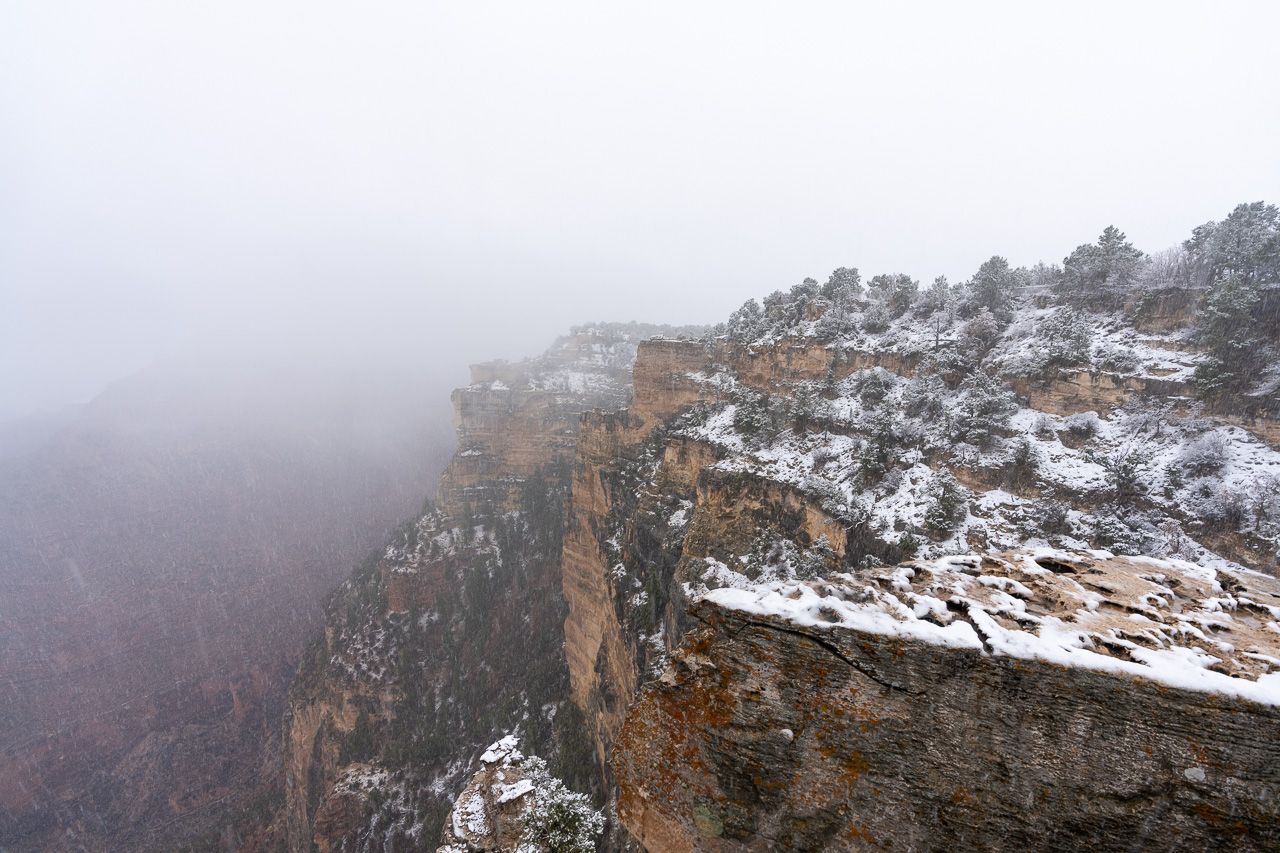 Weather is unpredictable and extremely changeable during the Winter season at Grand Canyon National Park. We think that is both a pro and con to visiting at this time of year.
The pro is having an opportunity to experience snowfall in one of the most magical landscapes in America.
The con is potentially losing a day or two from your itinerary due to snow, fog or extreme cold.
Here's the thing – you might have glorious weather or the canyon could be completely shrouded in fog throughout your visit. That is the chance you are taking with planning a trip at this time of year.
Please remember to be careful of ice if it does snow or go below freezing following rainfall. Not just hiking into the canyon but also walking around the overlooks, which in places do have significant drop offs.
Grand Canyon is among the best places to visit in Arizona but it is suffers from overcrowding, except in Winter. The unpredictable weather is a major part of the reason you get to see this amazing landscape in relative solitude.
The perfect time to see Grand Canyon in Winter would be right after a heavy snow pour but once the clouds, fog and haze have disappeared.
We'll cover how to pack for these constantly evolving weather conditions later.
Typical Conditions
You have to remember that the sheer expanse and dramatic changes in elevation in the canyon itself can influence weather conditions.
For example, it might be warm and dry at Phantom Ranch at the bottom of the canyon, but it could be several degrees colder and even raining or snowing at the Rim.
Snow falling on South Rim will melt before it reaches Phantom Ranch over 4,500 ft below.
South Rim sees around 58 inches of snowfall each Winter, but only 1 inch of snow is measured each Winter season at Phantom Ranch at the very bottom of the canyon.
North Rim records a much higher average of 140-150 inches each Winter, but it is closed to tourism.
Average Grand Canyon South Rim temperatures remain extremely consistent throughout Winter.
Average highs tend to be around 40 to 45f (5 to 7 C).
Average lows come in at a chilly 18 to 21f (-6 to -8 C).
However, you can expect milder temperatures if you venture down into the canyon.
Read more about weather and climate at Grand Canyon.
Our Grand Canyon Weather Example
Our December visit to Grand Canyon South Rim was the second time we had seen the spectacular canyon but this time we were back to day hike the monster 19 miler down South Kaibab Trail to Phantom Ranch and back up Bright Angel Trail.
The day we hiked was perfect. Cold and crisp in the morning but clear, bright and sunny as the day progressed. Had we been one day later, we would not have wanted to hike as it was very cold and snow clouds completely filled the upper canyon.
Always keep an eye on weather conditions and check the NPS live webcams on days of visitation.
3. Roads – All Open Including Hermit Road Vehicle Access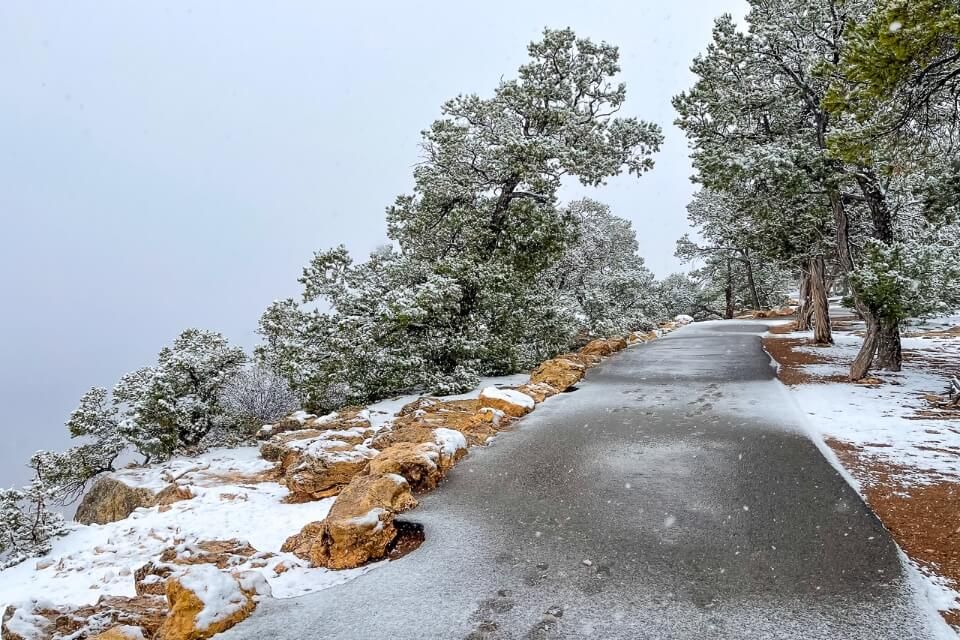 Many of the most popular US National Parks have significant road closures during the Winter season. However, both major roads in and out of Grand Canyon typically remain open.
This means you can plan your bucket list USA road trips including Grand Canyon year round.
Here are the entrances:
The main entrance into Grand Canyon is from Williams, Flagstaff or Phoenix to the South.
A second entrance can be found to the East along Desert View Drive, which is commonly used for further travel toward Page for Antelope Canyon and Horseshoe Bend or Moab for Arches and Canyonlands.
Our advice is to keep a very close eye on live road conditions inside the park. Any major road closures will appear at the top of the page.
All of the major airports near Grand Canyon will remain open throughout Winter outside of exceptional circumstances. It is unlikely you'll have any problems with flights or rental cars.
Hermit Road
In order to access the western portion of Grand Canyon National Park you will need to travel along Hermit Road.
Some of Grand Canyon's best sunset locations are located along Hermit Road, including the most popular spot at Hopi Point.
Even if you're not interested in sunsets, Hermit Road is where you will find many of the most stunning Grand Canyon views, which means is a must at any time of day during your visit to the park.
Access to Hermit Road is strictly via shuttle bus during the months of March through November.
In Winter – during the months of only December, January and February – you can drive your own private vehicle along Hermit Road.
This is one of the biggest perks to a Winter visit at Grand Canyon. Despite the shuttle bus service being frequent and well organized, there's nothing like being able to drive your own car to and from a sunset.
Desert View Drive
There are more extremely popular overlooks located on Desert View Drive heading East as far as Desert View Watchtower. But you can drive to these points year round.
During the Winter season, you can expect parking areas at each overlook to be relatively crowd free and photography opportunities easier to come by.
Need help organizing your visit to Grand Canyon South Rim?

Our popular 30+ page Grand Canyon South Rim Guidebook can help you with planning every aspect of your trip.
4. Lodging – Grand Canyon Hotels Are Affordable And Available In Winter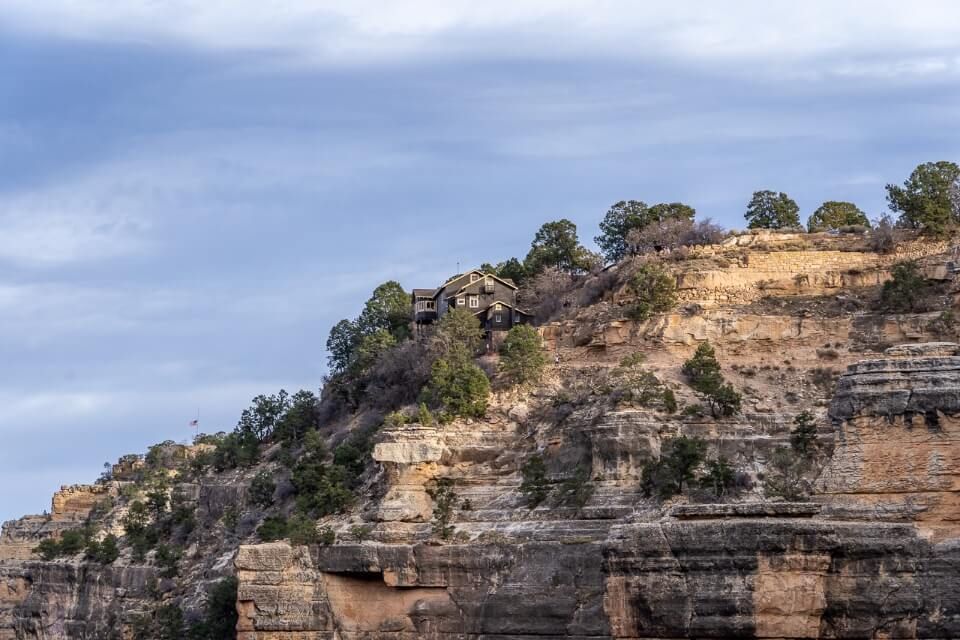 Have you visited any of the most popular US National Parks in peak season?
Booking hotels for those bucket list parks like Yellowstone and Yosemite can be a real problem due to more demand than supply, inflated prices and small to medium sized travel businesses block booking some lodging options.
Well, it's the same at Grand Canyon if you visit in peak season. Hotels on the Rim fill up months in advance and room prices can be eye watering.
So what does everyone do? They rush to book hotels in Tusayan, Williams and Flagstaff.
But if you visit in Winter, you are giving yourself the very best shot at picking up excellent value hotel rooms both on South Rim and in nearby towns.
Booking a last minute getaway will be also be more feasible in the Winter months as demand is considerably lower than in peak seasons.
Lodging Options On South Rim
There are 6 official Grand Canyon lodging options on the South Rim:
El Tovar
Bright Angel Lodge & Cabins
Kachina Lodge
Thunderbird Lodge
Maswik Lodge
Phantom Ranch
You can book rooms at any of the Rim hotel options through Grand Canyon Lodges.
Lodging Options In Towns Near South Rim
Many visitors (including us) prefer to book hotels in towns nearby for more varied amenities and more affordable prices.
You might want to read our comprehensive guide to the best places to stay in and near Grand Canyon South Rim to help with finding the perfect room for your visit.
Tusayan is the closest place with hotels to the Rim. We stayed at Best Western and the hotel was great. The problem with Tusayan is eating out can be a challenge with limited quality restaurant options.
Flagstaff is the largest town near Grand Canyon with a larger selection of hotels. It provides the perfect base if you are exploring both Grand Canyon and Sedona in the same trip.
Here are the top rated hotels by previous guests in each of the towns within driving distance of South Rim:
Tusayan (closest to South Rim)
Williams on Route 66
Want to stay in Williams? Take a closer look at the 10 best Williams AZ hotels on our sister site Best Hotels Anywhere to see if a hotel here better fits your itinerary.
Flagstaff (largest town close to South Rim)
5. Hiking – Winter Can Be The Perfect Time To Hike Into Grand Canyon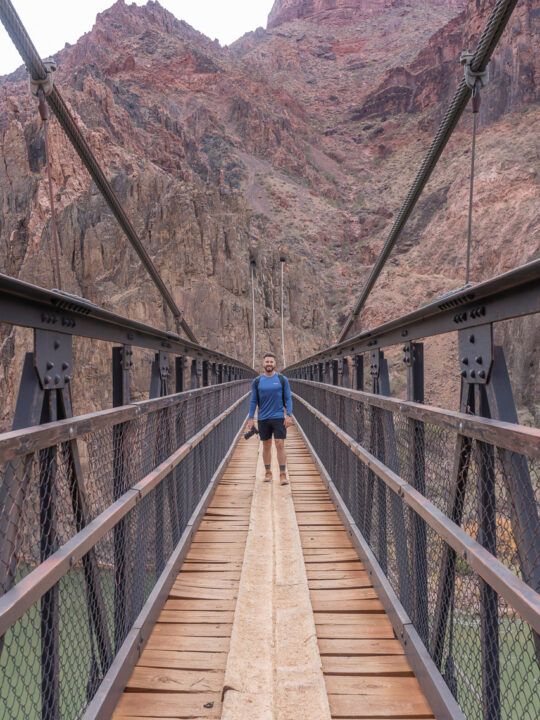 Are you planning to hike down into the Grand Canyon during your visit in Winter?
If the answer is yes, we have our fingers crossed you will get the right weather conditions!
The primary reason for our second visit in December was to hike down South Kaibab Trail to Bright Angel Trail via Phantom Ranch and the Colorado River in one amazing day. This is easily one of the best hikes in the US.
We were very lucky with the weather. After a bitterly cold start and a perfectly pink sunrise, the sun came out and warmed us up as the temperature naturally increased the further we descended.
There was no ice on either trail and we ended up taking all of our mid / outer layers off during the hike. However, the hiking roulette you play during a Winter visit is that conditions could be the complete opposite.
Very few people were day hiking to the river and out during our hike but we did meet a couple who said they hiked down the day before our hike and stayed at Phantom Ranch, and their hike down was pretty treacherous with ice.
Therefore the best way to approach hiking into the Grand Canyon in Winter is understanding that it's all about timing and luck.
Bear in mind North Rim facilities and roads are closed in Winter. So please don't attempt the rim to rim hike!
Tips For Safe Hiking
If you are only planning to hike a short distance down South Kaibab Trail or Bright Angel Trail, leave it until late morning when the temperature has more chance being above freezing.
But you will need a very early start if you day trip to the river and back.
Watch for ice at all times, especially in the shadows.
Don't hike at all if the weather is too dangerous.
Take enough water and food if you plan to hike the river and out in a day.
Take plenty of layers for the hike, knowing that changes can be frequent and considerable.
6. Photography – Unique Photo Ops Around The Stunning Landscape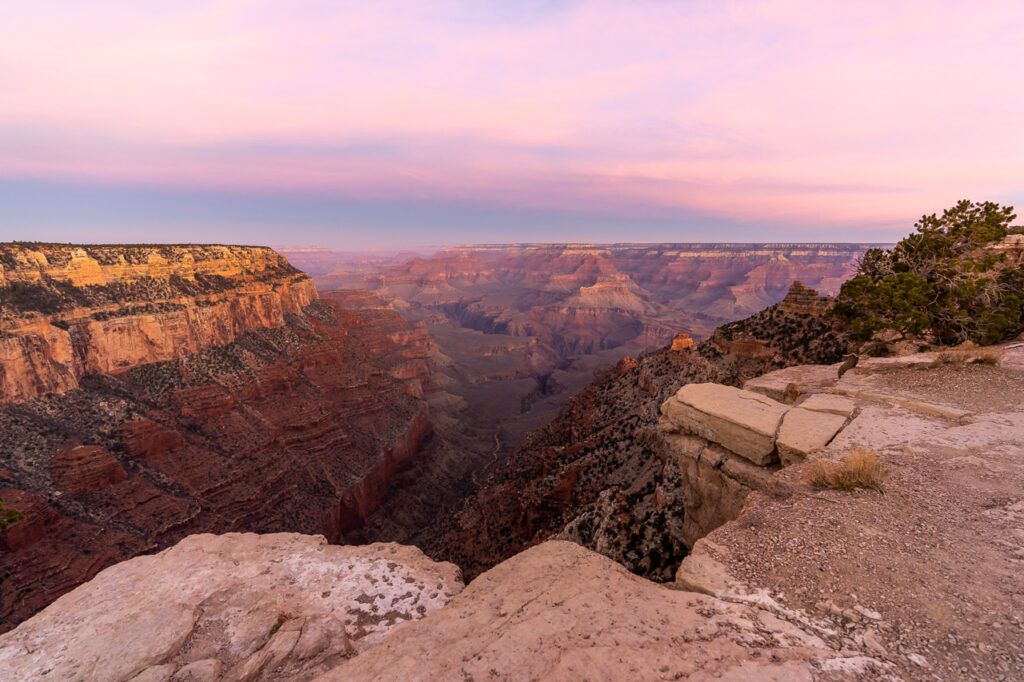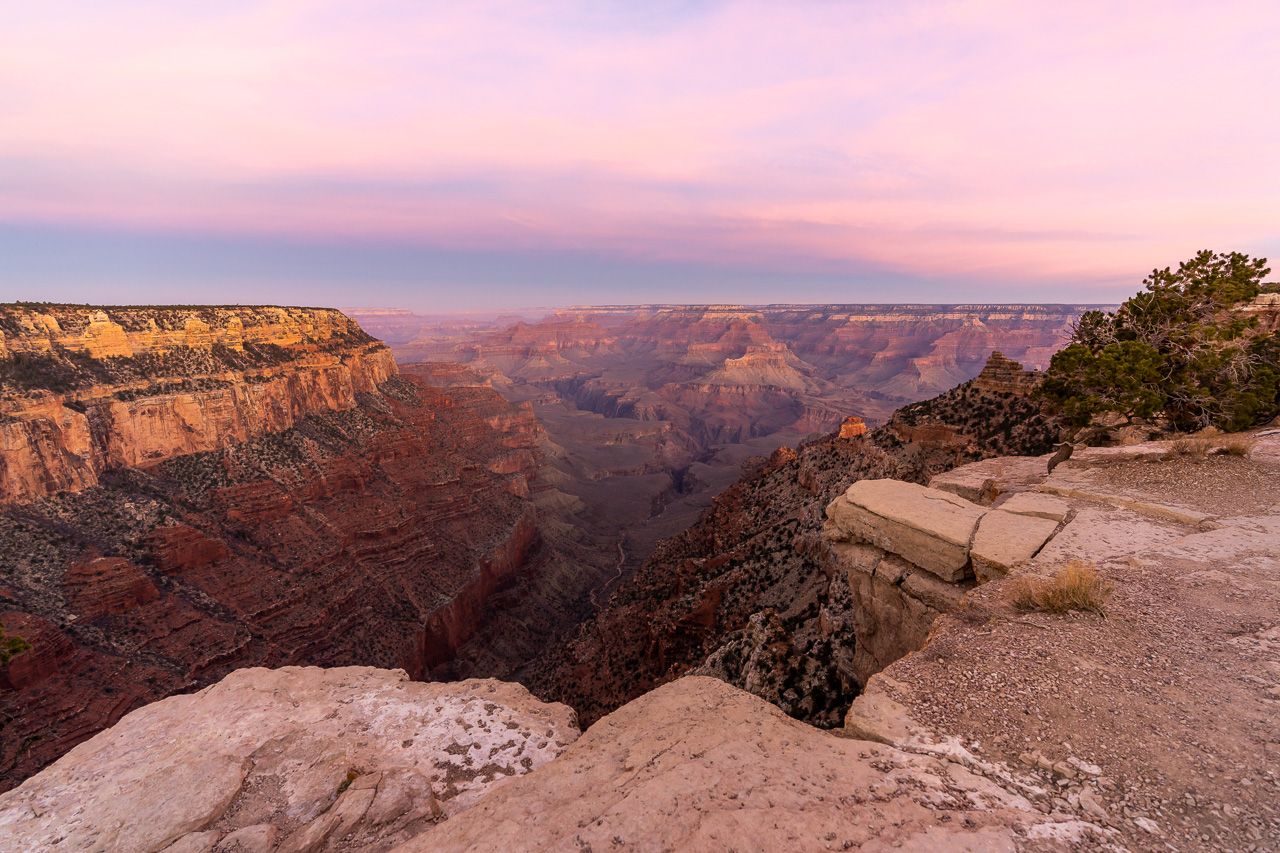 Grand Canyon National Park is one of the most photogenic landscapes in the world and in Winter you have the chance to shoot some unique images here.
1 – The first and most obvious is photographing the canyon covered in a blanket of thick white snow. But you don't want snow like we had, which was basically snow clouds completely filling our view of the canyon. You want snow on the ground but without the clouds.
2 – You will be at Grand Canyon during the shortest days of the year. That means you don't have to wake up too early to catch a sunrise, or stay out too late to watch a sunset.
Our popular guide to the best sunrise and sunset locations at Grand Canyon is the perfect resource for knowing which place to be at the right time for photography.
3 – Visibility, haziness, air quality and natural colors of the sky at sunrise and sunset all combine to create a beautiful pink ambient color around the landscape.
Grand Canyon Winter Photography Tips
If you do head out early to shoot a sunrise, make sure you have plenty of layers including fingerless gloves / mittens.
The rim alongside Mather Point is quieter and provides small shootouts you can access for clear foregrounds.
Hopi Point gets busy at sunset so arrive early to grab your favorite spot.
Temperatures change very quickly once the sun comes up / goes away so prepare accordingly.
Don't get too close to the edges if there is a chance of ice.
Grand Canyon is one of the best places to visit in the USA for photography in Winter. If you can get one day with snow and another day without you've hit the jackpot.
7. Packing – You Need Clothes For Every Season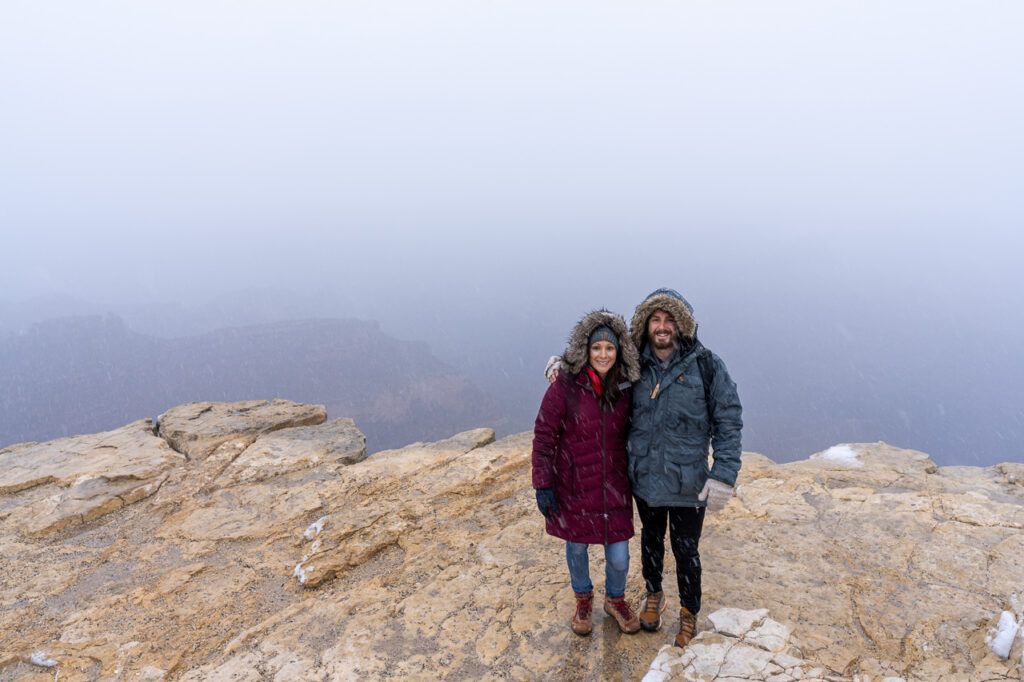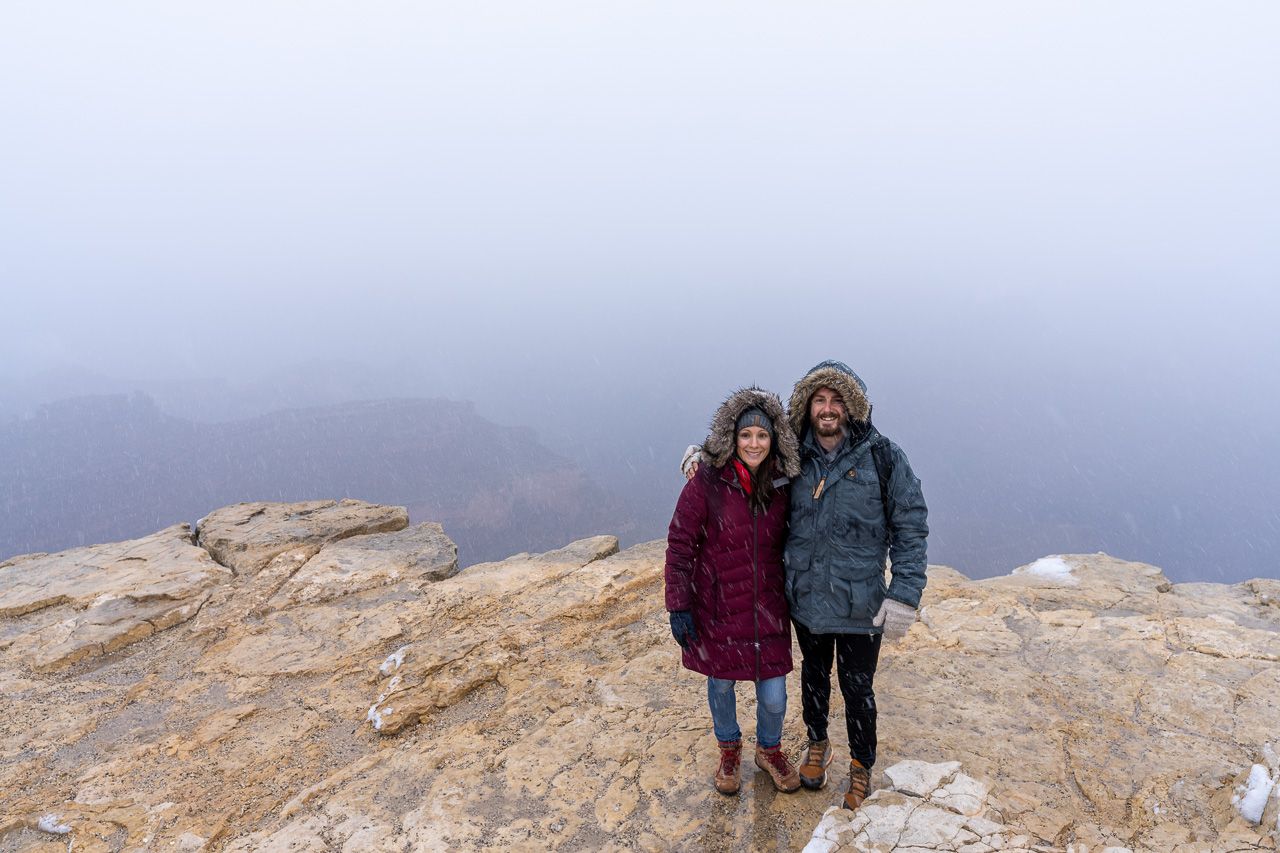 Yes you are visiting Arizona, but as you can see from the images of us in fur coats enduring heavy snow – it can get really cold here in Winter!
The problem with packing for this vacation is that you could pack all of your warm Winter gear and it could end up being mild. Or vice versa you take a risk by packing minimalist and it ends up snowing the entire time you are on the South Rim.
So what does that mean?
It means you need to pack for pretty much every season and you probably won't end up wearing it all. But it's better to be safe than sorry.
We packed hiking gear as though we were hiking in normal temperatures, then packed middle and outer layers to wear over in case of cold or rainy weather.
After that it was all about making sure we had huge warm Winter coats, gloves, hats, thick sweaters and pants. We also wore our bulky hiking boots to hike the canyon and walk in the snow.
Double pants and double socks are a great way to keep your lower half warm when walking South Rim in Winter.
8. Food – Everything Open As Usual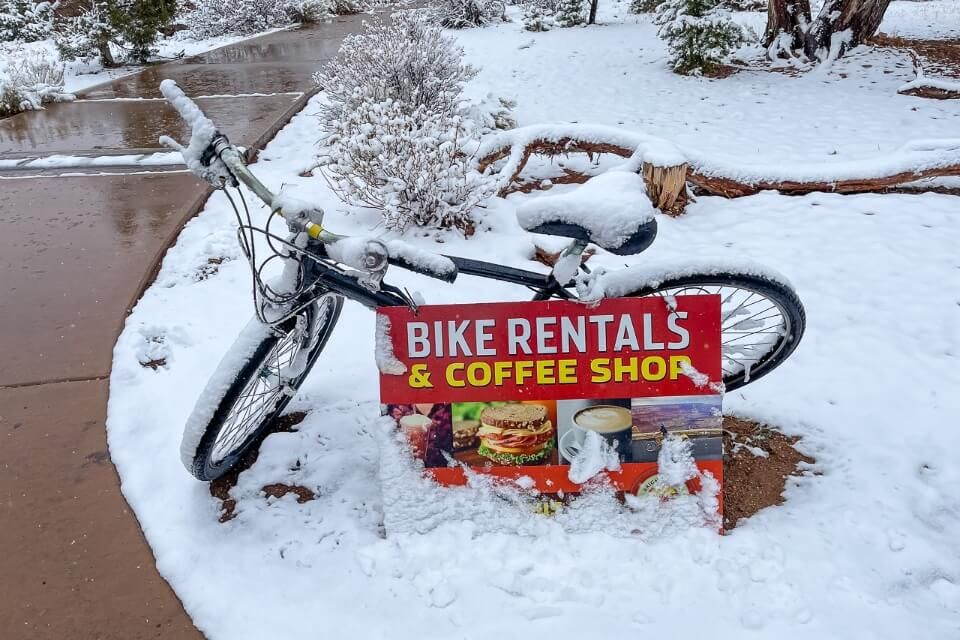 Foodies, we have good news and not so good news.
First the good – All the usual eateries people have access to in peak seasons remain open during the Winter season.
And the not so good – There aren't a whole lot of quality places to eat in and around South Rim.
If you are only visiting the park for a day or two, this won't be much of an issue. But if you do plan to stay for 3 or 4 days, you will likely run into problems with finding good food.
We don't like to be negative, but we have struggled with food on both occasions at Grand Canyon South Rim. Here are some of your choices:
Yavapai Lodge has a tavern with a bar for a quick pizza and a pint.
Desert View Tower has a canteen style cafe for a light lunch.
Tusayan has a dozen or so options including the usual fast food but none are rated very highly.
Williams and Flagstaff have excellent food selections but are an hour away.
The market and deli near Yavapai Lodge works if you have a kitchen or campsite but it is expensive.
With that said, no matter the quality, the important news is that everything remains open during Winter and you won't be limited further.
Plus, none of this is new to you if you are a regular national park visitor.
9. North Rim – Grand Canyon North Rim Roads and Facilities Close In Winter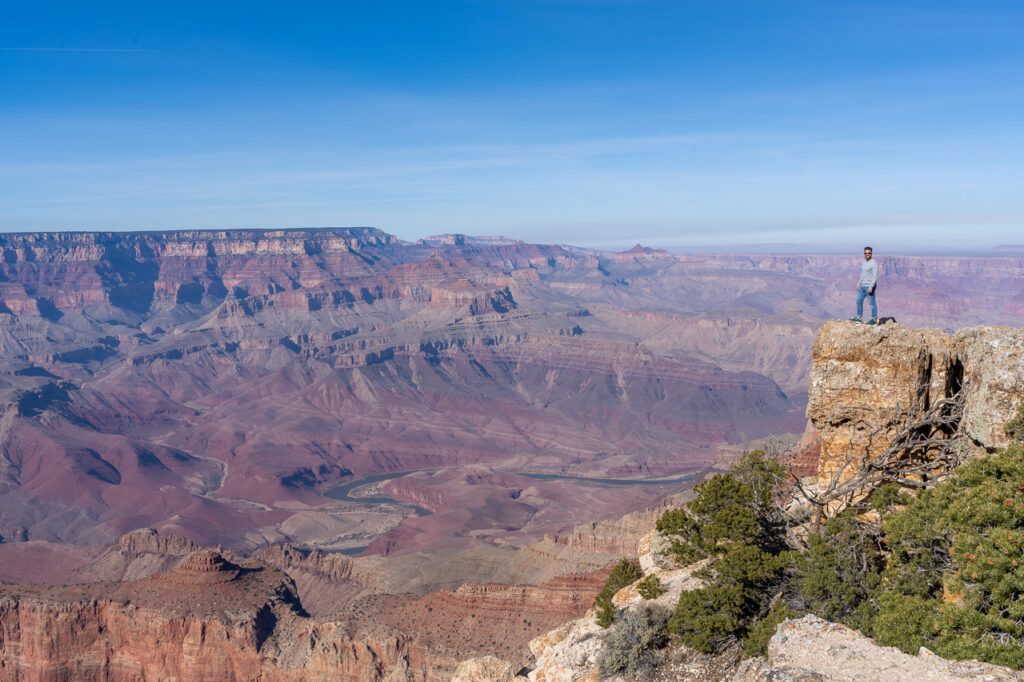 Did you know that roughly only 10% of all visitors to Grand Canyon National Park step foot on North Rim?
We ourselves haven't yet been but fully intend to in the near future. If you're really looking to get away from the crowds, head over to North Rim – but don't do it in Winter.
Roads in and out of North Rim are only open between May and October each year. All facilities and campgrounds close in October and don't reopen until late Spring.
So if you were hoping to hike Rim to Rim on a cool Winter's day, we're afraid it's going to have to wait until next year.
10. One For The Kids – Grand Canyon's Very Own Polar Express Train Ride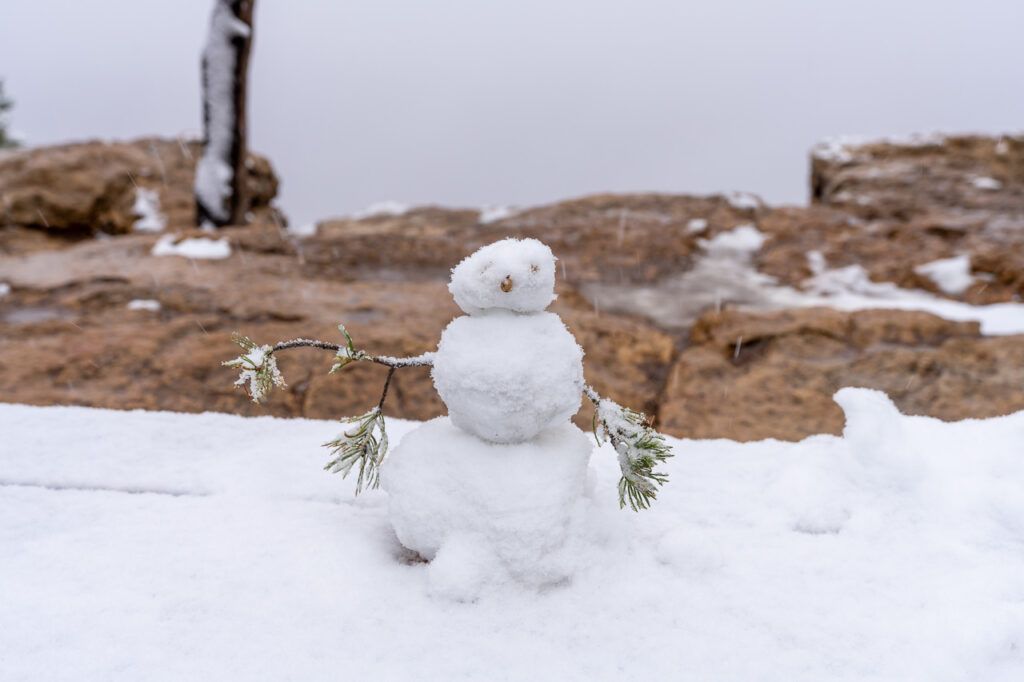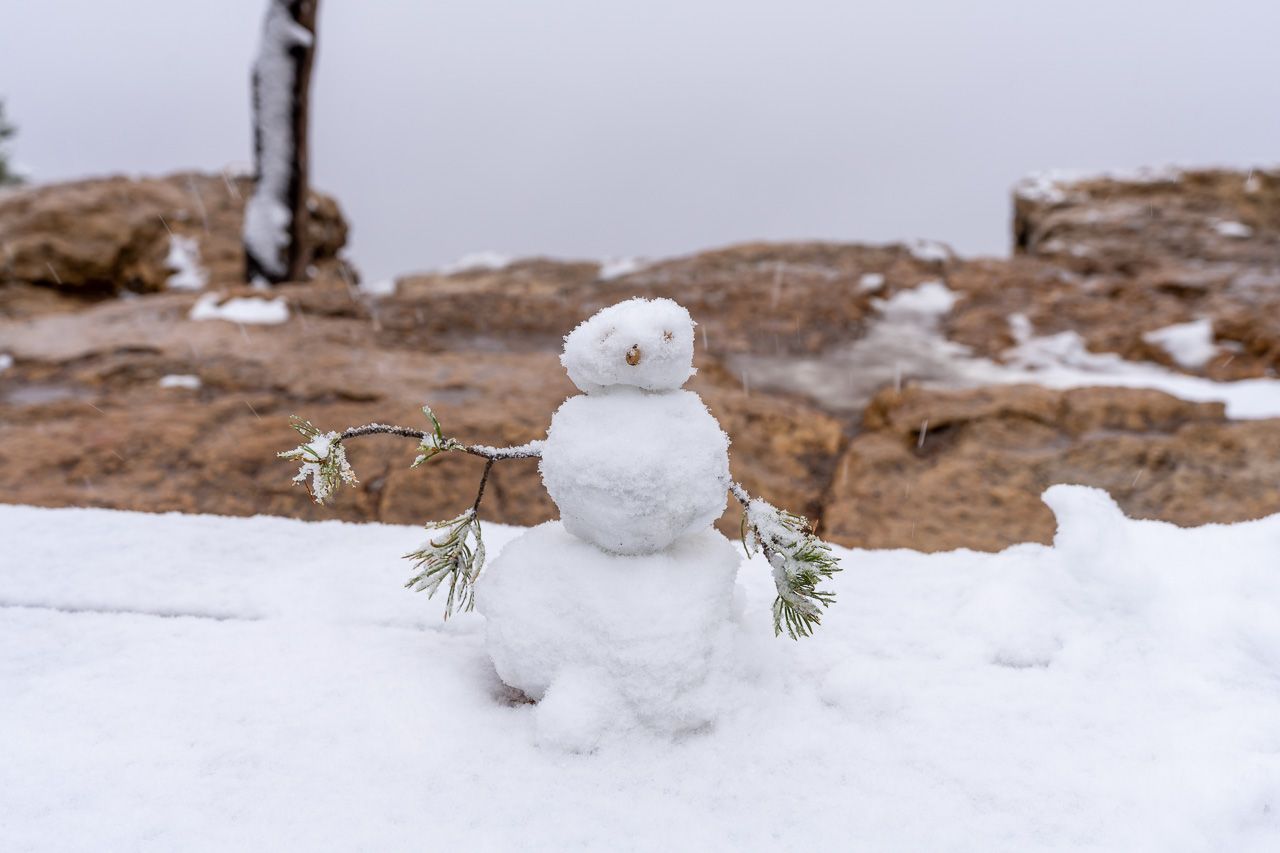 Rounding off our list of important things to know about Grand Canyon National Park in Winter is one for the parents. Do not miss the chance to ride the night time Polar Express from Williams to the North Pole (or Grand Canyon South Rim depot).
The train ride leaves at 5.30pm and 7.30pm from Williams with a total trip time of approximately 90 minutes. Read more about the Polar Express train ride.
Tickets are fairly pricey beginning at $57 adult and $38 child (and that's if you book early) but it's family fun at its festive finest around the magical Grand Canyon South Rim.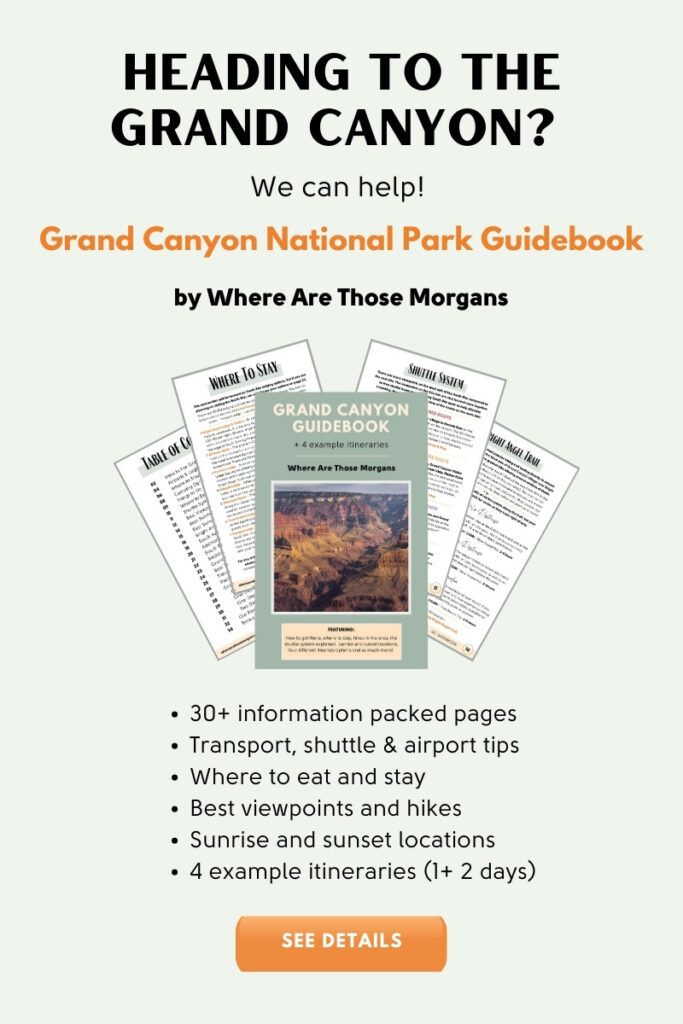 Need Help Planning A Trip To Grand Canyon South Rim?
Grand Canyon is one of the most visited National Parks in the US and it's a stunning landscape that will genuinely blow you away.
But we also know how important it is to get your trip off to the best possible start by planning in advance.
We have been lucky enough to visit Grand Canyon South Rim twice, at different times of year and with different goals:
First to sightsee, shoot sunrises and sunsets and see the canyon from every single viewpoint on the Rim.
Second to day hike Rim to River, South Kaibab to Phantom Ranch to Bright Angel in one day.
If you are planning a trip to Grand Canyon South Rim and want to know:
Where to stay and eat
How to get there and use the shuttles
The best hikes in the area
Which overlooks to visit
Where to watch sunrise and sunset
Our 30+ page Grand Canyon South Rim Guidebook with 4 example itineraries will tell you all this information plus more so you can plan the perfect trip to Grand Canyon South Rim National Park.
Our Popular Grand Canyon Guides
More Arizona Hiking Guides
Want more Arizona content? Head over to our Arizona Travel Guides to explore the best of Grand Canyon, Sedona and beyond.
---
We hope this guide helps you plan your visit to Grand Canyon National Park in Winter!
Please let us know if you have any questions or need help planning your winter trip to Grand Canyon National Park!
Happy Travels,
Mark and Kristen
Enjoy This Winter Grand Canyon Guide? Pin It For Your Visit!