Are you thinking about visiting Sedona in December? We spent a truly unforgettable week in Sedona just before Christmas in December of 2021 and we're going to answer 10 important questions you might have before your Winter visit to northern Arizona, including key things to know about weather, costs and crowds.
Is December a good month to visit Sedona, AZ?
December is one of the cheapest and quietest months of the year to visit Sedona, but you will have to compromise with cold mornings and evenings. All things considered, we think Winter is the best season of the year to plan a trip to Sedona and we're going to show you exactly why.
In this guide, we will show you:
10 key things to know about visiting Sedona in December
In depth information about temperatures, prices and tourist numbers
Winter impacts on hiking, Jeep trails and photography

What you can expect with Christmas lights and decorations

in Sedona
Let's get right into the 10 most important things you should know about visiting Sedona Arizona in December!
*Please note this post may contain affiliate links. If you click on one, we may earn a small commission at no extra cost to you. Thank you for supporting the free content we provide! Read more in our disclosure policy.*
1. Is Sedona Busy In December?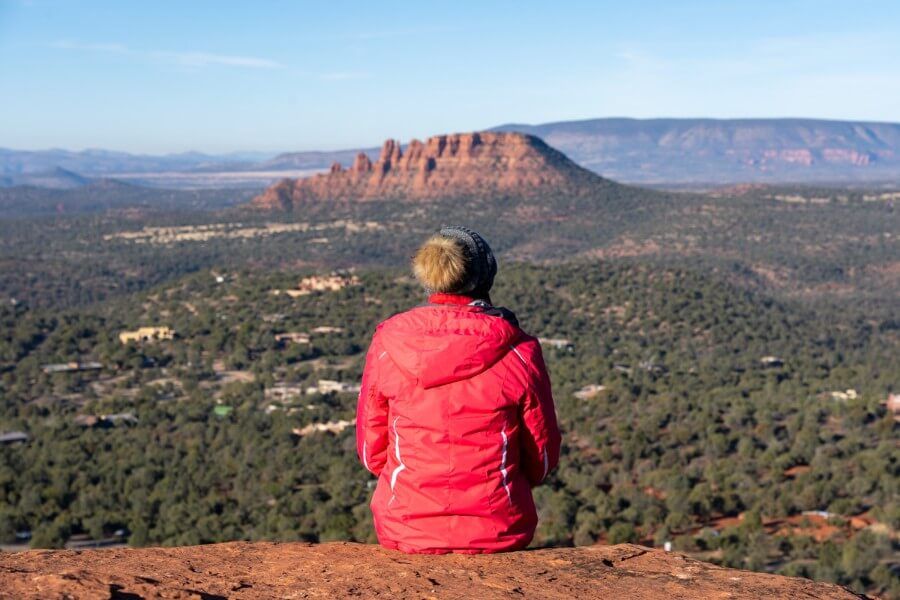 Overcrowding is almost always one of the major problems with popular tourist spots and Sedona is one of the very best places to visit in the USA.
Most touristy vacation spots have a peak season, a low season and shoulder seasons in between. However, "low" season doesn't exist in Sedona, not anymore.
The Winter months of December, January and February attract fewer people to Sedona but we can tell you from experience it isn't as quiet as you might hope. In fact, Sedona was far busier than nearby Grand Canyon South Rim in Winter, which stunned us.
We shared sunrise hikes in Sedona with more people than anywhere else in the US, and this was on weekdays in mid December. Popular trailheads are always busy, cars are always parked on roadsides and downtown Sedona was a constant hive of activity.
How Many People Visit Sedona?
An estimated 3 million tourists visited Sedona annually before the COVID pandemic. But following international travel restrictions during 2020 that number increased by over 5% to 3.4 million.
According to the Sedona Chamber of Commerce, tourism is a $1 billion industry in Sedona and accounts for over $240 million in wages.
What does that mean for you?
Well, it means that despite the small city in northern Arizona getting busier, you can rest assured you are visiting Sedona when it as quiet as it ever gets during the Winter season.
Here's how that benefits you:
More availability and better prices on hotels.

Restaurants won't always be full or requiring reservations.
Jeep and ATV rentals may have discounted daily rates.
Hiking trails will be as quiet as they will be all year.
Parking lots will be the most accessible of the entire year.
You should consider getting off the beaten path when possible.
2. What Is Sedona Weather Like In December?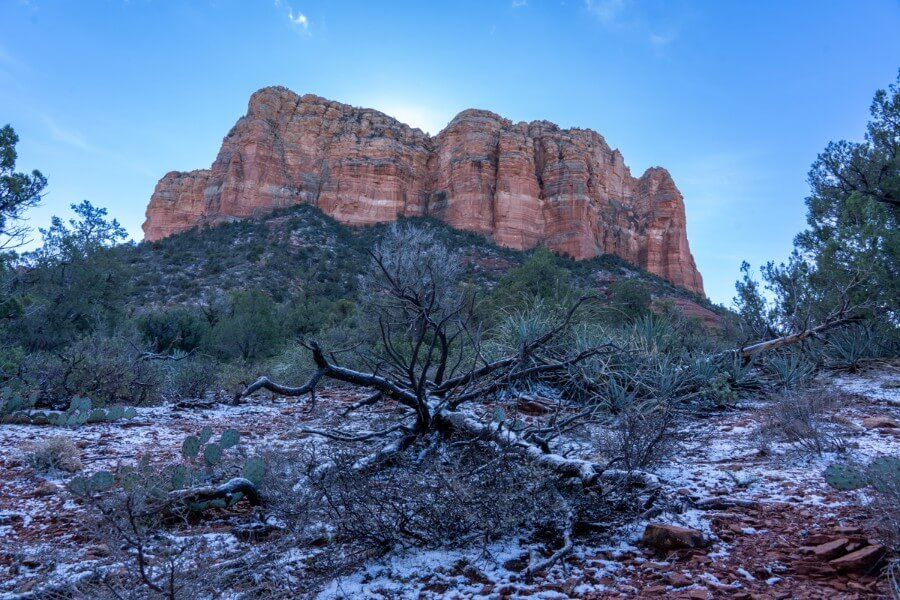 December brings a mixed bag of weather to Sedona and you need to be prepared for all eventualities. Typically, the mornings, evenings and nights will be cold but the days will be comfortable. So you'll need to pack plenty of layers, including a heavy Winter coat.
But it's not all doom and gloom in Winter. It is this variable weather that allows you to create the best Sedona itineraries because the town is quieter when compared to Spring and Fall.
Just 2.2 inches of rainfall across approximately 4.4 days is expected in Sedona during December. If you're lucky, you might get to see Sedona white over with snow. But snow is rare and almost impossible to plan for, unless you book last minute based on a current weather report.
What is the temperature in Sedona in December?
December is technically classed as the coldest month of the year in Sedona, which puts it at the top of the most chart for most uncomfortable time to visit based on temperature. However, we would argue that those temperatures are mostly overnight and the days are perfect for hiking.
Here are some of the most important weather and climate statistics for Sedona in December:
High Temperature – 52 F
Low Temperature – 31.9 F
Freezing Days – 15.4 days
Rainfall – 2.2 inches
Rainy Days – 4.4 days
Snowfall – 1.1 inches
Snowy Days – 0.4 days
You can see how the lows are cold but chances are slim you will be taking on night hikes in Sedona. Daytime temperatures of 52 F on average are surprisingly nice, especially when hiking.
We actually spent most days in shorts and t-shirts, with heavy warm layers for morning and evening.
Sedona is one of the best places to visit in Arizona but it is much quieter in December because of the less desirable Winter weather.
Does it snow in Sedona in December?
Yes it does snow in Sedona in December, but expected snowfall for the month is just 1.1 inches, which is significantly less than January, February, March and even April.
That means December is not the best time to visit Sedona if you want to photograph the red rock landscape covered in a blanket of white snow. You would be better off waiting for the later Winter months and early Spring to see snow falling in Sedona.
Let's take a look at a monthly breakdown.
Average monthly snowfall in Sedona:
December – 1.1 inches
January – 2.1 inches
February – 2.7 inches
March – 2.7 inches
April – 1.8 inches
Remember, these numbers are just averages. It doesn't mean you won't strike it lucky in December!
Source for all weather statistics: Best Places
3. Are Sedona Hotels Available And Affordable In December?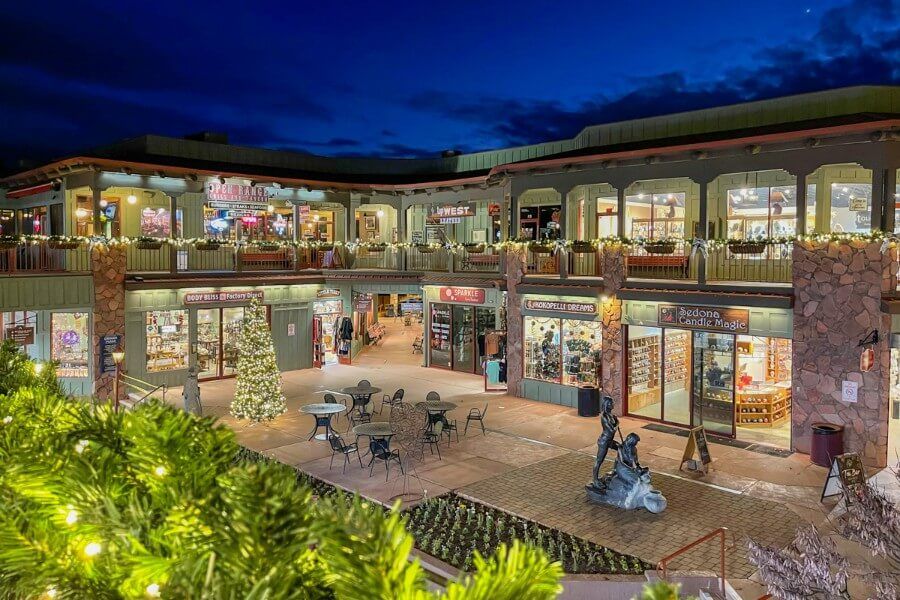 Hotels in Sedona charge a small fortune for accommodation no matter when you visit, as we found out for ourselves during our visit to northern Arizona in December. It's just the nature of the tourist beast that is Sedona!
However, we have since looked at prices of hotels in Spring, Summer and Fall, which led to the conclusion that hotel prices in Summer and Winter are cheaper when compared with Spring and Fall. Sometimes by a few hundred dollars, so there are some real savings to be had in Winter.
The other bonus to visiting Sedona in December is hotel room availability being much higher. So even if the price isn't as low as you might expect, at least you stand a better chance of actually getting a room if you book last minute.
Where To Stay In Sedona
We very highly recommend shopping around and pricing several places up to see what best suits your needs and budget.
Consider the location of hotels within Sedona. Are they close to restaurants? Do you have easy access to the popular hiking trails?
The good news is Sedona is very small and it doesn't take long to access any of the major tourist sites. Here are a few of the top rated places you can stay in Sedona to get you started:
Read: Our popular guide on exactly where to stay in Sedona will help you find the perfect hotel in the best area and for your budget.
4. What Are Sedona's Hiking Trails Like In Winter?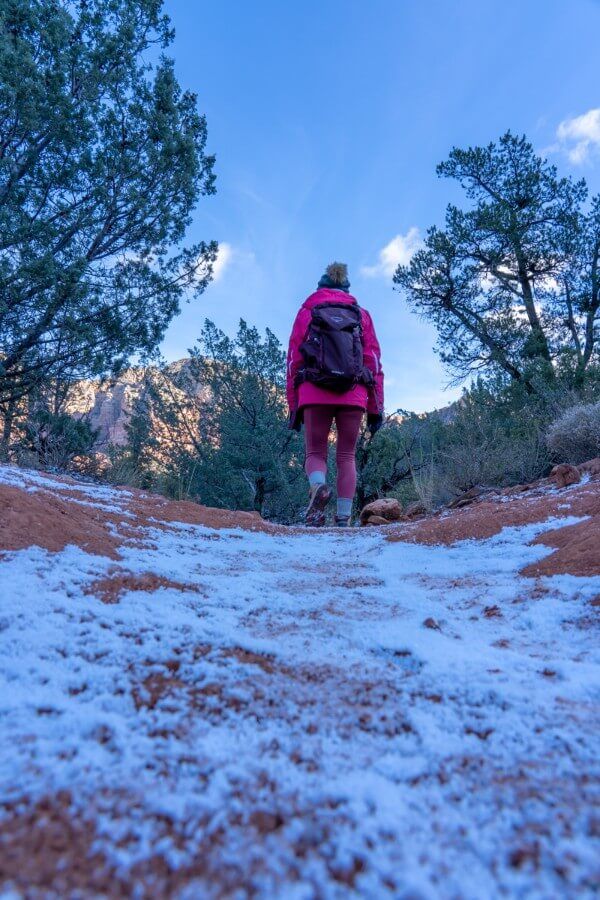 Sedona is one of our favorite hiking destinations in the US. The small city is surrounded by diverse and exciting trails leading to stunning vistas, caves and summits. But they are incredibly busy.
Visiting Sedona in December at the beginning of the Winter season means trails are slightly less overcrowded. However, the main issue with hiking in Sedona isn't overcrowding on the trails themselves, it is getting parked at trailheads.
Fewer people in town means you stand a stronger chance of nailing down a coveted parking space at popular trailheads, including:
Note: You can take a shuttle bus if you visit Sedona between Thursday and Sunday year round.
Trail Conditions
Once you finally get on the trails, you shouldn't have much to worry about unless there's a heavy rainfall or rare day of snowfall. Many of the hikes in Sedona are on slick rock and they will become dangerous when wet or icy.
You need to be up early to get parked before the lots fill, but that means starting your day on a cold December morning in Sedona. Plan to hike in layers but start out your morning in the car in a heavy fur coat with a hot coffee.
Shaded parts of certain trails may still have frost from freezing overnight temperatures but by late morning the temperature is much warmer and you'll likely end up in your lighter layers.
Read: Start planning your trip with our guides to the 20 best hikes in Sedona and the 7 best hidden caves in Sedona.
5. Can You Drive Sedona's Best Jeep Trails In December?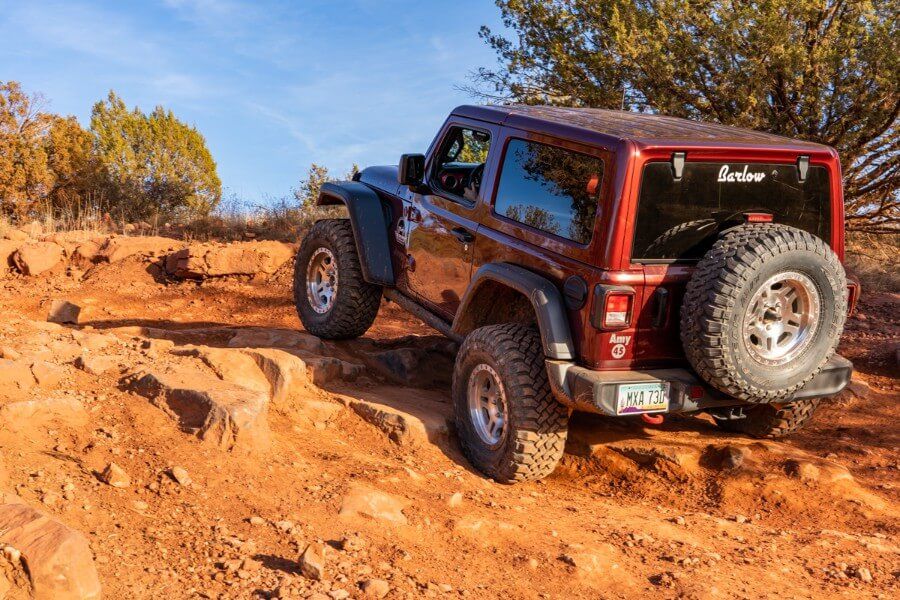 Sedona is a year round destination with favorable weather conditions for all activities. That means you can rent a Jeep and drive Sedona's best off road trails no matter the month you visit.
However, a December visit to Sedona AZ combines two of our favorite perks – saving money and crowd free off road trails.
Unlike hiking trails which remain busy all year with little respite, there must be a tiny fractional decrease in the amount of interest in renting Jeeps during the month of December.
Why? We don't know.
But it saved us $300 and it meant we had 3 days of driving awesome Jeep trails with very few others around. That includes the famous Broken Arrow Trail, Diamondback Gulch and Schnebly Hill Road.
Why Rent A Jeep?
Renting a Jeep will give you independent access to the most remote areas such as Sedona's ancient ruins and the highest vistas such as Merry Go Round. But the best part is being able to park at both Devils Bridge and Soldier Pass in special off road lots, which guarantees you can hike the trails.
We were very lucky to be in Sedona when the price of a multi-day Jeep rental was discounted at Barlow Adventures. Visit Sedona in mid December and you might be able to pick up the same deal.
6. What Can You Expect With Photography?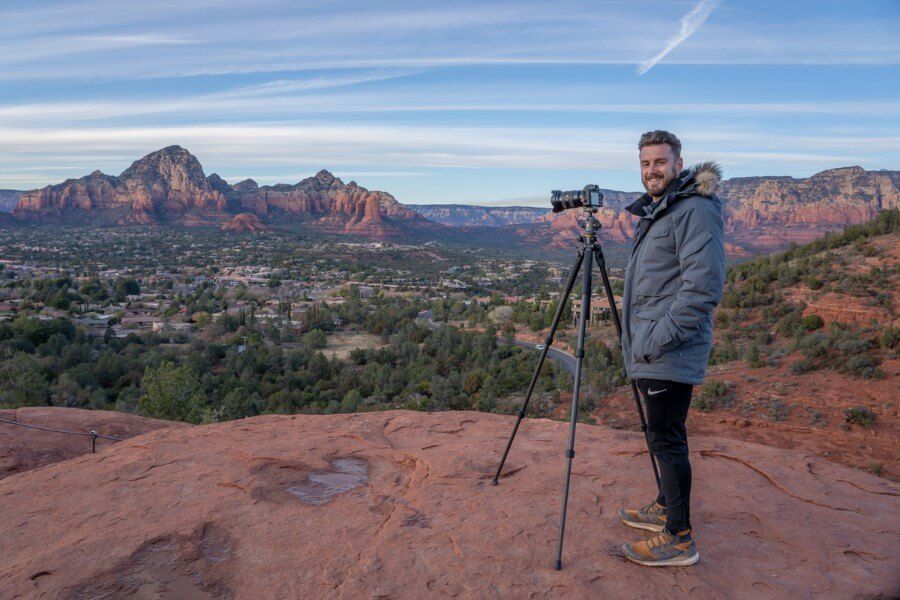 Sedona isn't just about hiking and off roading, it is also a spectacular arena for capturing stunning photography. Rugged red rocks, lush green desert vegetation and a big open sky create endless photo opportunities around Sedona.
Soft light and colorful skies around dawn and dusk make sunrise and sunset photography in Sedona unmissable for hobbyist and pro photographers visiting northern Arizona.
December and Winter might just be the very best time of year for photographers to visit Sedona and here's why:
Sunrise is later in the morning so you can avoid the agonizing early alarm
Sunset is earlier in the evening so you can shoot your exposures and be back in town for dinner
There's a small chance of snow falling (which is every photographers dream in Sedona!)
Chances of a textured and cloudy sky are much higher vs Summer
All of the most popular photo spots are quieter than peak season
One of the only downsides to photography in Sedona during December and Winter is having to put up with the cold. Just remember your big fur coat and camera gloves.
7. Are All Of Sedona's Top Tourist Sites Open?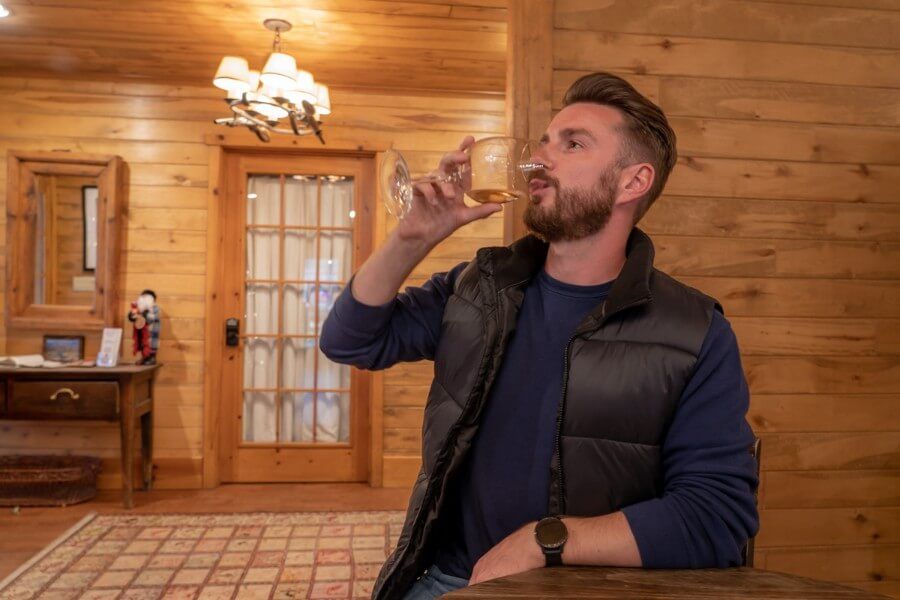 Being a year round travel destination with no real "low" season might sound tiring for the locals, but it is fantastic for Sedona's economy and it great news for us, the tourists.
There's not much you can do in Summer that you can't also do in December or Winter in Sedona. The best USA road trips in Winter are in the southwest where everything stays open year round.
We didn't have any problems getting into any of the national monuments, ruins, wineries, restaurants or other popular tourist attractions. The best part is you can do all of the top activities and attractions without the heavy crowds you would get in Spring and Fall.
What are the best things to do in Sedona in December?
The best things to do in Sedona during December and Winter are the same as they would be in Spring, Summer or Fall. This year round tourist season we keep mentioning is one of Sedona's greatest assets.
Here are some of the top activities in Sedona:
Hike some of the best trails in the US
Rent a Jeep and drive exciting off road trails
Visit the best wineries in Sedona on the famous Verde Valley Wine Trail
Sunrise and sunset photography of the stunning landscape
Ride the Verde Canyon Railroad train
Visit ancient ruins and National Monuments
Practice yoga at all of the major Sedona Vortexes
All of the major tourist sites will be quiet and relaxing. Plus, you have a better chance of booking tours last minute. In peak season you would have to be very organized by booking way in advance into guided tours at Palatki Heritage Site or the Verde Canyon train ride.
But here's one fantastic thing you can only do on a December visit to Sedona, Arizona:
Walk around the Christmas lights at Tlaquepaque Arts & Shopping Village (see #10)
8. How Is The Sedona Food Scene In Winter?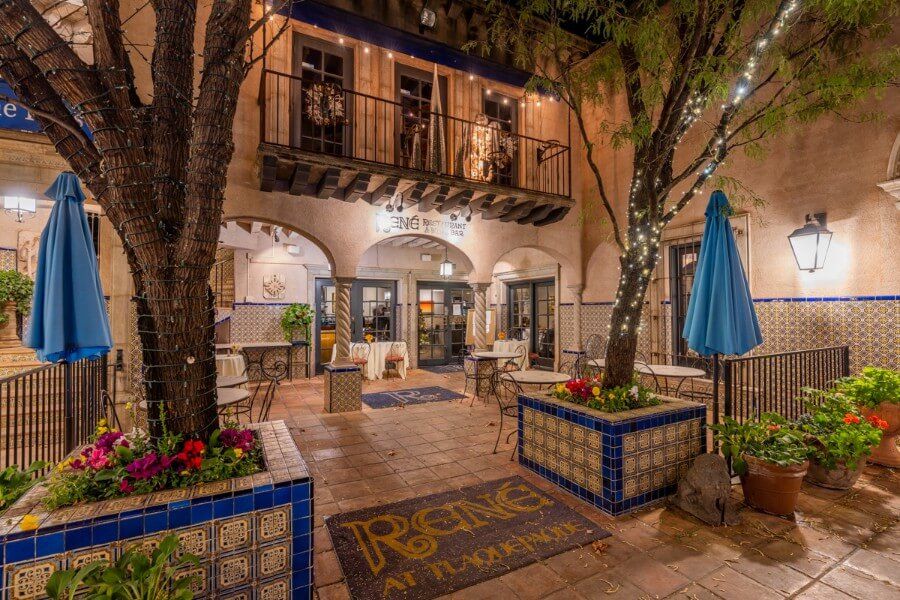 If there's one thing you don't want to see closed in Winter, it is the best restaurants and eateries in town. This happens in some tourist heavy destinations like Zion National Park, but fortunately everything stays open and ready to go in Sedona throughout December and the Winter season.
The local population is big enough and tourism demand stays high enough through the Winter to allow all businesses to remain open even during this supposed "low" season.
Here are some of the best places we ate at in Sedona as well as other top rated spots we will visit next time we're in town:
Elote Cafe – Mexican
Outlaw Grille – Hamburger
Momos Kitchen – Korean
Pisa Lisa – Pizza
Gerardo's Italian Kitchen – Italian
Rene at Tlaquepaque – Continental (upscale)
Senor Bob's Hot Dogs – Amazing fast food for lunch
Up the Creek Bistro – Quality pub grub (in Page Springs)
Red Rock Cafe – Breakfast and brunch (in Village of Oak Creek)
9. What Do You Need To Pack For A Winter Visit?
Packing for a December visit to Sedona is going to be a tricky one and you're probably going to overpack. But that's fine, it's better to be safe than sorry.
We hiked almost every sunrise and stayed out past sunset most evenings. The key to packing for a December or Winter visit to Sedona is layers. You are going to start out cold, warm up and then it will get cold again.
If you're a hiker, you are going to need plenty of moisture wicking layers that you can easily put on and take off throughout the day. Even if you don't plan to hike, you will need heavy coats, sweaters and long pants for mornings and evenings.
Don't forget sunglasses. Despite it being Winter, the sun will more than likely be out most of time you are in Sedona during the day.
Our top tip is to pack a pair of robust trail runners or hiking shoes. You will need a quality tread to help with access to caves and most hiking trails on slick rock.
10. Are There Any Christmas Lights In Sedona?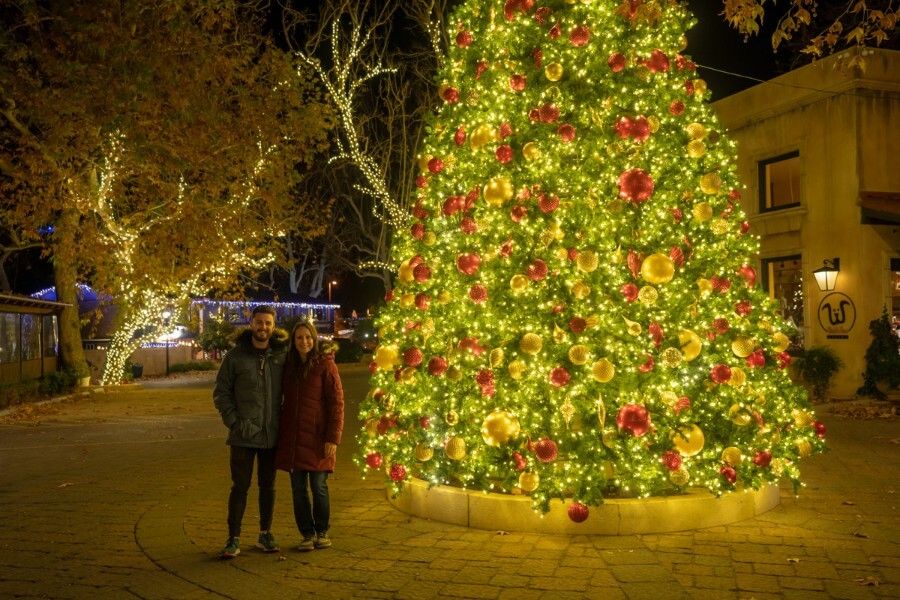 What would a December trip be without Christmas lights and decorations?! You can relax and tell the kids that there will be Christmas lights in abundance scattered throughout Sedona in the build up to the big day.
The place you simply can't miss is Tlaquepaque Arts & Shopping Village, which goes above and beyond all expectations with a wonderful display of Christmas trees, bright lights and elaborate decorations. Make sure you walk around both sides of the shopping center (the main road splits it in two).
If you plan your trip to be in Sedona around December 10th you can head down to Tlaquepaque for the annual Festival of Lights, at which 6,000 luminarias are lit. A word of warning – the line of cars waiting to get into the festival went the entire way through Sedona along highway 89a. Arrive early!
Sedona In December FAQ's
Let's finish with some of the most asked questions about a December visit to Sedona, Arizona.
Is December A Good Time To Visit Sedona?
Yes, December is a fantastic time to visit Sedona because you will benefit from more availability and affordability at hotels, fewer crowds on hiking trails and more spaces at trailhead parking lots. December is the best time of year to visit Sedona if you are looking to escape the crowds.
Is It Too Cold To Visit Sedona In December?
No, it is not too cold to visit Sedona in December. You can expect very cold mornings and evenings but during the day it warms up enough to be comfortable in layers. The benefit to Sedona being colder in December is that it keeps the crowds away and hiking trails are much quieter, especially around sunrise.
Sedona Arizona Visitor Summary
How to get around – Sedona is small but you'll need a car to access the best hikes to the north and south of town. If you want to get to the hard to reach places, you should hire a jeep.

When to visit – Spring and Fall are the most comfortable seasons to visit Sedona, but they come with a higher price tag and more crowds. Winter is a fantastic time to avoid both.

Where to stay – Accommodation is expensive in Sedona, but there are plenty of very high quality places to stay including Matterhorn Inn, Lantern Light Inn, Arabella Hotel, Whispering Creek B&B and The Suites at Sedona.

Popular things to do – Sedona is one of the best places to hike in the US, but it is also a wonderful place to get off-road in a jeep, capture stunning photography, visit historic sites and drink wine.
Here's our top guide on the very best things to do in Sedona.
Our Popular Sedona Guides
Hiking – Start planning your hiking itinerary with our popular guide to the 20 best hikes in Sedona, including easy to hard trails, cave hikes and hidden gems.

Photography – Our collection of the 15 best sunrise and sunset photography locations in Sedona includes the perfect mixture of iconic and secret spots.

Ruins – Read an overview about the 5 famous ruins near Sedona, including national monuments and heritage sites.

Caves – Find and explore the 7 best caves in Sedona with our detailed guide on how to access every cavern in the red rock wilderness area.

Jeep Trails – Are you thinking of renting a Jeep? Here's our comprehensive guide to renting an off road vehicle and the 9 best Jeep Trails in Sedona.
Want more Arizona content? Head over to our Arizona travel guides to explore the best of Grand Canyon, Sedona and beyond.
We hope this guide to visiting Sedona in December helps with planning your Winter visit to northern Arizona!
Please let us know if you have any questions about visiting Sedona in December or in Winter below in the comments.
Happy Travels,
Mark and Kristen
Enjoy This Guide? Pin It For Later!