Are you thinking about visiting Death Valley in December? Perfect! We have personally explored the vast and diverse Death Valley landscape on several trips, including the winter month of December. We're going to answer 10 important questions you might have about your visit, covering key things to know about weather, costs and crowds.
Is December a good month to visit Death Valley, California?
December is the best month of the year to visit Death Valley if you're looking to escape the crowds, hike in cooler temperatures and find last minute accommodation more readily available than usual.
All things considered, we think December is an excellent month of the year to plan a trip to Death Valley National Park and we're going to show you exactly why.
In this guide we will cover:
10 key things to know about visiting Death Valley in December
In depth information about temperatures, prices and tourist numbers
Out of season impacts
Best things to do on a visit to Death Valley in December
Let's get right into the 10 most important things you should know about visiting Death Valley, California in December!
*Please note this post may contain affiliate links. If you click on one, we may earn a small commission at no extra cost to you! Read more in our disclosure policy.*
1. Is Death Valley Crowded In December?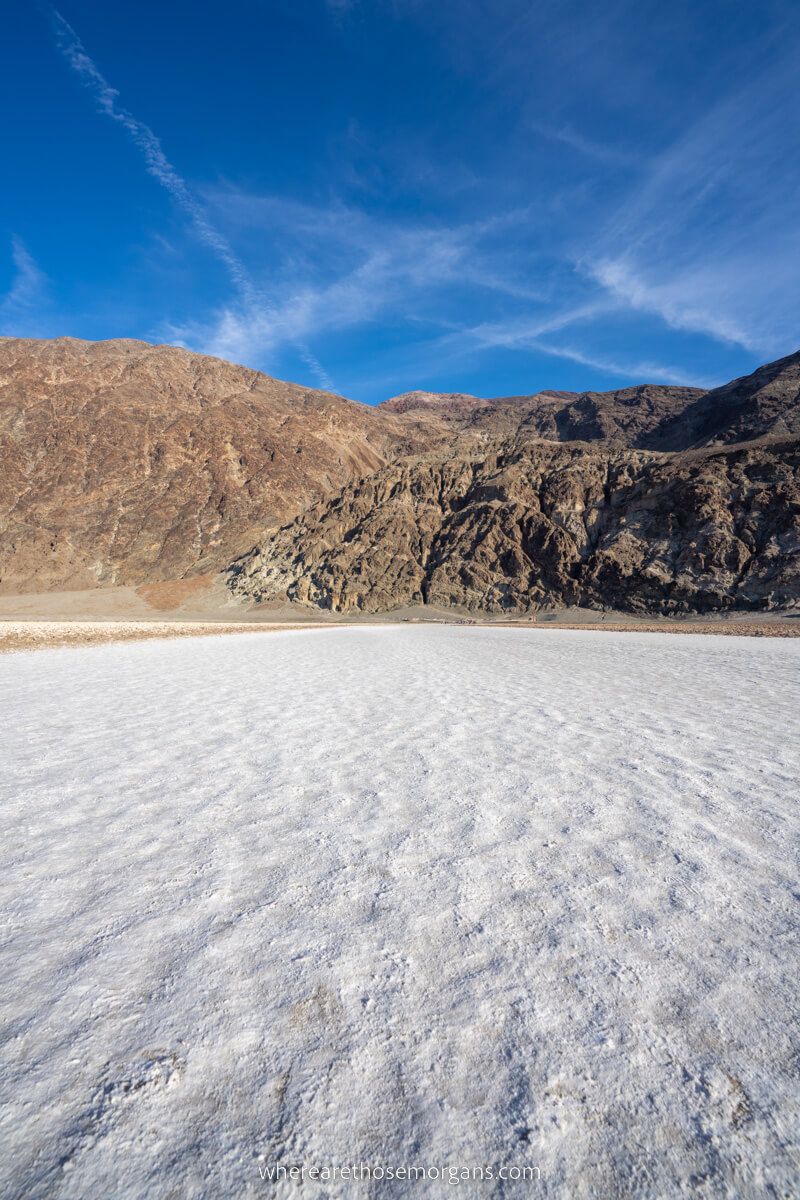 Death Valley is one of the best national parks to visit in the USA but it rarely suffers from serious overcrowding issues.
The good news for your visit is that December is the single quietest month of the year in Death Valley.
Both a blessing and a curse, the sheer size and scale of Death Valley is immense. Hiking trails and top attractions are spread out so people rarely flock to one single place all at once.
Now, take the enormous park and couple that with a plummet in tourist numbers between Thanksgiving and Christmas and you have yourself an incredibly peaceful winter escape.
How Many People Visit Death Valley Annually?
Over one million tourists visit Death Valley annually but this is a year round destination. Tens of thousands still visit the hottest place in America during summer months when temperatures are dangerous and extreme.
March and April are the two busiest months of the year, as wildflowers bloom and spring break brings a spike in visitation.
But even at its peak in March and April, Death Valley never clogs up with dense crowds like you see at Yosemite National Park or Yellowstone National Park during peak season.
What Does That Mean For You?
Well, it means December is the perfect month to visit Death Valley if you prefer to avoid crowds. Plus, as a direct result of fewer crowds, certain other benefits become apparent.
Here are the benefits of a winter visit to Death Valley:
More availability and better prices on hotels

inside and outside the park
Smaller parking lots at top sights won't fill, even around noon
Hiking trails will be even quieter than usual
Temperatures are cooler and better for hiking
Low position of the sun creates stunning light
Flanking mountains are snow capped in winter
Your car won't struggle with overheating as much
2. What Is Death Valley Weather Like In December?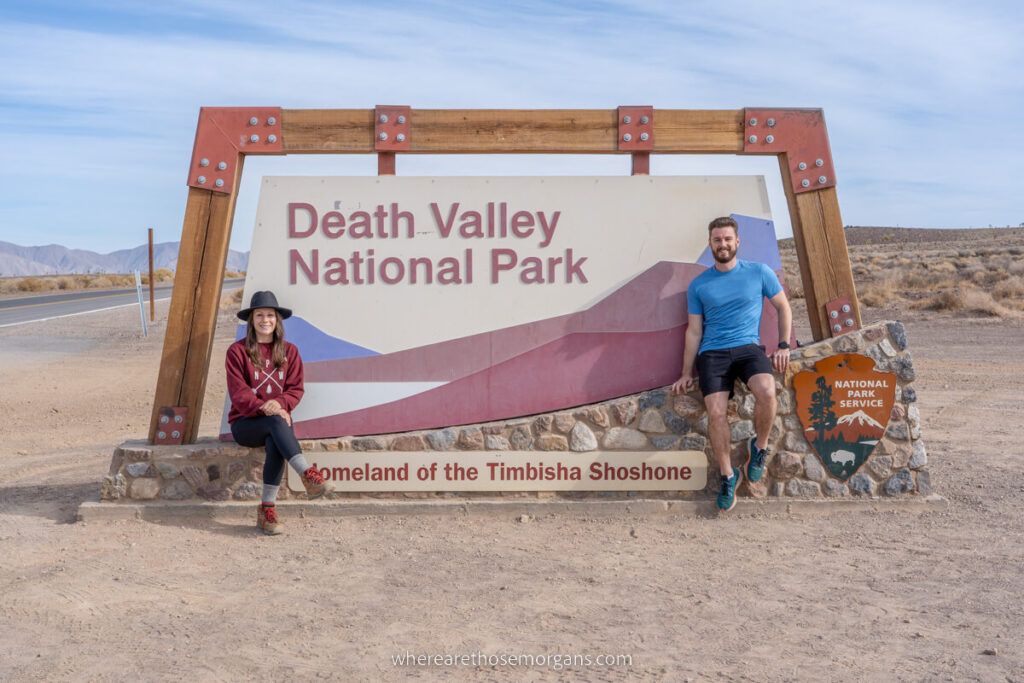 December brings much cooler and even stormy weather to Death Valley, which is a complete contrast to the rest of the year.
The statistics make Death Valley weather in December sound terrible, as you will find out below. But we can tell you from first hand experience it is not as bad as it appears.
One of the key things to note is that early December mornings and late evenings can come in chilly.
Those planning sunrise or sunset photography shoots or hikes in Death Valley should consider taking plenty of light layers.
However, don't let the words cooler and chilly put you off.
We are talking about a place that far exceeds 100 degrees Fahrenheit every single day in June, July and August. The average high in July is a swelteringly oppressive 116 Fahrenheit, which is 47 Celsius.
So the weather in Death Valley during December may be cooler, but it is still very comfortable indeed.
What Is The Temperature In Death Valley In December?
Here are the high, low and average temperature statistics for Death Valley in December:
High Temperature – 65 F (18 C)
Low Temperature – 38 F (3 C)
Average Temperature – 51 F (10 C)
Source: NPS
Is Death Valley cold in winter?
Comparatively speaking, yes Death Valley is cold in winter. In fact, December is the coldest month of the year in Death Valley National Park.
Average highs and average lows are the lowest they will be throughout the year.
However, considering it is December, Death Valley is one of the few national parks you can visit in relative comfort. In addition, these colder conditions are part of the reason crowds stay clear.
We noticed a huge difference in temperature between our October and December visits to Death Valley. In October we were struggling with heat on hikes and even at night it felt like we were trapped in a sauna.
Personally we would prefer the cooler temperatures and fewer crowds every time, how about you?
More December Weather Statistics
The temperatures during December in Death Valley might not be as high as you expected considering it is the driest and hottest place in the US and holds the record for hottest place on Earth.
But trust us, you will be grateful for the cooler weather.
Let's take a quick look at other weather features you might be interested in:
December has the fourth highest amount of precipitation (but it is still very low)
Humidity is at its highest in December and January (around 41%)
December is the month with the least amount of sunshine (just over 7 hours per day)
Source: Weather US
As we mentioned earlier, it sounds like December is going to be the worst month of the year to visit Death Valley in terms of weather conditions.
However, on the contrary these exact conditions allow you to explore the best of Death Valley in comfort. Plus, we still managed to get a cracking suntan during our winter visit to the desert!
3. How Long Do The Days Last In Death Valley During December?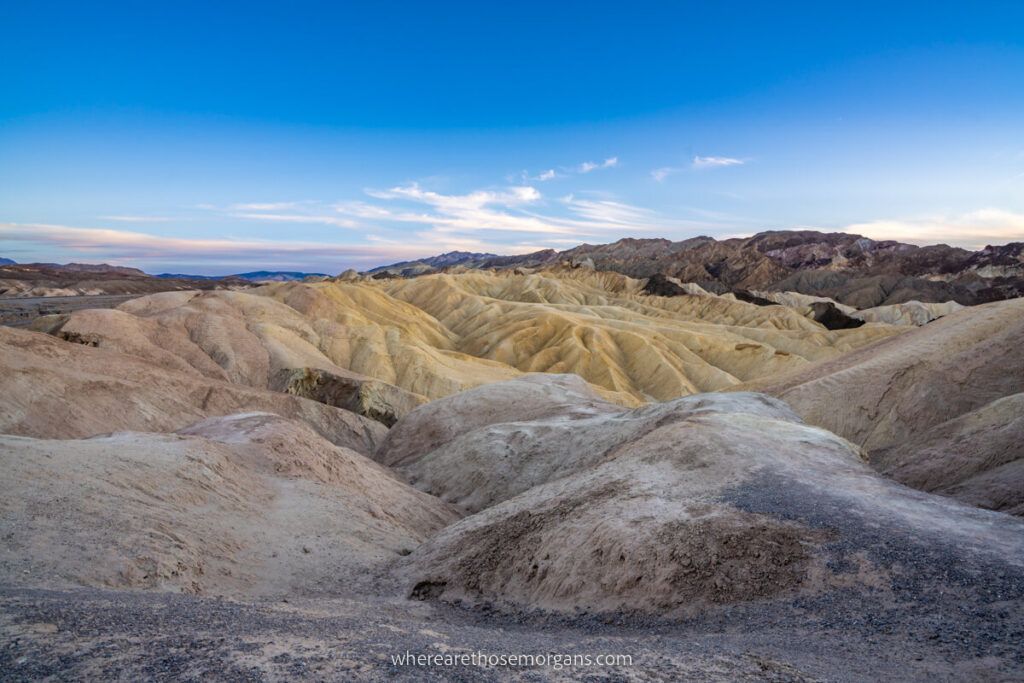 Now here's one of the rare negative aspects to visiting Death Valley in early winter. The month with the shortest days in Death Valley is December with less than 10 hours of daylight every day.
Plus, it will get darker earlier in December versus most other months of the year because the clocks go back for daylight savings at the beginning of November.
Here are sunrise and sunset times to be aware of in Death Valley throughout the month of December:
Sunrise: Dec 1 – 6.40am and Dec 31 – 7.00am.
Sunset: Dec 1 – 4.30pm and Dec 31 – 4.40pm.
Check sunrise and sunset times here.
What Do Shorter Days Mean For Your Visit?
Shorter days mean you have less time to see and do the best things in Death Valley. There are very few things you can do at night in Death Valley unless you are interested in astrophotography.
The earlier sunset times are particularly important for photographers and hikers who tend to stay out later in the day. Pay close attention to the time if you are out hiking in the afternoon.
We were caught out a few times with the darkness creeping in by 3.30pm when we were still out on hikes. Play it safe by taking headlamps and keeping your phone fully charged in case you need the flashlight.
Start Early
The best thing you can do on a visit to Death Valley in December is wake up super early and get a head start on the day. This is our most important piece of advice.
Not only will you give yourself more of that precious daylight, but you will also beat the (comparatively low!) Death Valley day trip from Las Vegas crowds begin to arrive.
Plus, if you're staying outside the park, you are going to need time to get into the park.
If you get up late and have a slow breakfast, you're eating into daylight hours, which after water are your most valued commodity.
4. Are Death Valley Hotels Available And Affordable In December?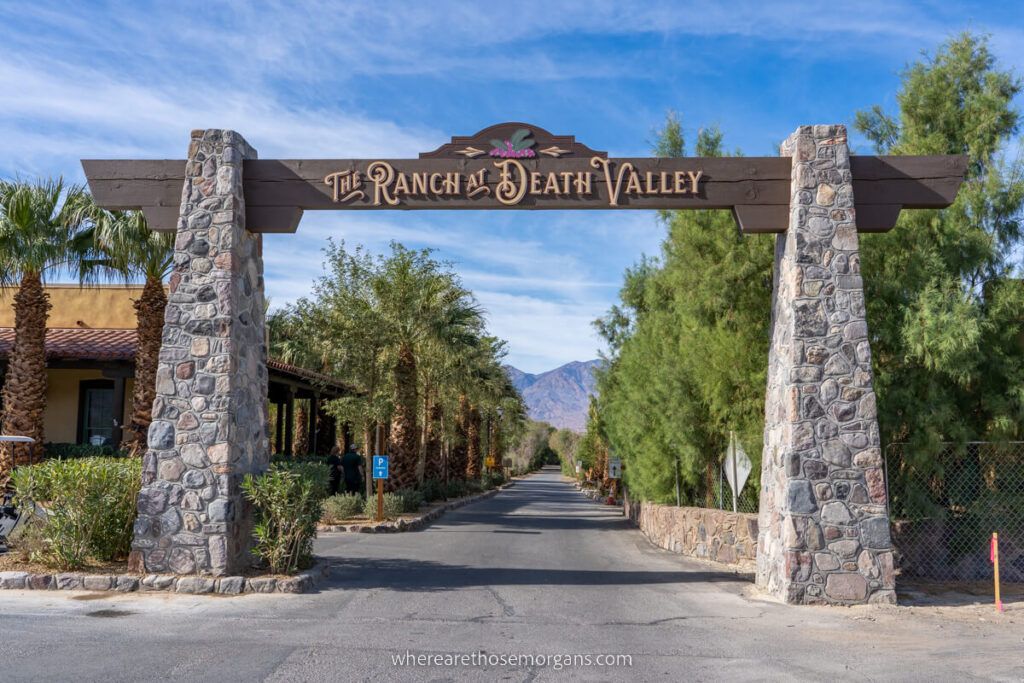 Climbing back aboard the benefits to visiting Death Valley in December train, you are going to have more success at finding hotels with more availability and cheaper nightly rates.
After multiple trips to Death Valley, we can confidently say figuring out places to stay is the most difficult part of itinerary planning.
Why? Let's take a look.
Staying Inside Versus Outside The Park
Hotels inside Death Valley are excessively expensive, especially for what you get in terms of quality. You are essentially paying for prime time location near the top attractions.
Your alternative is to look at several tiny towns around the outskirts of Death Valley. They have cheaper hotel rooms and more amenities such as food options, but you have to drive in and out of the park each day.
Personally, we have so far avoided staying at hotels inside Death Valley. Of course we would prefer the location, but we also value our bank balance.
We tend to plan our Death Valley itinerary so that we stay at different hotels each night according to the attractions within the park we are visiting that day.
Remember, Death Valley is huge.
Where To Stay
So where should you stay on a December visit to Death Valley?
Well, you have the option to stay in a campground or RV park which would be cheap and give you the central location.
Not interested in camping? Well, you can start by looking into the 4 hotels inside Death Valley:
If the prices work for you, book one of those because you will get the central location near top Death Valley attractions.
However, if you're traveling on a lower budget or you are driving through Death Valley point to point (such as Las Vegas to Yosemite), take a look at these alternatives:
Whether you stay inside or outside Death Valley for your visit in December, what we do know is you will get cheaper rates compared to peak season.
Where will you stay in Death Valley? If you're not quite sure yet, read our comprehensive guide to the 13 best Death Valley hotels which covers the best places to stay inside and around the National Park.
5. Can You Hike The Top Death Valley Trails In December?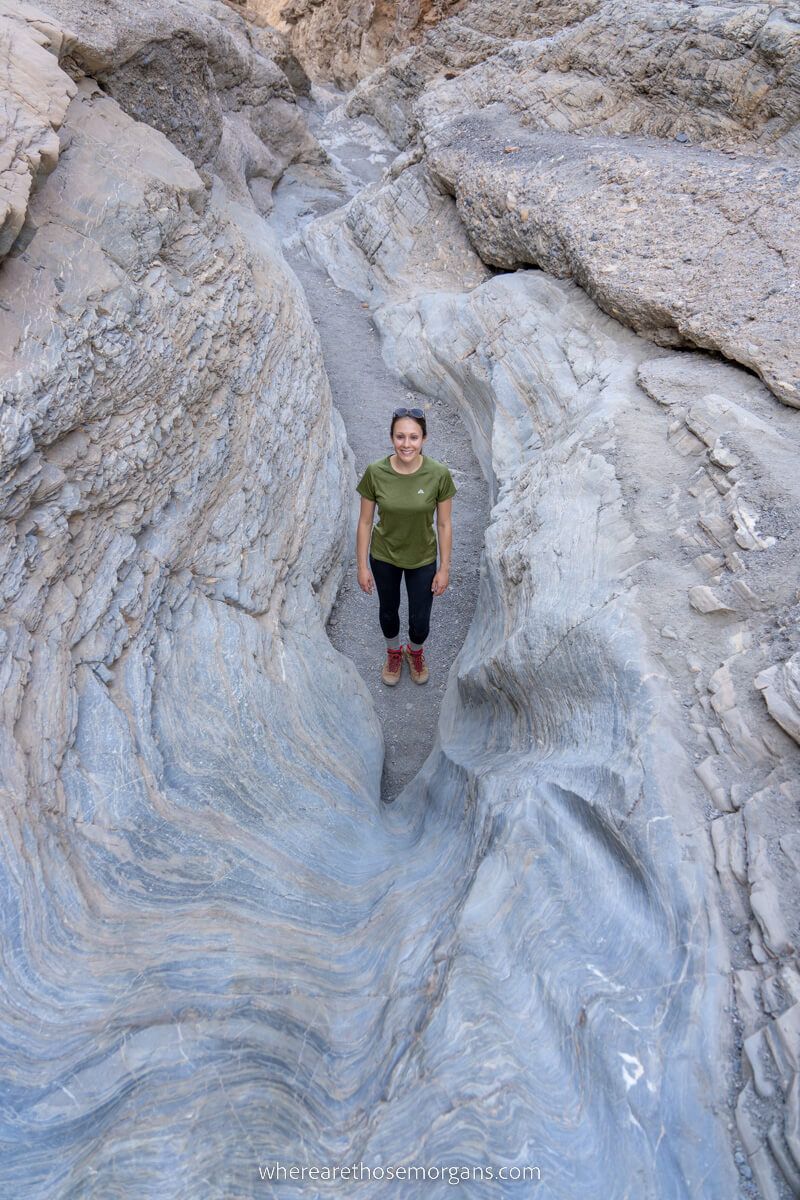 December is among the very best months of the year to hike the most popular Death Valley hiking trails in the bottom of the valley.
Cool and comfortable conditions for hiking make this a perfect time of year compared to the hotter spring, summer and fall months.
However, adventure hikers looking to get off the beaten path and up into the mountains will have to wait until late spring due to snow and dangerously cold temperatures.
Remember about the lack of daylight and earlier sunsets if you plan to hike a lot in Death Valley during your winter visit.
Popular hikes in Death Valley
Golden Canyon (Red Cathedral Loop)
Mosaic Canyon
Desolation Canyon
Natural Bridge
Mesquite Flat Sand Dunes
Salt Creek Interpretive Trail
Sidewinder Canyon
Darwin Falls
6. Is December A Good Month For Photography In Death Valley?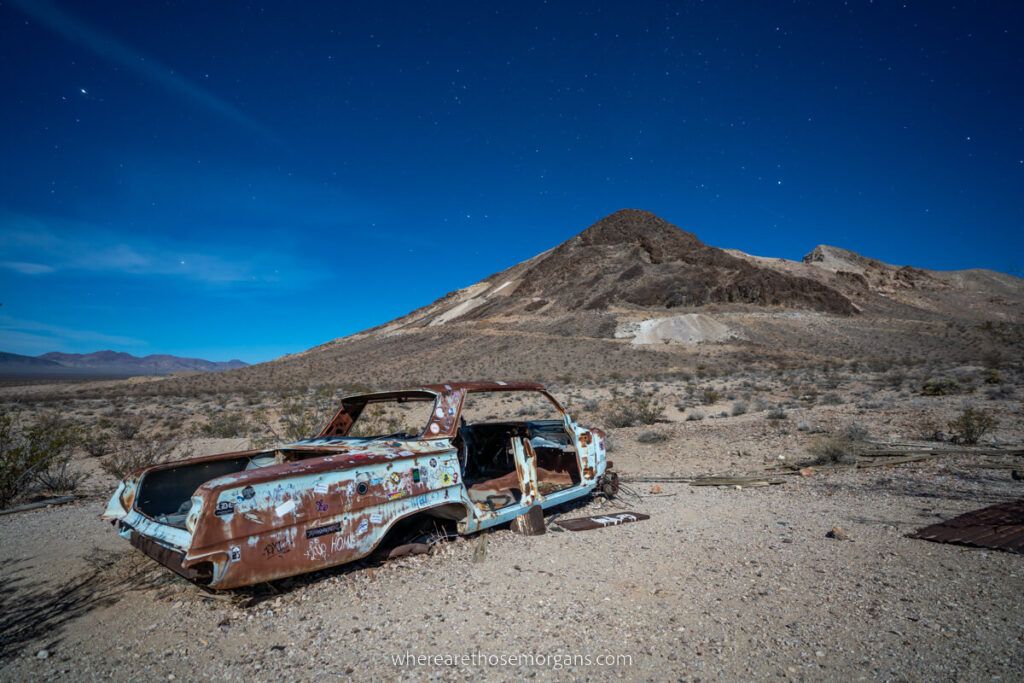 Death Valley is one of the most underrated photography spots within the US national park system. Yes, it is barren and bleak, but if you look hard enough, Death Valley is also raw and strikingly beautiful.
December is a wonderful time for photography in Death Valley for several reasons:
It is the time of year when storms are most common
Earlier sunrises mean far fewer people will be about at the most popular sunrise spots
Earlier sunsets mean you can shoot sunset and be back for dinner at a normal hour
Lower angled sunlight makes for deeper contrasts inside canyons
It is much cooler in general which means you can reach more places more easily
Death Valley is a fantastic place for hobbyist and beginner photographers to challenge themselves in a unique environment.
This is an arena of unspoiled nature, where you still feel like you might be the first person to take a certain photo at a certain location in the park.
However, the wide open desert landscape oozing a perpetual feeling of isolation and lost world can take a bit of getting used to for photographers who typically look for a subject or star attraction.
Best Death Valley Photography Spots
Rhyolite Ghost Town
Titus Canyon
The Racetrack
Ubuhebe Crater
Mesquite Sand Dunes
Badwater Basin
Zabriskie Point
Dante's View
7. How Is The Death Valley Food Scene In December?
The Death Valley food scene is the same in December as it is the rest of the year, not great. In fact, we'd go as far as saying the facilities really could do with some improvement.
There are general stores in Furnace Creek, Stovepipe Wells and Panamint Springs with snacks, drinks and light groceries but they are mostly designed for people staying at the nearby campgrounds.
Visiting Death Valley in an RV or tent camping?
We strongly recommend you stock your fridge or bring a big cooler full of food. Plan out your meals before arriving in the park.
If you decide to stay in one of the 4 hotel inside the park, you can eat at a restaurant in each of the hotels.
Eating Inside The Park
The Inn and Ranch in Furnace Creek have decent food but the prices are heavily inflated. You don't really have any other choice so you have to eat here and pay the prices.
Stovepipe Wells has the top rated eateries inside Death Valley, with a bar and restaurant serving up good quality food at more reasonable prices. Panamint Springs also has a good place to eat with a huge selection of beers available.
The problem with Stovepipe and Panamint is that unless you are staying there or you are on your way in / out of the park to the west, they are quite a way out from the major tourist area around Furnace Creek.
Eating Outside The Park
If you choose to stay outside of Death Valley in a surrounding town, you have far more dining options. Plus, you can buy food in the morning to use as a packed lunch when you are inside Death Valley.
Here are some highly rated places to consider:
Lone Pine
Upscale American – Seasons Restaurant
Chinese – Merry Go Round (fun place to eat)
Diner – Mt Whitney Restaurant
Grill – The Grill
Are you planning to stay in Lone Pine? Here's our detailed guide to the 5 best hotels in Lone Pine CA complete with the most popular things to do nearby.
Beatty
BBQ – Smokin J's Barbecue (we love this one)
Breakfast – Mel's Diner
Mexican – Happy Burro Chili + Beer
Breakfast – Gema's Cafe
8. Are There Any Safety Concerns In Death Valley During December?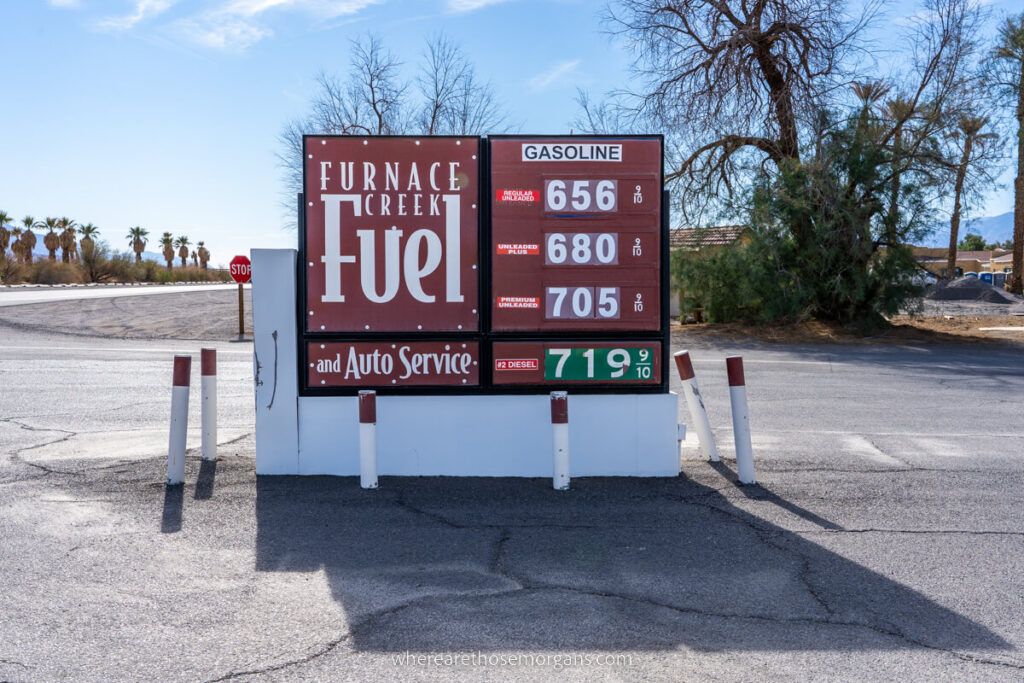 The most important topic we will cover in this guide is safety when visiting Death Valley. This is a harsh and hostile environment year round.
You could argue that the things we are about to cover should be done on any trip to any place. However, Death Valley is different. It is enormous, isolated, hot, barren and mountainous.
On top of that, cell phone service is extremely limited in most areas of Death Valley.
So you really don't want to get stuck in the middle of nowhere an hour before sunset because you forgot to top up your coolant!
Despite the supposed cooler Death Valley temperatures in December, you still have to be prepared before and during your visit to the desert.
In fact, the only time we had an issue with our own car overheating was when we drove through Death Valley in December.
Here are some safety tips:
Car Service
If possible, we would strongly recommend you have your car checked out before you visit Death Valley. You might be able to do this yourself, if not have someone take a look.
You will need to top up the following fluids:
Engine oil
Brake fluid
Coolant
Transmission fluid
Power steering fluid
Windscreen wash
Make sure your tires are in good shape and your brakes are working correctly. Carry a spare tire and know how to change it in case of emergency.
Gas
There are three gas stations inside Death Valley National Park. Furnace Creek, Stovepipe Wells and Panamint Springs all have gas pumps.
However, they sometimes have strange opening hours and the prices are astronomical.
We're talking over $7 a gallon at Furnace Creek. Stovepipe Wells sometimes has cheaper prices and it is owned by the NPS.
During our visit to Death Valley in December, the gas station at Stovepipe Wells was closed for a few hours in the middle of the day, so there were loads of people literally sat around for hours waiting for gas.
Top your gas tank up each day before you enter Death Valley if you are staying outside the park. If you decide to stay inside the park, you are going to have to use the pumps in the park.
Heat
Just because temperatures aren't as high as summer, you will find the days still get hot in Death Valley during December.
We found ourselves burning through water and feeling fatigued on hikes due to heat, even in December.
The low sun angle helps with being able to find a little more shade than usual but the valley traps heat between two mountain ranges flanking Death Valley.
Water
Water sounds like the obvious safety tip but it's even more important in Death Valley. You could be miles and miles away from civilization and have problems with your car.
It really is critical that you carry more water than you think you need. Take a few gallons in containers and leave them in the trunk. Then simply top up your water bottle to carry around on hikes.
9. What Should You Pack For Death Valley In December?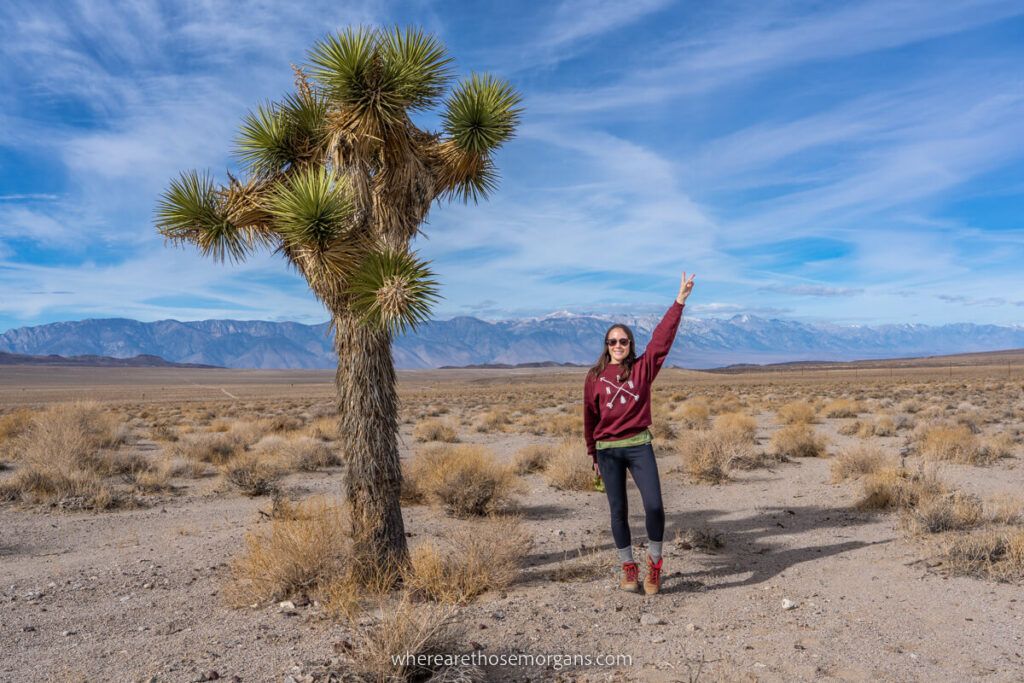 Packing is pretty straightforward for visiting Death Valley in December. You need to treat it like you're going to any of the popular northern US national parks in spring or fall.
Here's what you are going to experience throughout the day:
Chilly mornings
Hot around lunch time and early afternoon
Cool early evening
Chilly nights
Easy, lightweight, removable layers are the key to your comfort on this trip!
Layers
For most, we would suggest simply packing your regular hiking gear. You won't need any specialist equipment.
In Death Valley we wore shorts and moisture wicking t-shirts, lightweight pants, light long sleeve tops and slightly heavier long sleep tops for the mornings and evenings.
Two things you can't forget to pack are sunglasses and sunscreen, you are going to need both in Death Valley in December.
You might want to take a warmer jacket in case of any extremes but you certainly don't need snow pants or thick boots. It won't snow and probably won't rain.
Maybe take a light pair of gloves or a hat if you plan to be out at sunrise or later at night.
10. What Are The Best Things To Do In Death Valley In December?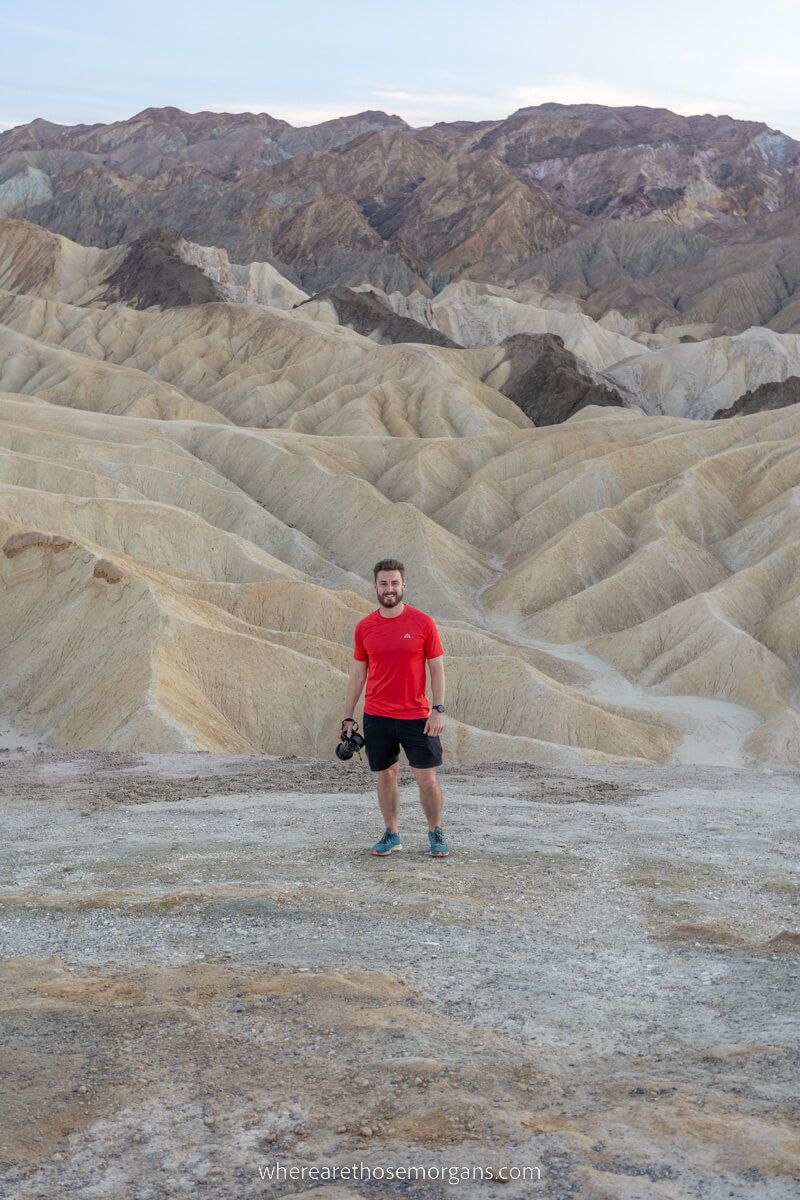 The best things to do in Death Valley in December are hiking, photography, driving 4WD roads and sightseeing at the top attractions.
So, that's pretty much the same as every other month!
One of the most rewarding things about visiting national parks in the American southwest is that you can do all of the same things in winter that you would do any other time of year.
The same can't be said of many popular US national parks.
Things To Do In Death Valley In December
Hike awesome canyon trails
Photograph spectacular landscapes
Watch sunrise from Zabriskie Point
Watch sunset from Mesquite Sand Dunes
Drive the incredible Titus Canyon
See Rhyolite Ghost Town at night
Climb to the rim of Ubuhebe Crater
Find moving stones at The Racetrack
Our Popular Death Valley Guides
Day Trip – Are you planning a day trip from Las Vegas? Read our guide on exactly how to plan the perfect Las Vegas to Death Valley day trip.
Best Hotels – Need to find the right hotel in Death Valley? Read our detailed guide listing the best hotels at Death Valley and exactly where to stay.
Our Popular Southwest Guides
Zion – Planning to visit Zion at the same time as Death Valley? Here are our popular guides to the best hikes in Zion and different ways you can spend the perfect one day in Zion itinerary.
Sedona – Visiting Sedona on your southwest road trip? Here are our guides to the best Sedona hikes, the top things to do in Sedona and the perfect Sedona itinerary.
Las Vegas – Are you basing yourself in Vegas to visit Death Valley? Don't miss our guides to the best things to do in Las Vegas, the best shows in Las Vegas and the best hotels on the Las Vegas strip.
Valley of Fire – Love hiking and photography? Don't miss a visit to the stunning Valley of Fire State Park on the other side of Las Vegas from Death Valley.
Other Winter Destinations
New York City – Have you considered visiting New York at Christmas? Read our hugely popular guide to visiting NYC in Winter to find 10 key things to know before you go.
Zion – Doubling up Death Valley with Zion in December? Read our guide on exactly what you need to know about visiting Zion National Park in Winter.
Grand Canyon – Heading to Grand Canyon before or after Death Valley? Here's our guide explaining the key things you need to know about visiting Grand Canyon in Winter.
Sedona – Want to see the stunning town of Sedona in Winter? Read our guide to the 10 most important things to know about visiting Sedona in December.
Las Vegas – Flying into Vegas before heading to Death Valley? Here are the 10 key things you need to know about visiting Las Vegas in November.
We hope this guide to visiting Death Valley in December helps with planning your winter visit to California!
Please let us know if you have any questions about visiting Death Valley in December below in the comments.
Happy Travels,
Mark and Kristen
Enjoy This Guide? Pin It For Your Visit!