Vermont is enviably overflowing with stunning, quaint and charming four season tourist resort towns. Stowe and Burlington in the North, Woodstock in the Center and Manchester in the South are four of the most popular places to visit in Vermont. We're going to show you the 15 best things to do in Manchester, Vermont to help you make the most of your visit.
The Green Mountain town of Manchester is split into two 'sections'. One part is the old town, with postcard perfect New England architecture and an old world feel. The other is Manchester Center, which is a newer and more modern part of town filled with shops and restaurants.
Manchester is idyllically located in the heart of Southern Vermont's beautiful Green Mountain National Forest. It is easy to reach from New York City, Boston, Montreal and most of the US Northeast.
One of the most appealing aspects of a visit to Manchester, VT is how it seamlessly adapts to each season of the year. Hiking and outdoor activities in Spring and Summer, spectacular New England Fall foliage in Autumn and skiing in a Manchester Winter wonderland around Christmas.
Let's get right into the best things to do in Manchester, Vermont!
*Please note this post may contain affiliate links. If you click on one, we may earn a small commission at no extra cost to you!*
Top Tips For Visiting Manchester, VT
Before we jump into the best things to do in Manchester VT, let's take a quick look at some our top tips for you to consider when planning your trip:
Accommodation is varied and affordable in Manchester
Book in advance to get the best deals for your budget range
Fall is just as busy as Summer thanks to beautiful autumnal foliage
One action packed day is enough time to see and do everything in Manchester
Both Bromley and Stratton ski resorts are near Manchester
Expect regular rainfall if visiting for Fall foliage season
Be sure to drive around the local countryside for best scenery
Manchester is the perfect stop on USA road trips through Vermont or New England
Best Things To Do In Manchester, Vermont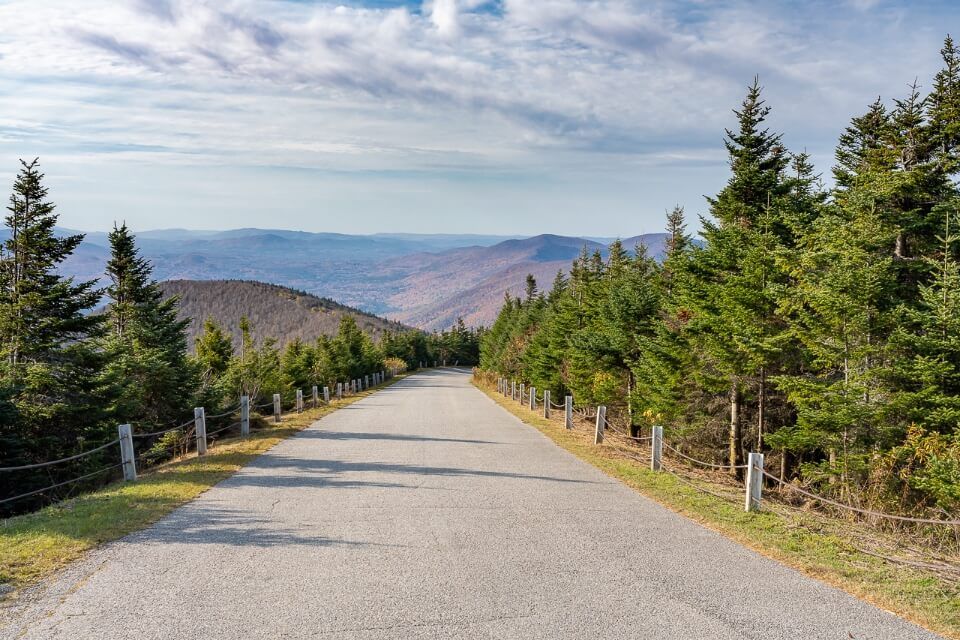 1. Drive The Skyline Auto Toll Road To Equinox Mountain Summit
Mount Equinox is the tallest peak in the Taconic Range and second highest in Southern Vermont. You can either hike to its summit (which we will talk about later), or you can take the much more relaxing and less exhausting route up by driving the auto toll road.
Skyline Drive is the longest privately owned paved toll road in the US. You will climb 3,250 ft in just over 5 miles and unlike many similar mountain summit toll roads in the US northeast, Skyline Drive is a wide 2 lane road.
The road was completed in 1947 and visitors to Manchester, VT have been driving to the summit of Equinox Mountain for decades.
Why? Well, because the 360 degree panoramic views from 3,648ft are remarkable.
To the East you can see much of the Green Mountains, Vermont and even the White Mountains of New Hampshire.
Turn to the West for views over New York's Adirondack Mountains.
And to the South you can soak up vistas over the Berkshire Mountains of Massachusetts.
Phew, that's a lot of view!
The drive itself is steep with multiple switchback style corners but the road is wide and easy to navigate. Plenty of pull overs along the way provide places to enjoy views and take things slowly.
In Summer you will see an ocean of emerald green in all directions. However, Mount Equinox Skyline Drive is most beautiful in Fall, when Autumnal foliage colors illuminate Vermont's valleys.
The toll road is open from Memorial Day to October 31st from 9am – 5pm daily. However, bad weather will close the road and the last vehicle is admitted at 4pm.
Mount Equinox Skyline Drive prices:
Vehicle and driver – $20
Additional passenger – $5 each
Motorcycles – $20
Children under 10 – Free
Find more information about Mount Equinox Skyline Drive.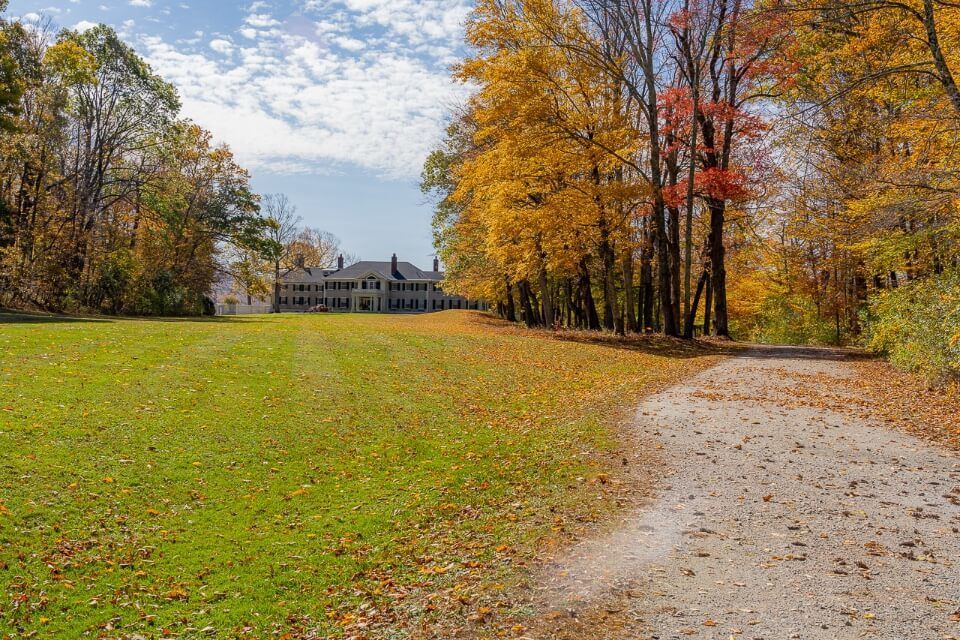 2.

Look Around Hildene, The Lincoln Family Home
One of the truly unmissable things to do in Manchester VT is take a guided or self guided tour around the grounds of the Lincoln Family Home, Hildene.
This estate is entirely unique and one of a kind. It housed the descendants of Abraham Lincoln until as late as 1975.
The important thing to note first is that this was not Abraham Lincoln's house. It was in fact built by his only surviving son with Mary Todd Lincoln, Robert Lincoln in 1905.
However, that doesn't take anything away from how beautiful the estate is today. The Georgian Revival mansion and surrounding grounds are stunning, peaceful and relaxing.
You can walk around Robert and Mary's home, learn about Robert's Pullman company, explore curated gardens, stroll along forested trails and visit the Hildene dairy farm.
For obvious reasons, the busiest and most picturesque period is during peak fall foliage season around mid September to mid October.
No guided tours will be available during covid restrictions and opening hours are reduced to Thursday – Monday between 10.00am – 4.30pm.
Admission rates:
Adults: $23
Ages 6-16: $6
5 and under – Free
Guided tours cost an additional $7.50 per person (note – they will not be available during covid restrictions).
Find more information about visiting Hildene, the Lincoln Family Home.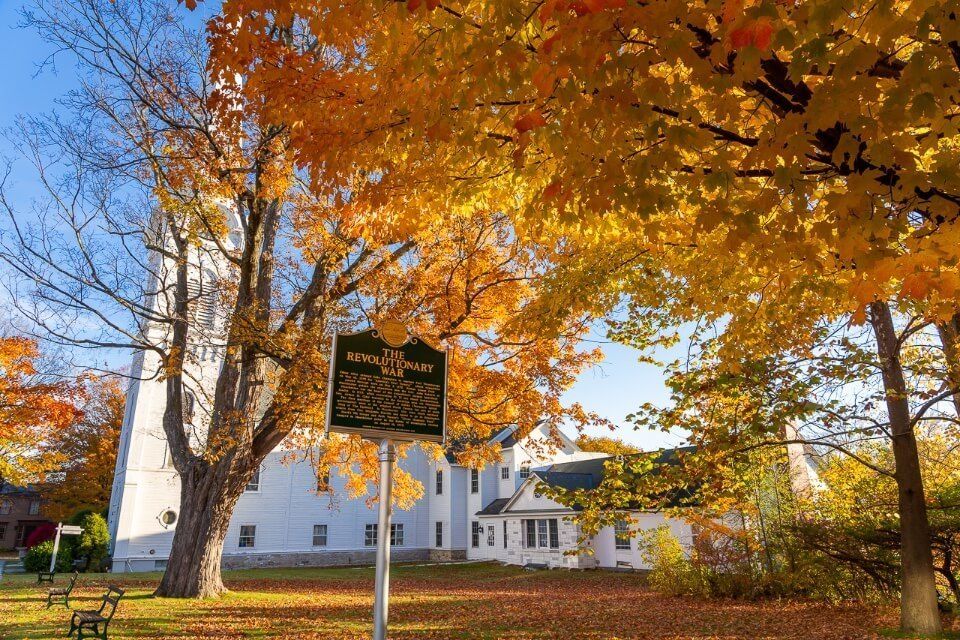 3. Explore Manchester Village Historic District
Most amenities, shops and restaurants in town are located in the newer, more modern but less beautiful Manchester Center region.
One mile to the Southwest, Manchester historic village district is where you should spend an hour walking along gorgeous tree lined sidewalks.
Soak up valley views, admire diverse architecture and don't miss the strikingly attractive First Congressional Church of Manchester.
The quaint, historic are sparsely populated main street looks even more appealing when fall foliage colors are radiating burnt oranges and golden yellows.
A number of the classiest hotels in Manchester, VT are located here in the historic district, along with some of the top rated restaurants in town.
4.

See The American Museum Of Fly Fishing Museum In Manchester, VT
For anyone interested in fishing, history or the great outdoors, you must visit the American Museum of Fly Fishing.
This is one of the top fishing museums in the US, featuring a collection of 1,200 reels, 22,000 flies and over 1,400 rods.
Throw in an ever changing exhibition program, art and photographs documenting the history and preservation of fly-fishing and you have a perfect museum for fishing enthusiasts.
The museum is located inside a lovely farmhouse between Manchester old and new town, with plenty of parking available.
Opening hours are Tuesday – Sunday from 10.00am – 4.00pm.
Admission:
Adults: $5
Ages 5-14: $3
Under 5's: Free
See more information about the Manchester, VT American Museum of Fly Fishing.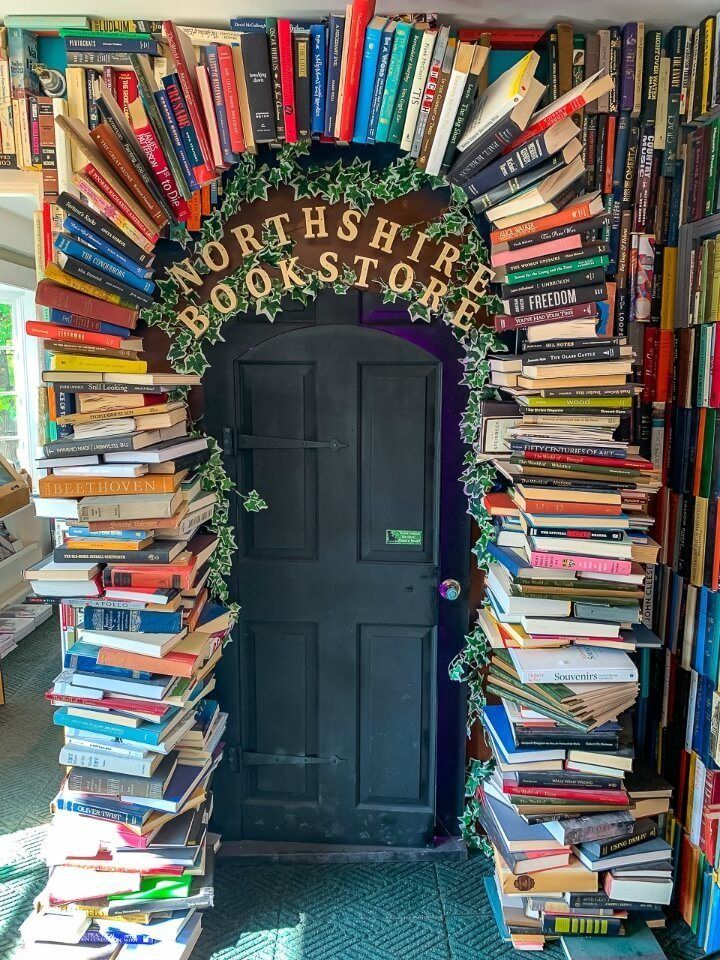 5. Don't Miss Popular Northshire Bookstore
One of the most popular places to visit in Manchester, VT is Northshire Bookstore. If you enjoy reading or browsing bookstores, this is the one place you can't miss in town.
Northshire is a beloved and intrinsic bookstore that has been owned by the Morrow family since 1976. However, in 2021, the bookstore was sold to the French family, who have also played a huge role in the local Manchester community for over 20 years.
That community and family feel of Northshire Bookstore is what makes it so famous and that looks set to continue under new ownership. It is more than just a place to buy a book, the store represents an important cultural and social institution within Manchester.
Prepare to lose yourself for hours in one of the largest independent bookstores in all of New England. The digital age has changed the way we read, but there's nothing like getting your hands on a brand new paperback. That smell when you first flick through the pages!
Opening hours are 10.00am – 7.00pm daily and the store is located right in the center of town on the traffic circle.
See more information about Northshire Bookstore.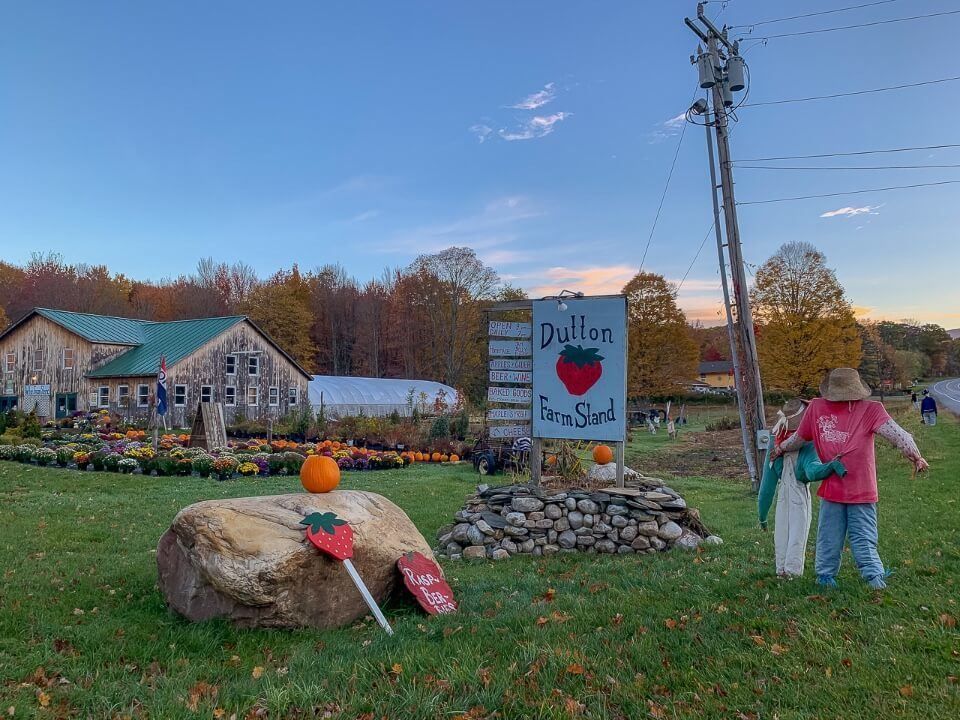 6.

Buy Fresh Produce At Dutton Farm Stand
From one local business to another, don't miss out on the best farm to table produce in Manchester, VT at Dutton Farm Stand, on the East side of town.
You can pick up a few bottles of Vermont wine and apple cider to take back to your hotel room or grab some delicious baked goods to eat before you take on a local hike.
If you have a kitchen in your accommodation, this is the place to buy your fresh fruits, vegetables, jams, cheeses and maple syrup.
They even have goats roaming around the land for the kids to see. If you're looking for anything classic Vermont to take home at the end of your vacation, you will find it all here.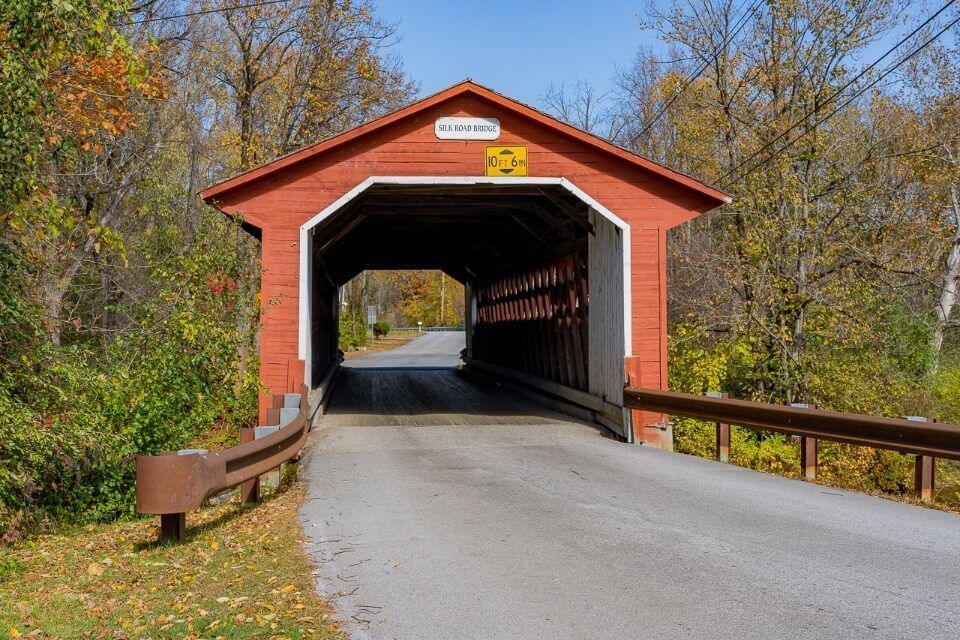 7. Collect Covered Bridges Near Manchester, VT
Collecting Covered Bridges is one of the most sought after things to do on any visit to Vermont and you do have a handful of stunning bridges within striking distance of Manchester.
The historic and intricate timber structures are incredibly fun to find, compare and appreciate. It's the perfect New England thing to do on your vacation.
Some are long, others are short. They come in red, white and timber colors. Each bridge is unique and offers its own photography opportunity but some do have far superior backdrops.
The best part is finding a new bridge that you didn't expect to see along a beautiful countryside road.
Here are just a few you can visit nearby:
Bennington – Silk Road Covered Bridge, Paper Road Covered Bridge and Henry Covered Bridge.
Arlington – Chiselville Covered Bridge and Arlington Covered Bridge.
Towards Brattleboro – Scott Covered Bridge and Dummerston Covered Bridge.
See our guide to 7 Stunning Covered Bridges in Vermont for more information and photographs.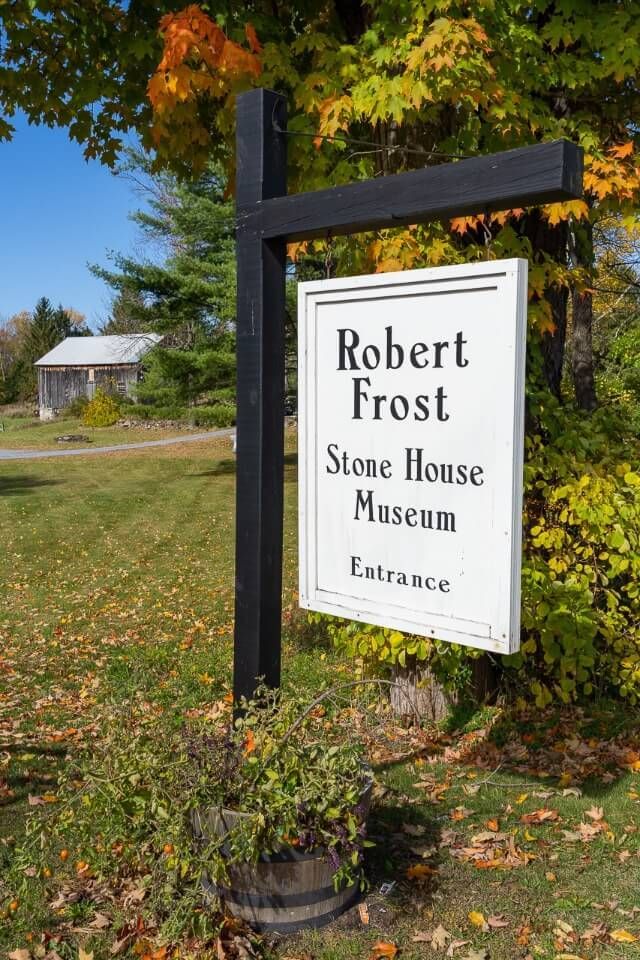 8. Visit Robert Frost Stone House Museum
Robert Lee Frost is one of the most celebrated and famous poets from the United States. Much of his work was based on rural life in New England in the early 1900's and in 1961, Frost was named poet laureate of Vermont.
Frost lived in many places throughout his lifetime, including a stretch in England where his most notable works were first published, A Boy's Will and North of Boston.
But it was New Hampshire, Vermont and Massachusetts in which he wrote and taught for most of his adult life. Frost spent the 1920's living in a Dutch Colonial house built in 1769, located near Old Bennington, just a few miles from Manchester, VT.
Today his old house sitting on seven acres is a museum dedicated to the poet and his works from the time he lived in this stone house, notably 'Stopping by Woods on a Snowy Evening'.
The museum is 18 miles southwest from Manchester and can be tied nicely in with some of the other things to do in this guide. Old Bennington Cemetery is very close to the museum and is where you can see Robert Frost's burial site.
Opening hours for the museum are Thursdays – Mondays from 10.00am – 4.00pm.
Admission:
Adults: $10
Seniors / Students: $6
Under 18: $5
Under 10: Free
See more information about Robert Frost Stone House Museum.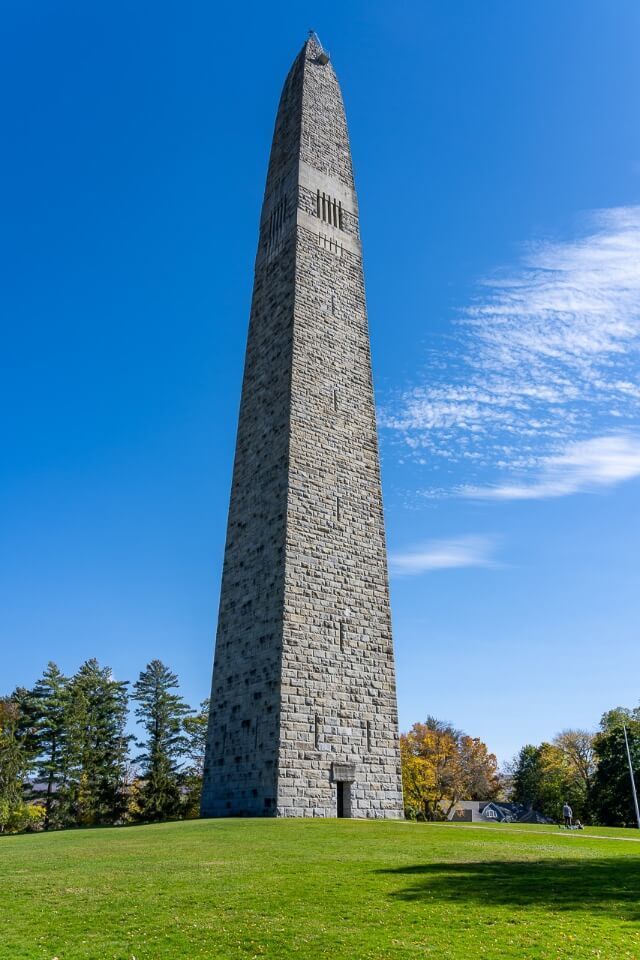 9. Admire The Bennington Battle Monument
Just 5 miles further South from Robert Frost's Stone House you will find the awesome Bennington Battle Monument towering 306 ft high into the sky.
The limestone monument was completed in 1891 to commemorate the Battle of Bennington from August 16, 1777. This site is widely regarded as a major turning point in the Revolutionary War.
You can see the monument from miles around and it looks even better from up close. The entire area is neatly manicured and attractively curated.
There is an observation deck a way up, which provides spectacular views over Vermont, New York and Massachusetts.
Opening hours are May 1 – October 31 from 10.00am – 5.00pm daily.
Admission:
Adults: $5
Ages 6-14: $1
Under 6: Free
See more information about Bennington Battle Monument.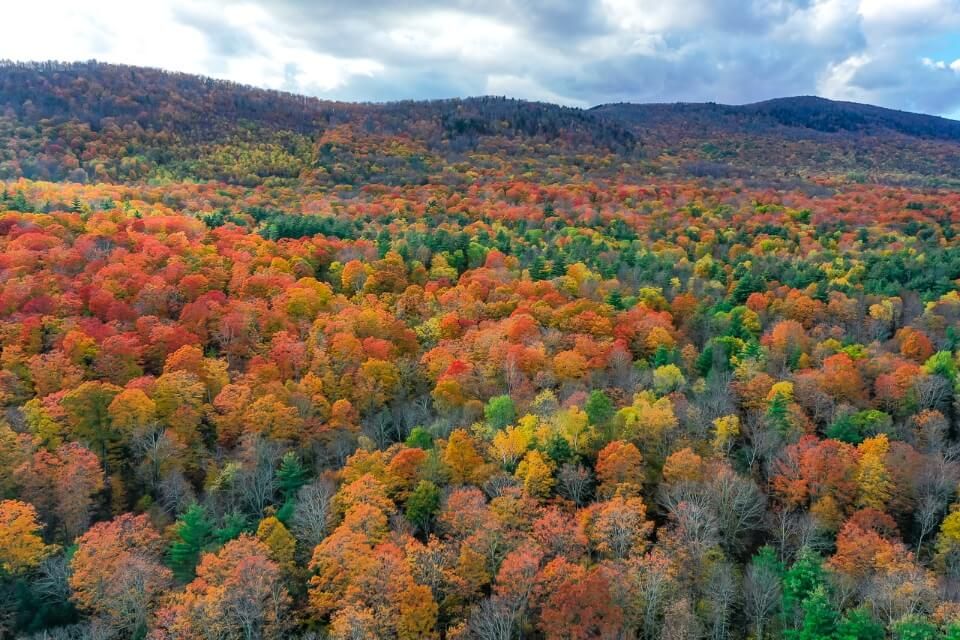 10.

Be Blown Away By Radiant Fall Foliage Around Manchester, VT
Manchester is a place you can visit in any season and reap the benefits of that particular time of year. However, it's hard to argue against Fall being the best time of year to visit.
The town is surrounded by endless miles of trees in the Green Mountains. So, when those trees turn during Autumn, you are looking at a kaleidoscopic landscape as far as the eye can see.
You can see the colors in Manchester but we highly recommend you jump in the car and just drive all around the local area.
Equinox Mountain summit is an obvious place to see the most open panorama but actually, you will find the colors are easier to see on quiet country roads in the Green Mountains.
You do need to be aware that mid September to mid October Fall is arguably the busiest time of year in Manchester and Vermont in general, which means hotels are booked early and prices are inflated.
But it is worth paying that little bit extra to be engulfed by staggeringly vibrant colors in one of the world's premier Fall foliage destinations.
Need a hand planning your New England fall road trip?

Our popular 40+ page New England Fall Road Trip Guidebook includes the 10 best places to visit (including Manchester VT) and 8 example itineraries ranging from 5-14 days to help you plan a successful leaf-peeping vacation.
11.

Photography Locations Around Manchester, Vermont
Fall foliage moves us perfectly onto our next topic, where you should go to find the best photography locations.
Start by using this list of the best things to do in Manchester, VT. Equinox Mountain, Hildene, Manchester Village Historic District, Covered Bridges and Bennington Battle Monument all make for great photo ops.
Manchester isn't as naturally photogenic as Stowe or Woodstock, but it does have beautiful and scenic countryside on its doorstep. So the key is to hit the country roads and find unique places to get your camera out.
If you have a drone, get it in the air. We drove out into the rural Green Mountains countryside and took some super quiet roads away from any buildings. Views are magic in Fall.
A note on using your drone when summiting Equinox Mountain – it is always extremely windy up there so bear in mind you might not be able to fly at the top.
The overwhelming majority of visitors to Manchester won't have a drone, but that's not a problem. You just need to find some higher ground in the surrounding hills.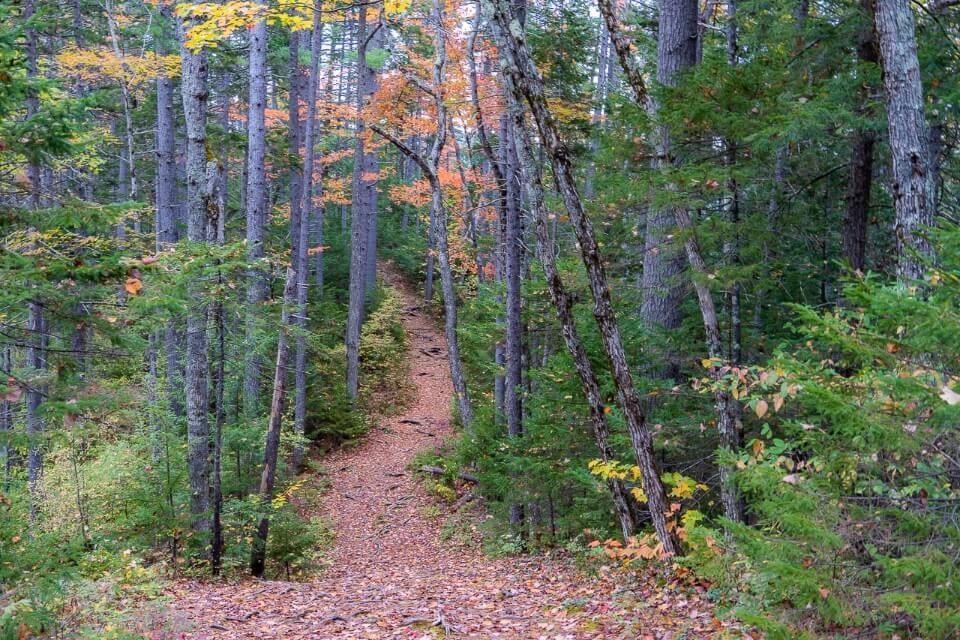 12.

Best Hikes Near Manchester, VT
Manchester isn't typically associated with being home to amazing hikes but you might be surprised by how many great trails are nearby.
The first thing to mention is that most of the popular hikes in this area are rated as moderate or hard. There aren't many (or any!) highly rated easy trails, unfortunately.
Lye Brook Falls is the number one hike near Manchester, VT but if you're looking for a challenge, you have to take on Equinox Mountain.
Lye Brook Falls a 4.4 mile out and back trail with almost 1,000 ft elevation gain, which isn't too bad for those who are borderline easy / moderate level hikers. It's worth the effort to see 125 ft tall Lye Brook waterfall, one of the highest in all of Vermont.
Equinox Mountain is a 6.3 mile out and back with almost 2,900 ft of elevation gain, which is a huge amount of elevation for a short trail. Yes, that means it is one of those steep climbs that never seems to end. But the views and the accomplishment are well worth a grueling ascent.
If you will be staying a few days in Manchester and want to tackle more hikes, here are the best of the rest:
Bromley Mountain – 6.2 miles
Prospect Rock – 3.1 miles
Gilbert's Lookout – 4.3 miles
Baker Peak Trail – 8.7 miles
Styles Peak Trail – 2.9 miles
13. Eat and Drink Your Way Through Manchester, VT
Manchester is a popular tourist spot throughout the year and that's great news for lovers of food. You will not go hungry on your visit to southern Vermont!
One thing to remember is places get booked up early in peak seasons and on weekends, so advanced reservations are a good idea. This is even more important during covid restrictions.
In Manchester Historic Village District, we recommend you check out the following restaurants:
The Reluctant Panther
The Silver Fork
The Crooked Ram
Moving up into the more built up and commercialized Manchester Center, you have more choice but here are some of the top rated places to eat:
Moonwink (Burmese)
Sam's Woodfired Pizza
Bonnet & Main Cafe
Christo's Pizza & Pasta
Ye Olde Tavern
Zoey's Deli
Bob's Diner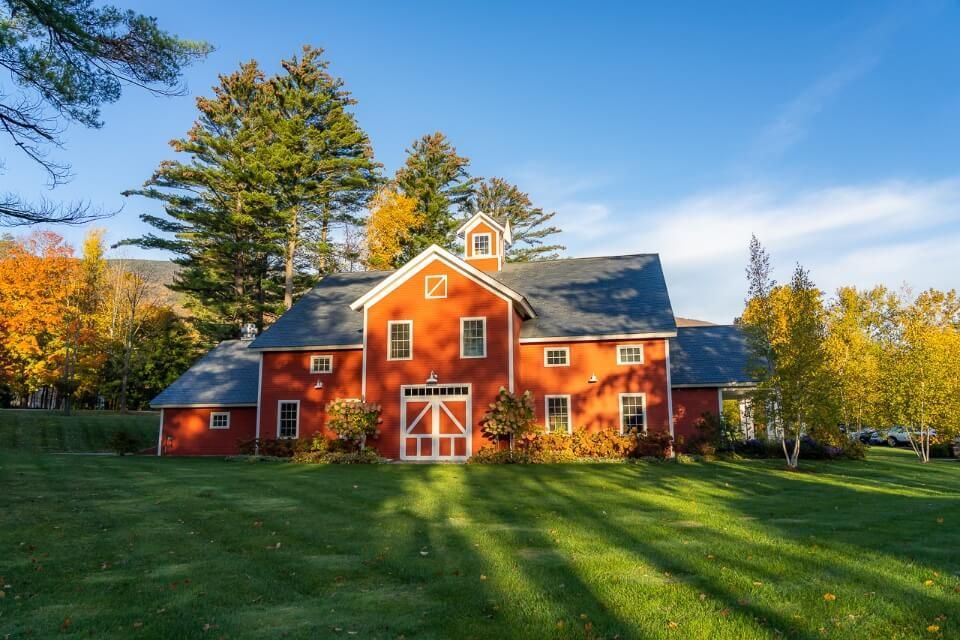 14. Stay In One Of Manchester's Quaint Hotels
Just like with eateries, Manchester is filled with an excellent and diverse selection of hotel options for visitors.
In the historic village you will find luxurious accommodations and in the newer Manchester Center area you will find a mixture of more affordable options.
We have personally stayed at a wonderful and highly rated place called The Inn at Manchester, which was built in the 1880's and is listed on the National Register of Historic Places. You will find white and red barns set on 4 acres surrounded by trees.
But there are plenty of other options spanning the budget range.
We have written a complete guide on where to stay in Manchester VT which you can read on our sister site Best Hotels Anywhere, or you can take a closer look at some of the top rated options below.
15. Go Skiing Near Manchester In Winter
Up to this point we've been undeniably bias towards visiting Manchester in Fall. But there are three other seasons you can visit southern Vermont with Winter being one of the best.
Ski resorts here aren't as popular as in Stowe Mountain Resort in the North of Vermont. But in Bromley Mountain Resort and particularly Stratton Mountain Resort, you have two Winter sports arenas within 20 miles of Manchester.
Bromley Mountain Resort has 47 trails for downhill skiing and snowboarding, spread evenly across beginner, intermediate and expert.
Stratton Mountain Resort labels itself as the "best ski resort near NYC". With 99 downhill trails, 12 cross country trails and 670 acres of total skiable terrain, it is a much larger resort.
There are very few hotels or amenities near both ski resorts, which means Manchester, VT is the place to be for the all important Apres-ski scene!
Map Of Best Things To Do In Manchester Vermont
Red Markers

– Locations of the best things to do in Manchester Vermont.
Click or touch the map to activate.
Zoom in and out, move around the map of Manchester VT to find each of the 15 best things to see and do in the area.
More From Vermont
Read our varied New England fall foliage road trip itineraries to plan your entire US northeast vacation in Autumn.
More From New England
---
We hope this guide to the best things to do in Manchester, Vermont helps you plan your visit!
Have you been to Manchester? What were your favorite things to do in the area?
Please let us know if you have any questions or need any help planning your visit in the comments below.
Happy Travels,
Mark and Kristen
Was This Post Helpful? Pin It For Your Visit!