Tightly hugging the Eastern shores of Lake Champlain, small but undeniably attractive Burlington is the most visited town in Vermont. We're going to show you 10 of the best things to do in Burlington VT so you can pack out your travel itinerary.
The narrow state of Vermont is filled top to bottom with charming and quaint towns at every turn. Burlington is the most populated city in Vermont with just 43,000 residents, but Montpelier is the state capital.
It may not be as beautiful as Woodstock, or as adventurous as nearby Stowe, but Burlington is Vermont's center of culture, arts, nightlife and shopping.
The college town, which runs entirely on renewable energy, is the perfect place to spend a day or two on a New England road trip, particularly in Fall when it is at its most spectacularly picturesque.
Church Street and its four block marketplace are the most famous attraction in Burlington. Shopping, eating and drinking in the marketplace is one of the most fun things to do in Vermont, but there's much more to see and do here on the banks of Lake Champlain.
Let's get stuck into 10 of the best things to do in Burlington, Vermont!
*Please note this post may contain affiliate links. If you click on one, we may earn a small commission at no extra cost to you!*
Top Tips For Visiting Burlington, VT
Before we jump into the best things to do in Burlington, VT, let's take a brief look at some our top tips for you to consider when planning your trip:
Burlington is the most popular town to visit in Vermont but it has surprisingly limited accommodation options.
Hotels downtown are expensive and in high demand, so it can pay to book ahead for best value.
The town looks stunning in all four seasons of the year.
Some of the best road trips in the US include Burlington when driving through Vermont.
One full action packed day or two relaxing days is enough time to see the town.
The town is very small but there are plenty of places to park.
You could use Burlington as a base for a variety of fantastic nearby day trips.
A handful of major east coast airports fly direct into Burlington.
Burlington is very close to New York's Adirondack Mountains, home of Lake Placid and Mount Marcy.
Best Things To Do In Burlington, VT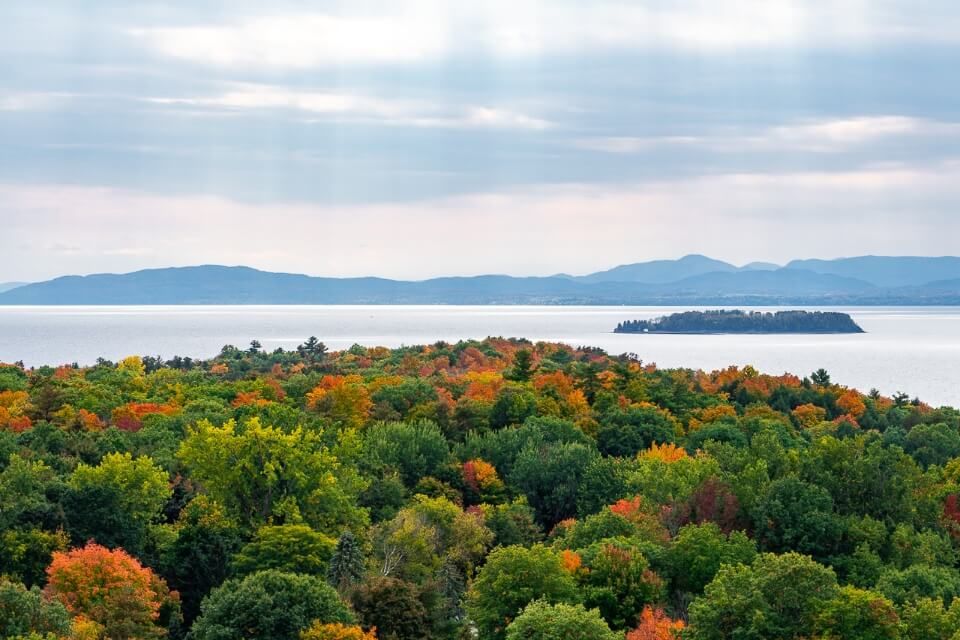 1. Make The Most Of Lake Champlain
Lake Champlain is a long and narrow fresh water lake forming much of the New York – Vermont border and stretching up into Quebec, Canada.
The lake has a colorful history, including playing an important role in the Revolutionary War of the 1770's and 1780's, and then again in 1812 in a battle near Plattsburgh on the Western shores of Lake Champlain.
Today the lake can be crossed by ferry between Burlington VT and Port Kent NY, which makes for an easy day trip to Ausable Chasm or further into the Adirondacks.
Back in Burlington, the lake is a focal point for activities, hikes with viewpoints, a small marina and numerous lakeside parks. At the very least, a picnic in one of the parks is a must-do when visiting Burlington in Summer. Don't forget your swimsuit if the sun is out!
Speaking of the sun, sunset is one of the best times of day to visit the lakefront. West facing views over Lake Champlain toward the setting sun make a relaxing sunset stroll the perfect way to end the day.
Did you know that in 1998 Lake Champlain became the sixth US Great Lake for a period of just 18 days before the Senate Bill was rescinded?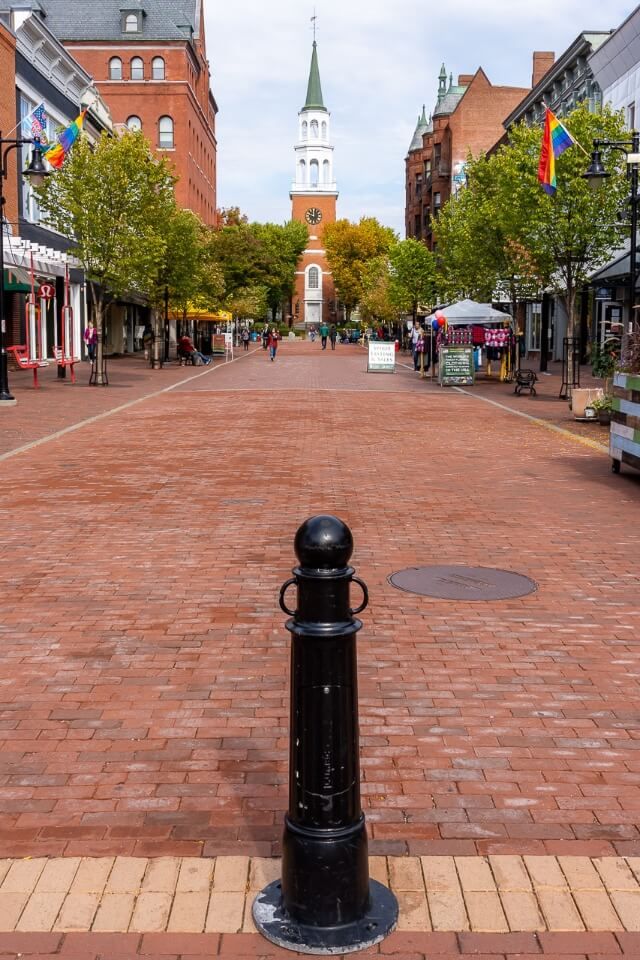 2.

Soak Up The Atmosphere Along Burlington's Famous Church Street
Church Street is Burlington's most famous attraction, top place to visit and best photography location. The red-brick pedestrian only street is filled with restaurants, shops and tourists.
If you're into photography, the classic up-street shot with the First Unitarian Universalist Society of Burlington Church at the end is unmissable. The best images are taken in the evening when Church Street illuminates under artificial lights.
The entire length of Church Street is effectively an open air mall called 'Church Street Marketplace'.
You will find historic buildings and architecture, year-round festivals, dozens of places to eat and drink, endless retail shops and a wonderfully positive buzz in the air.
No matter where you stay in Burlington, or what else you plan to do in town, you will naturally gravitate to Church Street each day for breakfast, lunch, dinner or a spot of shopping.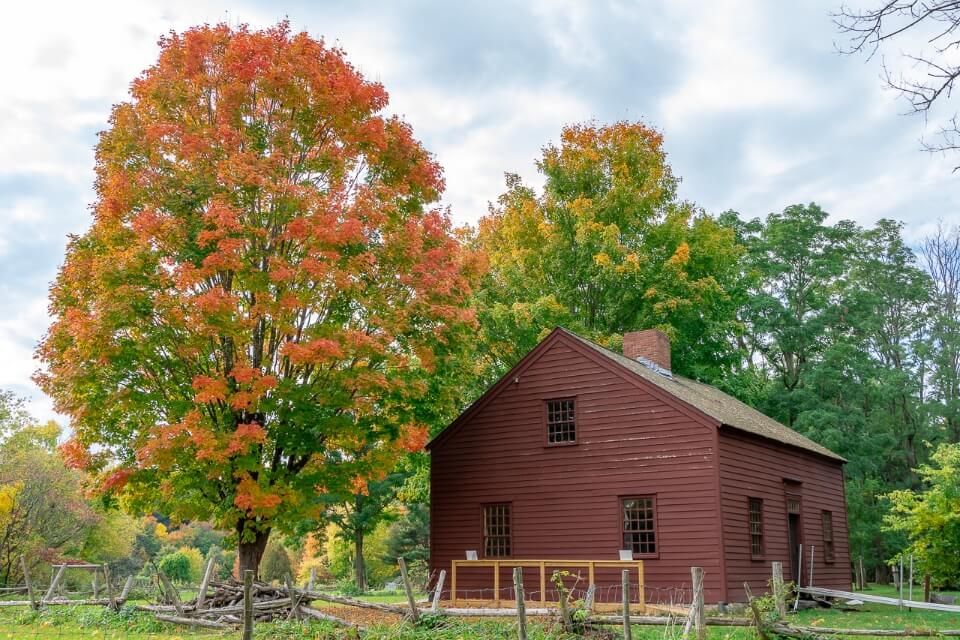 3. Explore The Ethan Allen Homestead Museum
Ethan Allen led an interesting life in the US northeast. He began with farming and iron works but became a leader in the 'Green Mountain Boys', a militia group opposing British New York and New Hampshire.
Allen and his boys would repel any attempt by outside surveyors to settle in the area now known as Vermont and this resulted in a price on his head. Later he bought up land that became Burlington and sold it for huge profit, against the laws of New York.
Allen then led his Green Mountain Boys to capture Fort Ticonderoga on the southern shores of Lake Champlain, without a single shot being fired. Raids in Quebec failed and he was captured by the British, kept prisoner on ships and in Pendennic Castle in Cornwall, Southwest England.
Eventually he was released as part of a prisoner exchange and played a role in the formation, growth and politics of Vermont's formation and early prosperity.
His fame and notoriety had grown, and after his death he was remembered as a fierce supporter of Vermont.
Today, his final home on the Onion River which is now called the Winooski River is the focal point of the Ethan Allen Homestead Museum. You can take guided tours of the homestead, walk the gorgeous grounds, hike to the river and learn about Allen's intriguing life.
See more about tours of Ethan Allen Homestead Museum in Burlington VT.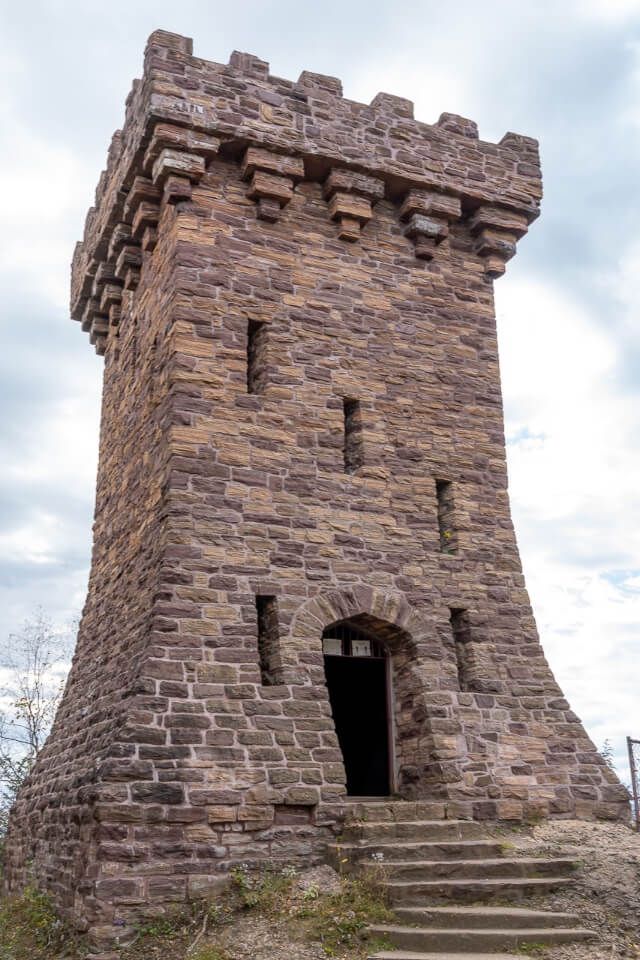 4. Enjoy Awesome Views Over Burlington From The Top Of Ethan Allen Tower
Just a mile away, you can park up in 60-acre Ethan Allen Park and walk along various trails surrounded by trees.
At the center of the park you will find Ethan Allen Tower, a 40 ft tall monument built of stone in the style of a castle or stand alone turret.
Climb a narrow metal staircase inside until you reach the top. A 360 degree viewpoint provides excellent views over Burlington and Lake Champlain.
The viewpoint is most popular at sunset in Summer or anytime in Fall when Autumnal colors are glowing. Expect colorful trees for foreground, Lake Champlain middle ground and New York hills as background.
Ethan Allen Park is a great place to take a relaxing stroll through forested land but don't miss the views!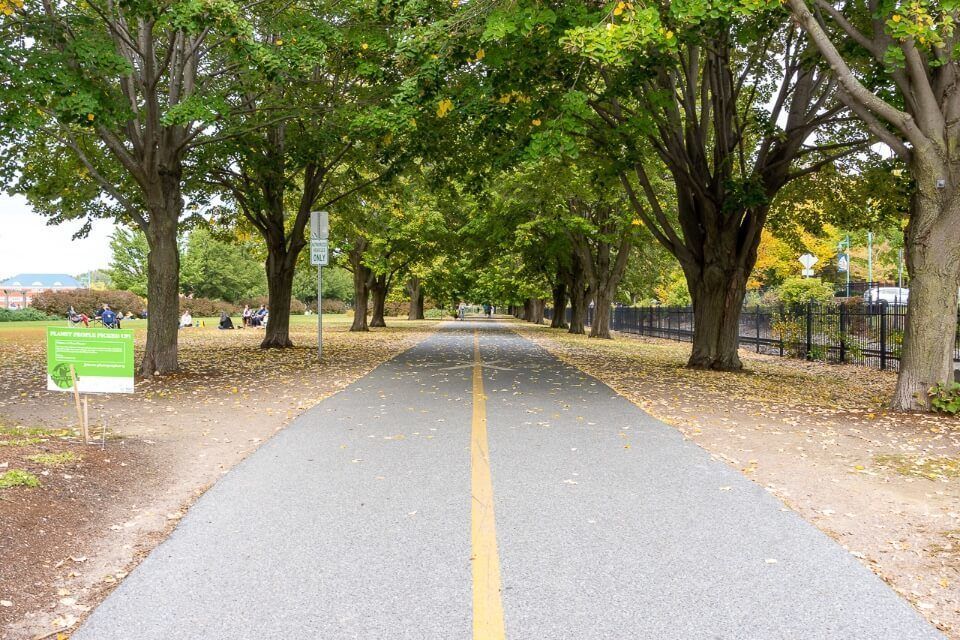 5. Ride Burlington Bike Path From Waterfront Park To Grand Isle
Taking a ride along Burlington's bike path, also known as The Burlington Greenway, is one of the best and most popular things to do in town.
The paved path follows Lake Champlain's shoreline for 8 miles and connects many of Burlington's lakeside parks. If you have time and are up for a long ride, follow the Island Line Trail further North.
You will cycle across a very narrow strip of land called the Lake Champlain Causeway and take the Local Motion ferry to Grand Isle. The bike ferry only crosses a short section between solid ground and asks for a small donation.
There are plenty of bike rental places in or near Waterfront Park, including green ride bike share.
You will be able to take awesome photos when cycling across the causeway!
See more information about Burlington VT Greenway Bike Path.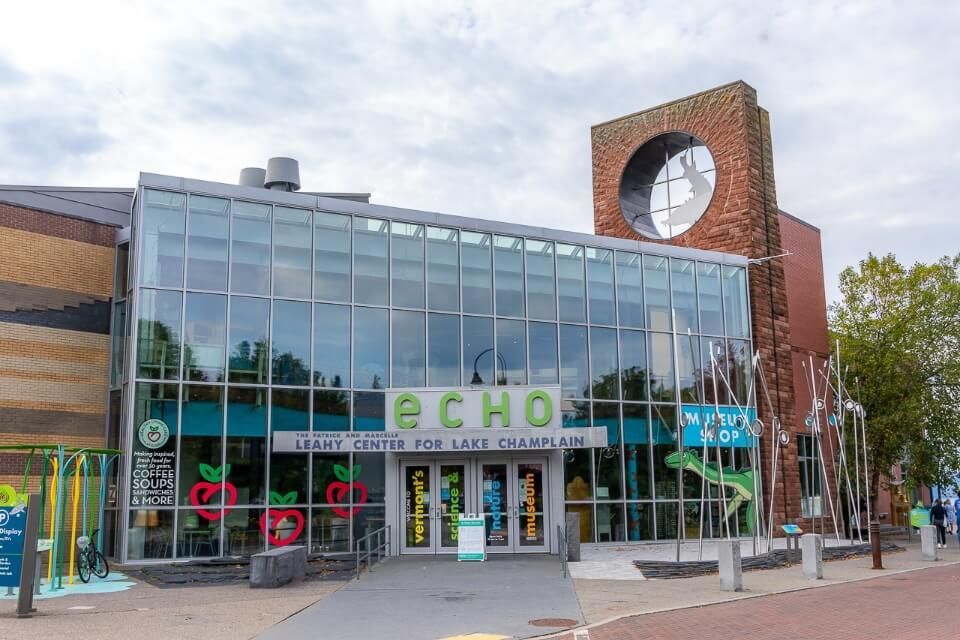 6. Learn At ECHO Science And Nature Museum
The ECHO Leahy Center for Lake Champlain is the perfect place to visit in Burlington if you are traveling with younger kids. They will love interactive displays and presentations about fish and other marine life.
There are loads of 3D movies, fish tanks, educational info boards, hands on learning and fun learning opportunities. A major focus of ECHO is to educate about the local natural environment, mainly Lake Champlain in Burlington.
Maybe not one for older couples or groups but definitely a rainy day option for families!
Admission and hours:
Adults: $18, Children: $14.50, Ages 2 and under: Free
Hours are 10am – 5pm, 7 days a week.
Animal demos are at 11am and 3pm daily.
Films and daily showtimes vary.
See more information about ECHO.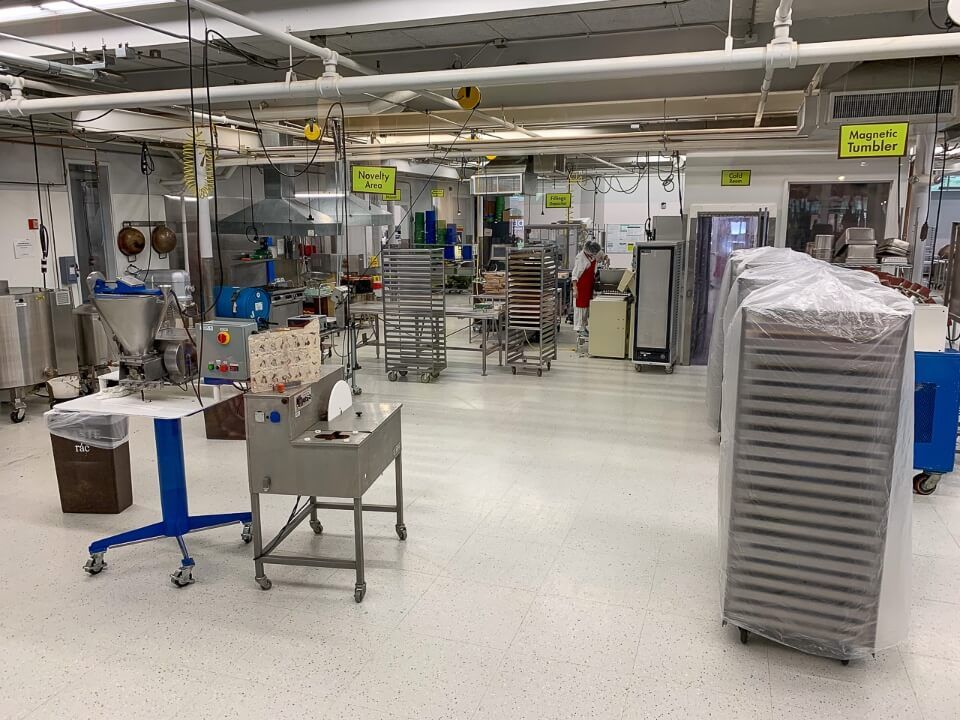 7. Taste Lake Champlain Chocolate At The Burlington Flagship Store
In Burlington's vibrant artsy South End neighborhood lies Lake Champlain Chocolates' flagship store. Lake Champlain Chocolates has been a locally run business using locally produced ingredients to create superior chocolate since 1983.
Until recently, there was a great tour you could take of the factory chocolate production line. The factory has moved to a different location and no tours are currently running. Hopefully they will pick this back up soon?!
Instead, you can still watch a video of the old factory tour, sample hundreds of delicious chocolate varieties and learn all about Lake Champlain Chocolate through interactive information boards.
You can snap up 'factory seconds' at great prices. The chocolate pieces may not be perfectly presented, but they sure taste the same!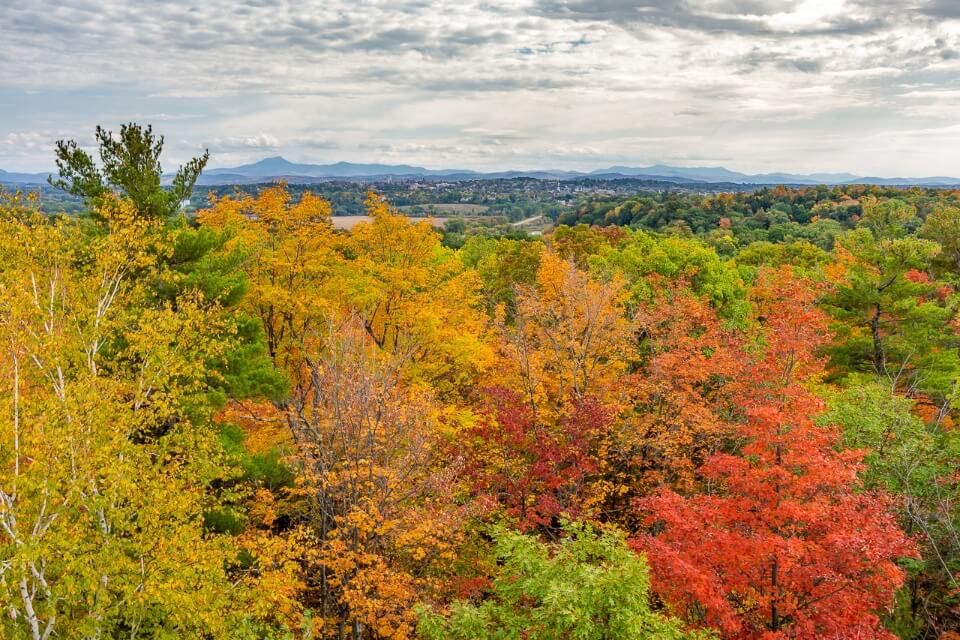 8. Be Surprised By Vibrant Fall Foliage In Burlington, VT
Burlington might not be the first place you think of when planning a New England Fall Road Trip itinerary. The likes of Stowe, Woodstock and Manchester in Vermont attract thousands of tourists at the beginning of October.
However, if you time it right at the very end of September and into the first week of October, Burlington VT will be one of the surprise packages on your Fall foliage hunt.
Just because it is a larger town, it doesn't mean there aren't any trees. We were blown away by how radiant the colors were in Burlington compared to a few days earlier in Lake Placid NY.
There's a lot of luck involved in timing it right for peak colors and the window is very small.
Among the best places in Burlington VT to see the colors are Ethan Allen Homestead, Ethan Allen Tower and cycling on the bike path out of town.
The key to finding a unique fall photo in or near Burlington is to jump in the car and drive around countryside roads nearby. Try to get to an elevated position so you can look back over the town with colors popping on trees below.
9. Take A Day Trip To Stunning Stowe, VT
Although technically not a thing to do in Burlington VT, a day trip to Stowe is something you can't miss if you have more than just a few days to spend in the area.
Stowe is an Alpine-style mountain resort town with hikes, waterfalls, skiing and a famous white church.
In Fall, photographers from around the world descend upon Stowe to photograph the church and other parts of the stunning valley at the base of Mount Mansfield.
Covered Bridges in Vermont are extremely popular and you can find a handful of worthwhile bridges to visit near Stowe. Plus, the original Ben & Jerry's Ice Cream factory in near the small town.
The 36 mile drive from Burlington to Stowe will take around 45 minutes along I-89.
We recommend driving over Smugglers Notch, dropping down into Cambridge and stopping at Brown's River Covered Bridge on the way back to Burlington.
Read about the 15 best things to do in Stowe to plan your day trip from Burlington.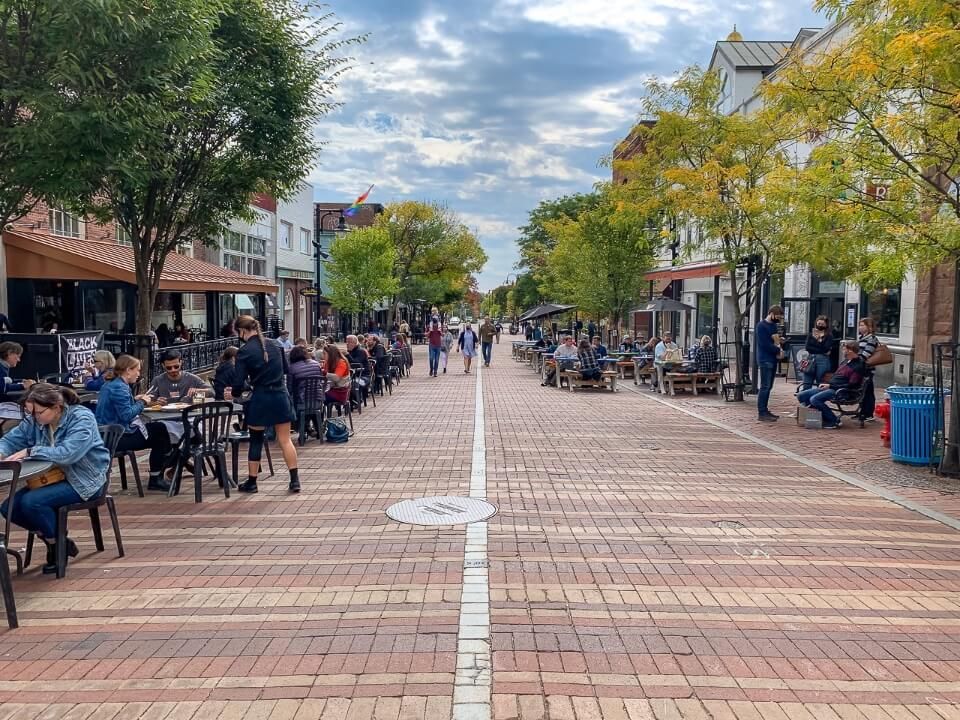 10.

Eat & Drink Your Way Through Burlington
What Burlington lacks in true 'must do' attractions, it more than makes up for with awesome eateries and breweries.
Remember this is a college town as well as a tourist town, so there are plenty of delicious options. And another important aspect to consider is that Burlington ranks as the number 1 place in the country for using fresh locally grown food.
With so many farms in so much farmland, there's no surprise that farm-to-table dining is par for the course in Vermont.
Let's start with food and a selection of the top rated places to eat in downtown Burlington, VT:
Bistro de Margot – French
Penny Cluse Cafe – Breakfast
Istanbul Kebab House – Turkish
Pizzeria Verità – Pizza
American Flatbread – Pizza
Trattoria Delia – Italian
Moving onto breweries, the three most talked about places to visit are:
Foam Brewers – Right in Waterfront Park next to the bike path (best location)
Switchback Brewery – South End (not far from Lake Champlain Chocolate)
Zero Gravity Craft Brewery – South End (next to Lake Champlain Chocolate)
Where To Stay In Burlington, VT
Burlington is a very popular tourist destination in Vermont, but there is a surprisingly low amount of hotels in the downtown area.
Staying downtown near Church Street is ideal for first time visitors who want to be at the heart of the lively town, but options are very limited and therefore are typically more expensive.
Those visiting on a low budget will have to look a little further out of downtown Burlington to find affordable rooms nearby. Colchester and South Burlington have a handful of options, or you can book a cheaper room near the airport.
Remember that Vermont receives more snow per year than any other US state. Getting around once in town is easier by foot, so plan to stay centrally if you are visiting in Winter.
If you want to find a great place to stay in Burlington, read our complete guide to the 8 best hotels in Burlington VT on our sister site Best Hotels Anywhere.
Alternatively, take a closer look at some of the top rated hotels below listed from cheap to expensive:
Map Of Best Things To Do In Burlington Vermont
Red Markers

– Locations of the best things to do in Burlington Vermont.
Click or touch the map to activate.
Zoom in and out, move around the map of Burlington VT to find locations of the best things to see and do in the area.
More From Vermont
Plan your vacation with our New England Fall Foliage Road Trip Itineraries covering 5 days, 7 days and 10 days.
More From New England
---
We hope this guide to the best things to do in Burlington, Vermont helps you plan your visit!
Have you been to Burlington? What were your favorite things to do in the area?
Please let us know if you have any questions or need any help planning your visit in the comments below.
Happy Travels,
Mark and Kristen
Was This Post Helpful? Pin It For Your Visit!