Are you thinking about visiting Acadia National Park in the fall? We are going to answer 10 important questions you might have about your trip to Acadia in September, October or November, including key things to know about weather, costs, crowds and of course the best fall foliage leaf peeping locations.
Is the fall a good time to visit Acadia National Park?
Yes! We have personally photographed and hiked the best of Acadia in peak fall foliage season and it was spectacularly beautiful. In truth, we would only consider revisiting Acadia if it was during the exact same period around the end of September or beginning of October.
In this guide we will cover:
10 key things to know about visiting Acadia in fall
In depth information about temperatures, prices and tourism
Best things to do on a visit to Acadia National Park in fall
The best fall foliage photography spots in Acadia
Let's get right into the 10 most important things you should know about planning a trip to Acadia in the fall!
Why Visit Acadia In The Fall?
Vibrant fall foliage colors, fewer tourists and slightly lower hotel costs compared with summer, comfortable hiking conditions and later sunrise times make fall the very best time of year to visit Acadia National Park in Maine.
In spring you will find the best deals on hotels and the fewest tourists inside Acadia. But the weather is cold and snow is common, plus the trees are bare and overall the park isn't as attractive.
Summer brings the warmest temperatures and the longest days to the coastal Maine area. However, it is also the most expensive and overcrowded time of year in Acadia.
Therefore, we think fall in Acadia has the perfect balance between costs, weather and crowds. And that is even before taking into account the main attraction of striking autumnal leaves.
Autumn Road Trips
September and October are our two favorite months of the year to visit the top US vacation spots like Acadia. We always try to plan extensive road trips through different parts of America each year in fall.
If you have plans to drive a New England fall road trip this year, we strongly recommend adding in a spur trip from the more popular spots in Vermont and New Hampshire to include Acadia National Park in your itinerary.
Need a hand planning your New England fall road trip?

Our popular 40+ page New England Fall Road Trip Guidebook includes the 10 best places to visit and 8 example itineraries ranging from 5-14 days to help you plan a successful leaf-peeping vacation.
Let's take a look why the fall is a fantastic time to visit Acadia National Park.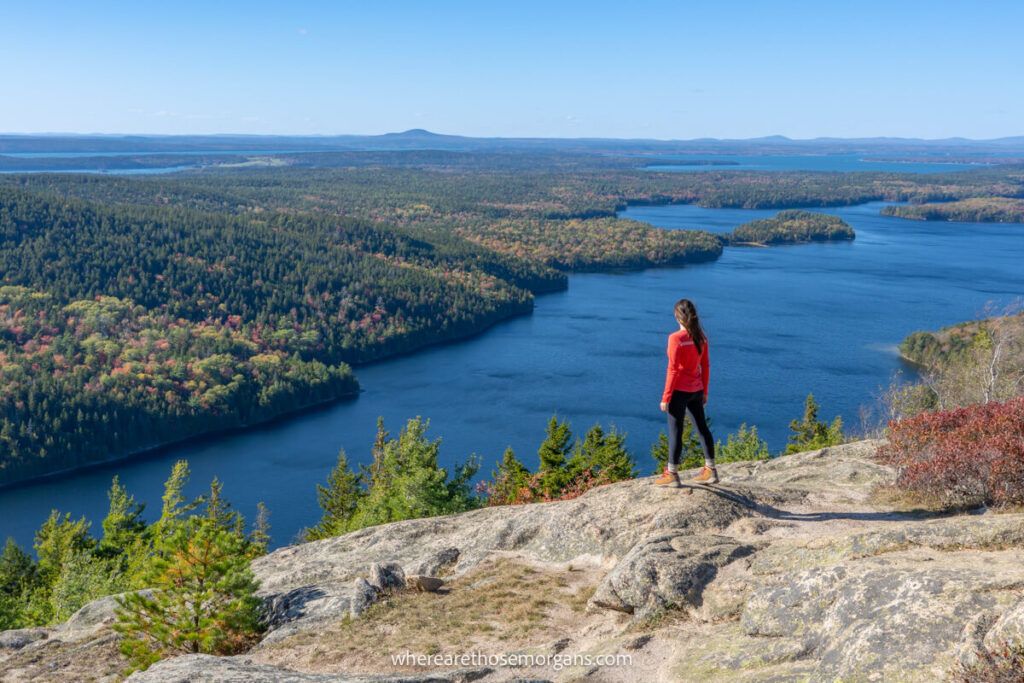 1. Is Acadia National Park Crowded In Fall?
Acadia is among the very best national parks in the USA, and it is one of the most popular tourist hotspots on the east coast.
The fall season is typically far less crowded in Acadia National Park when compared with visiting during the school holidays in the warmer summer months.
Despite visitor numbers remaining relatively high during the 2 – 3 weeks when fall colors in Acadia peak, it is still less busy than July and August.
With that said, you will find the park is much quieter if you decide to visit Acadia later in the fall.
Mid October through the end of November after the popular leaf peeping season ends are some of the quietest weeks of the year in Acadia while the entire park remains completely open.
How Many People Visit Acadia Annually?
Acadia National Park hosted 4.07 million visitors in 2021 and 3.97 million visitors in 2022.
Data source: Statista
Both years following the end of coronavirus pandemic lockdowns yielded higher tourist numbers than ever before. As a result, you must have realistic expectations about crowds in Acadia.
No matter when you decide to visit, the park will not be as quiet as many other US national parks.
The NPS states that July, August and September are the busiest months of the year in Acadia. But the important thing to consider from a fall visit standpoint is that the first week of September is still the school holidays.
Later in September and early October when vibrant fall colors are peaking in Acadia, the crowds have thinned to a comfortable level.
What Does That Mean For You?
Well, it means that visiting Acadia in the fall is about as good as it gets from a crowds perspective.
The only other month to consider for avoiding the Acadia crowds is May, but then you don't benefit from the spectacularly colorful leaves on display in New England.
The small but upscale town of Bar Harbor is busy in October because it is the most popular place to use as a base for exploring Acadia National Park. But if you book your Bar Harbor hotel early enough in the year you can get a good deal right on Acadia's doorstep.
Here are the major crowd related benefits to visiting Acadia National Park in the fall:
More availability and competitive prices on hotels (lower occupancy and average daily rate versus summer)
The relatively few restaurants in Bar Harbor won't always be full or require advanced reservations
Getting parking spots at popular trailheads will be slightly easier than summer months
Acadia's extensive collection of hiking trails will be less crowded than in summer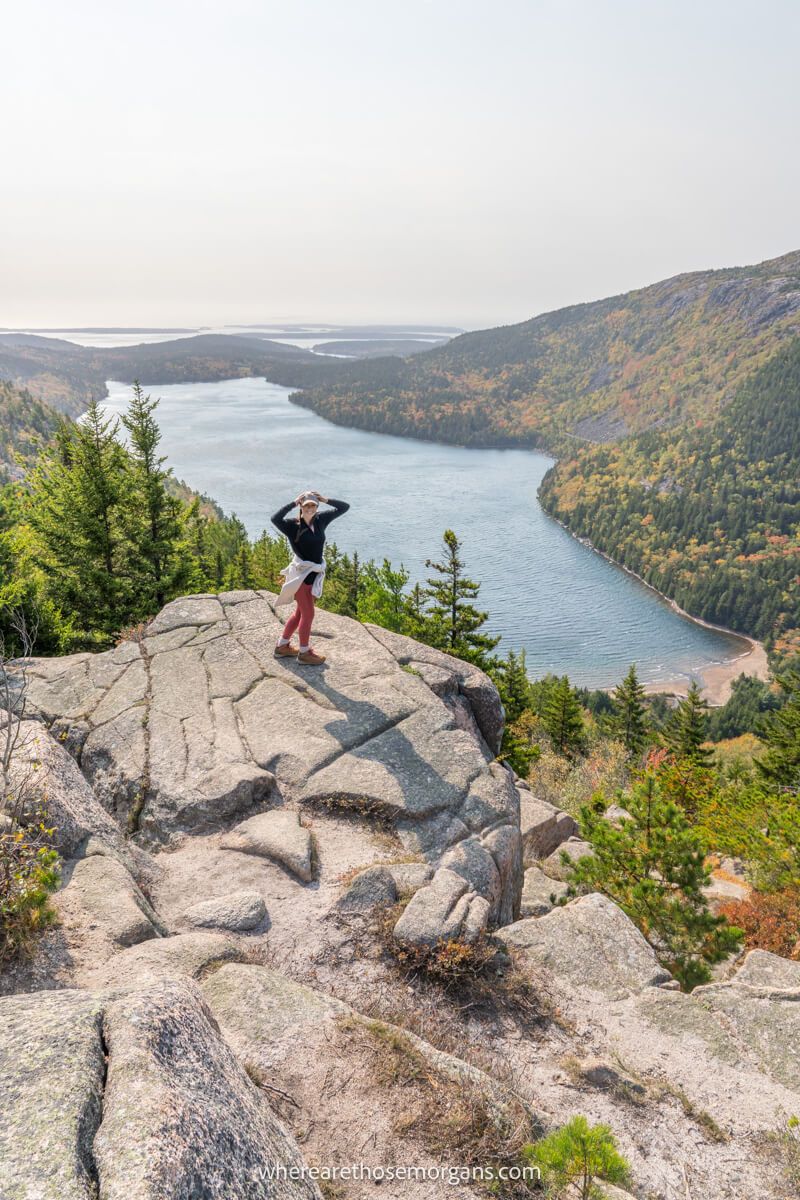 2. What Is The Weather Like In Acadia During Fall?
In terms of taking part in outdoor activities such as hiking and photography, the weather transitions from excellent to fair throughout the fall season in Acadia National Park and Bar Harbor, Maine.
Generally speaking, the weather in Acadia in September and early October is more comfortable, cooler, clearer and quite wet. Whereas Acadia's weather in late October and November turns colder, cloudier and wetter still.
One thing to remember is that it can get incredibly windy on the coast at times. On our second day hiking we had to contend with some seriously strong gusts, which made photography challenging.
Is Acadia Cold In October?
Depending on when you choose to visit Acadia for the fall colors, you may end up having a completely different experienced based on weather and temperatures.
The weather in Acadia in September is generally warmer and more comfortable, but what if you visit Acadia in early October?
Well, October is the month when change really begins to take hold of the region. Average temperatures slide from comfortable to cold, particularly early in the morning and later in the evenings.
With that said, we never had any issues with weather or bitterly cold temperatures during our own visit to Acadia in October. In fact, we were fortunate enough to enjoy warm weather suitable for hiking in shorts and t-shirts.
However, throughout our entire New England road trip around the end of September and the beginning of October we did endure several days of rainfall.
Rain has the potential to become more of an issue than cold temperatures during your visit to Acadia in the fall season.
Acadia Fall Temperatures
Let's take a closer look at the high, low and average temperature statistics for Acadia National Park in fall.
September Temperatures In Acadia National Park
High Temperature – 65°F (18°C)
Average Temperature – 58°F (14°C)
Low Temperature – 51°F (11°C)
October Temperatures In Acadia National Park
High Temperature – 56°F (13°C)
Average Temperature – 49°F (9°C)
Low Temperature – 43°F (6°C)
November Temperatures In Acadia National Park
High Temperature – 46°F (8°C)
Average Temperature – 40°F (4°C)
Low Temperature – 34°F (1°C)
Data source: Weather Spark
Does It Snow In Acadia In Fall?
You are very unlikely to see snow in Acadia if you visit for fall foliage colors in late September and early October. The average snowfall in September is 0 and just 0.2 inches in October, which will fall at the end of the month.
However, if you visit Acadia later in fall during the month of November, you stand a good chance of seeing the rolling hills and lakesides covered in a sprinkling of powdery snow. The average snowfall in Acadia for November is 2.4 inches.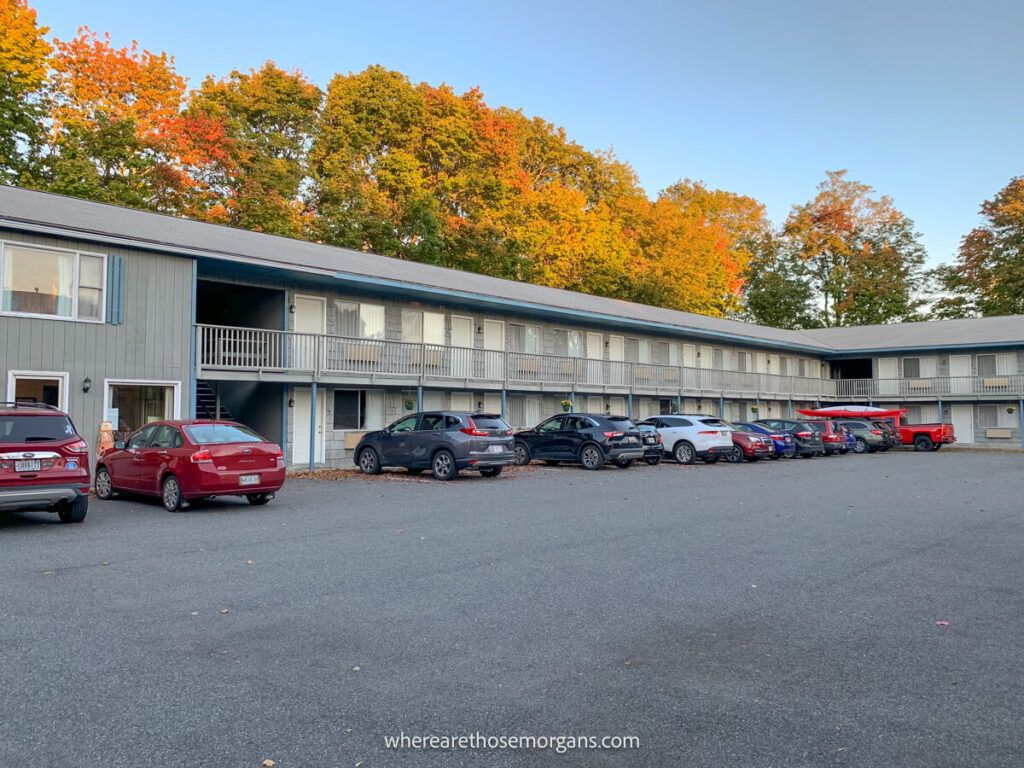 3. Are Hotels Near Acadia Expensive In Fall?
Bar Harbor is a glamorous seaside town which is expensive to visit year round irrespective of being so close to Acadia National Park.
Above average hotel prices reflect the popularity and upscale coastal Maine location. Our advice is to plan for a larger lodging spend than you usually might allocate.
With that said, you will benefit from lower occupancy rates and slightly better value for money at hotels near Acadia during fall versus during summer months.
Hotels close to Acadia are most affordable during the early spring and late fall when the park is still fully open but fewer visitors need a place to stay.
Where To Stay Near Acadia
Bar Harbor is by far the most popular accommodation choice for many visitors to Acadia National Park. However, it is also by far the most expensive place to stay in the area.
You can also stay in other small pockets around Mt Desert Island on the boundaries of Acadia or you can choose to stay around a 30 minute drive away in Ellsworth, which is much more affordable but less convenient for the park.
Here are the 3 hotels we see the most bookings for:
Acadia Hotel Downtown – Our top pick and where we stayed in Bar Harbor, excellent location and price.
Main Street Motel – Highly rated low budget hotel located slightly south of main street in Bar Harbor.
Anchorage Motel – Lacking the same quality but desirable as one of the cheapest places to stay in downtown Bar Harbor.
Not sure where to stay yet? Read our popular guide on exactly where to stay near Acadia National Park which covers the 5 best places you can book a hotel for any budget.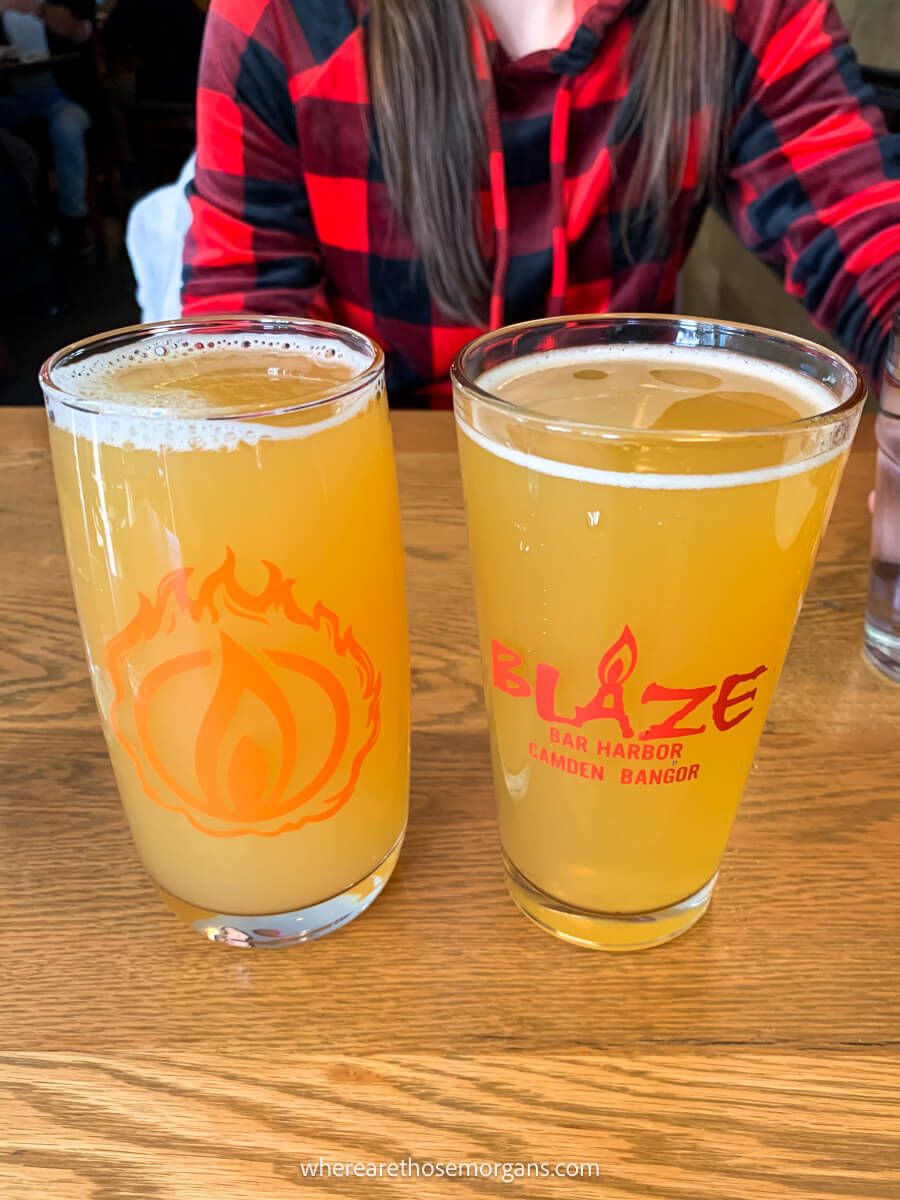 4. Will You Need To Reserve Tables At Restaurants Near Acadia In Fall?
The short answer is yes!
We strongly recommend you get organized, figure out where you want to eat each morning, lunch time or evening and get it all booked before you arrive to Bar Harbor.
Although we visited Acadia during the 2020 covid restricted fall season, restaurants were nevertheless booked up and long lines formed at each meal time.
You will likely only have 2 or 3 full days in town, so don't waste any time standing in line or searching for places to grab food.
Remember, there are thousands of tourists at Acadia each day in September and early October. Most of those will be staying in or around Bar Harbor and there are surprisingly few restaurants to choose between.
If you are visiting Acadia later in fall you won't need to worry about reserving tables at restaurants in advance.
Top Rated Restaurants Near Acadia
Bar Harbor is home to the biggest selection of places to eat near Acadia.
Most visitors to Acadia will dine exclusively in Bar Harbor, but there are also a handful of excellent places to eat in Southwest Harbor if you plan to watch the sunset at Bass Harbor Head Lighthouse.
Expect to pay over the odds for food when eating out in Bar Harbor, plus 8% tax and tip.
Don't forget you are in coastal New England so seafood and especially clam chowder are the foods not to miss in Bar Harbor.
Top tip: Shop for lunch food at Hannaford grocery store either the night before or early morning before entering Acadia for the day. There are few places to eat in the park and time is of the essence!
Here are some of our top restaurant picks for you to try in Bar Harbor: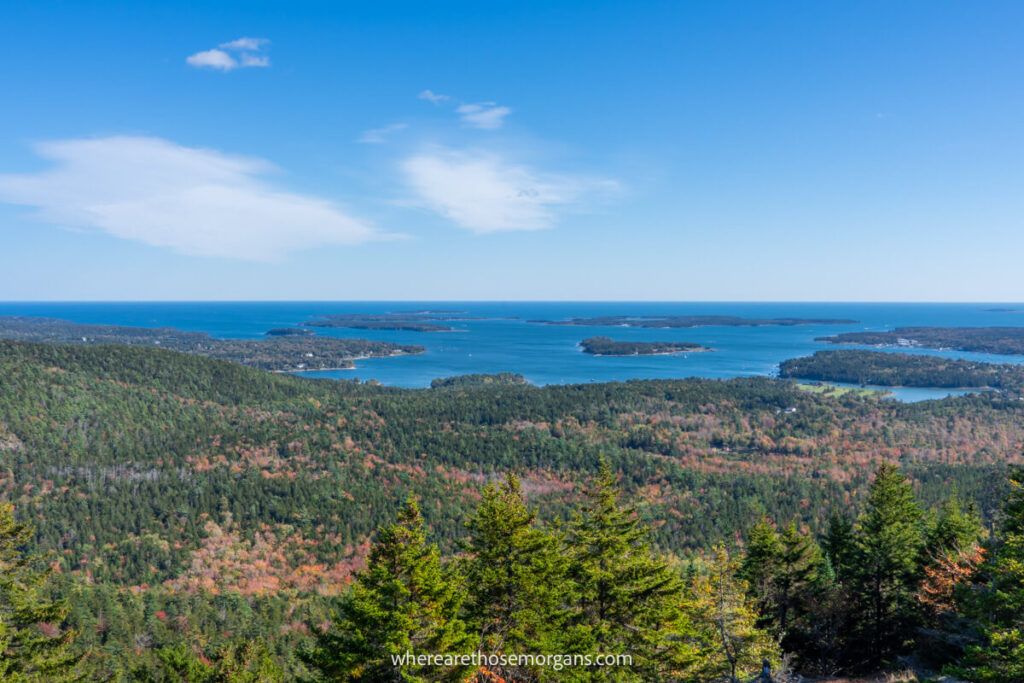 5. What Are The Best Things To Do In Acadia In The Fall?
Acadia National Park is the most visually stunning New England adventure playground for hikers and photographers to enjoy.
In fall when the colors transition into vibrant rustic earthy tones, it changes an already beautiful natural landscape into a truly magnificent arena of fun for lovers of the great outdoors.
The radiant fall foliage is by far the most special aspect of visiting Acadia in September or October. And you can trust us when we say it is worth holding off on a summer visit to soak up the array of colorful leaves lighting up rolling hills surrounding azure lakes.
The good news is you can do most of the same things in Acadia in the fall that you could also do in the spring or summer.
However, one major exception is sunbathing and swimming in the lakes because the sun is not warm enough and the water is too cold.
Unmissable Acadia
There are so many things to do in Acadia National Park for every type of visitor.
Here's what you can't miss in fall:
Fall foliage photography
Hike the adrenaline pumping Precipice Trail
Enjoy sunrise from Cadillac Mountain summit
Watch sunset at Bass Harbor Head Lighthouse
Hike to several mountain summits for impressive views
September and October are the best months of the year to enjoy what makes Acadia so special. You will benefit from the best colors, comfortable hiking conditions and fewer crowds. It really is a win-win.
Do you know exactly what you will do in Acadia? If you're not sure yet, read our complete guide to the 17 best things to do in Acadia National Park.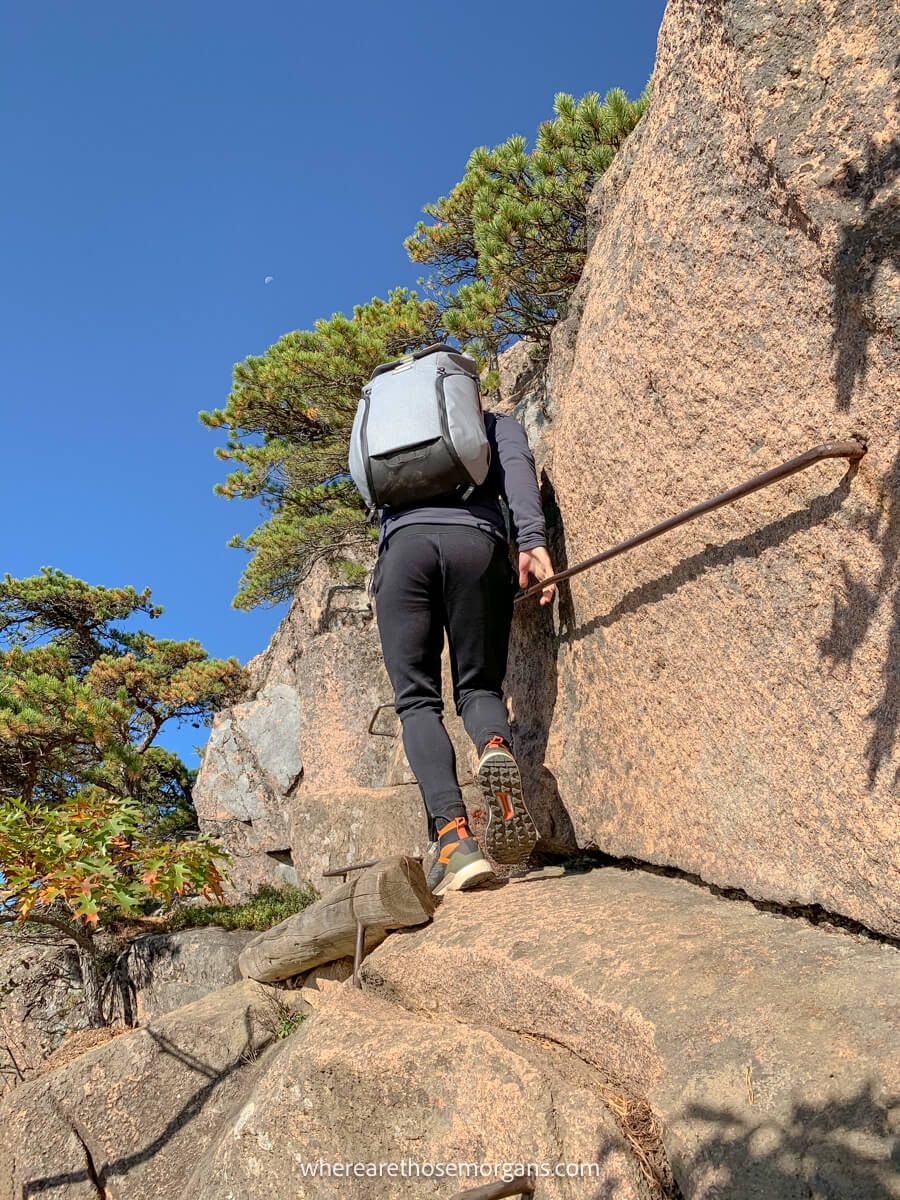 6. Is Fall A Good Time To Hike In Acadia National Park?
We think fall is the very best time of year for hiking in Acadia.
Cooler temperatures are perfect for working up a sweat as you climb short but steep gradients, there are fewer people sharing the trails and of course you are surrounded by exceptionally photogenic fall foliage.
Getting parked at trailheads is notoriously difficult in Acadia. We can personally attest to how frustrating it can be to arrive at a trail and find the lot full.
It happened to us during our fall trip to Acadia at The Bubbles and we had to circle back an hour or so later. If you visited Acadia in July or August, you would have even more of a difficult time getting parked up.
Overall you benefit from many aspects and suffer from few. The only cause for concern is cold mornings and overnights, so if you plan to hike to Cadillac Mountain for sunrise you will need to pack warm layers.
Top Hiking Trails In Acadia
The reason most people visit Acadia is to get stuck into the awesome range of hiking trails in the park. We love hiking in Acadia and can't wait to hike more trails surrounded by colorful fall foliage.
Here are some of the top trails you can't miss on a first visit to Acadia:
Acadia Mountain
Beech Mountain
North and South Bubble
Planning to hike in Acadia? Read our popular guide on the 10 best hikes in Acadia National Park and start planning your hiking itinerary today.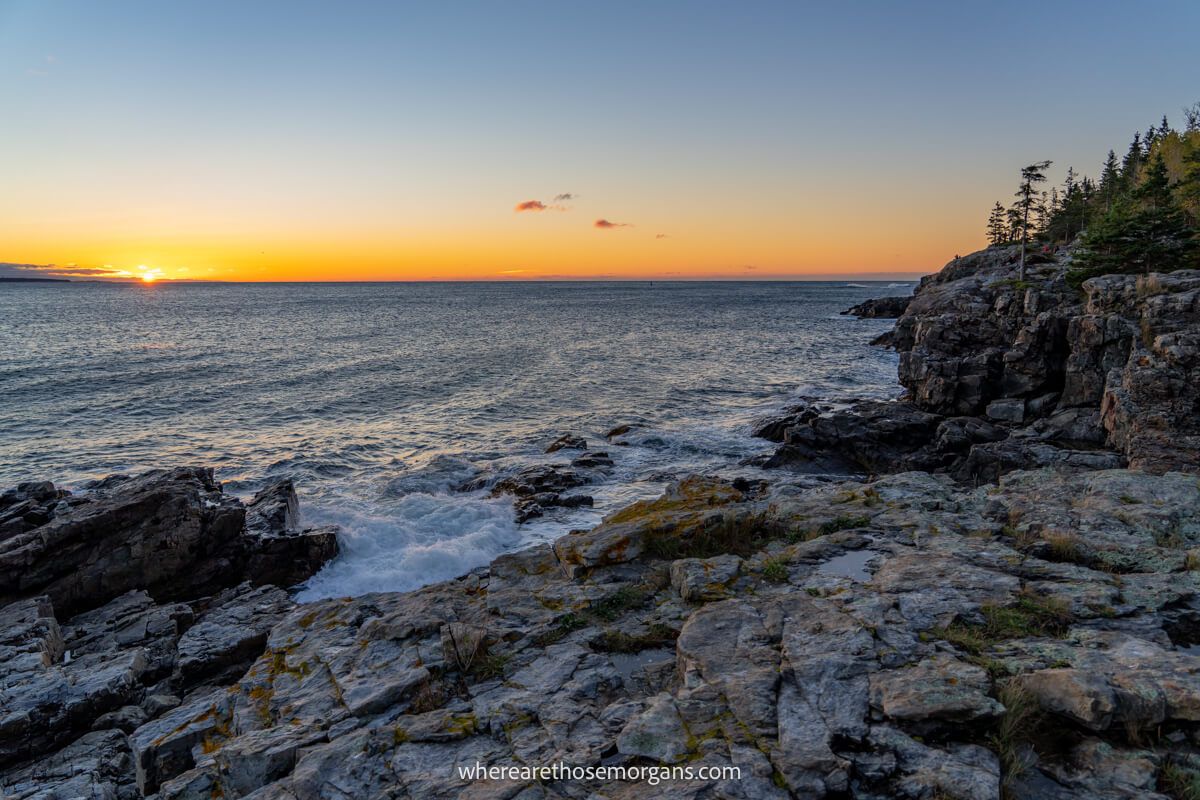 7. Is The Fall A Good Time For Photography In Acadia?
By now you might have guessed that we think fall is the best time to visit Acadia and photography is at the heart of our reasoning.
The end of September and beginning of October are by far the best times of year for photography in Acadia National Park. It isn't even a close contest for any other month of the year.
New England is world famous for leaf peeping and you will undoubtably see plenty of professional photographers on site in Acadia during the peak fall foliage season.
But it isn't just the colors.
Later sunrises and earlier sunsets when compared with summer make golden hour photography that little bit more convenient. Plus, there will be fewer people around to wait your turn at the top spots.
Best Photo Spots In Acadia
Here are some of our favorite photography locations around Acadia National Park:
Any mountain summit overlooking lakes, ponds, hills and the ocean
Jordan Pond in particular is very photogenic
Bass Harbor Head Lighthouse at sunset is a classic Acadia photo spot
Sunrise from the summit of Cadillac Mountain is unmissable
Or sunrise from anywhere along the eastern coastline of Acadia is amazing
A hidden white bridge reflection photo in Sommesville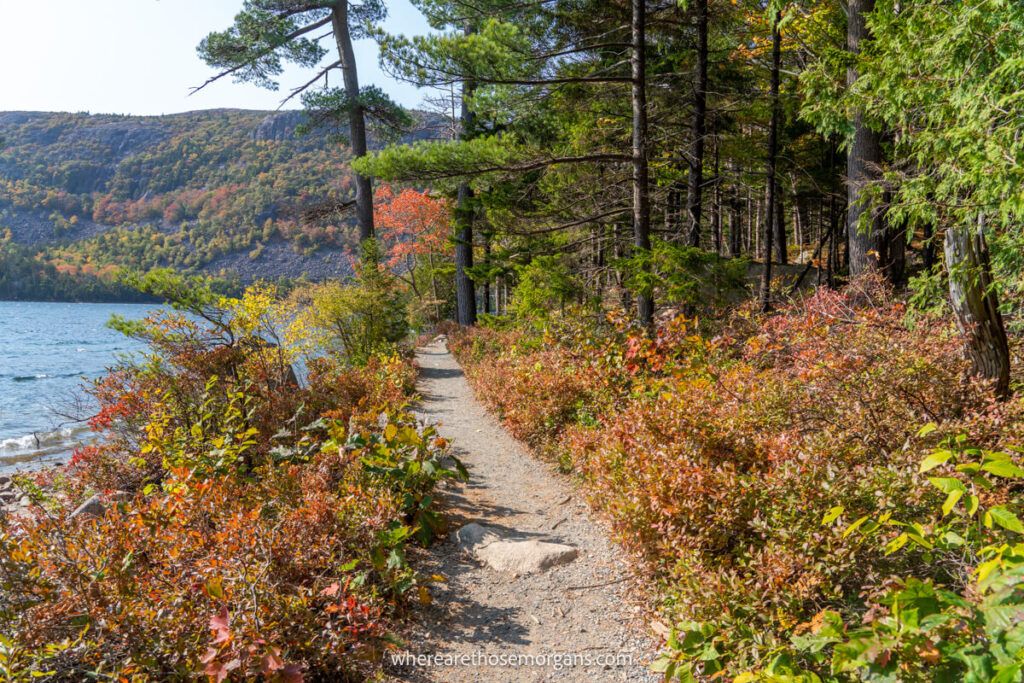 8. Where Are The Best Places To See Fall Foliage In Acadia?
Visiting Acadia in fall affords you a unique opportunity to see one of the busiest and most highly regarded US national parks in all its glory.
There simply is no better time of year for photographers and naturists to enjoy the very best of Acadia National Park.
The good news is that brilliant fall colors spread far and wide throughout Acadia. You can walk, hike, cycle or drive through the park and see plenty of reds, oranges, yellows, browns and greens glowing under sunlight.
With that said, there are a handful of foliage hotspots you should prioritize.
Best Fall Foliage Spots In Acadia
Jordan Pond – The trees encircling Jordan Pond are filled with vibrant autumnal leaves.
Beehive Trail – Views are of rolling hills covered in radiant leaves and the ocean.
Cadillac Mountain – Gaze over colorful leaves for miles from the highest point in Acadia.
Loop Road – Driving the Acadia Loop Road takes you past countless fall foliage spots.
Carriage Roads – Hire a bike and cycle through the quieter parts of Acadia filled with color.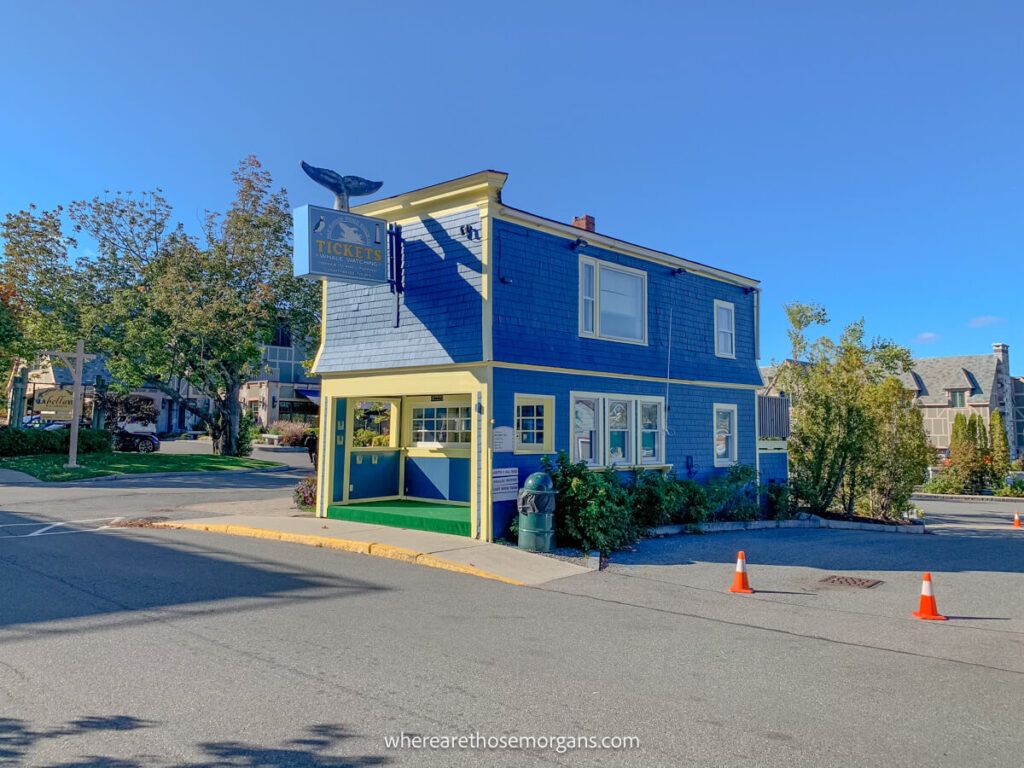 9. Can You Go Whale Watching In Bar Harbor In Fall?
Taking a whale watching boat tour is one of the most popular things to do around Bar Harbor outside of leaf peeping, hiking and photography inside Acadia National Park.
The good news is that you can book onto a whale watching tour until as late as October 8th. The bad news is that the chances of seeing whales diminishes as the season comes to a close.
If you visit Acadia earlier in the fall season during the last few weeks of September, you stand a better chance of seeing whales and not having your tour cancelled due to bad weather based on typical weather systems around this time of year.
But if you visit Acadia later in the fall season towards the end of October or at any point in November when the crowds are few and hotel prices are cheaper, you will not be able to take a whale watching tour out of Bar Harbor.
If a whale watching tour sounds like something you might want to do on your visit to Acadia, you can find more information with Bar Harbor Whales.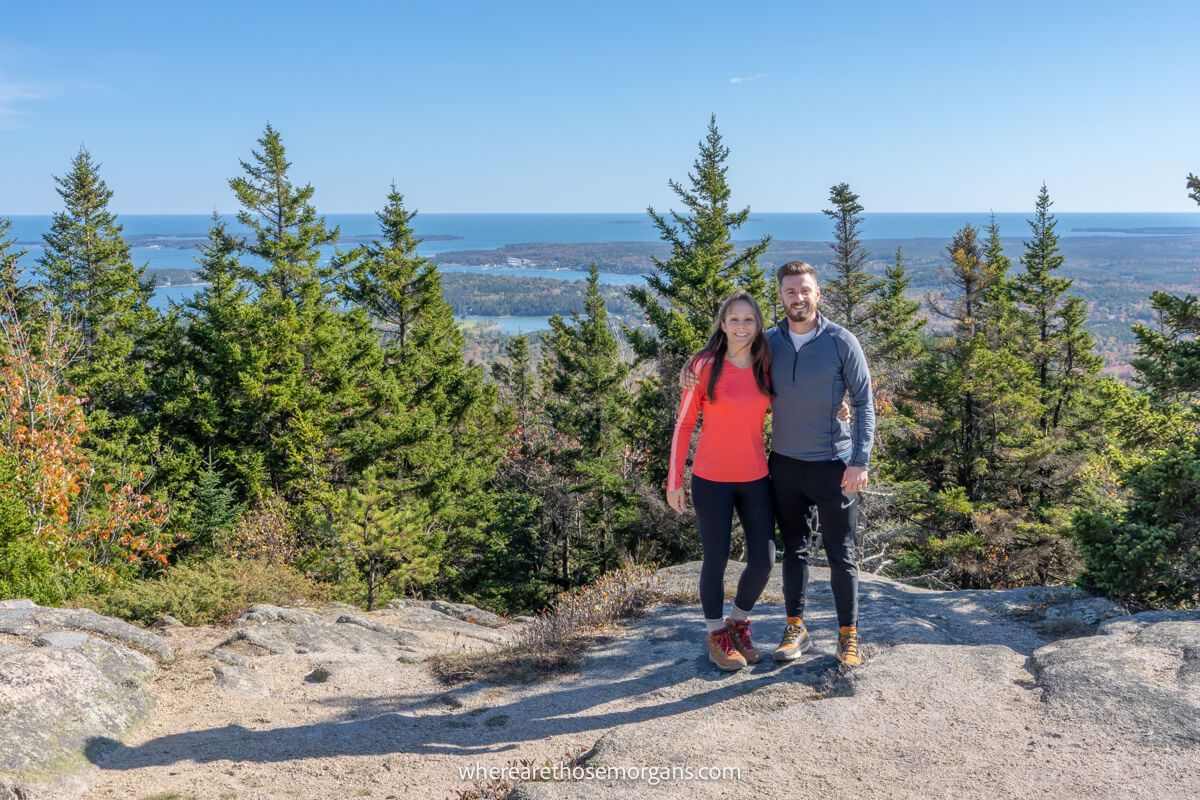 10. What Do You Need To Pack For Acadia In The Fall?
Packing for a trip to Acadia National Park in the fall is straightforward enough but you may need a bigger backpack or suitcase than usual.
You will need lots of layers and plenty of options because the weather is changeable. It might rain and be cold one day but the next day could be glorious sunshine and warmer temperatures.
One thing is for sure, you need to pack a robust pair of hiking shoes or trail runners in addition to one or two separate pairs of shoes for the evening.
Plan to keep your hiking gear completely separated from your going out clothes.
Remember, mornings and late evenings are likely to be cold enough for heavy layers but between 12pm and 4pm it can be warm enough for light layers.
Acadia Packing List For The Fall
Let's start with the basics:
Underwear and evening socks
Hiking socks
Shorts and long pants for hiking
Moisture wicking t-shirts for hiking
Light and medium layers to day pack when hiking
Evening clothes for dinner and drinks in Bar Harbor
Sunglasses, sunscreen and sunhat or baseball cap
Heavy coat for sunrise and sunset photography
At least 2 pairs of shoes for hiking and evenings
Camera, lenses, tripod and plenty of data storage
After that it comes down to your personal travel style.
Bar Harbor is an upscale town but most people go out in hiking gear. If you go to a swanky restaurant you will of course need to take some smart gear with you.
FAQ's For Visiting Acadia In The Fall
Let's take a quick look at some of the most frequently asked questions about visiting Acadia National Park in the fall season.
Is September or October a better month to visit Acadia?
Both September and October are fantastic times to visit Acadia National Park. September benefits from being a little warmer but it is also busier, more expensive and the foliage colors may not transition until late in the month. Whereas October is cooler and has more chance of rain, but it is less busy, cheaper and stunning peak fall foliage colors are on display early in the month.
When is peak fall foliage in Acadia National Park?
Peak fall foliage colors change each year depending on several factors. However, the first two weeks of October are typically a safe bet for planning your trip to Acadia if you want to catch the peak fall colors. You can track the fall foliage estimated forecast maps in real time and book last minute to guarantee peak colors.
Our Popular Seasonal Guides
Want more Maine content? Head over to our Maine Travel Guides to explore Acadia National Park and beyond.
---
We hope this guide to visiting Acadia National Park in the fall helps with planning your trip to Maine this autumn!
Please let us know if you have any questions about visiting Acadia in September, October or November below in the comments.
Happy Travels,
Mark and Kristen
Enjoy This Acadia In Fall Guide? Pin It For Your Visit!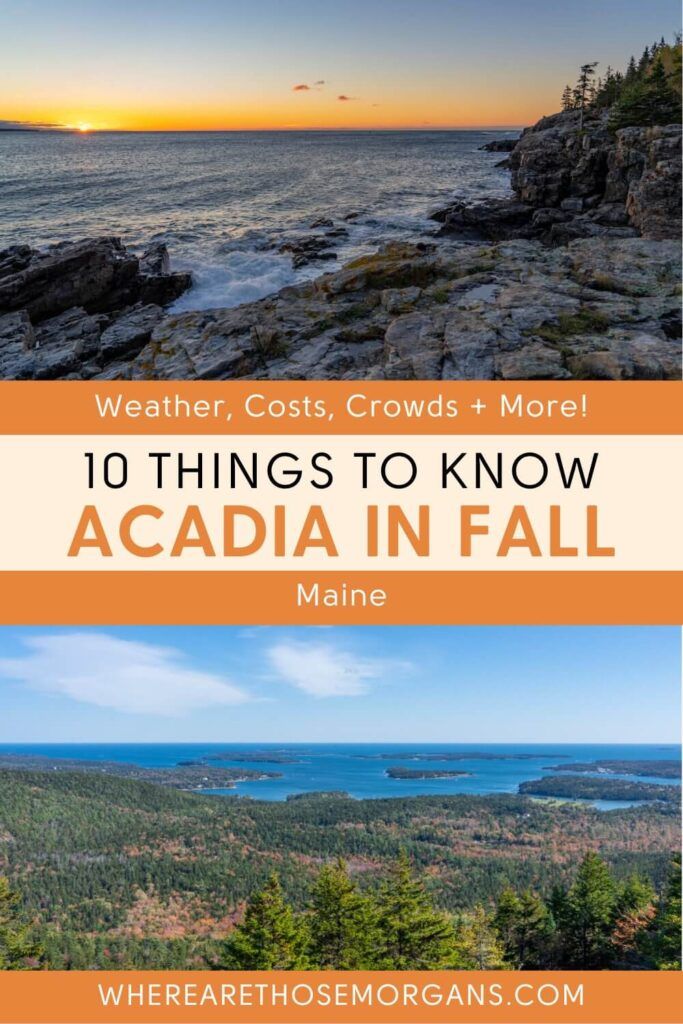 Note: This article contains affiliate links. When you make a purchase using one of these affiliate links, we may earn a small commission at no extra cost to you.
All Rights Reserved © Where Are Those Morgans, LLC. Republishing this article and/or any of its contents (text, photography, maps, graphics, etc.) in whole or in part is strictly prohibited.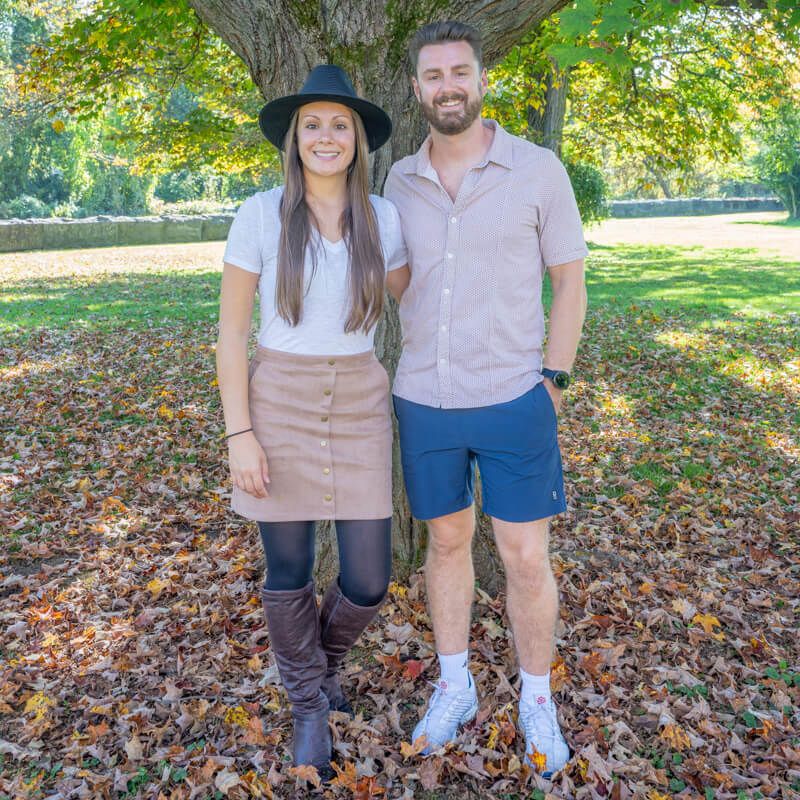 Mark and Kristen Morgan are travel, hiking and photography experts. Over the last 6 years traveling full time, they have explored more than 40 countries and 30 US states.
Their work has been featured in USA Today, Gestalten, Get Your Guide, CityPASS and Condé Nast Traveler along with various other publications.