In order to stand on the highest point in New York, you must hike to the summit of Mount Marcy near the charming town of Lake Placid in the stunning Adirondack Mountains.
Thousands of hikers climb Mt Marcy each year throughout all four seasons to soak up horizon stretching views in all directions, as far as Montreal Canada and the Green Mountains of Vermont.
We visited Lake Placid during peak fall foliage and hiking Mount Marcy was top of our NY bucket list. The hike is a long and grueling 15 miles round trip which means a very early start in total darkness.
The Adirondack High Peak Mountains are renowned for changeable and extreme weather conditions. We were fortunate enough to have a relatively calm day, albeit overcast and cloudy.
Our photographs from the trail will show you exactly what you can expect from hiking the to the highest point in New York.
Hiking To The Highest Point In New York
Mount Marcy is the highest of the Adirondack Mountains High Peaks. But to reach the highest point in New York and enjoy rolling hills in all directions, you have to work for your rewards.
The most popular route to summit Mt Marcy is by parking at Adirondack Loj and hiking the Van Hoevenberg trail.
Sections of flat, easy forested boardwalks and long, gradual inclines along rocky paths lead you up the famous mountain.
Eventually you break the canopy and walk out into an exposed final section, before a scramble up rocks to summit the highest peak in New York.
Below you will find our photographs showcasing a summit up Mount Marcy, the tallest mountain in New York:
1. A Gradual Ascent Surrounded By Fall Foliage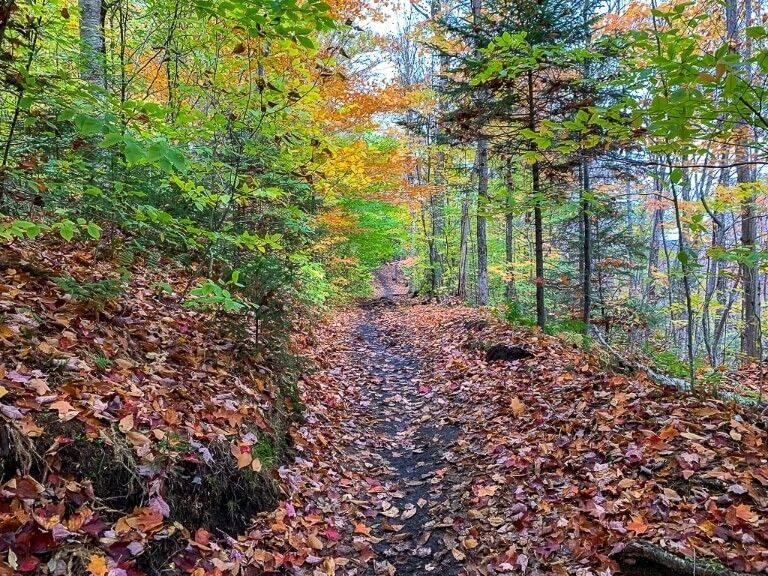 We started our hike at 5:30 am so we could secure a good parking spot and get to the summit of Mount Marcy with much daylight to spare.
After we started the hike, it wasn't long until the sun came up. We were rewarded with beautiful fall foliage scattered throughout the trees and on the trail near Adirondack Loj Parking Lot.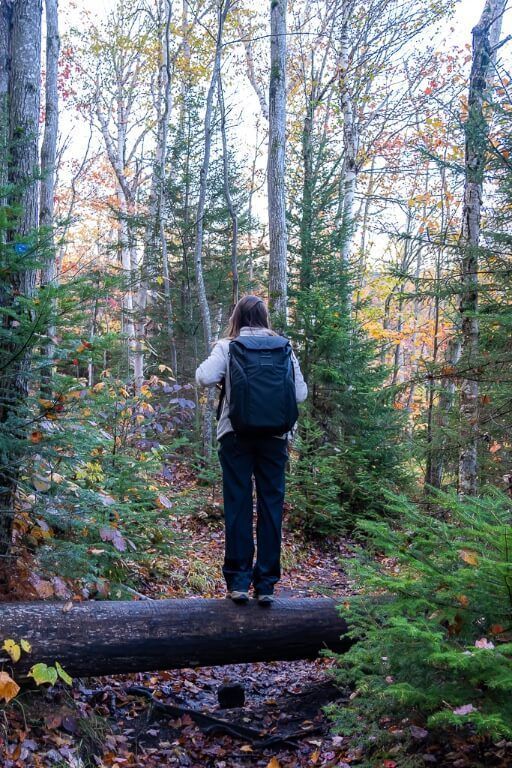 In the beginning, the hike offers a gradual incline with a few obstacles along the way.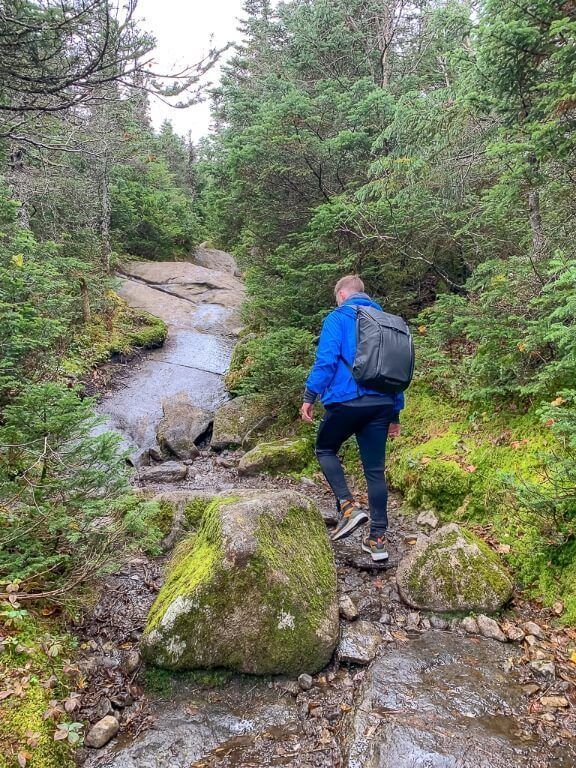 The trail up Mount Marcy transitions at this point from small boulders to slick flat rock faces. We experienced no rain during our hike, but these rocks would be slippery once they get wet.
After the large rocks, we progressed into a slow ascent by walking through a wet forest. This part of the hike was a bit of a slog honestly because there was not much to look at while hiking.
The previous day of rain was very noticeable on this section of the hike. The ground was extremely damp and were were glad to have our sturdy hiking boots.
2. The Forest Opens To A Canopy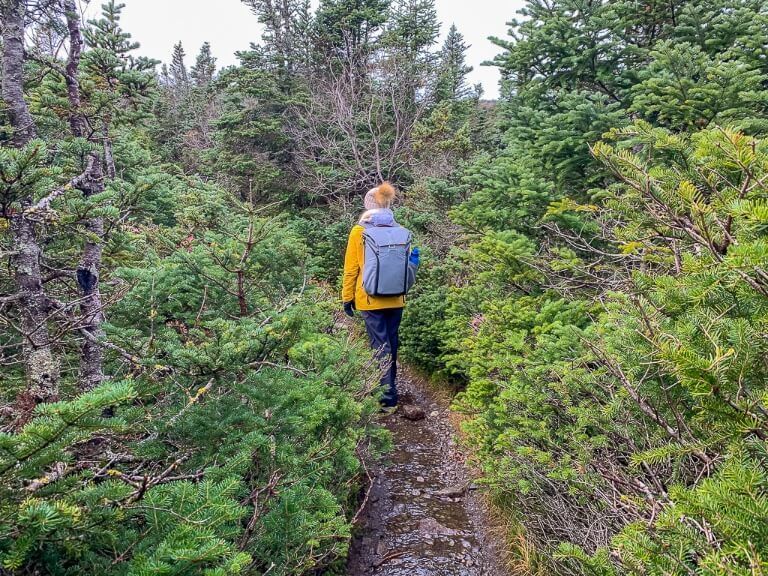 After the forest, the trail breaks through the canopy to an open terrain. Your views will still be limited in this section, but it makes for a great change along the trail.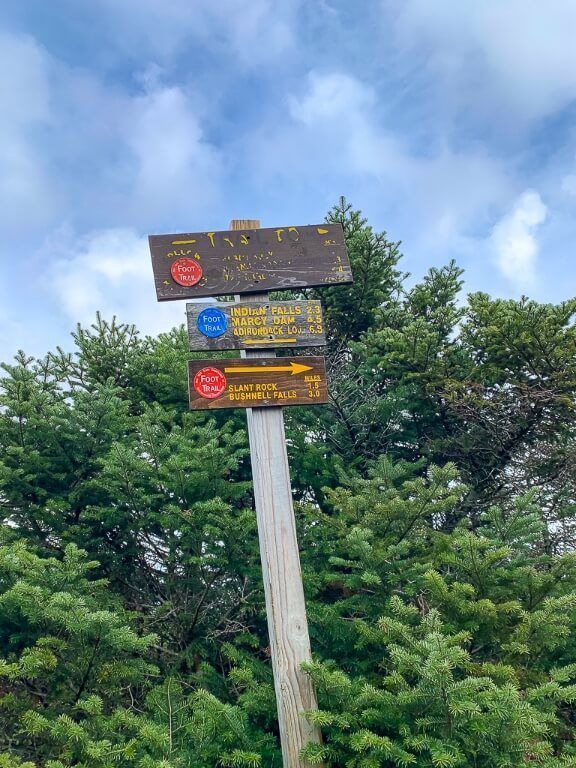 Overall, we thought the Mount Marcy trail was marked well. We often ran into signs such as this one in the picture indicating other trails nearby.
Next, we approached a steeper section of the hike, but again, the trail was marked well with yellow blazes on the rocks.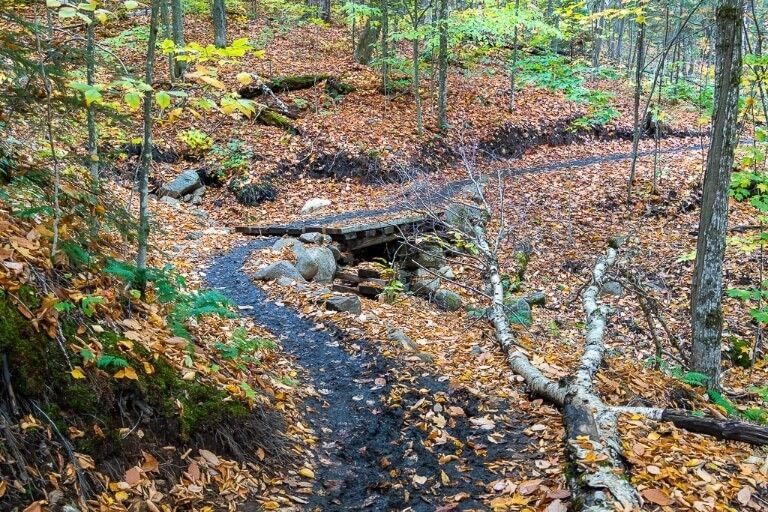 After the rock scramble, we were rewarded with a picturesque forest walk.
In this section, we ran into a few dogs who were having the best day of their life hiking the highest peak in New York State.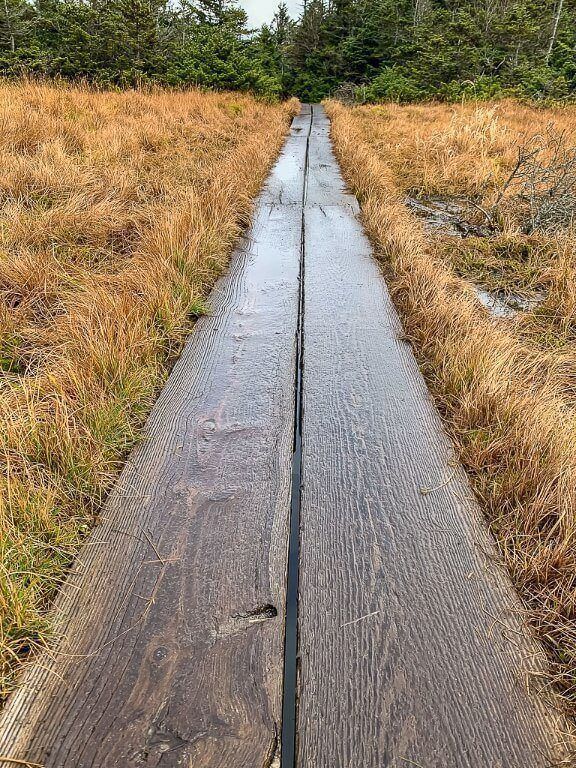 A large swamp emerges after the forest, but the good news is you will find large wooden boards dissecting waterlogged flat sections to help keep your feet dry.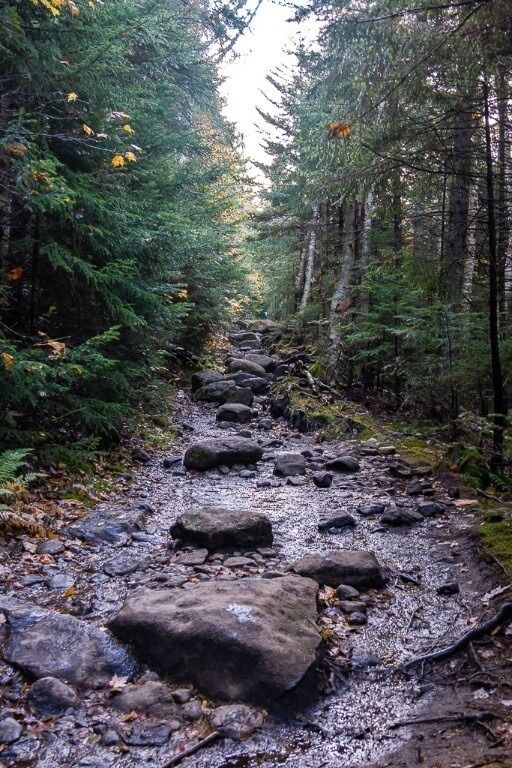 Hiking up the highest peak in NY involves traversing through various kinds of terrain. These topography changes help to keep your mind busy instead of thinking about the long distance you still have to hike.
3. The Halfway Point At Indian Falls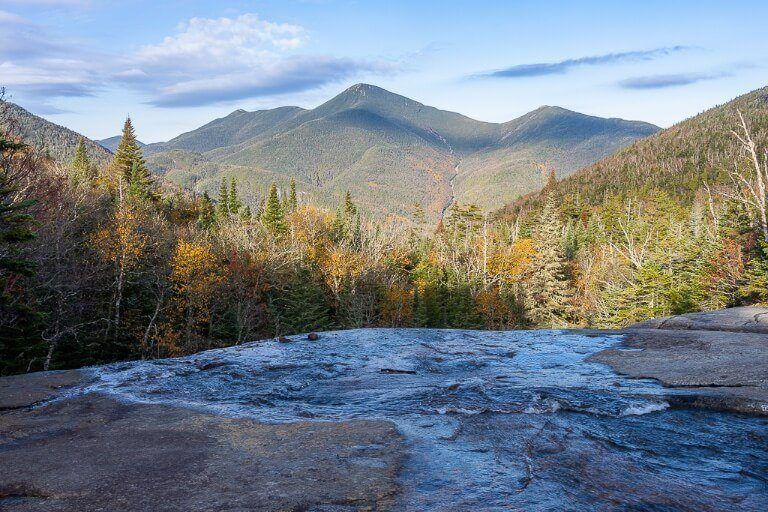 Indian Falls is the most popular halfway marker when hiking to the highest point in New York. This is a great place to stop for a break and refuel with some food.
Be sure to have a rest at Indian Falls because shortly after you will come across a large section of boulders which require careful foot placement. Go slow in this section to avoid a sprained ankle.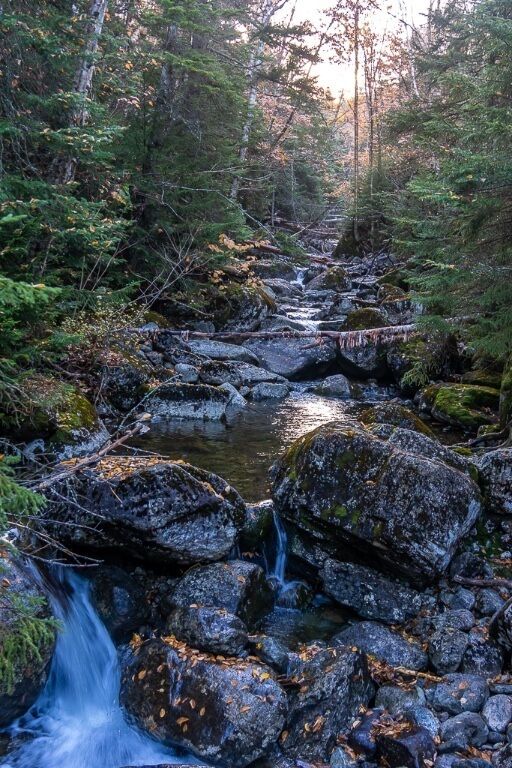 This is the last terrain change until you reach the summit of Mount Marcy. During our hike, this section seemed to last forever as we made our way to the highest point in New York State.
4. Last And Final Push
Hiking the Mount Marcy trail could take anywhere between 3 and 5 hours to summit. You can see the top from quite a distance below and there are no false summits to crush morale.
A final steep and slippery section can cause problems in bad weather but it's worth the effort to soak up spectacular views ranging in all directions.
Weather will play a huge role in how enjoyable the hike is as well as the quality of your view from the highest point in New York.
We were grateful for a dry day but it was very cloudy and dull.
Fall colors on the surrounding hills were unable to radiate under sunlight and we certainly could not see as far as Canada or Vermont with any clarity.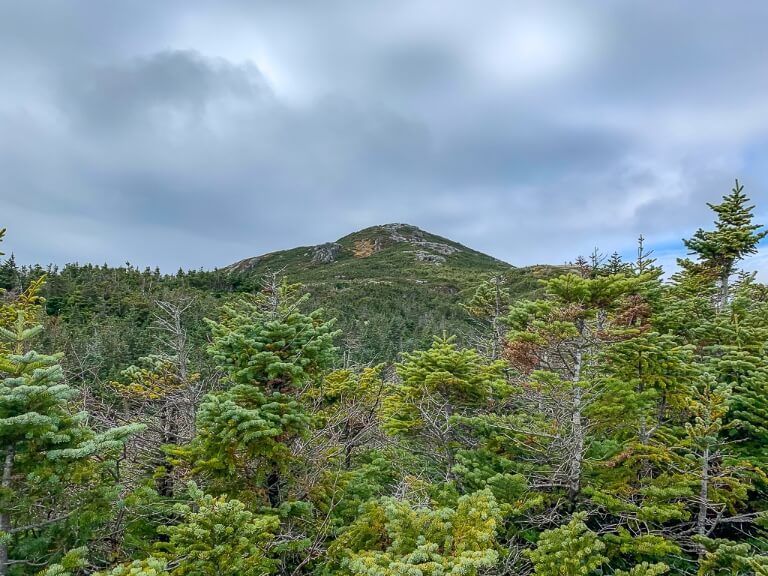 Before you reach the summit, you will be able to see it from a long way back on the trail. Don't let this discourage you, instead use it as a push to get to to the summit faster.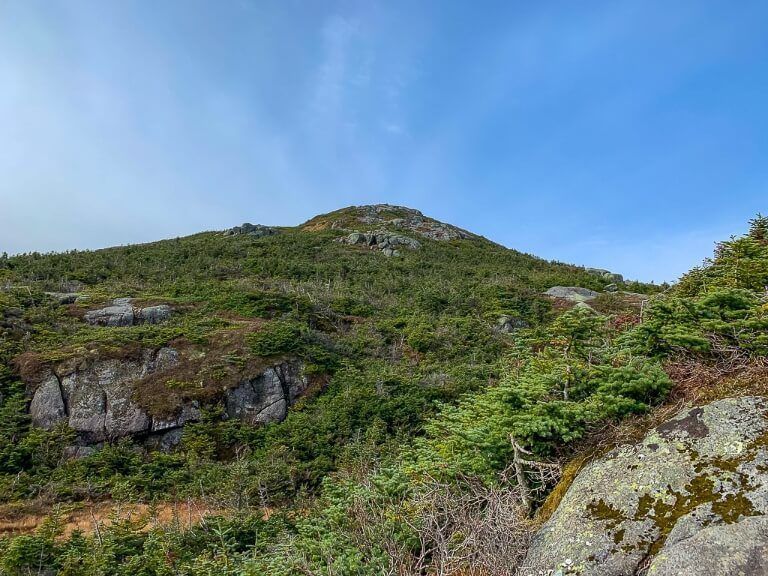 This continuous views of the summit really help to motivate you for the last and final push.
5. Mount Marcy Summit, The Highest Peak In NY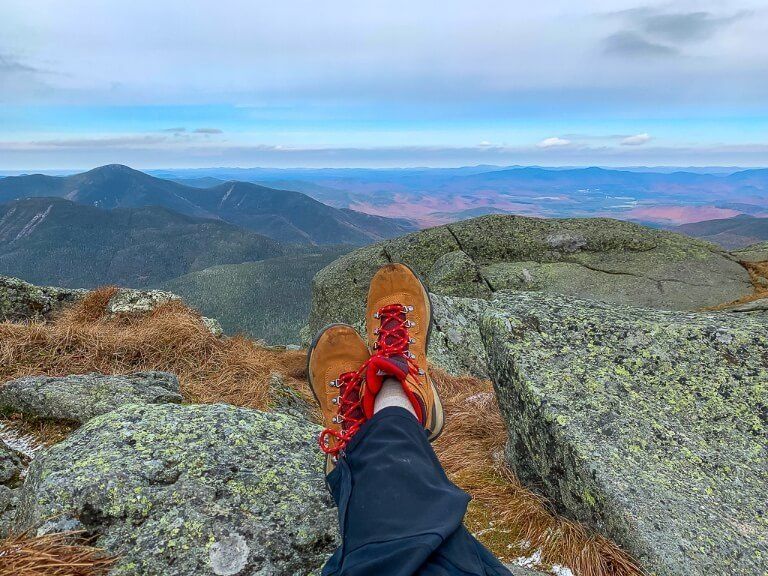 We like the summit of Mount Marcy because once you come out of the forested trail, the highest point in New York just seems to get closer and closer.
When we hiked Mount Marcy in October, the summit was extremely windy and it got very cold fast. There are many large boulders on top of the highest mountain in NY which make for a great wind shelter.
While your body will generate heat hiking up Mount Marcy, you will need additional layers to block the wind and remain warm while you enjoy the summit because you won't be moving as much.
New to hiking? You might like to read our hiking tips for beginners or use our hiking gift guide to find new gear for your summit up Mount Marcy.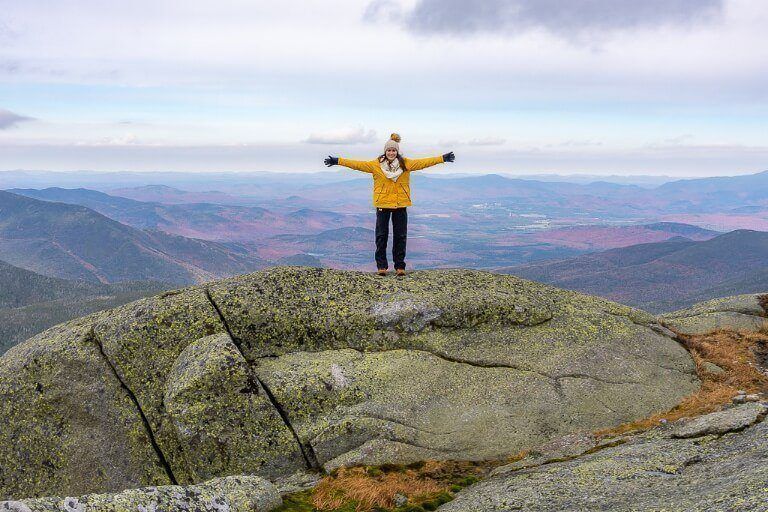 This is one of our favorite photographs from hiking Mount Marcy because Kristen is celebrating our achievement surrounded by the numerous Adirondack peaks with outstretched arms.
6. Tips For Your Hike Up NY's Highest Peak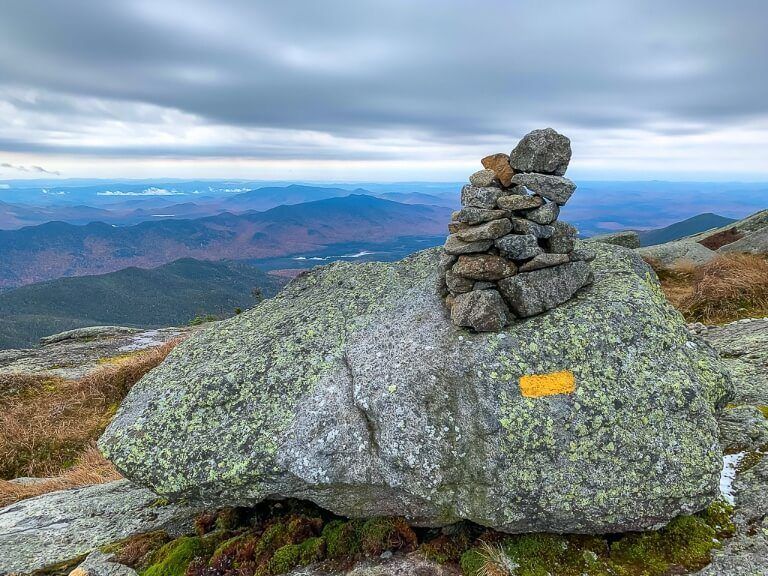 As we mentioned earlier, the Mount Marcy trail is marked very well and you should be able to find your way quite easily.
However, we recommend you study the trail with a paper map prior to your visit as well as use a hiking app to help find the correct trail throughout your entire hike.
Need a new hiking app? Don't miss our roundup guide featuring the best apps for hiking trails with options for both beginners and pros or use our link to receive 20% off a GAIA GPS subscription.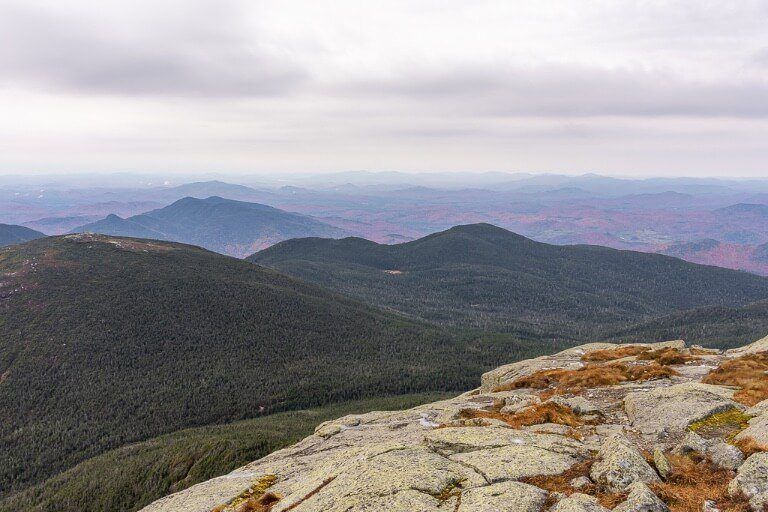 We summited Mount Marcy in early October so the vibrant colors were only starting to turn in this region of New York State.
If you want to hike during peak fall season, the second week of October would be just about perfect.
As you can see from our photos, the distance fall colors were visible, but they were certainly lacking in vibrancy.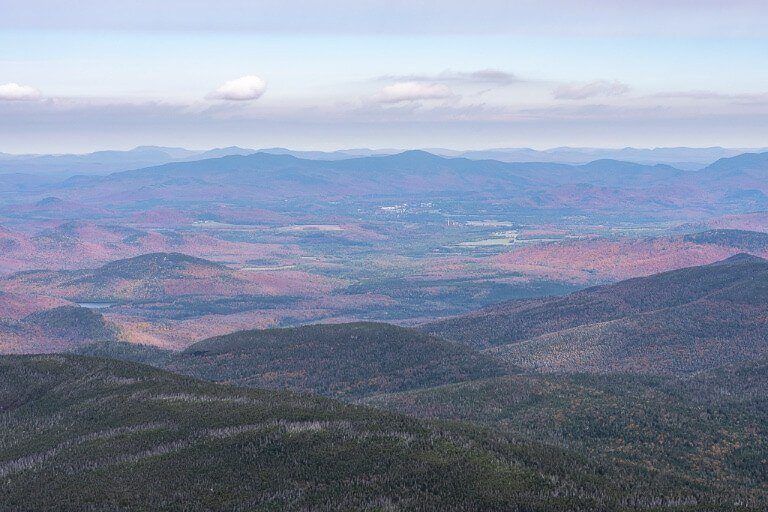 Despite the dull and grey weather, the sweeping views we experienced from the highest peak in New York was breathtaking.
The Adirondack Mountains seemed to be covered in a blanket of gorgeous orange and the vistas continued for miles.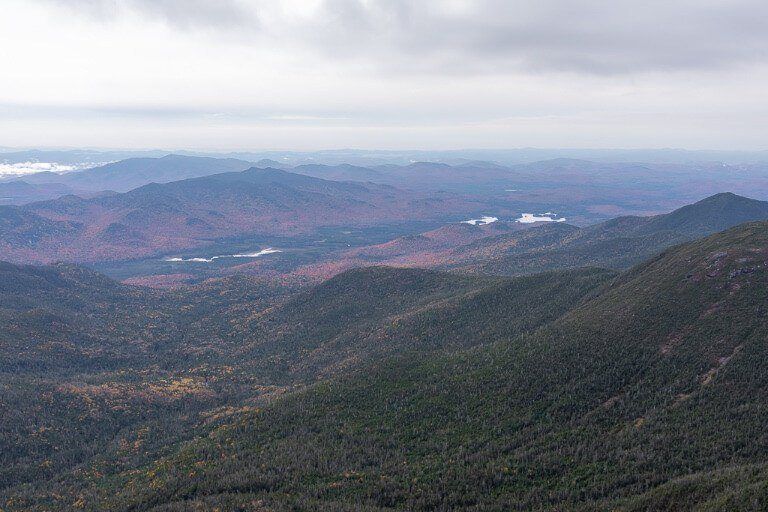 The summit offers a 360 degree view of the entire region so be sure to add some extra time in during your hike to celebrate your hard work by properly absorbing the views.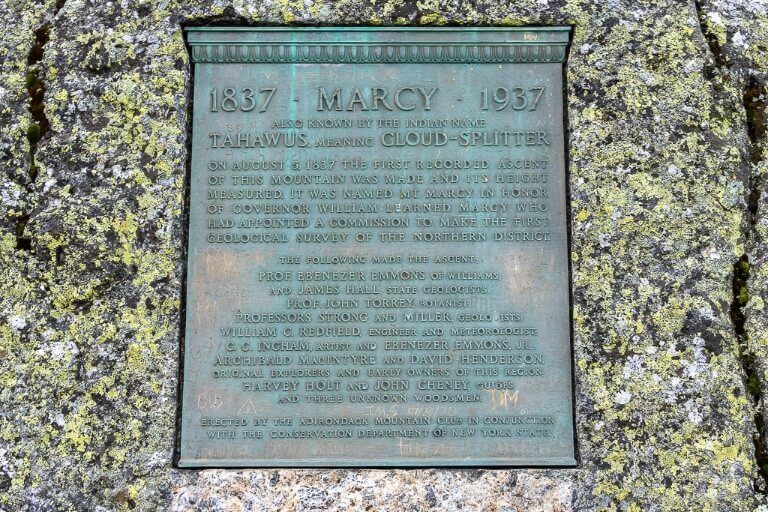 Despite the height, this tall mountain is one of the most visited peaks in the entire world.
FAQ's For The Tallest Peak In NY
Let's take a quick look at some of the most frequently asked questions about the highest point in New York State and beyond.
What is the highest point in New York?
Mount Marcy sits at 5,344 ft (1629m) above sea level making it the highest peak in the Adirondacks as well as the highest mountain in NY.
Besides Mount Marcy, what are the highest mountains in New York State?
After Mount Marcy, the highest mountains in New York are Algonquin at 5,114 ft (1559m), Haystack at 4,960 ft (1512m) and Skylight at 4,926 ft (1501m). All four of these high peaks can be found in the Adirondacks.
What is the lowest point in New York?
The lowest point of New York State is found at the Atlantic Ocean which is also known as sea level (0 ft). Additionally, NYC has a very low elevation of just 33 ft (10m) making this famous city much lower in elevation compared to the rest of New York State.
Our Popular New York State Guides
NY Finger Lakes Guides
Want more New York content? Head over to our New York Travel Guides to explore the Finger Lakes, Adirondacks and the best of NYC.
---
We hope this photography guide featuring the highest point in NY inspires you to hike Mount Marcy, the tallest peak in New York.
Please let us know if you have questions about Mount Marcy or hiking in the Adirondacks High Peaks region.
Happy Hiking,
Mark and Kristen
Enjoy This Mount Marcy Photo Guide? Pin It For Your Visit!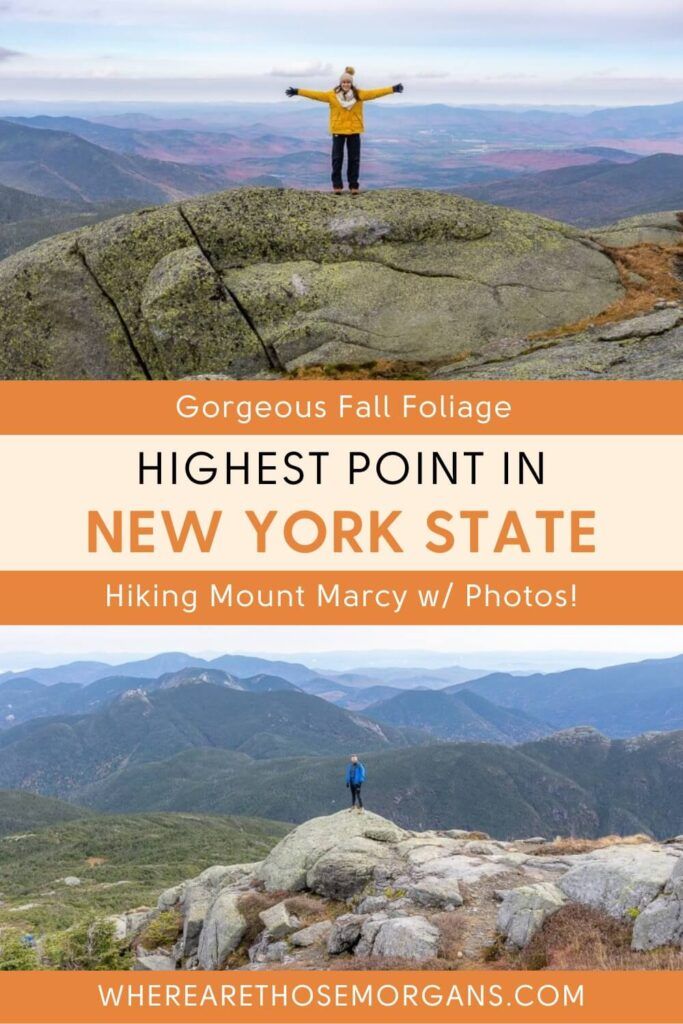 Note: This article contains affiliate links. When you make a purchase using one of these affiliate links, we may earn a small commission at no extra cost to you.
All Rights Reserved © Where Are Those Morgans, LLC. Republishing this article and/or any of its contents (text, photography, maps, graphics, etc.) in whole or in part is strictly prohibited.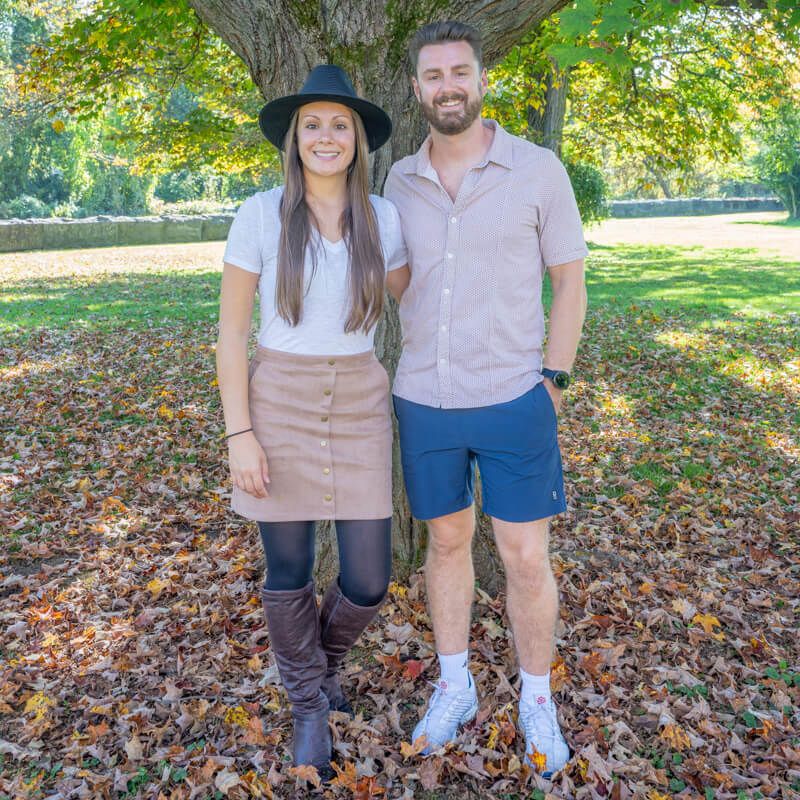 Mark and Kristen Morgan are travel, hiking and photography experts. Over the last 6 years traveling full time, they have explored more than 40 countries and 30 US states.
Their work has been featured in USA Today, Gestalten, Get Your Guide, CityPASS and Condé Nast Traveler along with various other publications.