In order to stand on the highest point in New York you must hike to the summit of Mount Marcy near the charming town of Lake Placid in the stunning Adirondack Mountains.
Thousands of hikers climb Mt Marcy each year throughout all four seasons to soak up horizon stretching views in all directions, as far as Montreal Canada and the Green Mountains of Vermont.
We visited Lake Placid during peak Fall foliage and hiking Mount Marcy was top of our Wishlist. The hike is a long 15 mile roundtrip trail, which means a very early start in total darkness is recommended.
The Adirondack Mountains High Peaks are renowned for changeable and extreme weather conditions. We were fortunate enough to have a relatively calm day, albeit overcast and cloudy.
Our photographs from the trail will show you exactly what you can expect from hiking the to the highest point in New York.
*Please note this post may contain affiliate links. If you click on one, we may earn a small commission at no extra cost to you!*
Hiking to the Highest Point in New York
Mount Marcy is the highest of the Adirondack Mountains 'High Peaks'. But to reach the highest point in New York and enjoy rolling hills in all directions, you have to work for your rewards.
The most popular route to summit Mt Marcy is by parking at Adirondack Loj and hiking the Van Hoevenberg trail. Sections of flat, easy forested boardwalks and long, gradual inclines along rocky paths lead you up the famous mountain.
Eventually you break the canopy and walk out into an exposed final section, before a scramble up rocks to summit the highest peak in New York.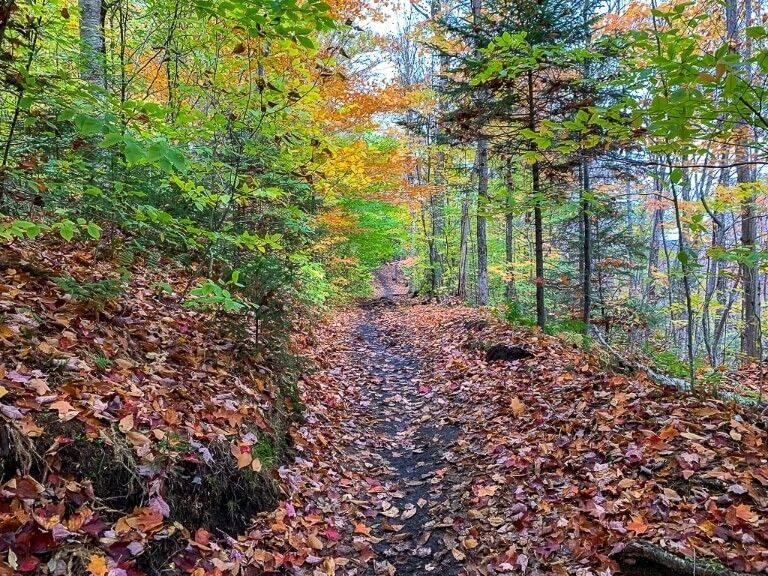 Stunning Fall foliage leaves in trees and on the trail near Adirondack Loj Parking Lot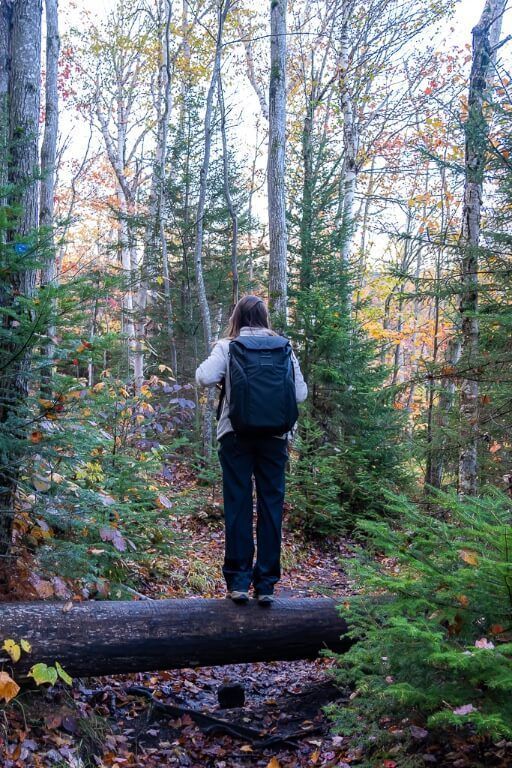 Fallen tree in the path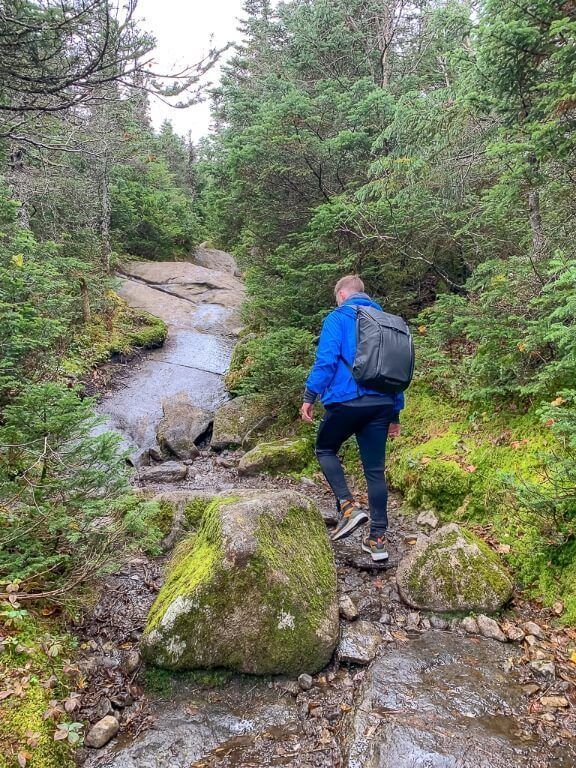 Trail transitioning from small boulders to slick flat rock faces
Wet leaves along slow forest ascent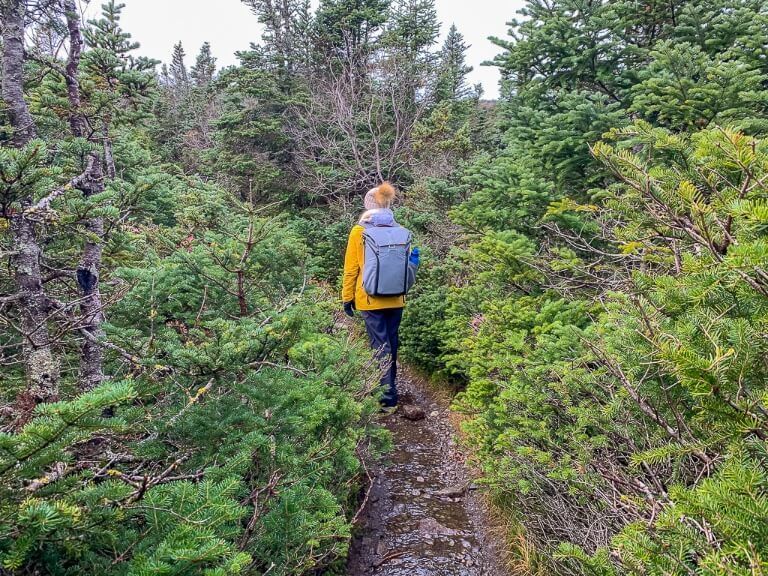 Breaking through the canopy to open terrain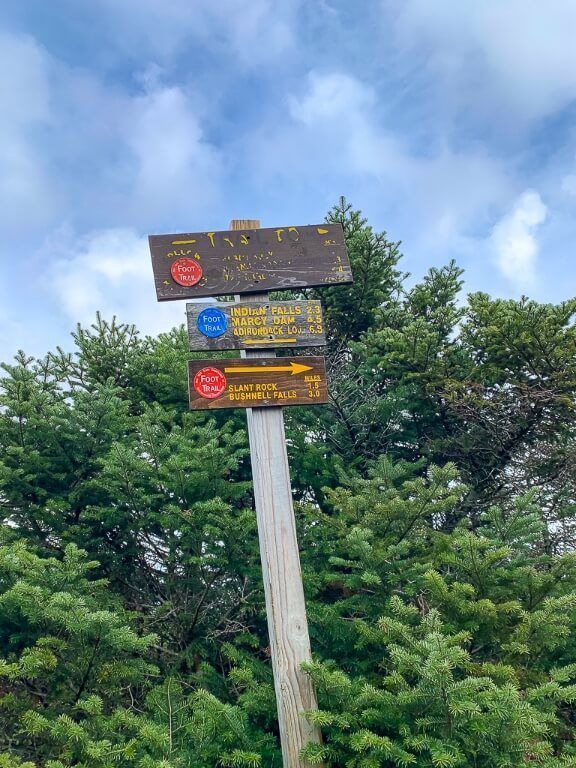 Old Signposts could do with a new lick of paint
Steeper sections of the climb changing up the difficulty levels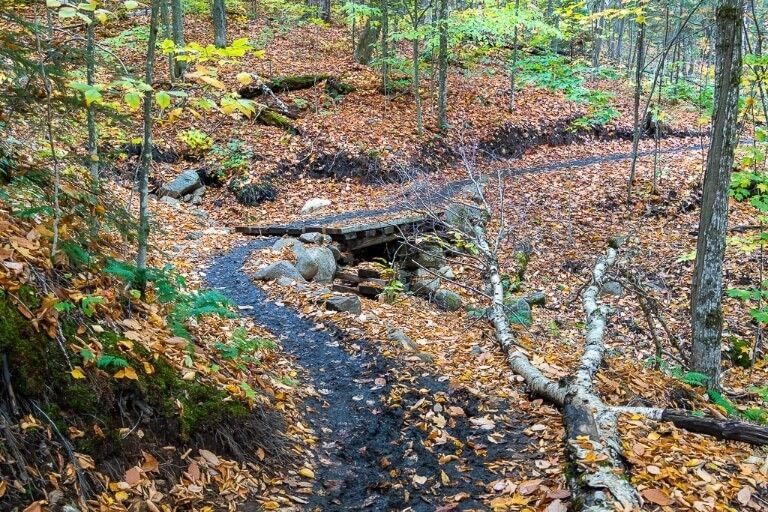 Picturesque forest walk perfect for the dog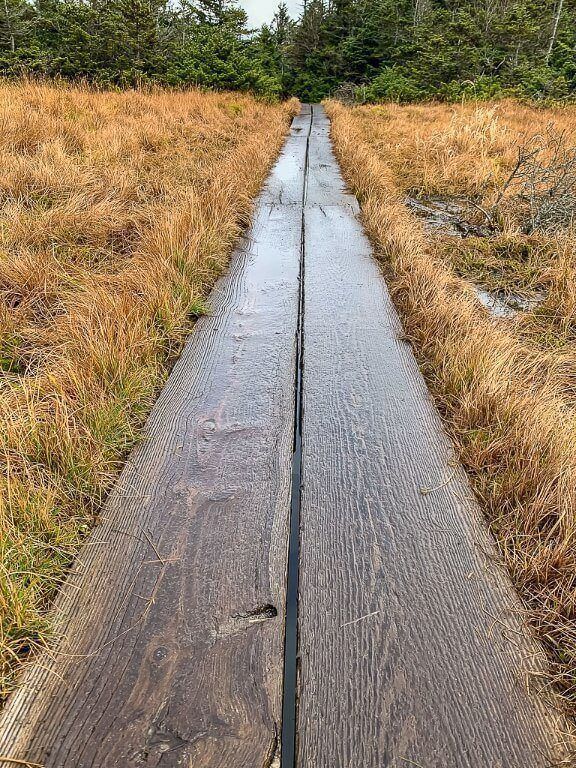 Long wooden boardwalk dissecting waterlogged flat sections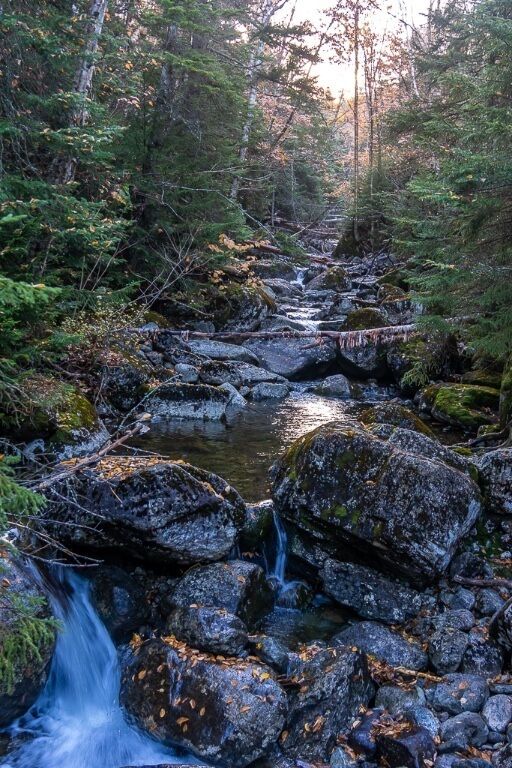 One of many views upstream throughout the hike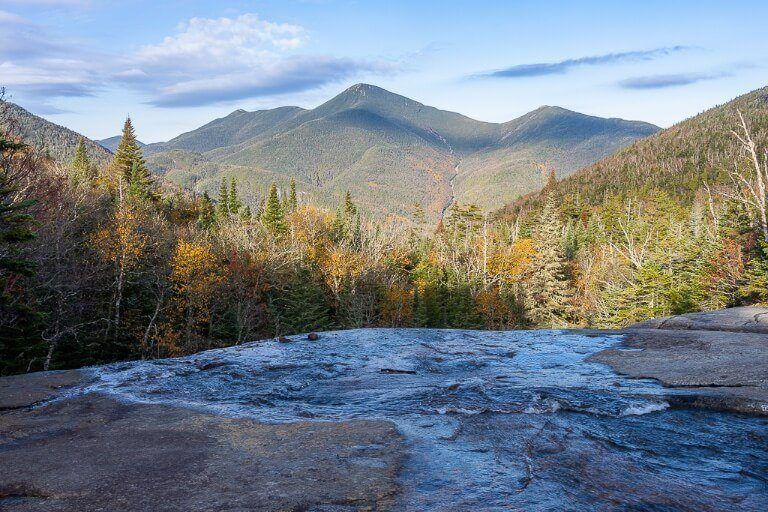 Indian Falls is the most popular halfway marker when hiking to the highest point in New York
Long sections of boulder hopping require careful foot placements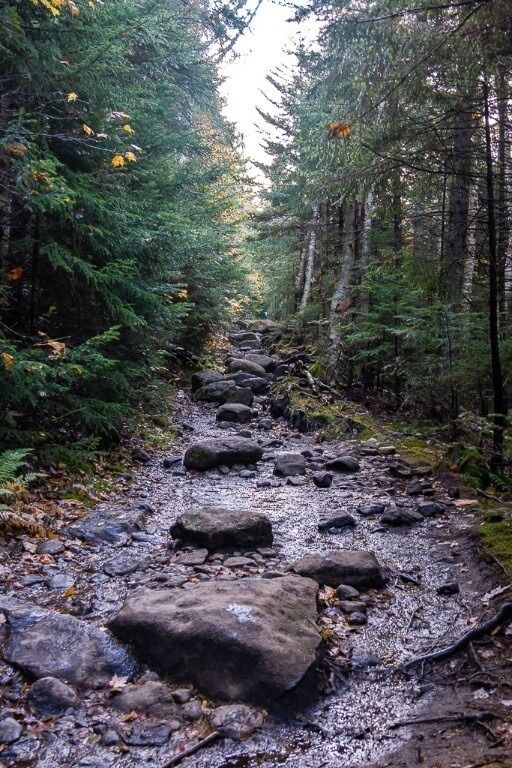 Expect to see this very scene for miles of hiking
Mount Marcy Summit
Mount Marcy trail could take anywhere between 3 and 5 hours to summit. You can see the top from quite a distance below and there are no false summits to crush morale!
A final steep and slippery section can cause problems in bad weather but it's worth the effort to soak up spectacular views ranging in all directions.
Weather will play a huge role in how enjoyable the hike is and the quality of your view from the highest point in New York.
We were grateful for a dry day but it was very cloudy and dull. Fall colors on the surrounding hills were unable to radiate under sunlight and we certainly could not see as far as Canada or Vermont with any clarity!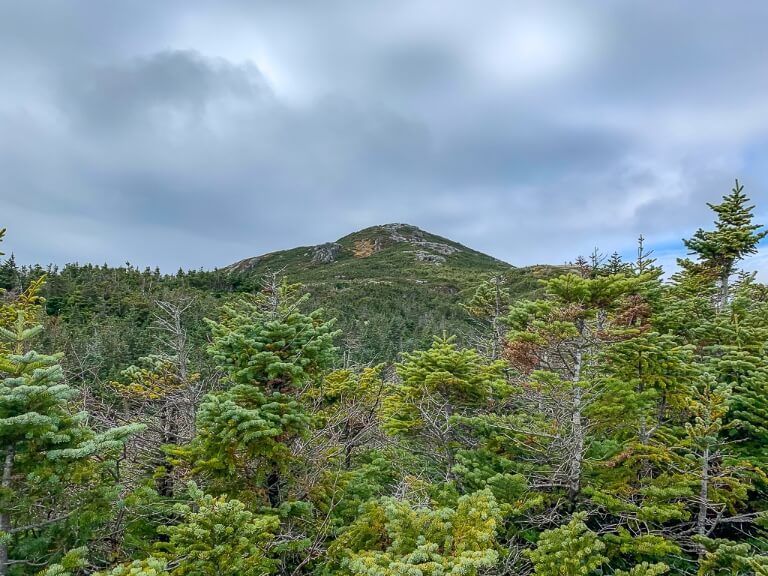 Mt Marcy summit view from a long way back on the trail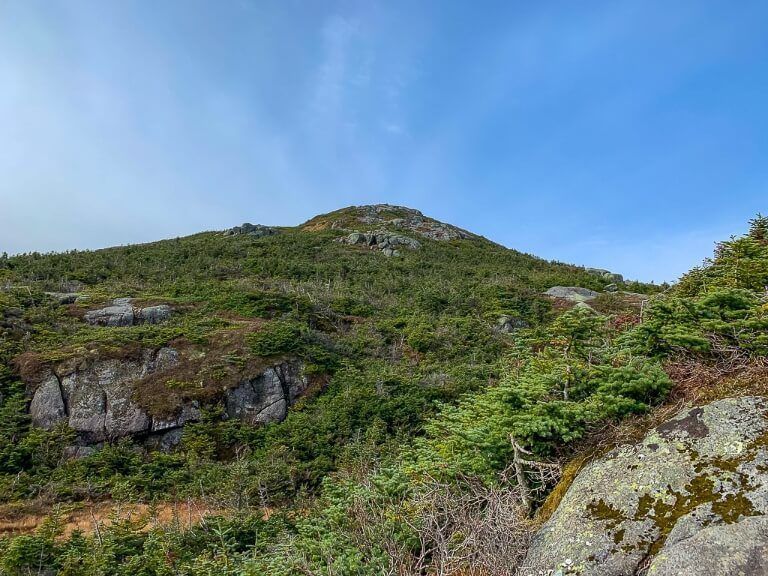 Highest point in New York getting closer and closer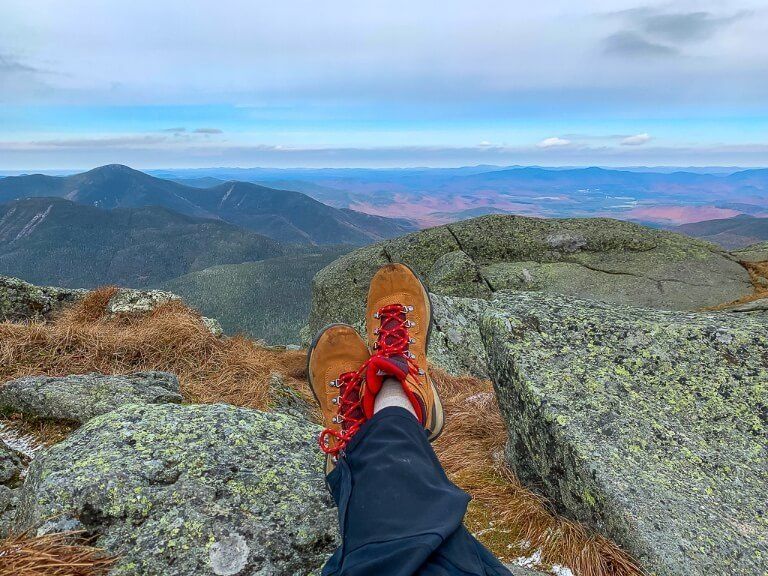 Sheltering from the wind behind a huge rock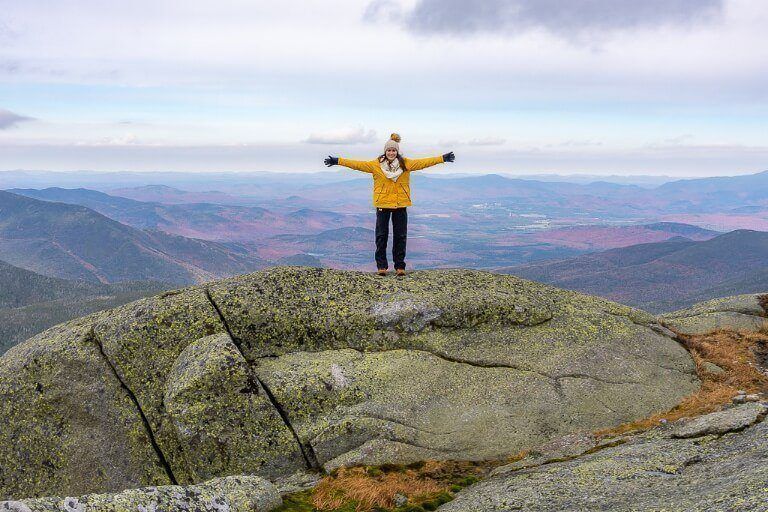 Celebrating hiking to the highest point in New York with outstretched arms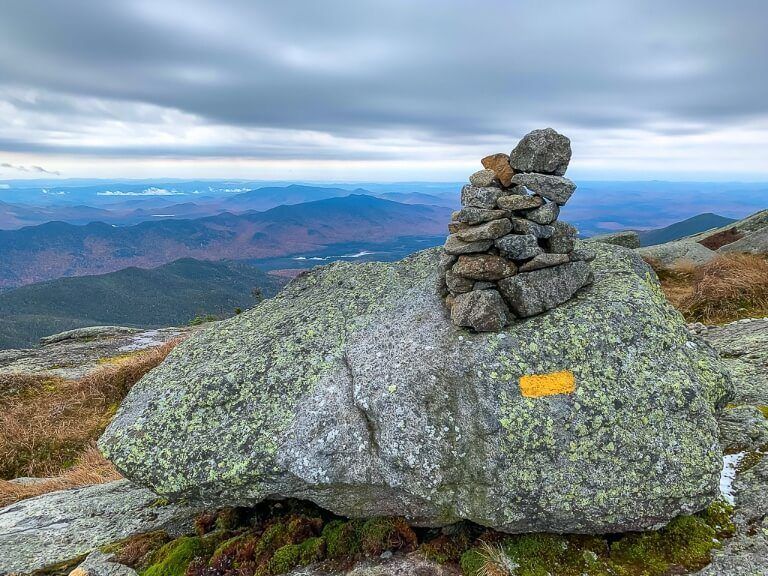 Cairns and rock markers near the summit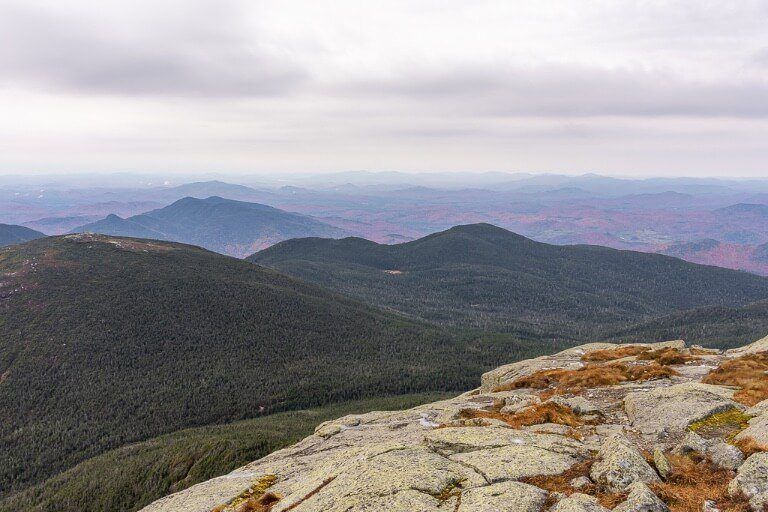 Distant Fall colors just about visible but lacking in vibrancy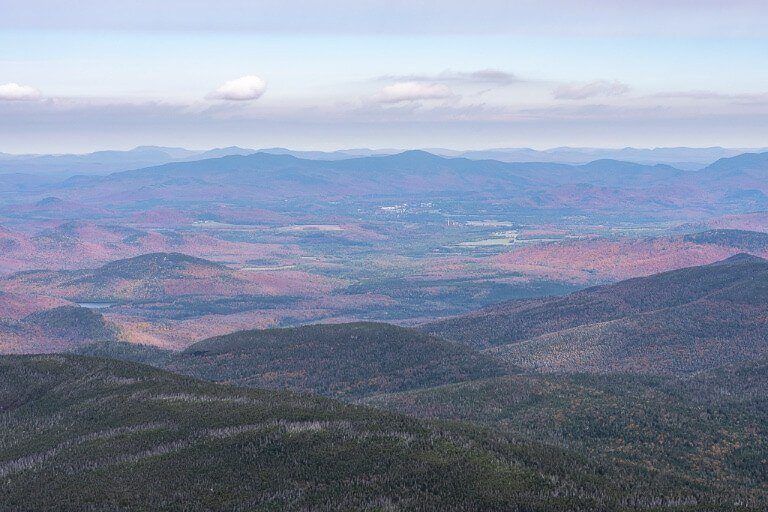 Rolling hills as far as the eye can see under grey sky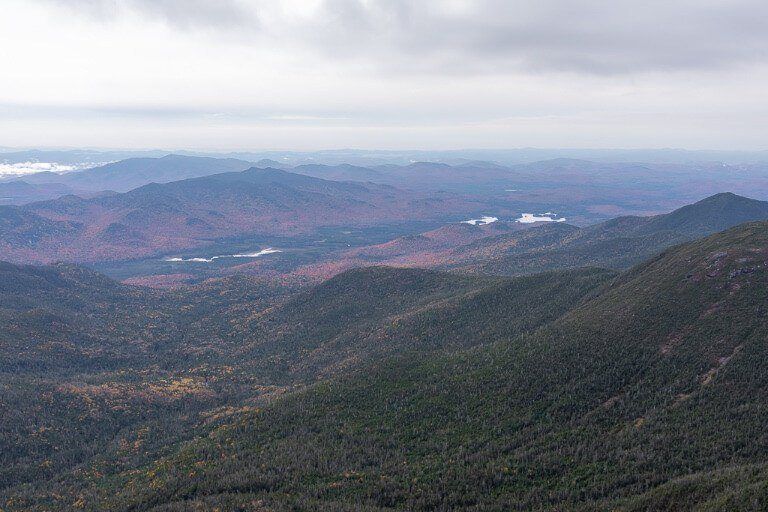 Hills, clouds and trees in all directions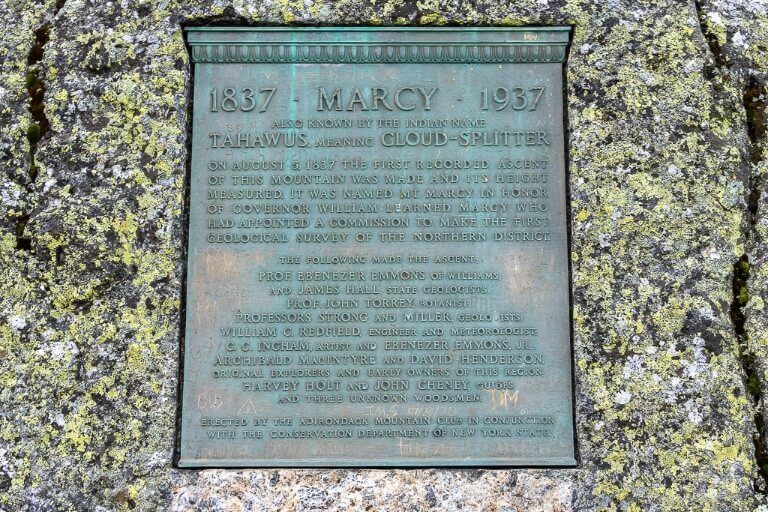 Mount Marcy Summit Plaque – The Highest Point in New York
Read More About New York State …
Adirondacks
Finger Lakes
Find your US travel inspiration through images with our favorite pictures of America, photographs we've taken from cities to national parks and from sunrise to sunset.
You May Also Like
---
We hope this photography guide to the highest point in New York inspires you to hike Mount Marcy!
Have you been to the Adirondacks? Where are your favorite places to visit?
Please let us know if you have any questions or need any help planning your visit.
Happy Snapping,
Mark and Kristen
Was This Post Helpful? Pin It For Your Visit!