Overflowing with wild beauty, rugged gorges and dramatic waterfalls, Robert H Treman State Park in Ithaca, NY is the perfect day out for hiking in the Finger Lakes region.
Lucifer Falls, the 115-foot high showstopper, is just one of 12 waterfalls you will pass as you descend stunning stone staircases into the depths of Enfield Glen gorge.
In this post we will focus primarily on hiking the popular Gorge and Rim trails to complete a fantastic 5.3 mile roundtrip loop. It even has its very own stream-fed swimming pool (complete with diving board!) at the base of 50-foot high Lower Falls.
By the end of this article you will know exactly what you can expect when planning a trip to family friendly Robert H Treman State Park.
Trail highlights, parking options, entry fees, FAQ's, camping, nearby accommodation and restaurant options are all covered to help you plan the perfect visit to one of Ithaca's most popular parks.
*Please note this post may contain affiliate links. If you click on one of them, we may earn a small commission at no extra cost to you!*
Robert H Treman State Park Factfile
State Park: Robert H Treman
Address: 105 Enfield Falls Rd
City: Ithaca
State: New York
Campgrounds: 72
Area: 1,110 acres
Things to do: Hiking, Swimming, Waterfalls, Photography
Major Waterfall: Lucifer Falls (115 feet)
Open: All year (only Lower Falls accessible in Winter)
Annual visitors: ~ 200,000 – 250,000
Where is Robert H Treman State Park?
Robert H Treman State Park is conveniently located just 5 miles from downtown Ithaca, NY.
Ithaca is the perfect base for exploring Robert H Treman, as well as Buttermilk Falls, Taughannock Falls and even Watkins Glen State Parks over the course of a few days.
From downtown Ithaca, simply follow NY-13A South for around 15 minutes until you see signs for Robert H Treman State Park.
Once you turn onto Enfield Falls Road take the first left to main entrance or continue a further 3.5 miles to reach Upper entrance.
Parking & Fees at Robert H Treman State Park
Parking at State Parks can be problematic on busy weekends or public holidays but there's just about enough capacity here to cover even the busiest days.
Arrive early or later in the day to guarantee parking spaces and remember there are 2 parking lots, one at each end of the park.
Let's take a quick look into which is the better place for you to park and how much it costs:
Robert H Treman State Park Entrance Fee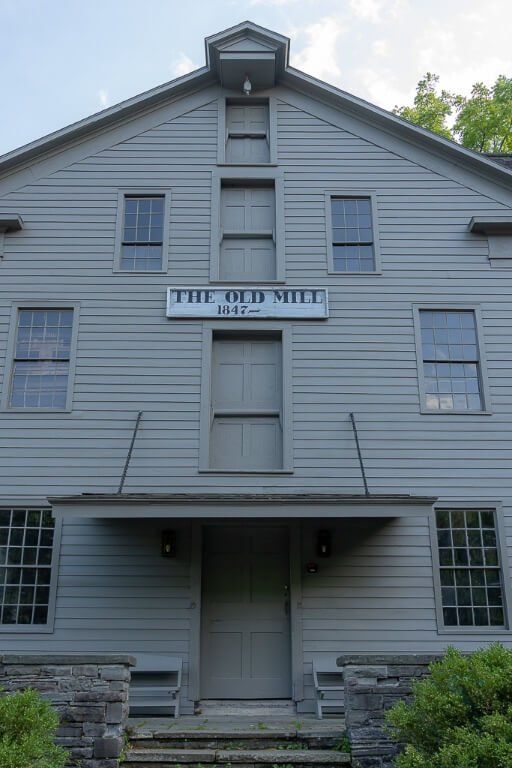 Entrance to the state park itself is free, so if you walk, cycle or get dropped off – you don't have to pay anything to enjoy the stunning gorges and waterfalls.
However, 99% of visitors are going to be in a vehicle and you do have to pay to park.
Between 1 April and 30 November, from 6.00am to 6.30pm you will pay US$ 8 per vehicle.
Payment is not taken by the attendant at the gate but by ticket machine where you can pay by cash or card.
Upper Entrance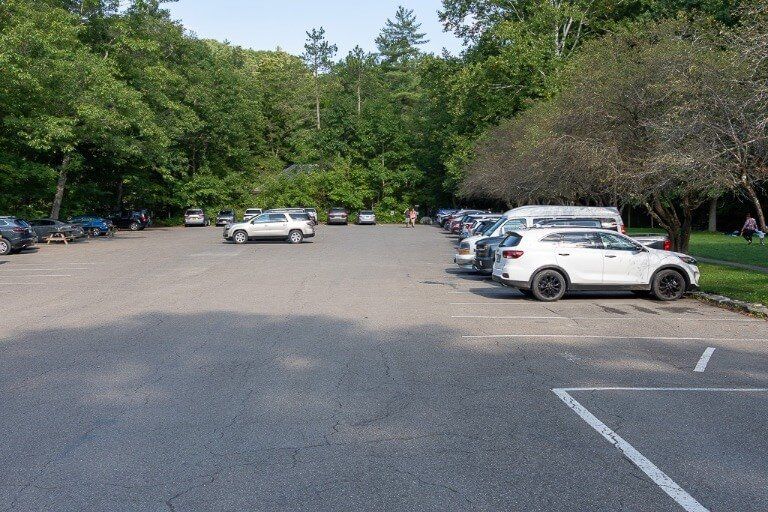 Parking at upper entrance allows you to begin the Gorge or Rim trail hike from the highest elevation at Robert H Treman State Park.
Remember that you will have to ascend the return leg of your hike to reach the parking lot, so if you prefer to get the hard work out the way first, consider parking at main entrance instead!
There are far fewer parking spaces at upper entrance than at main entrance, which means the parking lot will fill quickly in Summer or on holiday weekends.
We visited on Labor Day weekend and it was packed but we were able to grab the only available space when we arrived at lunchtime.
This parking lot is home to Enfield Falls Mill (the Old Mill), a turbine powered mill used for grinding cereal grain into flour and listed on the National Register of Historic Places.
There are bathrooms on the ground floor of the Old Mill and a pleasant waterfall right behind the building.
Upper entrance is much closer to the most scenic parts of the Robert H Treman State Park Gorge Trail. Photographers should park here to beat the crowds and light of day.
Main Entrance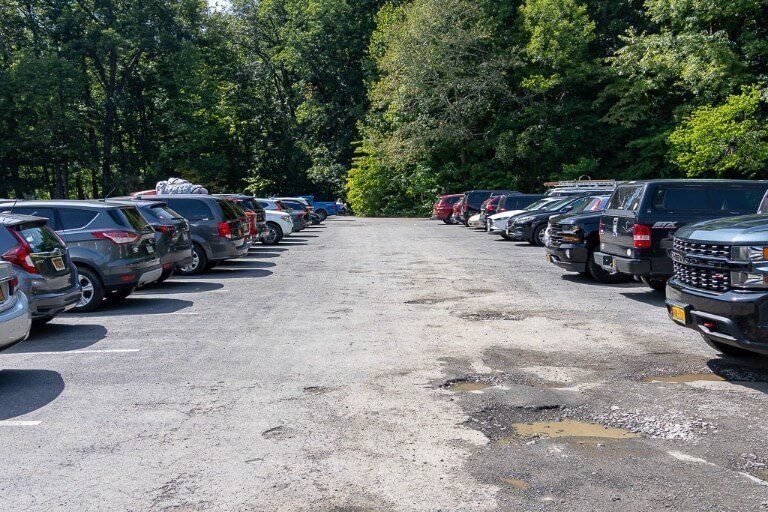 Parking at the main entrance means you will begin your hike up Gorge / Rim trail from the lowest elevation.
The main entrance is more popular for families because the picnic area and swimming hole are less than 5 minutes walk from the parking lot. This parking area is much larger and can accommodate far more vehicles.
Campgrounds, cabins and pavilions are all accessible via the main entrance to the park. Once you reach the parking lot, continue over a bridge and you will find the lodging area.
There are bathrooms and a changing room for swimmers to use, plus plenty of green space to set up for picnics.
Lucifer Falls
Lucifer Falls is the 115 feet high star attraction at Robert H Treman State Park. Of the 12 waterfalls inside the park, Lucifer Falls is the most striking and unique.
Cold water plummets down an enormous slab of rock with wide open shelf-like ledges, which means when the falls are running heavy in Spring and early Summer, there's a mighty cascade!
We visited in Fall after a Summer drought and unfortunately Lucifer Falls were running fairly dry but just about enough flow to create a wispy waterfall!
The two best places to see Lucifer Falls are close to the top of Gorge Trail and at the top of the 'Steep Steps' section of Rim Trail. Both are close to upper entrance parking lot but are on different trails.
Views of the waterfall from Gorge trail are up-close and from a side perspective, while the view from Rim trail is much farther out and offers a front on perspective.
Try to do both viewpoints if possible so you can fully appreciate the grandeur of Lucifer Falls.
Plan your trips to all of New York's best waterfalls with our continuously updated list of stunning falls in the Empire State!
Robert H Treman State Park Gorge and Rim Trail Hike
This is a walkthrough of both Gorge and Rim trails beginning at upper entrance, taking Gorge trail down in elevation to the main entrance before looping round and gaining elevation on Rim trail.
Hike total distance: 5 mile roundtrip
Hike difficulty rating: Moderate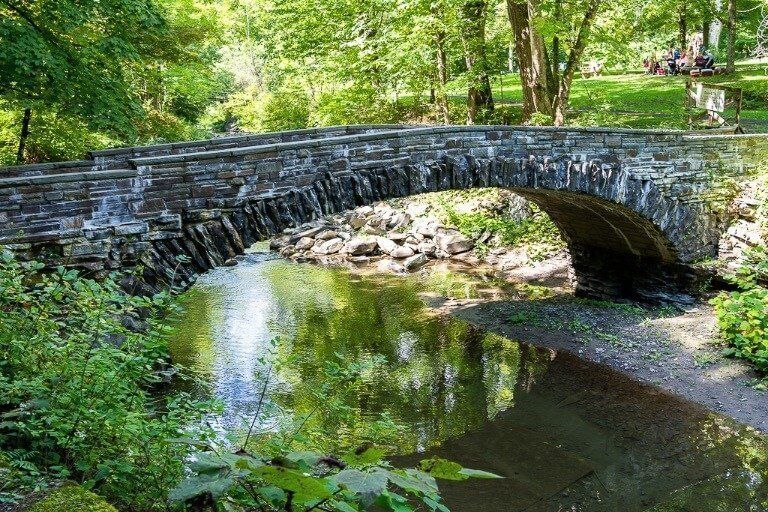 Begin at the Old Mill, we urge you to use the bathroom because you won't be able to use another until you reach main entrance!
Walk to the far end of the parking lot and cross the small stone bridge.
Here you will see the Rim trail forks to the right and gains elevation. Ignore that, you can't go that way during COVID. Turn left instead and follow the dirt path until you pass another beautiful stone bridge.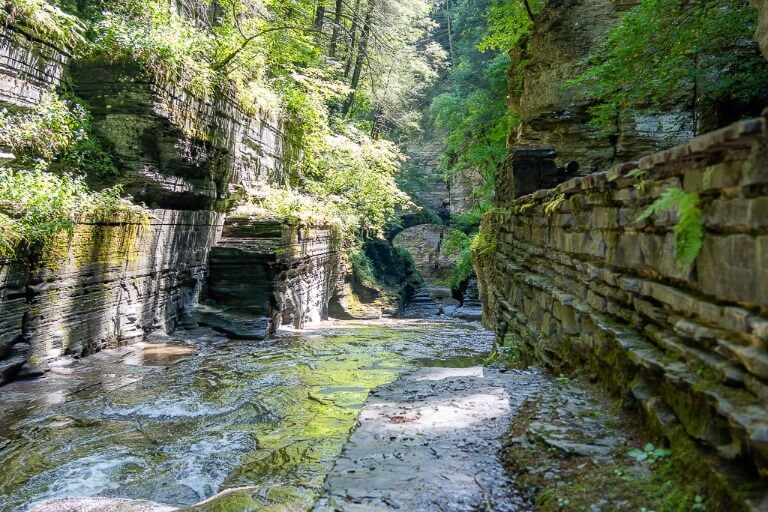 Within a matter of minutes you will arrive at the most dramatically stunning part of the entire State Park. The gorge here has a feel of Watkins Glen, like its jumped right out of a fantasy novel.
But it doesn't last long so enjoy this area thoroughly before moving on.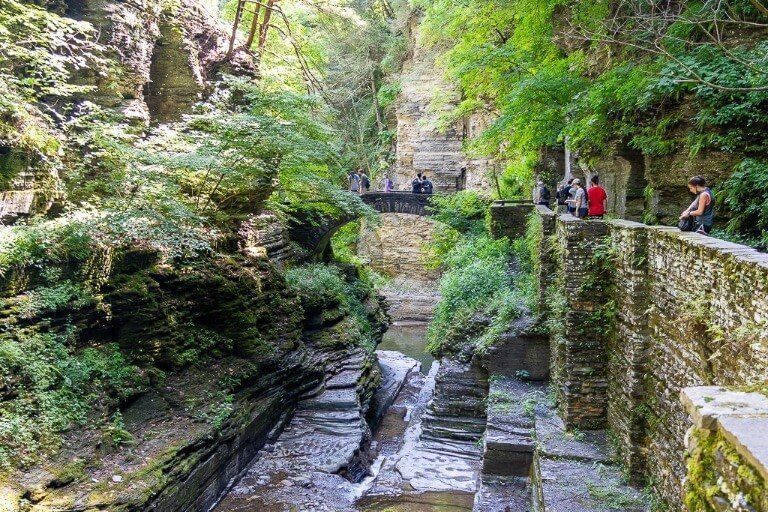 At the end of this short scenic section of the trail you will find another gorgeous arced stone bridge. This is instagram central, so unless you arrive early you might have to wait a while to get a clean photo!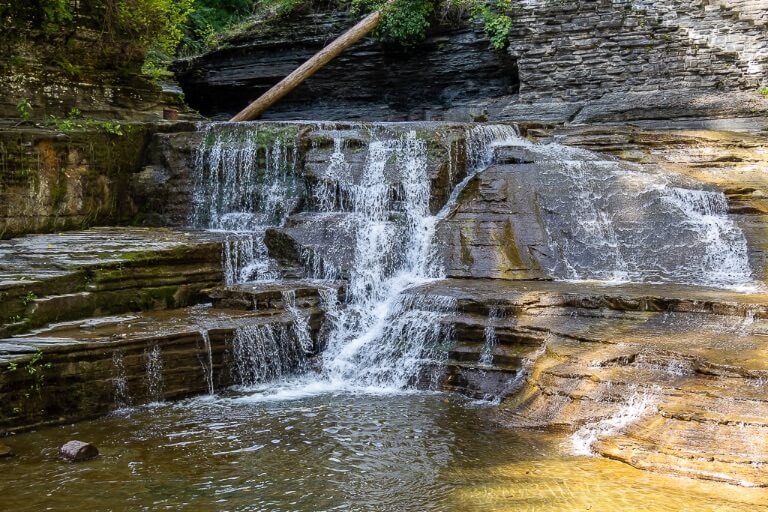 Follow the wonderful twisting stone staircase as it hugs the sheer cliff edge and you descend into open canyons. The first waterfall you reach is around 12-15 feet high and sits in the corner of a square shaped pool.
115-Foot Tall Lucifer Falls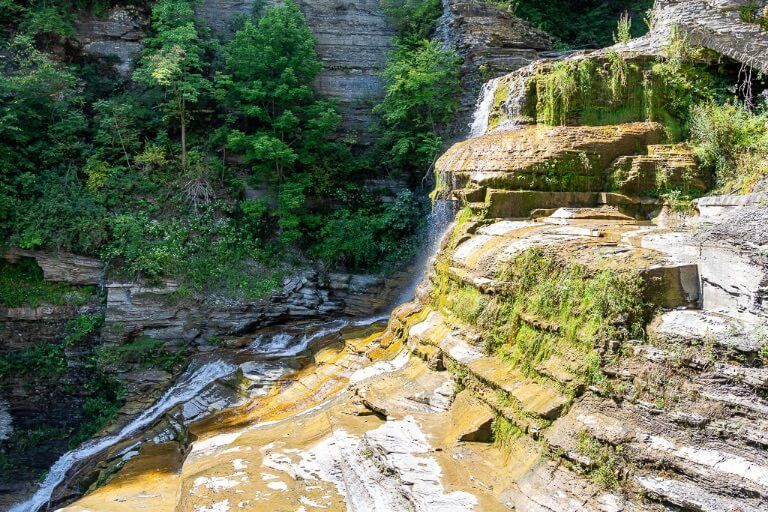 Follow the flowing water round a few more corners with wide open stunning views through the canyon before stumbling across the top of Lucifer Falls.
The side angled viewing platform from the stone staircase close to the top of the waterfall is the best you will get until later on Rim trail.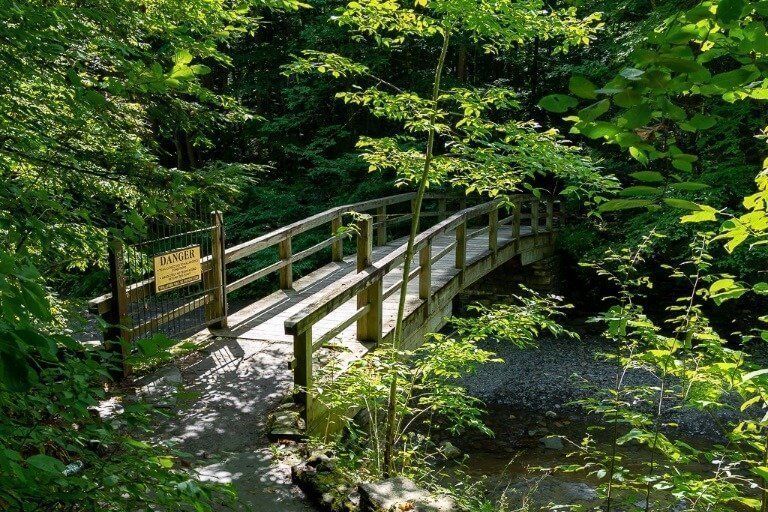 You will follow a stone / dirt path alongside Enfield Creek once the stone staircase ends at the bottom of Lucifer Falls. Before long you have an option to cross a wooden bridge and join Rim trail which takes you back to upper entrance.
This is the Short Loop and is perfect for those who only want to see the best bits of the park. After here, the views are far less impressive and hiking is more challenging.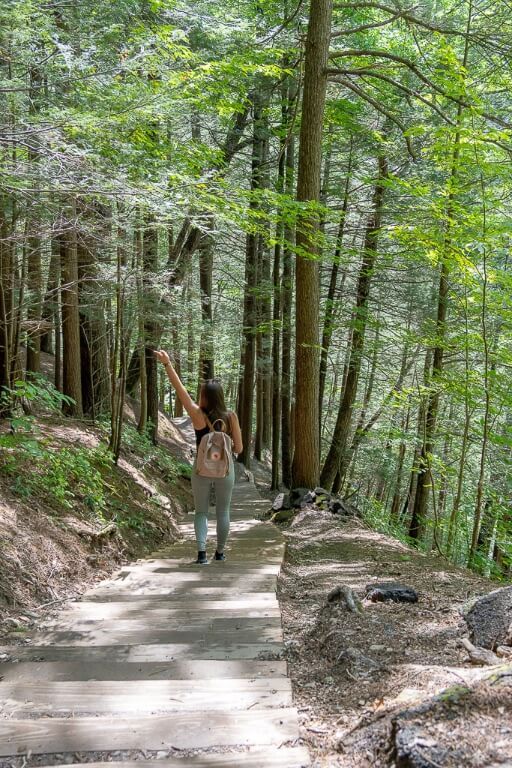 The trail veers away from the gorge and takes you through green forest before rejoining the creek. Enjoy the fresh clean air and sounds of nature as the real hiking begins!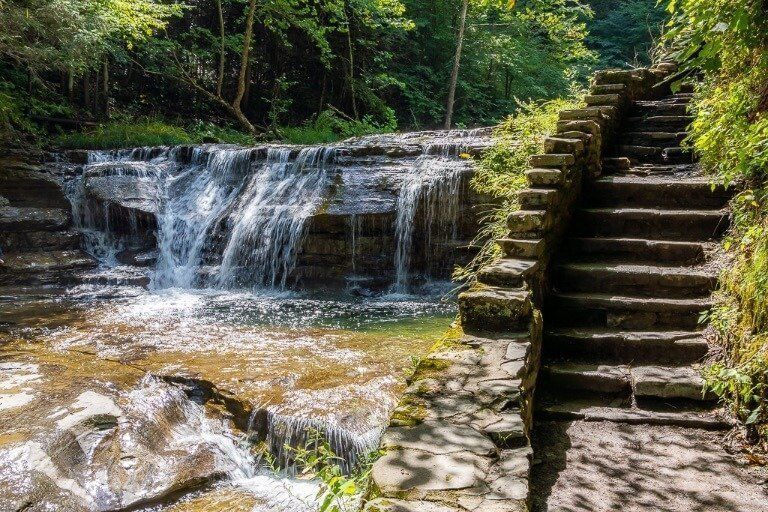 One of the next major waterfalls is only 5 or 6 feet high but the ornate looking stone staircase right next to it makes for a visually pleasing photograph!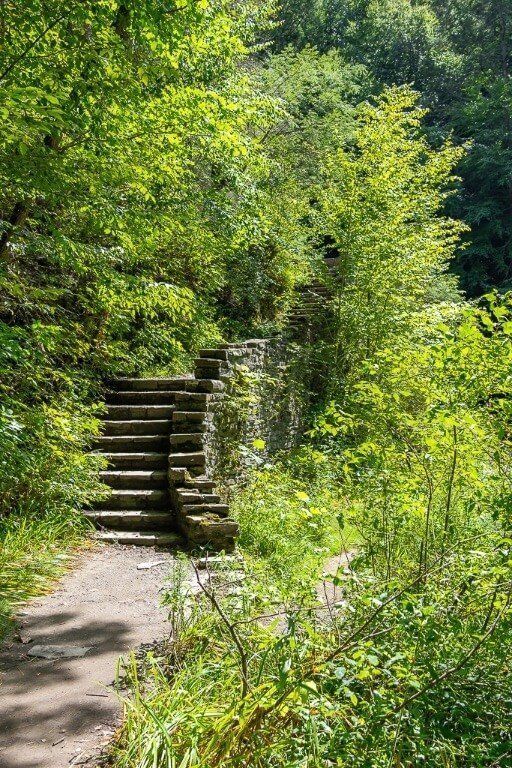 A little further you will reach your next Chronicle's of Narnia looking winding stone staircase ascending into lush vegetation. The gorge trail really is a fantastic and scenic hike.
Rim Trail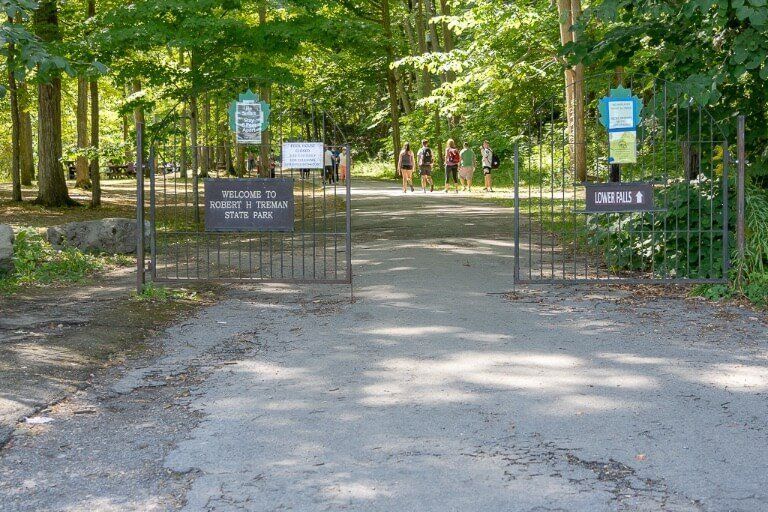 Turn right as you leave gorge trail, following the path until you enter the gate to Lower Falls. Bathrooms are to the left when you exit gorge trail.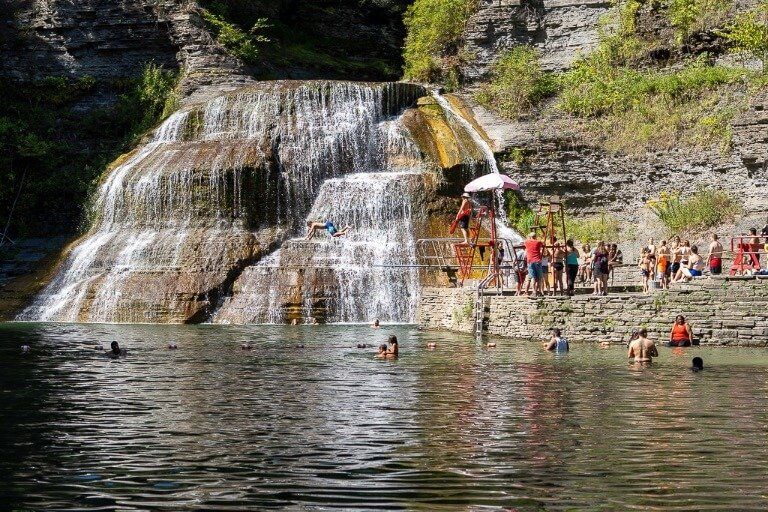 You will find the swim changing rooms after a minute or two. If you're taking a dip or a dive, now is the time to switch out of hiking gear and into swimsuits!
Lower Falls is an attractive 40-50 feet high waterfall which opens up into a deep bowl-like pool. Diving into a pool at the bottom of a waterfall is pretty awesome, right?!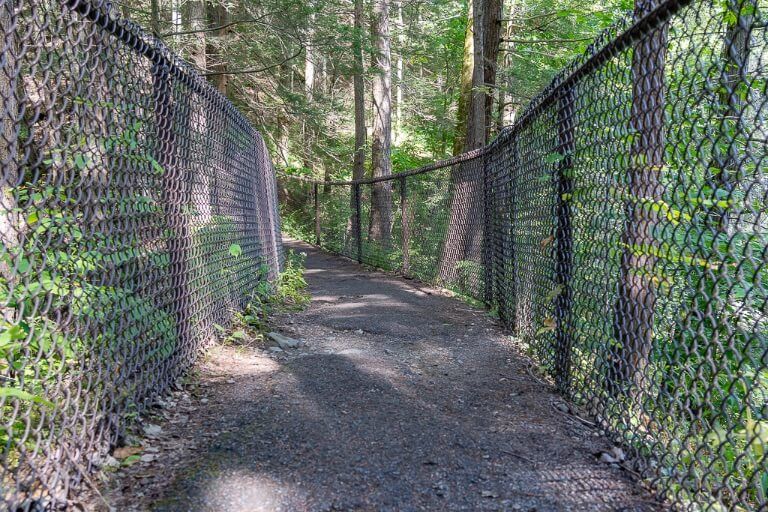 We'll be completely honest, ascending Rim trail blows! It's a bit of a slog and there isn't a huge amount to see. You will pass by the park's log cabins accommodation, climb and disappear into forest.
You have around 500 feet to gain and parts of the trail can feel steep. Be aware of stones and tree roots sticking up as you hike.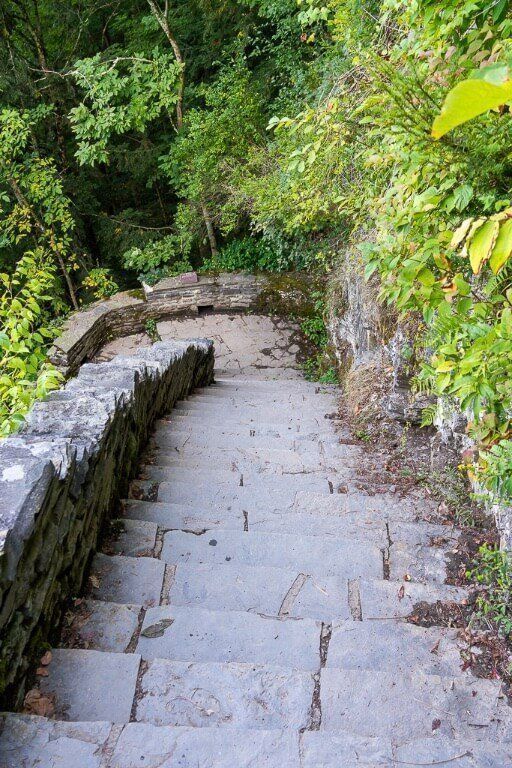 The next real landmark worthy of discussing is the 'Steep Steps' section of the Rim trail, which as it says in the name is pretty damn steep!
You'll climb the intricate stone slabs like a switchback trail, heart racing and heavy breathing until you reach a wonderful lookout point from which you can see trees in the gorge for miles.
Your reward?
The best view of Lucifer Falls once you finally summit the steep stone stairs. It's worth the effort!
Grab your selfies, set up your camera and tripod or just enjoy the views. You only have a short distance back to the parking lot from here and you've completed the surprisingly demanding Gorge / Rim loop hike at Robert H Treman State Park.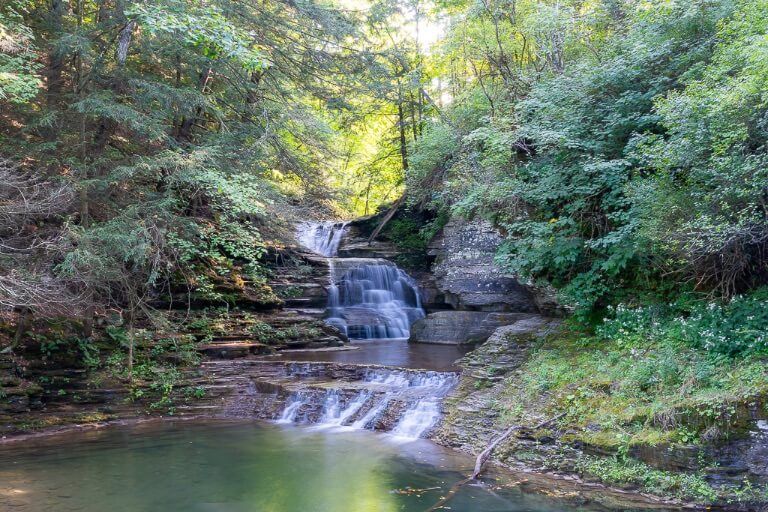 Don't miss the quaint Old Mill waterfall right behind the historic building on your way out of the park!
FAQ's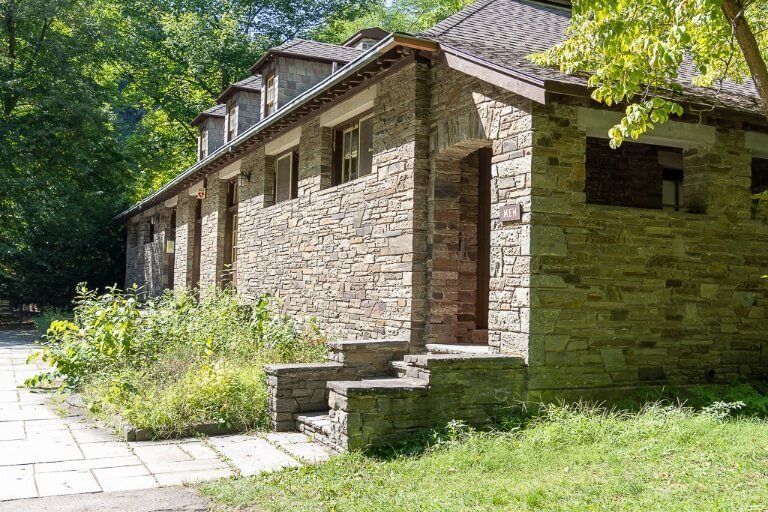 What Facilities are Available at the Park?
You will find bathrooms at main and upper entrances but nowhere else in the park. Main entrance swim changing block closes 2.30pm – 3.30pm for cleaning.
There are no restaurants or cafes on site so be sure to bring plenty of water and snacks.
Are Dogs Allowed at Robert H Treman?
Yes, dogs are permitted to walk both Rim and Gorge trail but must be on leashes no longer than 6 feet. Pets are not allowed at the swimming area.
If dogs are taken off leash or off designated paths, you will be asked to leave the park.
Robert H Treman State Park Swimming Allowed?
Yes, there is a designated swimming area complete with diving board at the base of Lower Falls (main entrance).
However, swimming is only permitted between mid-April and mid-October when a life guard will be on duty. You are not permitted to swim without a life guard or at any other part of the creek.
Best Time to Visit Robert H Treman State Park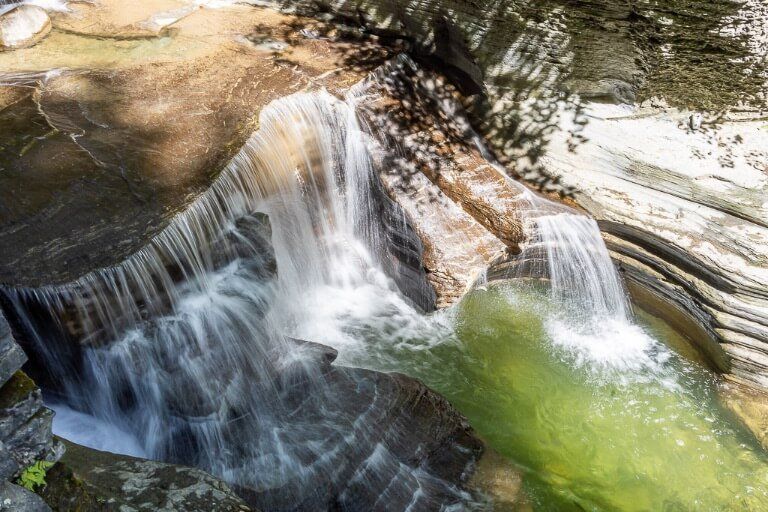 The best time to visit any place depends on personal preference. At Robert H Treman you can expect the park to be extremely busy on weekends between April and October, particularly during holidays.
Best time of Year – Spring is the best time for heavy running waterfalls and comfortable hiking conditions. Summer is busy and hot but the best time for swimming. Fall is best for colorful foliage and in Winter the hiking trails close.
Best time of Day – If you want to beat the crowds, arrive as early as possible. This is the same advice we always give! It's amazing how much quieter National and State Parks are if you begin at sunrise. The busiest period is typically 10am-3pm but is also the best time to swim. On warmer days, hike early in the morning.
Robert H Treman State Park Camping
There are 70 tent / RV sites, 14 cabins and 3 pavilions at Robert H Treman State Park.
Tent camping
Reservations for campsites can be booked up to 9 months in advance and each site can be booked for up to 2 weeks. Campground season is mid April through mid October.
Nightly fee for camping is between US$ 18-28 per night (depending on month of visit).
Be aware that non NYS residents will pay a further US$ 5 per night.
More information about camping at the park.
Cabins
During off season, cabins can be booked on a 2 nightly basis but in peak season (end of June to end of August) cabins can only be booked a 7 night basis. Cabins are available between end of April and beginning of November.
Weekly fee for cabins is between US$ 238-400 (depending on month).
Booking cabins can be confusing.
You will pay 1/4 of the total weekly price per night, but you have to stay for minimum of 2 nights. So for 2 nights you will pay half the price of a week.
In peak season you have to book for 7 nights but in off season you will pay US$ 119 for a 2 night stay.
Plus, non NYS residents will pay an additional US$ 7 per night / US$ 28 per week.
More information about campgrounds and cabins.
Robert H Treman State Park Map
Click into the interactive map, zoom in / out and move around the area to find all recommended restaurants, hotels, points of interest and parking lots.
Where To Eat Near Robert H Treman State Park
Nearby Ithaca is definitely the best place to go and eat a nice dinner after your 5 mile hike. In downtown Ithaca you will find local and unique restaurants as we have listed below but don't forget you're in wine country if you're staying the night!
If none of those options work or you need a quick bite before moving on, you can find plenty of the typical chain restaurants to the Southwest of Ithaca, just over 3 miles away from Robert H Treman State Park main entrance.
Where To Stay Near Robert H Treman State Park
Consider your plans when choosing a place to stay. It might be better to stay South of Ithaca one night and North of Ithaca the next if you are planning to visit Robert H Treman, Buttermilk Falls and Taughannock Falls.
It's worth noting Watkins Glen is a good 35-40 minutes drive from Robert Treman so we have excluded that area from hotel recommendations.
There are a number of excellent options for staying in and around Ithaca. Remember the more flexible your dates, the better chance you have of saving money.
Start by reading our ultimate guide to finding and booking cheap hotels when you travel.
Let's take a look at some awesome hotel options in the Ithaca, NY area:
Southwest Ithaca for Robert H Treman and Buttermilk Falls State Parks
There are 4 budget friendly hotels conveniently located under 3 miles from Robert Treman and under 1 mile from Buttermilk Falls. You can get a night for between US$75-150 depending on your date of visit, including breakfast.
Click on each of the 4 hotel names to see availability and prices for your dates:
Downtown Ithaca For Central Location & Amenities
Staying centrally in Ithaca works best if you're staying for 3 or more days because you won't have to rush around the State Parks. Plus, over that period you will need amenities on your doorstep.
Here are the best accommodation options in downtown Ithaca:
Northwest Ithaca for Easier Access to Taughannock Falls
Staying a night closer to Taughannock Falls means you can beat the crowds more easily than driving up from Ithaca in the morning.
The 'Inn at Taughannock Falls' is the obvious and most convenient accommodation for Taughannock Falls. The Inn is stunning and located right at the entrance to Taughannock Falls Gorge trail! This has to be your first choice if your budget can stretch.
Don't worry if not, there are other options, including a historic bed & breakfast we stayed at called Glass Magnolia in Interlaken just a few miles from Taughannock. The owners are fantastic and extremely welcoming, plus the homemade breakfast was wonderful.
Visit more New York State Parks

…
---
We hope this helped you plan your visit to Robert H Treman State Park!
Have you been to Robert H Treman? Which is your favorite State Park around the Finger Lakes?
Please let us know if you have any questions or need any help planning your visit in the comments below.
Happy Travels,
Mark and Kristen
Was This Post Helpful? Pin It For Your Visit!