In this upstate NY travel guide, we are going to explain everything you can expect from hiking the easy Taughannock Falls State Park Gorge Trail and photographing the waterfall from its ultra scenic overlook.
Taughannock Falls State Park is an outstanding highlight of New York's Finger Lakes region because this park contains the tallest single drop waterfall East of the Rocky Mountains, the photogenic Taughannock Falls.
In our detailed guide, we will show you:
Where to find Taughannock Falls State Park
Entrance fee and parking information
12 best things to do at Taughannock Falls
Taughannock Falls State Park hiking trails
Best time of year and day to visit
Where to eat and stay nearby
Tips for your visit
Now, let's visit Taughannock Falls State Park!
Our Taughannock Falls State Park Experience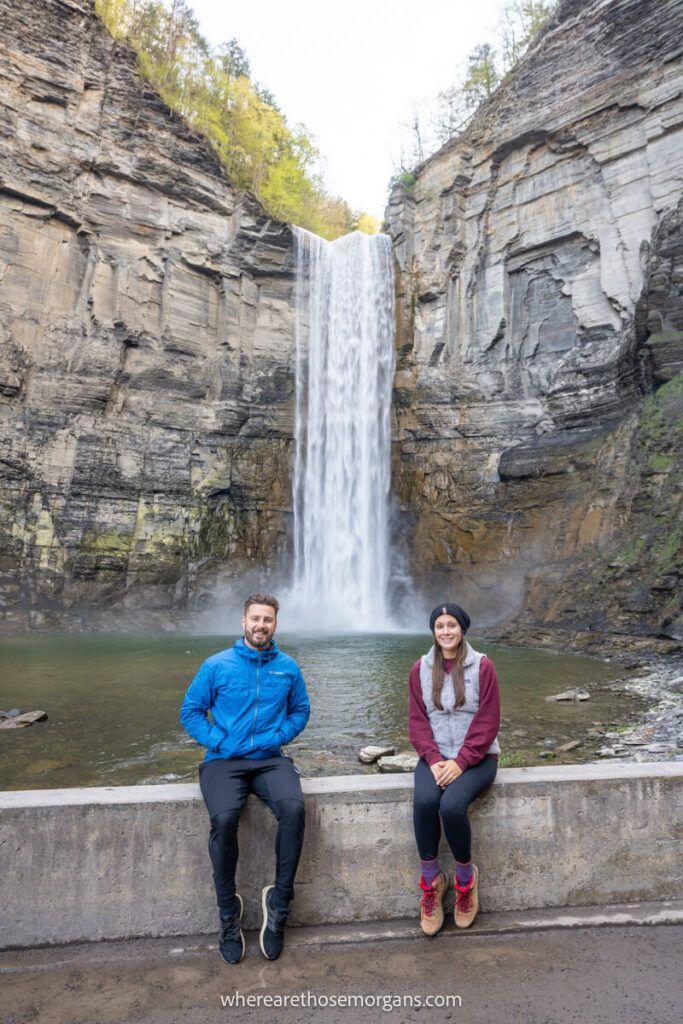 Why trust us to help with planning your visit to Taughannock Falls?
Well, for starters Kristen is a Finger Lakes native, growing up in a small town near Ithaca. We also temporarily lived in the region when Mark first moved to the US in 2019 so we have hiked Taughannock Falls Gorge Trail several times.
Having traveled the US extensively, we think the Finger Lakes region in upstate New York is one of the best places to visit in America.
This region offers a myriad of gorgeous topography and a fabulous wine scene not to mention it's one of the best places in the US to experience vibrant colors of the fall foliage.
While we no longer live in the area, Kristen's family still lives in upstate New York and we always return to this beautiful area several times a year.
What Can You Expect From This Guide?
Our Taughannock Falls travel guide features photos from a September 2020 and April 2023 visit so you can compare both spring and fall season.
This comprehensive first time visitor guide covers everything you need to plan the perfect visit to Taughannock Falls State Park in upstate New York.
You will find information about parking and entrance fees, a walk through of the entire Gorge Trail, camping information as well as nearby hotel and restaurant options.
Our main focus is to provide you with hiking and photography insights along the spectacular Gorge Trail at Taughannock Falls in Ithaca NY.
We want you to be fully prepared so you can make the most of your visit to Taughannock Falls State Park Gorge.
Love NY State Parks? Don't miss our guide to the best New York State Parks featuring tips only a local would know!
What Makes Taughannock Falls Special?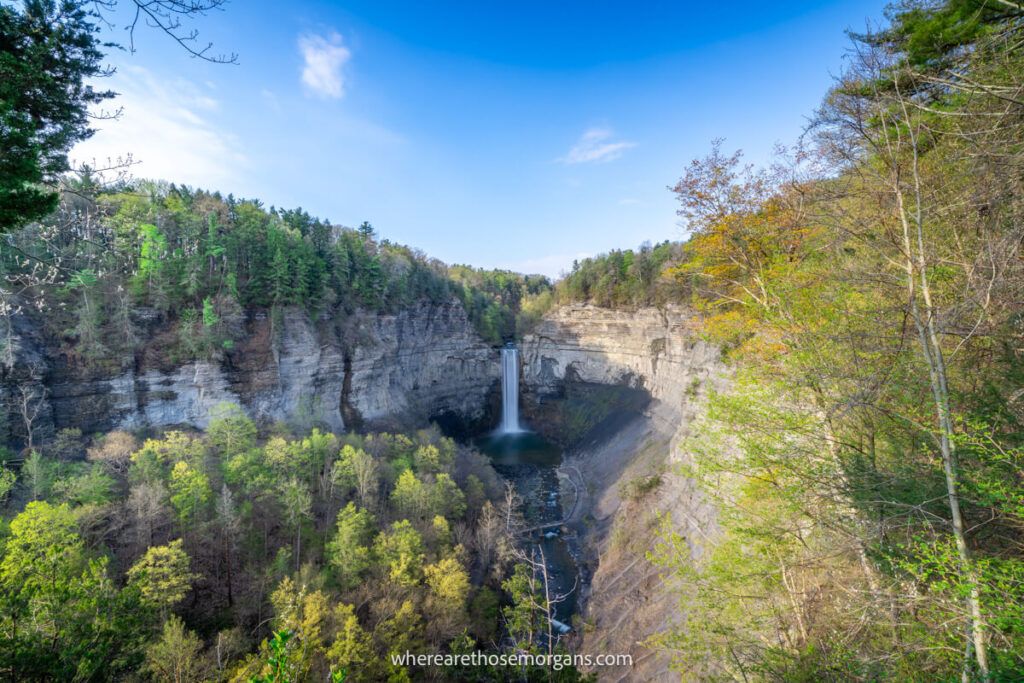 The answer to this question lies within its striking topographical surroundings.
A bowl shaped depression in the Earth looks like a gigantic amphitheater encircled by towering 400 ft high cliffs with the mesmerizing 215 ft tall single drop waterfall crashing right out from its center.
The area surrounding Taughannock Falls State Park in Ithaca, NY is historically part of the Cayuga Nation. This is one of the six original nations forming the Iroquois Confederacy.
As history tells us, the first translation of Taughannock was by William H. Bogart. He claimed Taughannock means "the great fall in the woods."
When you visit, you will witness how mother nature just so happens to have created a perfectly unobstructed overlook hundreds of feet away for us to enjoy the view.
If you draw an imaginary heart symbol and picture the base of the V as the overlook, think of the top arcs as the cliffs and the point in the top center as Taughannock Falls.
A gorge hiking trail allows you to walk into the amphitheater and ends within a stones throw of the plunging water for mightily impressive up close views.
You will literally be blown away by the picture perfect Taughannock Falls.
Taughannock Falls State Park Factfile
State Park: Taughannock Falls
Nearest City: Ithaca
State: New York
Address: 1740 Taughannock Blvd, Trumansburg, NY
Telephone: (607) 273-3440
Campgrounds: 68
Cabins: 16
Area: 750 acres
Activities: Hiking, waterfalls, photography, camping, fishing
Major Waterfall: Taughannock Falls (215ft high plunge)
Open: All year
Visitors: ~500,000
Where Is Taughannock Falls State Park?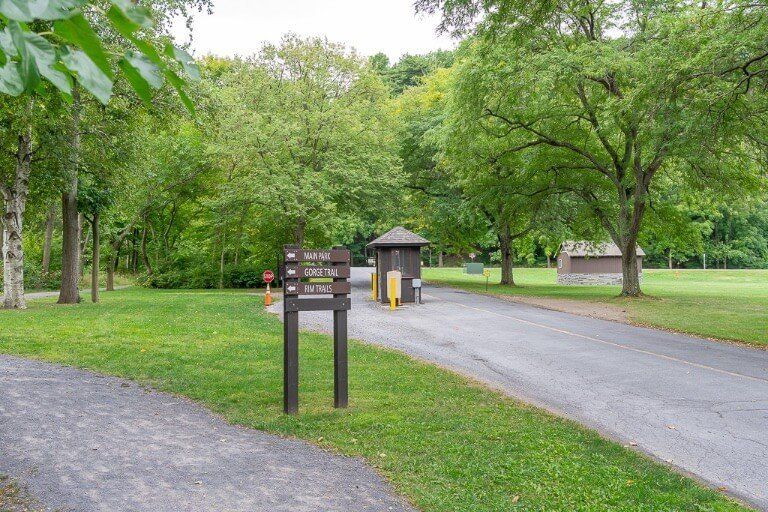 Taughannock Falls State Park is located on the Western flank of Cayuga Lake in the Finger Lakes region of Upstate New York.
The popular college town of Ithaca, NY is the perfect base for exploring Taughannock Falls when combined with Buttermilk Falls, Robert H Treman and Watkins Glen State Parks as part of a wider Finger Lakes road trip.
From downtown Ithaca, simply follow the scenic route (NY-89 N) along Cayuga Lake for around 15 minutes until you see signs for Taughannock Falls State Park.
Taughannock Falls State Park Google Maps Location.
Heading to Ithaca? Use our popular guide to find the best places to visit in Ithaca when you drive through upstate New York.
Driving Distances And Airports
Let's take a quick look at driving distances and times to Taughannock Falls State Park from nearby major cities as well as the closest airports to Taughannock Park for you to consider if visiting from further afield.
Distances to Taughannock Falls State Park from nearby major cities:
Syracuse NY – 65 miles (1h 20m)
Rochester NY – 79 miles (1h 25m)
Scranton / Wilkes-Barre PA – 130 miles (2h 30m)
Buffalo NY – 145 miles (2h 25m)
Albany NY – 175 miles (3h 10m)
New York City – 233 miles (4h 10m)
If you're flying into the region to tour the Finger Lakes wineries or State Parks, search for your flight using Skyscanner. We love this platform because it compares prices on all flight platforms to find you the best deal.
The same goes for renting a car when you get to a New York airport. Get a benchmark price using Rental Cars or Discover Cars and then see if you can beat it.
Here are the closest airports near Taughannock Falls State Park:
Syracuse Hancock International Airport (SYR) – 73 miles (1h 25m)
Greater Rochester International Airport (ROC) – 85 miles (1h 35m)
Buffalo Niagara International Airport (BUF) – 135 miles (2h 15m)
Newark Liberty International Airport (EWR) – 230 miles (3h 55m)
Want to save money on flights? Don't miss our popular guide on how to book cheap flights.
Taughannock Falls State Park Entrance Fee And Parking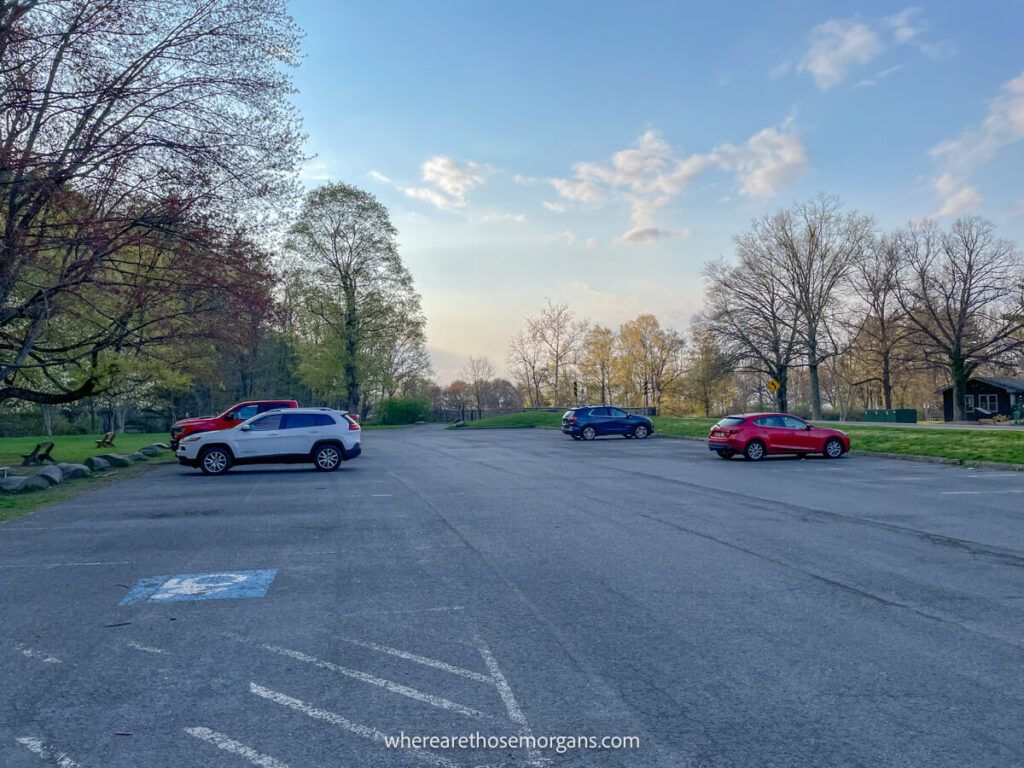 Taughannock Falls Main Entrance Parking
Parking at Taughannock Falls is easier than at nearby Robert Treman and Buttermilk Falls State Parks.
You will find a tiny parking lot right at the entrance to Taughannock Falls Gorge Trail but this will fill up very quickly each day.
Don't worry if you can't find a space, you can park around 50 meters from the edge of Cayuga Lake in a huge overflow parking lot, located less than 1 minute drive away on the opposite side of the main road.
As you pass through a ticket booth at Taughannock Falls, you will pay US$ 9 to park your vehicle which you can pay by cash or card.
It will take you less than 5 minutes to walk back to the beginning of Gorge Trail.
Parking Lot For Taughannock Overlook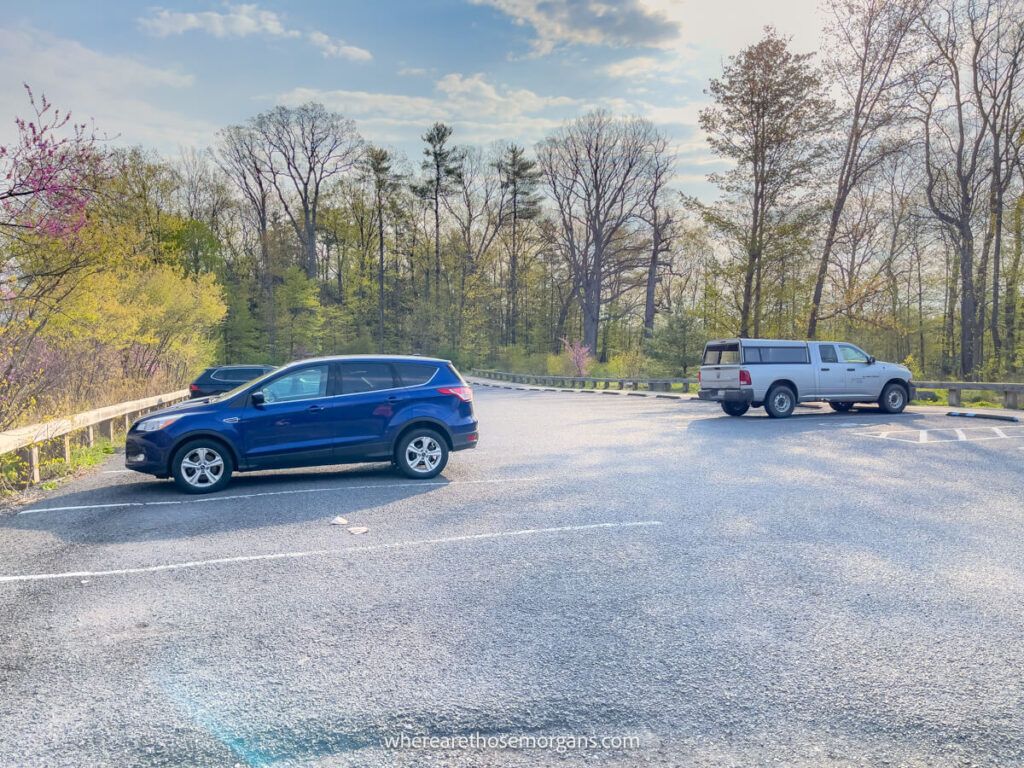 The awesome overlook of Taughannock Falls has its own very small parking lot and visitor center, but expect this lot to fill up early every day between April and October.
If you're visiting on a weekend or a holiday, this parking area will be chaotic all day. You can also park at Upper Falls (near Black Diamond Trail) and walk 15 minutes back to the overlook along North Rim Trail.
Personally, we would rather park further out and walk to the overlook when it's busy, but we will leave that one up to you.
Travel Tip: Parking at Taughannock Falls Overlook is free for 1 hour.
Taughannock Falls Overlook
Before we jump into the short hike up Gorge Trail to the base of the waterfall, let's begin with the monumentally epic vista from Taughannock Falls waterfall overlook.
A beautifully crafted stone staircase at the overlook creates a postcard perfect image. Photographers simply can't miss this overlook, but you can certainly expect company.
This Taughannock Falls viewpoint is one of the best photography locations in the entire state park. But depending on the time of year you visit, the waterfall will look very different.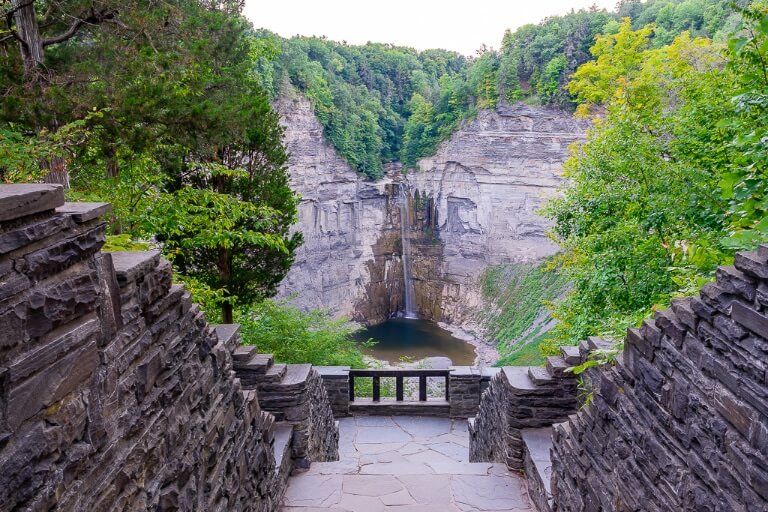 The photograph above is from our Labor Day trip in 2020. As you can see, the water levels are very low because there was a drought in the NY Finger Lakes when we visited.
Taughannock Falls Overlook is part of both the North and South Rim loop trail or you can opt to drive Taughannock Park Road to reach the parking lot.
Interested in waterfalls? Don't miss our popular guide to the best waterfalls in the New York Finger Lakes.
Waterfalls At Taughannock Falls State Park
We are going to let you in a little secret… The 215 ft Taughannock Falls often steals the show, but you can also find an upper and lower waterfall in the park.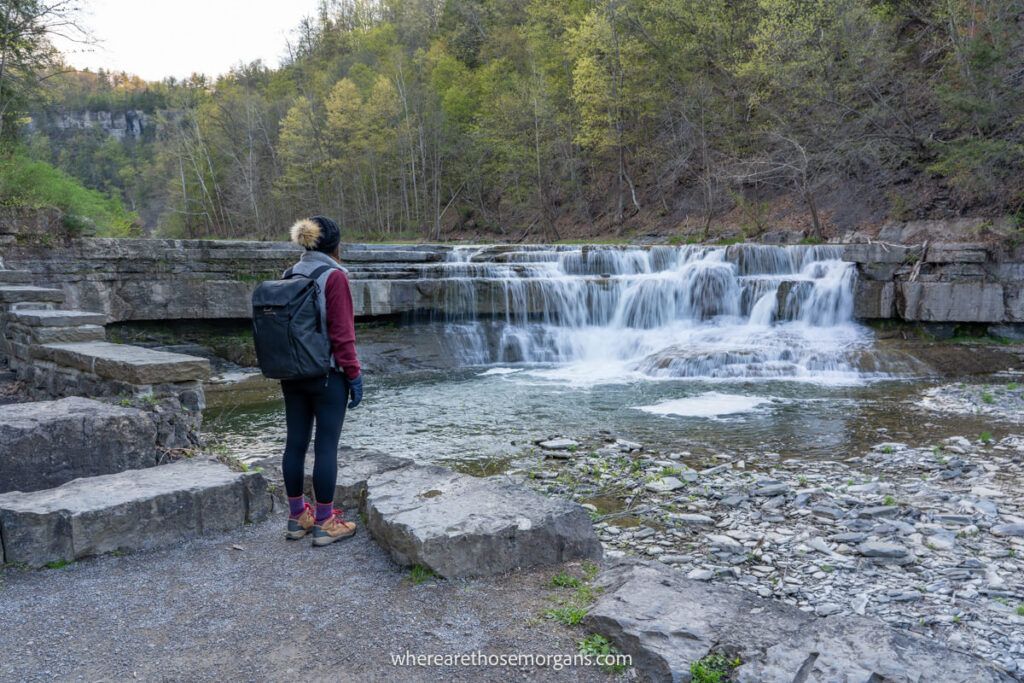 Lower Falls is located along NYS Route 89 where the Gorge Trail begins. So if you hike the Gorge Trail, you will pass by Lower Falls shortly after beginning your hike.
April is the best time to see the water flowing in lower falls, but you still might be able to see a little bit of water trickling through Taughannock Creek during other times of the year.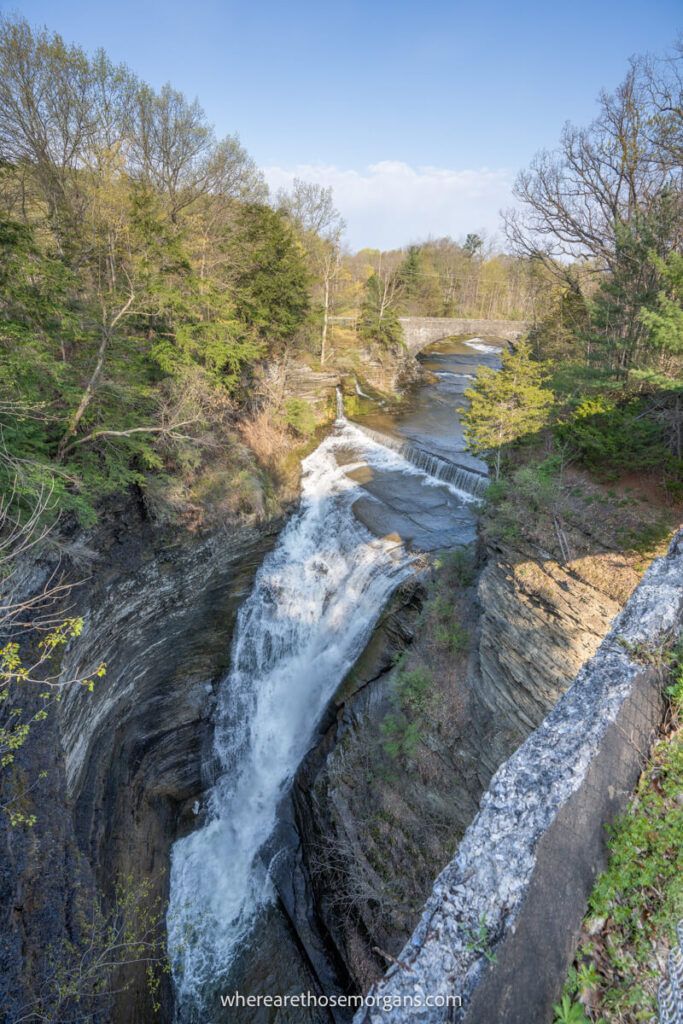 Upper Falls is a bit more difficult to see compared to Taughannock and Lower Falls because it is farther away from a viewing platform and partially obstructed by a bridge at a bad angle.
You can reach Upper Falls by driving Park Road and take the left onto Jacksonville Road where you will find a smaller gravel parking lot.
You can also hike either North Rim or South Rim Trail and you will find Upper Falls where these two longer hiking trails meet.
Use this map here to help you find all 3 waterfalls at Taughannock Falls State Park.
Want more waterfall inspiration? You might like our popular guide featuring quotes about waterfalls.
12 Best Things To Do At Taughannock Falls State Park
If you are looking for things to do at Taughannock Falls, this state park has something for the entire family. This is a very popular spot for swimming and water sports because of its access to Cayuga Lake.
Here are 12 things you can do at Taughannock Falls State Park:
Go camping
Have a picnic
Sled the hill in winter
Rent a boat or kayak
Try your luck fishing
Hike any of the 7 trails
Rent a pavilion or shelter
Hunt for deer in bow season
Enjoy a game on the ball field
Kayak or swim in Cayuga Lake
Let the kids run on the playground
Watch the waterfall from the overlook
You can find more information about a Taughannock Falls hunting permit here.
Taughannock Falls State Park Trails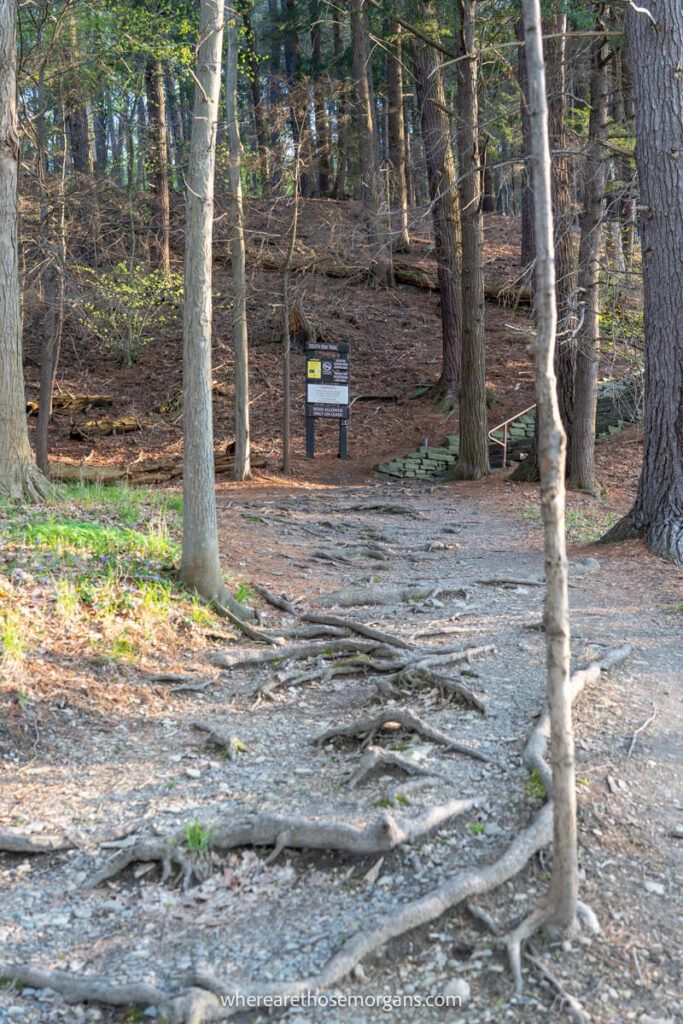 Hiking is one of main attractions at Taughannock Falls State Park and there are a total of seven Taughannock Falls hiking trails.
The most popular hike at Taughannock Falls is the Gorge Trail which is only 0.95 miles one way in length.
Here are the seven Taughannock Falls hikes (distances are one way):
Black Diamond Trail (BDT) – 8.4 miles to Children's Garden
Cabin Trail (CA) – 0.11 miles
Gorge Trail (GO) – 0.95 miles
Multi-use Trail (Mu) – 2.10 miles
North Rim Trail (NR) – 1.44 miles
South Rim Trail (SR) – 1.60 miles
Unmarked Trail – 2.0 miles
If you have already hiked the popular Gorge Trail, you should try hiking some of the other Taughannock Falls trails.
Use this Taughannock Falls State Park trail map here to find new trails.
Hiking Tip: Most people only walk the Gorge Trail and visit the Overlook so if you want to avoid the crowds, hike one of the other trails in the park.
Taughannock Falls Gorge Trail
After you've been blown away by the distant view at Taughannock Falls Overlook, it's time to get up close and personal with this stunning New York State waterfall.
We are going to walk you through the Gorge Trail hike so you know exactly what to expect.
Taughannock Falls Gorge Trail distance: 1.9 miles roundtrip
Hiking difficulty rating: Very easy
You can check out the recent comments on AllTrails to see what hikers have recently said about the Gorge Trail hiking conditions.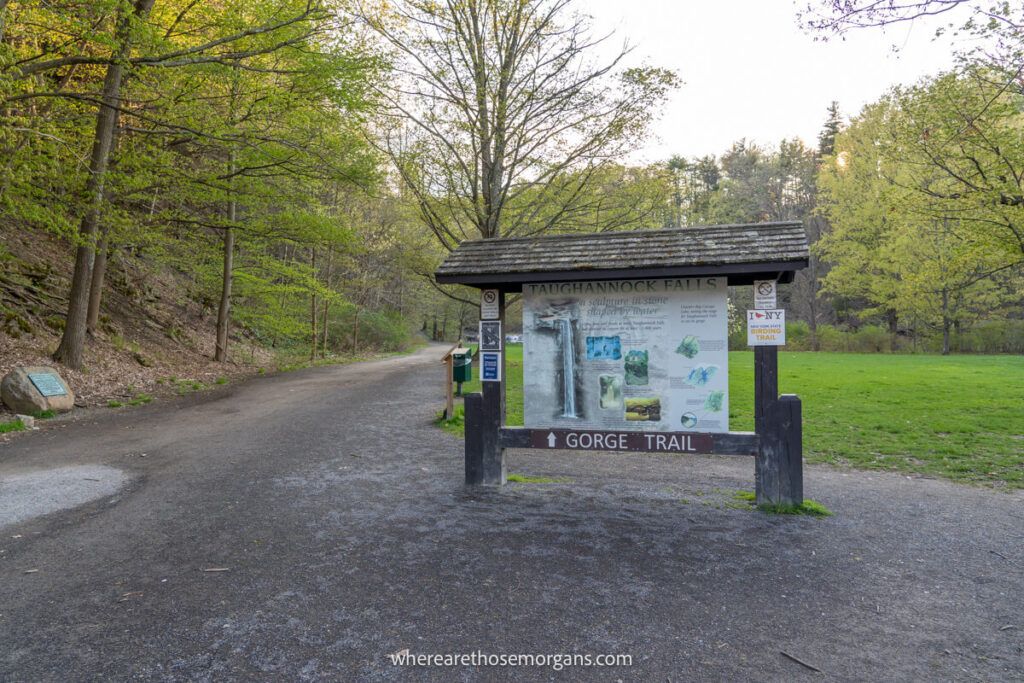 1. Begin By Following Taughannock Creek
A few minutes after you begin walking up Gorge trail you will find Lower Taughannock Falls, a 20 ft shelf-like fall with an incredibly flat rim.
We always joke that you could put a level anywhere on the ledge and your bubble would be right in center. This is truly mother nature at her finest!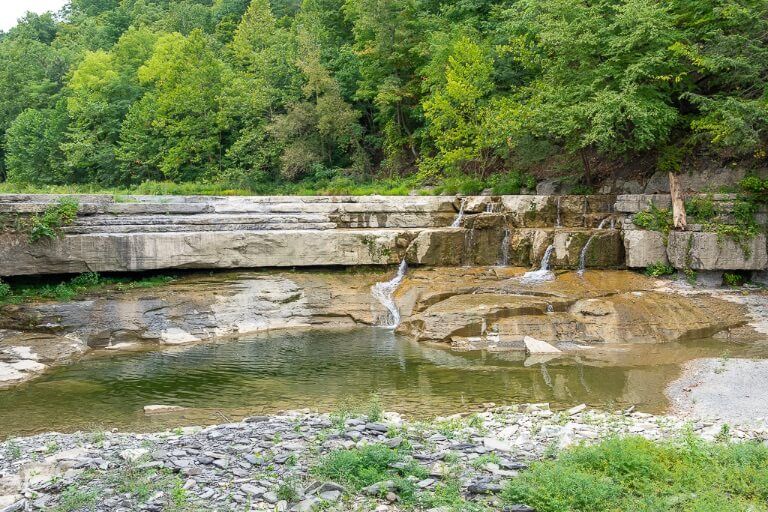 This image of Taughannock Creek shows the waterway running extremely dry.
In spring and early summer, lower falls is abundant with a heavy flow as water spreads across the flat surface and gently cascades from various points.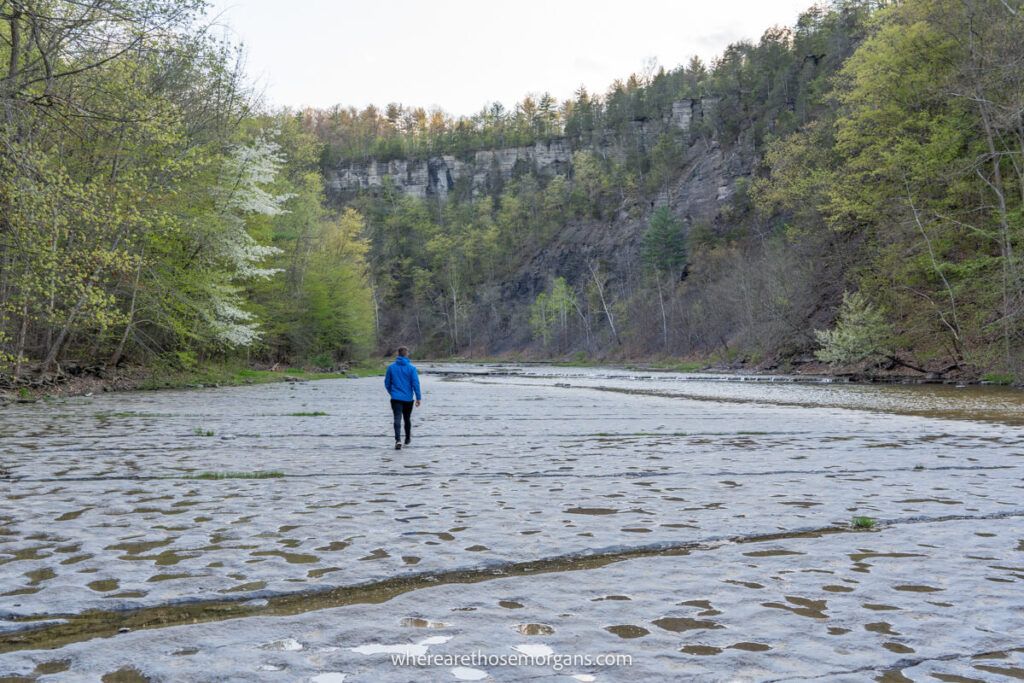 You can choose to follow a gravel track flanking the creek or walk along the creek bed if it's as dry as you can see here. Roughly half of all visitors we saw walked up the entire creek bed.
The creek is completely safe to walk along when it is dry but eventually you will see signs telling you to leave the creek and re-join the designated path.
2. The Gorge Trail Changes Into A Wooded Area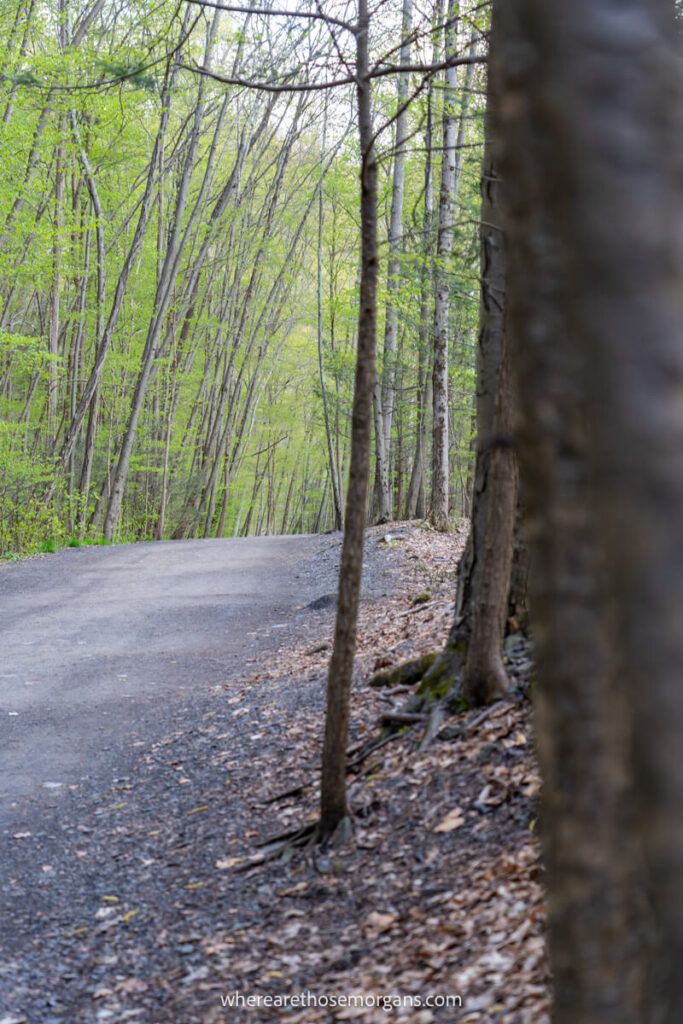 Taughannock Falls Gorge Trail is very short, flat and easy. Basically no elevation is gained or lost which makes the trail perfectly accessible for families with very young children or those with mobility issues.
The final stretch of path leads you through a forested area and eventually brings you out into an opening where you can see a wooden bridge …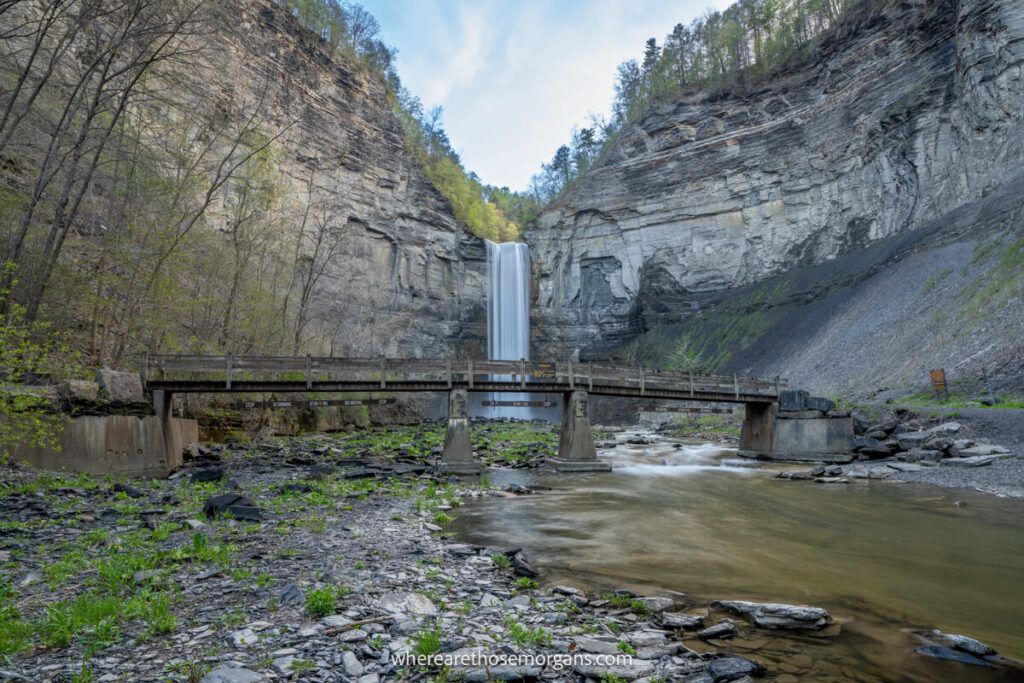 3. View From Underneath Taughannock Falls
Turn to the left for your first sight of Taughannock Falls from up close. You will cross the bridge from left to right as you look at the image above.
Water will crash noisily out of the tree lined cliff top in spring and early summer but after a drought, well a trickle is all you will see.
Once you've crossed the bridge, follow the path as it turns slightly left and comes to a dead end.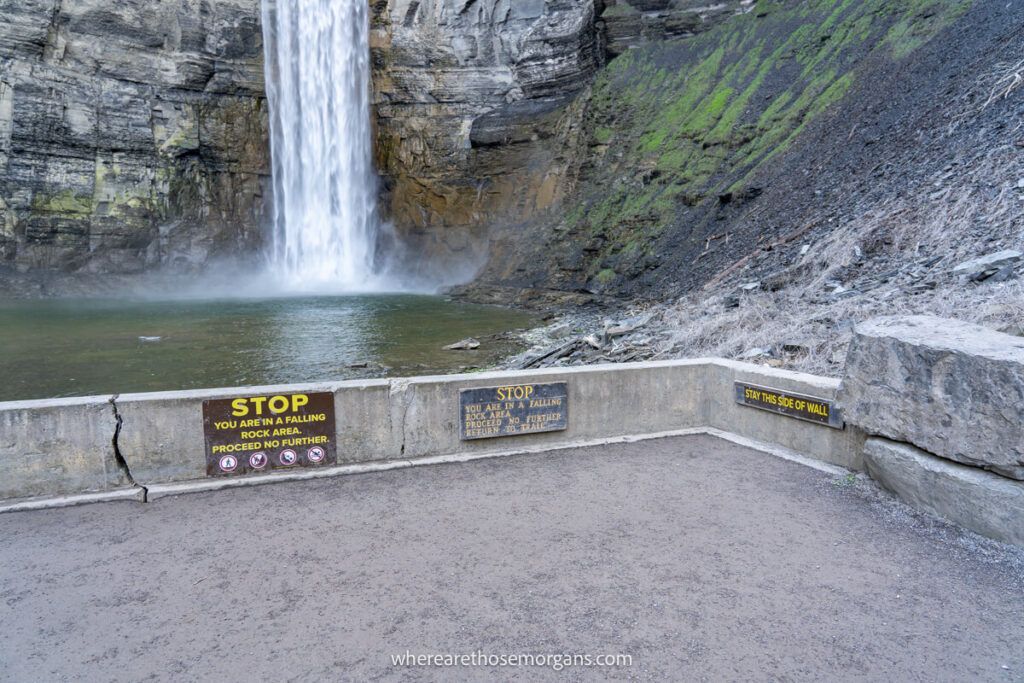 When there is little water in the landing zone and running through the creek, you may notice many visitors stepping over the wall and walking around the small stoned surface.
But if water is crashing over, please don't go out into this area. There is immediate danger of falling rocks and strong currents because the water levels can be deceiving.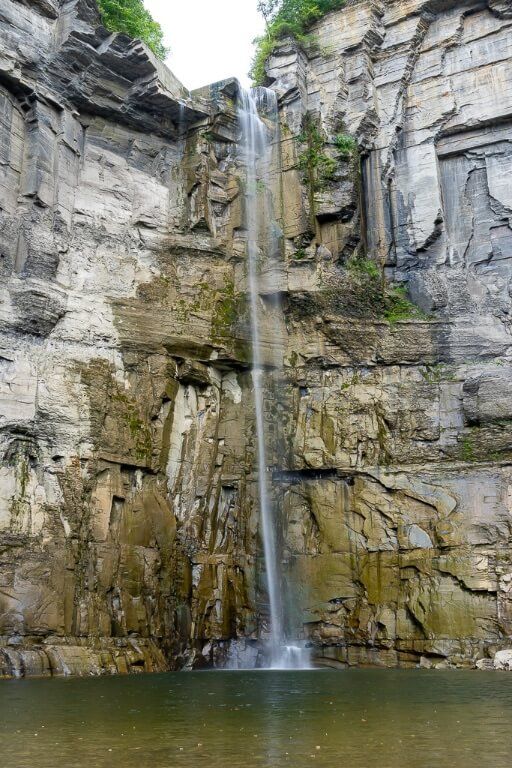 On our Labor Day visit, Taughannock Falls flow was like turning off a faucet 3/4 of the way but just about leaving a steady drip, drip, drip into the sink.
Although it is difficult to imagine this wispy thin fall being the tallest single drop waterfall East of the Rocky Mountains, it sure comes alive at other parts of the year!
That being said, it was still enough to appreciate the vast depression we found ourselves in. No matter how much water is crashing or trickling over the ledge, this is still a fascinating landscape.
Taughannock Falls State Park Photography
Taughannock Falls is a fantastic environment to shoot nature photography.
The perfect time to arrive would be early on an overcast October weekday for brilliant autumnal colors, no crowds and ideal light. But not everyone can be so selective so arriving early is our best advice.
Smartphones are more than capable for social media platforms but if you want to take home some extra special images you'll need to remember a few things:
Overlook Photos
Arriving early at the awesome Taughannock Falls Overlook is key to you getting the best image possible. Landscape photography is always easier with fewer people to contend with, especially in confined spaces.
Taughannock Falls is west of the overlook, which means at sunset you will be shooting into the sun until it disappears. The sun is behind you at sunrise and it takes a while to light up the waterfall.
Once the sun rises, you will have shadows and blown out skies to contend with. One morning we visited was worst case, just a plain blank canvas of grey overcast cloud. A day with cotton wool clouds (cumulus) would be better but wait for the sun to disappear behind a cloud.
Focus stacking is an option even if you shoot with a narrow aperture for greater depth of field. Take 3 of the exact same image on a tripod but focus on foreground (the stairs), middle ground (the waterfall) and distance (clouds if there are any).
Use an ND filter to stop down the light on a bright day.
Try framing your image so the top of the waterfall is the top of your frame (ie cut out the sky completely).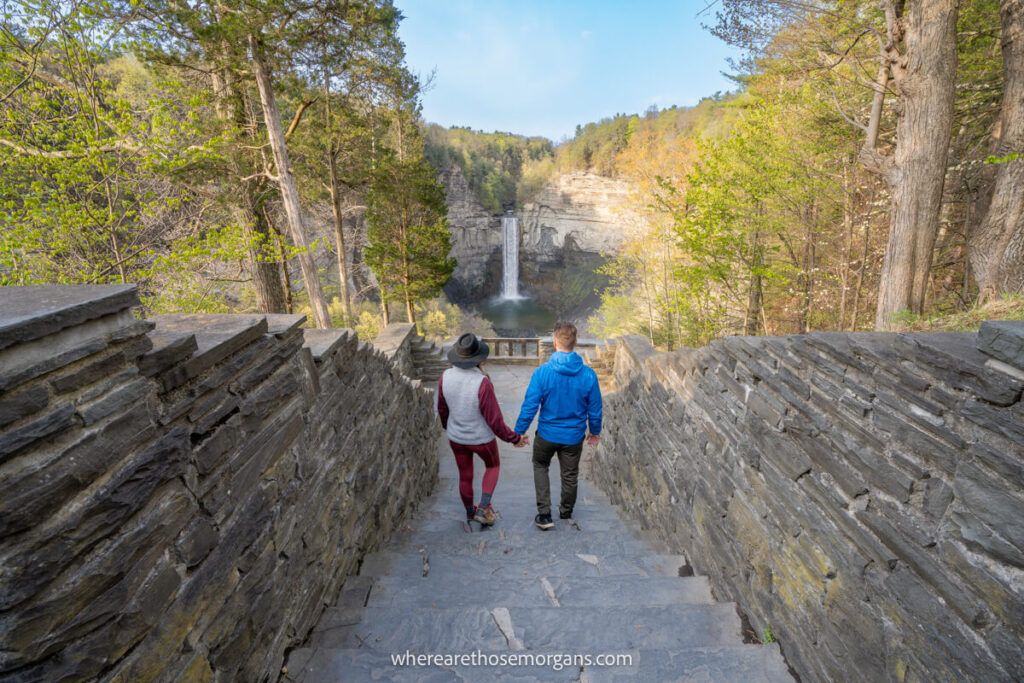 Photos At The Waterfall
Close up photographs of Taughannock Falls are much easier to compose. You have more freedom with framing and using subjects such as the bridge.
Take a lot of photographs from right underneath the waterfall to all the way back behind the bridge.
If you can, try standing 50 meters behind the bridge and zooming in to make Taughannock Falls appear closer to the bridge (compression).
You will have to be patient and wait for a clearing of people on the bridge or use photoshop.
Interested in photography? Don't miss our Photography Guides from around the world.
What Facilities Are Available At Taughannock Falls?
While there are no restaurants or cafes at Taughannock Falls, you can find a small food truck known as the Black Diamond Express and we will discuss this later in our guide.
Kayaks and paddle boats can be hired adjacent the overflow parking lot for adventures on Cayuga Lake. Head to the official Paddle N More website to find information about renting gear.
Various picnic tables and restrooms are located throughout the park as well.
Are Dogs Allowed At Taughannock Falls State Park?
Yes, dogs are allowed at Taughannock Falls State Park, but must be kept on leashes no longer than 6 feet.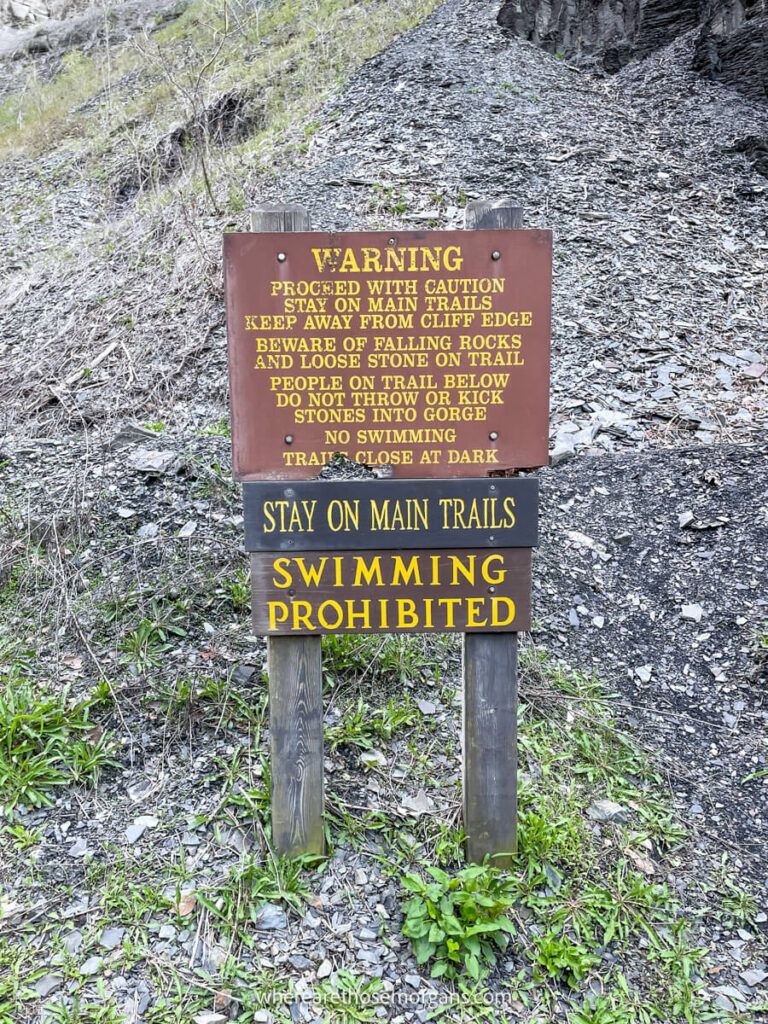 Is Swimming Allowed At Taughannock Falls State Park?
Yes, you can swim at Taughannock Falls State Park, but swimming in Taughannock Creek is prohibited.
There is one designated area known as North Point which is on the opposite side of the main road from the entrance to Gorge Trail.
North Point Google Maps Location.
Is It Worth Visiting Upper Taughannock Falls?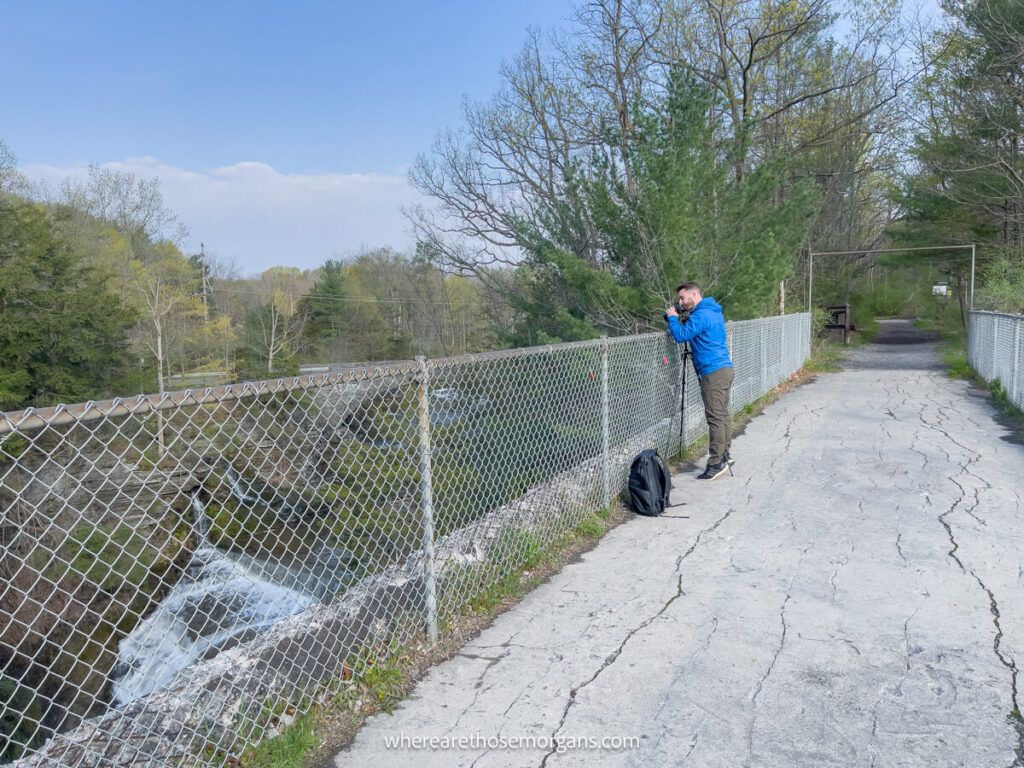 Yes, you should take the time to walk or drive to the 100 ft high Upper Falls at Taughannock Falls, especially if water is flowing well.
The impressive falls drop into a tube-like cylindrical canyon and you can see this from close to a birds eye view.
Next time we visit, we plan to hike the North and South Rim Loop to Upper Falls to experience the park in a different way. Even after multiple visits, there is still so much to see at Taughannock Falls State Park!
Best Time To Visit Taughannock Falls State Park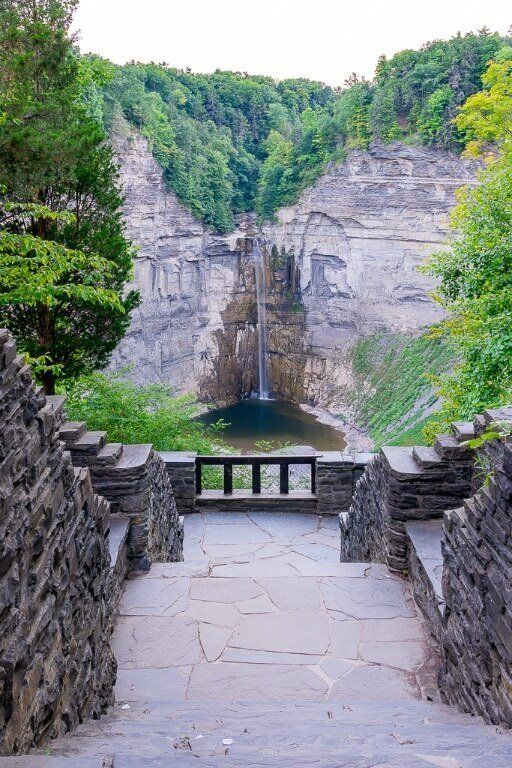 The most important thing to consider when visiting Taughannock Falls should be volume of water. We visited in late summer and it was almost dry but that doesn't mean it will be like that every year.
Check 14 day weather forecasts and start planning your visit if there's a lot of rain predicted.
Taughannock Falls State Park will be extremely busy on weekends between April and October, particularly during holidays.
We recommend staying clear on these days unless it's the only time you can make your visit.
Best Time Of Year
When visiting Taughannock Falls State Park, you will have to make a decision between water or fall colors.
Spring is the best time for heavy running waterfalls as snow melts, but fall is best for vibrant foliage.
Summer is hot and busy while in winter, you can ice skate, snow shoe and cross country ski. The gorge trail is open year round and it does not close in the winter.
Travel Tip: The Gorge Trail at Taughannock Falls is the only gorge trail in the Finger lakes region that does not close in winter.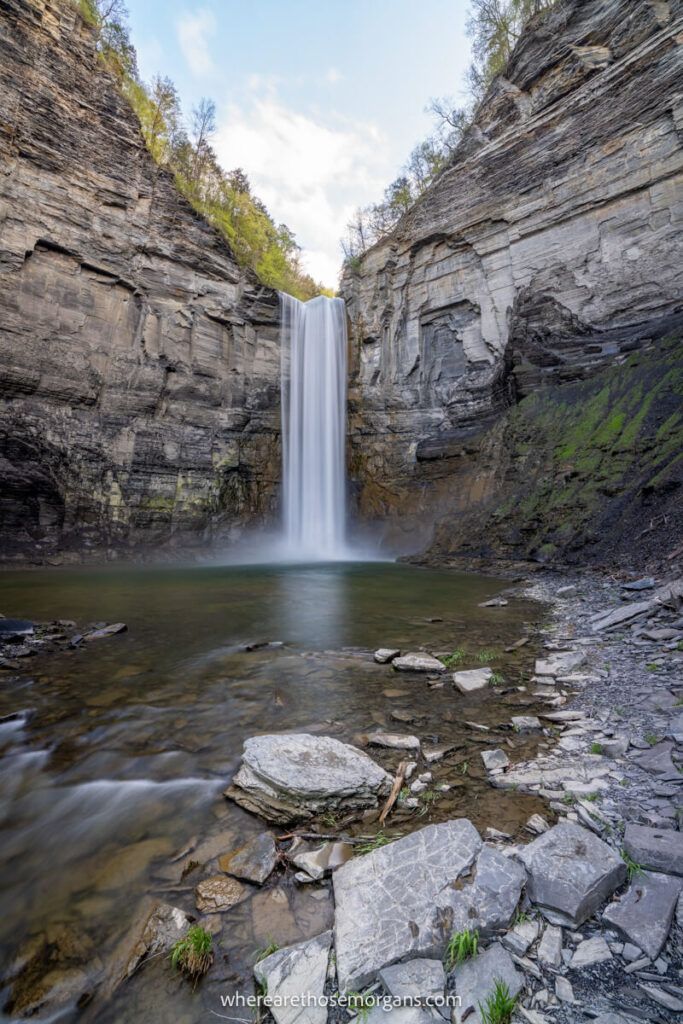 Best Time Of Day
Early morning is by far the best time of day to hike Taughannock Falls Gorge Trail. You will beat the crowds and be able to take photos with no people around.
Aim to arrive at dawn and be the first car in the lot at the main entrance so you can be the first person on the trails.
Late afternoon is the best alternative as most people are leaving for dinner or to beat a dark drive home.
The park is typically the busiest around 10:00 am to 3:00pm so avoid those times if possible.
Restaurants Near Taughannock Falls State Park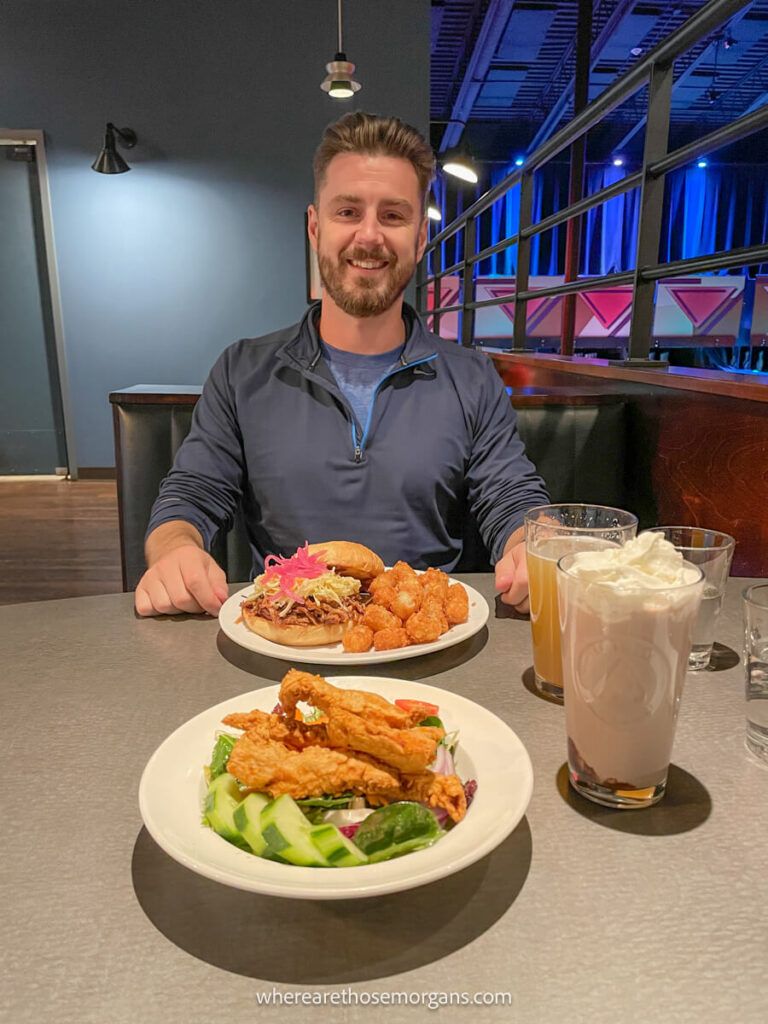 Trumansburg is just a 4 mile drive from Taughannock Falls State Park and features a number of highly rated restaurants:
Travel Tip: We like Atlas Bowl because this restaurant also features a bowling alley.
If you are looking for a quick snack, you can try the Black Diamond Express which is open on weekends near the main entrance of the park and the trailhead for the Gorge Trail.
All proceeds from this food truck help to finance the fireworks display provided by the Inn at Taughannock Falls' July 4th celebration.
At the Black Diamond Express, you will find light breakfast options, sandwiches and snacks as well as hot coffee or cold beverages.
Travel Tip: The original Black Diamond Express transported passengers between NYC and Buffalo from 1896 – 1959. This was the flagship passenger train of the Lehigh Valley Railroad.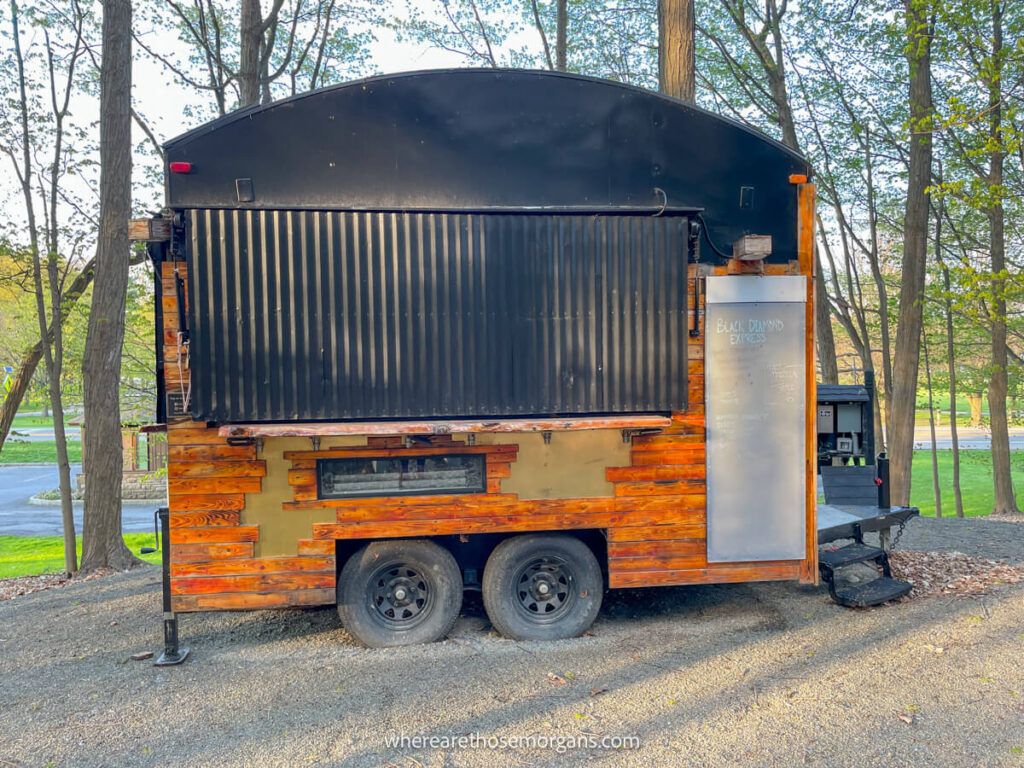 Hotels Near Taughannock Falls State Park
Are you only visiting Taughannock Falls? Or do you plan to include Robert H Treman and Buttermilk Falls as part of a wider Finger Lakes road trip?
If you are taking in all of Ithaca's State Parks, we recommend staying North of Ithaca one night for Taughannock Falls before moving Southwest of Ithaca the next day for Robert Treman and Buttermilk.
Alternatively, you might prefer to set up base in the built up downtown of Ithaca for a long weekend?
Either way, there are a number of excellent options for staying in and around Ithaca. Remember the more flexible your dates, the better chance you have of saving money.
You can read our complete guide to the best hotels in Ithaca NY on our sister site or take a look at the top rated hotels in the area below.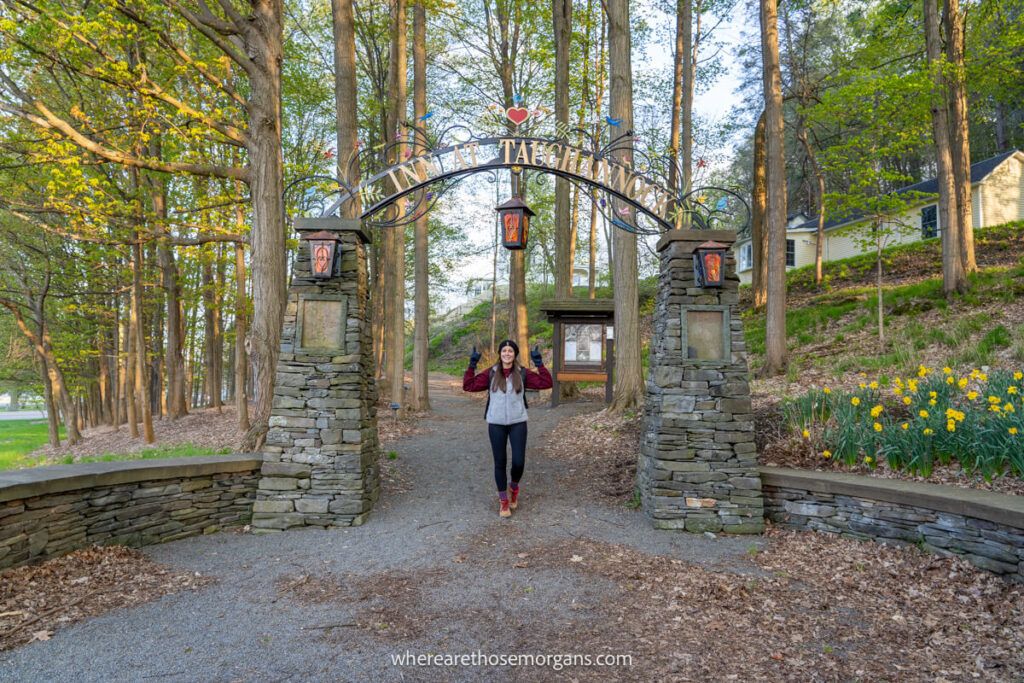 Northwest Ithaca For Easier Access To Taughannock Falls
Staying a night close to Taughannock Falls means you can enjoy the waterfalls and hiking, plus spend some time around Cayuga Lake and eat in Trumansburg.
The stunning Inn at Taughannock Falls is the obvious choice for accommodation when visiting Taughannock Falls.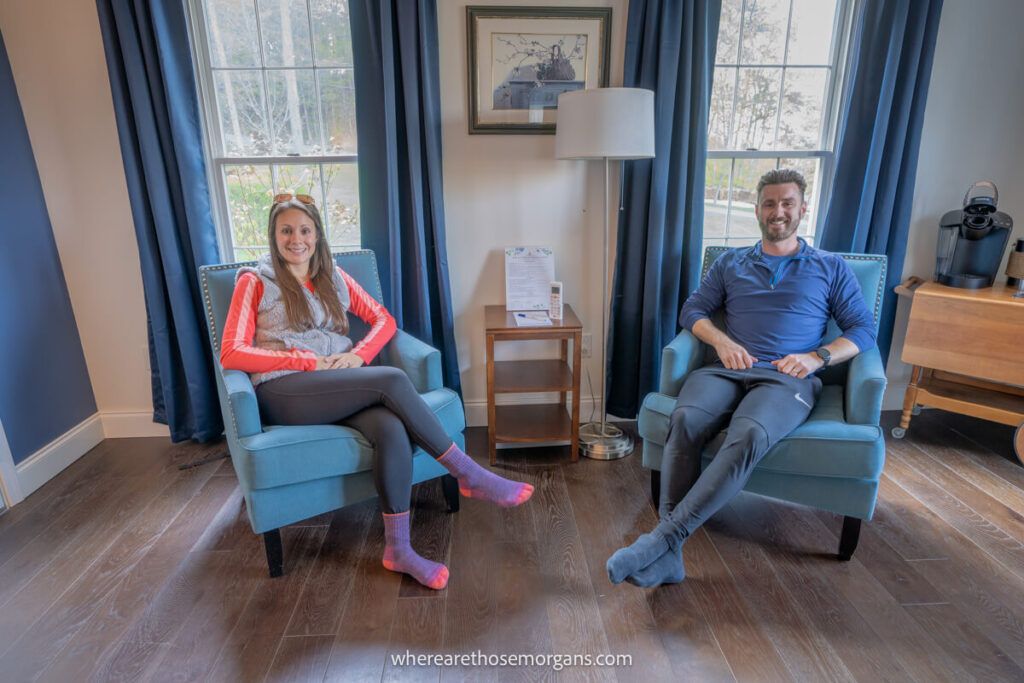 It is perfectly located right at the entrance to the Taughannock Falls Gorge Trail and is set among gorgeous grounds overlooking the lake.
We loved staying at the Inn because we could hit the hiking trails super early and enjoy the beauty of Cayuga Lake. Not to mention, the rooms are luxurious and the breakfast is delicious.
>> Book the Inn at Taughannock here <<
The Inn is usually fully booked because it's very popular. However, the perfect alternative is a historic bed and breakfast we have also stayed at called Glass Magnolia in Interlaken, just a few miles from Taughannock Falls.
The hosts are extremely welcoming, plus the homemade breakfast was excellent.
>> Book the Glass Magnolia here <<
You honestly can't go wrong with either of these two options!
Downtown Ithaca For Central Location And Amenities
Staying centrally in Ithaca works best if you're staying in the Finger Lakes region for 3 or more days because you won't have to rush around the State Parks.
Plus, over that period you will need amenities on your doorstep.
Here are the best hotel options in downtown Ithaca:
Interested in learning about how to save money on hotels? Don't miss our popular how to book cheap hotels guide.
Taughannock Falls State Park Camping
If hotels are too expensive or you'd prefer to be outdoors surrounded by nature, there are 68 campsites and 16 cabins at Taughannock Falls for you to consider.
Taughannock Falls Campgrounds
Camping at Taughannock Falls State Park is open from mid April to mid October and requires a 2 night minimum stay. Peak season is end of June to the end of August.
Off season price: US$ 18/night
Peak season: US$ 29/night
Non-NYS residents will also pay a US $5 additional/night fee.
Taughannock Falls Cabins
Cabins open beginning May to mid October and require a minimum stay of 2 nights in off season but full 7 nights minimum stay in peak season (end June to the end August).
Off season: US$ 59.50 per night but you have to stay minimum 2 nights, so your total 2 night stay is US$ 119. Weekly cost is US$ 238, which offers much better value.
Peak season: US$ 400 per week with 7 night minimum stay.
Non-NYS residents will also pay a US $28/week or US $7/night additional fee.
Interactive Map For Taughannock Falls State Park
Click into the interactive map, zoom in or out and move around the area to find all recommended restaurants, hotels, points of interest and parking lots.
Purple – Hotel recommendations in and around Taughannock Falls and Ithaca, NY
Light Red – Restaurant recommendations in and around Trumansburg, NY
Dark Green – One site tent, RV, cabins and pavilion
Blue – Gorge and Rim Trail
Maroon – Parking lots at each entrance
Orange – All points of interest for hiking and waterfalls
Taughannock Falls State Park Photos
We love spending time at Taughannock Falls and have hundreds of photos! Here are a few of our favorites: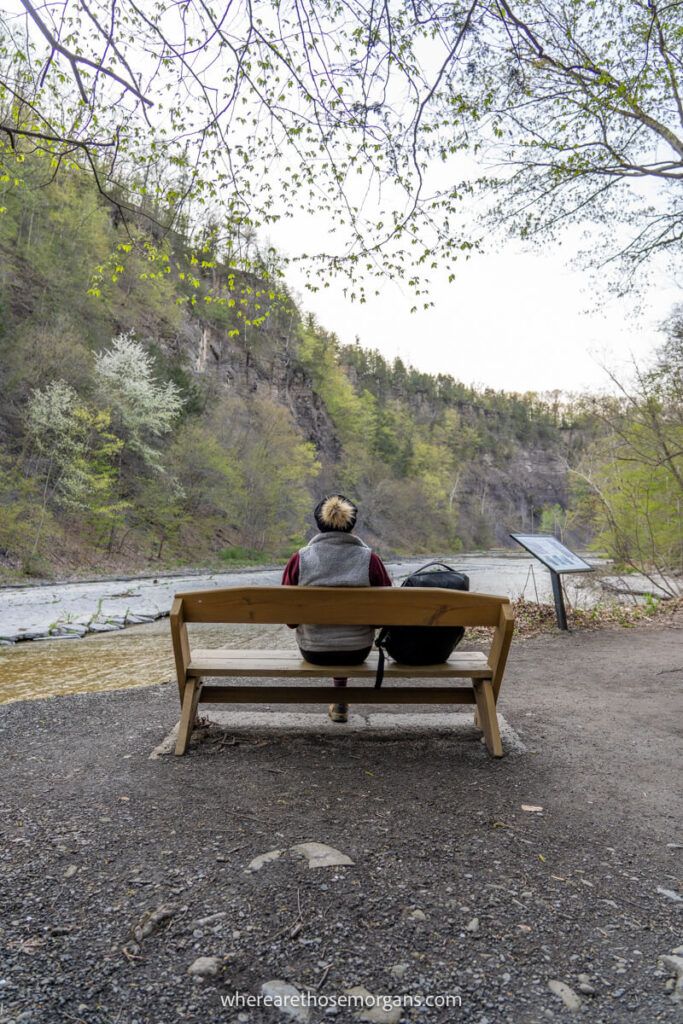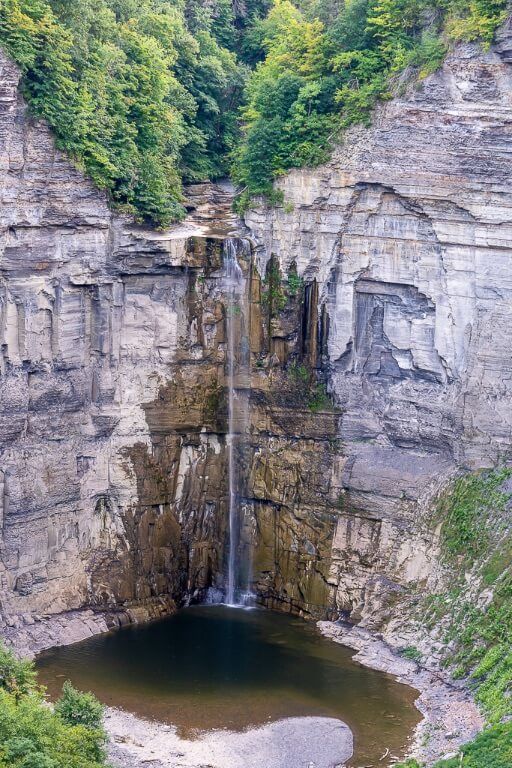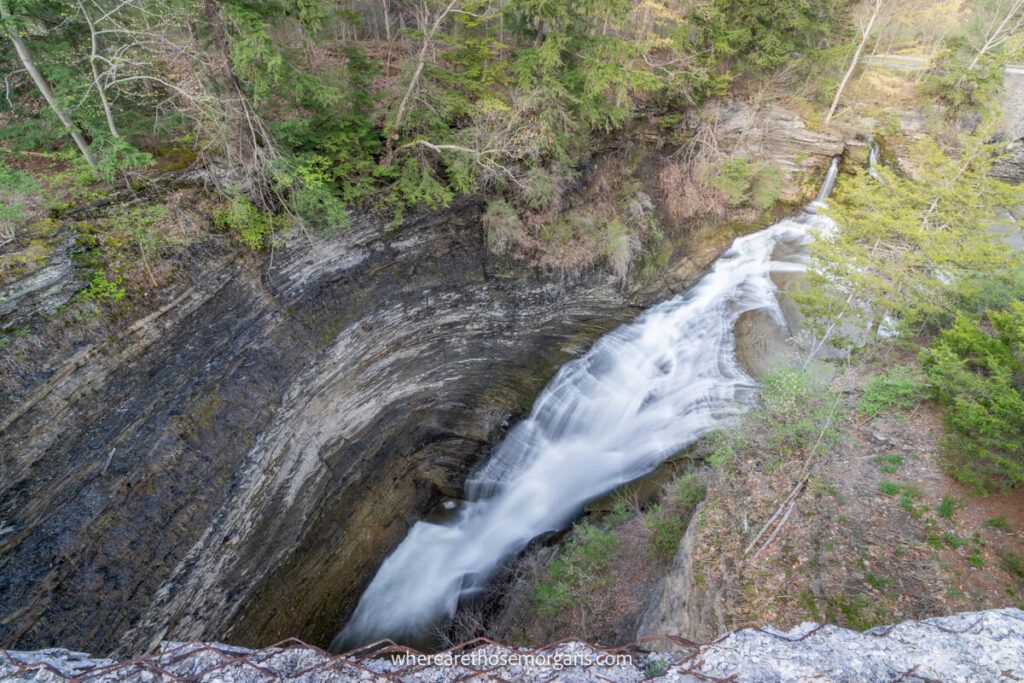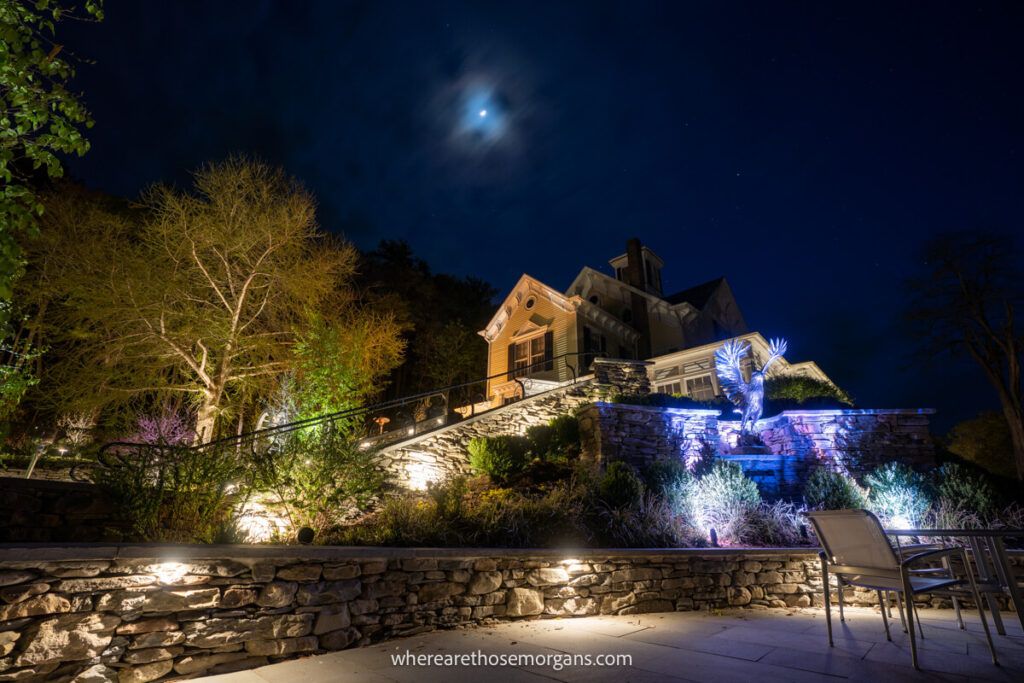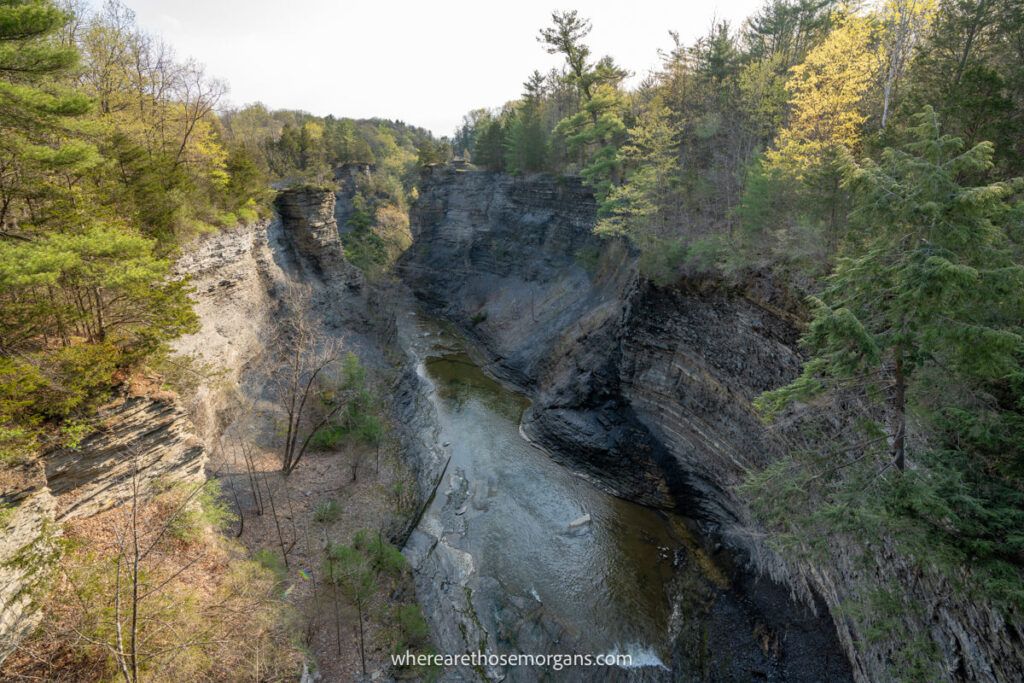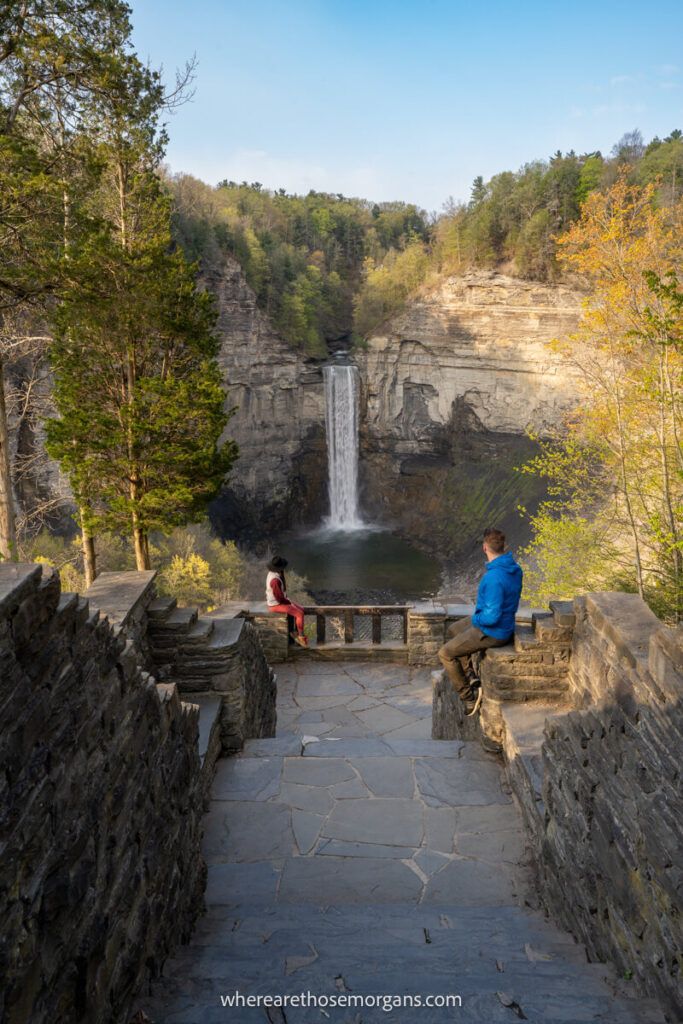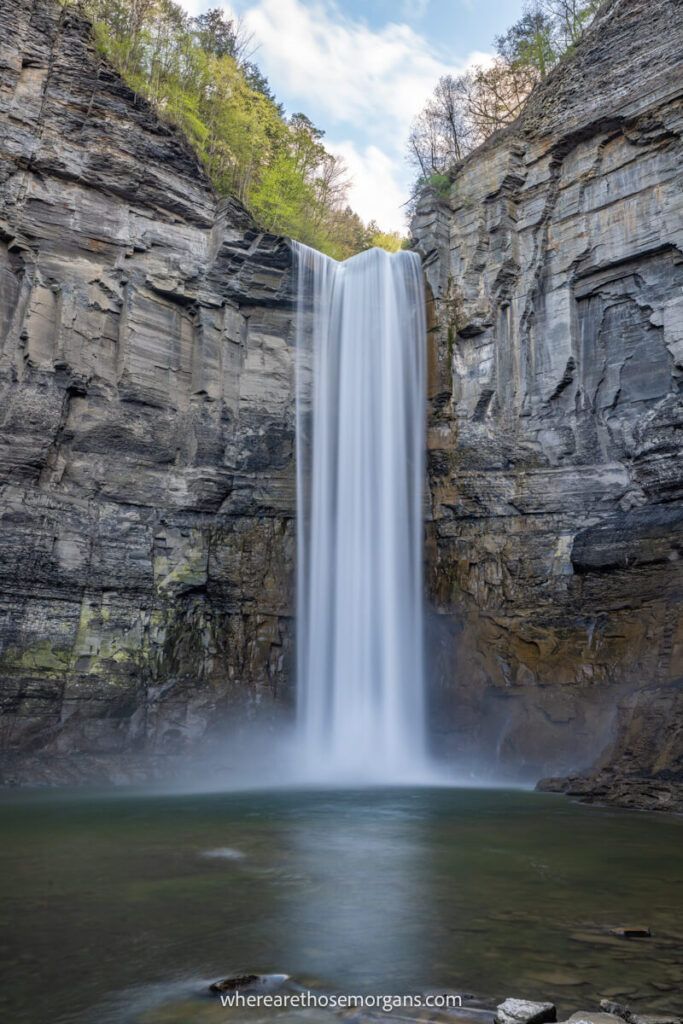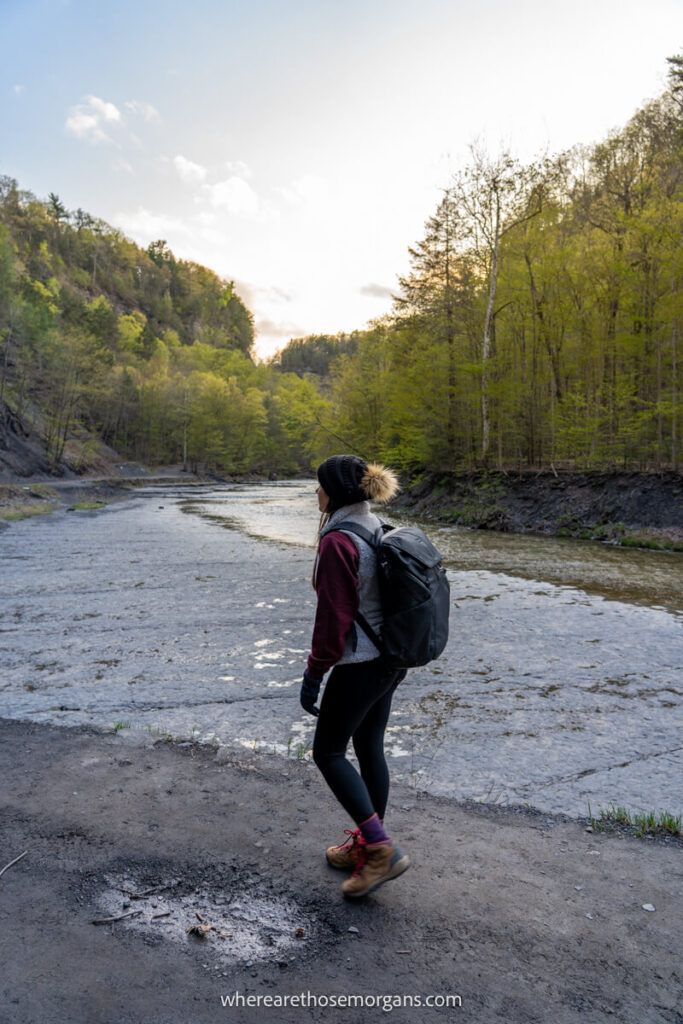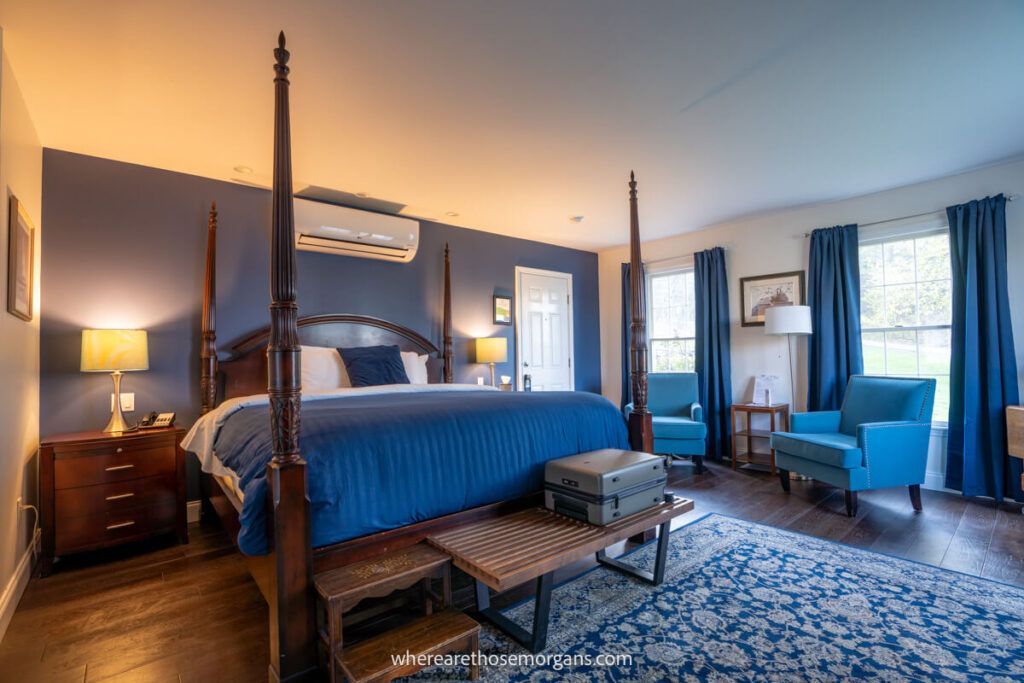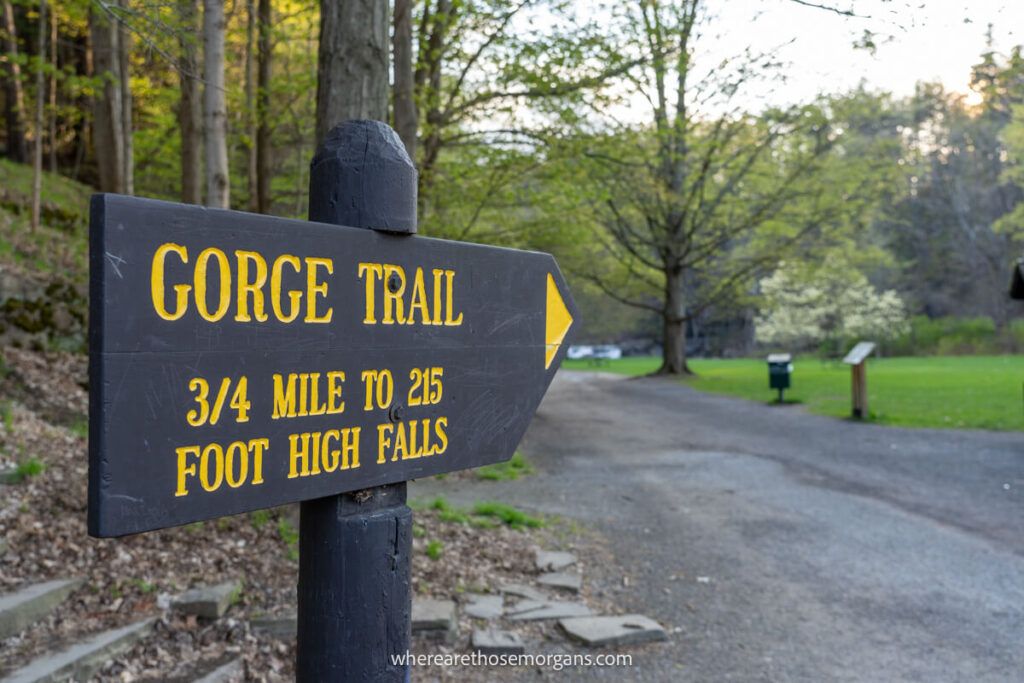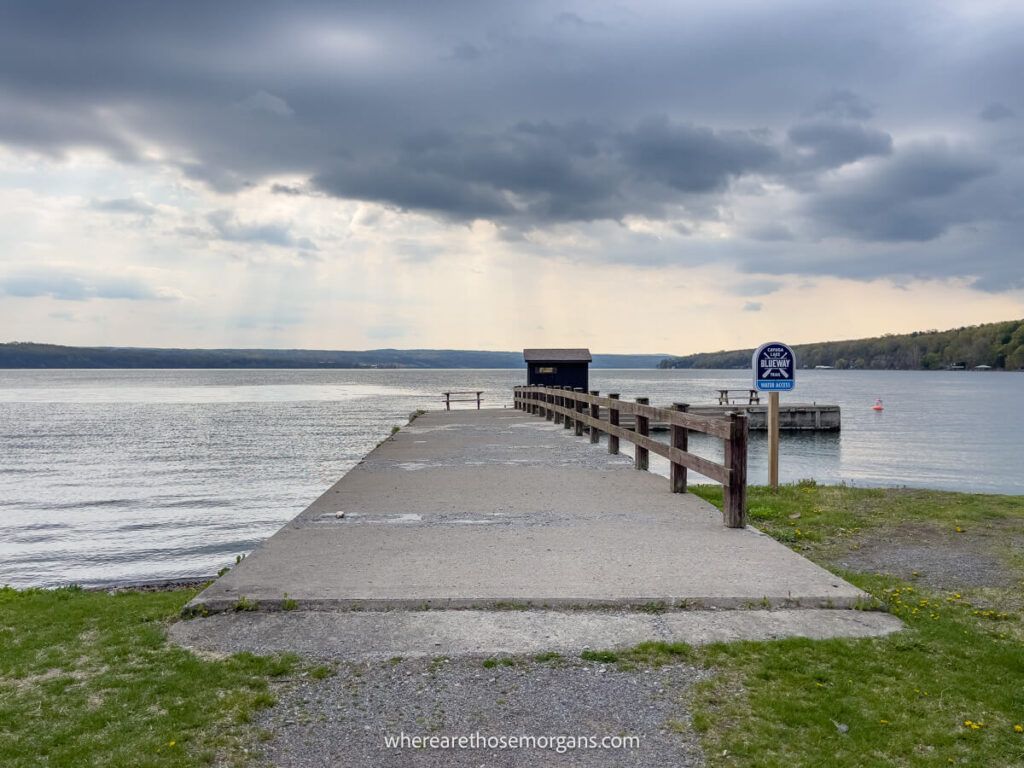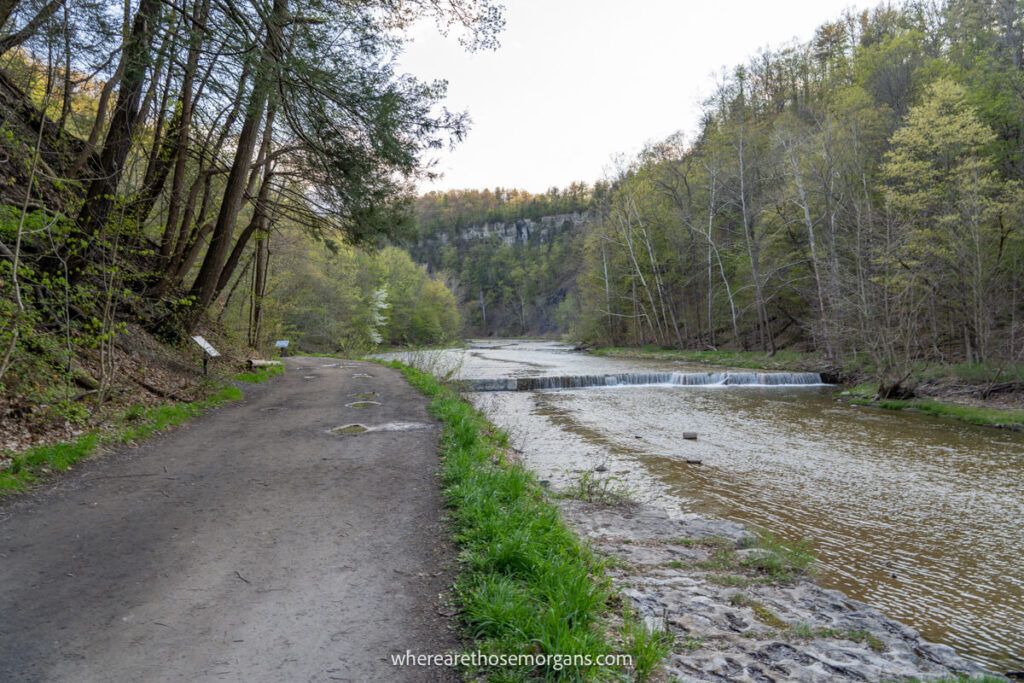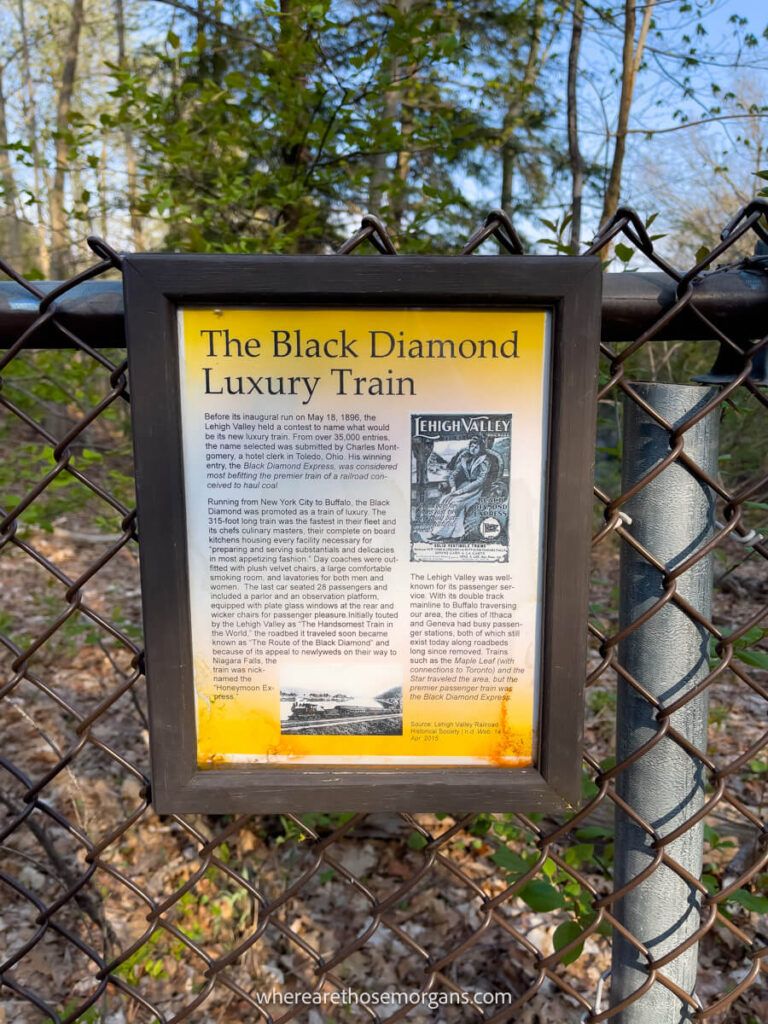 FAQ's For Taughannock Falls
Let's take a look at some of the most frequently asked questions about Taughannock Falls in Ithaca, New York.
How long of a hike is Taughannock Falls Gorge Trail?
The Gorge Trail at Taughannock Falls is a relatively easy flat hike which is 0.95 miles in length one way. However, you can see this waterfall without hiking at the Taughannock Falls Overlook and you can park for free in this location for 1 hour.
How Many Trails Are At Taughannock Falls?
There are seven trails at Taughannock Falls State Park. You can hike the Black Diamond Trail, Cabin Trail, Gorge Trail, Multi-use Trail, North Rim Trail, South Rim Trail and Unmarked Trail.
Is Taughannock Falls Higher Than Niagara Falls?
Yes, Taughannock Falls is 33 ft higher than Niagara Falls, but has a much smaller volume of water.
Our Popular Finger Lakes Guides
More New York Guides
Want more New York content? Head over to our New York Travel Guides to explore the Finger Lakes, Adirondacks and the best of NYC.
---
We hope this guide to hiking the Taughannock Falls Gorge trail helps with planning your visit to upstate New York!
Please let us know if you have any questions planning your visit to the Gorge Trail at Taughannock Falls State Park or Taughannock Falls overlook in the comments below.
Happy Travels,
Mark and Kristen
Enjoy This Taughannock Falls Overlook Guide? Pin It For Later!
Note: This article contains affiliate links. When you make a purchase using one of these affiliate links, we may earn a small commission at no extra cost to you.
All Rights Reserved © Where Are Those Morgans, LLC. Republishing this article and/or any of its contents (text, photography, maps, graphics, etc.) in whole or in part is strictly prohibited.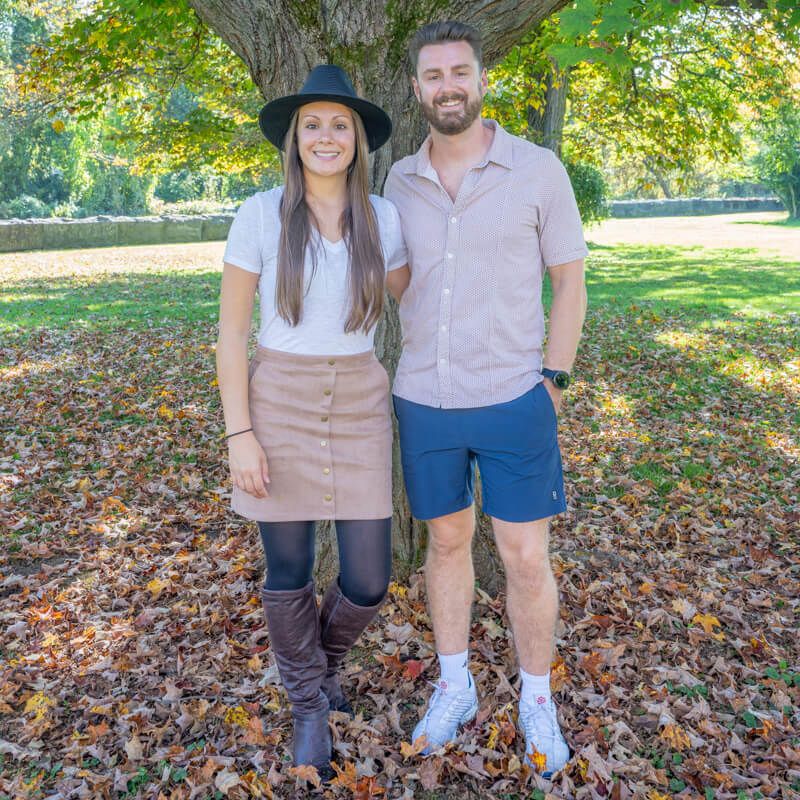 Mark and Kristen Morgan are travel, hiking and photography experts. Over the last 6 years traveling full time, they have explored more than 40 countries and 30 US states.
Their work has been featured in USA Today, Gestalten, Get Your Guide, CityPASS and Condé Nast Traveler along with various other publications.