Grimes Glen Park is a hidden gem featuring two stunning waterfalls located in the Village of Naples within the Finger Lakes region of New York State.
This is a great hike for the entire family because it's a relatively easy trail with a few obstacles both the kids and dog will enjoy.
But how do you get here and what do you need to know about the area as this small Ontario Country Park is slightly off the beaten tourist path?
In our detailed guide, we will show you:
Waterfalls at Grimes Glen Park
Driving directions and parking info
Walkthrough of the Grimes Glen hiking trail
Nearby hotel and restaurant recommendations
Our personal Grimes Glen photos
Now, let's explore Grimes Glen Park!
*Please note this post may contain affiliate links. If you click on one, we may earn a small commission at no extra cost to you. Thank you for supporting the free content we provide! Read more in our disclosure policy.*
Our Grimes Glen Park Experience
Kristen is a Finger Lakes native, growing up in a small town nearby and we also temporarily lived in the region when Mark first moved to the US in 2019.
We have extensively hiked and photographed numerous finger lakes waterfalls including the falls within Grimes Glen Park so you can trust us with planning your trip to this stunning region.
While we no longer live in the area, Kristen's family still lives in upstate New York and we always return to this beautiful area several times a year.
Planning to travel through the Finger Lakes? Don't miss our popular things to do in the Finger Lakes guide featuring best places to visit.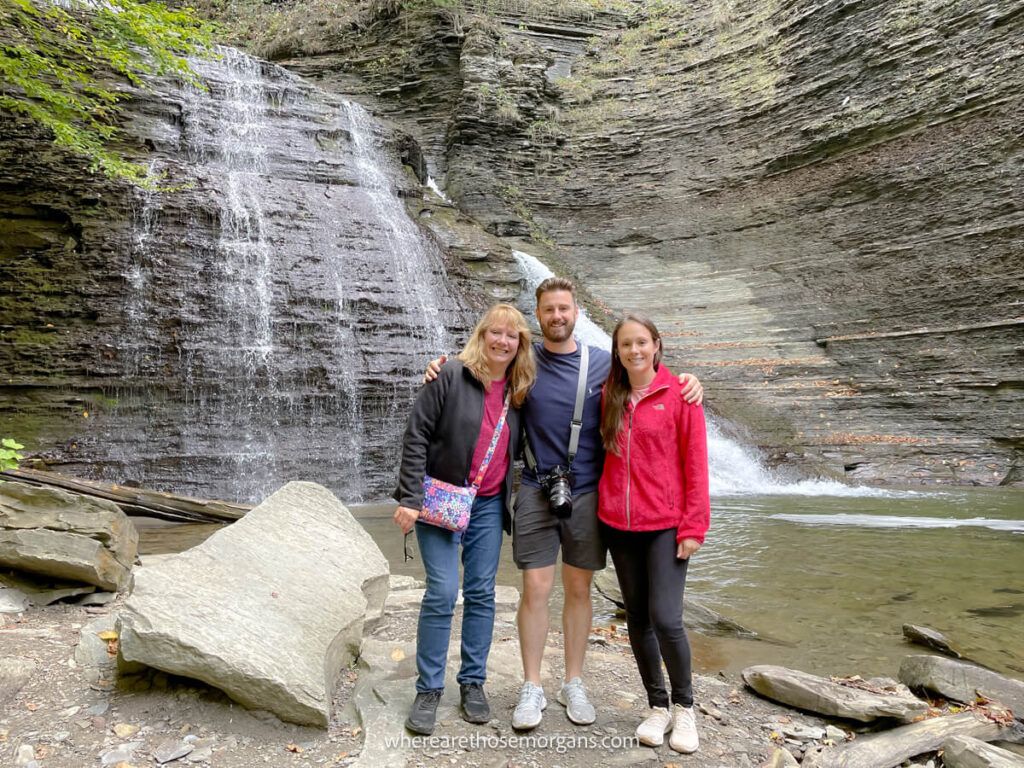 What Can You Expect From This Guide?
This comprehensive first time visitor guide covers everything you need to plan the perfect trip to Grimes Glen Park in upstate New York.
Our main focus is to provide you with hiking and photography insights for the Grimes Glen hike in Naples, NY.
We want you to be fully prepared so you can make the most of your visit to these gorgeous waterfalls in Naples New York.
What Is Grimes Glen Park?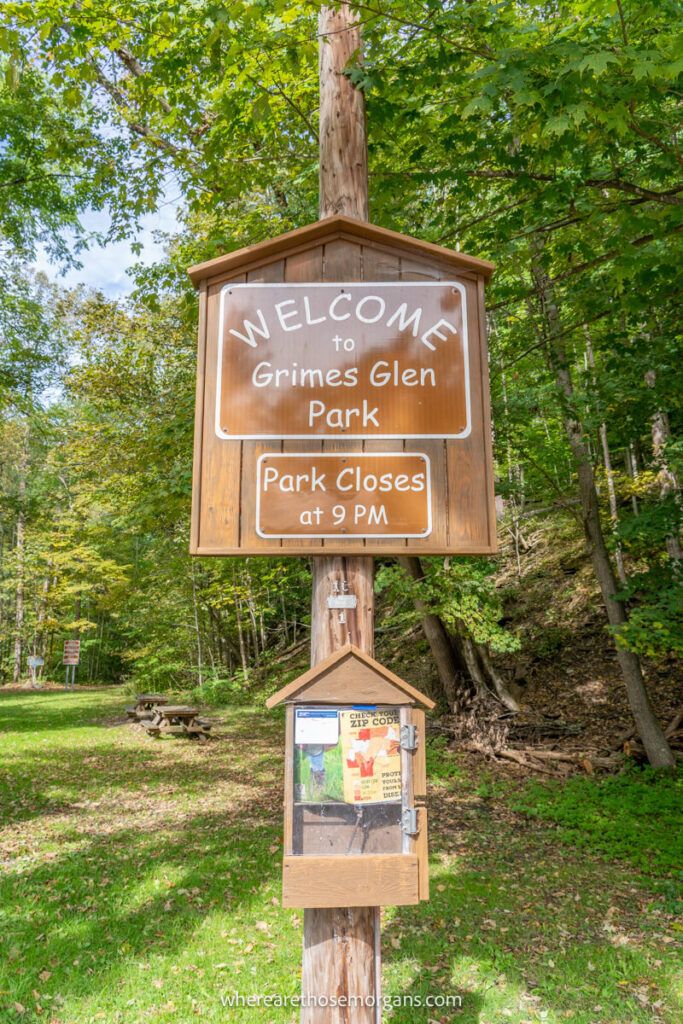 Grimes Glen is located in the Village of Naples, NY and officially became a public park within the Ontario County system in 2008.
The Glen is made of a long deep gorge that joins with Naples Creek cutting through layers of limestone and shale before it meets with the southern inlet of Canandaigua Lake.
The Grimes Creek originates near one of the highest points in Naples at Cleveland Hill and by the time the creek reaches the village, it has dropped over 1,000ft with most of this drop occurring in Grimes Glen Park.
While this smaller public park is not part of the New York State Park system, it is certainly still worth a visit because this Glen is known for its waterfalls and unique topography.
Grimes Glen is also famous because it's home to the oldest fossilized tree ever found in New York which was discovered in 1882, by local D. Dana Luther.
The tree fossil was a Devonian era ancestor from more than 350 million years ago. The incomplete fossil can now be seen at the New York State Museum in Albany, and locally we often refer to it as the Naples tree.
Waterfalls At Grimes Glen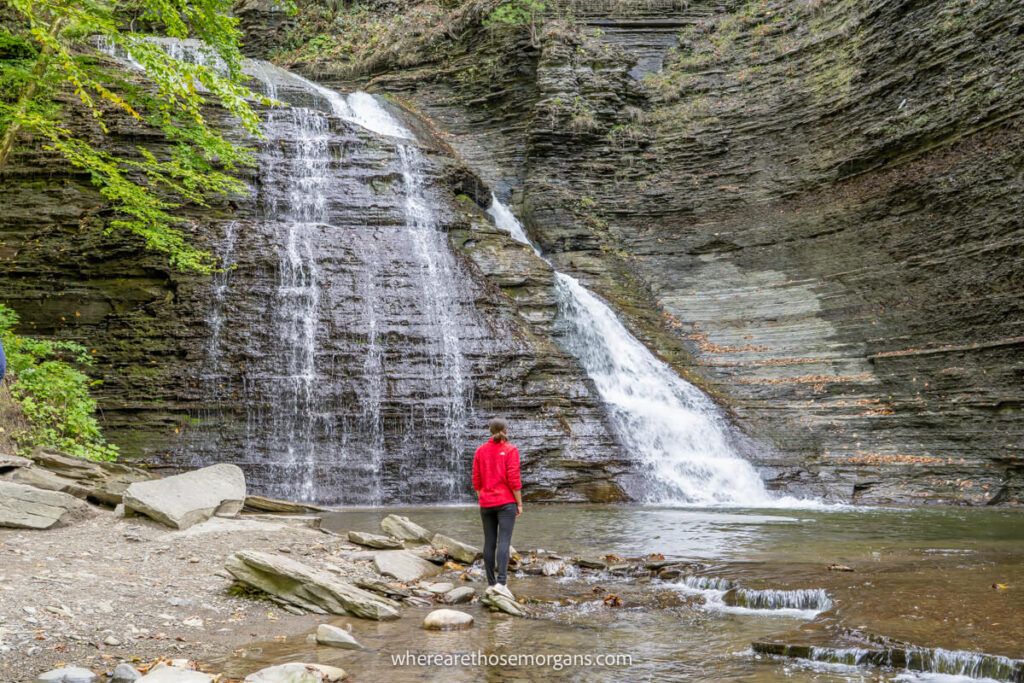 There are 2 main waterfalls along the hiking trail at Grimes Glen Park and the good news is both of these falls are easily accessible.
But it's the second waterfall that often steals the show. Here are the statistics on the most popular waterfall at Grimes Glen:
Waterfall Height: 60 ft (18m)
Waterfall Crest: Varies
Waterway: Grimes Creek
Location: Ontario County
Nearest Major City: Rochester (about 45 miles)
We like visiting Grimes Glen because as you walk the hiking trail at the park, you will naturally pass by two of these gorgeous waterfalls.
This hike at Grimes Glen Park is a family and dog friendly trail that is sure to be enjoyed by everyone.
Where Is Grimes Glen Park?
Grimes Glen is nestled at the southern end of Canandaigua Lake next to the town of Naples about 70 miles northwest of Ithaca, New York.
Grimes Glen Park Google Maps Location.
The easiest way to access Grimes Glen Park is to look for Vine Street which is perpendicular to Main Street in downtown Naples. Keep an eye out for a sign that mentions Grimes Glen County Park.
Once you drive the short distance on Vine Street, the road will terminate in the parking lot for Grimes Glen Park.
Driving Distances And Airports
Let's take a quick look at driving distances and times to Grimes Glen Park from nearby major cities as well as the closest airports for you to consider if visiting from further afield.
Grimes Glen Park distance from nearby major cities:
Binghamton, NY – 120 miles (2h 15m)
Syracuse, NY – 90 miles (1h 40m)
Rochester, NY – 45 miles (1h)
Ithaca, NY – 70 miles (1h 30m)
Albany, NY – 230 miles (3h 45m)
NYC – 315 miles (5h 15m)
Search for your flights using the best search engine, Skyscanner. We love this platform because it compares prices on all flight platforms to find you the best deal.
The same goes for renting a car when you arrive to a nearby airport. Get a benchmark price using Rental Cars then see if you can beat it.
Here are the closest airports near Grimes Glen Park:
Ithaca Tompkins International Airport (ITH) – 70 miles (1h 30m)
Syracuse Hancock International Airport (SYR) – 90 miles (1h 40m)
Greater Rochester International Airport (ROC) – 45 miles (1h)
Grimes Glen Park Entry Fee And Parking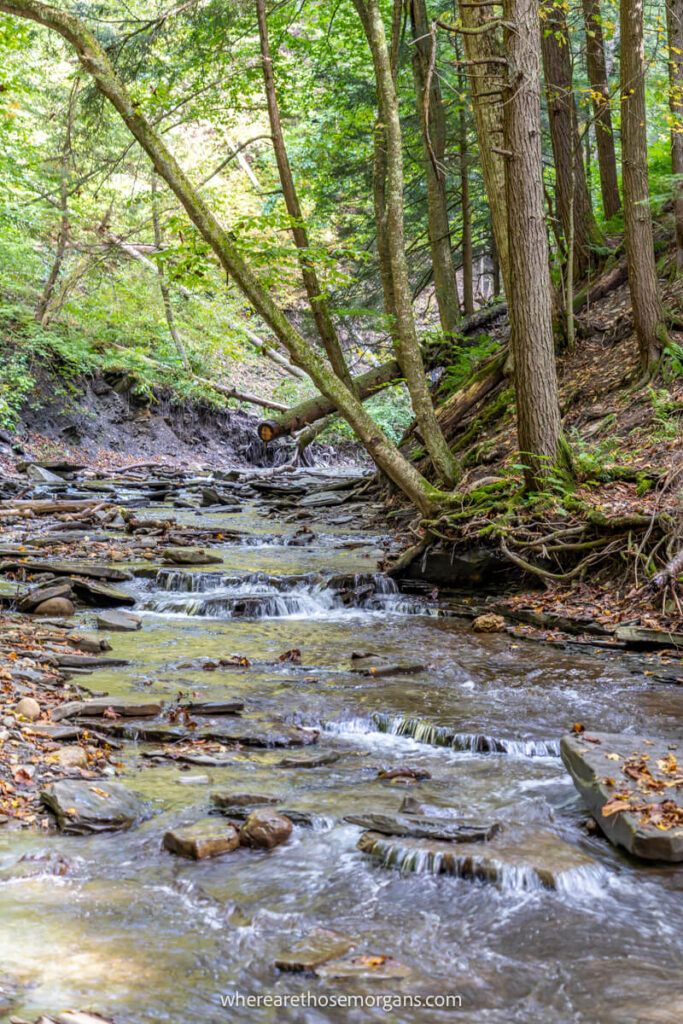 Unlike many parks in New York State, you will not have to pay a vehicle fee to enter Grimes Glen. This small park is completely free for the public to use.
Once you arrive in the Grimes Glen parking lot, you will notice it is very small and does not accommodate vehicles with trailers or large RV's.
Even though this park is considered a hidden gem, there are only about 20 parking spots and the lot fills up very quickly, especially in summer. Unfortunately, there is also no parking on Vine Street.
If you can not find a parking space in the lot directly next to the park, your next best option is to park in the additional lot found on Mill Street. This lot is about a half a mile from the Grimes Glen trailhead.
Is Grime Glen Park Open?
Yes, Grimes Glen Park is open year round and can be visited between the hours of 6:00 am and 9:00 pm daily. You can hike Grimes Glen trail all day, but there is no overnight camping allowed on the property.
Hiking Grimes Glen Park Trail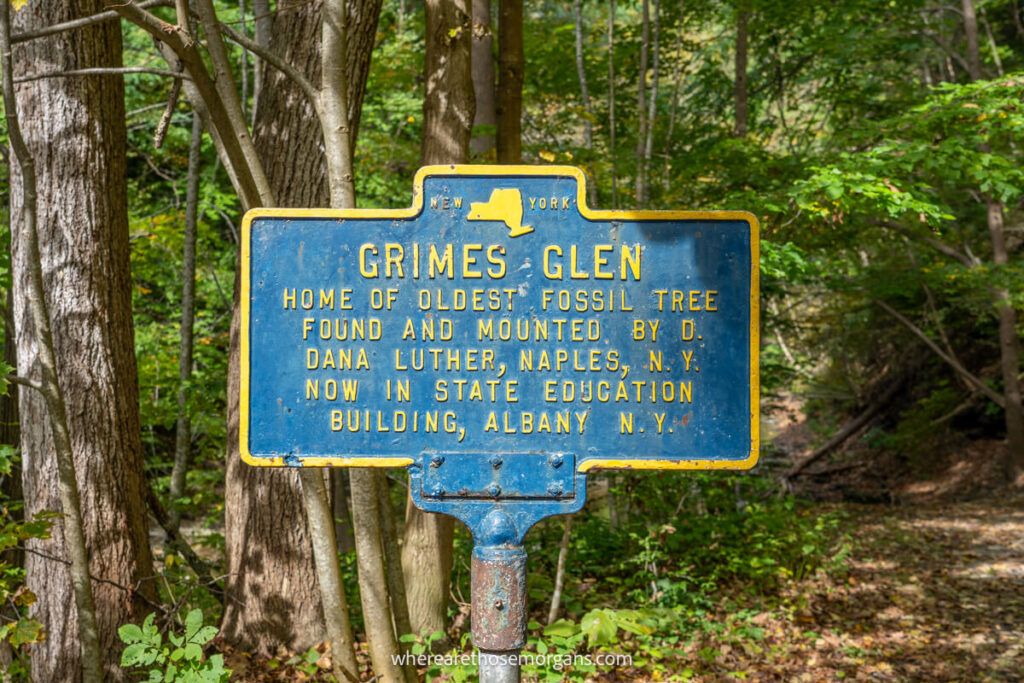 There is only one hiking trail at Grimes Glen Park so it's relatively easy to find your bearings once you have parked your vehicle.
Grimes Glen Trail distance: 1.10 miles roundtrip (out and back)
Hiking difficulty rating: Easy
According to AllTrails, hiking Grimes Glen takes an average of 25 minutes to complete, but if you want to admire the waterfalls and snap a few photos, we recommend planning for about 60 minutes.
This hike is short and relatively easy with minimal elevation change.
However, once you reach a certain point along the trail, you will have to wade through the creek or follow the path along the bottom of a steep bank which is often muddy and slippery.
We recommend you hit the trail with proper hiking shoes or boots. In the winter, you may also want to consider purchasing microspikes for your hiking boots.
Check out the recent comments on AllTrails to see what hikers have recently said about Grimes Glen hiking conditions.
You can also use our special link to receive 20% off a GAIA GPS subscription to stay safe on the trails.
Need a new hiking app? Don't miss our round up featuring the best apps for hiking to make the most of every hike.
1. Start At The Grimes Glen Parking Lot
As you make your way to the only trailhead located next to the parking lot, you will notice a few large signs with information about the hiking trail as well as geology and history about the park.
This will be the only trail leading away from the parking lot and you will also find a few picnic tables scattered throughout the area which make for a great lunch spot.
2. Continue Across The Pedestrian Bridge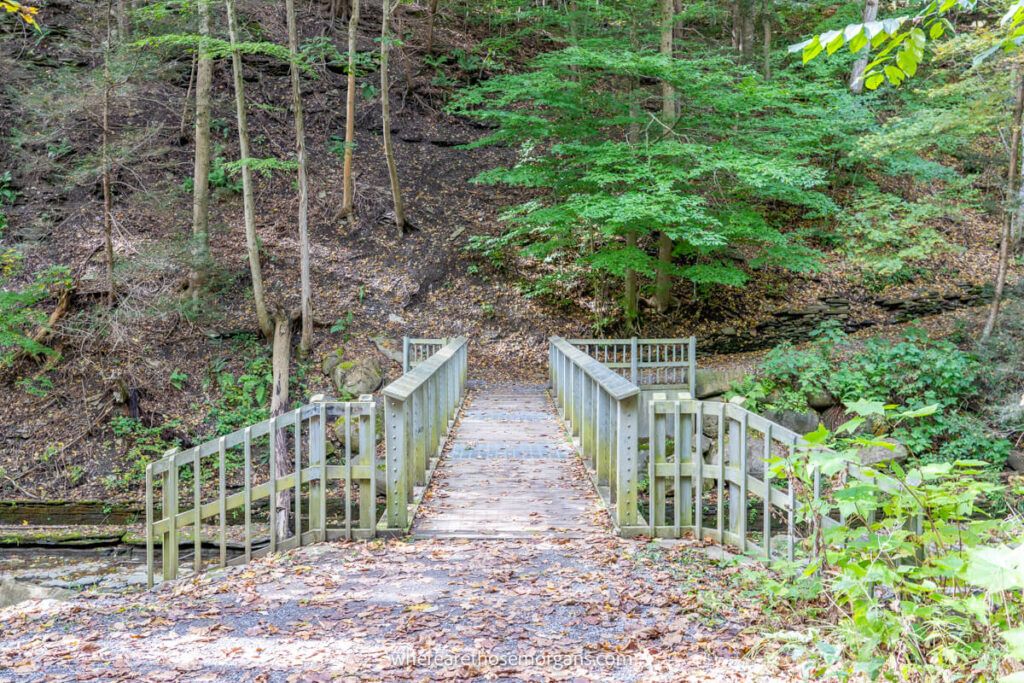 The first point of interest you will come to along the trail is the pedestrian bridge. It's interesting to note this well-maintained bridge was created from reused highway bridge beams.
A local artist named Darryl Abraham created the artwork so be sure to check out the designs when you hike in or out of Grimes Glen Park.
After you pass the pedestrian bridge over Grimes Creek, the trail to the waterfalls is easy going as it winds upstream for about 0.2 miles.
3. The Trails Ends At A picnic Table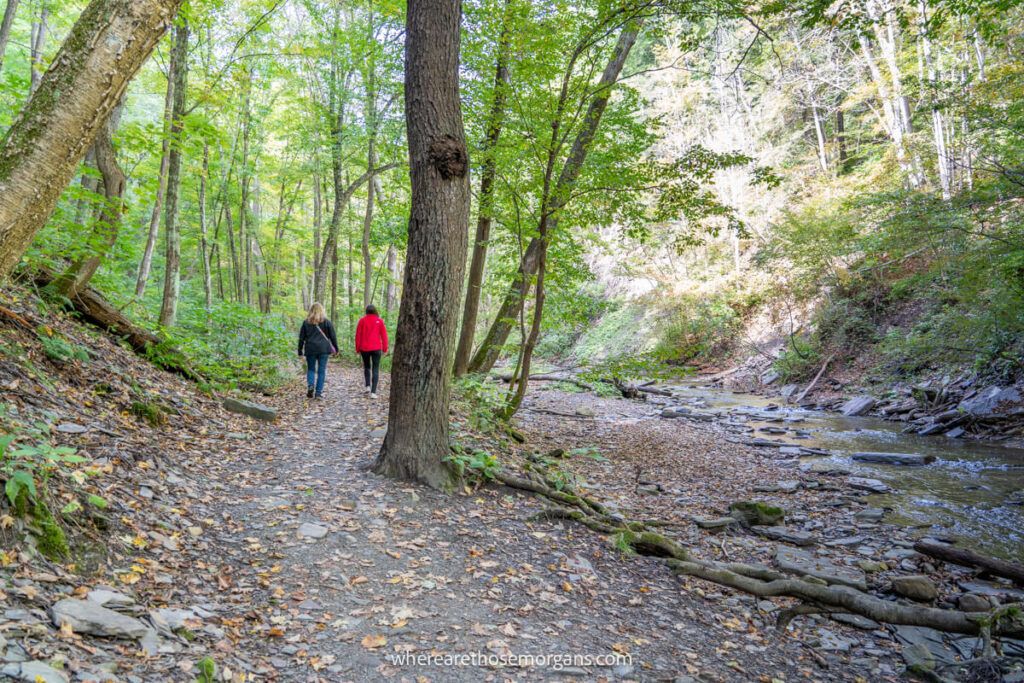 After walking on the path a short while, you will come across a picnic table where it looks like the trail ends. But this is where the best part of the trail begins!
The next section of the Grimes Glen Trail is meant to be a creek walk, but you can also use the creek beds to find some dry land. However, this section can be very muddy and slippery.
When we hiked in September, the water in the creek was very low, but the water was deep in a few sections so you definitely want to wear waterproof shoes with great traction.
Even if you opt to walk along the bank of the creek, it can be very muddy.
4. The First Waterfall At Grimes Glen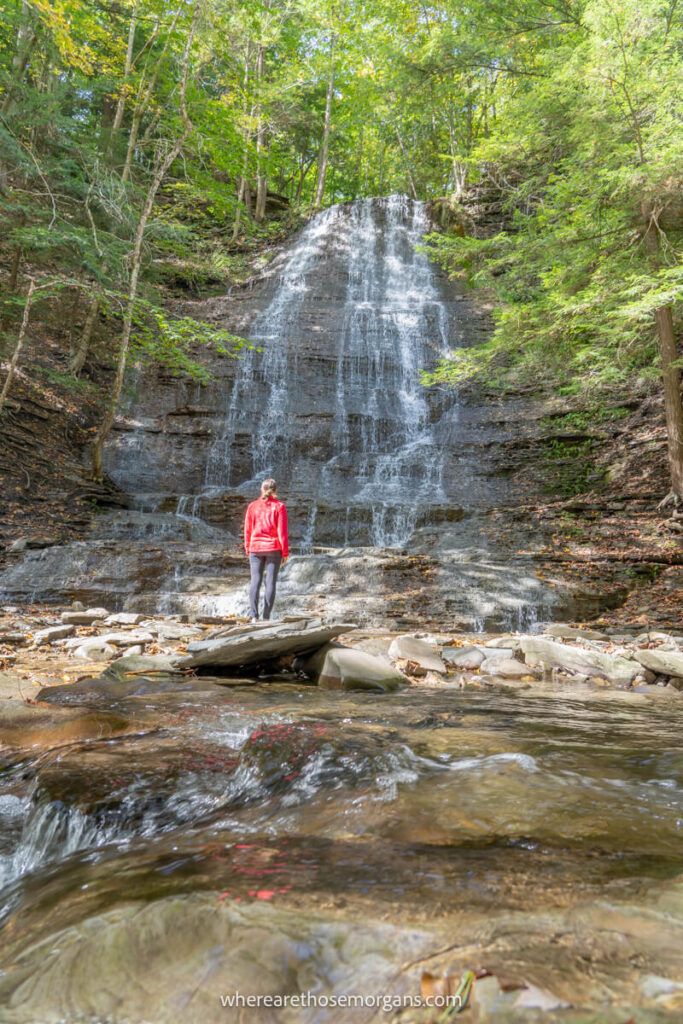 Shortly after you hike through Grimes Creek, you will reach the first main waterfall. This is the taller waterfall of the two, but it's skinner compared to the one further upstream.
We like this first waterfall at Grimes Glen because it flows directly down to the creek. There is no plunge pool underneath so you can walk right up to the face of the falls.
This first waterfall can get very busy so you might have to wait your turn to snap a photo. Be careful moving about on the rocks as you navigate close to this mossy cascading waterfall.
5. Second Grimes Glen Waterfall + Plunge Pool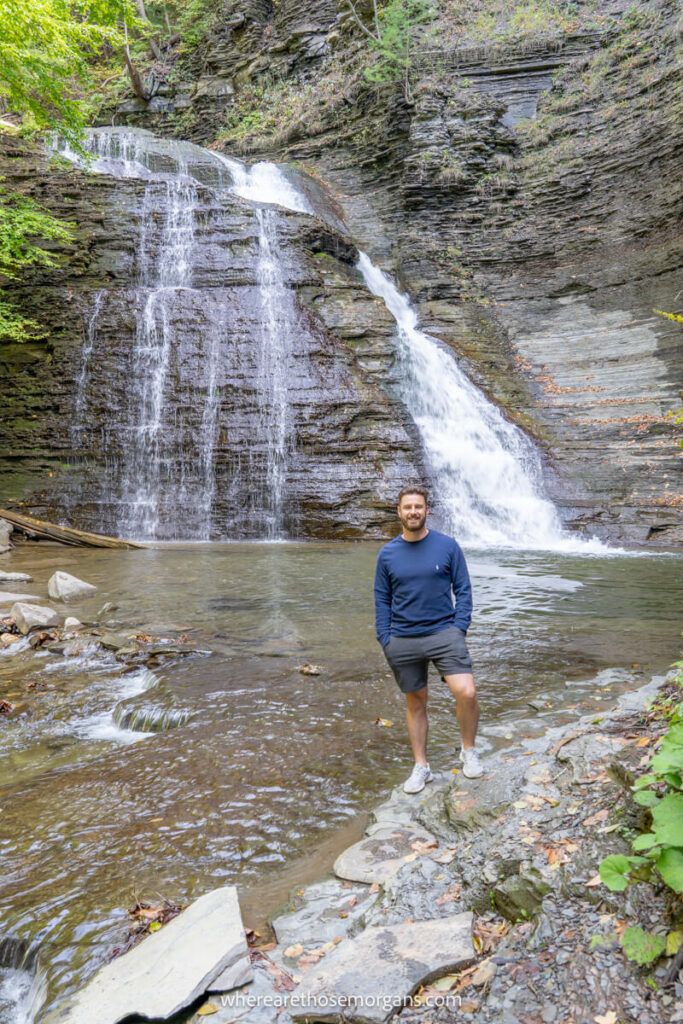 After you had your fill at the first waterfall, it's time to continue hiking up Grimes Creek. Or if this first waterfall is busy when you first arrive, keep hiking and make it a stop on your return leg.
The second waterfall at Grimes Glen will be another 0.5 miles up the creek so you only have a short distance to go.
You will probably be able to hear the second waterfall before you see it along Grimes Creek, but when it finally comes into view, you will be rewarded with another 60 ft waterfall cascading directly in front of you.
The Grimes Glen Trail officially ends with a small plunge pool below the second waterfall. Just keep in mind there is no swimming in this plunge pool.
Next to the base of the second Grimes Glen waterfall, you will see the small plunge pool lead into a small cave known as Devil's Bedroom.
The small cave isn't much and it doesn't go back very far, but we like it because you can take some cool perspective shots of the waterfall from the cave.
6. Skip The Ropes + Third Waterfall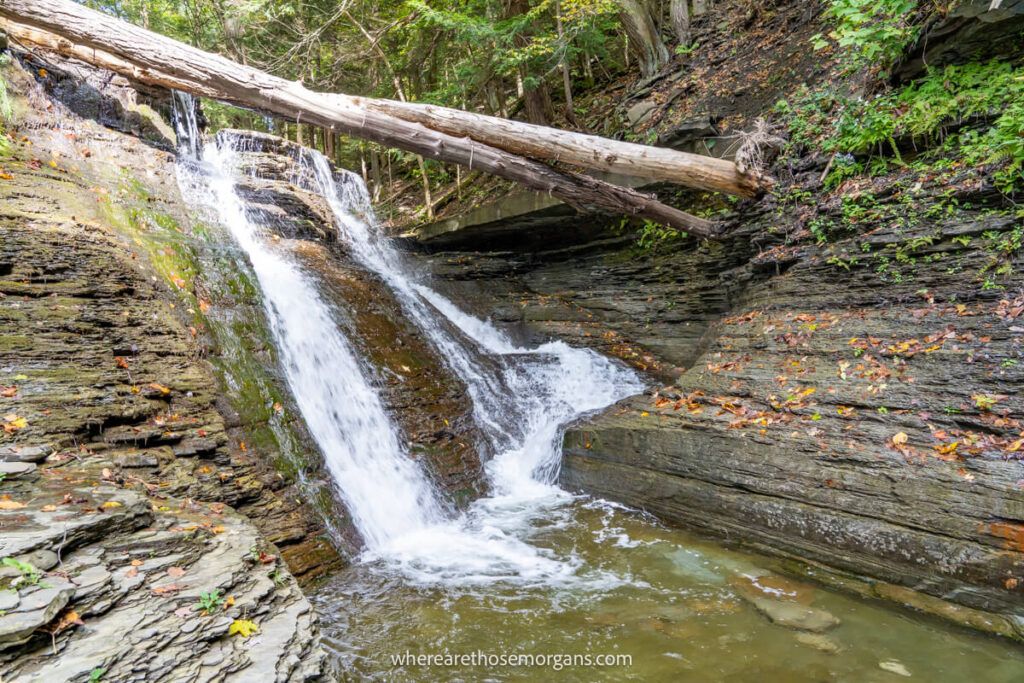 To the immediate left of this second waterfall, you will notice a steep dirt path and several ropes hanging from a tree.
At the top of the second waterfall, you will find another small 50 ft waterfall known as Indian Falls or Third Falls. But the Ontario County Parks department have now labeled this section above this trail as private property.
You may see other visitors climbing this section of the trail, but it can be very dangerous because this will require rock scrambling on loose dirt.
We recommend you skip this section of the trail due to its hazardous nature and the fact it's technically no longer part of the trail.
But the truth is people will be climbing this section of the trail as they always have for years. So just keep in mind, if you decide to climb up this section of the trail, you will do so at your own risk.
Visiting Grimes Glen Park is a privilege, but it carries risks and we should always leave no trace by sticking to the trails and not climbing on any of the waterfalls.
What Facilities Are Available Nearby?
There is a bathroom facility located next to the main parking lot at Grimes Glen Park. But keep in mind these restroom facilities are seasonal, usually opening around early May and closing in October.
If you need more facilities during your visit, head to the town of Naples for some food and wine after your hike.
Are Dogs Allowed At Grimes Glen Park?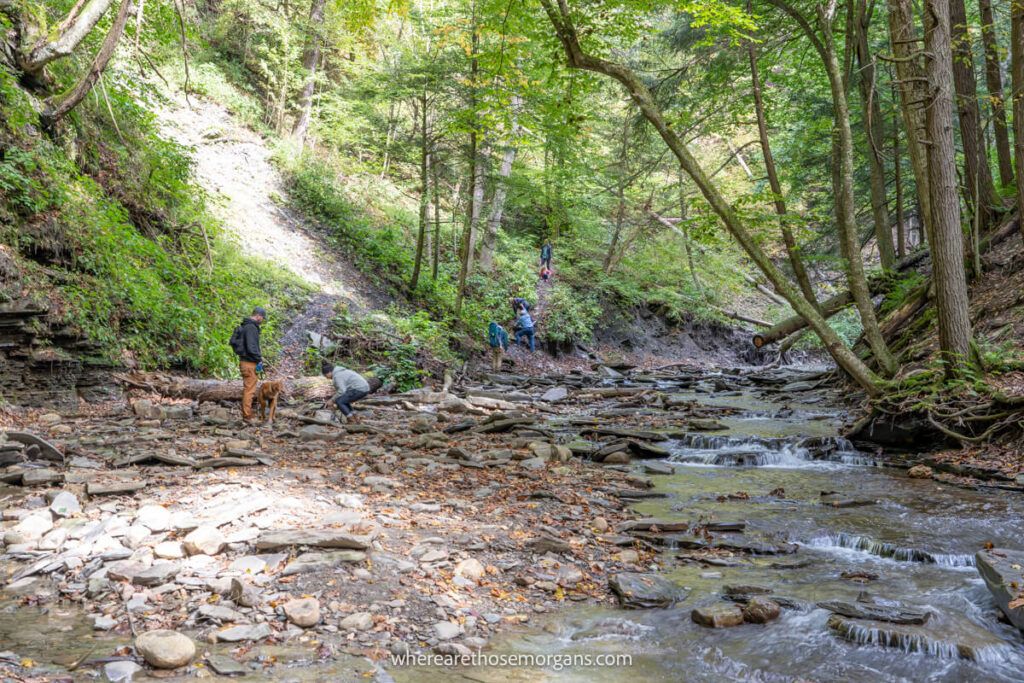 Yes, dogs are allowed at Grimes Glen, but they must be kept on a leash. Be sure to keep a close eye on them because the trail can become very slippery.
We saw a few dogs during our hike and they sure loved dodging the obstacles in Grimes Creek!
Best Time To Visit Grimes Glen
Like most stunning places in the Finger Lakes, Grimes Glen will be extremely busy on weekends between April and October, particularly during holidays.
From experience, we recommend staying clear on these days unless it's the only time you can make your visit.
Best Time Of Year
The last week of September and first week of October are the two best weeks of the year to hike through Grimes Glen Park. This is our favorite time of year to hike because the area is alive with vibrant fall foliage.
But if you want to see the Grimes Glen waterfalls at their fullest, visit in early spring when the snow is melting. Keep in mind it may be difficult to hike through the creek as the water will be flowing heavily.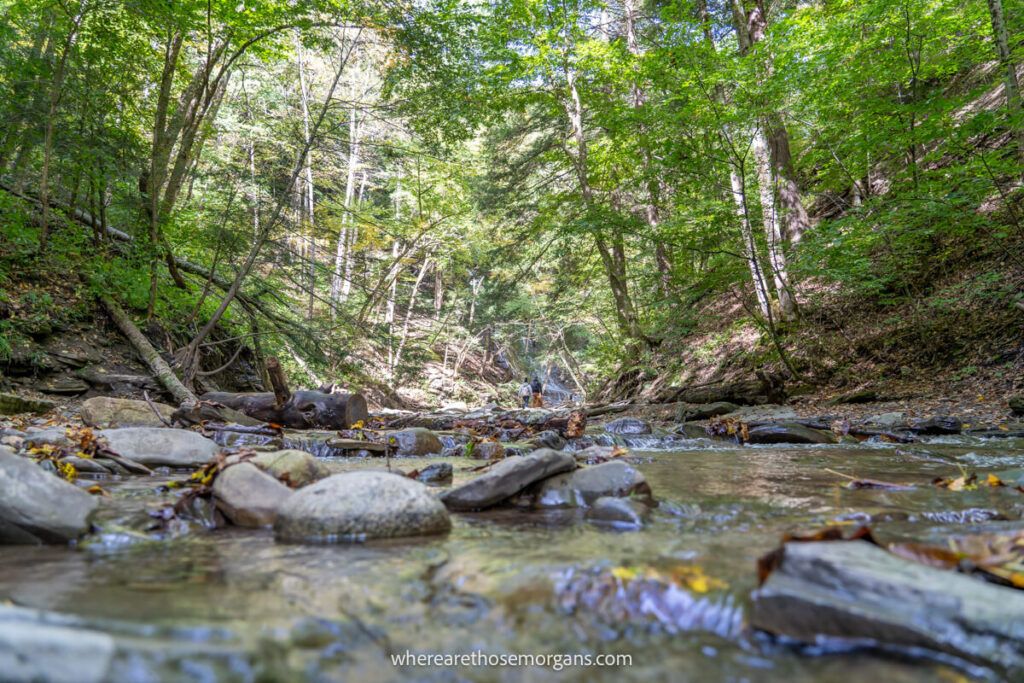 Best Time Of Day
Early morning is by far the best time of day to hike Grimes Glen Trail. You will beat the crowds and be able to take photos with no people around. Plus you will be able to score a parking spot in the adjacent lot.
But sometimes you can find breaks in the middle of the day with minimal people. We started our hike around 9:00 am on a Sunday in September and only saw a few others on the trail.
When To Avoid
Grimes Glen can be extremely busy on weekends between April and October, particularly holiday weekends. We recommend avoiding the rush between 11:30am – 2:00pm.
Not only will your photos have loads of people, but the trail can become overcrowded and the hike is no longer a fun experience.
Where To Eat And Stay Near Grimes Glen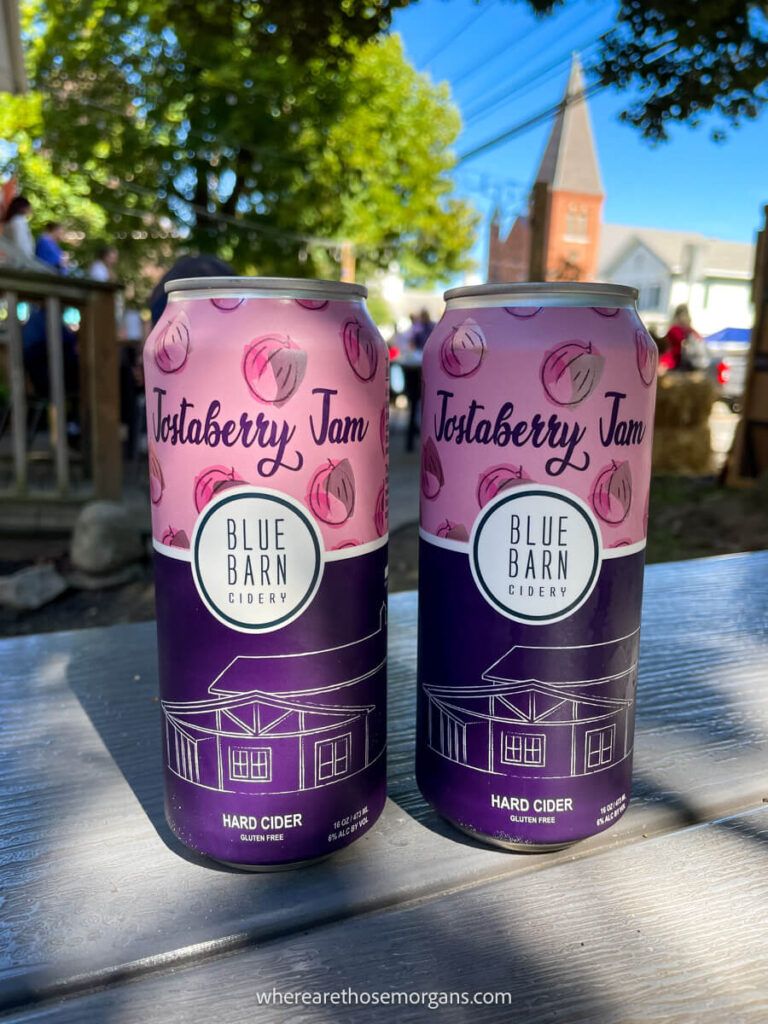 We visited Grimes Glen on an early sunday morning right before heading to the Naples Grape Festival in September.
This was a great way to spend a fall day in upstate NY. If you are making the effort to visit Grimes Glen, plan to check out a few of the local business in the area too!
Hotels Near Grimes Glen
Restaurants Near Grimes Glen
Travel Tip: If you are new to the area, stop by Hazlitt Red Cat Cellars for an afternoon of wine tasting.
Grimes Glen Park Photos
We loved visiting Grimes Glen in September and we took a lot of photos!
Here are a few of our favorite Grimes Glen photographs highlighting the natural beauty of the Glen: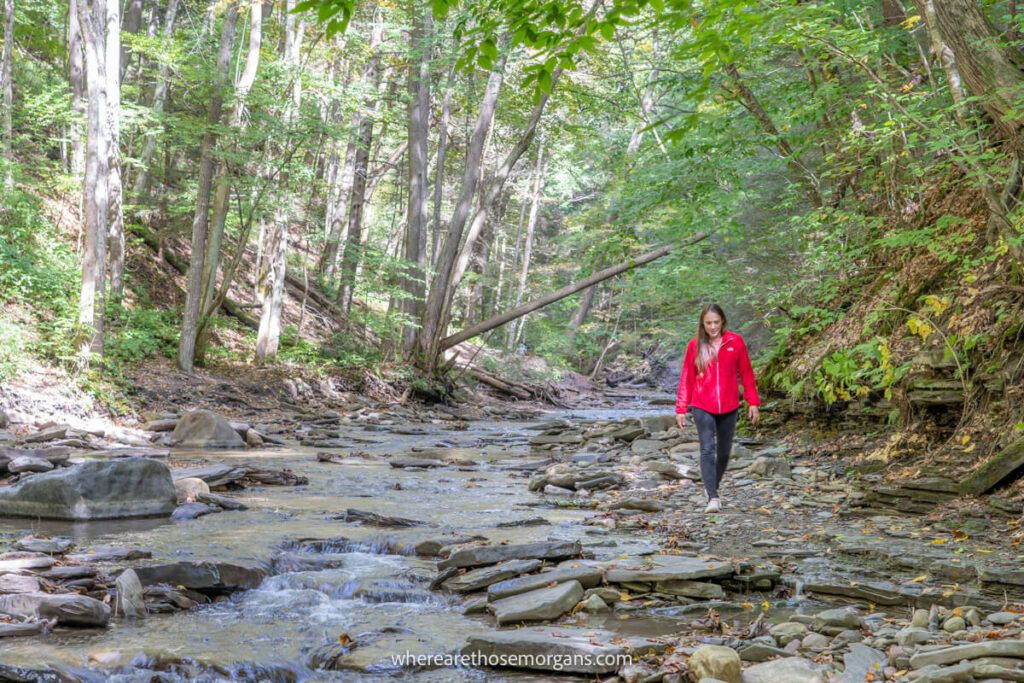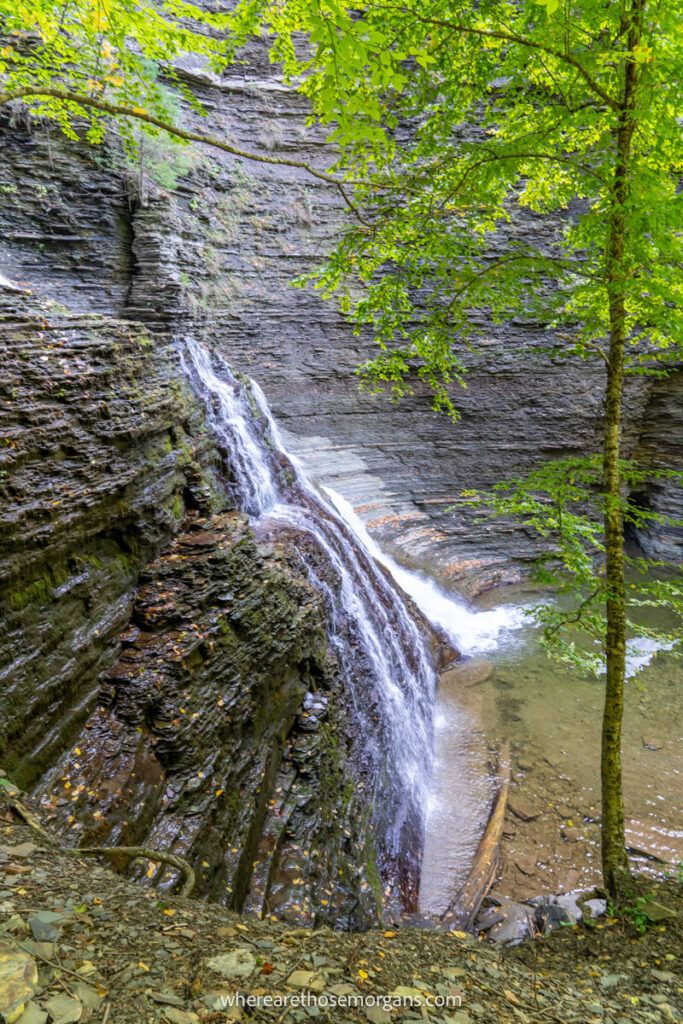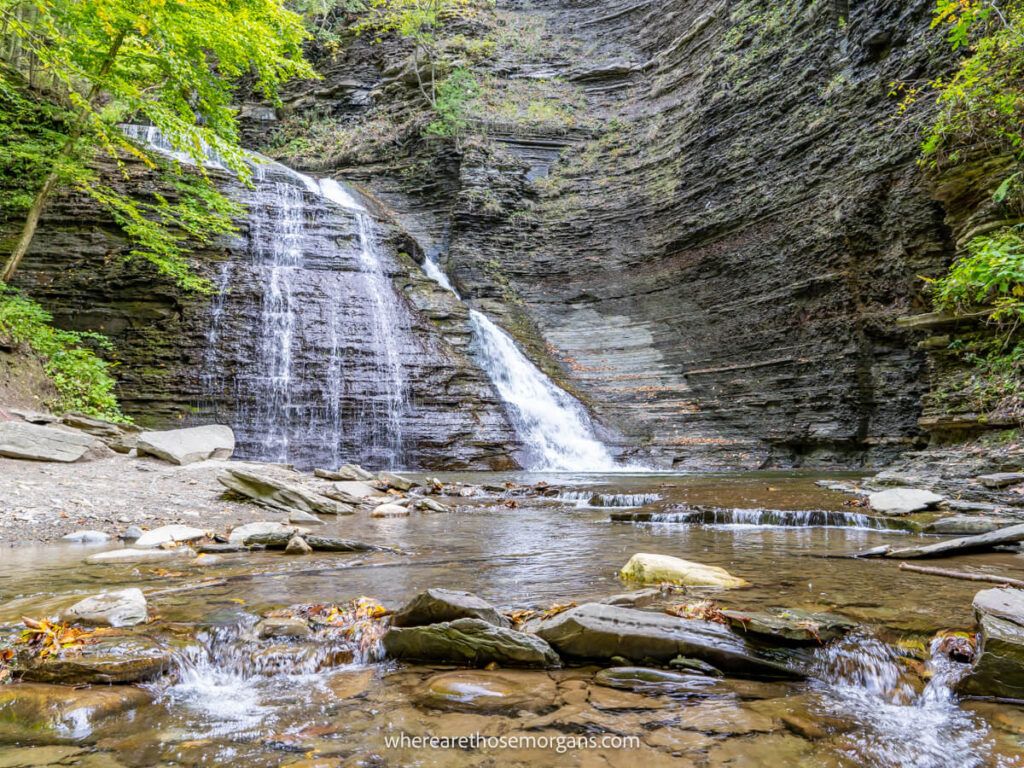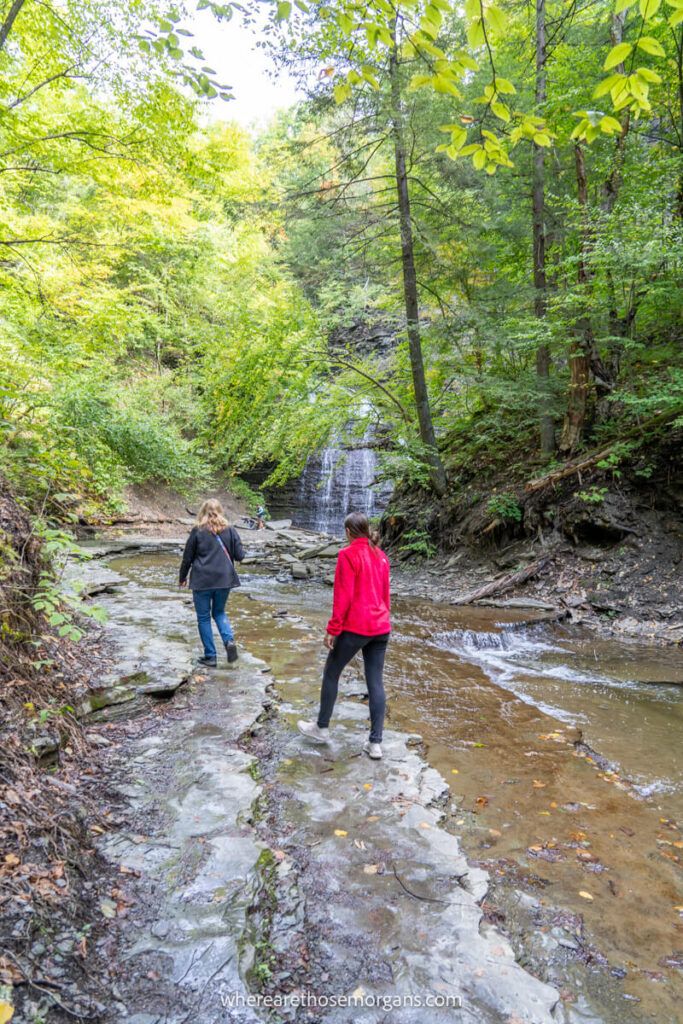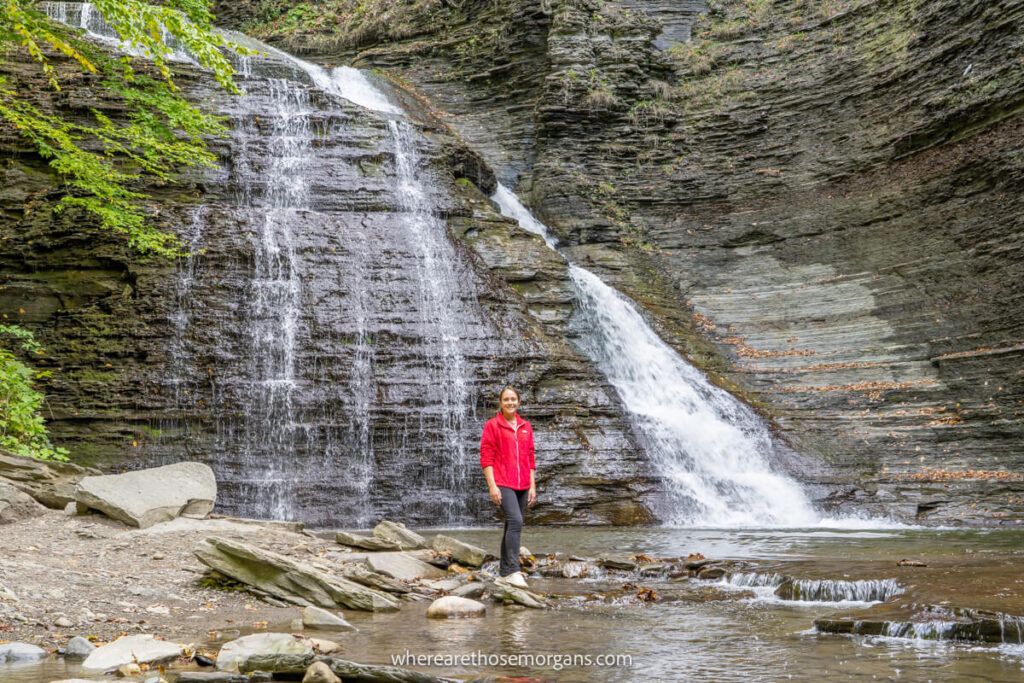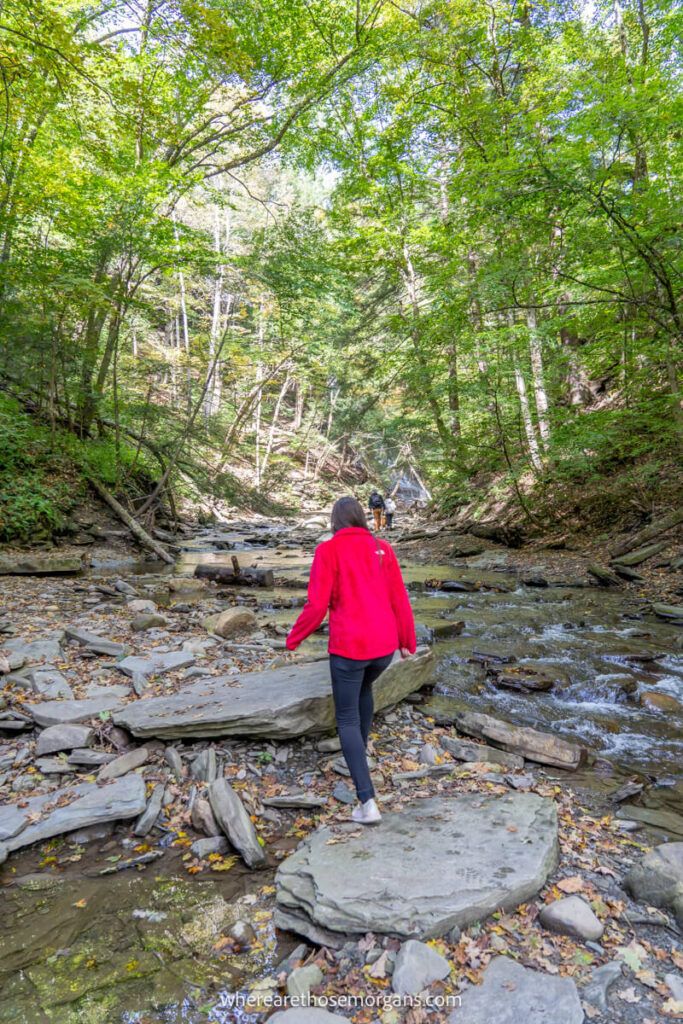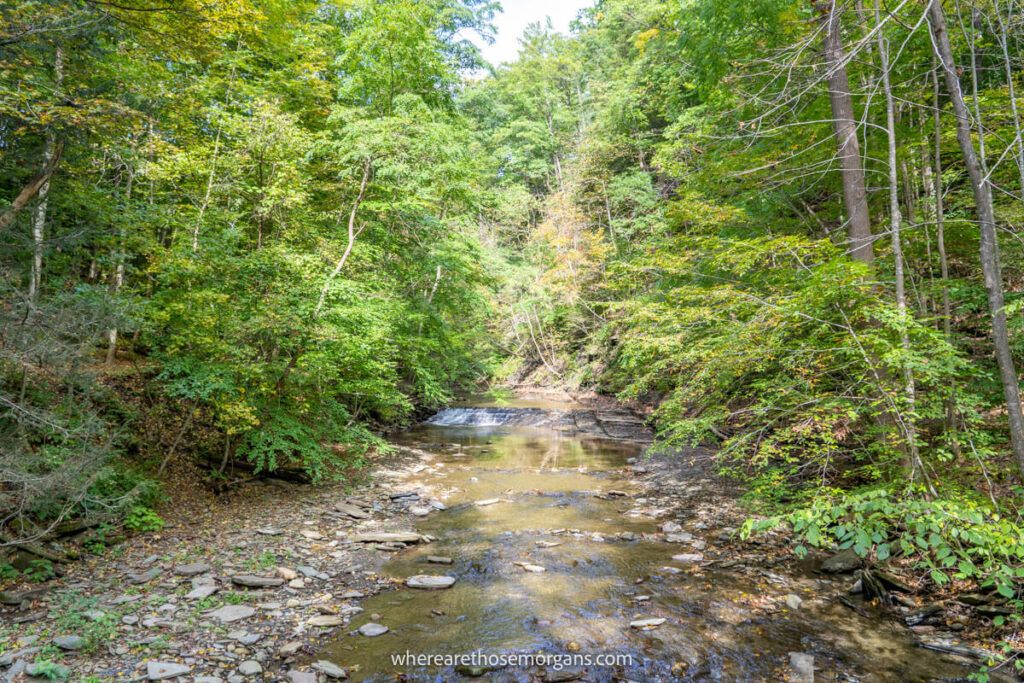 Interested in photography? Don't miss our Photography Guides from around the world.
Grimes Glen FAQ's
Let's take a look at some of the most frequently asked questions about visiting Grimes Glen in Naples New York.
Is Grimes Glen Park worth visiting?
Yes, Grimes Glen is worth visiting because this park features a short and easy hike along two stunning waterfalls.
Where is the best place to park for Grimes Glen Park?
There is a small parking lot with space for about 20 cars located right next to the park so we recommend you arrive early to find a spot. Otherwise, you will have to find additional parking in the Village of Naples.
What should you do after hiking Grimes Glen?
After hiking to the waterfalls along Grimes Glen, you should find a bite to eat or visit the popular wineries in Naples.
Our Popular Finger Lakes Guides
More New York State Guides
Want more New York content? Head over to our New York Travel Guides to explore the Finger Lakes, Adirondacks and the best of NYC.
---
We hope this guide to hiking the Naples Waterfalls helps with planning your visit to upstate New York!
Please let us know if you have any questions planning your visit to Grimes Glen in the comments below.
Happy Hiking,
Mark and Kristen
Enjoy This Naples Hiking Trail Guide? Pin It For Later!