High Falls Gorge is the perfect place to spend an hour hiking when driving between Lake Placid and Whiteface Mountain ski resort in the stunning Adirondacks, NY.
Wooden boardwalks and bridges transport you around the stunning narrow gorge with picturesque High Falls the star of the show.
High Falls gorge is a short, scenic and family friendly attraction among the many awesome things to do in Lake Placid.
We will walk you through exactly what you can expect from your visit!
*Please note this post may contain affiliate links. If you click on one, we may earn a small commission at no extra cost to you!*
What is High Falls Gorge?
High Falls Gorge consists of 4 waterfalls cascading powerfully through a bottleneck inside a dramatic granite crevice, carved out over millennia by the Ausable River.
The 4 waterfalls are Main Falls, Mini Falls, Climax Falls and Rainbow Falls.
High Falls Gorge nature park is 22 acres in size but you will only see a portion of that as you walk along a half mile of child friendly wooden boardwalks hugging the gorge side.
Two glass floor walkways are open in Summer but closed the rest of the year for safety reasons. Spring is when you will experience the waterfalls at their most powerful, Fall offers beautiful Autumnal foliage and Winter is the time for snowshoeing!
Regardless of which season you visit, you can expect spray from the waterfalls and a nice, easygoing walk through a postcard perfect gorge.
Here's more information about High Falls Gorge.
Directions from Lake Placid to High Falls Gorge
Lake Placid to High Falls Gorge – 7.7 miles

Whiteface Mountain ski resort to High Falls Gorge – 1.5 miles

Whiteface Mountain toll road to High Falls Gorge – 4.4 miles
Are you planning to take the Cloudsplitter Gondola to the peak of Little Whiteface?
Whiteface Mountain ski resort is where you can hop on the gondola for stunning views of Lake Placid and Lake Champlain.
If you prefer to drive your own vehicle to the summit of Whiteface Mountain, take the toll road turn off a few miles further past the ski resort.
Finally, if you are flying into the region and hiring a car for your vacation, we always use and highly recommend Skyscanner as the best resource to search for flights and Rental Cars as our top rated car hire resource.
Parking and Entry Fee
Parking is relatively stress free at High Falls Gorge. You will find an oversized dirt and gravel style parking lot with plenty of spaces right alongside the main road NY-86. Overflow onto the grass if necessary in busier periods.
Entry fees to High Falls Gorge are US$ 13 / adult and US$ 10 / child (4-12 years old) – but remember 8% NYS tax will be added.
Important: No pets are allowed on the boardwalk trail inside the gorge.
High Falls Gorge Hiking Walkthrough
Hiking High Falls Gorge is a piece of cake when you have the likes of Mount Marcy and Whiteface Mountain in the area!
You will begin by paying entry at a kiosk style entrance with shop and restrooms available. Follow the wide wooden walkway as it turns into a bridge.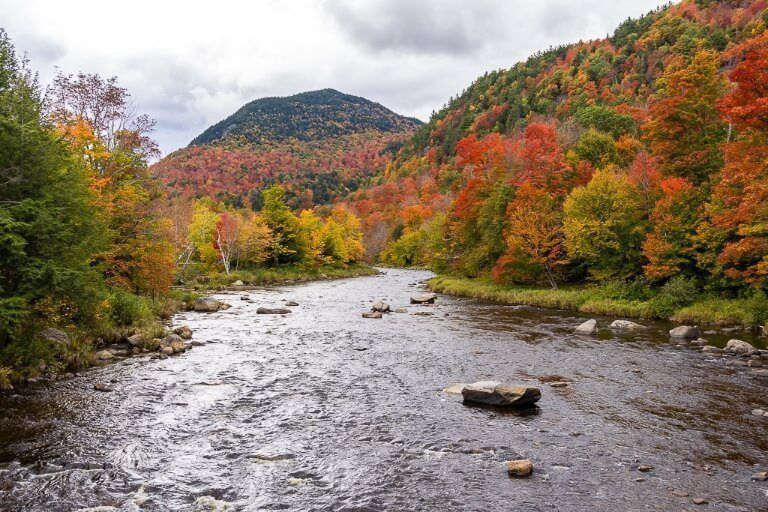 This wide wooden bridge crosses the Ausable River and on the other side you will enter an attractive forested area.
If you visit in Fall as we did, you will be able to see stunning Autumnal foliage as you cross the river.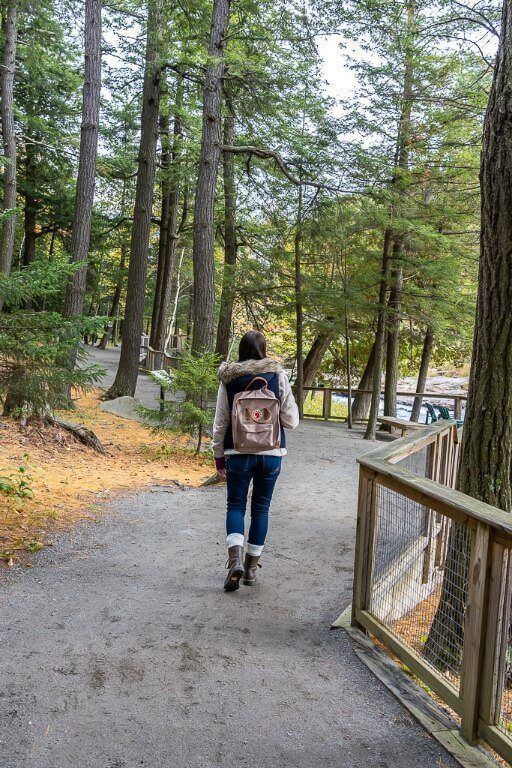 Once you reach the forest, follow the walkway as it hugs the riverside. This is a very flat and easy going trail with mesh barriers the entire walk.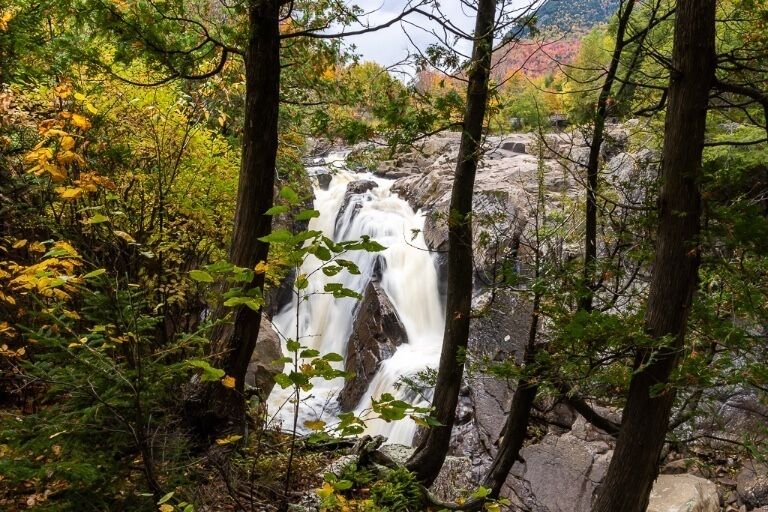 Following a one way route, you will cross a metal bridge with views of Main Falls, which splits into two around a protruding granite rock.
On the other side, be sure to look back through trees and vegetation for interesting perspectives of the waterfall.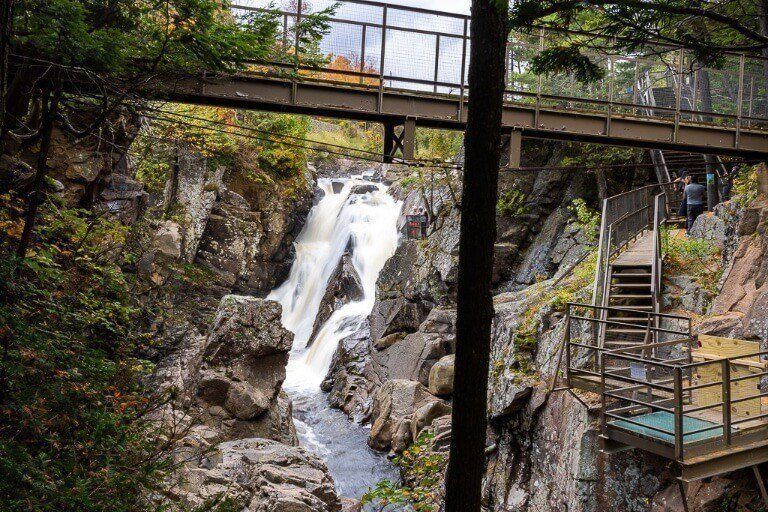 The trail descends and turns back on itself. Here you can see the bridge crossing with views of Main Falls and another boardwalk with steps that you will reach towards the end of the trail.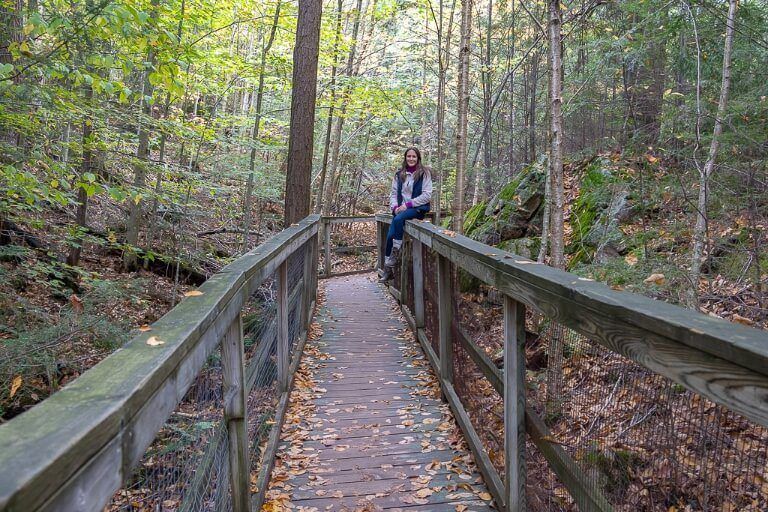 The trail zig zags from the gorge and into a forest, back to the gorge and into the forest again. Continue to follow the wooden boardwalk but take it slowly and enjoy the sounds and smells of nature.
Best View of the Waterfalls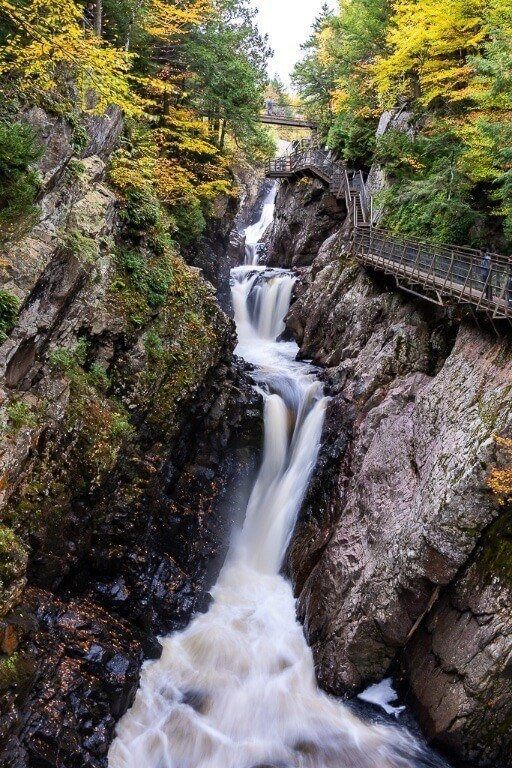 Eventually you will reach a bridge crossing the gorge and when you turn to the left you see the stunning crescendo of hiking through High Falls Gorge in Lake Placid, NY.
The spectacular view of Mini Falls, Rainbow Falls and Climax Falls is mesmerizing and deserves to be admired as it pummels through the rocky bottleneck.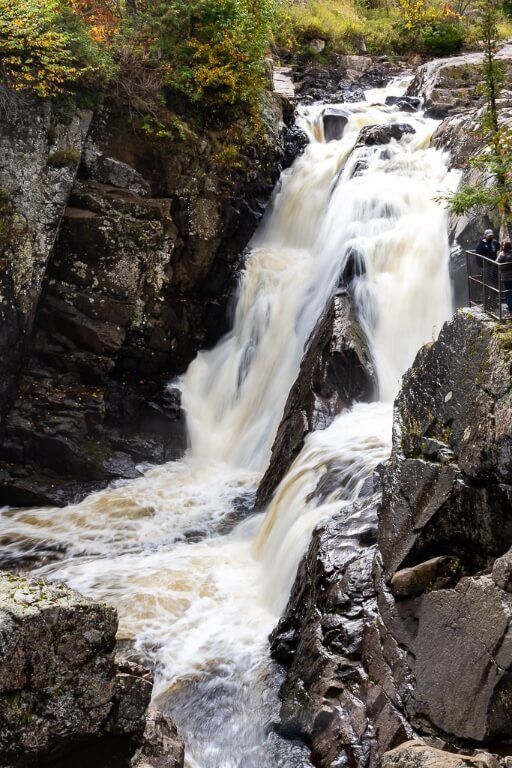 Follow the boardwalk highly hugging the gorge up steps and round corners until you reach a closer vantage point of Main Falls. There are two glass bottomed platforms along this section for those visiting in Summer.
You are now back at the forest area from the beginning and can choose to leave the gorge or take on a further 1 mile nature trail with steep inclines.
Where To Stay Near High Falls Gorge
New York's Adirondack Mountains region is a beautiful place to visit but you will need a substantial travel budget for your trip, especially if you visit in Summer or Winter during peak times.
Our advice is to research the area and book hotels, lodges or cabins as early as possible. Both prices and availability might limit your options if you leave things too late.
If you'd like some tips on finding best value for money, we rounded up 15 ways you can save money on hotel bookings.
Lake Placid is the obvious and most convenient town to set up base, with a centralized location perfect for hitting all of the major highlights. However, don't forget to look at other options in the region to find 'hidden gems'.
High Falls Gorge is half way between Lake Placid and Wilmington. It's likely you will want to stay in the town of Lake Placid for amenities and possibly an early start to Mount Marcy.
We have rounded up the top rated hotels in and around Lake Placid for you to consider when vacationing in the stunning Adirondacks. Click the hotel name to see availability and note the rating out of 10 as per previous guests.
Read More About New York State …
Adirondacks
Are you interested in visiting more waterfalls? Our continuously updated list of most stunning waterfalls in New York will help you find your next fall!
Finger Lakes
---
We hope this guide helps you plan your visit to High Falls Gorge in Lake Placid NY!
Have you been to Lake Placid? Let us know about your experiences in the Adirondacks!
Please let us know if you have any questions or need any help planning your visit.
Happy Travels,
Mark and Kristen
Was This Post Helpful? Pin It For Your Visit!