High Falls Gorge is the perfect place to spend an hour hiking when driving between Lake Placid and Whiteface Mountain ski resort in the stunning Adirondacks of upstate New York.
Wooden boardwalks and bridges transport you around the stunning narrow gorge with picturesque High Falls the star of the show.
High Falls gorge is a short, scenic and family friendly attraction among the many awesome things to do in Lake Placid.
Our detailed guide to High Falls Guide will show you:
What is High Falls Gorge and how to get there
Parking and ticket information
Hours of operation and seasonal closures
A walkthrough of the waterfall walk with our own photos
Hotel recommendations near High Falls Gorge
Now, let's explore High Falls Gorge near Wilmington, NY!
*Please note this post may contain affiliate links. If you click on one, we may earn a small commission at no extra cost to you. Thank you for supporting the free content we provide! Read more in our disclosure policy.*
Our High Falls Gorge Experience
We visited High Falls Gorge in October 2020 as part of a larger upstate New York road trip.
In all honesty, Hiking Mount Marcy was our top priority on this particular trip and we hadn't given much thought to High Falls Gorge because we were preparing for our big day hike.
But High Falls Gorge ended up being a highlight from this trip because it's an easy short trail that is incredibly picturesque.
Is High Falls Gorge Worth It?
Yes, High Falls Gorge is worth it because this is a wonderful area that can be enjoyed by the entire family. We also love this gorge because it is one of the best Lake Placid hikes with waterfalls.
Spring is when you will experience the waterfalls at their most powerful, fall offers beautiful autumnal foliage and winter is the time for snowshoeing.
What Is High Falls Gorge?
High Falls Gorge consists of 4 waterfalls cascading powerfully through a bottleneck inside a dramatic granite crevice, carved out over millennia by the Ausable River.
There are 4 major waterfalls located inside High Falls Gorge including:
Main Falls
Mini Falls
Climax Falls
Rainbow Falls
The High Falls Gorge nature park is 22 acres in size but you will only see a portion of that as you walk along a half mile of child friendly wooden boardwalks hugging the gorge side.
Two glass floor walkways are open in summer but remain closed the rest of the year for safety reasons.
Regardless of which season you visit, you can expect spray from the waterfalls and a nice, easygoing walk through a postcard perfect gorge.
Where Is High Falls Gorge?
High Falls Gorge is about 7.7 miles northeast from the large village of Lake Placid. Many people use Lake Placid as a base when exploring High Falls Gorge as part of a larger adirondacks trip.
Use the interactive map above to see directions from Lake Placid to High Falls Gorge.
After you leave Lake Placid, continue southeast on NY-86 E (Wilmington Rd) for about 7.7 miles. High Falls Gorge will be on the left and you will see the large parking lot from a distance.
Here are driving distances from nearby points of interest:
Lake Placid to High Falls Gorge – 7.7 miles
Whiteface Mountain ski resort to High Falls Gorge – 1.5 miles
Whiteface Mountain toll road to High Falls Gorge – 4.4 miles
At the nearby, Whiteface Mountain Ski Resort, you can hop on the gondola for stunning views of both Lake Placid and Lake Champlain.
Are you planning to take the Cloudsplitter Gondola to the peak of Little Whiteface?
Instead of taking the gondola, you can also drive your own vehicle to the summit of Whiteface Mountain by using the toll road turn off a few miles further past the ski resort.
If you are flying into the region and hiring a car for your vacation, we always use and highly recommend Skyscanner as the best resource to search for flights and Rental Cars as our top rated car hire resource.
Parking For High Falls Gorge
Parking is relatively stress free at High Falls Gorge which we truly appreciate after fighting for parking spaces at several of the US National Parks the past few years.
As you pull into High Falls Gorge, you will find an oversized dirt and gravel style parking lot with plenty of spaces right alongside the main road NY-86.
There is also an overflow parking lot in the grass if necessary for the busier periods.
High Falls Gorge Tickets
High Falls Gorge is a privately owned property and there is an entrance fee to enter the nature park. This entrance fee goes towards maintaining safe trail access through a narrow granite gorge.
There are two ticket types for the High Falls Gorge, a winter rate and a summer rate. You can purchase your tickets online via the official website or onsite when you visit.
Here are the current entry prices for the High Falls Gorge:
2023 Winter Rate (Dec 2022-March 26, 2023) – Tickets cost $17.50 for adults (age 13+) and $13.50 for children (ages 4-12).
2023 Summer Rate (May-October) – Tickets cost $15.95 for adults (age 13+) and $12.95 for children (ages 4-12).
Children 3 and under will receive free admission to High Falls Gorge near Lake Placid. Keep in mind there will also be an additional 8% NYS sales tax added to the ticket price.
Hiking Tip: If you are planning a High Falls Gorge hike, the trail requires close-toed and tied footwear. You can not hike in flips flops or sandals.
High Falls Gorge Hours Of Operation
While the High Falls Gorge is a year round destination, hours of operation vary depending on the season.
All facilities at the High Falls Gorge are closed on Wednesdays and Thursdays during both summer and winter season.
The gorge is open during all four seasons, but there are a few important closures to note throughout the year which we will highlight in the next section.
Here are the 2023 High Falls Gorge Hours of Operation:
Jan 1 – Mar 26: Trails + buildings open 5 days a week including Fridays to Tuesdays from 9:00 am-4:00 pm. River View Cafe is open Saturdays + Sundays from 11:00 am-3:00 pm.
Mar 27 – Apr 28: The entire facility is closed.
Apr 29­ – Oct 29: Trails + buildings open daily from 9:00 am-4:30 pm. River View Cafe is open daily 11:00 am-4:00 pm from May 27 – October 9, 2023.
Oct 30 – Dec 15: The entire facility is closed.
Dec 16 – Dec 31: Trails + buildings open 5 days a week including Fridays to Tuesdays 9:00 am-3:30 pm. River View Cafe is open Saturdays + Sundays from 11:00 am-3:00 pm.
Why Is High Falls Gorge Closed?
The seasonal closures at High Falls Gorge are required to perform necessary maintenance on the gorge and hiking trails.
The summer season runs from May through October while the winter season runs November through April.
Holidays: Closed on Easter Sunday and Christmas Day
Winter seasonal closures: Monday following the last Sunday in October through Friday before the weekend prior to Christmas
Spring seasonal closures: Monday following the last Sunday in March through the Friday before the first Saturday in May
All buildings on the property, hiking trails, and parking lots close 30 minutes after closing time.
Are Dogs Allowed In High Falls Gorge?
Due to safety of guests and pets, no animals are allowed at the High Falls Gorge. Only ADA defined service animals are allowed on the property.
High Falls Gorge Waterfall Walk
Hiking High Falls Gorge is a piece of cake when you have the likes of Mount Marcy and Whiteface Mountain in the area.
You will begin by paying entry at a kiosk style entrance with shop and restrooms available. Follow the wide wooden walkway as it turns into a bridge.
Check the recent comments on AllTrails to see what recent hikers have been saying about the trail prior to your visit.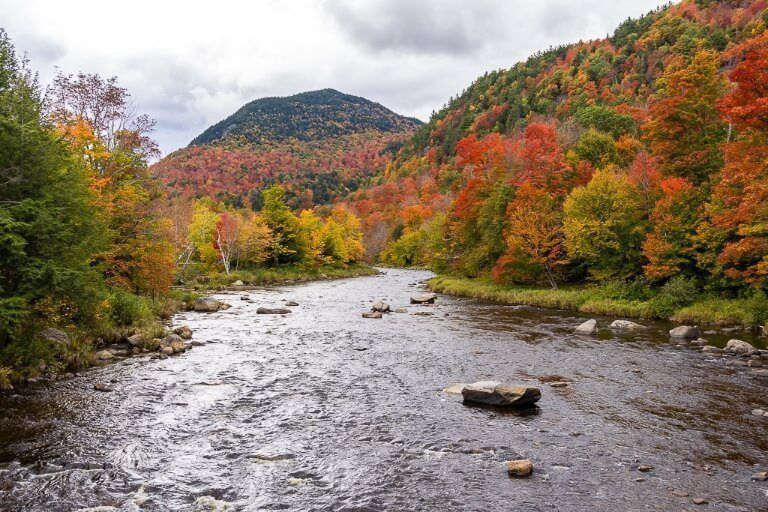 This wide wooden bridge crosses the Ausable River and on the other side you will enter an attractive forested area.
If you visit in the fall season as we did, you will be able to see stunning Autumnal foliage as you cross the river.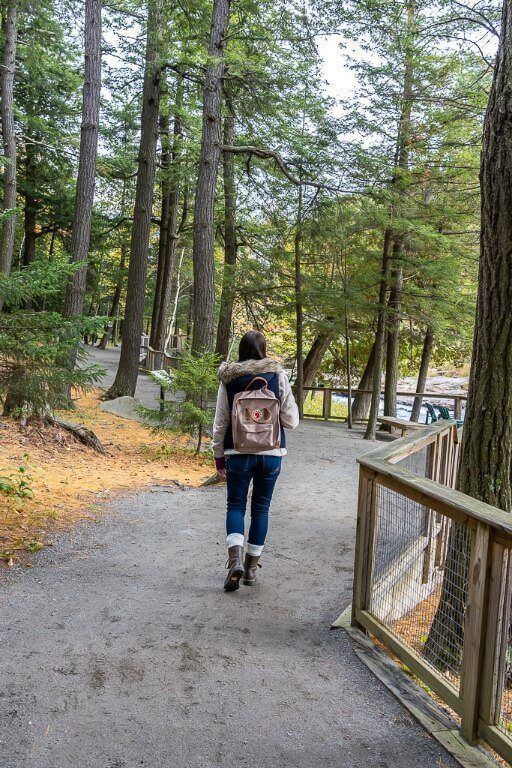 Once you reach the forest, follow the walkway as it hugs the riverside. This is a very flat and easy going trail with mesh barriers the entire walk.
You will pass through a seating area filled with beautiful wooden chairs as well as the climax forest.
First View Of Main Falls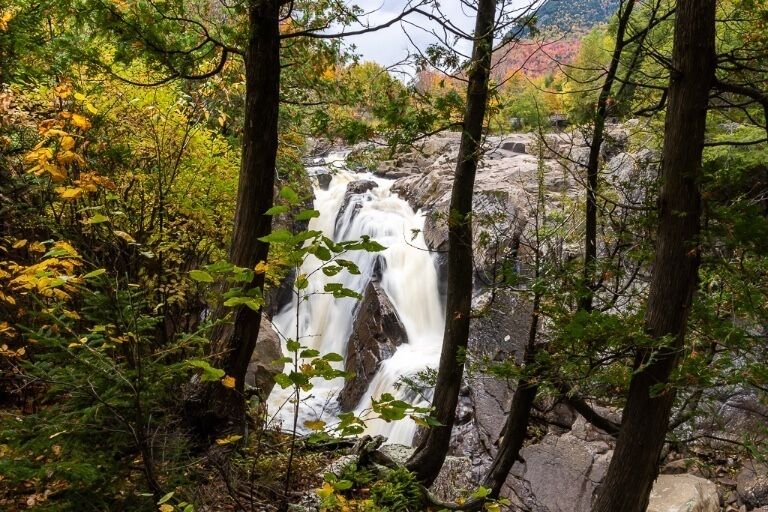 Following the route, you will cross a metal bridge with views of Main Falls, which splits into two around a protruding granite rock.
On the other side, be sure to look back through trees and vegetation for interesting perspectives of the waterfall.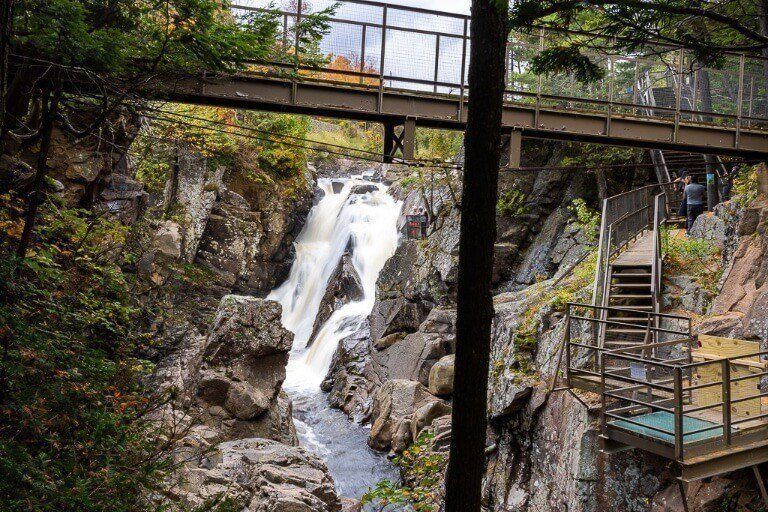 The trail descends and turns back on itself. Here you can see the bridge crossing with views of Main Falls and another boardwalk with steps that you will reach towards the end of the trail.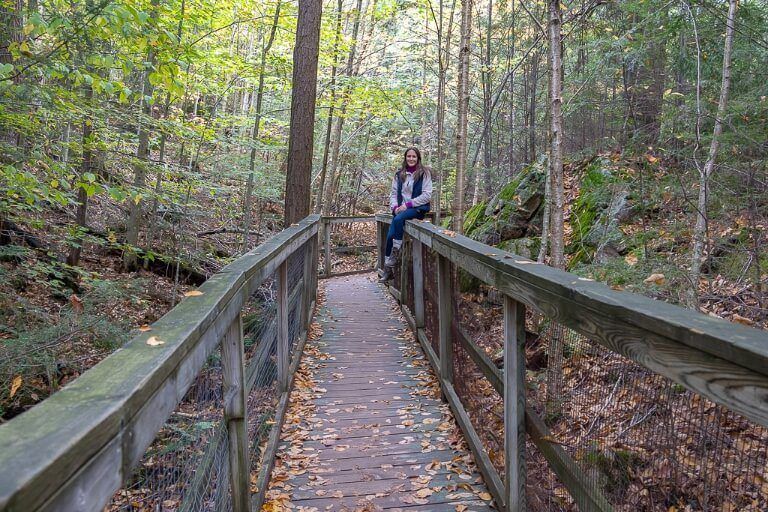 The trail zig zags from the gorge and into a forest, back to the gorge and into the forest again. Continue to follow the wooden boardwalk but take it slowly and enjoy the sounds and smells of nature.
Best Waterfall View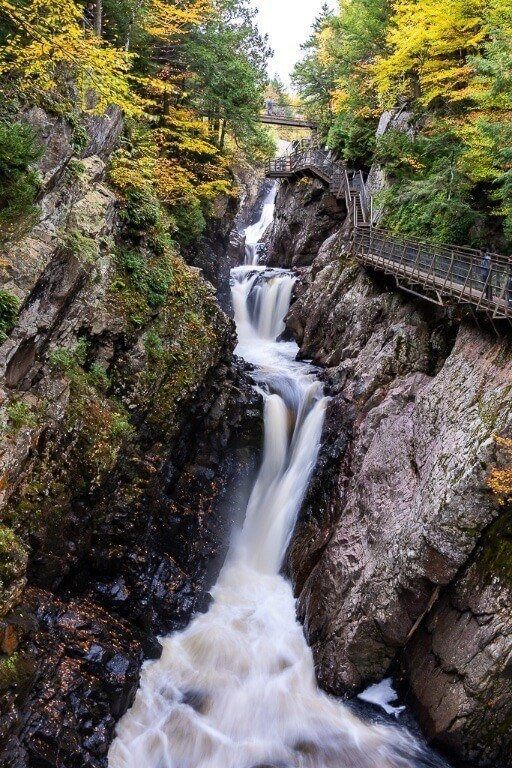 Eventually you will reach a bridge crossing the gorge and when you turn to the left you see the stunning crescendo of hiking through High Falls Gorge in Lake Placid, NY.
The spectacular view of Mini Falls, Rainbow Falls and Climax Falls is mesmerizing and deserves to be admired as it pummels through the rocky bottleneck.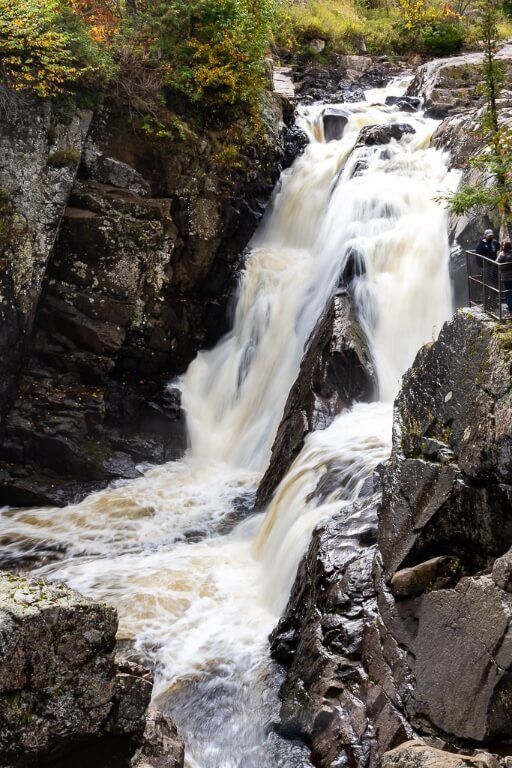 Follow the boardwalk highly hugging the gorge up steps and round corners until you reach a closer vantage point of Main Falls.
There are two glass bottomed platforms along this section for those visiting in summer. As you can see from our photos of the gorge, the glass platforms are boarded off in the fall season.
You are now back at the forest area from the beginning and can choose to leave the gorge or take on a further 1.0 mile nature trail with steep inclines.
Enjoy hiking? You might like to read about the best apps for hikers or use our special link to receive 20% off a Gaia GPS membership.
Best Things To Do In High Falls Gorge
Most people begin their trip to High Falls Gorge with the waterfall walk, but there are a few other things you can do at the nature park.
There are three official High Falls Gorge trails:
Waterfall Walk – 0.5 mile loop
Easy Path – 0.5 mile loop (easy access to gorge without stairs)
Nature Trail – 1.0 mile loop with steep inclines and uneven surfaces
The Nature Trail branches off the Easy Path from the metal bridge near Mini Falls. There is also a shortcut on the Nature Trail you can take if you don't want to walk the entire mile.
In addition to the 4 main High Falls Gorge waterfalls, here are things to keep an eye for when walking through the property:
Site of 1800's rope bridge
Climax forest
Natural spring
Whirlpool cove
Indian head rock
Anorthosite boulder
Numerous footbridges
Woodland Cottage
Woodlawn picnic area
Riverview Cafe
Use this High Fall Gorge map here to familiarize yourself with the area prior to visiting.
More Things To Do Nearby
If you are visiting the Adirondacks as part of a larger trip, you will be spoiled for choice when it comes to activities and outdoor adventure.
Use our travel guides below to explore things to do near High Falls Gorge well as the rest of New York State:
Like Waterfalls? Don't miss our travel guides on how to find the best New York waterfalls or where to find gorgeous Finger Lake waterfalls.
Where To Stay Near High Falls Gorge
New York's Adirondack Mountains region is a beautiful place to visit but you may need a substantial travel budget for your trip, especially if you visit in summer or winter during peak times.
We recommend you book hotels, lodges or cabins as early as possible. Both prices and availability might limit your options if you leave things too late.
If you'd like some tips on finding best value for money, we rounded up 15 ways you can save money on hotel bookings.
High Falls Gorge is halfway between Lake Placid and Wilmington. It's likely you will want to stay in the town of Lake Placid for amenities and possibly an early start to Mount Marcy.
You can read our complete guide to the best hotels in Lake Placid NY on our sister site or take a look at any of the top rated options below.
Top Rated Lake Placid Hotels
Top Rated Wilmington Hotels
High Falls Gorge FAQ's
Let's take a look at some of the most frequently asked questions about High Falls Gorge in winter.
Is High Falls Gorge open for hiking in winter?
Yes, High Falls Gorge is open for the winter season from mid-December to the end of March, but the entire facility is closed on Wednesdays and Thursdays so plan accordingly.
What can you do at High Falls Gorge?
You can hike the waterfall walk and nature trail at High Falls Gorge. The waterfall walk passes through four beautiful waterfalls and stunning scenery. You can also visit the Woodland Cottage, have a picnic or stop by the Riverview Cafe.
Our Popular New York State Guides
NY Finger Lakes Guides
Want more New York content? Head over to our New York Travel Guides to explore the Finger Lakes, Adirondacks and the best of NYC.
---
We hope this guide to the stunning Lake Placid Gorge helps you plan your visit to upstate New York!
Please let us know if you have questions about High Falls Gorge NY or planning a trip to the gorgeous Adirondack region of NY!
Happy Waterfall Hunting,
Mark and Kristen
Enjoy This High Falls Gorge Hiking Guide? Pin It For Your Visit!