Frothing waterfalls, jagged gorges and natural beauty in abundance are the highlights of a gorge trail day hike at Buttermilk Falls State Park in the Finger Lakes region of New York.
Buttermilk Falls is much smaller than nearby Robert H Treman State Park and its signature hike – the Gorge and Rim loop trail – is a fraction of the distance compared to Robert Treman's 5 mile loop.
That means less time hiking and more time admiring scenic Buttermilk creek!
The park's namesake Buttermilk Falls is a 165 ft high cascade waterfall with multiple tiers, bursting out of a wooded hill like a waterslide made of rock.
However, the most captivating area of this family friendly park lies further upstream, where sharply twisting ravines have eroded due to the perpetual flow of water plummeting towards Cayuga Lake.
In this comprehensive travel guide we will focus primarily on what you can expect from hiking Buttermilk Falls' enormously popular Gorge and Rim trails. But you will also find important information about parking options, entry fees, FAQ's, camping, nearby accommodation and restaurant options.
Let's jump right into the action!
*Please note this post may contain affiliate links. If you click on one, we may earn a small commission at no extra cost to you!*
Buttermilk Falls State Park Factfile
State Park: Buttermilk Falls
City: Ithaca
State: New York
Address: 112 E Buttermilk Falls Rd
Telephone: (607) 273-3440
Campgrounds: 25
Cabins: 18
Area: 811 acres
Things to do: Hiking, Swimming, Waterfalls, Photography
Major Waterfall: Buttermilk Falls (165 feet high cascade)
Open: All year (Gorge trail closed in Winter)
Annual visitors: ~ 200,000
Where is Buttermilk Falls State Park?
Buttermilk Falls State Park is ideally situated just 3 miles from central Ithaca, NY.
Ithaca is the perfect base for exploring Buttermilk Falls, as well as Robert H Treman, Taughannock Falls and even Watkins Glen State Parks as part of a wider Finger Lakes road trip.
From downtown Ithaca, simply follow NY-13A South for around 10 minutes until you see signs for Buttermilk Falls State Park.
The park entrance is straight ahead as you turn off NY-13A S.
Distances from nearby major cities:
Binghamton NY – 52 miles (1h 5m)

Syracuse NY – 58 miles (1h 15m)

Rochester NY – 90.5 miles (1h 45m)

Scranton PA – 110 miles (2h 0m)

Buffalo NY – 160 miles (2h 55m)

Albany NY – 168 miles (3h 10m)
Waterfalls and wineries draw visitors from further afield to New York's Finger Lakes, particularly in Summer and Fall.
If you're flying into the region, start by reading our expert tips on how to find cheap flights.
Search for your flights using the best flight search engine – Skyscanner. Once you have flight prices, see if you can beat them on other platforms.
The same goes for renting a car when you get to a New York airport. Get a benchmark price using Rental Cars then see if you can beat it.
Here are the closest airports for you to consider:
Ithaca International NY – 7 miles (15m)

Syracuse International NY – 67 miles (1h 20m)

Rochester International NY – 97 miles (1h 50m)
Parking and Entrance Fee at Buttermilk Falls State Park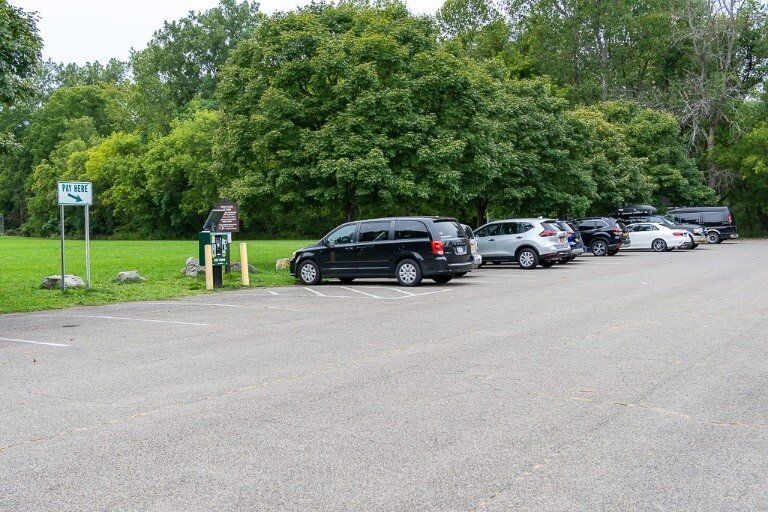 Main Entrance (and Overflow)
Buttermilk Falls State Park is free to enter but you will pay US$ 8 for parking your vehicle (from 1 April through 30 November 6.00am – 6.30pm). Payment is not taken at the gate but at a machine where you can pay cash or card.
Parking at Finger Lakes State Parks can be challenging on weekends between Spring and Fall, particularly on holiday weekends. Plan accordingly and arrive early if possible to avoid the chaos!
We visited ourselves on Labor Day and there was a line of at least 10 cars waiting on a one-in one-out basis. We almost gave up but it turns out there is an overflow parking lot 1 minute drive away.
So, if you ever find yourself in a long line to enter, turn around and head back to NY-13A, turn left (away from Ithaca) and drive for 15-20 seconds, take the very first left turn and you'll find the overflow car park on your right.
Once you've paid at the ticket machine, all you need to do is walk across the road and down a short path to the park entrance.
The main car park (and overflow) are situated at the lowest elevation of Buttermilk Falls State Park, which means you will ascend first before looping around and descending back to the entrance.
Upper Entrance
Your other alternative is to park at the Upper entrance parking lot, which locals tend to use. You will then begin the Gorge / Rim hike at the highest elevation, descend first and loop back with an ascent to Upper entrance.
There is a further hike beginning at Upper entrance to Lake Treman on Bear Trail. The parking lot is much smaller but could be a good option on a busy day.
To reach Upper entrance from Ithaca, instead of driving NY-13A S, take Spencer Road to Stone Quarry Road and W King Road.
Buttermilk Falls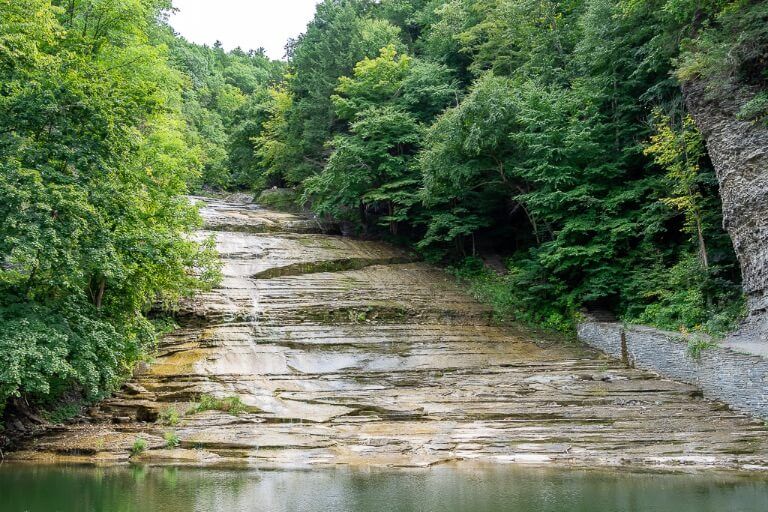 When you first enter the State Park you can't miss 165ft high Buttermilk Falls flanked heavily on both sides by dense and overgrown trees.
The name Buttermilk was derived from the water's creamy and foaming appearance as it cascades down the huge wide open angled slab of rock into a refreshing pool, perfect for jumping in on a hot day.
It's difficult to see from the bottom, but the falls are multi layered and twist around the gorge as it disappears from view.
If you visit in Fall after a Summer drought (as we did!), there will little more than a trickle running down Buttermilk Falls' giant tiered rock face. In Spring and early Summer, Buttermilk Falls should be much more lively and impressive.
Plan your trips to the most beautiful, powerful and delicate waterfalls in New York with our continuously growing list of the best NY falls!
Buttermilk Falls State Park Gorge and Rim Trail Hike
Let's walk through the one way hike taking Rim trail and gaining elevation to the top, before looping round and hiking down Gorge trail back to the entrance.
Rim trail begins around 50 meters from Buttermilk Falls in the main parking lot and Gorge trail ends on the opposite side of Buttermilk Falls.
Difficulty is listed at moderate because portions of the Rim trail are steep.
The turning point is at Upper entrance where you can continue along Bear Trail to Lake Treman.
By including Bear Trail and the Lake Treman loop you will add on a further 1.5 miles to the total distance listed below (for a total of 3 miles hiking).
Hike total distance: 1.5 mile roundtrip
Hike difficulty rating: Moderate
Grind Out The Steep Rim Trail Ascent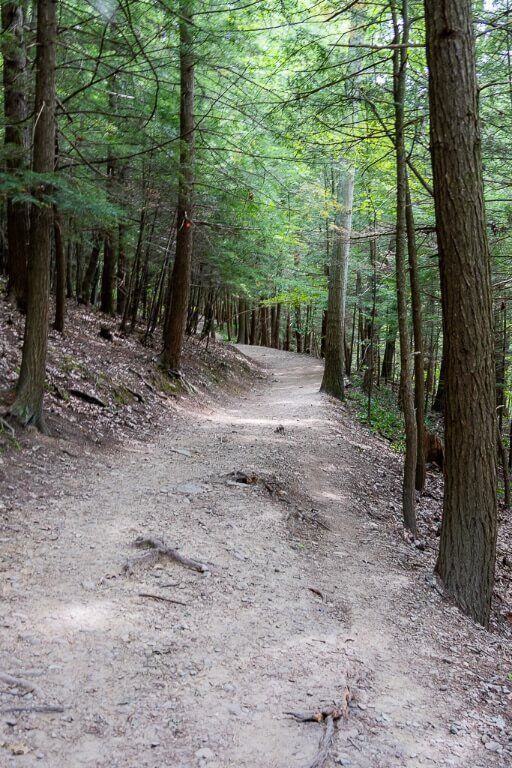 Begin your hike up Rim trail in the main parking lot not far from the block of restrooms.
We're going to upfront with you here, hiking up Rim trail is surprisingly grueling and not a huge amount of fun! It's only a short hike in total but you have to gain 600 feet in 3/4 mile.
Stick with it though, returning on Gorge trail is worth the initial effort.
It was hot and humid the afternoon we scrambled up Rim trail at Buttermilk Falls and those pools down in the gorge were looking mighty tempting!
You will walk along muddy dirt paths through sun blocking canopy as you gain elevation and follow the creekside. Be careful of tree roots and large stones sticking out of the ground.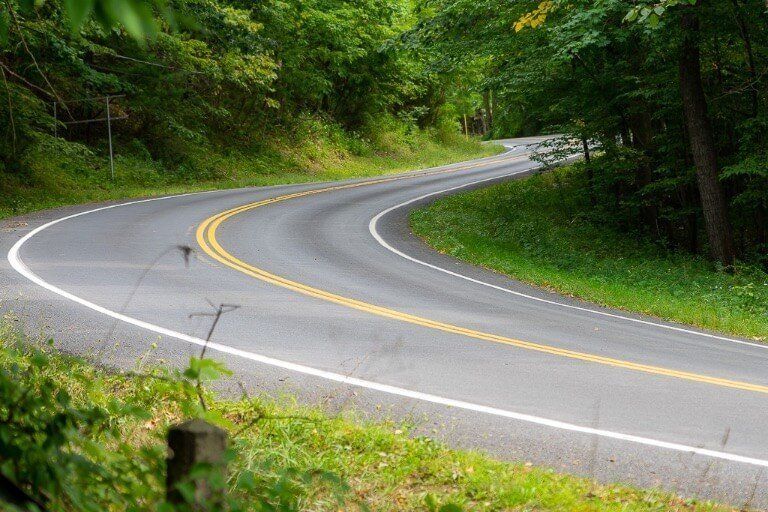 The trail starts steeper and gradually flattens out as you get higher. There are a few areas you can see down into the gorge and people wading in shallow water but you can't really get any good photographs from the Rim trail. Poor angles, dim light and overgrown vegetation prevent clean views.
Note: There is a bridge you can cross onto Gorge trail to cut the hike short but you will miss the best section of Gorge trail.
Eventually you will reach a twisting road corkscrewing its way through the forest. Upper entrance is directly across the road but you will cross the bridge over Buttermilk Creek to your right instead.
Bear Trail to Treman Lake is to your left, but we will take the right onto Gorge Trail for the purpose of this walkthrough.
Top Half of the Stunning Gorge Trail Descent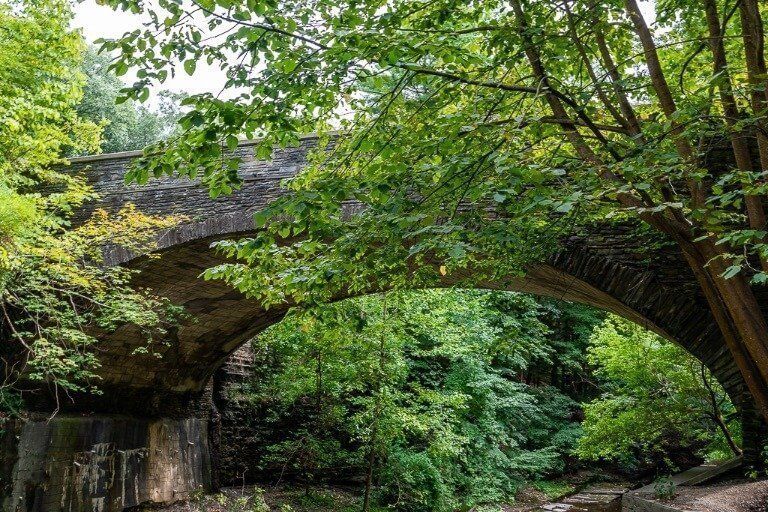 Its time reap the rewards for thrashing out the steep Rim trail climb.
As you descend the first few steps you will notice the stone bridge you just crossed is extremely attractive, but it's about to get a whole lot better!
The top section of Gorge trail begins with the creek narrowing and featuring sharp shelf-like edges combined with smooth and soft bowl shaped pools.
Although the water flow is lighter in Fall, it allows greater depth of detail throughout the eroded sandstone rocks to be appreciated.
The gorge is incredibly scenic and ornate stone staircases add a 'lost world' element to the environment, making it perfect for photographers.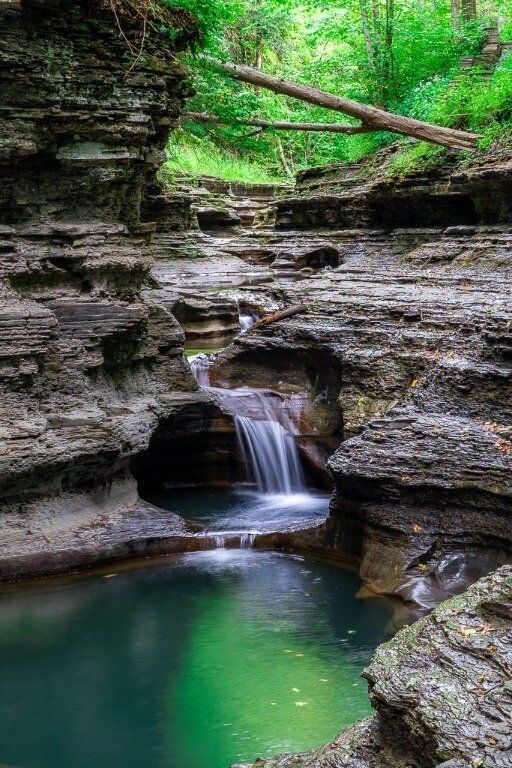 Before long you will reach (in our opinion) the most beautiful part of Buttermilk Creek. Water snakes intricately through the gorge, carving through dark rock and plunging gently from shelf to shelf.
Look at how the deep green foliage of early Fall contrasts wonderfully against the dark and sharp featured rock formations.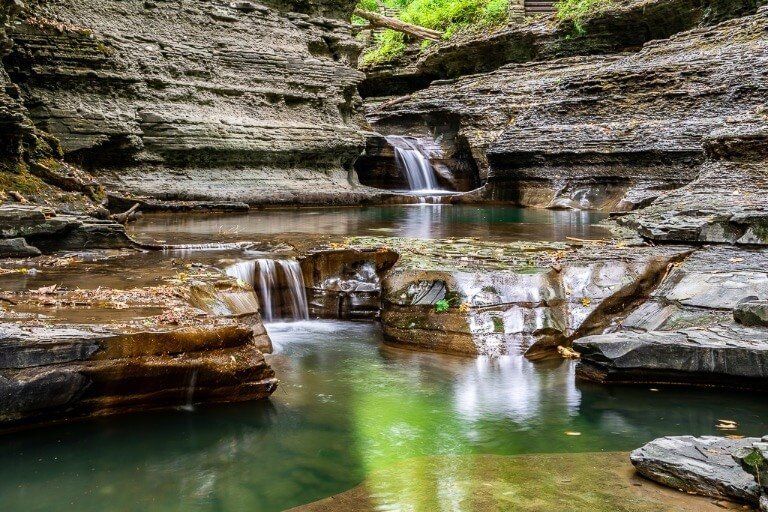 Small but surprisingly deep pools are easily accessible from the main Gorge hiking trail.
Signs warn against swimming but on a hot day with cold relief in front of you and surroundings as spectacular as this … how can you resist?!
Use extreme caution if you are going to venture out into the pools and only do so if the water is running as low / lightly as our photographs depict. We did see someone slip on wet leaves and hurt themselves.
Bottom Half of the Gorge Trail Descent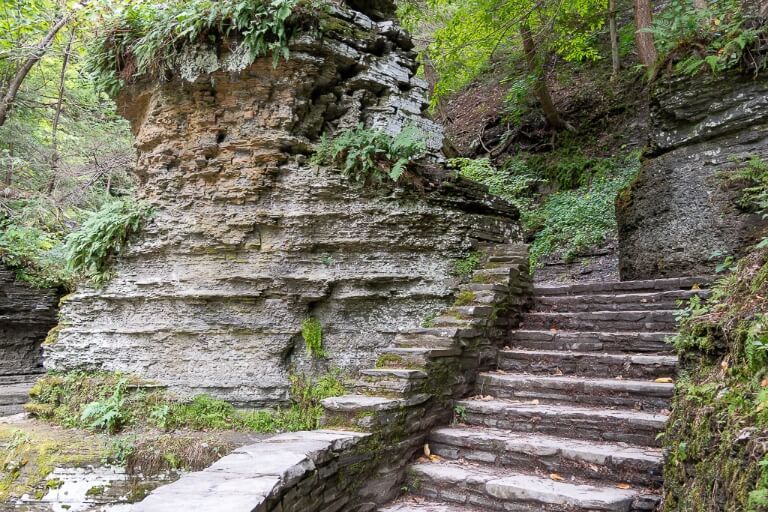 The bottom section of Gorge trail takes you past intriguing rock formations such as Pulpit Rock, which do make you wonder how they survived.
When a family with young kids who came hurtling around the stone staircase (the wrong way UP gorge trail!) and gasped at the gorge, we guessed the rest of the trail might not be as impressive.
In truth, the bottom half is less dramatically and visually stunning as this top, so plan to spend more time at the upper section.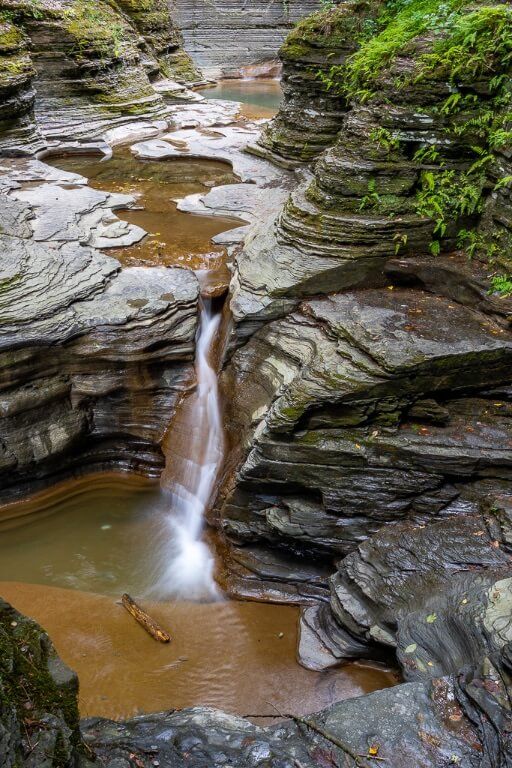 Although the gorge is slightly less dramatic, we don't want to do the rest of the trail an injustice. There are still lovely wispy waterfalls and ledges to enjoy as you descend the final sections.
Notice how much more smooth and rounded the creek is here when compared to higher up?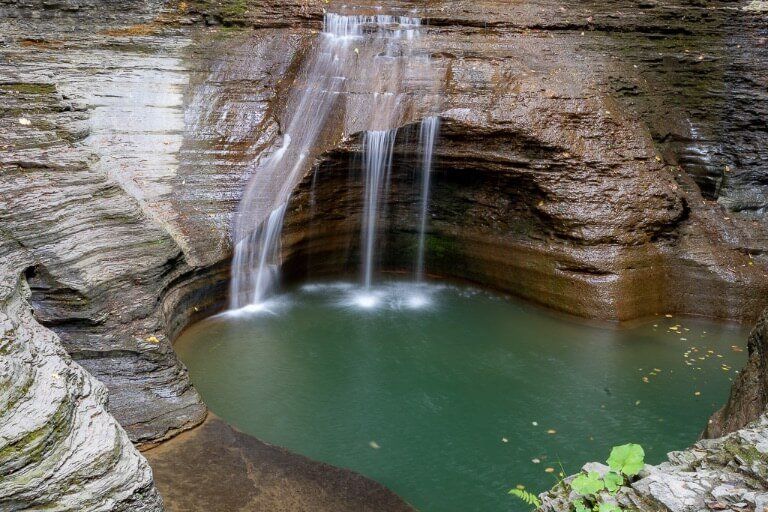 You will pass yet more waterfalls plunging softly into emerald green pools below.
In Spring and early Summer, these portions would be far more interesting as deeper and more powerful falls crashed through the creek.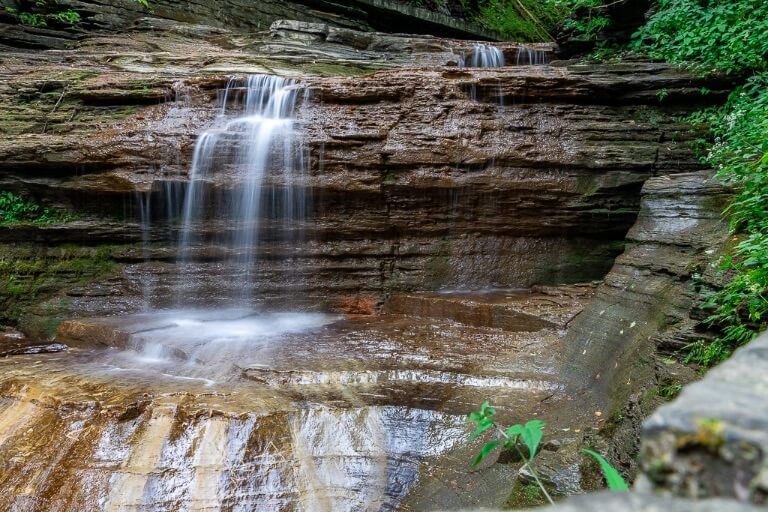 The final few falls on Gorge trail cascade onto wide ledges which would certainly spray the path when in full flow.
When we visited, families with young children were wading out onto the ankle deep shelves at the bottom of these gentle ledge falls.
The trail finally ends with an overlook half way up Buttermilk Falls for you to appreciate its full size and angled slope from close up.
Photography at Buttermilk Falls State Park
Buttermilk Falls is a fantastic environment to shoot nature photography.
The perfect time to arrive would be early on an overcast October weekday for brilliant Autumnal colors, no crowds and ideal light! But not everyone can be so selective, so just arriving early is our top advice.
Smartphones are more than capable for social media platforms but if you want to take home some extra special images you'll need to remember a few things:
Mirrorless or DSLR camera, lens with focal length between 12 and 24 for wider shots and ideally a tripod.
There are places you could set your camera on a wall (gently!) if you forget your tripod. Put a spare hoodie or jacket between the wall and your camera.
You need stability to create the silky water appearance by shooting from anywhere around 0.3 seconds to 3 seconds using shutter speed priority mode.
Start at 1 second exposure and then make more images at faster / slower shutter speed until you're happy with how the water looks.
Visit early in the day before intense daylight but if it is bright, use an ND filter to stop down the light.
The top half of Gorge trail is by far the best photography location at Buttermilk Falls State Park.
If you're a beginner, shoot in RAW & JPEG. You can use your jpeg now but once you have more experience you will be grateful for the RAW file you can go back to and edit.
Want more waterfall inspiration? Don't miss our guide to the best waterfall quotes.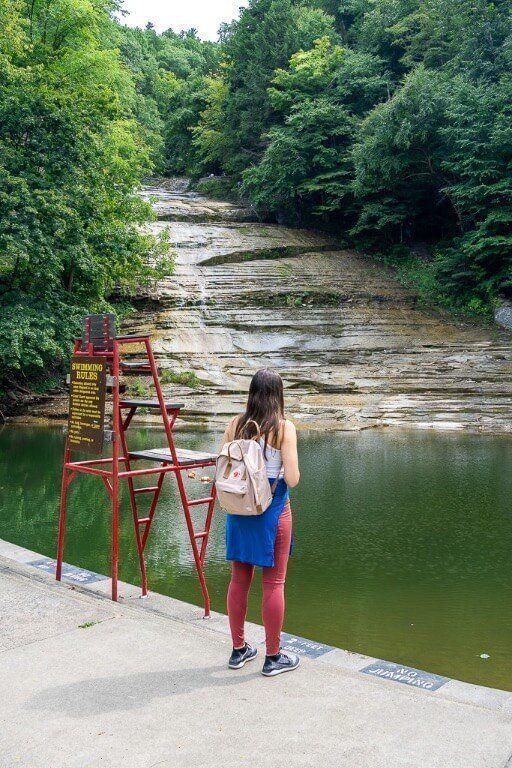 FAQ's For Buttermilk Falls State Park
Let's take a look at some of the most frequently asked questions for this popular state NY park.
What Facilities Are Available At Buttermilk Falls State Park?
The main entrance has restrooms, there are playgrounds and playing fields for the kids, plenty of green space for relaxing.
There are no restaurants or cafes at the park, but there are a number of grills and picnic tables so you can bring your own barbecue grub along!
Are Dogs Allowed At Buttermilk Falls State Park?
Yes, dogs are allowed on the trails but must be kept on leashes no longer than 6 feet.
Is Swimming Allowed At Buttermilk Falls State Park?
Yes, there is a natural stream-fed swimming pool at the base of Buttermilk Falls (main entrance). Swimming is only permitted between for a short period between July and August.
Adverse weather often means swimming is closed to the public so it's a good idea to check ahead of your visit.
What Other Hiking Trails Are At Buttermilk Falls State Park?
Yes, you can hike Bear Trail to Lake Treman at the top of Rim / Gorge.
An easier hike (without the steep climb) is Larch trail which circles a marshy area for 1 mile and can be accessed close to the main parking lot.
Best Time to Visit Buttermilk Falls State Park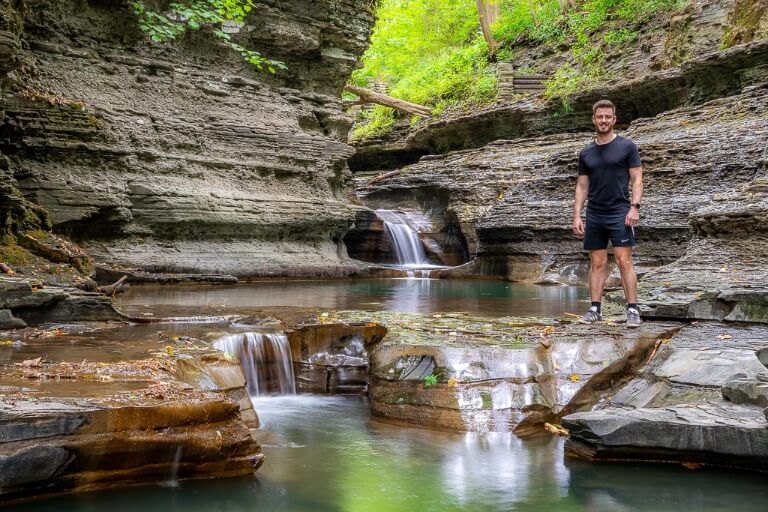 As we've mentioned many times, Buttermilk Falls State Park will be extremely busy on weekends between April and October, particularly during holidays. From experience, we recommend staying clear on these days unless it's the only time you can make your visit.
Best time of Year
Spring – Best time of year for heavily flowing waterfalls and comfortable hiking conditions.
Summer – Extremely busy and hot but the best time for swimming and more daylight hours.
Fall – Perfect time of year for colorful foliage and comfortable hiking conditions.
Winter – Gorge trail closes in Winter but the rest of the park is open.
Note: The only NY Finger Lakes State Park gorge trail open in Winter is Taughannock Falls State Park.
Best time of Day
Morning – Best time to visit, trails are always much quieter right after the parks open.
Midday – Busiest time of day, crowded on gorge trail and not recommended.
Afternoon – Late afternoon good time to visit, cooler and fewer people around.
Where To Eat Near Buttermilk Falls State Park
The popular college town of Ithaca is right on your doorstep at Buttermilk Falls.
Below we have listed some of the best local restaurants but don't forget you are in the famous Finger Lakes wine region and there are plenty of winery options nearby!
The Boatyard Grill – Seafood (Northwest of downtown Ithaca) | Menu
Ithaca Beer Company – Craft Brewery (very close to Robert Treman) | Menu
The Heights – Pizza & Seafood (North of Ithaca) | Menu
Ithaca Ale House – Burgers & Craft Beers (downtown Ithaca) | Menu
Maxies Supper Club & Oyster Bar – Seafood (downtown Ithaca) | Menu
Ports of New York – Winery (just West of downtown Ithaca)
If none of those options work or you need a quick bite before moving on, you can find plenty of the typical chain restaurants to the Southwest of Ithaca, just over 1 mile away from Buttermilk Falls State Park main entrance.
Where To Stay Near Buttermilk Falls State Park
Are you planning to visit Robert H Treman, Buttermilk Falls and Taughannock Falls on a Finger Lakes road trip?
Consider staying South of Ithaca one night for Treman and Buttermilk, before moving North of Ithaca the next day for Taughannock.
Or maybe you'd prefer to set up base in the built up downtown area of Ithaca for a long weekend?
There are a number of excellent options for staying in and around Ithaca but remember the more flexible your dates, the better chance you have of saving money.
Our 15 money saving tips will help you book the cheapest hotels when you travel.
Let's take a look at some of the best hotel options in the Ithaca, NY area:
Southwest Ithaca for Robert H Treman and Buttermilk Falls State Parks
There are 4 budget friendly hotels ideally located within 1 mile of Buttermilk Falls. They couldn't be any more convenient!
You can get a night for between US$75-150 depending on your date of visit, including breakfast.
Click on each of the 4 hotel names to see availability and prices for your dates:
Downtown Ithaca For Central Location & Amenities
Staying centrally in Ithaca works best if you're staying for 3 or more days because you won't have to rush around the State Parks. Plus, over that period you will need amenities on your doorstep.
Here are the best accommodation options in downtown Ithaca:
Northwest Ithaca for Easier Access to Taughannock Falls
Staying a night closer to Taughannock Falls means you can drive 20 minutes after Buttermilk Falls and beat the crowds more easily than driving up from Ithaca the next morning.
The 'Inn at Taughannock Falls' is the obvious and most convenient accommodation for Taughannock Falls. The Inn is stunning and located right at the entrance to Taughannock Falls Gorge trail! This has to be your first choice if your budget can stretch.
Don't worry if not, there are other options, including a historic bed & breakfast we stayed at called Glass Magnolia in Interlaken just a few miles from Taughannock. The owners are fantastic and extremely welcoming, plus the homemade breakfast was excellent.
Camping at Buttermilk Falls State Park
There are 25 tent sites, 18 cabins and 1 pavilion at Buttermilk Falls State Park. The 73 person Pavilion is located at Upper entrance and costs US$ 100 per day to hire.
Tent camping – Reservations for campsites can be booked up to 9 months in advance and each site can be booked for up to 2 weeks. Campground season is mid April through mid October.
Nightly fee for camping is between US$ 18-28 per night (depending on month of visit).
Be aware that non NYS residents will pay a further US$ 5 per night.
More information about camping at the park.
Cabins – During off season, cabins can be booked on a 2 nightly basis but in peak season (end of June to end of August) cabins can only be booked a 7 night basis. Cabins are available between end of April and beginning of November.
Weekly fee for cabins is between US$ 238-400 (depending on month).
Calculating nightly cost for cabins is challenging. You will pay 1/4 of the total weekly price per night, but you have to stay for minimum of 2 nights.
So for 2 nights you will pay half the price of a week.
In peak season you have to book for 7 nights but in off season you will pay US$ 119 for a 2 night stay.
We hope that makes sense!
Plus, non NYS residents will pay an additional US$ 7 per night / US$ 28 per week.
More information about booking cabins.
Buttermilk Falls State Park Map
Click into the interactive map, zoom in / out and move around the area to find all recommended restaurants, hotels, points of interest and parking lots.
Dark Green

– Hotel recommendations in and around Ithaca, NY

Light Red

– Restaurant recommendations in and around Ithaca, NY

Purple

– On site tent / RV / cabin accommodation and pavilion

Blue

– Gorge / Rim plus Bear & Lake Treman trails begin and end

Brown

– Bathroom location at main entrance

Maroon

– Parking lots at each entrance

Orange

– All points of interest for hiking, waterfalls and swimming
Visit more New York State Parks
---
We hope this helped you plan your visit to Buttermilk Falls State Park!
Have you been to Buttermilk Falls? Which is your favorite State Park around the Finger Lakes?
Please let us know if you have any questions or need any help planning your visit in the comments below.
Happy Hiking,
Mark and Kristen
Was This Post Helpful? Pin It For Your Visit!