In this extensive Finger Lakes guide, we are going to show you the 23 best things to do in Ithaca, NY including top places to visit so you can start planning the perfect trip to upstate New York today.
The city of Ithaca is known for its numerous waterfalls and popular college town, but there is much more than meets the eye in this vibrant Finger Lakes region.
In our Ithaca tourism guide, we will show you:
The 23 best things to do in Ithaca
Useful links, lists and tips within each activity
Things to do interactive map of Ithaca
Our personal photos from Ithaca attractions
Now, let's explore fun things to do near Ithaca from a local!
*Please note this post may contain affiliate links. If you click on one, we may earn a small commission at no extra cost to you. Thank you for supporting the free content we provide! Read more in our disclosure policy.*
Our Ithaca, NY Experience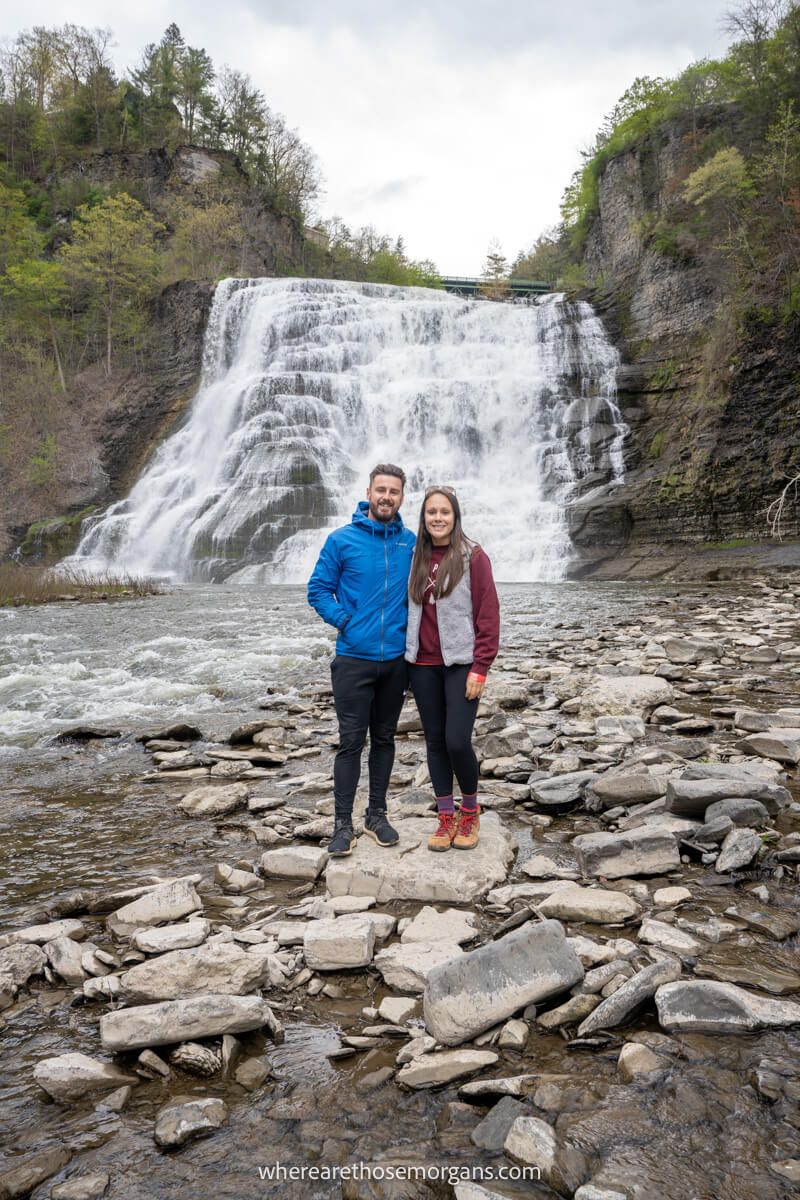 Kristen grew up in the beautiful Finger Lakes region of upstate New York and we also temporarily lived in the area once Mark officially immigrated to the US in 2019.
We spent the majority of the pandemic visiting Ithaca waterfalls and hiking the stunning NY State Parks found scattered all throughout the Finger Lakes.
While we no longer live in the area, Kristen's family still lives in upstate New York so we typically return to the area multiple times a year.
Most of the photos in this guide were taken during our recent April 2023 visit to Ithaca, New York. Unfortunately, the weather was quite overcast, but the waterfalls were at their peak!
There are so many things to do in the NY Finger Lakes and we hope to help you find new places to visit as well as fun activities to do in this section of New York State.
Where Is Ithaca, New York?
The city of Ithaca is located in Tompkins County which is nestled in upstate New York between Niagara Falls and New York City.
Ithaca is unique because it is situated on the southern shore of Cayuga Lake and also happens to be in the heart of New York State's gorgeous Finger Lakes region.
If you are looking for outdoor adventure, wineries, lakefront dining and water sports, the bustling college town of Ithaca has you covered.
What Is Ithaca Best Known For?
The city of Ithaca is home to both Cornell University and Ithaca College. These popular schools are one of the main draws in the area brining thousands of visitors every year.
You also can't go very far in town without seeing the popular slogan, "Ithaca is gorges." So it's probably no surprise many people also visit Ithaca to hike one of the many gorge trails located within the city.
How To Spend A Day In Ithaca
The best way to spend a day in Ithaca is:
Hiking through the numerous gorges
Sipping wine and craft beer along Cayuga Lake
Exploring the campuses of Cornell or Ithaca College
Visiting the Museum of the Earth or the Sciencenter
As we mentioned earlier in this guide, Ithaca is brimming with fun activities and things to do for the entire family. We aim to cover everything Ithaca within this guide.
Now, let's explore Ithaca!
1. Cascadilla Gorge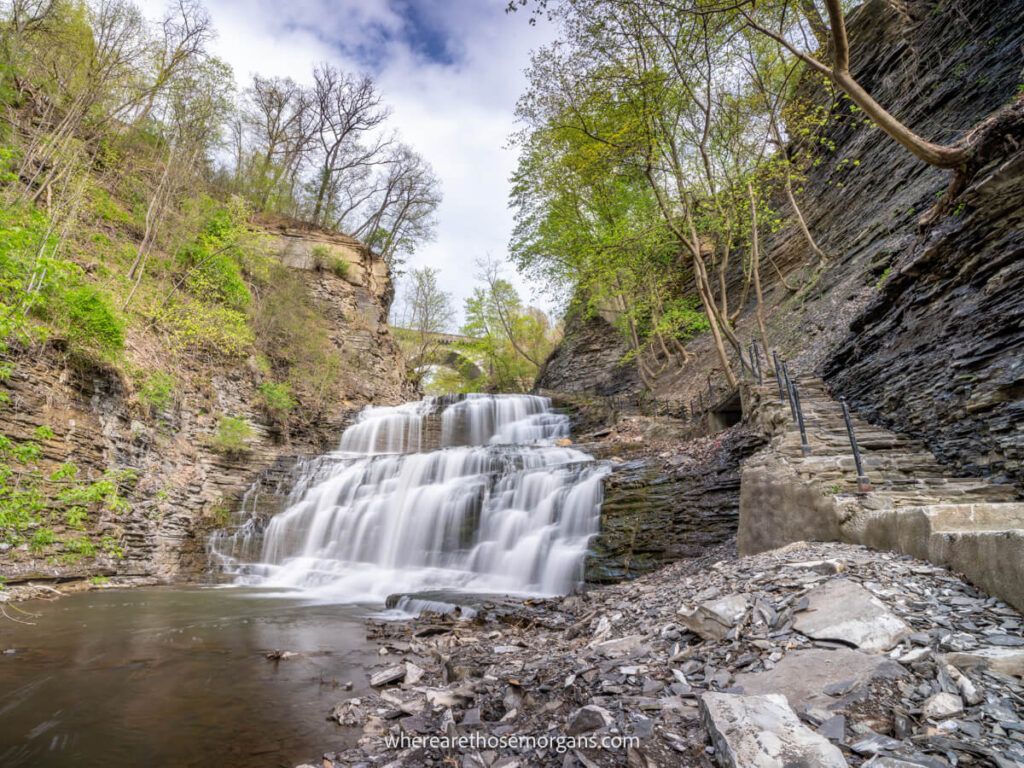 The stunning Cascadilla Gorge is one of the best things to do in Ithaca because it's a secret oasis hidden in plain sight right in the middle of the Cornell campus with over 300 steps.
This gorge features 6 large plunging waterfalls as they flow through Cascadilla Creek surrounded by beautiful man-made stone staircases and bridges.
Why Visit The Cascadilla Gorge?
The total length of the Cascadilla Gorge Trail including the upper loop is around 1.5 miles out and back.
From start to finish the hike should take around 1 hour 30 minutes, but plan for more time if you stop for photos along the route.
The main Cascadilla Gorge Trail connecting Cornell with Downtown Ithaca is typically open between the end of April through the end of November each year. But it always closes for winter.
Here are the trailhead locations:
Top – The corner of College Avenue and Oak Avenue
Bottom – The corner of Linn Street, Terrace Place and East Court Street
Interested in Cascadilla Gorge? Don't miss our popular post about hiking the Cascadilla Gorge with complete walkthrough and beautiful photos.
2. Visit The Cornell Botanic Gardens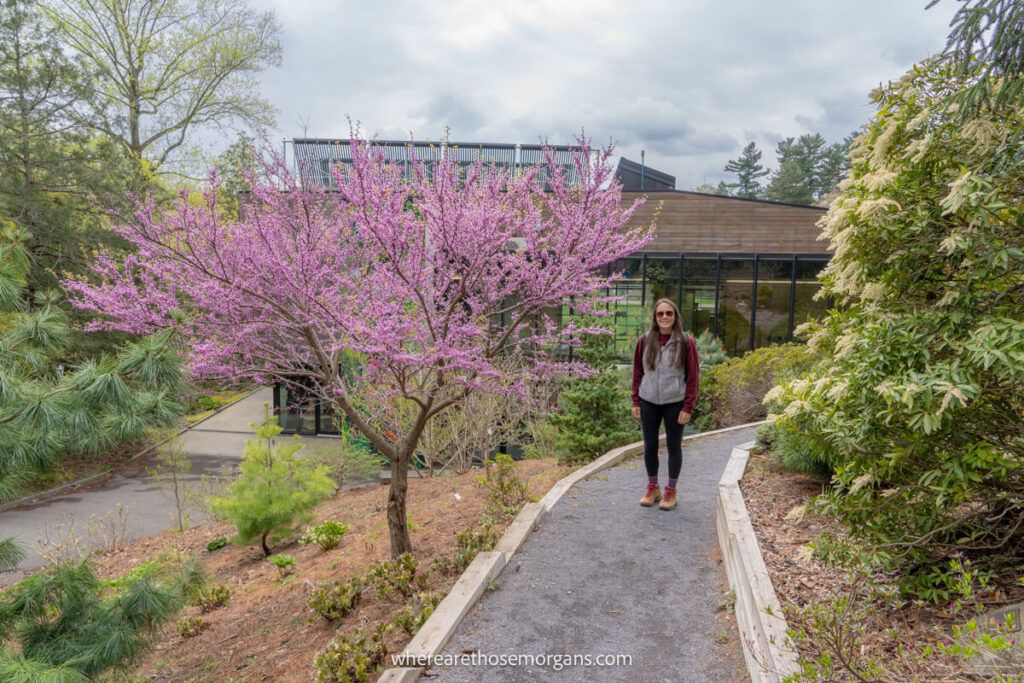 If you are a nature lover, do not miss the Cornell Botanical Gardens when you are in Ithaca. The gardens and natural areas are open free of charge, year round from dawn until dusk.
We love the Cornell Botanic Gardens because anyone can enjoy spending time here. You can even sign up for tours, workshops, lectures and webinars to learn about plants and nature.
Address: 124 Comstock Knoll Drive Ithaca NY, 14850
Nevin Welcome Center Google Maps Location.
Why Visit The Cornell Botanic Gardens ?
You should visit the Cornell Botanical Gardens, especially in the spring, because there is a rich diversity of plants including conifers, herbs, vegetables, rhododendrons, perennials and grasses.
The natural areas in the gardens cover more than 3,400 acres both on Cornell campus and throughout Tompkins County.
Here are the highlights of the Cornell Botanical Gardens:
Brian C. Nevin Welcome Center – Info, exhibits, restroom and classrooms
Beebe Lake – A one mile trail over historic Sackett Bridge
Mundy Wildflower Garden – Sanctuary of native plans along Fall Creek
F. R. Newman Arboretum – 100 acre garden with paved paths
Fall Creek Natural Area – Woodland trails with various hikes
Travel Tip: Parking is available throughout the garden grounds but may require payment by meter, mobile-payment or Cornell University permits. Please don't use permitted parking lot because you may get a ticket!
3. Drink Wine Along The Cayuga Lake Wine Trail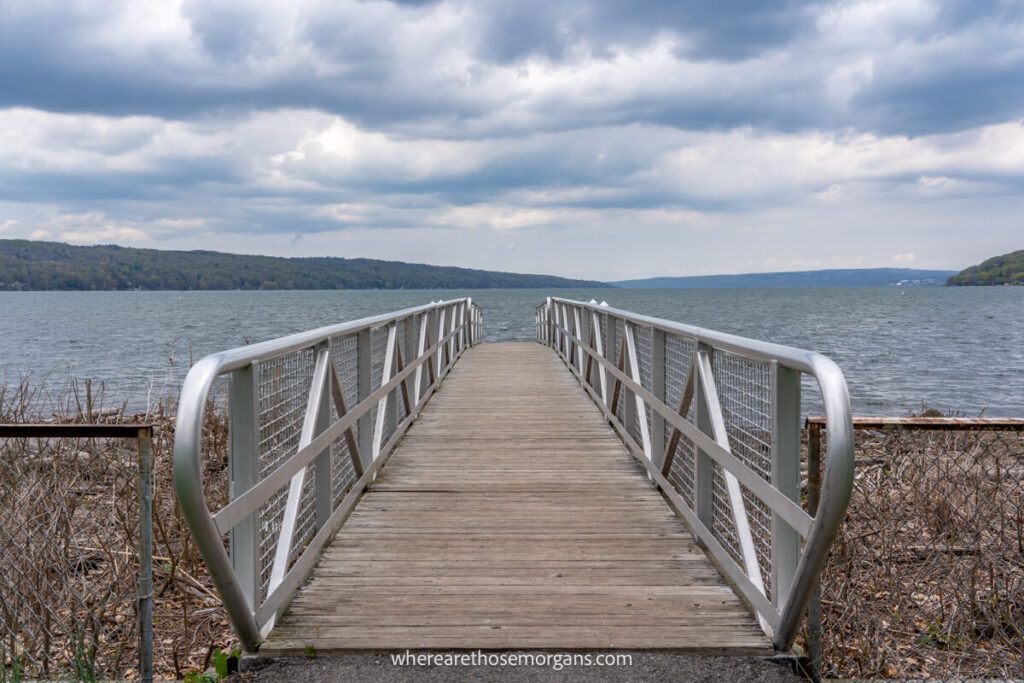 As you drive into Ithaca, you will notice gorgeous rolling hills and lush vineyards overflowing with grapes. Upstate NY is an ideal landscape for the cool-climate grapes which now inhabit the area.
The Cayuga Lake Wine Trail is America's first and longest running wine trail featuring 12 unique wineries dotted along Cayuga Lake.
Where Are The Wineries Along The Cayuga Lake Wine Trail?
We recommend you start in Ithaca and make your way around the lake as you sample various wineries.
Here are popular wineries along the Cayuga Lake Wine Trail:
Although it's called a trail, the Cayuga Lake Wine Trail is not walkable and you will need some sort of transportation. While a few of the wineries are located close together, others will require a short drive.
>> Book a Cayuga Lake Wine Tasting Tour: All day winery tour for six
Travel Tip: Uber and Lyft are not reliable forms of transportation outside the city of Ithaca, but you could consider a wine tasting tour.
4. Hike Through Sapsucker Woods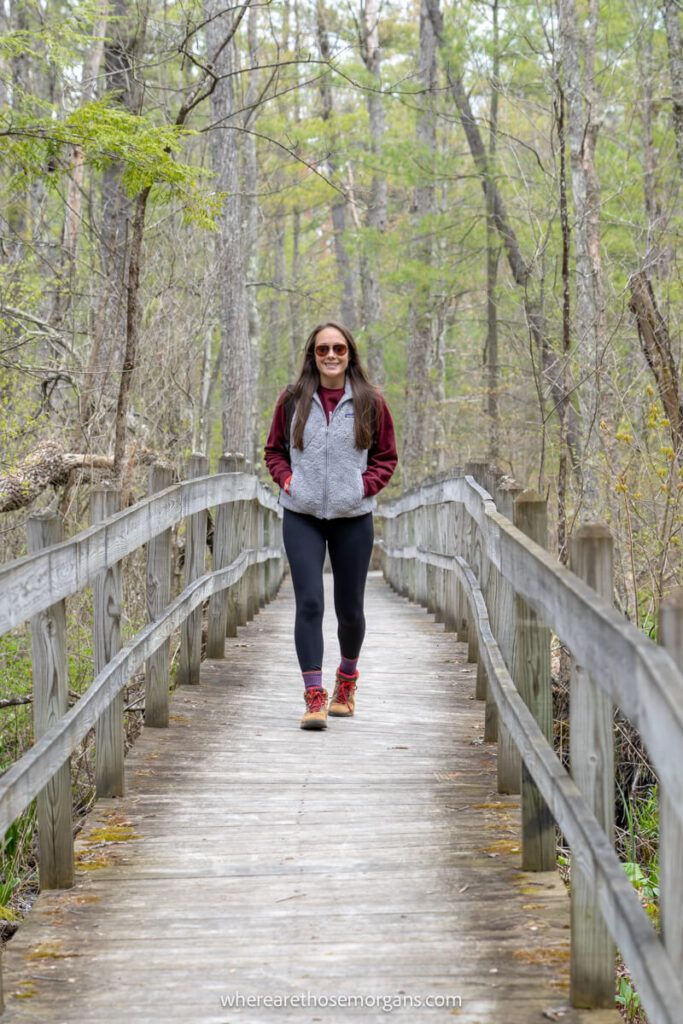 One of our favorite things to do in Ithaca that not many new visitors know about is hiking through Sapsucker Woods which is part of the Cornell Lab of Ornithology.
Sapsucker Woods is a 230-acre nature preserve featuring four miles of trails through wetlands, old fields, forest and a pond edge. Most of the trails follow mulched paths and boardwalks.
Address: 159 Sapsucker Woods Rd, Ithaca, NY 14850
Google Maps location for Sapsucker woods.
Last time we visited Sapsucker woods in spring 2023, we saw many birds including a Canadian Goose, a killdeer, a black-capped chickadee and a Baltimore oriole.
Use eBird to check recent bird sightseeings in Sapsucker woods.
5. Look For Stars At Fuertes Observatory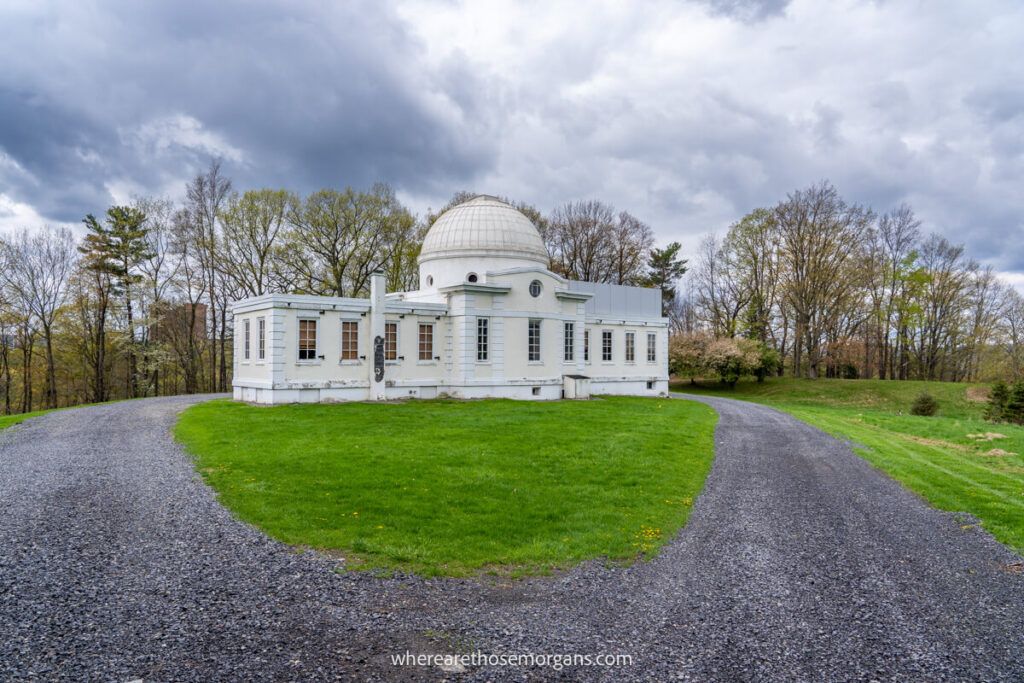 The Fuertes Observatory is located on Cornell's North Campus near Helen Newman Hall. It is home to the Irving Porter Church Telescope which tracks objects in the sky using an original weight-driven clockdrive.
This observatory is operated by the Cornell Department of Astronomy and holds public viewing nights every Friday from 8pm to midnight.
We recommend you call (607) 255-3557 to make sure the Fuertes Observatory will be open to the public during the time of your visit. Sometimes the observatory closes down so it's best to double check.
Address: 209 Cradit Farm Dr, Ithaca, NY 14850
Fuertes Observatory Google Maps location.
Travel Tip: Parking for the Fuertes Observatory is located in the Appel Commons parking lot located directly across the street.
6. Learn At The Museum Of The Earth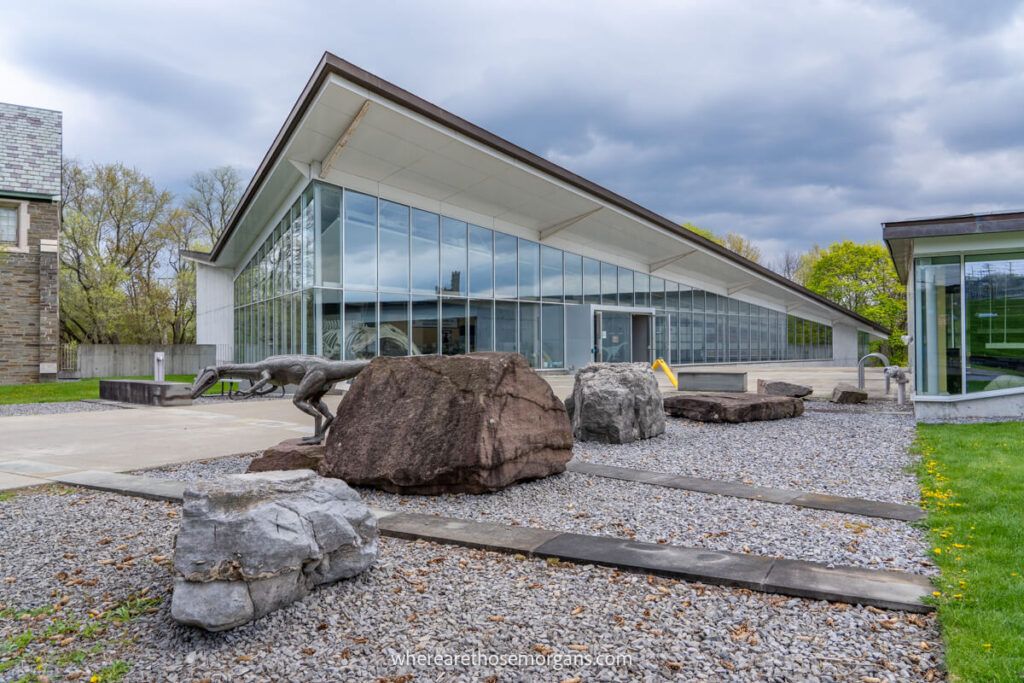 The Museum of the Earth is one of the best family things to do in Ithaca, NY because it features numerous hand-ons exhibits and an enormous collection of fossils including the Hyde Park mastodon.
Admission tickets for the Museum of the Earth are $12.50 for adults and $7.50 for youth (ages 4-17). Children ages 3 and under can enter the museum for free.
Address: 1259 Trumansburg Rd, Ithaca, NY 14850
Museum of the Earth Google maps location.
With both an upper and lower floor, here are the highlights in the Museum of the Earth:
44 foot skeleton of a North Atlantic right whale
Cambrian to Silurian Theater
The Fossil Lab
Coral Reef Exhibits
Preparation Laboratory
7. Explore Cornell University
Cornell University is one of the best places to visit in Ithaca because it has numerous attractions on campus open to the general public.
Most of the attractions on Cornell's campus are free and open daily. Here is a short list of what you can visit at Cornell University:
Climb McGraw Tower – Don't miss yout chance to climb the McGraw Tower up 160 steps and hear the 21-bell chime played by student chimemasters. See the Cornell Chimes concert schedule here.
A. D White Library – Opened in 1891 and often called one of the country's most beautiful libraries, the A.D. White Library is home to over 30,000 books featuring ornate walkways (open 8:00 am – 9:00pm).
Johnson Museum of Art – Designed by I. M. Pei, this museum houses over 40,000 works of art including works from Andy Warhol, Georgia O'Keeffe, Francisco Goya, and Henri Matisse (open 10:00am – 5:00pm, Thursday – Sunday).
Cornell Dairy Bar – Since 1880, the Cornell Dairy Bar has been producing milk and ice cream from Cornell's very own dairy cows. Kristen always visited here as a child and it's certainly one stop you shouldn't miss.
Travel Tip: Complimentary weekend parking near the Martin Y. Tang Welcome Center is available at Toboggan Lodge and Forest Home Drive Parking Garage.
8. Shop And Drink In Ithaca Commons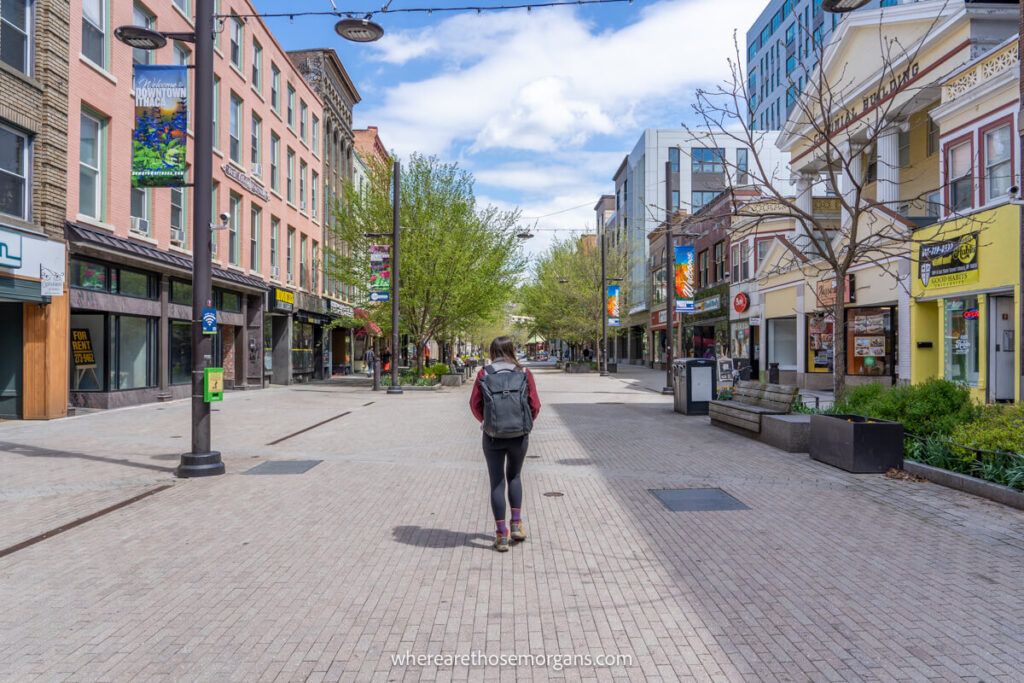 Another one of the most popular things to do in Ithaca is visit the Ithaca Commons located in the heart of downtown. This four-block pedestrian shopping area is home to over 100 independently owned businesses.
Address: 171 E M.L.K. Jr. St, Ithaca, NY 14850
Ithaca Commons Google Maps location.
Best Things To Do In The Ithaca Commons
Here is a quick list featuring the best things to do in the Ithaca Commons:
Visitors Center – If you are new to the area, you might want to consider stopping into the visitors center for guides, maps and information about the local area (open 10:00am – 6:00pm, Monday to Saturday).
Tompkins Center for History and Culture – This community hub celebrates Ithaca history, heritage and culture good for both country residents and visitors (open 10:00am – 5:00pm, Wednesday-Saturday).
Sagan Planet Walk – Brought to you by the Ithaca Science Center, this planet walk features a walkable scale model of our Solar system including planet sizes and distances.
Events In The Ithaca Commons
If you are visiting Ithaca in a specific season, look for special annual events held within Ithaca Commons:
Ice and Lights – An outdoor Glow Bar, an ice craving competition and various gourmet chowders served by local restaurants
CFCU Summer Concert Series – A free outdoor concert series held every Thursday June through September
9. Support The Ithaca Farmers Market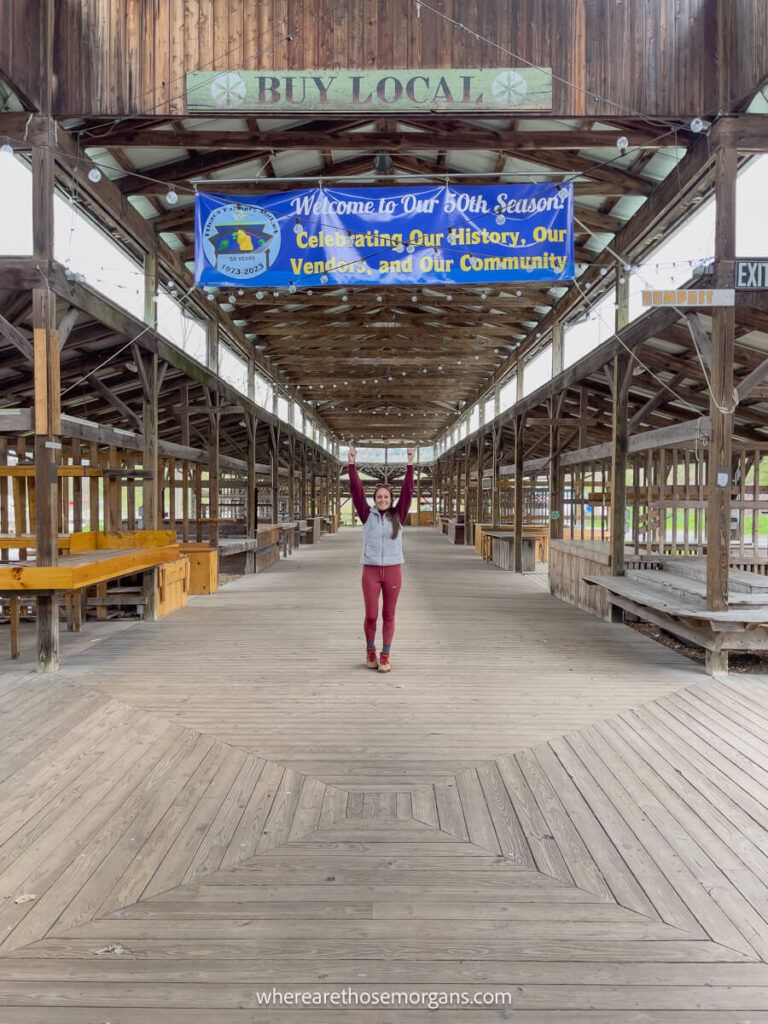 The Ithaca Farmers Market is celebrating 50 years in 2023 so this certainly makes this market one of the best things to do in Ithaca!
Featuring local farmers, artisans and chefs, the Ithaca Farmers Market is open:
Saturdays from 9:00am – 3:00pm (4/1/23 – 12/16/23)
Sundays from 9:00am – 3:00pm (after 5/7/23)
At the market, visitors can purchase farm-raised meat, eggs, dairy, fresh vegetables as well as locally prepared staples such as sauces, jelly, apple cider, wine, mushroom spirits, and other baked goods.
Address: Steamboat Landing, 545 3rd St, Ithaca, NY 14850
Ithaca Farmers Market Google Maps location.
10. Hunt For Waterfalls
Since Ithaca is gorges, you can expect to find numerous cascading waterfalls all through and nearby town.
April will be the best time of year to visit Ithaca waterfalls because this is when the falls will be at their heaviest flow as the snowpack melts.
However, these waterfalls are still worth visiting anytime of year especially because many of these falls are so easily accessible.
Where Are The Waterfalls In Ithaca?
Hunting waterfalls is one of the best things you can do in Ithaca because this area is blessed with stunning topography.
Here are the best waterfalls in and nearby Ithaca:
Ithaca Falls – A stunning waterfall in the center of town
Wells Falls – Our favorite waterfall to visit in Ithaca
Triphammer Falls – Located directly on Cornell's campus
Ludlowville Falls – A large waterfalls with a hidden cave
Interested in Ithaca Waterfalls? Read our popular guide featuring the best waterfalls in Ithaca next.
11. Play In The Ithaca Children's Garden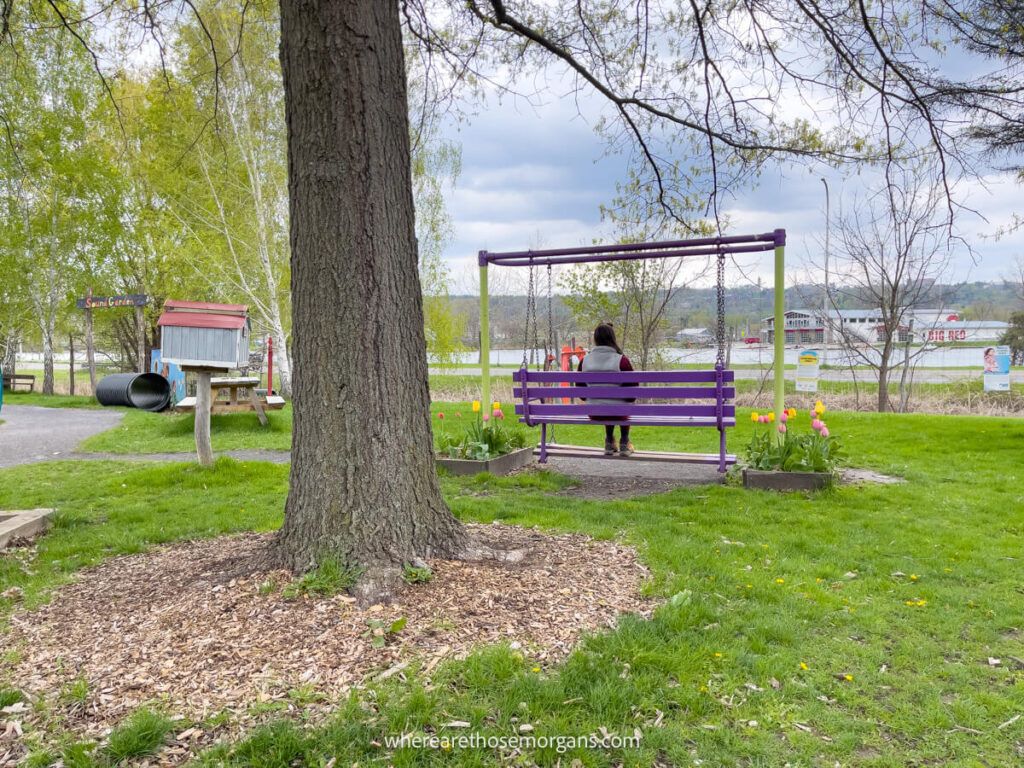 The Ithaca Children's Garden (ICG) is the perfect place to let your little one play while exploring the outdoors. With over 70,000 visitors per year, this garden is one of the best things to do in Ithaca with kids.
At the garden, children can visit the Bird Habitat Garden, Gaia the turtle, a wildflower meadow, the kids kitchen, rice paddy pond, a troll house and and so much more.
Address: 121 Turtle Ln, Ithaca, NY 14850
Ithaca Children's garden Google Maps location.
If you are a returning visitor to Ithaca, you might like to attend one of the ICG's signature events:
Festival of Fire & Ice
International Mud Day
Scarecrow Jubilee
Travel Tip: The Ithaca Children's garden is across the street from Colley Boathouse so you might be able to catch a glimpse of the Cornell rowing team.
12. Sciencecenter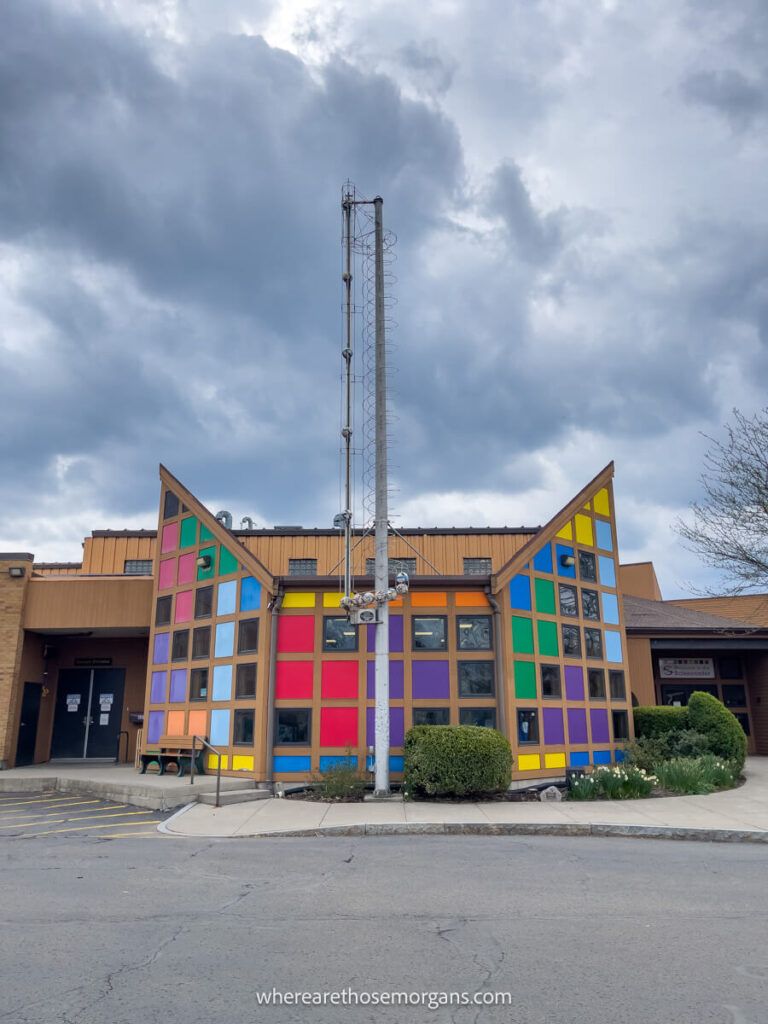 The brightly colored outside exterior of the Sciencenter in Ithaca immediately draws you in. You can't help but wonder what lies beyond the vibrant walls.
We love the Sciencenter because it's a great place for kids to learn and play. Exhibits include astronomy, live animals, ocean, sustainability, weather, young scientists and outdoor activities such as mini golf.
Address: 601 1st St, Ithaca, NY 14850
Sciencenter Google Maps location.
General admission tickets for the Sciencenter begin at $10 while children under 2 years of age can enter the Sciencenter for free. Last tickets for mini golf are sold at 4:15 pm.
13. Cayuga Nature Center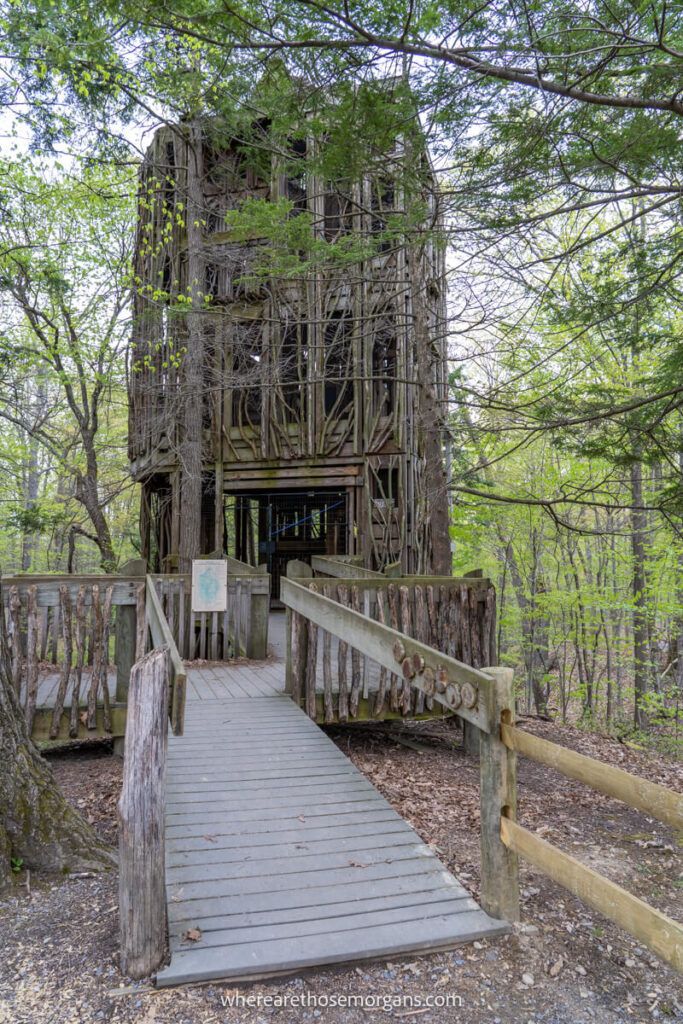 The Cayuga Nature Center near Ithaca provides both indoor and outdoor nature programs in hopes to encourage visitors to explore the natural history of the Cayuga Lake Basin.
Founded in 1981, this nature center sit on 100 acres of woodland and it's home to a six-story treehouse, live native animals as well as Denison Gorge featuring the Denison waterfall.
Address: 1420 Taughannock Blvd, Ithaca, NY 14850
Cayuga Nature Center Google Maps location.
All trails and the treehouse are open daily from 10:00am – 5:00pm. The main lodge closes for the winter season, but trails are still accessible. Admission is pay what you wish so please make a small donation if possible.
14. Buttermilk Falls State Park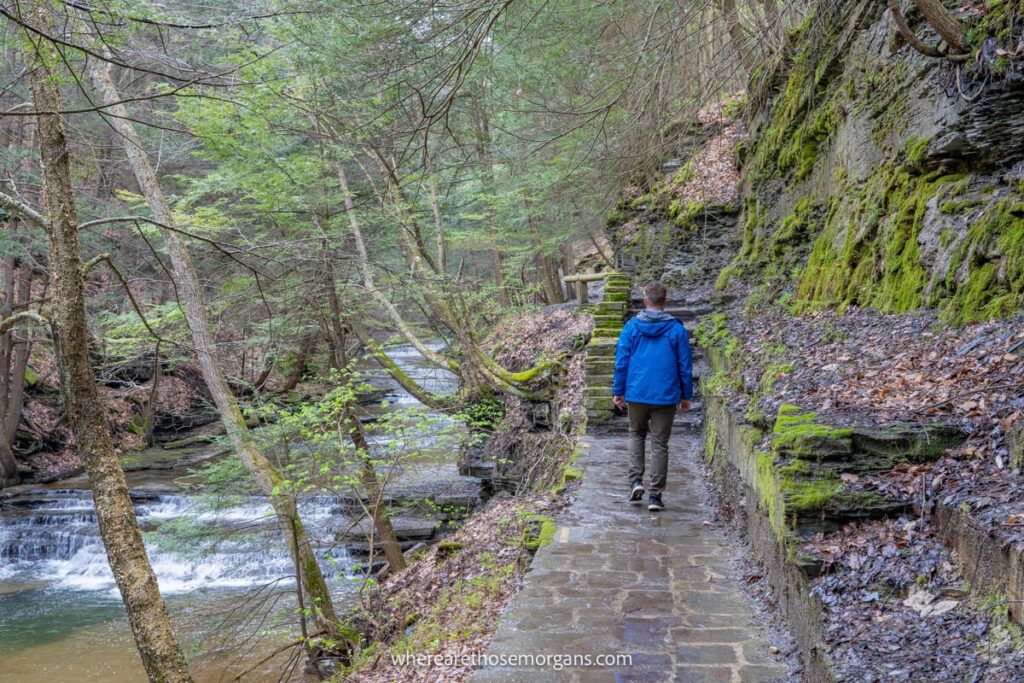 Buttermilk Falls State Park is one of the most popular parks around Ithaca, NY thanks to a stunning scenic Gorge Trail featuring pothole pools and dozens of small waterfalls.
Right at the entrance of the park, the 165 ft high creamy frothing waterfall, which happens to look like buttermilk slips, slides and glides down an angled slab of rock into a swimming pool.
Address: 106 E Buttermilk Falls Rd, Ithaca, NY 14850
Buttermilk Falls Google Maps location.
One of our favorite things to do in Ithaca is to hike the gorge trail at Buttermilk Falls, but if you can also hike the rim trails or circumference Treman Lake.
Planning to visit Buttermilk Falls? Don't miss our popular guide on how to visit Buttermilk Falls State Park with tips only a local will know.
15. Robert H. Treman State Park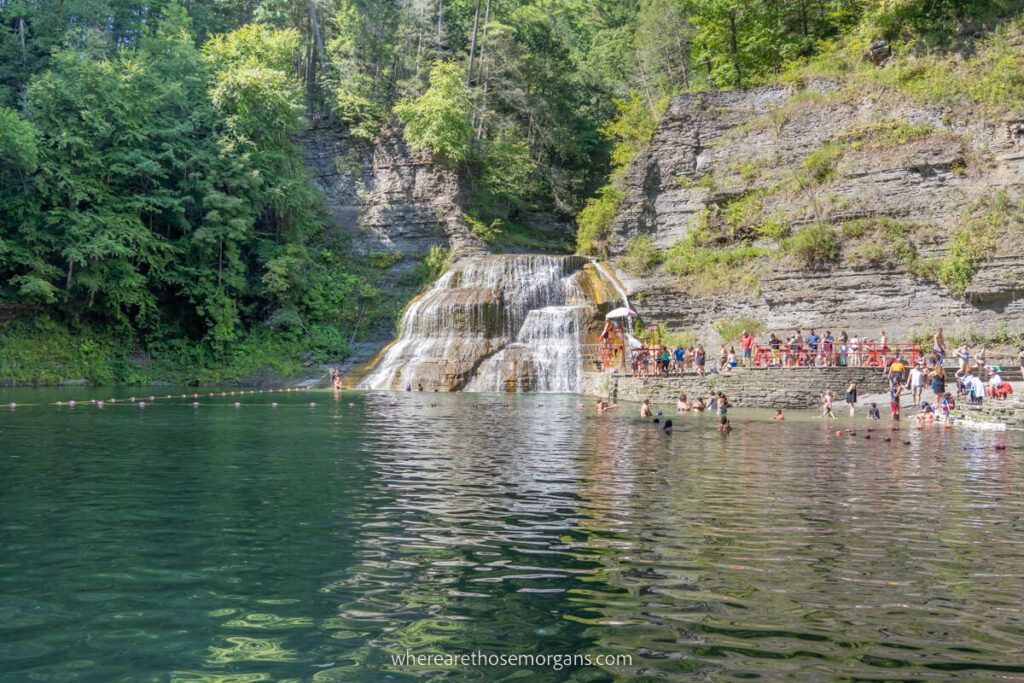 Similar to Buttermilk Falls listed above, Robert H. Treman State Park is another fun thing to do in Ithaca with the family. Everyone can enjoy the rugged gorges and natural beauty around every corner.
There are two main waterfalls at Robert H. Treman including Lucifer Falls and Lower Falls. But the most popular section of the park is the natural fed swimming hole which is typically open from the end of June to the beginning of September.
Address: 105 Enfield Falls Rd, Ithaca, NY 14850
Robert H. Treman State Park Google Maps location.
Heading to Robert H. Treman State Park? Use our guide featuring everything you need to know when visiting Robert H. Treman State Park.
16. Taughannock Falls State Park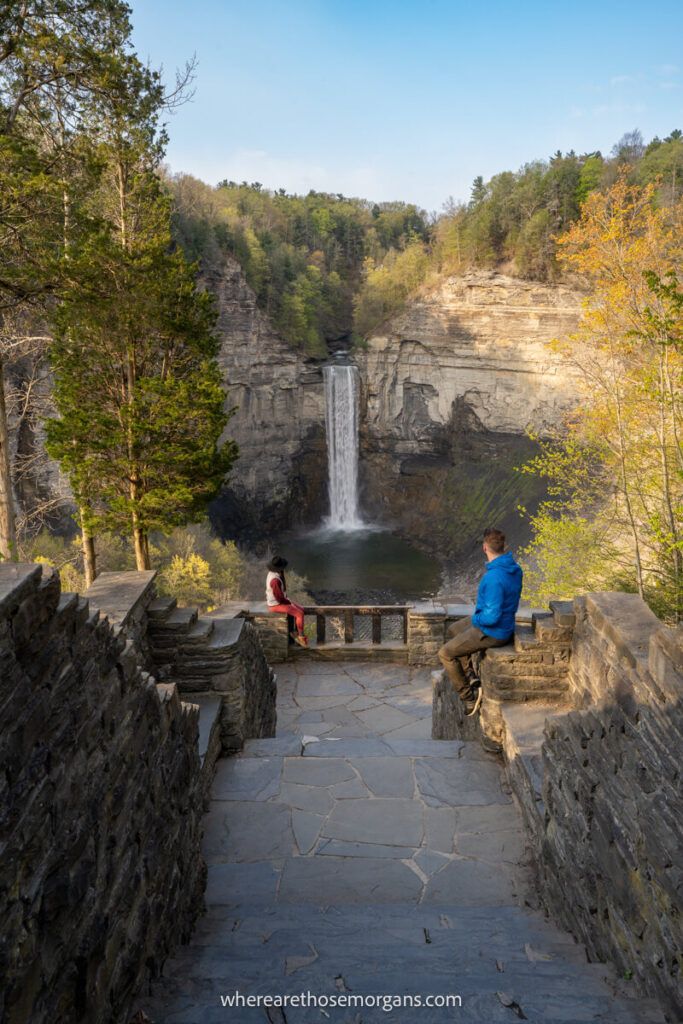 Taughannock Falls State Park is home to the tallest single-drop waterfall east of the Rocky Mountains easily making this Ithaca waterfall the most visually impressive waterfall in New York.
The spectacular single drop waterfall plummets 215ft into a deep bowl-like depression in the Earth. Taughannock Falls can be viewed from the drop zone or from an incredible overlook hundreds of feet away.
Address: 1740 Taughannock Blvd, Trumansburg, NY 14886
Taughannock Falls Google Maps location.
In addition to Taughannock Falls, you can also visit two smaller waterfalls in the park, rent a kayak on Cayuga Lake or stop by the stunning Inn at Taughannock.
Want to visit Taughannock Falls? Use our complete guide to Taughannock Falls State Park to make sure you see all the highlights.
17. Make A Nightlight At Gourdlandia
During our last visit to Ithaca in April 2023, we had to visit Gourdlandia to see what all the fuss was about. After our visit, we certainly think Gourdlandia is one of the most unique things you can do in Ithaca.
Graham Ottoson was a former midwife who now focuses her time on creating art with gourds. Just by stepping into the shop at Gourdlandia, we could see her passion and skill for crafting beautiful gourds.
Address: 77 Rachel Carson Way, Ithaca, NY 14850
Gourdlandia Google Maps location.
Travel Tip: Stop in to make your own gourd nightlight which takes about 3-4 hours and costs $40. This project is available Monday mornings as well as Tuesday, Friday and Saturday afternoons.
18. See The Newfield Covered Bridge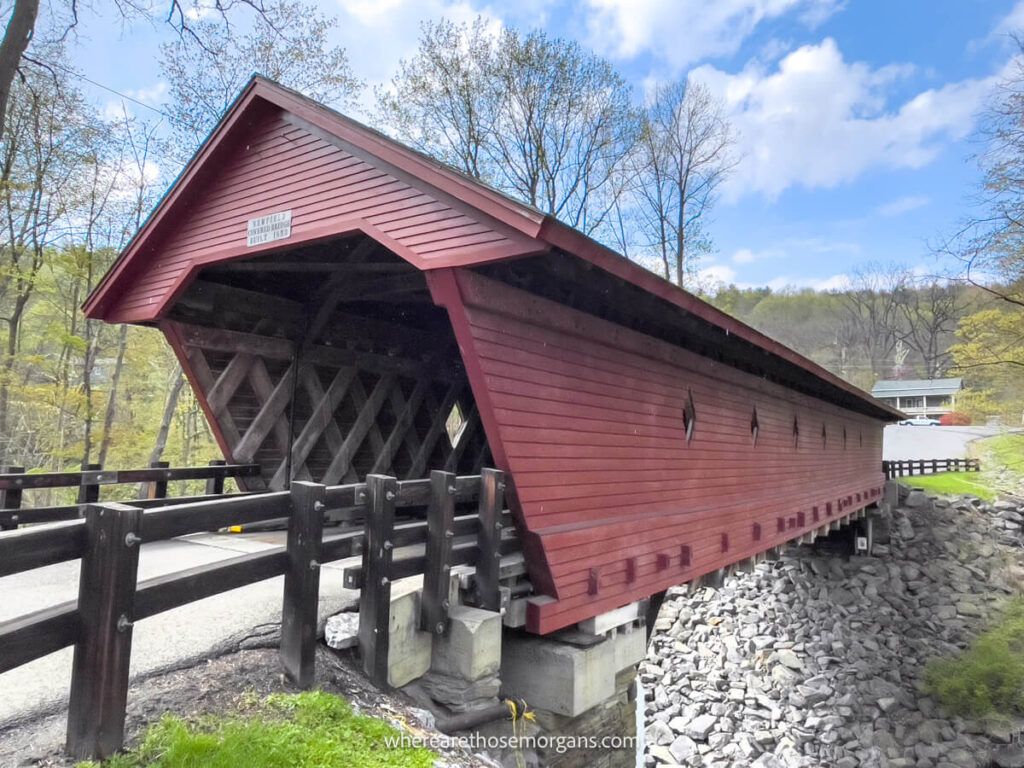 About 8 miles from downtown Ithaca, the Newfield Covered Bridge is currently the oldest surviving covered bridge still open to daily vehicular traffic in New York State.
Address: 20 Bridge St, Newfield, NY 14867
Newfield Covered Bridge Google Maps location.
Originally built in 1853, we love the Newfield Covered Bridge because it is the only remaining covered bridge in Tompkins Country. So history lovers this is one you should not miss.
19. Stop For A Beer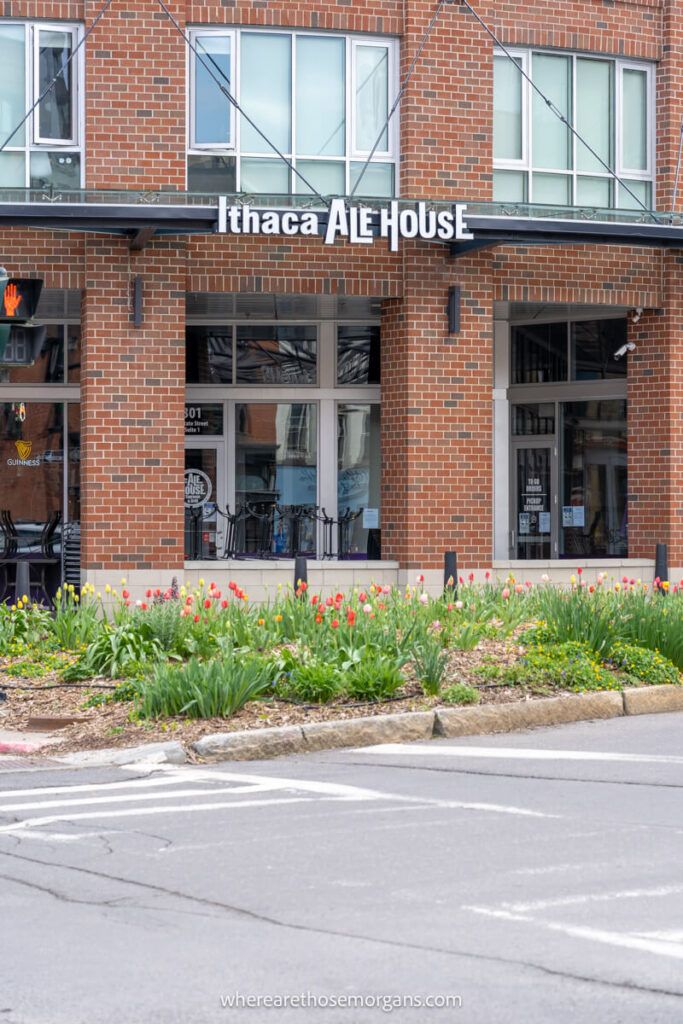 Craft breweries are popping up not only in Ithaca, but all over the NY Finger Lakes region. Ithaca is no longer just for wine lovers because you can come and sip IPAs, porters and stouts all summer long.
For those looking to sample Ithaca's best breweries, we recommend:
Ithaca Beer Taproom in Collegetown
20. Purity Ice Cream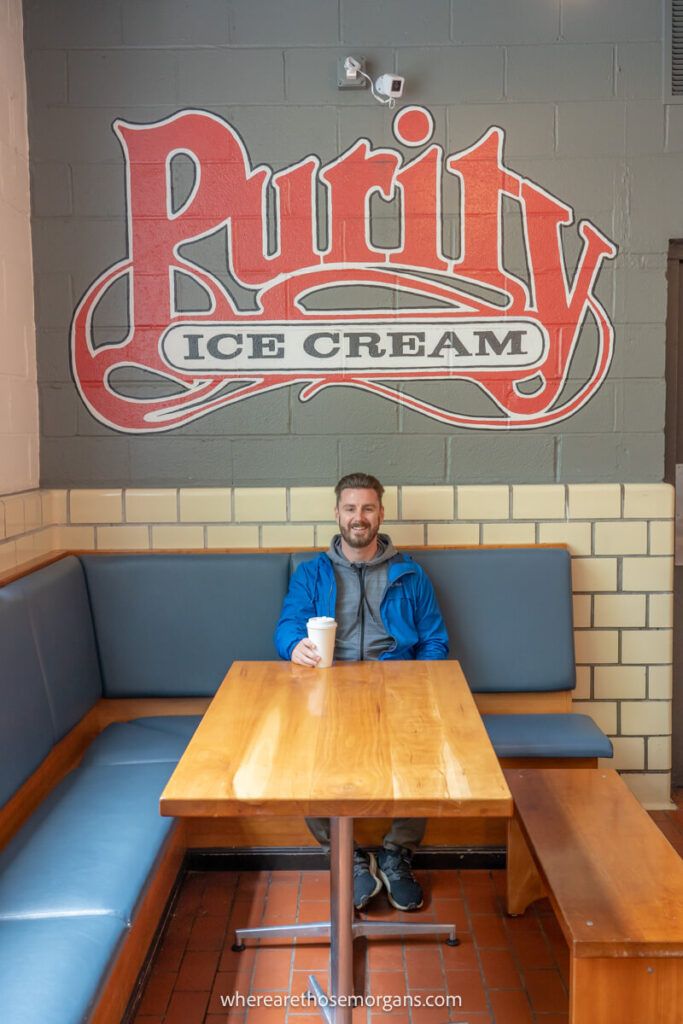 Purity Ice Cream is an Ithaca tradition and it's often referred to as the 'Ice Cream of the Finger Lakes.' No visit to Ithaca is complete without a stop at Purity.
Made right in central New York, you will find numerous ice cream flavors including new and classic options as well as homemade vegan flavors.
The kitchen in purity is also open from 7:30am to 10:00pm serving everything from mouth watering breakfast sandwiches to fresh off the grill burgers.
---
The next three activities on this list are not immediately located within Ithaca, but they are some of the most popular things to do in the Finger Lakes region.
If you could work one or all of these attractions into your Finger Lakes itinerary, you will not be sorry. However, you may have to do a little bit of extra driving.
21. Experience The Corning Museum Of Glass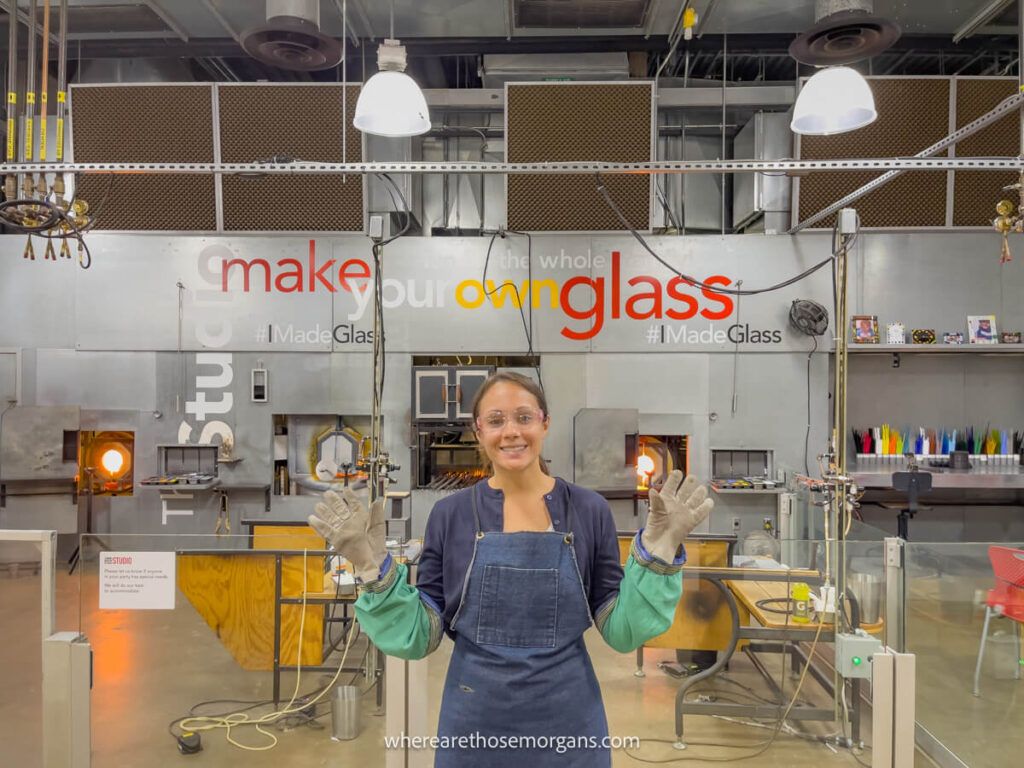 The Corning Museum of Glass is a fun museum which can be found in Corning, New York about 50 miles southwest from Ithaca.
Address: 1 Museum Way, Corning, NY 14830
Corning Museum of Glass Google Maps Location.
Established in 1951, the Corning Museum of Glass was created by Corning Glass Works (now known as Corning Incorporated). This museum is a not-for-profit museum dedicated solely to glass.
The Corning Museum of Glass includes over 50,000 objects from over 3,500 years of history including everything from ancient Egyptian pharaoh to contemporary sculpture.
Want to visit this museum? Don't miss our popular guide on how to visit the Corning Museum of Glass.
22. Explore Letchworth State Park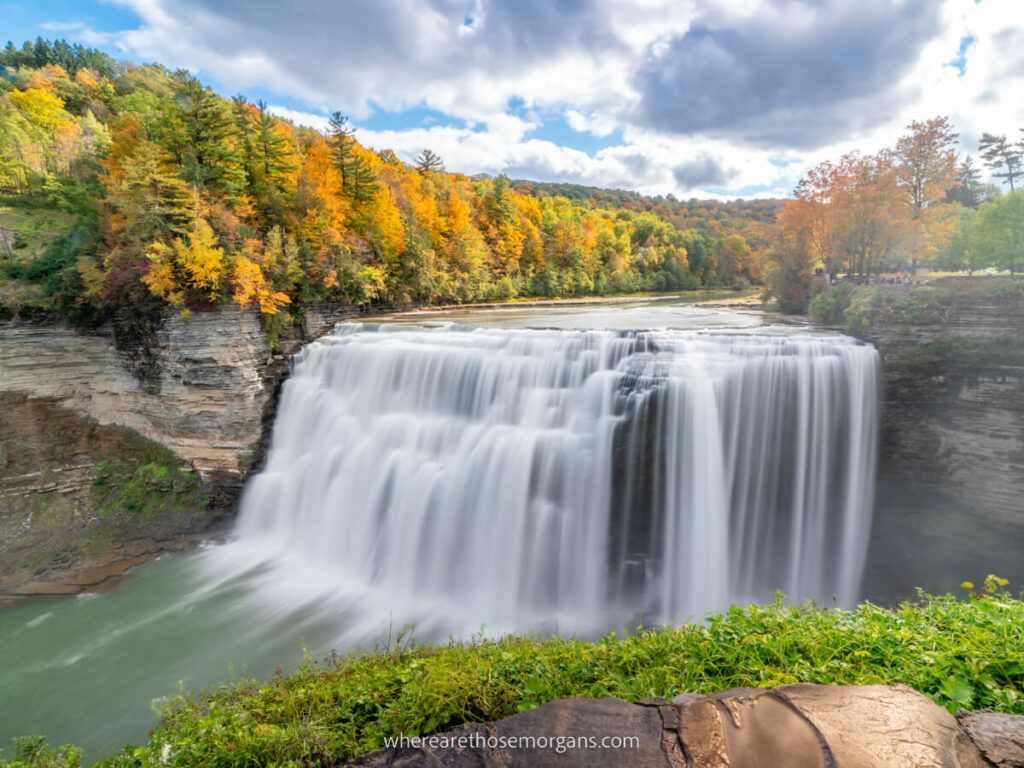 Letchworth State Park is another breathtaking state park located in the western portion of the Finger Lakes region stretching between both Livingston and Wyoming counties.
If this is your first time in the Finger Lakes, Letchworth State Park is our top recommendation. Letchworth was voted the most stunning US State Park in 2015 and is often called 'the Grand Canyon of the East."
Kristen spent her childhood hiking these gorgeous trails and Letchworth has now become one of our favorite photography locations to date.
Our photos from Letchworth even feature in Gestalten's, The Great American Road Trip (or buy on Amazon here).
What Can You Do At Letchworth State Park?
There are many fun things you can do at Letchworth State Park year-round. Having visited in all four seasons, here are the best things to do in Letchworth:
Photograph Letchworth's 3 Popular Waterfalls
Camp at one of the 300 cabins or campgrounds
See The Mount Morris Dam
Hit one of the 28 hiking trails
Stop by the Humphrey Nature Center
Swim At The Harvey Swimming Pool
Walk the Autism Nature Trail (ANT)
Interested in Letchworth State Park? Don't miss our complete guide to Letchworth State Park with everything you need to know for your visit.
23. Visit Nearby Watkins Glen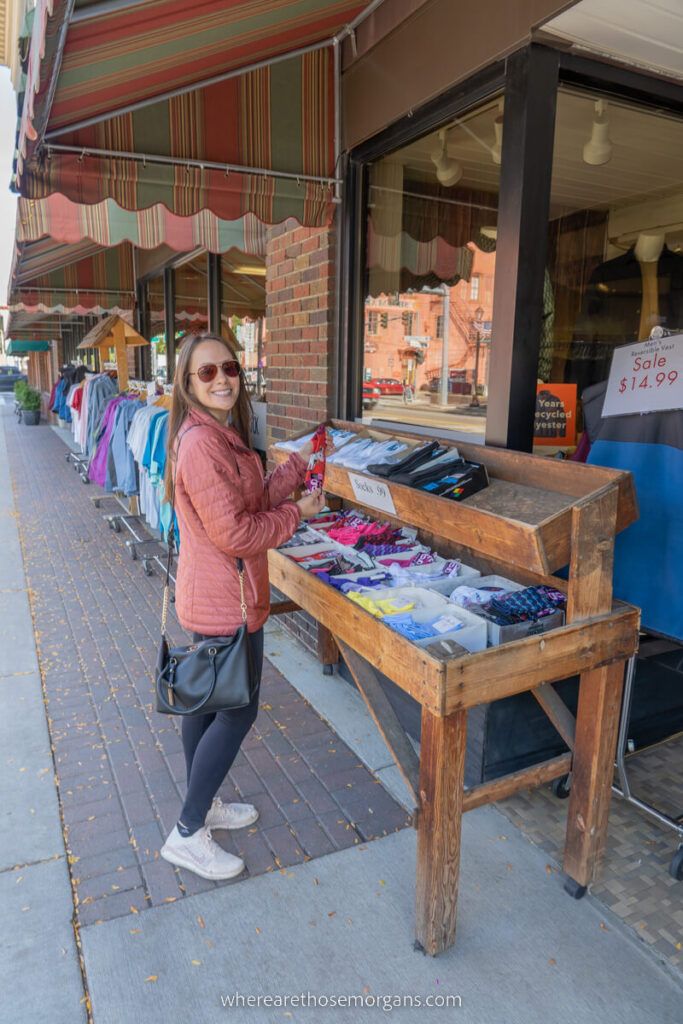 The nearby village of Watkins Glen sits at the southern end of Seneca Lake, the largest Finger Lake in the entire region.
You might know Watkins Glen for it's well-known Watkins Glen International Speedway, but there are so many hidden gems we couldn't list them all in this guide!
Travel Tip: If you choose to visit the village of Watkins Glen, you will notice the pedestrian crossings on the road are race flags instead of solid white lines.
What Are The best Things To Do In Watkins Glen?
For a small village Watkins Glen certainly packs a punch. Here are the best things to do:
Drink wine along Seneca Lake
Explore the shops along Franklin St
Find more Finger Lake waterfalls
Book an evening dinner cruise with Captain Bill
East some locally produced cheese and ice cream
Interested in Watkins Glen? Check out the best things to do in Watkins Glen after finishing this Ithaca guide.
Map Of The Best Things To Do In Ithaca, NY
Here's a link to our interactive Google Map for the best things to do in Ithaca, New York.
Click or touch the map to open in a new window, zoom in and out, scroll around and familiarize yourself with the area. Alternatively, you can click any activity or place you are interested in via the left column.
You will find icons at the exact locations of all things to do in and nearby Ithaca mentioned in this guide including food recommendations and where to stay.
How To Get Around Ithaca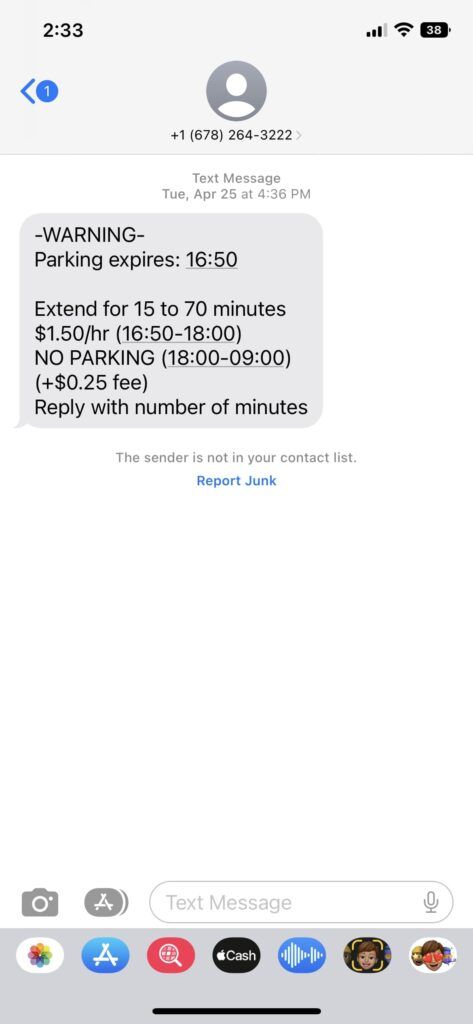 Ithaca is a smaller city, but you will need access to a car in order to visit many of the things we list in the guide. While Uber and Lyft are available downtown, these ride apps are limited outside the city limits.
If you want to visit any of the wineries along the Cayuga Lake Wine Trail or visit some of the nearby State Parks, you will need some form of transportation.
Parking In And Near The City
Parking in Ithaca can also be a little bit intimidating if you are new to the city because it can be very busy and it's filled with one way streets.
If you are visiting the Ithaca Commons, you can find street parking along most of the roads, but you will need to pay a fee by the hour in order to park your vehicle.
If you are visiting Cornell or Ithaca College, keep an eye out for permitted lots because you will get a ticket and potentially towed.
Travel Tip: Last time we visited Ithaca, we paid on card and received a text once our allotted parking time was running out. We could add more time via text if necessary so no need to rush back to your vehicle.
Where To Stay In Ithaca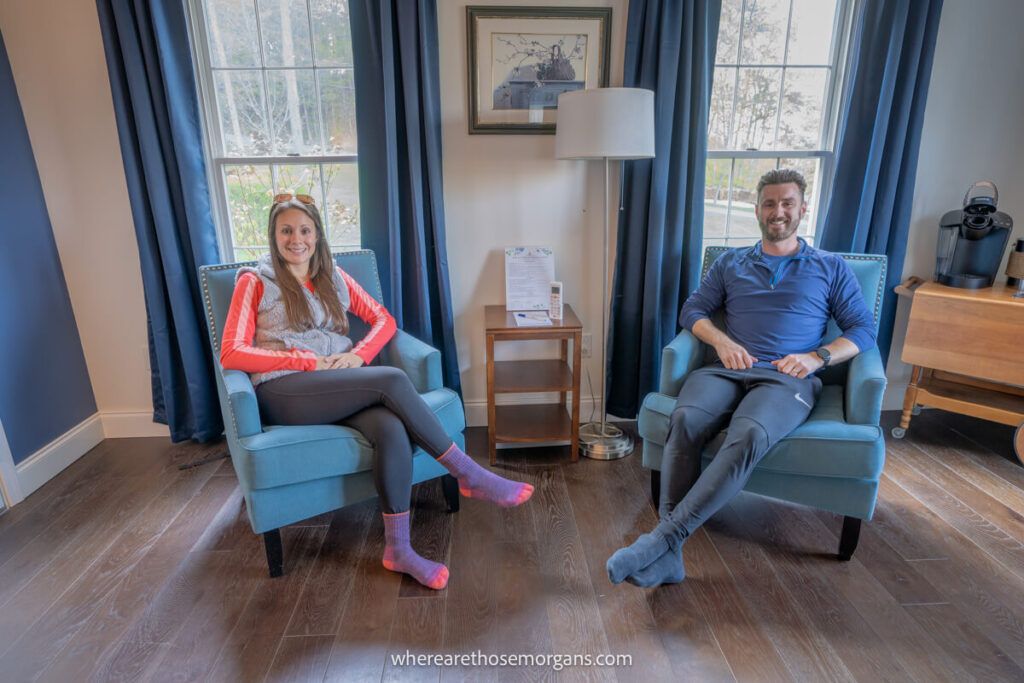 Accommodation in Ithaca can be expensive, but there are also a few great budget lodging options.
You can read our guide to the 8 best hotels in Ithaca, NY on our sister site or select one of our top picks from below.
Here are the best Ithaca Hotels:
We have also stayed at the Inn at Taughannock and the Glass Magnolia which make for great options if visiting Taughannock Falls State Park.
Ithaca Restaurant Recommendations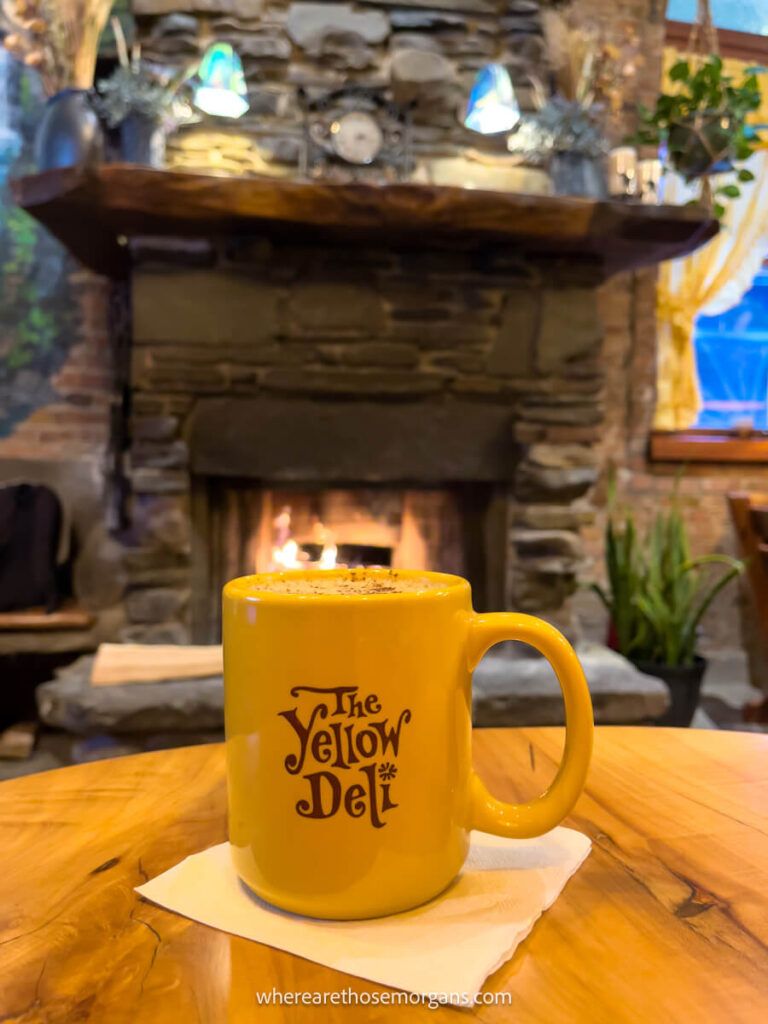 We have listed some of Ithaca's most popular local restaurants below. You can also find many chain restaurants in town, but try to support the local options if possible:
Top 10 Things To Do In Ithaca
If this is your first time to upstate New York, here is a summarized list of the top 10 things to do in Ithaca NY:
Hike through the Cascadilla Gorge
Visit Cornell University
Stop for an ice cream cone at Purity's
Take the kids to the Sciencenter
See Taughannock Falls
Hike gorge trail at Buttermilk Falls
Swim in the pool at Robert H. Treman
Sip wine along Cayuga Lake
Hunt Ithaca's popular waterfalls
Finish your day with a craft beer
Ithaca Photos
Here are a few additional photos so you know exactly what to do when visiting Ithaca: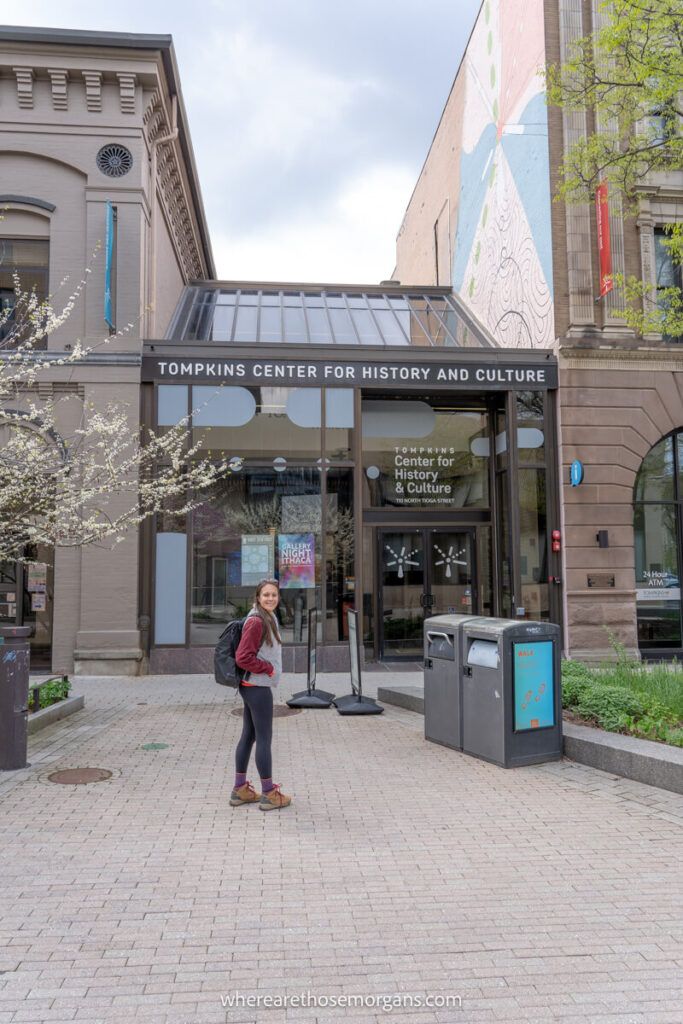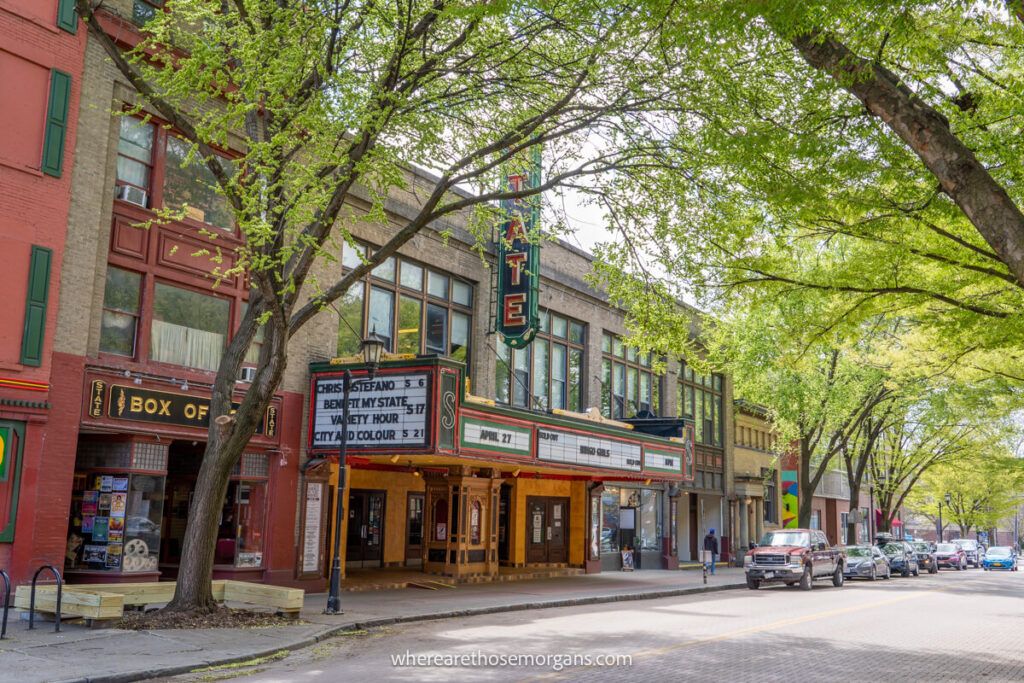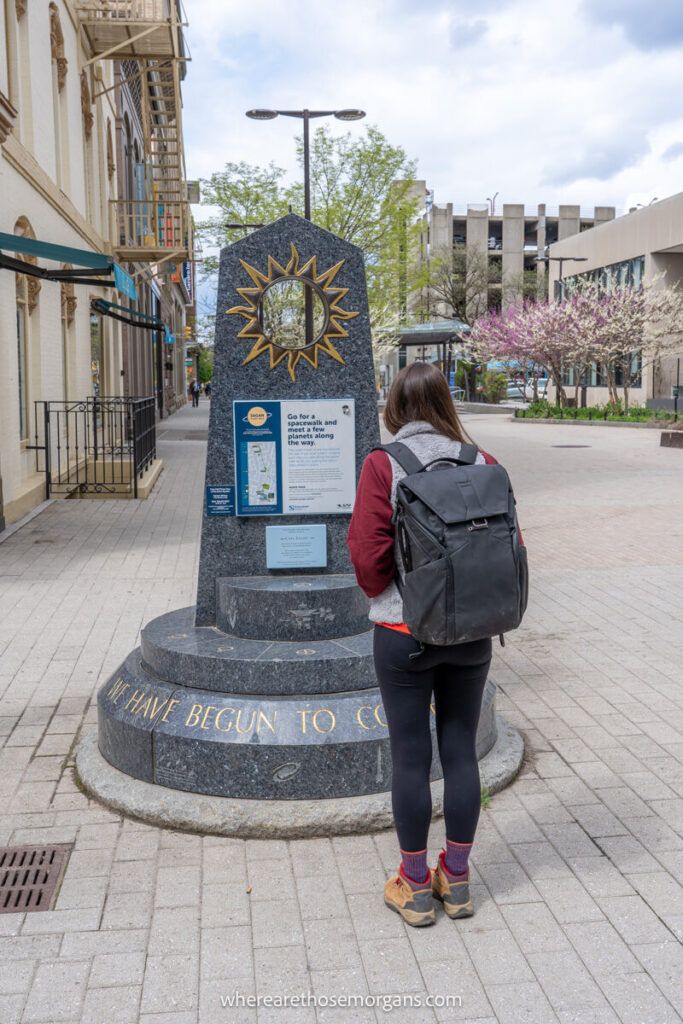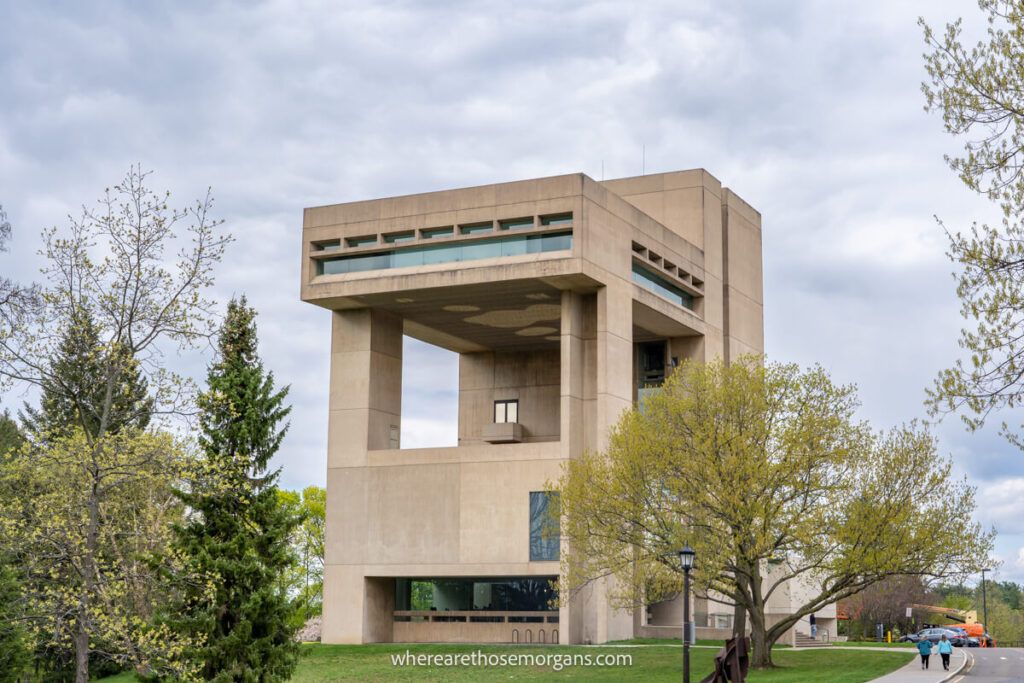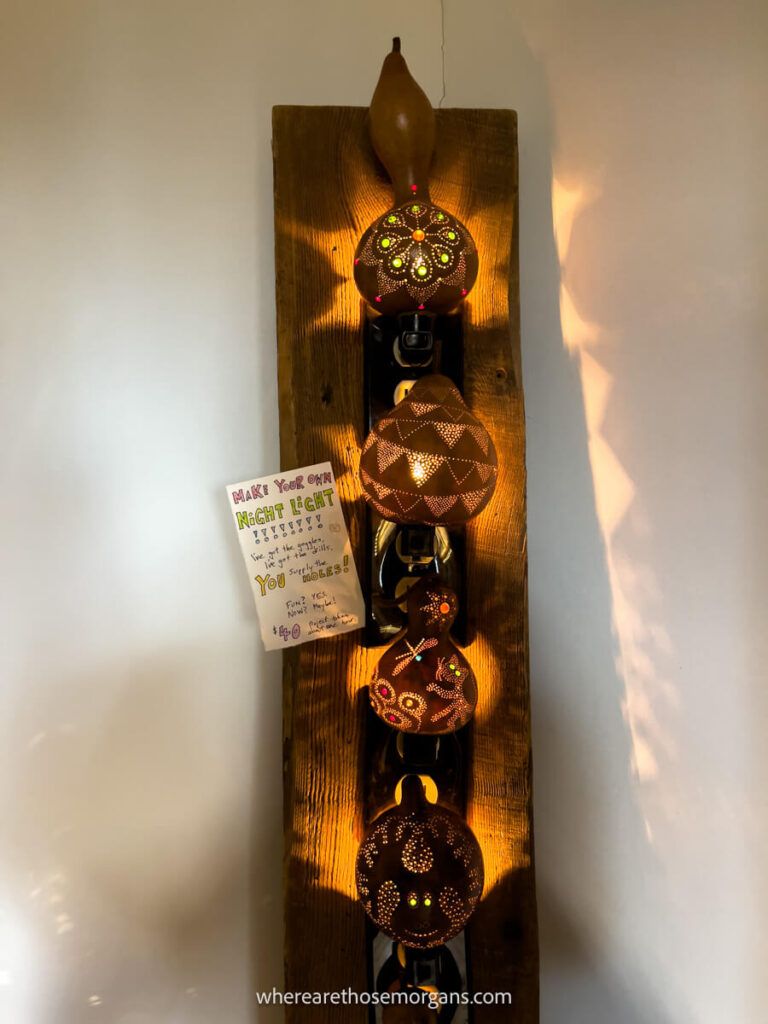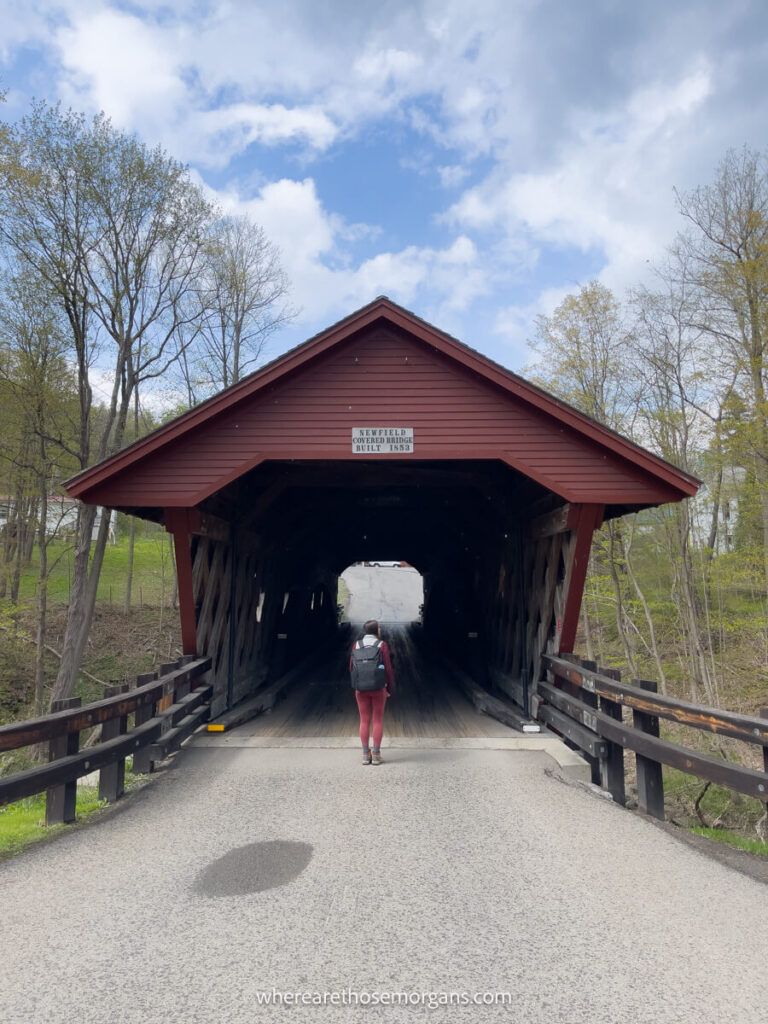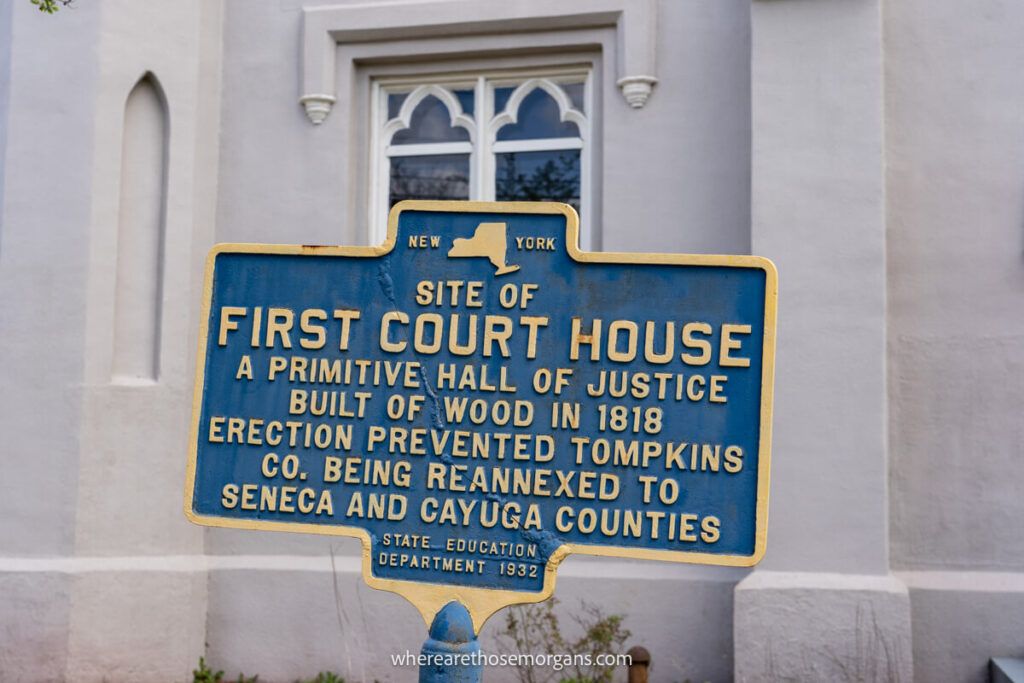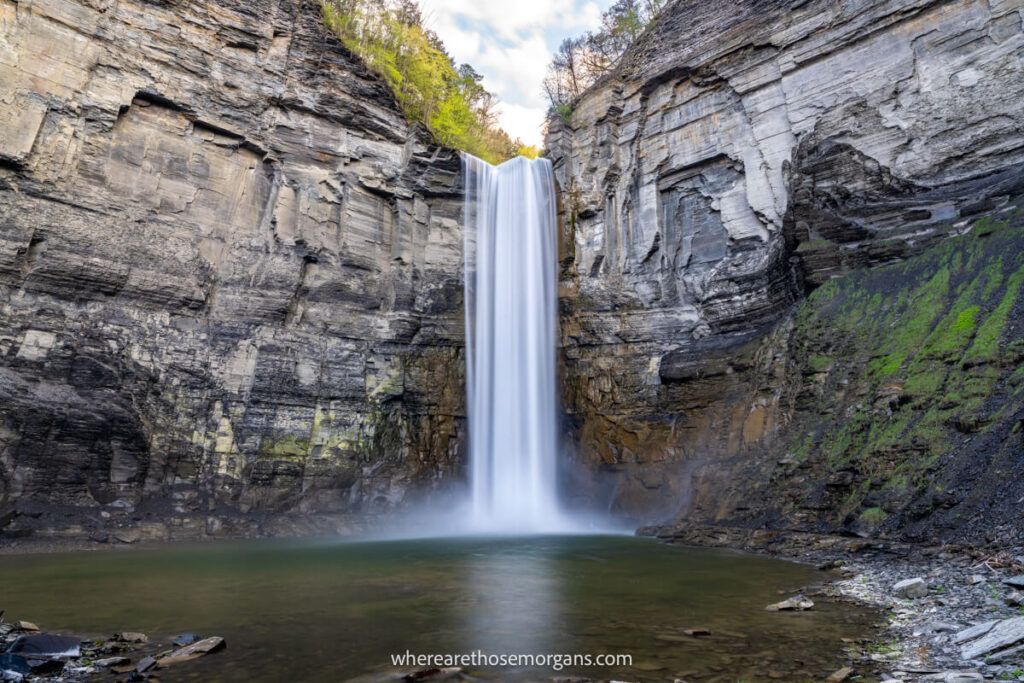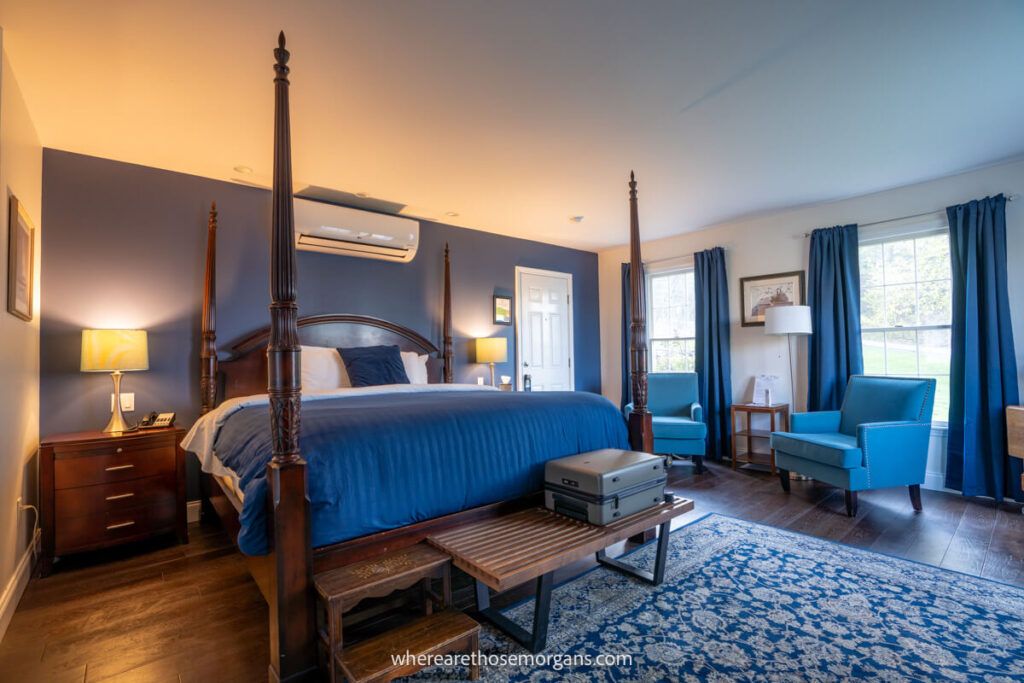 FAQ's For Things To Do In Ithaca, NY
Let's take a quick look at some of the most frequently asked questions about Ithaca, New York.
Is Ithaca a walkable city?
Certain sections of Ithaca are walkable such as the downtown area and the Ithaca Commons. However, you may want a car to visit other popular places such as the nearby state parks.
How much does it cost to park in Ithaca?
On street parking in Ithaca is $1.50/hour and enforced from 9:00am – 6:00pm Monday through Friday. But you can park on the street for free during the weekends.
Is Ithaca worth visiting?
Yes, Ithaca is worth visiting because you can explore Cornell, enjoy local wineries, walk numerous gorge hiking trails and even take the kids to the popular Sciencenter.
Our Popular Finger Lakes Guides
Our Popular Adirondacks Guides
Want more New York content? Head over to our New York Travel Guides to explore the Finger Lakes, Adirondacks and the best of NYC.
---
We hope this guide listing the best things to do in Ithaca helps with planning your visit to Upstate New York!
Please let us know if you have any questions about visiting Ithaca or upstate New York in the comments below.
Happy Travels,
Mark and Kristen
Enjoy This Ithaca Things To Do Guide? Pin It For Later!