Eternal Flame Falls is one of the most unique waterfalls in New York State and unlike other large waterfalls nearby, this smaller lesser known waterfall packs a serious punch.
If you want to know what a beautiful fusion of fire and water looks like, you should visit Eternal Flame Falls to experience an extraordinary flickering cascade.
But how do you get here and what do you need to know about the area because this small flame is hidden away in the western portion of New York state?
In our detailed guide, we will show you:
The history of Eternal Flame Falls
Where to find this tiny flame in NY
Driving directions and parking info
Walkthrough of the Eternal Flame Falls hike
Nearby hotel and restaurant recommendations
Our personal Eternal Flame Falls photos
Now, let's hike to stunning Eternal Flame Falls!
*Please note this post may contain affiliate links. If you click on one, we may earn a small commission at no extra cost to you. Thank you for supporting the free content we provide! Read more in our disclosure policy.*
Our Eternal Flame Falls Experience
Kristen not only grew up in the nearby NY Finger Lakes region, but she received her undergraduate degree from SUNY Buffalo and also purchased her first home in this part of western New York.
After living in and near Buffalo for almost a decade, Kristen is an expert when it comes to this section of NY and we can't wait to show you the best highlights of the area including Eternal Flame Falls.
Since Mark only moved to the US in 2019, we are slowly checking things off our New York State bucketlist with new places every year.
What Can You Expect From This Guide?
This comprehensive first time visitor guide covers everything you need to plan the perfect trip to Eternal Flame Falls in upstate New York.
Our main focus is to provide you with hiking and photography insights for the Eternal Flame Falls hike in Orchard Park, NY.
We want you to be fully prepared so you can make the most of your visit to this waterfall in Chestnut Ridge State Park.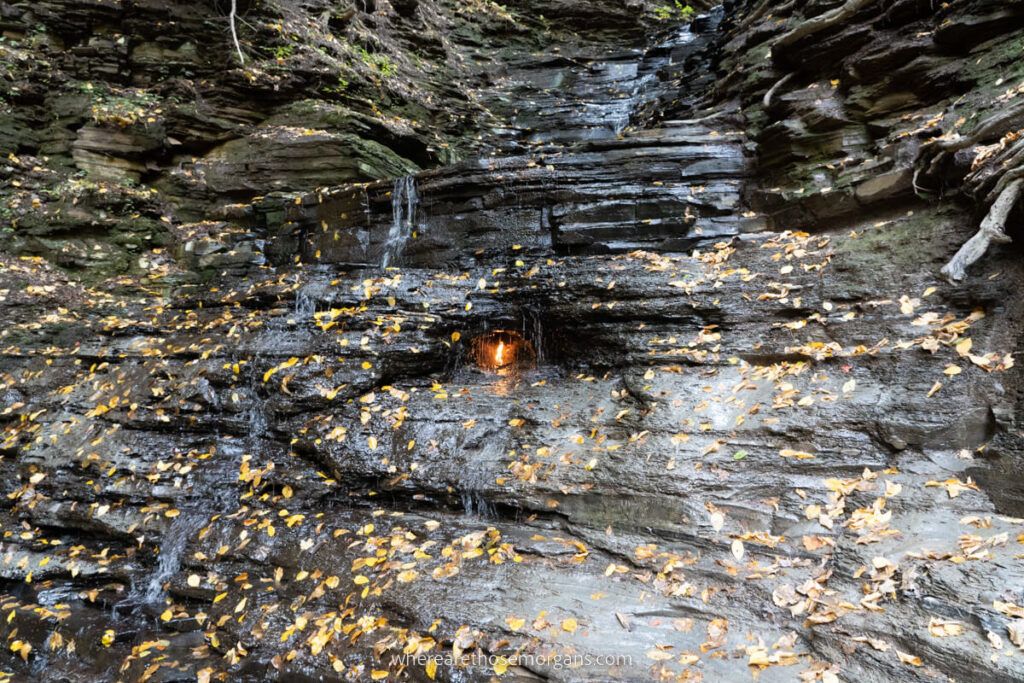 What Is Eternal Flame Falls?
Waterfall Height: 30 ft (9m)
Waterfall Crest: Varies
Waterway: Shale Creek
Location: Erie County
Nearest Major City: Orchard park (4.5 miles)
Eternal Flame Falls (sometimes called Eternal Flames Falls) features a mini grotto to the right side of a 30 ft waterfall cascade.
Inside this grotto, you will find a natural gas spring housing a small yet twinkling flame about 4 to 8 inches in height.
The water flow from Shale Creek pours over the small flame creating a magnificence specticle.
We love this waterfall because you can visit any time of year and it will take your breath away. This is truly a hidden gem outside of Buffalo, NY.
History Of Eternal Flame Falls
Eternal flames are known to represent immortality throughout numerous cultures and religions.
These flames often mark important grave sites like the Tomb of the Unknown Soldier meant to honor those who lost their lives from past war.
But depending on who you ask, the history of this famous little waterfall may differ.
We like the legend alluding to the fact the small flickering flame was lit thousands of years ago by Indigenous tribes who called western NY home.
Another popular story involves defiant elves living in the nearby woodlands who continuously light the flame.
But the real mystery of the flame lies with the natural gasses that are produced and pushed out through the cracks of the surrounding bedrock.
The small grotto found within the waterfall is key because this little shelter protects the gas seepage and flame from elements enabling the flame to remain lit for long periods of time.
There are a few other tiny fissures located nearby, but these smaller locations can not hold a flame as long or as large as the primary flame.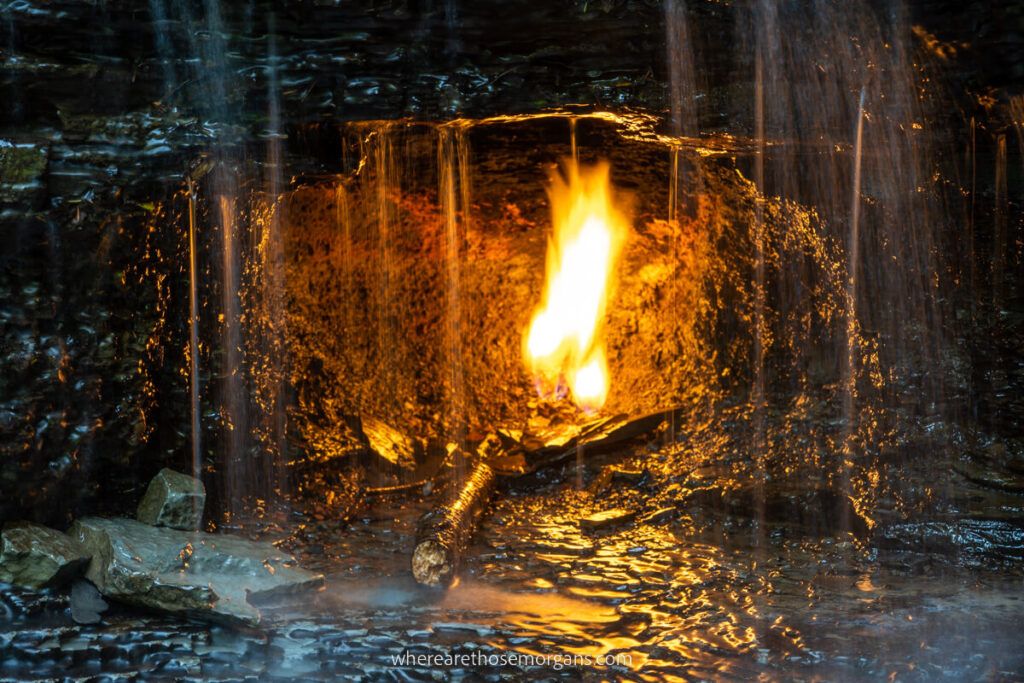 What Causes Eternal Flame Falls?
In 2013, a study from Indiana University, discovered Eternal Flame Falls in New York contains the highest concentrations of ethane and propane of any known natural gas seep.
Interestingly, about 35% of the gas found here is both ethane and propane, but not methane which is typically the main component in natural gas.
Their research concluded the gas creating the small flame originates from surrounding Rhinestreet Shale formed from the Upper Devonian formation about 400 meters deep.
The natural gas from this area eventually reaches the surface of the ground through faults and passages caused by tectonic activity over the years.
Where Is Eternal Flame Falls?
Eternal Flame Falls is nestled on the southern end of Chestnut Ridge State Park along Shale Creek about 20 miles south of Buffalo, New York.
Chestnut Ridge Park sits on 1,200 acres of gorgeous rolling hills in Erie County wedged between Eighteenmile Creek and the western branch of Cazenovia Creek.
The southwest portion is a remote section of the park also known as the Shale Creek Preserve. It is filled with wooded ravines and this isolated section is where you will find a hidden blaze inside of a waterfall.
Eternal Flame Falls Google Maps Location.
From Buffalo, follow I-190 S, then I-90 W and finally US-219 S to New Armour Rd in Orchard Park. Take the exit toward Chestnut Ridge Park from US-219 and follow signs to the park.
The parking lot for Eternal Flame Falls will be on your left.
Driving Distances And Airports
Let's take a quick look at driving distances and times to Eternal Flame Falls from nearby major cities as well as the closest airports for you to consider if visiting from further afield.
Eternal Flame Falls distance from nearby major cities:
Binghamton, NY – 190 miles (3h 30m)
Syracuse, NY – 160 miles (2h 30m)
Rochester, NY – 85 miles (1h 30m)
Albany, NY – 300 miles (4h 30m)
NYC – 365 miles (6h 15m)
Erie, PA – 90 miles (1h 30m)
Search for your flights using the best search engine, Skyscanner. We love this platform because it compares prices on all flight platforms to find you the best deal.
The same goes for renting a car when you arrive to a nearby airport. Get a benchmark price using Rental Cars then see if you can beat it.
Here are the closest airports near Eternal Flame Falls:
Toronto Pearson International Airport (YYZ) – 115 miles (2h)
Greater Rochester International Airport (ROC) – 60 miles (1 h 30m)
Buffalo Niagara International Airport (BUF) – 20 miles (30m)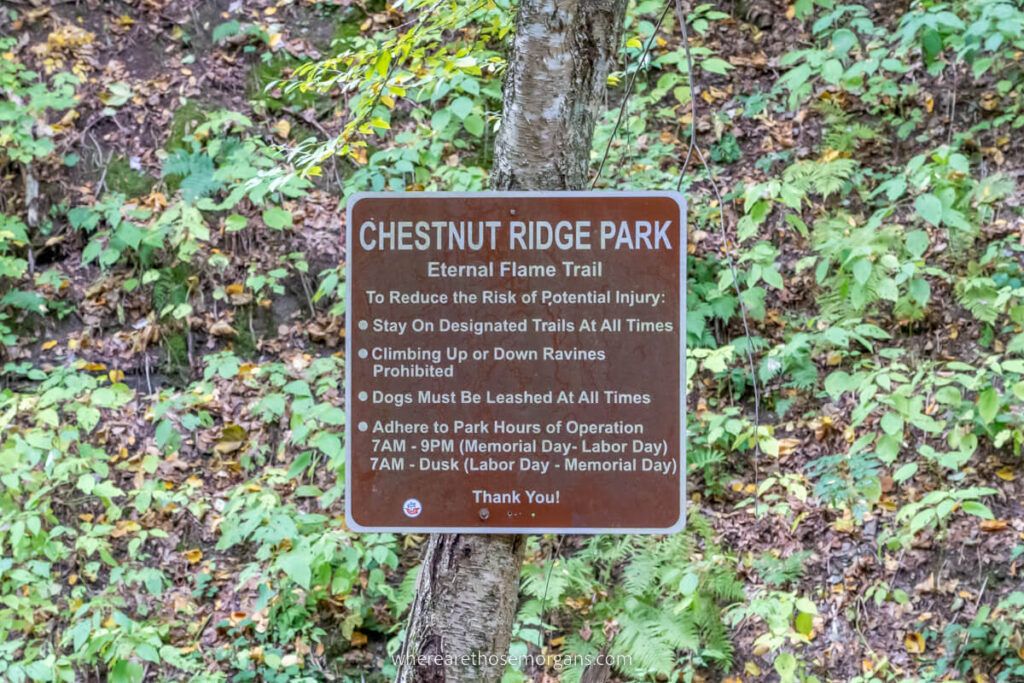 Chestnut Ridge State Park Entry Fee
Unlike most NY State Parks, visitors do not pay a day use vehicle fee to hike to Eternal Flame Falls in Chestnut Ridge Park near Orchard Park.
In addition, you do not need a reservation to enter Chestnut Ridge State Park. It is free to enter from 7:00 am to dusk in winter or until 9:00 pm in summer.
While Eternal Flame Falls is a popular hike, there are many other outdoor activities you can enjoy including stopping by one of the picnic tables, playing a game of disc golf, letting the kids run on the playground or hiking one of the many trails.
The winter season in Chestnut Ridge State Park also offers cross country skiing, sledding, snowmobiling, snowshoeing and even toboggan chutes.
There are two indoor buildings available for rent year-round at Chestnut Ridge as well as various shelters scattered throughout the park that can be used from May 15th to Oct 15th.
Hiking Trails Chestnut Ridge State Park
Opened in 1926, Chestnut Ridge Park is one of the original Erie County parks. After hiking to Eternal Flame Falls, use this Chestnut Ridge map here to find more trails.
Here are additional hikes in Chestnut Ridge State Park (distances are one way):
Boy Scout Trail – 2.3 miles
Eternal Flame Trail – 0.56 miles
Orienteering Trail – 2.6 miles
Reservoir Trail – 0.65 miles
Seufert Trail – 0.23 miles
Snowmobile Trail – 0.34 miles
Ward Hill Trail – 0.90 miles
Ward Hill Wallway – 1.15 miles
This NY park also features two cross country skiing trails including both an inner and outer loop.
Is Eternal Flame Falls State Park Open?
Yes, Chestnut Ridge State Park is open year round and this area is known for its winter activities due to its close proximity to Buffalo, New York.
You can hike Eternal Flame Falls any time of the day between 7:00 am to dusk in winter or until 9:00 pm in summer any day of the year.
However, this hike can be extremely dangerous in the winter because of heavy snow fall and thick ice so use caution when visiting during the colder season.
Eternal Flame Falls sits within a deep ravine and it can be difficult to see the trail when the snow is deep. Be sure to use a hiking app to help you find the correct path when navigating in the winter.
Need a new hiking app? Don't miss our round up featuring the best apps for hiking or use our special link to receive 20% off a GAIA GPS subscription.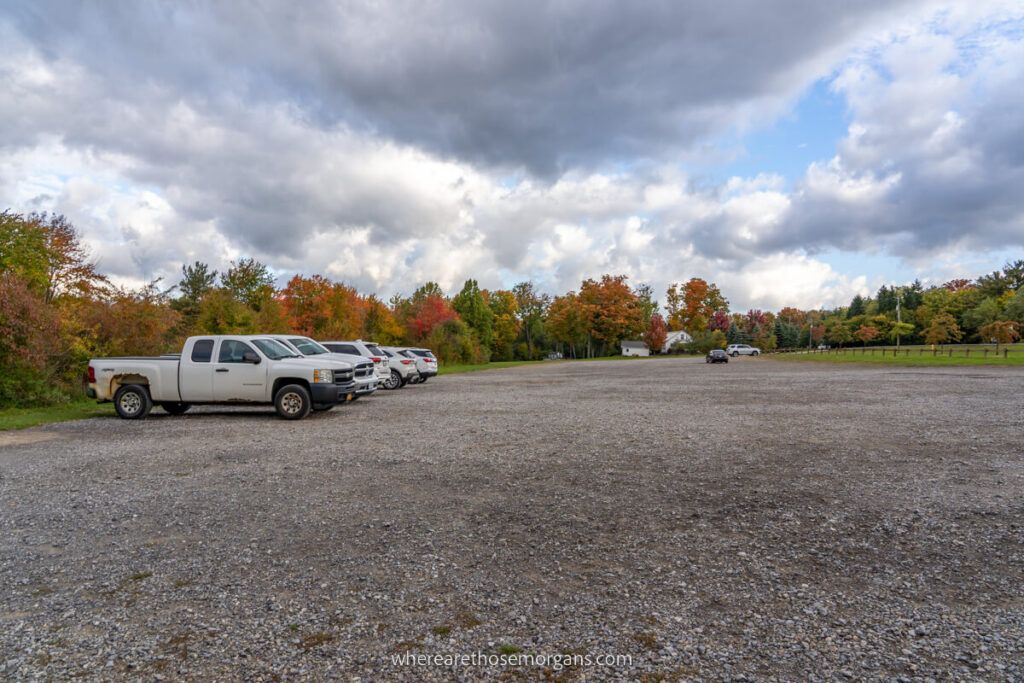 Eternal Flame Falls Parking
The good news is parking for Eternal Flame Falls is relatively easy compared to other famous hikes in the United States.
When you arrive to hike this trail, you will pull into a huge gravel parking lot. The trailhead for Eternal Flame Falls can be found in the southwest corner of this lot.
While this large parking lot rarely fills to full capacity, the trail and area around the eternal flame is quite small relatively speaking.
If the parking lot is packed, just be aware the trail will be very busy and there is limited space to spread out from others.
Hiking Eternal Flame Falls Trail
We are now getting to the best part of our Eternal Flame Falls guide showcasing every section of the hike.
Eternal Flame Falls Trail distance: 1.12 miles roundtrip
Hiking difficulty rating: Moderate
Overall, this hike is short, but is considered a moderately challenging out and back route due to the climb down into the ravine which can be very slippery.
We recommend you hit the trail with proper hiking shoes or boots. In the winter, you may also want to consider purchasing microspikes for your hiking boots.
Check out the recent comments on AllTrails to see what hikers have recently said about Eternal Flame Falls hiking conditions.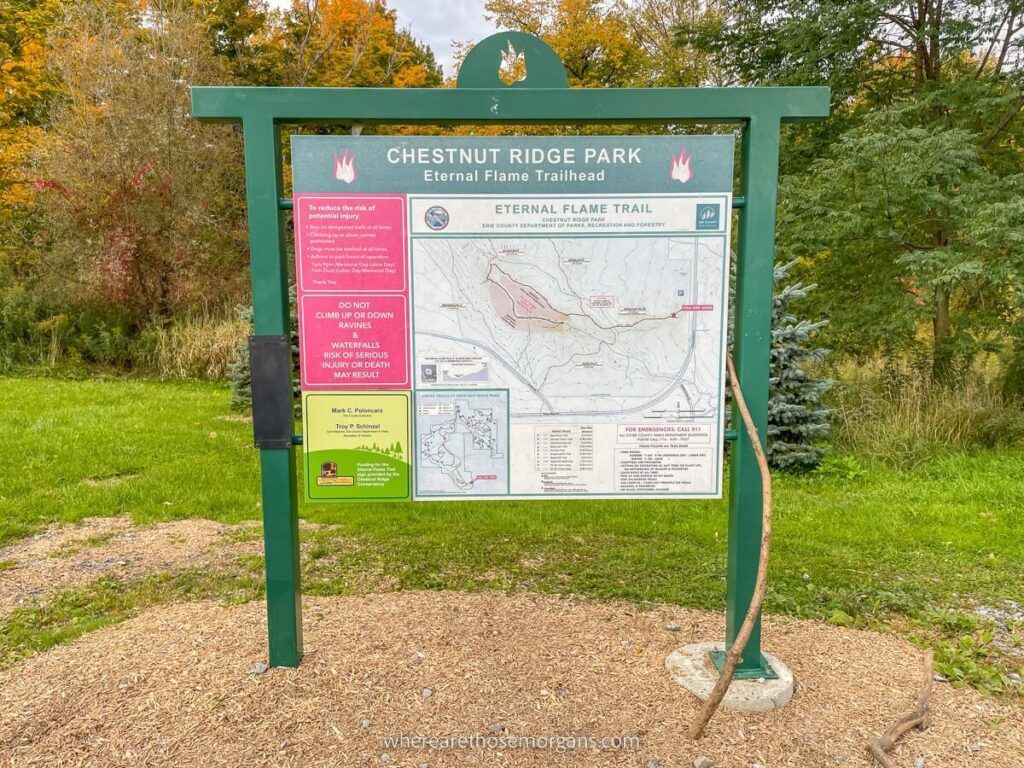 1. Start At The Chestnut Ridge Parking Lot
As you make your way to the official trailhead, you will notice a large sign indicating a trail for Eternal Flame Falls.
Take a moment to read the sign for any important information you may need to know about the area including trail hazards or weather concerns.
As you head west, you will also notice the trail is marked with small flame markers nailed to trees. Shortly you will enter a large grove of Hemlock trees.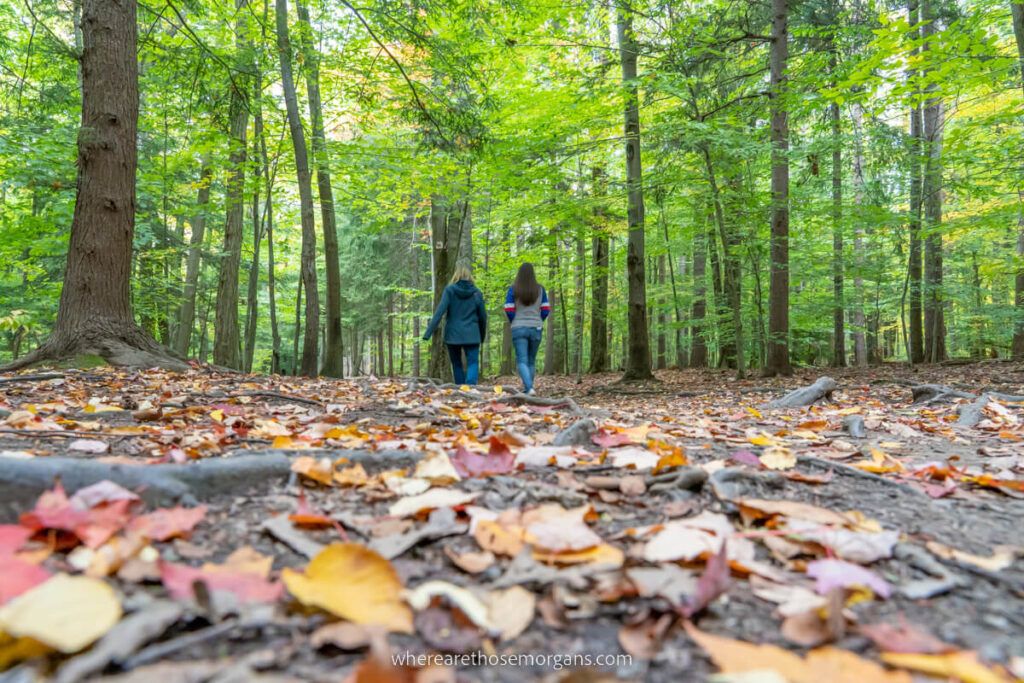 2. Continue Through The Hemlock Trees
As you follow the trail, it becomes extremely peaceful as you walk through the trees. During our hike, we didn't see another hiker until we reached the creek and it was eerily quiet for this section of our hike.
Something important to note about this area is you will pass by the large ravine which is home to the waterfall housing the eternal flame.
It might be tempting to take this shortcut, but DO NOT attempt to climb down the ravine because people have died trying to reach the flame this way.
The walls are steeper than they look from the top and it is extremely dangerous. Follow the trail properly because it was created to help you reach the flame safely.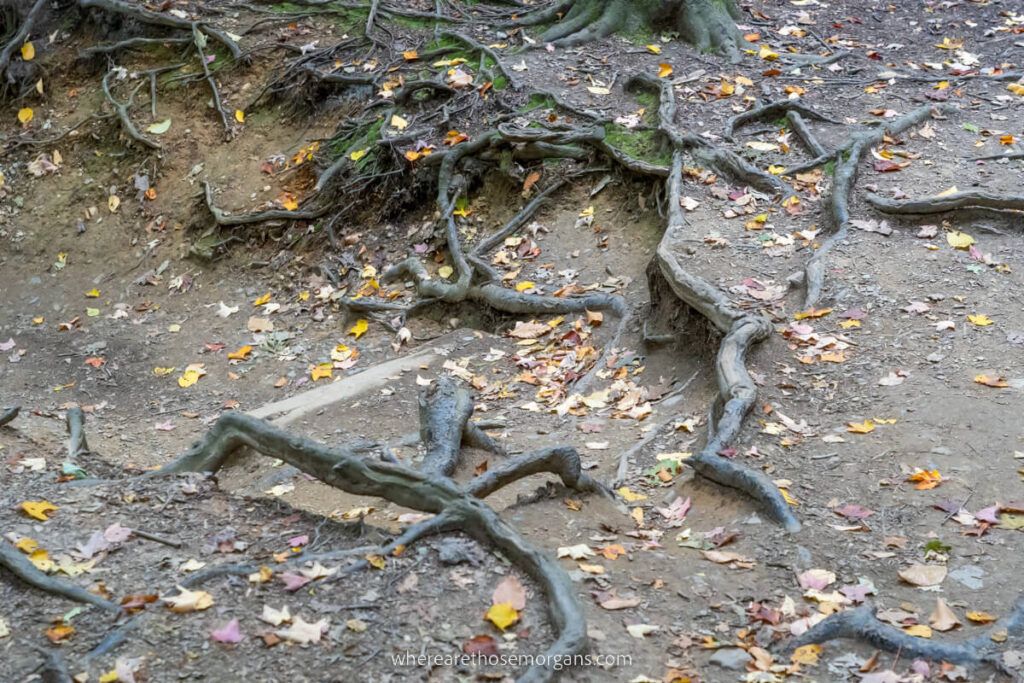 3. Begin The Descent Down To Shale Creek
The trail will begin to loop back around as you begin a descent to the Shale Creek. Watch out for thick roots and rocks embedded in the trail.
You may also notice wooden steps which have been added to help you climb down to Shale Creek.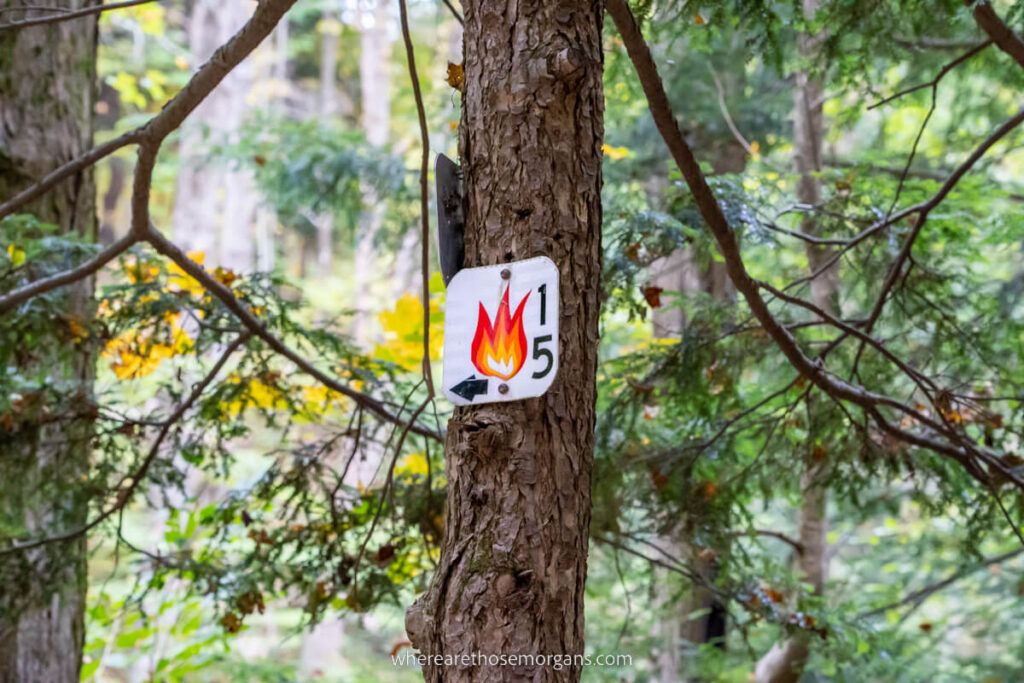 4. Smell The Rotten Eggs As You Approach
Once you reach Shale Creek, you might notice a faint smell of rotten eggs. This is the natural gas found in the area. The smell will get stronger the closer you get to the flame.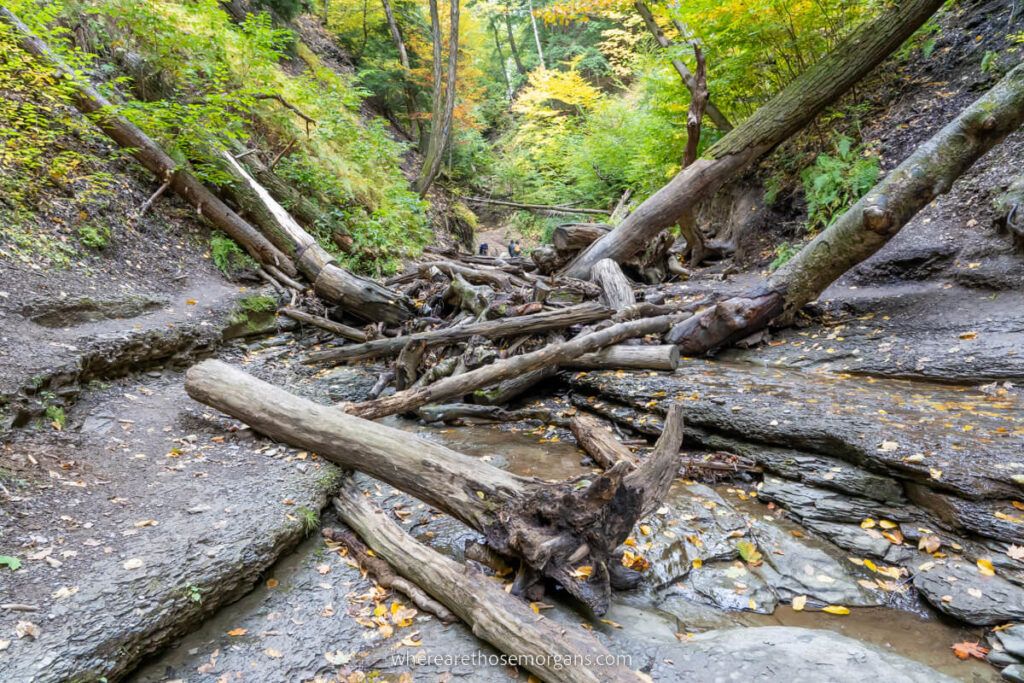 5. Climb Through Shale Creek
The hike will continue through Shale Creek. When we visited in October, the water level was extremely low and we could easily navigate this section of the trail.
If you visit in spring when the snowpack is melting, you may have to walk through water to reach Eternal Flame Falls.
This section can be a bit difficult to navigate because there any many obstacles including large branches and pools of water.
6. First View Of Fire
In our opinion, the best part of this hike is when you get that first glimpse of the cascading waterfall with the shimmering red light.
The first time you see Eternal Flame Falls in person, you realize it looks exactly like the photos you see online which is not always the case.
Sometimes flooding, pressure changes and snow may extinguish the flame, but it can be easily re-lit with a lighter.
We hope the flame is burning when you visit because it helps to create that air of mystery surrounding the Eternal Flame Waterfall.
Be sure to take your time exploring because this is such a distinctive waterfall and you will always remember your hike to Eternal Flame Falls.
This is an out and back hike so in order to get back to the parking lot, you will have to retrace your steps, but it's completely worth it!
Please do not try to climb the ravine to get out.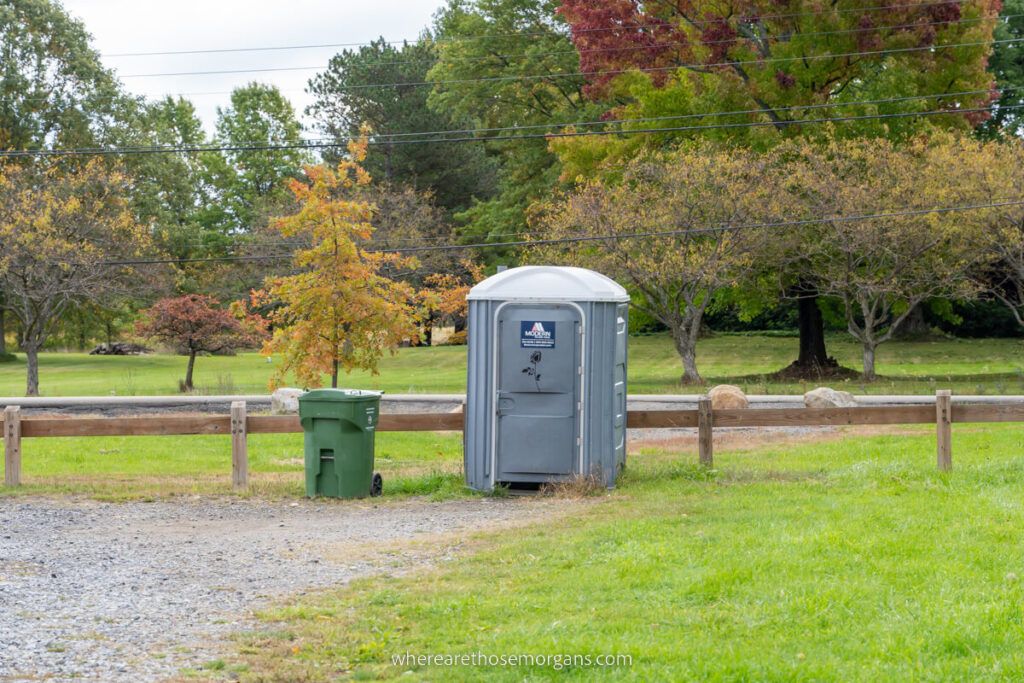 What Facilities Are Available Nearby?
There are no facilities located near Eternal Flame Falls other than one outhouse located on the side of the parking lot.
If you need facilities during your visit, head to the main section Chestnut RIdge State Park or nearby Orchard Park.
Are Dogs Allowed At Eternal Flame Falls?
Yes, dogs are allowed at Eternal Flame Falls, but they must be kept on a leash and always keep your an eye on them. This trail can be very narrow and slippery.
We saw a few dogs during our hike and they sure loved dodging the obstacles in Shale Creek!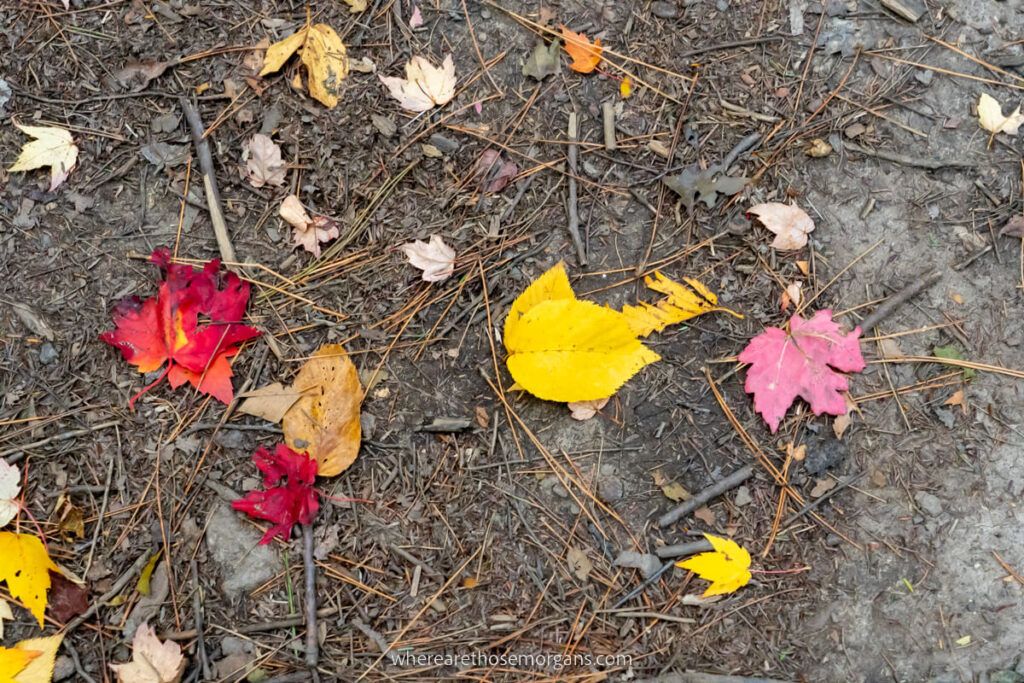 Best Time To Visit Eternal Flame Falls
Eternal Flame Falls will be extremely busy on weekends between April and October, particularly during holidays.
From experience, we recommend staying clear on these days unless it's the only time you can make your visit.
Best Time Of Year
The last week of September and first week of October are the two best weeks of the year to hike Eternal Flame Falls. This time of year brings vibrant fall foliage and the area comes alive with color.
If you want to see the waterfall at it fullest, visit in early spring when the snow is melting. Keep in mind it may be difficult to see the flame with a heavy waterflow.
Best Time Of Day
Early morning is by far the best time of day to hike Eternal Flame Falls. You will beat the crowds and be able to take photos with no people around.
But sometimes you can find breaks in the middle of the day with minimal people. We started our hike around 10:30 am on a Sunday in October and only saw a few others on the trail.
When To Avoid
Eternal Flame Falls can be extremely busy on weekends between April and October, particularly holiday weekends. We recommend avoiding the rush between 11:30am – 2:00pm.
Not only will your photos have loads of people, but the trail can become overcrowded and the hike is no longer a fun experience.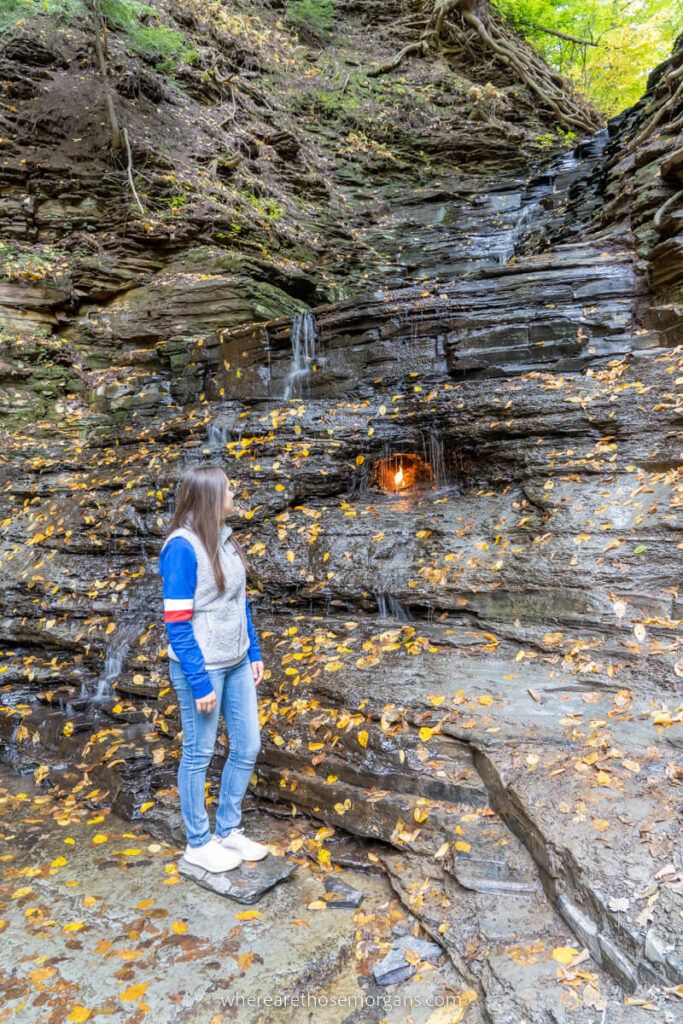 Where To Eat And Stay Near Eternal Flame Falls
We visited Eternal Flame Falls on an early sunday morning right before a Buffalo Bills game at Highmark Stadium at Orchard Park.
You could also combine this waterfall with Niagara Falls which is only about 40 miles to the north. Here are some top rated hotel and restaurant recommendations for your trip.
Hotels Near Eternal Flame Falls
Restaurants Near Eternal Flame Falls
Travel Tip: If this is your first time in Buffalo, we recommend you try the Anchor Bar which is the home of the original buffalo style chicken wing (and one of Kristen's favorite restaurants)!
Eternal Flame Falls Photos
We loved visiting Eternal Flame Falls in October during the autumn foliage season so we took many photos.
Here are a few of our favorite Eternal Flame Falls photographs highlighting the natural beauty: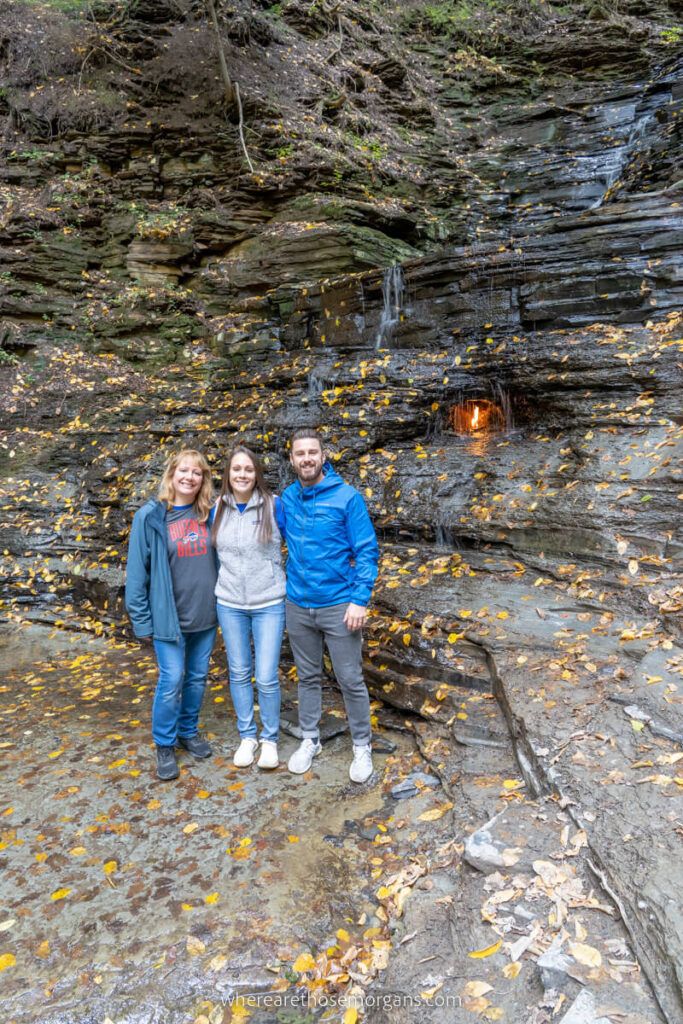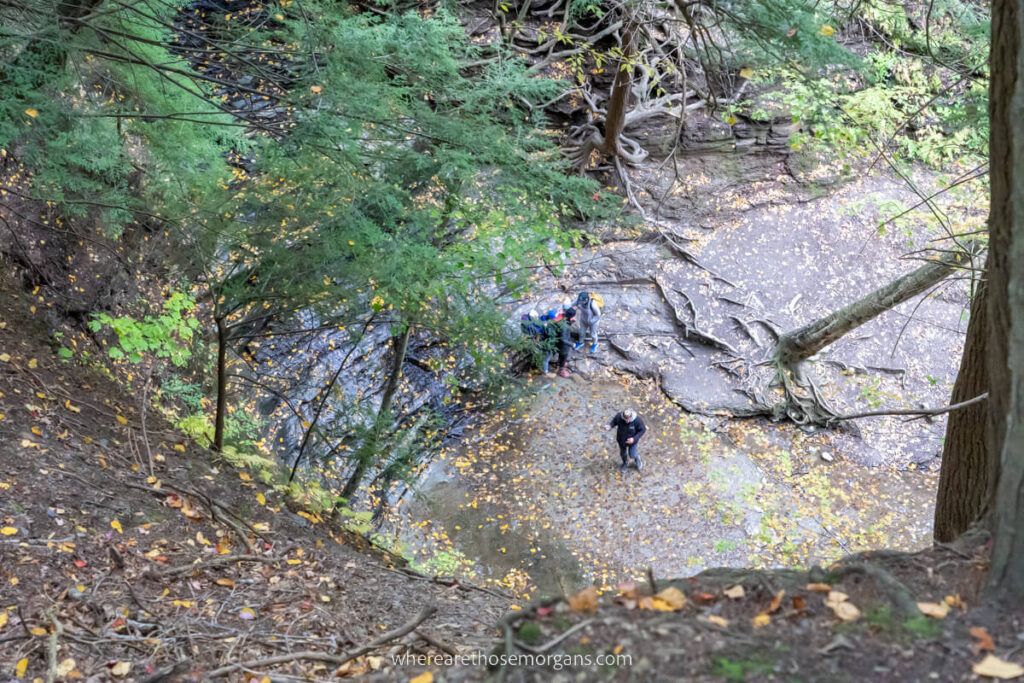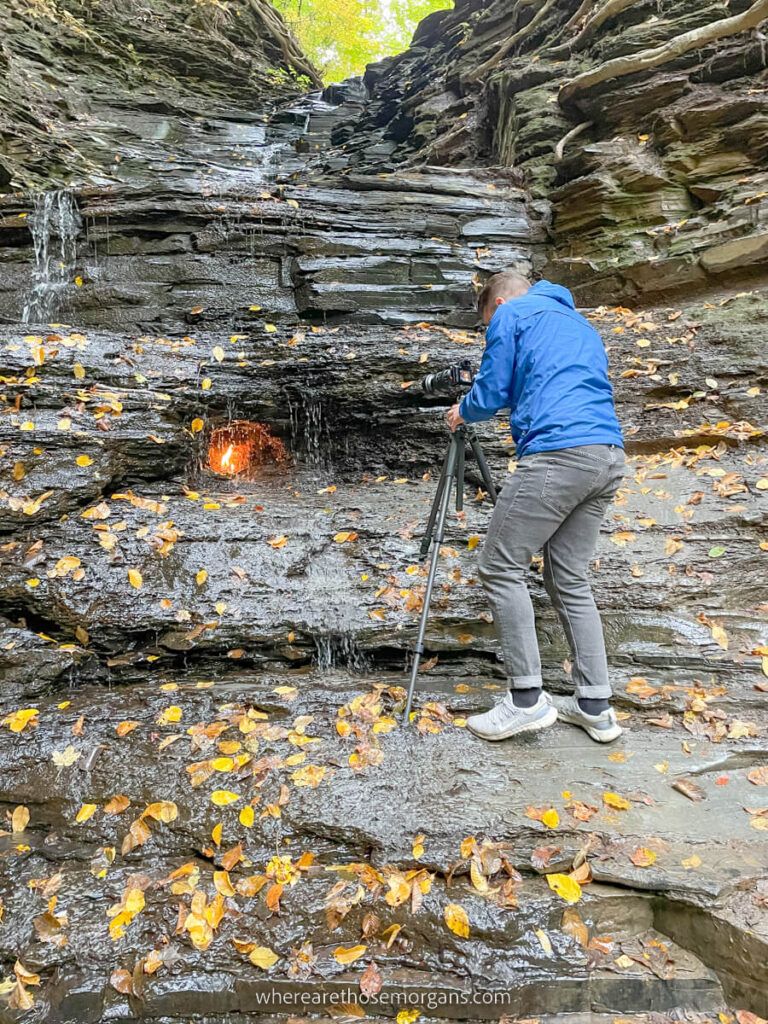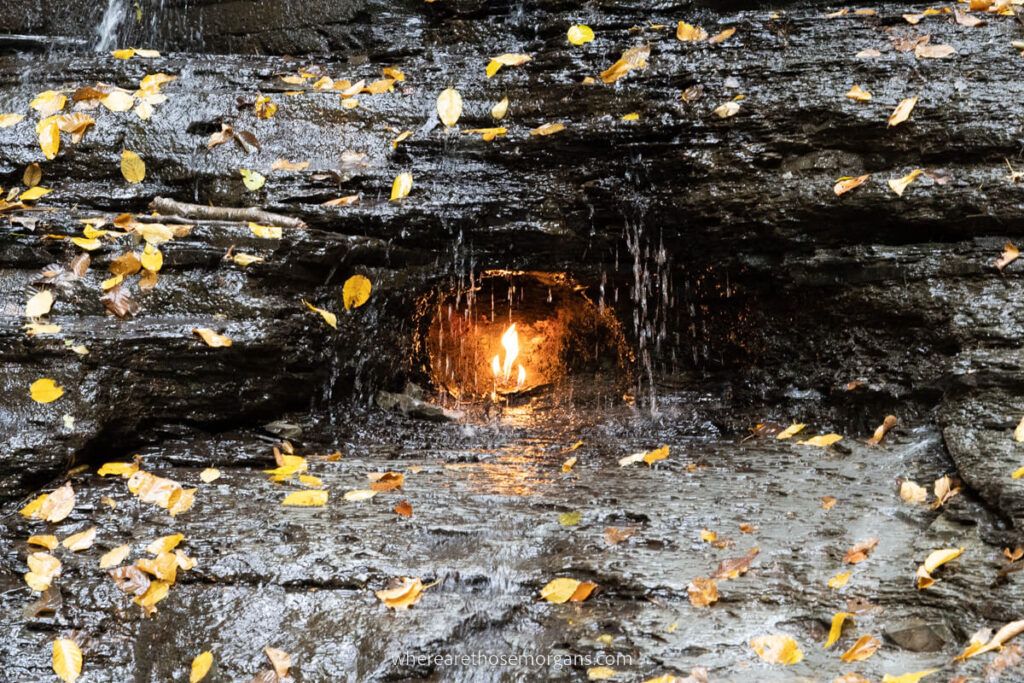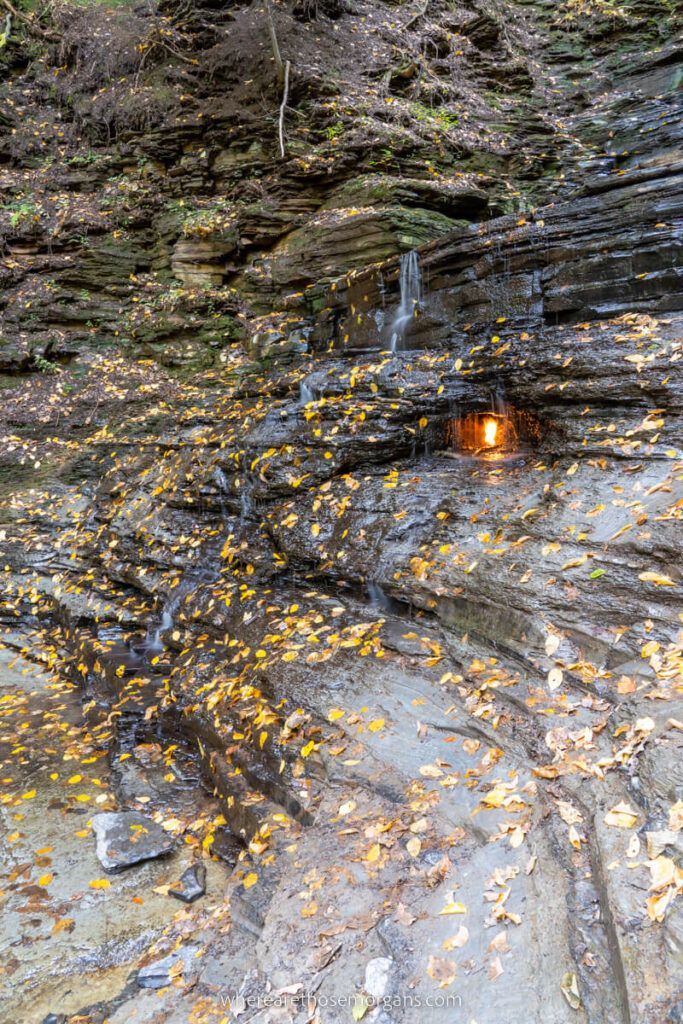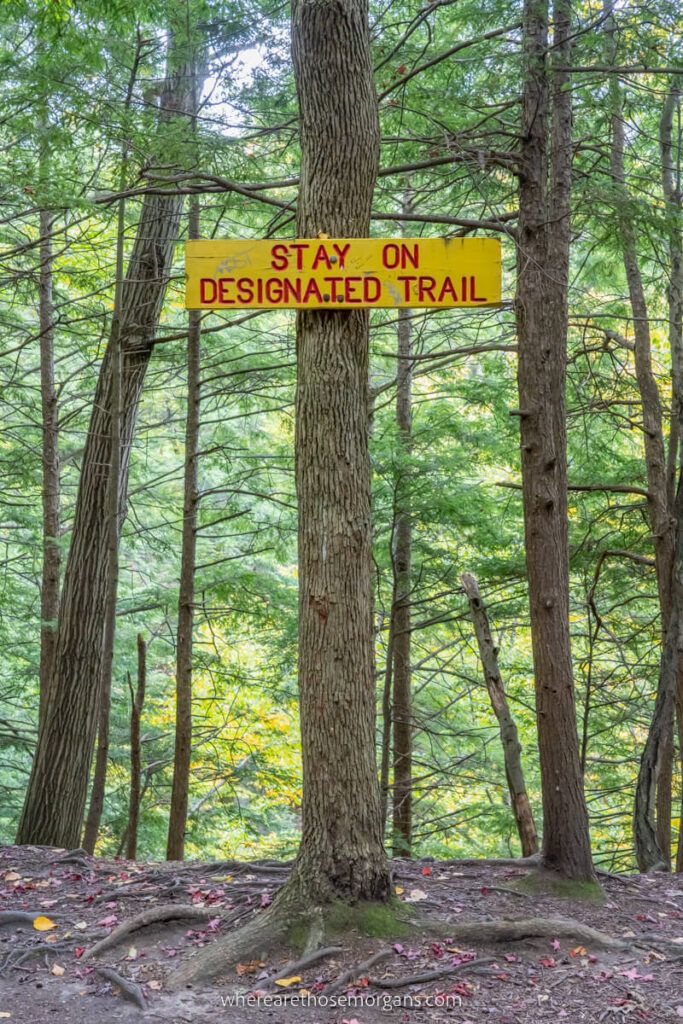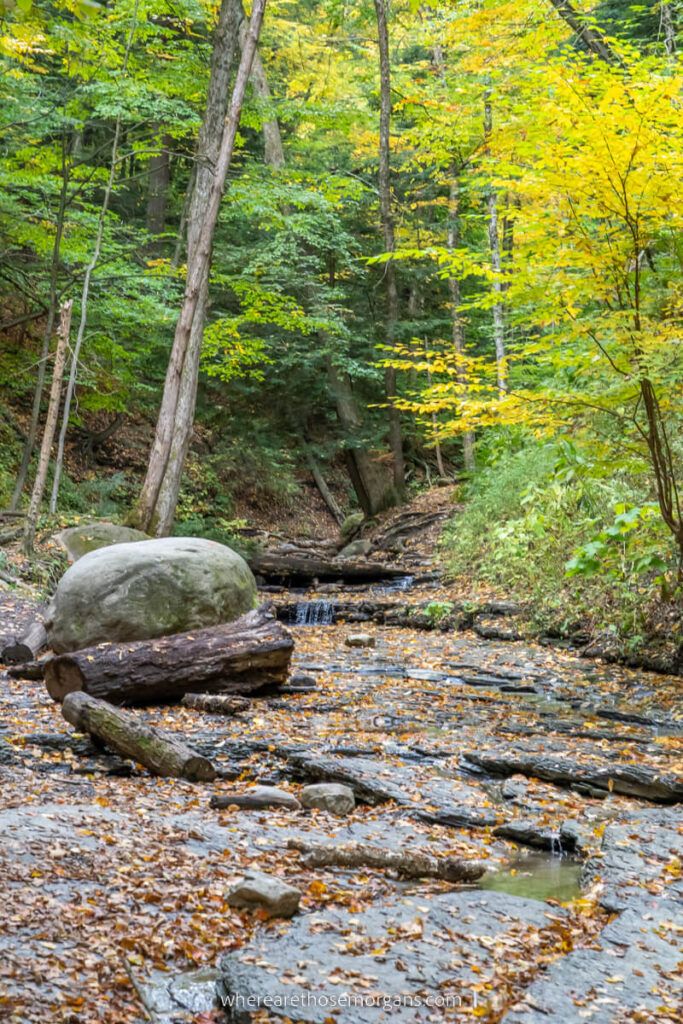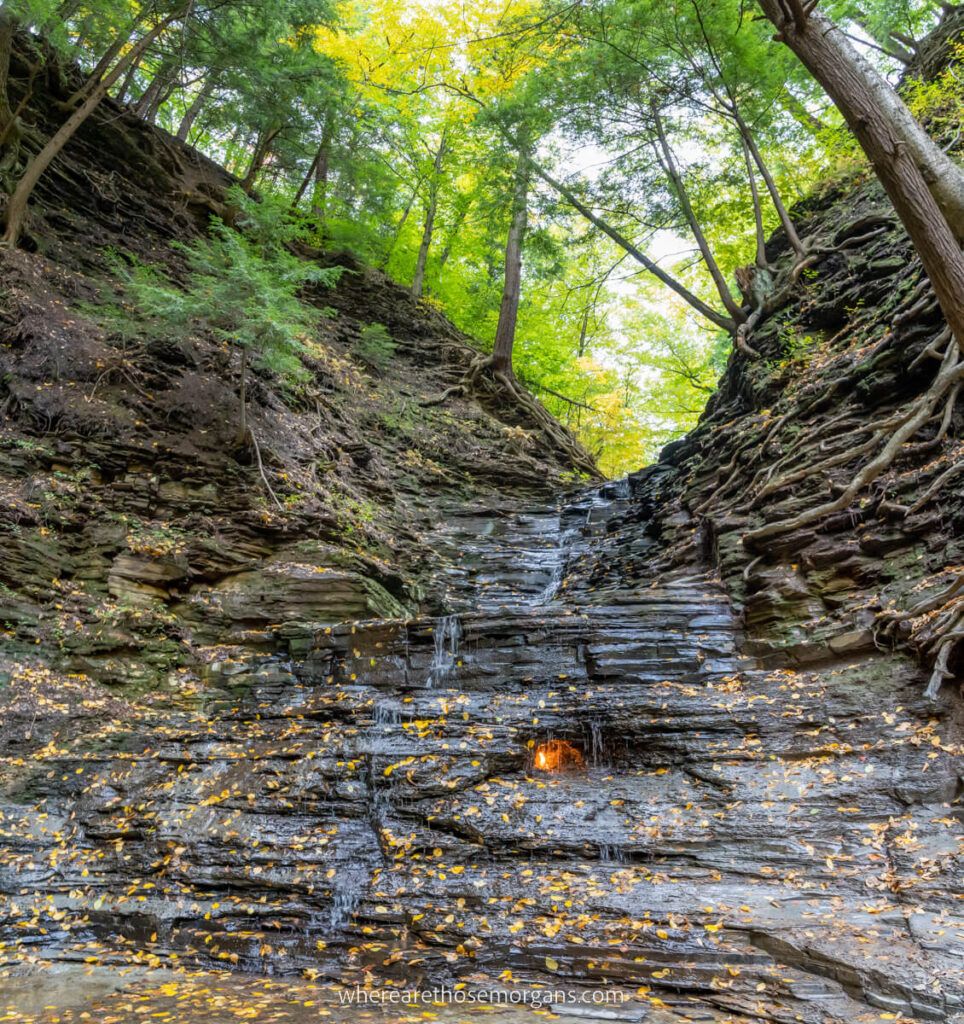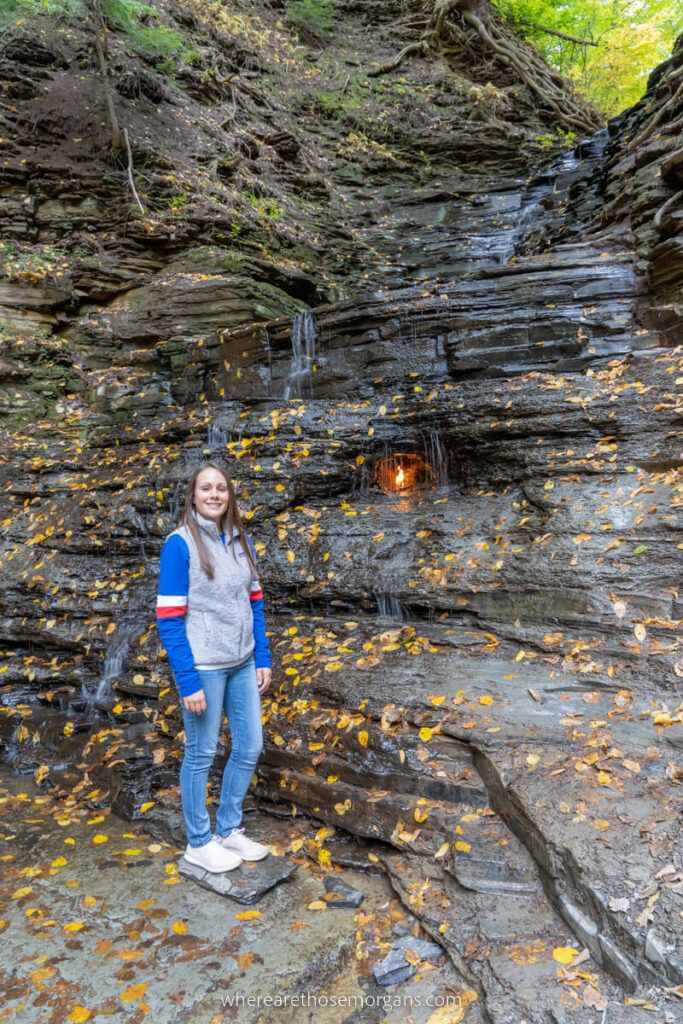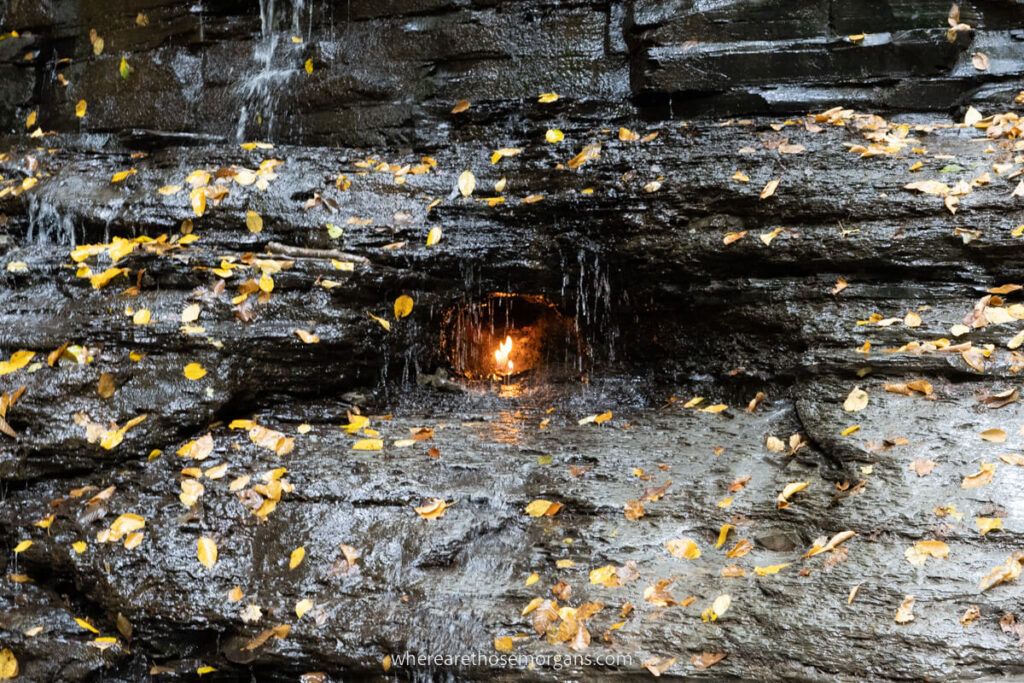 Interested in photography? Don't miss our Photography Guides from around the world.
Eternal Flame Falls FAQ's
Let's take a look at some of the most frequently asked questions about visiting Eternal Flame Falls in upstate New York.
Can you put the eternal flame falls out?
Yes, sometimes the eternal flame located under the waterfall goes out naturally due to wind and ice, but you can also snuff the flame out yourself.
How long of a hike is eternal flame falls?
Eternal flame falls is moderately challenging 1.0 mile out and back hike featuring a deep ravine and the Shale Creek.
Our Popular Finger Lakes Guides
More New York State Guides
Want more New York content? Head over to our New York Travel Guides to explore the Finger Lakes, Adirondacks and the best of NYC.
---
We hope this guide to hiking to Eternal Flame Falls helps with planning your visit to upstate New York!
Please let us know if you have any questions planning your visit to Eternal Flame Falls New York in the comments below.
Happy Hiking,
Mark and Kristen
Enjoy This Eternal Flame Falls NY Guide? Pin It For Later!