If you are looking to find the best bagels in NYC, you have come to the right place. With numerous bagel stores scattered all throughout New York City, how do you know where to find the best one?
This is exactly what we will cover in the comprehensive guide to finding the best bagel in New York. Our primary goal is for you to experience the best bagels the city has to offer.
We promise you will be dreaming about these bagels long after your visit. So we have broken down this guide into several categories to make it easy for you to find the best bagel location nearest you.
Many of the popular bagel locations in New York have multiple locations while some famous bagels spots have been serving customers in their original location for decades.
This is how we structured our NY bagels guide:
Why Is New York known for bagels?
Best bagels in Manhattan
Best bagels in Queens
Best bagels in the Bronx
Bagels in NYC with multiple locations
Let's find the best bagel in NYC!
Why Is New York Known For Bagels?
Before we get into the nitty gritty of where to find the best bagel in NYC, let us help you understand why New York is known around the world for its bagel scene.
Although New York is home to some of the best bagels around, the origins of the bagel can be traced back to Poland. As Jewish refugees from Poland arrived in NYC in the 1800s, they brought many food traditions including the bagel.
The New York style bagel we know today was first created as an inexpensive snack for Jewish immigrants in NYC. For decades, the bagel remained only a treat for the Jewish Community of New York.
But by the 1960s, the secret was out. The New York bagel started to gain popularity with the non-Jewish population and beyond.
Over the decades, the New York bagel has doubled in size with a wide variety of unique flavors and numerous cream cheese spreads for any palate.
NYC is one of the top US vacation spots and bagels are the breakfast foods you can't miss on a first visit!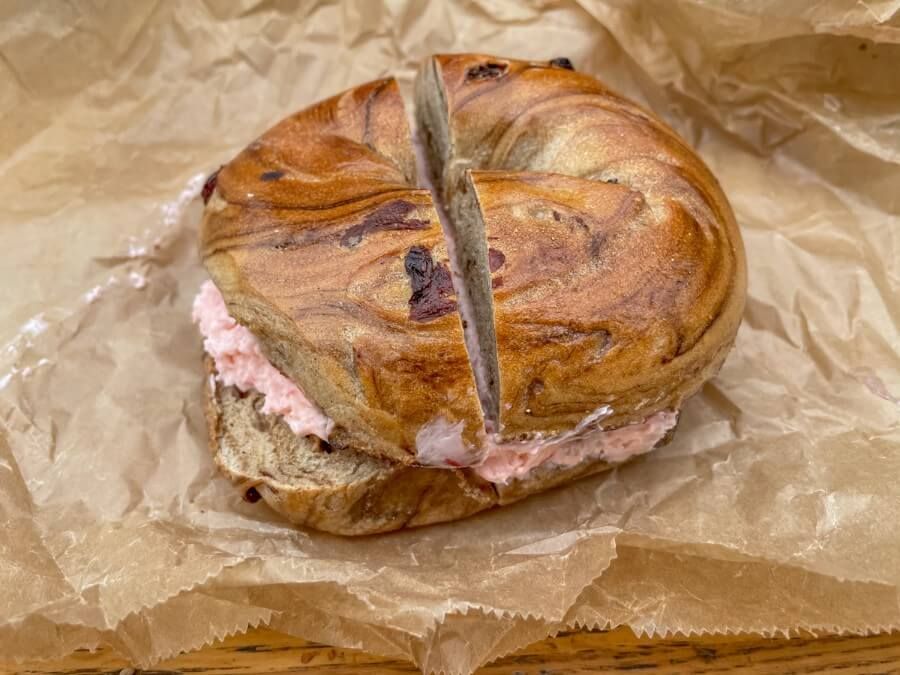 Best Bagels In Manhattan
1. Absolute Bagels (Upper West Side)
A traditional no frills spot featuring bagels with a crisp chewy outside and a soft warm inside.
You can expect over 10 kinds of bagel and cream cheese options along with salads and deli meats. Absolute Bagels also offers tofutti cream cheese which is soy-based and dairy free.
Bagel Tip: Cash only
Address: 2788 Broadway, New York, NY 10025
Location: Google Maps
Facebook: Absolute Bagels
2. Bagel Shop (Upper East Side)
The Bagel Shop is consistently praised for their fair prices and extensive menu.
This is a popular place that serves everything from bagels, breakfast sandwiches, smoked fish, speciality sandwiches and even the ice cream bagelwich.
Address: 1659 3rd Ave, New York, NY 10128
Location: Google Maps
Instagram: bagelshopnyc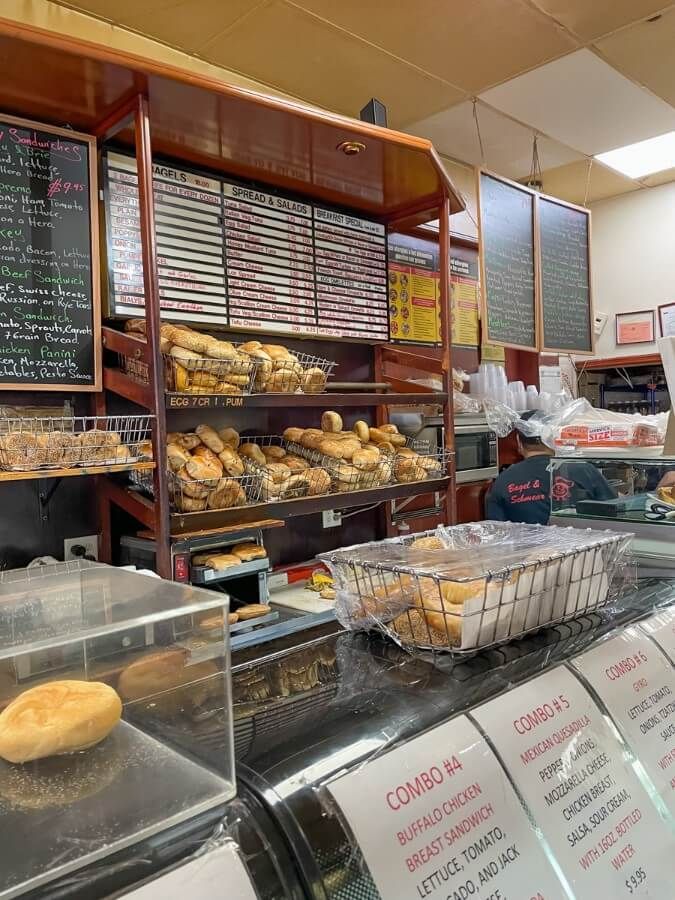 3. Bagels & Schmear (Flatiron District)
This is a place we always find ourselves gravitating back to for another delicious bagel.
While the line may be long, the service is always quick and extremely friendly. Choose from a wide variety of bagel and cream cheese flavors or speciality wraps, salads and cold cuts.
Bagel Tip: Try the House Special – fresh lox, cream cheese, tomatoes, onions, and capers
Address: 116 E 28th St, New York, NY 10016
Location: Google Maps
Reviews: Tripadvisor
4. Baz Bagel (Little Italy)
Baz Bagel is unlike many of the other bagel shops mentioned on this list. Instead of ordering from the counter, you can sit down and order your bagel from a table without having to wait in a long line.
Baz also serves eggs, latkes, specials and breakfast sandwiches making it a perfect brunch spot.
Address: 181 Grand St, New York, NY 10013
Location: Google Maps
Website: bazbagel.com
5. Best Bagel & Coffee (Midtown)
At Best Bagel and Coffee, all bagels are hand rolled, kettle boiled and baked right on the premises.
This a great location to grab a bagel if you are checking off the best things to do in New York City. You can also grab fresh pastries, gourmet coffee, iced drinks and sandwiches.
Address: 225 W 35th St A, New York, NY 10001
Location: Google Maps
Website: bestbagelandcoffee.com
6. Bo's Bagels (Harlem)
Bo's Bagels started by a couple who began their business as a simple stand.
Choose from a variety of bagel flavors, egg sandwiches and salads on a bagel. Bo's also offers something for vegans with tofu cream cheese options.
Address: 235 W 116th St, New York, NY 10026
Location: Google Maps
Instagram: bosbagels
7. Leo's Bagels (Financial District)
We loved Leo's for the friendly and helpful staff who are very always attentive.
A bagel from Leo's is piled sky high with a generous amount of toppings with many bagel and cream cheese flavors to choose from. Leo's makes for a great stop before heading to the Statue of Liberty ferry.
Address: 3 Hanover Square, New York, NY 10004
Location: Google Maps
Website: leosbagels.com
8. Murray's Bagels (Greenwich Village)
Murray's has been serving New York style bagels since 1996. Each bagel is made from a recipe that has been passed down by generations.
Not only can you find a wide selection of bagels, cured fish and cream cheese, but also substantial sandwiches made from just about any deli meat.
Address: 500 6th Ave, New York, NY 10011
Location: Google Maps
Website: murraysbagels.com
9. Zabar's (Upper West Side)
Opened by Louis and Lillian Zabar in 1934, Zabar's has been a booming family business for decades.
While Zabar's is known for its very grocery and deli section, this original store is also a great place to pick up a fresh New York style bagel.
Address: 2245 Broadway, New York, NY 10024
Location: Google Maps
Website: zabars.com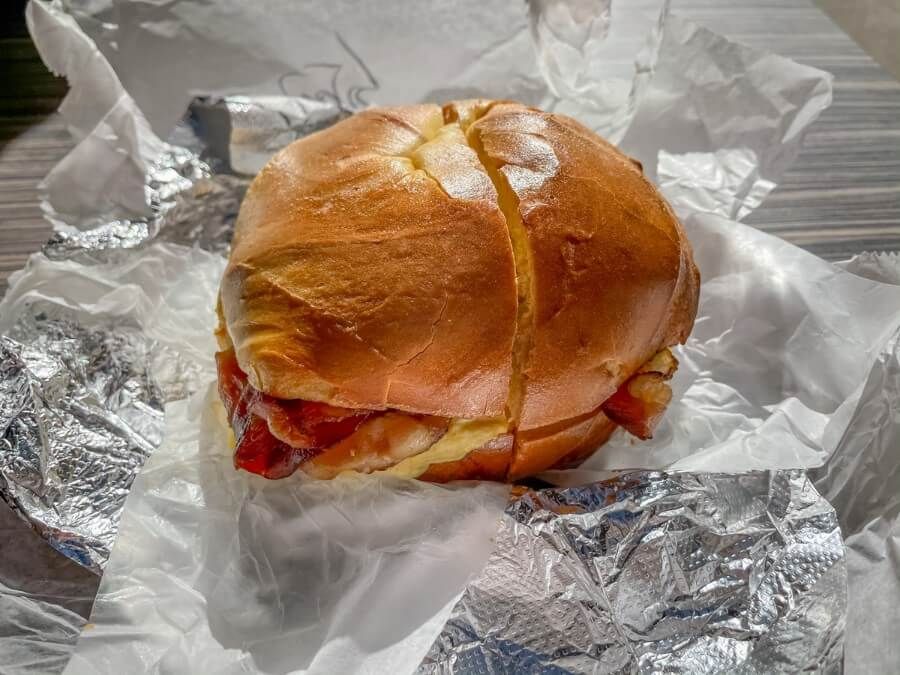 Best Bagels In Queens
10. Bagel Oasis
Bagel Oasis has been proudly serving bagels in the same Queens location since 1964. Open 24/7 using only locally sourced ingredients and homemade cream cheeses, this is one not to miss.
Expect a bagel with a light crunchy outside and moist chewy inside when you visit.
Address: 183-12 Horace Harding Expy, Queens, NY 11365
Location: Google Maps
Website: bageloasis.com
11. Utopia Bagels
Utopia Bagels is definitely a must when visiting Queens and with consistent 5 star reviews, this bagel spot is one not to miss.
Founded in 1980, Utopia bagels are hand rolled, kettle boiled and placed in a 1947 carousel oven. These bagels are also sold on Fresh Direct and can be delivered in 24 hours.
Address: 1909 Utopia Pkwy, Queens, NY 11357
Location: Google Maps
Website: utopiabagelsny.com
Want some more New York City inspiration? Don't miss our popular guide featuring famous NYC quotes.
Best Bagels In The Bronx
12. Riverdale Bagels
Riverdale Bagels has been ranked the most iconic in NYC (according to Eater). This bagel place has been open since 1992 and has always stayed true to its roots.
Look for new innovative cream cheese flavors such as spicy bacon, garlic pepper, and sundried tomato.
Address: 5650 Riverdale Ave, The Bronx, NY 10471
Location: Google Maps
Best Bagel Places In NYC With Multiple Locations
13. Bagel Bob's
Bob's prides itself on serving hand rolled, kettle boiled bagels in 14 different varieties. Expect a long line that moves very fast so be sure to know your order when you hit the counter.
This is also a great sport to grab a wrap, panini, muffin, pastry, sandwich and smoked fish.
2 Locations:
1641 York Ave, New York, NY 10028 (Upper East Side)
51 University Pl., New York, NY 10003 (Greenwich Village)
Website: bagelbobs.com
14. Black Seed Bagels
Since first opening in 2014, this bagel shop has made waves in the industry.
These bagels are a bit different as they are hand-rolled, boiled in water with honey and poached Montreal-style then baked in a wood-burning oven. Bagels from here tend to have a lighter, sweater and smoky flavor.
9 Locations:
30 Rockefeller Plaza Concourse Level, New York, NY 10111 (Midtown)
1188 Broadway, New York, NY 10001 (Nomad)
176 1st Ave., New York, NY 10009 (East Village)
170 Elizabeth St, New York, NY 10012 (Nolita)
200 Vesey St, New York, NY 10080 (Battery Park)
379 Suydam St, Brooklyn, NY 11237 (Bushwick)
214 Berry St, Brooklyn, NY 11249 (Williamsburg)
252 Schermerhorn St, Brooklyn, NY 11217 (Boerum Hill)
75 9th Ave, New York, NY 10011 (Chelsea)
Website: blackseedbagels.com
15. Brooklyn Bagel & Coffee Company
Brooklyn Bagel & Company is one of our absolute favorites and with five locations spread across Queens and Manhattan, you can easily find one to satisfy your bagel craving.
Each bagel is hand rolled, kettle boiled and made with the best ingredients. Look for rotating specials like gingerbread.
Bagel-Tip: Mini gluten free bagel available
5 Locations:
286 8th Ave, New York, NY 10001 (Chelsea)
63 E 8th St, New York, NY 10003 (Greenwich Village)
35-09 Ditmars Blvd, Long Island City, NY 11105 (Astoria)
36-14 30th Ave, Astoria, NY 11103 (Astoria)
35-05 Broadway, Astoria, NY 11106 (Astoria)
Website: bkbagel.com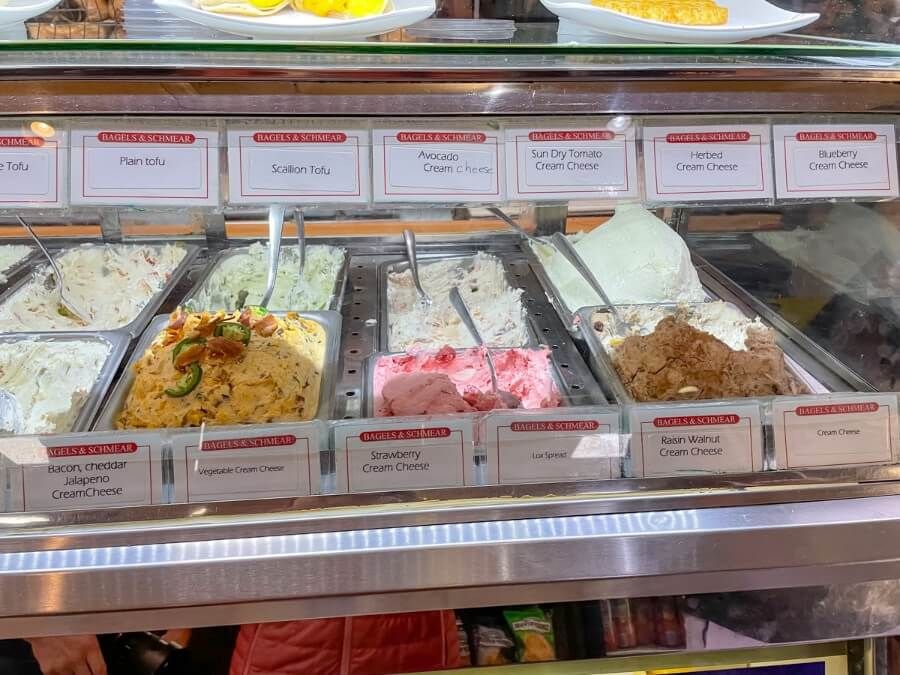 16. Ess-a-Bagel
Opened in 1976, Ess-a-bagel was opened by an Austrian baking family. It has since gained a very loyal following and you can expect to see a very long line here.
But with over 10 bagel flavors and 20 cream cheese flavors, you will certainly have to try them all.
3 Locations:
831 3rd Ave, New York, NY 10022
108 W 32nd St, New York, NY 10001
324 1st Ave., New York, NY 10009
Website: ess-a-bagel.com
17. H & H Bagels
Opened in 1972, this bagel place has been using the same delicious recipe for decades.
Sourcing high quality, all-natural ingredients from around the world, their motto 'Like No Other Bagel In The World,' rings true.
H&H has been features in numerous tv shows such as Seinfeld, The Office and more.
5 Locations:
1551 2nd Ave, New York, NY 10028
526 Columbus Ave, New York, NY 10024
350 West 33rd Street (Moynihan Train Hall)
John F. Kennedy Airport (Terminal 5 food court)
LaGuardia Airport (Terminal D, Gates 92-98)
Website: hhbagels.com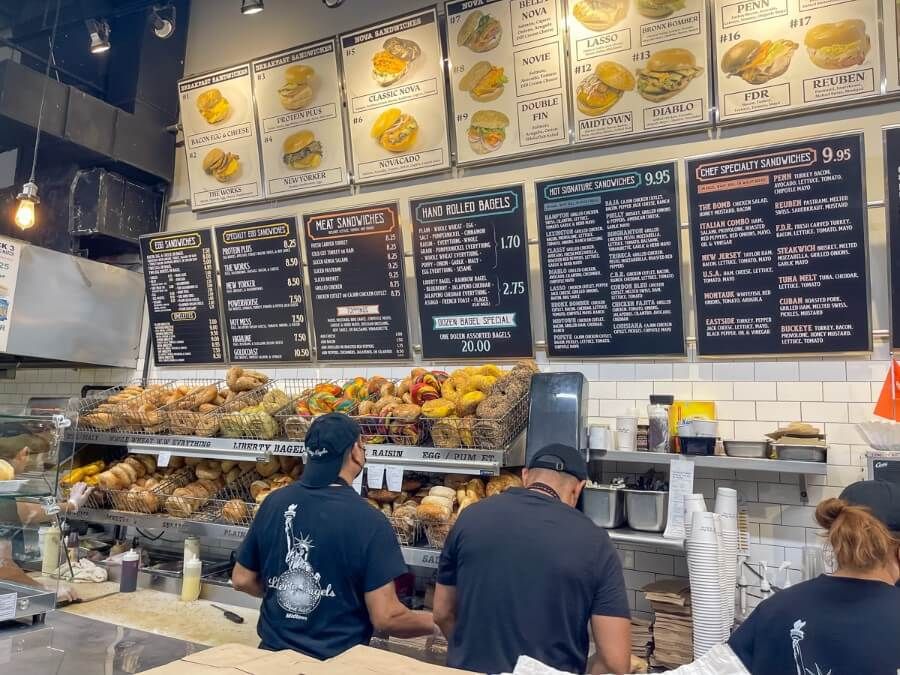 18. Liberty Bagels
Liberty is one of our regular bagel stops when visiting New York City. The line is usually long but it always moves fast.
Our favorite bagel choices include the french toast and rainbow bagel. Liberty also offers an extensive menu with omelettes, egg sandwiches, nova specials and homemade salads.
3 Locations:
260 W 35th St, New York, NY 10001 (Midtown)
16 E 58th St, New York, NY 10022 (Midtown East)
8210 Roosevelt Ave Jackson Heights, NY 11372 (Queens)
Website: libertybagels.com
19. Russ & Daughters
Russ and Daughters has been in operation since 1914 by four generations of the Russ family. Less than 1% of family businesses make it to the fourth generation so this is a special place.
Don't miss the Cafe which opened in 2014 to experience delicious food combined with a timeless appeal.
3 Locations:
179 E Houston St, New York, NY 10002 (Shop)
127 Orchard St, New York, NY 10002 (Cafe)
141 Flushing Ave Building 77, Brooklyn, NY 11205 (Brooklyn)
Website: russanddaughters.com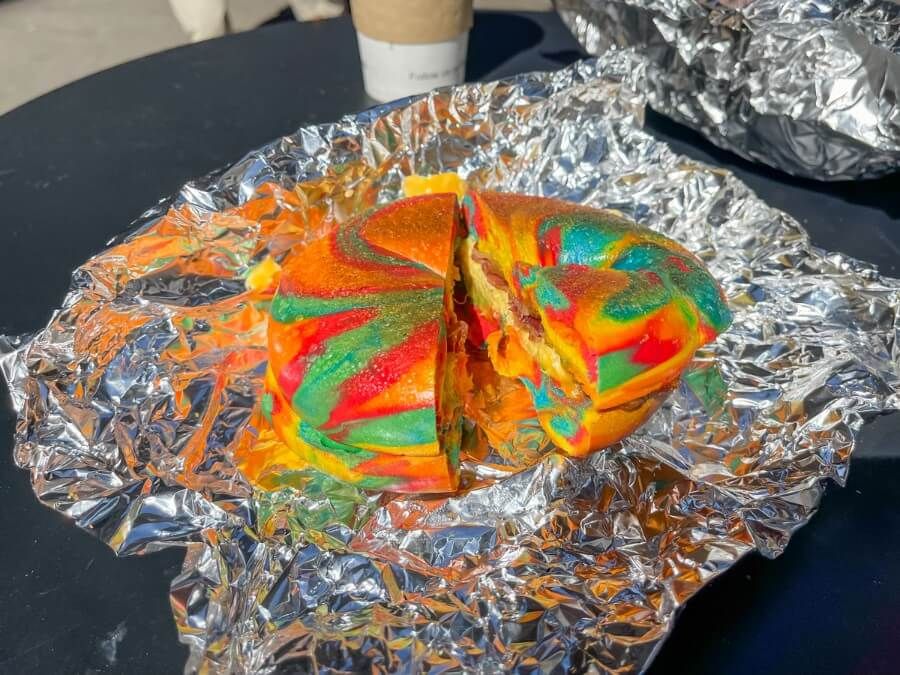 20. Tompkins Square Bagels
Tompkins Square Bagels has an extensive menu with classic bagel options such as plain, sesame and everything. But Tompkins also has unique bagel favorites like chocolate chip and pumpkin.
If you are looking for something different, this is your place. Be sure to try the fruit and nut bitters as well.
Bagel-Tip: Gluten free bagels available
2 Locations:
165 Avenue A, New York, NY 10009
184 2nd Ave, New York, NY 10003
Website: tompkinssquarebagels.com
21. Zucker's Bagels & Smoked Fish
Zucker's is more than just a bagel shop so you can never go wrong here.
Not only can you enjoy a delicious hand rolled and kettle boiled bagel, but you can order a breakfast wrap, hot dog, smoked fish, numerous deli sandwiches and many different healthy bites.
7 Locations:
125 Fulton St, New York, NY 10038 (Financial District)
146 Chambers St, New York, NY 10007 (Tribeca)
40 E 23rd St, New York, NY 10010 (Flat Iron)
242 8th Ave, New York, NY 10011 (Chelsea)
370 Lexington Ave, New York, NY 10017 (Grand Central)
273 Columbus Ave, New York, NY 10023 (Upper West Side)
5 Bryant Pk, New York, NY 10018 – Coming soon!
Website: zuckersbagels.com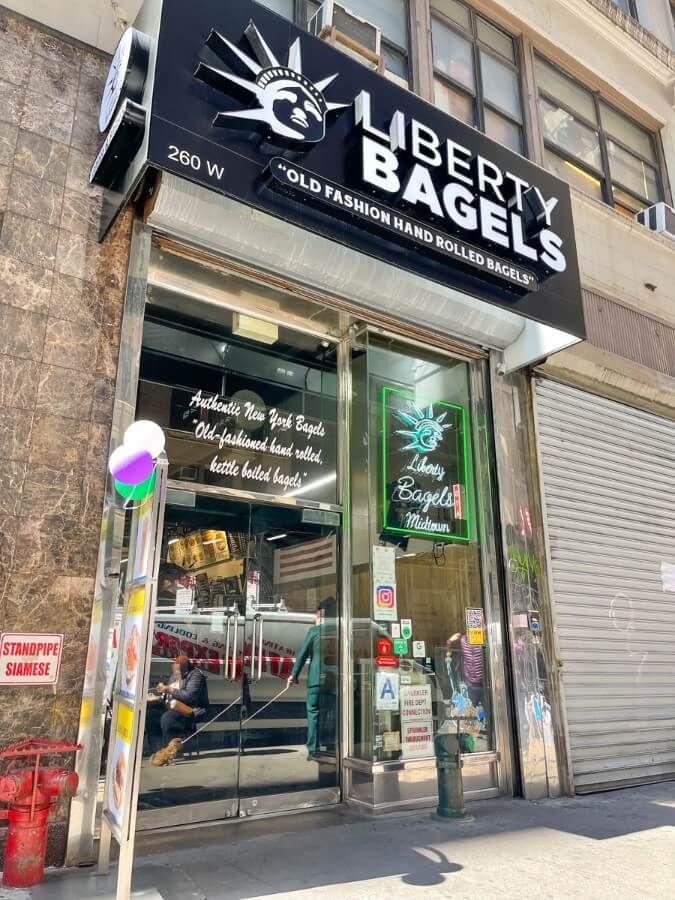 Best Bagels in NYC by Map
Would you like to see the locations of each bagel place spread throughout the city?
Here's a link to our Best Bagels in NYC Map so you can see exactly where you can pick up a bagel.
And here's what you need to do once you open the map:
Click or touch your screen to activate the map.
Scroll around New York City to find each of the 20 best places to eat bagels as listed in this guide.
Pick the closest option or one from the list that you really like the sound of.
Either select directions from your location or your hotel.
Follow the walking or subway route to grab your slice!
We have included all of the location listed in this guide on this map so you won't miss one.
Tip: Choose some of your favorite bagel places from the list above and pin them to your Google Maps or Apple Maps. You can then easily find them when walking around the city.
New York City Bagel Tour
If the amount of bagel places in NYC is overwhelming and you would like someone else to show you around, consider booking a bagel tour.
Ben's Bagel Tour is a popular option. Ben's combines the fun of a walking tour with fresh NYC bagels as you explore famous landmarks and neighborhoods.
Choose from 3 different bagel tour options:
Grand Central: The Open Sesame Bagel Tour – Experience Grand Central Terminal, Grand Central Market and Zaro's Bakery for delicious fresh baked bagels
Lower East Side: The Eat Everything Bagel Tour – Explore the LES while learning about immigrants who started a new life in America. This tour includes Yonah Shimmel's Knish Bakery, Katz's Deli, and Russ and Daughters.
Chinatown & Little Italy: The Fresh Garlic Bagel Tour – This option includes unique landmarks such as the largest Buddhist temple in NYC, a historic tea parlor, the oldest street in Chinatown, America's oldest cheese shop and finally the oldest pizzeria still thriving in Little Italy.
Foodie Review: Heading to Las Vegas any time soon? Read our Las Vegas Secret Food Tour Review to see if you should book your foodie tour today.
Need Help Planning Your Visit To New York City?
NYC is a vacation planning beast and it can be overwhelming trying to get every aspect right. Trust us, we know!
After living in New York City, we created a comprehensive NYC travel guidebook & itineraries that will answer every question you have about where to stay, what to do, where to eat and how to get around the city.
Click see details below to read more about how we can help you plan your dream trip to New York City!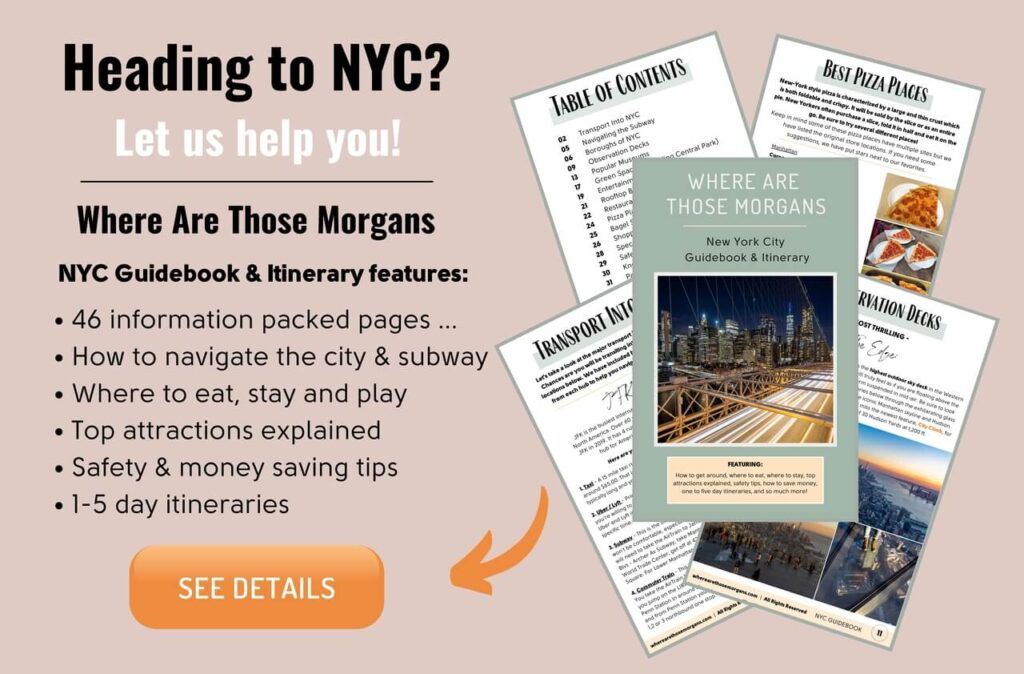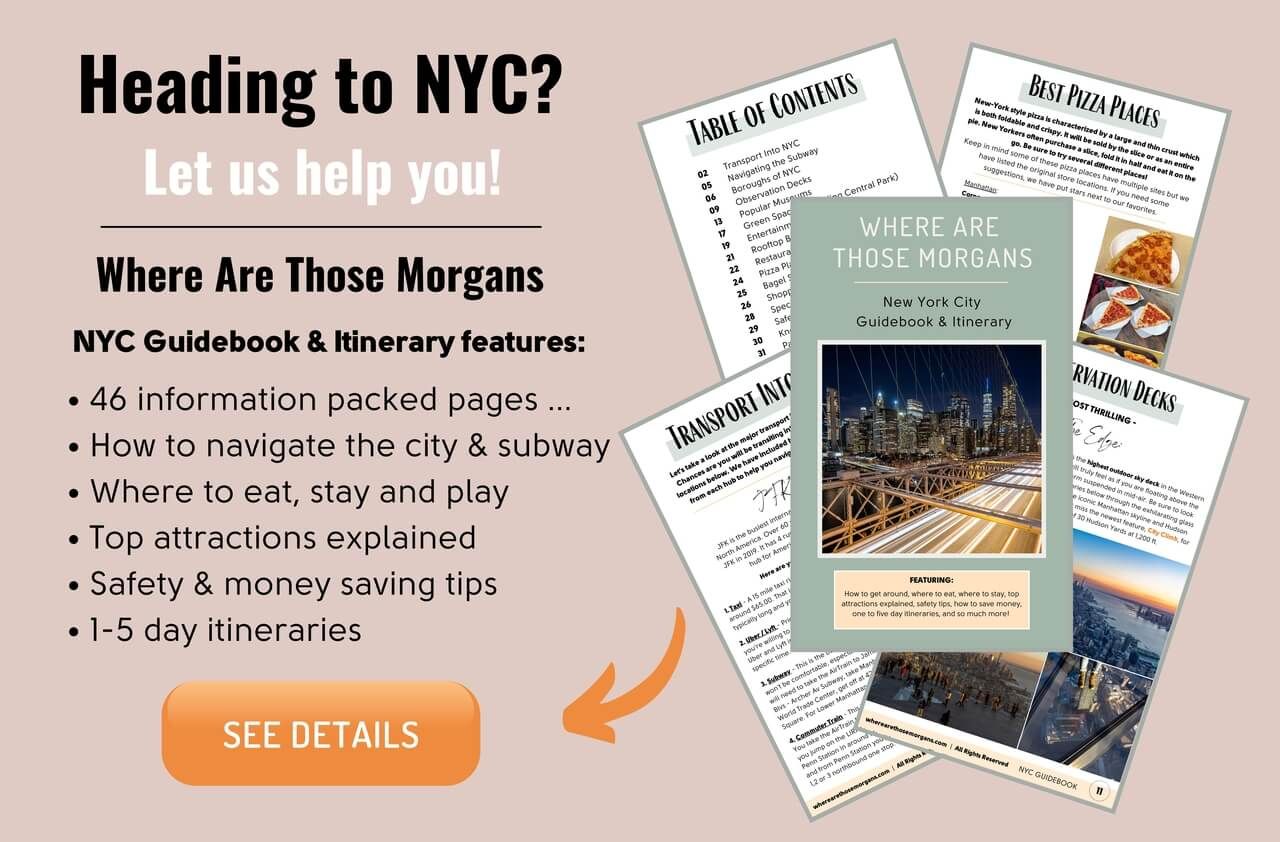 Best Bagels In NYC FAQ's
Let's take a look at some of the most asked questions regarding the best bagels in New York City.
What Is The Most Popular Bagel In NYC?
A Grubhub finding revealed the everything bagel to be the most ordered bagel in New York City.
What Is A Schmear?
A schmear is Yiddish word referring to the amount of spread that goes on a New York bagel. This is always a very generous amount of topping to complement the taste of the bagel. A spread could be cream cheese or any other kind of topping like nutella, peanut butter or jelly.
What Do New Yorkers Put On Bagels?
New Yorkers put schmear on bagels. Schmear refers to a bagel with any type of cream cheese, smoked salmon, peanut butter or another spreadable topping. Another popular bagel topping in New York is a classic bacon, egg and cheese. Yum.
How much Is A Bagel In NYC?
A traditional bagel in New York is typically $0.75 to $1.50. But most people also order some sort of topping like cream cheese, lox or egg and cheese. This would increase the price to $3.00 to $8.00 depending on the topping.

A speciality bagel in New York could cost you anywhere from $1.00 to $3.00. You would then also have to add the price of the toppings to the cost.

Why Is There A Hole In A Bagel?
A bagel has a hole in the middle for cooking and transport purposes. A hole allows the bagel to have a large surface area which ensures consistent cooking. The hole also allows the bagel to be threaded on a dowel after cooking for easy transport.
Our Popular NYC Guides
Attractions – Here's our complete roundup of the very best things to do in New York City for all visitors covering free, cheap and iconic attractions.
Itinerary – Our popular 4 days in New York City itinerary helps thousands of visitors plan the perfect visit to New York every year.
Photography – Our guide to the best photography spots in New York City includes over 60 famous photo locations around the city.
Hotels – Here's our comprehensive guide on exactly where to stay in New York City based on the six popular NYC neighborhoods.
Winter – Are you planning a trip to New York in December, January or February? There are 10 important things you need to know about visiting New York City in Winter.
Best Of New York City
Pizza – Sampling famous New York pizza is unmissable on any trip to the big apple, here's our popular guide to where you can find the very best pizza in NYC.
Bagels – Bagels are the only thing you should be eating for breakfast in New York! Here's our roundup of where to find the best bagels in NYC.
Museums – With over 100 museums in NYC it can be hard to narrow down which ones you should visit, here's our version of the 10 best museums in New York City.
New York Attractions Pass – With so many popular NYC Passes how do you choose? In this guide, we give you a detailed comparison for all New York passes.
Want more New York content? Head over to our New York travel guides to explore the Finger Lakes, Adirondacks and the best of NYC.
---
We hope this guide to the best New York bagels helps with planning your visit to NYC!
Please let us know if you have any questions about the best bagels or your visit to NYC in the comments below.
Happy Snacking,
Mark and Kristen
Enjoy This NYC Bagel Guide? Pin It For Your Visit!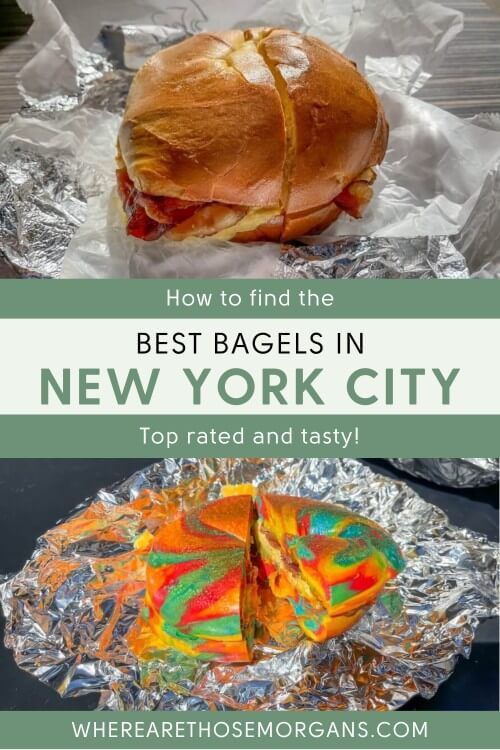 Note: This article contains affiliate links. When you make a purchase using one of these affiliate links, we may earn a small commission at no extra cost to you.
All Rights Reserved © Where Are Those Morgans, LLC. Republishing this article and/or any of its contents (text, photography, maps, graphics, etc.) in whole or in part is strictly prohibited.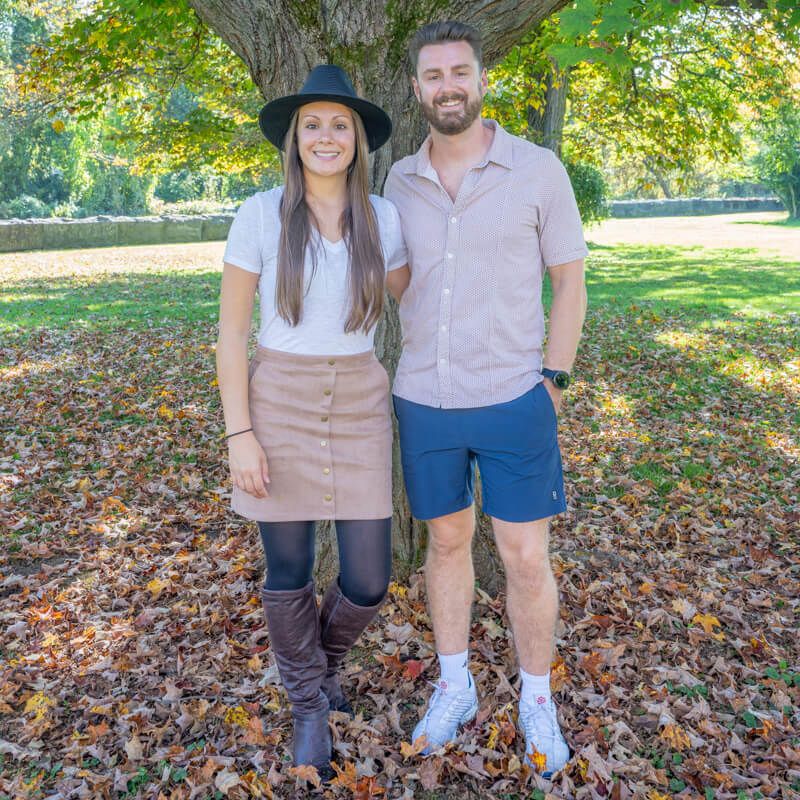 Mark and Kristen Morgan are travel, hiking and photography experts. Over the last 6 years traveling full time, they have explored more than 40 countries and 30 US states.
Their work has been featured in USA Today, Gestalten, Get Your Guide, CityPASS and Condé Nast Traveler along with various other publications.