Taking a helicopter ride over NYC to fly high above Manhattan is certainly one of the top bucket list things to do in New York City. This HeliNY review will show you how to find the best helicopter tour in New York because there is no better way to soak up the world's most famous urban landscape.
From the air, the extraordinary perspective of Manhattan's famous sprawling concrete jungle is far easier to comprehend. You will see the bustling streets of Downtown and Midtown with intimidating never-ending concrete skyscrapers towering high into the sky.
In this detailed guide featuring New York helicopter tours, we are going to show you:
Why you should consider a helicopter ride in New York
Where to find the heliports in Manhattan and New Jersey
Our NY helicopter ride experience with HeliNY
10 best NYC helicopter tours
Photography tips for flying high above NYC
Now, let's take a helicopter ride over New York City!
Our NYC Helicopter Ride Experience
Kristen is a New York State native and we have lived in both Upstate NY as well as New York City so you can consider us experts when it comes to the Empire State.
We took the Ultimate Tour with Heli NY in March 2021 to experience one of our bucket list activities, a New York helicopter ride.
But before booking our helicopter tour, we performed extensive research to make sure we chose the right company and experience which means we know exactly how you are feeling this very moment.
New York City isn't a cheap place and it's important you have all the right information in order to pick the best New York helicopter tour for your NYC itinerary.
We want our NYC helicopter guide to be helpful so instead of just listing helicopter tours in New York, we will show you a few things you need to know and things to consider before booking your tour high in the sky.
Heading to NYC? You might like our New York City Guidebook to help you prepare for your trip.
Why Take A Helicopter Ride In NYC?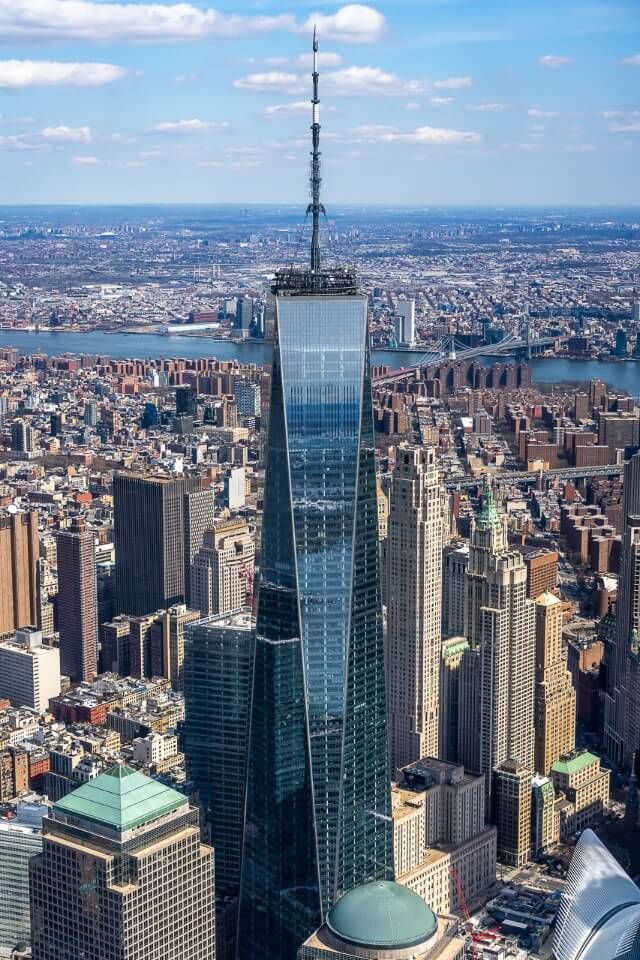 We will be honest and tell you that taking a luxury helicopter ride over NYC is going to consume a significant chunk of money and time out of your NY travel budget and itinerary.
But it's also going to be one of the best and most exhilarating experiences you have on your visit to the city.
Let's take a look at the top reasons to fly over NYC on a helicopter tour:
If you are short on time, you can see many of NYC's iconic buildings and landmarks in 20 minutes
You will experience a unique perspective of the city you simply can't get any other way
A luxury NYC helicopter tour is perfect for a special treat or celebration
If you have never been in a helicopter, there aren't many better cities or places to start
You just have to see NYC from above after watching so many movies and drone scenes of the city
Many of the helicopter tours will focus on Midtown or Lower Manhattan, but if you are interested in a specific landmark, be sure to book a helicopter tour that flies over or nearby that area.
Interested in One World Trade Center? Don't miss our popular guide on how to visit the One World Observatory in Lower Manhattan.
Different NYC Helicopter Tour Companies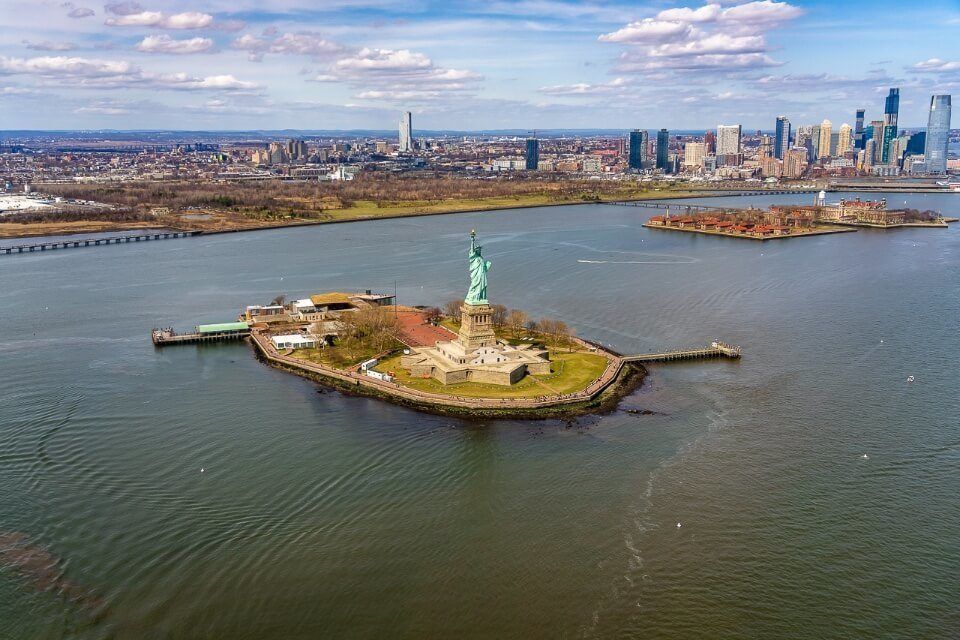 There are many helicopter tour companies in New York City and each company offers various helicopter routes with different features.
Some helicopter tours in NYC will fly directly over the buildings of Manhattan, whereas others fly along the Hudson River or Brooklyn.
Depending on how daring you feel, you can choose a New York helicopter tour with a doors off experience, but you can also opt for a doors on experience if this makes you more comfortable.
Another important factor to consider is where the helicopter ride begins. Certain helicopter tours take off and land in Manhattan, but others can only fly from New Jersey.
The length of tour will also depend on price so if this is a once in a lifetime experience you want to splurge on, you can select a longer helicopter ride in New York City to maximize your experience.
Where Are The Heliports In New York City?
You can choose a helicopter ride over NYC departing from either New Jersey or downtown Manhattan. Depending on where you have based yourself in NYC, one option may work better than the other.
When booking your NYC hotel, the likelihood is you'll be staying somewhere around Central Park, Midtown or Lower Manhattan if visiting the city, which means the Manhattan heliport is much easier to access.
There are 3 heliports in Manhattan (two in Midtown and one in Lower Manhattan):
West 30th Street
East 34th Street
Pier 6 on the East River
Opened in 1956, the West 30th St heliport is New York City's oldest public-use heliport and the only one on this list that is available 24 hours a day seven days a week.
With limited hours from 8:00am to 8:00pm, the East 34th St heliport next to FDR Drive often serves corporate users or charter operators. But there is a operational cap on flights this heliport can accommodate.
The downtown Manhattan heliport on Pier 6 is the only option on this list available for use by tour operators. Interestingly, this is also the only heliport in the city that can accommodate the president of the United States.
You can find the Lower Manhattan heliport near the Staten Island ferry and Governors Island ferry. This is the heliport we used for our helicopter ride with HeliNY and it's common to see other tour operators here too.
Heliports In New Jersey
While many of the popular NYC helicopter tours fly from somewhere in Manhattan, there are a few companies who fly from New Jersey.
If your NY helicopter tour begins in New Jersey, it will likely be flying from Kearny, NY.
Use our interactive map above to familiarize yourself with Manhattan or New Jersey heliports. You can also access our popular NYC heliport map via this link here.
Where you start your helicopter ride in New York City should be an important consideration when choosing a tour.
How Much Does A New York Helicopter Ride Cost?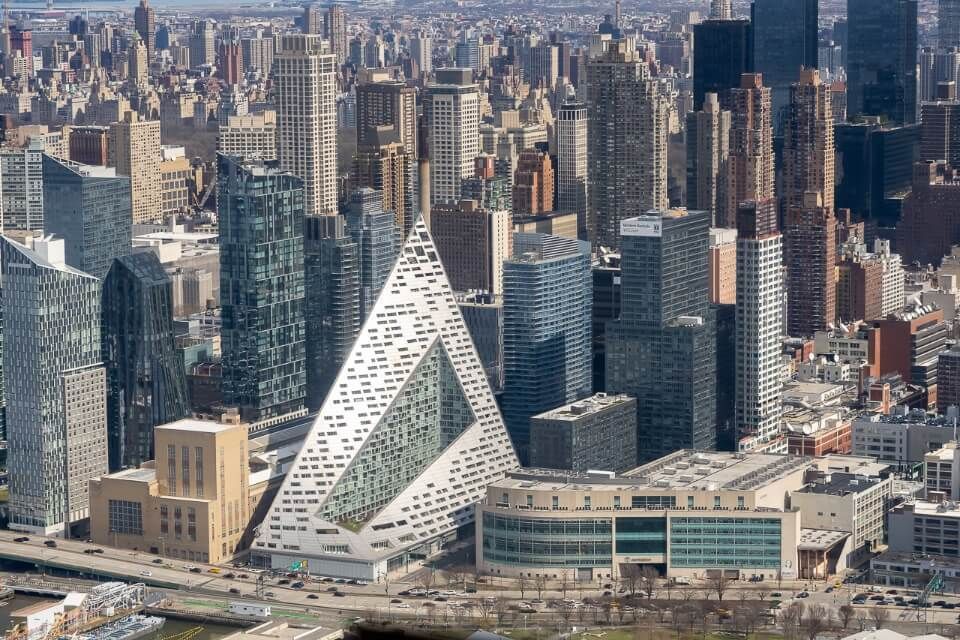 Since NYC helicopter rides are often booked by flight time, you can expect to pay anywhere between US $150 and $500 for a basic helicopter tour over the city.
However, if you are booking a New York helicopter tour for a special occasion such as a proposal, you can charter a private helicopter for a few thousand dollars.
The price of helicopter tours in New York also depends on what you see and which company you book with because tour companies sometimes run deals throughout the year due to competition and demand.
Just to give you a little bit more information about price, check out the current prices with HeliNY:
Departing Manhattan:
The New Yorker Tour (12-15 minutes) – US$ 189
The Ultimate Tour (17-20 minutes) – US$ 239
The Deluxe Tour (25-30 minutes) – US$ 329
Departing New Jersey (Linden Airport):
City Skyline Experience (25-30 minutes) – US$ 244
City Lights Experience (25-30 minutes) – US$ 244
Tips About Pricing Information
The Deluxe (Manhattan) vs Skyline (New Jersey) HeliNY tour follows a very similar route and time in the sky but the price is about $85 less when flying out of NJ.
This is because it's far less convenient to reach Linden Airport. Booking a NYC helicopter tour out of New Jersey is a great way to save on price if you can make it work.
Keep in mind there are a few additional fees often associated with a New York helicopter tour:
Seat, facility or booking fee – Sometimes not included in booking price
Doors off helicopter experience – Additional fee for the instagram shoe selfie
Fuel surcharge – Sometimes combined with the seat fee
Popular day time charges – Extra charge to fly around sunset
Before booking your helicopter ride in NYC, it's critical you read the fine print so you know exactly what you are getting.
These rides are expensive enough so the last thing you want is to be surprised with another large bill because you didn't consider the add ons.
How Long Is A New York Helicopter Tour?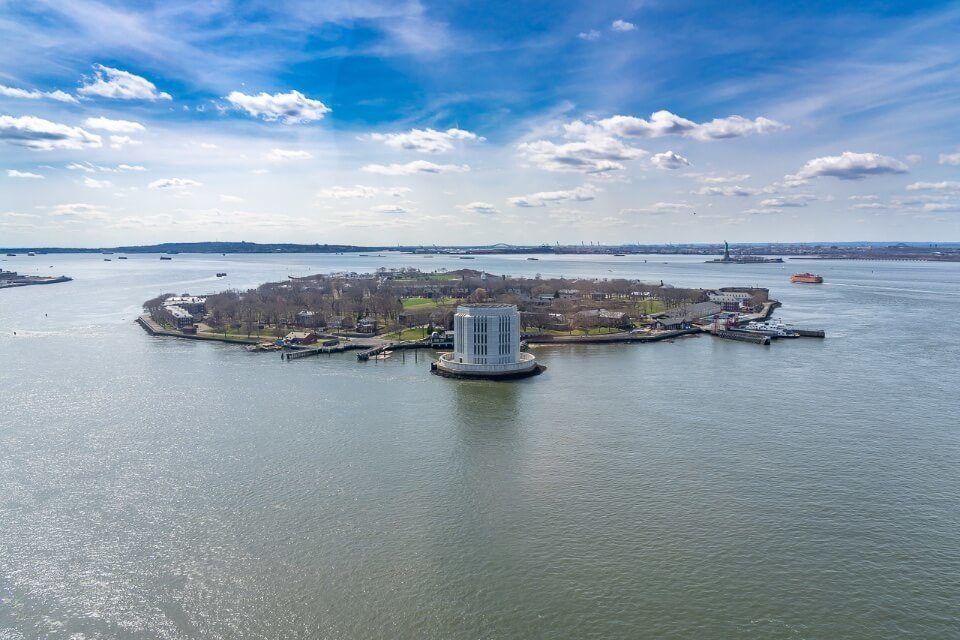 As mentioned above, you can choose the time vs cost package to suit your NYC travel budget, but most helicopter tours in New York last somewhere between 15 to 30 minutes.
We can tell you from experience that our flight with a suggested timeframe of 17-20 minutes could have lasted 5 minutes or an hour and we wouldn't have known.
You will find that time in the air vanishes and before you know it you're walking out of the heliport back into Lower Manhattan.
We think it's more important to pick your NYC helicopter tour based on what you will see rather than time.
Have extra time in Lower Manhattan? Don't miss our popular guide featuring the best things to do in Lower Manhattan.
Preparing For Your New York City Helicopter Ride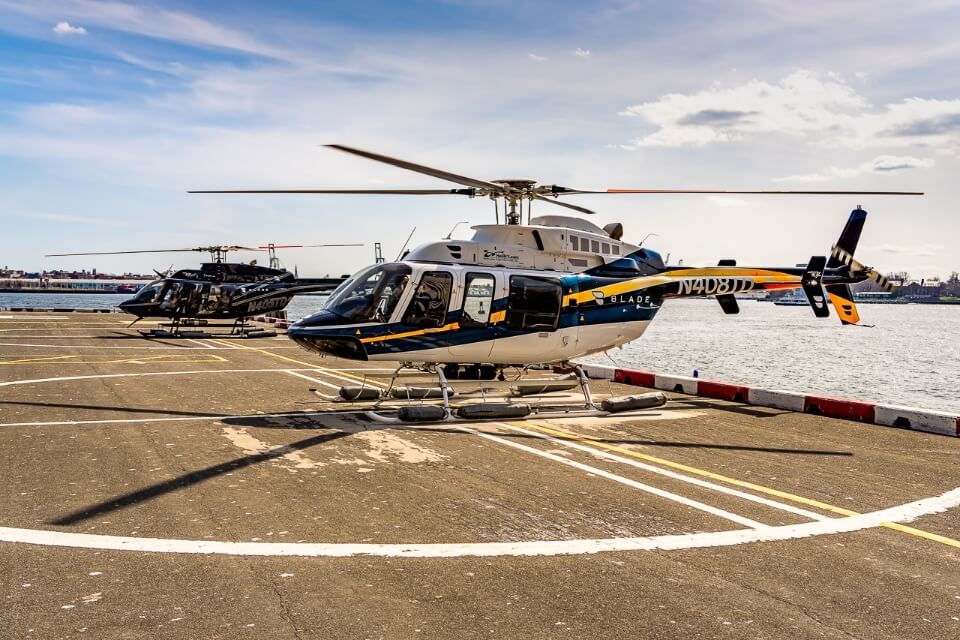 Most people book their NYC helicopter tour in advance to reserve a space. If you booked in advance, you will walk into the heliport having already signed a waiver via the email account you booked with.
But you don't have to book in advance. Instead you can turn up on the day as a walk in and sign a waiver on the day. The down side to this is you might not be able to ride because there is no availability.
Each individual person riding in the helicopter has to sign a waiver, so if you booked in advance for 2 people, both of you need to sign an individual waiver.
On most NY helicopter tours, you can not bring personal belongings and these items will be placed securely in a locker at the heliport.
The only items we were allowed to bring in the helicopter during our HeliNY tour was a camera, sunglasses and cell phones. If you have a large bag, these will be left with a member of staff in the pre-flight room.
Prior to boarding the helicopter, you will be provided a life jacket in case of landing on water before watching a safety briefing on a tv monitor.
You can expect to share your helicopter ride in New York City with about 6 other passengers. Typically, there are two passengers up front with the pilot and four in the main cabin of the helicopter.
But it all depends on how busy it is during the time of your scheduled flight. You could have just one other or five others during the same flight.
If you booked a private tour, you can book for two to six people depending on the NYC helicopter package.
How Are The Seating Arrangements Determined?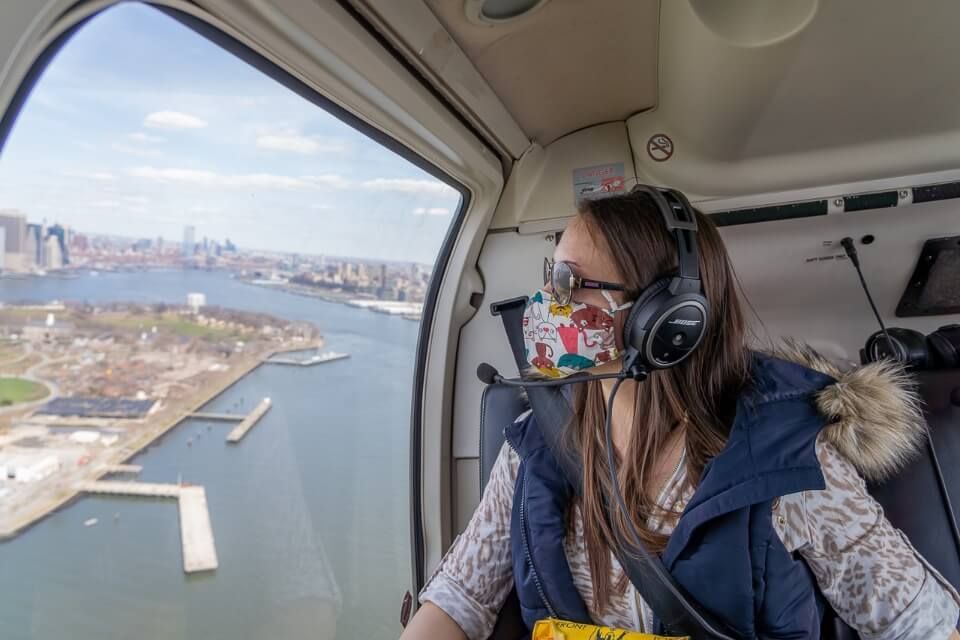 Similar to a plane, the seating for a NYC helicopter ride is pre-determined according to passenger weight. This is based on efficiently distributing the total weight throughout the chopper.
You certainly don't want to go up in a lopsided helicopter!
Most New York helicopter tours will have a maximum weight limit per passenger. For HeliNY, the max weight was 275 lbs (125kg).
Passengers who are bordering around this weight may have to wait for a flight in which a proportionate weight can balance the helicopter.
You can make a request for a specific seat but there are absolutely no obligations to put you in that seat if it may compromise the safety of passengers.
Remember, you and everyone else on the flight are inside a tiny capsule at 1500 – 2000 ft above New York!
What Is The Best Time For A NYC Helicopter Tour?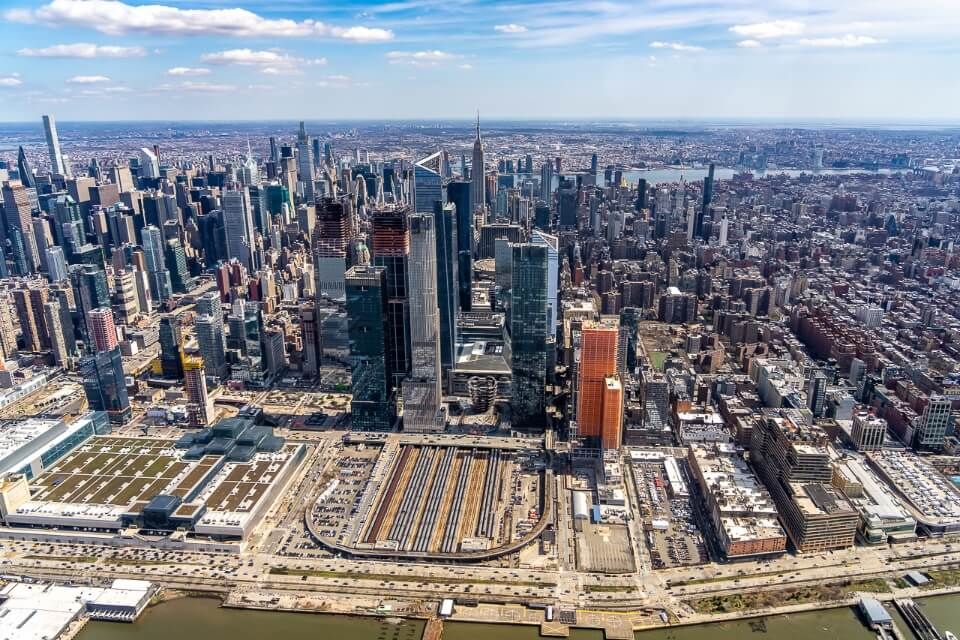 Choosing the right time of day will be more important to some than others. Here are the pros and cons to each time of day:
Early morning helicopter ride:
Pros: Quieter with clearer weather and calmer air, great for beating the rush while having the rest of the day to explore the city
Cons: Sun may be a problem depending on time
Afternoon helicopter ride:
Pros: Best time of day for photographers
Cons: Trade winds may blow in clouds later in the day and the weather is more unpredictable
Sunset helicopter ride:
Pros: One of the most romantic times to ride
Cons: Extra cost often associated with this time of day
Evening helicopter ride:
Pros: Ability to see the city illuminating from above
Cons: Most often an extra cost for this time of day, difficult to take photos due to lack of light and a moving helicopter
Tips For Choosing The Correct Time To Ride
Weather is the main factor when it comes to taking a helicopter tour in New York. Tours will not fly if the weather is bad so if you want the best chance of flying, we recommend booking early in the morning.
The hours between 1pm to 3pm are a good choice for photographers because the sun will be at its highest point in the sky. Therefore less glare will reflect from windows and you shouldn't have to shoot directly into the sun.
We took our HeliNY helicopter tour at 2:00pm and we ended up being extremely happy with this time of day to fly over New York City.
However, since we flew in March, we took a chance by flying later in the day because weather is often unpredictable this time of year.
Keep in mind, it will also depend which way you will be flying. For example, flights over the East River and looking west over NYC are probably best completed in the morning as the sun will be at your back.
Conversely, flights over the Hudson River as you look east over NYC are best taken in late afternoon or early evening such as sunset because the sun is behind you.
How To Choose A Company You Trust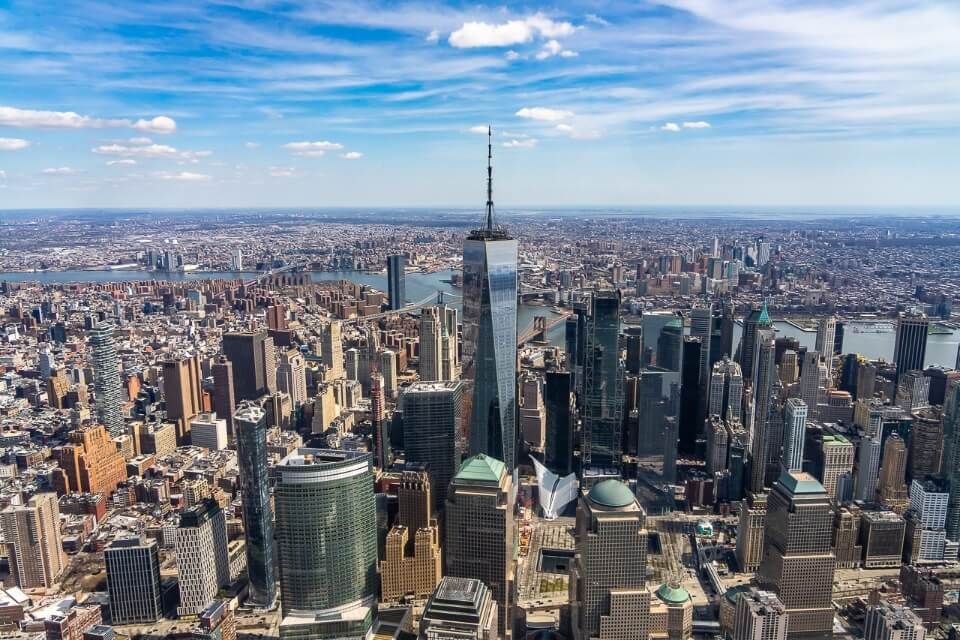 Before you book your helicopter tour in New York, we strongly recommend you check out the websites of each helicopter tour company in NYC.
Be sure to read the reviews with emphasis on the most recent customer reviews. Just because a company was great a few years ago, doesn't mean they are the best option now.
Read the flight descriptions and FAQ's page to understand exactly what is involved with your flight. Ensure they can offer support for any accessibility or mobility concerns if applicable.
Check social media channels and look at forums about NYC helicopter tours such as on Reddit, TripAdvisor or Quora for any companies you like to find more information.
Are New York City Helicopter Tours Worth It?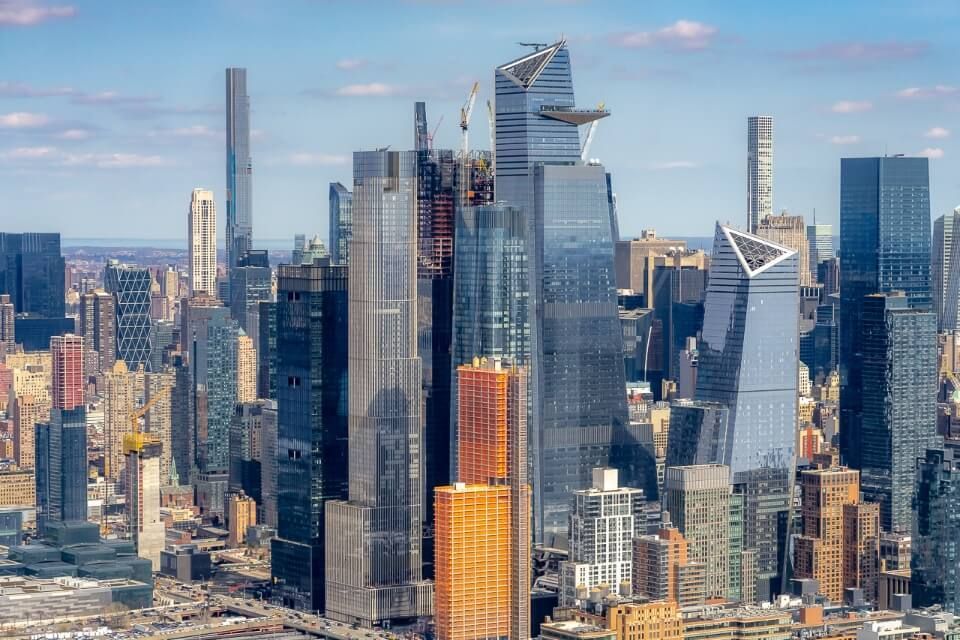 Helicopter tours aren't cheap.
Hundreds of dollars per person for less than half an hour in the air is pretty steep. So, is it really worth spending a big chunk of your New York City travel budget?
The easy answer is yes, it is worth the money. As long as you can comfortably afford it.
Imagine taking a helicopter ride in your hometown or city, what would you see?
Now imagine seeing Central Park, the Empire State Building, One World Trade Center, Brooklyn Bridge, Statue of Liberty … and the list goes on.
If you have any intentions of taking a helicopter ride at some point, you might as well make it over an iconic place like NYC.
However, if your budget is tight and you are on the fence about blowing what you have left on a helicopter tour, we suggest you very carefully think about what you won't be able to do in NYC as a result.
Our NYC Helicopter Ride Experience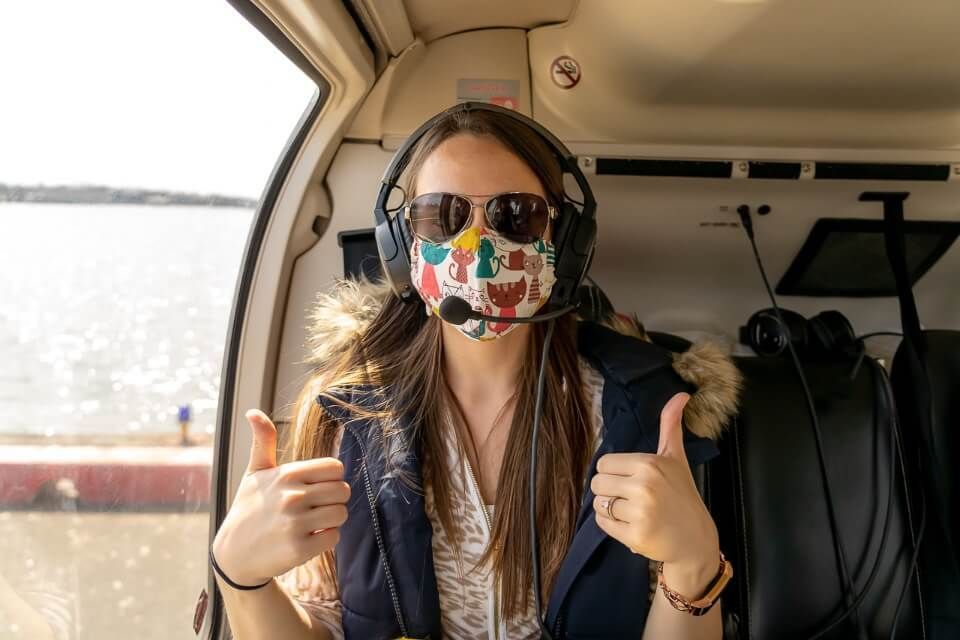 When we flew with Heli NY, it was a baking hot early spring day in New York City with a clear blue sky. The city was just coming back to life after a long, hard, covid hit Winter.
Right after eating delicious pepperoni from Underground Pizza in the Financial District (one of our top rated NYC pizza places), we arrived a few minutes early for our scheduled 2:00 pm flight time and waited right outside the pier on a bench watching as others took off and landed.
We booked the Ultimate Tour which is the most popular HeliNY package, so we went with the general consensus.
Getting Ready With HeliNY Pre-Flight
After checking in, we watched the safety brief and putting our belongings in a locker. We also met the three other passengers who would share our HeliNY helicopter ride.
Before boarding the helicopter, HeliNY took a photograph of each group in front of a helicopter. The two of us had our photo taken and were ushered to our seats.
We both were placed on the right side of the helicopter with Mark back to back with the pilot and Kristen opposite Mark. Another couple sat in the back with us but we all had a window seat with plenty of room.
Our headsets were provided so we could listen as the pilot pointed out various landmarks along the flight path.
With nervous excitement building, our heart rates increasing and the long blades slicing through air, we were finally buckled in for our helicopter ride over NYC.
NYC Views During Our HeliNY Flight
Before we knew it, we were in the air and heading out into the East River. The helicopter banked right, gained elevation and within 30 seconds we were circling around the Statue of Liberty and Ellis Island.
Quickly moving on, we had the money shot of Lower Manhattan skyline in a V shape with both East and Hudson Rivers. Unfortunately, our orientation wasn't directly head on.
The route then traced the center of the Hudson River, passing by One World Trade Center, Empire State Building, Times Square, Edge at Hudson Yards, Midtown and Central Park.
It felt like we'd been in the air 2 minutes by the time we reached Yankee Stadium and George Washington Bridge to turn around.
On the return leg, we followed the exact same path along the Hudson, except this time couple next to us had the Manhattan view and we had the New Jersey view.
Post Flight Excitement
One more look at Lady Liberty and a left bank brought us around in line of sight for Brooklyn Bridge before landing back on the big H target along Pier 6.
Back in the heliport, we took a copy of our photograph in front of the helicopters, before picking our gear up and leaving back into the beautiful sunshine of Lower Manhattan.
What an incredible experience flying high over New York City with HeliNY!
Why We Choose HeliNY Over The Competition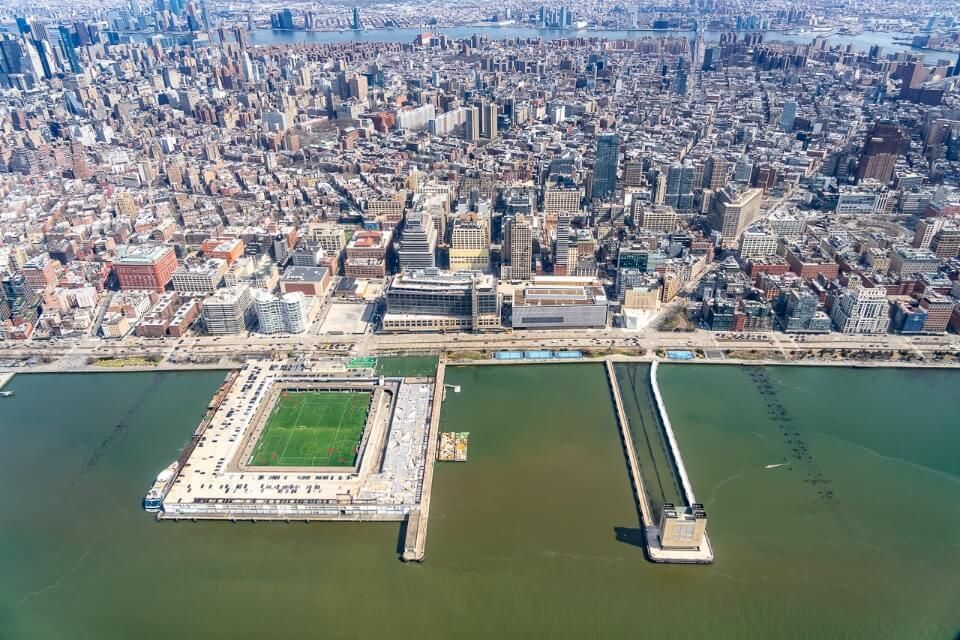 Before we list the top rated helicopter tours in New York City, we want to show you why we chose HeliNY to help you make a decision about your helicopter tour of NYC.
Our top priorities were safety, cleanliness and price. We also preferred a helicopter ride departing in Manhattan as opposed to New Jersey.
Here is why we chose HeliNY over the competition:
HeliNY has some of the best customer reviews
We watched a video about how they were taking covid cleanliness seriously (our flight was March 2021 when NYC was still heavily affected by covid)
HeliNY departs from Manhattan, which makes it east to visit
Prices were extremely competitive, if not the best value for money
HeliNY is a family friendly helicopter experience
We hadn't read about recent misfortunes with this particular company, whereas others had recently been in the news
When booking your tour, keep in mind Heli NY is part of the Helicopter Flight Services Company so these terms may be used interchangeably.
10 Best Helicopter Tours In New York City
Now that you know everything about a helicopter ride in NYC, it's time to find you the perfect tour. Here are the top rated helicopter tours in New York City in no particular order:
1. Manhattan Island Helicopter Tour (HeliNY)

This closed door tour provides large floor-to-ceiling convex windows for your viewing pleasure. We like this tour because tour narration and all heliport fees are already included with photos available for purchase.
During your flight, you will see Central Park, Hudson River, Empire State Building, New York Harbor, the Intrepid Sea Air Space Museum, One World Trade Center and the iconic Statue of Liberty.
Tour Provider: Helicopter Flight Services
Price: From $229 / person
Helipad: Pier 6 – Downtown / Lower Manhattan
Tour Length: 12 – 15 min, 17 – 20 min and 25 – 30 min
Included: Helipad fees, in-flight commentary, noise-cancelling Bose headsets, lockers available
Need to know: $50 / person rescheduling fee, children aged 2+ must pay for their own seat
Rating: 4.8 / 5.0
>> Book the Manhattan Island helicopter tour here.
Travel Tip: If you want the tour we described in this guide, book the 17 – 20 minute tour.
---
2. Manhattan Helicopter Tour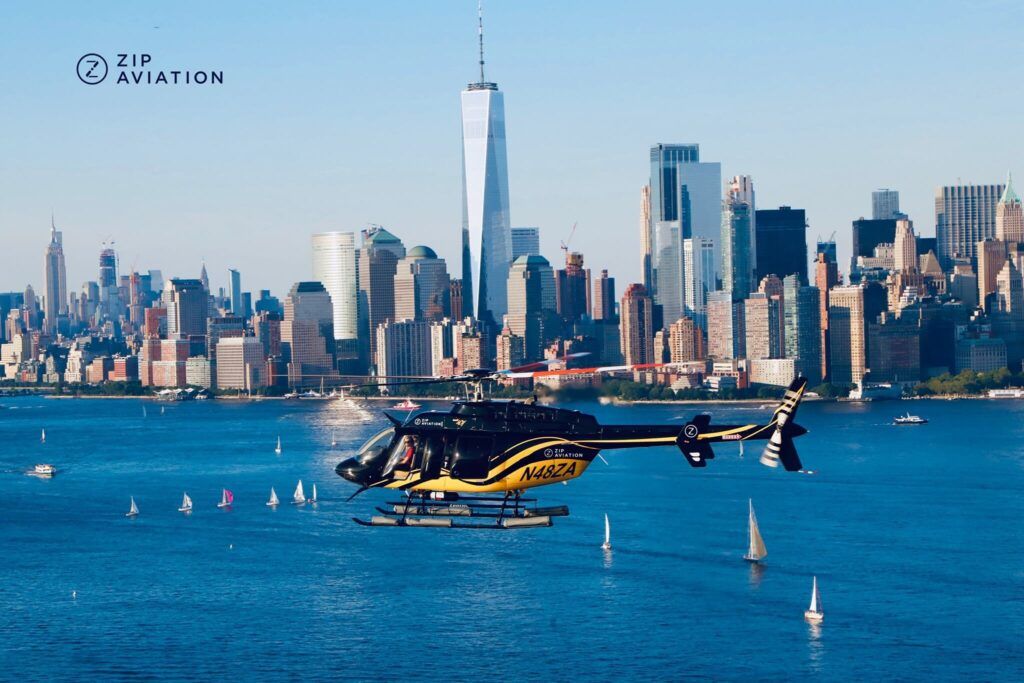 Another Manhattan featured helicopter tour, this ride provides you with stunning views of Manhattan with a 15 or 20 minute tour as it flies over the Hudson River.
During this New York helicopter tour, you will see the Statue of Liberty, Ellis Island, One World Trade Center, 9/11 Memorial, Brooklyn Bridge, Battery Park and so much more.
Tour Provider: Zip Aviation
Price: From $209 / person
Helipad: Pier 6 – Downtown / Lower Manhattan
Tour Length: 15 or 20 minute tour
Included: Pre-recorded narrated helicopter tour
Need to know: $40 boarding free and locker rental are not included, weight limit is 300 lbs (136 kg)
Rating: 4.7 / 5.0
>> Book the Manhattan helicopter here.
---
3. NYC City Lights Helicopter Tour At Night (From New Jersey)

This New York City helicopter tour originates in Linden, New Jersey for an evening flight adventure. You will begin by flying directly over Newark International Airport towards Manhattan.
As you head to the New York Harbor, you will see the Statue of Liberty, skyscrapers of the NYC skyline and the Financial District before flying along the Hudson River for more stunning views.
Tour Provider: Helicopter Flight Services
Price: From $274 / person
Helipad: Linden Airport (New Jersey)
Tour Length: 25 mins
Included: All heliport fees and taxes, lockers and noise-canceling Bose headsets
Need to know: Transport from Manhattan to New Jersey not included, flights cannot be rescheduled within 24-hours of flight time
Rating: 4.8 / 5.0
>> Book the NYC City Lights helicopter tour: Get Your Guide | Viator
---
4. NYC Doors-Off Helicopter Tour (From New Jersey)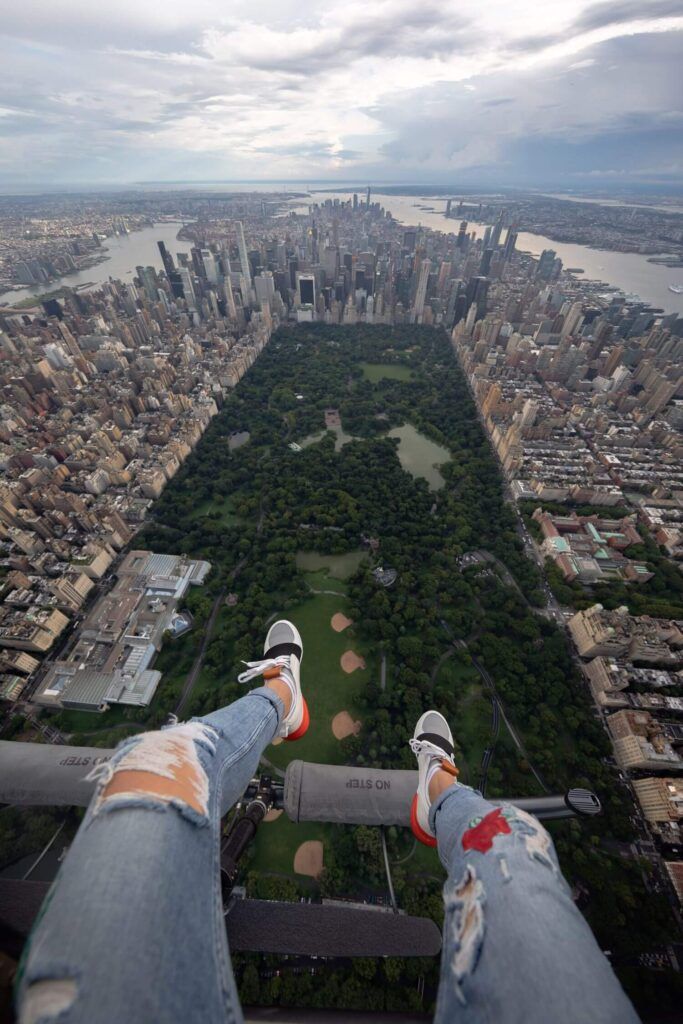 This 16 minute flight will take you over the gorgeous Manhattan skyline as you fly over iconic sights including the Statue of Liberty, Ellis Island, the Freedom Tower, Brooklyn Bridge and Governors Island.
For those looking for a thrill, this doors off helicopter ride will make you feel as if you are floating above the NYC skyline high above the city's iconic skyscrapers.
Tour Provider: Helipass NYC
Price: From $375 / person
Helipad: Kearny, New Jersey
Tour Length: 16 mins
Included: Doors-off experience (if option selected)
Need to know: $50 registration fee / person, max weight is 309 lbs (140 kg)
Rating: 4.4 / 5.0
>> Book the doors-off helicopter tour here.
---
5. The Big Apple Helicopter Tour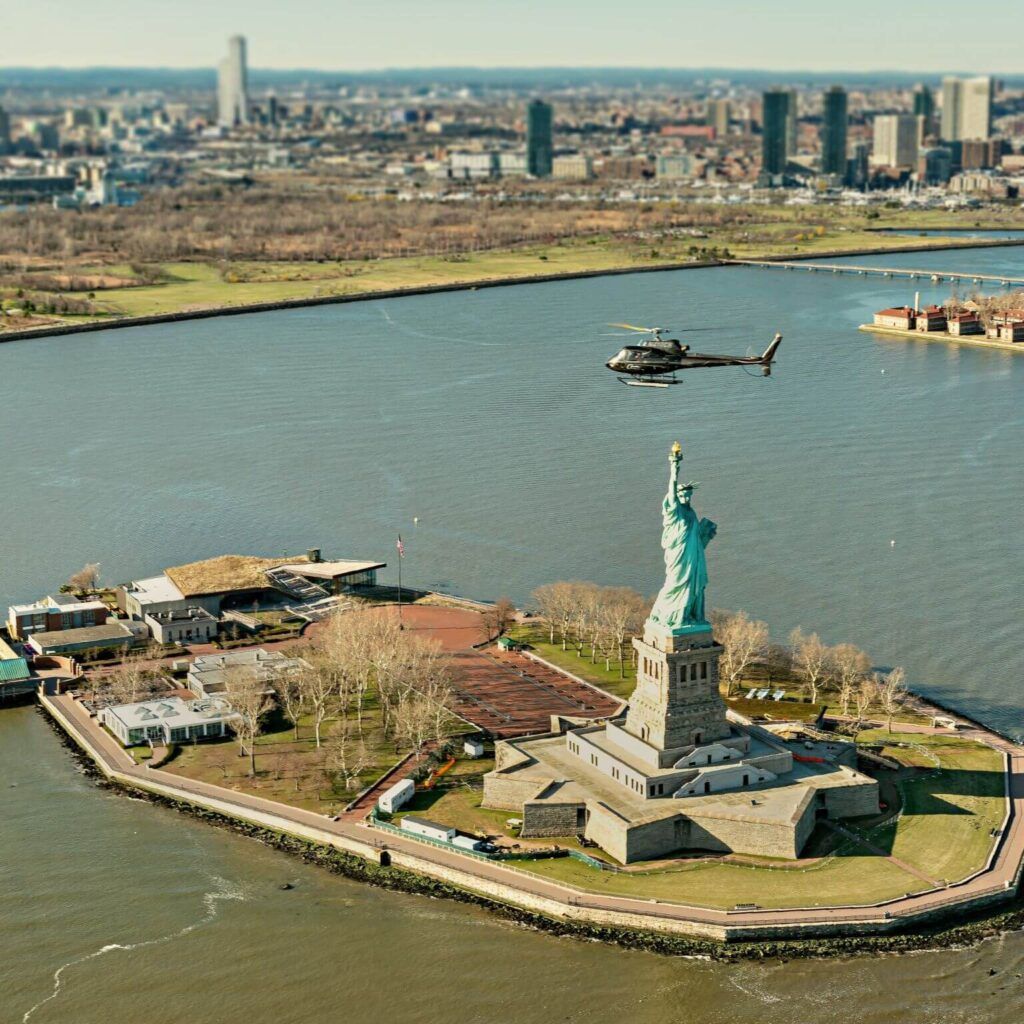 Fly down the Hudson River as you pass by One World Trade Center, the Financial District, Statue of Liberty and the Verrazano-Narrows Bridge that links Staten Island to Brooklyn.
As you turn around near the Yankee Stadium, you will see even more top NYC sights including Central Park, Empire State Building and the Intrepid all with live commentary.
Tour Provider: Charm Aviation NYC
Price: From $269 / person
Helipad: Pier 6 – Downtown / Lower Manhattan
Tour Length: 17 – 20 mins
Included: Heliport landing and facility fees
Need to know: Souvenir photos additional charge, passengers exceeding 275 lbs (124 kg) must purchase an additional seat
Rating: 4.5 / 5.0
>> Book the Big Apple helicopter tour here.
---
6. FlyNYON Helicopter Experience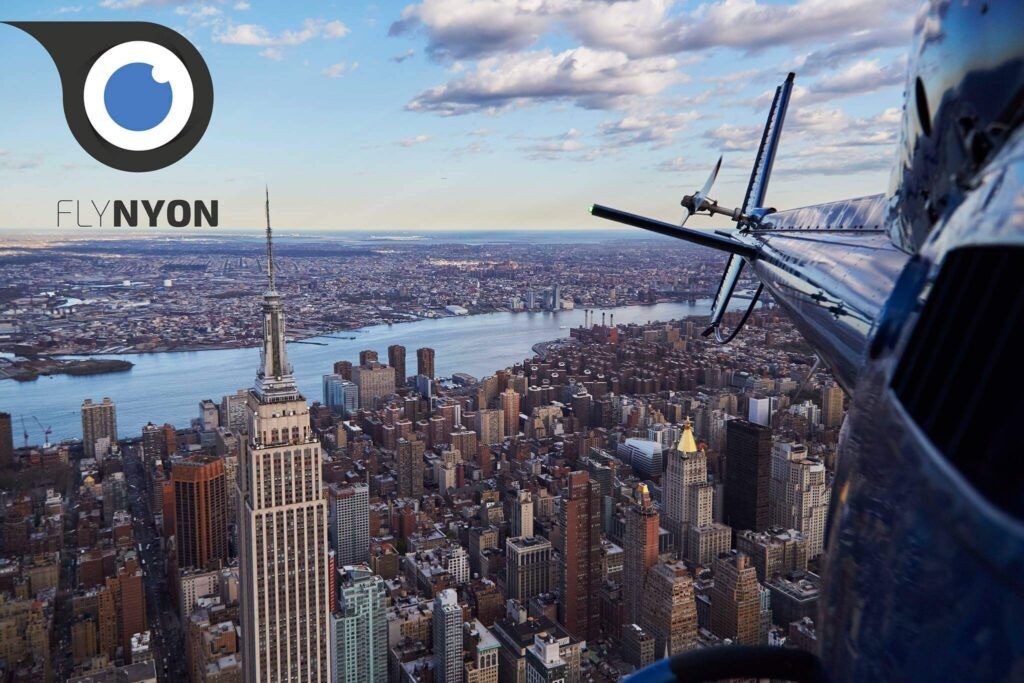 Offering both a doors off or doors on helicopter ride, FlyNYON flies over the southern tip of Manhattan and includes famous landmarks such as Statue of Liberty, Central Park and World Trade Center.
Departing in NJ, FlyNYON also offers focus helicopter flights for the 4th of July, the famous Macy's Thanksgiving Day parade and even during the stunning fireworks on New Years Eve.
Tour Provider: FlyNYON
Price: From $143 / person
Helipad: NYON Terminal in NJ
Tour Length: 16 – 33 minutes
Included: Use of interactive floor at NYON terminal
Need to know: $47 booking fee not included and $70 shoe selfie seat not included
Rating: 4.5 / 5.0
>> Book a helicopter ride with FlyNYON here.
---
7. Manhattan Sky Tour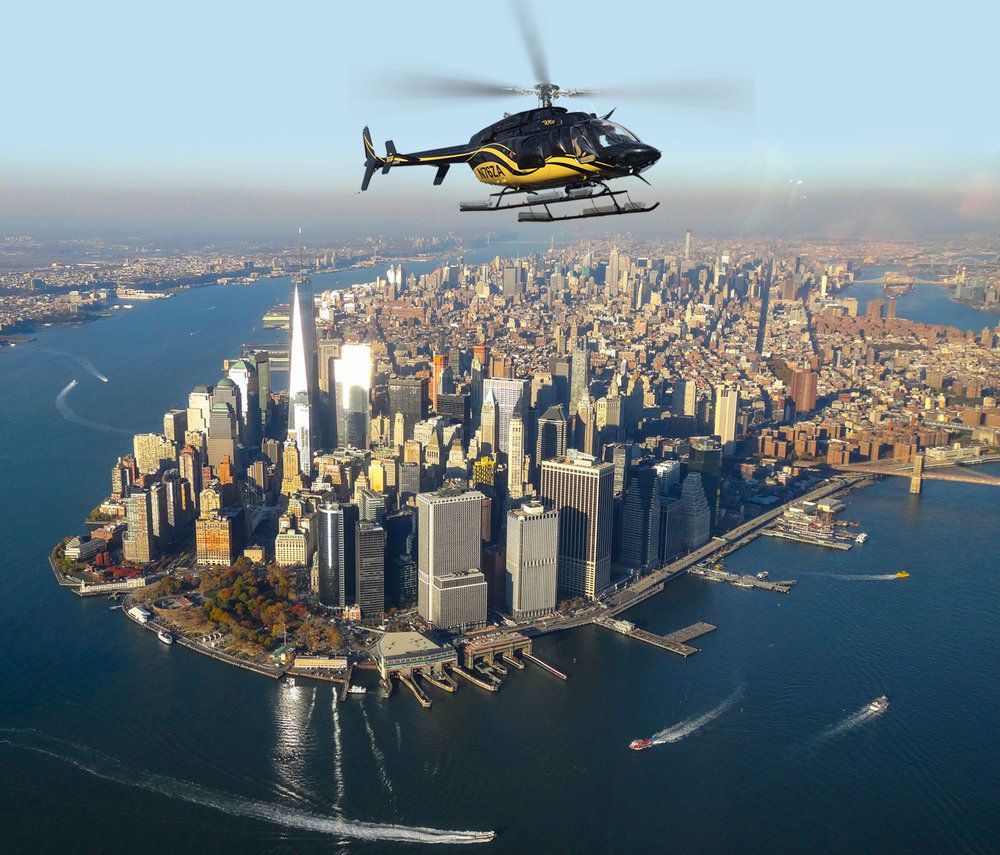 This helicopter tour in NYC glides across the Hudson River as you pass by some of the most iconic landmarks in New York such as Governor's Island, Lower Manhattan, the Statue of Liberty and the New York Harbor.
Book this tour to experience a state-of-the-art Bell 407 helicopter ride and choose from a morning, midday, afternoon or late afternoon time frame which is suitable for almost every NYC travel itinerary.
Tour Provider: Zip Aviation
Price: From $217 / person
Helipad: Pier 6 – Downtown / Lower Manhattan
Tour Length: 12 – 15 mins
Included: Pre-recorded audio tour
Need to know: $40 / person heliport and security fee not included
Rating: 4.5 / 5.0
>> Book the Manhattan Sky tour here.
---
8. Private VIP New York City Helicopter Tour (+ Luxury SUV)
This extremely luxurious helicopter ride option is operated by HeliNY and includes a pick up from any Manhattan address 96th St or below with drop off after your NYC flight as well.
During this private flight, you and your group will see the Statue of Liberty, Ellis Island, the Chrysler Building, the MetLife Building, Intrepid, Empire State Building, Central Park, Brooklyn Bridge and more.
Tour Provider: HeliNY
Price: From $1,460
Helipad: Pier 6 – Downtown / Lower Manhattan
Tour Length: 12 – 30 mins
Included: Live commentary on board, Heliport landing and facility fees, fuel surcharge
Need to know: 275 lbs (175kg) weight limit
Rating: 5.0 / 5.0
>> Book the VIP private NYC helicopter tour here.
---
9. Private NYC Helicopter Tour From Westchester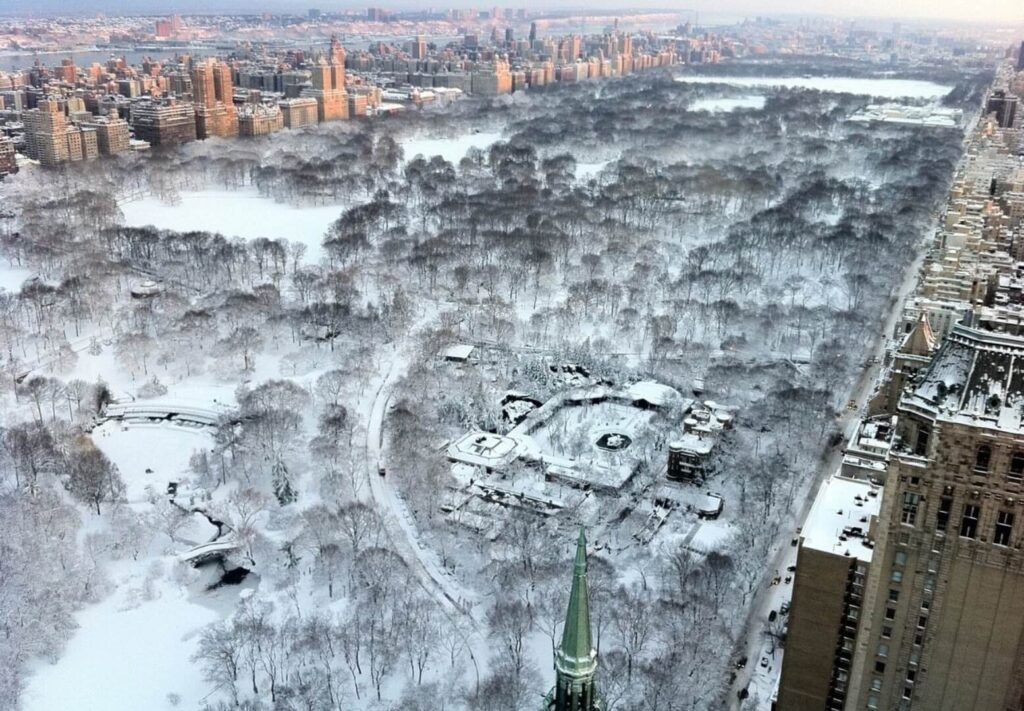 For a unique experience, book a private helicopter tour for amazing views of Manhattan as you fly over Central Park and the Empire State Building.
Aboard an Airbus AS350/H125 helicopter, enjoy a day time, sunset or evening flight for you and your private group. We like this tour because it includes a roundtrip pickup or transfer from Manhattan.
Tour Provider: Wing Air Helicopters
Price: From $1,500
Helipad: Westchester County Airport (White Plains)
Tour Length: 30 – 45 mins
Included: Roundtrip pickup or transfer from Manhattan (if booked)
Need to know: $35 / person airport fee and fuel surcharge not included, maximum weight 1000 lbs (453 kg) for all 6 passengers, children under 2 may ride on parents' laps at no cost
Rating: 5.0 / 5.0
>> Book the Private NYC helicopter tour from Westchester.
Interested about Central Park in Winter? Don't miss our popular guide featuring things to do in Central Park during the winter season.
---
10. NYC Helicopter Piloting Experience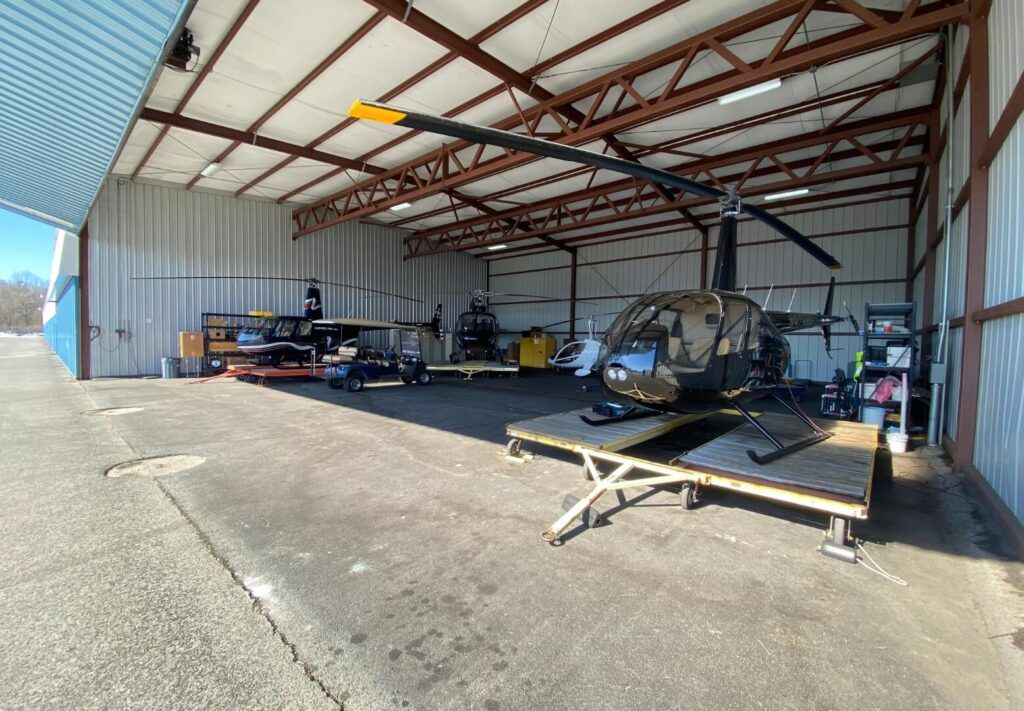 Instead of enjoying a New York helicopter ride, maybe you would be interested in a helicopter flight lesson?! This experience includes a 30 minute ground instruction along with a 30 minute flight lesson.
Departing from Westchester, you can bring a friend or family member along as you control a Robinson R44 helicopter taking in the views of Westchester County, the Hudson River and the NYC skyline.
Tour Provider: Wings Air Helicopters
Price: From $540
Helipad: Westchester County Airport (White Plains)
Tour Length: 1.0 – 1.5 hours
Included: Ground instruction, private lesson, 1 passenger (optional), round trip pick up or transfer from Manhattan
Need to know: $35 / person airport fee and fuel surcharge not included,
Rating: 5.0 / 5.0
>> Book the Westchester helicopter piloting experience here.
---
NYC Helicopter Ride Photography Tips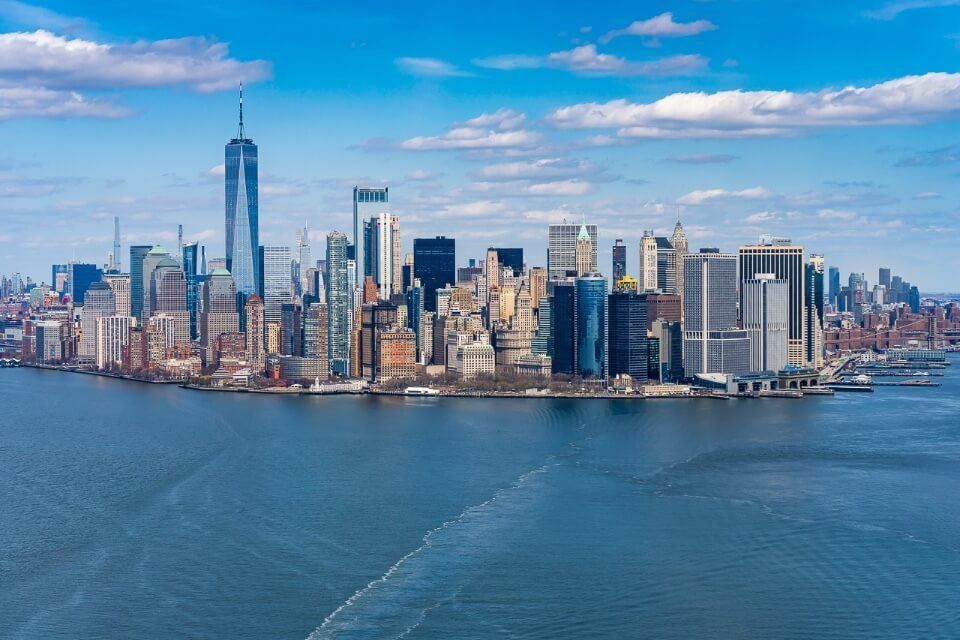 By taking a helicopter ride over New York City, you will be sure to take home some amazing images from one of the best NYC photography locations of all from above!
Let's finish with a few NYC helicopter ride photography tips:
Wear neutral colors like grey to limit reflections in windows around the helicopter
Get your lens as close to the glass as possible to limit glare
Shutter speed needs to be up around 1/4000s – 1/5000s. Seriously because if you don't, you will not get sharp images
Use shutter priority and set it super-fast, leave your ISO on auto and let the camera choose your aperture (which will be the widest it goes, such as f/2.8 or f/4). Our ISO never went above 500 because we had a 2:00 pm flight on a bright day
Take more photographs of the same thing than you usually would. Thermals, wind, someone moving and other mechanisms will cause the helicopter to jump, bounce and sway. Many of your images will not turn out, so you need to make sure you get 1 in 10 right
Think about exactly what you want to capture before you fly. Empire State Building, One World Trade Center, Statue of Liberty etc. Knowing your frames ahead of time will significantly help
We understand how stressful it can be when it comes to photography on a NYC helicopter ride because you want to get the best shot during this once in a lifetime experience!
However, don't spend all of your time behind the camera and take some time to soak up the stunning NYC views.
Looking To Save Money In New York City?
New York City is an expensive city and there is not much you can do about it. But we can show you have to save a little bit of money.
If you plan to visit several of New York City's top attractions, we recommend you consider purchasing an attractions pass.
Buying a New York attractions pass will give you instant access to the most iconic NYC museums, landmarks and observation decks at a discounted price.
The idea is simple in that the more attractions you visit, the more discount you will recieve and the more money you save. It's very similar to buying in bulk.
Having used the NYC attraction passes ourselves when we lived in New York, we recommend the New York Sightseeing Pass because its extremely easy to use while offering both flexibility and big savings.
While a New York helicopter tour is not currently included on any of the NY passes, you can recieve $70 off a Charm Aviation Manhattan Helicopter Tour by purchasing it as an add on with your NY Sightseeing Pass.
So we have teamed up with Sightseeing Pass to offer our readers an exclusive 10% discount.
Please just note if you want to purchase the Charm Aviation Manhattan Helicopter Tour, it must be purchased in addition to your DAY or FLEX Passes upon checkout to receive the $70 off.
Want To Save Money In NYC?
Use the button below to claim 10% off any NY Sightseeing Pass.
You can also read our detailed New York attraction pass comparison to help you decide which New York pass you should purchase for your visit to the Big Apple.
Need Help Planning Your Visit To NYC?
NYC is a trip planning beast and it can be overwhelming trying to get every aspect right.
After living in New York City, we created a comprehensive NYC travel guidebook that will answer every question you have about where to stay, what to do, where to eat and how to get around the city.
Click see details below to read more about how we can help you plan your dream trip to New York City!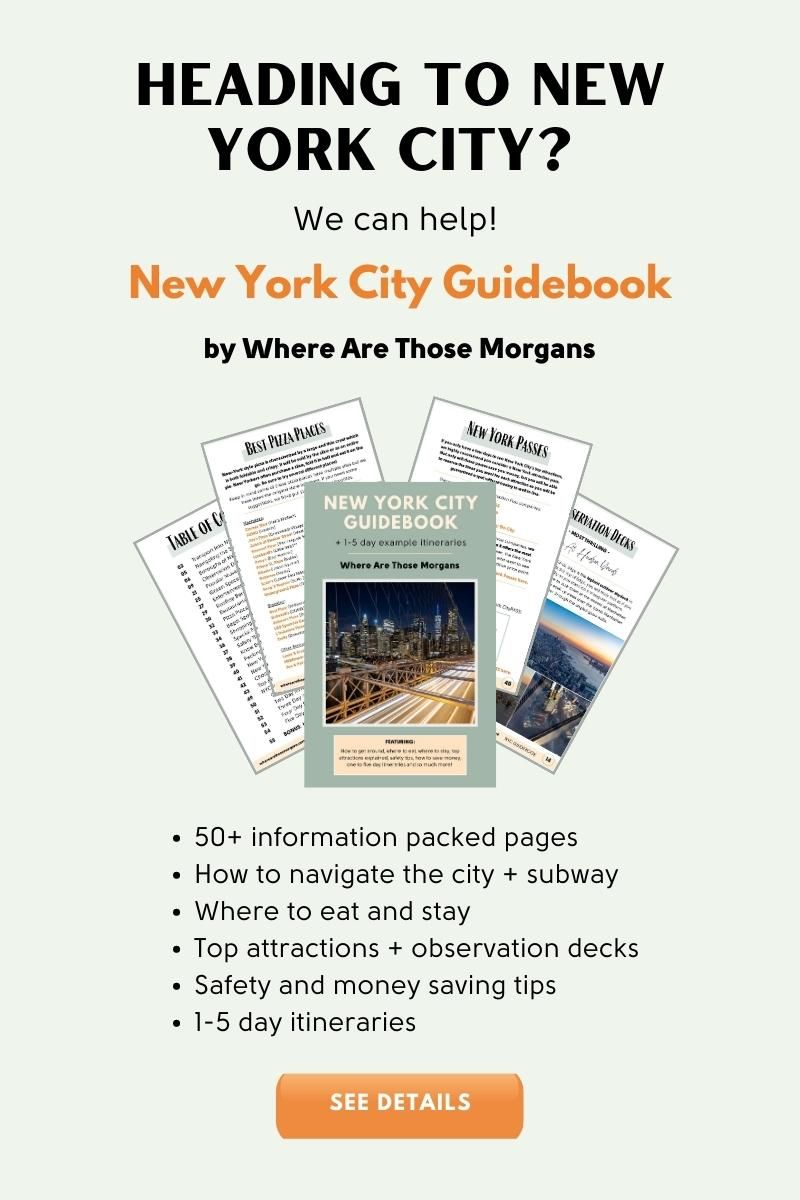 NYC Helicopter Tour FAQ's
Let's take a look at some of the most frequently asked questions regarding helicopter rides in New York.
What is the best helicopter tour in NYC?
Each helicopter tour operator in NYC offers a similar experience, but the main difference is price, where the flight originates and door off versus door on experience. We enjoyed our helicopter tour with HeliNY because they offered one of the best value for money experiences with a great reputation for safety.
Should you fly out of Manhattan or New Jersey for a NY helicopter tour?
A Manhattan heliport will be easier to access, but you can save significant money on your flight by flying out of New Jersey. Some NYC helicopter tour operators also offer round trip transportation.
What should you consider when booking a NYC helicopter tour?
When booking a helicopter ride in New York City, you should consider price, company reputation, recent customer reviews, where the flight originates and flight length.
Our Popular NYC Guides
More NYC Guides
Want more New York City content? Head to our New York Travel Guides to explore more from the Big Apple as well as beautiful upstate NY.
---
We hope this New York travel guide helps you choose the right tour company for your helicopter ride over Manhattan in NYC!
Please let us know if you have any questions about flying over New York City in a helicopter in the comments below.
Happy Flying,
Mark and Kristen
Enjoy This HeliNY Review? Pin It For Your Visit!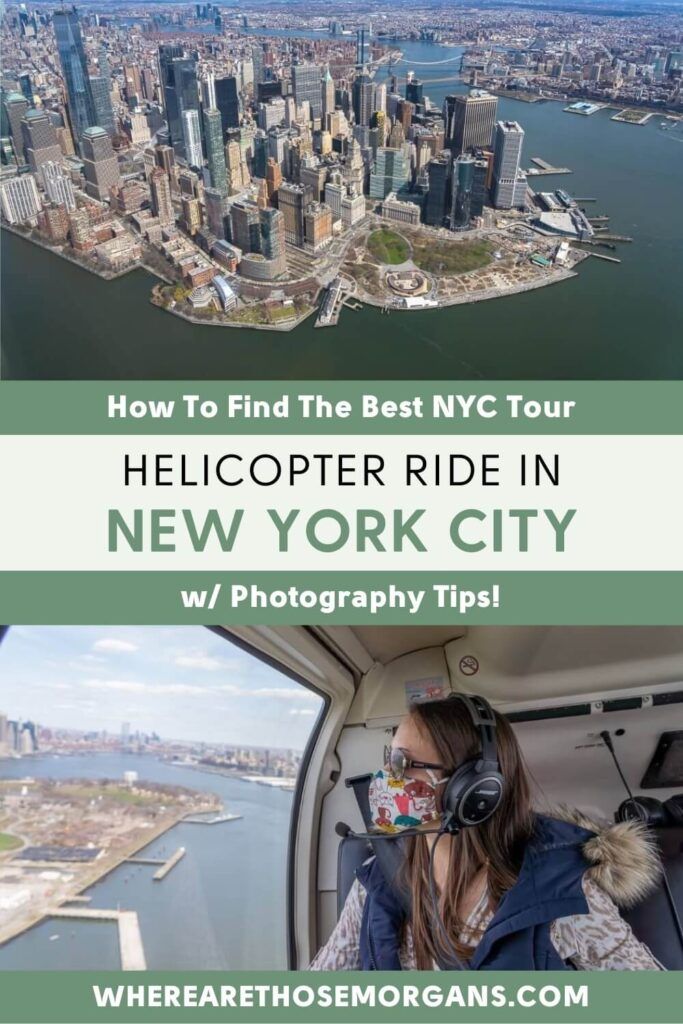 Note: This article contains affiliate links. When you make a purchase using one of these affiliate links, we may earn a small commission at no extra cost to you.
All Rights Reserved © Where Are Those Morgans, LLC. Republishing this article and/or any of its contents (text, photography, maps, graphics, etc.) in whole or in part is strictly prohibited.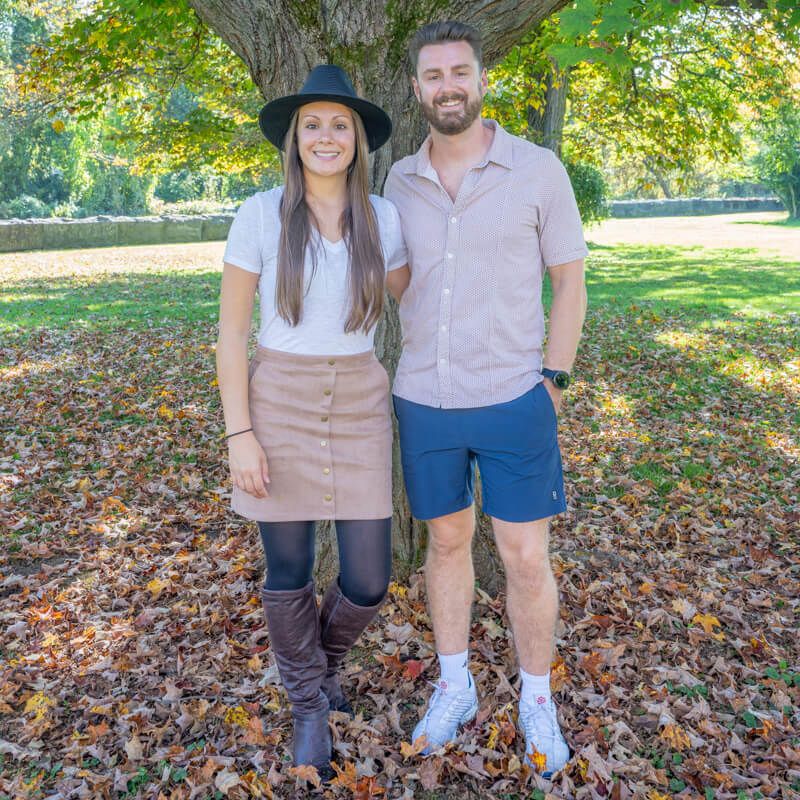 Mark and Kristen Morgan are travel, hiking and photography experts. Over the last 6 years traveling full time, they have explored more than 40 countries and 30 US states.
Their work has been featured in USA Today, Gestalten, Get Your Guide, CityPASS and Condé Nast Traveler along with various other publications.