Walking across New York City's most iconic bridge is a spellbinding experience no matter the time of day you choose to visit. But there is something extra special about walking Brooklyn Bridge at sunset and at night.
We believe walking over Brooklyn Bridge is one of the best things to do in New York City as it connects the two famous boroughs of Manhattan and Brooklyn over the East River.
In this detailed NYC travel guide, we are going to explain everything you need to know including:
History about the Brooklyn Bridge
Best time to visit the Brooklyn Bridge
Best subways + pedestrian entrances for the bridge
Brooklyn Bridge sunset photography locations
Where to find best views of the bridge with the NYC skyline
How to walk the Brooklyn Bridge at night
Our own Brooklyn Bridge photos
Now, let's walk the Brooklyn Bridge together to find the best photography spots!
Our Brooklyn Bridge Experience
Kristen is a New York State native and we have also lived in NYC, so you can consider us experts when it comes to the Empire State.
Having crossed the Brooklyn Bridge numerous times in all four seasons during different times of the day, we can tell you from experience there is no better way to spend your time in New York City.
The NYC Brooklyn Bridge is an iconic structure that resonates with both locals and tourists alike. Crossing this famous bridge is an experience you will never forget.
Our guide will show you why you should consider adding a Brooklyn Bridge sunset or night walk into your New York City itinerary.
Heading to NYC? You might like our New York City Guidebook to help you prepare for your trip.
Brooklyn Bridge History
Before we get into the nitty gritty details about a Brooklyn Bridge walk, let's discuss a little bit of history you need to know about this famous structure.
Construction for the bridge began in 1869 and was completed 14 years later in 1883. At the time when it was finished, the Brooklyn Bridge held the record for the longest suspension bridge in the world.
While the bridge no longer holds this record, it is still one of the most recognizable landmarks in the entire United States and officially became a National Historic Landmark in 1964.
John A. Roebling was responsible for designing the Brooklyn Bridge. Unfortunately, Roebling suffered an injury and died due to complications in recovery while the bridge was still being built.
But when the bridge opened on May 24th, 1883, his wife Emily Roebling made history as the first person (and woman) to walk across the Brooklyn Bridge.
The total length of the Brooklyn Bridge including approaches is 6,016 ft (1,834m) while the main span of the bridge is 1,595.5 ft (486m) and the clearance at the center of the Brooklyn Bridge is 135 ft (41m).
There are two large trusses of the Brooklyn Bridge that now support five lanes of vehicle traffic, a two-way bike lane and pedestrian promenade.
According to 2018 statistics from the NYC DOT, over 116,000 vehicles, 30,000 pedestrians and 3,000 cyclists travel across the Brooklyn Bridge every single day.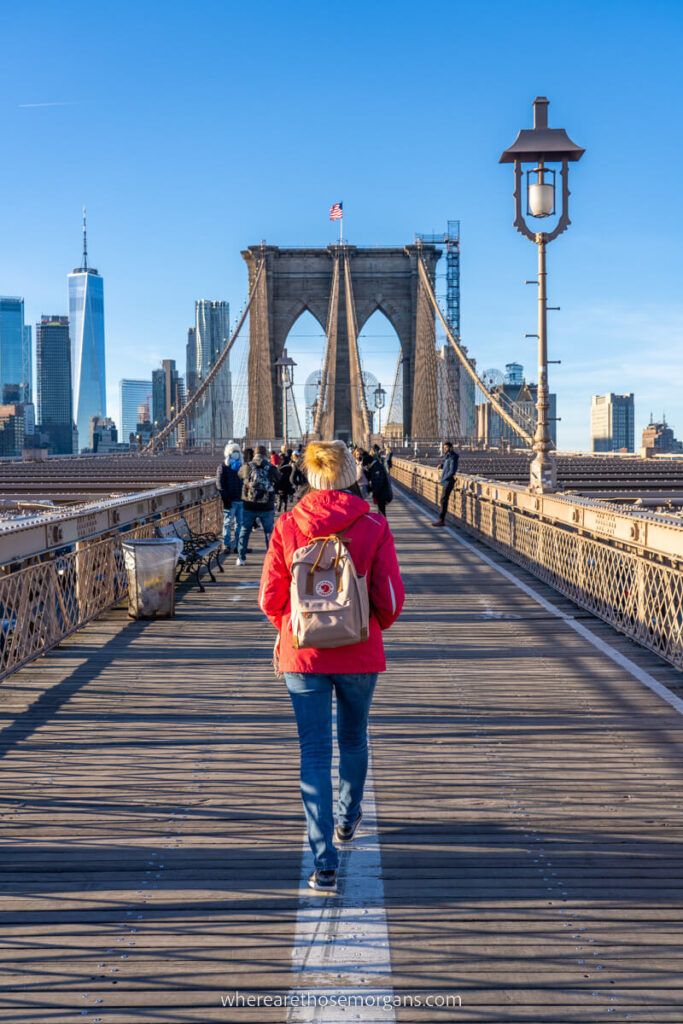 Can You Walk Across The Brooklyn Bridge?
Yes, you walk across the entire Brooklyn Bridge via the pedestrian promenade.
But if you want to cycle across the bridge, you must use the designated two-way bike lane next to the traffic lanes on the lower level of Brooklyn Bridge.
Up until September 2021, the pedestrian promenade was shared with cyclists through painted lines on the bridge, but this shared setup between cyclists and pedestrians did not work well.
Unfortunately, crowds on the Brooklyn Bridge didn't follow the bike lanes and cyclists often tried to make dangerous points as they whizzed through groups of people at very high speeds.
This recent change moved the bike lane down to the lower level of Brooklyn Bridge which means cyclists don't get to experience the same great view from the pedestrian promenade.
So if you want to experience the best views of the Brooklyn Bridge, walking across is your best bet.
How Long Does It Take To Walk Over The Brooklyn Bridge?
The Brooklyn Bridge pedestrian promenade is just over 1.0 mile long and it takes an average of 30 minutes walk across.
But if the bridge is very crowded and you stop for photographs, you should plan for about an hour to walk the entire way across the Brooklyn Bridge.
To give you an example, it usually takes us around 1 hour 30 minutes with stops to enjoy the views and take numerous photographs.
So if you take a lot of photos like we do, you might want to plan for a little longer.
Interested in photography? Don't miss our popular guide featuring the best NYC photography and instagram locations.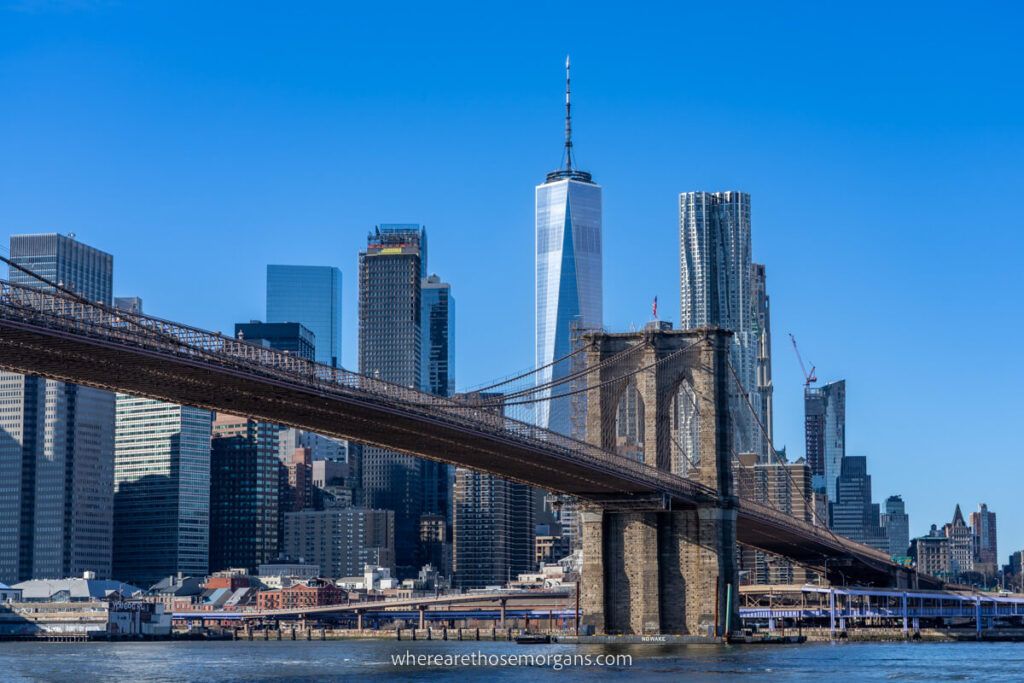 What Is The Best Time To Walk Brooklyn Bridge?
Walking across the legendary Brooklyn Bridge when sunset fades into night is about as quintessential NYC as it gets. You simply cannot miss a walk over Brooklyn Bridge from your New York City itinerary.
Tourists, locals and even professional photographers will be left in a spin with endless wow-moment locations offering incredible views over the bridge and Lower Manhattan.
The best time to walk across the Brooklyn Bridge for the electric atmosphere with hundreds of people soaking up a positive vibe is later in the day near sunset when the light is soft.
However, many other people will have the same idea so if you want a more quieter and relaxing experience, walk across the Brooklyn Bridge at sunrise.
There is no wrong time to walk across the Brooklyn Bridge, it just comes down to what you want to experience throughout your NYC trip.
Interested in a sunrise on Brooklyn Bridge? You might like to read about walking across the Brooklyn Bridge during sunrise.
Best Direction To Walk Across The Brooklyn Bridge
You can walk across the Brooklyn Bridge two ways:
Manhattan to Brooklyn
Brooklyn to Manhattan
Depending on which neighborhood in New York City you have based yourself, one direction may work better for you.
In this guide, we will walk across the bridge in both directions so you can see the advantages or disadvantages to both ways.
First, we will begin in Manhattan and walk across the Brooklyn Bridge to Brooklyn during sunset.
You will see the blazing orange sun set behind the Statue of Liberty as well as Manhattan, but a perpetual feel-good aura brings the steel and granite bridge back to life in darkness.
After showing you some of the best photo locations along Brooklyn Bridge Park, we will then slowly walk across the Brooklyn Bridge at night from Brooklyn to Manhattan once NYC is shrouded in darkness.
You will see how walking the Brooklyn Bridge at night is sensory overload with romance in the air, excitable tourists laughing, camera shutters snapping and helicopter tours whizzing by overhead as the gorgeous Lower Manhattan skyline lights up.
It is an unforgettable experience and best of all, walking the Brooklyn Bridge any time of day is completely free!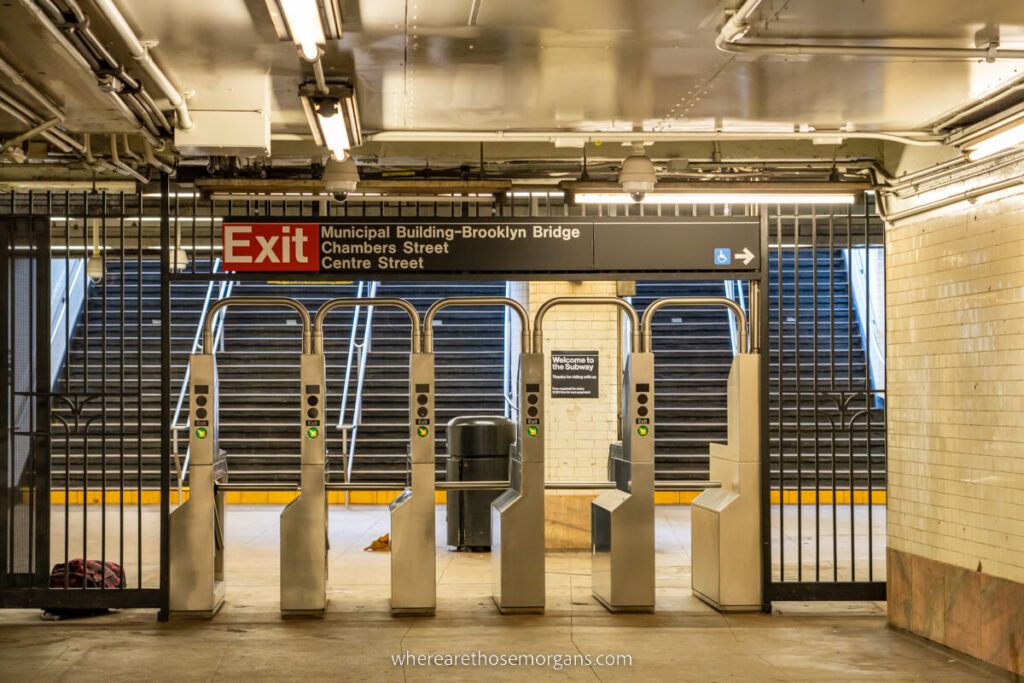 Closest Subways For Walking Brooklyn Bridge
To make the most of your experience, we recommend walking over Brooklyn Bridge from Manhattan at sunset and back over again once the sun has completely disappeared.
However, if you're short on time or don't want to walk across twice, you should walk across the Brooklyn Bridge towards Manhattan.
This way you will experience the breathtaking views of the NYC skyline over both Midtown and Lower Manhattan. Our favorite part about sunset is watching the lights spread throughout the entire city.
Here are Manhattan subway stations for walking the Brooklyn Bridge:
Brooklyn Bridge / City Hall – Green Line 4, 5, 6
Chambers St – Brown Line J, Z
City Hall Station – Yellow Line W, R, N
Here are Brooklyn subway stations for walking the Brooklyn Bridge:
High Street / Brooklyn Bridge – Blue Line A, C
Borough Hall – Red Line 2,3
Pedestrian Entrances For The Brooklyn Bridge
There are four different pedestrian entrances you can use to access the Brooklyn Bridge promenade (also known as the pedestrian walkway).
Two of the pedestrian entrances can be found in Manhattan while the other two entrances can be found in Brooklyn.
In either borough, you can use the main pedestrian entrance or an underpass featuring a staircase leading to the pedestrian promenade.
Manhattan pedestrian entrances for Brooklyn Bridge promenade:
Centre St: This main entrance is located by New York City Hall in Manhattan. Begin walking where Centre Street meets Park Row. You can immediately join the promenade and continue along the pathway to the bridge.
New York City Hall Google Maps location (look for Living Memorial Groove).
Park Row Underpass: We like this lesser known option along Park Row because it runs underneath the pedestrian promenade in Manhattan. Look for a staircase leading directly up to the main walkway.
Brooklyn pedestrian entrances for Brooklyn Bridge promenade:
Tillary St + Boerum Place: Located in downtown Brooklyn, this is a very popular and well known entrance leading directly to the pedestrian promenade.
Tillary St + Boerum Place Google Maps location (known as Brooklyn Bridge walkway starting point).
Prospect St + Cadman Plaza Underpass: This is a great entrance if you are close to Brooklyn's waterfront or taking photos at DUMBO. Use the staircase to connect with the pedestrian promenade.
Sunset Brooklyn Bridge Walk (From Manhattan)
If you have time and don't mind walking double the distance, we highly recommend you walk from Manhattan to Brooklyn before and during sunset.
Check sunset times for NYC and start walking across the bridge 1 hour before sunset time.
For example, if sunset is 7:00pm, you should begin walking from near City Hall subway station in Manhattan at 6:00pm. That way you can walk past the Lower Manhattan skyline by 6:30pm.
Once you start walking across the bridge at sunset, try not to hang around too long because the best views will be about half way across the bridge.
Brooklyn Bridge Sunset Photography
There are numerous photography locations when walking the Brooklyn Bridge from Manhattan. Here is what you can expect from walking over the Brooklyn Bridge at sunset:
1. Half Way Across Brooklyn Bridge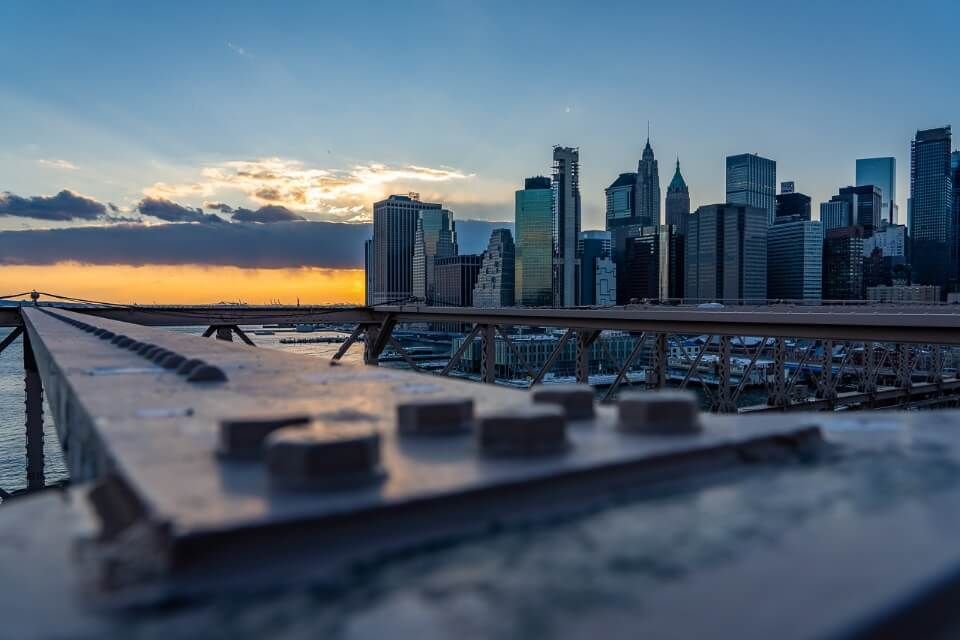 You should aim to be half way across the bridge by sunset to have the best NYC views. If you look closely the iconic Statue of Liberty is a tiny silhouette backed by a burning orange sky at sunset to the left.
As you continue walking towards Brooklyn, turn around often to see skyscrapers like Empire State Building and Top of the Rock in Midtown backed by stunning colors in the sky.
2. Manhattan Skyline View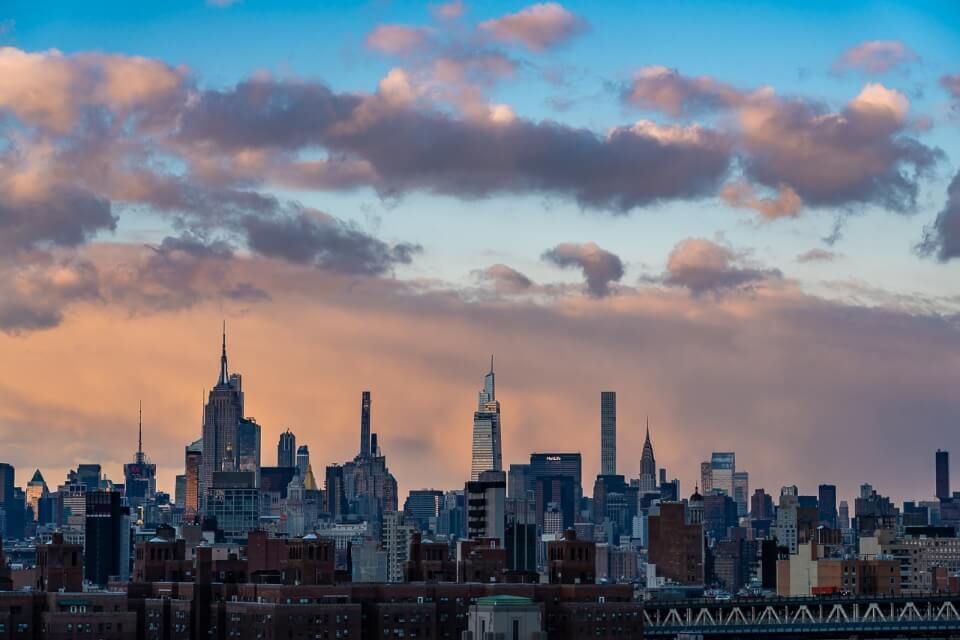 We were lucky enough to see the sky illuminate with streaky yellows and oranges as we looked toward Midtown Manhattan from Brooklyn Bridge at sunset.
Starting on the left of this photo, you can see the Empire State Building, SUMMIT One Vanderbilt and the Chrysler Building.
Interested in NYC Observation Decks? Don't miss our popular guide on how to visit SUMMIT One Vanderbilt.
3. Famous Brooklyn Bridge Trusses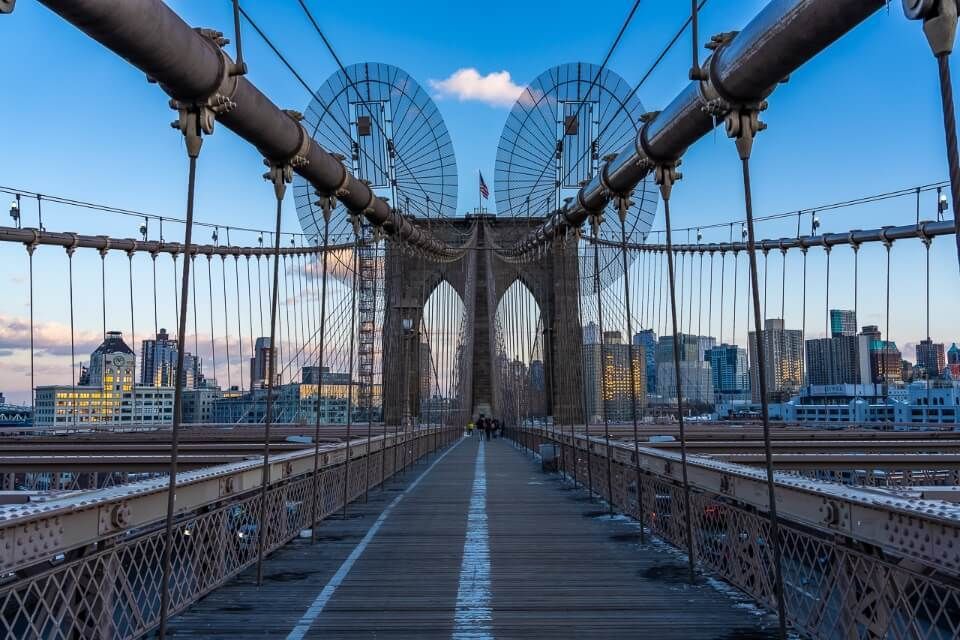 You will pass under the two bridge trusses as you walk the entire length of the pedestrian promenade. These trusses are one of our favorite Brooklyn Bridge photo spots.
Keep in mind the pedestrian walkway will fall into in shadow when the sun disappears behind the horizon so if you want to capture a certain photo in the soft light, be sure to take it before the sun sets.
4. Lower Manhattan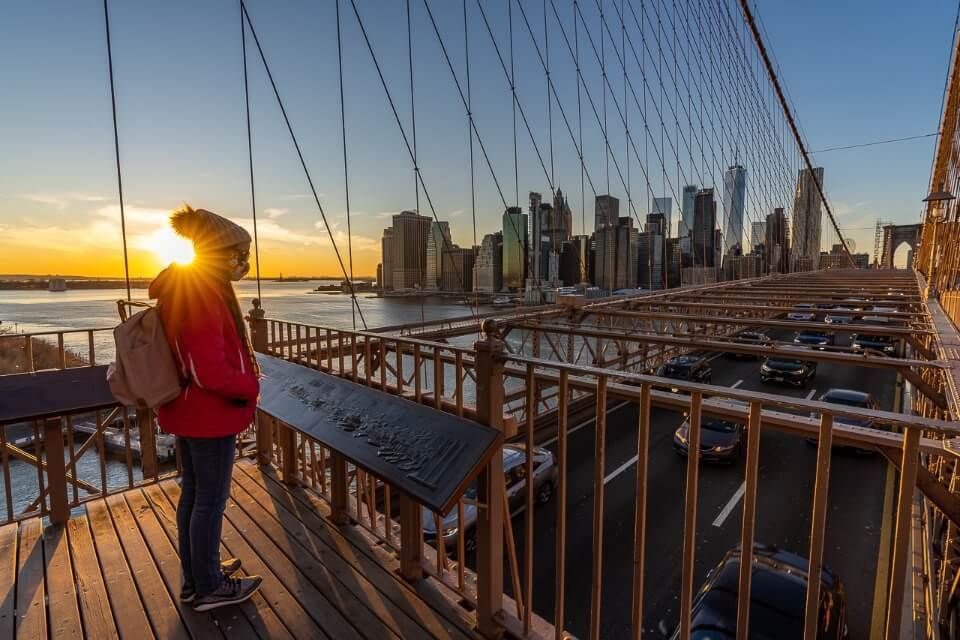 Another amazing photography location on the Brooklyn Bridge is about the halfway point when you can see Lower Manhattan as well as the lanes of traffic.
You can also find large informational plaques showcasing points of interest in the Manhattan skyline.
Stay on the bridge about half of the way to Brooklyn as the sun disappears over the horizon or behind Manhattan.
5. Midtown Manhattan
Sunset is a magical time in New York City because the surrounding skyscrapers put on a show as they glimmer and twinkle in the day's last few rays of sunshine.
As you continue walking, don't forget to stop and look around to soak up the other famous New York City buildings sparkling in the sun.
Photography Tip: Use the bridge as a foreground while you take photos of the Manhattan skyline.
6. Brooklyn Bridge In Shadow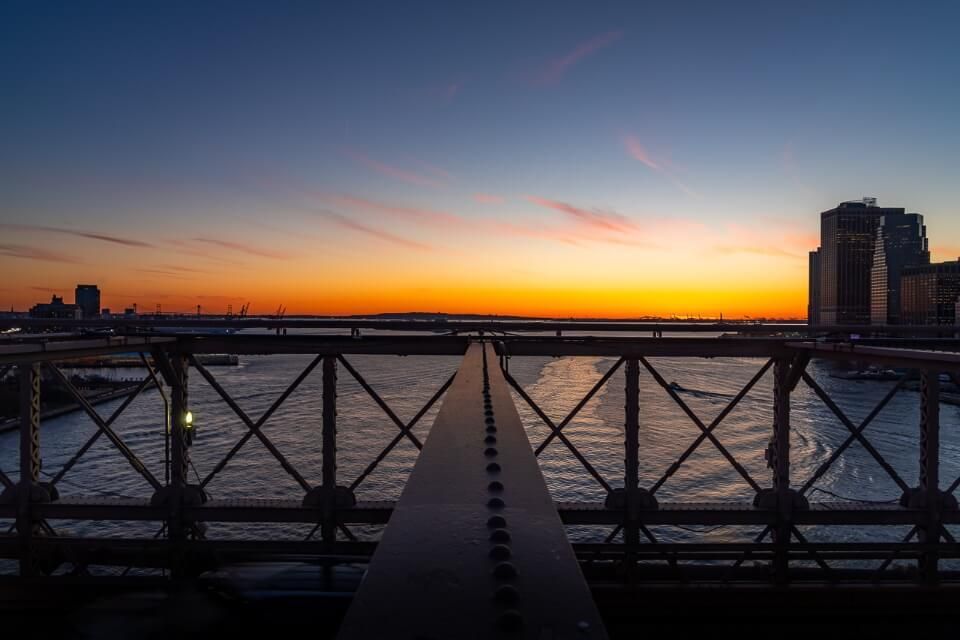 The best part of sunset is always right after the sun disappears because the sky fills with gorgeous hues of red, orange and pink.
As you continue walking over the bridge, you want to look out over ther East River to see the colors at their finest.
Finish the walk and take the staircase leading down to Washington Street.
Want more sunset inspiration? Don't miss our popular guide featuring beautiful sunset quotes.
Best Locations In Brooklyn For Bridge Photography At Night
Once you arrive into Brooklyn, find a restaurant for dinner and wait for civil twilight to transcend into total darkness. There are dozens of eateries around the DUMBO area you are now in.
We like Time Out Market, which has a wide range of cuisines in a fantastic setting overlooking both Brooklyn and Manhattan bridges on the riverside. Or alternatively, grab a pizza at famous Grimaldi's or highly rated Juliana's.
Interested in NYC pizza? Don't miss our amazing NYC pizza places features classics, famous spots and top rated pizza from all over New York City.
After dinner and a drink, let's check out some awesome photography locations in the area:
1. Time Out Market Roof Terrace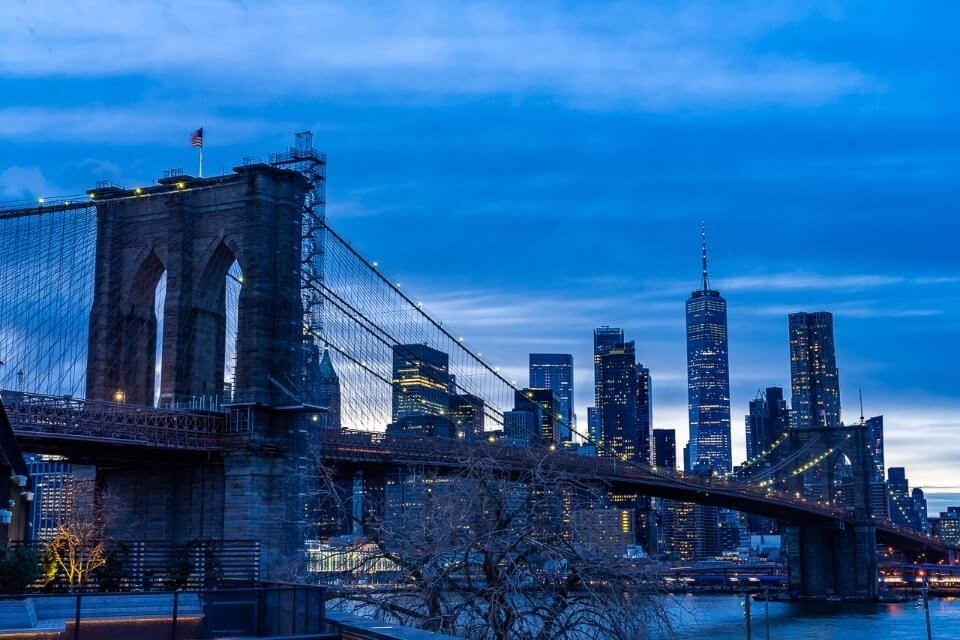 Another reason to eat at Time Out Market? You don't need to go anywhere to grab your first fantastic shot of the Brooklyn Bridge at night.
Head up to the top floor and find a great spot to set up. Be aware there will be other photographers up here, so take care not to stand in shot.
2. Framed Manhattan Bridge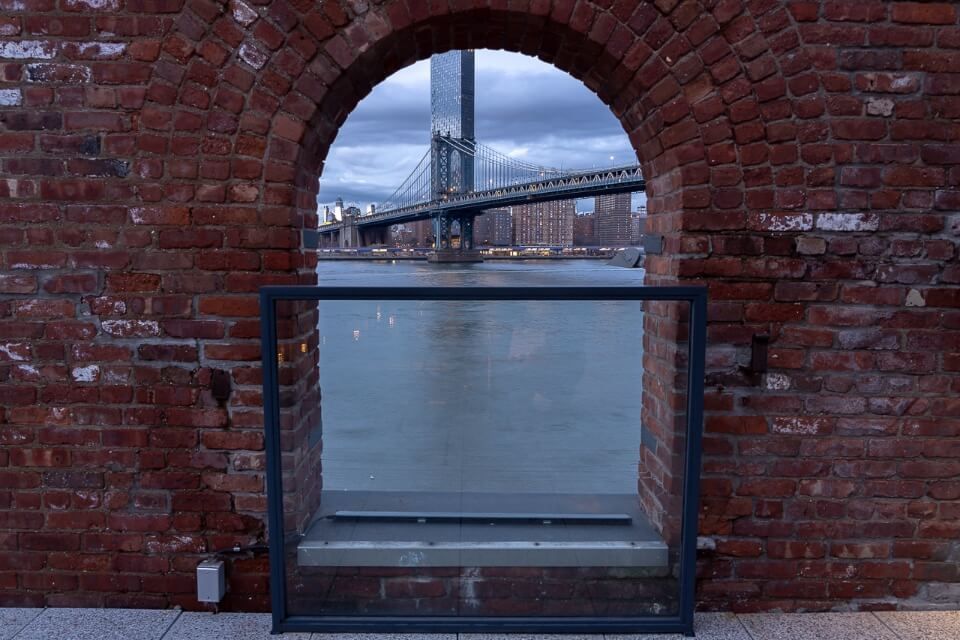 There is also a cool photograph of Manhattan Bridge you can frame with an arched brick window as you climb the staircase.
The building behind lines up almost perfectly to look as though Manhattan Bridge was designed with a super-sized glass column.
If you want to know more about the Manhattan Bridge, we will discuss the Manhattan Bridge late in this guide. This is another famous bridge you should consider walking over during your trip to NYC.
3. Jane's Carousel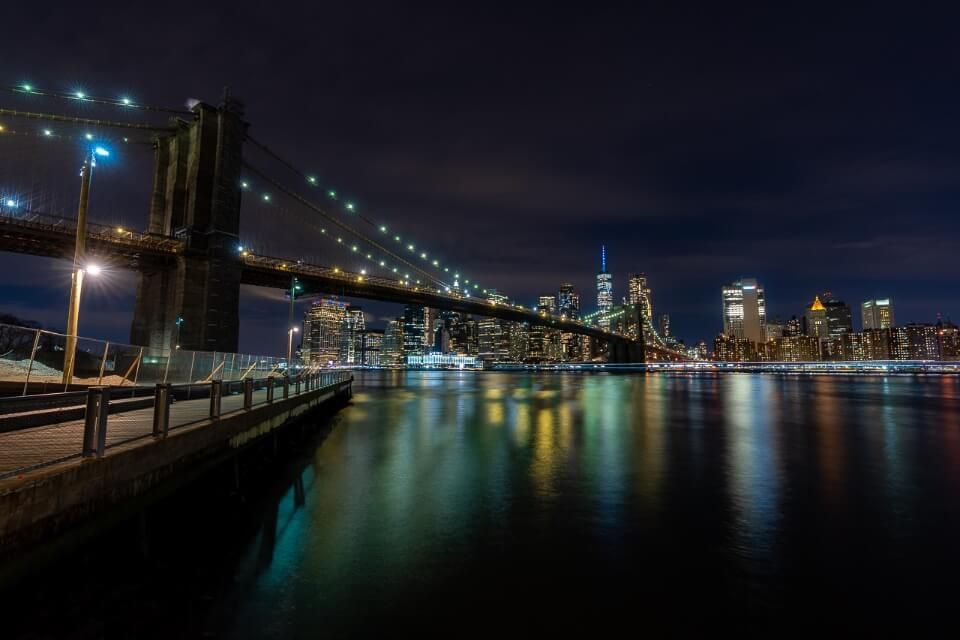 Right next to Jane's Carousel is a wooden promenade hugging the river bank. You will find one section where the boardwalk extends further out in which you can set up a tripod and open up the angle nicely.
Marriage proposals are frequent in this exact spot, so be prepared to either wait patiently or even be kicked out for a more important purpose.
A wide angle lens is required if you want to capture more bridge from this range.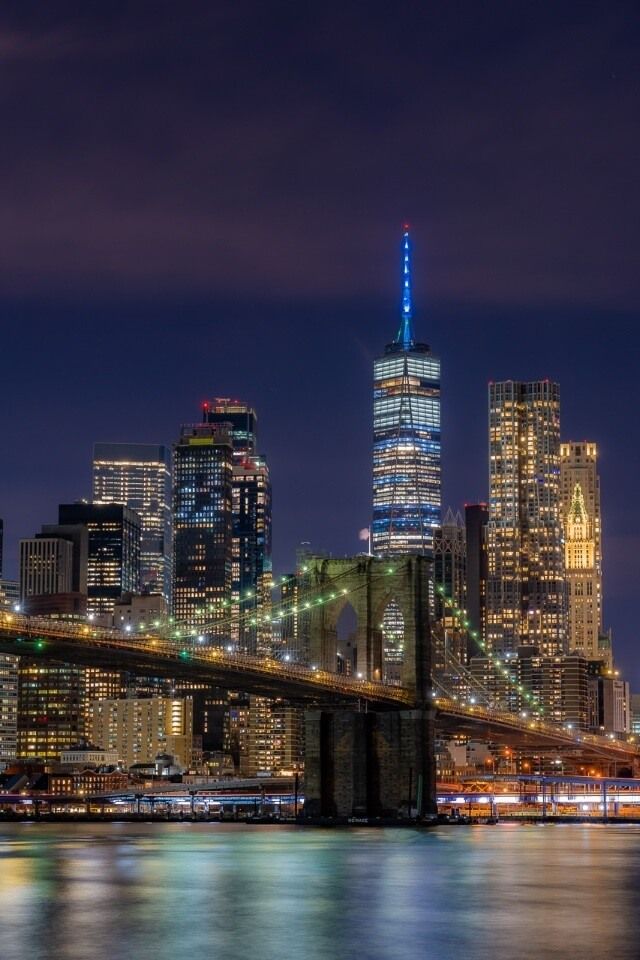 Alternatively, this is a fantastic spot to use a telephoto lens and capture a vertical shot of the far granite column with Manhattan's skyline compressed.
Look how awesome One World Trade Center looks with it's blue spire bursting high into the sky.
Want to visit One World Trade Center? Don't miss our popular guide featuring everything you need to know about One World Observatory.
4. Pebble Beach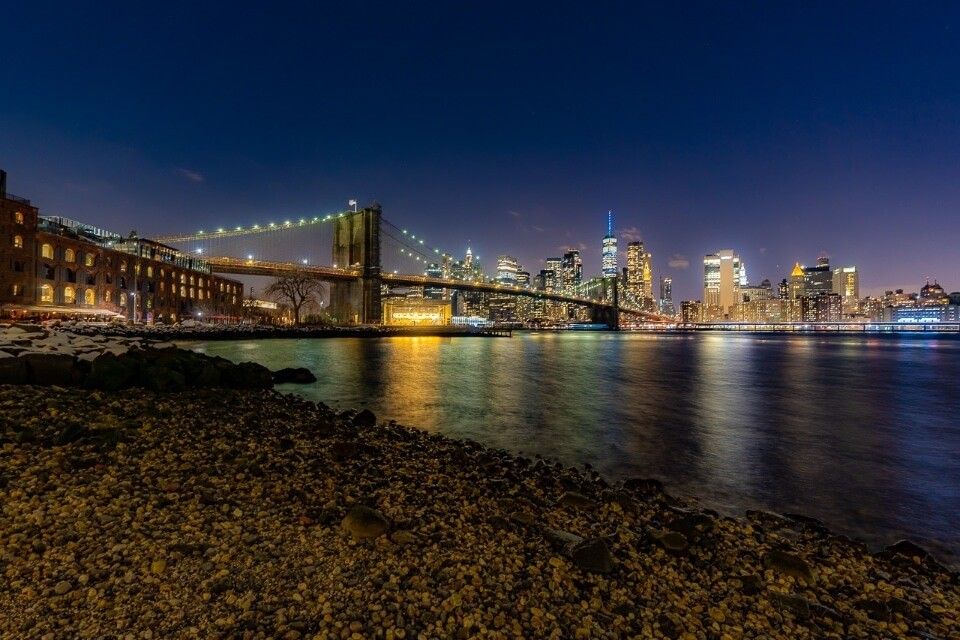 A little further away from the bridge and directly behind Jane's Carousel, you will find Pebble Beach. Notice the bright yellow glass building below Brooklyn Bridge, that is the carousel illuminating brightly.
At Pebble Beach you will find amphitheater style seating which can be used to set up a tripod if you want to use the beach as foreground.
Alternatively, you can walk down onto the beach to cut out the gravel and only have water as foreground.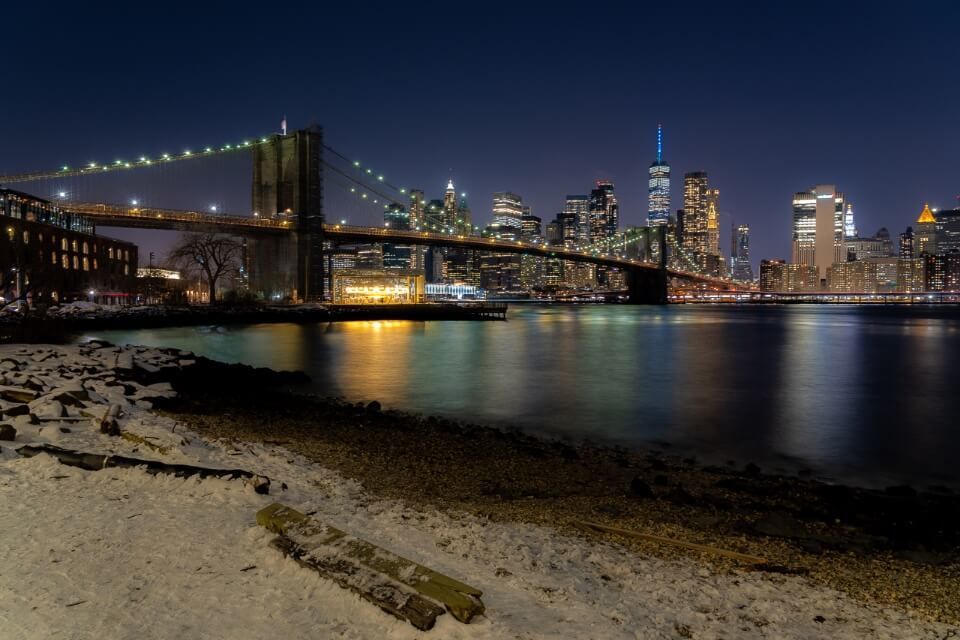 All lenses are great here for different purposes. Personally, we prefer the 16mm wide angle shot of Brooklyn Bridge at night with Time Out Market buildings to the left.
This photo was taken with snow covering Pebble Beach on a very cold evening.
5. Brooklyn Bridge Park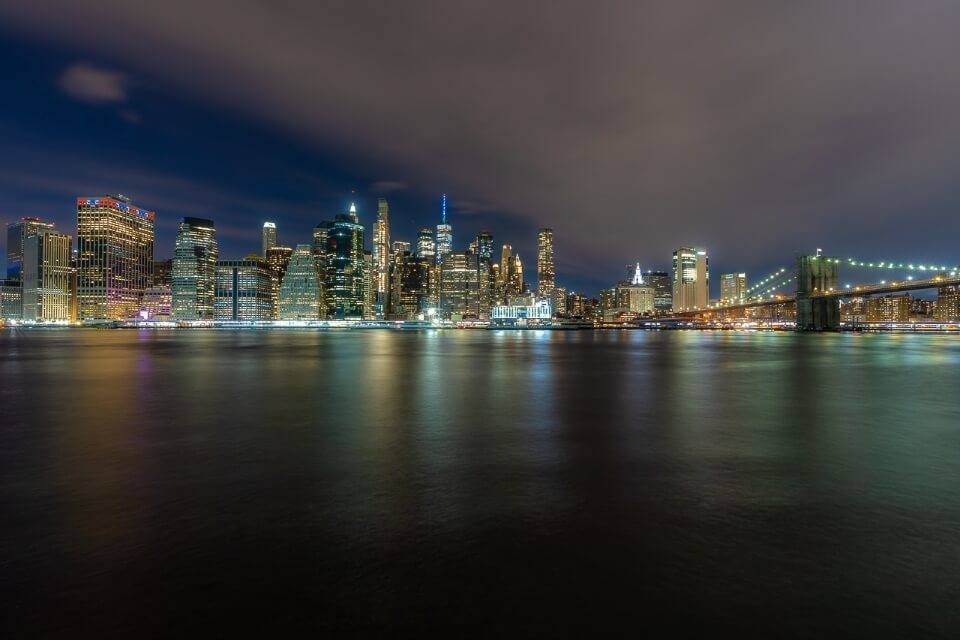 Next, walk under the bridge and follow the river until it leads you to Brooklyn Bridge Park which will reward you with views of the bridge from the other side.
This walk will take less than 10 minutes from Pebble Beach. While this side of the bridge has less iconic bridge photography opportunities, it is still definitely worth visiting.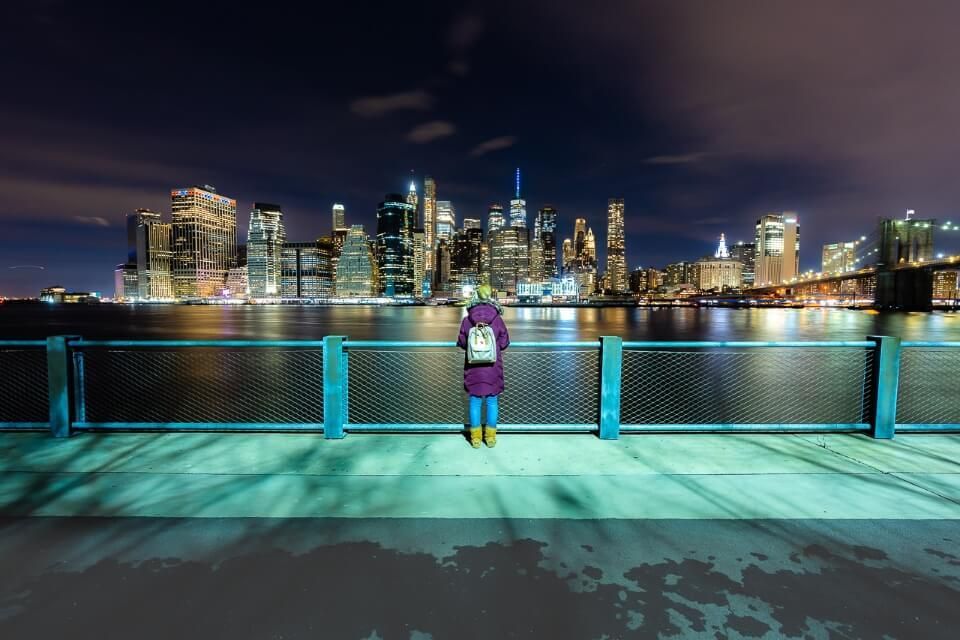 From Brooklyn Bridge Park Pier 1 you will be able to take awesome photographs of the New York City skyline lit up at night.
If you have a wide angle lens you can include a small portion of Brooklyn Bridge in the same shot.
6. Old Pier 1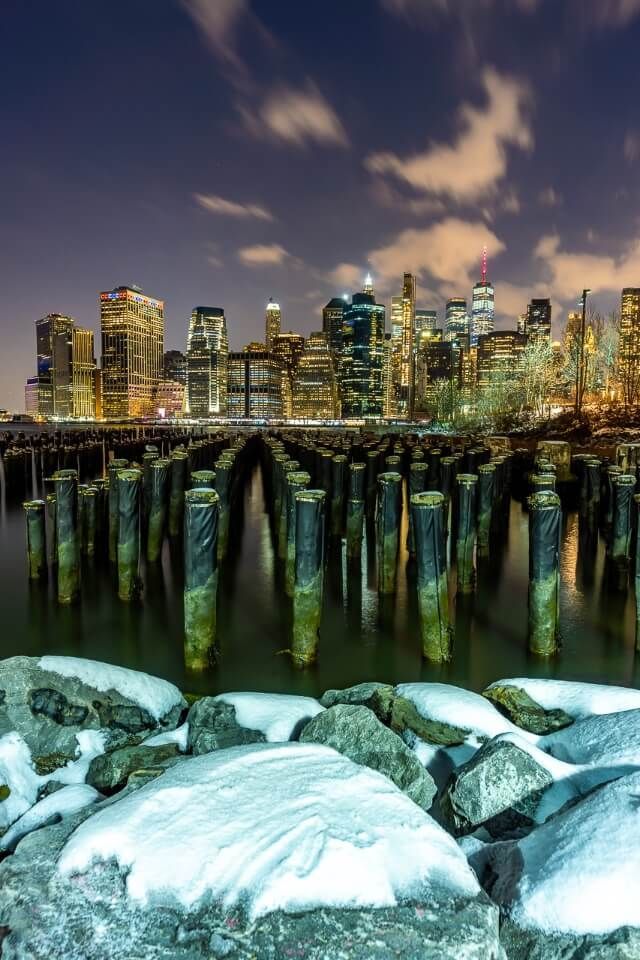 Professional photographers and serious hobbyists will always be on the lookout for the most amazing photography locations in NYC and Old Pier 1 is one of the best in the city.
Wooden poles remain from an old shipping port and they create stunning leading lines to the amazing Lower Manhattan skyline background.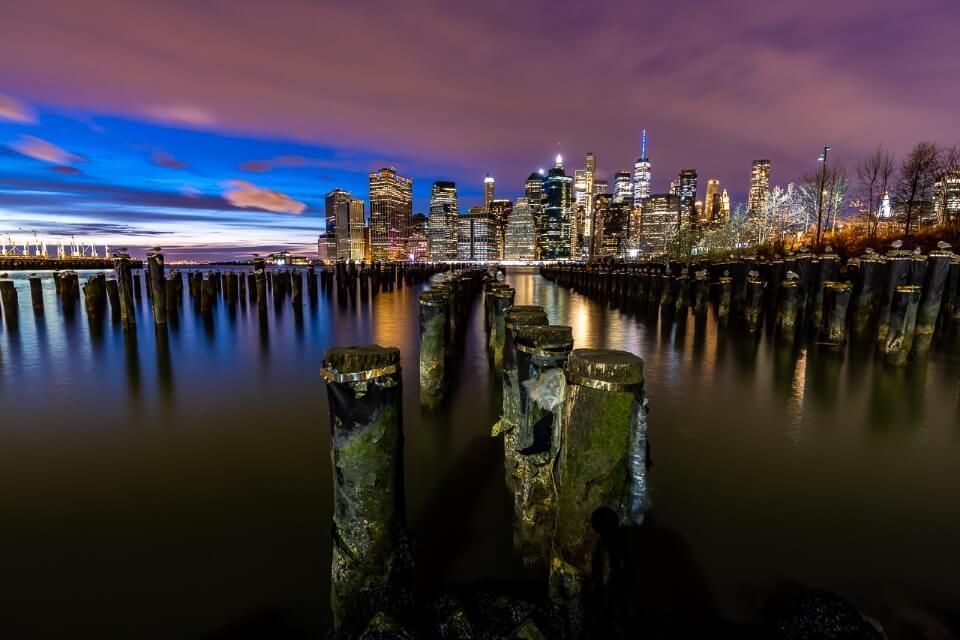 Continue to walk around Brooklyn Bridge Park hugging the waters edge until you arrive at the remnants of Old Pier 1.
Take the slip road down towards the water, look to the right at New York City's skyline and attach that camera to your tripod!
Photography Tip: This spot at Old Pier 1 is also stunning at sunset as blues and purples reflect on the foreground water surface.
Walking The Brooklyn Bridge At Night (From Brooklyn)
Now you've seen Manhattan at sunset and the Brooklyn Bridge from various locations in Brooklyn including the very popular Brooklyn Bridge Park.
So, let's walk back over the Brooklyn Bridge to Manhattan, with plenty of photography stops of course.
It will be busy an hour or so after sunset so you can expect to share the walkways with plenty of others who all want to take home memories of their visit to NYC.
Photographers will need a lot of patience walking over the Brooklyn Bridge at night. Unless you wait until after 11pm, you will struggle to get clean shots with few to no people.
If you're not here for photography, take things slowly and relaxed to soak up the electric atmosphere, before heading back to your top rated NYC hotel.
Best Photography Spots For Brooklyn Bridge At Night
You will need a tripod if you plan to take clean photographs with your camera as you walk back to Manhattan in darkness.
And even then, the bridge vibrates significantly from road traffic, which means the only way of getting a blur-free shot is to dial up the ISO on your camera for a fast shutter speed.
Long exposures of the Manhattan skyline with cars driving below are fantastic images to capture. But you will need to strike it lucky with no cars passing below and no people walking by creating vibrations.
Even though we just witnessed a beautiful sunset on Brooklyn Bridge, it's time to see the Brooklyn Bridge surrounded by shimmering lights. Here is what you can expect from walking over the bridge at night:
1. Lower Manhattan And Traffic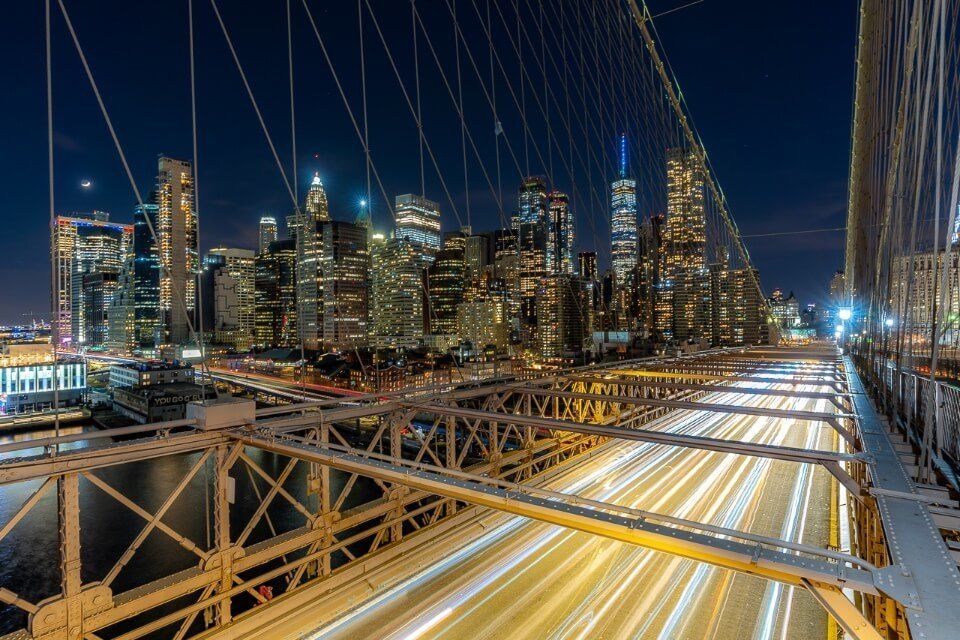 We mentioned this location was one of our favorites during the sunset walk, but this photo spot on the Brooklyn Bridge gets even better when night set in.
Take a long exposure with oncoming traffic highlighting the Lower Manhattan skyline and a crescent moon.
2. Brooklyn Bridge Pedestrian Walkway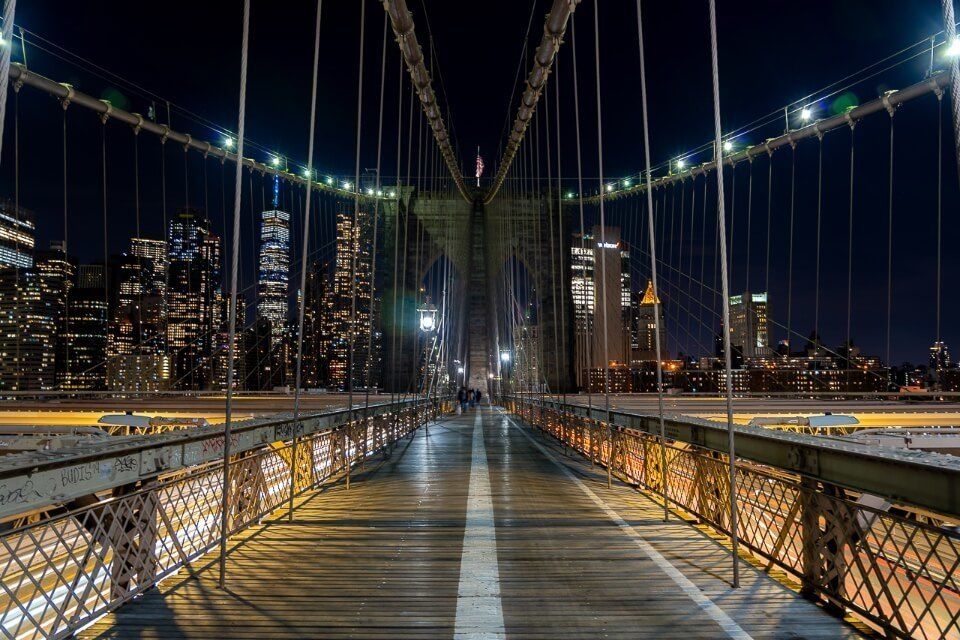 We recommend waiting until the crowds thin out shortly after sunset to walk the Brooklyn Bridge at night.
This will make your walk across the bridge a little more comfortable so you can experience the enchanting lure of the city lights to their fullest.
The magic of the twinkling NYC skyline is certainly one of the best photography locations in the entire city.
Travel Tip: This photo was taken when we lived in NYC during the coronavirus pandemic, but it will not be this crowd-free on a normal night.
3. Trusses In Darkness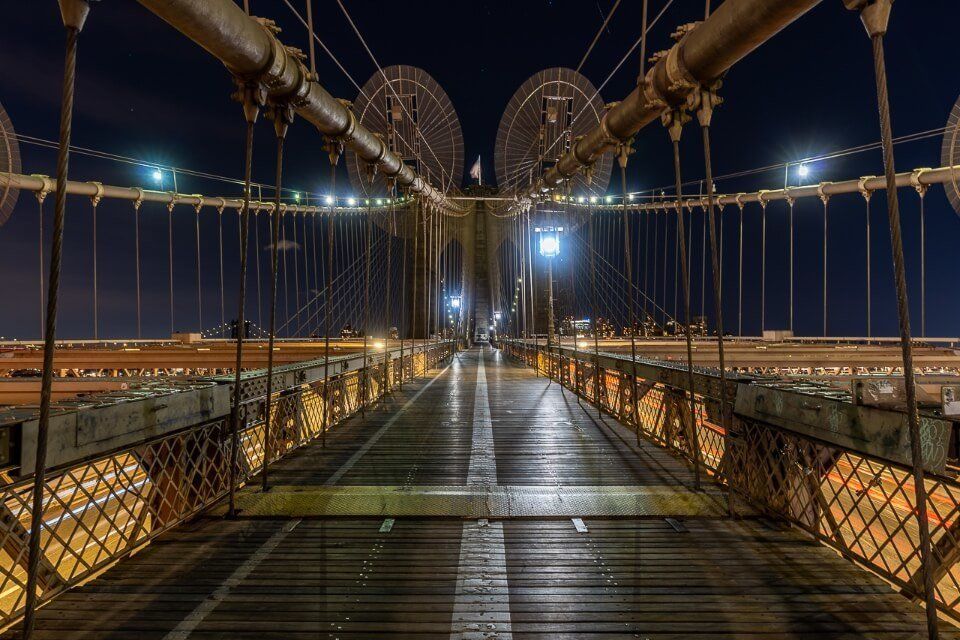 Remember the large trusses from earlier in our guide?
We think they look just as good as nighttime as they tower over visitors on the Brooklyn Bridge at night.
But while this photo looks very serene, take note of the two lanes of passing cars on each side of the pedestrian walkway because the bridge was anything but calm during this shoot.
4. Lower Manhattan Skyline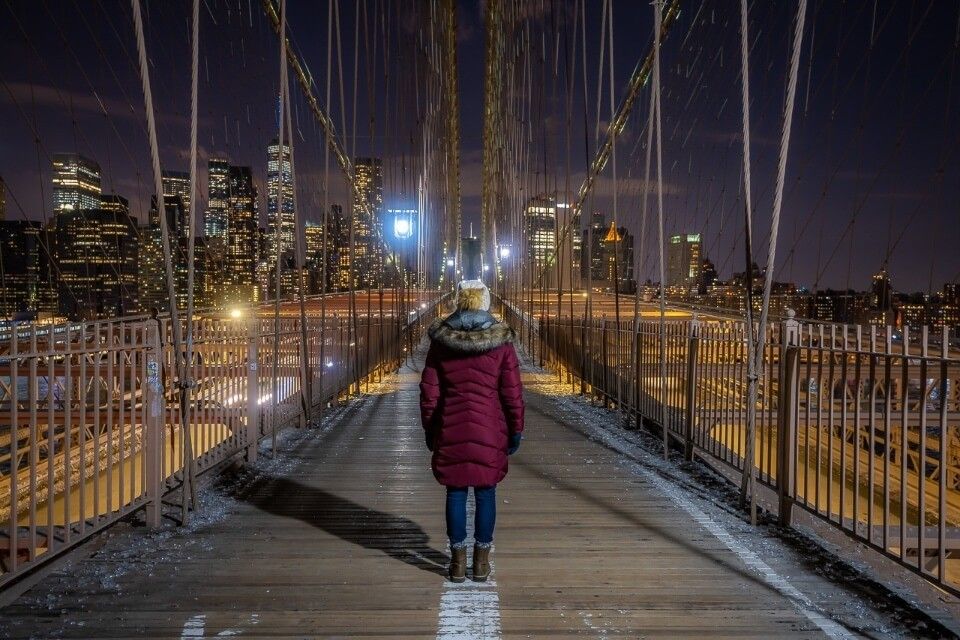 As you make your way to Manhattan, the sparkling Lower Manhattan skyline is hard to miss. The lights draw you in just like a moth to a flame.
You will find numerous photography spots as you walk Brooklyn Bridge at night. We encourage you to get create and find some new angles to remember this amazing night by.
And there you have it, we have not only walked over the Brooklyn Bridge at sunset, but we have also walked over the Brooklyn Bridge at night.
Even if you have walked the Brooklyn Bridge a hundred times, it never gets old!
Is Brooklyn Bridge Open At Night?
Yes, the Brooklyn Bridge is open at night and does not close at night to pedestrian traffic. However, there are gates on the Brooklyn Bridge that close under special circumstances.
So, technically you could walk across the Brooklyn Bridge at any time of day but sunrise, sunset and at night are the best times.
We would not recommend you walk across the Brooklyn Bridge mid day because the bridge will be very crowded and the sun will be directly in your photos.
Are you visiting New York City in Winter? Wrap up in a big warm coat, grab a hot chocolate and take a romantic stroll across the Brooklyn Bridge at sunset or at night.
Is Brooklyn Bridge Safe At Night?
Yes, walking across the Brooklyn Bridge at night is safe as well as any time of the day. Having walked across the bridge numerous times, we have never felt unsafe or concerned.
The Brooklyn Bridge pedestrian promenade has improved with the removal of the bike path, which is now found on the lower section of the bridge next to the traffic lanes.
But here are a few safety tips you should consider when walking across the Brooklyn Bridge:
Like in any other major city, use common sense and be aware of your belongings.
You will share the bridge walkway with hundreds of other tourists and locals, who are all soaking up the positive vibe so be kind and patient to others.
The bridge is well lit the entire way from Brooklyn to Manhattan and the pedestrian walkway is never enclosed so you will be walking across an open walkway the entire time.
You can expect to see regular golf cart police patrols.
To play it as safe as possible, don't walk the bridge very late at night (after midnight).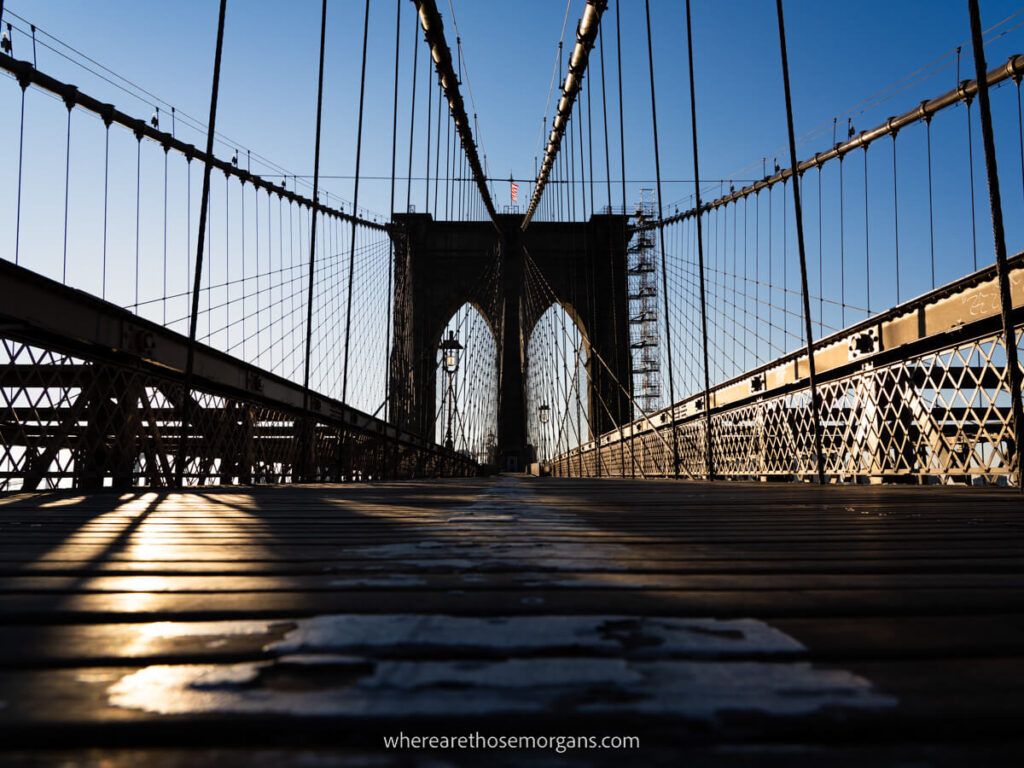 Walking The Brooklyn Bridge At Sunrise
Night time and sunset are the most popular times of day to walk over the Brooklyn Bridge, but one of our best pieces of advice for first time visitors to New York City is to walk across again at sunrise.
If you are a photographer and find these later times are far too busy to get the images you want or maybe you aren't a fan of large crowds? Then sunrise is the time to mobilize!
There's a strong possibility you will have the entire bridge to yourself for long periods around sunrise. We have personally walked across the bridge at sunrise numerous times and had all the time in the world to get the photographs we wanted.
Use our Brooklyn Bridge sunrise guide to read about photo locations and tips for walking the bridge in the early morning hours.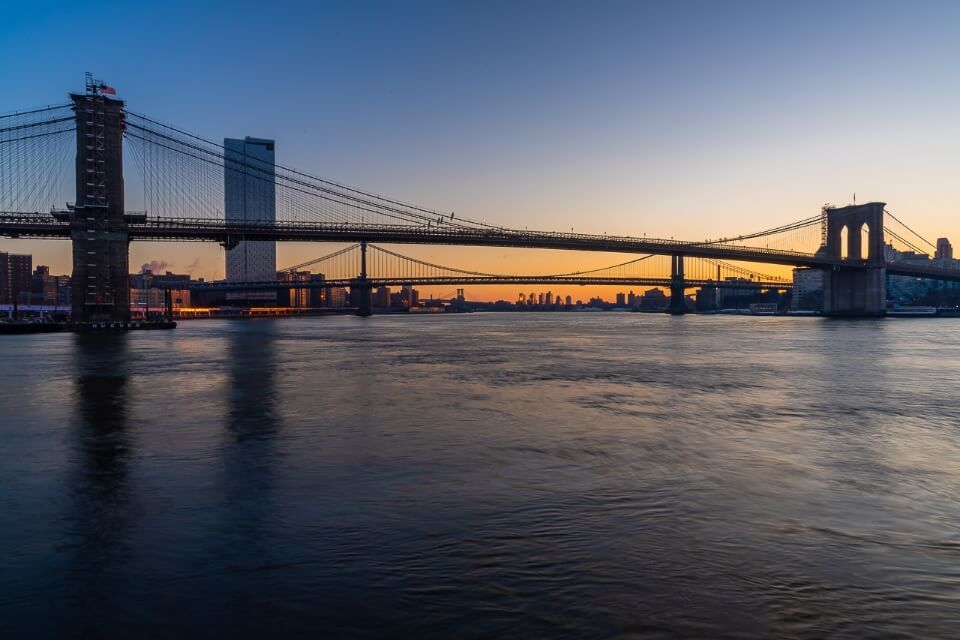 Manhattan Bridge Vs. Brooklyn Bridge
If you have already walked over the Brooklyn Bridge and want a new experience, you should try walking over the Manhattan Bridge to see the city from a different perspective.
We like the Manhattan Bridge because you can take the famous 'Hole-in-the-Fence' photographs from the bridge.
Use our guide featuring a walk over the Manhattan Bridge to see what you should expect when crossing this famous NYC landmark.
Looking To Save Money In New York City?
We love the Brooklyn Bridge because it does not cost a penny to walk across this famous NYC attraction. Unfortunately, this is not the case with many of the other attractions in New York.
But if you plan to visit several of New York City's top attractions, we recommend you consider purchasing an attractions pass.
Buying a New York attractions pass will give you instant access to the most iconic NYC museums, landmarks and observation decks at a discounted price.
The idea is simple in that the more attractions you visit, the more discount you will recieve and the more money you save. It's very similar to buying in bulk.
Having used the NYC attraction passes ourselves when we lived in New York, we recommend the New York Sightseeing Pass because its extremely easy to use while offering both flexibility and big savings.
We have teamed up with Sightseeing Pass to offer our readers an exclusive 10% discount.
Want To Save Money In NYC?
Use the button below to claim 10% off any NY Sightseeing Pass.
You can also read our detailed comparison to the New York attractions passes to help you decide which New York pass you should purchase for your visit to the Big Apple.
Need Help Planning Your Visit To NYC?
NYC is a trip planning beast and it can be overwhelming trying to get every aspect right.
After living in New York City, we created a comprehensive NYC travel guidebook that will answer every question you have about where to stay, what to do, where to eat and how to get around the city.
Click see details below to read more about how we can help you plan your dream trip to New York City!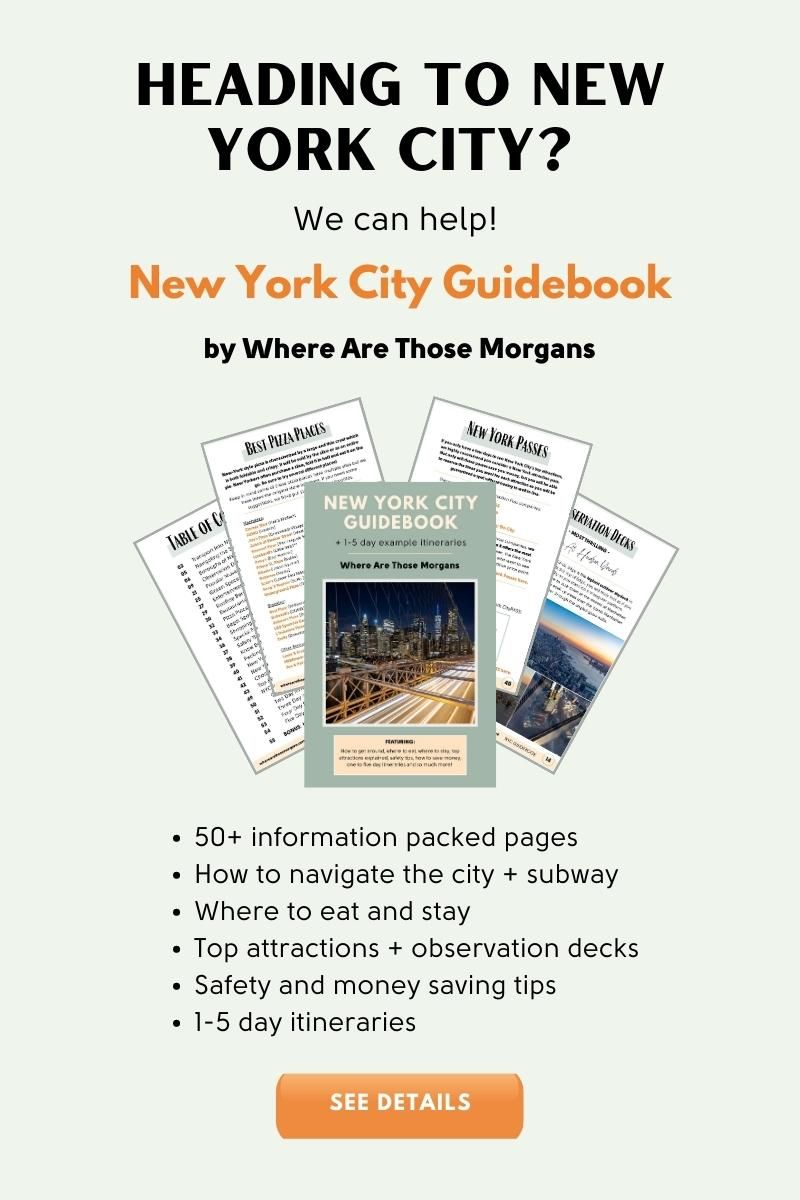 FAQ's For Walking The Brooklyn Bridge
Let's take a quick look at some of the most frequently asked questions about walking Brooklyn Bridge at night.
Can you see the Statue of Liberty from Brooklyn Bridge?
Yes, you can see Lady Liberty standing tall with flaming torch raised high into the sky on Liberty Island when walking across Brooklyn Bridge. But from the bridge, the Statue of Liberty is an ant sized silhouette against the distance horizon and you will need either a super-telephoto camera lens or binoculars to get a good view of her from the bridge walkway.
Is it worth walking over the Brooklyn Bridge?
Yes, it is worth walking over the Brooklyn Bridge because you will see stunning Manhattan and Brooklyn views. Taking a walk over the Brooklyn Bridge is one of the best free things to do in New York City.
Which direction should you walk across Brooklyn Bridge?
If you only had a short time in NYC, we recommend you walk across the Brooklyn Bridge from Brooklyn to Manhattan during sunset. But if you are a morning person, walking across the Brooklyn Bridge during sunrise from Manhattan to Brooklyn is our favorite time to walk across due to minimal crowds.
Our Popular NYC Guides
More NYC Guides
Want more New York City content? Head to our New York Travel Guides to explore more from the Big Apple as well as beautiful upstate NY.
---
We hope this detailed guide helps you experience a Brooklyn Bridge walk at night in New York City!
Please let us know if you have any questions about a Brooklyn Bridge night walk or a sunset from Brooklyn Bridge in the comments below.
Happy Walking,
Mark and Kristen
Enjoy This Brooklyn Bridge Walking Guide? Pin It For Your Visit!
Note: This article contains affiliate links. When you make a purchase using one of these affiliate links, we may earn a small commission at no extra cost to you.
All Rights Reserved © Where Are Those Morgans, LLC. Republishing this article and/or any of its contents (text, photography, maps, graphics, etc.) in whole or in part is strictly prohibited.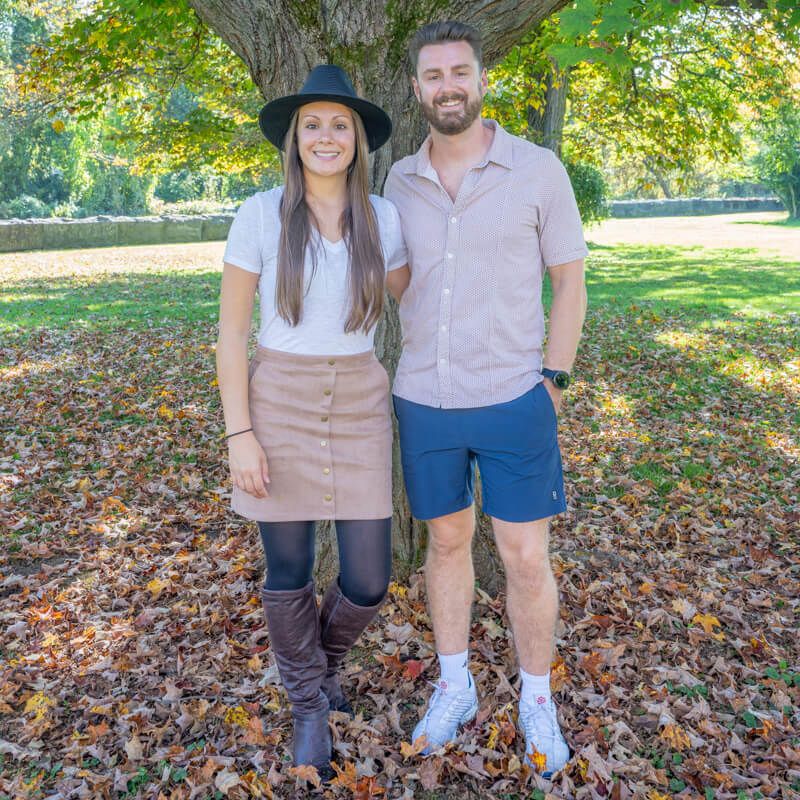 Mark and Kristen Morgan are travel, hiking and photography experts. Over the last 6 years traveling full time, they have explored more than 40 countries and 30 US states.
Their work has been featured in USA Today, Gestalten, Get Your Guide, CityPASS and Condé Nast Traveler along with various other publications.