Walking across New York City's Brooklyn Bridge is a spellbinding experience no matter the time of day you choose to visit. But there is something extra special about walking NYC's most iconic bridge at sunset and at night.
We're going to explain everything you need to know about walking over the Brooklyn Bridge as sunset transitions into night, including safety, tips and an amazing list of the best photography locations.
Our top tip for visiting the Brooklyn Bridge at night?
Avoid the temptation of taking a subway to Brooklyn and walking back to Manhattan. Instead, walk across from Manhattan to Brooklyn just before sunset, eat dinner in Dumbo and then slowly walk back over at night once NYC is shrouded in darkness.
Walking over Brooklyn Bridge is one of the best things to do in New York City and an experience you won't forget in a hurry.
We're excited to share some stunning Brooklyn Bridge sunset and night photographs with you in this guide, so let's get stuck in!
*Please note this post may contain affiliate links. If you click on one, we may earn a small commission at no extra cost to you!*
Why Walk Over Brooklyn Bridge At Sunset And At Night?
Walking across the legendary Brooklyn Bridge at sunset and during the night is about as quintessential NYC tourist 101 as it gets. You simply cannot miss a walk over Brooklyn Bridge from your New York City itinerary.
We're not ashamed to say that we've walked across at sunset and night at least half a dozen times in just a few months living in the city.
Brooklyn Bridge is also one of our top choices for best NYC photography and instagram locations.
Pro photographers will be left in a spin with endless wow-moment locations offering incredible views over Brooklyn Bridge and Lower Manhattan. But all visitors to NYC want to take home a Brooklyn Bridge selfie and late in the day is the best time to grab those famous shots.
Right as the blazing orange sun sets behind the Statue of Liberty and Manhattan, a perpetual feel-good aura brings the steel and granite bridge back to life in darkness.
Romance in the air, excitable tourists laughing, camera shutters snapping, frustrated cyclists frantically ringing bells, selfie kings and queens working it, cars whizzing by below, helicopter tours passing overhead, the iconic Lower Manhattan skyline lighting up … walking the Brooklyn Bridge at night is a sensory overload.
But it is an unforgettable experience. And best of all? It's free.
Brooklyn Bridge FAQ's
1. Is the Brooklyn Bridge Open at Night?
This might sound obvious but it's a reasonable question! There are gates on the bridge and they must be there for a reason, right?
Typically, the Brooklyn Bridge does not close at night to pedestrian traffic and the gates are only closed under special circumstances. So, technically you could walk across any time of day but sunrise, sunset and at night are the best times.
Are you visiting New York City in Winter? Wrap up in a big warm coat, grab a hot chocolate and take a romantic stroll across the Brooklyn Bridge at sunset or at night.
2. Is Brooklyn Bridge Safe at Night?
Yes, walking across the Brooklyn Bridge at night is safe.
We've walked it at different times of night, during covid lockdowns (which meant we had the entire bridge to ourselves) and during busier periods. Not once have we felt unsafe or concerned.
There are two lanes on the pedestrian walkway, one for walking and one for cycling.
Stick to the walking side and if you have to cross into the bike lane to get around other people, check for bikes first. They will run you down and continue without batting an eyelid!
Brooklyn Bridge safety info:
Like in any other major city, use common sense and be aware of your belongings.

You will share the bridge walkways with hundreds of other tourists and locals, who are all soaking up the positive vibe.

The only bridge crossers who aren't joining the positivity are cyclists, who represent your biggest threat when crossing the bridge. Just stay out of their way and you won't have any issues.

Brooklyn Bridge is well lit the entire way from Brooklyn to Manhattan. The pedestrian walkway is very open and never enclosed.

There are regular police patrols (using golf carts).

To play it as safe as possible, don't walk the bridge after 10pm – 11pm.
3. How long does it take to walk over Brooklyn Bridge?
The Brooklyn Bridge pedestrian walkway is around 1.1 miles long.
You could walk right over Brooklyn Bridge in 30 minutes if it's quiet and you don't stop for photographs. But realistically, plan for at least 1 full hour.
It usually takes us around 1 hour 30 minutes with stops to enjoy the views and take photographs.
4. Can you see the Statue of Liberty from Brooklyn Bridge?
Yes, Lady Liberty standing tall with flaming torch raised high into the sky can be seen on Liberty Island when walking across Brooklyn Bridge.
However, from the bridge she is an ant sized silhouette against the distance horizon. You will need either a super-telephoto camera lens or binoculars to get a good view of her from the bridge walkway.
Better to take a ferry to the Statue of Liberty earlier in the day before walking the Brooklyn Bridge at sunset and night.
5. What are the Closest Subways for Walking Brooklyn Bridge
To make the most of your experience we recommend walking over Brooklyn Bridge from Manhattan at sunset and back over at night. However, if you're short on time or you don't mind missing sunset, take a subway to Brooklyn.
Here are the closest subway stations to use for walking Brooklyn Bridge on both Manhattan and Brooklyn sides:
Brooklyn Bridge / City Hall –

Green Line

4, 5, 6 (Manhattan)
Chambers Street –

Brown Line

J, Z (Manhattan)
City Hall Station – Yellow Line W, R, N (Manhattan)
High Street / Brooklyn Bridge –

Blue Line

A, C (Brooklyn)
Borough Hall –

Red Line

2, 3 (Brooklyn)
In Manhattan, begin walking where Center Street meets Park Row near City Hall (look for Living Memorial Grove on google maps).
On the Brooklyn side, climb a staircase on the corner of Washington and Prospect to join the bridge.
Begin In Manhattan Before Sunset
If you have time and don't mind walking double the distance, we highly recommend you walk from Manhattan to Brooklyn before and during sunset.
Check sunset times for NYC and start walking across the bridge around 1 hour before sunset time.
For example, sunset is 7.00pm so you begin walking from near City Hall subway station in Manhattan at 6.00pm. That way you can walk past the Lower Manhattan skyline by 6.30pm.
As you continue walking towards Brooklyn, turn around often to see skyscrapers like Empire State Building and Top of the Rock in Midtown backed by stunning colors in the sky. You will be able to see a tiny silhouette in the distance to the left of Manhattan, that is the Statue of Liberty.
Stay on the bridge around two-thirds of the way to Brooklyn as the sun disappears over the horizon or behind Manhattan. Photographers note that stunning pinks and purples often light up the sky in the 30 minutes or so after sunset.
Finish the walk and take the staircase leading down to Washington Street.
Brooklyn Bridge Sunset Photography
Here's what you can expect from walking over the Brooklyn Bridge at sunset: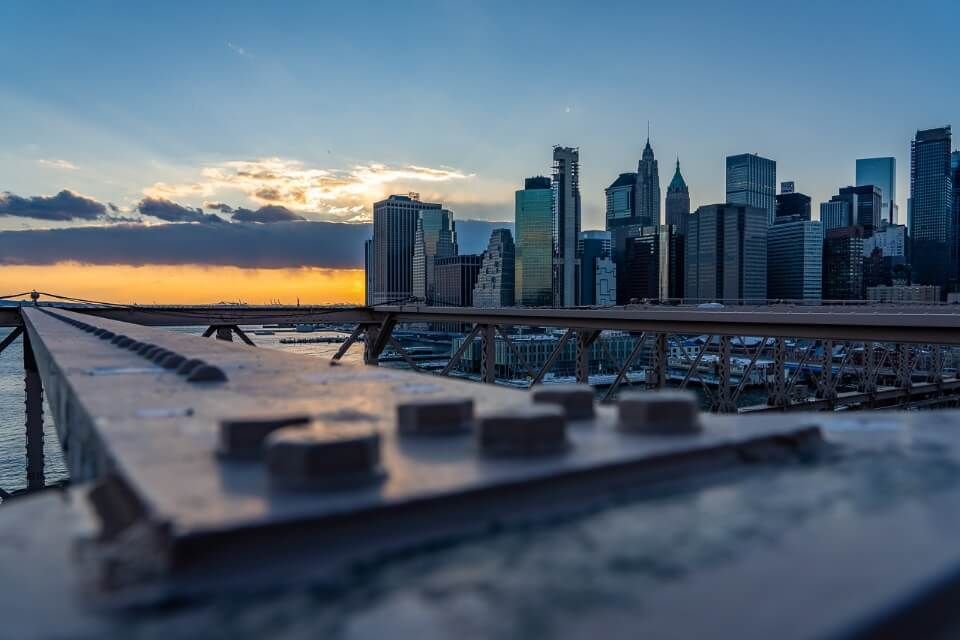 The iconic Statue of Liberty is a tiny silhouette backed by a burning orange sky at sunset.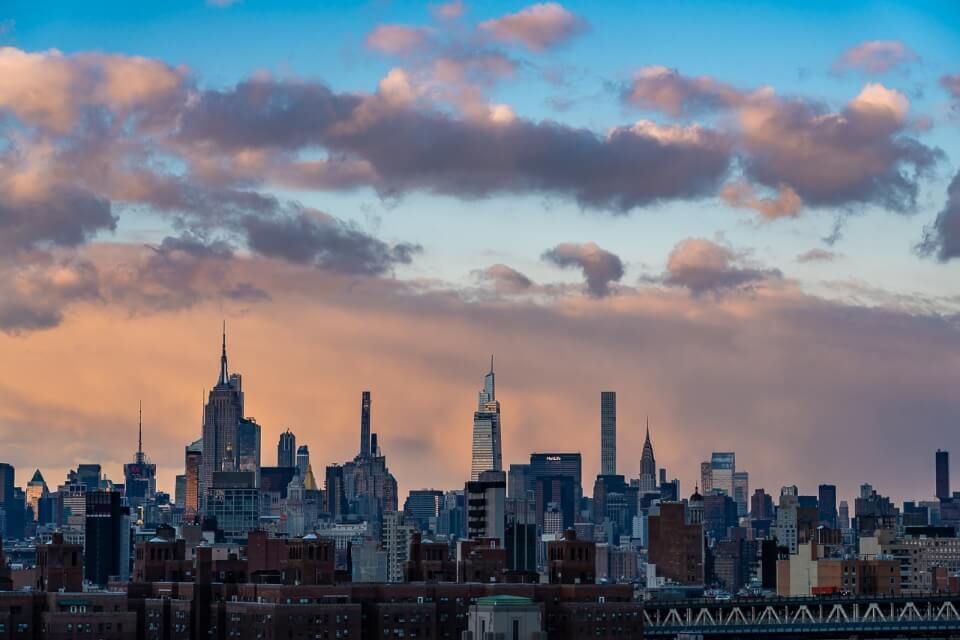 Awesome streaky yellows and oranges looking toward Midtown Manhattan from Brooklyn Bridge at sunset. Empire State Building to the left, The Edge NYC in the center and Chrysler Building right of center.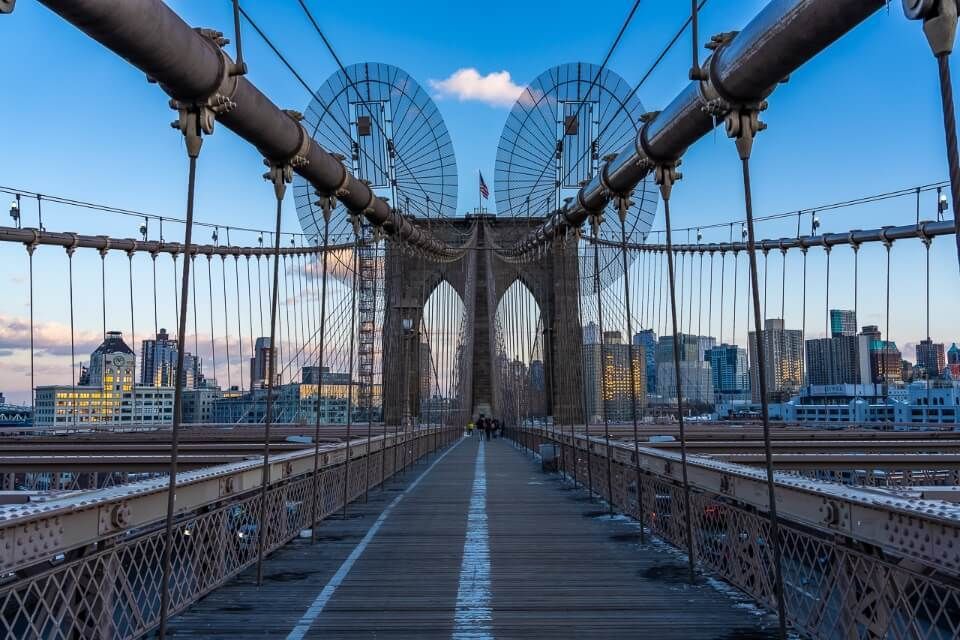 Brooklyn Bridge pedestrian walkway close to the Brooklyn side in shadow right after the sun has disappeared.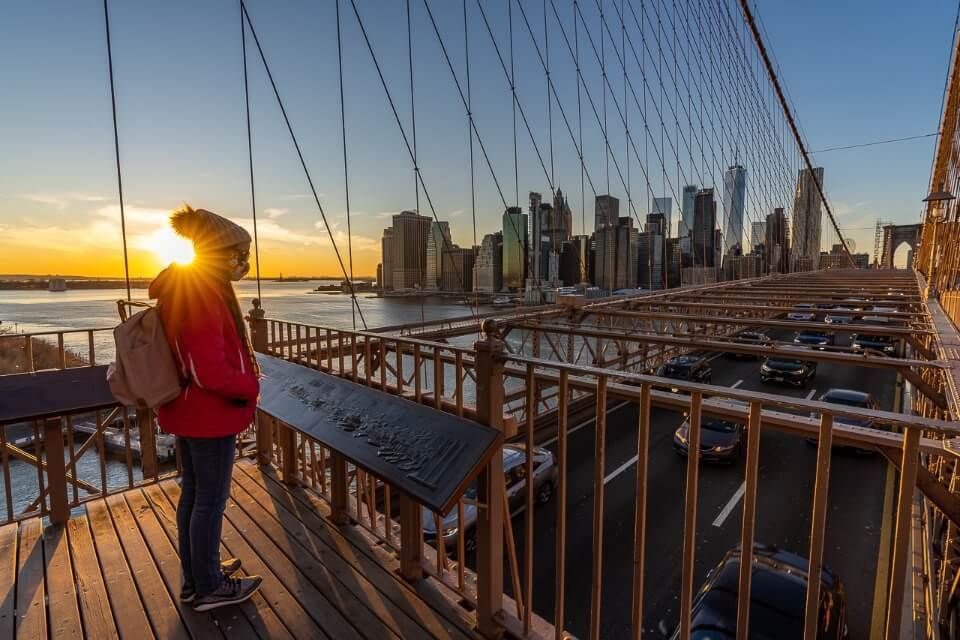 Fun starburst with the Sun on Kristen's head, with Lower Manhattan and one lane of road traffic filled with cars.
Beautiful shot of Midtown Manhattan from Brooklyn Bridge as the final rays of sunlight illuminate some of New York City's most revered buildings.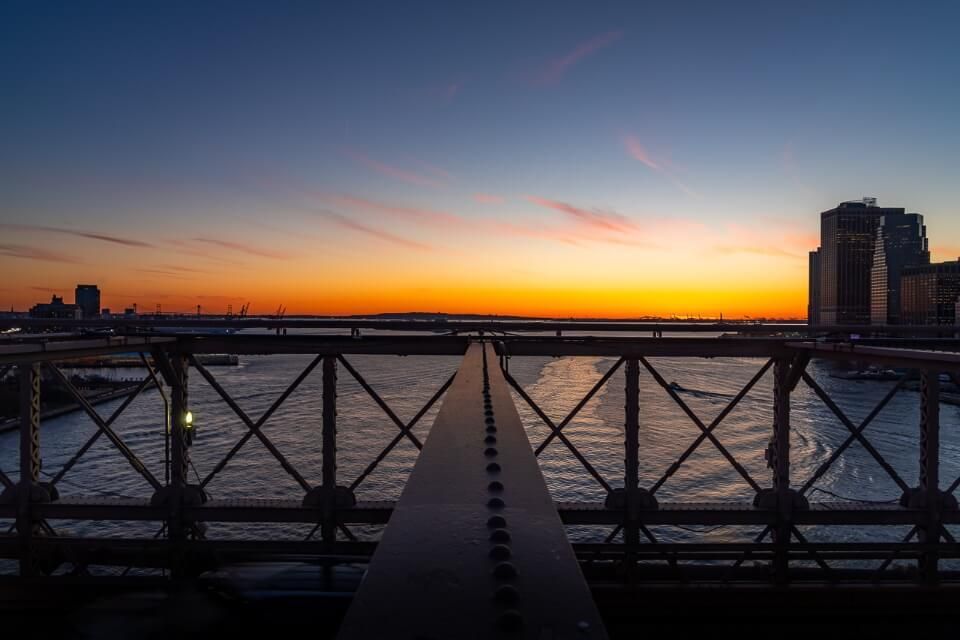 Stunning sunset colors over the East River and New York City.
Best Locations In Brooklyn For Bridge Photography at Night
Once you arrive into Brooklyn, find a restaurant for dinner and wait for civil twilight to transcend into total darkness. There are dozens of eateries around the Dumbo area you are now in.
Our advice is to try Time Out Market, which has a wide range of cuisines in a fantastic setting overlooking both Brooklyn and Manhattan bridges on the riverside. Or alternatively, grab a pizza at famous Grimaldi's or highly rated Juliana's.
Our full roundup of 22 amazing NYC pizza places features classics, famous spots and most importantly – top rated pizza from all over New York City.
After dinner and a drink, let's check out some awesome photography locations in the area:
Time Out Market Roof Terrace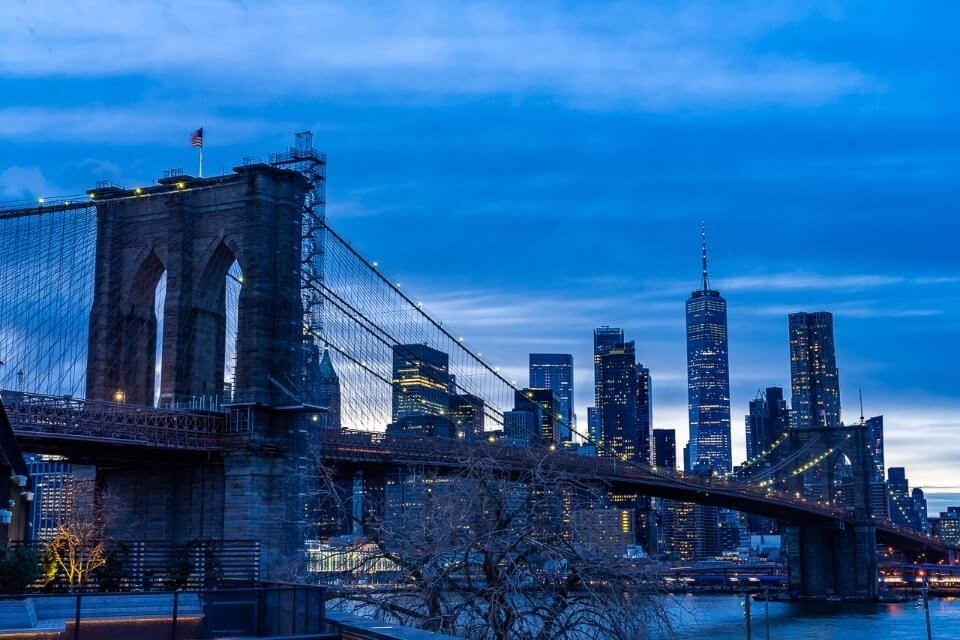 Another reason to eat at Time Out Market? You don't need to go anywhere to grab your first fantastic shot of the Brooklyn Bridge at night!
Head up to the top floor and find a great spot to set up. Be aware there will be other photographers up here, so take care not to stand in shot.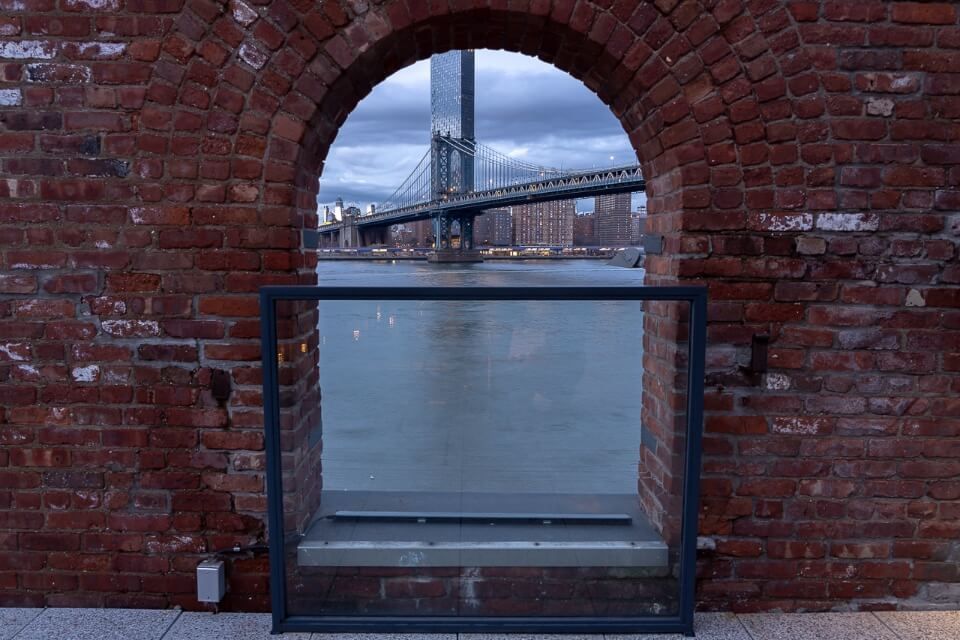 There's also a cool photograph of Manhattan Bridge you can frame with an arched brick window as you climb the staircase.
The building behind lines up almost perfectly to look as though Manhattan Bridge was designed with a super-sized glass column.
Jane's Carousel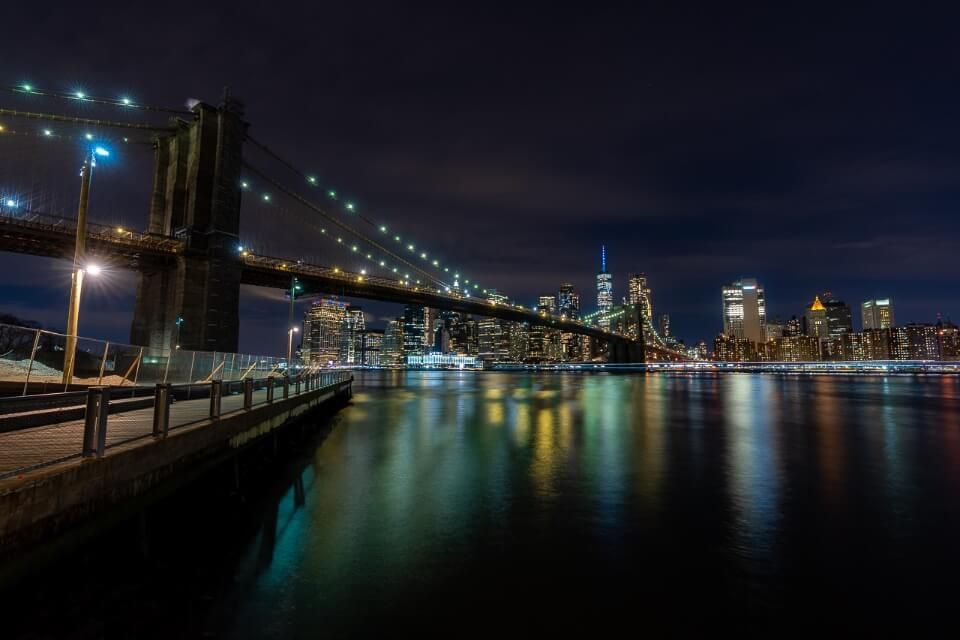 Right next to Jane's Carousel is a wooden promenade hugging the river bank. You will find one section where the boardwalk extends further out in which you can set up a tripod and open up the angle nicely.
Marriage proposals are frequent in this exact spot, so be prepared to either wait patiently or even be kicked out for a more important purpose!
A wide angle lens required if you want to capture more bridge from this range.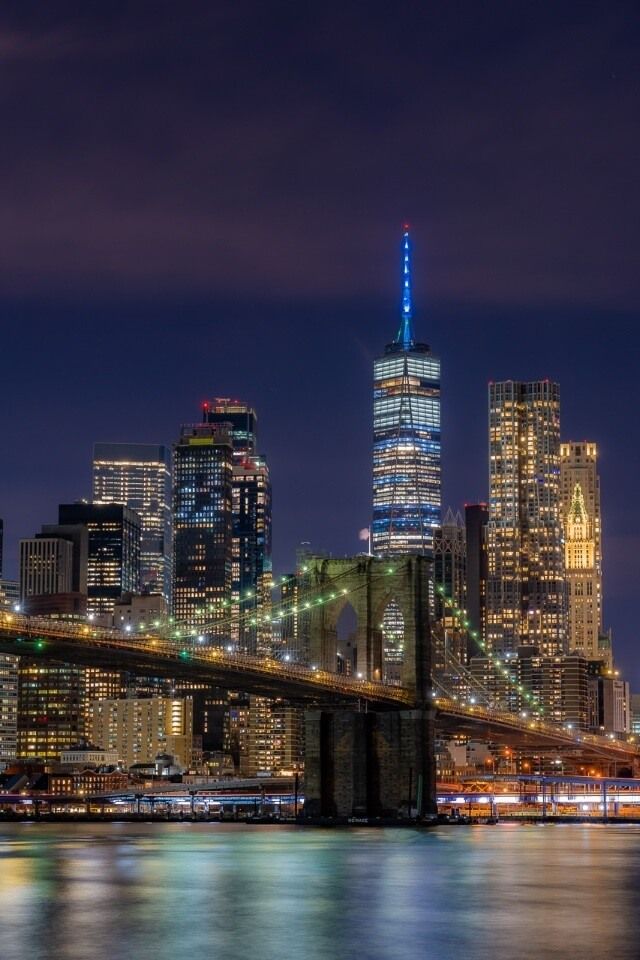 Alternatively, this is a fantastic spot to use a telephoto lens and capture a vertical shot of the far granite column with Manhattan's skyline compressed.
Look how awesome One World Trade Center looks with its blue spire bursting high into the sky.
Pebble Beach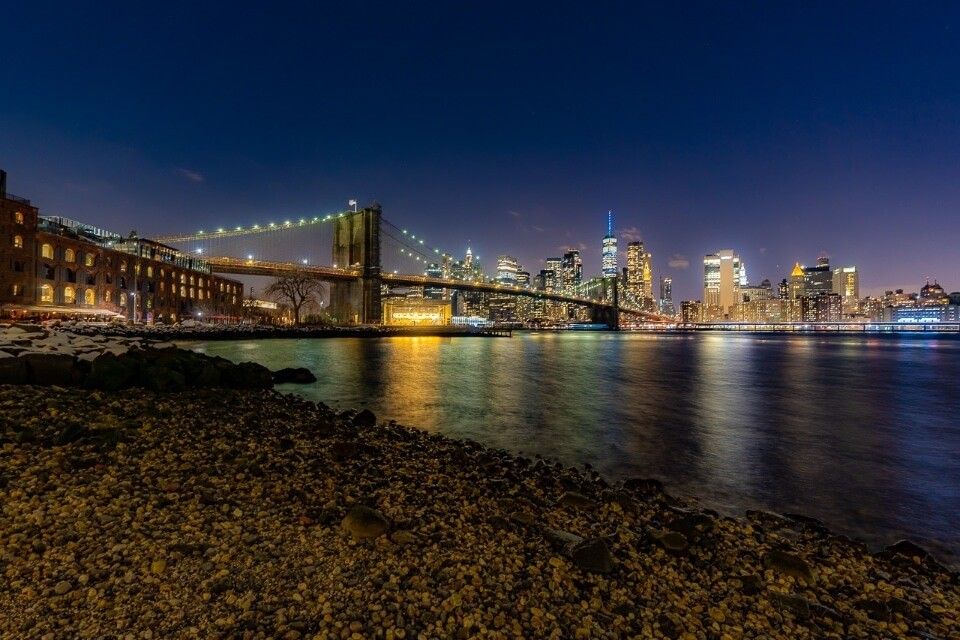 A little further away from Brooklyn Bridge – and directly behind Jane's Carousel – you will find Pebble Beach. Notice the bright yellow glass building below Brooklyn Bridge, that is the carousel.
At Pebble Beach you will find amphitheater style seating which can be used to set up a tripod if you want to use the beach as foreground.
Alternatively, you can walk down onto the beach to cut out the gravel and only have water as foreground.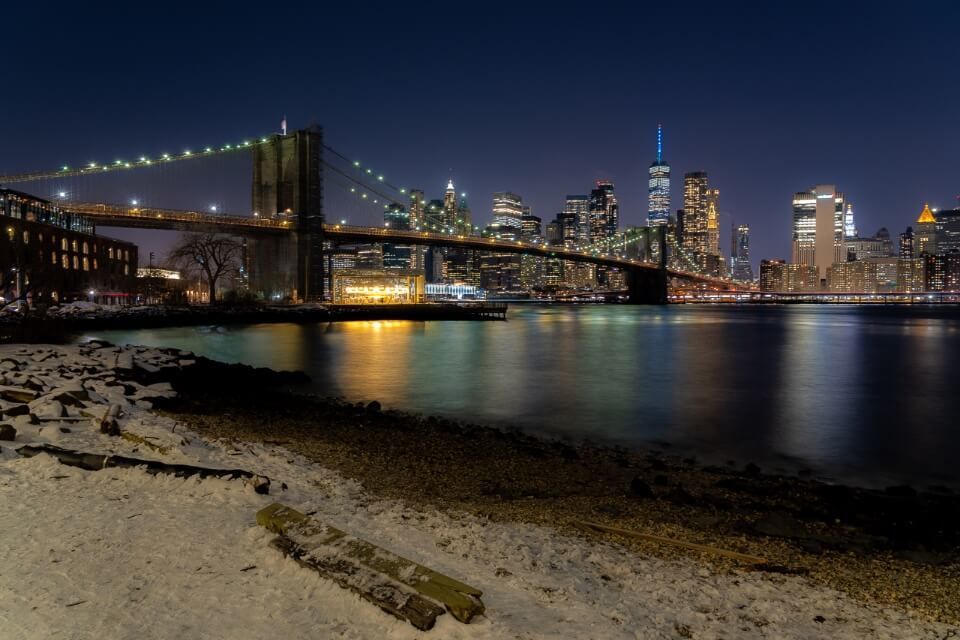 All lenses are great here for different purposes. Personally, we prefer the 16mm wide angle shot of Brooklyn Bridge at night with Time Out Market buildings to the left.
This one was taken with snow covering Pebble Beach on a very cold evening!
Brooklyn Bridge Park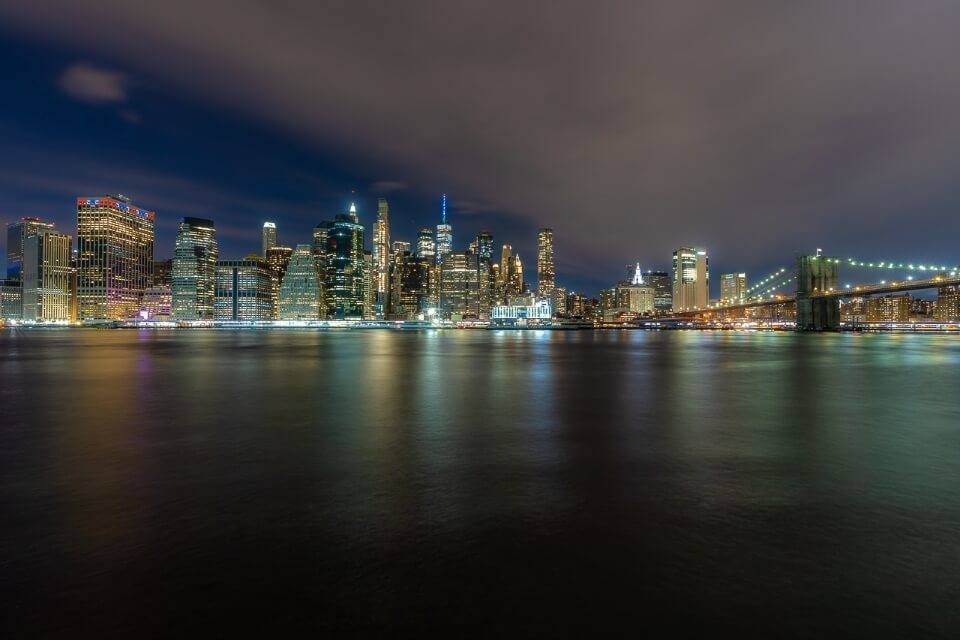 Walking under Brooklyn Bridge and following the river will lead you to the 'other' side. Look for Brooklyn Bridge park on google maps. The walk will take less than 10 minutes from Pebble Beach.
This side of the bridge has less iconic bridge photography opportunities but is still definitely worth visiting.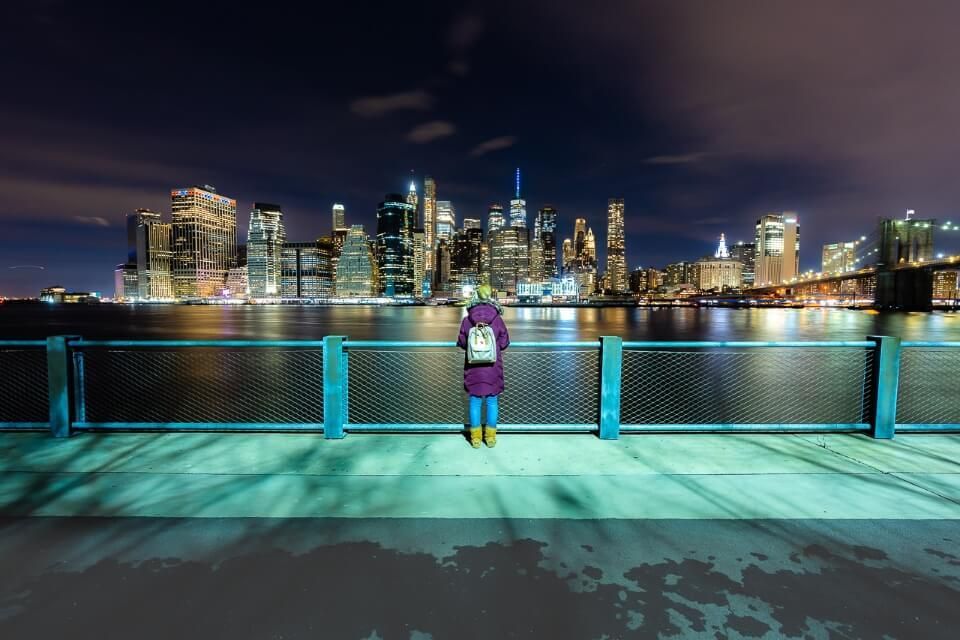 From Brooklyn Bridge Park Pier 1 you will be able to take awesome photographs of the New York City skyline lit up at night.
If you have a wide angle lens you can include a small portion of Brooklyn Bridge in the same shot.
Want more sunset inspiration? Don't miss our popular guide featuring beautiful sunset quotes.
Bonus – Old Pier 1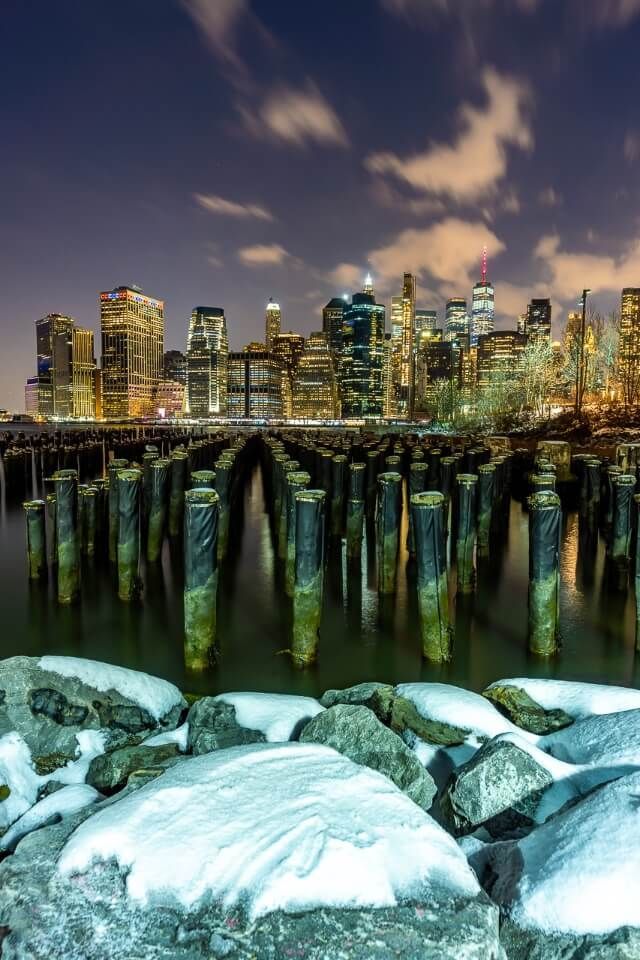 Professional photographers and serious hobbyists will always be on the lookout for the most amazing photography locations in NYC and Old Pier 1 is one of the best in the city.
Wooden poles remain from an old shipping port and they create stunning leading lines to the amazing Lower Manhattan skyline background.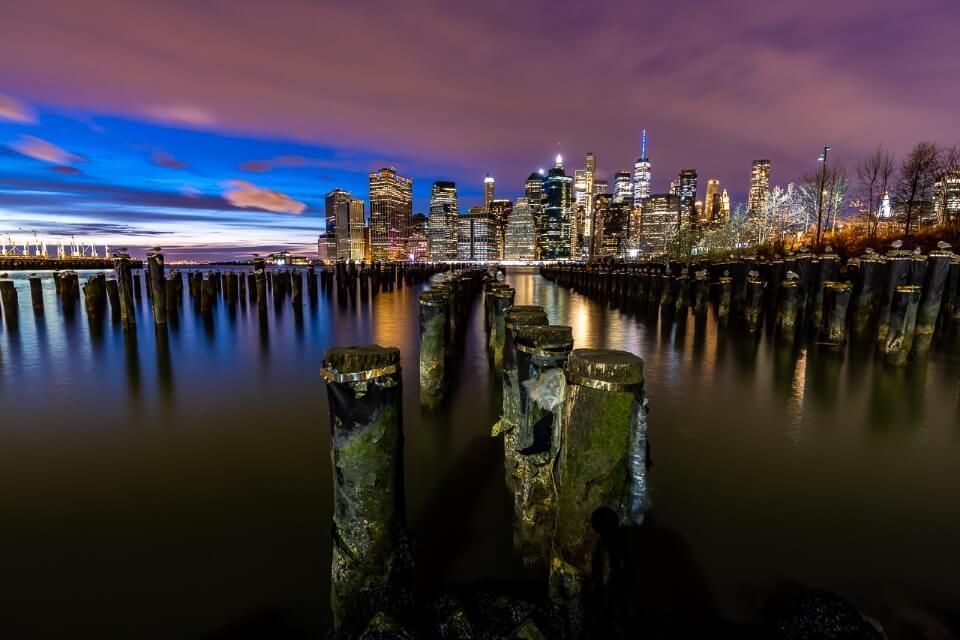 Continue to walk around Brooklyn Bridge Park hugging the water edge until you arrive at the remnants of Old Pier 1. Take the slip road down towards the water, look to the right at New York City's skyline and attach that camera to your tripod!
Top-tip: This spot at Old Pier 1 is also stunning at sunset as blues and purples reflect on the foreground water surface.
Walk Back Over Brooklyn Bridge to Manhattan in Darkness
Now you've seen Manhattan at sunset, the Brooklyn Bridge from various locations in Brooklyn and even an epic bonus viewpoint.
Let's walk back over the bridge to Manhattan, with plenty of photography stops of course. It will be busy an hour or so after sunset, so expect to share the walkways with plenty of others who all want to take home memories of their visit to NYC.
Photographers will need a lot of patience walking over the Brooklyn Bridge at night. Unless you wait until after 11pm, you will struggle to get clean shots with few to no people.
If you're not here for photography, take things slowly and relaxed to soak up the electric atmosphere, before heading back to your top rated NYC hotel.
Awesome Photographs Walking Over Brooklyn Bridge at Night
You will need a tripod if you plan to take clean photographs with your camera as you walk back to Manhattan in darkness. And even then, the bridge vibrates significantly from road traffic, which means the only way of getting a blur-free shot is to dial up the ISO on your camera for a fast shutter speed.
Long exposures of the Manhattan skyline with cars driving below are fantastic images to capture. But you will need to strike it lucky with no cars passing below and no people walking by creating vibrations.
Here's a little of what you can expect from walking over the Brooklyn Bridge at night: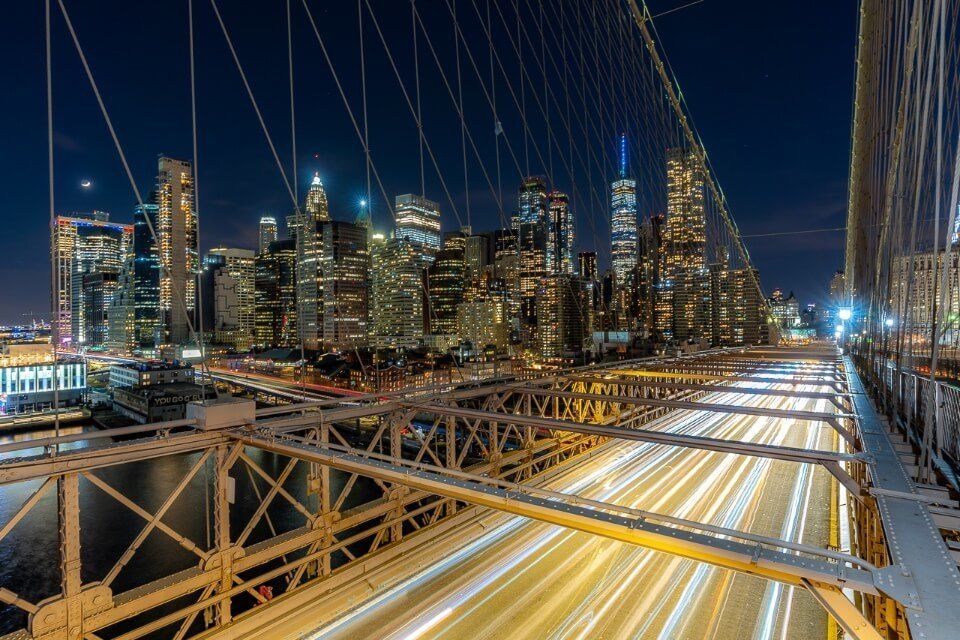 Long exposure with oncoming traffic, Lower Manhattan skyline and a crescent Moon.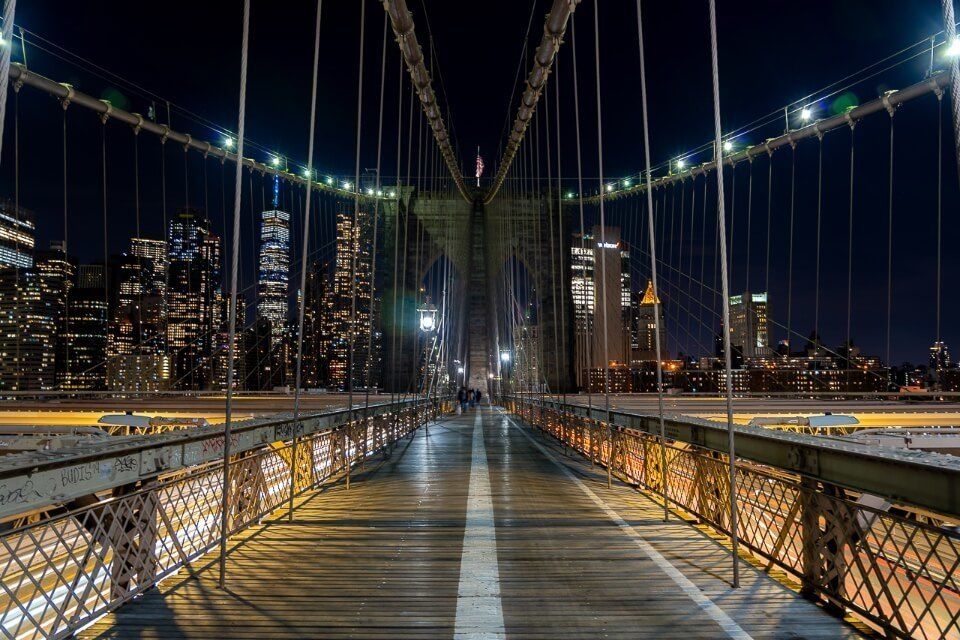 Manhattan skyline from half way across the bridge on a very quiet night during coronavirus pandemic. It will not be this crowd-free on a normal night!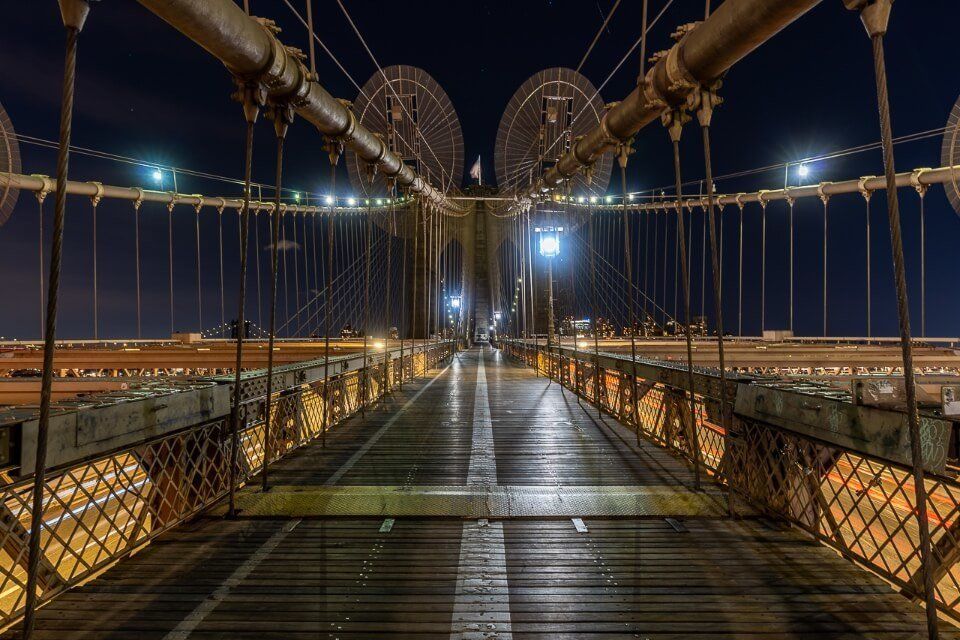 Alone on Brooklyn Bridge at night looking toward Brooklyn with cars passing by on either side below.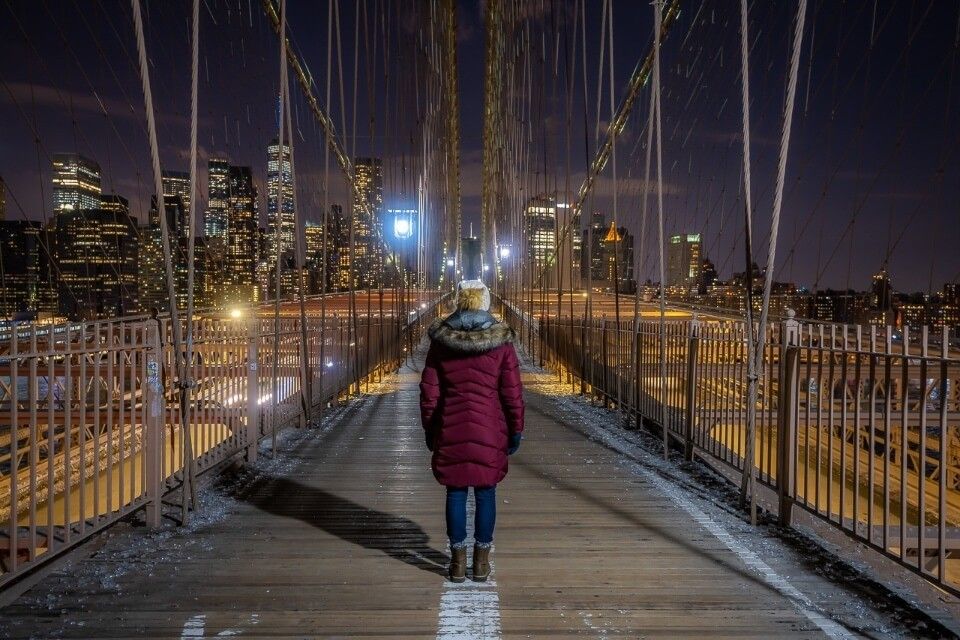 Kristen on a bitterly cold and quiet night in New York City walking to Lower Manhattan.
Brooklyn Bridge Sunrise
Night time and sunset are the most popular times of day to walk over the Brooklyn Bridge. But one of our best pieces of advice for first time visitors to New York City is to walk across again at sunrise.
If you're a photographer and find it's far too busy to get the images you want, or you're just not a big fan of crowds, sunrise is the time to mobilize.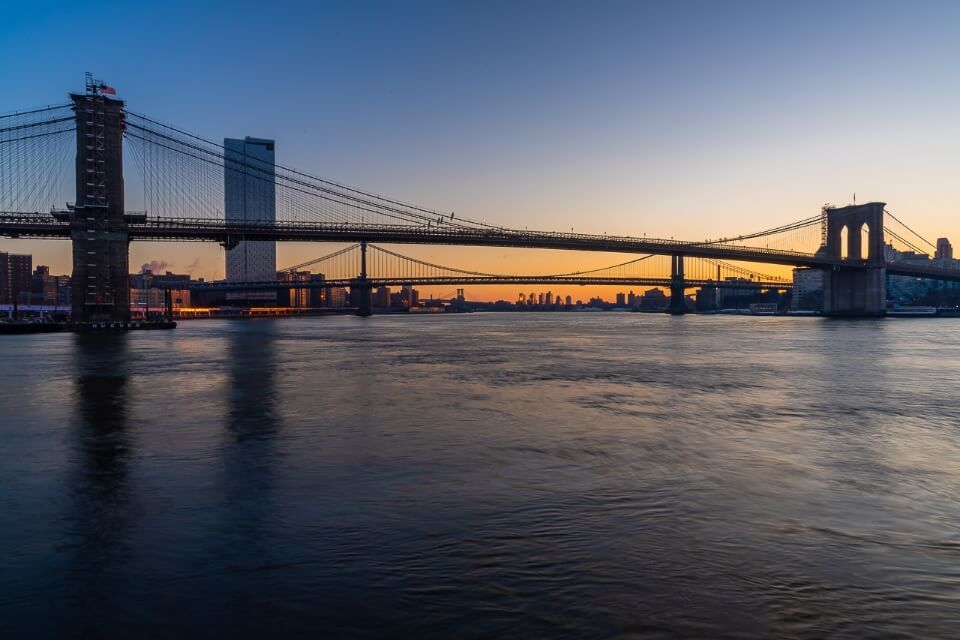 There's a strong possibility you will have the entire bridge to yourself for long periods around sunrise. We've personally done it twice and had all the time in the world to get the photographs we were wanted.
Read: Our Brooklyn Bridge sunrise guide explains exactly where to see the bridge before sunrise, walk during sunrise and another big bonus location right after sunrise.
Read More About New York City
Need Help Planning Your Visit To New York City?
NYC is a vacation planning beast and it can be overwhelming trying to get every aspect right. Trust us, we know!
After living in New York City and exploring non-stop for 3 months, we created a comprehensive NYC travel guidebook & itineraries that will answer every question you have about where to stay, what to do, where to eat and how to get around the city.
Click see details below to read more about how we can help you plan your dream trip to New York City!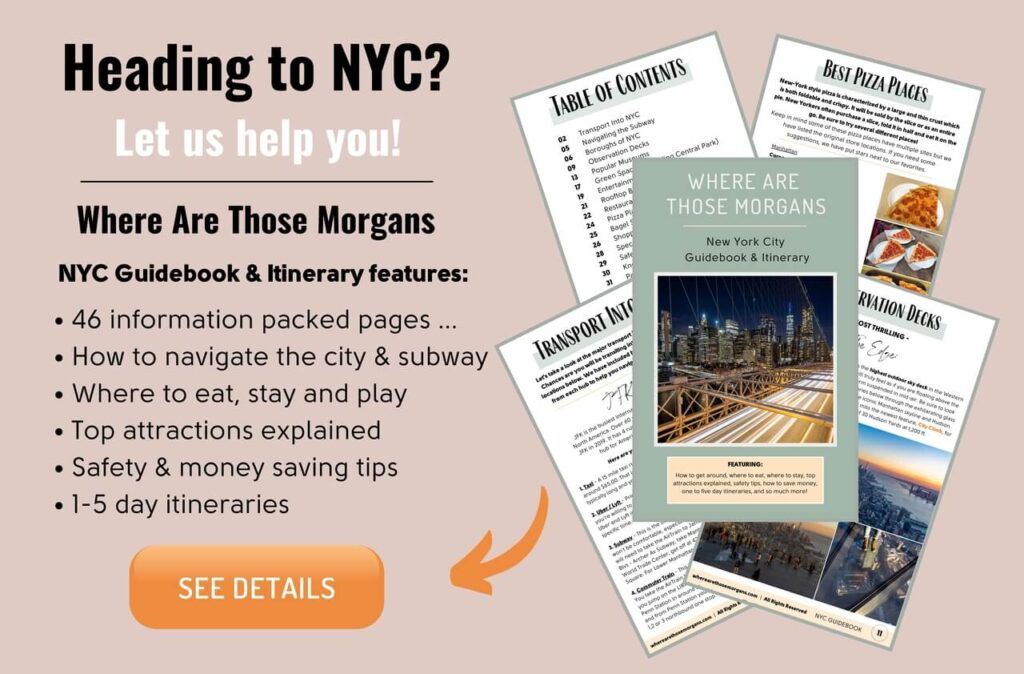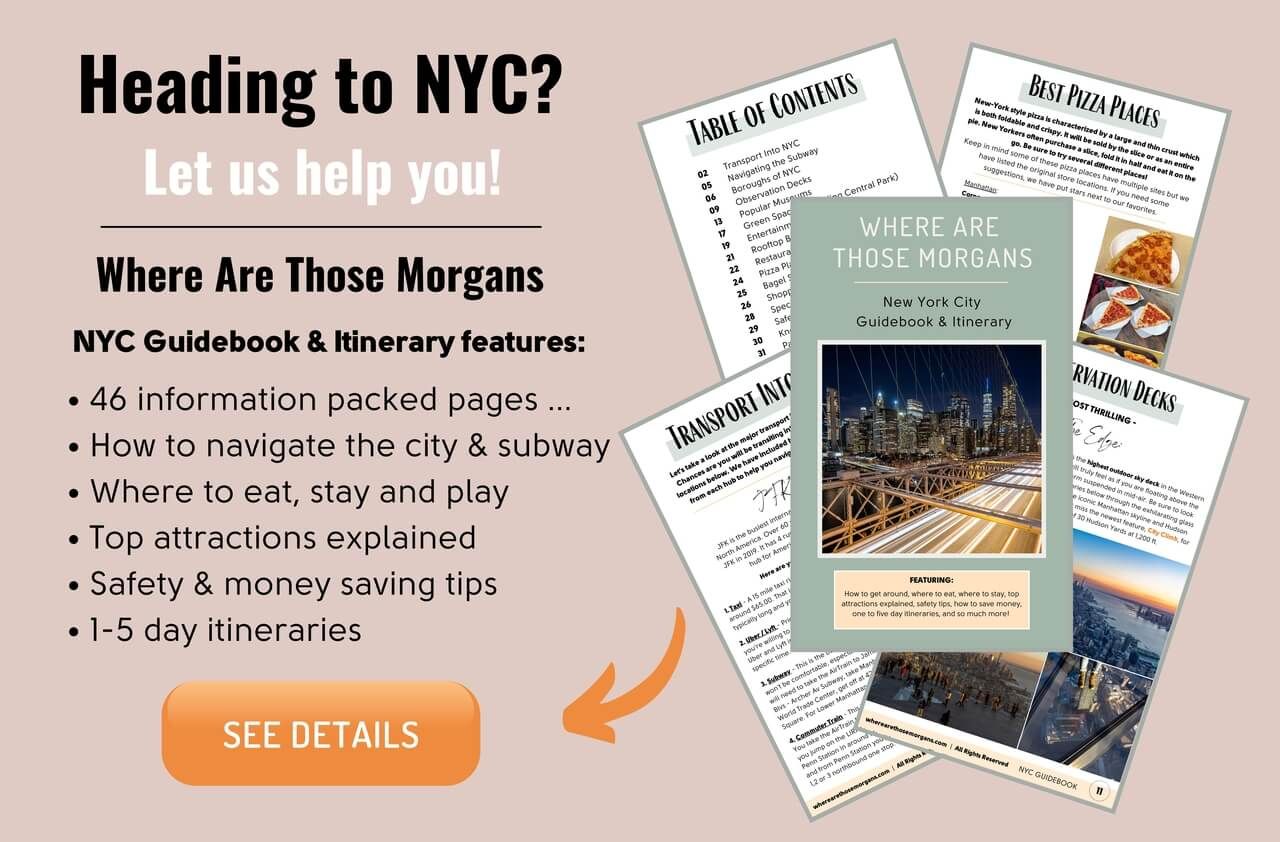 We hope this NYC guide inspires you to walk and photograph the world famous Brooklyn Bridge at Night!
Have you been to New York City? Did the Brooklyn Bridge live up to your expectations?
Please let us know if you have any questions or need any help planning your visit.
Happy Travels,
Mark and Kristen
Was This Post Helpful? Pin It For Your Visit!