Touring a TV and movie studio simply has to be on your travel itinerary when visiting Los Angeles for the first time. But which of the four major studios should you choose? Well, this first hand review will give you a rundown of what you can expect if you plump for the Warner Bros studio tour.
By the end of this unbiased review, you will know if Warner Bros is the perfect studio tour for you. On the other hand, you could end up certain you need to choose one of Sony, Paramount or Universal instead.
Hollywood movie studio tours are not cheap and take up a considerable portion of the day. Unless you're a HUGE film fan, we'd recommend picking only one tour before spending the rest of your time and money on the other awesome things to do and see in Los Angeles.
As avid movie fans ourselves (but not quite in the HUGE bracket) we chose Warner Bros because our research led us to believe it was the "purest" movie studio.
Each studio tour has its pros and cons which we'll get into later, before giving you our opinion on whether Warner Bros is worth the money.
Let's find out if Warner Bros is your golden ticket!
Warner Bros Studio Factfile
City: Los Angeles (Burbank)
State: California
Also Known As: Warner Bros. Entertainment Inc. / WB
Founded: 1923
Founders: Harry, Jack, Albert and Sam Warner
Subsidiaries: DC Films, New Line Cinema, Warner Bros Pictures, Castle Rock, Cartoon Network
Mascot: Bugs Bunny
How To Get To Warner Bros Studio Tour In Hollywood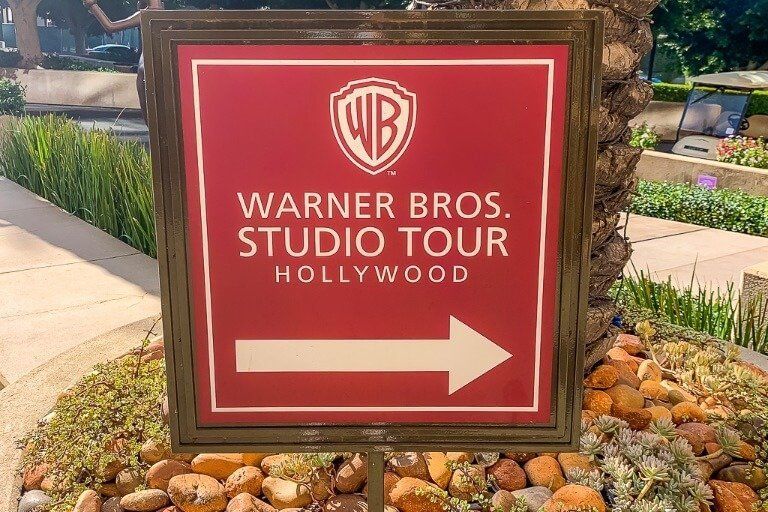 Warner Bros Studio tour is located in Burbank, Los Angeles. The easiest way to find it on a map is by looking to the North West corner of Griffith Park.
LA is huge and traffic is renowned for being congested. If you have your own vehicle and don't mind driving across the city, there is an underground parking garage right beneath the WB building.
No matter if your hotel is in Santa Monica, Beverly Hills or Hollywood, your most efficient route is to drive up Cahuenga Boulevard. Take the right turn at Barham Boulevard which transitions into W. Olive Ave. Turn right onto West Riverside Drive and right onto Warner Boulevard. Follow signs for tour parking.
Note: Driving in LA is not a lot of fun so consider arriving by other means if you're not the most confident driver!
If you don't have your own vehicle or you'd prefer to leave it parked at the hotel, you'll need to use the metro and/or Uber or Lyft.
Cheapest option – Metro B Line (Red) stops at Universal City/Studios. This is the closest you can get by Metro and your options are either walk 2.4 miles or take a Lyft/Uber.
Most convenient option – Simply have a Lyft/Uber pick you up wherever you are in LA. But this will cost more!
Getting Around The Studio Complex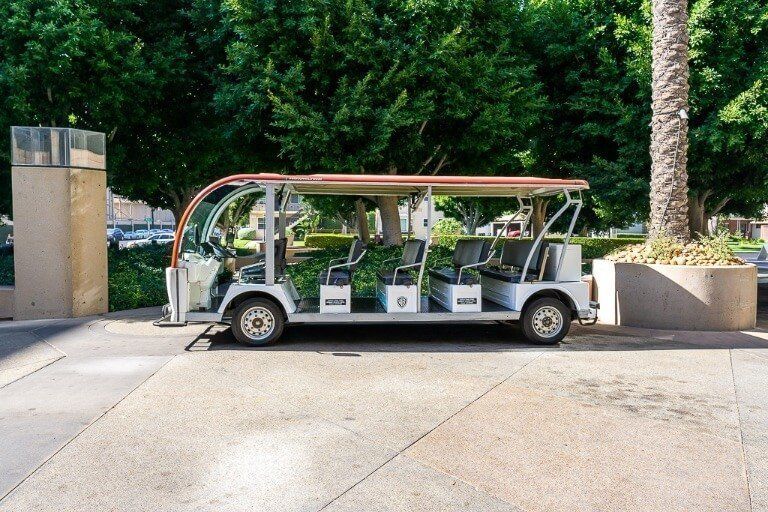 The tour is well organized, they've been doing it a long time and have cracked the 'guest arrival efficiency' code. You will wait in a lounge type area for your designated time slot before beginning the tour.
A brief welcome movie in an intimate cinema setting introduces you to the day ahead, then it's straight on with meeting your guide and hitting the road.
You will be transported around the Warner Bros studio tour by 9-10 seater electric powered carts. However, there are plenty of walking parts where you can stretch your legs so no need to worry about being cramped up for a few hours.
You are not allowed to wander off on a rogue mission to find famous people and the guides will keep a close eye on your group.
It is important to remember this is a working studio, which means there could be several tv shows and movies being filmed at the time of your tour. Correct etiquette is non-negotiable!
Driving from San Francisco to San Diego? Don't miss these 23 unforgettable Pacific Coast Highway road trip stops along the way.
Warner Bros Studio Tour FAQ's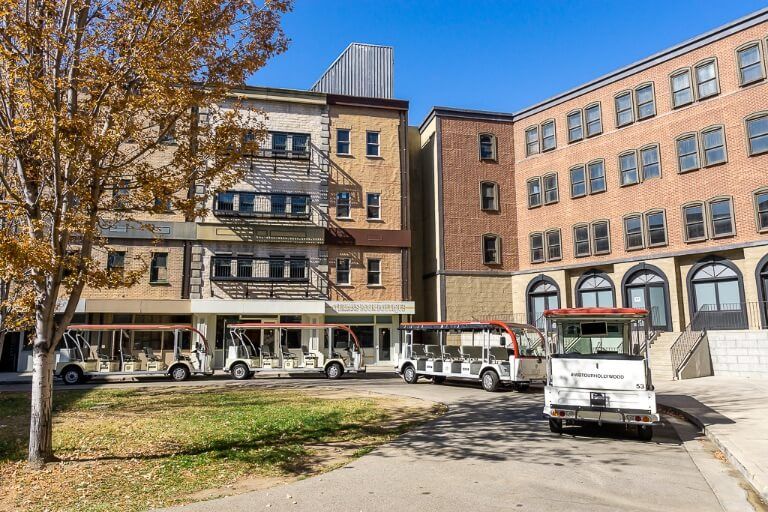 How Long is the Warner Bros Studio Tour?
Expect the tour to take approximately 3 hours. That includes 2 hours guided tour and 1 hour self guided at Studio 48 at the end of your tour.
Can You Take Pictures on the Warner Bros Tour?
You can take photos but only at certain allocated times. Your guide will inform you at every stop and in between whether or not photography is permitted but video is not permitted at any point of the tour.
Which Movies Are Associated With Warner Bros?
We can't list every film from such a historic and comprehensive catalogue but some more recent movies include The Matrix Trilogy, The Hobbit (and LOTR under New Line Cinema), Batman (including Dark Knight Trilogy), Harry Potter, Inception, Sherlock Holmes, The Hangover, 300, Twister, The Departed, Mad Max, Oceans 8, 11, 12 & 13 … and the distinguished list goes on!
What Is Included In The Warner Bros Studio Tour?
So now you know how to get there, let's dive into exactly what you can expect from this world famous studio tour.
One of the most important things to remember from this review is no two tours are the same. Each time slot throughout the day will plot a different route through the studio grounds.
That means what we saw on our tour will not be identical to what you will see on yours!
Backlots & Soundstages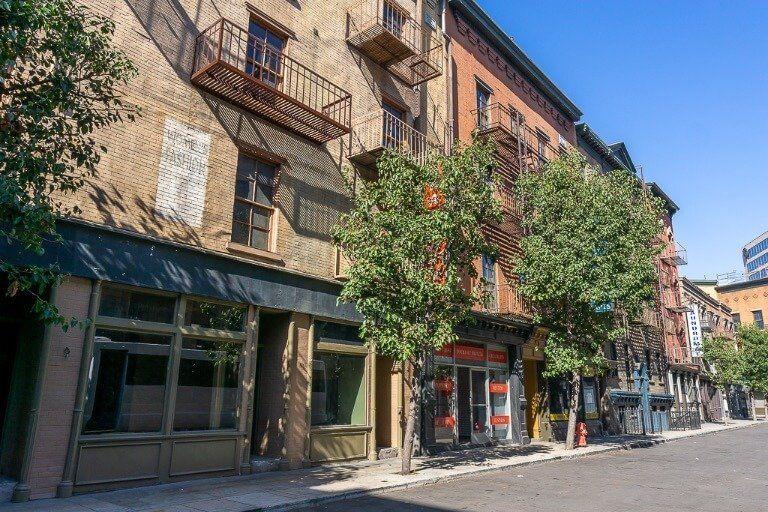 Warner Bros is home to 10 backlots and 30 sound stages. But what are backlots and soundstages exactly?
Backlots are permanent exterior buildings used for outdoor scenes in movies and tv shows. Think the old west or New York buildings.
One example is the alleyway where Tobey Maguire hangs upside down as Spiderman to kiss Mary-Jane. That same alley and brick building surrounding has also been used in other major blockbuster movies.
Once widely used in cinema, the use of backlots quickly diminished as movies began shooting with actors physically on location and as CGI technology advanced.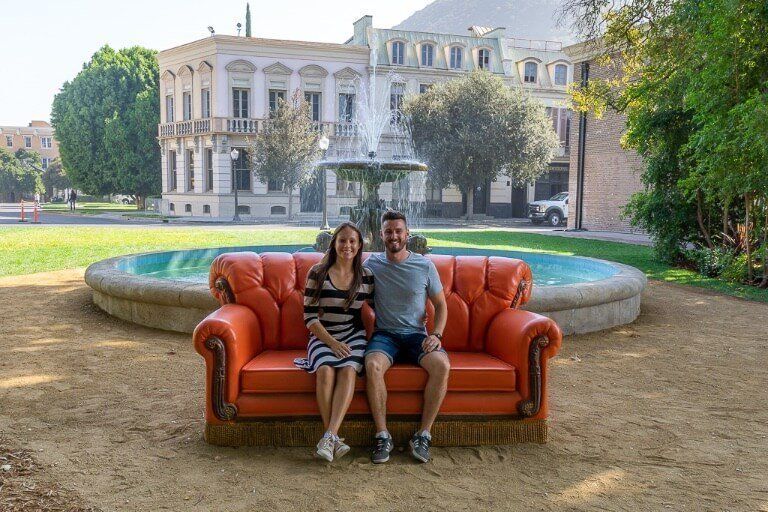 Sound stages (or just Stages) are huge sound-proof warehouse like buildings where many of the major movies film scenes that are not on location. Entire sets are constructed inside these buildings and can stay in place for as long as necessary.
The entire series of Friends was filmed inside studio 24 and Saito's castle scenes from Inception were filmed inside Stage 16. We won't give any more away!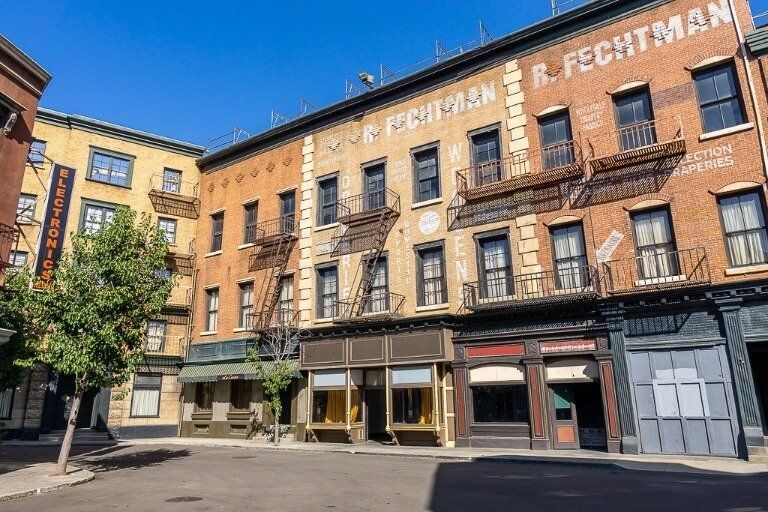 On the outside of every Stage building is a plaque showing each of the movies and TV shows filmed inside that particular Stage.
You will be able to go inside and walk around one Stage to view the set of a currently running TV show.
On our visit we went inside the full sized apartment of 'Lucifer'. We were also told that Denzel Washington was on the premises shooting scenes for a movie.
Old Movie Props
Old movie props might not sound exciting but when you get there you will see why it is one of the best stops on the Warner Bros studio tour.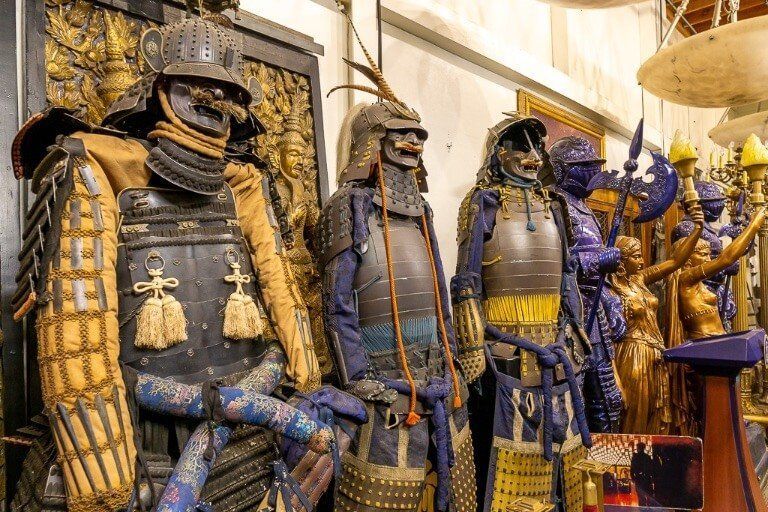 Remember the 2 faded red leather chairs from the Matrix? The neon Comedy Club sign from Joker? How about the armor worn by Tom Cruise and Ken Watanabe in the Last Samurai?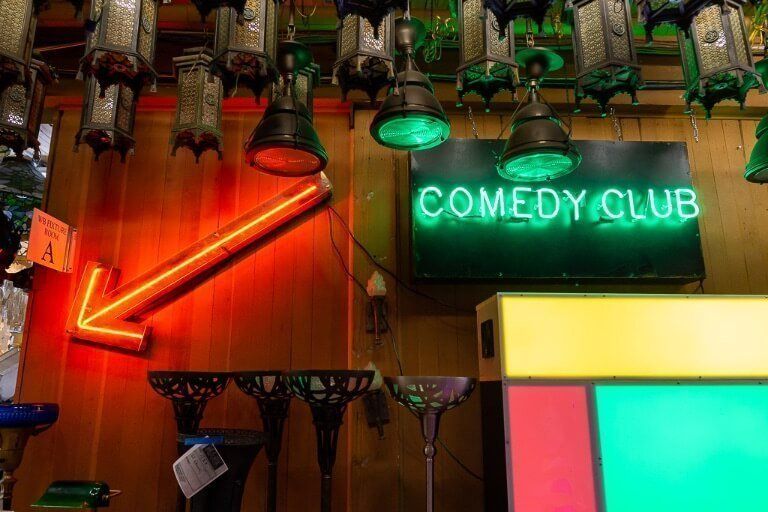 All of these and (so much!) more can be found inside the prop storage building. We were even lucky enough to see the building next door with its shutter open.
What was inside?
Only Phoebe's taxi from Friends and Austin Powers' Shaguar!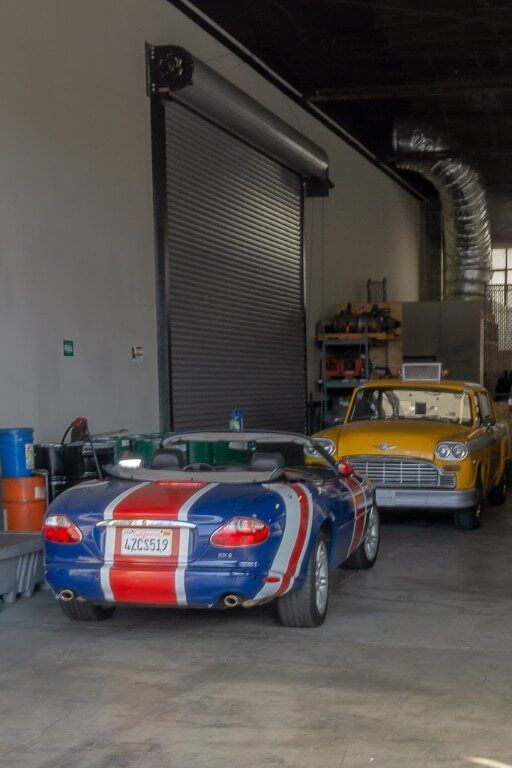 You are guaranteed to see props from some of your favorite movies when you walk around this building.
Many will be a surprise because who really knows which movie studio produced their favorite movies?!
DC Universe Exhibit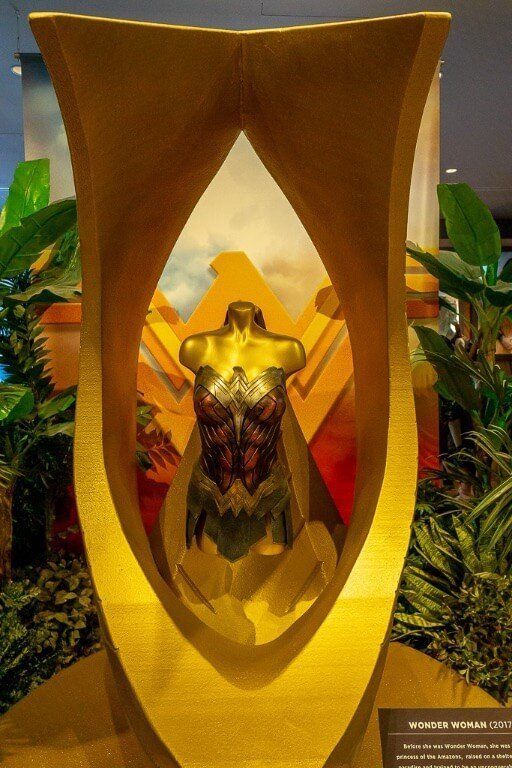 Any superhero fans out there? At Warner Bros it's best if you're team DC and not team Marvel!
One of your first stops will be to walk around DC's Aquaman and Wonderwoman exhibits. The majority of displays are costume design and accessories, such as Diana Prince's Lasso and Arthur Curry's armored suit.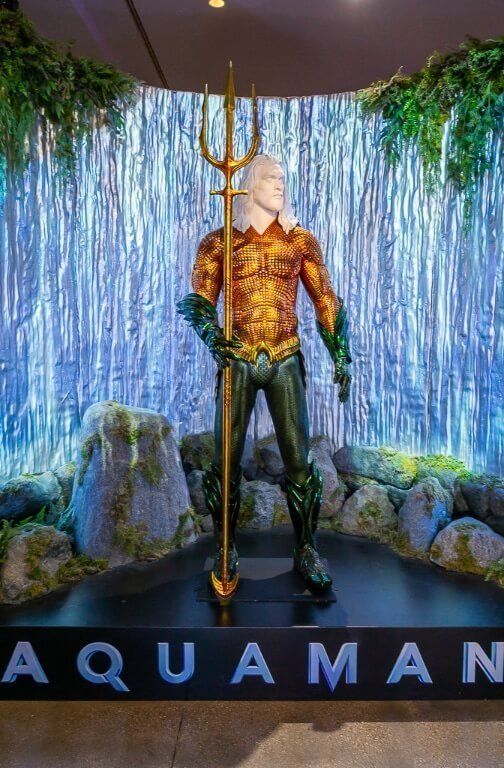 Although not overly exciting, this part of the tour does allow you to appreciate other elements of what makes movies so engaging.
Who ever looks to see who the costume designer was in the end credits?
But when you stop to think about it – costumes, weapons, design etc are vital to every movie!
Hmm, Mark has some work to do in the gym to emulate Jason Momoa holding the trident.
The Wizarding World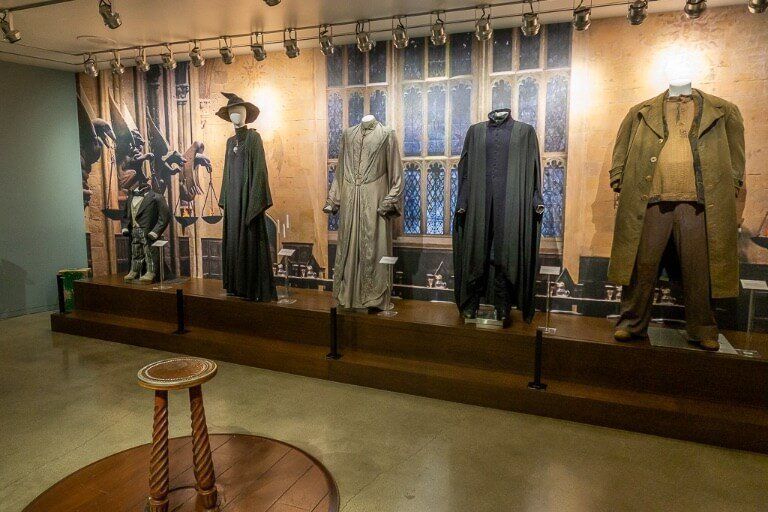 Another stop on the Warner Bros studio tour is the Wizarding World of Harry Potter and Fantastic Beasts. You will walk a one way route around all things Hogwarts, Dumbledores Army, Newt Scamander and Grindelwald.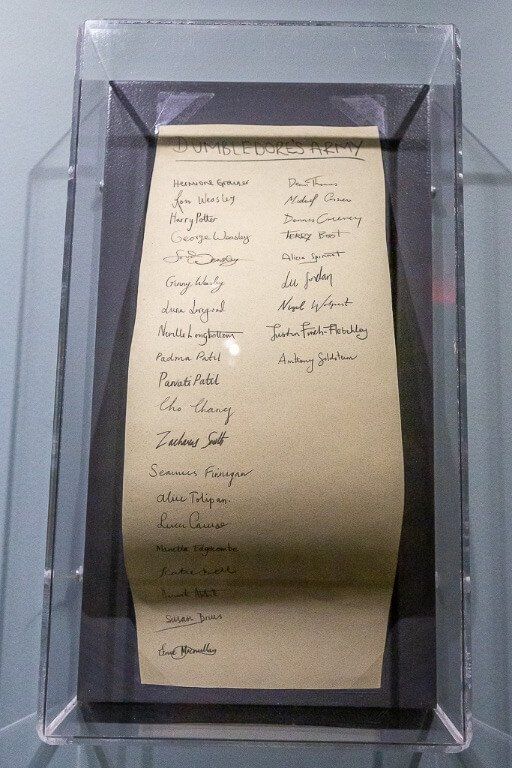 Now, we implore you not to get too excited, this is not like the Harry Potter tour in London where you can see full sets. We wouldn't recommend choosing Warner Bros based solely on your love for the Harry Potter franchise!
What you do get to see is authentic props like Dobby the House Elf and the sorting hat, plus real costumes worn by most of the main characters.
All of your favorite wizards outfits are on display and it is kind of fun to imagine the actors being there in person … or putting on one of the costumes yourself, picking up a wand and shouting 'Expelliarmus'.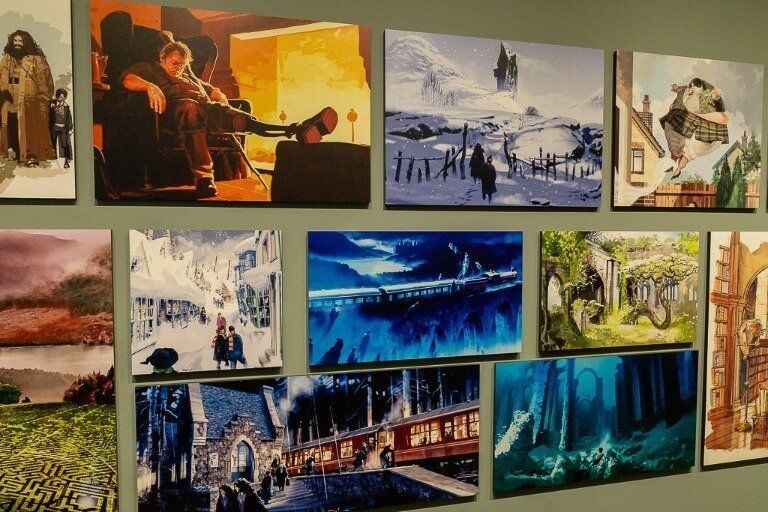 However, the most interesting part for us personally was being able to see some of the original storyboards. It's fascinating to see how the drawings compare to the end product on screen.
Batman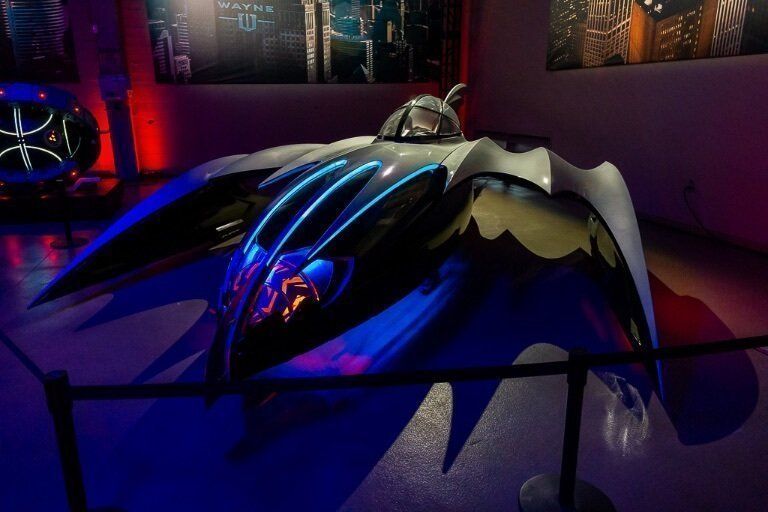 Maybe you were wondering why we didn't mention Batman in the earlier DC Universe section? Well, that's because there's an entire Batcave dedicated to the caped crusader!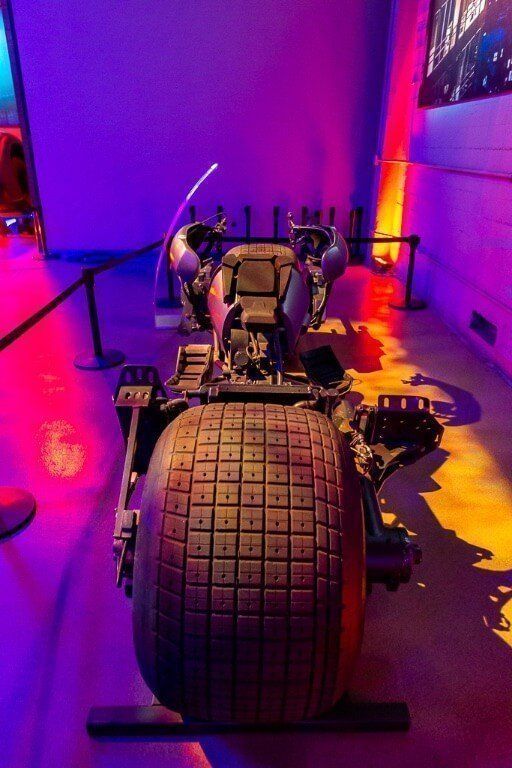 Personally, we loved the Christopher Nolan / Christian Bale Dark Knight trilogy, so getting to see the tumbler and Batpod was pretty cool!
The room is very dark and looks more like a strange car showroom with purple lights but information plaques do have individual lights for reading.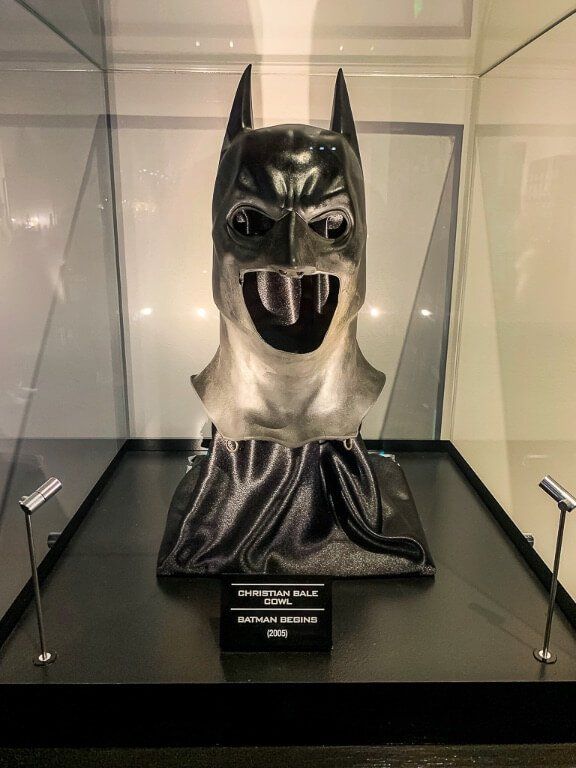 Also inside the Batcave are replicas of the Neutron Bomb from DKR, and older Batmobiles like the Bathammer from Clooney, Keaton and Kilmer eras.
Even the Batsuit Christian Bale wore is on display!
Stage 48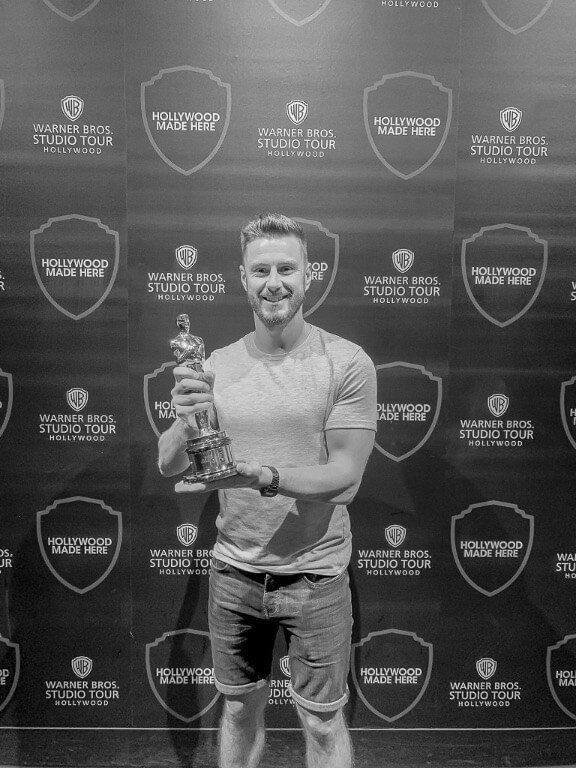 Stage is 48 is called Script to Screen, which means you get an insight into what happens at pre-production, production and post-production stages of making a movie.
This is another aspect of filmmaking that often gets overlooked by the average movie watcher.
But consider editing, sound, casting, green screens for CGI etc – a movie cannot be made without these elements.
This section of the Warner Bros studio tour is self guided and interactive. The best thing you can do is ask questions and explore every part of production.
You could rush through in 10 minutes or easily spend an hour looking at storyboards and creating costumes for a movie. It is the first time you are able to slow down and read everything.
You can also ride Harry Potters Firebolt broom or Batmans Batpod with a green screen behind. A guide will instruct you to 'turn left' or 'cast a spell' as you watch yourself on a monitor.
This is of course being filmed and you can buy a video souvenir but they are not cheap and we personally did not buy one.
It's hard to get into character when you don't have the full Batsuit on shouting WHERE'S THE TRIGGER at Bane in your deepest and harshest voice (with a peg on your nose)!
For us, the best (and only real unmissable) part of Studio 48 is the sound engineer insight called 'art of sound'. A guide will explain to you how sound was composed in space for the movie Gravity, it's a truly fascinating and intriguing part of the tour.
Oh, and you can hold a shiny Oscar, like Mark winning his Best Actor award from the 1950's.
Central Perk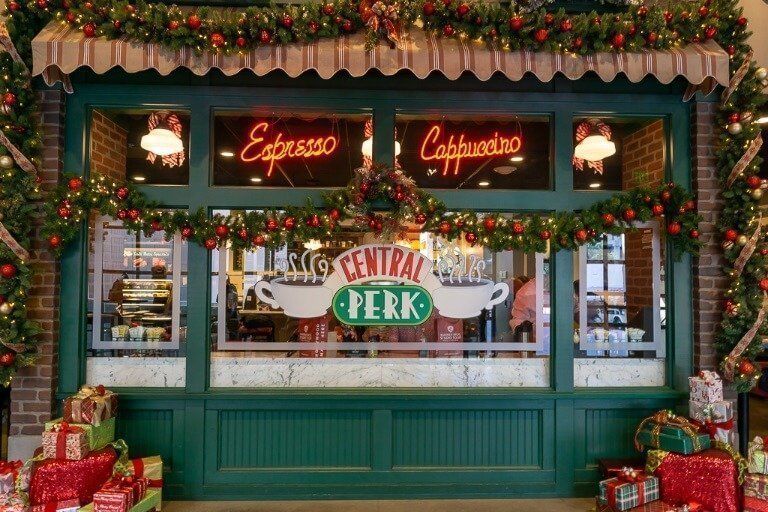 Fans of TV show Friends will enjoy the entire authentic set of Central Perk cafe.
You can take a seat on the famous sofa, order coffee from imaginary Gunther and maybe even pretend that you are also being paid US$ 1 million per episode!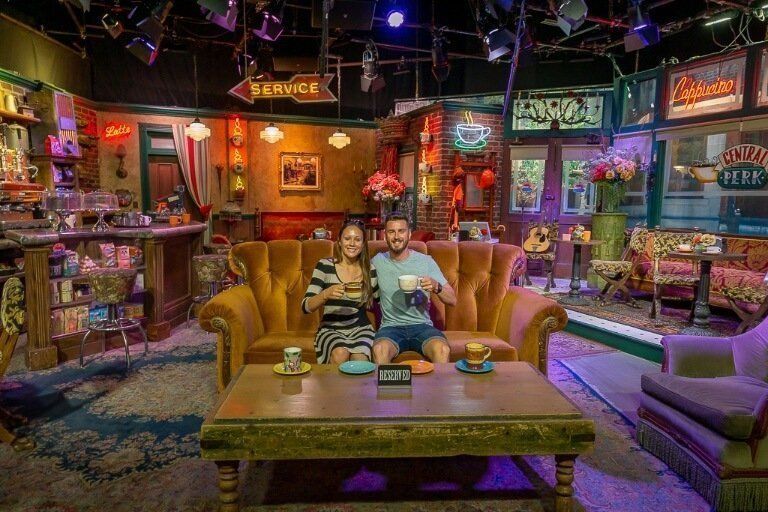 With a total of 236 episodes, Friends has to be regarded as one of the most iconic sitcoms of all time, right?! Classic feel good background noise at worst, engaging emotional rollercoaster at best!
It is one of the only American sitcoms that used to get replayed over and over again growing up in the UK but is still widely adored.
Netflix even paid over US$ 100 million for rights to stream re-runs between 2014 and 2019. Not bad for a show that finished all the way back in 2004. #timeless
Big Bang Theory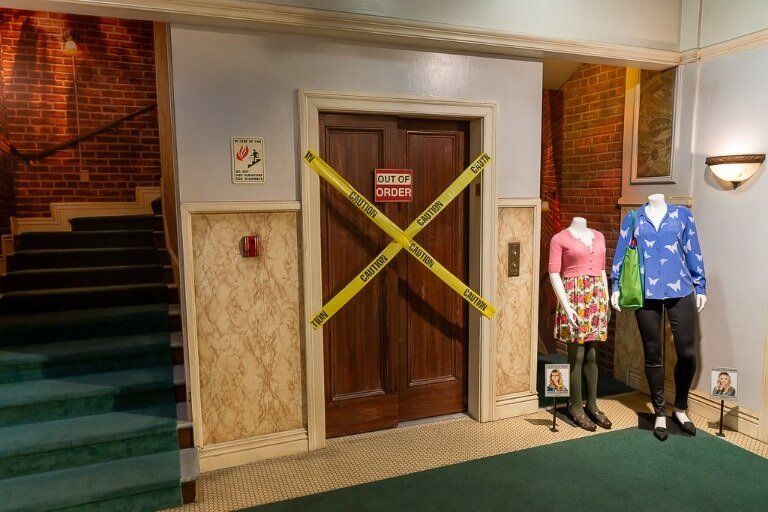 Moving swiftly onto another show where you can imagine earning a cool million per episode is one of America's favorites: Big Bang Theory.
Big Bang is the longest running multi camera sitcom in history with almost 280 episodes across 12 seasons.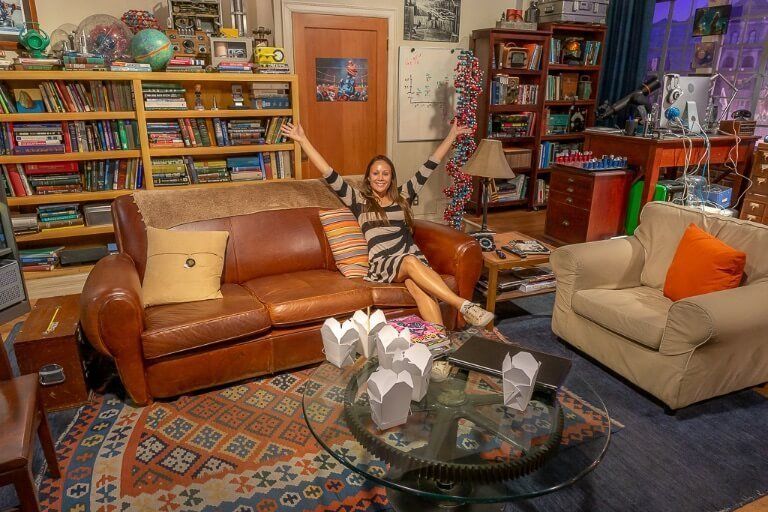 Imagine how much time each of the main actors playing Sheldon, Leonard, Raj, Penny and Howard spent filming in front of live audiences at Warner Bros!
Much like the Central Perk set, Big Bang sets Caltech Cafe, the Elevator and Apartment 4a can all be explored as part of the tour in Studio 48.
Tour Guides At Warner Bros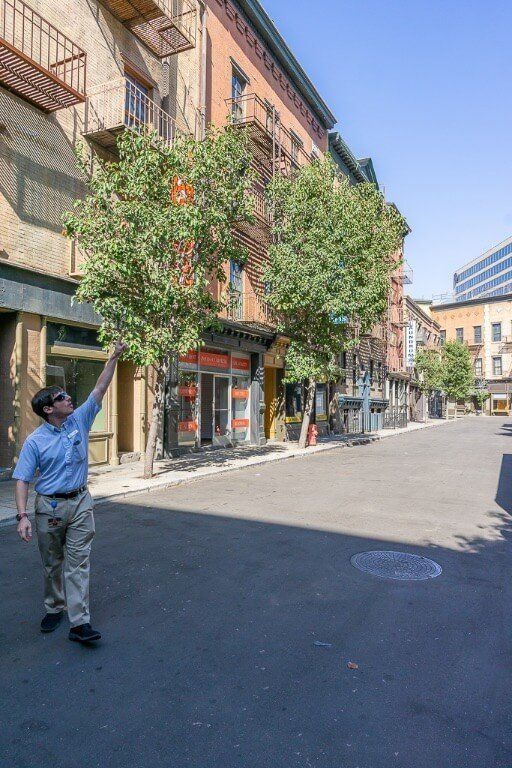 We'll take a wild guess you consider yourself a bit of a TV and movie buff? We thought so too, but we were wrong.
Our tour guide set the benchmark for being considered a bona fide movie buff. Shout out to Erik, this guy lived for it!
These giant world beating movie studios want to give the best possible experience for those who travel from around the world to get behind the scenes of their favorite TV shows and movies.
The guides have to be fantastic, it is as simple as that.
Our advice to you is speak up whenever you have a question about anything. Ask away and your guide will enjoy responding!
Warner Bros Studio Tour Price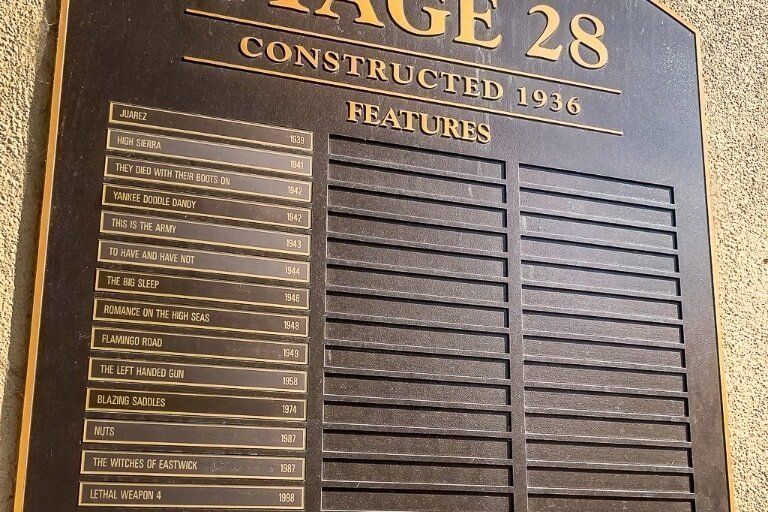 Warner Bros offers what is widely regarded as the best pure movie lovers tour out of all the studios in LA. We didn't tour the other studio so can't give a definitive agree or disagree on that claim.
If you truly love TV and movies, the price here won't matter too much because you're going to pay it anyway!
An adult ticket for the Warner Bros studio tour will set you back a fairly hefty sum of US$ 69.
Which is the Best Studio Tour in LA?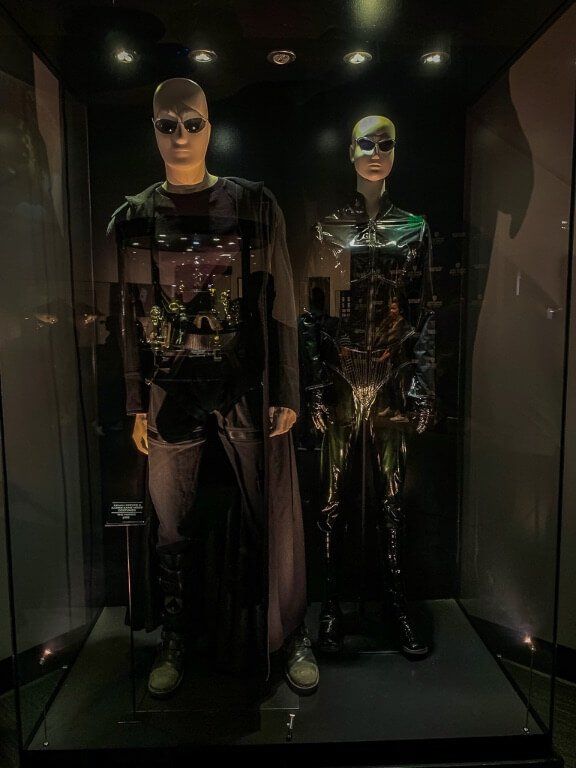 Now you know what to expect and the price of Warner Bros, it's important you know the most pertinent information about each of the competition.
There are 4 major movie studios to choose between in Los Angeles.
What are the most important aspects for you to consider when choosing which studio you want to visit?
Is it price, which movies they made, location (ease of access), what you will see or something else entirely?
We created this Warner Bros, Sony, Paramount and Universal comparison table to look at pros, cons and differences of each tour and to help you determine if Warner Bros studio tour is the one for you.
Warner Bros vs Sony vs Paramount vs Universal Studio Tours
Warner Bros
Sony
Paramount
Universal
Price
Studio Tour –
US$ 69
Deluxe Tour –
US$ 295
Studio Tour –
US$ 50
Studio Tour –
US$ 60
(online price)
VIP Tour –
US$ 189
Studio Tour is a
Ride at Universal
Studios Theme
Park – US$ 129
Duration
2.5 – 3 hours
2 hours
2 hours
45 min – 1 hour
Min Age
8
12
10
5
Days / Times
Mon to Sun – 8.30am – 3.00pm (Every 30 mins)
Mon to Fri –
9.30am, 10.30am, 1.30pm, 2.30pm
Mon to Sun –
9am – 3.30pm (Every 30 mins except 9.30am & 1pm)

Mon to Sun –
10am – 6pm (non stop)

Languages
English, Spanish, French, Mandarin
Only English
Only English
English, Spanish
Movies
Matrix Trilogy, The Hobbit & Lord of the Rings, Batman (inc Dark Knight Trilogy), Harry Potter, Troy, Inception, 300, Twister, The Departed, Mad Max, Oceans
Skyfall, Casino Royale, Rocky, Terminator, Gone With The Wind, Wizard of Oz, Men in Black, Spiderman, Ghostbusters, Jumanji, Bad Boys
Thor, Captain America, Titanic, Pulp Fiction, Top Gun, Forrest Gump, Mission Impossible, Saving Private Ryan, Indiana Jones, Shrek, Madagascar
No Time To Die, Jurassic Park, Fast & Furious, ET, Gladiator, Bourne, The Mummy, Back to the Future, Notting Hill, Apollo 13, Schindlers List
TV Shows
Friends, Big Bang, Lucifer, Supernatural, Westworld, Shameless, Gilmore Girls, The West Wing
Jeopardy, Wheel of Fortune, Breaking Bad, The Boys, Seinfeld, The Goldbergs, Stargate
Glee, Community, Happy Endings, Medium, Numb3rs, Charmed, Frasier, Everybody Hates Chris
Brooklyn Nine-Nine, Suits, Parks & Rec, House, Dexter, Mad Men, Downton Abbey, Jack Ryan, The Office
Location
3400 Warner Blvd, Burbank
10202 W. Washington Blvd, Culver City
5515 Melrose Ave (30 min walk Hollywood Blvd)
100 Universal City Plaza, Universal City
Parking
Underground (US$ 15)
Overland Ave (Free)
Melrose & Windsor (US$ 18)
On Site
(US$ 25)
Walking / Cart
Both
Walking
Cart
Cart
Is Warner Bros Studio Tour Worth Your Time and Money?
Warner Bros is worth your money as long as you have some interest in Harry Potter, Batman, DC universe characters, friends or Big Bang Theory. Consider choosing one of the other studios if none of that sounds exciting!
Let's take a quick look at what we liked, didn't like and how much we would pay for this tour.
What Was Hot
The sheer scale and magnitude of the Warner Bros studio grounds.

We thought it would be more about sets and backlots but thoroughly enjoyed the costumes, props and production aspects.

Our guide was extremely knowledgable about the industry and always had informative answers to questions.

The tour is longer than any other studio offers (for the basic package).

Parking the car was not a problem thanks to the multi-story underground parking lot.
What Was Not
Tours leave every 30 minutes from 8.30am – 3pm so it can at times feel a little like you're on a conveyor belt of tourists. You will run into a number of other tour groups throughout.

The tour slightly lacked a personal touch overall and would benefit from a few freebies or take homes.

Paying for parking adds a further US$ 15 to the overall ticket price and we think that is a bit harsh as tickets are already expensive enough.

In certain exhibits (such as DC Universe and Wizarding World) the tour group moves too quickly which makes it difficult to read all information boards.
LA GO Card
It is definitely worth mentioning the GO Los Angeles card for those of you who intend to do more tourist attractions on your visit to Los Angeles.
You can seriously save money with this card but only if you get busy!
You have two options:
Explorer Pass – 2, 3, 4, 5 or 7 ATTRACTIONS (value & savings increase the more attractions you do). Click to see options.
All Inclusive Pass – 1, 2, 3, 5 or 7 DAY pass (value & savings increase the more days you do). Click to see options.
Warner Bros studio tour is included in all pass options. You could potentially save a substantial amount of money by including this tour with others in Los Angeles.
What Is A Fair Price?
We personally thought the Warner Bros studio tour was worth US$ 69 each. We probably would have paid up to around 80-90 dollars but any more and we would have written it off.
It's not every day you get to go behind the scenes of a movie studio, especially when you're a big fan of movies.
You have to set a reference point, like paying 10 bucks for a beer at a Dodgers ball game or US$ 100+ on a meal out in Beverly Hills and entrance to Warner Bros won't seem so high!
If you love movies and have a morning or afternoon spare on your Los Angeles itinerary, we think the Warner Bros studio tour could be the one for you.
It certainly didn't disappoint us.
Buy Tickets For Warner Bros Studio Tour
Are you sold on Warner Bros?
You can book your tickets right now with two options offering the same price:
If you choose to take a tour of Warner Bros Studio in Hollywood, we hope you have a fantastic time!
Read More California Guides …
---
We hope this review helped you decide if the Warner Bros Studio Tour is for you!
Did you go to Universal, Sony or Paramount and how was it?
Please let us know if you have any questions or need any help planning your visit to LA in the comments below.
That's All, Folks!
Mark and Kristen
Was This Post Helpful? Pin It For Your Tour!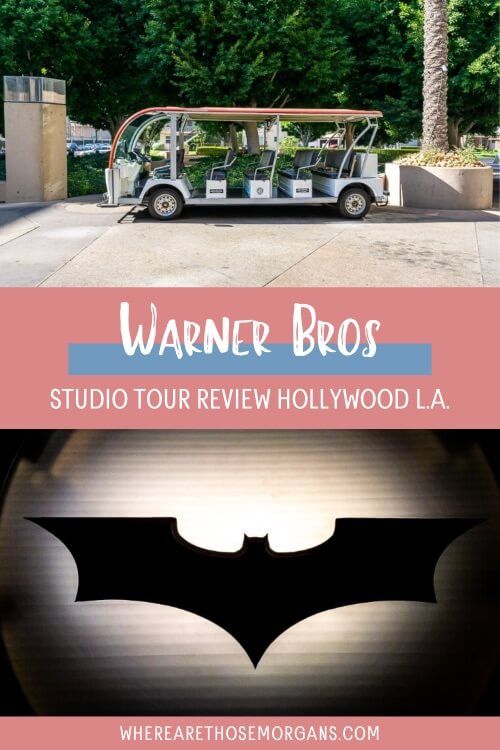 Note: This article contains affiliate links. When you make a purchase using one of these affiliate links, we may earn a small commission at no extra cost to you.
All Rights Reserved © Where Are Those Morgans, LLC. Republishing this article and/or any of its contents (text, photography, maps, graphics, etc.) in whole or in part is strictly prohibited.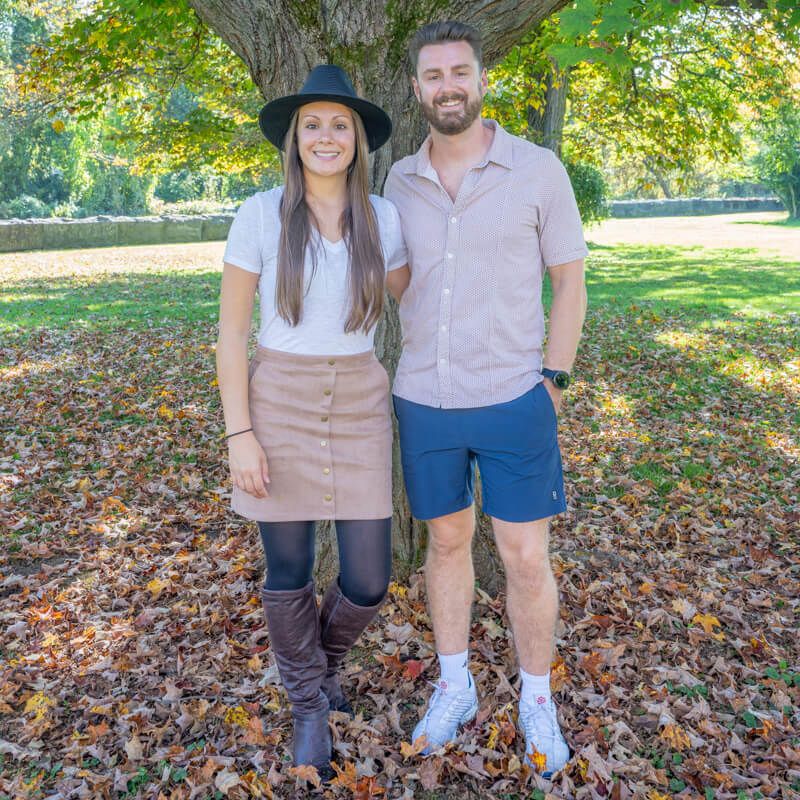 Mark and Kristen Morgan are travel, hiking and photography experts. Over the last 6 years traveling full time, they have explored more than 40 countries and 30 US states.
Their work has been featured in USA Today, Gestalten, Get Your Guide, CityPASS and Condé Nast Traveler along with various other publications.