Crossing the Hudson River from Manhattan, New York into New Jersey aboard the Statue of Liberty and Ellis Island ferry is one of many unmissable things to do when visiting NYC.
But for such a popular and unmissable tourist attraction on every bucket list NYC itinerary, working out how to get to Liberty and Ellis Islands isn't as easy as you might think.
In this guide we're going to explain everything you need to know about visiting the Statue of Liberty and Ellis Island by ferry, including where the ferry leaves from, how to buy tickets, schedules and a walkthrough of the tour.
Let's get right into the details!
*Please note this post may contain affiliate links. If you click on one, we may earn a small commission at no extra cost to you!*
Where Does The Ferry Leave Manhattan To Get To The Statue Of Liberty And Ellis Island?
There is only one place in Manhattan you can officially have permission to come aboard a ferry bound for the Statue of Liberty. That one place is called Castle Clinton National Monument in The Battery waterfront park in Lower Manhattan.
Castle Clinton is the only circular shaped fort in Battery Park. An impressive entrance leads you inside the old fort and a less impressive exit brings you out of the rear.
You must enter a festival-style series of white canvas tents immediately to the rear of Castle Clinton. Inside you will pass through a security check and join a line in a 'staging area' until your scheduled ferry departs.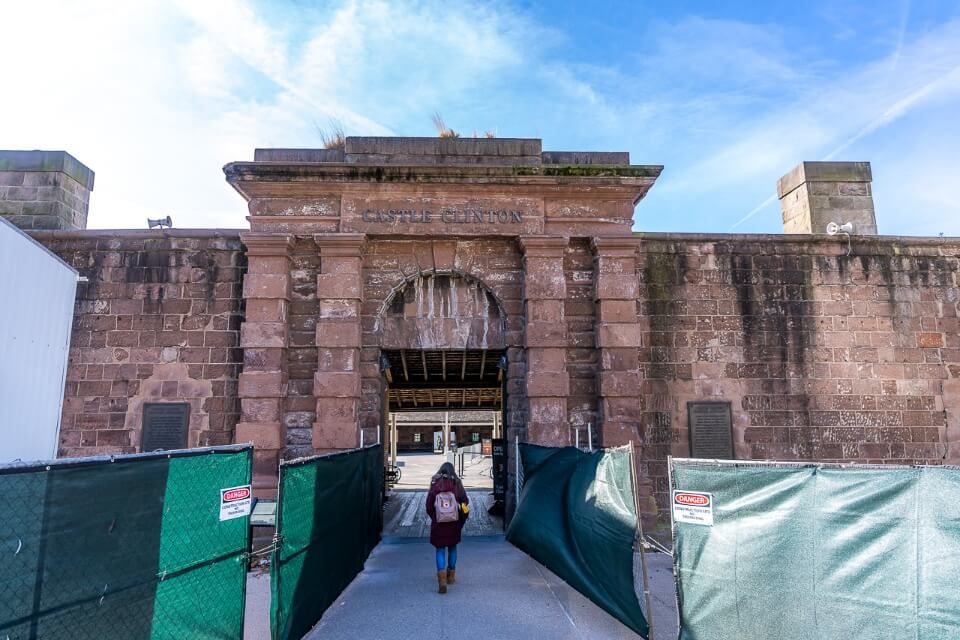 How To Get To Castle Clinton
Castle Clinton and Battery Park are easily walkable if you are staying in Lower Manhattan around the financial district (see hotel recommendation).
However, you have plenty of subway options to reach the area if based in another part of the city:
Green

subway line numbers 4 and 5 from Union Square, Grand Central, Brooklyn to Bowling Green

Red

subway line number 1 from Soho, West Village, Chelsea and Times Square to South Ferry
Yellow subway line letters R and W from Brooklyn, Flatiron, Times Square to Rector Street

Brown

subway line letter J from Williamsburg to Broad Street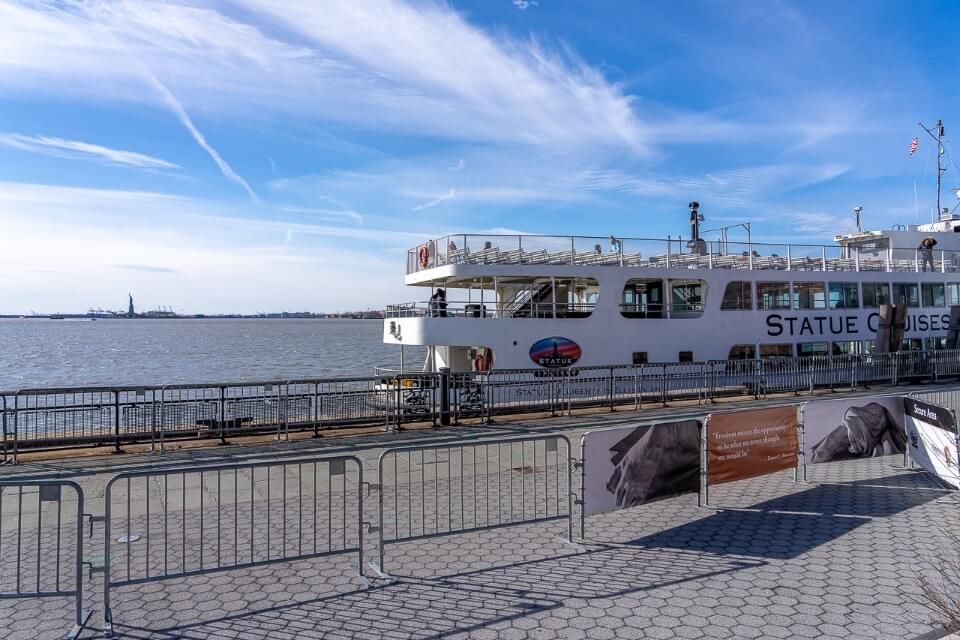 How To Buy Tickets For Statue Of Liberty And Ellis Island Ferry
You have three options for buying ferry tickets to visit the Statue of Liberty National Monument and Ellis Island National Immigration Museum:
Buy tickets in person on the day inside Castle Clinton at a small ticket kiosk in the center of the old fort.

Pre order tickets online on the official Statue Cruises website.
Statue of Liberty ferry is included with NY CityPASS (see the full list of attractions here), which we highly recommend if you plan to visit many of New York's top attractions like this one.
Read our in depth user guide to the New York CityPASS to see how much you can save on the best NYC attractions.
Once you have tickets or CityPASS in hand: Enter the canvas tents behind Castle Clinton where someone will scan your ticket to allow access to security checks.
Important Information About Your Tickets
You have to select a reservation date and time if booking in advance. The time you select is NOT the time for your ferry departure, it is your entry time into the security facility.

For example, you pre-book a 10.00am time slot with CityPASS. That means you have access to security at 10.00am and you will board a 10.30am ferry.

Every ticket comes with round trip ferry service, entry to Ellis Island Immigration Museum, Statue of Liberty Museum and Grounds, plus audio tours.

You can choose whether or not you want to visit only the Statue of Liberty or include Ellis Island in your tour. There is no obligation to visit both landmarks.

In order to access the Pedestal or Crown, you have to upgrade your tickets.

CityPASS users also have to pay additional fees for upgrading to Pedestal or Crown tickets.

Crown tickets sell out very quickly, particularly in Summer. Advanced reservations are highly recommended at Statue Cruises website.

During busy periods, it is advised you arrive before 10am to beat the crowds and avoid long lines for departure.

Pedestal and Crown tickets will be unavailable until after lockdowns have been lifted in NYC.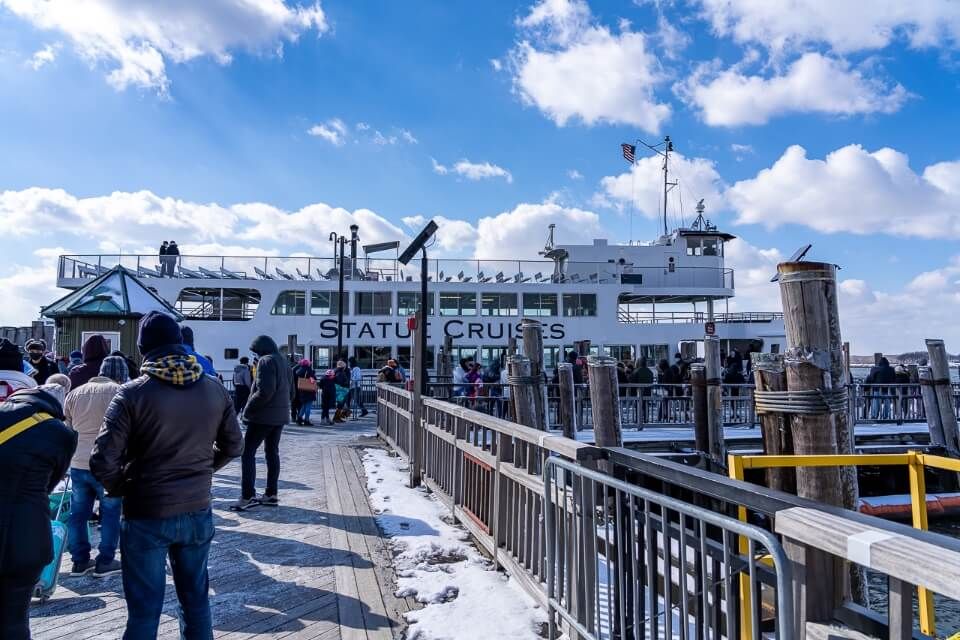 Ferry Schedule
Ferries typically depart Battery Park every 20-35 minutes between the hours of 8.30am to 5.00pm.
However, restrictions put in place during the coronavirus pandemic have resulted in fewer ferry crossings to the Statue of Liberty and Ellis Island.
As a result, there is a reduced service and you have fewer choices for leaving Liberty Island and Ellis Island.
This means you need to carefully plan your timings, otherwise you could lose a lot of time waiting around and there's a lot more to see in New York City!
Currently, the Statue of Liberty and Ellis Island ferry schedule is listed as follows:
Battery Park Departures – 9.30am, 10.30am, 11.30am, 12.30pm, 1.30pm, 2.30pm, 3.30pm

Liberty Island Departures – 9.55am, 10.55am, 11.55am, 12.55pm, 1.55pm, 2.55pm, 3.55pm

Ellis Island Departures – 10.10am, 11.10am, 12.10pm, 1.10pm, 2.10pm, 3.10pm, 4.10pm

Battery Park Arrivals – 10.20am, 11.20am, 12.20pm, 1.20pm, 2.20pm, 3.20pm, 4.20pm
Our advice is to check the departure boards when you get off the ferry at each stop. The boards show updated or revised timetables for that specific day.
For example, during our visit departures from Ellis Island were at 5 minutes past the hour, not 10.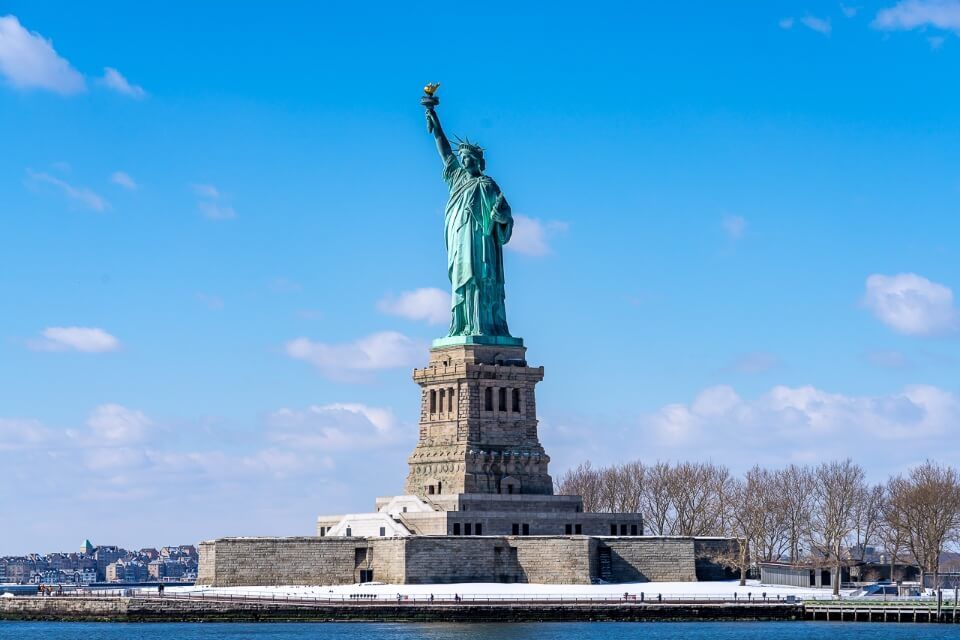 How Long Does It Take To Visit Both Parts Of The Tour?
How long this tour will take is entirely down to your interpretation and preferences. Everyone will spend a different amount of time at both Liberty and Ellis Islands.
Are you interested in the fascinating history of immigrants arriving into Ellis Island? Or maybe you're intrigued by the engineering behind Lady Liberty?
There is no one size fits all on this tour. If you upgrade tickets, you will find both the Pedestal and Crown come with additional exhibits.
The small museum on Liberty Island gives a detailed account of how the statue was built, transported and unveiled in New York. Walking around the grounds of Liberty Island doesn't take long.
Ellis Island's immigration museum is much larger. It takes longer to complete the audio tour but is incredibly interesting and shouldn't be missed.
We'd suggest a guideline of around 2 hours for Liberty Island and 2 hours for Ellis Island.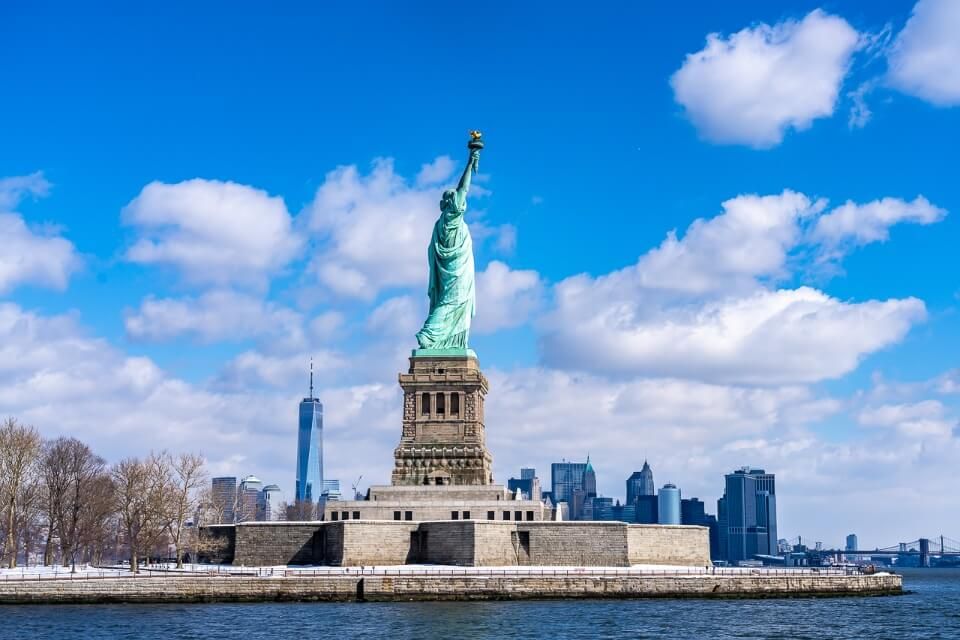 Walkthrough Of The Tour
Here's an example of how you could visit the Statue of Liberty and Ellis island under the current ferry schedule without missing anything or losing time.
You will have more flexibility over timings once normal service resumes.
Security Check and Departure from Battery Park
Getting the first ferry of the day is the best way to visit the Statue of Liberty and Ellis Island. You will be among the first people let loose in the Liberty Island grounds to explore the museum and get your photographs before it fills up.
In order to get the 9.30am ferry from Battery Park, be sure to arrive to Castle Clinton between 8.45am and 9.00am. Arrive at 8.45am and get in line inside Castle Clinton if you haven't already bought tickets online or reserved a time with your CityPASS.
Make your way into the security facility and note this is similar to an airport security check. You will then be directed into a gated area which will open as you board the ferry to Liberty Island.
Liberty Island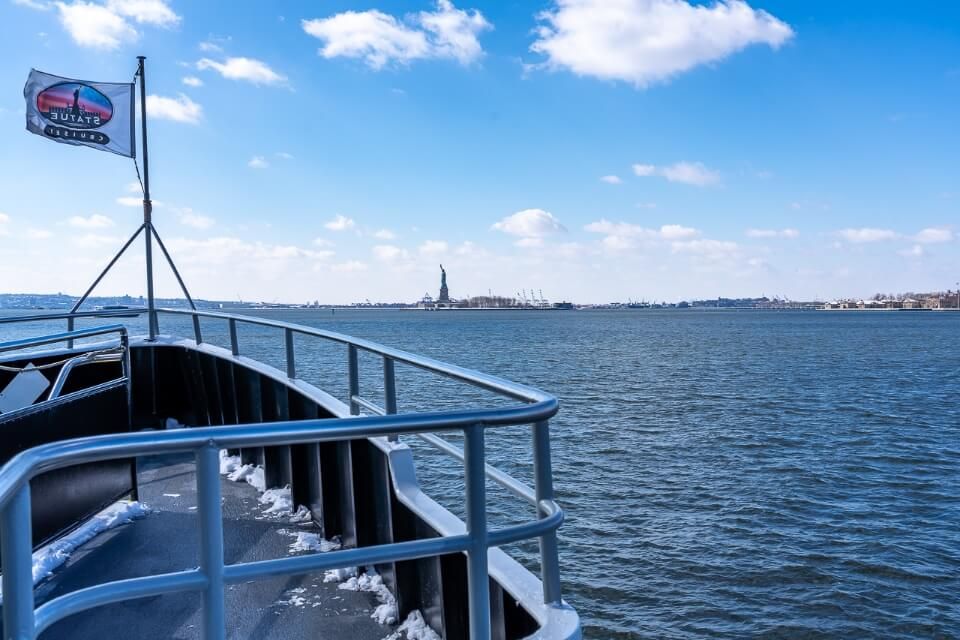 Statue of Liberty is one of the best NYC photography locations so get your camera ready as soon as you board the ferry. Head up to either the middle or top deck depending on weather.
Sit or stand on the right hand side of the ferry for best views of the Statue of Liberty as you approach Liberty Island. You can open doors to access the front of the ferry but be sure to close them afterwards on a cold day.
The 15 minute ferry ride will fly by as you become mesmerized by the Statue of Liberty growing in size. Watch as the flaming torch gradually turns into direct view and boom, in just a matter of seconds, your front-on view comes and goes in a flash.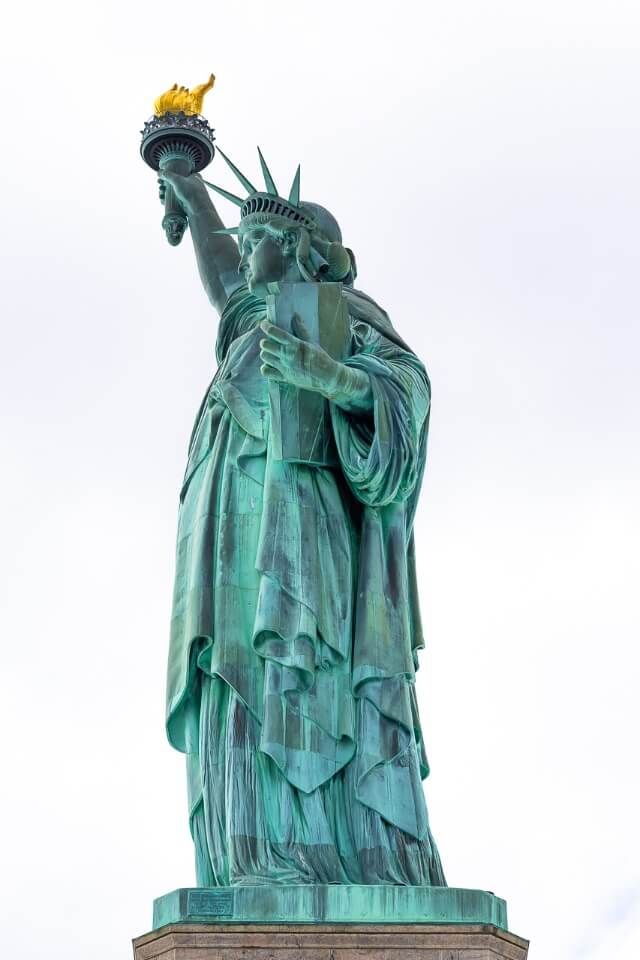 Photographers can beeline for the front of Lady Liberty once the ferry arrives. Alternatively, bide your time and wait until everyone gets their photographs before leaving the statue empty.
Meanwhile, don't miss the museum. Everything you want to know about the Statue of Liberty is detailed inside, including the designers and engineers, some of whom have built other famous structures in other famous cities.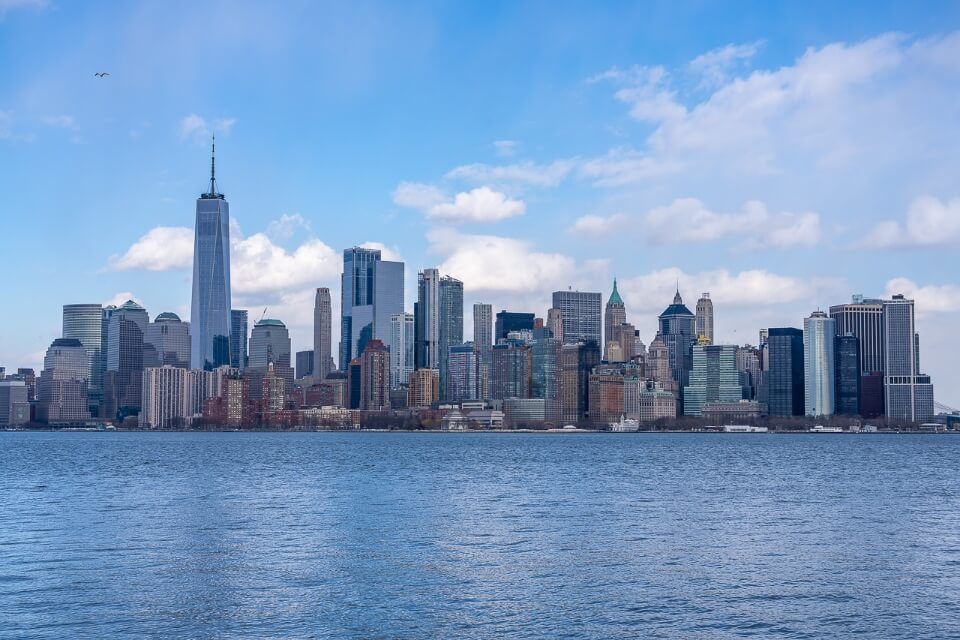 Views over Lower Manhattan, the Brooklyn Bridge and even as far as the Empire State Building are awesome from both Liberty and Ellis Islands.
We strongly recommend you carry a telephoto lens to capture the best Statue of Liberty photographs. Even close up, the angle and perspective make her look smaller than in reality.
Ellis Island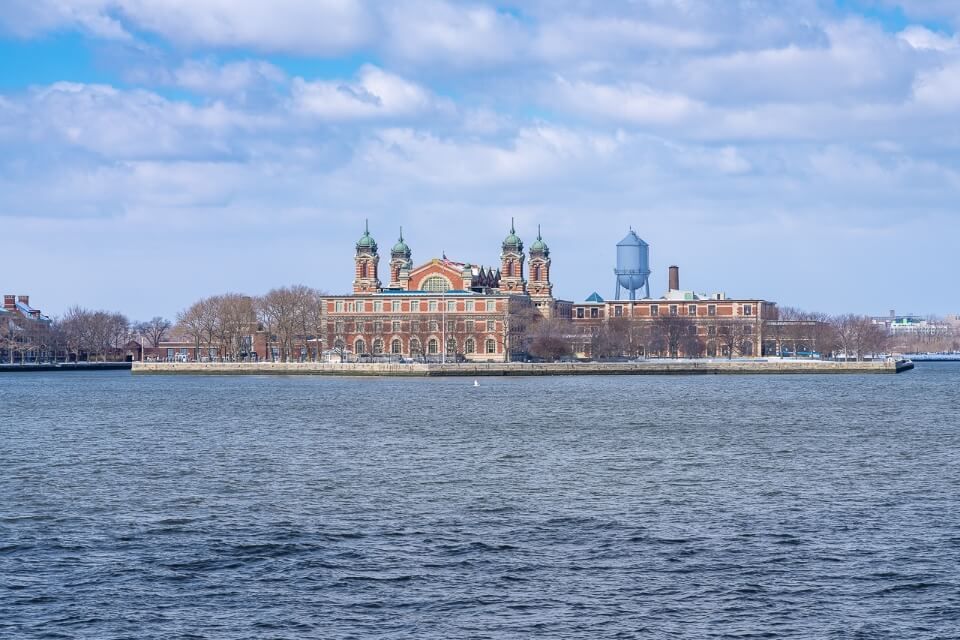 Your 9.30am ferry to Liberty Island arrives around 9.50am. You spend 45 minutes in the museum and an hour walking around the Statue of Liberty. Perfect timing to walk back to the ferry via the bathrooms and cafe for a comfort break.
Jump on the 11.55am ferry to Ellis Island. You can either miss this stop and continue back to Battery Park or get off the ferry to visit the immigration museum.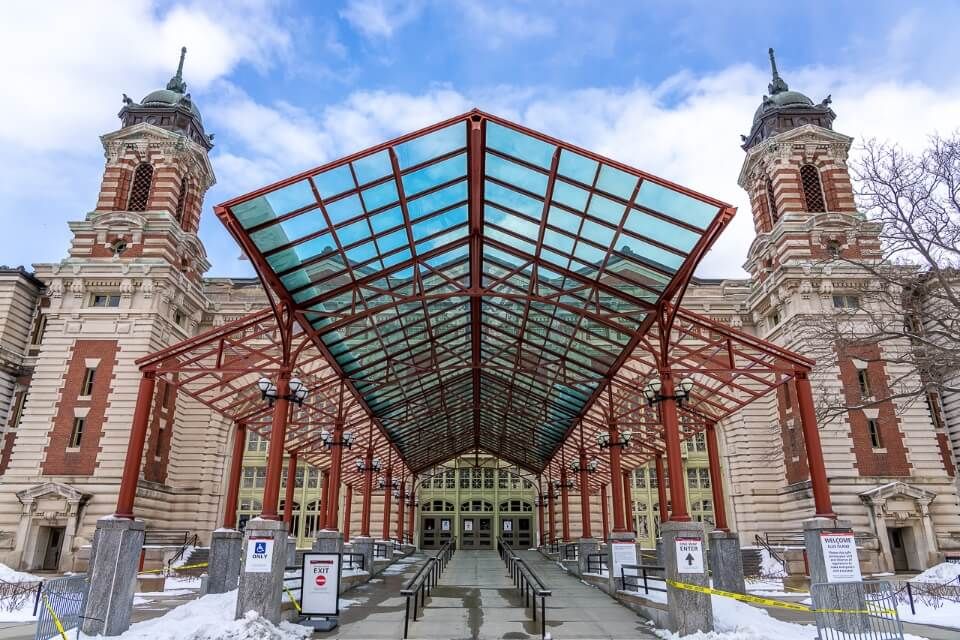 We love museums and couldn't miss this one. Especially as Kristen's ancestors all passed through Ellis Island from Europe. The audio tour is well worth listening to as you walk around the grand arrivals hall and various rooms upstairs.
You will learn about what happened to the immigrants upon arrival to America. How many were sent back, diseases, questioning, hospitals, money, destinations in the states and much more is revealed.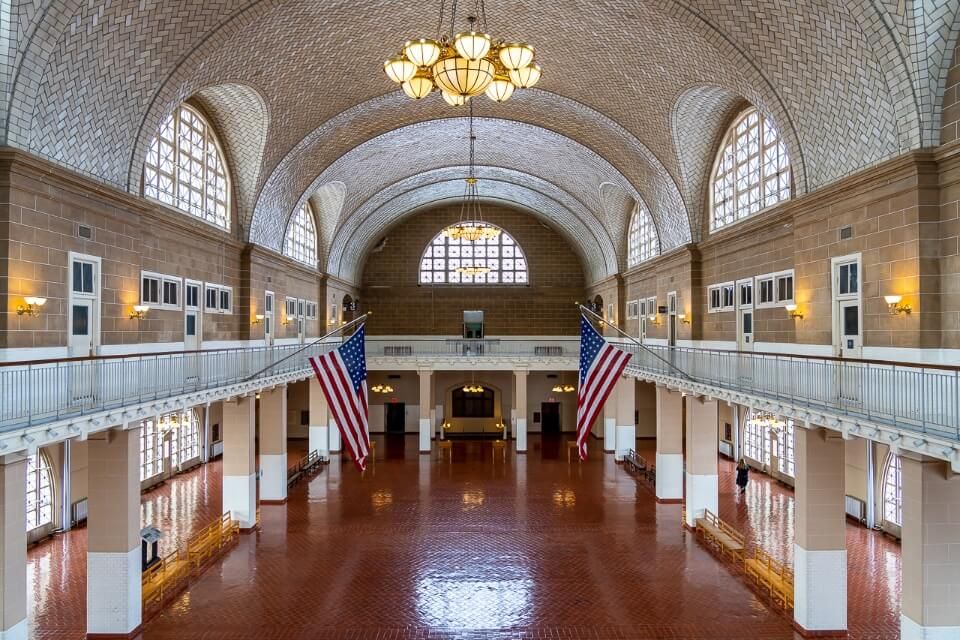 Let's say you spend 1 hour 45 minutes touring the museum complex. It will be around 2.00pm and the next ferry departs at 2.10pm. Don't miss this one otherwise you'll have to wait until 3.10pm and they do not hang around!
You would arrive back to Battery Park around 2.20pm, ready to move onto some more NYC sightseeing.
Top tip: If you plan to visit New York City in Winter, be sure to wrap up warm for your ferry ride to the Statue of Liberty. You will need those gloves on if you want to take photos!
What Else Is In The Area?
Once you disembark the Statue of Liberty ferry, what else can you do around the area? Well, Lower Manhattan has a whole host of touristy things you can get stuck into:
Charging Bull

Trinity Church

Wall Street

New York Stock Exchange

9/11 Memorial and Museum

One World Observatory

Oculus

Seaport District

Elevated Acre

Helicopter Tour

Staten Island Ferry

Brooklyn Bridge

Chinatown
Where To Stay In New York City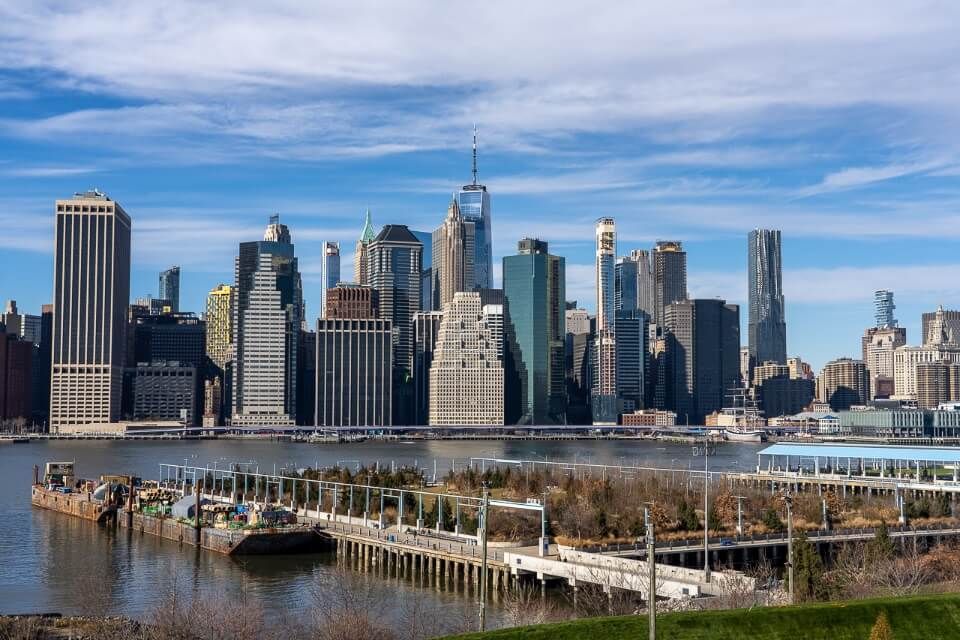 The vast majority of visitors to NYC book hotels in Times Square or Midtown South. You can easily take a subway down to Battery Park from centrally located neighborhoods in Manhattan.
Our extremely popular where to stay in New York City guide covers the six major NYC neighborhoods visitors should consider and lists the top rated hotels within each area.
But here are the hotels we see most visitors to our site booking in New York:
The Archer – One of our personal top picks located near Bryant Park with views over Empire State Building.
CitizenM – Centrally located at Times Square, close to Broadway and Rockefeller Center.
MOXY NYC – Rooftop bar and good value between Penn Station and Times Square.
Cambria Hotel – Affordable highly rated hotel with rooftop terrace located between Midtown and Chelsea.
Read More From NYC
Need Help Planning Your Visit To New York City?
NYC is a vacation planning beast and it can be overwhelming trying to get every aspect right. Trust us, we know!
After living in New York City and exploring non-stop for 3 months, we created a comprehensive NYC travel guidebook & itineraries that will answer every question you have about where to stay, what to do, where to eat and how to get around the city.
Click see details below to read more about how we can help you plan your dream trip to New York City!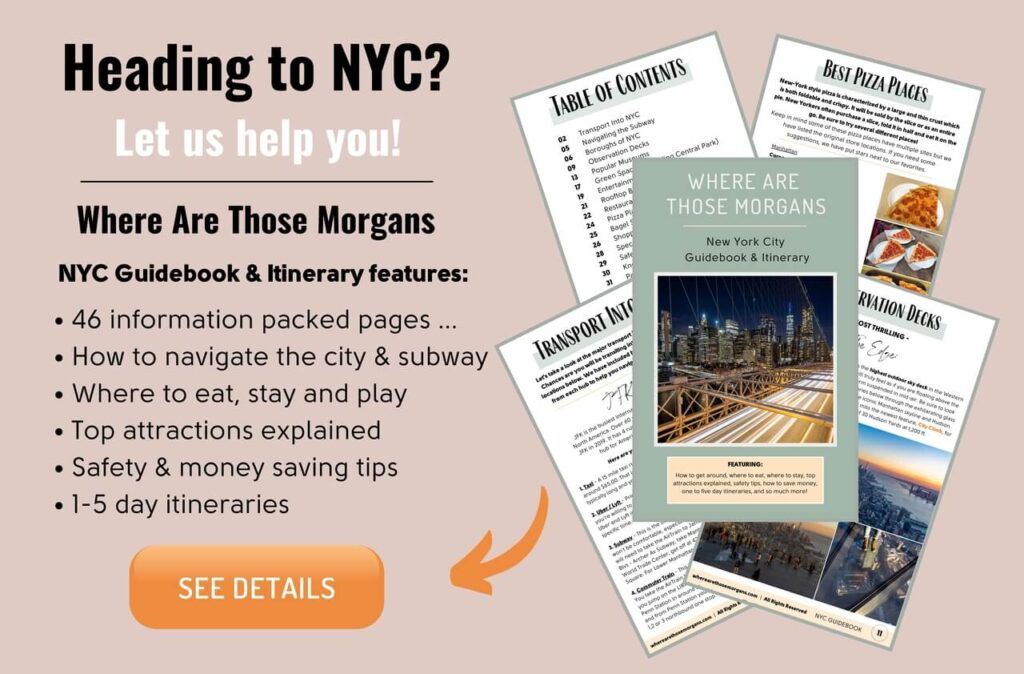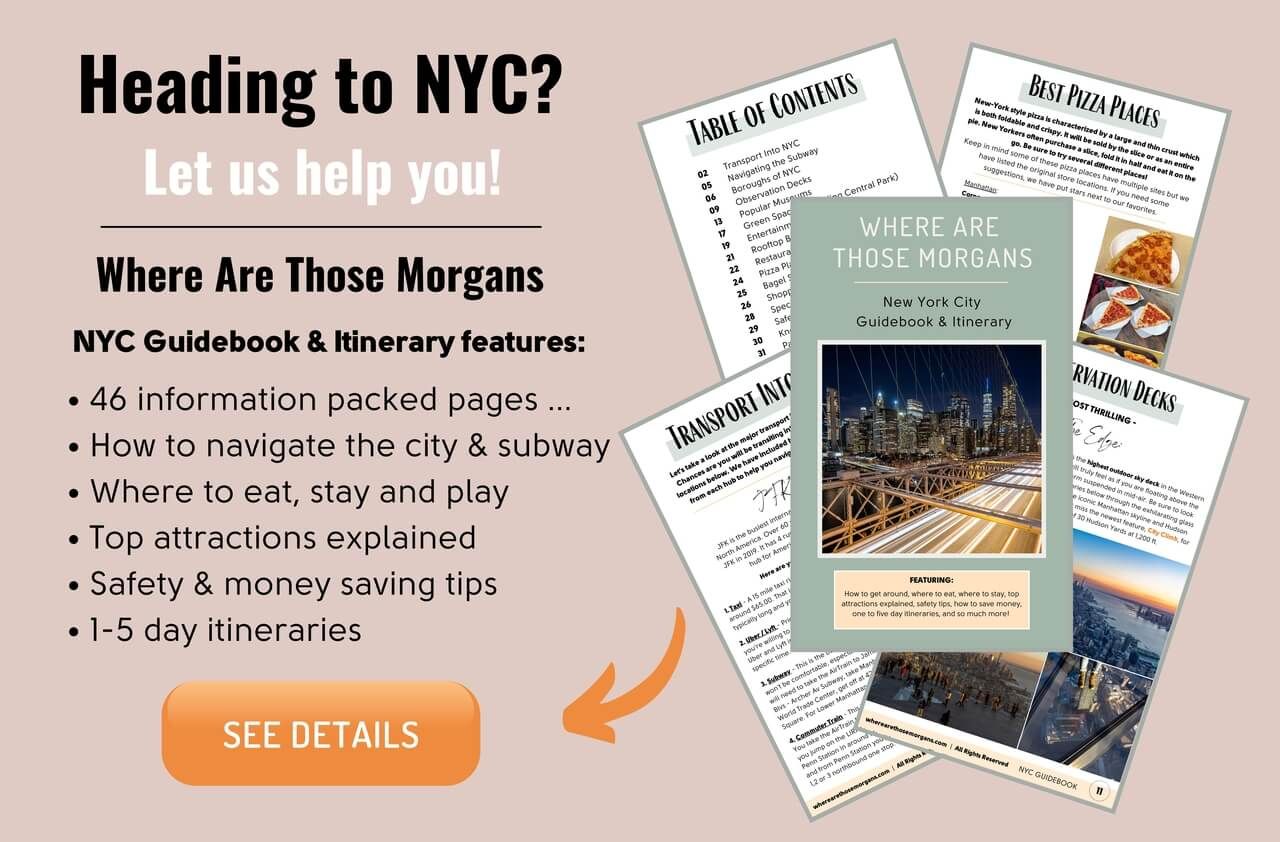 We hope this planning guide helps you book your ferry to the Statue of Liberty and Ellis Island!
Have you been to NYC? Did the Statue of Liberty live up to your expectations?
Please let us know if you have any questions or need any help planning your visit.
Happy Travels,
Mark and Kristen
Was This Post Helpful? Pin It For Your Visit!