Figuring out where to stay in a place like New York City can be a daunting task. There are thousands of hotels scattered around dozens of neighborhoods and that can quickly become overwhelming. But in this comprehensive guide, we are going to help you choose the best place and hotel to stay in NYC based on your travel style and budget.
Should you stay around Central Park? How about Times Square? Maybe Brooklyn?
We will explain all you need to know about each of the popular tourist neighborhoods, including things to do, nearby major attractions and what makes it a desirable area to stay in NYC.
You can then choose the best New York City neighborhood for your style.
Can you afford to splurge or do you need to keep things low key? Are budget hotels in New York up to scratch?
Within each neighborhood we will show you only the top rated hotels across all budget ranges, many of which we have stayed in ourselves. That means the highest guest ratings on Booking.com, combined with best prices and locations.
Combine these two essential elements and as a result you will be able to pick the perfect hotel for your budget.
Get this part of planning right and great NYC memories will become unforgettable NYC memories, so let's find you the perfect hotel!
*Please note this post may contain affiliate links. If you click on one, we may earn a small commission at no extra cost to you. Thank you for supporting the free content we provide! Read more in our disclosure policy.*
The Best Area To Stay In NYC Is …
Just kidding, it's not that easy! Unfortunately, the real answer is … it depends.
Yes, we know that's frustrating. We also hate researching a place or product and being told 'it depends'.
But the fact is, you're planning a visit to one of the most diverse, tourist heavy and unique places in the world. Demand is sky high, and that means supply is in abundance.
New York City is a vacation planning monster. It is an enormous, hotels and attractions galore jigsaw puzzle.
But it is also one of the most irresistible cities on Earth and we will help you piece it all together.
What Gives Us Credibility?
Why should you trust us to know what we're talking about?!
Well, New York was so irresistible to us, we actually moved to the city for three months in early 2021 and spent our entire temporary residency relentlessly exploring the city.
We have a deeper knowledge and understanding of the popular places to stay in New York City than most.
For the purposes of this guide, we spent our own time, effort and money staying at many of the hotels we recommend below.
But perhaps more importantly, we have not recommended some of the hotels we stayed at if we didn't think they would be a good fit for visitors who don't know the city well.
New York City is one of the very best places to visit in the USA and we will use our experiences to get you off to the best possible start with the perfect hotel in the best NYC neighborhood.
How To Choose The Right Hotel
The key to choosing the best hotel in the perfect area is to ask yourself three questions:
First – What are the best things to do in NYC that you just can't miss?
Second – Do you want to be in thick of the action or more relaxed on the periphery?
Third – How much money do you want to spend?
If you're not sure about the answers to any of those questions, we will cover everything you need to know in this guide.
But if you already know exactly what you want to do in NYC, pin them on a map and look at where the highest concentration of pins are located.
That will give you a good idea about which areas you will spend most of your time.
We will show you some of the top rated hotels in each area so you can get booked up in advance. Then you can start working on the fun part – building your bucket list NYC itinerary.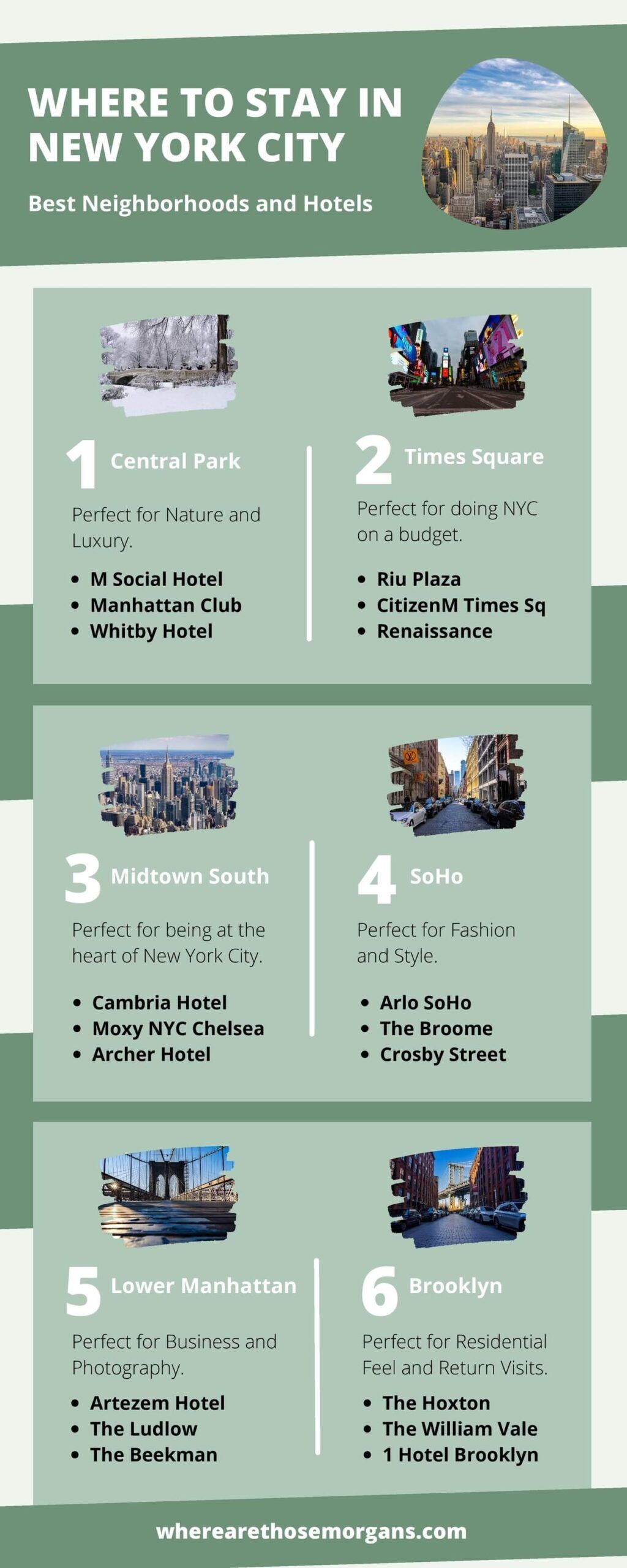 Where To Stay In New York City By Area
Working out where to stay in New York City is impossible unless you break the city up into smaller areas.
We personally think there are 6 awesome places to stay in NYC that are perfect for different types of visitor.
Whether it's your first or second visit to New York, we would suggest you choose one of these areas:
Central Park – Including Upper West Side and Upper East Side
Times Square – Garment District, Midtown West, Diamond District
Midtown South – Bryant Park, Koreatown, NoMad
SoHo – Including Little Italy and Nolita
Lower Manhattan – Tribeca, Financial District and Lower East Side
Brooklyn – Bridge Area and Williamsburg
Each brings its own unique benefits to the table and almost all of the things on your NYC bucket list will be within or near these 6 areas.
Important: It is crucial to mention at this point, we will not cover every single neighborhood in New York City.
Some we don't talk about here might be a better fit for you but we are keeping this as broad as possible for first / second time visitors to NYC.
Let's get stuck into our top money and time saving tips!
Tips For Booking The Best New York City Hotels
The best piece of advice we can give for booking a hotel in New York City is to pick one close to a subway station. Having a long walk to the nearest subway station will very quickly become annoying.
But when it comes to tips on hotel prices, there can only be one winner: Look out for tax exclusions.
Tax Added To Hotels In New York City
Remember, NYC hotels will typically include a 14.75% tax rate and a US$ 3.50 city tax per night. However, some hotels might try to include a further fee for something like 'Resort Tax'.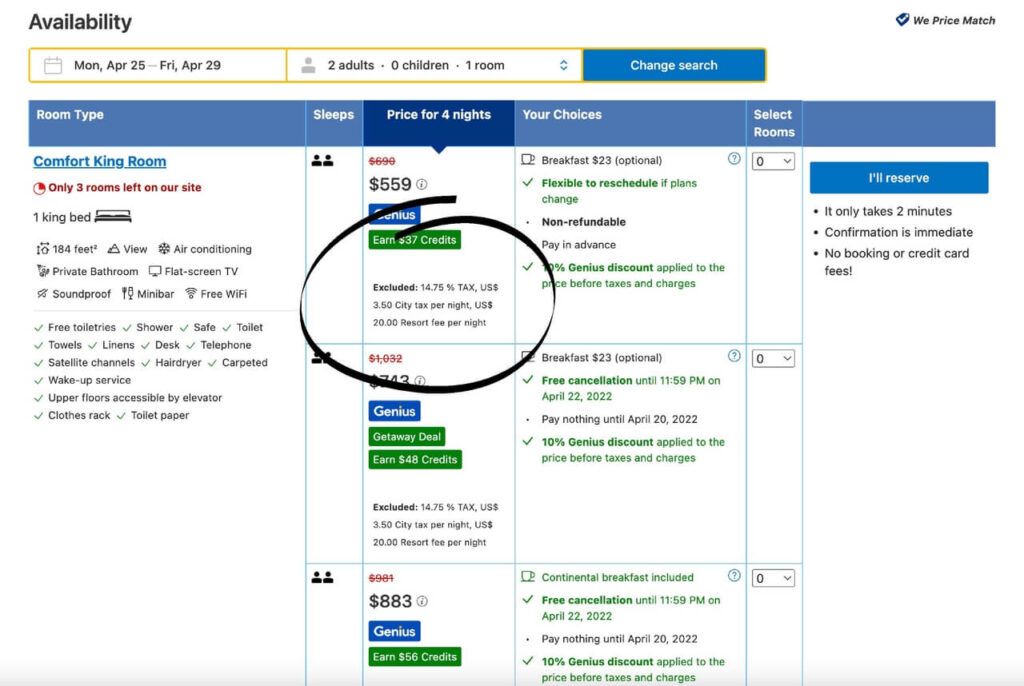 To find all additional fees for a hotel room on Booking.com:
Click on a hotel name from our neighborhood lists below

Enter your travel dates

Click "see availability"

Scroll down to the available rooms and prices

Look under "today's prices"
Find the Excluded section at the bottom
Tax, city tax and resort fees are not included in the price until final calculations
It is important to note here that these additional tax elements are also added if you book direct with any hotel in NYC.
We have personally run A/B tests on prices from Booking with all taxes included vs prices direct with hotels and almost every time Booking prices were cheaper (especially with member rewards which are completely free).
Use Booking Rewards For Cheaper Prices
We use Booking.com for almost all hotel bookings when we travel and we always benefit from discounted hotel rooms because we are genius members.
If you create an account and sign in to Booking.com, then book 5 hotels within 1 year, you will become a genius member and that activates tons of awesome perks.
There are no contracts or ties of any kind when signing up. This is the quickest and easiest way to save money on hotels in NYC.
Create a free Booking.com account here.
Find Promotional Offers For Hotels In New York
Hotels run promotions and discounts at different times of the week, month and year. Always shop around, click on every single hotel in each area to find the best prices for your travel dates.
For example, if you visit New York City in Winter, a typical mid-range or even luxury hotel could have huge savings and be well within your budget.
Central Park – Best Place To Stay In New York City For Nature and Luxury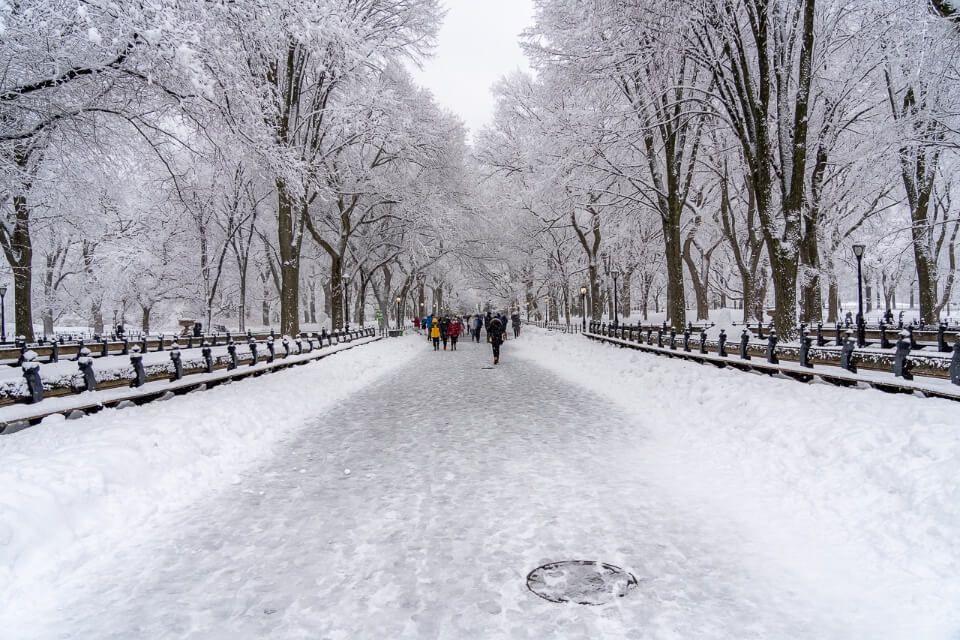 Central Park is New York City's most iconic green space.
Loved by locals and tourists alike, you will find runners, cyclists, dog walkers, photographers and couples taking romantic strolls.
The beautiful park is exceptionally seasonal. In Spring the cherry blossoms bloom, in Summer the park radiates a deep green, Fall brings stunning autumnal foliage and Central Park in the Winter is a magical snow white oasis.
Upper East Side has been home to some of the richest families in American history and is where many of the most luxurious NYC hotels can be found.
But there are good deals to be found in the area for lower budgets.
Things to do in Central Park
You can easily spend a full day walking around Central Park.
Don't miss Central Park's The Mall, Bethesda Terrace, Bow Bridge and The Ramble.

Nearby world famous NYC museums include The MET, Natural History Museum and Guggenheim Museum.

Easy access to the upper parts of Midtown, such as 5th avenue shopping, Top of the Rock, MoMA and Broadway.
We would recommend looking for a hotel right along the southern edge of Central Park (59th street) or as close to it as possible for your budget.
Why Is Central Park One Of The Best Places To Stay In NYC?
This area is where to stay for a relaxing, quiet and calm New York City visit but with fairly easy access to the touristy spots in Midtown and Downtown Manhattan.
It is a very safe area, extremely family friendly and more upmarket than the likes of Times Square. Those who prefer to travel in luxury should look at hotels in Upper East Side.
Visitors who would like to walk or run around Central Park on a morning couldn't ask for a better location.
Subway access is good but not the best. However, this is a very walkable part of the city.
It does take longer to reach the top sights in Lower Manhattan and Brooklyn, plus this is a more expensive area in general to stay and eat for those traveling on a budget to consider.
Best Cheap, Mid Budget and Luxury Hotels Near Central Park, New York City
Central Park hotels are abundant but do tend to span the higher price point bracket. A budget hotel around Central Park could cost more than a Mid Range hotel in Times Square.
We stayed at 1 Hotel Central Park and it was fantastic. The materials of wood with wrought iron were elegant and relaxing. It reminded us of when we stayed in traditional Ryokans in Japan.
The Whitby Hotel has a 9.5 rating, which is the joint highest Booking.com rating in New York City (with its sister hotel The Crosby down in SoHo).
We enjoyed a wonderful afternoon tea in the Whitby Hotel bar area.
Here are the best hotels for each budget around Central Park (in brackets Booking.com guest rating out of 10):
Times Square – Where To Stay In New York City On A Budget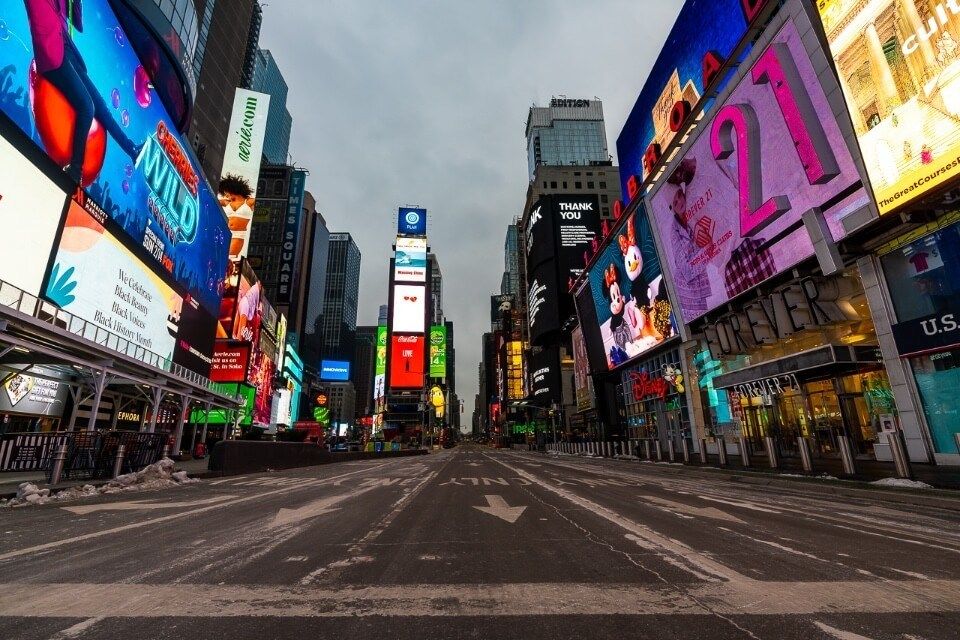 Times Square is home to those famous flashing lights and the New Year's Eve ball drop. It is the beating heart of touristy Midtown Manhattan and attracts millions of visitors each year.
When you started researching where to stay in New York City, was Times Square the first place you searched for on a map?
It's nothing to be ashamed of, almost all first time visitors to NYC book a hotel somewhere in or near Times Square.
Now, that's not a bad thing. Times Square is arguably the best place in NYC to book a budget hotel and it is ideally located for a huge portion of bucket list attractions.
However, it is a gritty area, renowned for pickpockets and tourist traps.
That doesn't mean don't book a hotel here, it just means be aware that there are more attractive areas to stay in New York City.
Things to do in Times Square
Times Square in itself is a major tourist attraction but it is also incredibly convenient for visiting almost all of Midtown's best things to do including:
Fifth Avenue

Broadway

Grand Central
If you do decide to book a hotel in Times Square, our top tip is to visit at night to see the chaos unfold, but then go again just before sunrise to see Times Square all but empty.
Do you need help planning your visit to New York City?

Our popular 40 + page NYC Guidebook & Itinerary covers every aspect of planning a trip to New York including hotels, restaurants, getting around, things to do, example itineraries and so much more!
Why Is Times Square One Of The Best Places To Stay In NYC?
Times Square is not our cup of tea but it is extremely convenient and central.
Connections to all of Manhattan and Brooklyn are made easy with various subway lines running through or very close to Times Square.
But the main reason to choose a hotel in Times Square is value. Even if you visit NYC at Christmas, you are going to find value in hotels around Times Square.
You can pick up a super cheap room at a decent hotel for excellent value, especially during the latter parts of covid restrictions.
These current prices won't last long once everything is back to normal but it is still an easier place to pick up a bargain due to high competition for budget hotels.
Best

Cheap, Mid Budget and Luxury

Hotels Near Times Square, New York City
Times Square hotels are plentiful and span the entire travel budget range. This area has the highest concentration of low budget rooms in NYC.
We stayed at AC Hotel for a night, which was great. It has a rooftop bar and affordable room rate.
The Riu Plaza often runs discounted prices but our top pick for Times Square is CitizenM – as long as you can get it at a good rate.
Top tip: If you're a photographer and can't afford to stay at Renaissance Times Square, go in to the lounge for a drink and you'll get one of the most iconic views over Times Square.
Here are the best hotels for each budget around Times Square (in brackets Booking.com guest rating out of 10):
Midtown South, Manhattan – Where To Stay In New York City To Be At The Heart Of Everything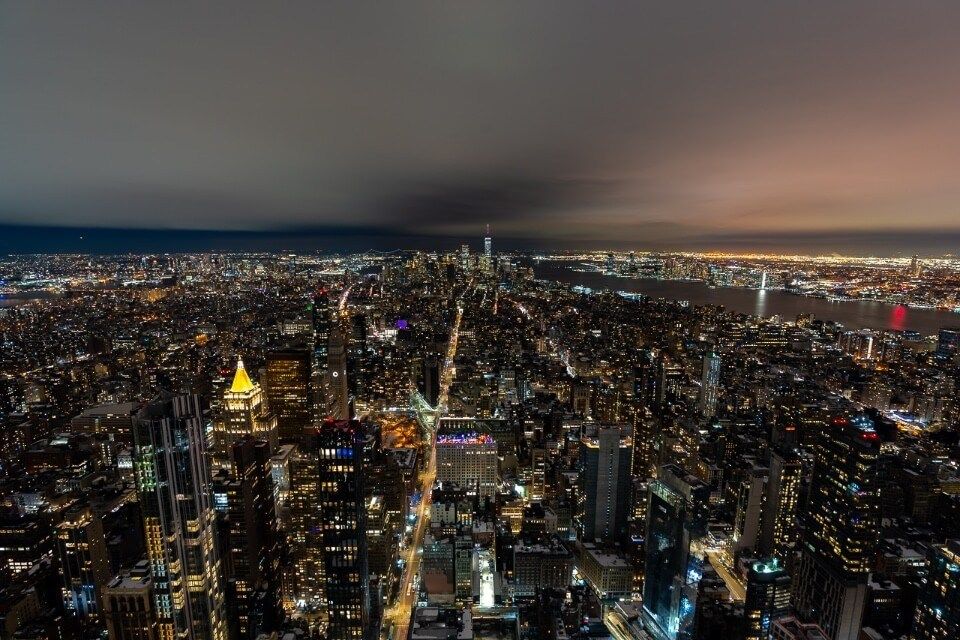 Midtown South in Manhattan is about the closest 'area' we could come up to encompass the strip of real estate between Madison Square Park and Bryant Park, sandwiched between 5th and 6th avenues.
This central strip of Midtown South is where you will find NoMad, Koreatown, Empire State Building and Macy's department store.
Technically this area could stretch a little further South and West into Chelsea, which we loved walking around but think is more for third, fourth or fifth time visitors to NYC.
Remember, the summer months of June, July and August are naturally going to be busier around the Midtown area of Manhattan. Consider visiting New York in April or similar shoulder month to avoid crowds and pick up better prices on hotels in NYC.
Things to do in Midtown South, Manhattan
Aside from the obvious Empire State Building observation deck, if you stay in this area you will be surrounded by shopping, dining and rooftop bar options.
Many of the top rated coffee shops and best bagel joints in NYC are between Empire State and Penn Station.
NoMad is also a cool up-and-coming neighborhood laden with bars and high end restaurants. Plus, the Flatiron Building isn't far and Chelsea is within walking distance.
Actually, if you don't mind walking and you have time, you could probably walk around most of Midtown using a hotel here as the perfect centralized staging area.
Why Is Midtown South In Manhattan One Of The Best Places To Stay In NYC?
As mentioned above, you are right in the thick of Manhattan in this area.
Grand Central and Penn Station are close, providing major transportation access and subway lines into each area of New York City.
International visitors: Penn Station is the easiest place to access Manhattan from both JFK and Newark.
Shopping, dining and tourist attractions are easy to reach, plus you will get to see more of NYC's most iconic landmark – the Empire State Building.
Hotel options span the budget ranges and it is a less chaotic area than Times Square.
Best

Cheap, Mid Budget and Luxury Hotels

In Midtown South, Manhattan New York City
Hotel selection here is of a very high quality and standard. Dozens of highly rated hotels have been whittled down into the top 3 from each price point for your convenience below.
This area and these hotels are where we see the most hotel bookings in NYC.
In particular, Cambria on the budget end, MOXY in the mid range and Archer on the luxury end.
Archer is hugely popular and surprisingly affordable in the luxury bracket. Park Terrace is more of a splurge but we do see a lot of bookings.
Top tip: Archer Hotel has a king room with direct views of nearby Empire State Building.
Here are the best hotels for each budget around Midtown South (in brackets Booking.com guest rating out of 10):
SoHo – Where To Stay In New York City For Fashion, Style & Celebrity Spotting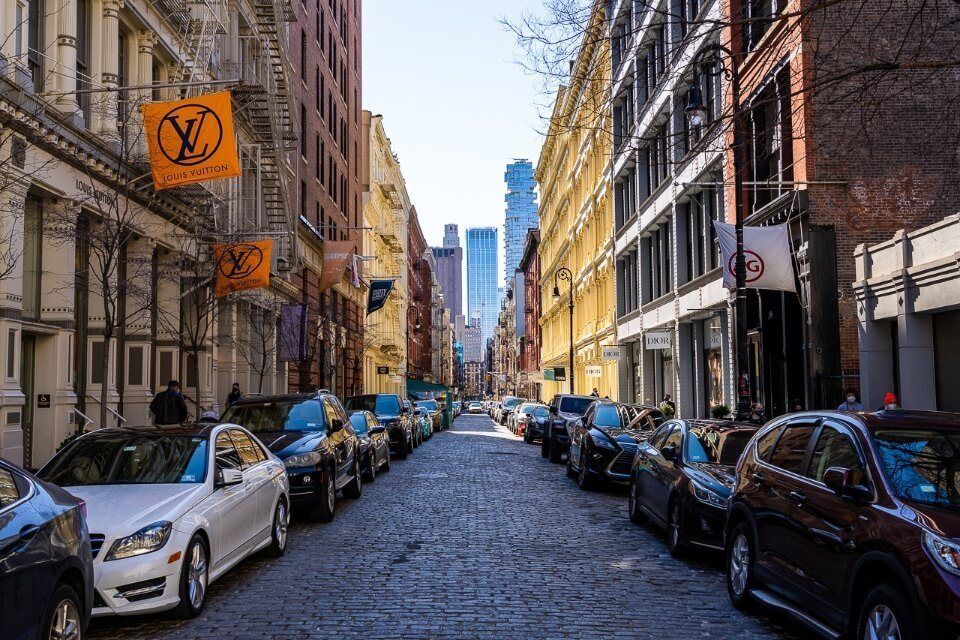 Confession: We didn't visit the SoHo area until our penultimate weekend living in NYC. After that we visited twice more because we enjoyed it so much.
SoHo stands for South of Houston Street and despite being crowded, its cobblestone streets and high end shops make it a very quaint place to walk around.
It is always packed wall to wall with tourists and locals, restaurants are overflowing with no chance of getting a table unless you reserve ahead of time and there's a natural feel good aura.
Things to do in SoHo
Shop til' you drop, if you have a few thousand spare in your NYC travel budget.
Otherwise, SoHo is a place you eat and drink your way through.
Soak up the atmosphere, look out for celebs (if that interests you!), check out the Museum of Ice Cream and take a ton of instagram photos.
Why Is SoHo Of The Best Places To Stay In NYC?
SoHo is about style and appearance but in a more gritty way than the Champ-Elyses in Paris.
Is it pretentious? Maybe a little, but SoHo is better for its swagger. SoHo has the most local and residential feel in Manhattan among this list of where to stay in New York City.
It is close to West Village, Nolita, Little Italy and Greenwich Village which all feature heavily in our best pizza in NYC guide.
However, if you're looking for a more authentic NYC stay, you should look at hotels closer to Chelsea and Greenwich Village.
Hotels range from the top end of budget to luxurious but it is a little isolated in the Manhattan landscape. Long walks either direction are required to get to the next touristy area.
Best

Cheap, Mid Budget and Luxury

Hotels Near SoHo, New York City
SoHo is another area in which you can easily find a hotel to suit your travel budget.
NobleDEN and CitizenM Bowery are top rated budget hotels, which we highly recommend.
We stayed at Arlo SoHo and it was great for its price point, but check prices at the other two budget hotels and book if they are more affordable.
The Crosby Street Hotel is stunning. If you can afford to splurge and stay here, do it!
Along with its Central Park sister The Whitby Hotel, they are the two top rated hotels in all of NYC on Booking.com. Both are expensive but you get what you pay for.
Here are the best hotels for each budget around SoHo (in brackets Booking.com guest rating out of 10):
Lower Manhattan – Where To Stay In New York City For Photography (And Business)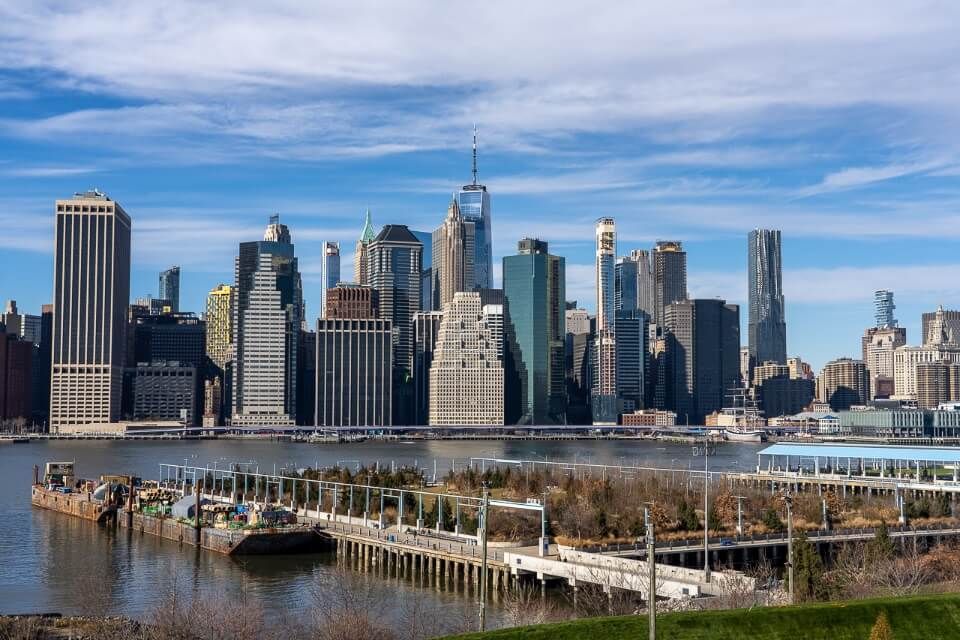 Lower Manhattan – including the Financial District, Lower East Side and Brooklyn Bridge – is teeming with a wide range of hotel possibilities.
This area is famed for business and stock exchanges but don't let that put you off, there's a lot more to do at the bottom of Manhattan and it is currently in a growth phase.
Cobblestone streets, stunning architecture, hidden gem hole-in-the-wall eateries, up and coming live music bars and riverside activities will keep you busy.
Things to do in Lower Manhattan
Lower Manhattan is loaded with things to do on a typical first time visitor tourist trail.
Here are some of the most unmissable:
Wall Street

9/11 Museum & Memorial

Eating and drinking at Piers 15 and 17 along the East River
If you are interested in this area, read our full list of 18 things to do in Lower Manhattan.
Why Is Lower Manhattan One Of The Best Places To Stay In NYC?
Lower Manhattan might not be the first place you think of when considering where to stay in New York City. However, it is filled with tourist attractions and access to unmissable landmarks.
Also, the financial district area is booming with tourists after new shops and hotels have been developed in recent years around the 9/11, One World Trade Center and Oculus area.
No, that doesn't mean you should stay in Lower Manhattan because yes, you could just visit and then take a subway back to another area.
But anyone hunting the best NYC photography locations should consider this area because it is right next to Brooklyn Bridge, Statue of Liberty and One World Observatory.
And another huge bonus in this area?
Many hotels here offer discounted rates at weekends when business trippers vacate hotel rooms otherwise occupied at inflated rates during the week.
Best

Cheap, Mid Budget and Luxury

Hotels In Lower Manhattan, New York City
Lower Manhattan hotels typically fill up during weekdays but often run cheaper weekend prices. Like most other areas in Manhattan, you have plenty of options from budget to luxury.
We stayed in a wonderful junior suite room at NY Marriott Downtown.
The high-floor room directly overlooked One World Trade Center, which lit up at night was an awesome sight. It's just a 4 minute walk to 9/11, One World Trade Center and Oculus.
Top tip: Stay in Lower East Side if you're in the city to eat, drink and party.
Here are the best hotels for each budget around Lower Manhattan (in brackets Booking.com guest rating out of 10):
Brooklyn – Where To Stay In New York City For Return Visitors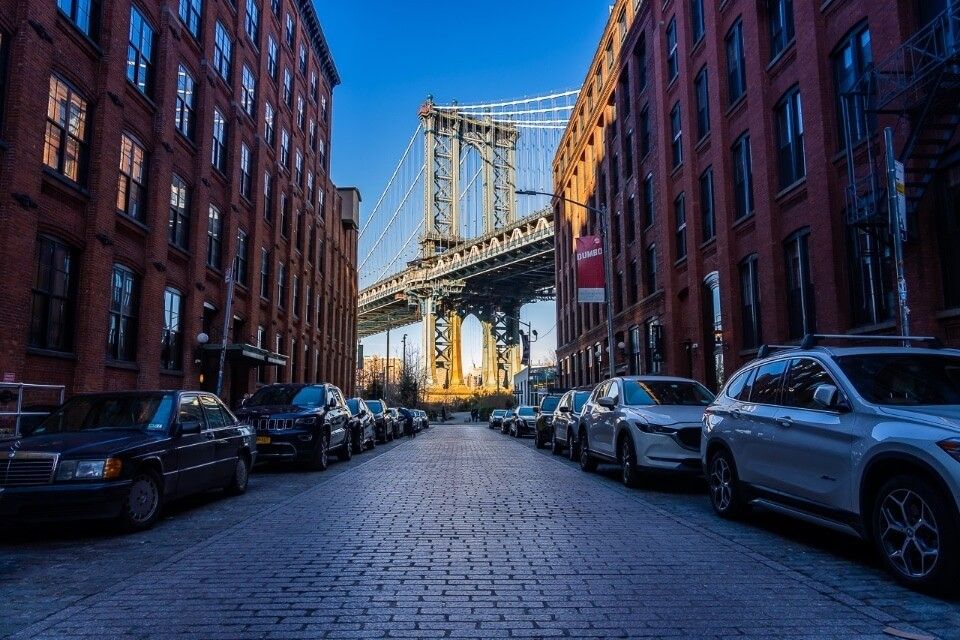 Brooklyn is renowned for its diverse residential neighborhoods. The most populated borough of New York City is huge and covers over 3 times the land area of Manhattan Island.
The Dumbo area close to Brooklyn Bridge is extremely touristy but not in a gimmicky way like Times Square. However, the area we recommend you consider staying in Brooklyn is Williamsburg.
If you're looking for hipster, bars spilling out onto streets, artsy, chilled and quite frankly awesome, Williamsburg is the place you should book.
You can always get a subway into Manhattan.
The reason we say Brooklyn / Williamsburg is where to stay in New York City for return visitors is because most first timers will stay in Manhattan, explore Brooklyn and Williamsburg, then say 'Ahh, next time we will stay here'.
Things to do in Brooklyn
Williamsburg is one of those places you eat, drink and chat your way through an entire vacation.
Visit trendy or dive bars and eateries, then walk around Domino Park and look at street art in Bushwick a little further away from the East River.
The lower parts of Brooklyn are filled with amazing places to visit, including:
Prospect Park

Red Hook

Greenwood Cemetery

Dumbo

Brooklyn Bridge Park
Why Is Brooklyn One Of The Best Places To Stay In NYC?
Want to know what it's like to live in New York City?
Spend a long weekend in Brooklyn among commuters and local residents eating and drinking after work in a varied selection of bars and restaurants throughout Brooklyn.
Brooklyn only has a slightly lower population than Chicago, which would make it the 4th highest population in the US if it were its own city.
Most tourists will visit Brooklyn on a first visit to NYC and leave thinking 'Yeah, I could live here!'
Best

Cheap, Mid Budget and Luxury

Hotels In Brooklyn, New York City
Brooklyn isn't anywhere near as touristy as Manhattan and just from a quick hotel search that much is apparent.
However, despite far fewer options, there are also far fewer people booking the rooms. Less demand means less supply.
Williamsburg's bars and restaurants spill out onto Berry Street and Bedford Avenue.
Wythe, Hoxton and William Vale are in close proximity to this area and each other. Hotel Indigo is in a much busier area but well connected.
Further down in Brooklyn, if you can afford it, we think 1 Hotel Brooklyn Bridge has to have one of the best views in the entire city.
Sunset over Brooklyn Bridge, Statue of Liberty and Lower Manhattan every single day … from an infinity pool no less! It is a splurge and will cost you but it looks amazing.
Here are the best hotels for each budget around Brooklyn (in brackets Booking.com guest rating out of 10):
Best Places To Stay In New York City For Families With Kids
If you're visiting New York City with the kids, where to stay becomes less about attractions and more about safety.
With that said, we highly recommend Central Park, especially the areas around Upper East Side and Upper West Side, which are much quieter.
Any of the more residential areas would also be a consideration, such as Chelsea or Greenwich Village.
Places to avoid would be the loud party places like Meatpacking District and Lower East Side.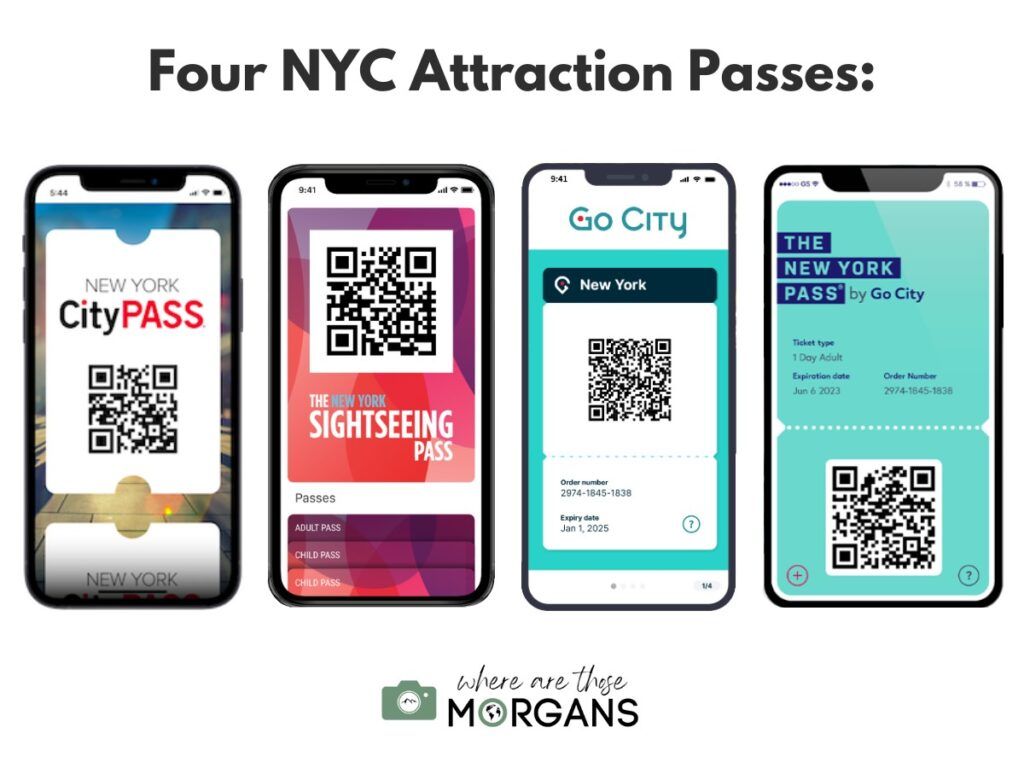 If this is your first visit to NYC and you are planning to visit the top attractions in New York, we recommend you purchase one of the four New York City attraction passes.
The idea is simple with these attractions passes because the more attractions you visit, the more money you will save.
Having personally used each of the attractions passes in cities around the world including NYC, it's safe to say we are experts in this field. We can offer advice from our first hand experience.
Read our guides below to help decide which is the perfect pass for your visit to New York:
Need Help Planning Your Visit To New York City?
NYC is a vacation planning beast and it can be overwhelming trying to get every aspect right. Trust us, we know!
After living in New York City, we created a comprehensive NYC travel guidebook that will answer every question you have about where to stay, what to do, where to eat and how to get around the city.
Click see details below to read more about how we can help you plan your dream trip to New York City!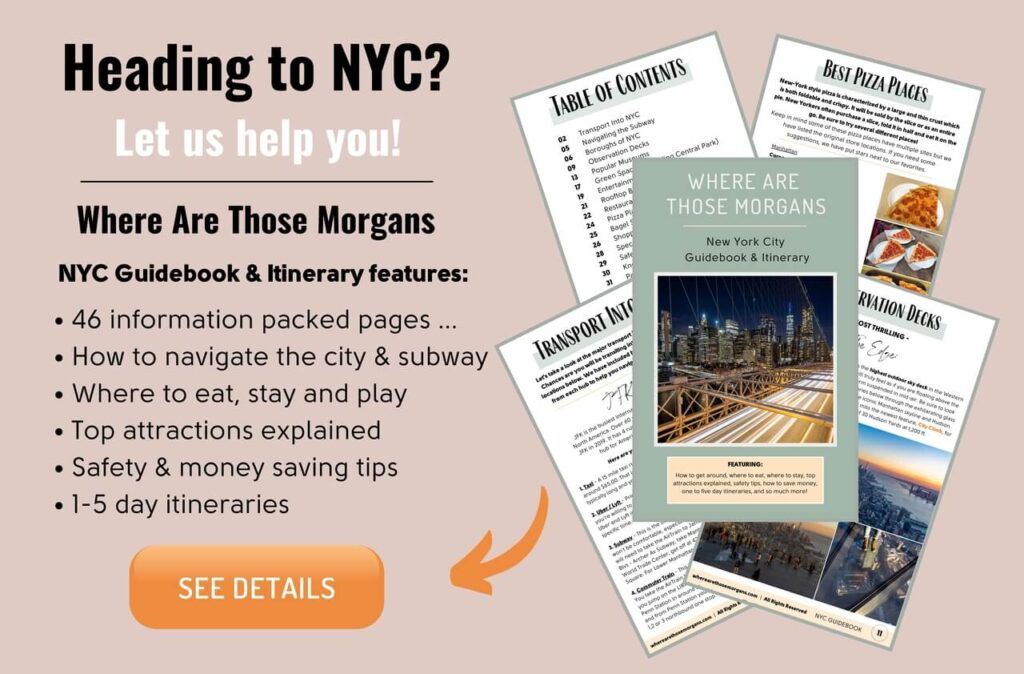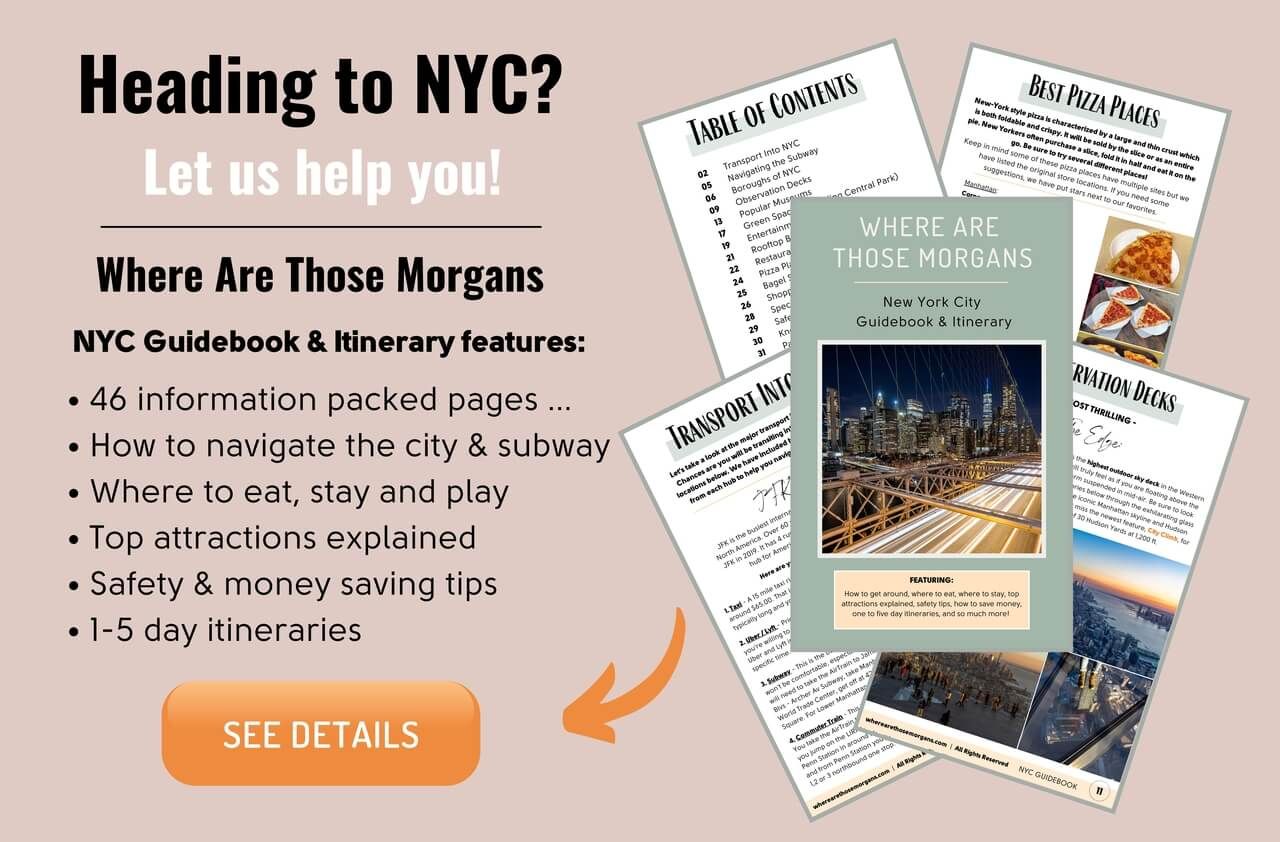 Our Popular New York City Guides
Pizza – Sampling famous New York pizza is unmissable on any trip to the big apple, here's our popular guide to where you can find the very best pizza in NYC.
Bagels – Bagels are the only thing you should be eating for breakfast in New York! Here's our roundup of where to find the best bagels in NYC.
Museums – With over 100 museums in NYC it can be hard to narrow down which ones you should visit, here's our version of the 10 best museums in New York City.
New York Attraction Passes – With so many popular NYC attraction passes how do you choose? In this guide, we give you a detailed comparison for each New York pass.
Our Popular Where To Stay City Guides
Las Vegas – Complete guide to the 25 most popular Las Vegas hotels on the strip for every budget.
Los Angeles – The 25 best Los Angeles hotels in Hollywood, Beverly Hills, Downtown and Santa Monica for all budgets.
San Diego – 20 of the best hotels in San Diego from each of the most popular places to stay for first time visitors.
Sedona – Top rated hotels in each of the popular neighborhoods and exactly where to stay in Sedona Arizona.
Our Popular Where To Stay National Park Guides
Acadia – Comprehensive guide to the best hotels in Bar Harbor and near Acadia National Park.
Grand Canyon – How to choose the best places to stay at Grand Canyon South Rim from the nearby towns.
Mt Rushmore – Comprehensive guide to the very best hotels near Mount Rushmore in the Black Hills.
Yellowstone – Complete guide to the very best places to stay at Yellowstone National Park.
Yosemite – Exactly where to stay at Yosemite National Park and surrounding towns.
Zion – Complete guide to the best places to stay in Zion National Park and near Springdale.
---
We hope this where to stay in New York City guide helps you choose the best hotel and place for your NYC trip!
Please let us know if you have any question about NYC hotels or New York City in the comments below.
Happy Travels,
Mark and Kristen
Enjoy This Guide? Pin it For Your Visit!