Edge NYC at Hudson Yards is one of the newest additions to an ever expanding repertoire of super-tall New York observation decks.
At Edge, you can take in the view on the skyline steps, enjoy delicious cuisine in the Peak Restaurant or scale the towering skyscraper more than 1,200 feet above the ground.
But why should you choose Edge over New York City's other observation deck competitors? Is Edge worth the visit compared to the Empire State Building, Top of the Rock and One World Observatory?
In this guide, we will discuss exactly what you can expect from a visit to Edge NYC, including:
How To Get To Edge
Edge exhibits & elevator experience
Best time to visit and best things to do at Edge
How to get Edge NYC tickets
How to take the best Edge NYC photos
City Climb information
Tips for visiting
We have loaded this guide with photos and information about our experience. You can then decide if Edge at Hudson Yards is the NYC observation deck for you to include on your list of best things to do in New York City.
Now, let's climb Edge in NYC!
*Please note this post may contain affiliate links. If you click on one, we may earn a small commission at no extra cost to you. Thank you for supporting the free content we provide! Read more in our disclosure policy.*
What Is Edge In NYC?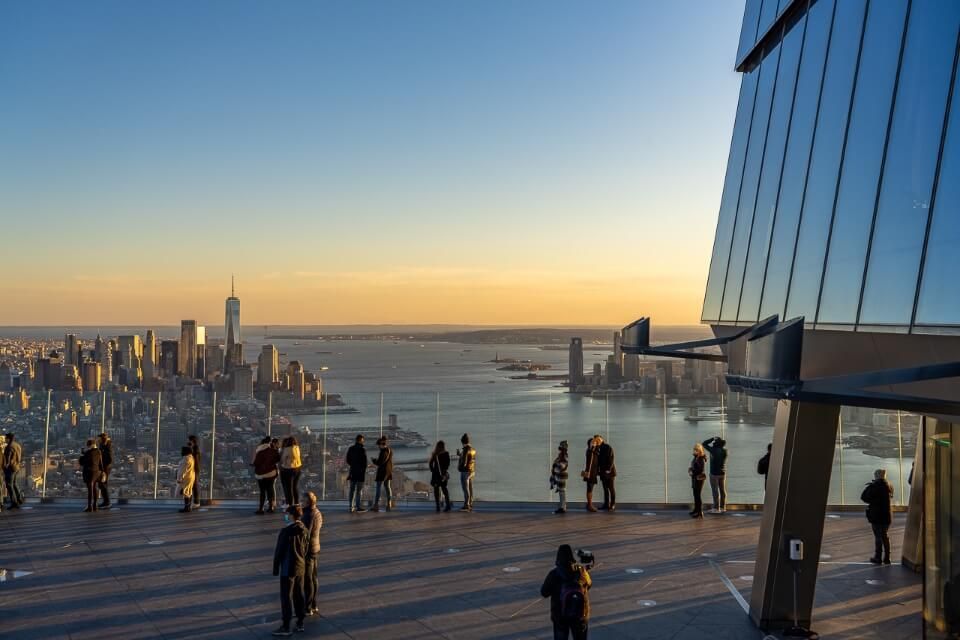 Edge is the highest outdoor sky deck in the western hemisphere, jutting out into the Manhattan skyline at 1,131 ft above ground level.
But there's so much more than height and good looks to this popular New York outdoor viewing platform. For starters Edge is among the best NYC photography locations both from the exterior below and from the observation deck high up.
From afar, your gaze simply can't help but be drawn toward an intriguing sharp-edged triangular platform sticking out 80 ft into the open air from the 100th floor of a glass skyscraper.
The outdoor sky deck accounts for the 100th floor, but the 101st floor back inside Edge continues the views to encompass a full 360 degrees complete with a champagne bar.
When you are standing on top of the unusually designed platform, Edge is an immaculate, modern and classy sky deck with panoramic views over the NYC skyline.
For those without a fear of heights, a small glass triangular bottomed section yields views directly down to the streets Manhattan.
And if that is not enough, the latest addition to Edge is the City Climb. This experience allows you to ascend the highest open-air building in the world.
Climbers will scale the outside of this imposing glass skyscraper then lean out for sweeping views of Manhattan as a one-of-a-kind aerial adventure experience.
Where Is Edge NYC?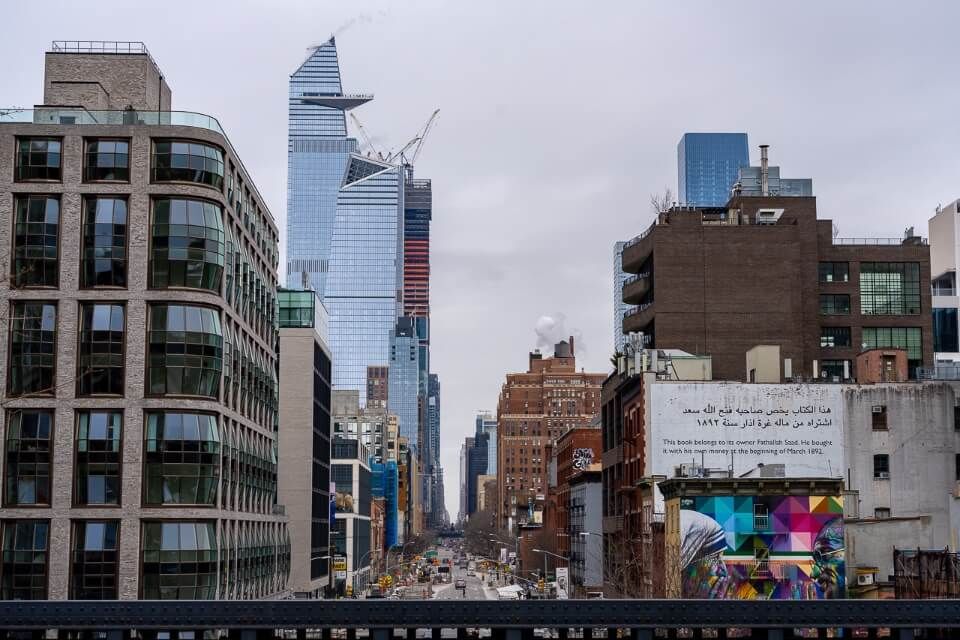 Dominating the western Manhattan skyline, Edge is located on the 100th floor of 30 Hudson Yards between W 30th and 33rd streets on 10th avenue.
Edge is part of the Hudson Yards renovation project which is one of the largest private real estate developments in US history as well as one of the most complex construction projects in New York.
What used to be a desolate expanse with abandoned shipyards is now a bustling 14 acres of thoughtfully planned space including numerous shops and restaurants for all to enjoy.
The easiest way to find the entrance for the Edge is on Hudson Boulevard at The Public Square and Gardens. This will be opposite the unmissable structure known as the Vessel.
Enter the Shops at Hudson Yards and climb to the 4th floor in order to reach the entrance to Edge sky deck.
Click here for the Google Maps location.
Looking at a map of NYC, find the Empire State Building, look west along 33rd Street, pass by Penn Station until you reach almost as far as the Hudson River.
Edge is easily walkable if you decided to stay in a hotel near Times Square.
Need a place to stay in NYC? Read our popular guide about the best places to stay in New York City if you haven't booked a room yet.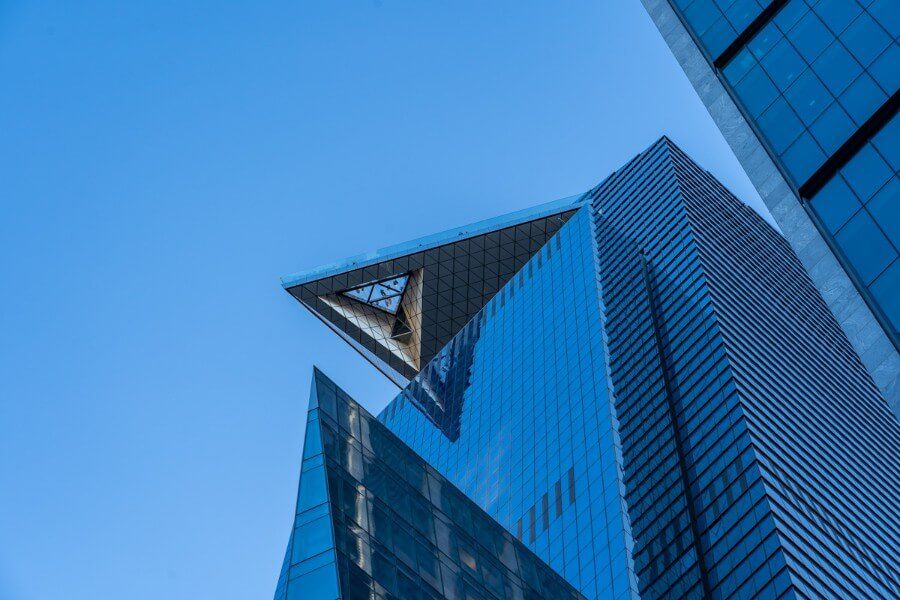 How To Get To The Edge NYC
There are a few different ways to get to the Edge in New York depending on your preferred mode of transportation:
1. MTA New York Subway – Take the subway to 34th street. The No. 7 subway is the main line to Hudson Yards.
2. MTA Bus – M34-SBS, M12, and M11 bus lines all stop within a few minutes walking distance to Hudson Yards and Edge.
3. Train – Penn Station is your best option as this is two blocks east between West 31st and West 33rd Streets and 7th and 8th Avenues.
Another way to arrive at Hudson Yards is to walk The High Line (beginning on the corner of Gansevoort St and Washington St in the Meatpacking District), which ends at the Vessel and Hudson Yards.
Of course you can always opt for an uber, lyft or taxi directly to Hudson Yards, but this might not be your fastest choice.
Edge NYC Exhibits And Elevator Experience
Part of the Edge experience is taking in the exhibits and elevator ride before you arrive to the famous outdoor viewing platform.
After you enter Edge, you will show your tickets and then continue through security. From here, you will then pass through a state of the art exhibit about Hudson Yards and Edge.
Edge Exhibits
Personally, we thought Edge nailed their exhibit area.
You will find some truly interesting infographics, models and visuals explaining about green energy, how the building works, what happens with waste below ground and much more.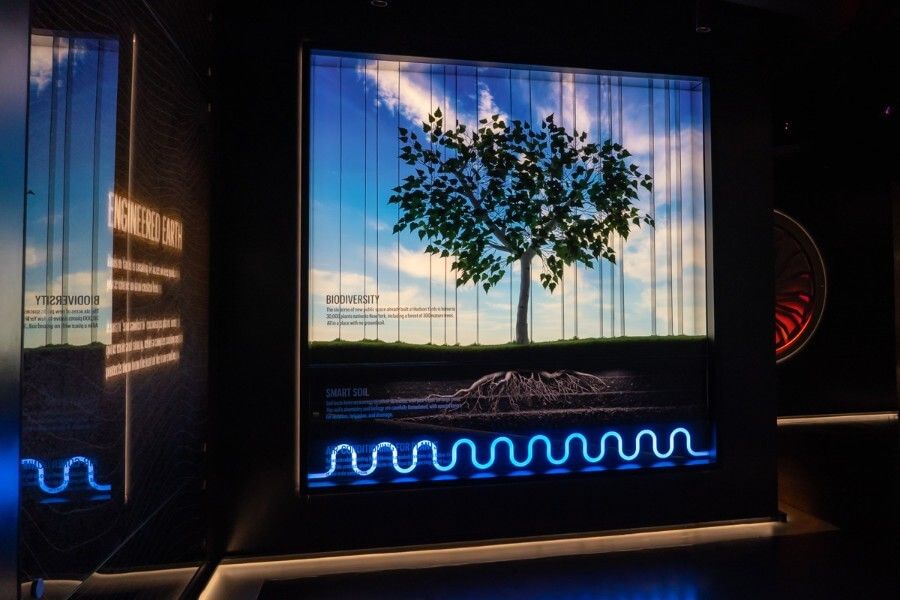 One of the stranger but nevertheless entertaining exhibits is a room filled with cylindrical tubes putting on a dazzling display of lights, colors and patterns.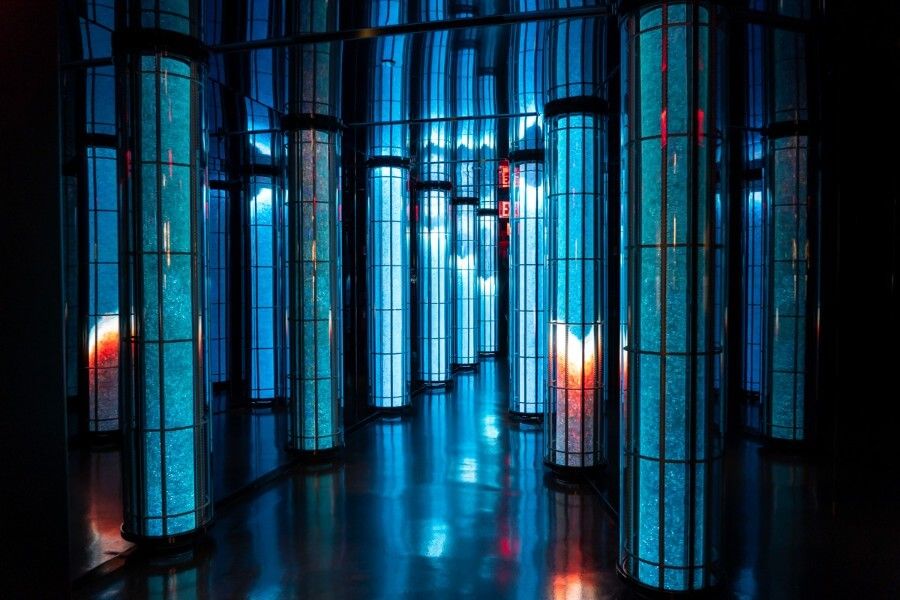 Edge Elevator Ride
In just 52 seconds, you will be transported from the 4th to the 100th floor of 30 Hudson Yards. This is nothing new and won't win an award for fastest elevator ride.
However, the elevator visuals are galaxies ahead of both Empire State and especially Top of the Rock.
As the elevator begins to climb, a video showing the Hudson Yards exterior also begins to climb.
It feels as though you are floating up into the sky and as you approach the 100th floor, the elevator speed changes slightly to give the effect that your floating has landed on solid ground.
This is very impressive so be sure to have your cameras at the ready!
The Edge NYC View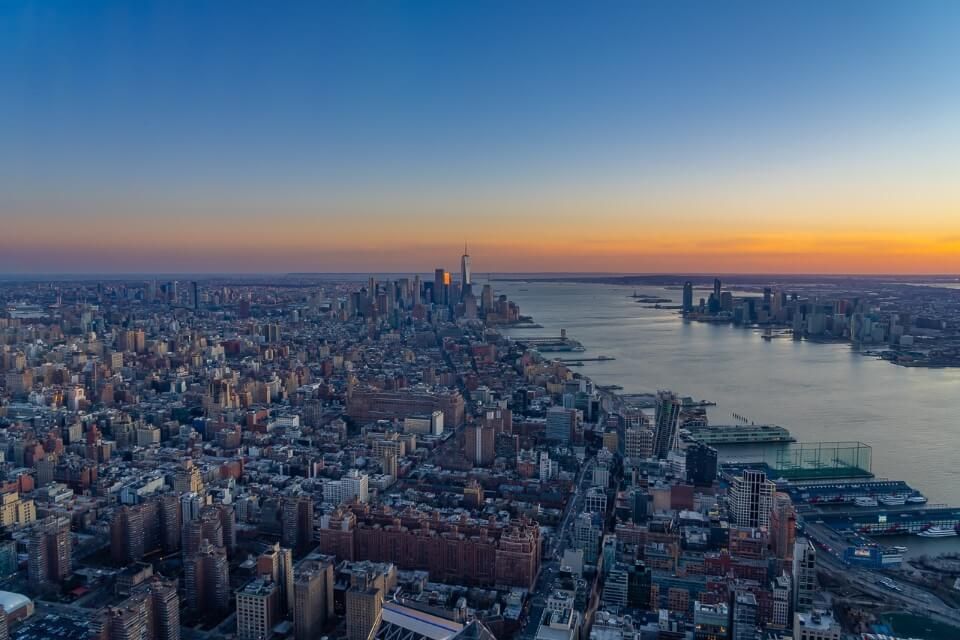 An 'Edgy' design, nice visuals, immaculate finish and fun elevator ride are only worthwhile if the views can live up to expectations.
And trust us, they do!
Edge's outdoor sky deck and 101st floor provide 360 degree views from the banks of the Hudson River across all of Manhattan, the Statue of Liberty, New Jersey and even Central Park.
You will have a clear sight to the Empire State Building from the Edge sky deck but the view is not as clear (or as good) as the view of this iconic building from Top of the Rock.
However, views over the Lower Manhattan skyline are magnificent and you won't get views similar to this anywhere else in New York.
One of the best aspects about the view from Edge is being able to look directly down the Hudson to One World Observatory and Downtown Manhattan during a stunning sunset.
You can gaze out at New York's famous urban landscape through frameless and angled glass window panes, or for thrill seekers, stand on the unique glass bottomed panels looking 100 floors below to see tiny ant sized cars driving by underfoot.
Something to consider with views from Edge is development plans over the next few years. You may see a lot of cranes obstructing parts of the view over New York. We even saw a few cranes during our visit.
Best Time To Visit Edge In New York
Sunset is the best time to visit Edge and unfortunately, this is also the most popular time. But why choose a visit to the New York Edge at sunset over any other time of day?
This is the time of day you can take the best pictures because the sun is the softest in the sky. If you visit Edge mid-day, the sun will be high in the sky and at its strongest which doesn't make for good photos.
As you continue to read through our comprehensive guide to visiting Edge in New York, see if you can spot the difference between our day time and sunset pictures. There is a big difference!
Sunset is arguably the most romantic time as well. We saw a marriage proposal both times we visited the Edge at sunset.
There is no question sunset is the quintessential and most sought after NYC observation deck time slot.
Sunset At Edge NYC
Sunset offers so many unique experiences from romance among couples and light of day for pro photographers to capture the spectacular colors in the sky.
But sunset also happens to be best time of day to just sit back and relax while you enjoy the views with a glass of champagne.
The sun's early evening journey will transport the blazing golden ball diagonally across Lower manhattan, beyond Liberty Island and finally it will set somewhere behind New Jersey.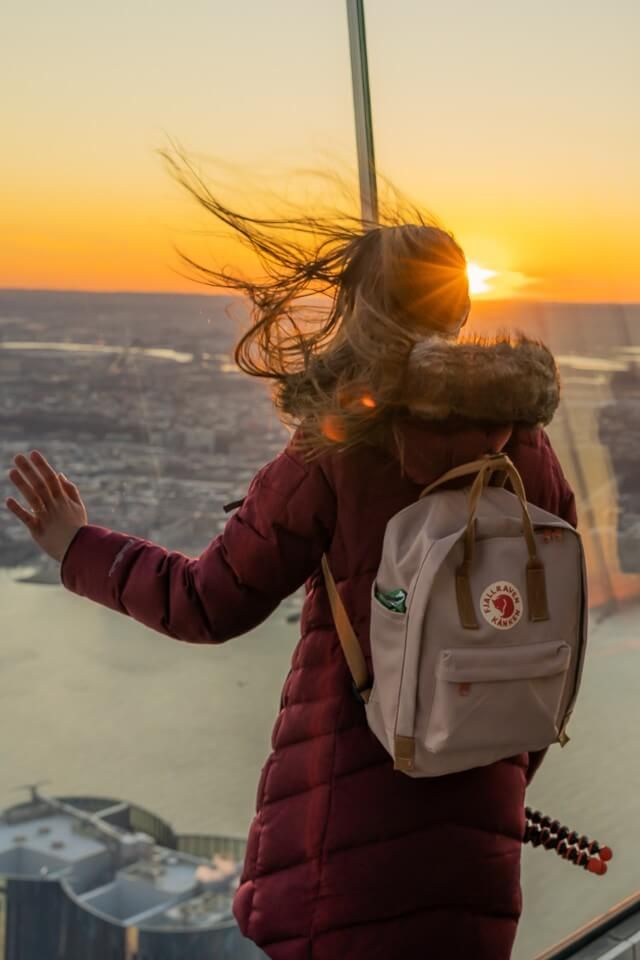 Expect big crowds at sunset and embrace the excitable atmosphere. If you want to get those popular selfies, be sure to arrive a little earlier to avoid the chaos.
Keep in mind, you will be outside for your visit to Edge's main viewing platform and at 100 stories up, it can get very windy. Our advice would be to bring a coat or jacket if you plan to stay for awhile.
There is no limit to how many times you go back inside so there is place to warm up if you need it.
Travel Tip: Stay at Edge until the sun has completely set. Everyone will disperse within a matter of minutes right after the sun goes down. You will then be able to take in the beautiful colors of the sky with minimal crowds. This will also avoid the mad dash down so you will most likely avoid the long lines too – double bonus!
Edge NYC At Night
The Edge NYC view at night is almost as good as the sunset view. But if we had to give you an answer, sunset is certainly the best time to visit Edge in New York.
However, you can get the best of both worlds if you plan properly.
We have visited Edge on two separate occasions around sunset. For our first Edge visit, we had a jammed packed itinerary and we could only stay at the observation deck for a short time.
But we enjoyed the view at Edge so much we knew we wanted to return for photography purposes. So a few months later we visited Edge during sunset again, but this time we stayed long after the sun had set.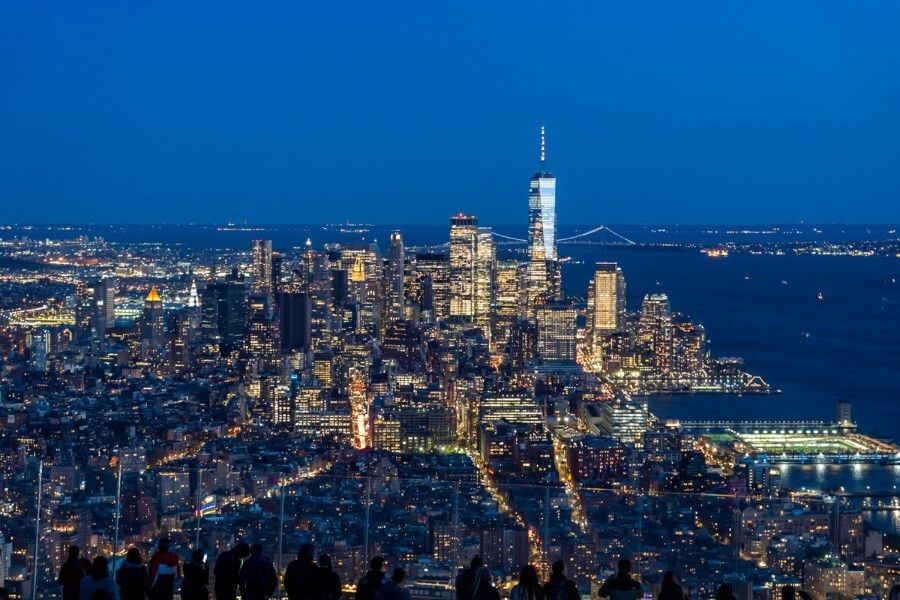 This way we were able to witness both the sun setting as well as the twilight turning into darkness over the Manhattan skyline.
It was pure magic.
New York City is truly a city unlike any other. There is something breathtaking about watching each individual building in the New York skyline light up at night.
7 Best Things To Do At Edge NYC
Depending on how you want to experience Edge, you could easily spend just one hour or several hours on top of this stunning skyscraper.
While you have a time entry ticket for entrance to Edge, you can remain on top of the building as long as you want. There is no time limit to how long you can stay at Edge so use this to your advantage!
According to the Edge's website, the average length of stay is about 45 mins to an hour. So below we have provided you with a complete list of things to do during your visit.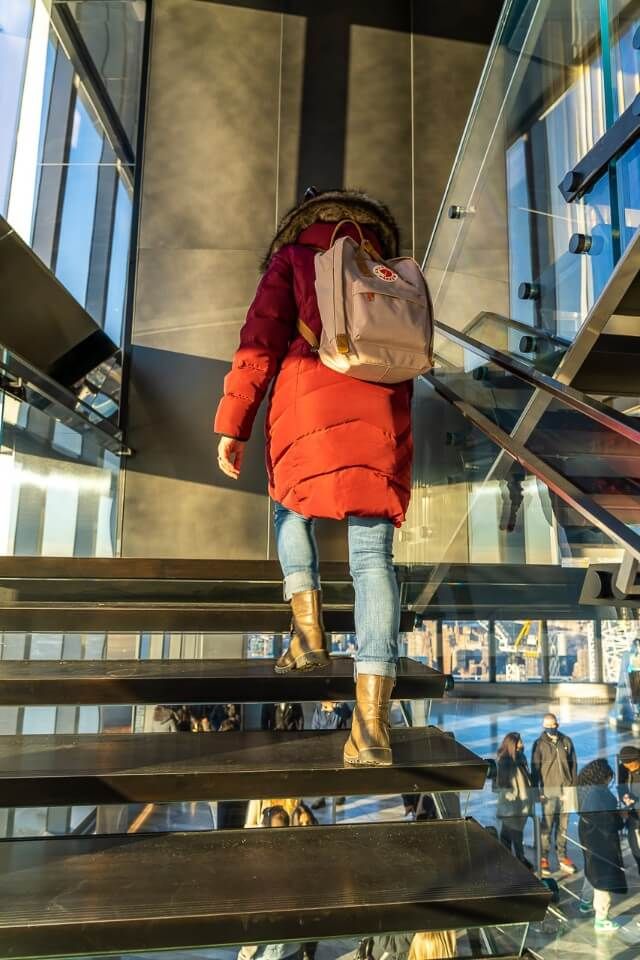 The Edge NYC Highlights
Outdoor Sky Deck – This 7,500 square ft outdoor space is what everyone has come for. You will be suspended 1,131 ft up and 80 ft out directly over Manhattan.

Take a Photo at the Eastern Point – As you take in the views from the sky deck, one of the most popular photo locations is against the famous frameless glass panels on the eastern section. The lines will show you where to go and be patient because they may be long.

Sit on the Skyline Steps – Get an elevated view as you sit on these outdoor steps. This is where you can take in the views of the Manhattan skyline without the glass panels obstructing your sight.

Peer through the Glass Floor – Be sure to look through the glass triangular section of the floor. You will be able to see 100 floors down directly to the streets of Manhattan. Not for the faint hearted!

Visit the 101st Floor – Peak Restaurant is on the 101st floor which also features Peekaboo, a late night cocktail bar as well as a venue for private events. See more information here.

Enjoy the Champagne Bar – Sip champagne or quench your thirst with cocktails 100 stories up. The location for the Champagne Bar may differ due to inclement weather or planned events.

Sky High Yoga Class – Start your morning early at 6:30AM with Yoga 1,100ft in the air. This is a 45 minute Yoga class with Equinox. Tickets include entrance to Edge and 15 mins after class to enjoy the view. See the schedule here.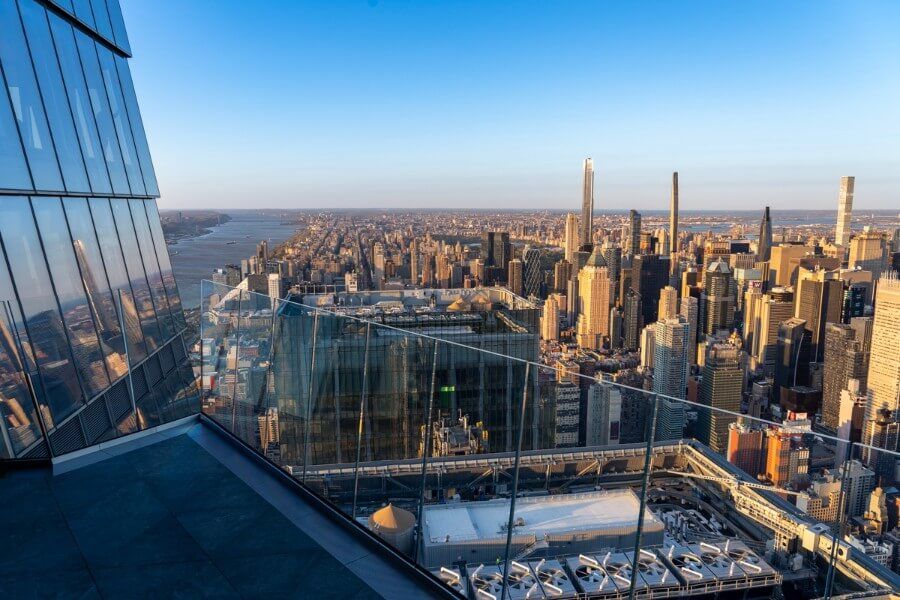 The Edge NYC Tickets
There are five different kind of tickets you can buy to visit the Edge in New York City:
General Admission
Flex Pass
Express Admission
Champagne Admission
Premium Admission
This ticket prices below are taken directly from the Edge website at the time of writing and do not include tax. These ticket costs refer to the online ticket price which is usually a few dollars cheaper compared to purchasing the tickets directly onsite.
Please keep in mind you can also purchase tickets for the Edge City Climb which we will discuss later in the guide. This is a bonus attraction that is not included in the General Admission Edge ticket.
General Admission Tickets Edge
General admission ticket prices to access Edge are similar in comparison to other observation decks in New York City. At time of purchase, you will book a date and time for you visit.
Tickets starting from:
Adult (13-61) – $35
Child (2-12) – $30 (under 5 are free)
Senior (62+) – $33
Be aware there is an additional $10 fee if choosing to visit during the sunset slot times. However, we think it is certainly worth paying the extra 10 bucks.
Flex Ticket Edge
This ticket option offers a little more flexibility compared to the General Admission ticket. At time of purchase, you will pick a date but have the flexibility to visit Edge at any time on that day.
However, these tickets cost about $20 more compared to the General Admission ticket, but you will not be charged anything extra if visiting during sunset.
Tickets starting from:
Adult (13-61) – $54
Child (2-12) – $49 (under 5 are free)
Senior (62+) – $52
Express Admission Edge
This ticket option is the same as the flex pass with a few extras thrown in. With the express admission, you can book a date and visit at any time with a skip the line option.
The Express Admission will also give you access to priority lanes and elevator.
Tickets starting from:
Adult (13-61) – $81
Child (2-12) – $76 (under 5 are free)
Senior (62+) – $79
Champagne Admission Edge
This is a good ticket if you are celebrating a special occasion. At time of purchase, you will book a date and time as well as enjoy a glass of Champagne during your visit to Edge.
Tickets packages starting from:
Adult (21-61) – $58
Adult (13-20) – $40
Senior (62+) – $56
Restrictions: 21+ only and sunset tickets cost an extra $10.
Premium Admission Edge
This Edge ticket gives you the most bang for your buck. Not only will you book a date and time when you purchase, but you will receive a glass of Champagne and a personalized photo book when you visit.
Tickets packages starting from:
Adult (21-61) – $75
Adult (13-20) – $40
Senior (62+) – $74
Restrictions: 21+ only and sunset tickets cost an extra $10.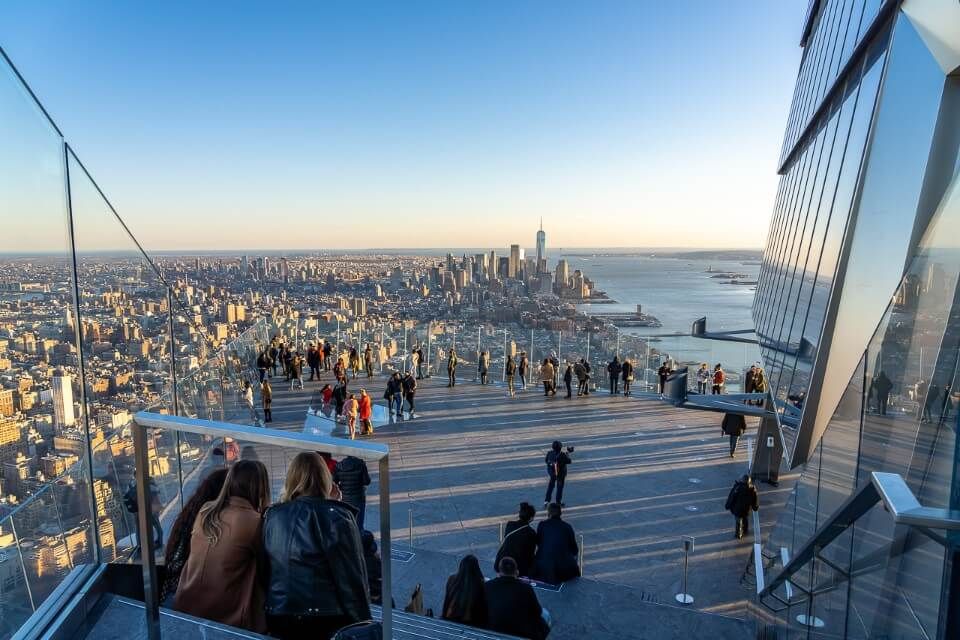 How To Buy Tickets For Edge NYC?
There are many ways to purchase Edge tickets.
You can buy directly from the official Edge website or onsite at Edge.
Or you can purchase an entry ticket through:
Click on the links to compare reviews and prices for each platform.
If you plan to visit several of New York City's top attractions, we would recommend you consider purchasing an attractions pass.
Buying a New York attractions pass will give you instant access to the most iconic NYC museums, landmarks and observation decks at a discounted price.
The idea is simple in that the more attractions you visit, the more discount you will recieve and the more money you save. It's very similar to buying in bulk.
Having used all of the NYC attraction passes ourselves when we lived in New York, we recommend the New York Sightseeing Pass because its extremely easy to use while offering both flexibility and big savings.
Edge at Hudson Yards is included with the NY Sightseeing Pass and we have an exclusive 10% discount just for our readers.
Want To Save Money In NYC?
Use the button below to claim 10% off any NY Sightseeing Pass.
You can also read our detailed comparison to the New York attractions passes to help you decide which New York pass you should purchase for your visit to the Big Apple.
How To Get The Best Edge New York Photos
Unless you purchase the premium admission ticket for Edge which comes with a personalized photo album, it will be up to you to take your own photos when visiting Edge.
In this next section, we will tell you the best photo locations for Edge NYC as well as a few photography tips.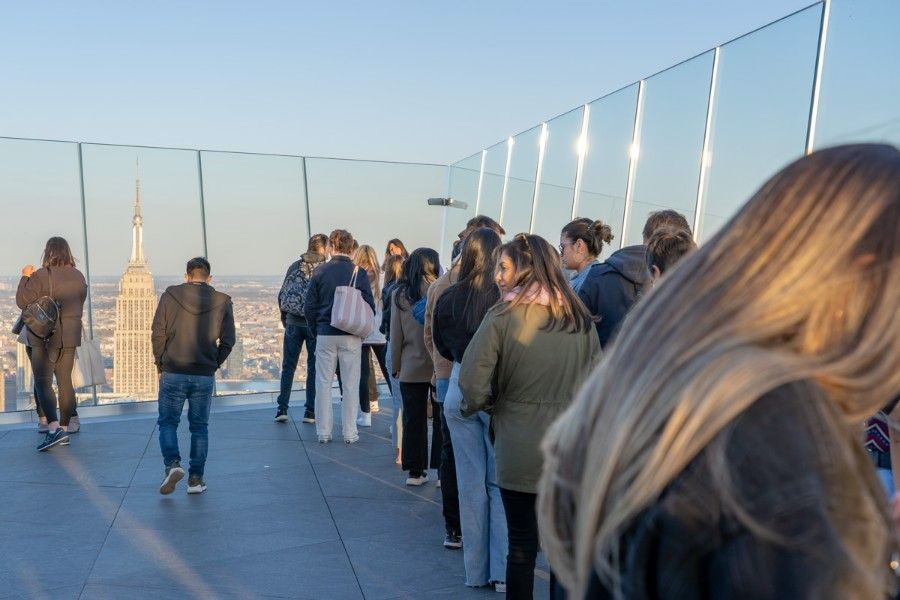 The Eastern Point
The Eastern Point is the most sought after photo location at the Edge. At this spot, the angled walls come to a point so there is only enough space for one person to stand alone.
At the eastern point, you will be completely surrounded by glass, sky and of course, New York City. Unfortunately, lines for this spot are always long so you will have to wait your turn to get a chance to snap a photo in this coveted location.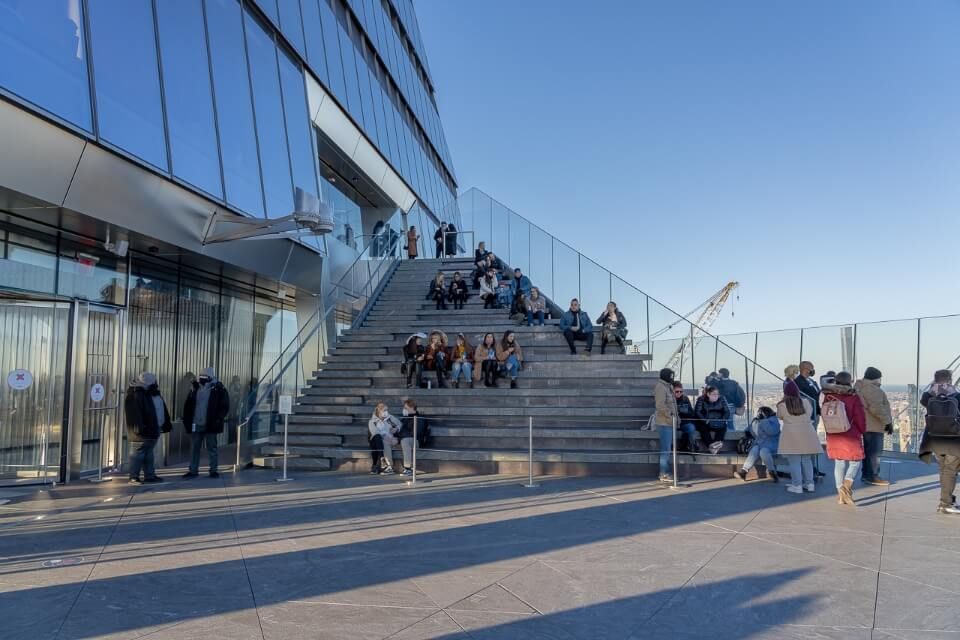 Top Of The Skyline Steps
The Skyline steps are one of our favorite photo locations at Edge. This section used to be part of the Champagne bar and you had to purchase a snack in order to enter the skyline steps.
But the good new is you can now visit the Skylines Steps for free.
An amphitheater style seating area provides the perfect place to relax and watch as the burning orange sun sets behind Statue of Liberty and New Jersey.
This is a great vantage point of the city because you have a wonderful perspective of Edge's outdoor viewing platform along with the chance to look out over the glass panels.
We loved this spot for taking in the views of the stunning Manhattan as well as people watching.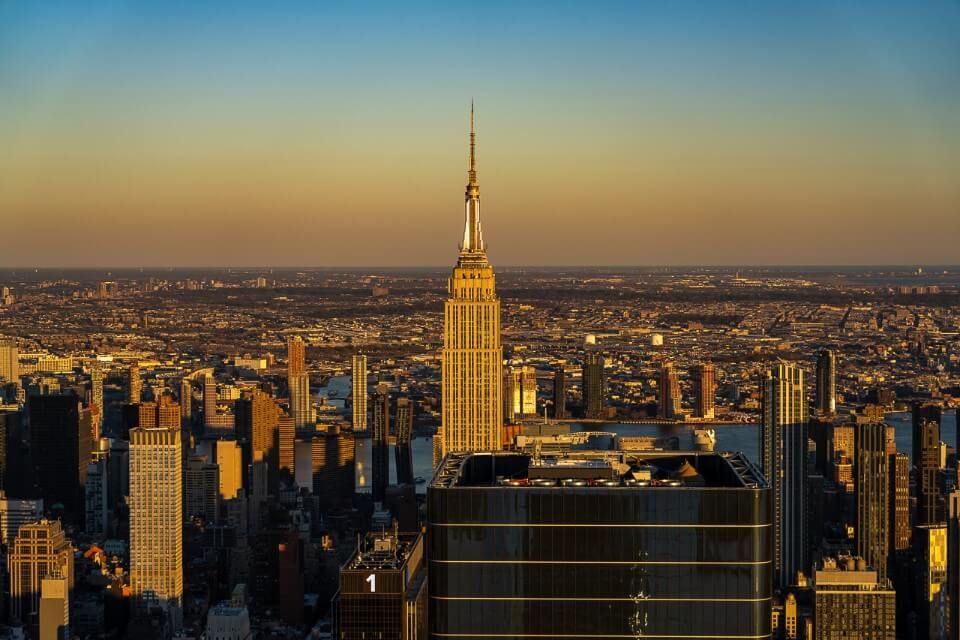 The Empire State Building
While the glass panels at Edge make photography a bit difficult, you can still take some amazing shots if you position your camera well enough to avoid the glare.
There is a great photo opportunity for the Empire State Building from the Skyline Steps. Position yourself halfway down the stairs where the glass panels align.
This will give you a clear line of sight to the Empire State Building with no glass panels to obstruct your view.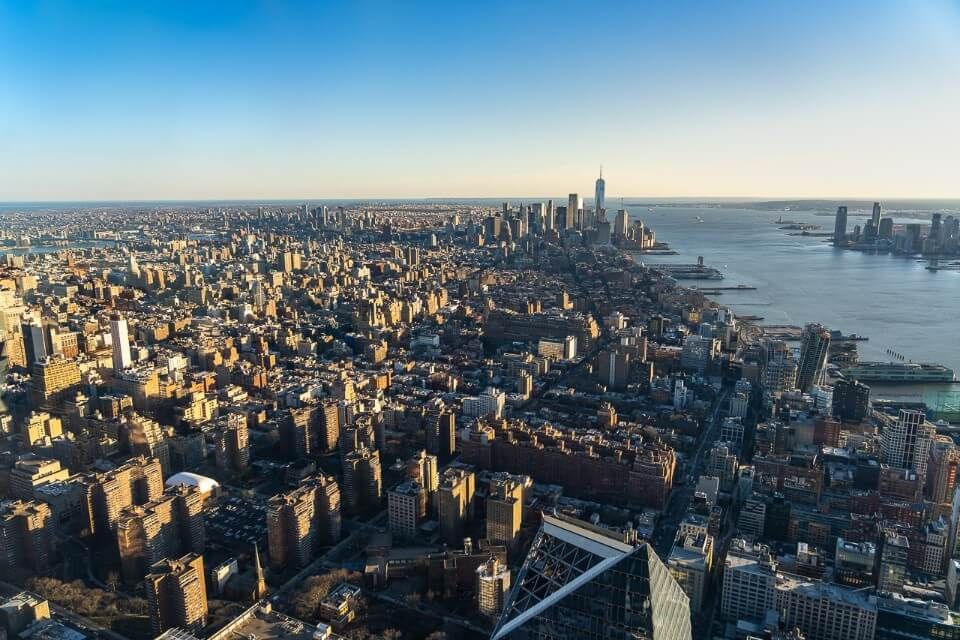 The Manhattan Skyline
This is another photo you may have to spend some time perfecting, but it is worth the effort. In between every glass panel at Edge, there is a small crack.
So if you maneuver your camera or phone just enough, you can snap a great photo of the Manhattan skyline with minimal glare.
The Glass Floor
If you have a fear of heights, you may want to skip this photo. But close to the eastern point, there is a small glass triangle where you will find many people standing or laying down as they look below to the street of Manhattan.
We could only spend a few seconds on this window as we had seen enough!
Edge NYC Photography Tips
You can take some amazing photos from Edge just by following a few simple photography tips.
Use a polarizing filter to help reduce or remove glare.
No tripods are allowed at Edge so you will have to get creative when finding a solid platform for your long exposures if you stay to take photos at night.
Do not use flash as this will reflect off the glass and disrupt your photo.
Clean the window prior to shooting by wiping off any debris or smudge marks.
Shoot as straight as possible to minimize the negative effects of any glare.
Keep scrolling to see some of our favorite Edge photos from both our visits: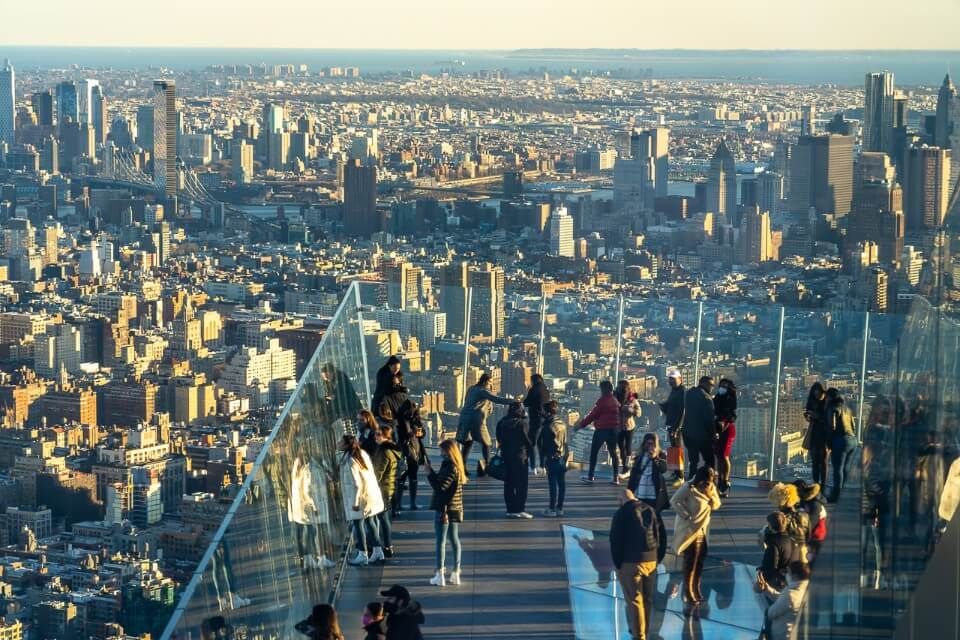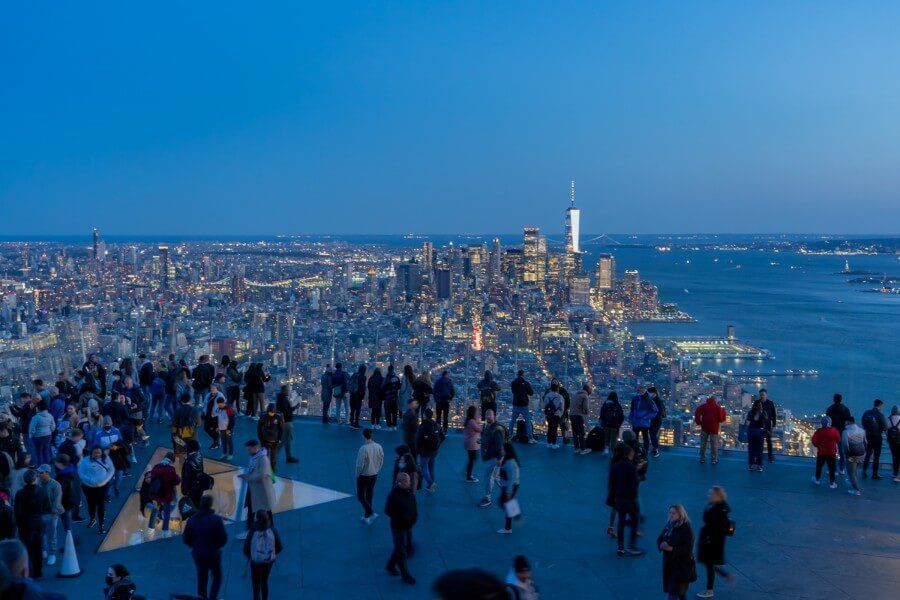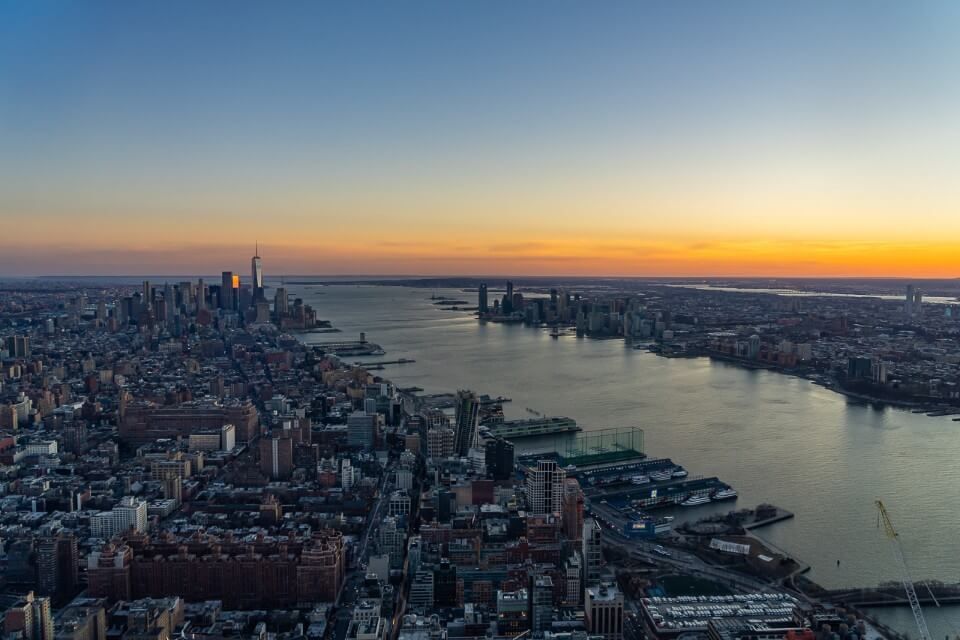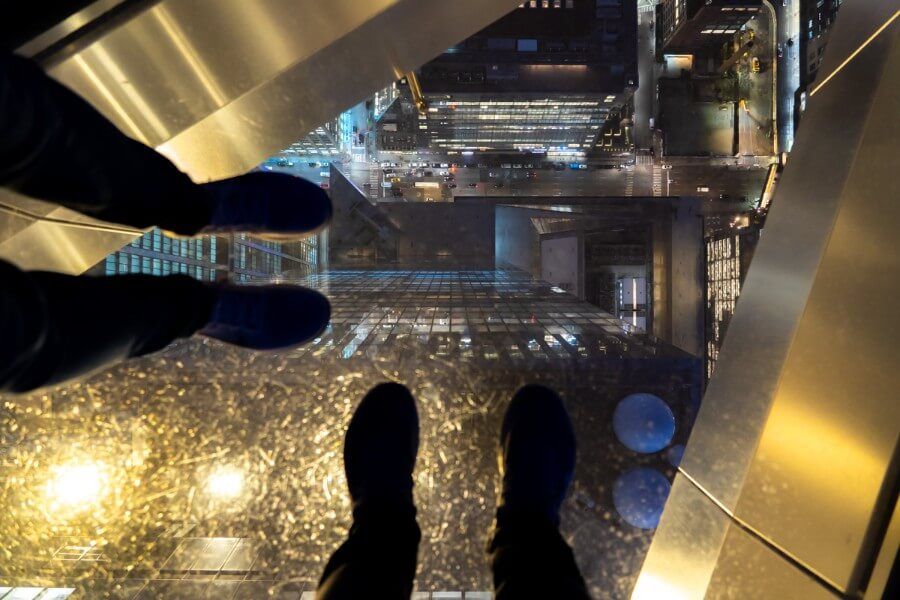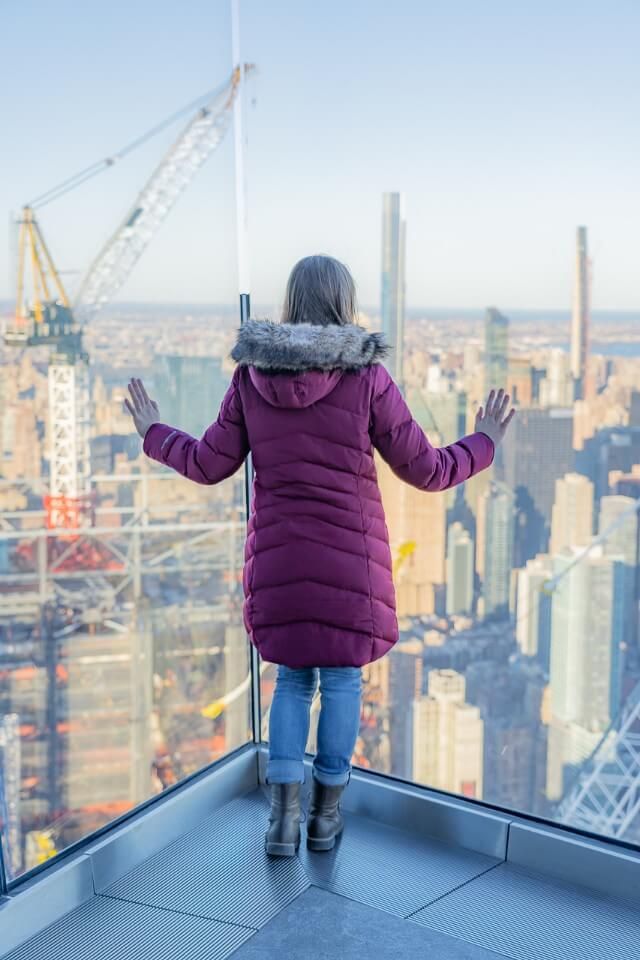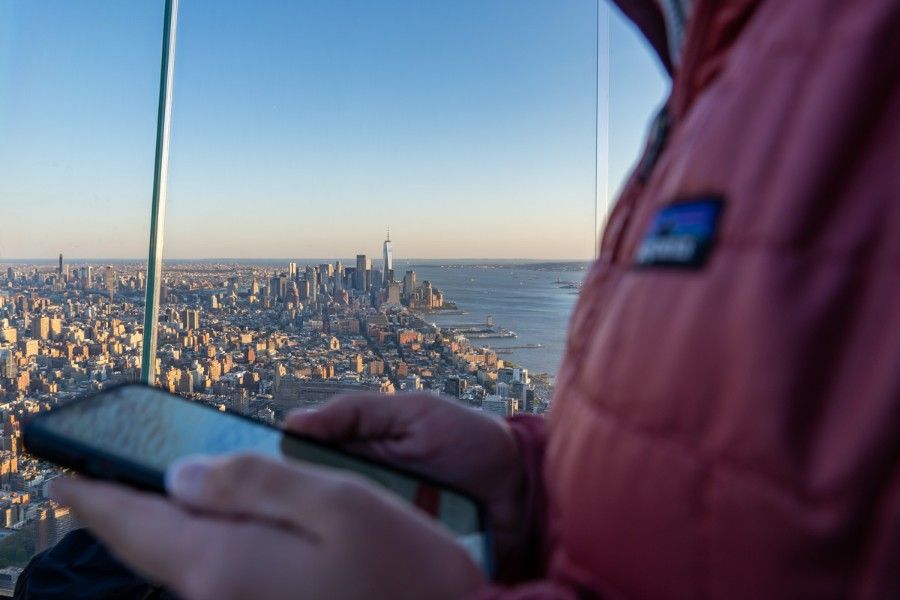 City Climb At Edge NYC (New For 2022)
Edge NYC has a brand new visitor experience and it is not for the faint of heart. City Climb advertises itself as the ultimate skyscraping adventure and it opened in November 2021.
If the triangular outdoor viewing platform suspended above the streets of Manhattan isn't enough of a thrill for you, then take a look at City Climb.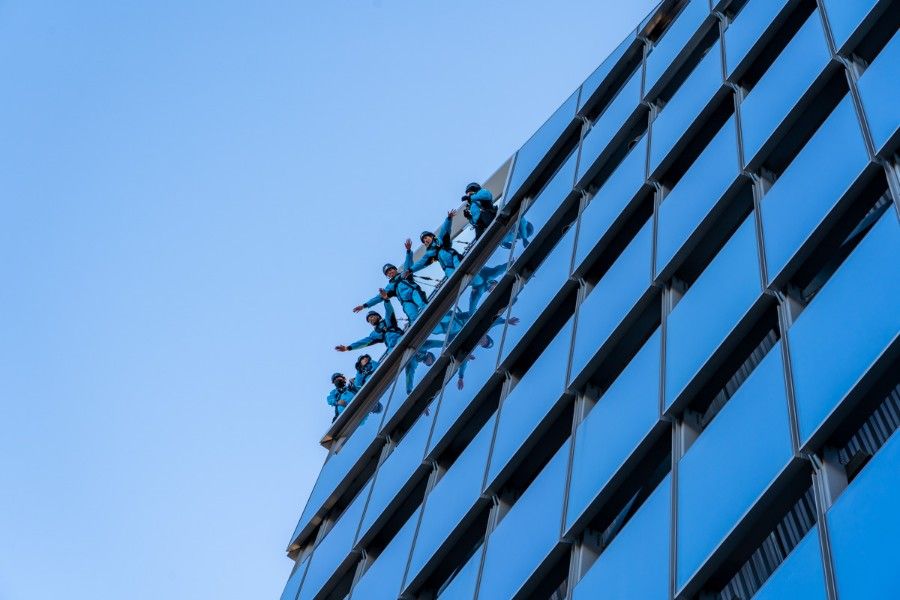 City Climb Tickets
Tickets to Edge City Climb are $185 per person. During this experience, you will step out of a New York City skyscraper by scaling the crown of 30 Hudson Yards and leaning over the city.
Here is what you will have included in your $185 ticket:
General admission to Edge platform below
Exhilarating climb up a 45 degree angled staircase on top of 30 Hudson Yards
The chance to quite literally lean out over the edge in a robust double clipped on harness
A video of your experience
A medal to remember leaning out over New York City
Photos taken by City Climb personnel
There are no additional costs associated with times of day for the City Climb unlike the General Admission tickets for sunset to Edge NYC.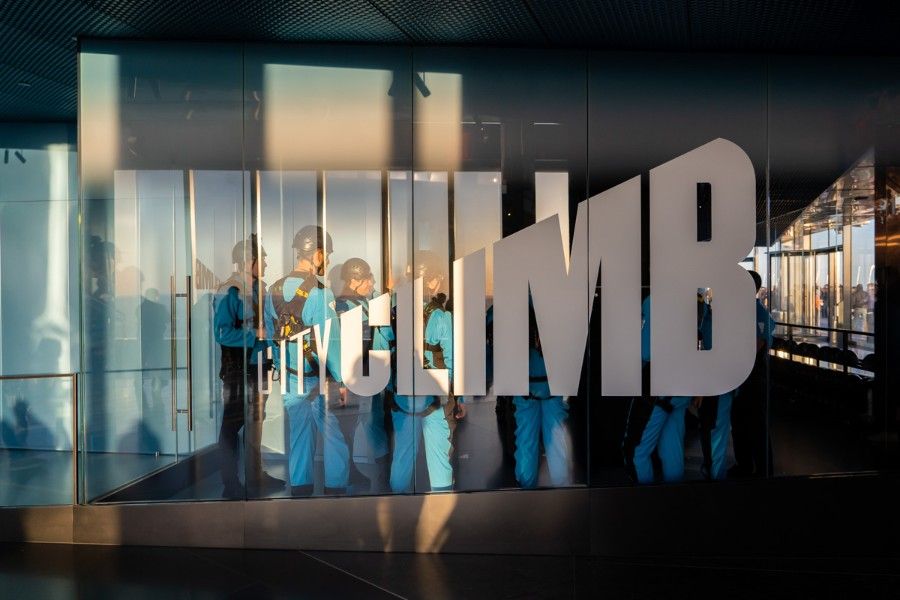 City Climb Requirements
Each City Climb participant must meet the following restrictions or it is possible you will be denied entry:
Age: 13+ (ages 13-17 must be accompanied by an adult of 18+)
Height: 4.9ft – 6.7ft
Max Weight: 310lbs (140kg, 22 stone)
Not under the influence of alcohol
No cameras are allowed as all photos taken by City Climb Staff
Tips For Visiting Edge NYC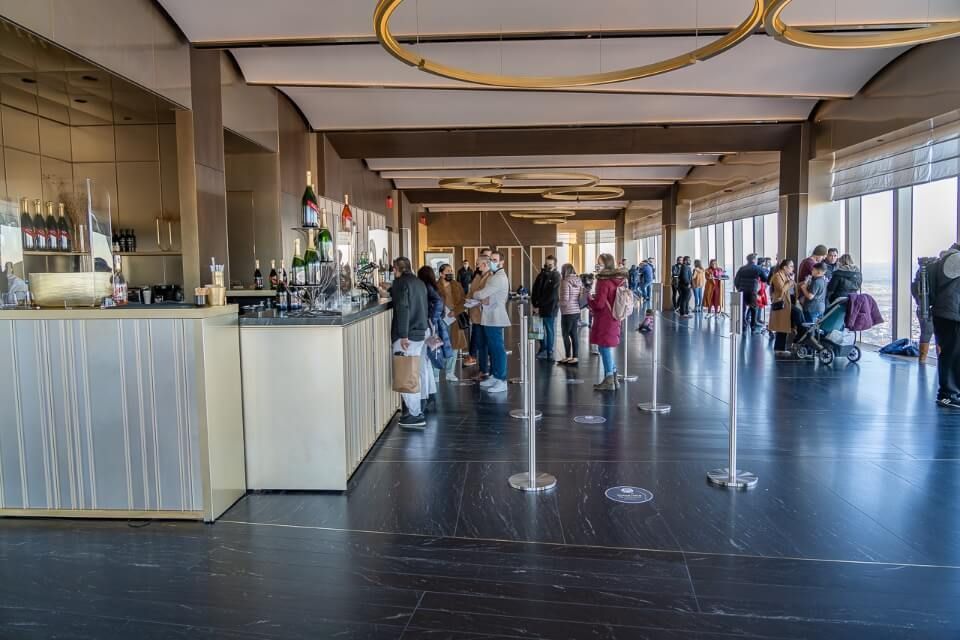 A visit to Edge Observation Deck in New York is certainly worth it, but there are a few important tips we think you should know prior to your visit:
Purchase your tickets for Edge online and in advance. This is especially important if you will be visiting during the weekend, a holiday or during the very busy summer months.
The tall glass panels encircle the entire sky deck, allowing visitors to lean out over Edge if they dare!
The open and exposed nature of Edge means it can be very blustery on the sky deck. If also gets colder than you might think, especially if you visit New York City in winter. Don't forget the extra layers.
If the weather isn't behaving, you will have the option to book your Edge ticket for another day.
Summer months are naturally going to be busier on the observation deck at Edge NYC. Consider visiting New York in April or another shoulder month to avoid the crowds.
Our Overall Edge NYC Experience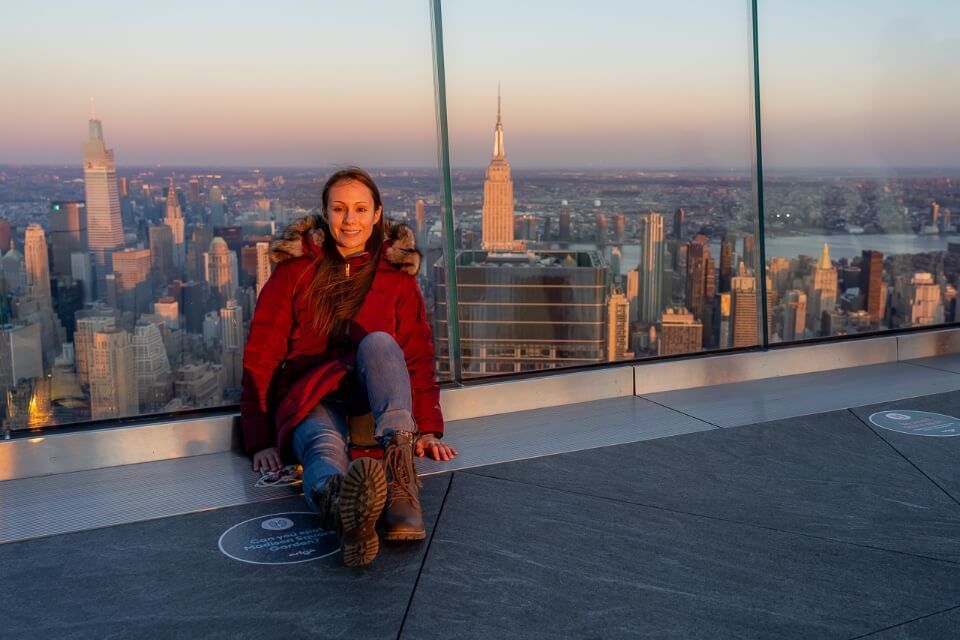 The Edge is sleek, elegant and offers a unique perspective over New York City. We though the overall experience was fantastic and would visit again despite already have been twice.
Sunset is the best time to visit Edge. But if your schedule allows it, stay past the sunset until darkness hit Manhattan. You will be rewarded with views of the New York City skyline lit at night.
Some of our best memories from our time living in New York City include watching the skyline transition from day to night over popular landmarks in the city. It's absolutely remarkable!
New York is among the best places to visit in the USA for domestic and international travelers. We think Edge NYC observation deck is something all first timers to the city should consider seeing.
Pros To Visiting The Edge NYC
Here is what we like about Edge and why you should visit:
Highest outdoor sky deck in the west hemisphere
The view, especially at sunset is beautiful from Edge
The entire experience felt clean, finessed and polished
Most interesting and unique design with both indoor and outdoor viewing platforms
Sweeping views of Midtown and Lower Manhattan along with the Hudson River and New Jersey
One of the most "Instagrammable" and best observation decks for photography
It is possible to get unobstructed photos without glass panels on the staircase steps
Tie for cheapest observation deck in NYC with One World Observatory (if not visiting during sunset)
City climb offers the highest point you can visit in New York City
Cons To Visiting The Edge NYC
This is what we don't like about Edge:
Crowds will be a common source of frustration, particularly when trying to get the highly sought after photo in the eastern point
Snacks, champagne and other cocktails are overpriced for what you get
Timed entry tickets for sunset tickets can sell out extremely quickly
Many landmarks are partially obstructed or far away, especially Empire State Building which is not in direct line of sight from Edge
The glass panels on the deck can severely limit image quality if you are going for that perfect instagram photo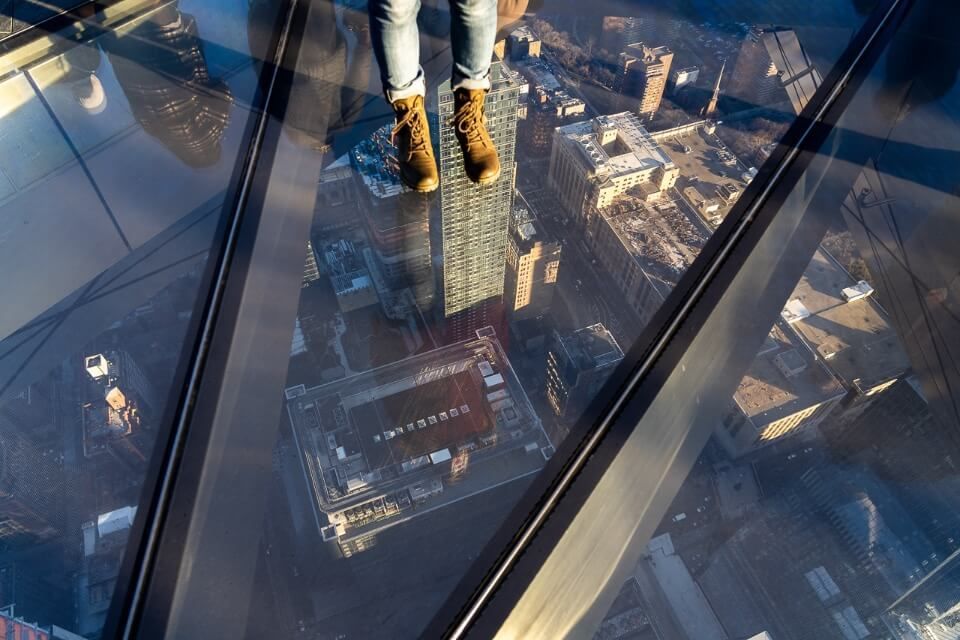 Is Edge In New York Worth it?
Yes, Edge in NYC is worth the visit. This observation deck offers 360 degree views of both the Manhattan skyline as well as the Hudson River. You won't get this panoramic view at any other observation deck in NYC.
We liked being able to watch the sunset over Manhattan as well as see famous structures such as the Empire State Building and One World Observatory all in one go.
So in conclusion, Edge is our second favorite observation deck and you should definitely include Edge in your New York City itinerary.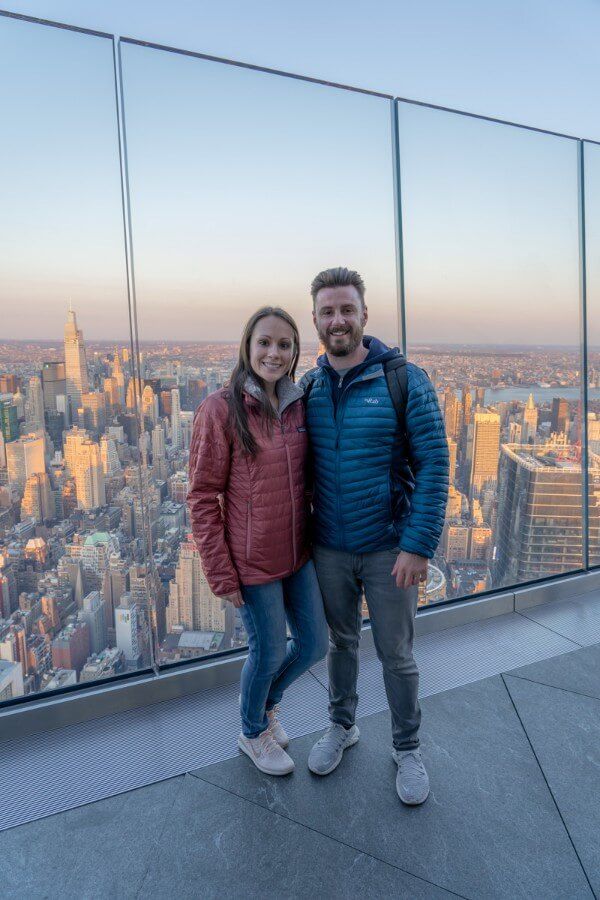 Is Edge The Best Observation Deck In New York?
Unfortunately, this answer depends on your preferences.
Below is a quick overview for the 5 New York City observation decks (including Edge).
We understand you may not have time to visit each observation deck so it's important for you to have all the facts before you make a decision about which one to visit.
One World Observatory – The tallest observation deck with a different perspective to the others. But while you are closer to Brooklyn Bridge and Statue of Liberty, the sunset is much less impactful.
Empire State Building – The most iconic observation deck filled with history and glamour. The 360 degree view of surrounding concrete buildings is stunning, but it's the most expensive option.
Top Of The Rock – The shortest and unglamorous option from the outside, but in our opinion, the observation deck with the best view in all of New York City.
SUMMIT One Vanderbilt – The newest addition to New York City's high vantage points. But this is more than just an observation deck, it's an entire experience.
Edge at Hudson Yards – New York's highest outdoor sky deck with an optional City Climb experience taking you 1,200 ft above Manhattan.
Read our in depth comparison between Empire State Building vs. Top of the Rock for more details about the two traditional observation decks in New York City.
But keep in mind, no matter which observation deck you choose, sunset is the perfect time of day to visit as you finish off your incredible day in New York City.
Can't make up your mind about which NYC observation deck to visit? Don't miss our popular guide to the best observation decks in New York City ranked with pros and cons.
Need Help Planning Your Visit To New York City?
NYC is a vacation planning beast and it can be overwhelming trying to get every aspect right. Trust us, we know!
After living in New York City, we created a comprehensive NYC travel guidebook & itineraries that will answer every question you have about where to stay, what to do, where to eat and how to get around the city.
Click see details below to read more about how we can help you plan your dream trip to New York City!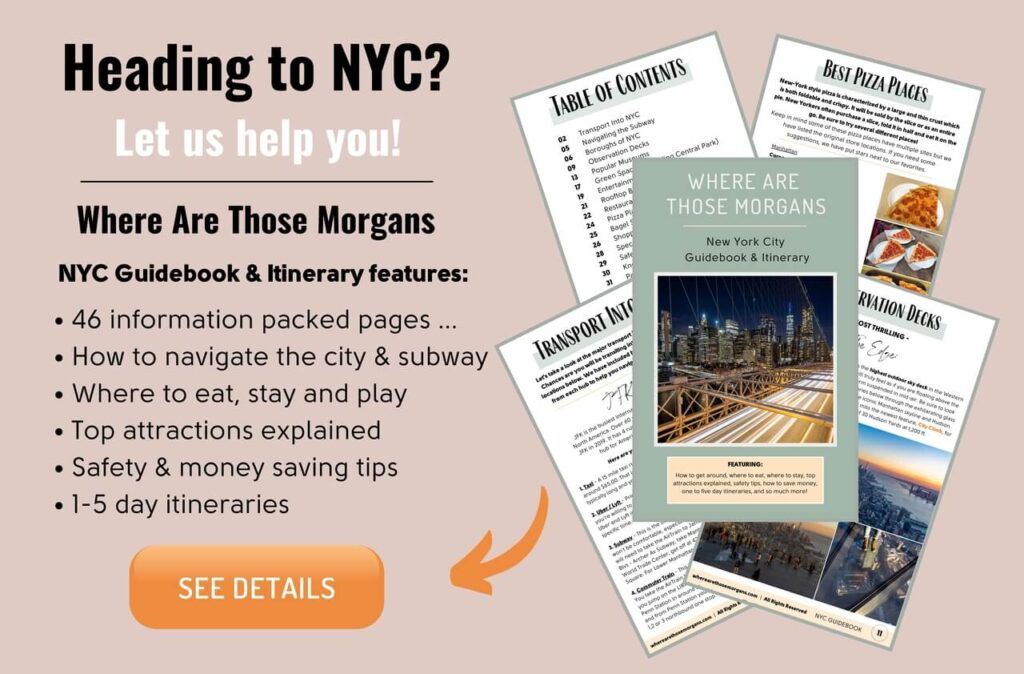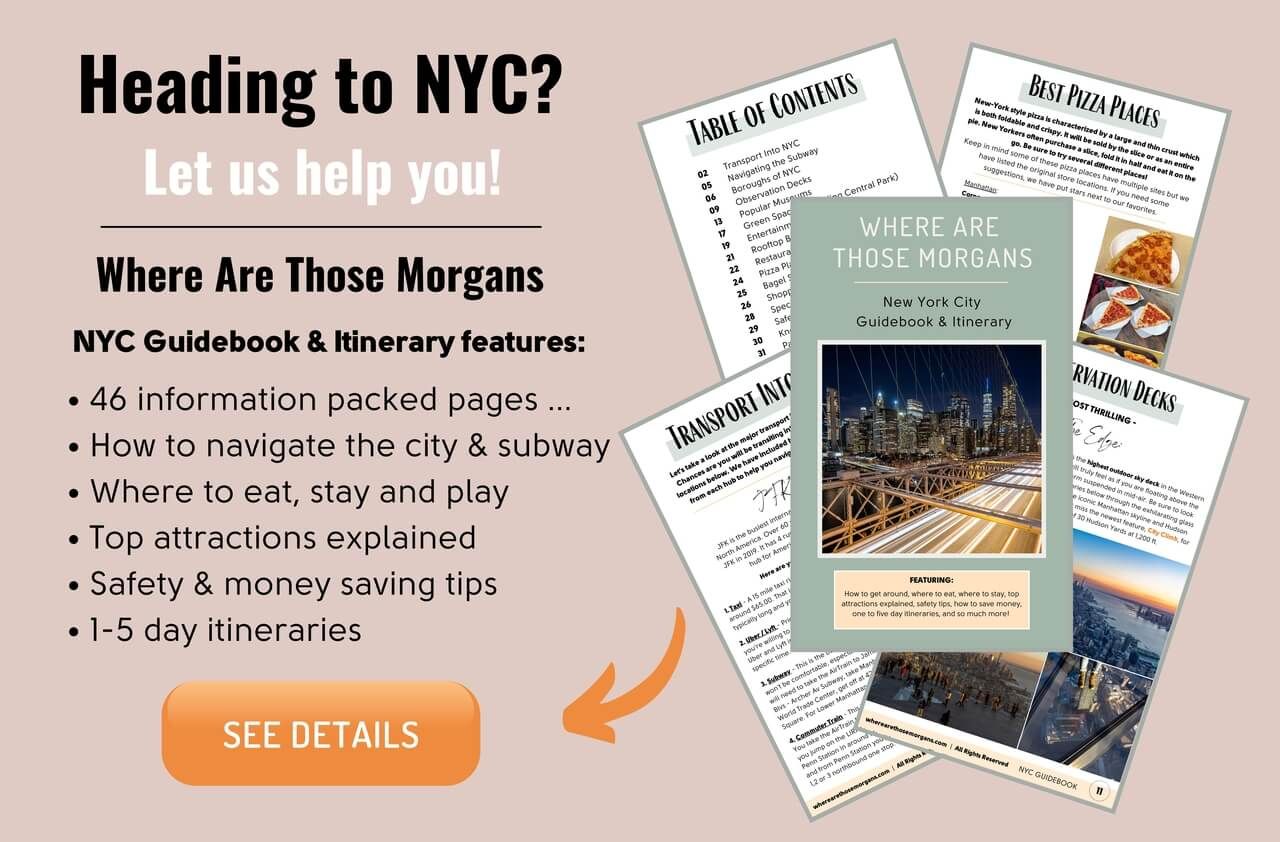 Edge NYC FAQ's
Let's take a look at some of the most asked questions regarding Edge in New York City.
How much does it cost to go to Edge in NYC?
The general admission ticket to Edge starts with a base rate of $38 for adults, $33 for children and $36 for seniors. The best way to guarantee tickets for Edge is to purchase tickets online in advance as you will be issued a timed entry slot.
How long can you stay on Edge NYC?
There is no time limit to how long you can visit Edge and the average length of stay is about 45 minutes.
Is Edge better than Top of the Rock?
Edge at Hudson Yards is just as good as Top of the Rock. Both Edge and Top of the Rock are worth visiting for different reasons.
How can I visit Edge for free?
Entrance to Edge is free with the purchase of the New York C3 Pass, NY Sightseeing Pass and the Go City New York Pass.
What if I can't get sunset tickets for Edge?
If you can't obtain sunset tickets for Edge, you can book your time slot slightly ahead of sunset and stay at Edge until the sun sets. However, you may have to wait awhile at the top of Edge which might not be the best if you have a lot to see in the city.

Alternatively, visiting Edge at night or early in the morning is another good option because you will avoid most of the crowds.
Our Popular NYC Guides
Best Of New York City
---
We hope this guide helps you decide if Edge NYC at Hudson Yards is the best observation deck to include on your NYC travel itinerary!
Have you been to New York City? Which was your favorite observation deck?
Please let us know if you have any questions or need any help planning your visit.
Happy Travels,
Mark and Kristen
Enjoy This Edge NYC Guide? Pin It For Your Visit!