The 'Edge' at Hudson Yards is the latest addition to an ever expanding repertoire of super-tall NYC observation decks. But is Edge worth visiting and why should you choose sunset at the Edge over its three main NYC competitors: One World Observatory, Empire State Building and Top of the Rock?
We will discuss exactly what you can expect from a sunset visit to Edge, including location, elevator ride, views and overall experience. You can then decide if Edge at Hudson Yards is the NYC observation deck for you to summit and include on your list of best things to do in New York City.
Let's dive right in!
*Please note this post may contain affiliate links. If you click on one of them, we may earn a small commission at no extra cost to you!*
What is the Edge in NYC?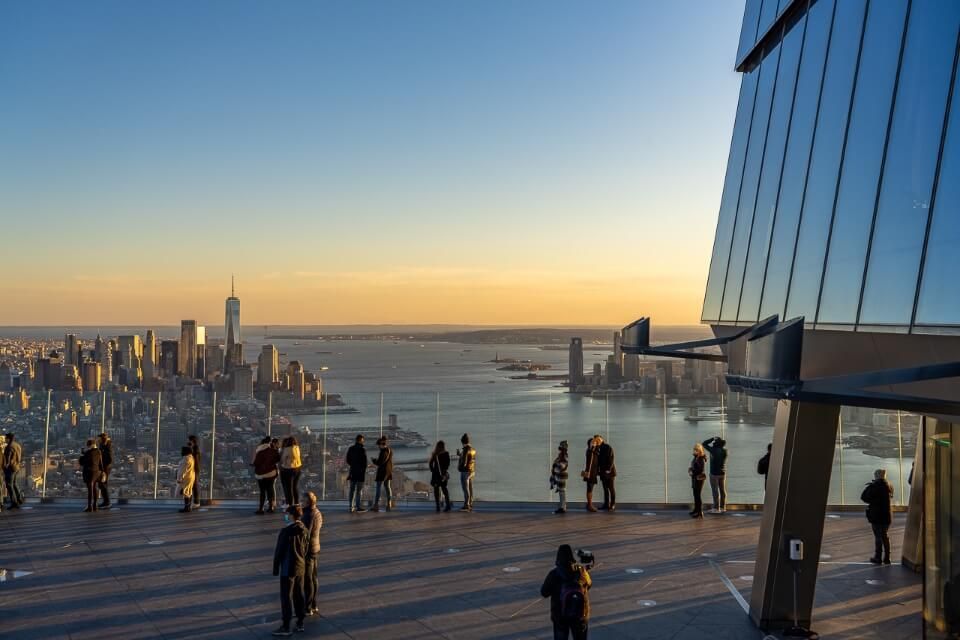 In a nutshell: Edge is the highest outdoor sky deck in the western hemisphere at 1,131 ft above ground.
But there's so much more to New York's newest sky deck.
From afar, your gaze simply can't help but be drawn toward an intriguing sharp-edged triangular platform sticking out 80 ft into the open air from the 100th floor of a glass skyscraper.
Standing on top of the unusually designed platform, Edge is an immaculate, modern and classy sky deck with sweeping views over the NYC skyline and a small glass bottomed section with views directly down to the streets Manhattan.
We would personally consider Edge to be one of the best NYC photography locations.
The sky deck accounts for the 100th floor, but the 102nd floor back inside the building continues the views to encompass a full 360 degrees. It also happens to contain a champagne bar!
Where is Edge NYC?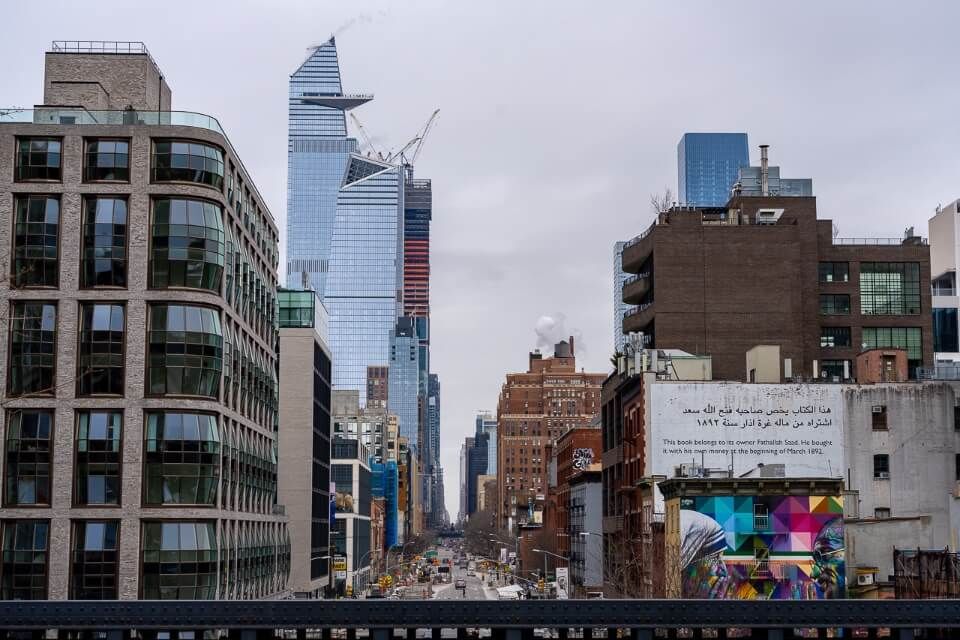 Dominating the western Manhattan skyline, Edge is located on the 100th floor of 30 Hudson Yards between W 30th and 33rd streets on 10th avenue.
The redevelopment project around Hudson Yards includes a pristine shopping mall and another unique (and unmissable!) structure – the Vessel.
Looking at a map of NYC – Find the Empire State Building, look west along 33rd street, pass by Penn Station until you reach almost as far as the Hudson River.
Edge is easily walkable if you decided to stay in a hotel near Times Square. Read our comprehensive guide about the best places to stay in New York City if you haven't booked a room yet.
But the best way to arrive at Hudson Yards is to walk The High Line (beginning on the corner of Gansevoort St and Washington St in the Meatpacking District), which ends at the Vessel and Hudson Yards.
Enter the shopping mall and climb to the 4th floor in order to reach the entrance to Edge sky deck.
Edge NYC Exhibits and Elevator Experience
Yes, we are going to talk about exhibits and elevator experience. This is a real thing!
Exhibits
Personally, we thought Edge nailed their exhibits area.
There are some truly interesting infographics, models and visuals explaining about green energy, how the building works, what happens with waste below ground and much more.
One of the stranger but nevertheless entertaining exhibits is a room filled with cylindrical tubes putting on a dazzling display of lights, colors and patterns.
Elevator
In just 60 seconds you will be transported from the 4th to the 100th floor of 30 Hudson Yards. This is nothing new and won't win an award for fastest elevator ride.
However, the elevator visuals are galaxies ahead of both Empire State and especially Top of the Rock.
As the elevator begins to climb, a video showing the Hudson Yards exterior also begins to climb. It feels as though you are floating up into the sky and as you approach the 100th floor the elevator speed changes slightly to give the effect that your floating has landed on solid ground.
Very impressive!
Views Over NYC from Edge Observation Deck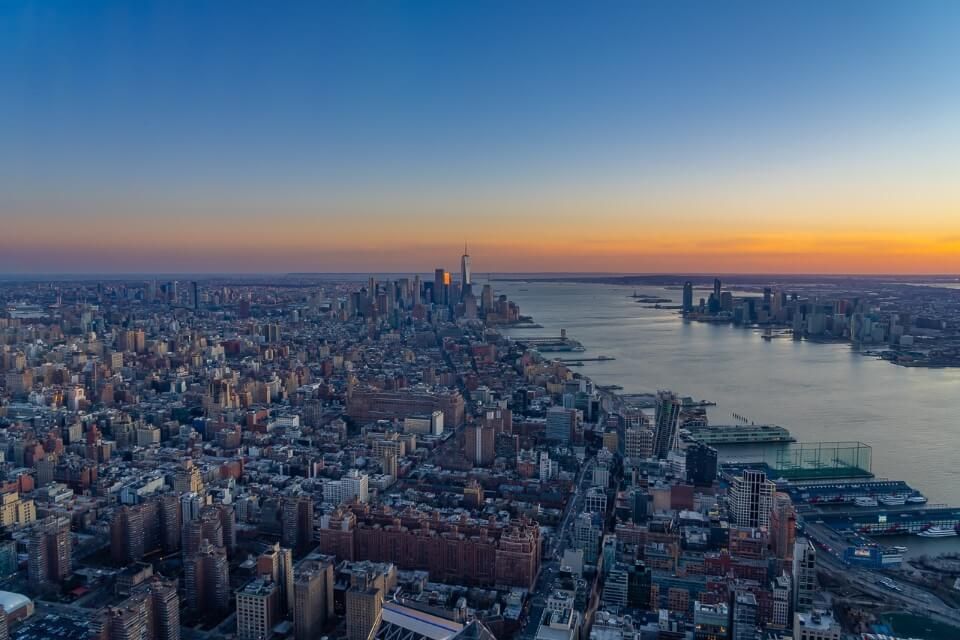 But an 'Edgy' design, nice visuals, immaculate finish and fun elevator ride are only worthwhile if the views can live up to expectations.
And they do.
The Edge sky deck and 102nd floor views provide 360 degree views from the banks of the Hudson River across all of Manhattan, the Statue of Liberty, New Jersey and even Central Park.
You will have a clear sight of the Empire State Building from the Edge sky deck but the view is not as clear (or as good) as the view from Top of the Rock.
However, views over the Lower Manhattan skyline are magnificent. One of the best aspects of the view from Edge is being able to look directly down the Hudson to One World Observatory and Downtown Manhattan during a stunning sunset.
You can gaze out at New York's iconic urban landscape through frameless and angled glass window panes, or for thrill seekers, stand on the unique glass bottomed panels looking 100 floors below to see tiny ant sized cars driving by underfoot.
In direct comparison, the sunset is entirely behind you and away from NYC from One World Observatory sky deck.
Something to consider with views from Edge is development plans over the next few years. You are going to see a lot of cranes obstructing parts of the view over New York.
Edge NYC at Sunset
Why choose to visit Edge NYC at sunset over other times of day?
Well, sunset is the quintessential and most sought after NYC observation deck time slot.
It is the best time of day for romance among couples, it is the best time of day for pro photographers to capture spectacular colors in the sky and it is the best time of day to enjoy views with a glass or 10 of champagne.
The sun's early evening journey will transport the blazing golden ball diagonally across Lower Manhattan, beyond Liberty Island and finally it will set somewhere behind New Jersey.
Expect big crowds at sunset and embrace the excitable atmosphere. If you want to get those popular selfies, be sure to arrive a little earlier to avoid the chaos!
Our top tip for sunset – Stay after the sun has set. Everyone will disperse in a matter of minutes and you'll be able to relax with the most beautiful colors in the sky yet to come.
Edge NYC City Climb (New For 2022)
Edge NYC has a brand new visitor experience and it is not for the feint of heart. If the triangular outdoor viewing platform suspended above the streets of Manhattan isn't enough of a thrill for you, take a look at City Climb.
For a rather hefty ticket fee of $ 185 per person, you can step outside of a New York City skyscraper by scaling the crown of 30 Hudson Yards and leaning out over the city.
But here what you will have included in your $ 185 ticket:
General admission to Edge platform below
Exhilarating climb up a 45 degree angled staircase on top of 30 Hudson Yards
The chance to quite literally lean out over the edge in a robust double clipped on harness
A video of your experience
A medal to remember leaning out over New York City
Is it worth the money?
Well, we will let you know after our next visit to New York!
In the meantime, here's more information about City Climb at Edge NYC.
Tips for Visiting Edge NYC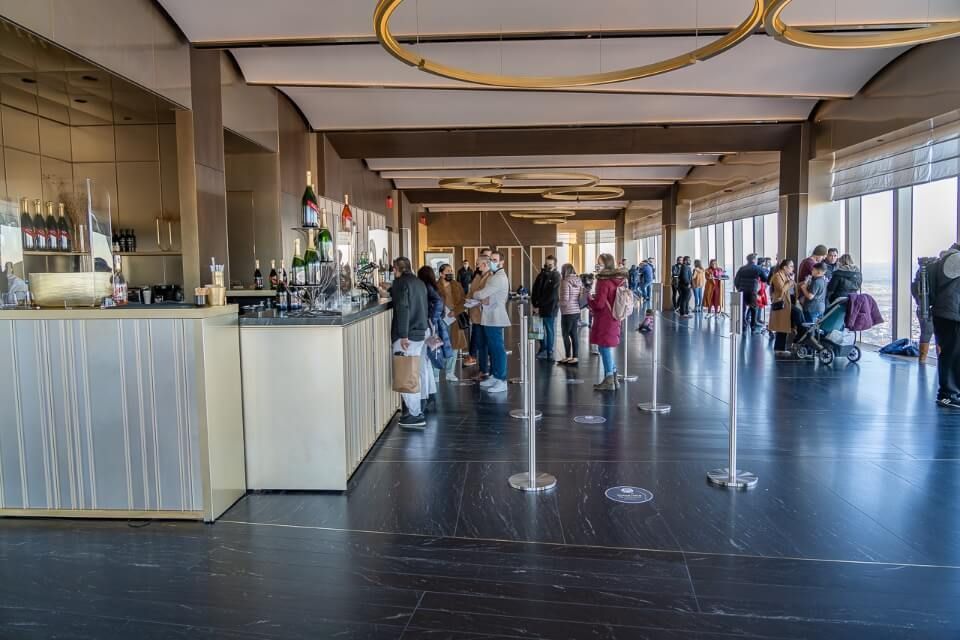 Here are some Edge sky deck features to be aware of:
Tall and boldly angled transparent glass panels encircle the sky deck, allowing visitors to actually lean out over the edge if they dare!

The open and exposed nature of Edge means it can blow a blustery wind on the sky deck. It also gets colder than you might think, especially if you visit New York City in Winter. Don't forget extra layers.

Popular photographs include the triangle corner and glass bottom. These two areas will be busy, so pick your time wisely.

There's one exact spot you can get a clean shot of the Empire State Building – it's around half way down the stairs where the glass panels align to give you a clear line of sight.

An amphitheater style seating area provides the perfect place to relax and watch as the burning orange sun sets behind Statue of Liberty and New Jersey.

However, you do have to buy food or drinks to gain access to this area, which leads us on to…

Our top general tip for the Edge NYC – You don't have to buy champagne to get out into the seating area. Just grab a hot chocolate and you can gain access to the best view in the building.
Overall Experience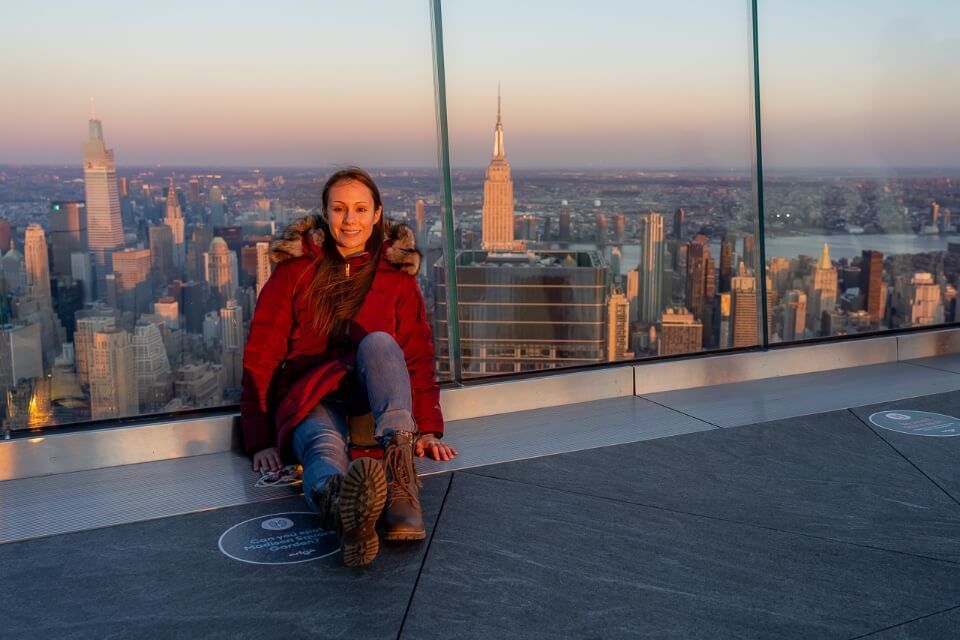 The Edge is sleek, elegant and offers a unique perspective over NYC. We thought the overall experience was fantastic and would certainly return.
Here's what we didn't like so much:
As enthusiastic photographers, our major complaint is that it's difficult to take New York City skyline photographs without glass panels limiting image quality.

Crowds will be a common source of frustration, particularly when trying to get that one photograph in the triangle corner.

We thought it was a bit naughty that you had to purchase food or drinks to be allowed out into the seating area (from where the best unobstructed views are).
But here's what we loved:
Views are spectacular and that's what you're going for.

The elevator ride was our favorite in New York City.

The futuristic design is awesome, we really liked how clean, finessed and polished the entire experience exuded.

Sunset over NYC is extraordinarily beautiful from the Edge sky deck.
Best NYC Observation Deck?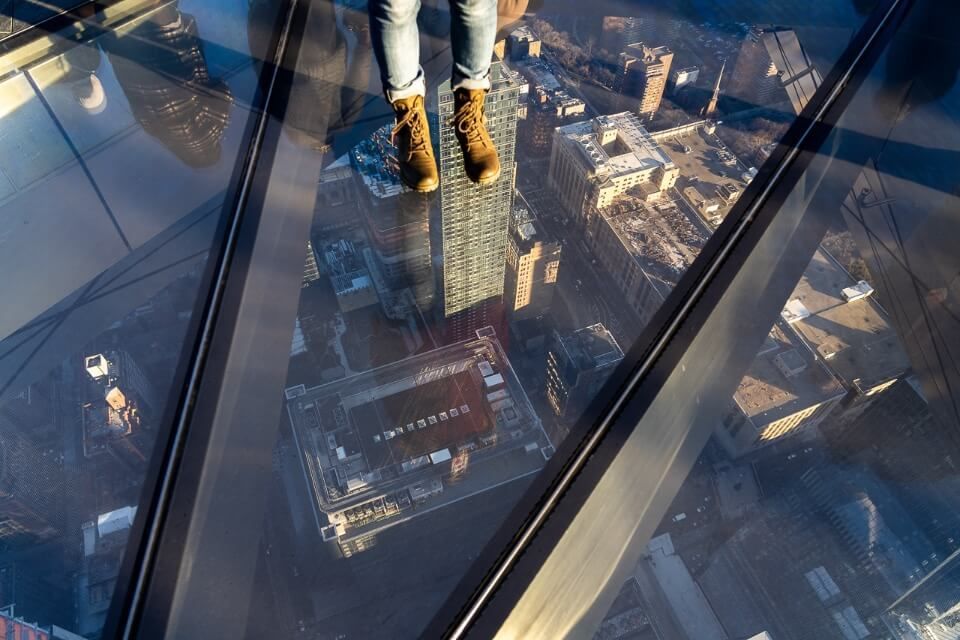 Is Edge the best observation deck to include on your NYC itinerary?
It depends on your preferences. Each of One World Observatory, Empire State and Top of the Rock offer something unique and each will blow you away in its own way.
One World Observatory is tallest and gives the entirely opposite perspective to the other three in Midtown / Uptown. Plus, you are closer to Brooklyn Bridge and Statue of Liberty. However, the sunset is less impactful.
Empire State Building is the iconic observation deck, filled with tradition and glamour. Views are 360 degrees of concrete buildings and the overall experience is great.
Top of the Rock is the least tall and least glamorous, but in our opinion offers the best views of all observation decks in NYC.
Why? Because you can see Central Park clearly, have perfect views of the Empire State Building and One World Observatory in the distance, plus an incredible view of the sun setting behind Edge at Hudson Yards in NYC.
Read our in depth comparison between Empire State Building vs Top of the Rock for more details about the two traditional observation decks in New York City.
Whichever observation deck you choose, sunset from above the skyline is the perfect time to roundoff a day in NYC.
How to Buy Tickets for Edge
General Admission Tickets
General admission ticket prices for access to Edge are in line with its competitors:
Adult (13-61) – $ 36

Child (6-12) – $ 31 (under age 6 go free)

Senior (62+) – $ 34
*Be aware that an additional $ 10 fee will be charged if visiting during sunset time slots.
This is to deter every single person in New York visiting at the best time of day and we think it's worth paying the extra 10 bucks.
There are options to pay more for champagne admission but unless it's a special occasion, we'd say go for general admission and buy a glass of champers if you feel like it!
You can buy tickets directly from the Edge website or alternatively consider buying a New York CityPASS C3 pass. A C3 pass allows you to see 3 of New York's top attractions for a set price and saving as much as 32%.
City Climb Tickets
Tickets to Edge City Climb are $ 185 per person.
There are no additional costs associated with times of day as per the general admission at sunset to Edge NYC.
Age 13+ only
Ages 13-17 must be accompanied by an adult of 18+
Height must be between 4.9 ft and 6.7 ft
Maximum weight is 310 lbs (140kg, 22 stone)
Read More About New York City
Need Help Planning Your Visit To New York City?
NYC is a vacation planning beast and it can be overwhelming trying to get every aspect right. Trust us, we know!
After living in New York City and exploring non-stop for 3 months, we created a comprehensive NYC travel guidebook & itineraries that will answer every question you have about where to stay, what to do, where to eat and how to get around the city.
Click see details below to read more about how we can help you plan your dream trip to New York City!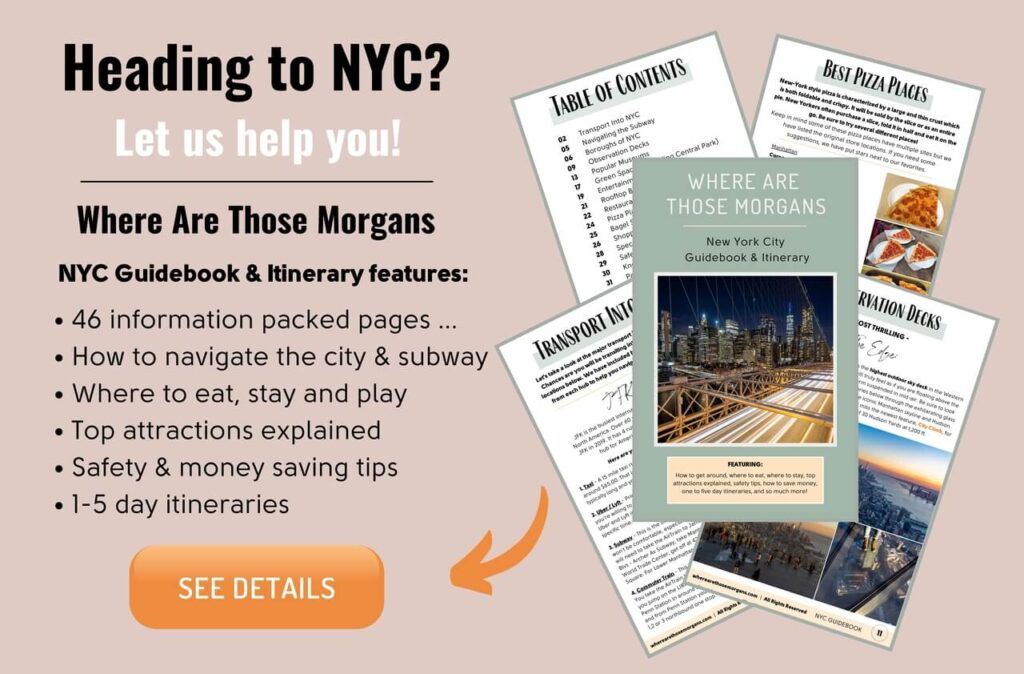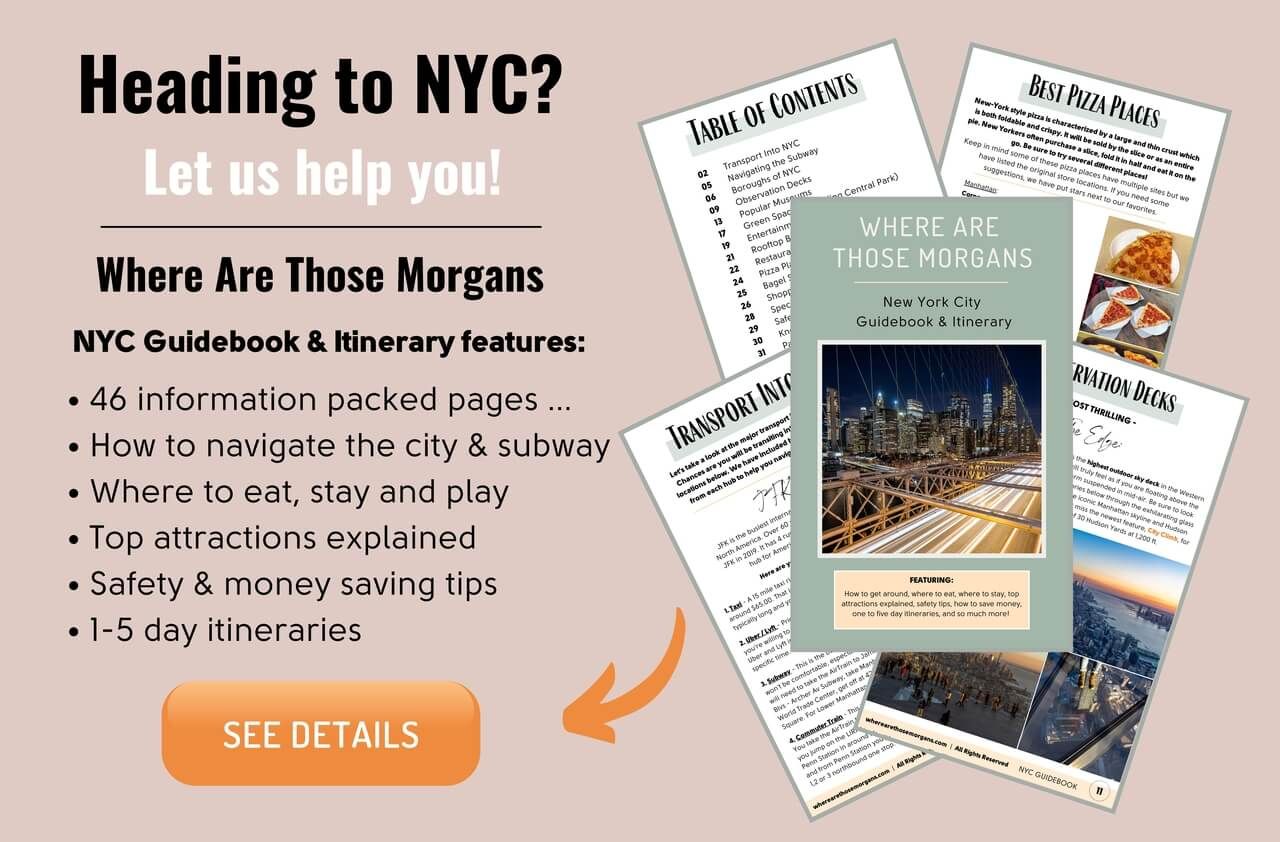 We hope this guide helps you decide if the Edge NYC should be included on your NYC travel itinerary!
Have you been to New York City? Which was your favorite observation deck?
Please let us know if you have any questions or need any help planning your visit.
Happy Travels,
Mark and Kristen
Was This Post Helpful? Pin It For Your Visit!