Afternoon tea at the Whitby Hotel in NYC is both a classy catch-up date for locals and the perfect calming oasis in a sea of New York City chaos for tourists.
The Whitby provides patrons with impeccable service, a laid back vibe and an excellent spread. Three out of three big ticks in boxes. We'd go as far as saying afternoon tea at the Whitby Hotel could be considered a 'hidden gem' for first time visitors to include on a New York City itinerary.
But what makes us experts and why should you listen to our opinion on afternoon tea in NYC?
Well, one of us (Mark) is British and drinks at least 5 cups of tea every day. The other (Kristen) has had to put up with tea traveling around the world with us in backpacks for years. Afternoon tea is something we've done a dozen times in the UK but this was our first experience in the US.
We're going to give you a brief history of afternoon tea, look at each course individually and give you our honest opinion about the afternoon tea experience at the Whitby Hotel in NYC.
Let's get 'tea' it!
*Please note this post may contain affiliate links. If you click on one, we may earn a small commission at no extra cost to you!*
The Whitby Hotel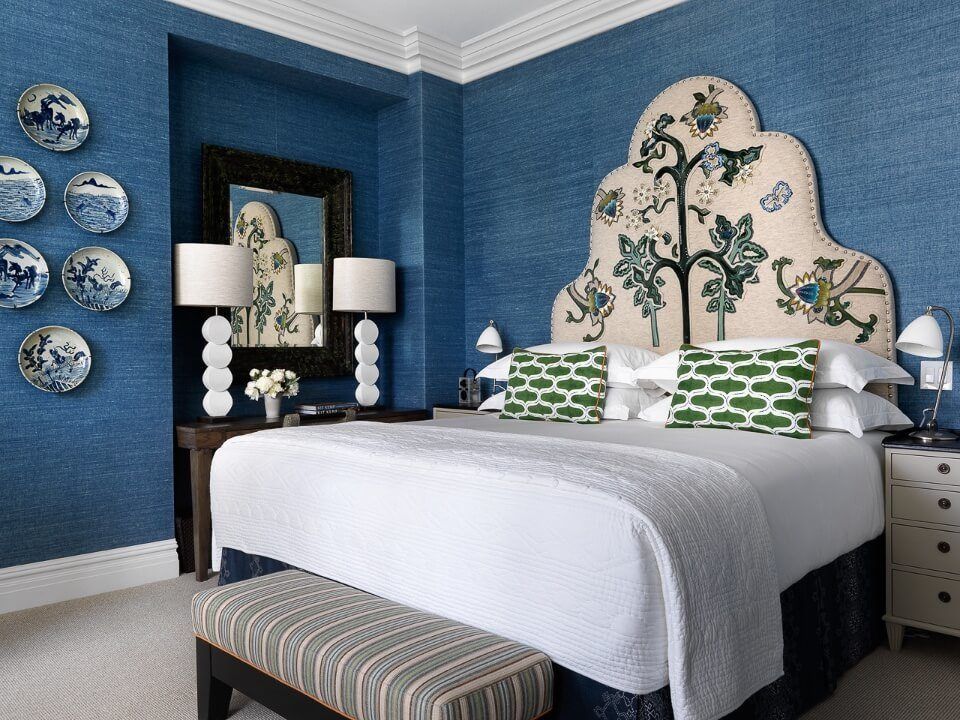 The Whitby Hotel – along with 8 boutique hotels in London and 1 other hotel in New York City (The Crosby Street Hotel) – is owned by Tim and Kit Kemp as part of a collection called The Firmdale Hotels.
Each of the 10 hotels are remarkably designed in a unique English townhouse style. Similar to their London counterparts, both the Whitby Hotel and the Crosby Hotel offer afternoon tea in NYC.
The Whitby Hotel is located on 56th street, just a few steps from 5th Avenue. Central Park is a short three block walk northeast from the hotel and Top of the Rock is 6 blocks southwest.
This Midtown Manhattan location is perfect for enjoying a spot of afternoon tea in NYC after a long morning of shopping in world-class department stores.
After the success of the Crosby Street Hotel in downtown SoHo, Tim and Kit Kemp opened the Whitby Hotel as a celebration of contemporary art and design. The 86 rooms at the Whitby Hotel have been uniquely designed by Kit Kemp with immaculate attention to detail.
Pops of bold, cheerful and friendly colors greet you as if to say hello and welcome to the Whitby as you walk into the lobby.
To the left of the lobby, you will find the bar at The Whitby Hotel. Your eye is immediately drawn to the collection of 52 baskets made by New Craftsman from England, Ireland, Scotland and Wales hanging over the bar.
Afternoon tea can be enjoyed here or in an adjoining room known as The Orangery.
Resources
Both The Whitby and Crosby Street Hotels are the joint top rated hotels in New York City on Booking.com with a 9.5 out of 10.
What is Afternoon Tea?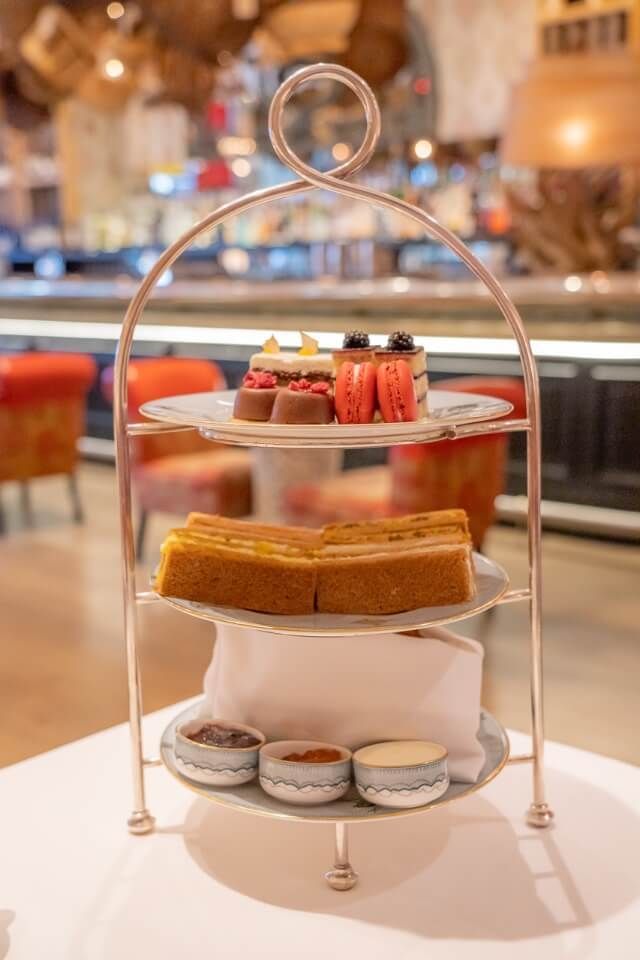 OK, so what exactly is afternoon tea?
Introduced in the 1840's in Great Britain, afternoon tea was a small meal in the afternoon which helped to curb hunger pangs until the 8PM dinner ritual. This small snack quickly developed into bite sized tea sandwiches and scones with clotted cream served with tea.
Today, afternoon tea has evolved into an incredibly filling 3 course spread consisting of savory finger sandwiches, tasty scones and sweet treats to be enjoyed on any occasion.
Afternoon tea at the Whitby Hotel NYC is a wonderful way to enjoy a slice of traditional British fare with friends in the heart of Midtown Manhattan.
Is High Tea the Same as Afternoon Tea?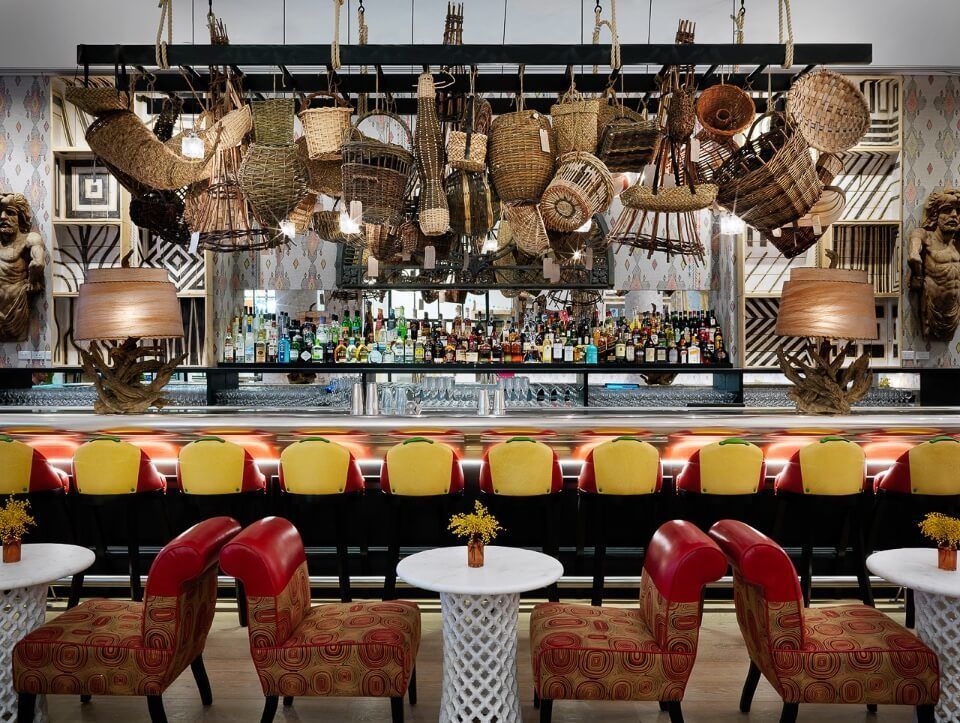 Absolutely not, these are different types of meals served at different times of the day.
Afternoon tea is commonly served between 3PM and 5PM as a small meal with light snacks to tide you over until dinner. High tea is a large hearty meal served between 5PM and 7PM typically as a working class family meal at the end of the day.
An easy way to remember the difference between afternoon tea and high tea is to think about where it is served. Afternoon tea is also known as "low tea" because it is often served on low tables in comfortable spaces while "high tea" is enjoyed on a dining room table or a high counter.
The Menu for Afternoon Tea in NYC
Afternoon tea is a bit of luxury spend but it's a lovely treat. At the time of writing, afternoon tea at the Whitby Hotel costs $60 per person when served with specialty teas.
You do have an option to substitute tea with coffee or hot chocolate if preferred. Kristen substituted tea for hot chocolate and broke Mark's soul!
Specialty teas include English breakfast blend, jade spring, white peony bai mudan, wood dragon, classic chai, lemon verbena, rooibos, chamomile and peppermint.
Another option is to do afternoon tea the best way by upgrading to a glass of champagne, which costs $75 per person.
The correct etiquette for eating afternoon tea is to go from savory to sweet. However, as Kristen found out, leaving the delicious looking desserts until last was a challenge.
In true British fashion, you should start with the sandwiches, move on to the scones and finish with the sweets. And yes, you can use your fingers to eat all 3 courses!
The Savory – Course One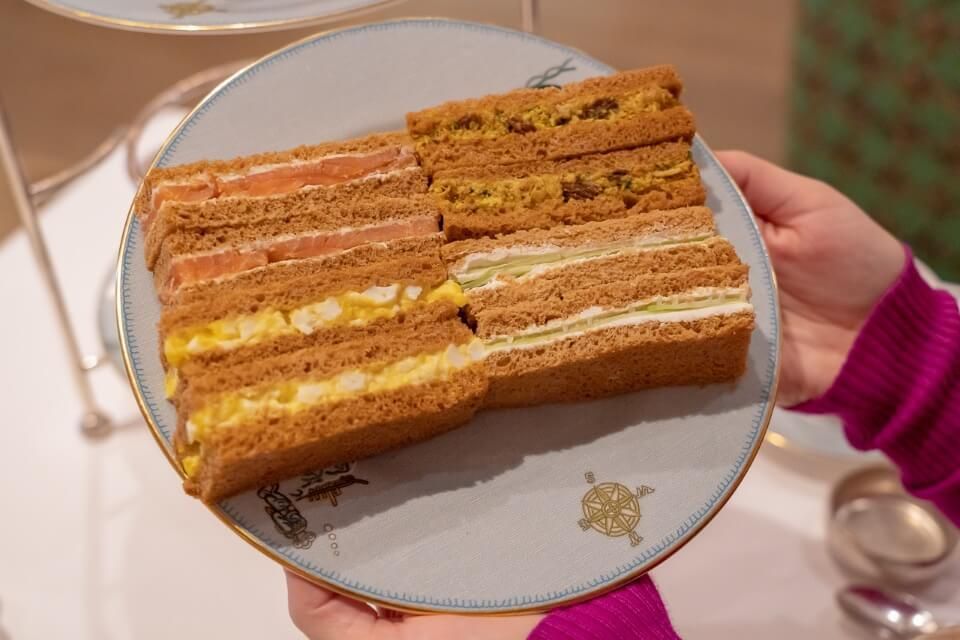 The Whitby Hotel regularly updates their menu but typically there will be four finger sandwiches per person, which can be eaten in 2 to 3 bites.
Our sandwiches included:
Classic Egg Salad

Cucumber and Cream Cheese

Smoked Salmon and Lemon Crème Fraîche

Coronation Chicken Salad
The Scones – Course Two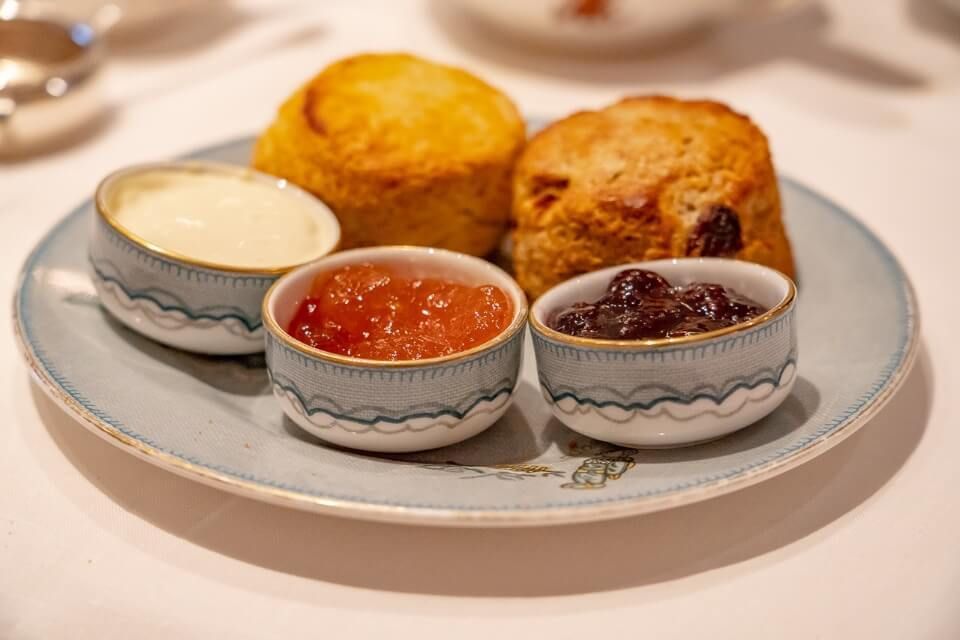 A scone is a delicious slightly sweetened baked good which has a short-cake like texture making them crumbly and dense. They can be plain or flavored and traditional English scones are round.
Here's what we ate for the scones (and Mark's favorite) course:
Plain scone

Apple cinnamon scone

Generous serving of clotted cream

Apricot preserve

Raspberry preserve
The Sweets – Course Three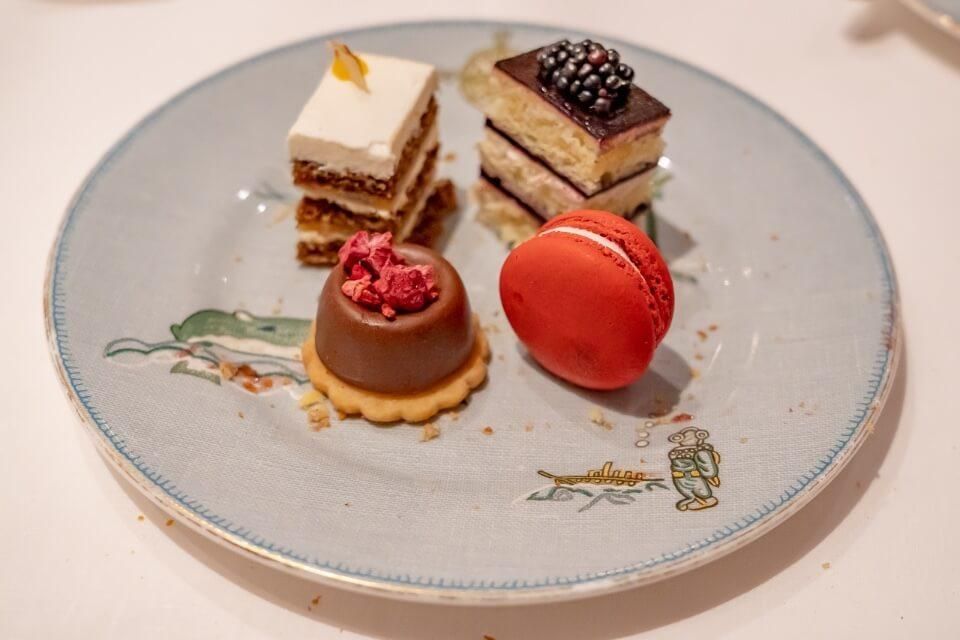 Now we are getting to the best part for Kristen! Our sweet course included:
Pear and Ginger Layer Cake

Red Velvet Macaron

Wild Berry Opera Cake

Chocolate and Raspberry Chiboust Tart
We found all of these treats to be light and delicious, making them the perfect finale for our afternoon tea treat in NYC.
Ambiance & Presentation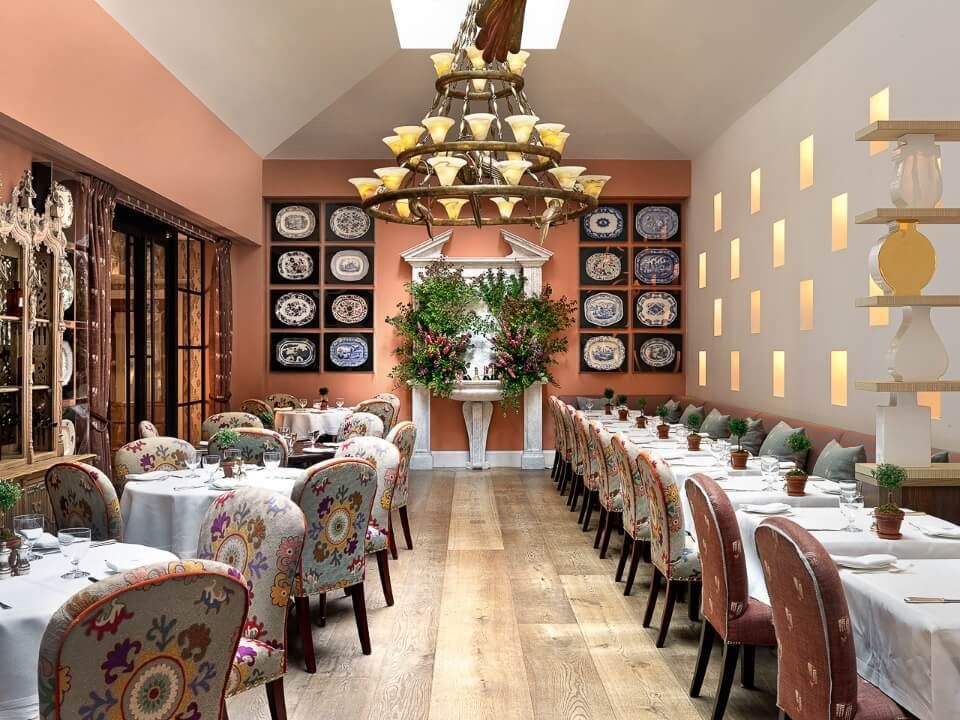 Kit Kemp's beautiful Wedgewood China featuring a Sailor's farewell is currently used for afternoon tea at the Whitby hotel.
From a red sailboat and whales to a lighthouse and a Sailor's loved one waiving good-bye, the tranquil ocean theme perfectly compliments the relaxing feel of afternoon tea.
You can enjoy your afternoon tea either in the Whitby Bar or the much quieter and more secluded Orangery. Both are great options but we personally preferred the upbeat cosmopolitan vibe mashed with traditional relaxed feel in the bar.
We have to comment on the surprising but excellent music selection played in the bar which gave our tea time an almost Ibiza pool side mood. The temptation to upgrade from tea to champagne was overwhelming!
The Orangery offers a stark contrast to the bar, thus serving the needs of many types of personalities. An orangery defined is a place where orange trees can grow in a protected environment away from the cold. This room delivers the same sheltered vibe.
A Martha Freud designed Orangery wall showcases 40 illuminated porcelain pots beautifully etched with a unique NYC building or landmark.
The colors in this room are more subtle, which creates a peaceful environment for an even more relaxing afternoon tea. Just try not to fall asleep!
Our Final Thoughts on Afternoon Tea in NYC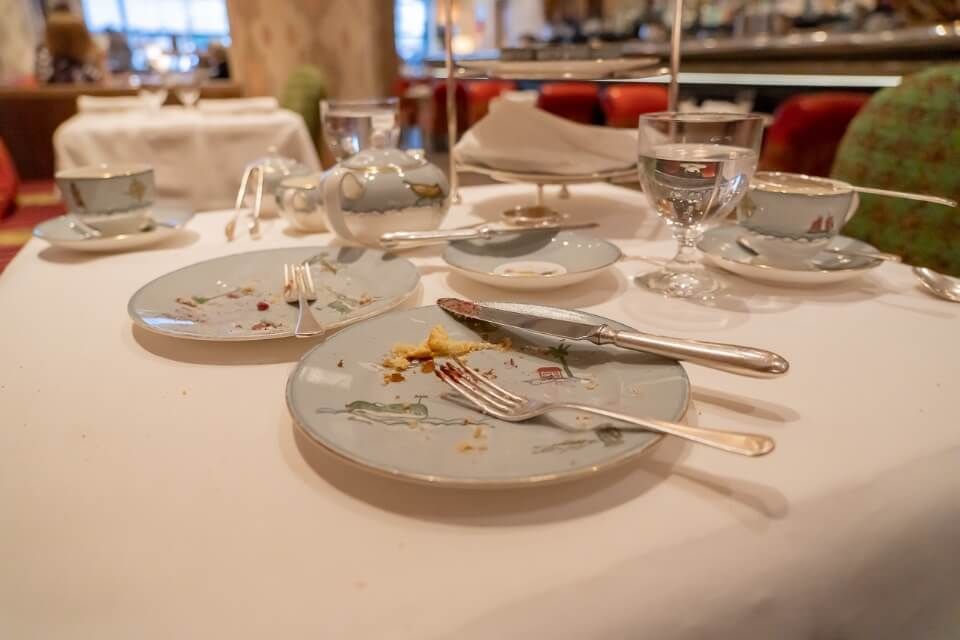 Our afternoon tea experience at the Whitby Hotel in NYC was fantastic. We thoroughly enjoyed the escapism and retreat from the hustle and bustle of Manhattan.
To us, good service is when staff are attentive but not over bearing and this is precisely what we received at the Whitby Hotel. We could enjoy our meal at a leisurely pace without feeling rushed but also had exactly what we needed at the right moments, which for Mark was tea on tap!
We also enjoyed the variety of tastes and textures, curious as to how each item would compliment one another.
If you're looking for a spot afternoon tea in NYC, we highly recommend you stop in at The Whitby Hotel.
Read More About New York City
Need Help Planning Your Visit To New York City?
NYC is a vacation planning beast and it can be overwhelming trying to get every aspect right. Trust us, we know!
After living in New York City and exploring non-stop for 3 months, we created a comprehensive NYC travel guidebook & itineraries that will answer every question you have about where to stay, what to do, where to eat and how to get around the city.
Click see details below to read more about how we can help you plan your dream trip to New York City!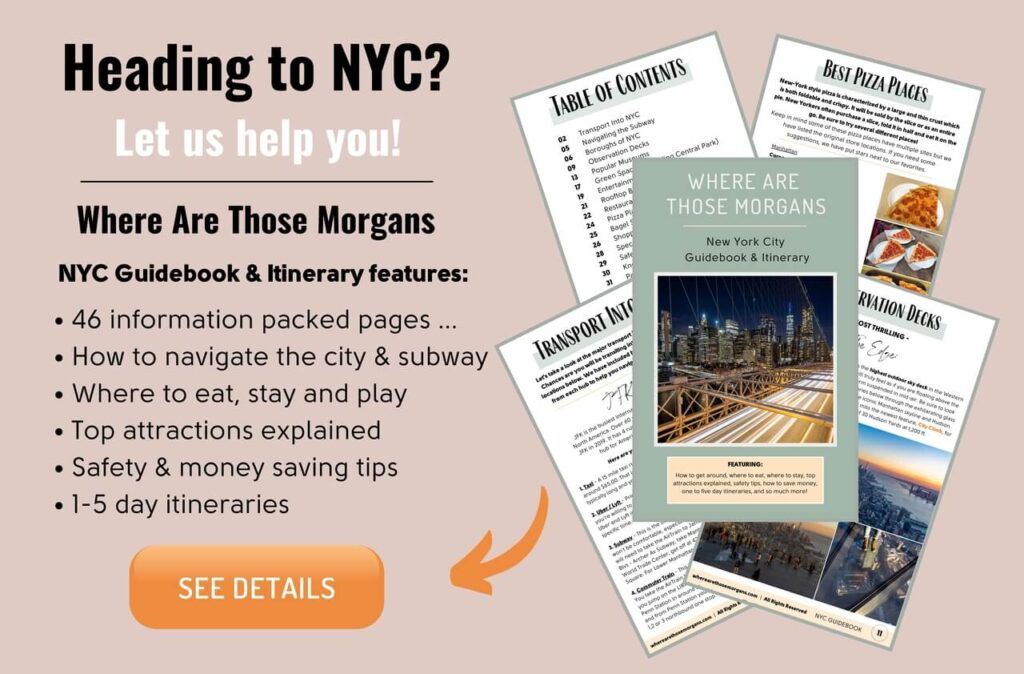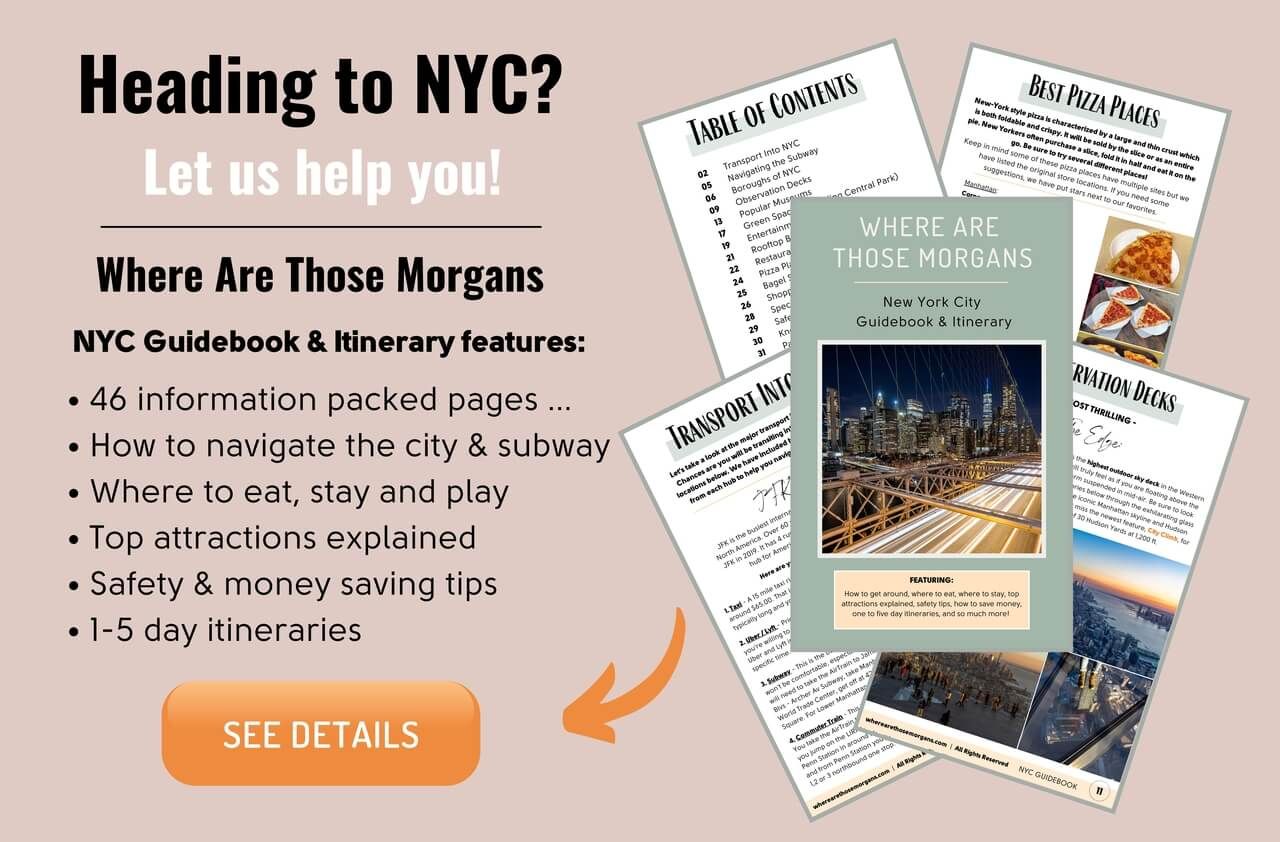 We hope this guide to

afternoon tea in NYC helps you decide if the Whitby Hotel is for you!
Have you ever tried afternoon tea? Where is your favorite afternoon tea spot?
Please let us know if you have any questions or need any help planning your visit.
Happy Snacking,
Mark and Kristen
Was This Post Helpful? Pin It For Your Visit!