New York City is globally renowned for its classic on-the-go pizza slice. But if you're visiting the city for a just a few days, how will you know where to grab a slice of the best tasting pizza in NYC in Manhattan or Brooklyn?
Or maybe you are a local looking to switch up your routine and sample some new and delicious New York pizza slices? Whatever the case, we promise you will be dreaming about these NYC pizzas long after your visit.
We have broken down this New York pizza guide into several categories to make it easy for you to find the best NY pizza location nearest you.
In our popular NYC pizza guide, we will show you the 25 best pizza joints in New York City including:
History of New York style pizza
What kind of pizza is popular in NYC
Best pizza in Manhattan as well as Brooklyn
Where to find NY pizza in the Bronx, Queens and Staten Island
Interactive map featuring the best NYC pizza
Best New York Pizza tours
Why pizza ovens in NYC are special
Honorable mentions
Okay, let's devour the best pizza in NYC!
Best Pizza in New York City Summary
Corner Slice
FUMO
Joe's Pizza
John's of Bleecker Street
Kesté Pizza & Vino
Koronet Pizza
Lombardi's
NY Pizza Suprema
Patsy's
Prince St. Pizza
Ribalta
Rubirosa Pizza & Ristorante
Scarr's
Song' E Napule
Una Pizza Napoletana
Underground Pizza
Best Pizza
Grimaldi's
Juliana's
L&B Spumoni Gardens
L'Industrie Pizzeria
Pizza Loves Emily
Louie & Ernie's Pizza
Milkflower
Joe & Pat's Pizzeria
Honorable Mentions For Best Pizza In NYC
We could have easily made this best pizza in NYC list go on forever. It was a very difficult task putting together this small list of the best pizza places in New York.
Here are a few additional NY pizzerias if you are continuing the quest to find the best pizza in New York City:
Di Fara's Pizza
Luigi's Pizza
Mama's TOO!
Nolita Pizza
Paulie Gee's
Roberta's
Sottocasa
Totonno Pizzeria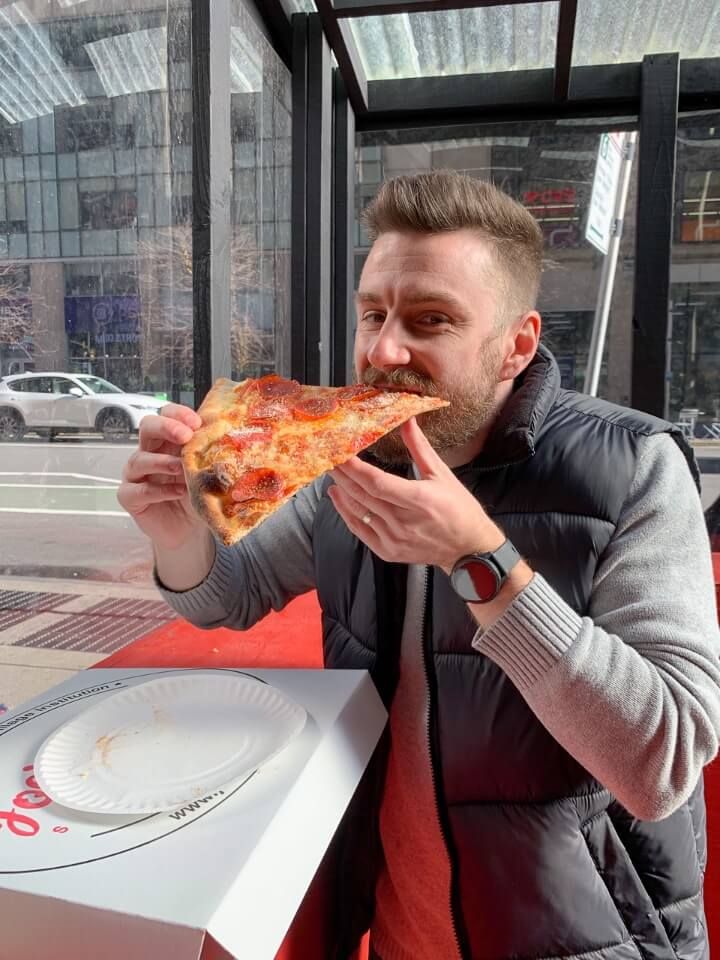 Our New York City Pizza Experience
Kristen is a New York State native and we have also lived in NYC, so you can consider us experts when it comes to the Empire State.
We have eaten our way through numerous delectable slices in each New York borough because there is nothing better than the taste test!
The topic of best pizza in NYC or best bagels in NYC is sure to spark a fiery debate amongst both tourists and local New Yorkers because the pizza competition is fierce in the Big Apple.
It was incredibly difficult to create a guide featuring the 25 top pizza places in New York City, but this list was based on popularity, reviews and top Google ratings in addition to our personal experience.
Heading to NYC? Use our popular New York City Guidebook to help you prepare for your trip.
What Is Special About New York Style Pizza?
New York City is one of the best places to visit in the USA and eating New York street pizza is high on almost every bucket list. But what makes a New York slice so special?
Pizza in New York is defined by its characteristically large, thin and hand-tossed base. This thin base makes the crust both crispy and thick on the outside edges, but thin enough to fold while eating.
Each NYC pizza is often topped with tomato sauce and mozzarella cheese. Any additional toppings are then placed on top of the mozzarella cheese. A plain, regular or cheese pizza has no additional toppings.
In New York, pizza is often sold by the slice or as an entire pie. An 18 inch pizza will usually make 8 large slices. Sometimes slices are so big, two paper plates are needed to fit just one slice.
This style of pizza is unique because New Yorkers are always on the go and these large NY slices are often eaten folded in half without a knife and fork.
Having traveled the world, we can back up the claim that New York City pizza is unlike any other. Well, maybe except the delicious pizza in Naples, Italy, but this is where NYC pizza got its start after all.
But before we show you where to find the best slice of New York pizza, we are going to show you the history of the pizza in NY as well as the types of pizza you can find in the city.
History Of The New York Style Pizza: The Neapolitan-American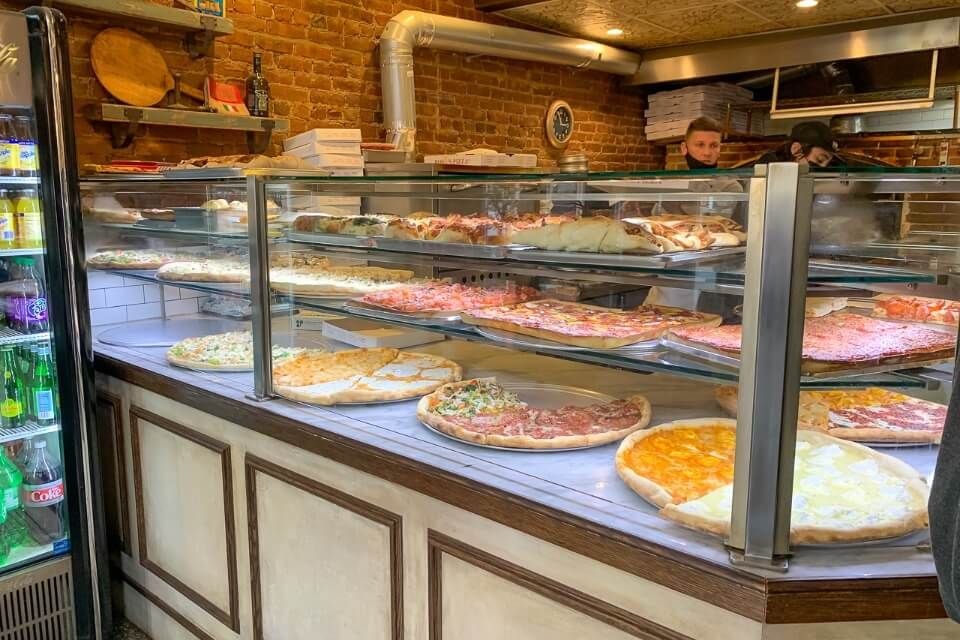 The very first pizza was served in Naples, Italy during the late 1880s.
According to legend, when King Umberto I and Queen Margherita of Savoy visited Naples, they were served a pizza with colors that proudly displayed the same as the Italian flag.
Their pizza consisted of tomatoes (red), white (mozzarella), and green (basil leaves). This is what we now know as the classic Neapolitan style pizza, specifically the Margherita.
Who Started Pizza First In NYC?
It wasn't until Italian immigrants from Naples came to the United States that pizza started gaining popularity in New York.
Most immigrants came to start a new life and look for other work, but they never expected their pizza to make a popular statement in NYC.
Honored by the Pizza Hall of Fame, the first documented and licensed pizzeria in New York City began with Gennaro Lombardi in 1905. He began selling his pizza out of his grocery store on Spring Street in Manhattan.
Lombardi slightly adapted his families Naples recipe using local ingredients and cooking methods, which resulted in the Neapolitan-American with tomato and mozzarella cooked in a coal burning oven.
In Naples, pizza was traditionally cooked with wood and intended for only one person. But these New York style pizzas were much larger and cooked using coal.
The coal could be burned efficiently at higher temperatures making the process cheaper. Lombardi's pizza became so popular he stopped selling groceries and focused entirely on selling pizza.
These new large New York style pizzas allowed Lombardi to sell pizza by the slice which has now become synonymous with NYC. It cost roughly a nickel per slice during this time.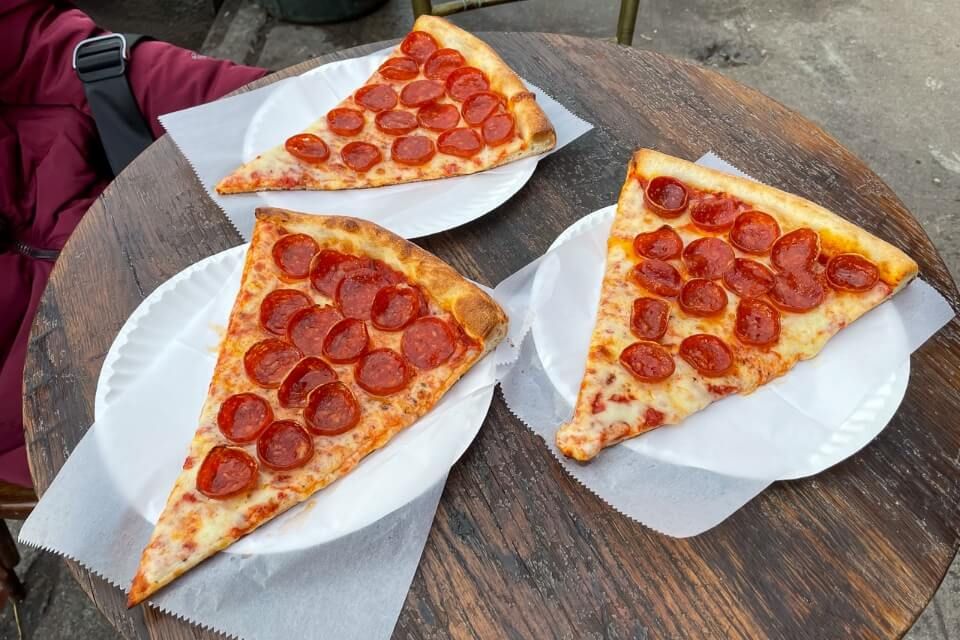 Pizza Becomes Popular In NYC
Several of Lombardi's employees broke out on their own as the pizza craze in New York City gained momentum and popularity in the following decades.
These new pizzerias only helped to spread New Yorkers love of pizza all throughout the city. Antonio Totonno Pero, an employee of Lombardi's, left the shop in 1924 to open Totonno's in Coney Island.
In 1929, John Sasso, another former Lombardi's employee, opened John's Pizza on Bleecker Street. In 1933, Patsy's opened in Harlem and he was rumored to be a former employee of Lombardi's as well.
If you are visiting NYC and want to try a slice of history, Lombardi's, Totonno's, John's and Patsy's are still going strong today. Later in our best New York pizza guide, we will cover these original locations in detail.
Pizza In New York City Post WWII
Post World War II, pizza continued to boom in New York City as slices became a fast, fun food. GI's returning from the war were excited to enjoy pizza they had previously experienced in Italy.
Pizzerias began springing up all over New York to keep up with the demand.
But concerns over air pollution, led New York City to ban coal-fired pizza ovens. So nowadays, pizzas in New York are baked in gas-fired ovens which are cheaper and more environmentally friendly.
What Kind Of Pizza Is Popular In New York?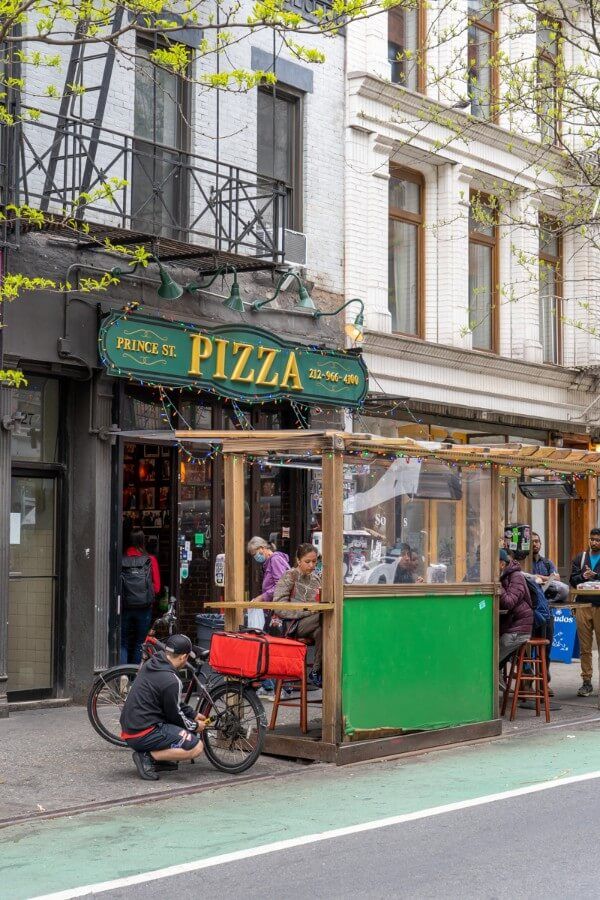 Now that you understand the history of the famous New York pizza slice, it is important to know there a few different kinds of pizza in New York and you should try one of each during your trip.
You can't compare a classic NYC slice to a Neapolitan pie and call one of them the best pizza in New York.
There are three popular kinds of pizza in New York City:
Classic NYC slice
Sicilian square
Neapolitan pie
All three kinds of pizza area very different and finding the best pizza in NYC is a multi-layered process with numerous winners.
We have featured all three types of pizza in our guide so you know exactly where to find each one.
Classic NY Thin Pizza Slice: The New York Tradition
The classic NYC slice is iconic because it is instantly recognizable by its thin crust and large size. A New York slice is often served on a paper plate and eaten on the go.
These slices are not loaded with tons of toppings, but instead filled with well balanced flavor and a perfectly charred crust. Yum!
You will notice many pizza places in New York City do not have anywhere to sit because customers grab a slice and continue walking down the street.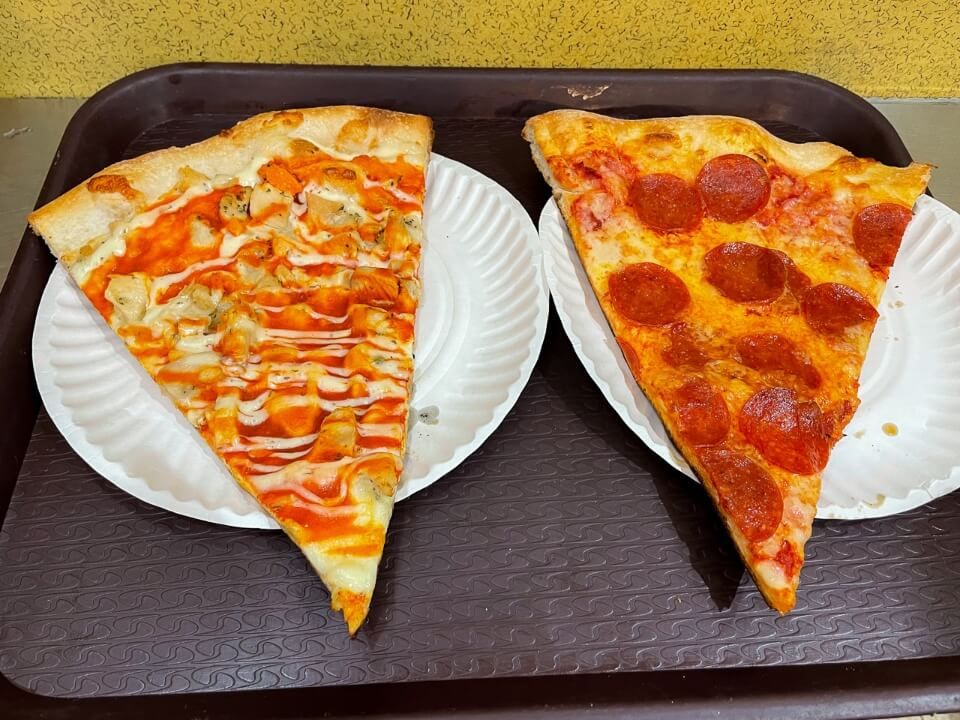 Sicilian Slice: The Square Tradition
A Sicilian slice is square shaped because this type of pizza is cooked in a square pan.
As a result, the crust is thicker compared to the classic thin NY slice, but the key difference is in the dough because it is given extra time to rise.
The Sicilian style slice resembles a focaccia bread making this pizza look both fluffy and spongy. Also unlike a classic NYC slice, Sicilian pizza is served with a very generous portion of sauce and toppings.
Pizza Tip: In order to give a Sicilian slice it's fluffy appearance, the dough is left to rise after being stretched in the pan. A Grandma slice is also square, but the dough is placed directly in the oven with no rise time yielding a flatter slice of square pizza.
Neapolitan Pie: The Italian Tradition
The traditional Neapolitan pizza crust is always light and airy. These pizzas are served as entire pies only with no individual slices available. Neapolitan dough is freshly made daily and hand rolled to perfection.
But it's the attention to detail and the imported ingredients that make Neapolitan pizzas delicious. This style of pie of often made with San Marzano tomatoes and Buffalo mozzarella imported from Italy.
What Are The Basic Ingredients In A New York Style Pizza?
Tomatoes and mozzarella cheese are an integral part to the New York style pizza. These two ingredients are often imported directly from Italy to create the classic NYC slices we know today.
The tomato sauce in a New York pizza includes garlic, canned tomatoes, olive oil, basil, oregano, crushed red pepper and a small amount of sugar. The sugar helps to bring out the taste in the tomatoes.
Whole milk mozzarella is a popular choice in New York style pizza because this type of cheese melts well and has a strong flavor.
On a classic NYC pizza slice, the mozarella is typically dry and grated which yields low moisture. But on a traditional Neapolitan pie, fresh slices of mozzarella are always used.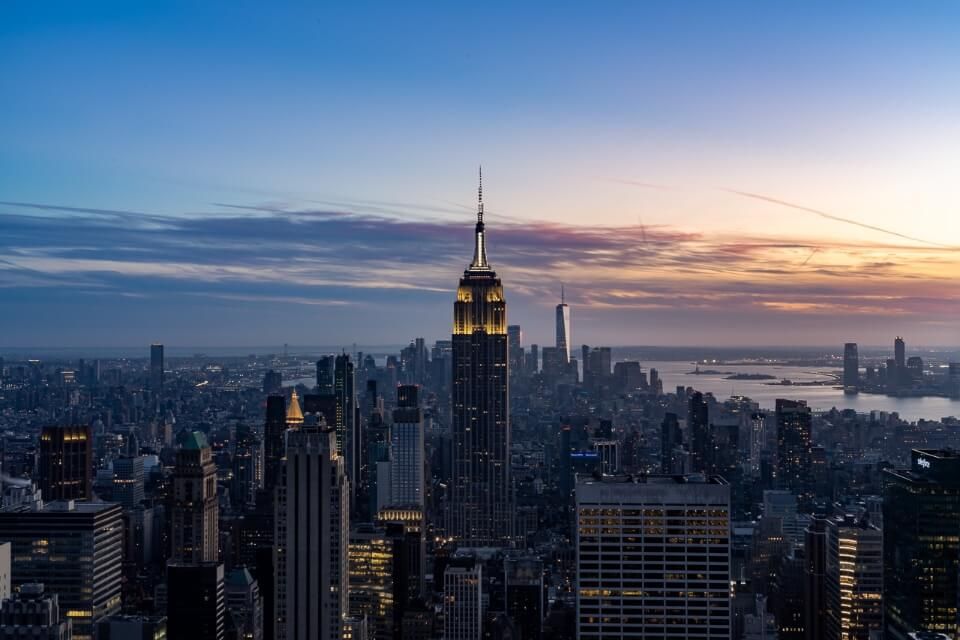 Best Pizza In Manhattan
Delicious mouthwatering pizza can be found all over New York City, but Manhattan is the only borough that can claim its the birthplace of the American-Neapolitan pizza.
This is what we know today as the classic NYC slice.
We figured Manhattan would likely be your first destination when visiting the city. So if you have just arrived and you want to fill your New York City itinerary with tasty food, this is where you can find the best pizza in Manhattan.
Keep in mind many of the popular pizza locations in New York have multiple locations while some famous pizza joints have been serving customers in their original location for decades.
Without further ado, here are the best pizza places in Manhattan:
1. Corner Slice (Hell's Kitchen)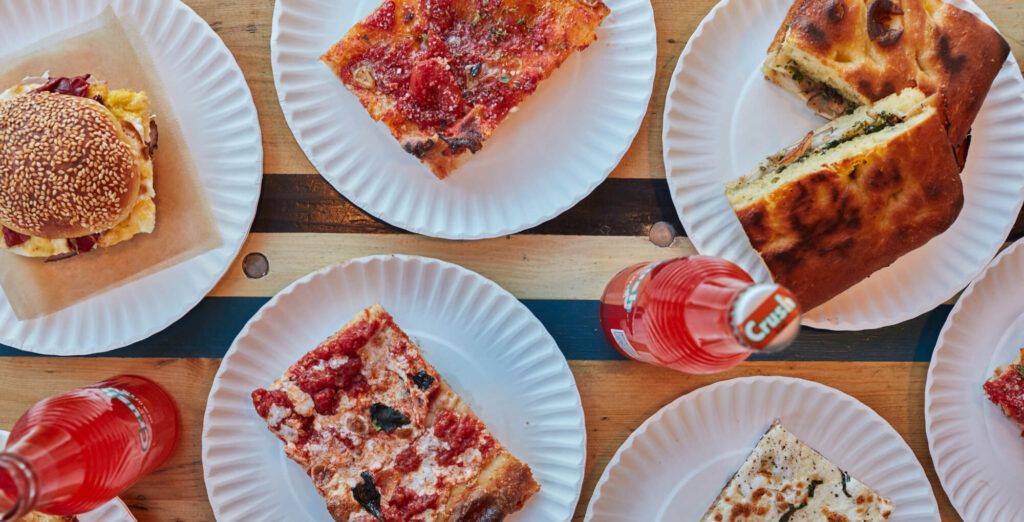 Corner Slice is a popular neighborhood bakery in Gotham Market West offering something on the menu for everyone. Their speciality is a square slice with all the toppings you could ever hope for.
At Corner Slice, a longer fermentation process creates a light and airy but also crunchy and crispy crust. With all baking completed on site, Corner Slice offers pastries, coffee and Italian sandwiches.
Website: cornerslicenyc.com
Type of pizza: Sicilian Squares
Address: 600 11th Avenue at W 45th Street
Corner Slice Google Maps location
Google Rating: 4.4 / 5.0
---
2. FUMO (2 Locations)
Offering a wide selection of upmarket pies, FUMO is a great place to take a bunch of friends or bring a date. The atmosphere sets the stage with a bright modern feel serving pizza, pasta and cocktails.
FUMO is great for all dietary needs including vegetarian, vegan and gluten free options. If you are on a budget, visit during happy hour on Monday to Friday from 4:00 -7:00 pm for $6 snacks and wine.
Website: fumorestaurant.com
Type of pizza: Neapolitan (entire pies only, no slices)
2 Locations:
1600 Amsterdam Ave – Harlem (original location)
2791 Broadway – Upper West Side
FUMO Harlem Google Maps location.
Google Rating: 4.5 / 5.0
---
3. Joe's Pizza (5 Locations)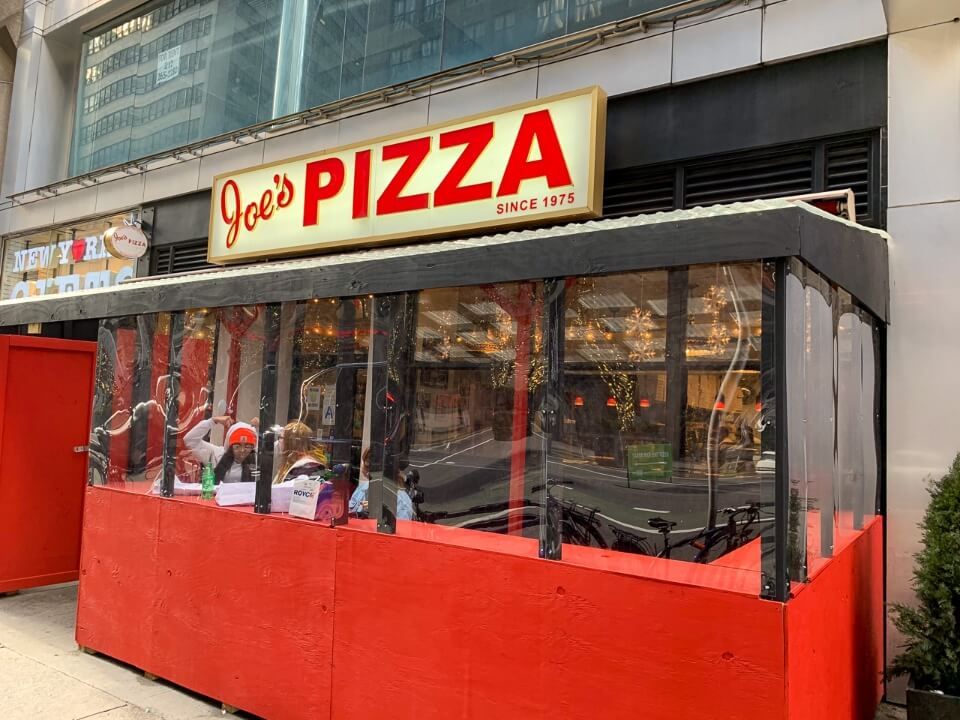 Created by Pino Pozzuoli who immigrated from Naples Italy, Joe's has been around since 1975. We love Joe's because this is one of the most traditional slices in town.
It's not a fancy slice and few toppings are offered but its always hot and ready.
Still using the same recipe from 1975, Joe's has withstood the test of time and increased competition. Open until 4am across multiple locations, Joe's is often the perfect spot for a late night snack.
Website: joespizzanyc.com
Type of pizza: Classic NYC Slice
5 Locations:
7 Carmine St – Greenwich Village (original location)
150 East 14th St – Union Square
1435 Broadway – Times Square
124 Fulton St – Lower Manhattan
216 Bedford Avenue – Williamsburg (Brooklyn)
Joe's Greenwich Village Google Maps location.
Google Rating: 4.5 / 5.0
Pizza Tip: Joe's Pizza accepts cash only.
---
4. John's of Bleecker Street (West Village)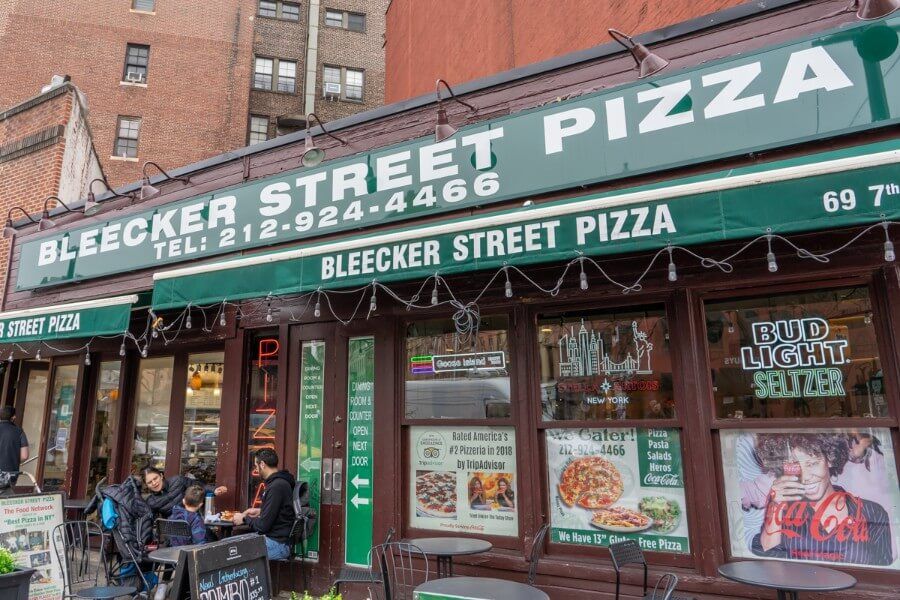 Founded in 1929 by Italian immigrant John Sasso, a former employee of Lombardi's, this iconic pizza spot is still family owned and operates with an interesting back story.
When John lost his original lease on Sullivan St, he dismantled his original coal-fired oven and moved it to 278 Bleecker St exactly where it has remained still churning out pies today.
This pizza is crispy, chewy and perfectly charred so it will keep you coming back for more.
Website: johnsofbleecker.com
Type of pizza: Neapolitan (entire pie only, no slices)
Address: 278 Bleecker St, New York, NY 10014
John's of Bleecker Street Google maps location.
Google Rating: 4.6 / 5.0
---
5. Kesté Pizza & Vino (Seaport)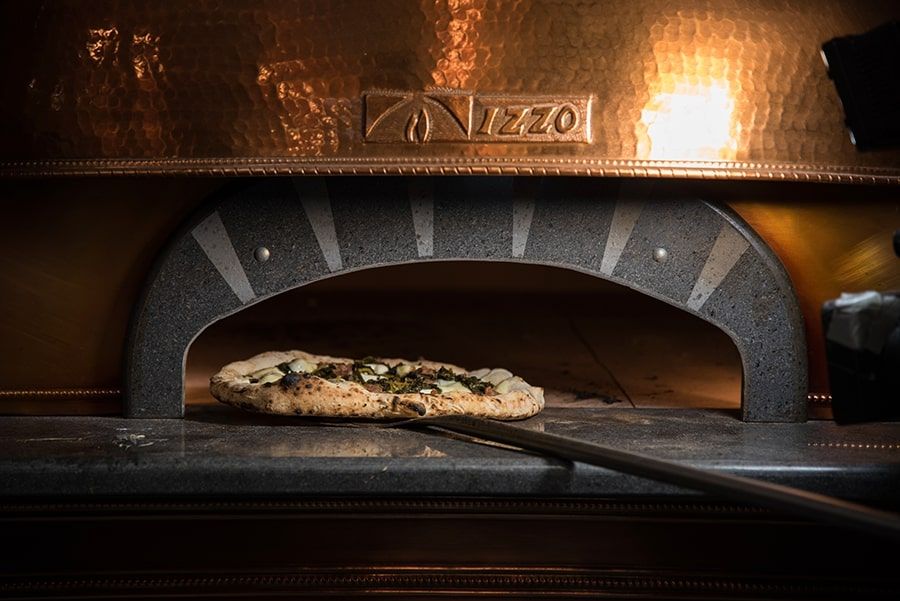 Kesté Pizza is an authentic Neapolitan pizza joint in Manhattan thanks to Roberto Caporuscio, who not only immigrated from Italy, but studied pizza in Napoli as well as trained with some of the most talented pizza masters.
At Kesté you will find an extensive menu filled with delicious white, fried and red Neapolitan pies as well as salads, pastas and gluten free options too.
Website: kestepizzeria.com
Type of pizza: Neapolitan (no slices)
Address: 77 Fulton St, New York, NY 10038
Kesté Pizza & Vino Google Maps location.
Google Rating: 4.6 / 5.0
---
6. Koronet Pizza (Morningside Heights)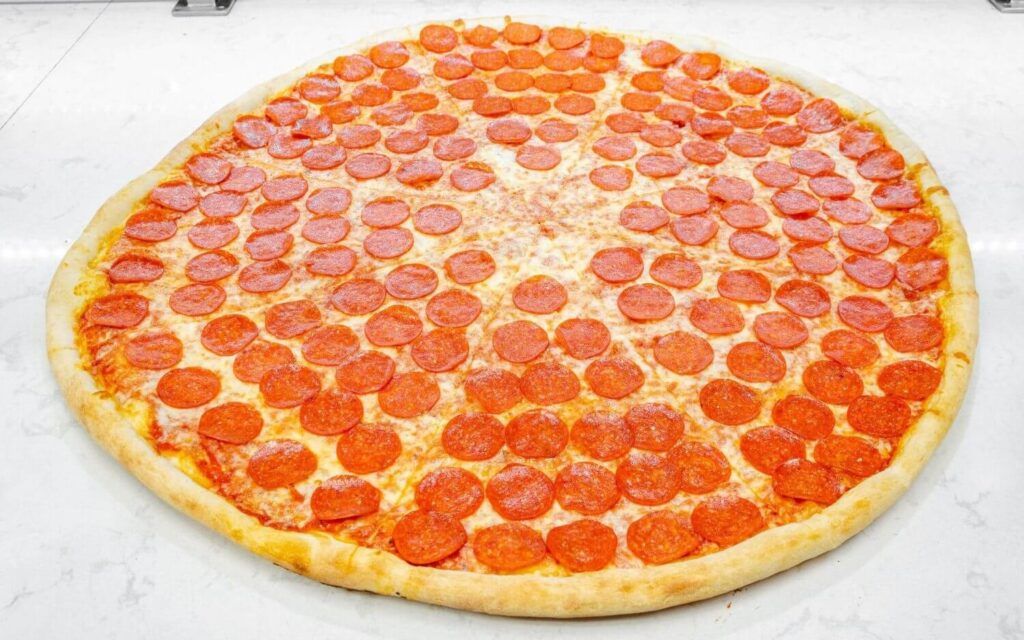 This NY pizzeria is famous for their jumbo slices. Seriously, these 32 inch pies are one of the biggest slices in town and the slices are known to be larger than your face.
Open late, Koronet Pizza is a very popular spot after a boozy night out. However, don't be surprised if it is packed full during lunch and dinner too. It's open until 2am on weekends and until 4am on weekdays.
Website: koronetpizzany.com
Type of pizza: JUMBO Classic NYC slice, Sicilian squares and Grandma slices
Address: 2848 Broadway, New York, NY 10025
Koronet Pizza Google Maps location.
Google Rating: 4.5 / 5.0
---
7. Lombardi's (Nolita)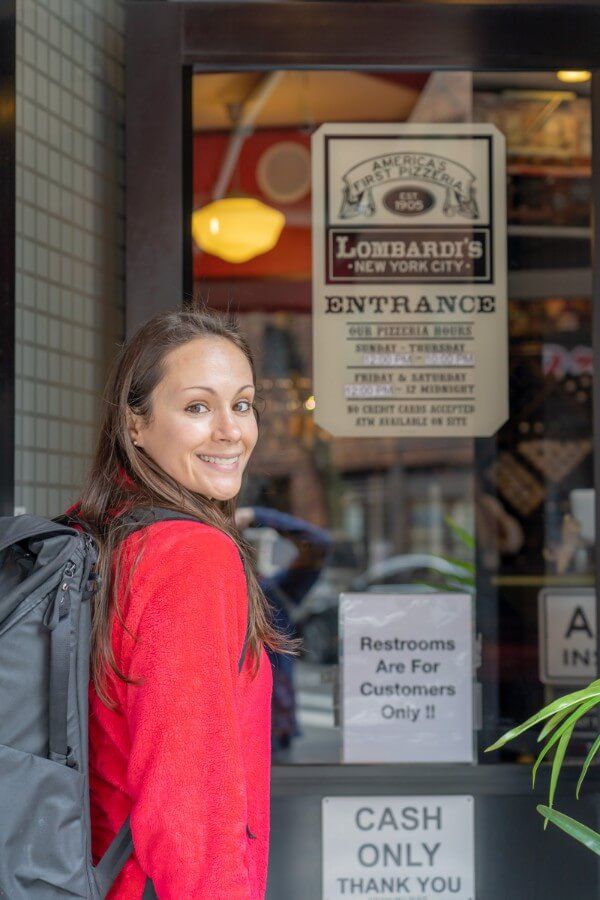 A comprehensive list of the best pizza in NYC would not be complete without the original Lombardi's pizzeria which was established in 1905.
While several other pizza makers in the city learned their technique from Lombardi and branched out on their own, the fantastic pies served at this location have continued to sell out for decades.
If this is your first visit to New York City, we highly recommend you try a pie from history at Lombardi's because it's one of the best pizza places in Manhattan.
Website: firstpizza.com
Type of pizza: Neapolitan (entire pie only, no slice)
Address: 32 Spring St, New York, NY 10012
Lombardi's Google Maps location.
Google Rating: 4.1 / 5.0
Pizza Tip: Lombardi's is cash only.
---
8. NY Pizza Suprema
Next to Madison Square Gardens and one of the most popular pizza joints in Manhattan, NY Pizza Suprema was established in 1964 at this original location by Salvatore Riggio, an Italian immigrant.
The menu is massive at NY Pizza Suprema as its filled with famous signature pies, speciality pizzas as well as vegetable and vegan options. Be sure to try the chefs recommendation of the Upside Down.
Socials: Facebook
Type of pizza: Classic NYC slice
Address: 413 8th Ave, New York, NY 10001
NY Pizza Suprema Google Maps location.
Google Rating: 4.6 / 5.0
---
9. Patsy's Pizzeria (12 Locations)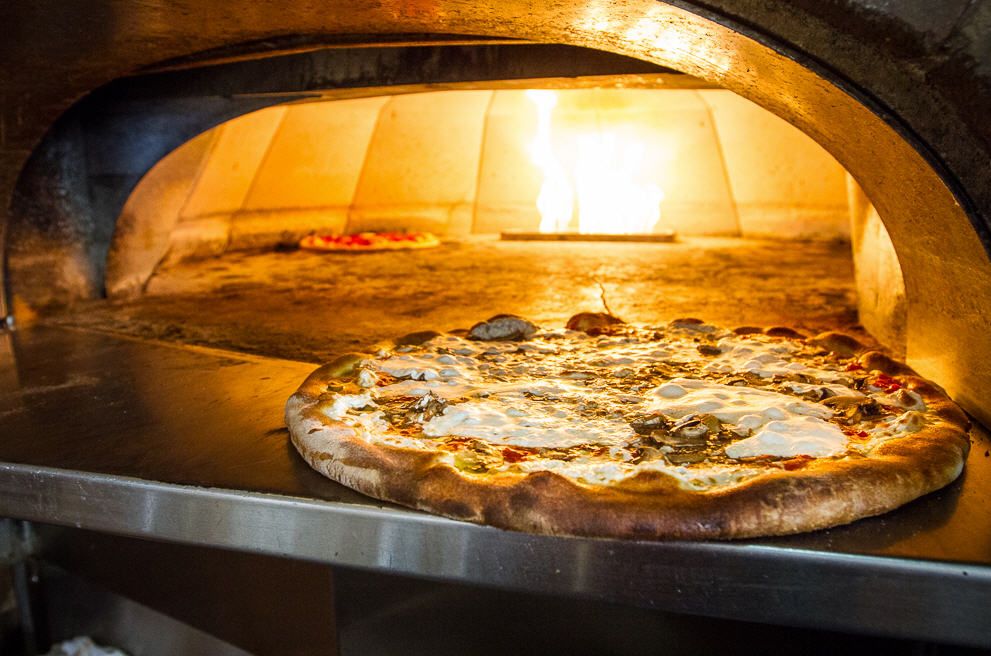 Similar to Lombardi's listed directly above, Patsy's Pizzeria is one of the originals created by Pasquale Lancieri.
Opened in 1933, the coal-fired oven used to create these delicious pizzas has since been grandfathered in for use in NYC and continues to produce mouthwatering pies year after year.
Patsy's Pizzeria is also credited for it's forward thinking by selling pizza by the slice and became known for innovating the traditional New York style thin crust pizza.
Type of pizza: Sicilian coal-fired, Classic NYC slice
12 Locations:
2287 1st Ave (117th St) – Harlem original location
801 2nd Ave, (42nd St) – Midtown East
61 W 74th St – Upper West Side
67 University Pl – Greenwich Village
206 E 60th St (3rd Ave) – Lenox Hill
1279 1st Ave (69th St) – Upper East Side
450 Dean St (Barclays Center) – Brooklyn
21-64 Utopia Pkwy (Whitestone) – Queens
980 Morris Park Ave – Bronx
9103 Fashion Dr – Nanuet
Roosevelt Field Mall
2 Pelham Rd – New Rochelle
Patsy's Harlem Google Maps location.
Google Rating: 4.5 / 5.0
---
10. Prince St. Pizza (Nolita)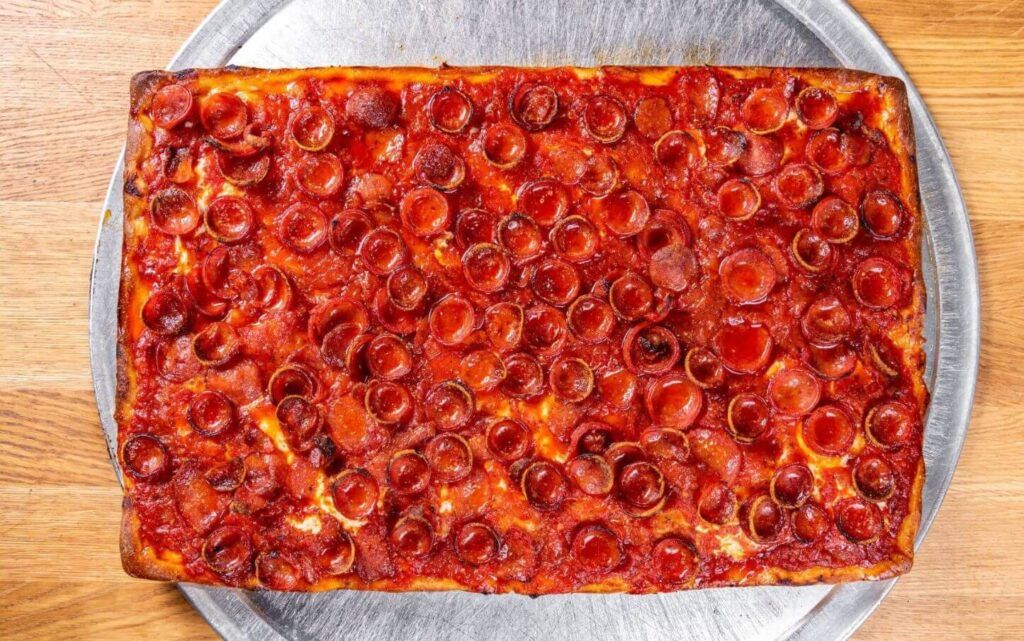 Prince Street Pizza is home to the original spicy pepperoni square, but this NYC pizza joint serves both Neapolitan and Sicilian squares so there is something here for everyone.
We love the tiny Ezzo pepperoni cups used on these delicious pizzas. The Ezzo cups are cut thick and fold up when cooking to yield a perfectly crispy yet bite sized edged pepperoni piece.
These small and crispy pepperonis will make your mouth water just thinking about them.
Website: princestreetpizzanyc.com
Type of pizza: Neapolitan (slices available), Soho squares
Address: 27 Prince St A, New York, NY 10012
Prince St Pizza Google Maps location.
Google Rating: 4.5 / 5.0
---
11. Ribalta (Greenwich Village)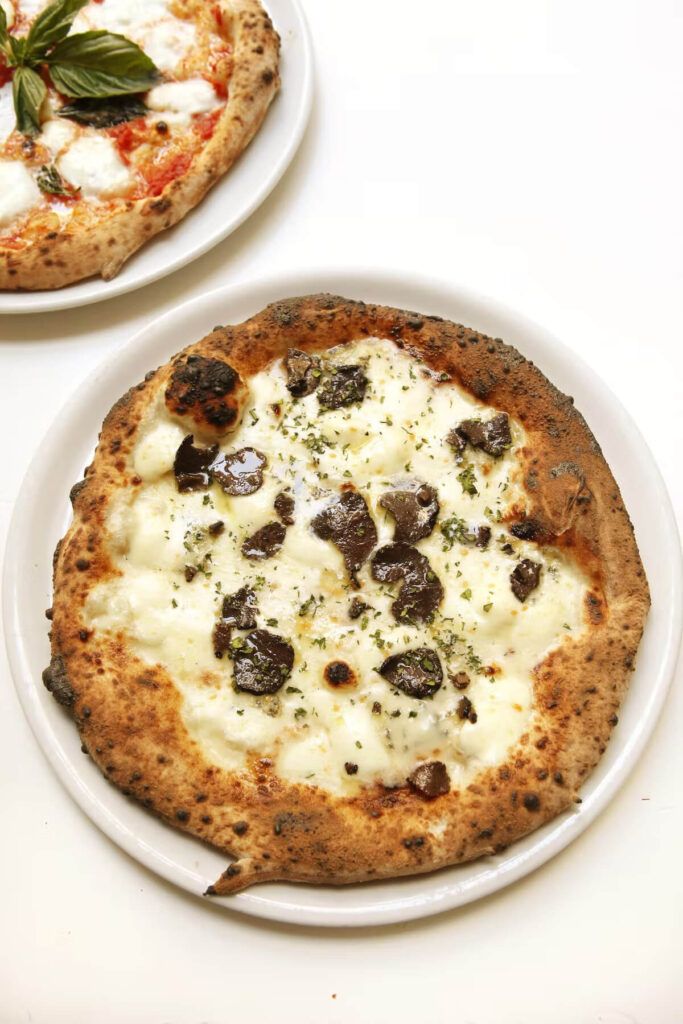 Ribalta's is one of the few restaurants on this NYC pizza list and makes a great place to come for dinner with friends or family. If you are looking for a traditional Italian experience, Ribalta sources many ingredients from Italy.
But the remaining ingredients come from the local Union Square Greenmarket so you can support local markets and experience true Neapolitan pizza all in one visit!
Not only is the Neapolitan pizza delicious, but the bottles of wine are priced fairly and you can catch a game on one of the large tvs hanging on the wall.
Website: ribaltanyc.com
Type of pizza: Neapolitan (entire pie only, no slices)
Address: 48 E 12th St, New York, NY 10003
Ribalta's Google Maps location.
Google Rating: 4.4 / 5.0
---
12. Rubirosa Pizza & Ristorante (Nolita)
Another Italian Restaurant on the list, Rubirosa is famous for its vodka pizza sauce. Yes you read that right, vodka pizza sauce. Our favorites here include the the Tie Dye or Honey Pie.
Rubirosa is perfect for any occasion because they also have an extensive gluten free menu and can substitute for vegan cheese. If you are looking for a pizza joint in NYC that has reinvented the American classics, Rubirosa's is truly it!
Website: rubirosanyc.com
Type of pizza: Neapolitan (entire pie only, no slices)
Address: 235 Mulberry St, New York, NY 10012
Rubirosa Google Maps location.
Google Rating: 4.6 / 5.0
---
13. Scarr's Pizza (Lower East Side)
Opened in 2016 by Scarr Pimentel, Scarr's Pizza has quickly built up a strong reputation. What makes this pizza unique is the stone milled flour made right in their basement from grains sourced from nearby Upstate NY.
We passed Scarr's one day while sightseeing and were lured in by the atmosphere. There is certainly an energy here so try a slice while sipping on a frozen margarita.
Website: scarrspizza.com
Types of pizza: Classic NYC slice, Sicilian squares
Address: 22 Orchard St, New York, NY 10002
Google Rating: 4.5 / 5.0
Interested in Upstate NY? You might like to read our popular guide featuring the best things to do in the New York Finger Lakes region.
---
14. Song' E Napule (Greenwich Village)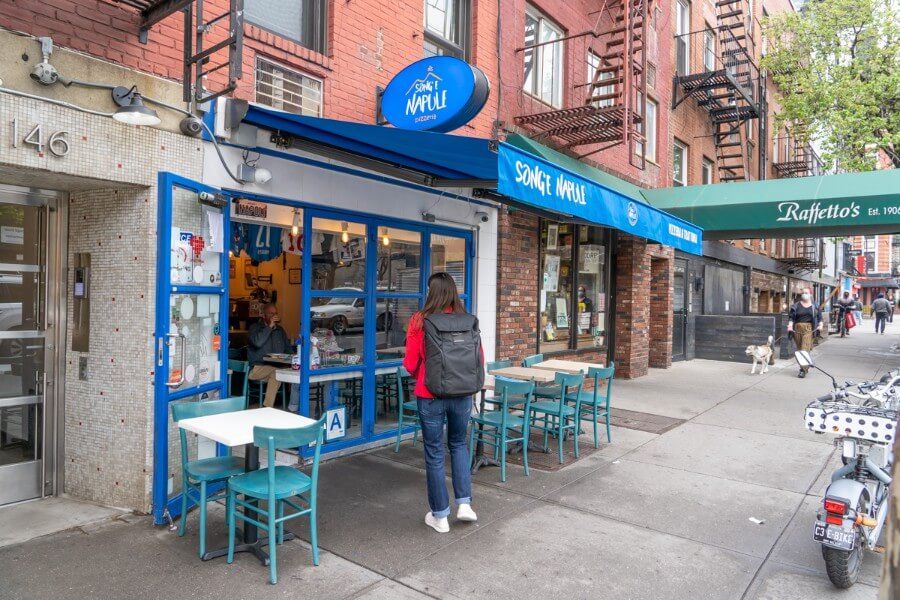 If you want to try a piece of Naples without leaving the States, Song' E Napule is your chance. Chef and owner, Ciro Lovine uses flour, olive oil and meats all imported directly from Italy.
This is one of our favorite pizza places in NYC because it is one of the best options for authentic Neapolitan pizza.
The crust is characteristically chewy and airly combined with the perfect amount of crunchy. So if you do stop in, be sure to try the Buffalo Mozzarella!
Website: songenapule.us
Type of pizza: Neapolitan (entire pie only, no slices)
Address: 146 W Houston St, New York, NY 10012
Song' E Napule Google Maps location.
Google Rating: 4.7 / 5.0
---
15. Una Pizza Napoletana (Lower East Side)
Since 1996, this New York pizza joint has been focused on naturally-leavened, wood-fired pizzas. You can also find made-daily ice cream, seasonal sorbet and a selection of fine Italian wines.
In 2022, Una Pizza Napoletana shared a first place title as the Best Pizzeria in the world. Considering the other first place pizzeria was from Italy, this win is huge accomplishment!
Be sure to stop in so you can try the best pizza in the world!
Website: unapizza.com
Type of pizza: Neapolitan (no slices)
Address: 175 Orchard St, New York, NY 10002
Una Pizza Napoletana Google Maps location.
Google Rating: 4.3 / 5.0
---
16. Underground Pizza (Financial District)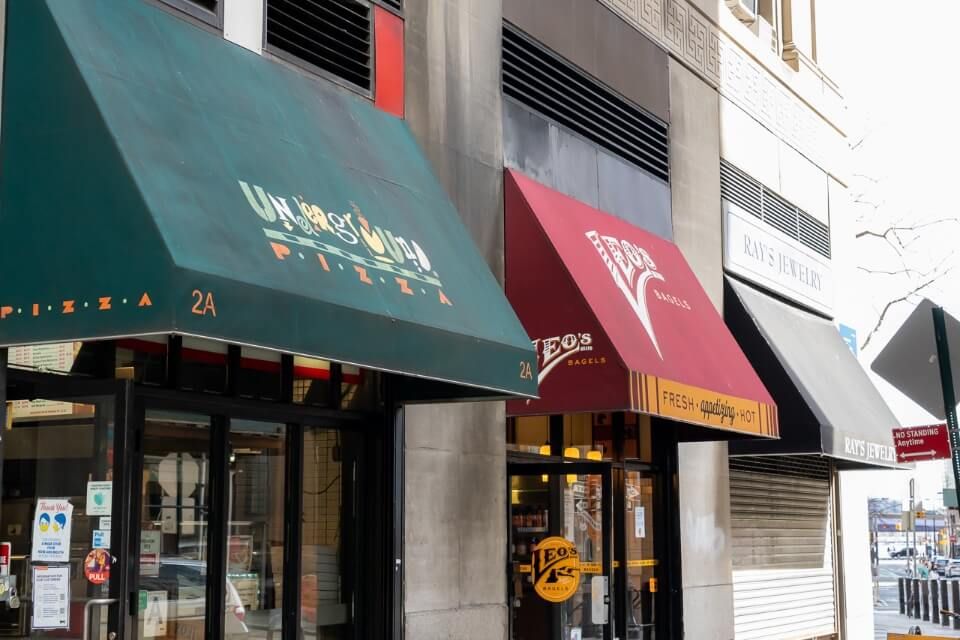 Located in the financial district and only a few blocks from Wall Street, this is the perfect place to stop either before or after your visit to the Statue of Liberty.
The service is always quick and you won't have to wait long after placing an order. We have eaten here several times and our slices were always delicious.
Make sure you come hungry because Underground Pizza serves very large NYC style slices which have to be folded in half to eat. The staff are always a pleasure and it's honestly just a great no frills place for a quick on the go slice!
Website: undergroundpizzany.com
Type of pizza: Classic NYC Slice
Address: 3 Hanover Square #2615, New York, NY 10004
Underground Pizza Google Maps location.
Google Rating: 4.5 / 5.0
---
Best Pizza In Brooklyn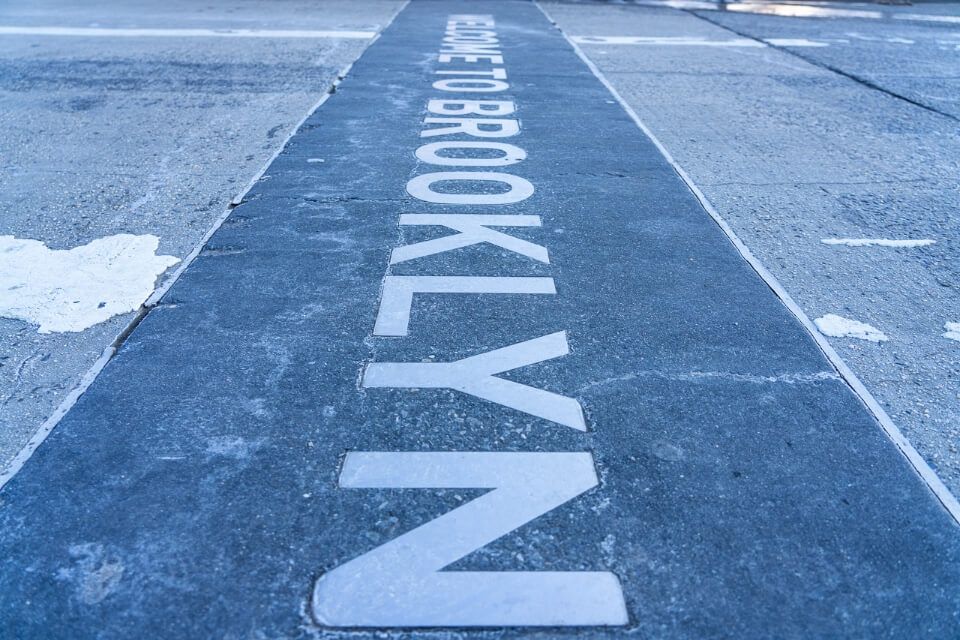 Now that we have found the best pizza in Manhattan, it's time to find the best pizza in Brooklyn.
There is a good chance you will be heading to Brooklyn at some point during your visit and it's only right you sample a few slices of New York City pizza here too!
Walking across the Brooklyn Bridge? Grab pizza from the famous Grimaldi's or highly rated Juliana's before walking across the Brooklyn Bridge at sunset.
17. Best Pizza (3 Locations)
Aptly and cleverly named for the digital age, Best Pizza was opened in 2010 by Frank Pinello. This former bakery has become one of the hottest spots to grab a slice of pizza in Brooklyn.
Known for their fresh ingredients, Best Pizza also serves up heros (also known as subs), salads and gluten free options. We love the grandma square as its doughy, cheesy and topped with deliciously sweet yet tangy tomatoes.
Website: bestpizzawilliamsburg.com
Type of pizza: Classic NYC slice, Grandma slices
3 Locations:
33 Havemeyer Street – Brooklyn (original location)
800 Grand St – Brooklyn
52 Main St (New Paltz, NY)
Best Pizza Google Maps Williamsburg location.
Google Rating: 4.5 / 5.0
---
18. Grimaldi's Pizzeria (3 Locations)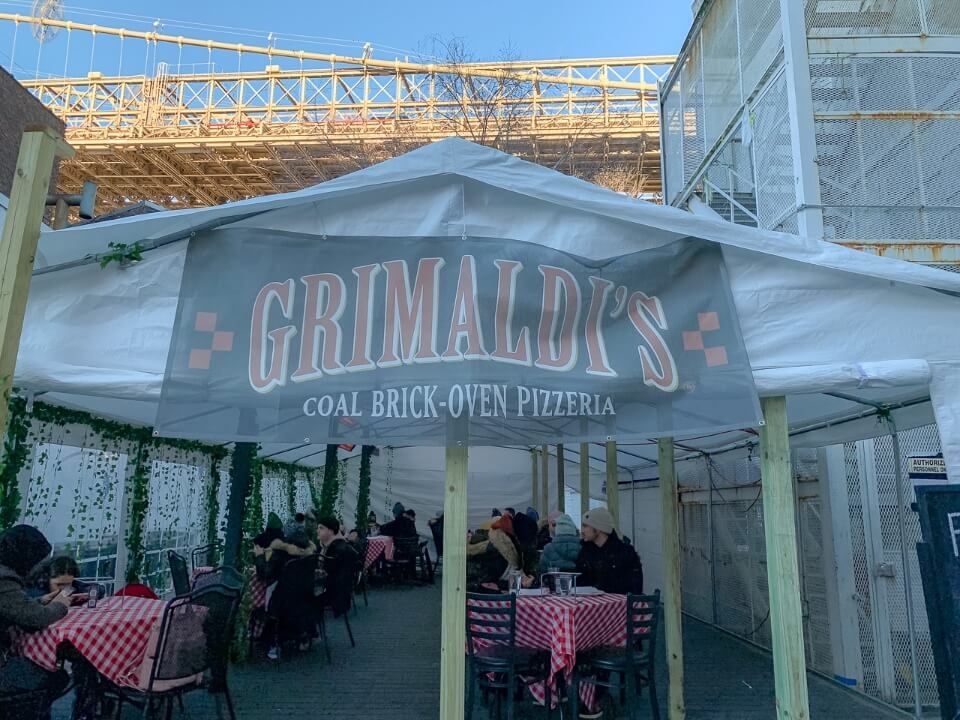 Founded in 1990 by Patsy Grimaldi and nestled right by the Brooklyn Bridge, Grimaldi's has become one of the most famous pizza places in New York City.
Like true traditional coal-fired pizza, the pies at Grimaldi's are known for their thin crispy base and unique smokey flavor.
Grimaldi's prides themselves on the fact they use fresh ingredients, handmade mozzarella, a secret sauce and a 100-year-old dough recipe.
You will not be disappointed here, but you will need a reservation to try a slice of the best pizza in Brooklyn.
Website: grimaldispizzeria.com
Type of pizza: Neapolitan (entire pies only, no slices)
3 Locations:
1 Front St – Brooklyn (original location)
656 6th Ave – Flatiron District
411 Washington St, Hoboken, NJ
Grimaldi's Brooklyn Google Maps location.
Google Rating: 4.2 / 5.0
---
19. Juliana's Pizza (Brooklyn Heights)
Another interesting NYC pizzeria backstory…
Juliana's main rival pizzeria is Grimaldi's but the two share a lot in common. Not only were these pizzerias founded by the same person, Patsy Grimaldi, but they sit adjacent to one another right by the Brooklyn Bridge.
Much to everyone's surprise, Patsy Grimaldi came out of retirement in 2012 about two decades after selling his original shop, Grimaldi's.
Juliana's uses a similar coal-fired oven for the pies and also serves delicious pasta dishes. Despite Grimaldi's popularity, Juliana's consistently has a better user rating on Google.
Website: julianaspizza.com
Type of pizza: Neapolitan (entire pies only, no slices)
Address: 19 Old Fulton St, Brooklyn, NY 11201
Juliana's Google Maps location.
Google Rating: 4.6 / 5.0
---
20. L&B Spumoni Gardens (2 Locations)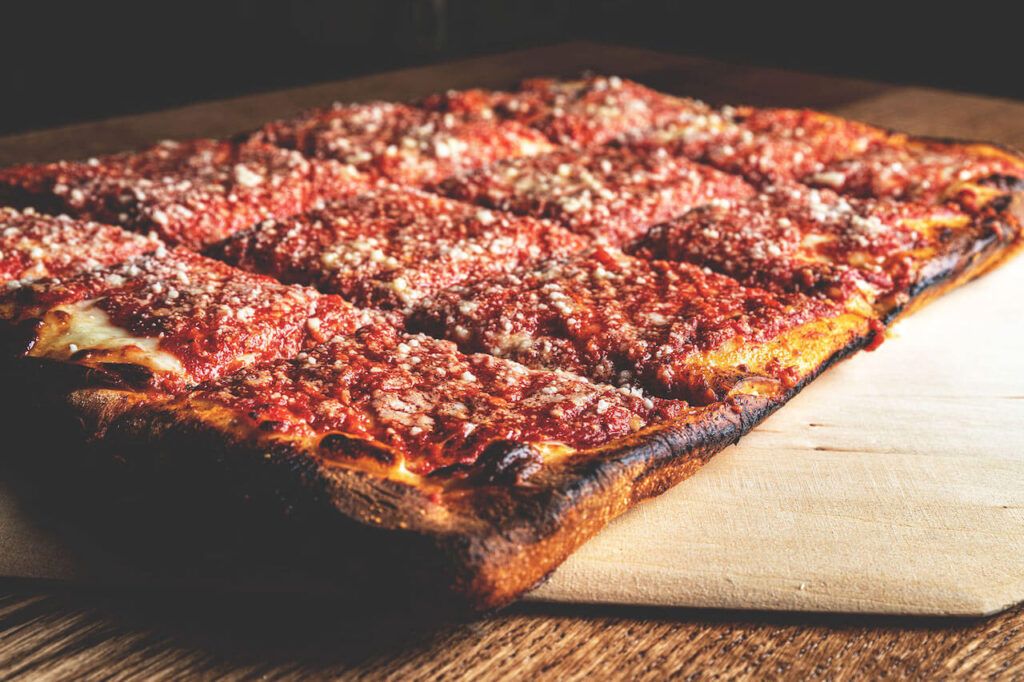 Open since 1939, the pizza at L&B Spumoni Gardens is always made fresh on the premises with no frozen or prepackaged foods. This is an old-school pizza joint in New York City serving both Sicilian squares and ice cream.
Recent reviews always seem to compliment their thick sweet marinara sauce (and even calamari). The place is truly a gem with flavorful crust giving off delicious parmesan breadstick vibes.
Website: spumonigardens.com
Type of pizza: Sicilian Squares
2 Locations:
2725 86th St – Gravesend (original location)
46 Old Fulton St – Brooklyn Heights (locations temporarily closed)
L&B Spumoni Gardens Google Maps location.
Google Rating: 4.6 / 5.0
---
21. L'Industrie Pizza (Williamsburg)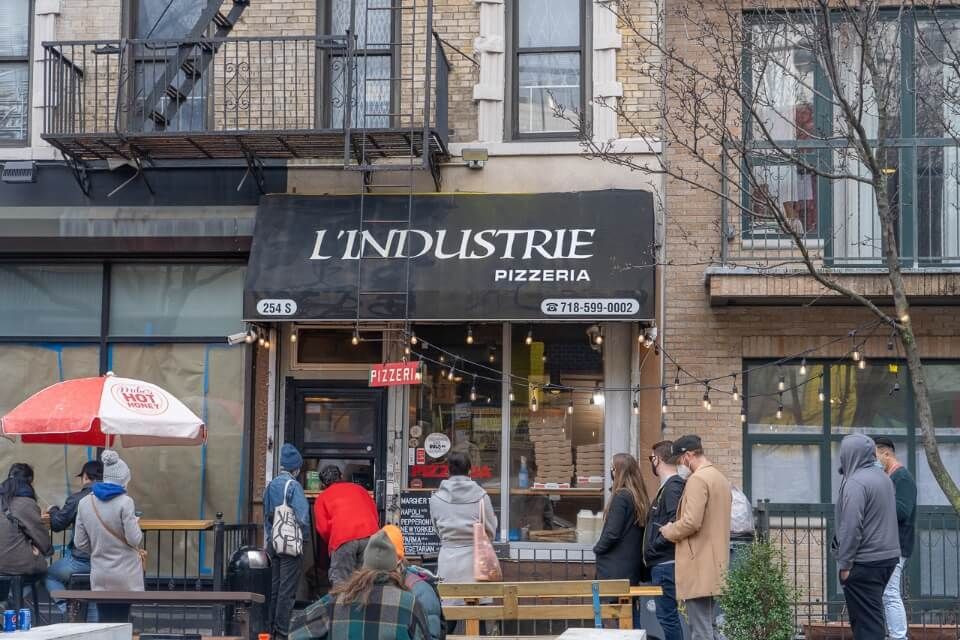 Owned by Florence native, Massimo Laveglia, L'Industrie combines the best tastes of Italy with the authenticity of the NYC pizza slice.
L'Industrie takes great pride in their ingredients and imports several from Italy to achieve that characteristic taste.
But what sets this highly rated pizzeria apart is traditional thin crust paired with so many delicious topping options.
Be sure to try the fig jam and bacon or the portobello mushroom and truffle sauce pies. This NY pizzeria is one of our all time favorites and one of the best places to grab a slice in Brooklyn.
Website: lindustriebk.com
Type of pizza: Classic NYC Slice
Address: 254 S 2nd St, Brooklyn, NY 11211
L'Industrie Google Maps location.
Google Rating: 4.8
---
22. Pizza Loves Emily (2 Locations)
There is no other place in the city where you will feel the love of pizza more than Emily.
As a husband and wife team, Matt and Emily, work together to bring you pizza and other high-quality foods directly from the heart and always served with love.
Wood-burning ovens create the signature red, pink and white appetizing pizzas that line the menu. Our favorite is the Emily, a white pizza with mozzarella, pistachio, truffle sottocenere and honey.
Website: pizzalovesemily.com
Type of pizza: Neapolitan (entire pies only, no slices)
2 Locations:
919 Fulton St, Brooklyn – Clinton Hill
35 Downing St – West Village
Pizza Loves Emily Google Maps Brooklyn location.
Google Rating: 4.5 / 5.0
---
Best Pizza In NYC – The Bronx, Queens and Staten Island
Few first time visitors to New York will venture from Manhattan and Brooklyn. But if you are heading to the other boroughs of NYC, you are in luck because the pizza here is just as tantalizingly delicious.
Whether you are headed to the Bronx, Queens or Staten Island, there is plenty of pizza to go around. If you have enough time, why not try to sample pizza from all five boroughs?!
23. Louie & Ernie's (Pelham Bay – Bronx)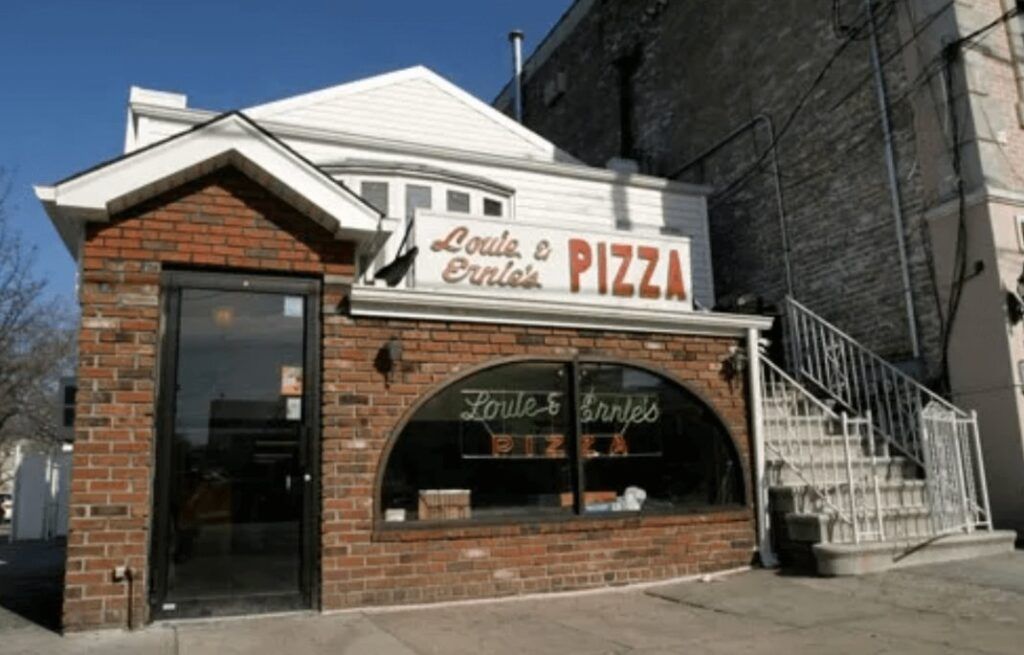 If you are looking for a slice that has a little bit of kick on the first bite, look no further. Louie and Ernie's are known for center loading their pies. This means they put a pinch of black pepper in the center so your first bite is one to never forget.
Louie and Ernie's has become popular for their white and sausage topped pizzas but their calzones are also a wonderful choice. Or better yet, pick up a frozen 12 inch pizza to enjoy another day.
Website: louieanderniespizza.com
Type of pizza: Classic NYC Slice, Sicilian squares
Address: 1300 Crosby Ave, The Bronx, NY 10461
Lou and Ernie's Google Maps location.
Google Rating: 4.7 / 5.0
---
24. Milkflower (Astoria – Queens)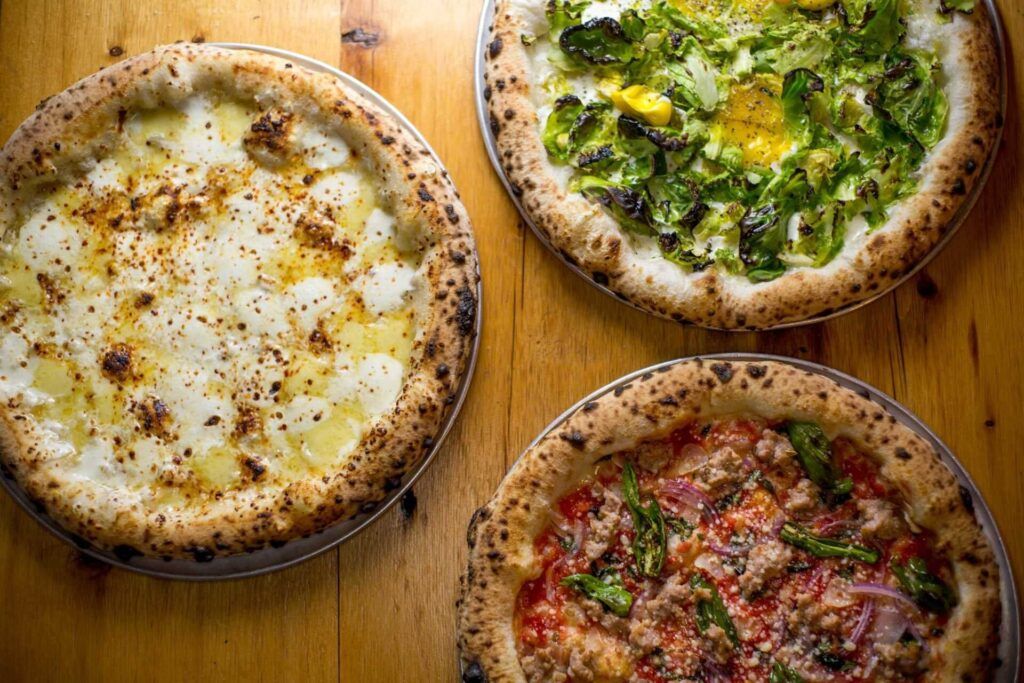 Milkflower offers a hip atmosphere, wood-fired pizzas, small Italian plates, salads and craft beers. So all in all, you can't really go wrong. Like a true Neapolitan, the crispy crust is always soft and chewy.
With about 15 different pies aptly named, you will have fun choosing your new favorite pizza in NYC. Our favorite is the 'willy mo' with meatballs, tomato, garlic confit, mozzarella, basil and grana padano.
Type of pizza: Neapolitan (entire pies only, no slices)
Address: 34-12 31st Ave, Astoria, NY 11106
Milkflower Google Maps location.
Google Rating: 4.6 / 5.0
---
25. Joe & Pat's Pizzeria & Restaurant (Staten Island – 2 Locations)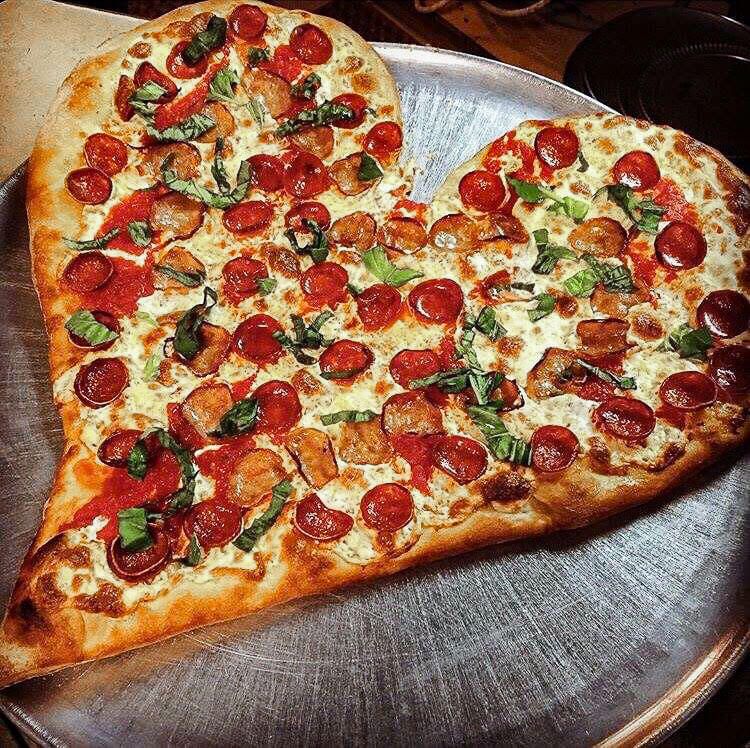 Family owned and operated since 1960, Joe and Pat's produces pizza slices with a super-thin flat crust, bright red tomato sauce and several slabs of gooey mozzarella.
But they also serve classic pasta dishes and Italian entrees if you are looking for a more refined option.
While the menu offers pies with various toppings, be sure to try the 1960s original which is definitely a classic as well as the heart shaped pizza.
Website: joeandpatsnyc.com
Type of pizza: Neapolitan, Sicilian, Grandma (entire pires only, no slices)
2 Locations:
1758 Victory Blvd, Staten Island – Mid Island
168 1st Ave., New York – East Village
Joe and pat's Staten Google Maps Staten Island location.
Google Rating: 4.4 / 5.0
Pizza Tip: Joe and Pat's has pizza for everyone including gluten free, cauliflower crust and vegan options.
Best Pizza In NYC By Map
Would you like to see the locations of each pizza place spread throughout all of New York City?
Or you can use this link to access our very popular Best Pizza in NYC map so you find where to pick up the best slice of pizza.
Here's what you need to do once you open the map:
Click or touch your screen to activate the map
Scroll around to find the 25 best places to eat pizza in NYC
Pick the closest pizza option or one from the list you want to visit
Select directions from your location or hotel
Follow the walking or subway route to grab your NYC pizza slice!
Map Key:
Maroon – Best Pizza Places in Manhattan
Dark Blue – Best Pizza Places in Brooklyn
Orange – Pizza in Queens, Bronx and Staten Island
Green – Pizza in NJ
Many of the pizza places listed above now have multiple locations throughout NYC, so we have included the original location for each of our top rated New York pizza joints on the map.
But we have also included other locations for some of the harder to reach original locations for those who might only visit Midtown, Lower Manhattan or Brooklyn.
Travel Tip: Choose your favorite NYC pizza places from the list above and pin them to your Google Maps or Apple Maps. You can then easily find them when walking around the city.
Best New York Pizza Tours
If you are feeling overwhelmed by the amount of pizza joints in New York City, we completely understand! Instead of trying to find all of these locations yourself, why not have someone else do the hard work?
Booking a pizza tour in New York City is a great way to sample a few slices of the best pizza in the city. Below you will find top rated pizza tours:
Greenwich Village Pizza Walk – Pizza walking tour through Little Italy and Manhattan to three different pizzerias. This tour has been featured on the Travel Channel and Food Network.
Half-Day Pizza Tasting Bus Tour – Run by Scott's Pizza Tours, climb aboard a big yellow school bus for a pizza tour in NYC to 4 different pizzerias.
Brooklyn Pizza Walking Tour – Sample Brooklyn's best on this pizza walk including Neapolitan pizza, wood-fired pies, and thin-crust slices.
Love food tours? Don't miss our Las Vegas Secret Food Tour Review to see if you should book your foodie tour today.
Pizza Ovens In New York City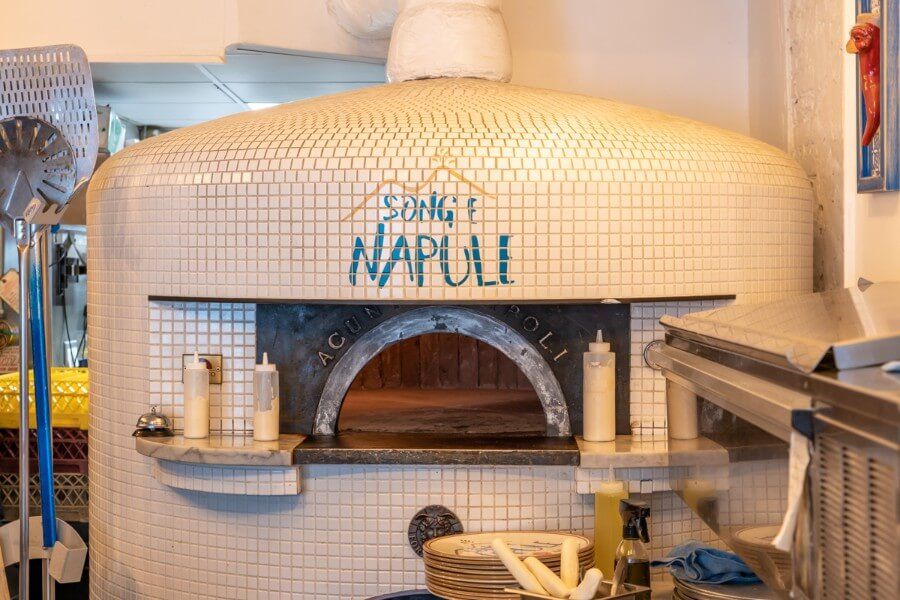 Now that you know where to find the best pizza in both Manhattan and Brooklyn, it's interesting to learn about how New York style pizza has evolved over time.
Many people don't know several unique components go into making New York City pizza special including:
A classic thin crust
New York City's tap water
The right ingredients
Specific dough content
Well-seasoned ovens
The ovens in New York play a very important role in the pizza making process and this can significantly alter your pizza experience.
New York City pizza is cooked in either a historic coal-fired oven or in a newer oven with gas and wood options.
The pizza ovens in New York City are decades old and cook at very high temperatures. So similar to a well-seasoned frying pan, these ovens have absorbed years of cheese, sauce and dough to create that characteristic New York style taste imprinted on every new pizza cooked.
Coal-Fired Pizza: New York's Original Slice
A coal-fired pizza will always have a nice char to the bottom layer with a crispy outer crust.
We love coal-fired pizzas because they have a chewy center and a smokey crust. This combination gives this type of pizza a distinct and unique taste without overcooking the toppings.
But while coal-fired ovens were used to create America's first kind of pizza, these ovens have now been banned in NYC. The only coal-fired ovens you see in the city today were grandfathered in over time.
You will quite literally be tasting the history of pizza with every slice in these remaining coal-fired ovens.
Gas-Fired or Wood-Fired: New York's Newest Pizza
After coal-fired ovens were banned in New York City, pizzerias were forced to use either a gas or wood option. While both types of ovens cook at high temperatures, there are a few differences.
A gas-fired oven is easier and more practical to use. These types of ovens char the crust in a similar way a coal oven does, but they provide a cleaner alternative as well as a larger cooking area.
A wood-fire oven adds an authentic smokey flavor to the charred crust and the pizzas cook very quickly. These types of ovens are popular today but can be a bit more difficult to use.
Does New York City Water Make Pizza Better?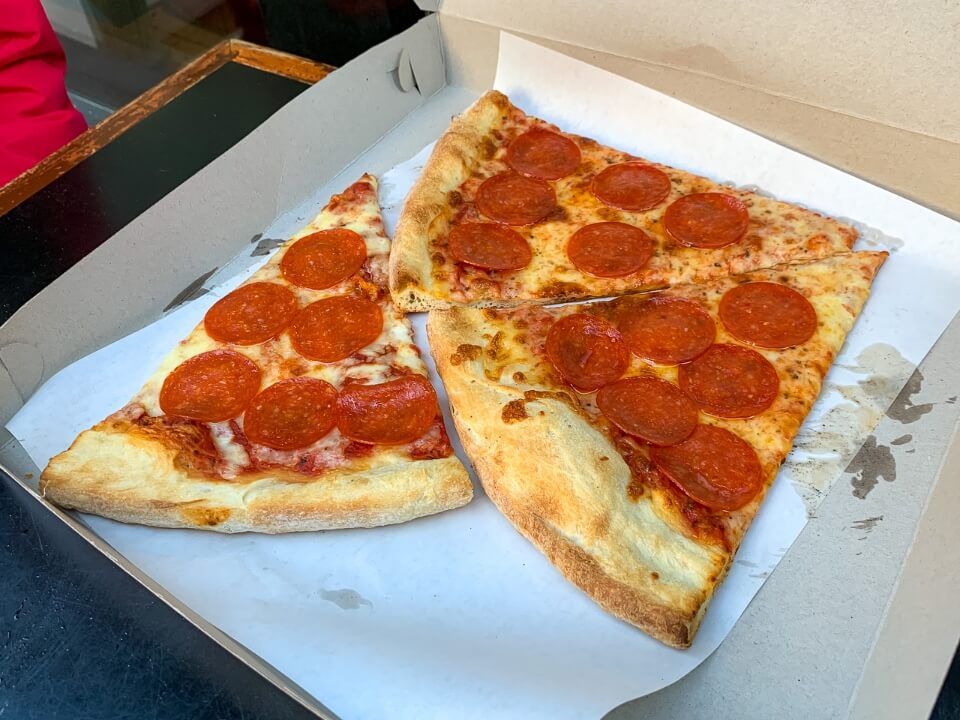 Many people have also attributed New York's famous pizza to minerals and components found within the city's water supply.
Thanks to the surrounding geology of the Catskill Mountains, the water in New York City has very little limestone leading to low levels of bitter tasting calcium.
However, NYC water tastes saltier due to an increase in sodium. This increase in sodium affects the gluten in the pizza dough, making it squishy resulting in the characteristically soft and chewy pizza crusts.
This water theory has yet to be proven or disproven. However, some out-of-state pizzerias even import New York City water to make with their pies. So something must be in the water!
Looking To Save Money In New York City?
We love New York pizza because it is a very cheap thing to do in NYC. Unfortunately, this is not the case with many of the other attractions in New York.
But if you plan to visit several of New York City's top attractions, we recommend you consider purchasing an attractions pass.
Buying a New York attractions pass will give you instant access to the most iconic NYC museums, landmarks and observation decks at a discounted price.
The idea is simple in that the more attractions you visit, the more discount you will recieve and the more money you save. It's very similar to buying in bulk.
Having used the NYC attraction passes ourselves when we lived in New York, we recommend the New York Sightseeing Pass because its extremely easy to use while offering both flexibility and big savings.
We have teamed up with Sightseeing Pass to offer our readers an exclusive 10% discount.
Want To Save Money In NYC?
Use the button below to claim 10% off any NY Sightseeing Pass.
You can also read our detailed New York attraction pass comparison to help you decide which New York pass you should purchase for your visit to the Big Apple.
Need Help Planning Your Visit To NYC?
NYC is a trip planning beast and it can be overwhelming trying to get every aspect right.
After living in New York City, we created a comprehensive NYC travel guidebook that will answer every question you have about where to stay, what to do, where to eat and how to get around the city.
Click see details below to read more about how we can help you plan your dream trip to New York City!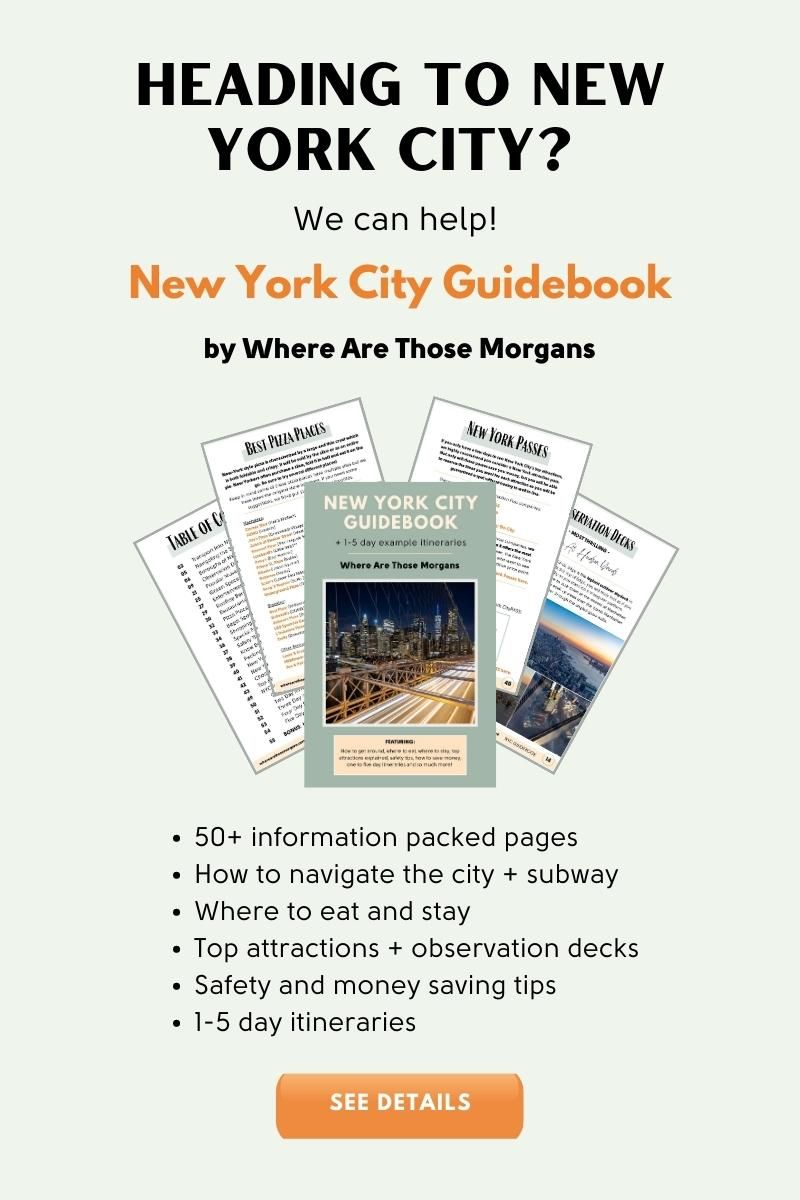 Best NYC Pizza FAQ's
Let's take a look at some of the most frequently asked questions regarding the best pizza in New York City!
Does NYC still have 99¢ pizza slices?
There are only a few pizza joints left in NYC who are still serving a 99¢ pizza slice due to rising costs from the pandemic, increased rent prices and inflation. You can expect to pay anywhere between $2-5 for a slice in today's economic climate, but there are a few select locations still serving the iconic 99¢ slice.
Why is NY pizza dough so good?
New York pizza dough is made with American bread flour. This type of flour has a high content of both protein and gluten. It is made from many different kinds of wheat not milled finely like regular flour making the crust characteristically light and chewy. Combine this with the tasty tap water of NYC and you have yourself a delicious New York style pizza.
What is the most popular pizza topping in New York?
According to CBS News, New Yorkers have named pepperoni as their favorite pizza topping.
Our Popular NYC Guides
More NYC Guides
Want more New York City content? Head to our New York Travel Guides to explore more from the Big Apple as well as beautiful upstate NY.
---
We hope this comprehensive list of best pizza places in NYC helps you find your new favorite pizza during your visit to New York City!
Please let us know if you have any questions about pizza in New York in the comments below.
Happy Snacking,
Mark and Kristen
Enjoy This New York Pizzeria Guide? Pin It For Your Visit!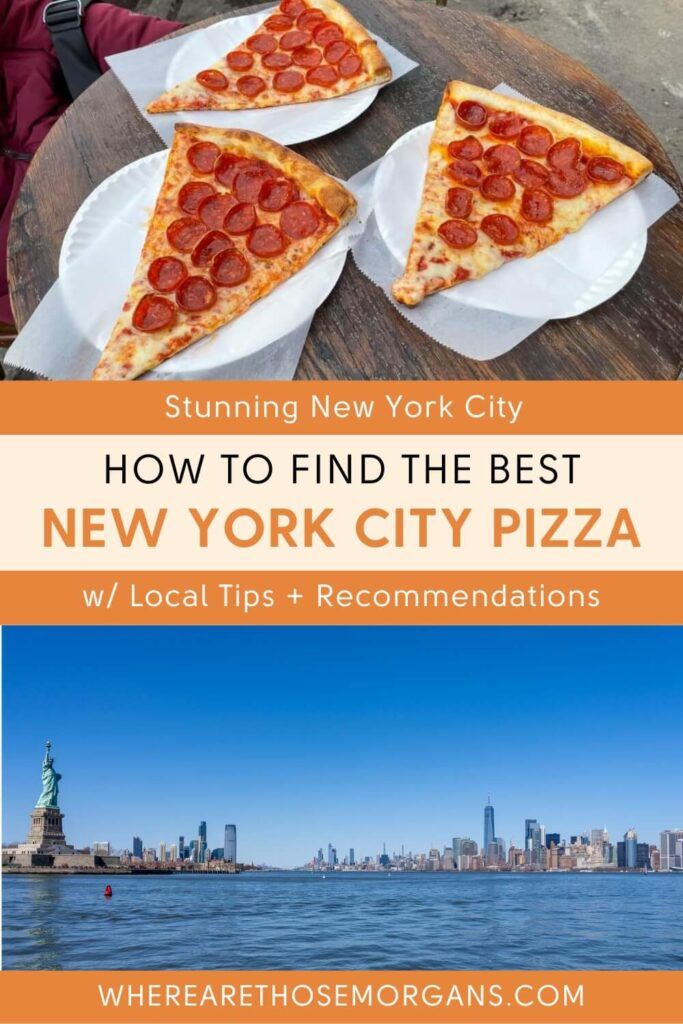 Note: This article contains affiliate links. When you make a purchase using one of these affiliate links, we may earn a small commission at no extra cost to you.
All Rights Reserved © Where Are Those Morgans, LLC. Republishing this article and/or any of its contents (text, photography, maps, graphics, etc.) in whole or in part is strictly prohibited.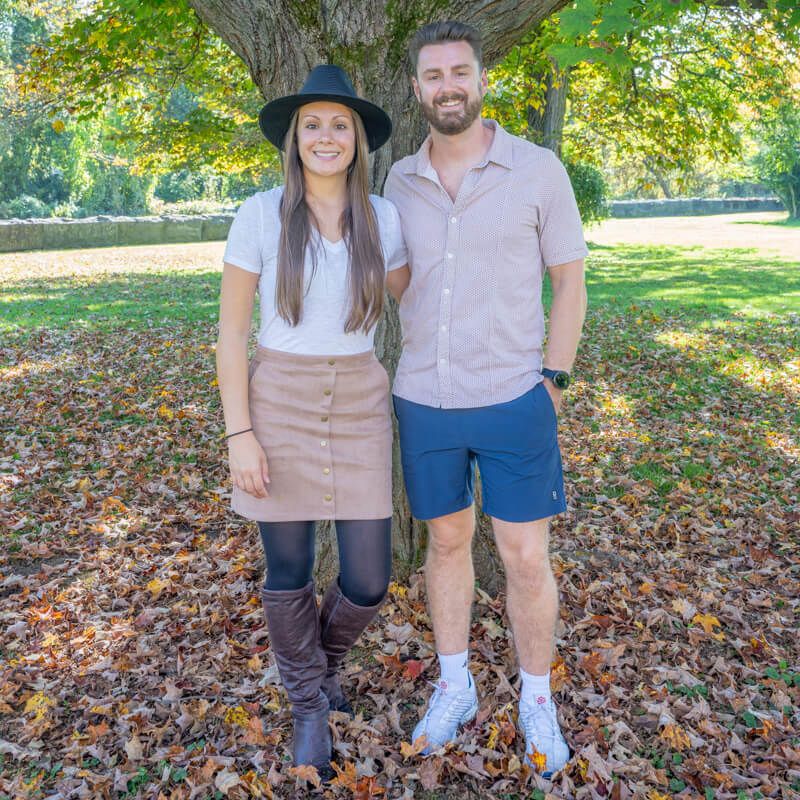 Mark and Kristen Morgan are travel, hiking and photography experts. Over the last 6 years traveling full time, they have explored more than 40 countries and 30 US states.
Their work has been featured in USA Today, Gestalten, Get Your Guide, CityPASS and Condé Nast Traveler along with various other publications.