New York City is globally renowned for its classic on-the-go pizza slice. But if you're visiting the city for a just a few days, how will you know where to grab a slice of the best tasting pizza in NYC? We've rounded up 22 top rated, famous, historic and our very own personal favorite places to help you know exactly where to go for the best pizza in NYC.
The topic of best pizza in NYC is sure to spark a fiery debate amongst local New Yorkers. Having lived briefly in NYC ourselves, we have eaten our way through slices of delicious pizza in each NYC borough and the competition is strong.
Are you in a hurry? Don't worry, we'll get straight into the action with lists of the best pizza places in Manhattan, Brooklyn and one from each of the other New York boroughs. But if you have a bit more time and you are interested in learning about the iconic pie in NYC, keep reading until the end.
Fair warning – The iconic 99¢ NYC pizza slice is a distant memory and one for the history books. Expect to pay anywhere between $2-5 for a slice in today's economic climate. Our top tip is to remember cash, some of these places do not accept credit cards.
Okay, let's devour our way through the best pizza in NYC!
*Please note this post may contain affiliate links. If you click on one, we may make a small commission at no extra cost to you.*
Best Pizza In Manhattan, NYC
Delicious mouthwatering pizza can be found all over New York City, but Manhattan is the only borough that can claim its the birthplace of the American-Neapolitan pizza. This is what we know today as the classic NYC slice.
We figured Manhattan would also likely be your first destination when visiting the city. So if you have just arrived and you want to fill your New York City itinerary with tasty food, this is where you can find the best pizza in Manhattan, NYC.
Many of the best pizza places in NYC have naturally gone on to open in several locations. Below you will find the address of the original brick and mortar pizza joints.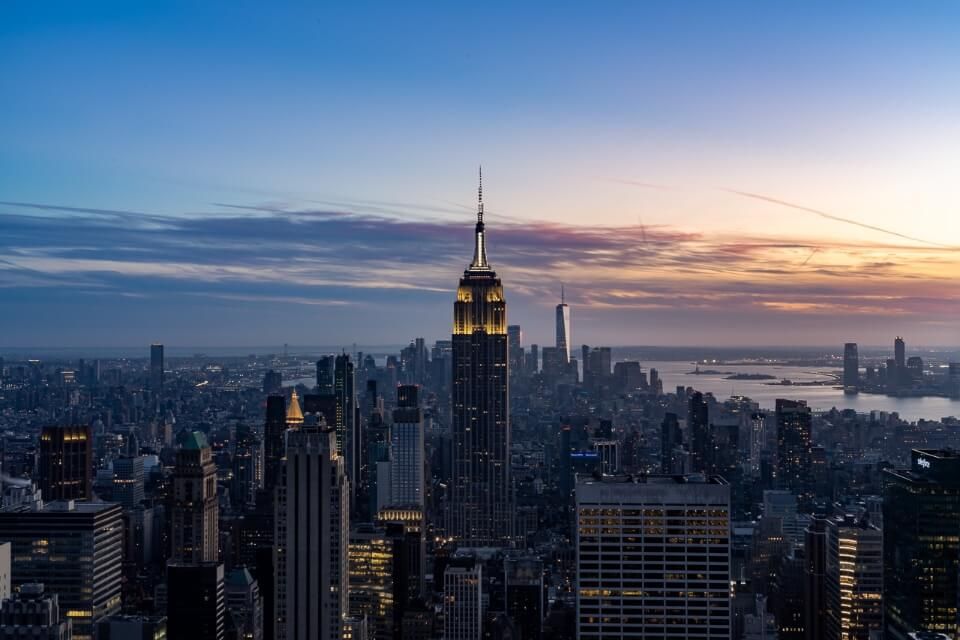 1. Corner Slice (Hell's Kitchen)
Corner Slice is a popular neighborhood bakery in Gotham Market West offering something on the menu for everyone. Their speciality is a square slice with all the toppings you could ever hope for.
At Corner Slice, a longer fermentation process of the dough creates a light and airy but also crunchy and crispy crust. With all baking completed on site, they offer pastry, pizza and coffee. Stop in for a slice to try the delicious crispy yet robust flavors.
Type of Pizza: Sicilian Squares
Address: 600 11th Avenue at W 45th Street
Instagram: corner_slice
2. FUMO (Harlem)
Offering a wide selection of upmarket pies, FUMO is a great place to take a bunch of friends or bring a date. The atmosphere sets the stage with a bright modern feel serving pizza, pasta and cocktails.
They consider all dietary needs including vegetarian, vegan and gluten free options. If you are on a budget, keep in mind happy hour is Monday through Friday 4-7pm with $6 snacks and $6 wine.
Type of Pizza: Neapolitan, Entire Pies Only (no slices)
Address: Harlem – 1600 Amsterdam Avenue
Instagram: fumo_harlem
3. Joe's Pizza (Greenwich Village)
Created by Pino Pozzuoli who immigrated from Naples Italy, Joe's has been around since 1975.
We love Joe's because it's one of the most traditional slices in town. Still using the same recipe from 1975, it has withstood the test of time and increased competition. We think it is one of the best slices of pizza in New York City.
Open until 4am across multiple locations, Joe's is often the perfect spot for a late night snack. It's not a fancy slice and few toppings are offered other than pepperoni but its always hot and ready.
Having eaten here several times (including once at the location near Times Square), we always find the crust to be charred to perfection and the slices always hit the spot.
Tip for your visit – Joe's accepts cash only.
Type of Pizza: Classic NYC Slice
Address: 7 Carmine Street
Instagram: joespizzanyc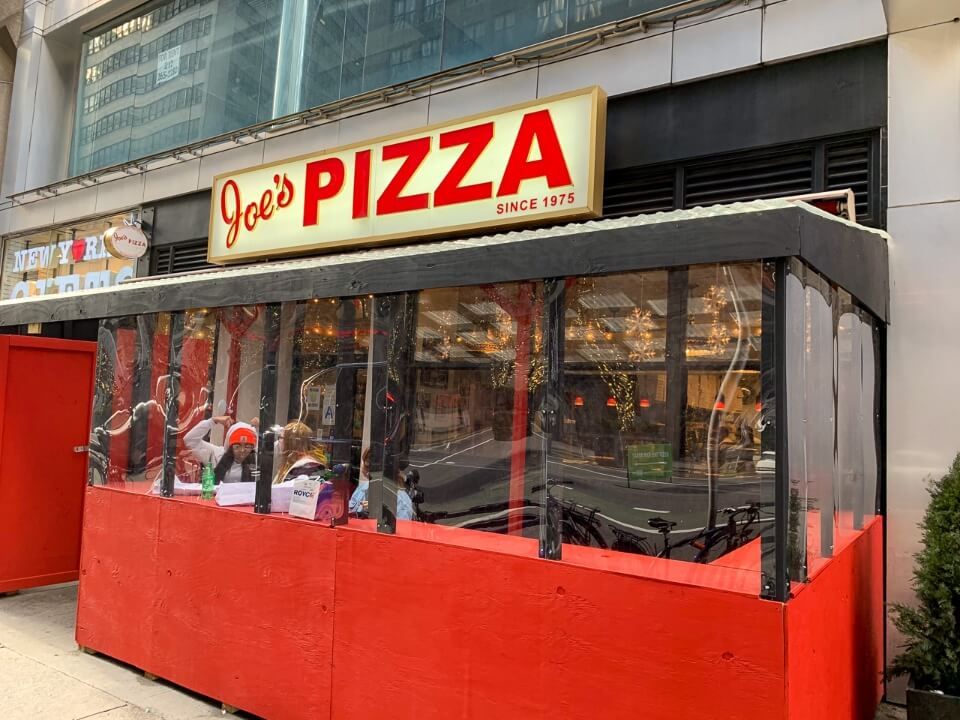 4. John's of Bleecker Street (West Village)
Founded in 1929 by Italian immigrant John Sasso, a former employee of Lombardi's, this iconic pizza spot is still family owned and operated with an interesting back story.
When John lost his original lease on Sullivan St, he dismantled his original coal-fired oven and moved it to 278 Bleecker St exactly where it has remained churning out pies today.
Crispy, chewy and perfectly charred, this pizza will keep you coming back for more. John's however, does not sell pizza by the slice, it is entire pies only.
Look for the famous motto of "No slices" on the awning. But even though the pizzas are large, they can easily be split between two people.
Type of Pizza: Coal-Fired, Entire Pie Only (no slices)
Address: 278 Bleecker Street
Instagram: johnsofbleeckerstreet
5. Koronet Pizza (Morningside Heights)
This pizzeria is famous for their jumbo slices. Seriously, this slice will be bigger than your face!
These massive slices have been loved by both students and neighbors of Columbia University since 1981. At 32 inch pies, these are one of the biggest slices in town.
Open late, Koronet Pizza is a very popular spot after a boozy night out. However, don't be surprised if it is packed full during lunch and dinner too. It's open until 2am on weekends and until 4am on weekdays.
Type of Pizza: JUMBO Classic NYC slice
Address: 2848 Broadway
Instagram: koronetpizza
6. Lombardi's (Little Italy)
A comprehensive list of the best pizza in NYC would not be complete without the original.
While several other pizza makers in the city learned their technique from Lombardi and branched out on their own, the fantastic pies served at this location have continued to sell and be consumed by tourists and locals alike.
Lombardi's has been recognized by the Pizza Hall of Fame as the first pizzeria in the US. So, if its your first time in the big apple, you should definitely try a slice of history from this well-known location.
Type of Pizza: Coal-Fired
Address: 32 Spring Street
Instagram: lombardis_pizza_nyc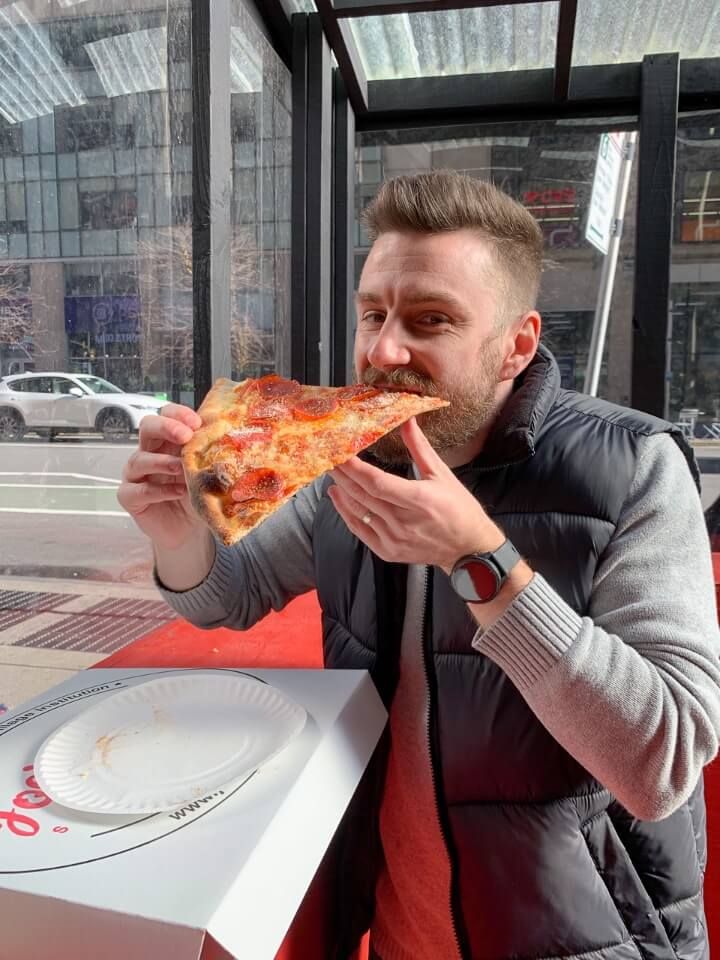 7. Patsy's (East Harlem)
Similar to Lombardi's listed directly above, this pizzeria is one of the originals. Opened in 1933, the coal-fired oven pizzeria has been grandfathered in and continues to produce delicious slices year after year.
Patsy's is an Italian restaurant that also happens to serve an amazing pie and has since opened multiple locations around New York.
There are very few thrills here as the the thin crust is nicely charred in the well seasoned coal-fired oven. It is rumored Frank Sinatra considered this iconic spot to be one of this favorites in the New York City!
Type of Pizza: Sicilian Coal-Fired, Entire Pies Only (no slices)
Address: 2287 1st Avenue
Instagram: patsyspizza
8. Prince St. Pizza (Nolita)
Home to the original spicy pepperoni square! We just have to rave about the Ezzo pepperoni they use on every slice. The Ezzo is thick cut and typically folds up when cooking giving you the perfect crispy edged pepperoni cup.
Serving both classic NYC slices and Sicilian squares there is something for everyone here. Beware there will likely be a line here but we can promise you it will be worth the wait.
Type of Pizza: Classic NYC slice, Sicilian Square
Address: 27 Prince Street
Instagram: psp_nyc
9. Ribalta (Union Square)
For that traditional Italian experience, Ribalta uses a mixture of flour specially milled by Le 5 Stagioni, an Italian flour mill. The same miller also provides a natural yeast used for the dough which makes this pizza both light and easily digestible.
While many ingredients are sourced from Italy, the remaining ones come from the local Union Square Greenmarket. So you can support both local markets and experience true Neapolitan pizza in one visit!
One of the few restaurants on the list, this pizzeria is perfect for a large group dinner. Not only is the Neapolitan pizza delicious, but the bottles of wine are priced fairly and soccer matches are displayed on the high ceiling walls.
Type of Pizza: Neopolitan
Address: 48 E 12th Street
Instagram: ribalta.restaurant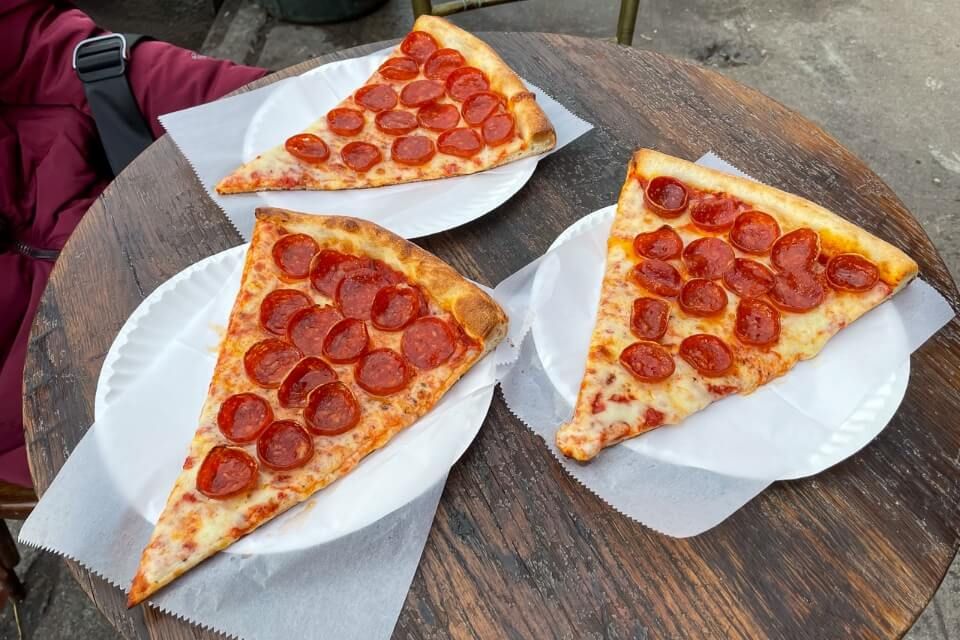 10. Rubirosa Pizza & Ristorante (Nolita)
Another Italian restaurant on the list, this place is famous for its vodka pizza sauce. Yes you read that right, vodka pizza sauce. Rubirosa is perfect for any occasion and they have an extensive gluten free menu.
If you are looking for something special to share with your friends, the Tie Dye Roni pie is always a favorite. What is this you ask? Well, you will just have to visit for yourself to find out!
Type of Pizza: Classic NYC slice
Address: 25 Mulberry Street
Instagram: rubirosa_nyc
11. Scarr's (Lower East Side)
Offering both classic NYC slices and Sicilian squares, you will be spoiled for choice here.
Opened in 2016 by Scarr Pimentel, this pizzeria has quickly built up a strong reputation. What makes this place unique is that Scarr's stone-mills their flour made from wheat berries using grains from upstate NY right in their basement.
In our opinion, the cheese and the marinara used on the classic NYC slice are perfectly combined, while the dough on the Sicilian is almost unmatched in the city.
We passed Scarr's one day while sightseeing and were lured in by the atmosphere. There is certainly an energy here so try a slice while sipping on a frozen margarita.
Types of Pizza: Classic NYC Slice, Sicilian Squares
Address: 22 Orchard Street
Instagram: scarrspizza
12. Song' E Napule (SoHo)
If you want to try a piece of Naples, Italy without leaving the States, this is your chance. We believe this is the best option for authentic Neapolitan pizza. It is characteristically chewy, airy and a little crunchy. But it is available in personal pies only.
Chef and owner, Ciro Lovine uses flour, olive oil and meats imported from Italy. Opened in 2015, Song' E Napule has since expanded into several locations. If you do stop in, be sure to try the Buffalo Mozzarella!
Type of Pizza: Neapolitan, Personal Pizzas Only (no slices)
Address: 146 W Houston Street
Instagram: songenapulenyc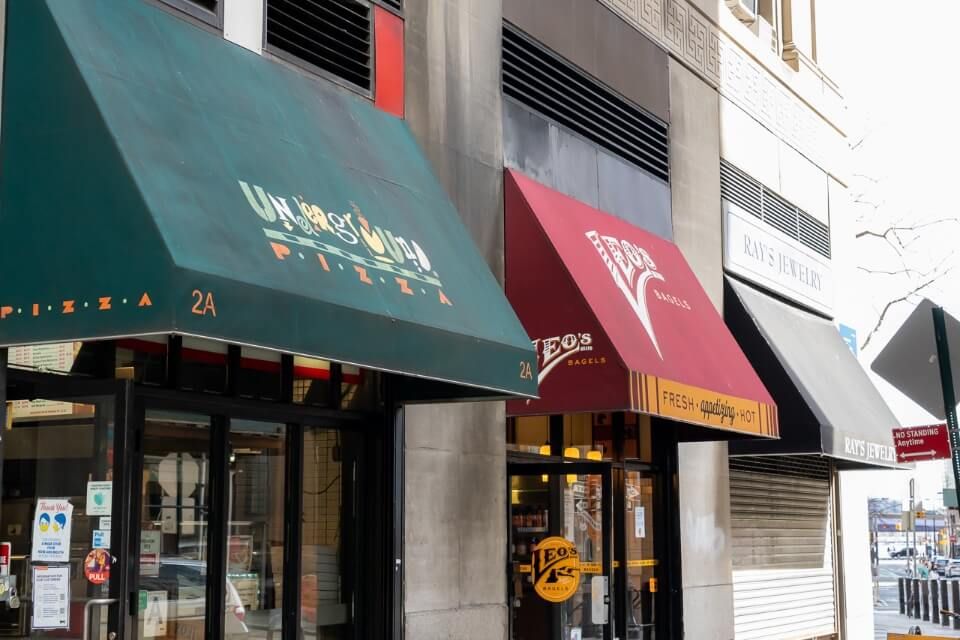 13. Underground Pizza (Financial District)
Located in the financial district and only a few blocks from Wall Street, this is the perfect place to stop either before or after your visit to the Statue of Liberty. The service is always quick and you won't have to wait long after placing an order.
We will admit we have eaten here several times and our slices were always very good. Make sure you come hungry because Underground Pizza serves very large NYC style slices which have to be folded in half to eat. The staff are always a pleasure and it's honestly just a great no frills place to stop for a quick on the go slice!
Type of Pizza: Classic NYC Slice
Address: 3 Hanover Square at 2A Williams Street
Instagram: undergroundpizzanyc
Best Pizza In Brooklyn, NYC
Now that we have covered pizza in Manhattan, we must move on to pizza in Brooklyn. There is a good chance you will be heading to Brooklyn at some point during your visit and its only right you sample some pizza here too!
Want a night to remember? Grab pizza from the famous Grimaldi's or highly rated Juliana's before walking across the Brooklyn Bridge at sunset.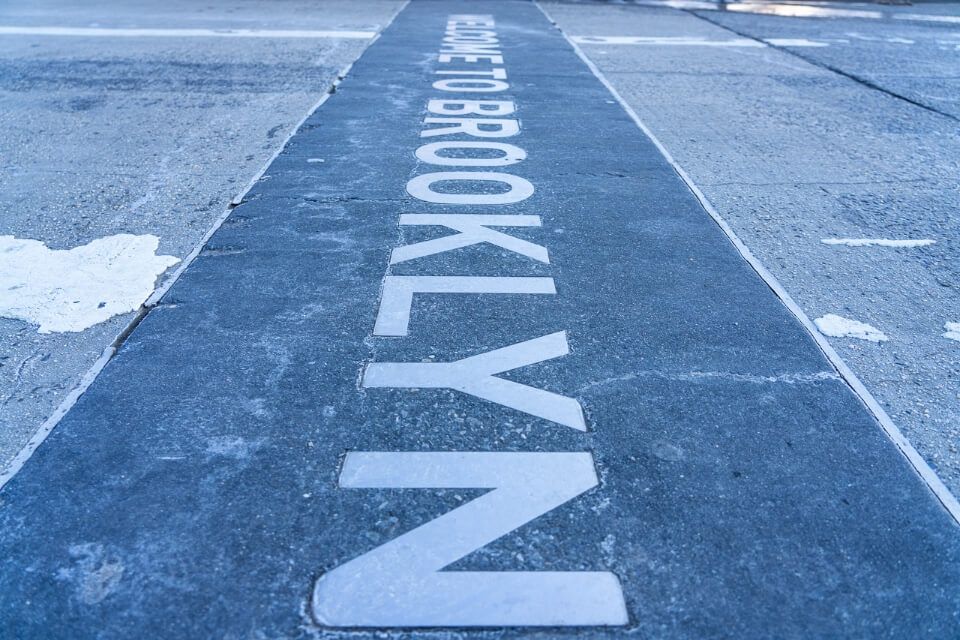 14. Best Pizza (Williamsburg)
Aptly and cleverly named for the digital age, Best Pizza was opened in 2010 by Frank Pinello.
This former bakery has become one of the hottest spots to grab a slice in Brooklyn. Known for their fresh ingredients, Best Pizza also serves up hero's (subs), salads and gluten free options so there is something for everyone.
We love the grandma square as its doughy, cheesy and topped with delicious sweet and tangy tomatoes. But the cheese and white options served with the meatballs or mushrooms and caramelized onions is just as wonderful.
Type of Pizza: Classic NYC slice, Grandma slices, Wood-Fired
Address: 33 Havemeyer Street
Instagram: bestpizza33
15. Grimaldi's (DUMBO)
Founded in 1990 by Patsy Grimaldi and nestled right by the Brooklyn Bridge, this has become one of the most famous pizza places in New York City. We tried several times to eat here but the wait was too long, so be warned, without a reservation you may not be successful.
Like true traditional coal-fired pizza, the pies at Grimaldi's are known for their thin crispy base and unique smokey flavor. Grimaldi's uses only the freshest ingredients, handmade mozzarella, a secret sauce and a 100-year-old dough recipe. You will not be disappointed here.
Type of Pizza: Coal-Fired, Entire Pies Only (no slices)
Address: 1 Front Street
Instagram: grimaldispizza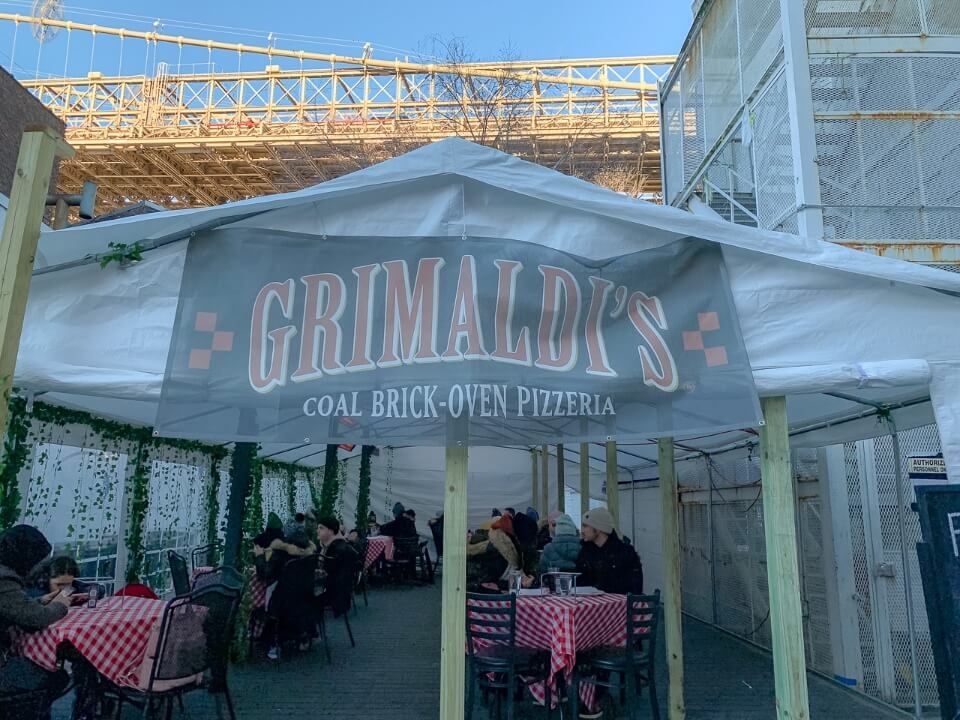 16. Juliana's Pizza (DUMBO)
Another interesting NYC pizzeria backstory.
Juliana's main rival pizzeria is Grimaldi's (listed directly above) but the two share a lot in common. Not only were these pizzerias founded by the same person, Patsy Grimaldi, but they sit adjacent to one another right by the Brooklyn Bridge.
Much to everyones surprise, Patsy Grimaldi came out of retirement about two decades after selling his original shop, Grimaldi's. In 2012, he changed his mind about retirement and opened up Juliana's pizzeria basically next door.
While Juliana's also uses a coal-fired oven for their pies, they also serve delicious pasta dishes. Despite Grimaldi's popularity, Juliana's has a better user rating on Google.
Type of Pizza: Coal-Fired
Address: 19 Old Fulton Street
Instagram: julianaspizza
17. L&B Spumoni Gardens (Gravesend)
Parmesan lovers this will be your place!
These square pizza slices are made a bit differently as mozzarella is added straight to the dough followed by the delicious tomato sauce. Grated Romano cheese is then added all over the pie but special attention is given to the crust. The result from this process is a flavorful crust giving off serious parmesan breadstick vibes.
Open since 1939, the square pizza and ice cream is always made fresh on premises with no frozen or prepackaged foods. Recent reviews always seem to rave about their thick sweet marinara sauce (and even Calamari if you want a seafood kick!).
Type of Pizza: Sicilian Squares
Address: 2725 86th St.
Instagram: lbspumonigardens
18. L'Industrie Pizza (Williamsburg)
This pizzeria is one of our all time favorites.
Owned by Florence native, Massimo Laveglia, L'Industrie combines the best tastes of Italy with the authenticity of the NYC slice. L'Industrie takes great pride in their ingredients and import several from Italy.
What sets this highly rated pizzeria apart is tradition of the ultra thin crust paired with so many delicious topping options. Be sure to try some of the fig jam and bacon or the portobello mushroom and truffle sauce.
Type of Pizza: Classic NYC Slice
Address: 254 South 2nd Street
Instagram: lindustriebk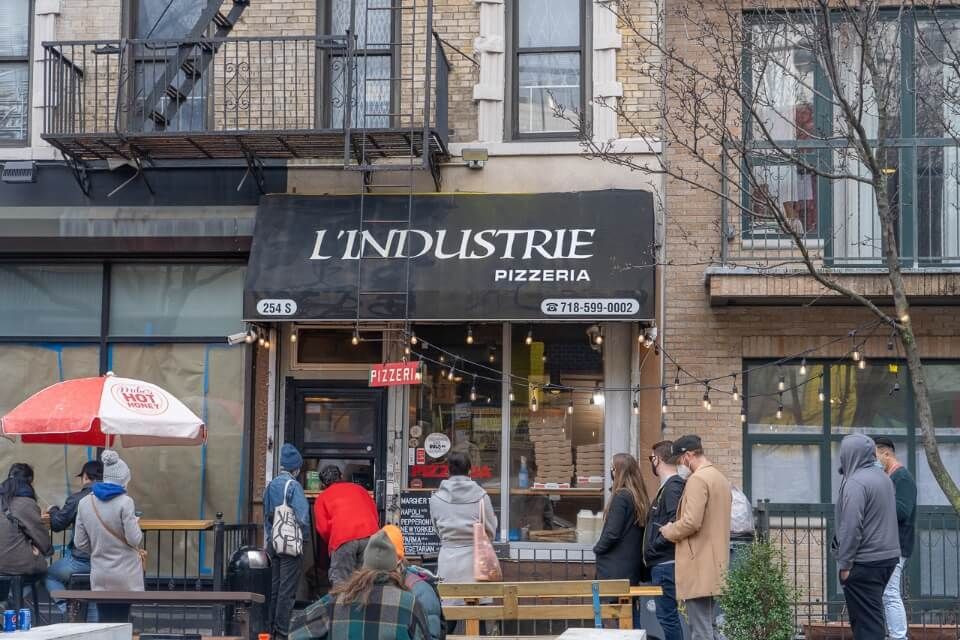 19. Emily (Downtown Brooklyn)
There is no other place in the city where you will feel the love of pizza more than Emily. They even opened a second location in West Village called Pizza Loves Emily!
As a husband and wife team, Matt and Emily, work together to bring you pizza and other high-quality foods directly from the heart and served with love.
Wood-burning ovens create the signature red, pink and white scrumptious pizzas that line the menu. Our favorite is of course the Emily, a white pizza with mozzarella, pistachio, truffle sottocenere and honey.
Type of Pizza: Wood-Fired, Entire Pies Only (no slices)
Address: 919 Fulton Street
Instagram: pizzalovesemily
Best Pizza In The Bronx, Queens and Staten Island, NYC
Few visitors to New York will venture from Manhattan and Brooklyn. But if you are heading to the other boroughs of NYC, you are in luck because the pizza here is just as tantalizingly delicious.
Whether you are headed to the Bronx, Queens or Staten Island, there is plenty of pizza to go around. If you have enough time, why not try to sample pizza from all five boroughs?!
20. Louie & Ernie's (Pelham Bay – Bronx)
If you are looking for a slice that has a little bit of kick on the first bite, look no further.
Louie and Ernie's are famous for center loading their pies. This means they put a pinch of black pepper in the center so your first bite is one to never forget.
Louie and Ernie's has become famous for their white and sausage topped pizzas but their calzones are also a wonderful choice. Be aware this joint is cash only, but they do offer 12 inch frozen pizzas for pick up if you want to bring one home for later.
Type of Pizza: Classic NYC Slice
Address: 1300 Crosby Ave
Instagram: louieandernies
21. Milkflower (Astoria – Queens)
Milkflower offers a hip atmosphere, wood-fired pizzas, small Italian plates, salads and craft beers. So all in all, you can't really go wrong. Like a true Neapolitan, the crispy crust is nice and chewy.
We also have to discuss the menu options because there is so much to choose from. With about 15 different pizzas aptly named, you will have fun choosing your next favorite pizza in NYC.
Type of Pizza: Wood-Fired, Neapolitan, Personal Pizzas Only (no slices)
Address: 34-12 31st Avenure
Instagram: milkflowernyc
22. Joe & Pat's Pizzeria (Staten Island)
Family owned and operated since 1960, this pizzeria produces slices with a super-thin flat crust, bright tomato sauce and several blobs of gooey mozzarella. They also serve classic pasta dishes and Italian entrees if you are looking for a little bit more variation.
Don't take the dough here for granted. A deep-tissue massage is what gives the dough its characteristic cracker like crunch which takes at least six months to master.
While the menu offers pies with various toppings, be sure to try the 1960s original. Happy hour is available Monday-Thursday from 4-7pm and Friday-Saturday from 12-6pm.
Type of Pizza: Neapolitan, Sicilian, Grandma, Personal Pizzas Only (no slices)
Address: 1758 Victory Blvd
Instagram: joeandpats
Best Pizza in NYC by Map
Would you like to see the locations of each pizza place spread throughout the city?
Here's a link to our Best Pizza in NYC Map so you can see exactly where you can pick up a slice.
And here's what you need to do once you open the map:
Click or touch your screen to activate the map.
Scroll around New York City to find each of the 22 best places to eat pizza in NYC as listed in this guide.
Pick the closest option or one from the list that you really like the sound of.
Either select directions from your location or your hotel.
Follow the walking or subway route to grab your slice!
Map Key:
Burgundy – Best Pizza Places in Manahttan

Blue

– Best Pizza Places in Brooklyn

Green

– One each from Queens, Bronx and Staten Island
Note: Many of the pizza places listed above now have multiple locations throughout NYC. We have included the original location for each of our top rated pizza joints in the map.
But we have also included second locations for some of the harder to reach original locations for those who might only visit Midtown and Lower Manhattan, as well as Brooklyn.
Tip: Choose some of your favorite pizza places from the list above and pin them to your Google Maps or Apple Maps. You can then easily find them when walking around the city.
Honorable Mentions for Best Pizza in NYC
We could have easily made this best pizza in NYC list go on forever. It was a very difficult task putting together this small list of amazing places.
But we have included some additional pizzerias below if you are continuing the quest to find the best pizza in NYC:
Di Fara's Pizza
Luigi's Pizzea
Nolita Pizza
NY Pizza Suprema
Paulie Gee's
Roberta's
Sottocasa
Totonno Pizzeria Napolitana
What Makes A New York Style Pizza?
Several components go into making an New York pizza special. Everything from its characteristic crust to the type of water used, to the specific ingredients, dough content and even the well-seasoned ovens play an important role.
Having traveled the world, we can vouch that NYC pizza is unlike any other. Well, maybe except the delicious pizza in Naples, Italy – but it is related after all.
Classic NYC Pizza Slice
Pizza in NYC is defined by its characteristically large thin-based that is hand-tossed. This thin base makes the crust both crispy and thick on the outside edges. But the lack of thickness means the pizza will be thin enough to fold.
In New York, pizza is often sold by the slice or as an entire pie. An 18 inch pizza will usually make 8 large slices.
Sometimes slices are so big, two paper plates are need to fit just one slice. As New Yorkers are often on the go, this is where the thin characteristic comes into play. Slices are eaten folded in half vertically giving the name to a classic NYC slice.
NYC Water
Many people have attributed New York's famous pizza to minerals and componenets found within the city's water supply. With low levels of calcium and magnesium, the water from the city is considered to be soft. I
If you want to get scientific the soft water probably tastes saltier due to an increase in sodium. But this increase in sodium also affects the gluten in the pizza dough making it softer resulting in the perfect softness for tender and chewy pizza crusts.
This water theory has yet to be proven or disproven. However, some out-of-state pizzerias even import New York City water to make with their pies. So something must be in the water!
The Right Ingredients
Tomatoes and cheese are an integral part to the pizza. The classic NYC slices are often just pure and simple.
But when it comes to the tomato sauce, it usually includes garlic, canned tomatoes, olive oil, basil, oregano, crushed red pepper and even a little bit of sugar in some combination. If you didn't know, sugar helps to bring out the taste of the tomatoes.
Depending on the type of pizza, mozzarella cheese will also differ. Whole milk mozzarella is popular because it melts well and has a rich flavor. In a classic NYC slice, the mozzarella used is always dry and grated which results in low moisture. But with a Neapolitan fresh slices of mozzarella are typically used.
New York pizza shares a history with Italian-Americans. To this day, several of the pizzerias import specific ingredients directly from Italy to maintain that traditional Italian taste.
Dough Content and Ovens
New York pizza dough uses flour with a very high protein content. This results in dough with a high gluten content as well.
The high gluten makes the crust both light and chewy but the dough must also be hand tossed to create the perfect thickness. As you can see, it takes a certain amount of content as well as skill to make the perfect New York style crust.
Last but not least, the pizza ovens in New York are old. Over the years, these ovens have become well-seasoned.
Similar to a well-seasoned frying pan these ovens add to the characteristic taste as they have only add to the classic NYC pizza taste.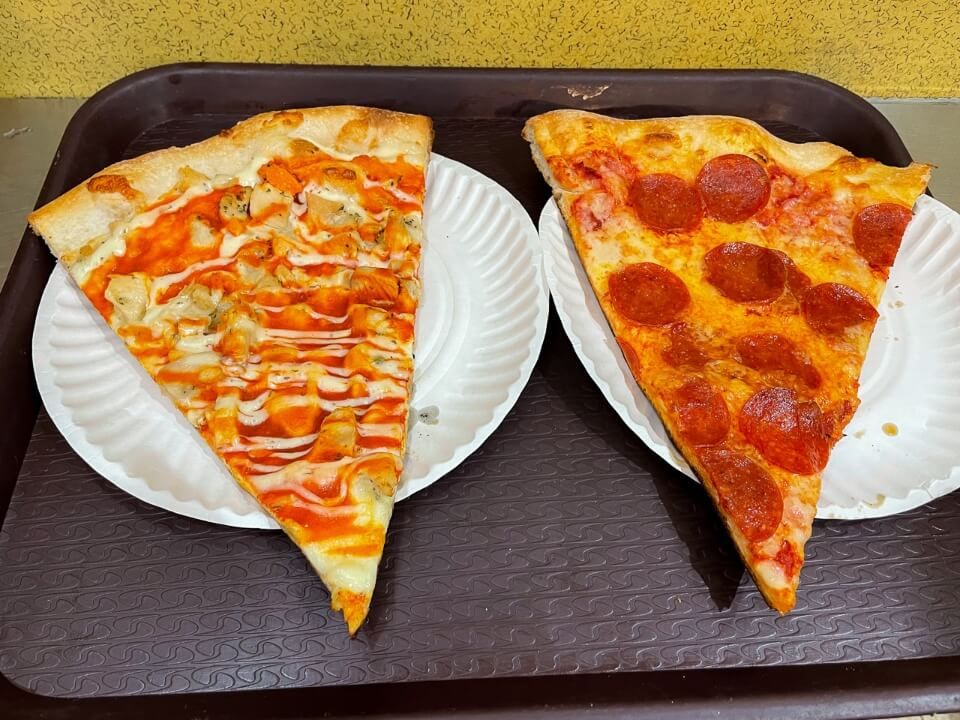 History of Original New York City Pie: Neapolitan-American
Pizza was originally invented in Naples, Italy. Legend has it when Queen Margherita visited Naples in the late 1880s, she enjoyed a pizza known then as mozzarella.
At the time, this was a pie topped with white cheese, red tomatoes and green basil. From this point onward, the pizza she loved became known as the Margherita.
Immigrants From Naples
But it wasn't until immigrants from Naples came to the United States did Pizza began gaining popularity in the States. While most immigrants came looking for other work, they never expected their pizza to make a popular statement in NYC.
The first documented pizzeria began with Gennaro Lombardi in 1905. He began selling his pizza out of his grocery store on Spring Street in Manhattan.
Lombardi adapted his families Naples recipe using local ingredients and cooking methods, which resulted in the Neapolitan-American with tomato and mozzarella cooked in a coal burning oven.
In Naples, pizza was traditionally cooked with wood and the center was usually soft and small. These smaller Naepolitian pizzas were intended for one person, while New York pizzas were created much larger.
In New York, Coal was used instead of wood because coal could be burned efficiently at higher temperatures thus making it much cheaper.
Lombardi's pizza became so popular he stopped selling groceries and focused on selling pizza entirely. Lombardi's pizza were very large, allowing him to sell pieces by the slice. The price at this time was roughly a nickel per slice.
Pizza Becomes Popular in NYC
Several of Lombardi's employees broke out on their own over the years which further helped the spread New Yorkers love of pizza all throughout the city. Antonio Totonno Pero, an employee of Lombardi's, left the shop in 1924 to open Totonno's in Coney Island.
In 1929, John Sasso, another former employee opened John's Pizza on Bleaker Street. In 1933, Patsy's opened in Harlem as he was rumored to be a former employee of Lombardi's as well. If you are visiting the city and want to try a slice of history – Lombardi's, Totonno's, John's and Patsy's are still going strong today.
Pizza in NYC Post WWII
Post World War II, pizza boomed in New York as it became viewed as a fast, fun food. GI's returning from the war were excited to enjoy pizza they had previously experienced in Italy. Pizzerias began springing up all over the city to keep up with the demand.
But concerns over air pollution, led NYC to ban coal-fired ovens. So nowadays, pizzas are made in gas-fired ovens which are cheaper and after to run. So this means even more pizzerias for you to try!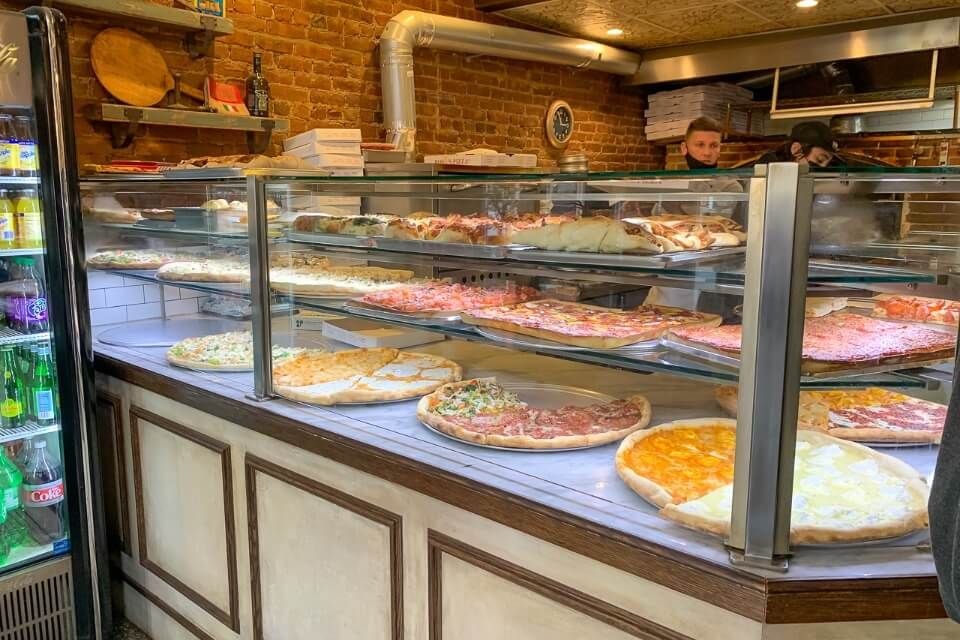 The Different Types Of Pizza In NYC
Now that you understand the history of the famous NYC pizza, there are several types of pizza available when you visit. We don't believe you can compare a classic NYC slice to a Neapolitan and call one of them the best pizza.
When you get down to the basics, these pizzas are very different and its important to understand the characteristics of each one.
Coal-Fired
These pizzas always have a nice char to the bottom of the pizza often producing a crispy charred crust. These pizzas will also have a chewy and stable center giving them the distinct and unique taste.
As mentioned above, coal-fired pizza is America's oldest pizza but coal-fired ovens in NYC have been banned. The only coal-fired ovens in the city today have been grandfathered in over time. You will quite literally be tasting the history of pizza with every slice.
Gas-Fired or Wood-Fired
After coal-fired ovens were banned in the city, the options were wood or gas. While both options all you to cook at high temperatures, there are a few differences.
A gas-fire oven its easier to use and is more practical to use. It nicely chars the crust of the pizza and is often a cleaner option for cooking. Gas ovens usually provide a large cooking area as well.
A wood-fire oven adds a authentic smokey flavor to the pizza. Its the most popular options today but they are a little bit more difficult to use. The pizzas cook very quickly which helps to give it that delicious charred flavor.
Classic NYC Slice
The iconic slice is instantly recognizable by its thin crust. Its served on a paper plate and meant to be folded when on the go. A classic NYC slice is not loaded with tons of toppings but just traditionally topped with mozzarella cheese and tomato sauce.
Sicilian
Sicilian pizza is characteristically square because it is cooked in a square pan. The key difference is the dough as it is given extra time to rise. As a result, the crust is thicker compared to the classic NYC slice. The Sicilian style resembles something similar to Focaccia bread making it look fluffy and heavy. Unlike a classic NYC slice, Sicilian pizza is also served with a very generous portion of sauce and toppings.
Neapolitan
The traditional Neapolitan pizza crust is always light and airy. Dough is often freshly made and hand rolled to perfection. But its the very specific ingredients that make these pizzas delicious. This style of pie is made with a specific kind of tomato, San Marzano tomatoes. There is nothing but top quality tomatoes in this kind of pizza!
Mozzarella cheese also plays an important part. Buffalo Mozzarella is often the choise of cheese used due to its creamy texture and very rich flavor.
Summary Of Best Pizza Places In NYC
Corner Slice (Hell's Kitchen)
FUMO (Harlem)
Joe's Pizza (Greenwich Village)
John's of Bleeker Street (West Village)
Koronet Pizza (Morningside Heights)
Lombardi's (Little Italy)
Patsy's (East Harlem)
Prince St. Pizza (Nolita)
Ribalta (Union Square)
Rubirosa Pizza & Ristorante (Nolita)
Scarr's (Lower East Side)
Song' E Napule (SoHo)
Underground Pizza (Financial District)
Best Pizza (Williamsburg)
Grimaldi's (DUMBO)
Juliana's (DUMBO)
L&B Spumoni Gardens (Gravesend)
L'Industrie Pizzeria (Williamsburg)
Emily (Downtown Brooklyn)
Louie & Ernie's Pizza (Bronx)
Milkflower (Queens)
Joe & Pat's Pizzeria (Staten Island)
Read More About New York City
More Foodie Guides
Need Help Planning Your Visit To New York City?
NYC is a vacation planning beast and it can be overwhelming trying to get every aspect right. Trust us, we know!
After living in New York City and exploring non-stop for 3 months, we created a comprehensive NYC travel guidebook & itineraries that will answer every question you have about where to stay, what to do, where to eat and how to get around the city.
Click see details below to read more about how we can help you plan your dream trip to New York City!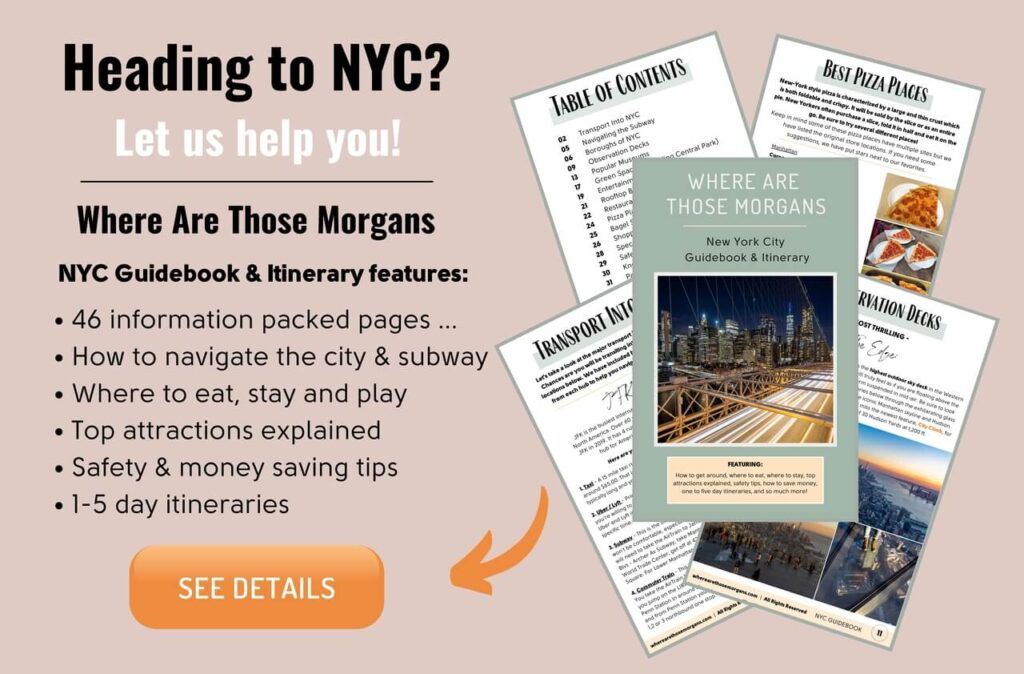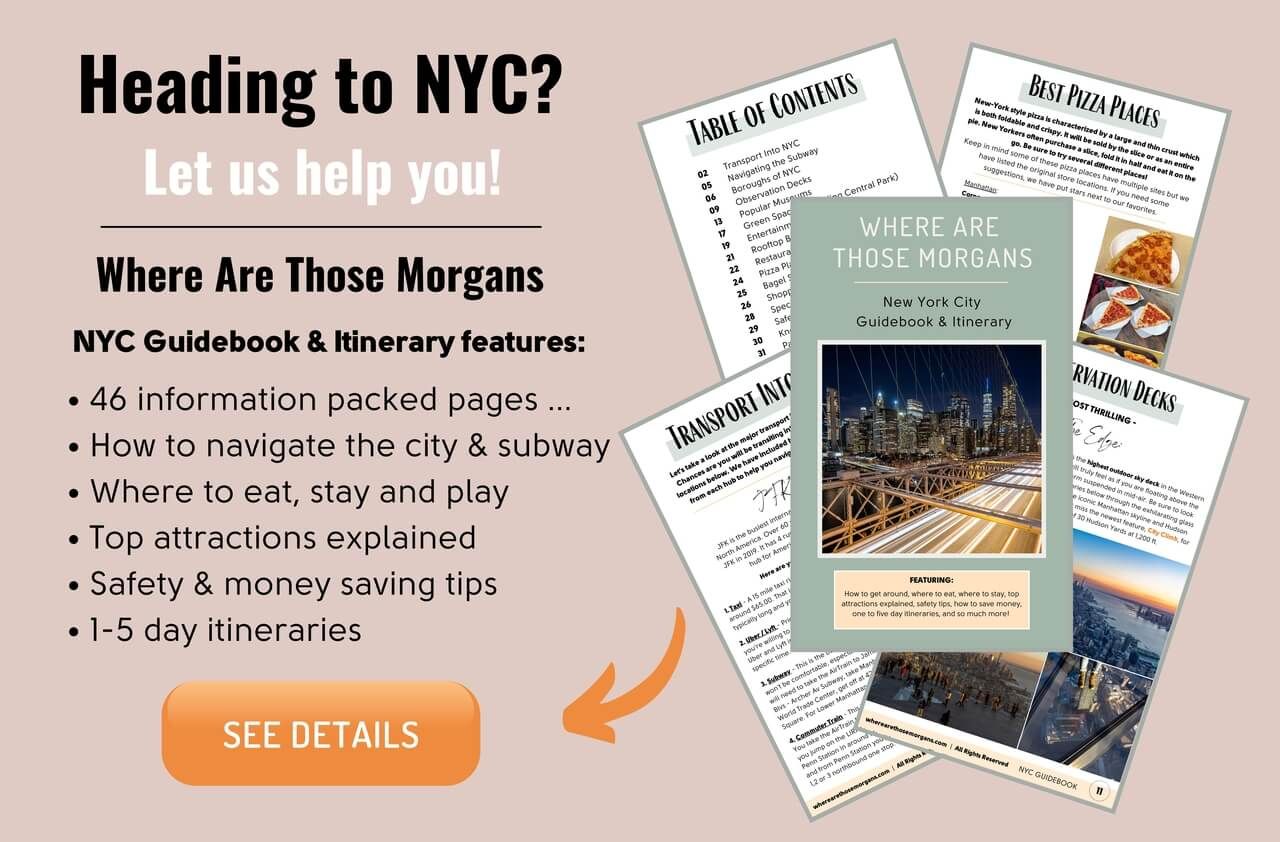 We hope this list of best pizza places in NYC helps you find your new favorite pizza during your visit to New York City!
Did you try one? Or did you try several?
Please share your favorite pizza place or let us know if you have any further recommendations.
Happy Travels,
Mark and Kristen
Was This Post Helpful? Pin In For Your Visit!