SUMMIT One Vanderbilt is the newest observation deck in New York City located in Midtown Manhattan. But this is more than just an observation deck, it's a global cultural phenomenon meant to awaken your senses.
Having visited all of New York's popular observation decks ourselves, we can confirm SUMMIT is unlike any of the other iconic viewing platforms in the city.
Our experience with SUMMIT One Vanderbilt compared to a theme park roller coaster ride featuring stunning views of Manhattan, Brooklyn and New Jersey along with iconic sights of the Empire State Building, Central Park and so much more.
This guide will tell you everything you need to know for your visit to SUMMIT One Vanderbilt. But we will also tell you tips we wished we knew before our visit and show you the best photography locations.
Here's how we will help you plan your trip to SUMMIT One Vanderbilt:
What is SUMMIT One Vanderbilt and how to get there
SUMMIT One Vanderbilt ticket options
12 things to do at SUMMIT One Vanderbilt
A photo walkthrough and detailed explanation for all 3 observation deck floors
Best time to visit and tips for your visit
Final thoughts with pros and cons
Now, let's climb SUMMIT One Vanderbilt observation deck!
What Is SUMMIT One Vanderbilt?
SUMMIT One Vanderbilt leads the way in modernizing NYC. It currently sets the standard as the tallest commercial skyscraper in Midtown Manhattan and lands among the 30 tallest buildings in the world.
But that's not all, SUMMIT has made waves as the ascent experience features the largest glass floor elevators as well as the highest rack-and-pinion elevator system in the world.
The entire building was designed to express an openness and rises to a point at its summit. This design mimics the surrounding icons of the Empire State and Chrysler Building.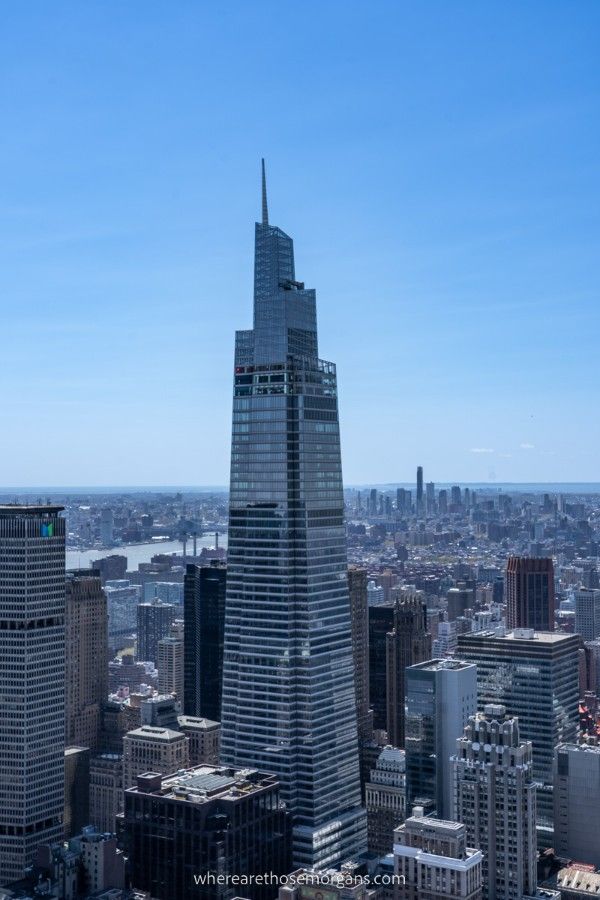 How Many Floors Is SUMMIT One Vanderbilt?
One Vanderbilt is a whopping 93 stories tall with large floor to ceiling windows helping to bring in natural light throughout each stunning room.
A total of 3,291 stairs will take you from the ground to the top of One Vanderbilt, which is the equivalent of 8 State of Liberties.
The SUMMIT observation deck is located between the 91st and 93rd levels. The 91st and 92nd floors are completely enclosed while the 93rd floor showcases an outdoor viewing platform.
Sustainability And Wellness
We like SUMMIT One Vanderbilt because the founders had a focus on sustainability from day one by achieving one of the lowest carbon footprints in NYC. You can read more about SL Green Realty Corporation here.
The SUMMIT foundation also strives to give back 1% of all gross revenue by reinvesting back into the NYC community through charities and organizations.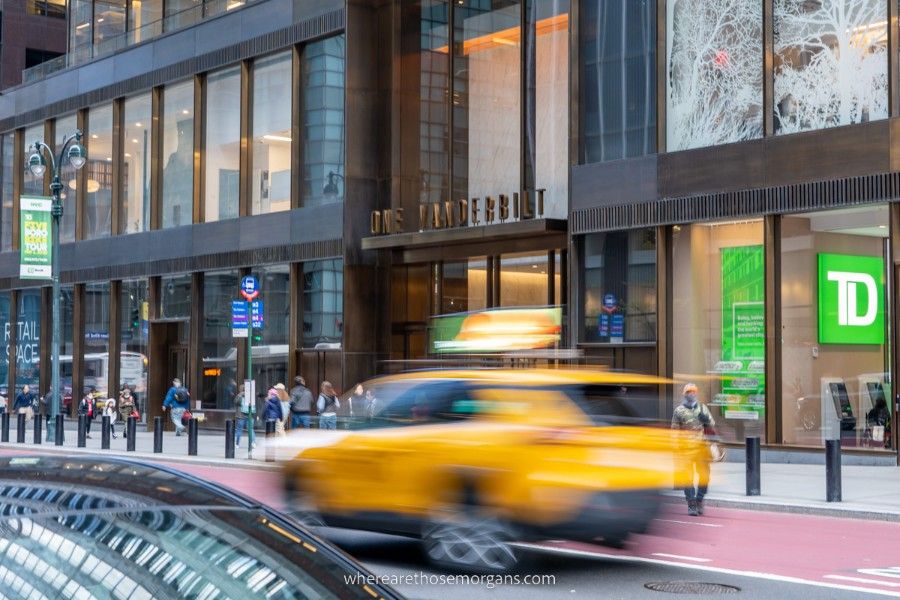 Where Is SUMMIT One Vanderbilt?
One Vanderbilt is directly connected to Grand Central Station in Midtown Manhattan. Over $220,000,000 of this project cost was dedicated to improving Grand Central Terminal.
SUMMIT One Vanderbilt Address: 45 E 42nd St, New York, NY 10017
Click here for the Google Maps location.
There are two ways to enter One Vanderbilt.
You can enter through 45 East 42nd St between Madison and Vanderbilt Ave. Look for the black SUMMIT One Vanderbilt signs, take the escalator down and follow the arrows pointing you to the "observation deck." This is how we entered the SUMMIT observation deck.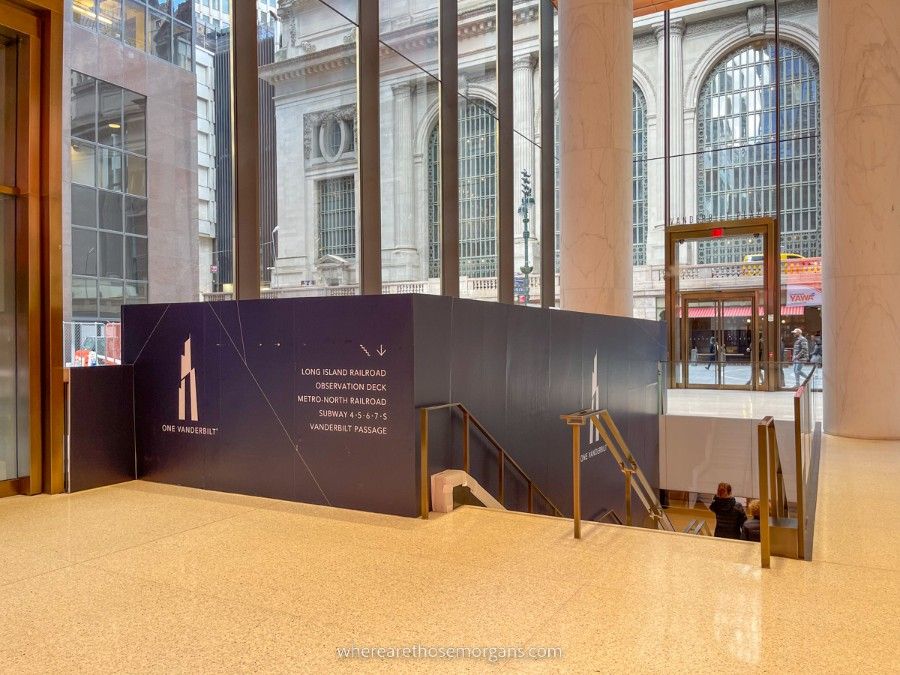 The second entrance can be found directly inside Grand Central Terminal on the main concourse level. Once inside Grand Central Station, look southwest for the "ticket machines, subway and 42nd St" sign and take this passage.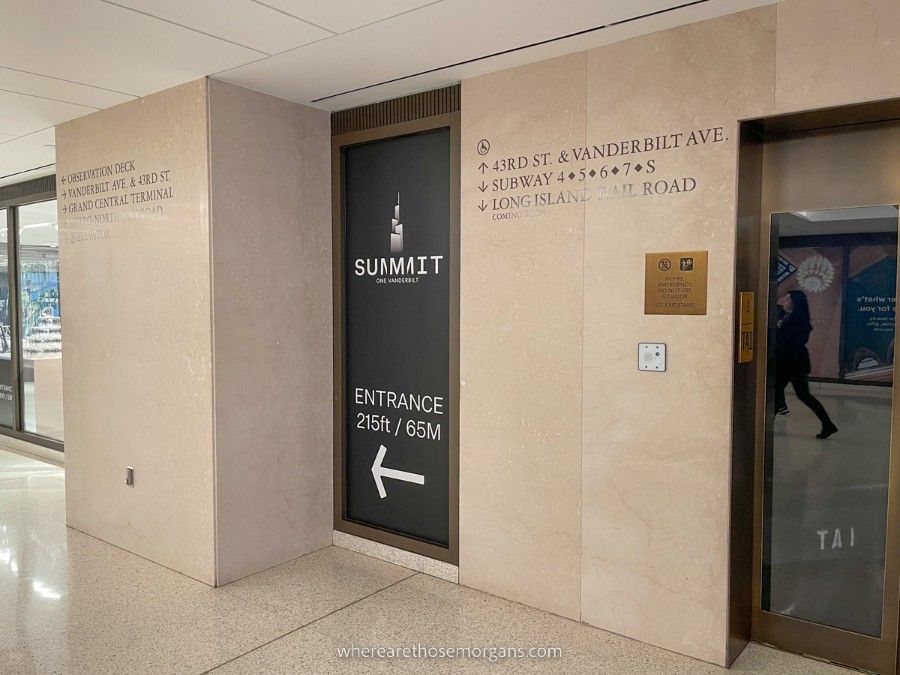 You then want to continue to the "subway shuttle passage" and "Vanderbilt Ave 42nd & 43rd St" signs which will lead you to the basement of One Vanderbilt.
From here, look for the black SUMMIT One Vanderbilt signs and follow the arrows for "observation deck."
How To Get To SUMMIT One Vanderbilt
You can get to the SUMMIT observation deck in many different ways.
Nearest subway: Lines 4, 5, 6, 7, and shuttle at Grand Central, 42nd Street
NYC bus service: M101, M102, M103, M1, M2, M3, M4, Q32, and M42
Metro-North: Hudson, Harlem, and New Haven lines arrive into Grand Central Terminal
Access-a-ride paratransit service: Corner of East 43rd Street and Lexington Avenue.
If you have a car, you will find multiple parking garages nearby but rates, availability and space may vary.
You can also arrive by Uber, Lyft or taxi but this might not be the most cost effective option.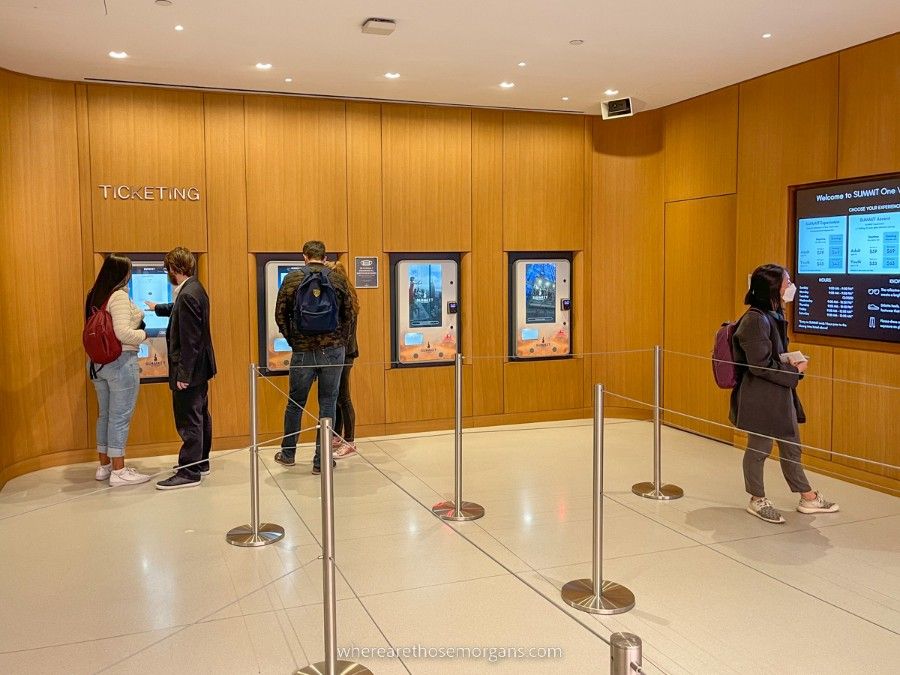 SUMMIT One Vanderbilt Tickets
You will need a ticket to visit SUMMIT One Vanderbilt.
There are four main ticket options with both day, sunset and evening price categories. You will pay about $10 more for a sunset or night time visit time.
The SUMMIT experience is the basic general admission ticket and includes a dated as well as timed entry to all three floors. This general ticket will include access to at least Air, Levitation and Après.
The three other ticket options will include additional add ons from basic general admission.
SUMMIT Experience – General Admission. Online tickets begin at $42 for adults and $36 for children (6-12) for day time tickets.
SUMMIT Signature Experience – General Admission + SUMMIT signature cocktail (or mocktail). Online tickets begin at $56 for adults and $50 for children (6-12) for day time tickets.
SUMMIT Ascent – General Admission + Ascent glass elevator. Online tickets begin at $62 for adults and $56 for children (6-12) for day time tickets.
Ultimate SUMMIT – General Admission + Ascent glass elevator + a SUMMIT signature cocktail. Online tickets begin at $76 for adults and $70 for children (6-12) for day time tickets.
New York City residents also receive a small discount on SUMMIT observation deck tickets.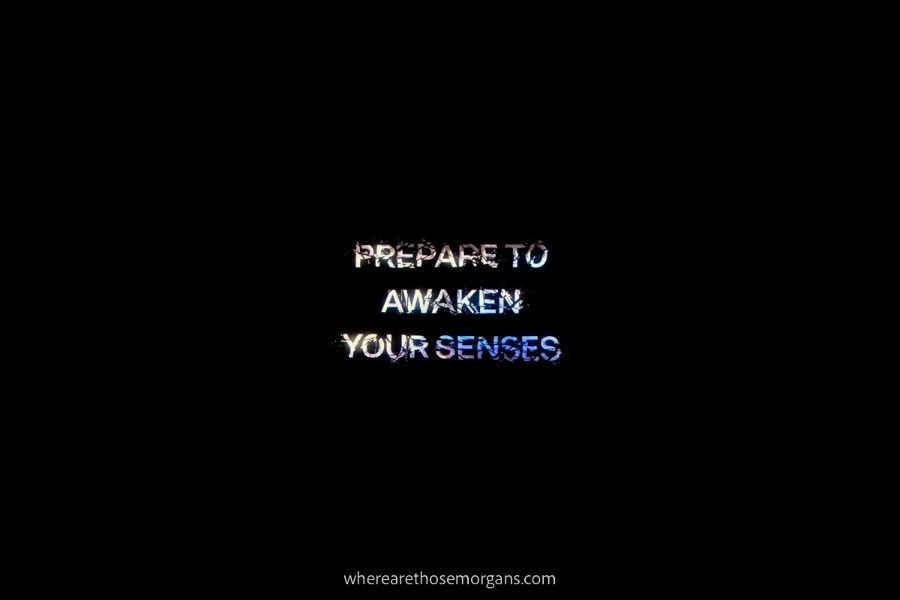 How To Buy SUMMIT One Vanderbilt Tickets
There are many ways to purchase SUMMIT observation deck tickets.
You can buy tickets directly from the official SUMMIT One Vanderbilt website or onsite at One Vanderbilt.
Or you can purchase an entry ticket through:
Click on the orange links to compare reviews and ticket options.
If you are looking for a walking tour, you can also consider a combination ticket for a must-see Manhattan walking tour with a SUMMIT One Vanderbilt ticket. Shop the Take Walks SUMMIT One Vanderbilt tours here.
Another way to save money if you plan to visit several of New York City's top attractions is by purchasing an attractions pass.
Buying a New York attractions pass will give you instant access to the most iconic NYC museums, landmarks and observation decks at a discounted price.
The idea is simple in that the more attractions you visit, the more discount you will recieve and the more money you save. It's very similar to buying in bulk.
Having used all of the NYC attraction passes ourselves when we lived in New York, we recommend the New York Sightseeing Pass because its extremely easy to use while offering both flexibility and big savings.
While SUMMIT One Vanderbilt is not currently on any NYC attraction pass, you can visit every other observation deck with this pass and we have an exclusive 10% discount just for our readers.
Want To Save Money In NYC?
Use the button below to claim 10% off any NY Sightseeing Pass.
You can also read our detailed comparison to the New York attractions passes to help you decide which New York pass you should purchase for your visit to the Big Apple.
Which Ticket Should You Purchase?
We visited with a basic SUMMIT Experience ticket and personally thought this ticket was enough. We didn't think the glass elevator was worth an extra $20 each and we were happy with our decision.
But if this is your first time in NYC or you are celebrating something special, go ahead and splurge to ride the world's highest glass elevator.
However, we do recommend you purchase your ticket online before you visit. Sunset time slots are extremely popular and may be sold out so it is best to book as soon as possible.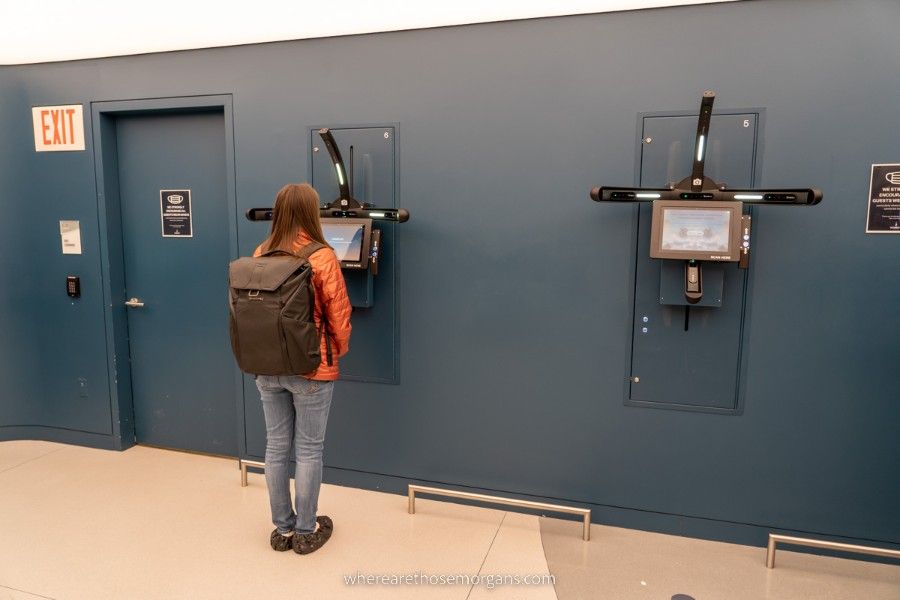 12 Things To Do At SUMMIT One Vanderbilt
The construction of SUMMIT One Vanderbilt began in 2016 and officially opened to the public on October 21st, 2021. We visited SUMMIT One Vanderbilt in April 2022, just a few months after it opened.
At SUMMIT observation deck, you will experience 6 experimental immersive spaces across 65,000 sq ft over 3 main floors. The experience is a one-way system so once you leave a room, you will not be allowed to go back.
If you have a sunset ticket, be sure to take your time at each exhibit. This way you experience the best areas while the sun is in prime position. We talk about where to be for sunset later in our guide.
Next, we will walk give you a detailed photo walk through of each room in order so you know exactly what to expect for each section of this observation deck.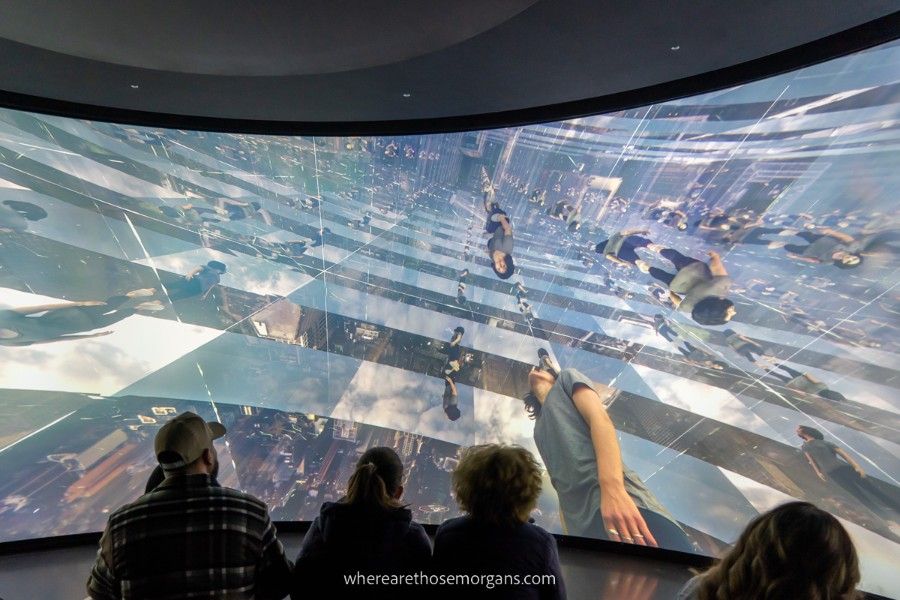 1). Ticket Entrance, Security And Movie
SUMMIT One Vanderbilt is generally open every day of the week from 9:00am-12:00pm except Tuesday with last entry at 10:20pm.
Once you show your timed entry ticket, you will be lead through security for a bag check. We waited about 10 minutes in the security line after showing our tickets, but we will say the line did move quickly.
After you pass through security, you will have the option to watch a short two minute video showcasing an artistic view of SUMMIT observation deck.
You will also receive a wristband with a QR code and some booties for your shoes to protect the floors. The QR code will grant you access to any photos the staff at SUMMIT observation deck may take so you can purchase later.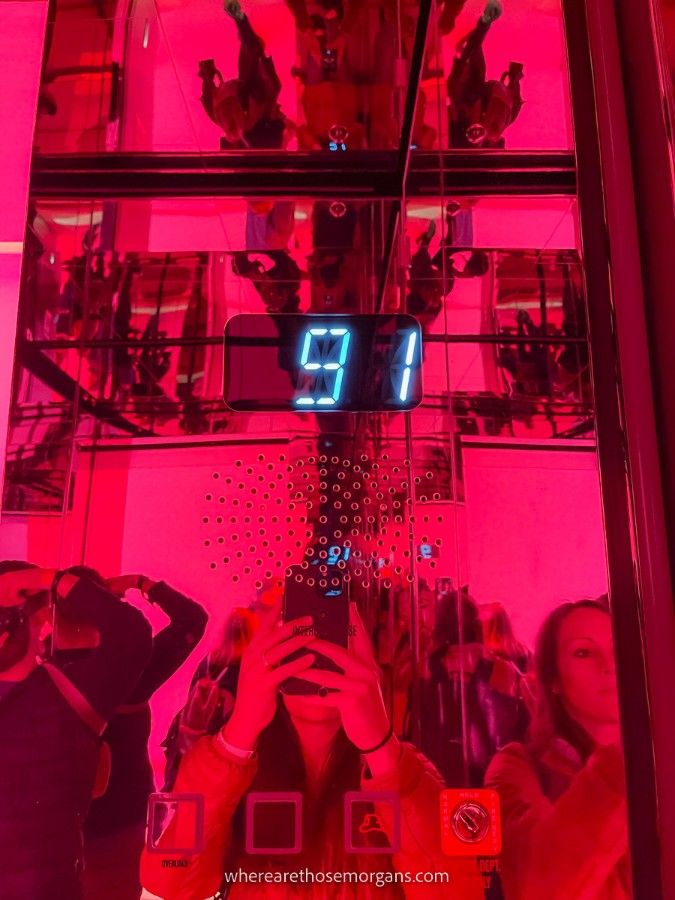 2). Elevator Experience
Before heading into the elevators, you will scan your QR code to receive a face scan for the Unity Air experience. Then as you step into the elevators, the doors slowly close and you will be catapulted to the 91st floor in less than a minute.
Similar to the other exhibits at SUMMIT, the elevator walls are covered in glass panels. As you ride to the 91st floor, the entire elevator is lit up by a flashing light show. This is just a tease of what is to come.
After you step out of the elevators, you are then led down a hallway known as the "hall of light" which is meant to resemble walking in the sky.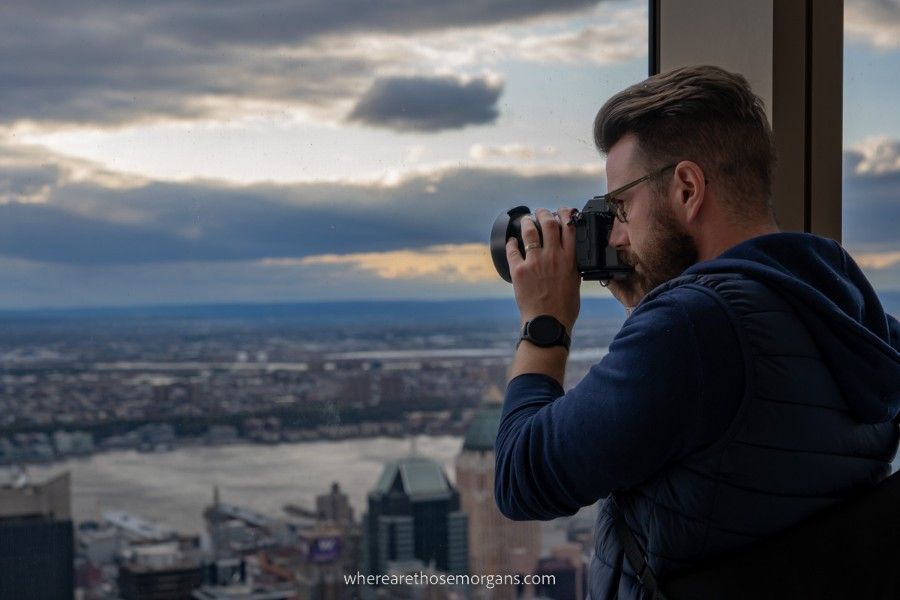 3). Floors Of SUMMIT One Vanderbilt
There are three main floors at SUMMIT One Vanderbilt. As you step out of the elevator on the 91st floor, this is the order of rooms and floors you will experience.
OB1 – Floor 91
Transcendence I
Reflect
Affinity
OB2 – Floor 92
Transcendence II
Levitation
Unity
OB3 – Floor 93
Après
SUMMIT Terrace
Ascent (elevator ride from 93-105)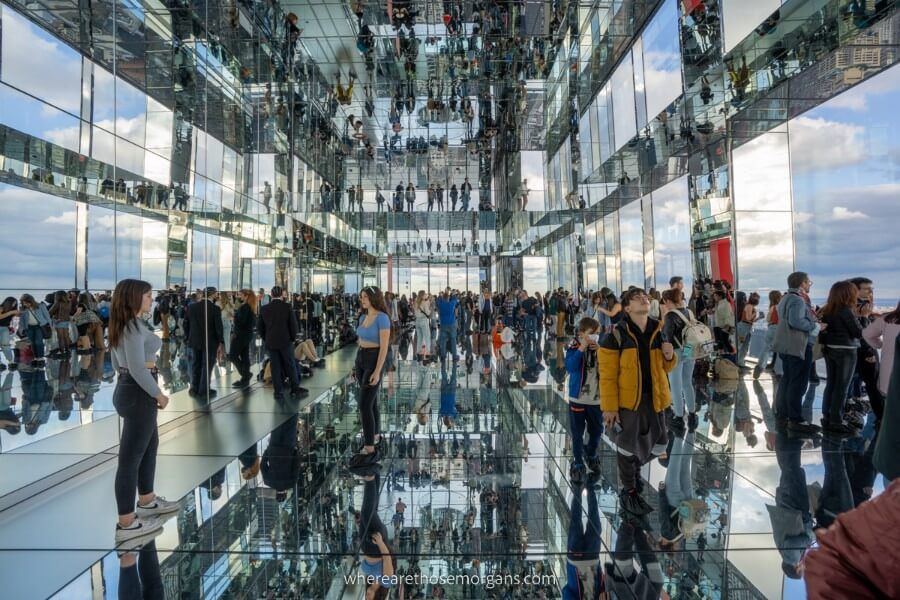 4). Transcendence I (Floor 91)
When you walk out into Transcendence I, your senses are completely overloaded. This is the room you have seen on social media and it will be filled with many people trying to take that perfect photo.
Transcendence I has floor to ceiling windows paired with mirrored floors. Use your time here to experience infinite reflections of New York City and take in the surrounding views.
From this room, you can see many of New York City's iconic sights in a panoramic fashion.
East: Chrysler Building and the borough of Brooklyn and Queens
South: Empire State Building, Lower Manhattan and One World Observatory
West: Edge at Hudson Yards, the Hudson River and New Jersey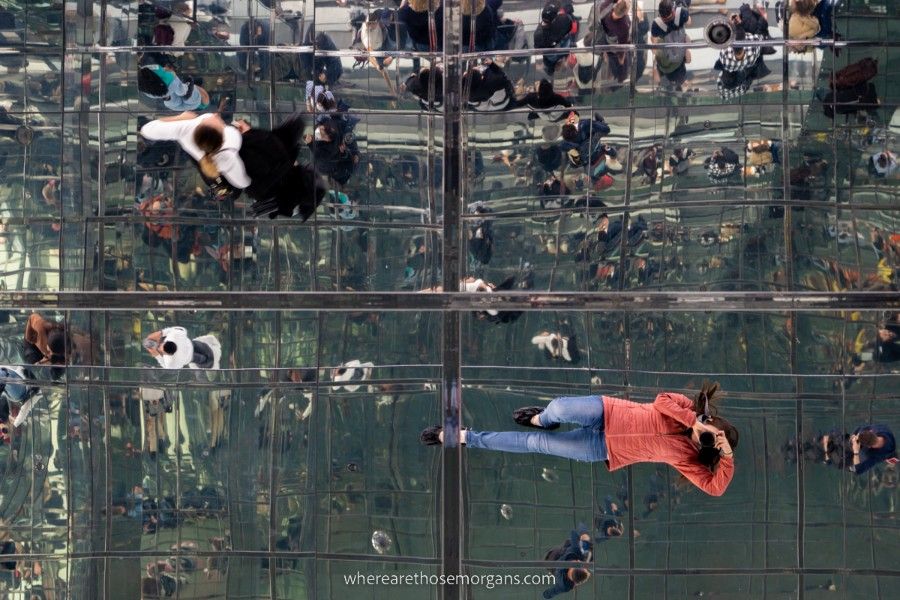 After you take in the NYC skyline, be sure to spend some time getting creative with photos. This room was one of our favorite photo locations during our visit due to the different angles and perspectives you can achieve.
If you look closely enough, you will notice there are circular openings at each end of Transcendence I. These openings are known as portals and will give you a kaleidoscope like experience when you look through them. The portals are a great photo location too!
Just to give you a reference, we spent about 30 minutes in Transcendence I.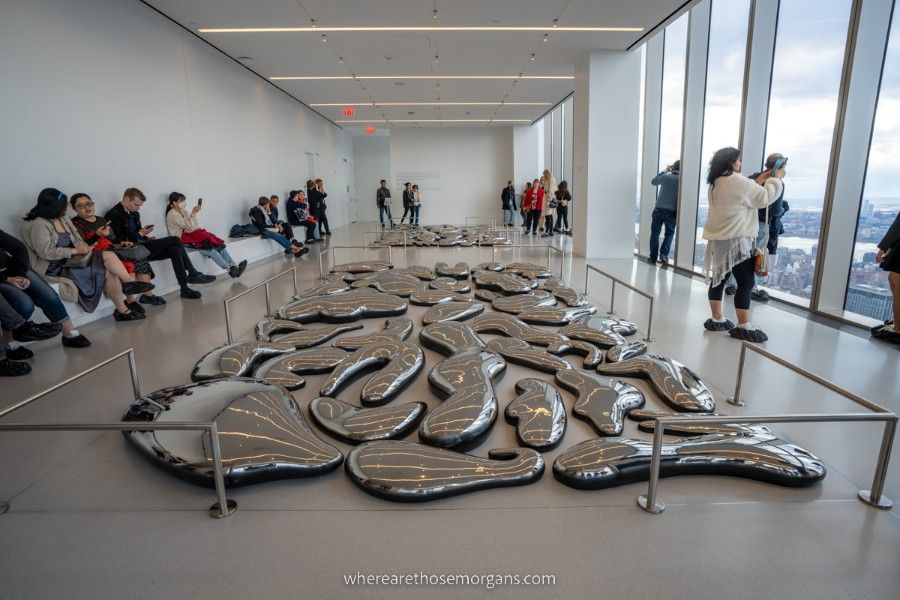 5). Reflect (Floor 91)
The next room offers a small relief from sensory overload. Reflect is an art installation called "Clouds" created by Yayoi Kusama. This piece was created with stainless steel, patina and wax in ninety parts.
The large scale floor based installation is meant to look like reflective cloud life forms that wrap the viewer to create an impression of floating and infinity.
Reflect is a good break for your senses after transcendence I. Most people only spend a few minutes in this room before continuing to the next experience.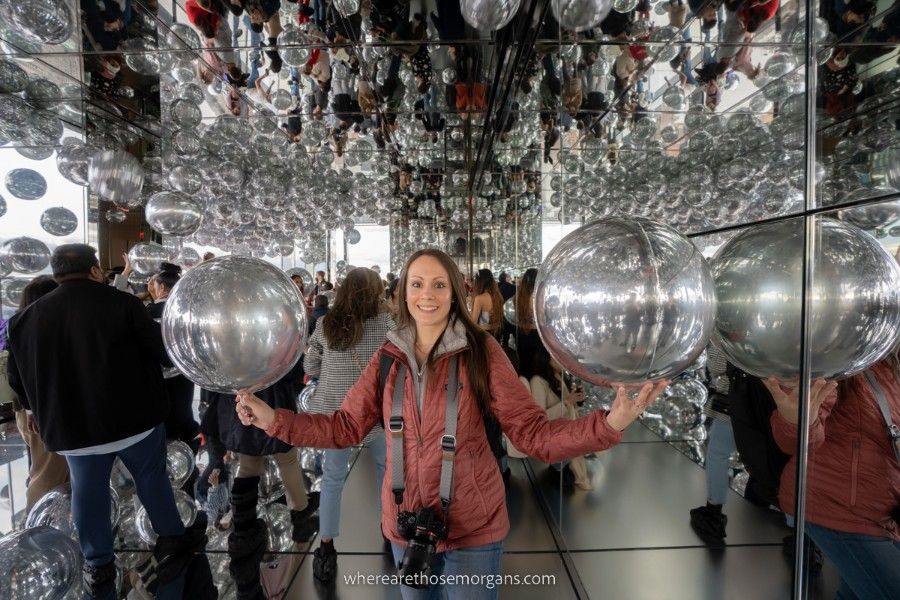 6). Affinity (Floor 91)
Affinity is easily one of the best experiences at SUMMIT One Vanderbilt. This room is filled with many large floating silver balloons.
This is the last chapter of AIR on the 91st floor deigned by Kenzo Digital. Affinity is an interactive space using reflective orbs to help encourage physical connectivity to the area.
The balloons are continually floating thanks to several fans spread throughout the entire room. You can expect to spend about 20 minutes in this room.
We did notice some of the balloons popped during our time here so just be aware this is a possibility. If you are visiting with children, this Affinity will certainly be a highlight.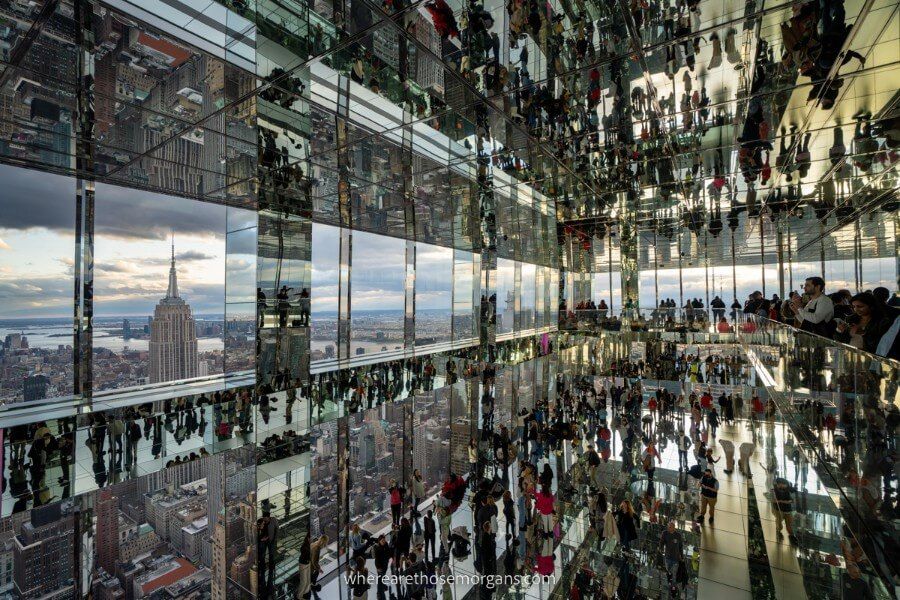 7). Transcendence II (Floor 92)
On the next floor up, Transcendence II opens into a larger mirrored room combined with Transcendence I. From this vantage point, the refections of NYC are intense as you are essentially seeing double.
At Transcendence II, you can look down through the portals you saw from Transcendence I. Personally, we loved the large scale reflections and took many photos in this area.
Transcendence II would be a great place to stay for sunset if you want a good viewpoint as the sun goes down. The setting sun will radiate off the large walls and mirrors creating a very special effect you won't find anywhere in NYC.
Unfortunately, many other people had this same idea and started to congregate on Transcendence II as it got closer to sunset. This floor got very crowded, which was the only downside.
Sunset was also little lack luster during our visit, but it was certainly worth waiting anyway. We waited about 40 minutes on this floor for sunset.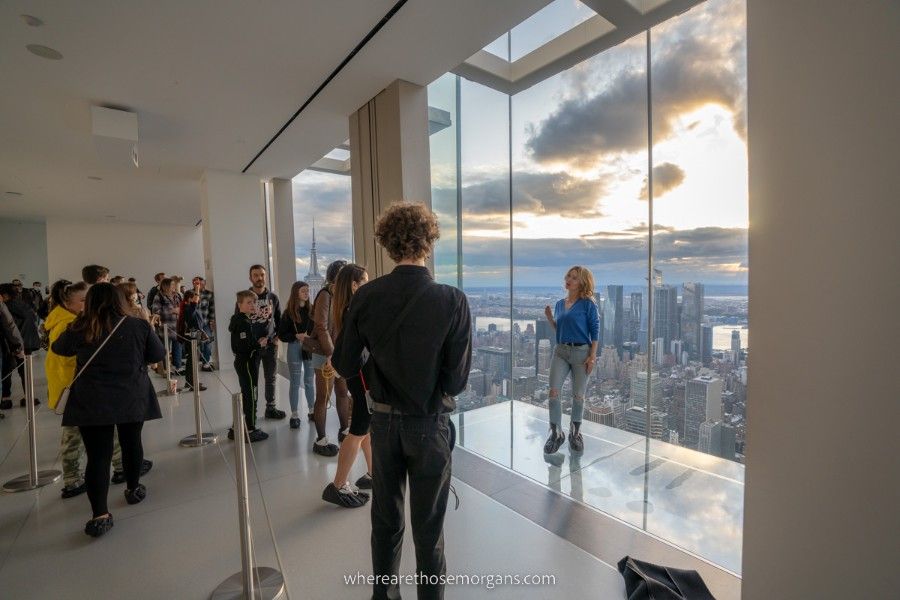 8). Levitation (Floor 92)
If you are a thrill seeker, Levitation was made for you. At this exhibit, you can enjoy a rush as you step out over the city in one of the two glass ledges known as skyboxes suspended 1,063 ft above Madison Avenue.
However, you are not allowed to take photos of yourself in the skybox. SUMMIT staff will take your photos and these photos must be purchased for an additional fee.
We skipped this section of SUMMIT One Vanderbilt because the line was extremely long and we were happy with the photos we had already taken with our camera.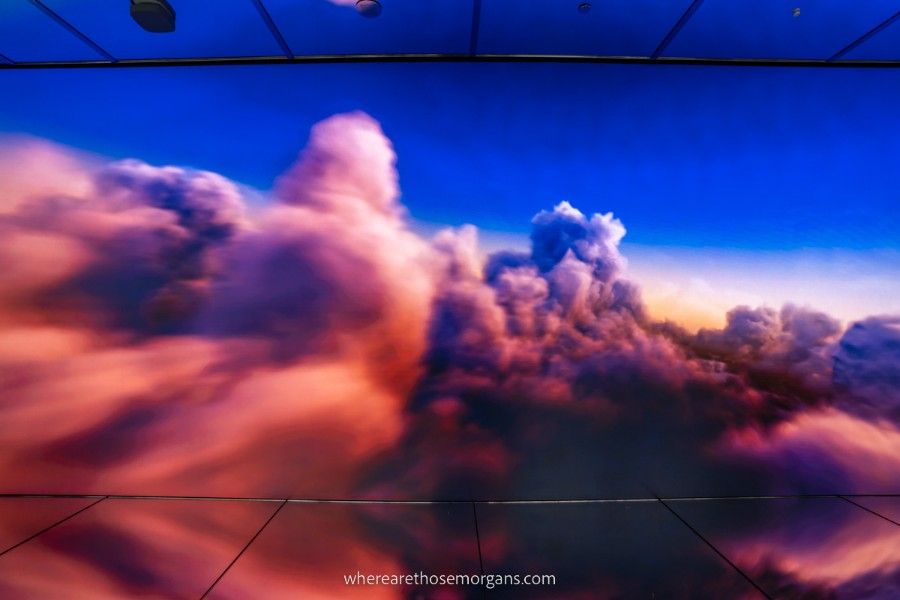 9). Unity (Floor 92)
Before you enter the next room, you need to scan the QR code on your wristband for the full experience. The QR code transfers the face scan you received from the first floor and places your face into the interactive exhibit at Unity.
As you walk into the room, you will see a sky filled with floating clouds. If you look even close, you will notice many faces among the clouds.
If you just scanned your QR code, you will see your face floating within the clouds very shortly. We spent about 10 minutes in this room and saw both of our faces in the exhibit.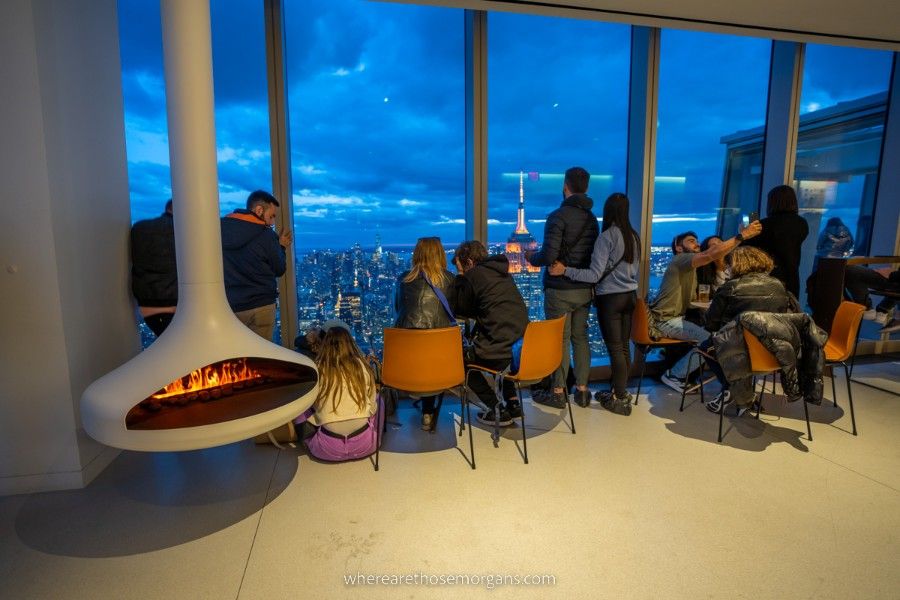 10). Après (Floor 93)
This is the last floor you will experience at SUMMIT One Vanderbilt. As you come out of the elevator, you will walk into Après which is a cafe and cocktail bar perched high above above Manhattan.
The menu features international flavors including a NYC-inspired Griddled Hot Dog and Pretzelsaults. Signature cocktails include the SUMMIT Sunset Margarita and Vanderbilt #1.
There is also a small sitting area which is perfect for taking a small break before heading out to the open SUMMIT Terrace. We waited at Après for the sun to finish setting and enjoyed the New York City views.
If you purchased, the Ultimate SUMMIT ticket, this is where you will grab your signature cocktail or mocktail.
Après is the only food option at the SUMMIT observation deck, but there is a restaurant on the 2nd floor of One Vanderbilt, Le Pavillion featuring chef Daniel Boulud.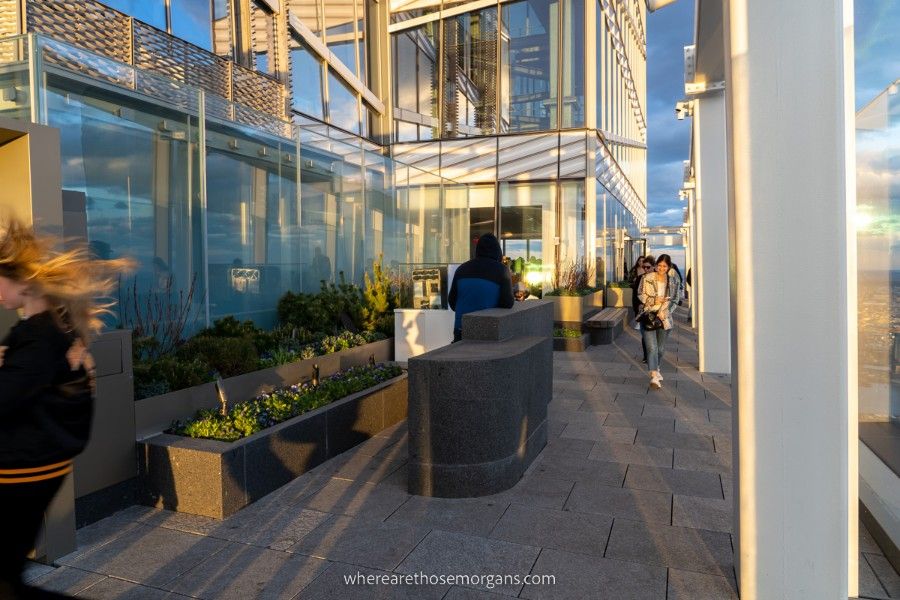 11). SUMMIT Terrace (Floor 93)
After getting a quick snack or drink, head out to the open air SUMMIT Terrace for more views of the surrounding NYC skyline.
Keep in mind it may be cold and very windy so a jacket may be handy if you plan to stay for awhile. This is the only open floor throughout the entire SUMMIT One Vanderbilt experience.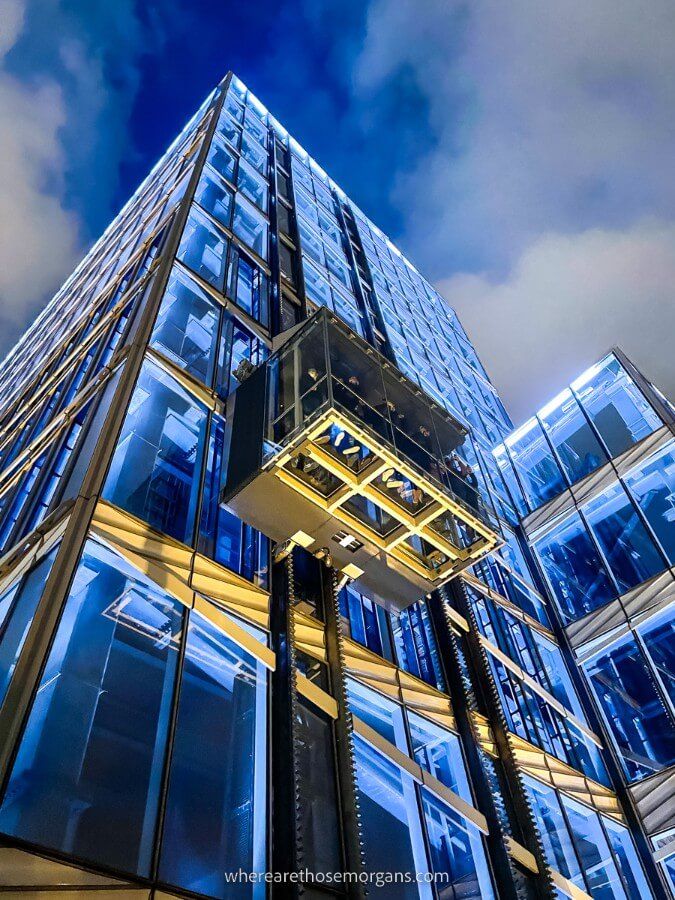 12). Ascent (Floor 93-105)
The Ascent exhibit features a pair of the world's largest glass floor elevators. This dual elevators travel outside the building and up 1,210 ft above the ground to One Vanderbilt's highest point.
If you paid for the SUMMIT Ascent or Ultimate SUMMIT ticket, the ascent experience is included in your ticket.
We personally chose not to go up in the elevators as the view was good enough and we didn't think it was worth the extra money.
Best Time To Visit SUMMIT One Vanderbilt
We visited SUMMIT One Vanderbilt about one hour before sunset. Sunset is the perfect time to visit SUMMIT One Vanderbilt because you will be rewarded with stunning views of the NYC skyline with changing colors.
This time of day also offers the softest light which will be easier on your eyes in the reflective exhibits.
If you visit SUMMIT observation deck during sunset, you will also have the opportunity to stay until it gets dark, which is exactly what we did.
The summer months of June, July and August are naturally going to be busiest at SUMMIT One Vanderbilt. If you want to avoid the heavy crowds, consider visiting New York in April or another shoulder month.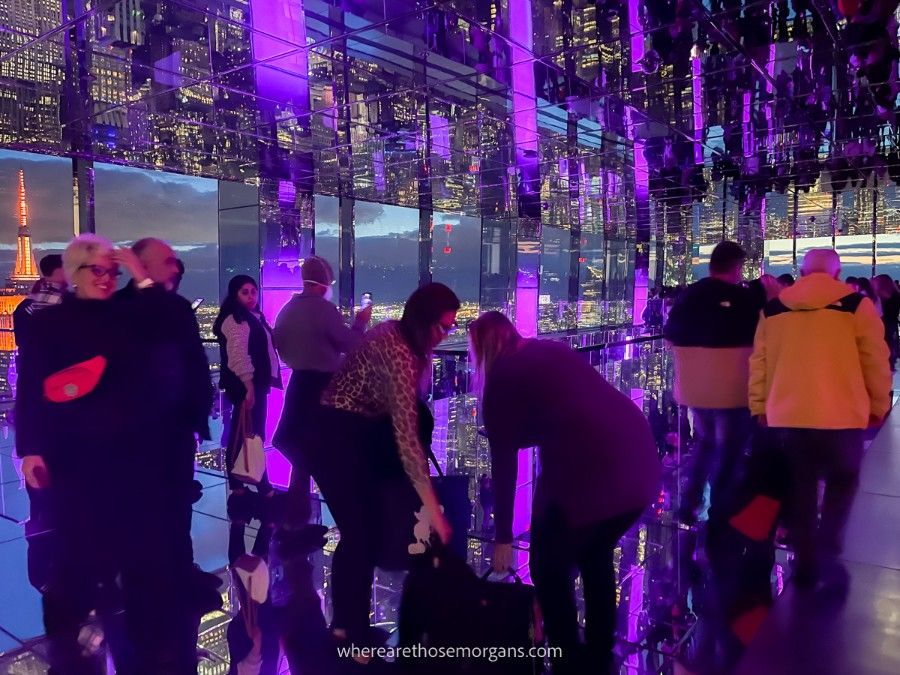 Is SUMMIT One Vanderbilt Better At Day Or Night?
We argue SUMMIT One Vanderbilt would be good both day or night because each time of day will offer something extremely different.
If you visit SUMMIT observation during the day, the light will be extremely bright which will help to illuminate the large rooms and reflective surfaces.
But if you visit SUMMIT observation deck the night, the focus will shift to the surrounding New York City skyline which will make you feel as if you are floating in the air among Manhattan's iconic buildings.
Is SUMMIT ONE Vanderbilt Worth It?
Yes, SUMMIT One Vanderbilt is absolutely worth it. This is not just an observation deck, but an entire experience.
The views and the photos alone are worth the visit to SUMMIT observation deck, but the interactive art installations certainly make this a must see attraction in New York City.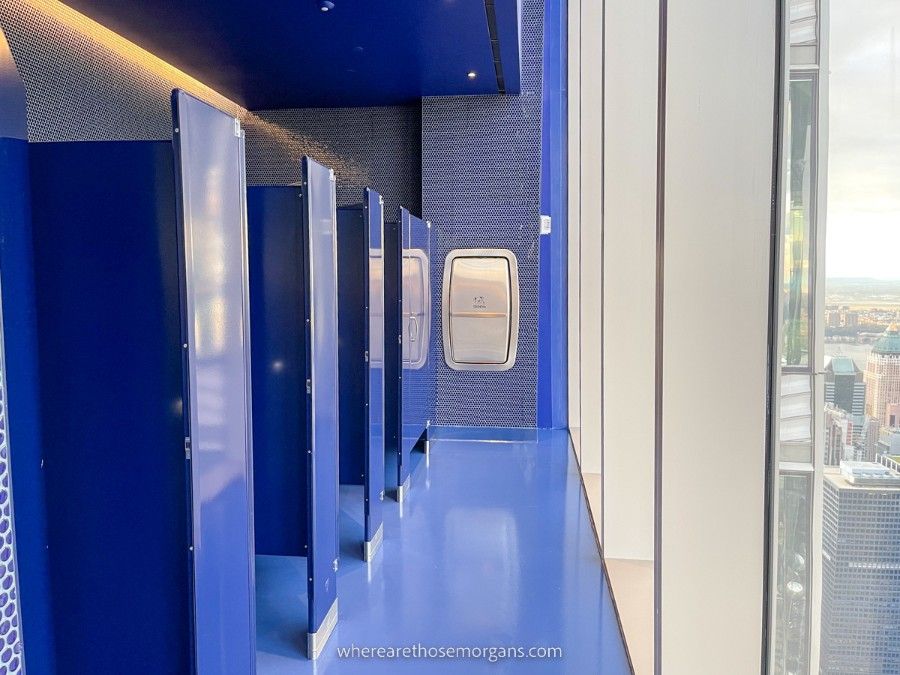 Tips For Visiting SUMMIT One Vanderbilt
Here are a few important tips to consider for your visit:
Get creative with your camera – It is impossible to take a bad photo at SUMMIT observation deck because there are so many different angles and fun surfaces. Photography opportunities are truly endless here and we encourage you to try some new perspectives.
Avoid skirts and dresses – Keep in mind mirrors cover the floor at some of these exhibits so we recommend you wear shorts, pants or leggings. If you need it, there is a small privacy path offering non reflective surfaces, but you will miss most of the fun if you take this path.
Opt for flat bottom shoes – To protect the floors from scratching, high heels, sport cleats and steel toed boots are not allowed. This way you can just focus on snapping great photos.
Check out the bathroom – Seriously, the loo is equipped with floor to ceiling windows which make for one of the best views you will experience when doing your business in New York City.
Don't forget sunglasses – The windows were made to bring in natural light and it can get very bright especially with the reflective surfaces. Disposable sunglasses will be handed out if you don't have you own.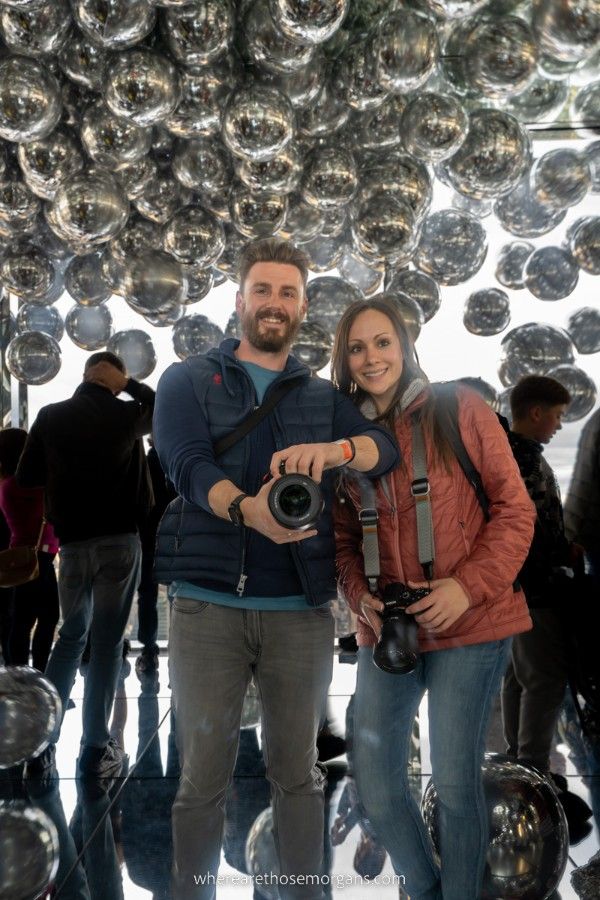 Our Overall Experience
We personally enjoyed our visit to SUMMIT One Vanderbilt, but there were a few negatives to visiting this observation deck. Below you can find our pros and cons for SUMMIT observation.
Pros To Visiting SUMMIT ONE Vanderbilt
This is why we like SUMMIT One Vanderbilt and why you should visit:
The newest observation deck in NYC
Best view of the Chrysler Building
Amazing art installations with stunning reflective properties
Excellent close up view of the Empire State Building (but not the best)
The modern design is extremely sleek, clean and sophisticated
Both outdoor and indoor viewing platforms
Staff were extremely helpful and funny at times
Cons To Visiting SUMMIT ONE Vanderbilt
This is why we don't like SUMMIT One Vanderbilt:
Overcrowding is a problem, particularly at sunset
This is an extremely photogenic observation deck with many people taking photos from every single direction which can be overwhelming
The elevator ride "Ascent" costs an extra $20
All 3 floors have glass panels which makes it difficult to take photos with good image quality
Compared to other NYC observation decks, the elevator experience was just okay
Snacks and drinks are extremely overpriced
SUMMIT One Vanderbilt Images
We took many photos at SUMMIT observation deck because it was such a photogenic place.
In this next section, we will share our favorite photos to help inspire your visit.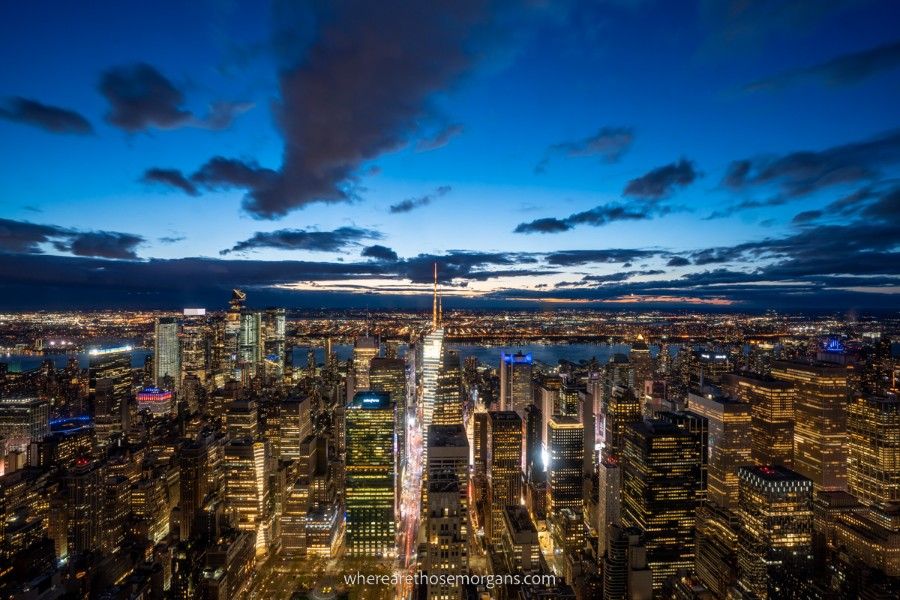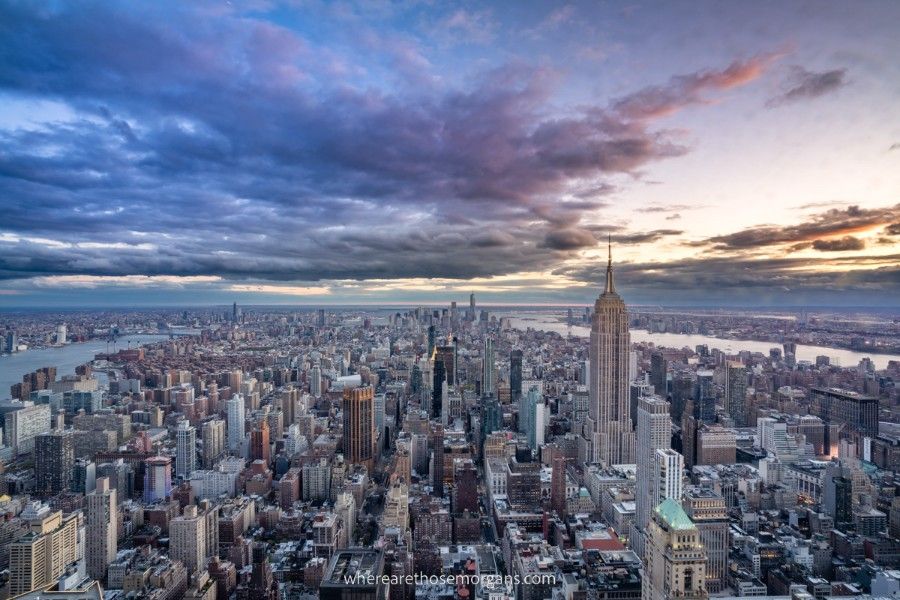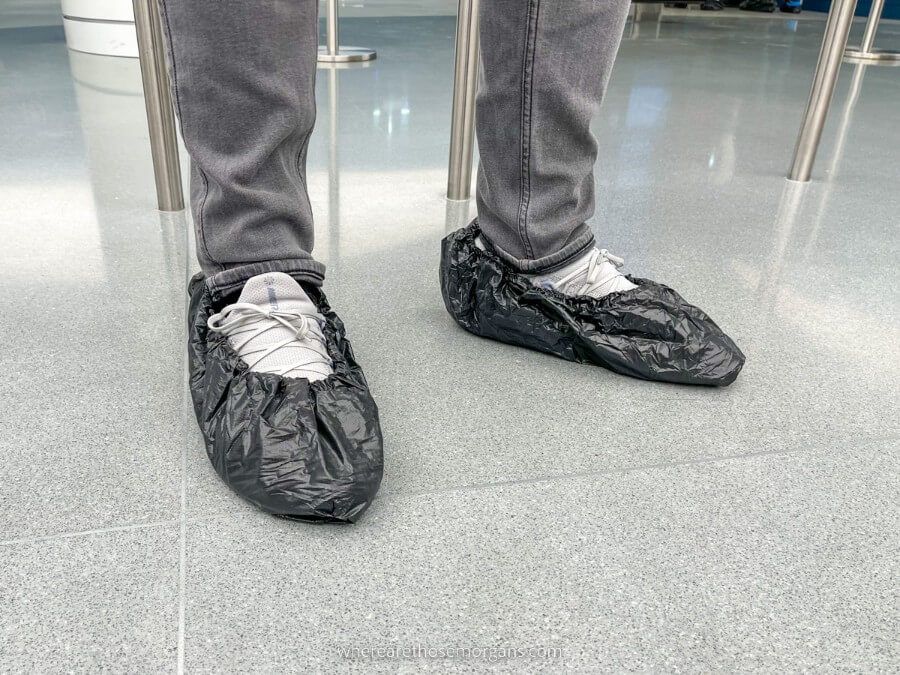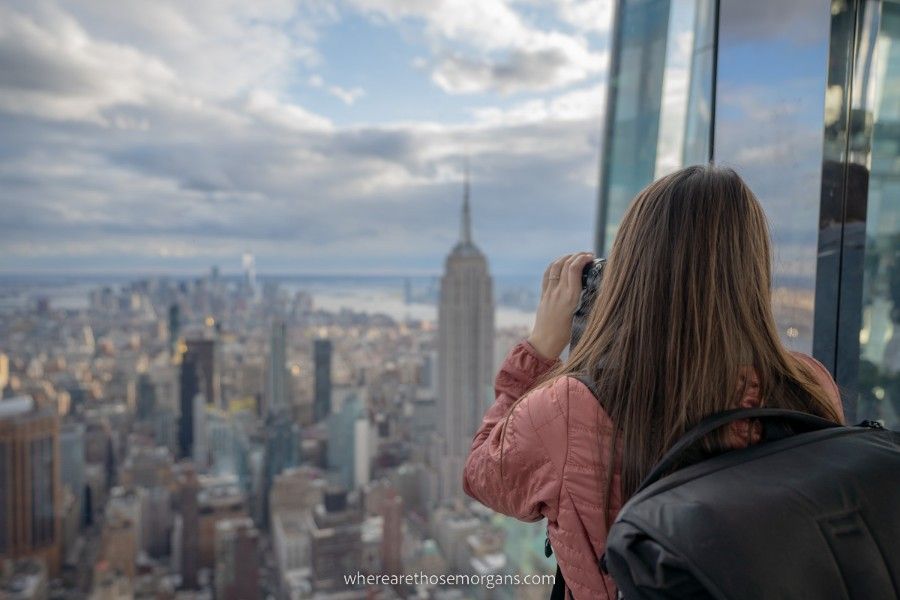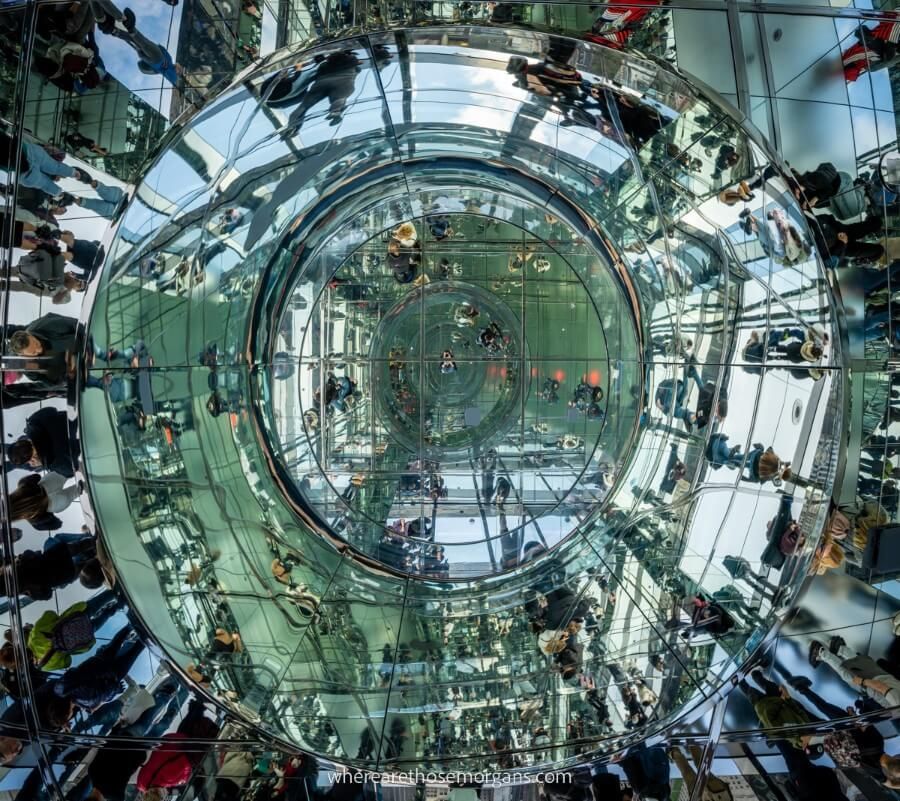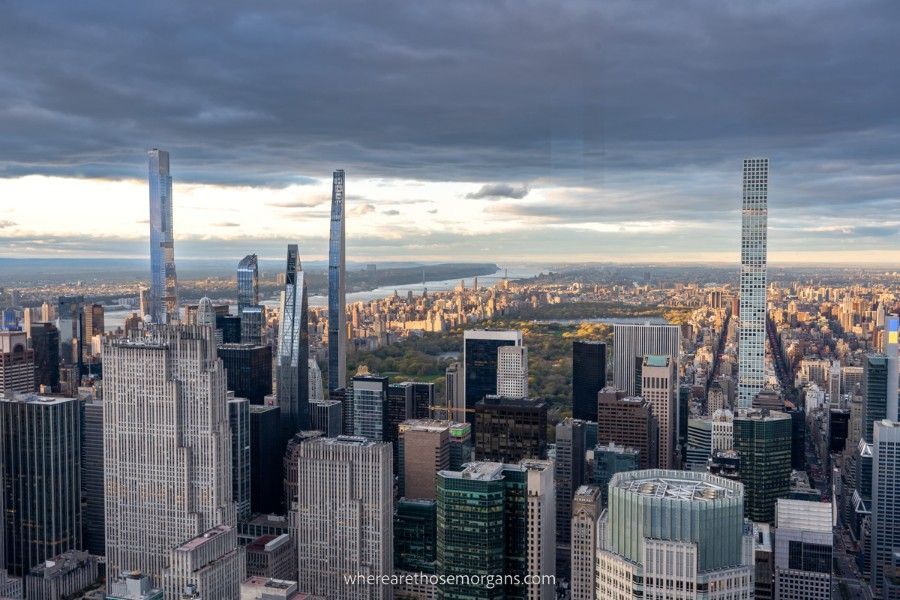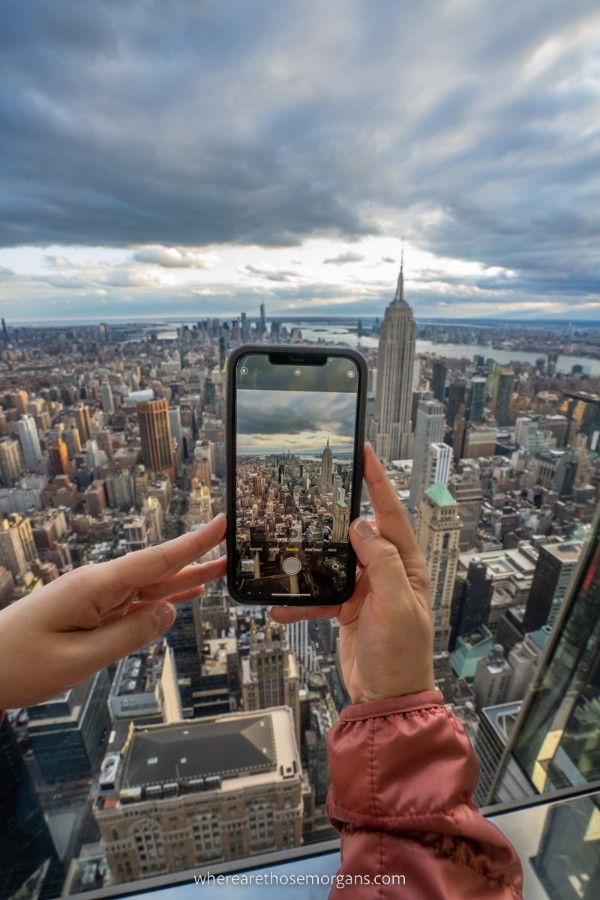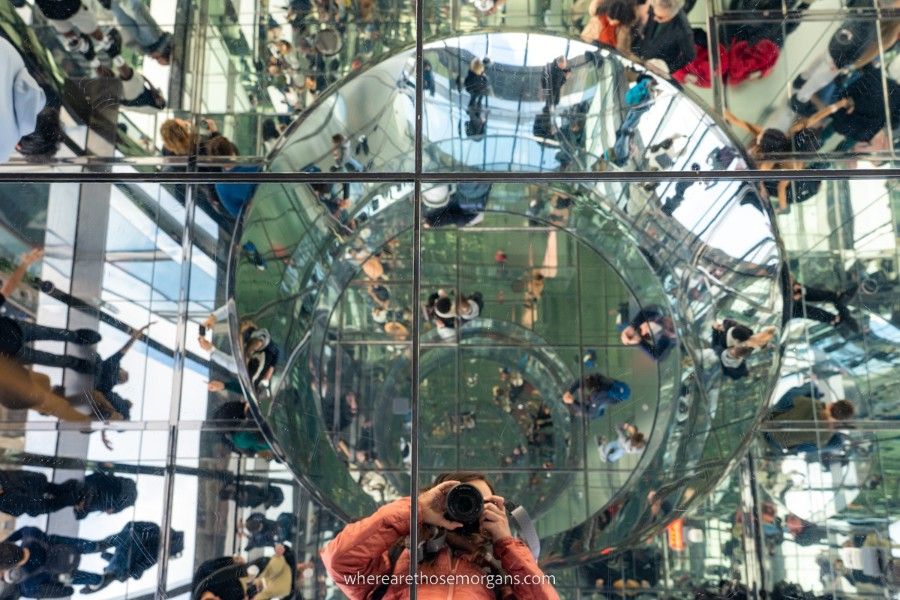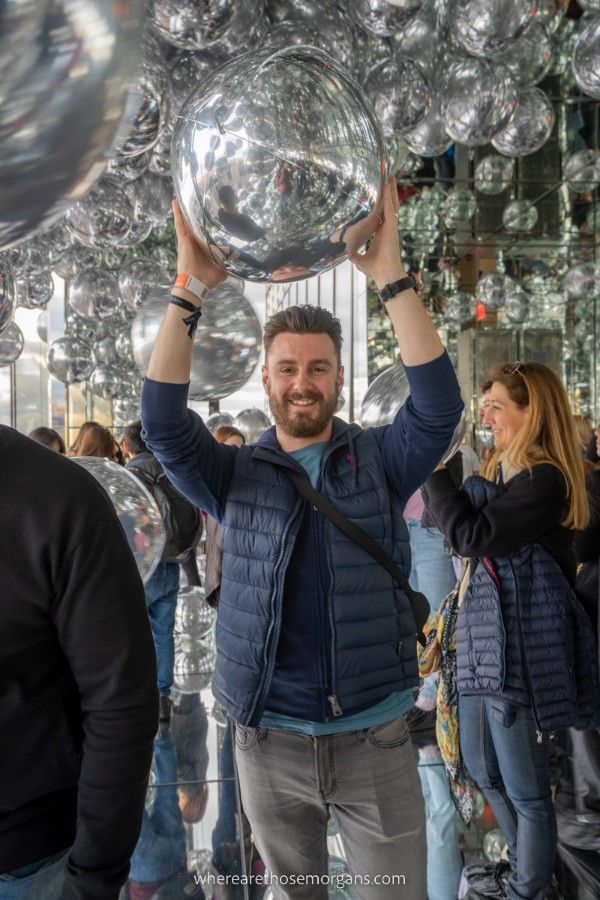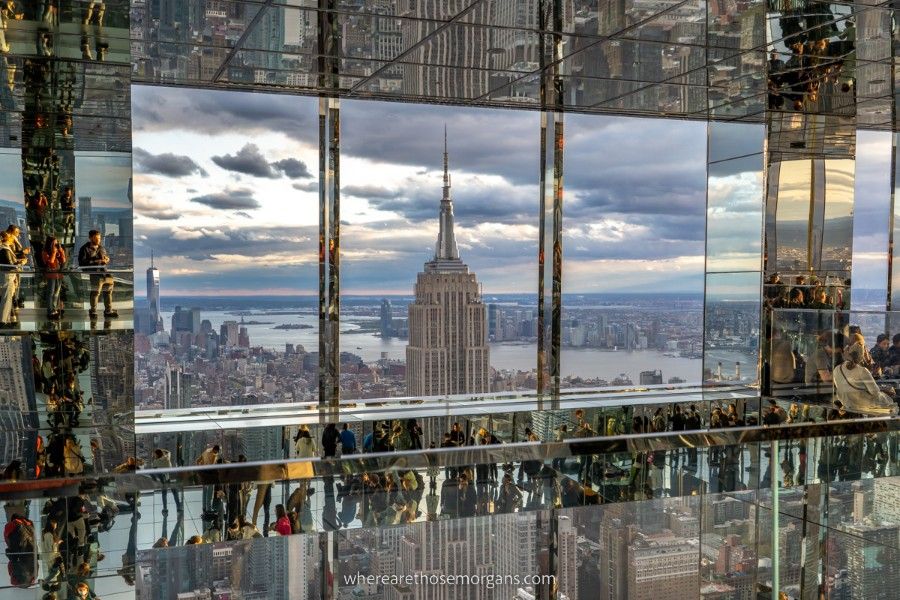 Is SUMMIT One Vanderbilt The Best Observation Deck In NYC?
Unfortunately, this answer depends on your preferences.
Below is a quick overview for the 5 New York City observation decks (including SUMMIT).
We understand you may not have time to visit each observation deck so it's important for you to have all the facts before you make a decision about which one to visit.
Edge at Hudson Yards – New York's highest outdoor sky deck with an optional City Climb experience taking you 1,200 ft above Manhattan.
One World Observatory – The tallest observation deck with a different perspective to the others. But while you are closer to Brooklyn Bridge and Statue of Liberty, the sunset is much less impactful.
Empire State Building – The most iconic observation deck filled with history and glamour. The 360 degree view of surrounding concrete buildings is stunning, but it's the most expensive option.
Top Of The Rock – The shortest and unglamorous option from the outside, but in our opinion, the observation deck with the best view in all of New York City.
SUMMIT One Vanderbilt – The newest addition to New York City's high vantage points. But this is more than just an observation deck, it's an entire experience.
Can't make up your mind about which NYC observation deck to visit? Don't miss our popular guide to the best observation decks in New York City ranked with pros and cons.
SUMMIT One Vanderbilt FAQ's
Let's take a look at some of the most frequently asked questions regarding SUMMIT One Vanderbilt.
How long does a visit to SUMMIT One Vanderbilt last?
A visit to SUMMIT One Vanderbilt typically lasts about 1.5 – 3.0 hours. If you plan to take many photos or want to take your time with each exhibit, be sure to give yourself plenty of extra time.
Are kids allowed in SUMMIT One Vanderbilt?
Yes, kids are allowed in SUMMIT One Vanderbilt. Children ages 5 and under can visit for free.
How much does it cost to go up SUMMIT One Vanderbilt?
There are three different ticket options for SUMMIT One Vanderbilt which start at $39 for adults and $33 for children (6-12) for general admission day time tickets. Prices will increase at peak times and with additional add ons.
What is the SUMMIT One Vanderbilt experience?
The SUMMIT One Vanderbilt experience is NYC's newest observation deck and it is located on the top three floors of the One Vanderbilt building. Visitors can enjoy numerous immersive and interactive exhibits along with stunning views of the city.
Our Popular NYC Guides
Attractions – Here's our complete roundup of the very best things to do in New York City for all visitors covering free, cheap and iconic attractions.
Itinerary – Our popular 4 days in New York City itinerary helps thousands of visitors plan the perfect visit to New York every year.
Photography – Our guide to the best photography spots in New York City includes over 60 famous photo locations around the city.
Hotels – Here's our comprehensive guide on exactly where to stay in New York City based on the six popular NYC neighborhoods.
Winter – Are you planning a trip to New York in December, January or February? There are 10 important things you need to know about visiting New York City in Winter.
Best Of New York City
Pizza – Sampling famous New York pizza is unmissable on any trip to the big apple, here's our popular guide to where you can find the very best pizza in NYC.
Bagels – Bagels are the only thing you should be eating for breakfast in New York! Here's our roundup of where to find the best bagels in NYC.
Museums – With over 100 museums in NYC it can be hard to narrow down which ones you should visit, here's our version of the 10 best museums in New York City.
New York Attraction Pass – With so many popular NYC attraction passes how do you choose? In this guide, we give you a detailed comparison for each New York pass.
Want more New York content? Head over to our New York travel guides to explore the Finger Lakes, Adirondacks and the best of NYC.
---
We hope this guide to SUMMIT One Vanderbilt helps with planning your visit to NYC's newest observation deck!
Please let us know if you have any questions about SUMMIT One Vanderbilt or New York City in the comments below.
Happy Summiting,
Mark and Kristen
Enjoy This SUMMIT One Vanderbilt Guide? Pin It For Your Visit!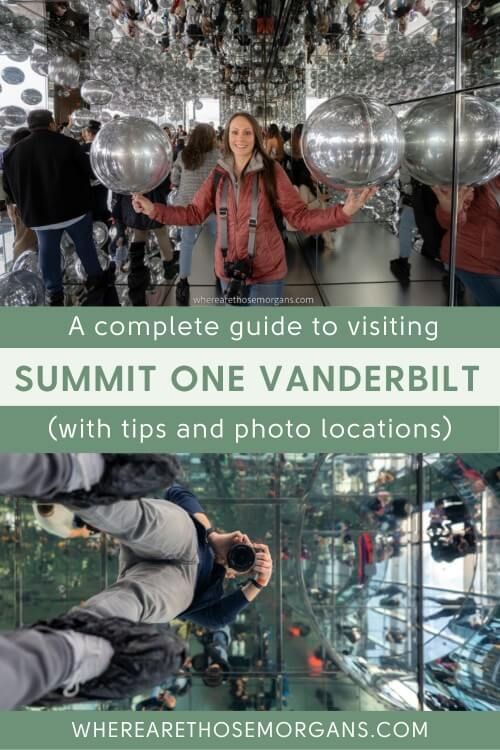 Note: This article contains affiliate links. When you make a purchase using one of these affiliate links, we may earn a small commission at no extra cost to you.
All Rights Reserved © Where Are Those Morgans, LLC. Republishing this article and/or any of its contents (text, photography, maps, graphics, etc.) in whole or in part is strictly prohibited.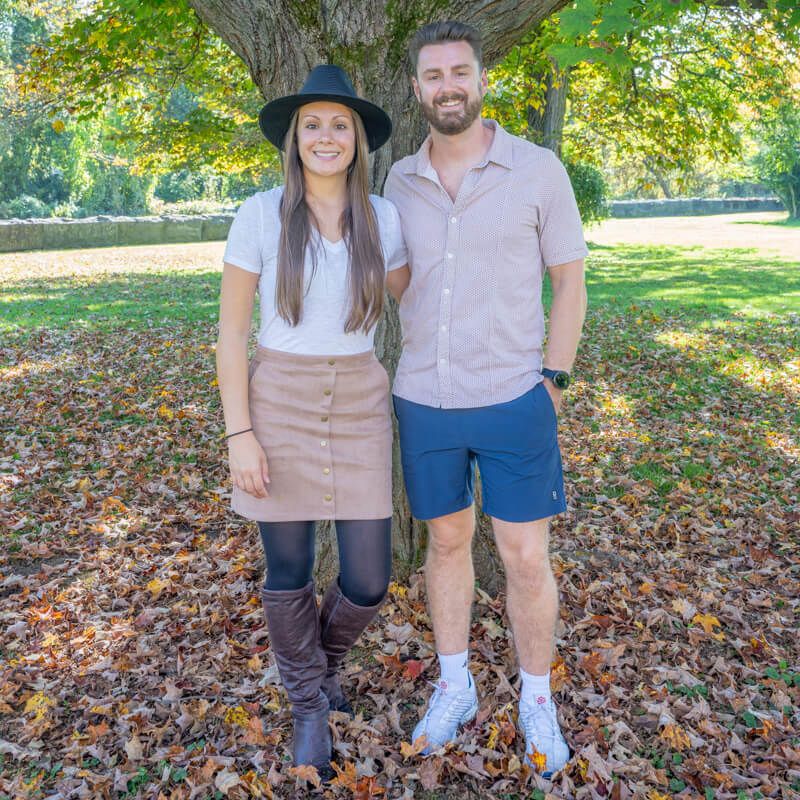 Mark and Kristen Morgan are travel, hiking and photography experts. Over the last 6 years traveling full time, they have explored more than 40 countries and 30 US states.
Their work has been featured in USA Today, Gestalten, Get Your Guide, CityPASS and Condé Nast Traveler along with various other publications.