Walking the Brooklyn Bridge at sunrise is one the best free things to do when visiting NYC and not just on a first visit, but on every visit.
A relaxing and warm ambience descends upon Brooklyn Bridge at dawn when walking between world famous NYC boroughs Manhattan and Brooklyn.
Soft light and stunning colors illuminate the sky, burning oranges and reds light up skyscrapers and Manhattan glows spectacularly at first light.
In this guide, we are going to explain everything you need to know about a sunrise walk over the brooklyn bridge, including:
The benefits to walking the bridge at sunrise
Where to find the pedestrian entrances for the promenade
Things to know about a Manhattan to Brooklyn sunrise walk
Brooklyn Bridge sunrise photography locations
Our own photos from the Brooklyn Bridge sunrise
Now, let's begin an unforgettable sunrise walk on the magnificent Brooklyn Bridge in New York City!
Our Brooklyn Bridge Sunrise Experience
Kristen is a New York State native and we have also lived in NYC, so you can consider us experts when it comes to the Empire State.
Having crossed the Brooklyn Bridge numerous times in all four seasons during different times of the day, we strongly believe there is no better way to spend your time in New York City.
The Brooklyn Bridge is an iconic structure that resonates with both locals and tourists alike. Crossing this famous bridge is an experience you will never forget.
Our guide will show you why you should consider adding a Brooklyn Bridge sunrise walk into your New York City itinerary.
Heading to NYC? You might like our New York City Guidebook to help you prepare for your trip.
Can You See Sunrise From The Brooklyn Bridge?
Yes, you can see sunrise by walking over the Brooklyn Bridge and this is one of the best locations in New York city to see the sunrise.
Waking up before everyone else in New York and before the sun creeps over silhouetted high rise buildings on the eastern horizon in Williamsburg means three things:
You can be greedy and enjoy the Brooklyn Bridge almost entirely for yourself
You will see Lower Manhattan light up instead of fall into shadow
Ending at DUMBO during a perfect time of day
Brooklyn Bridge is one of the best photography locations in NYC and a well celebrated landmark. Sunrise is the most peaceful and serene time to walk across from Manhattan to Brooklyn.
What Is Different About Other Times Of The Day?
If you walk the Brooklyn Bridge during mid-morning to late afternoon, you will be faced with either a bright blue sky and big brightly burning sun or a grey overcast cloudy sky.
Walking Brooklyn Bridge at sunset or at night is amazing but you will share the bridge with hundreds, maybe even thousands of other people.
Both of these times are great, but they don't exude that same wow factor or give you an intrinsic fuzzy feeling because there are a lot of other distractions.
Is It Safe To Walk The Brooklyn Bridge At Sunrise?
Yes, it is safe to walk across the Brooklyn Bridge at sunrise because this is the time of day when minimal people are on the bridge.
But keep in mind, even though there are less people around during sunrise, NYC is still a busy city so you should always practice common sense.
Why Should You Walk Across The Brooklyn Bridge At Sunrise?
There are many benefits as to why you should take a sunrise stroll including:
Sharing the bridge with a fraction of the people you would at sunset or night time
There is more room to move on the narrow boardwalk
You don't have to worry about cyclists tearing through the crowds
Photography opportunities are plentiful and you won't have to wait for gaps to appear
Sunrise is the best time for selfies and you might even see a professional photo shoot
With the right equipment, you can create starbursts with the sun against elements of the bridge
Witness stunning colors around the Lower Manhattan skyline to one side with gorgeous Midtown Manhattan to the other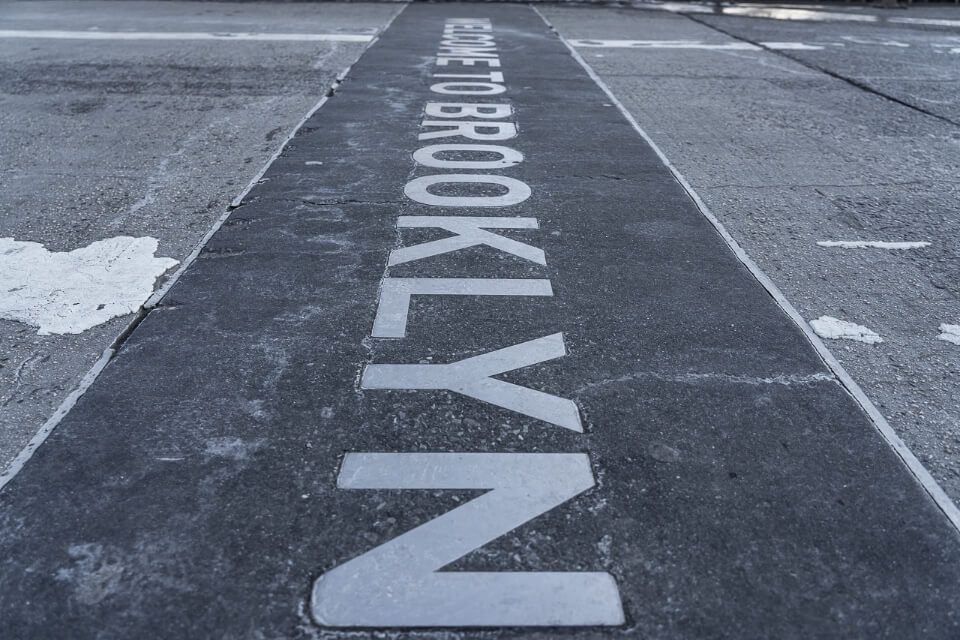 Pedestrian Entrances For The Brooklyn Bridge
The Brooklyn Bridge spans from Lower Manhattan to Downtown Brooklyn over the East River. There are four different pedestrian entrances you can use to access the Brooklyn Bridge promenade.
While this guide will focus on walking the Brooklyn Bridge from Manhattan to Brooklyn, we will show you where to find the other pedestrian entrances depending on your location in NYC.
Two of the pedestrian entrances can be found in Manhattan while the other two entrances can be found in Brooklyn.
In either borough, you can use the main pedestrian entrance or an underpass featuring a staircase leading to the Brooklyn Bridge pedestrian promenade.
Manhattan pedestrian entrances for Brooklyn Bridge promenade:
Centre St: This main entrance is located by New York City Hall in Manhattan. Begin walking where Centre Street meets Park Row. You can immediately join the promenade and continue along the pathway to the bridge.
New York City Hall Google Maps location (look for Living Memorial Groove).
Park Row Underpass: We like this lesser known option along Park Row because it runs underneath the Brooklyn Bridge promenade in Manhattan. Look for a staircase leading directly up to the main walkway.
Brooklyn pedestrian entrances for Brooklyn Bridge promenade:
Tillary St + Boerum Place: Located in downtown Brooklyn, this is a very popular and well known entrance leading directly to the pedestrian promenade.
Tillary St + Boerum Place Google Maps location (known as Brooklyn Bridge walkway starting point).
Prospect St + Cadman Plaza Underpass: This is a great entrance if you are close to Brooklyn's waterfront or taking photos at DUMBO. Use the staircase to connect with the Brooklyn Bridge promenade.
Because we typically base ourselves in Manhattan, we like to use the Centre St entrance to connect with the Brooklyn Bridge promenade.
Start In Manhattan And Walk The Bridge To Brooklyn
The Brooklyn Bridge is a cultural phenomenon and walking across is a rite of passage for all first time visitors to New York City.
You can choose to walk from Brooklyn to Manhattan or vice versa at sunrise and all other times of day.
Alternatively, you can take one of many metro lines from Manhattan to Brooklyn and walk back across to Manhattan.
We've personally walked both directions many times and both are amazing. But for sunrise specifically, we think starting in Manhattan and walking over to Brooklyn offers the best options for photographers.
Brooklyn Bridge Sunrise Photography Locations
A perfect sunrise location gives the photographer direct lines of sight towards and away from the sun.
This way you can use the sun itself as a subject but also use a landscape lighting up behind you. Certain Grand Canyon sunrise locations give you both, but this is not the case in NYC.
The major problem with sunrise at the Brooklyn Bridge is that you can only be in one place at one time. Ideally, we would split ourselves and be at all of the best photography locations for the entire sunrise.
The good news is there are 3 epic sunrise locations either on or near Brooklyn Bridge and each offers a completely different photography experience.
We hit all three spots in one morning and just about made it work efficiently.
We are going to walk you through the process we followed to make the most of each location. However, you might have a different preference or priority for sunrise.
If so, start and end wherever you feel is a higher priority for your shoot.
Here are our 3 top spots near Brooklyn Bridge in order from beginning to end of sunrise:
1. Before Sunrise At Pier 17 In Manhattan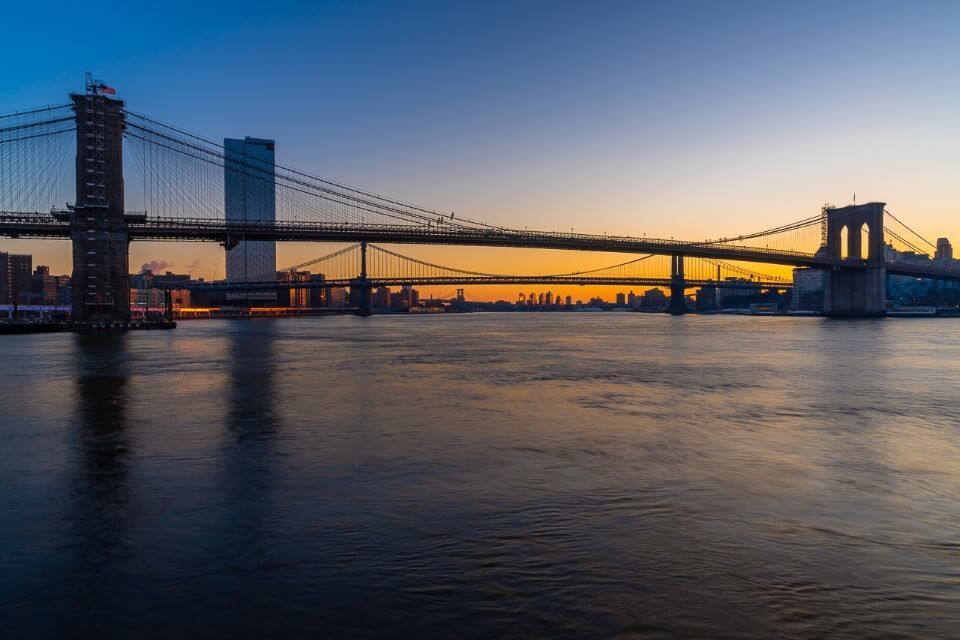 Staying at a hotel in Lower Manhattan will give you a better chance of making Pier 17 before sunrise. Read our roundup of top rated hotels in each of the popular NYC areas to pick the perfect place to stay.
The East River flows underneath Brooklyn Bridge and out into the Atlantic Ocean. Along both banks of the East River you will find a series of Piers with parks, bars, helicopter tours, restaurants and more.
This is the closest pier to the Brooklyn Bridge in Manhattan and it is perfectly located to have direct line of sight along the East River as it bends eastward toward the sun at dawn.
Pier 17 is a shopping center with bars and restaurants, it has an ice rink in winter and is home to one of ESPN's televised sports studios.
Tips For Shooting At Pier 17
For your photo shoot, ignore everything inside the mall and instead walk around the boardwalks to the far corner.
There are benches lined up looking right out into the river and in the point closest to Brooklyn Bridge, you will find one of the best NYC sunrise locations.
We like Pier 17 as a Brooklyn Bridge photo location for these three reasons:
East River foreground
Brooklyn Bridge and Manhattan Bridge middleground
Distant Williamsburg high rise buildings and burnt orange sky background
We recommend arriving here before sunrise when the sky is a transcending deep blue. Stay at Pier 17 to see the sky begin to turn a beautiful deep orange and buildings along Manhattan look as though they have been set on fire.
Be sure to check the sunrise times and aim to arrive at the beginning of civil twilight.
You can expect Pier 17 to be busy with photographers in summer months when it is warmer. We visited on a sub-zero snowy February morning and there were still around 10 people watching sunrise.
If it is crowded, try walking over to nearby Pier 15 instead, which has an elevated viewing terrace.
Interested in the Manhattan Bridge? You might like our complete guide to walking the Manhattan Bridge in New York City.
2. Walk Brooklyn Bridge During Sunrise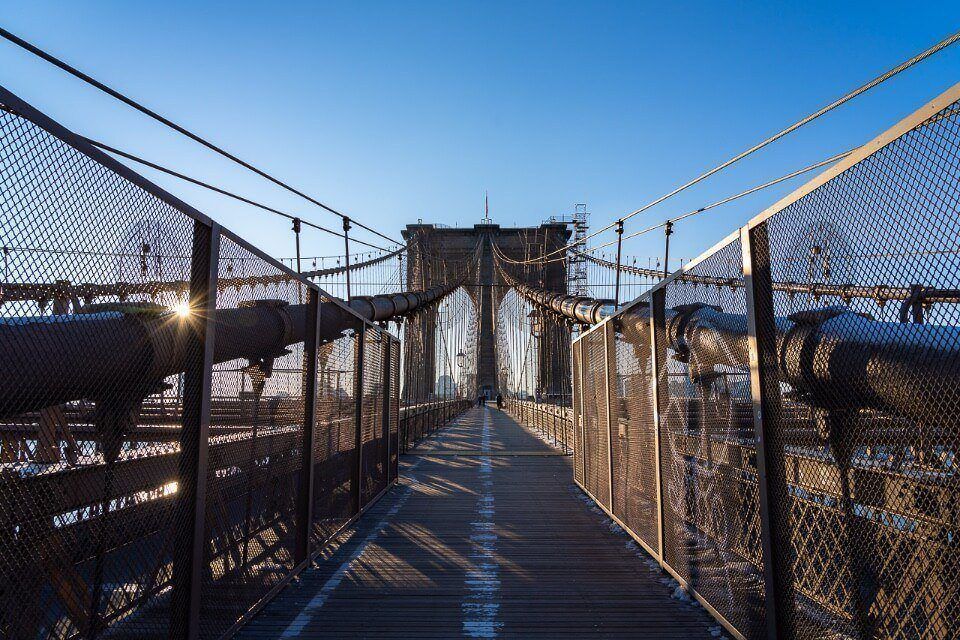 Don't wait too long at Pier 17, you don't want to actually see the sun rise over the buildings in Brooklyn and Williamsburg. Otherwise you'll be too late starting the walk.
Pack up your camera gear up and make a beeline for the pedestrian walkway entrance to Brooklyn Bridge.
This short walk will take you between 10-15 minutes and of course this is precious sunrise time so try to walk on the quicker side of your typical pace.
Begin the long, slow and gradual incline up the bridge. We would suggest not stopping until you are at least in line with or past Pier 17 (which you can see by looking down to the right).
All of Brooklyn Bridge's structural features begin further along the walkway. You can use steel ropes, mesh fences, granite columns, benches and more to create interesting perspectives.
Don't forget to use shadows and subjects to silhouette as you walk over Brooklyn Bridge at sunrise. As soon as you pass Manhattan's skyline, the camera should be getting some serious action.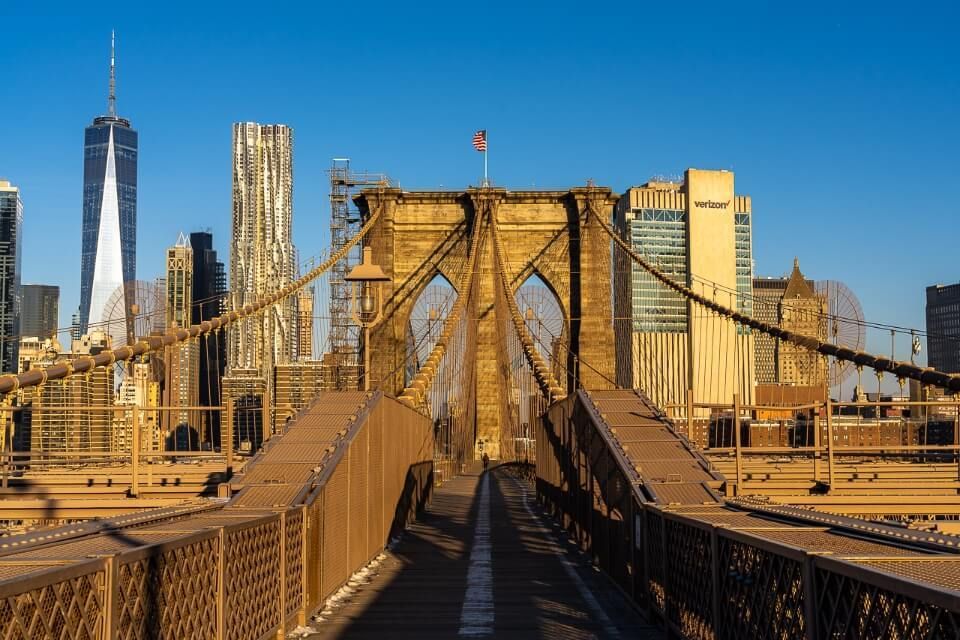 Continue walking towards Brooklyn and the sun, but stop often to look back at Manhattan.
The skyline will open up more and more as you walk away, which will reveal the tops of more skyscrapers like 40 Wall Street and One World Trade Center.
As you look back at Manhattan, to the distant left you will see the Statue of Liberty and to the right Midtown and the Empire State Building.
Photography Tip: You will enjoy long stretches of the bridge to yourself but if not, simply wait a few seconds until it clears.
3. Catch The End Of Sunrise At DUMBO In Brooklyn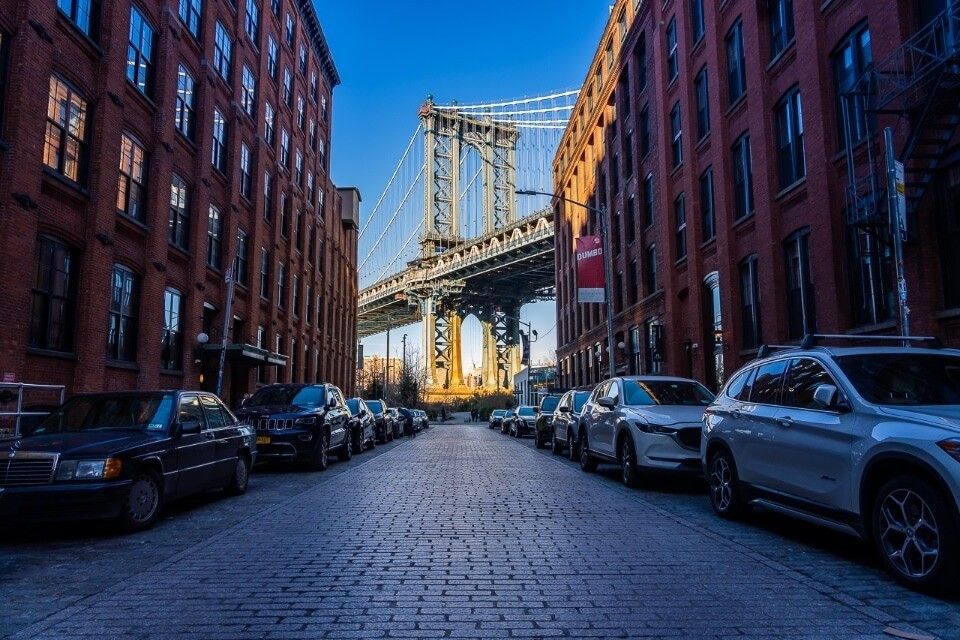 It's going to take you anywhere between 45 minutes and 1 hour 30 minutes to cross Brooklyn Bridge at sunrise. Total time will depend on how many images you want to take.
But your morning is not over just yet. Keep the camera handy and take a staircase down not far after seeing the Welcome to Brooklyn words painted on the ground.
Walk North on Washington Street a few blocks until you reach one of New York City's most popular photography locations, the Manhattan Bridge from DUMBO.
This street is always packed full of tourists, influencers and professional photography shoots during the day, but when you visit Brooklyn at sunrise, there is no one else around (well, maybe just a few)!
We tried this spot at least 3 or 4 times prior to visiting at sunrise and couldn't get a clear or clean shot without an army of people or cars turning up the cobbled road.
But when we got here towards the end of sunrise, we had all the time in the world.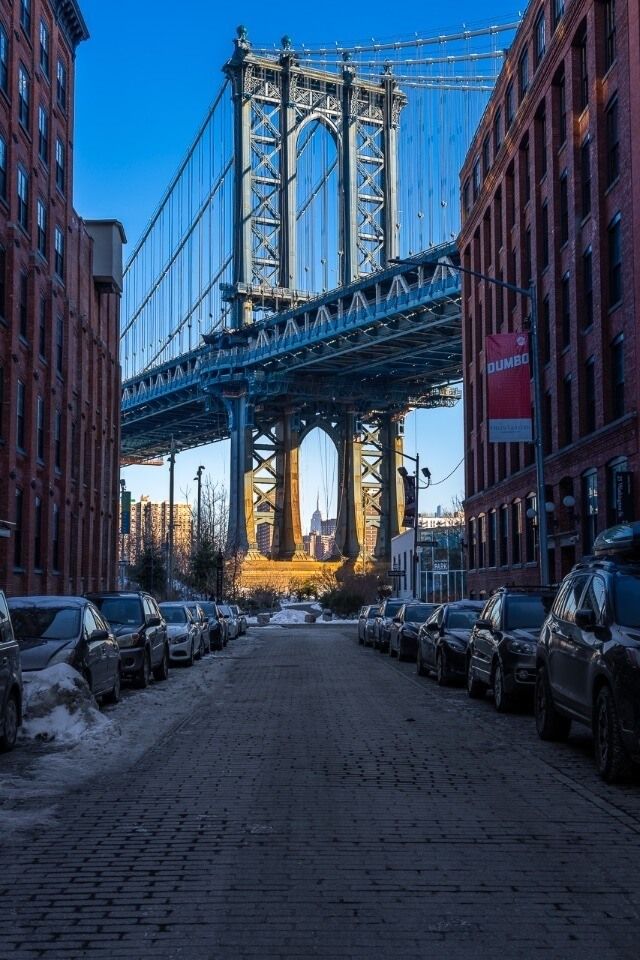 The major benefit of walking the Manhattan to Brooklyn route is the light. By the time your arrive after sunrise, there is enough ambient light available to allow subjects in the foreground of this iconic image.
Contrast is super high between the dark shadowy foreground and brightly illuminated Manhattan bridge but if you are here even earlier, contrast would be even more pronounced.
If you have more time, head to Brooklyn Bridge Park to catch more of the sunrise if possible.
Photograph Tip: Try taking this image from various distances along Washington Street and compress the Manhattan Bridge so it appears closer.
Brooklyn Bridge Sunrise Photography Tips
The Brooklyn Bridge is one of the best places to see sunrise in NYC and here are some photography tips for you to consider when walking over the Brooklyn Bridge at sunrise:
Use a tripod as much as possible in low light around sunrise.
On a tripod, keep your ISO low (closer to 100 is best) and use aperture priority to determine depth of focus. Long exposures will make the river appear smooth and flat.
Without a tripod, handheld images run the risk of being blurry unless you bump up your ISO to increase light. When handholding aim for a shutter speed of around 1/125s to freeze your subjects and minimize blur from slight movements.
With subjects (like a person) use f/2.8-5.6 to create cool bokeh effects of the Manhattan skyline or Brooklyn Bridge.
It's tempting to just use the immediate backdrop of Lower Manhattan but remember with a telephoto lens you can capture the Empire State Building and Midtown in the opposite direction.
If you're visiting New York City at Christmas or in Winter you will need to wrap up in warm layers to be out on a sunrise photography shoot.
Enjoy Photography? You might like to see our Photography Guides from around the world.
Brooklyn Bridge Sunrise Or Sunset?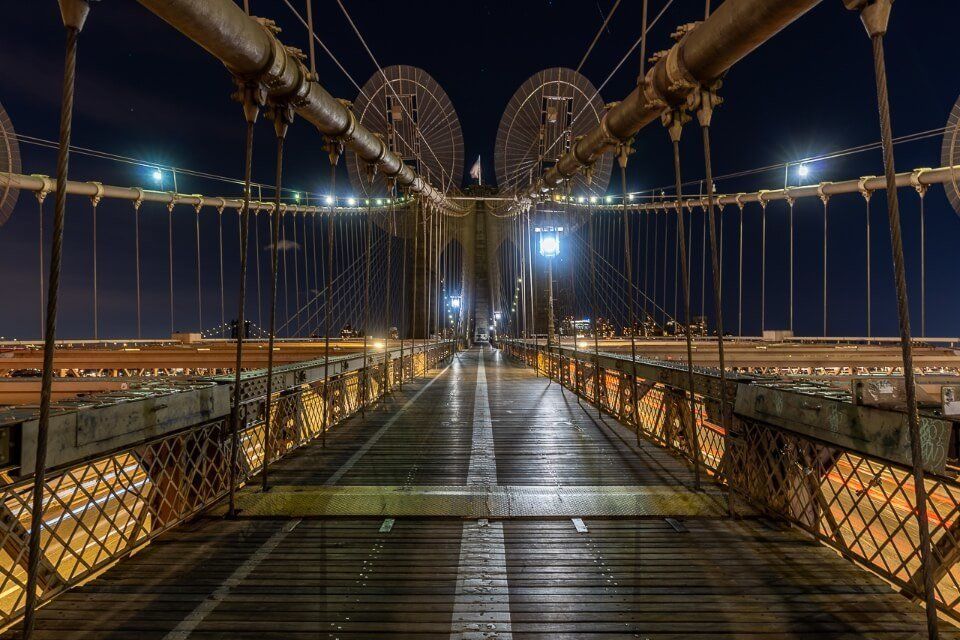 Sunrise is by far the quietest and most relaxing time to take a slow stroll from Manhattan to Brooklyn. But if you're looking for a more electric atmosphere with hundreds of people soaking up a positive vibe, walk across the Brooklyn Bridge at sunset and at night instead.
Photography opportunities are unmissable both on the bridge and on the Brooklyn side, during sunset and particularly once it gets dark.
Lower Manhattan illuminates spectacularly and we have a fantastic list of amazing photography locations in our guide to walking the Brooklyn Bridge at sunset or night.
Looking To Save Money In New York City?
We love the Brooklyn Bridge because it does not cost a penny to walk across this famous NYC attraction. Unfortunately, this is not the case with many of the other attractions in New York.
But if you plan to visit several of New York City's top attractions, we recommend you consider purchasing an attractions pass.
Buying a New York attractions pass will give you instant access to the most iconic NYC museums, landmarks and observation decks at a discounted price.
The idea is simple in that the more attractions you visit, the more discount you will recieve and the more money you save. It's very similar to buying in bulk.
Having used the NYC attraction passes ourselves when we lived in New York, we recommend the New York Sightseeing Pass because its extremely easy to use while offering both flexibility and big savings.
We have teamed up with Sightseeing Pass to offer our readers an exclusive 10% discount.
Want To Save Money In NYC?
Use the button below to claim 10% off any NY Sightseeing Pass.
You can also read our detailed comparison to the New York attractions passes to help you decide which New York pass you should purchase for your visit to the Big Apple.
Need Help Planning Your Visit To New York City?
NYC is a vacation planning beast and it can be overwhelming trying to get every aspect right. Trust us, we know!
After living in New York City, we created a comprehensive NYC travel guidebook that will answer every question you have about where to stay, what to do, where to eat and how to get around the city.
Click see details below to read more about how we can help you plan your dream trip to New York City!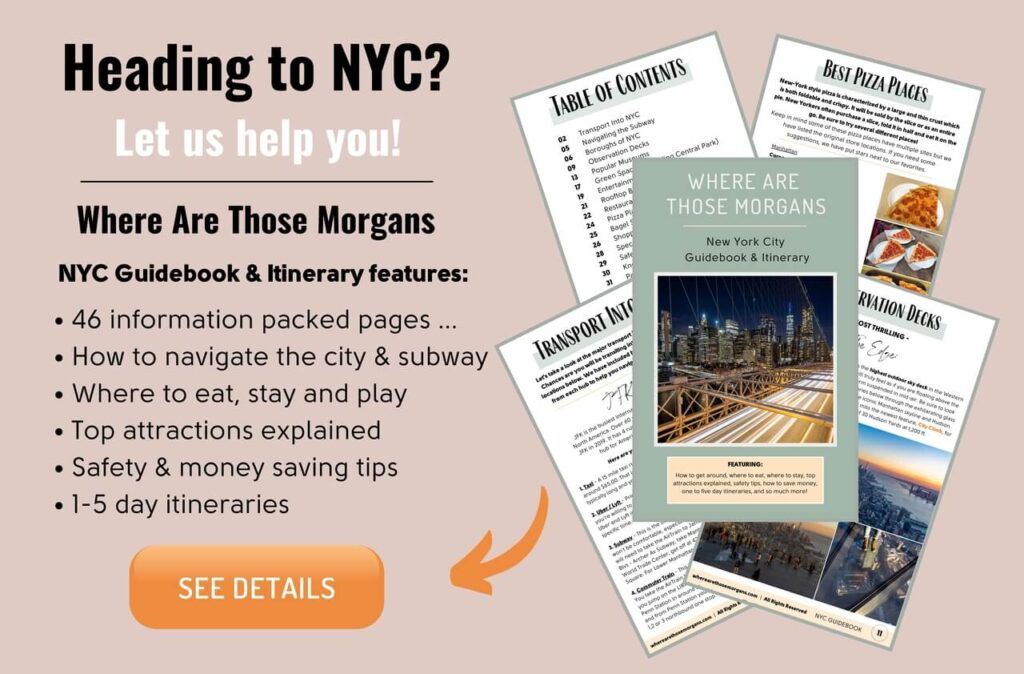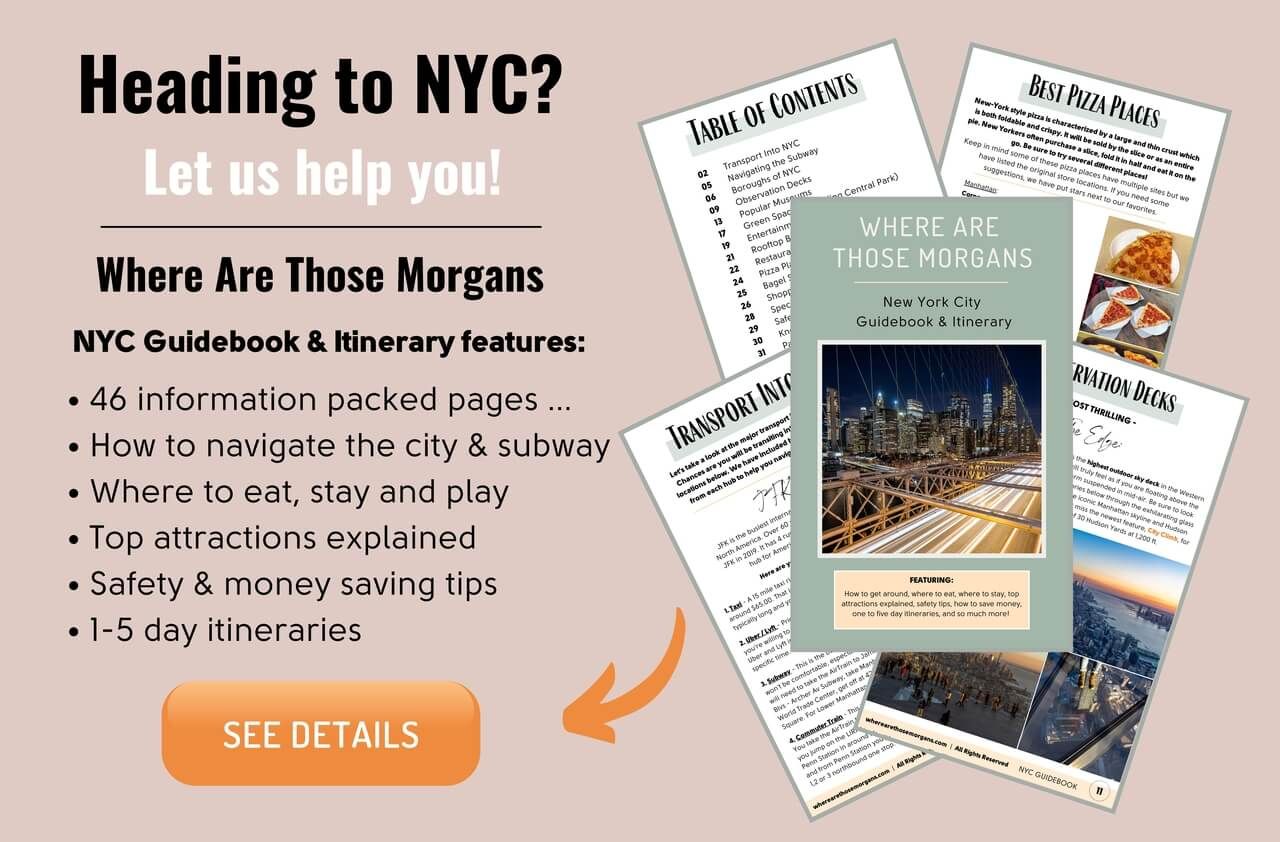 Brooklyn Bridge Sunrise NYC FAQ's
Let's take a quick look at some of the most frequently asked questions regarding sunrise at the Brooklyn Bridge.
What is the best way to walk across the Brooklyn Bridge for sunrise?
The best way to see the sunrise from the Brooklyn Bridge is to start in Manhattan and then walk over the bridge to end in Brooklyn. As the sun rises, the warmth will illuminate your face and you will will see the sun rise behind Brooklyn as well as sparkle over Manhattan anytime you turn around on the bridge.
Where is the best New York skyline sunrise?
Walking over the Brooklyn Bridge is one of the best locations for stunning views of the New York Skyline in the early morning. From this bridge, you can see both Brooklyn and Manhattan light up as the sun rises on the horizon.
Our Popular NYC Guides
More NYC Guides
Want more New York City content? Head to our New York Travel Guides to explore more from the Big Apple as well as beautiful upstate NY.
---
We hope this detailed guide helps you experience a New york skyline sunrise in New York City!
Please let us know if you have any questions about sunrise over the Brooklyn Bridge or shooting sunrise photography in New York City in the comments below.
Happy Travels,
Mark and Kristen
Enjoy This Brooklyn Bridge Sunrise Location Guide? Pin It For Your Visit!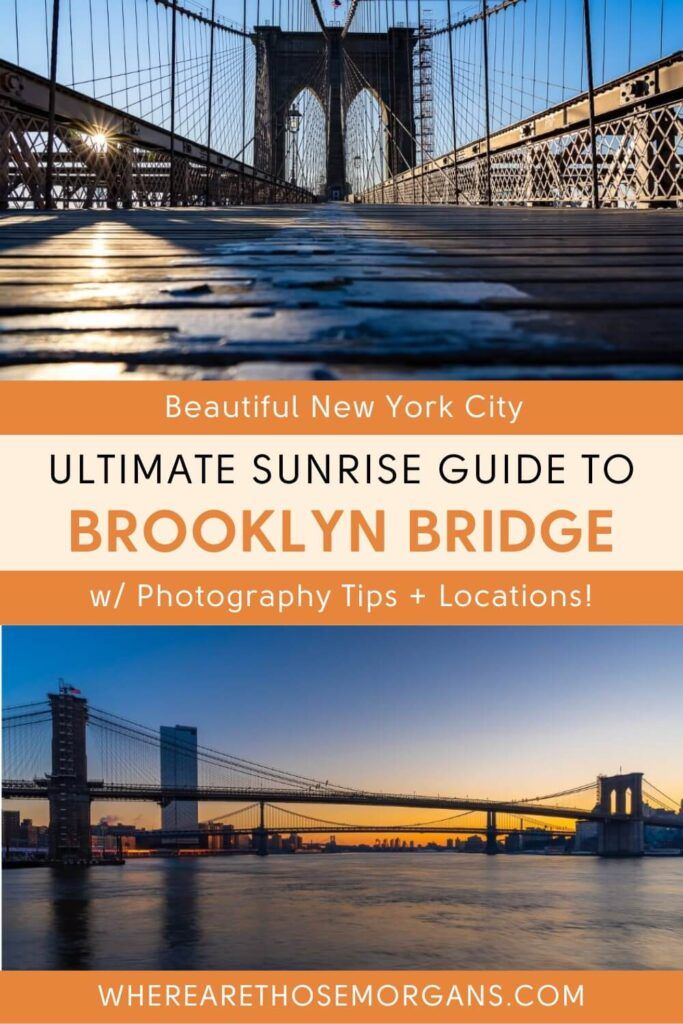 Note: This article contains affiliate links. When you make a purchase using one of these affiliate links, we may earn a small commission at no extra cost to you.
All Rights Reserved © Where Are Those Morgans, LLC. Republishing this article and/or any of its contents (text, photography, maps, graphics, etc.) in whole or in part is strictly prohibited.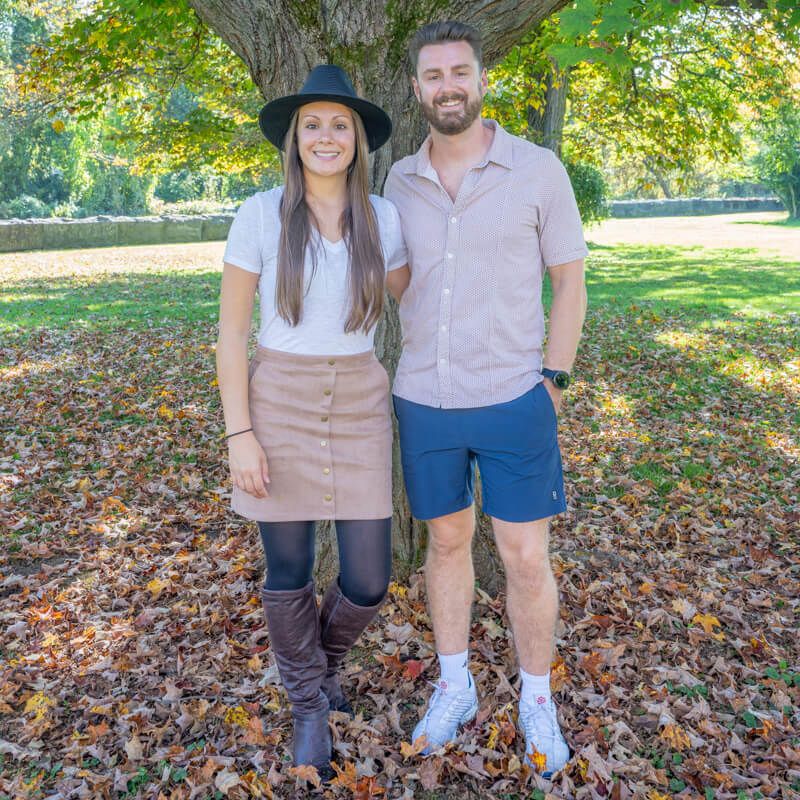 Mark and Kristen Morgan are travel, hiking and photography experts. Over the last 6 years traveling full time, they have explored more than 40 countries and 30 US states.
Their work has been featured in USA Today, Gestalten, Get Your Guide, CityPASS and Condé Nast Traveler along with various other publications.