In the battle of the New York City bridges, there can only be one winner. The Brooklyn Bridge is a greedy, tourist hogging granite and steel superstar. But that doesn't mean you can't also walk the underrated Manhattan Bridge for an entirely different experience on your visit to NYC.
Consider the popular Top of the Rock vs Empire State Building notion of "you can't see the Empire State from the top of the Empire State". Well, you also can't see the Brooklyn Bridge from the Brooklyn Bridge, right?!
But that's enough about Brooklyn Bridge. The Manhattan Bridge has a handful of tourist friendly tricks up its sleeve:
Something that makes it unique.

A collection of awesome viewpoints from the bridge.

One of the most iconic New York City photographs features a prominent section of Manhattan Bridge.
We will explain everything you need to know about where to start and end the walk, FAQ's and best photography locations for this 100+ year old suspension bridge.
Let's get into planning your walk across the Manhattan Bridge!
Why Walk The Manhattan Bridge?
The Manhattan Bridge is undoubtably a less popular tourist walkway than its nearby counterpart, but less popular means fewer people and more space.
In a complete contrast to the Brooklyn Bridge, you will be able to take things easier and be in less danger of taking a rogue selfie stick the face.
If you're visiting New York City for a short weekend break, prioritize the Brooklyn Bridge. However, if you're planning a longer 4 day New York City itinerary, be sure to consider including a slow walk over the Manhattan Bridge.
Here are just a few reasons why:
Walking access from Manhattan to Downtown Brooklyn.

See more of the city from a different perspective.

Classic 'Hole-in-the-Fence' photographs from the bridge.

Views over Brooklyn Bridge and Lower Manhattan.

No cyclists, just pedestrians.

Much quieter way to cross the East River.

Walking the bridges are among the best free things to do in NYC.

End with an iconic photograph of the Manhattan Bridge from Dumbo.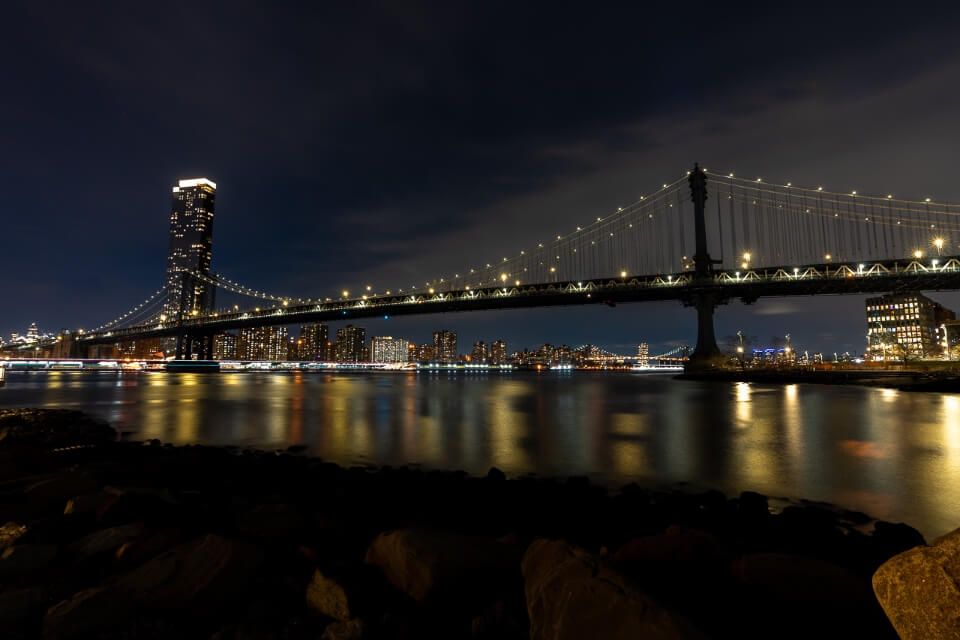 FAQ'S
1. Can You Walk Across The Manhattan Bridge?
Yes, we know that seems an odd place to start when writing a guide to walking the Manhattan Bridge!
But we'll be the first to admit, when we first arrived in NYC we didn't know if the Manhattan Bridge could be walked or not, we only had eyes for the Brooklyn Bridge.
The answer is yes, you can walk the Manhattan Bridge – and with one huge benefit the Manhattan has over the Brooklyn:
The pedestrian walkway is for pedestrians only, so no cyclists tearing through tourist packs, no bells ringing and no need to have your head on a swivel.
2. How Long Does It Take To Walk The Manhattan Bridge?
To walk the Manhattan Bridge, you will cross the East River via a pedestrian walkway on the 'bottom' side of the bridge as you look at a map.
Total walking distance is around 1.3 miles one way, which could take as little as 25 minutes or as long as 2 hours depending on how many stops you decide to make for photographs.
Expect a very gradual incline as you walk from Manhattan and approach the center, before a gradual decline as you descend into Brooklyn.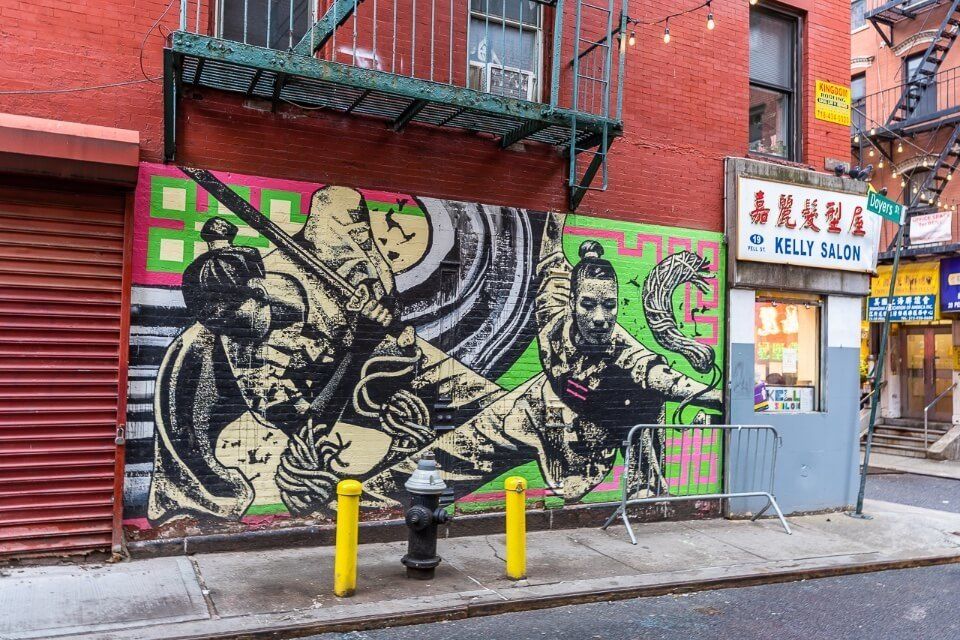 3. Where Do You Start and End The Manhattan Bridge Walk?
Manhattan
In Chinatown, walk to the intersection of Bowery and Bayard St, then continue northeast 200 ft sticking to the right hand side of the road.
A pedestrian path curves to the right and you will see a green sign saying Manhattan Bridge with a person pointing right. This path marks the beginning / end point in Manhattan.
Nearest subway stations Manhattan side:
Canal St Station

Yellow Line

– R, Q, N, W
Grand Street

Orange Line

– D, B
Canal Street

Brown Line

– J, Z
Canal Street

Green Line

– 6, 4
Brooklyn
Head to the intersection of Jay Street and Sands Street. Again, you'll see green signs for pedestrian walkway beginning on an ornate looking staircase.
In maps, use 'Manhattan Bridge Small Park' as your destination.
Nearest subway stations Brooklyn side:
York Street

Orange Line

– F
High Street Brooklyn Bridge

Blue Line

– A, C
4. Is It Safe To Walk Across At Night?
In truth, Manhattan Bridge has a slightly dilapidated feel and isn't set up for tourism like Brooklyn Bridge. Walking over Brooklyn Bridge at sunset and night is extremely safe but we wouldn't as easily recommend the same for the Manhattan Bridge.
The Manhattan Bridge pedestrian walkway isn't completely open like the Brooklyn Bridge. The path here is underneath road level and blocked from public view, which could be a concern at night.
Plus, when subway trains screech past it's impossible to hear anything but ear piercing noises for about 20 seconds. We think that would add to a slightly uneasy claustrophobic feeling.
But don't let that put you off walking across during the day or around sunset, which is entirely safe and comfortable.
Personally, we chose to walk the Manhattan Bridge in late afternoon so we could loop round to Brooklyn Bridge Park in time for sunset.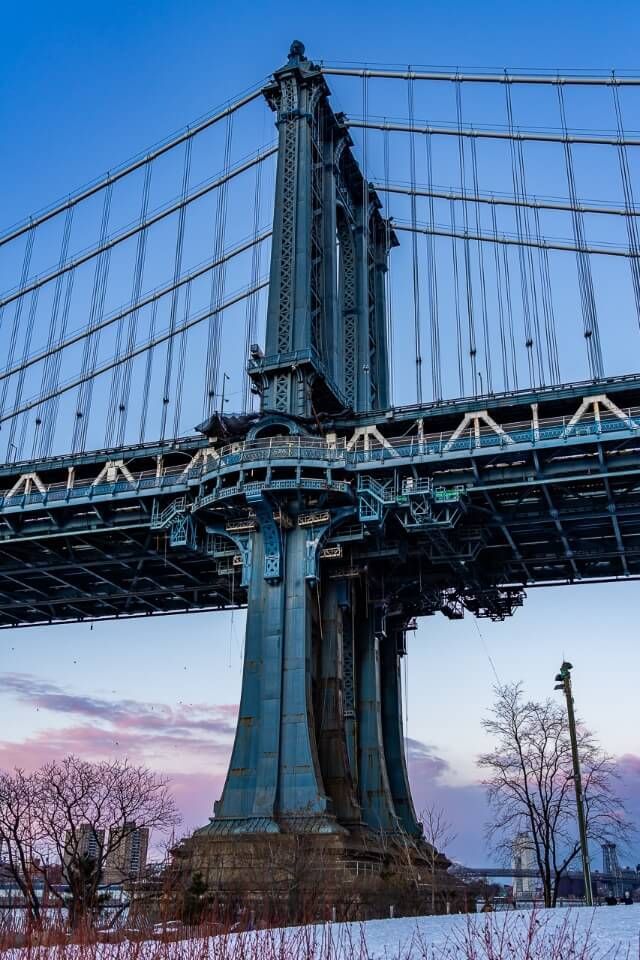 Best Side To Begin
You can begin and end the walk over Manhattan Bridge from either side but we would suggest doing the same as we did:
Walk from Manhattan to Brooklyn in late afternoon, then walk to Dumbo, Time Out Market and Brooklyn Bridge Park for sunset. Afterwards, walk back to Manhattan over the Brooklyn Bridge.
Aim to be taking the curving path in Chinatown onto the Manhattan Bridge around 1 hour 30 to 2 hours before sunset. Check NYC sunset times here.
Manhattan Bridge Sunset NYC
It is definitely worth mentioning that sunset is a very popular time around the Brooklyn Bridge area, especially in Summer.
If you have plenty of time in the city, head up to the Manhattan Bridge for sunset one evening.
Aim to set your tripod up in front a hole in the fence, somewhere along the half of the bridge between center point and Brooklyn. The sun will set right ahead of you, behind the Brooklyn Bridge and Lower Manhattan.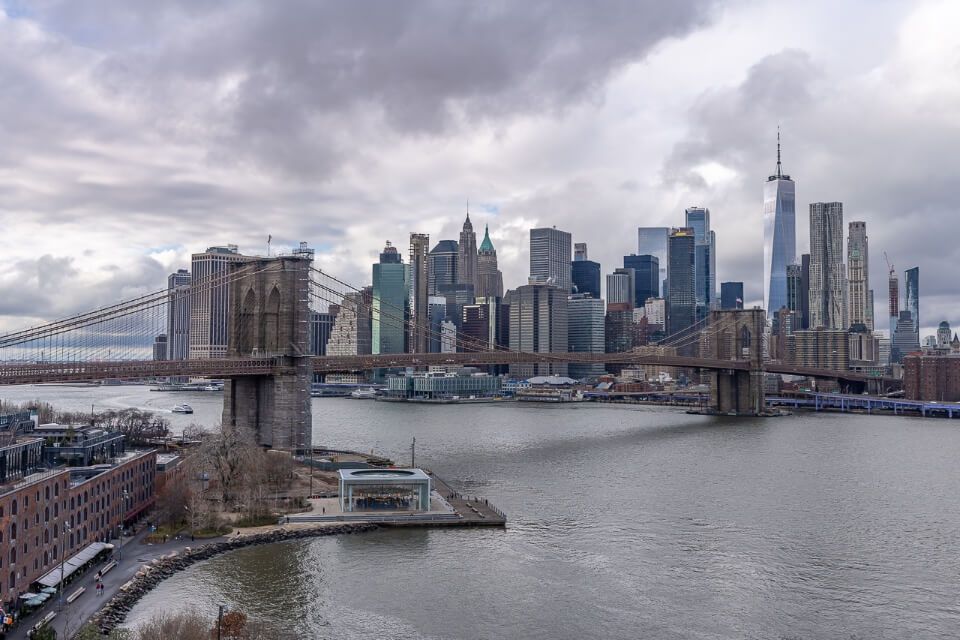 Use the image above as a guide for best place to set up your tripod.
If you visit New York City in Winter, the sun sets slightly to the left side of the very end skyscraper on the left side of the image, right over the Statue of Liberty. In Summer, the sun sets further around to the right.
This is arguably one of the best locations in New York City to watch sunset if you want to include the entire Brooklyn Bridge in your image.
You'll find it to be much quieter, far easier to take photographs and right after you can head down to Dumbo for a night shot.
Manhattan Bridge Famous Hole-in-Fence Photographs
Now let's get onto the best part of this underrated walk! Photography.
We'll get to Dumbo afterwards but first let's take a look the urban photographers' favorite 'hole in the fence' NYC image.
There are rumors that people once used wire cutters to open up small holes into mesh fencing on the Southwest facing side of Manhattan Bridge.
Why would they do that?
Well, the folded back mesh creates a perfect frame for taking photographs through the fence with interesting backgrounds. It gives the option to use bokeh and either blur the mesh fence or the background.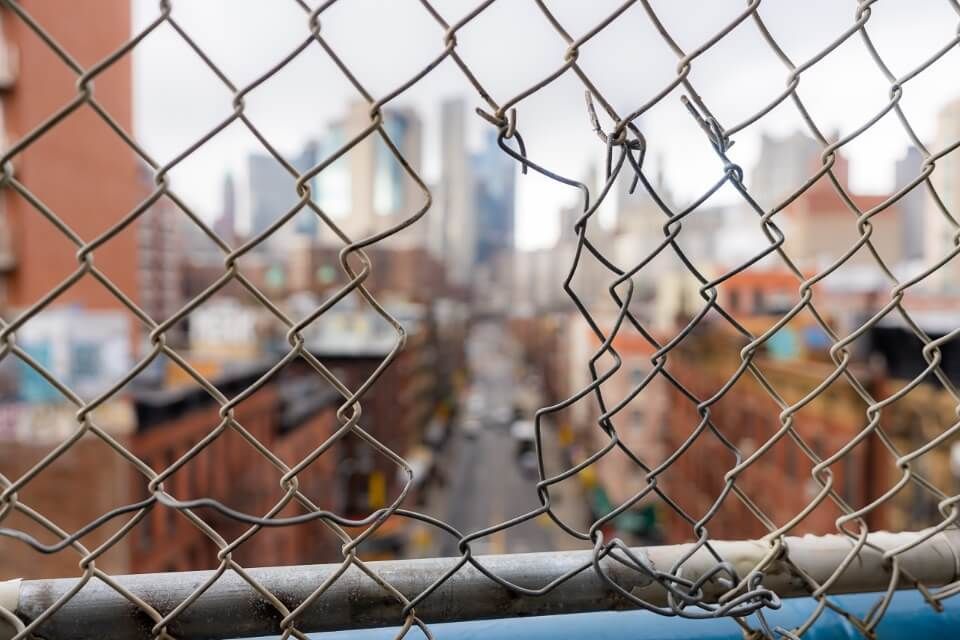 Talk of the holes being rewired led people to believe that was the end of these famous NYC images of Brooklyn Bridge and Chinatown streets.
When we walked the Manhattan Bridge, no holes were showing up when we reached each Chinatown street running perpendicular to the bridge.
Just when disappointment set in and thought we'd miss out, the first hole appeared, looking right down Madison Street with Lower Manhattan's skyline and One World Trade Center in the distance.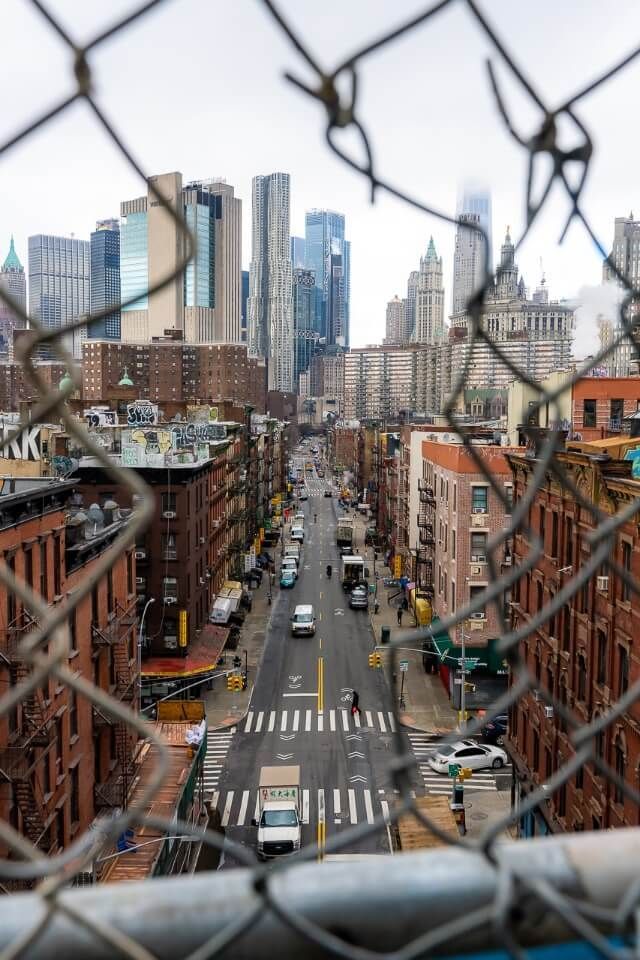 Throughout the course of the walk to Brooklyn, many more holes appeared in the fence. Frames of Brooklyn Bridge and Lower Manhattan were plentiful.
Either use the fence to frame or put your lens through the hole to get a clear shot.
Iconic New York City Photograph of the Manhattan Bridge in Dumbo Brooklyn
NYC is filled with unique photography locations and the Manhattan Bridge is the subject of an epic shot.
Once you leave the bridge on Jay Street, head north and turn left on York Street. Continue three blocks and take the right onto Washington Street.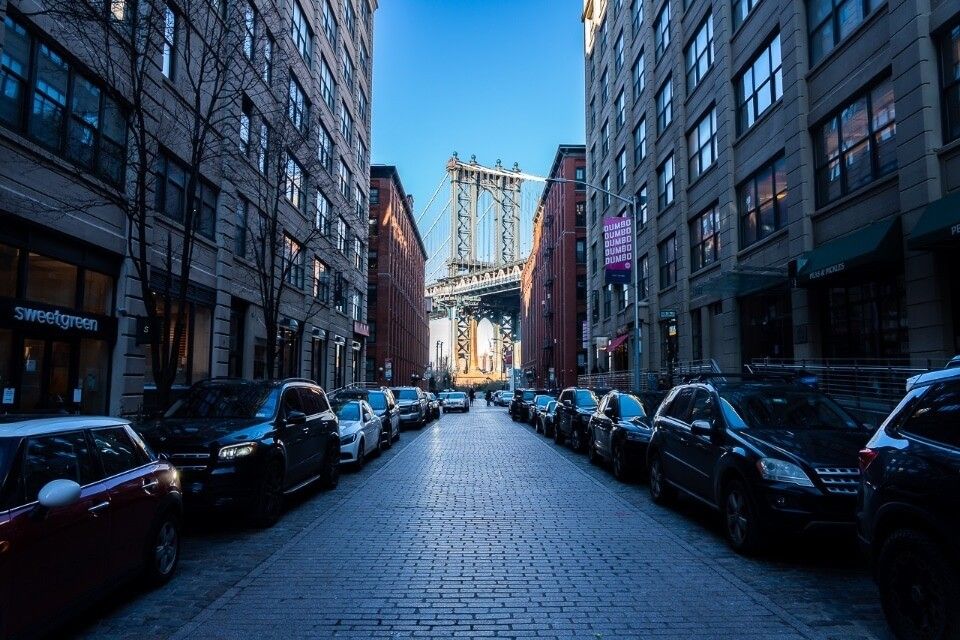 A gradual downhill road made up of picturesque cobblestones leads your gaze through a narrow gap between buildings and what is at the end?
A truly incredible view: One of the Manhattan Bridge's steel towers front, center, proud and prominent.
Could it get any better? Yes, it could.
Look closely through the oval shaped hole at the tower base – can you see the top of the Empire State Building bang in the middle?!
Grab a quick selfie and find an awesome place for dinner in Dumbo. The perfect way to end your walk over New York City's Manhattan Bridge.
Read More About New York City
Need Help Planning Your Visit To New York City?
NYC is a vacation planning beast and it can be overwhelming trying to get every aspect right. Trust us, we know!
After living in New York City and exploring non-stop for 3 months, we created a comprehensive NYC travel guidebook & itineraries that will answer every question you have about where to stay, what to do, where to eat and how to get around the city.
Click see details below to read more about how we can help you plan your dream trip to New York City!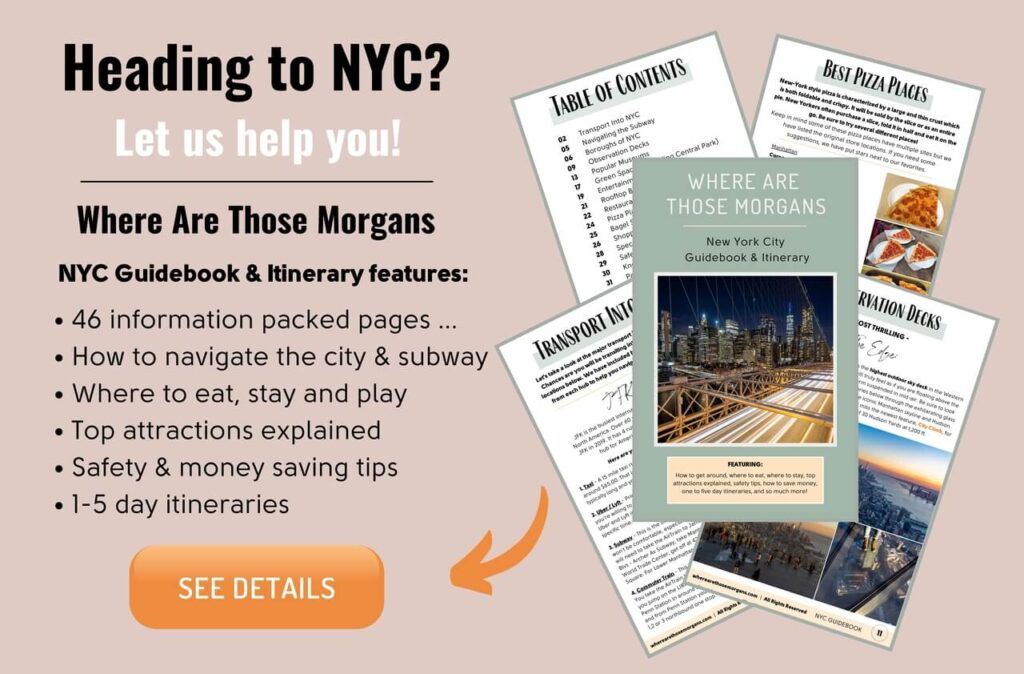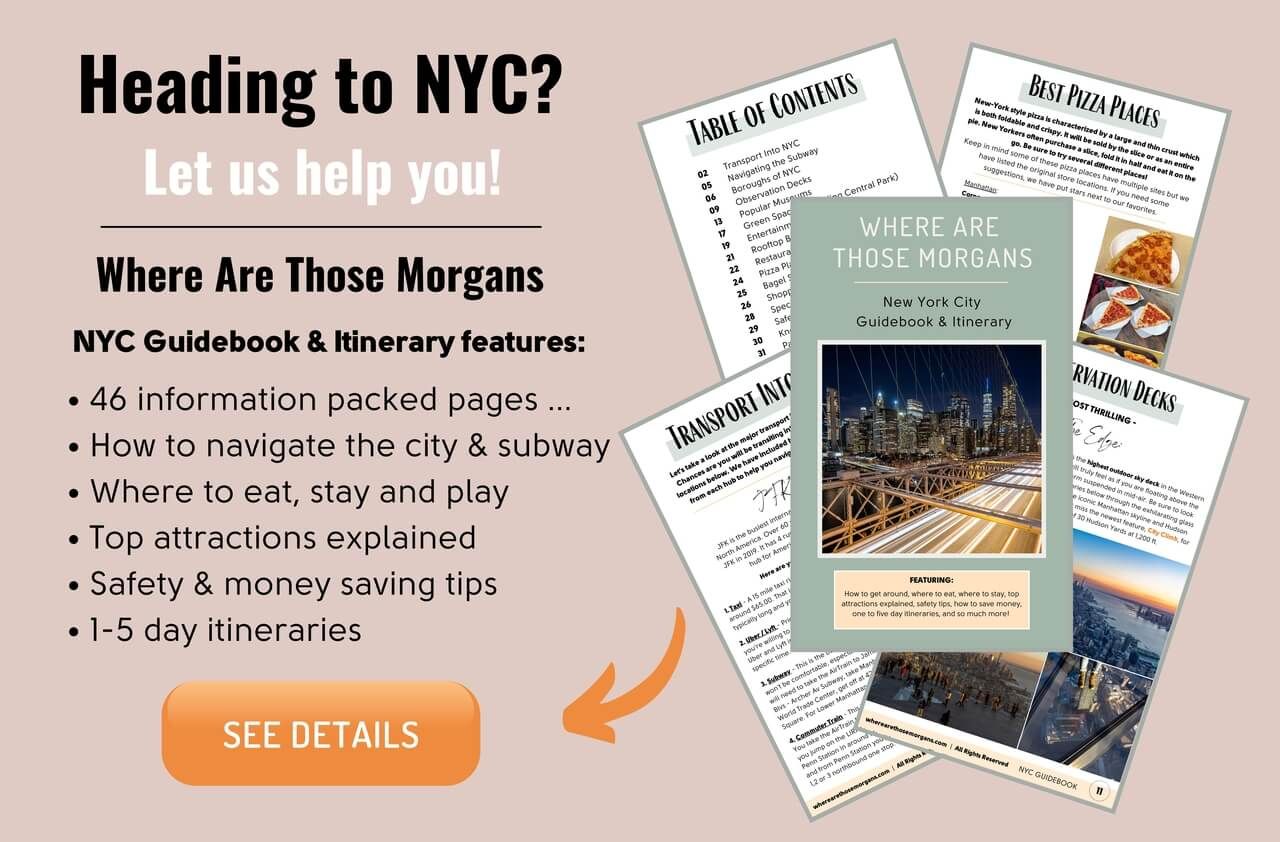 We hope this guide helps you plan your walk over the Manhattan Bridge in NYC!
Have you been to New York City? Which bridge did you prefer to walk across?
Please let us know if you have any questions or need any help planning your visit.
Happy Travels,
Mark and Kristen
Was This Post Helpful? Pin It For Your Visit!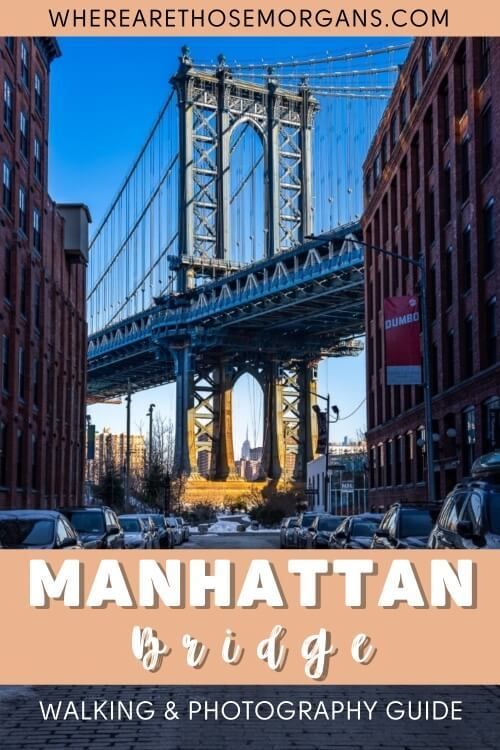 Note: This article contains affiliate links. When you make a purchase using one of these affiliate links, we may earn a small commission at no extra cost to you.
All Rights Reserved © Where Are Those Morgans, LLC. Republishing this article and/or any of its contents (text, photography, maps, graphics, etc.) in whole or in part is strictly prohibited.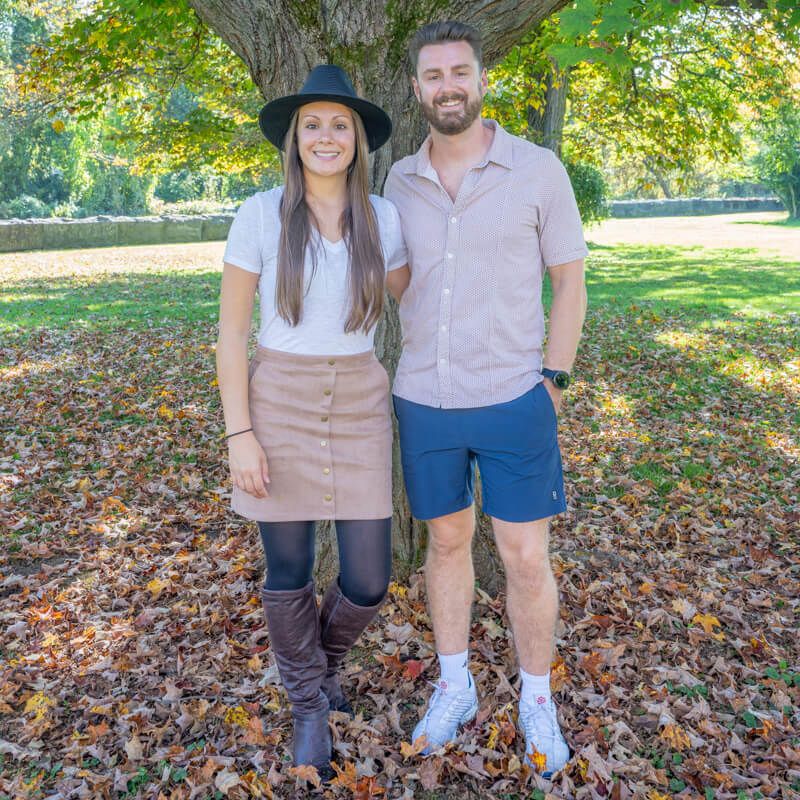 Mark and Kristen Morgan are travel, hiking and photography experts. Over the last 6 years traveling full time, they have explored more than 40 countries and 30 US states.
Their work has been featured in USA Today, Gestalten, Get Your Guide, CityPASS and Condé Nast Traveler along with various other publications.