Vietnam is a unique travel destination filled with incredible natural beauty and bustling major cities. We are going to show you the 15 best places to visit as well as fun things to do in Vietnam ranging from adventure in the worlds biggest caves to relaxing boat rides through this country's famous rivers.
We have traveled extensively throughout Vietnam and can't wait to show you the best of what we have experienced, so you can start planning your Vietnam trip today!
In our guide, we will show you:
Vietnam visa requirements
Top 15 places to visit in northern, central and southern Vietnam
Best things for families and couples to do in Vietnam
Map of the best places to visit
How to plan your Vietnam itinerary
Best time to visit Vietnam
No, let's explore the best thing to do and top rated places to visit in Vietnam!
*Please note this post may contain affiliate links. If you click on one, we may earn a small commission at no extra cost to you. Thank you for supporting the free content we provide! Read more in our disclosure policy.*
Vietnam Visa Requirements
You will most likely need a visa prior to entering the country of Vietnam.
There are currently 80 countries allowed to apply for an e-Visa prior to arrival so you may have a little bit of work to do before you arrive in Vietnam.
You can use the National Web Portal Immigration link below to check countries that allow e-Visas as well as ports allowing foreigners to enter with an e-Visa.
The two common types of visa in Vietnam are the e-Visa or a Visa on Arrival. However, both of these options require approval before you arrive in the county.
The easiest option if you are planning to visit Vietnam for less than 30 days and do not need a multi-entry visa, is the e-Visa.
But if you plan a trip longer than 30 days or need a enter Vietnam multiple times, then you should consider a Visa on Arrival.
Follow These Steps To Obtain A 30-day Single Entry e-Visa:
Go to the National Web Portal on Immigration
Click the selection: 'For outside Vietnam foreigners'
Upload passport data page and passport photo (looking straight without glasses)
Pay e-Visa fee ($25)
Your application will be processed in 3 working days (sometimes sooner)
Look for an email with a registration code to check the status of your e-Visa
Once approved, be sure to print your e-Visa and save one copy to your phone as well
Travelers with an e-Visa do not need to line up at the Visa on Arrival counters and can advance straight to the immigration counters at their point of entry.
Travel Tip: If you do not apply for the 30 day e-Visa, you will only be allowed to stay in Vietnam for 15 days so your time will essentially be cut in half. It pays to be prepared!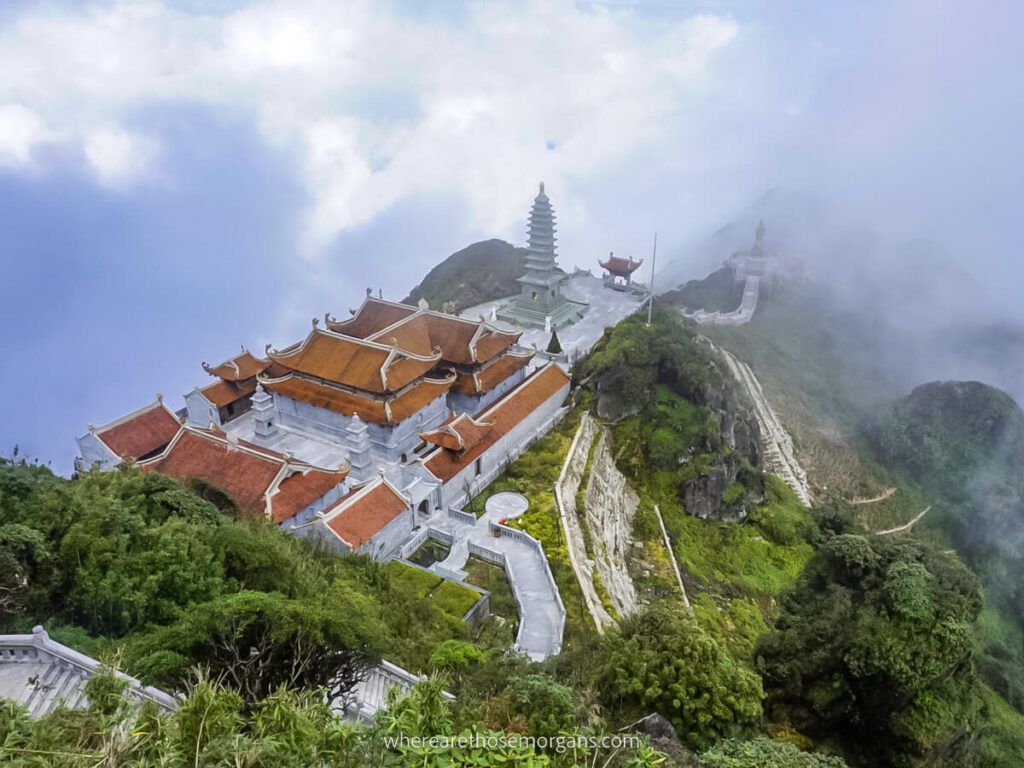 Top Places To Visit In Vietnam
As we mentioned in the beginning of this guide, we are going to show you both the best places to visit in Vietnam as well as the popular things to do in each area.
Vietnam is a beautiful country filled with jaw dropping landscapes that will make you feel as if you have been transported to another planet.
We applied for a 30 day e-Visa and spent an entire month exploring Vietnam. But what we can tell you from our experience is that you won't be able to visit all of these places in thirty days.
So with our 30 day visa, we decided to travel slowly spending our time in both Northern and Central Vietnam. We plan to return to Vietnam in the future to check off the bucket list places we list in Southern Vietnam.
In order to make this guide as helpful as possible, we have broken up the best places to visit in Vietnam by geographical region:
Northern Vietnam
Central Vietnam
Southern Vietnam
We will also tell you the best cheap, free, fun and adventurous things to do in each major city of Vietnam.
There is no right or wrong way to travel through Vietnam, but there sure are a plethora of cool things to do in this S shaped country and you are spoiled for choice.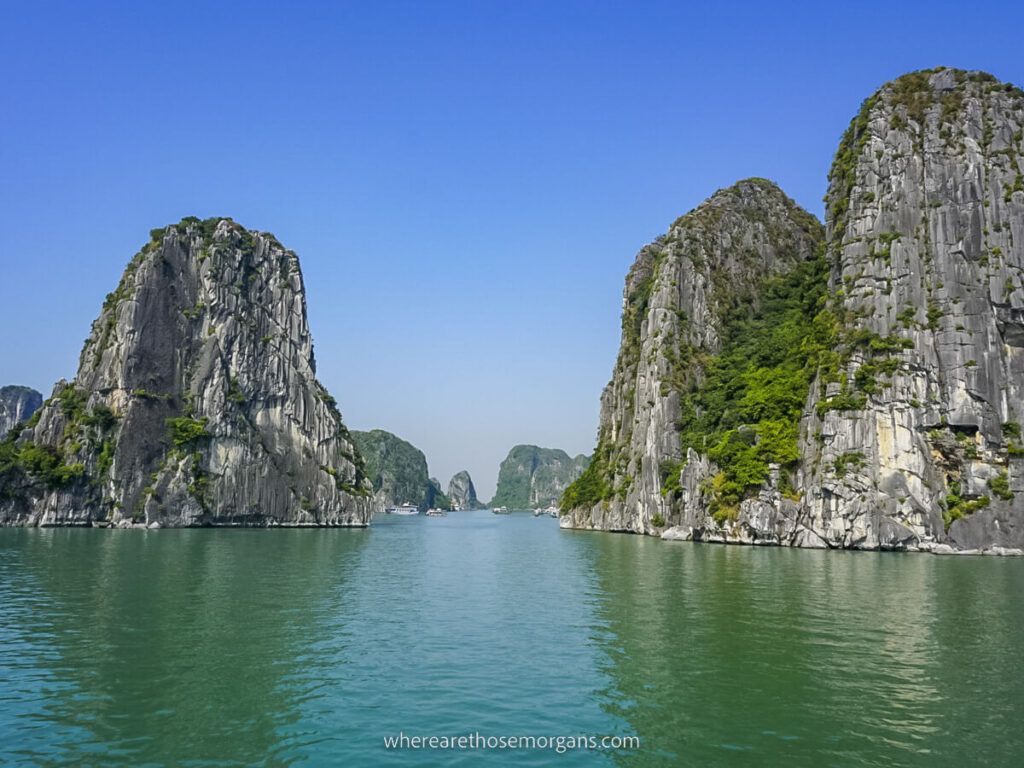 Northern Vietnam
The north of Vietnam is home to lush rice terraces, majestic mountain ranges and various ethnic groups. This region is also home to Vietnam's capital city of Hanoi.
Top destinations in Northern Vietnam include:
Halong Bay
Hanoi
Ha Giang
Ninh Binh
Sapa
Many people visit northern Vietnam for hiking opportunities, homestays with the ethnic tribes and the chance to ride the the twisting mountain roads filled with sharp bends and corners by motorbike.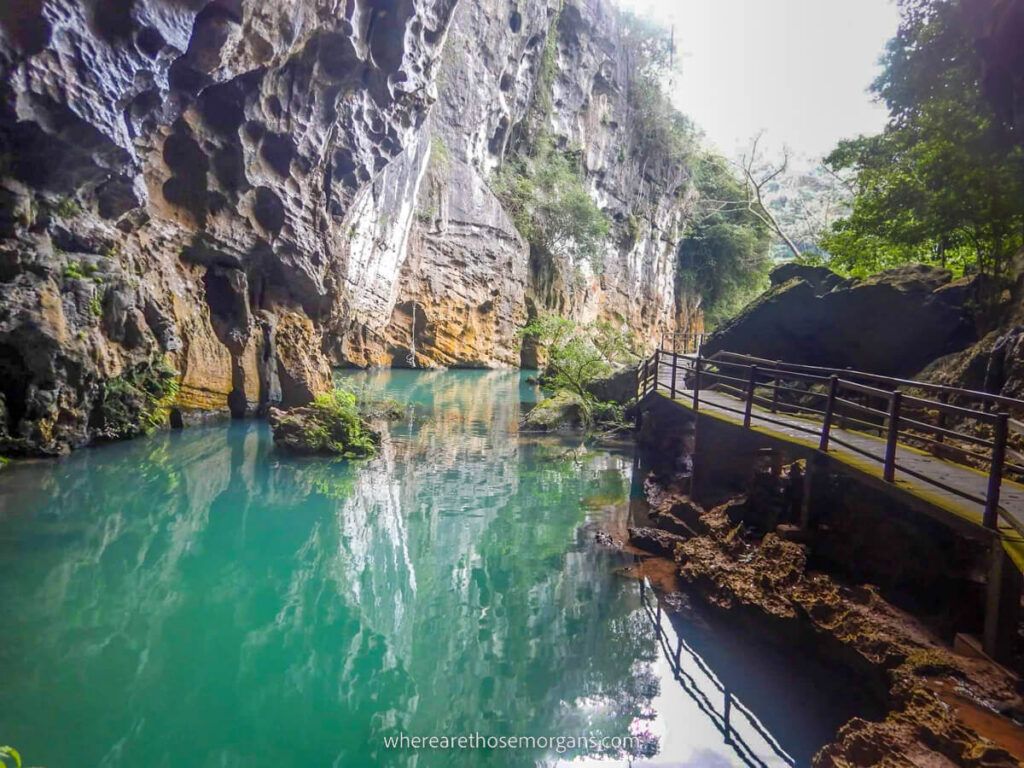 Central Vietnam
Dramatically different compared to the north, Central Vietnam is filled with well preserved historical sites, massive cave systems and beautiful coast lines.
Top destinations in Central Vietnam include:
Da Nang
Hoi An
Hue
Phong Nha
Many people visit central Vietnam to explore the extensive cave systems of Phong Nha-Kẻ Bàng National Park including the world's largest cave. This region of Vietnam is an adventure lovers paradise.
Southern Vietnam
A visit to Southern Vietnam gives travelers a glimpse into the non-stop energy of Ho Chi Minh City and the famous region of the Mekong Delta where life is essentially lived on water.
Top destinations in Southern Vietnam include:
Can Tho
Dalat
Ho Chi Minh City
Nha Trang
Phu Quoc
Vung Tau
Many people visit southern Vietnam to experience the sprawling metropolis of Ho Chi Minh City (formerly known as Saigon) and the beautiful islands for diving, surfing or relaxing.
1. Halong Bay (Northern Vietnam)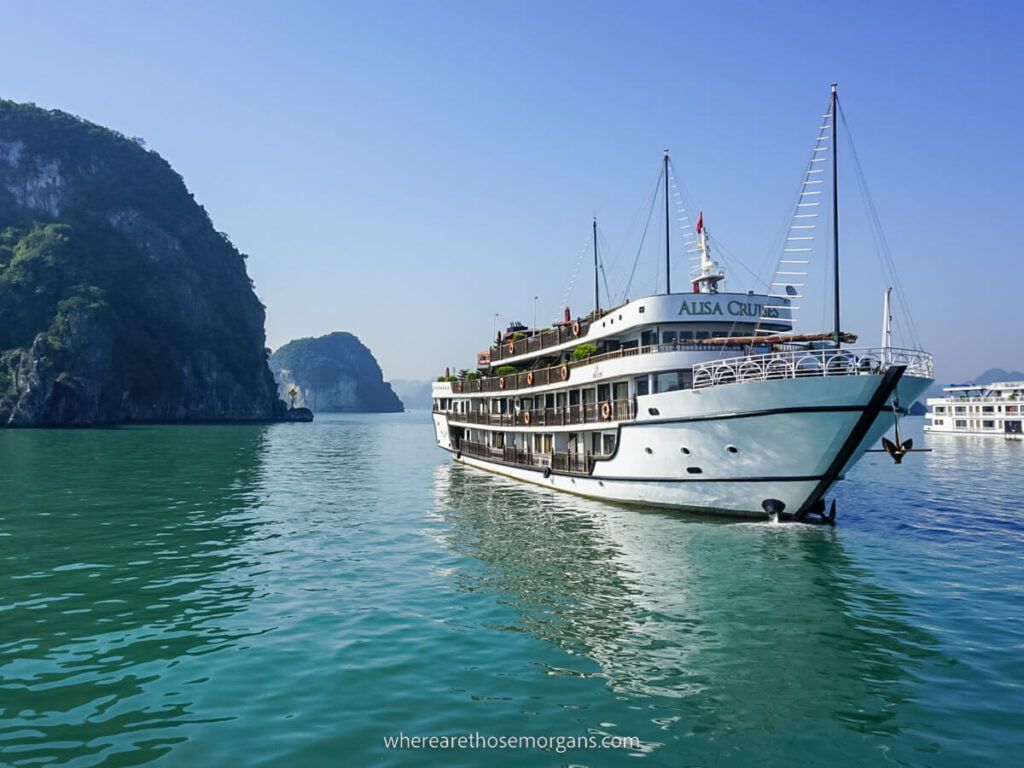 What Is Halong Bay?
Halong Bay is an extremely popular UNESCO World Heritage Site. This bay showcases towering limestone karsts hidden among emerald green waters.
This northern region is known for its scuba diving, rock climbing, swimming, snorkeling and hiking, especially in nearby Cát Bà National Park.
Why Is Halong Bay A Fun Place To Visit In Vietnam?
Halong Bay is a fun place to visit because visitors can experience a Halong Bay cruise via junk boat tours, sea kayak expeditions and the chance to explore many sea caves.
Most of the islands in the area are uninhabited making this a hot tourist destination which has been largely unaffected by human presence. However, it is not uncommon to see numerous boats in the bay at any given time.
Best Things To Do At Halong Bay
Take a Halong Bay Cruise on a traditional junk boat
Visit a floating fishing village
Relax on the gorgeous beaches
Explore the various sea caves (Sung Sot is amazing)
Paddle out to sea in a kayak
Swim or snorkel in the emerald green waters
If you are looking for a memorable experience, you you could consider this helicopter tour over the stunning vistas of Halong Bay.
Heading to Halong Bay? Don't miss our popular transport guide on how to get from Hanoi to Halong Bay.
---
2. Hanoi (Northern Vietnam)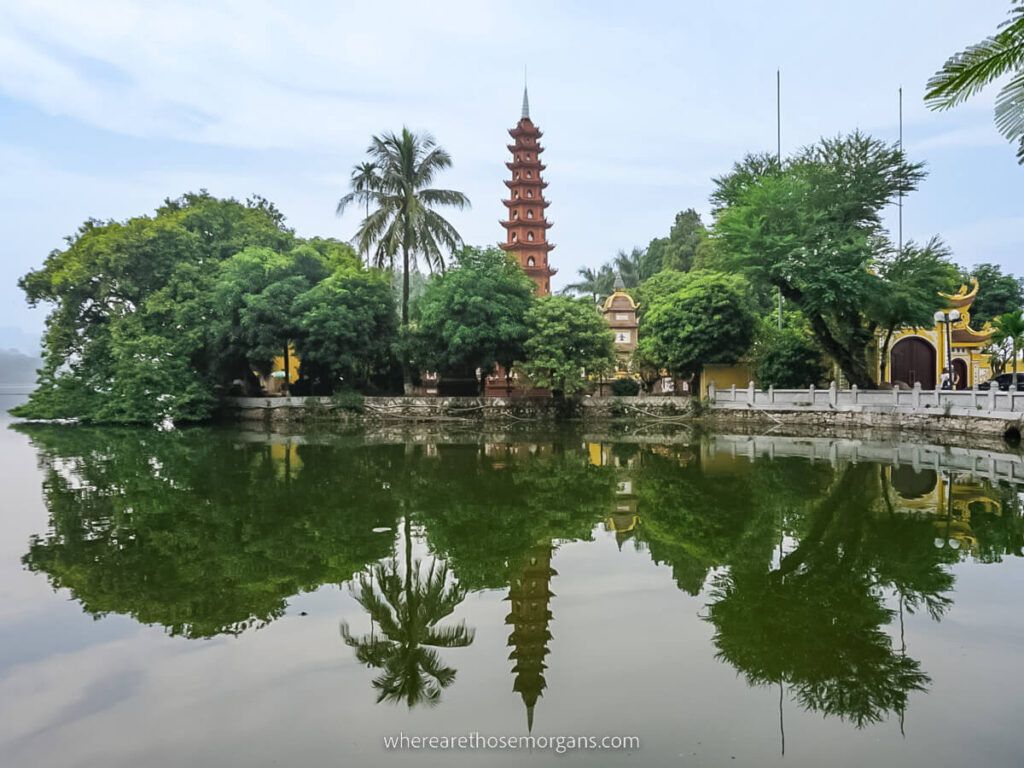 What Is Hanoi?
Hanoi is Vietnam's vibrant capital city and was founded over 1,000 year ago. The picturesque Old Quarter dates back to the 14th century which makes Hanoi a must see stop on any travelers itinerary.
Today, Hanoi serves as an industrial and agricultural centre as well as a great transport link. Other major cities in Vietnam will connect with Hanoi via multiple roads and railways.
Why Is Hanoi A Good Place To Visit In Vietnam?
Hanoi is a lively city brimming with cafes, restaurants, art galleries, rooftop bars and museums. There are numerous things to do in Vietnam's capital city including important historical sites.
If you are a foodie, you will love Hanoi because it's one of the most diverse and best cities for street food. Popular street food dishes included pho bo, banh mi, egg coffee and bun cha.
Top Things To Do In Hanoi
Explore The Old Quarter and St. Joseph's Cathedral
Visit Hoan Kiem Lake and Ngoc Son Pagoda
Watch a traditional Vietnamese water puppet show
Visit Ho Chi Minh Mausoleum
Experience the Museum At Hoa Lo Prison
Drink Beer on Hanoi Beer Street
Want to see more content about Hanoi? Don't miss our popular things to do in Hanoi guide featuring an example itinerary or read our honest review as to why 2 days in Hanoi is enough.
---
3. Ha Giang (Northern Vietnam)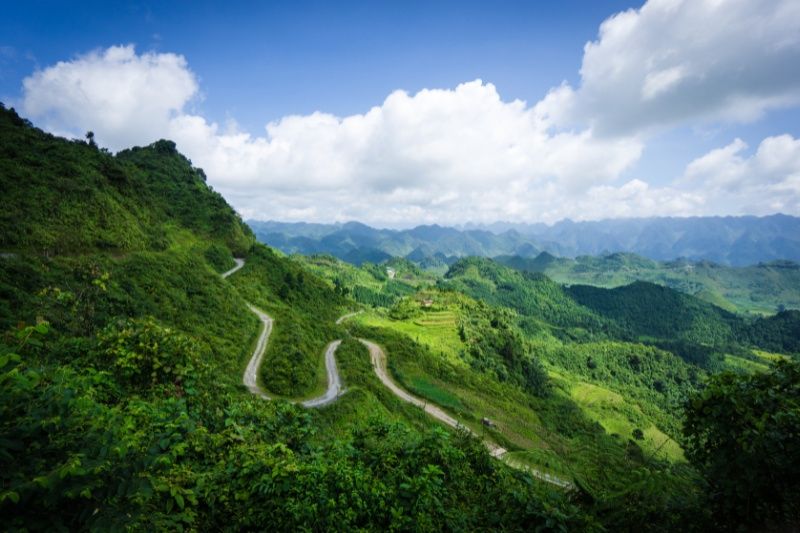 What Is Ha Giang?
The Ha Giang province attracts adventure and thrill seekers with its steep mountain passes and winding roads through foggy villages.
This province is also home to about 43 different ethnic groups who strive to preserve their culture and traditional way of life. These groups have inhabited the area for centuries.
Why Is Ha Giang An Adventurous Place Visit In Vietnam?
Ha Giang is one of the most adventurous destinations in Vietnam. The province offers remote experiences as well as beautiful landscapes in all directions.
But the numerous ethnic groups give Ha Giang a unique and culturally diverse perspective as a rural mountain community. A visit to Ha Giang is never forgotten.
Best Things To Do In Ha Giang
Visit Ha Giang City (beginning of the Ha Giang loop)
Stop at Lung Cam cultural village
Experience the Ma Pi Leng Pass
See the Sa Phin H'Mong Palace
Shop at the markets of Ha Giang
---
4. Ninh Binh (Northern Vietnam)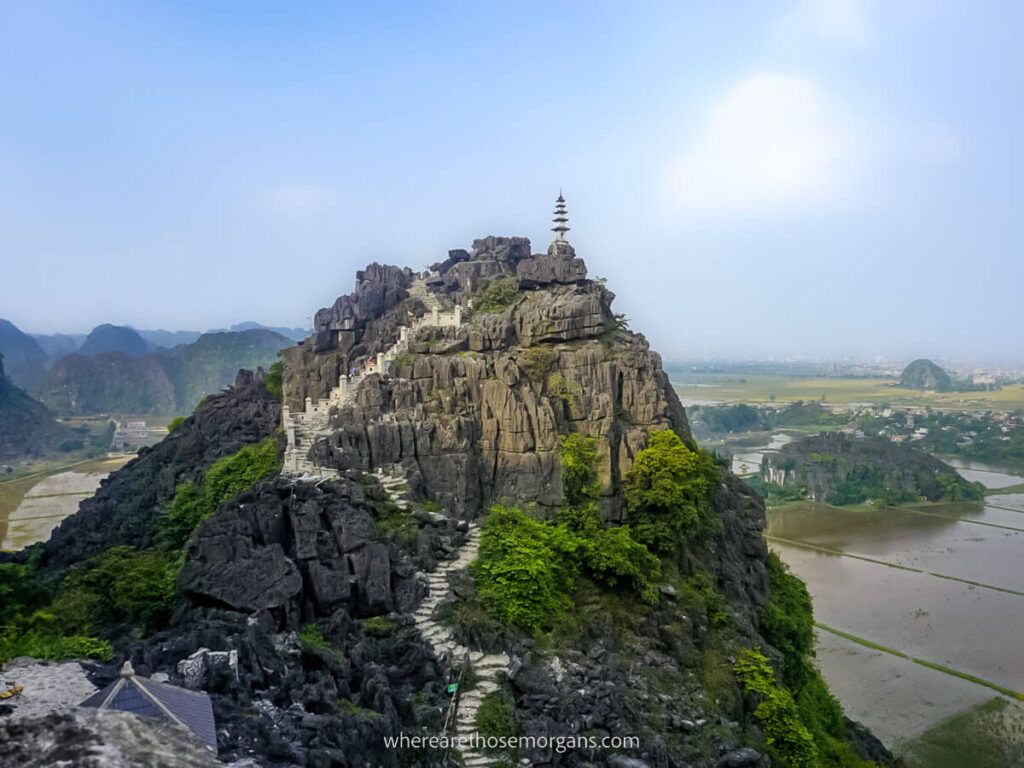 What Is Ninh Binh?
Ninh Binh is a small town located in Northern Vietnam's Red River Delta. Confusingly, the town of Ninh Binh also acts as the capital city of the entire Ninh Binh province.
When travelers are talking about Ninh Binh, they are usually referring to the entire Ninh Binh province and not Ninh Binh city.
The region of Ninh Binh is also known as the 'Halong Bay on Land.' It's easy to see why Ninh Binh is another UNESCO-protected site featuring towering limestone mountains rising up from dense green paddies.
Why Is Ninh Binh A Cool Place To Visit In Vietnam?
We thought Ninh Binh was substantially more beautiful and far less like a tourist conveyor belt than Halong Bay. Not to mention, you can visit at a fraction of the price.
Ninh Binh is a cool place to visit because it's rural Vietnam at its finest. You can visit 300 year old pagodas built into caves, summit a viewpoint with a breathtaking 360 degree panoramic views and glide by boat among limestone mountains.
Best Things To Do In Ninh Binh
Take a Trang An boat tour (or Tam Coc boat tour)
Stop at Hoa Lu Ancient Capital
Climb Hang Mua Peak to Mua Cave Viewpoint
Try local dishes like mountain snail and Ninh Binh goat meat
Visit the 300 year old Bich Dong Pagoda
Explore Cuc Phuong National Park
Heading to Ninh Binh? Don't miss our best things to do in Ninh Binh guide with example itinerary.
---
5. Sapa (Northern Vietnam)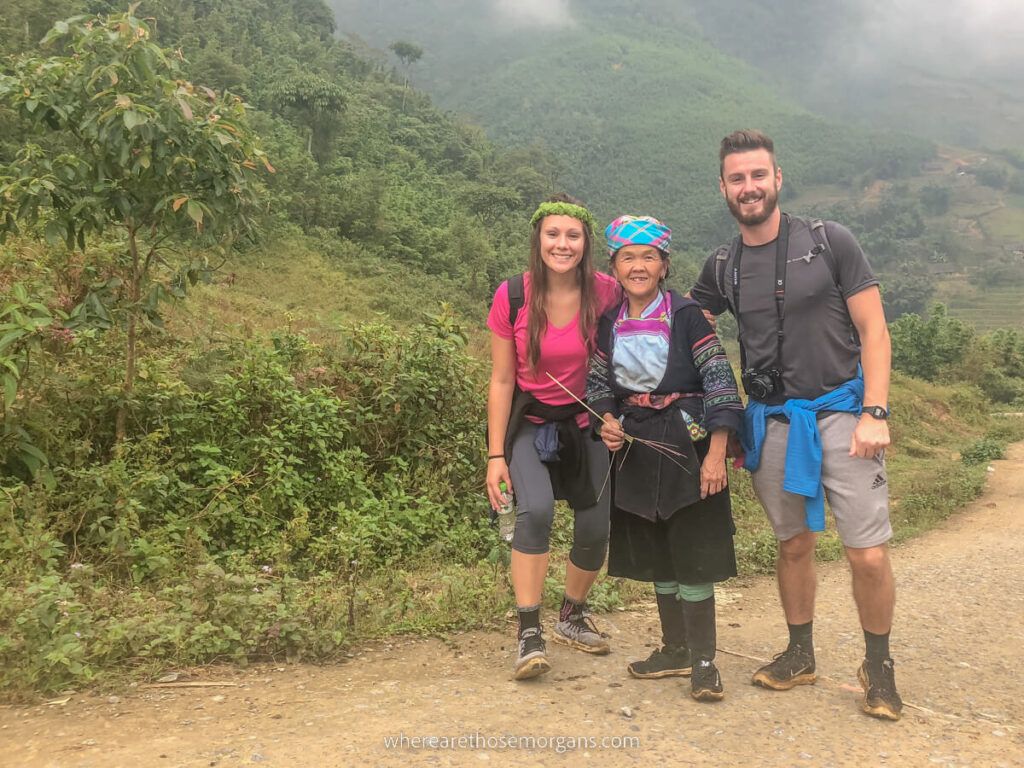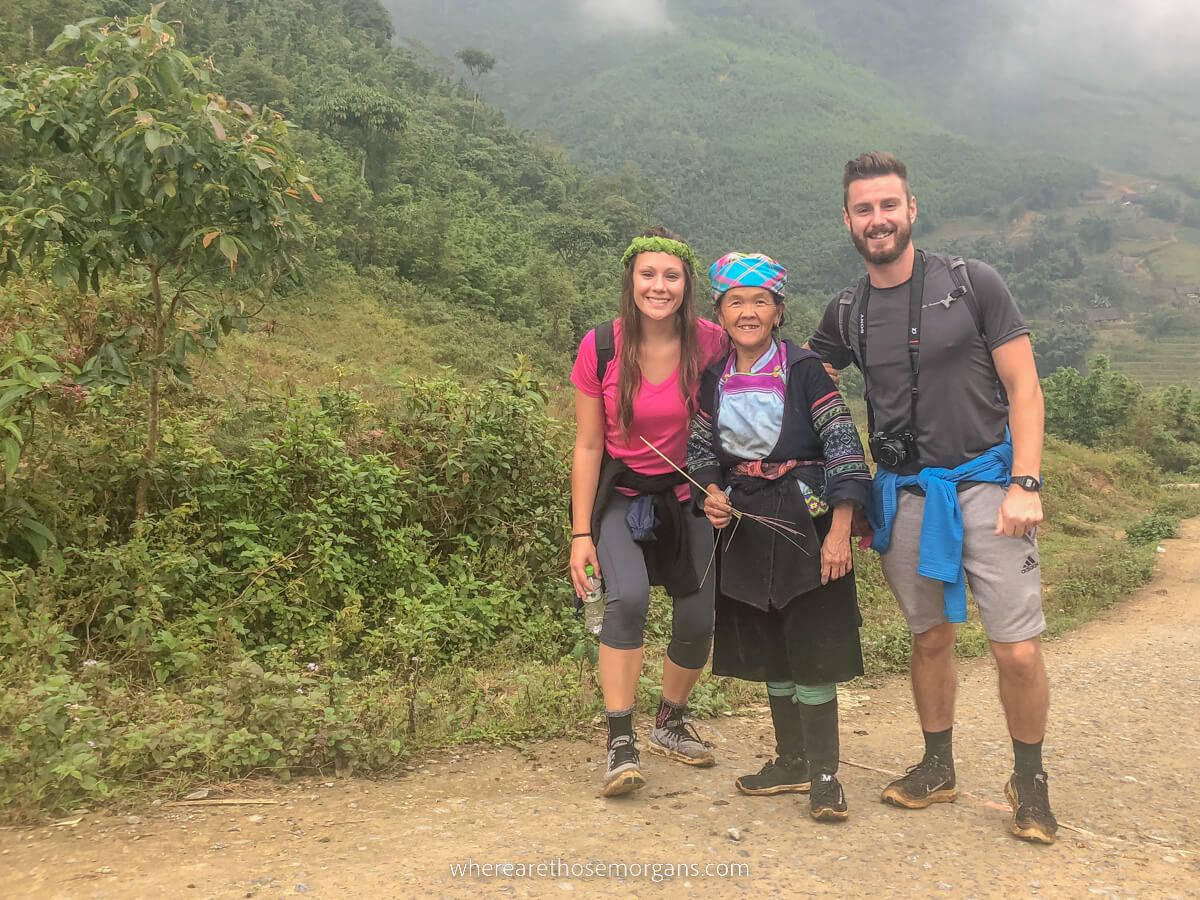 What Is Sapa?
The town of Sapa is known for its deep valleys surrounded by lush green mountains in the northwest corner of Vietnam. This area is filled with abundant trekking opportunities.
As tourists arrive in Sapa, they are rewarded with picturesque and pristine rice terraces that are still farmed today just as they have been farmed for centuries prior.
Why Is Sapa A Great Place To Visit In Vietnam?
Similar to Hai Giang, Sapa offers visitors the chance to explore the beautiful mountains of Vietnam as well as learn about the various communities of ethnic minorities who have lived here for years.
Sapa is a great place to visit because the natural landscape combined with the the lovely communities offers travelers unique homestay and hiking experiences with local guides.
Best Things To Do In Sapa
Visit Cat Cat Village
Explore Sapa Town
Heading to Sapa? You might like to read our best things to do in Sapa guide with example itinerary.
---
6. Da Nang (Central Vietnam)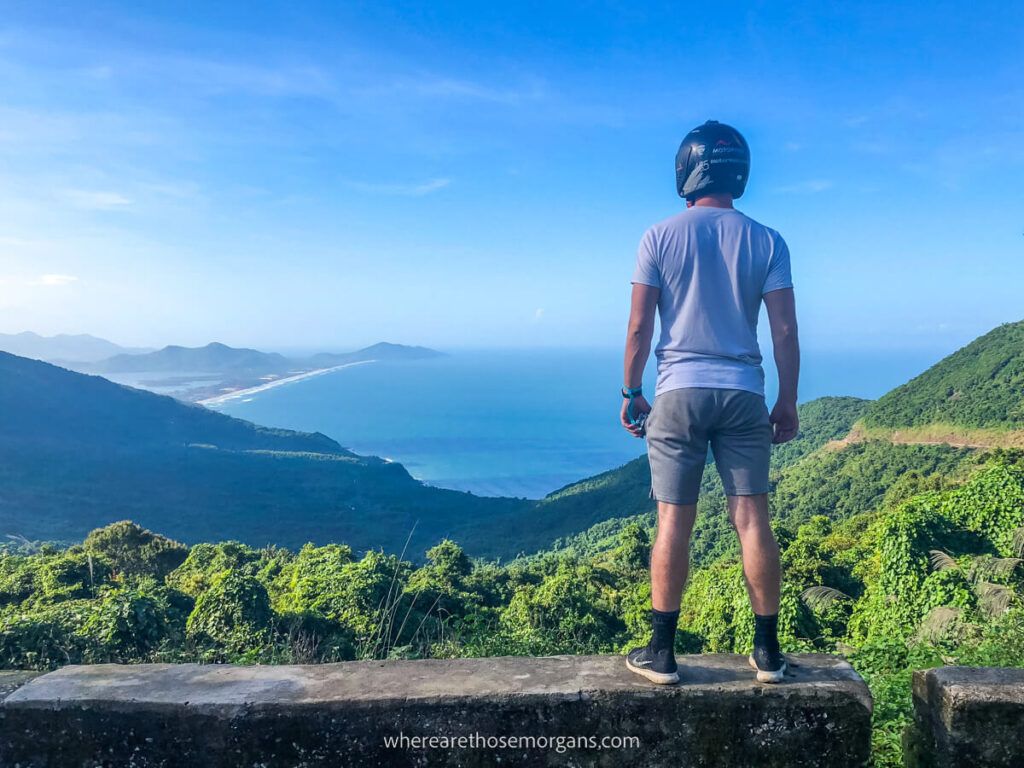 What Is Da Nang?
Beautiful Da Nang is known for its gorgeous beaches set against an impressive backdrop of lush green mountain ranges including winding roads such as the famous Hai Van Pass.
This area is home to some of Vietnam's top luxury resorts as well as a booming restaurant and food scene which has been developed in close proximity to many of the areas attractions.
Why Is Da Nang A Cool Place To Visit In Vietnam?
Da Nang is a cool place to visit for both adventurous lovers and beach bums. Visitors can take in the scenery of the Dragon bridge and then head to the various beaches scattered along the coast.
If you need some rest and relaxation after hiking in Northern Vietnam, be sure to stop at Da Nang as you head south. You can usually find fishermans selling their catch of the day as you sit on the soft sand.
Best Things To Do In Da Nang
Visit the The Marble Mountains
Relax at My Khe Beach
Take a snorkel tour to Cham Island
---
7. Hoi An (Central Vietnam)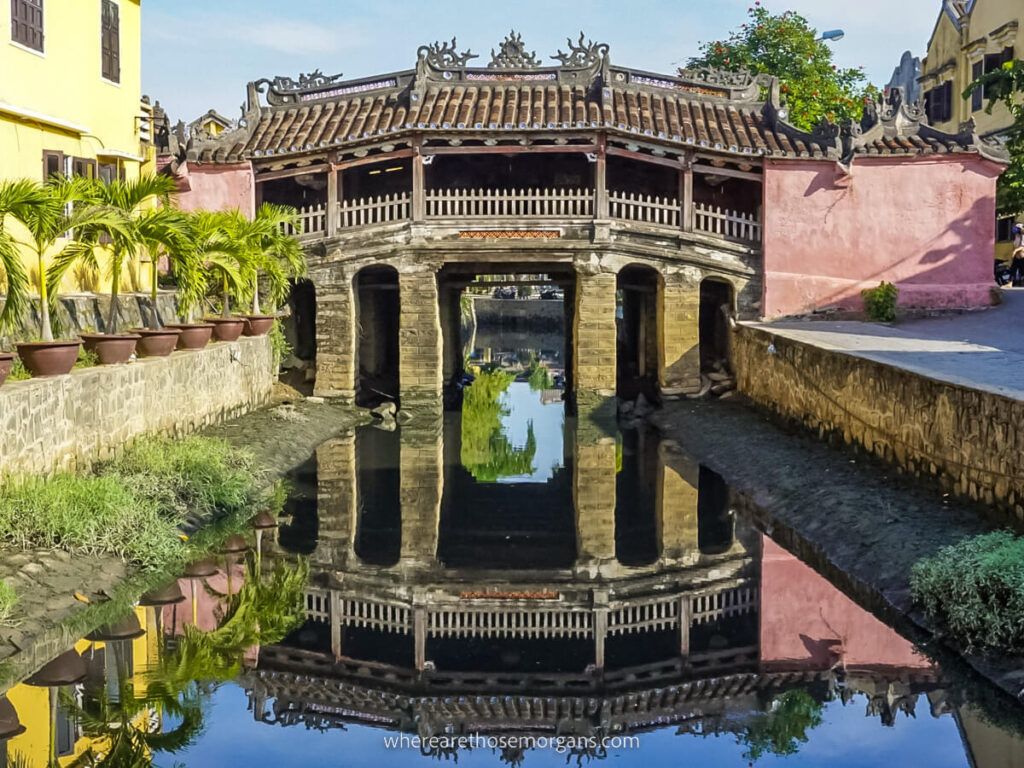 What Is Hoi An?
The ancient town of Hoi An was settled by traders from China, Japan and eventually Europeans which leads to its fascinating yet unique architecturally diverse UNESCO Heritage Site classification.
Hoi An's ancient town is one of the best well-preserved Southeast Asian trading port towns with history dating back to the 15th through 19th centuries.
Why Is Hoi An A Top Place To Visit In Vietnam?
Hoi An is a top place to visit in Vietnam due to its stunning yellow buildings as well as numerous tailors, restaurants and coffee shops.
Personally, we found Hoi An to be one of the most interesting cities in Vietnam because it has a vibrant feel with many historical sites, delicious restaurants, beaches and a bouncing nightlife.
Best Things To Do In Hoi An
Take a photo of the Japanese Bridge
Design your own tailor made suit or dress
Visit the Hoi An Central Market
Explore Hoi An ancient town
Heading to Hoi An? You might want to read about more best things to do in Hoi An with itinerary or our unforgettable tour with a Vietnam War Veteran.
---
8. Hue (Central Vietnam)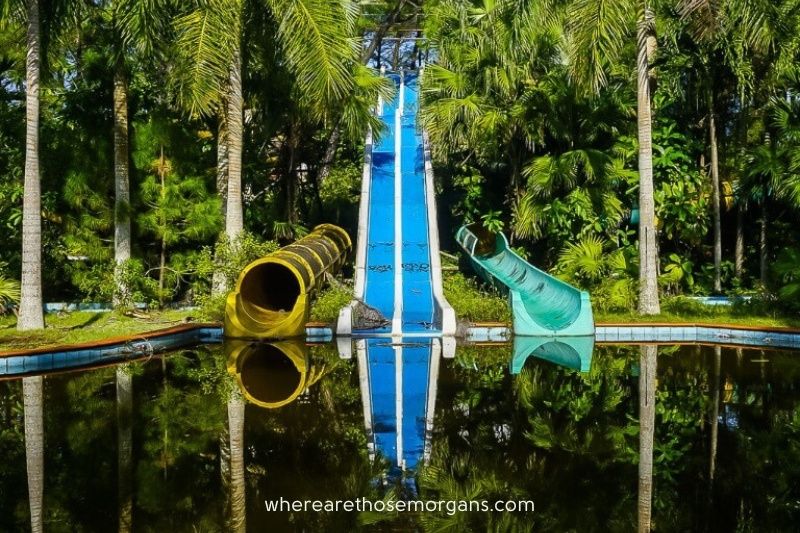 What Is Hue?
Hue is best known for its Imperial Citadel once ruled by the Nguyen Dynasty emperors who used the fertile riverbanks of the Perfume River to build their legacy.
Not only will visitors to Hue experience royal mausoleums and stunning pagodas, but visitors will be able to indulge in one of Vietnam's most well known and rich culinary scenes.
Why Is Hue A Cool Place To Visit In Vietnam?
Hue is a cool place to visit because the city is alive with both history and delicious restaurants for Vietnam gastronomes. You are never too far from a great meal anywhere in Hue.
One of the best things to do in Hue is to explore the palaces and pavilions of the Hue Imperial Citadel. It is here you can also visit the tombs of emperors Tu Duc, Khai Dinh and Minh Mang.
Best Things To Do In Hue
Visit the Tu Hieu Pagoda
Watch a performance in the Royal Theatre
Enjoy the Co Ha Gardens
Walk the Perfume River promenade
Try the Royal delicacies
---
9. Phong Nha (Central Vietnam)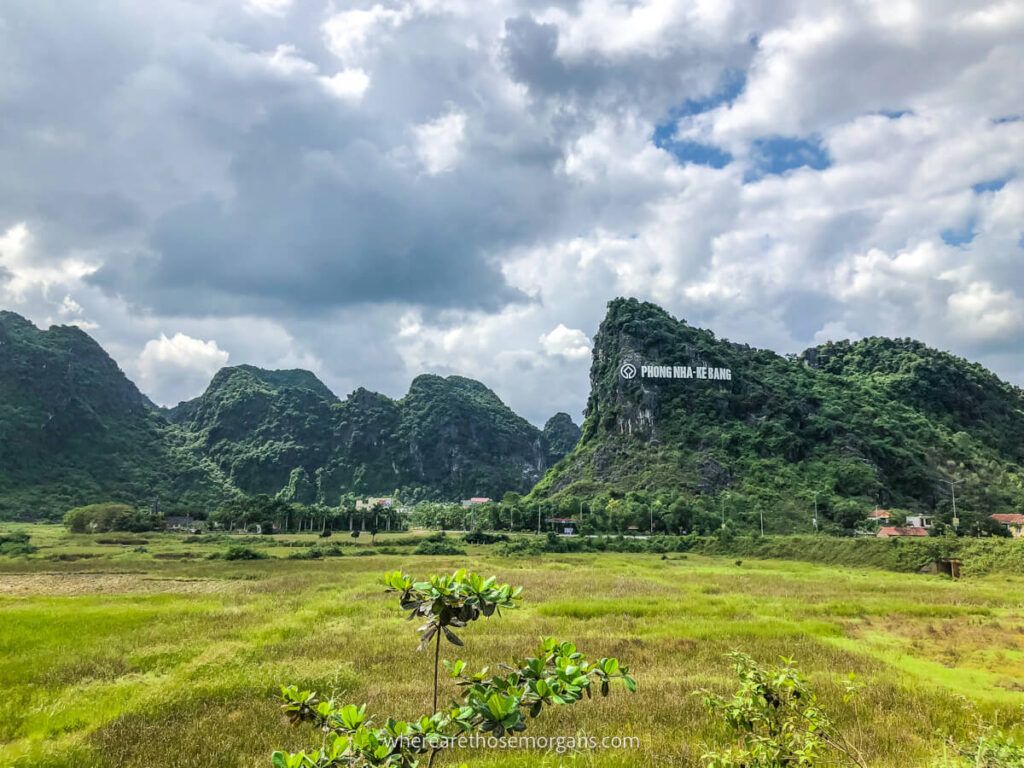 What Is Phong Nha?
Phong Nha is home to Phong Nha-Kẻ Bàng National Park as well as the world's largest natural limestone cave, Son Doong, which has its own climate, river and jungle.
Son Doong was founded by Mr. Ho Khanh (a local jungleman) in 1990 and officially surveyed by the British-Vietnamese Cave Expedition Team from 2009-2010.
Why Is Phong Nha An Adventurous Place To Visit In Vietnam?
Phong Nha is an adventurous place because there are numerous caves systems to explore and beautiful botanical gardens to visit. This rural part of Vietnam is filled with natural beauty.
Most visitors to Phong Nha join a tour to explore the various caves in the area. These tours range from a few hours to a few days.
Best Things To Do In Phong Nha
Trek through Son Doong
Explore Tu Lan Cave System
Bike through Bong Lai Valley
Feed the ducks at the Duck Stop
Heading to Phong Nha? Be sure to read our guide featuring the best things to do in Phong Nha besides the caves.
---
10. Can Tho (Southern Vietnam)
What Is Can Tho?
Very different from Phong Nha, Can Tho is well known for its rice paper making villages, orchards as well as floating markets that run through its numerous canals and rivers.
Can Tho is considered to be the western capital of Vietnam as it sits along the banks of the Hau River which is a distributary of the larger Mekong River that eventually feeds into the South China Sea.
Why Is Can Tho A Top Place To Visit In Vietnam?
Can Tho's popular waterfront location has led to the economic boom and success of the city. Over the years, the area has been divided into the Ha Tien landscape making present day Can Tho.
Many people visit Can Tho to experience life on the Mekong Delta which showcase some of the biggest floating markets in the world.
Best Things To Do In Can Tho
Visit the Can Tho Museum
Take a private Sampan Tour
Explore Quang Duc Pagoda
Learn at Binh Thuy ancestral house
---
11. Da Lat (Southern Vietnam)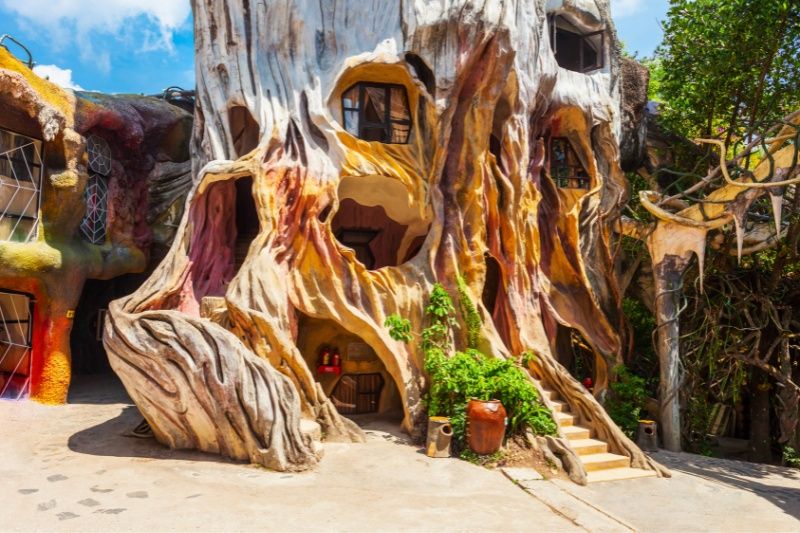 What Is Da Lat?
If you are looking to get away from the seaside destinations of Vietnam's coastline, Da Lat (also known as Dalat) is a mountain resort town that once attracted the French as a summer getaway.
Da Lat is famous for its countryside charm and draws couples, outdoor adventures and wellness seekers. Xuan Huong lake is the star attractions in Da Lat, but there is so much more to discover.
Why Is Da Lat A Fun Place To Visit In Vietnam?
The beautiful mountain town of Da Lat offers visitors a quiet escape from the hustle and bustle of other cities in central Vietnam because its situated in the central highlands about 5,000 ft above sea level.
Many people visit Da Lat for the lake, waterfalls, monasteries as well as the beautiful gardens filled with flowers. Da Lat is a great place to stop when traveling from south and central Vietnam.
Best Things To Do At In Da Lat
Visit the Crazy House
Take the Alpine Slide to Datanla Waterfall
Snap a photo at the Clay Tunnel
Explore Linh Phuoc Pagoda
Walk around the Valley of Love
Ride the cable car to Truc Lam Pagoda
---
12. Ho Chi Minh City (Southern Vietnam)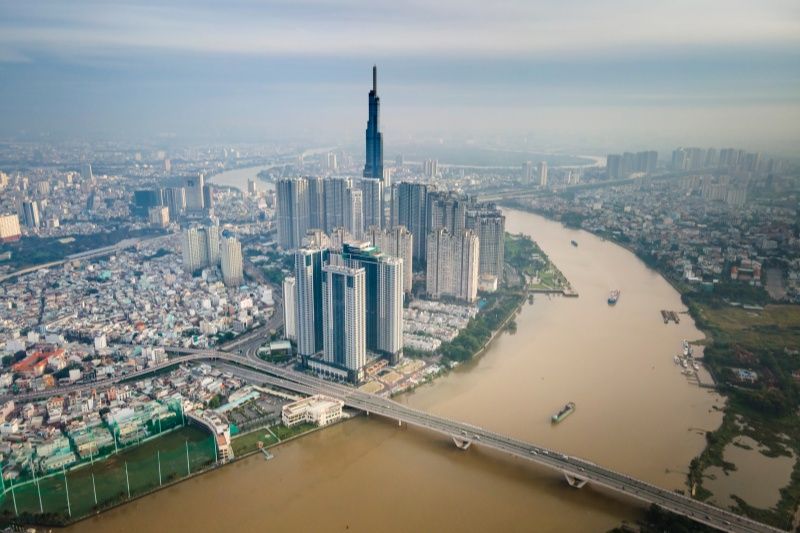 What Is Ho Chi Minh City?
Formerly known as Saigon, Ho Chi Minh is the main hub in Southern Vietnam. This city forms a metropolis of skyscrapers combined with fascinating culture of temples and pagodas.
Ho Chi Minh City is an eclectic mix of both old and new showcasing beautiful French architecture and numerous landmarks with historical significance pointing out Vietnam's turbulent past.
Why Is Ho Chi Minh City A Good Place To Visit In Vietnam?
Ho Chi Minh City is a very popular place to visit in Vietnam because visitors can indulge on delicious food, shop at busy street markets, learn at war museums and enjoy the bustling nightlife.
With a rising craft beer scene, Ho Chi Minh City has become a hot spot for travelers looking to enjoy the buzz of a vibrant city as well as history lovers who want to learn at the various war museums.
Best Things To Do In Ho Chi Minh City
Climb the Bitexco Financial Tower
Experience nightlife on Bui Vien Street
Learn at the War Remnants Museum
Take a Saigon River Tour
Shop at Ben Thanh Market
---
13. Nha Trang (Southern Vietnam)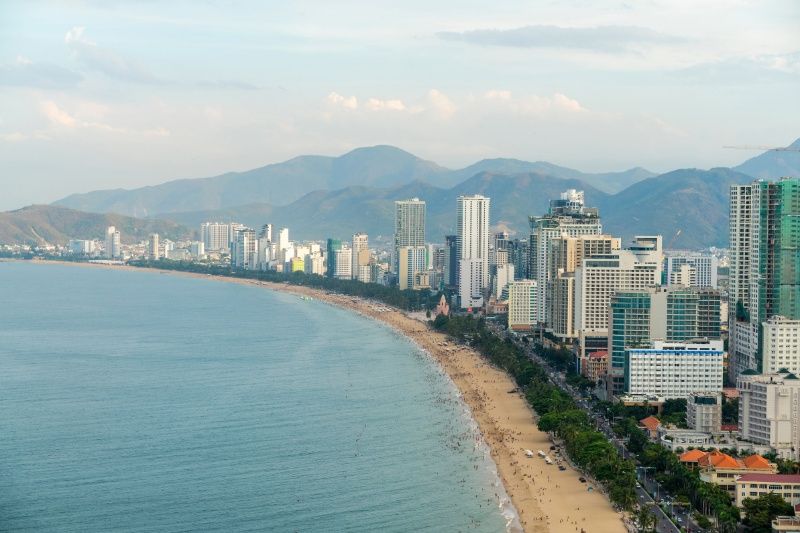 What Is Nha Trang?
If seafood is your thing, Nha Trang should definitely be a stop on your Vietnam itinerary. Just off the waters of the Khanh Hoa coast, fresh fish and shellfish are never in short supply.
This is where you will find some of Vietnam's best luxury resorts as well as the opportunity for relaxation and water sports. Visitors can also appreciate the colorful fishing villages and riverside restaurants.
Why Is Nha Trang A Fun Place To Visit In Vietnam?
Nha Trang is a popular spot for sunseekers and those who want to spend their time relaxing. The beach of Nha Trang runs about 7.0 kilometers with numerous restaurants, bars and hotels the entire way.
The beauty of Nha Trang is what attracts both visitors and tourists. The bustling city right next to the beach makes this region a unique stop in southern Vietnam.
Best Things To Do In Nha Trang
Explore Po Nagar Cham Towers
Catch the sun at Nha Trang Beach
Soak at Thap Ba Hot Springs
Hike to Ba Ho and Fairy Spring waterfall
---
14. Phu Quoc (Southern Vietnam)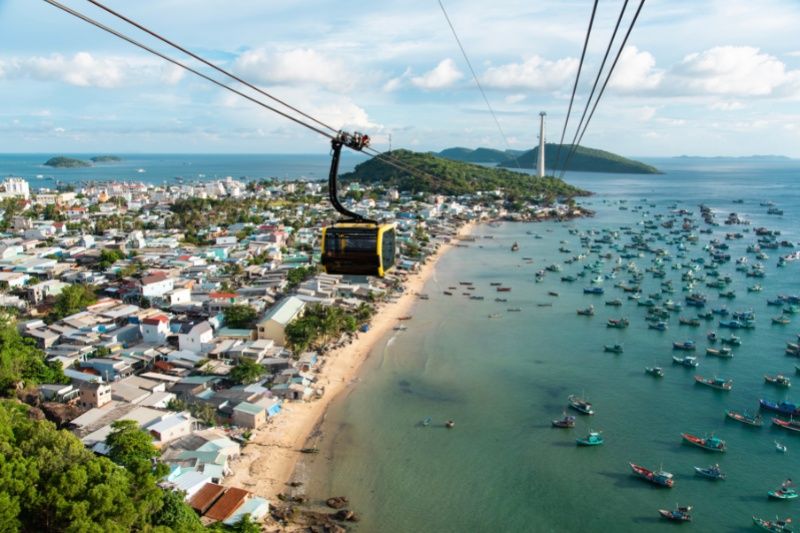 What Is Phu Quoc?
Phu Quoc has earned the nickname of 'Pearl Island' thanks to its stunning white sand beaches. Protected by a UNESCO Biosphere Reserve since 2006, this region has a lot to offer.
If you are looking for a luxurious and relaxed stay, Phu Quoc offers a beautiful coastline with turquoise waters as gentle waves make it the prime place in Vietnam for water sports.
Why Is Phu Quoc A Unique Place To Visit In Vietnam?
Phu Quoc is unique because it offers visitors a relaxing beach setting away from the crowds. This region is also known for its prized fish sauce, pearls and pepper.
Adventurous travelers can hike the gorgeous mountain range or explore the forests which are brimming with waterfalls, rock pools and of course, caves.
Best Things To Do In Phu Quoc
Visit Suoi Tranh Waterfall
Explore Ham Ninh Fishing Village
Check out Phu Quoc's Beaches
Drive around Phu Quoc by motorbike
Tour a pepper farm
---
15. Vung Tau (Southern Vietnam)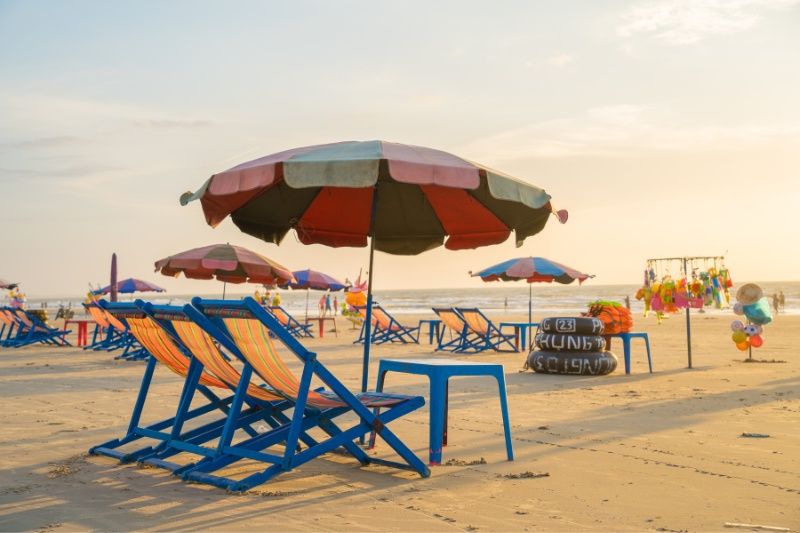 What Is Vung Tau?
The quaint seaside town of Vung Tau is Ho Chi Minh City's closest beach resort with a robust fishing fleet. You can also find many colorful outdoor restaurants similar to Vietnam's other coastal regions.
Adventurous travelers can get to Vung Tau via a lovely hydrofoil ride down on the Sai Gon River or the tradition yet winding roads of the highway. Vung Tau is about two hours from Ho Chi Minh City.
Why Is Vung Tau A Cool Place To Visit In Vietnam?
Vung Tau is a cool place to visit because it is not often included on a visitors Vietnam itinerary. So if you want to get away from the tradition Vietnam stops, Vung Tau is just what you need.
One of the most popular activities in Vung Tau is surfing. It's not uncommon to see the beaches packed on sunday afternoons as everyone hits waves for their weekly dose.
Best Things To Do In Vung Tau
Surf at Bai Truoc (Front Beach)
Tour the White Palace
Visit Vung Tau's famous Jesus statue
Ride the Doppel Mayer Cable Car
Wade out to Hon Ba Temple
Take photos at Upside Down House
---
Best Things To Do In Vietnam With Kids
Are you visiting Vietnam with the entire family?
Let's take a look at cool things you can do as a family in Vietnam:
Watch a water puppet show in Hanoi
Trek in Sapa with a local guide
Take a Trang An boat tour in Ninh Binh
Make a paper lantern in Hoi An
Visit the Crazy House in Da Lat
Ride the Phu Quoc Cable Car
Explore the Cu Chi Tunnels in Ho Chi Minh City
Fun Things To Do In Vietnam For Couples
Taking a couples trip to Vietnam?
Let's take a look at the top things you can do as a dynamic duo:
Have a night out on beer street in Hanoi
Spend time at Valley of love in Da Lat
Relax on the beaches of Phu Quoc
Explore the caves in Phong Nha
Drive the Hai Van Pass
Climb Heaven's Gate in Sapa
Enjoy a candlelit evening in Hoi An
Couples cooking class in Ho Chi Minh
Things To Avoid In Vietnam
It's important to mention there are a few things you should not do when traveling in Vietnam.
Always use Grab and avoid using a taxi. Drivers may overcharge you by turning off the meter or going a long way so always use Grab and know the fare before you ride.
Use common sense with street food. While street food is a must in Vietnam, food can spoil quickly due to Vietnam's hot climate. You should avoid food that has been sitting for awhile so look for carts with high turnover.
Don't drink the tap water in Vietnam. The water in Vietnam may contain harmful pathogens which can make you sick. Bottled water is available everywhere but use a reusable water bottle to cut down on plastic waste.
Check the seal on bottled water. Always check the seal on the bottled water because some places refill bottles with tap water.
Don't wear shorts or short dresses when visiting temples and pagodas. Dress code is important when entering religious sites and the less skin shown the better.
Take off your shoes when entering a house. In Vietnamese culture, it is polite to remove your shoes before entering any household.
Don't be afraid to barter. Many markets in Vietnam do not have specific pricing. They often sell based on how much the buyer is willing to spend.
Avoid public displays of affection. Any type of touching is often seen as inappropriate in public and this includes kissing, hand holding, cuddling, etc.
Map Of The Best Places To Visit In Vietnam
Above you can find our interactive Google Map for the best places to visit for Vietnam.
Click or touch the map to activate, zoom in and out, scroll around and familiarize yourself with the country. You will find icons at the exact locations to all the best places to visit in Vietnam mentioned in this guide.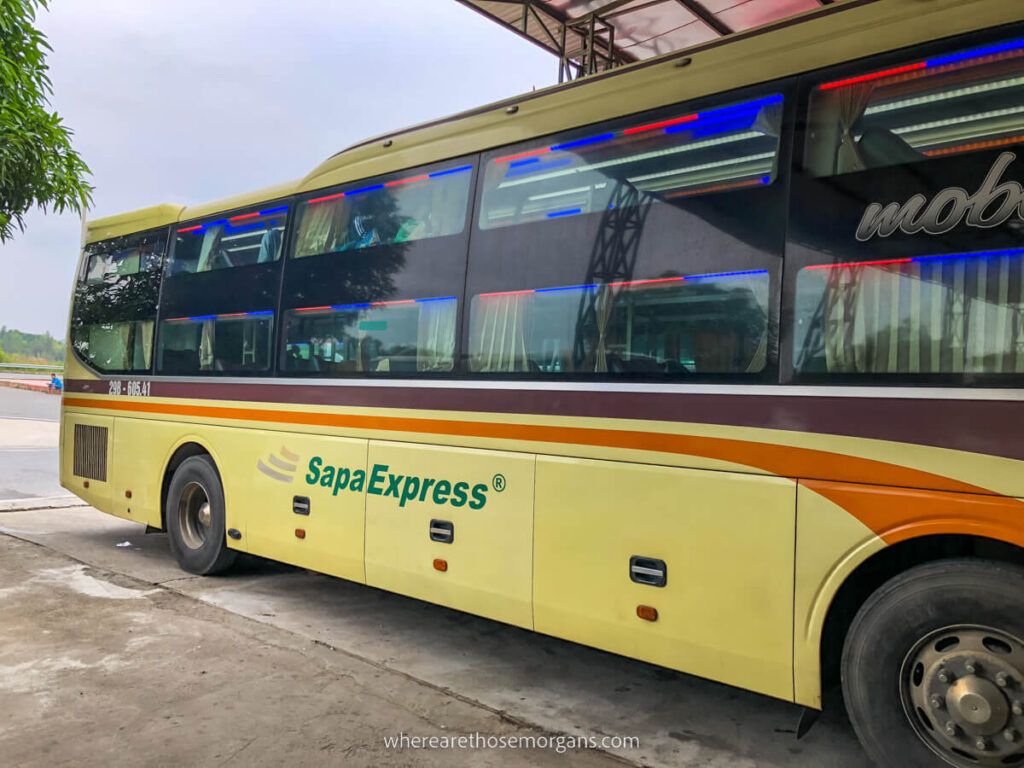 Planning Your Vietnam Itinerary
We have written a few additional Vietnam travel guides that are meant to help you with planning a trip to Vietnam. We cover all the basics including finances, itineraries and important tips.
You might want to start with 30 important things to know about Vietnam before visiting.
Next, you should read our Vietnam itineraries:
Last, you should also check out how much we spent for 1 month in Vietnam.
If you are looking for adventurous things in Vietnam, you might like:
Drive through Ha Giang by motorbike
Canyoning in Da Lat
Exploring caves in Phong Nha
Scuba diving in Phu Quoc
Take a Vietnamese cooking class
If you are looking for cheap things to do in Vietnam, you might like:
Eat delicious street food
Visit the Ho Chi Minh Museum
Take a free walking tour
Window shop at a night market
Best Time To Visit Vietnam
Planning a trip to Vietnam can not only be a daunting task, but the climate of this S shaped country can make planning very difficult too.
Since Vietnam is a long narrow country spanning about 1,000 miles from the northern to the southern border, this mean the climate can drastically differ depending on location.
If you are looking to travel in northern Vietnam through Sapa and Hanoi, these areas can be quite cool compared to the Ho Chi Minh City and the Mekong Delta which are typically hot and humid.
Vietnam also has both a tropical and temperate climate zone with the country experiencing effects of an annual monsoon cycle. Rainy seasons correlate with monsoon circulations and bring heavy rainfall.
Depending on the places you want to travel and the things you want to do in Vietnam, you should plan around the rainy seasons.
Wet And Dry Climates In Vietnam
Here are the wet and dry seasons for each region of Vietnam:
Northern Vietnam
November – April: Dry season with cool temps and clear skies
May – October: Rainy season brings hot and humid temps with high rainfall
The highest rainfall during the rainy season is July and August with showers in the afternoon or evening. December and January can be quite cold.
Central Vietnam
January – August: Dry season and very hot
September – November: Rainy season with daily showers
Central Vietnam is known for its hot and dry weather between the months of January and August where temps range between 70°F (24°C) and 95°F (35°C).
South Vietnam
November – April: Dry season with sunny skies and very hot
May – October: Rainy season with high rainfall
The temperature remains quite stable in the south with the highest rainfall occurring June to August with heavy but short lasting mid-afternoon heavy downpours.
Best Months To Travel In Vietnam
Overall, the best time to visit Vietnam is between the months of November and April.
We visited Vietnam from mid-October to mid-November and we were only limited by the weather once in Sapa.
Best months to travel in Vietnam based on location:
Ha Giang: October – May (Dec + Jan very cold)
Sapa: September – October (Dec + Jan very cold)
Hoi An: February to April (weather is mild with minimal rain)
Nha Trang: January to August (avoid Oct + Nov)
Dalat: November – May (Dec + Jan very cold and Jun to Oct very wet)
Ho Chi Minh City: December – March (weather most consistent)
Phu Quoc: Almost anytime of year (but expect rain May to Oct)
Top 15 Best Things To Do In Vietnam
Here's a summary of the top 15 things to do and unique places to visit in Vietnam:
Book a cruise in Halong Bay
Wander Hanoi's Old Quarter
Drive the Ha Giang motorbike loop
Take a Trang An boat tour in Ninh Binh
Hike in Sapa with a local guide
Get your photo at Ba Na Hills in Da Nang
Design your own tailor made dress in Hoi An
Visit Hue's Imperial Citadel
Explore caves in Phong Nha
Shop at the floating markets in Can Tho
Ride the cable car to Truc Lam Pagoda in Da Lat
Experience nightlife in Ho Chi Minh City's Bui Vien Street
Soak up the sun at Nha Trang beach
Ride the Phu Quoc Cable Car
Surf at Front beach in Vung Tau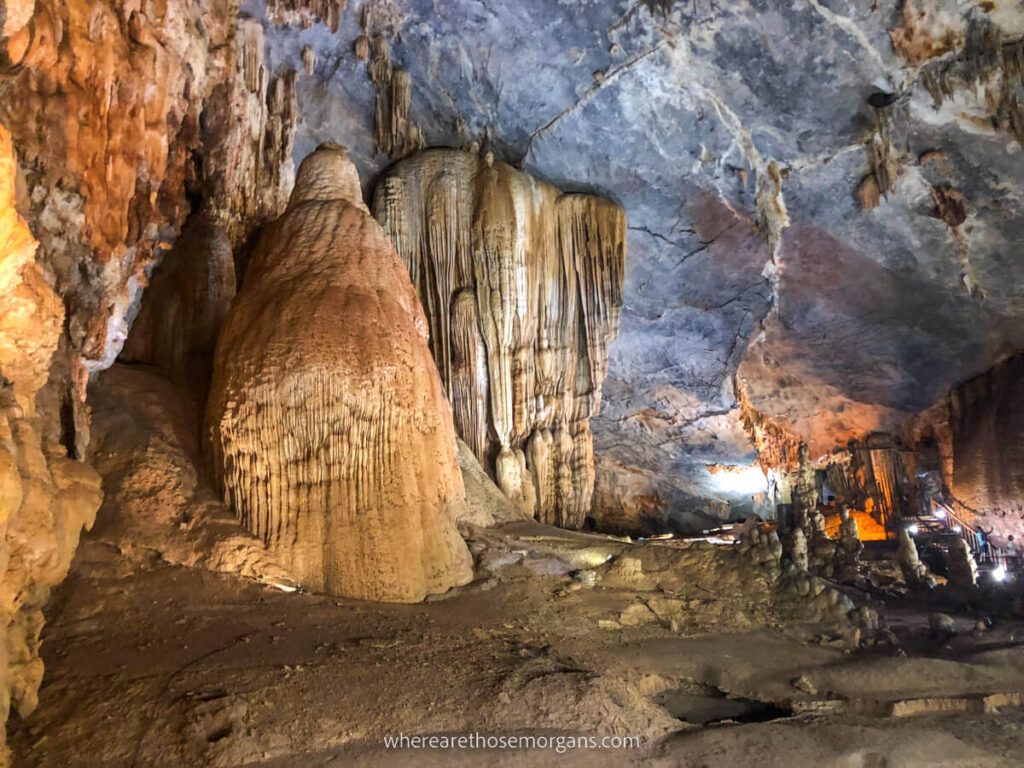 FAQ's For The Best Things To Do In Vietnam
Let's take a quick look at the most frequently asked questions about the best places to visit and top things to do in Vietnam.
Is Vietnam Friendly To Tourists?
While Vietnam is generally a safe and friendly place to travel, there are often complaints about scams, aggressive street vendors, reckless driving and tour guides with bad attitudes. Always use common sense and trust your gut when traveling somewhere new.
What Do People Do For Fun In Vietnam?
In Vietnam, people like to sing karaoke, hang out at cafes, drink coffee, play cards and watch football (soccer) for fun in their free time.
Is The Nightlife Good In Vietnam?
The nightlife in Vietnam is great in cities like Hanoi, Halong Bay, Ho Chi Minh City, Da Nang, and Phu Quoc. You can find both tourists and locals hanging out in restaurants, clubs, rooftop or secret bars, and even sometimes hidden alleys in Vietnam.
Is Tipping Rude In Vietnam?
Tipping is not rude and it is not mandatory in Vietnam. However, while tips in local bars or restaurants are not often expected, tips are quite often the norm in luxury hotels and restaurants. If you are happy with the service provided by waiters, guides and drivers, a small tip is very much appreciated.
Our Popular Vietnam Guides
More Vietnam Guides
Want more Vietnam content? Head over to our Vietnam Travel Guides to see example itineraries, tips about Vietnam and popular city guides.
---
We hope this guide listing the best things to do in Vietnam helps with planning your visit to Southeast Asia!
Please let us know if you have any questions about planning a trip to Vietnam in the comments below.
Happy Travels,
Mark and Kristen
Enjoy This Vietnam Guide? Pin It For Later!