Sapa is a quaint rural mountain town surrounded by endless terraces of rice paddies and gorgeous valleys. There are many things to do in Sapa which should feature on every travelers Vietnam itinerary.
While the major draw for tourists visiting Sapa is the opportunity of trekking as well as a homestay with the various ethnic minorities for a chance to learn about their culture and way of life.
But there are more things to do in Sapa than just hiking with a local guide. We highly recommend you add at least one extra full day to your Sapa itinerary to include a visit to Cat Cat Village and take the cable car up to Fansipan mountain summit.
In our guide, we will show you:
How to get to Sapa, Vietnam
Best time to visit Sapa
4 best things to do in Sapa Town
An efficient 3 day Sapa itinerary
Hotels and restaurants in Sapa
Now, let's explore Sapa for the best things to do in the area!
*Please note this post may contain affiliate links. If you click on one, we may earn a small commission at no extra cost to you. Thank you for supporting the free content we provide! Read more in our disclosure policy.*
How To Get To Sapa, Vietnam
To reach Sapa, you will head Northwest from Hanoi. Sapa is on the slopes of the Hong Lien Son Mountains. Access is limited and you will pass through meandering mountain roads.
Bus and trains follow a similar route as far as the border with China to a town called Lao Cai. From Lao Cai, there is only one direct road up and down the mountain to Sapa.
This road bends its way up the mountain for what feels like an eternity. Everyone on board the bus is given a paper bag, just in case.
Our interactive map above shows where the Sapa Express Bus departs in old quarter Hanoi, Lao Cai and Hanoi train stations as well as the Sapa drop off point.
Zoom in on the winding road up the mountain to get a feel for the area.
Budget, convenience and availability are the major factors when booking transport. Check prices and times on 12Go Asia to see whether the train or Sapa Express bus is a better fit for your schedule.
Both the bus and train were priced at US$12 per person when we visited Sapa. But remember you will pay for a bus connection if you take the train to Lao Cai.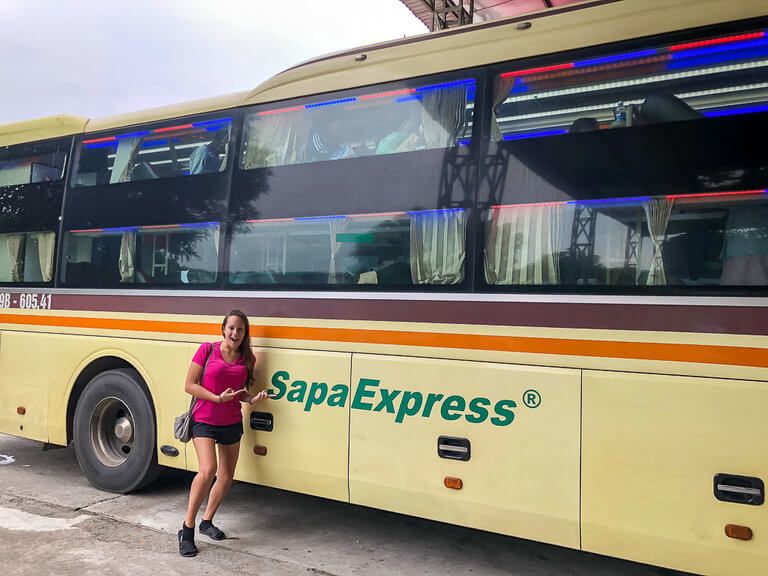 Our recommendation is to travel with Sapa Express. Ironically, despite the vomit inducing roads up the mountain, this was the best sleeper bus we took in Vietnam.
Personally, we didn't see the benefit to traveling by train and changing in Lao Cai. Especially when it's cheaper by bus. Plus, the bus left Hanoi closer to where we were staying in the old quarter.
Interested in the Vietnam Sleeper Bus? Don't miss our popular guide on how to survive the Sleeper Bus in Vietnam.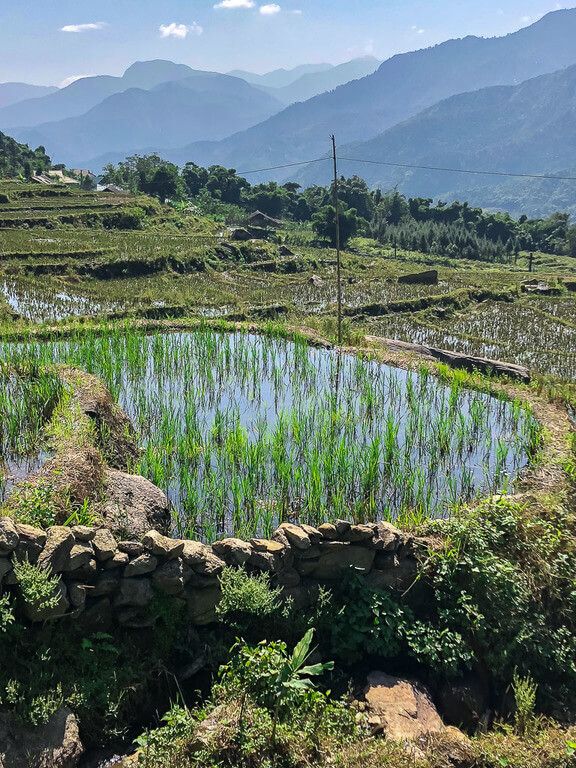 Best Time To Visit Sapa, Vietnam
Vietnam is a whirlwind of varying climates which means Sapa has a unique subtropical highland climate. There is no way you can plan your entire Vietnam trip based around perfect weather conditions in each city.
That being said, optimal condition for visiting and trekking in Sapa are in September. Let's take a look at the various seasons in Northern Vietnam:
Winter: December, January and February (Not Recommended)
During winter in Sapa, temperatures plummet and fog moves in across the mountains. Snow can often fall on the highest peaks and in general average temperatures are not ideal for trekking.
Spring: March, April and May
Trekking in Spring is perfect for those who enjoy warm, dry weather and fewer tourists (both international and domestic). But you will not see the golden or even green rice terraces in Spring.
That's the main trade off for visiting Sapa in spring.
Simmer: June, July and August
Summer is a time for domestic tourism in Sapa. It's also extremely humid, hot and wet. This is the time of year when rice terraces are lush green, but you will probably spend your whole visit being rained on.
Fall: September, October and November (Recommended)
September is the ideal time to visit. It might still be on the back end of heavy rainfall, but this is the only time of the year you will see the famous and sought after golden rice fields.
By October, most of the harvest has been collected. Fall is fantastic for hiking through Sapa valley as it brings ideal trekking temperatures and clear blue skies.
When we visited in October, we had a mix of beautiful blue skies and rain. By November, it begins to get colder and rice fields are significantly less beautiful.
Check weather reports before you arrive in Sapa and plan this itinerary so your trekking days fall on the days with the best weather if possible.
Best Things To Do In Sapa, Vietnam
Before we get into our awesome 3 day Sapa itinerary, we will will discuss some of the best things to do in Sapa and the surrounding Muong Hoa Valley.
Many other itineraries online randomly list things to do in Sapa, but we want this guide to be a bit more helpful because there are pretty much four main reasons people come to Sapa:
Sapa Trekking Tour
Fansipan Mountain
Cat Cat Village
Sapa Town
You should plan your Sapa itinerary around these four popular things to do and we will help you every step of the way.
A homestay is an amazing way to learn about the ethnic minorities within the local communities of the Muong Hoa Valley.
There are a number of ethnic minorities in the Muong Hoa Valley region near Sapa, namely the H'Mong, the Dao and the Dai so there are numerous homestays available.
You can choose to visit these villages independently or as part of a homestay.
Depending on your time frame and what you plan to do in Sapa, your itinerary will look very different.
So our goal is to show you the popular things to do in Sapa to help you decide where you need to spend your time and money.
1. Sapa Trekking Tour
A hiking tour through the Sapa Valley is an incredible experience you will never forget. Having completed a two day trek with a local guide ourselves, we can tell you this was one of our favorite memories from our time in Vietnam.
Homestays and Sapa trekking tours are the main tourist attractions in this area so we would recommend you try to give yourself enough time in your Vietnam itinerary to try one if not both.
In this section, won't get into much detail here about Sapa trekking tour options, but you can read our detailed Sapa trekking guide on how to find and book a guided hiking tour in Northern Vietnam.
We will also show you in the itinerary section of this guide, what you can expect for your trek in Sapa with a local guide.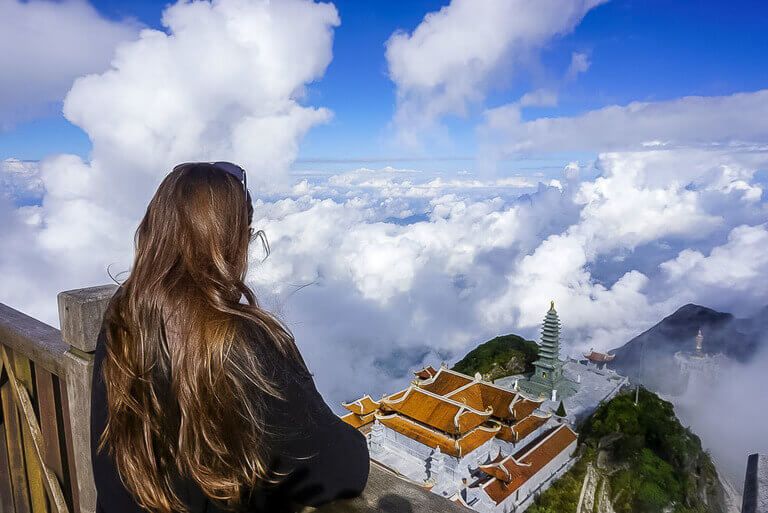 2. Cable Car To Fansipan
Fansipan is the highest mountain in the Indochinese Peninsula (comprising of Vietnam, Laos, and Cambodia) and it is often referred to as "the Roof of Indochina".
While visitors previously had to hike to the summit of Fansipan, you can now reach the top in about 20 minutes thanks to the newly implemented cable car system.
In 2013, construction for the Fansipan Sapa Cable Car began and now this system holds not just one, but two Guinness World Records:
Longest non-stop three rope cable car (6,292.5m or 3.91 miles)
Greatest elevation difference by a non-stop three-roped cable car (1,410m or 4625 ft 11.7 in)
When you arrive into Sapa town, you will notice the bright yellow Sun Plaza. This is where you can purchase your tickets for the Fansipan Cable Car as well as the Muong Hoa Mountain Train.
The Muong Hoa Mountain Train is a funicular railway and one of the longest of its kind in Vietnam as it crosses two tunnels and four viaducts.
Once you reach the end of the funicular train, you will be welcomed by the Sun World Fansipan Legend Yard.
If you are short on time, the cable car will be your best bet, but if you have spare time, you could book a trek to the top of Fansipan instead.
Want to hike Fansipan? Check out these top rated trekking tours:
1 Day Fansipan Trekking – Hike to the top of Fansipan with a professional and English-speaking guide. Distance totals about 7.75 miles (12.5 km) one way, but you can opt to take the cable car down.
Sapa Trekking 2 Days – Take the most scenic routes through Sapa including both Cat Cat Village and Fansipan Mountain with professional guide.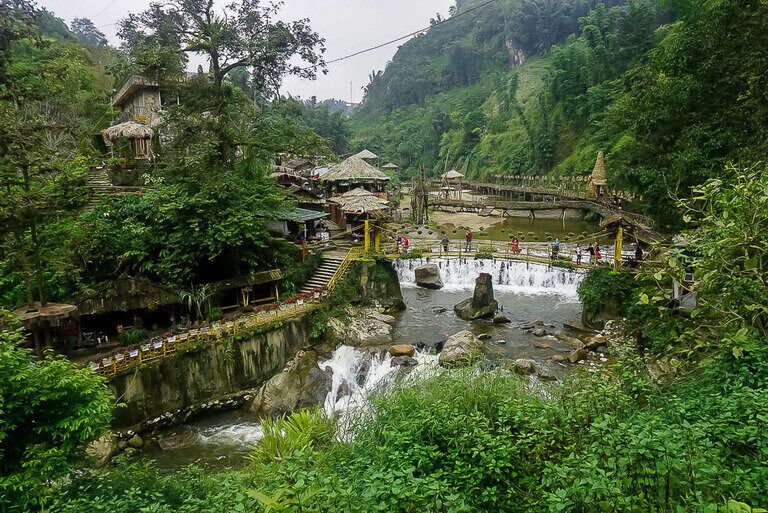 3. Visit Cat Cat Village
Cat Cat Village is located about 1.5 miles (2.4km) from Sapa town. This village was founded in the 19th century when the H'Mong and Dzao families came together to cultivate both corn and rice in the area.
Cat Cat Village Google Maps Location.
The entrance fee for Cat Cat Village is 70,000 VND (about US$3.00) for adults and 30,000 VND (about US$1,25) for children.
This small fee is required to enter Cat Cat Village because it will go back to the local families who have opened up their homes so visitors can learn about their culture.
As you explore Cat Cat Village, you will see traditional wooden huts overlooking mountainside rice field terraces. Local shops also dot both sides of Cat Cat Village where you can find fresh food, handicrafts and clothes.
One of the main highlights in Cat Cat is Tien Sa Waterfall (also known as Cat Cat Waterfall), but you should also stop at the Cat Cat Rose Garden.
Our favorite part when exploring Cat Cat was playing with the children along the paths who wanted to show us their crafts and animals.
Travel Tip: When you pay for your ticket to Cat Cat Village, be sure to ask for a village map so you know everything is located.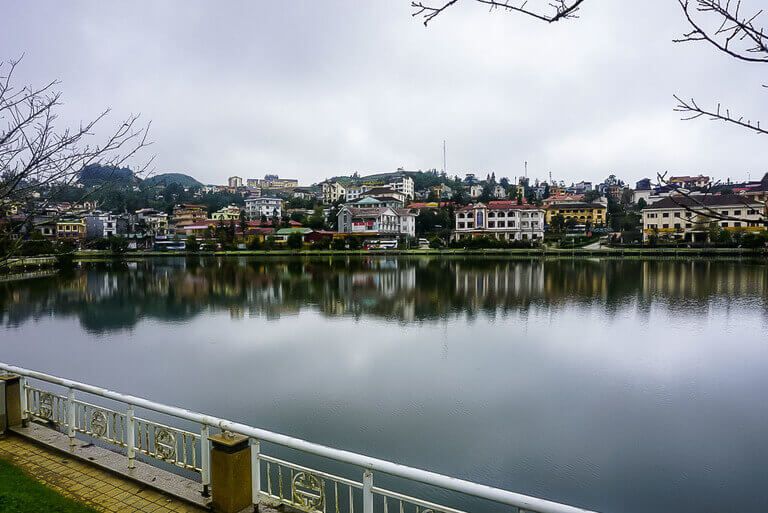 4. Exploring Sapa Town
Any of your remaining time should be spent exploring Sapa Town because there are a few sights you should see when you visit.
The town of Sapa isn't very big, but it features an artificial lake in the center of the small city. Around the lake, you will find many footpaths and cafes as well as stunning views of the surrounding mountains.
There are a few places you might want to check out while you are in town:
Notre Dame Cathedral – Built by the French in 1895, this small stone church has a belltower and showcases Roman Gothic architecture.
Tinh Night Market (Chợ Tình Sapa) – This night market is located right next to the Sun Plaza and it's a great place to support the female vendors. The Market is usually open after 7:00pm.
Sapa Restaurants – There is a good amount of decent restaurants in Sapa serving Vietnamese, Western, French and Italian food. We list the best Sapa restaurants later in this guide.
Love Waterfall (Thac Think Yeu) – Situated about 14km from Sapa, this 10m high waterfall is about a 30 minute walk from Sapa Town.
Silver Waterfall (Thac Bac) – This is one of the most visited waterfalls in Vietnam because it reaches an impressive height of 200 meters and thunders down several layers. You will need a car or motorbike to visit Silver Waterfall.
Sapa Museum – This free museum is located next to Sapa Station and will give you great information about the various ethnic groups living in Sapa.
3 Day Sapa, Vietnam Itinerary
This Sapa itinerary is based on 3 full days in the town, but we would recommend spending 4 days in the mountains if you have the spare time because the weather is unpredictable.
When we visited Sapa, the entire town was enveloped in a dense cloud of mist for 2 whole days, which meant we delayed our trek and spent time exploring other parts of Sapa.
So we postponed our Sapa trekking tour and took the first day to explore Cat Cat Village and visit Fansipan instead. But you can also complete this itinerary in reverse if it works better for you weather wise.
Sapa is an incredibly relaxing place to visit and you can find great deals on hotels if visiting in shoulder season.
Sapa Itinerary: Day 1 Morning – Cat Cat Village
We will start our 3 days in Sapa itinerary with a visit to Cat Cat Village.
The best way to get to Cat Cat Village is to walk because you can take in the beautiful Sapa scenery, but you can also hire a motorbike or taxi.
Be sure to get an early start and walk down the steep roads towards Cat Cat village. There will be shops selling local goods along the main road, you need to take a left turn down a narrow passageway that is signposted Cat Cat.
But before you take the turn, be sure to pay 70,000 VND for your ticket to enter.
As you walk down a narrow path to the village, there will be many locals selling food and handmade products in stalls along the road.
Take some time to browse or politely decline as you continue walking down to Cat Cat Village. You will have to come back up this road to leave so you can always shop later.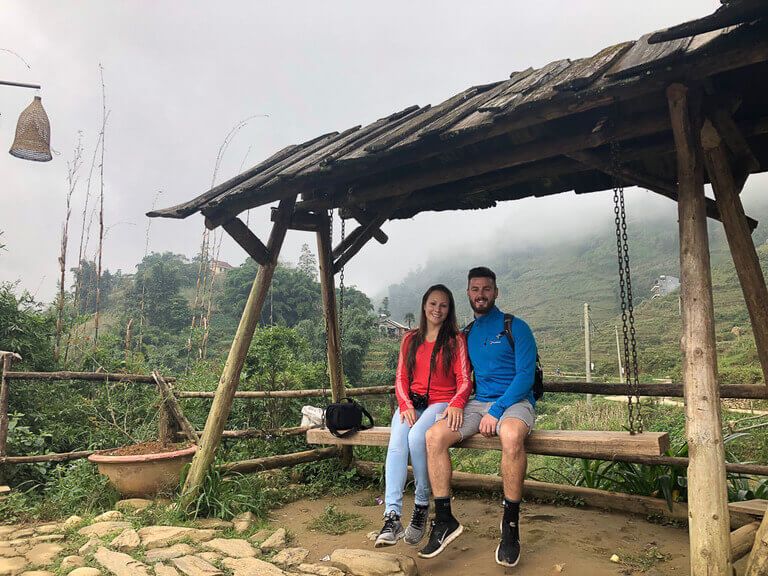 Once you reach the bottom of the stairs leading to Cat Cat Village, you will instantly see why we recommend you visit.
As you look around, you will be fascinated by the wooden houses, boardwalks, bamboo water wheels and of course, beautiful waterfalls.
When we first laid eyes on Cat Cat Village, it almost seemed like a mirage in the middle of the mountainside. But we can tell you, it's completely real!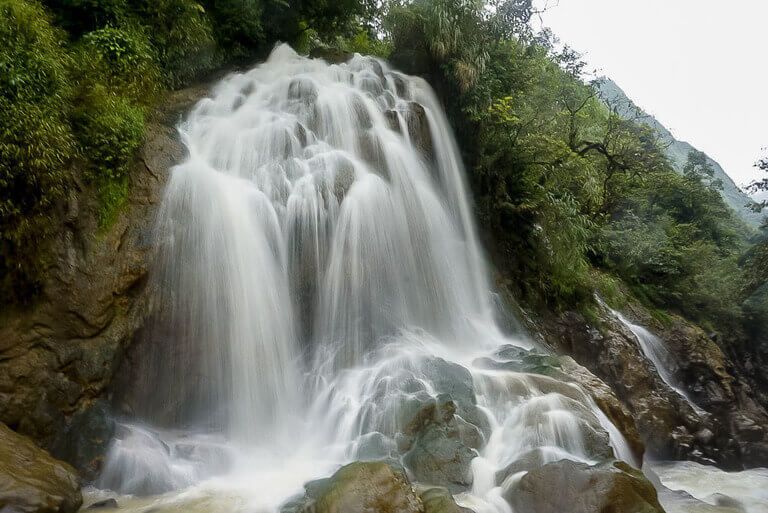 Take your time as you explore the spectacular views over the rice terraces. There are many places to shop for handmade goods or try local foods in Cat Cat Village.
Sapa Itinerary: Day 1 Afternoon – Fansipan Cable Car
The afternoon of day 1 in Sapa should be used to visit the Fansipan Cable Car.
After spending months in southeast Asia, our ticket for the Cable Car to Fansipan was one of our biggest expenses, but it was worth it.
However, Fansipan is the tallest peak in the Indochinese Peninsula and you will be blown away by the views.
You will begin at Sun Plaza, that huge yellow building that looks out of place in town. Inside, you'll feel as though you've been transported to a state of the art mall in Dubai.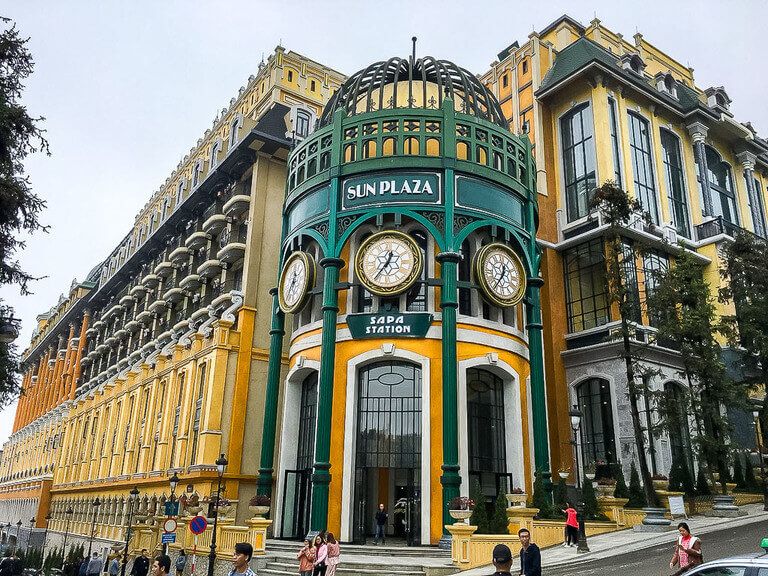 Fansipan Tickets
A Fansicapn ticket costs 737,000 VND (about US$ 31.00) for adults and 550,000 VND (about US$ 23.00) for children with a height of 1.1m-1.3m.
There are a few different ways you can purchase tickets for the Fansipan Cable Car:
Directly at counter of Sun Plaza
Directly from Sun World Fansipan Legend Complex
Online in advance
We purchased our Fansipan from the ticket counter inside Sun Plaza.
Address: 1 Ngõ Cầu Mây, TT. Sa Pa, Sa Pa, Lào Cai, Vietnam
Sun Plaza Google Maps Location.
But if you are visiting in high season, you may want to book your Fansipan ticket in advance online. The e-ticket is usually slightly cheaper than buying a ticket at the counter.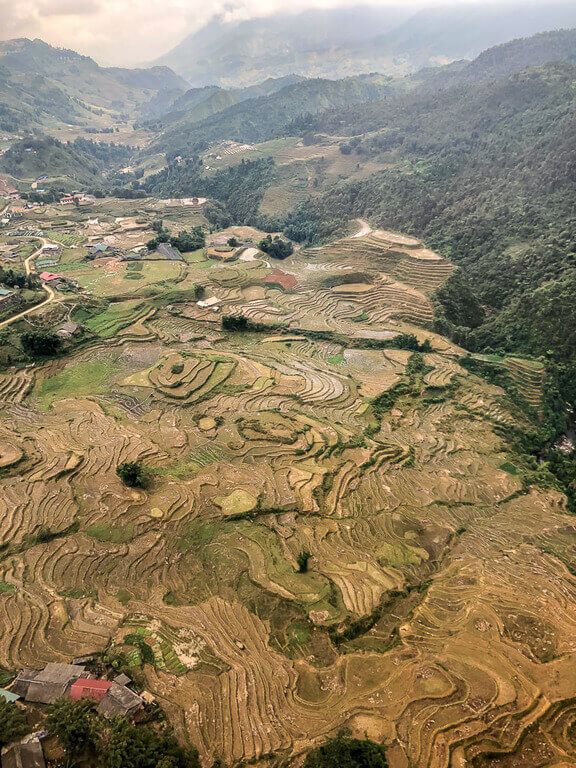 Your ticket price will include a funicular tram to the bottom of the cable car station, followed by another cable car ride that towers over the gorgeous Sapa Valley.
As you climb in elevation, you will notice the drop is significant, but the birdseye view of the whole mountain region is absolutely breathtaking.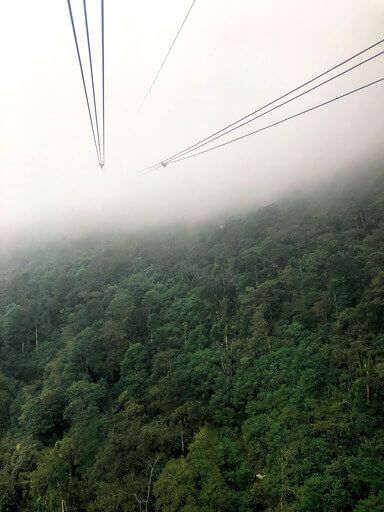 The Fansipan Summit
There's a high probability you will disappear from view into thick cloud, at which point you won't be able to see the next cable car.
We had the entire cable car to ourselves and it was very eerie when we disappeared into the clouds and couldn't see anything around us.
Once you step off the cable car, you will find stunning stone staircases built into the side of the mountain.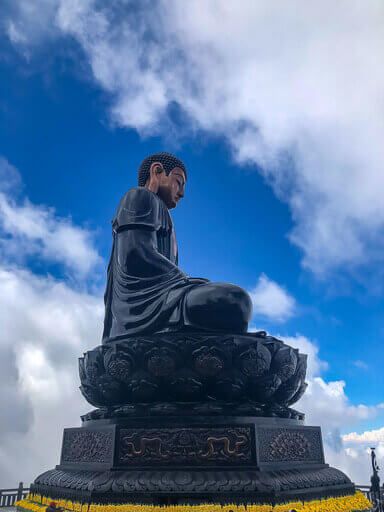 In order to reach the summit, you will need to climb about 600 steps. But on your way up, you will discover a huge statue of Buddha overlooking Sapa Valley.
Flanking the Buddha statue at either side are 2 steep and long staircases which provide a symmetrical perspective which we thought looked incredible.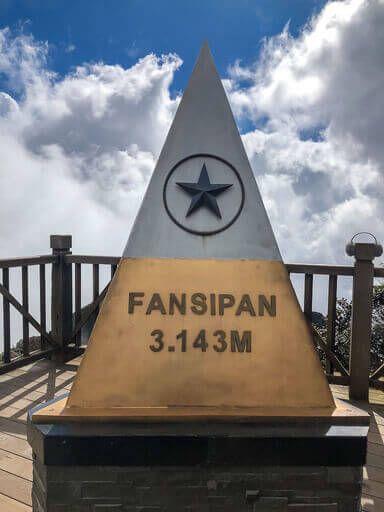 As you climb to the summit of Fansipan, you will find other temple complexes and statues. Don't miss the plaque at the very top which showcases the height at 3,143m.
Photo opportunities at the summit of Fansipan are fantastic.
Travel Top: You can opt to take another funicular to the very top of Fansipan to save walking the steps. Only do this if you really can't do the stairs because it's an stunning view.
Sapa Itinerary: Day 2 Morning – Trekking And Homestay
Personally, we found Sapa unusually difficult to plan before we visited. In particular, we weren't sure whether to pre-book a trekking tour or wait until we arrived into Sapa.
We booked our Sapa trek through the owners of our hotel, but you can book ahead online as well as find a tour right in town once you arrive. We will show you show to find a tour later in our guide.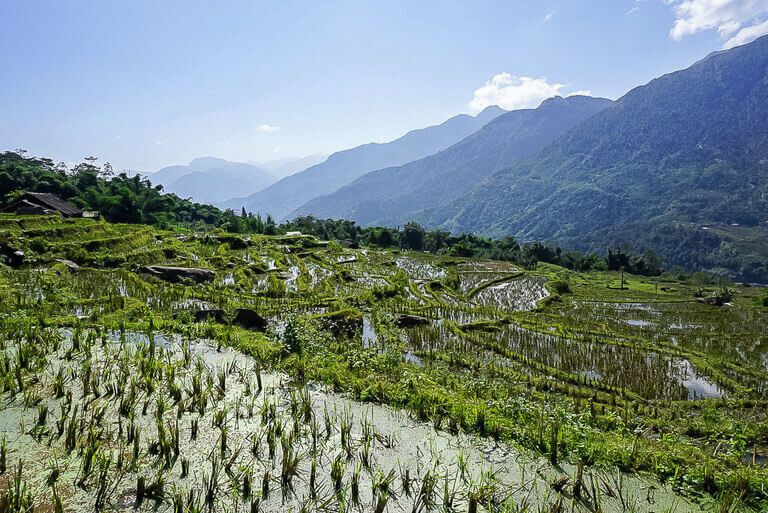 This second day of our itinerary in Sapa begins with your trekking tour and guide who will most likely meet you at your hotel. Once you head east out of town, you will begin to your climb into the Sapa Valley.
It's either going to be hot and humid or raining so either way you're going to be sweaty! But the gorgeous views over lush green rice paddy terraces will immediately begin to appear.
You will pass by houses full of animals and bump into other tourists with their local guides along the trail. It's a wonderful hike and we hope you enjoy every second like we did!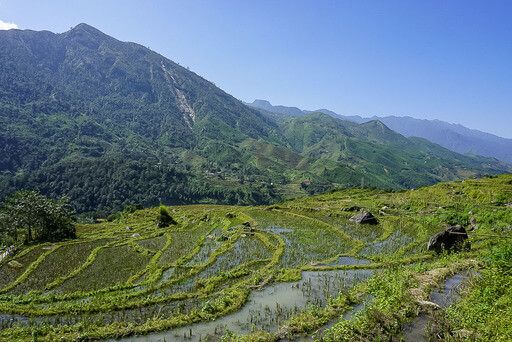 A quick stop off for lunch will give you an insight into how touristy trekking in Sapa has become. But soon after the meal is over, many of the groups will head in different directions.
Hopefully you will have clear weather and be able to take in the incredible valley views. Seeing the rice paddies up close gives you a more intricate perspective of the technical work that goes into creating and harvesting the terraces.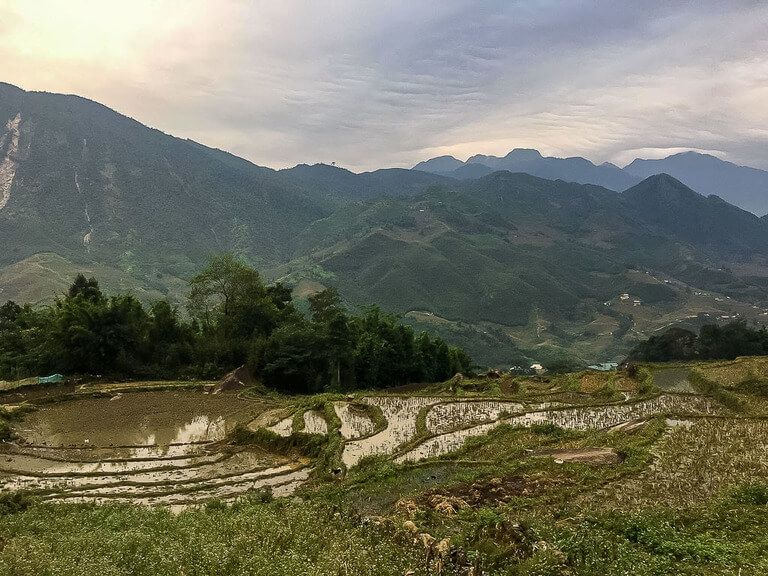 After about 6 hours of trekking, you will arrive into a small village where you will be shown to your homestay for the night. Depending on season, you might be sharing the house with other tourists.
A fantastic dinner will be served, typically including spring rolls, morning glory and a chicken with vegetables dish. You can be sure the 'Happy Water' will soon make an appearance.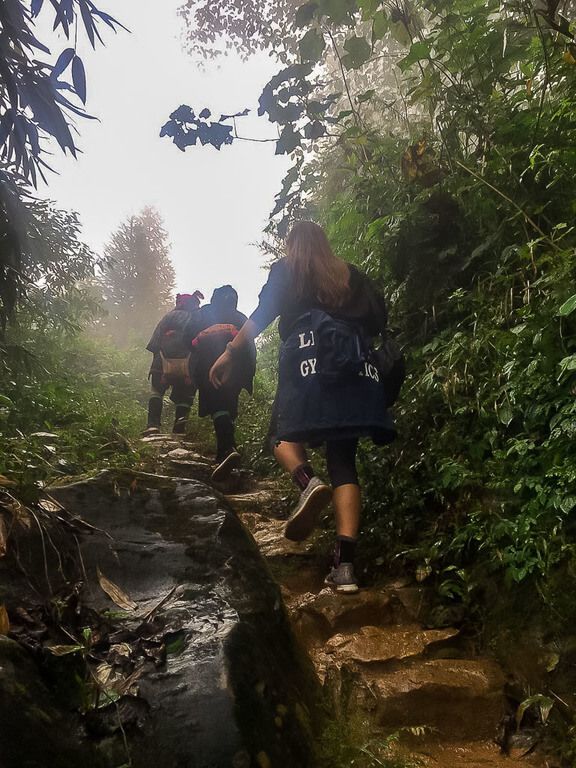 Sapa Itinerary: Day 3 Morning – Second Full Day Of Hiking In Sapa
Wake up to the stunning views over green valleys and clear blue skies. Following breakfast you will have time to explore the local village, before cracking on with your second full day of hiking.
Personally, we preferred the second day hiking as it was a bit more diverse and much of our hike included walking through the rice paddies.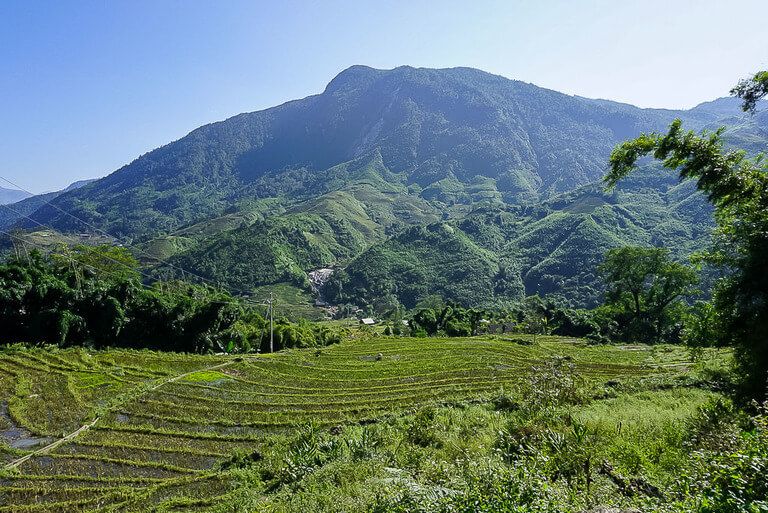 You will cross a dam to reach the far side of a river and loop back around in a giant C shape along the other side of the valley. We thought the lunch on day 2 was much better than compared to our day 1 lunch stop.
Lunch on the second day was high quality and we ate right next to a large waterfall with massive boulders. Everyone was taking turns taking a quick dip in the waterfall.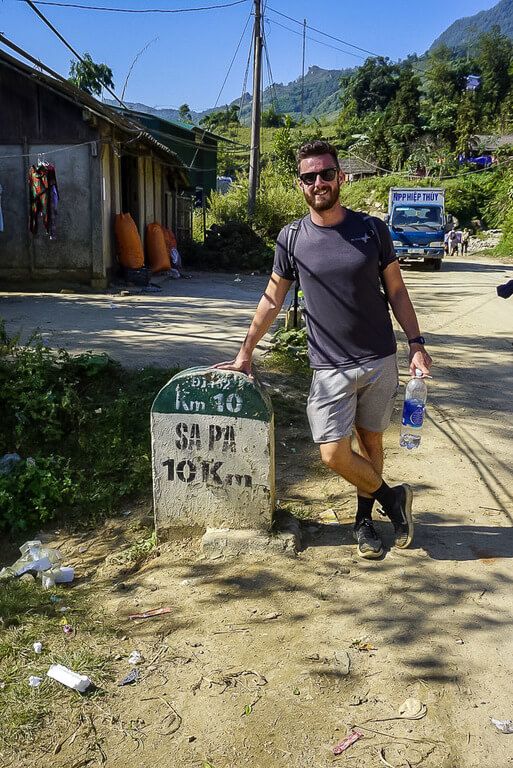 The final stretch after lunch is mostly uphill walking along the ridges of rice paddies. If they're waterlogged you will find water buffalo knee deep in mud.
The end of the second day hiking in Sapa valley will coincide with other groups finishing around the same time and a minibus will bring you back to town.
Plan on arriving back into Sapa town between 3-4pm. Just enough time to grab a quick shower and head out for dinner.
How To Find A Guided Sapa Trekking Tour
There are a few ways you can book a guided trek when in Sapa:
Book online in advance
Book with your hotel or local tourist agency
Find a tour when you arrive in Sapa
We traveled to Sapa in October and booked our guided trek through our hotel. But if we traveled to Sapa again, we would book in advance, especially if visiting during the peak season.
As tourism grows, so does demand and if you have traveled a long way to visit Vietnam, we wouldn't want you to miss out on a Sapa trek.
An advantage to booking online in advance is that you will have the pick of the liter and you will know exactly what you are getting. If you are short in time, you should book in advance to secure your spot.
Whereas if you book last minute, you might not get the tour you want, but you can be flexible. There are both pros and cons to each booking style.
Here are top rated Sapa Valley trekking tours:
Want to know more about trekking in Sapa? Don't miss our detailed guide to hiking the Sapa Valley in Northern Vietnam.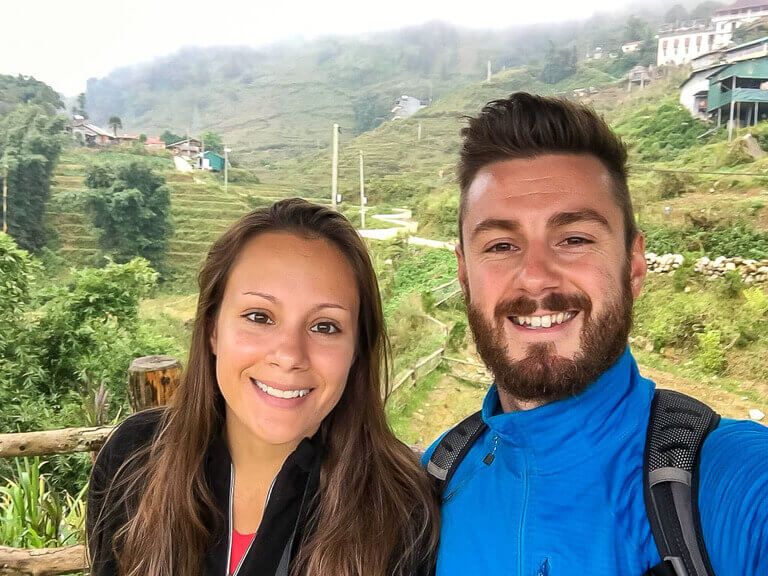 Best Hotels In Sapa Vietnam
Our recommendation would be to book a hotel centrally located near Sa Pa Lake in the middle of downtown. This location will be in close proximity to restaurants as well as where you will most likely meet your tour guide.
Here are top rated lodging options for your visit to Sapa, Vietnam:
Heart Of Sapa Hotel (Budget)
If you are looking for a budget hotel in Sapa, look no farther than the Heart of Sapa Hotel. Located just a few minutes away from Sun Plaza and many of the best restaurants in town, plus it has a 9.4 rating.
Rooms at Heart of Sapa Hotel are typically US$ 15-20 per night depending on the time of year.
>> Book the Heart of Sapa Hotel here <<
Sapa Relax Hotel & Spa (Mid-Range)
Sapa Relax Hotel & Spa has stunning views of the rice terraces and travelers always rave about the gorgeous views in the reviews.
In shoulder season, superior rooms are around US$25 while executive rooms with mountain views are US$40. For those beautiful views, we think it's worth the upgrade.
>> Book Sapa Relax Hotel & Spa here <<
Hotel De La Coupole (Luxury)
As one of the top rated hotels in Sapa, Hotel de la Coupole is a fabulous option with an indoor swimming pool, spa, fitness center, sauna and hammam.
Inspired by the minority tribes in Sapa as well as French Haute Couture, this hotel brings a unique perspective and offers a continental or buffet breakfast.
>> Book Hotel De La Coupole here <<
Want more hotel options? Search top rated hotels or homestays in Sapa for yourself.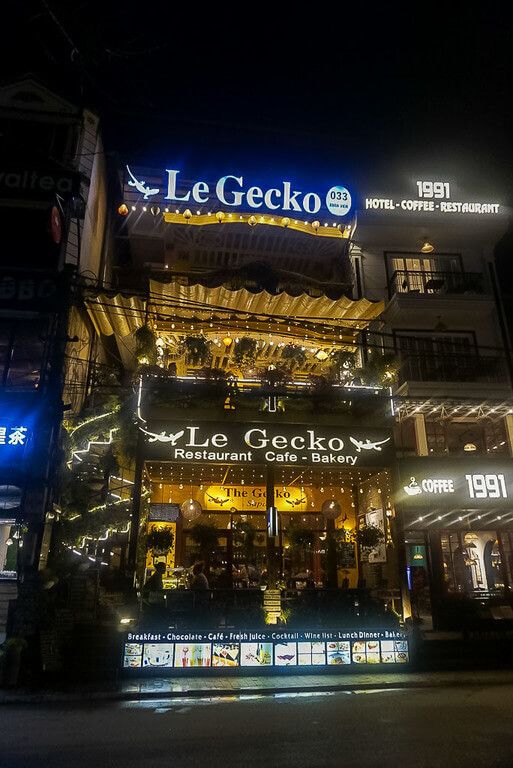 Best Restaurants In Sapa, Vietnam
If you follow our 3 day Sapa itinerary, you have an open option for dinner both on day 1 and day 3 so we recommend you choose a restaurant in Sapa town.
We were pleasantly surprised by the food options in town. You can find a mix of American, French, Italian as well as local Vietnamese specialities.
Here are the best restaurants in Sapa, Vietnam:
One of our favorite restaurants in Sapa town was Le Gecko which has an extensive menu and the service is excellent. Many travelers congregate here so it's a great place to meet others.
The building in the photo above is Le Gecko Restaurant but there's also a Le Gecko Café closer to the lake which is another great spot.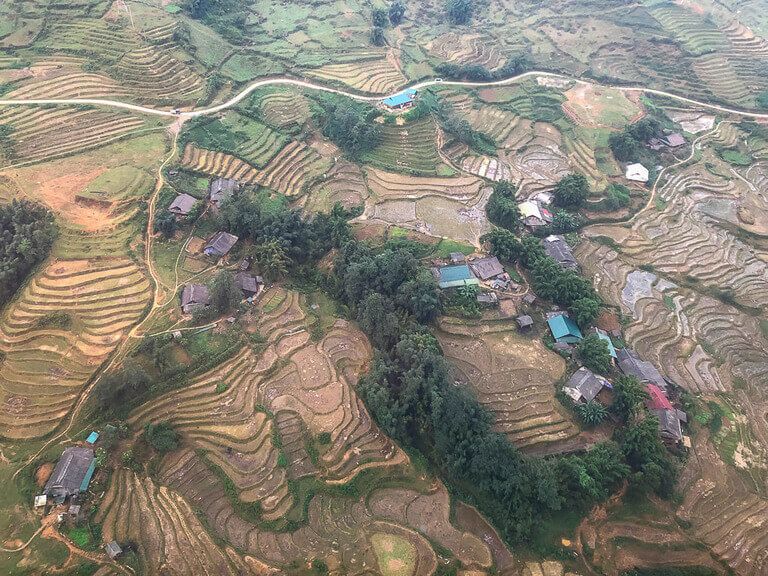 Tips For Your Sapa Itinerary
Last but not least, here are a few tips for your trip to Sapa, Vietnam:
In Sapa town, you will be approached regularly by locals trying to sell you things. This includes very small children. It can be a little upsetting, but please do not give them anything. The government forbids tourists from giving to beggars in Sapa.
The same applies to Cat Cat village. As you walk down the narrow path to the village, there are places to purchase items which is fine, but do not encourage begging.
If you visit Fansipan, the air is thin up there so go steady as you climb to avoid going dizzy. Take plenty of water, plus warm clothes because it will be cold.
September is the best month for trekking in Sapa as you will see the golden rice paddies.
As the weather can be pretty unpredictable, give yourself an extra day if possible to be flexible with your options.
FAQ's About Things To Do In Sapa
Let's take a quick look about frequently asked questions regarding what to do in Sapa and how to spend your days in this beautiful valley.
How Many Days Should I Spend In Sapa?
You should spend three days in Sapa. With this amount of time, you will be able to trek into Sapa Valley as well as explore the region around Sapa town including Fansipan and Cat Cat Village.
Is Sapa Worth Visiting?
Yes, Sapa is worth visiting because it's located among the beautiful mountainous region of northern Vietnam and features beautiful rice terraces.
What Is Sapa Vietnam Known For?
Sapa is known for its lush green rice terraces, community of ethnic minorities and stunning mountain views. Most people visit Sapa to experience a homestay or trek with a local guide.
What Are The Top Attractions In Sapa?
The top attractions in Sapa include hiking with a local guide, a homestay with one of the ethnic minorities, Sunworld Fansipan World Legend, Cat Cat Village and Silver Waterfall.
Our Popular Guides For Vietnam
More Vietnam Guides
Want more Vietnam content? Head over to our Vietnam Travel Guides to see example itineraries, tips about Vietnam and popular city guides.
---
We hope our guide featuring the best things to do in Sapa helps you plan your itinerary for Sapa, Vietnam.
Please let us know if you have any questions about what to do in Sapa in the comments below.
Happy Travels,
Mark and Kristen
Enjoy This Things To Do In Sapa Guide? Pin It For Your Visit!