Sapa is a quaint rural mountain town surrounded by endless terraces of rice paddies and gorgeous valleys. The major draw for tourists visiting Sapa is the opportunity of trekking and a homestay with Ethnic minority peoples.
But there are more things to do in Sapa than just hiking with a local guide, as we discovered by chance. We highly recommend you add in at least one extra full day to your Sapa itinerary to include a visit to Cat Cat village and take the cable car up to Fansipan mountain summit.
Personally, we found Sapa unusually difficult to plan before we visited. In particular, we weren't sure whether to pre-book a trekking tour or wait until we arrived into Sapa. It turns out there are SO many options either way! Our advice is not to worry before your visit.
*Please note this post may contain affiliate links. If you click on one, we may earn a small commission at no extra cost to you!*
How To Get To Sapa, Vietnam
To reach Sapa, you will head Northwest from Hanoi. Sapa is on the slopes of the Hong Lien Son Mountains. Access is limited and you have meandering mountain roads to experience!
Bus and trains follow a similar route as far as the border with China to a town called Lao Cai. From Lao Cai, there is only one direct road up and down the mountain to Sapa. This road bends its way up the mountain for what feels like an eternity! Everyone on board the bus is given a paper bag, just in case.
The interactive map above shows where the Sapa Express Bus departs in old quarter Hanoi, Lao Cai and Hanoi train stations, and the Sapa drop off point. Zoom in on the winding road up the mountain!
Budget, convenience and availability are the major factors when booking transport. Check prices/times on 12Go Asia to see whether the train or Sapa Express bus is a better fit for your schedule. Both the bus and train were priced at US$12 per person when we visited Sapa. But remember you will pay for a bus connection if you take the train to Lao Cai.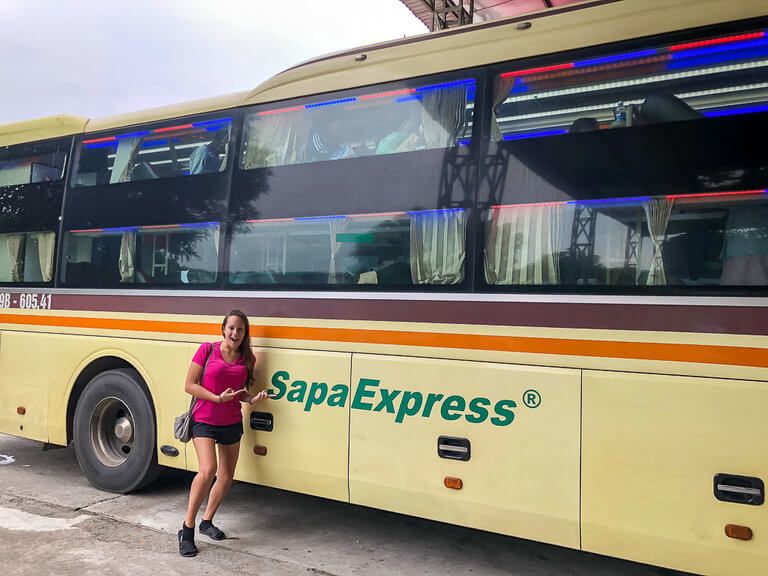 Our recommendation is to travel with Sapa Express. Ironically, despite the vomit inducing roads up the mountain, this was the best sleeper bus we took in Vietnam. Imagine how bad the rest were!
Personally, we didn't see the benefit to traveling by train and changing in Lao Cai. Especially when it's cheaper by bus. Plus, the bus left Hanoi closer to where we were staying in the old quarter.
Don't Miss: Be sure to read about our hair raising experiences traveling Vietnam Sleeper Bus Vietnam: Adventure or Peril? Hint: Sapa Express was adventure!
Best Time To Visit Sapa, Vietnam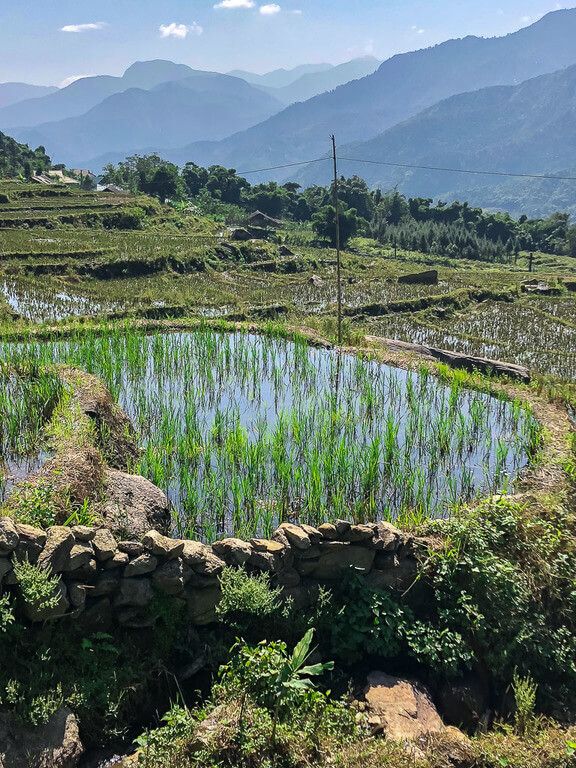 Vietnam is a whirlwind of varying climates which means Sapa has a unique subtropical highland climate. There is no way you can plan your entire Vietnam trip based around perfect weather conditions in each city. That being said, optimal conditions for trekking in Sapa are in September. Let's take a look at the seasons:
Winter: December, January and February (not recommended)
During Winter in Sapa, temperatures plummet and fog moves in across the mountains. Snow can often fall on the highest peaks and in general average temperatures are not ideal for trekking.
Spring: March, April and May
Trekking in Spring is perfect for those who enjoy warm, dry weather and fewer tourists (both international and domestic). But you will not see the golden or even green rice terraces in Spring. That's the main trade off.
Summer: June, July and August
Summer is a time for domestic tourism in Sapa. It's also extremely humid, hot and wet. This is the time of year when rice terraces are lush green, but you will probably spend your whole visit being rained on!
Fall: September, October and November (Recommended)
September is the ideal time to visit. It might still be on the back end of heavy rainfall, but this is the only time of the year you will see the famous and sought after golden rice fields. By October, most of the harvest has been collected. Fall is fantastic for hiking through Sapa valley as it brings ideal trekking temperatures and clear blue skies. Mostly! When we visited in October, we had a mix of beautiful blue skies and rain! By November, it begins to get colder and rice fields are significantly less beautiful. By November, it's beginning to get colder and rice fields are significantly less beautiful.
Check weather reports before you arrive in Sapa and plan this itinerary so your trekking days are the one with the best weather!
Be sure to read our complete guide to booking a Sapa trekking tour. This article explains how to get to Sapa, where to stay and breaks down exactly what to do for 3 full days to make the most of your time!
Sapa Itinerary: 3 Awesome Days!
This Sapa itinerary is based on 3 full days in the town, but we would recommend spending 4 days in the mountains if you have the spare time. It's a cheap place to stay and the extra day would allow a more relaxing experience in Sapa, Vietnam. Fortunately for us, Sapa was enveloped in a dense cloud of mist for 2 whole days, which meant we delayed our trek and explored Fansipan / Cat Cat village instead!
Day 1
Morning: Cat Cat Village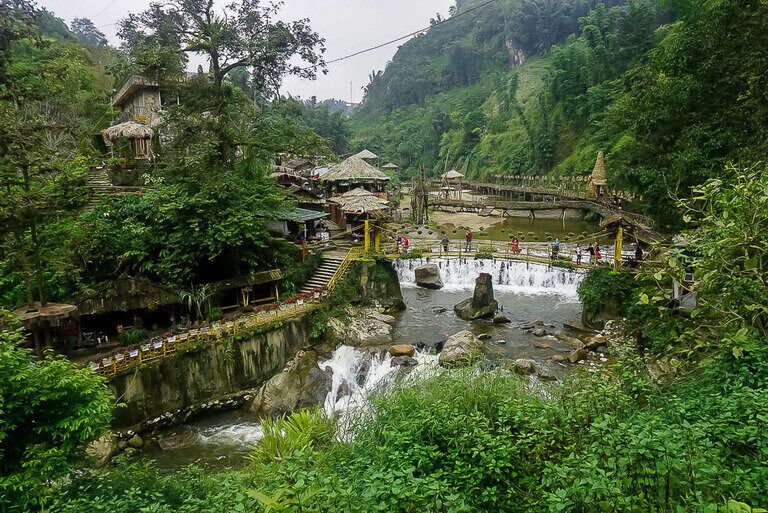 Get an early start and walk down the (extremely!) steep roads towards Cat Cat village. It's difficult to know when you reach the entrance from the main road. There will be shops selling local goods along the main road, you need to take a left turn down a narrow passageway that is signposted Cat Cat. But before you take the turn, be sure to pay 70,000 VND (at time) for your ticket to enter.
As you walk down a narrow path to the village, it can be a little overwhelming and tiresome when you are constantly being pestered to buy things. Just politely decline. Unless you do want to buy something, of course!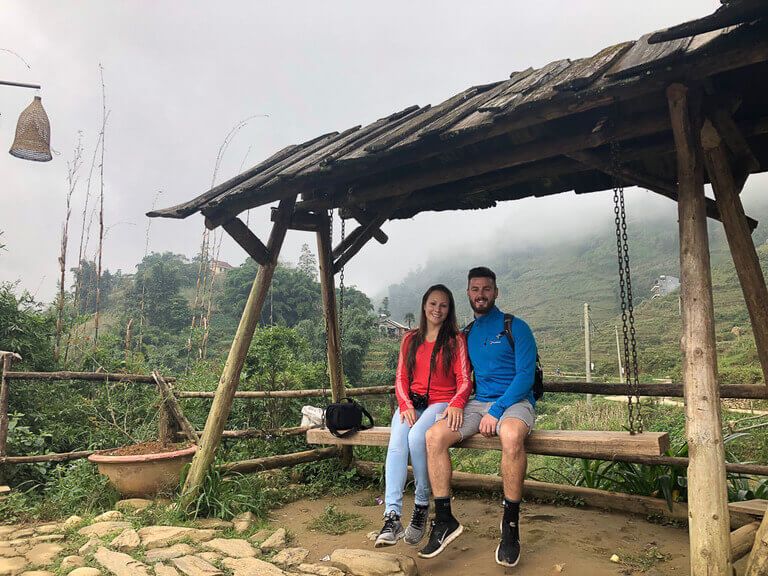 Once you reach the bottom of the stairs, you'll see why we recommend you visit. It's almost like a fake village has been picked up from somewhere else and just dropped into a random part of the mountainside! You'll find beautifully designed wooden houses, boardwalks and even water wheels turning.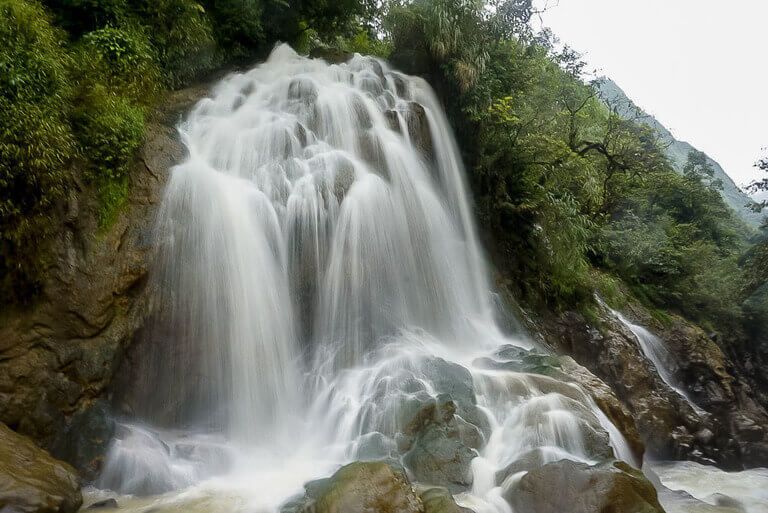 Plus, there are so many picturesque places including a big waterfall, colorful flower fields and wooden swings to sit on. Be sure to take your time and enjoy the spectacular views over the terraces.
Afternoon: Sun World Fansipan Legend Cable Car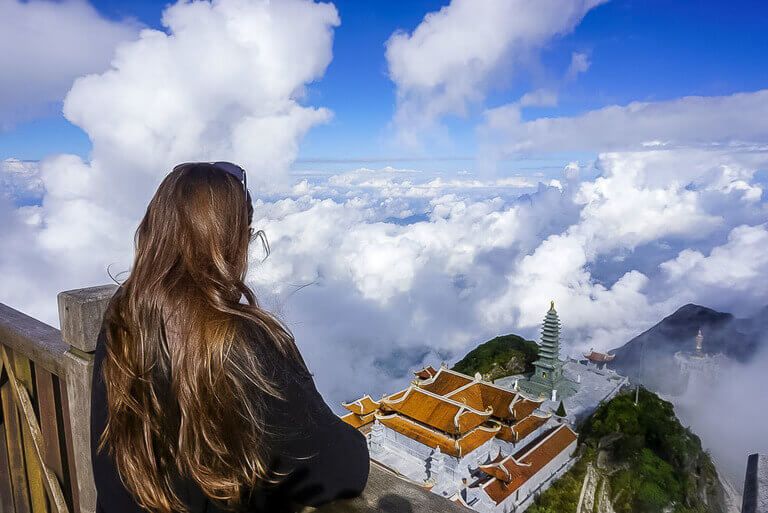 OK, we have to start by saying the cable car from Sapa station to Fansipan mountain will cost you 700,000 round trip per person. That's US$ 30, pretty expensive for South East Asia. However, Fansipan is the tallest peak in the Indochinese Peninsula AND you will be blown away by the views!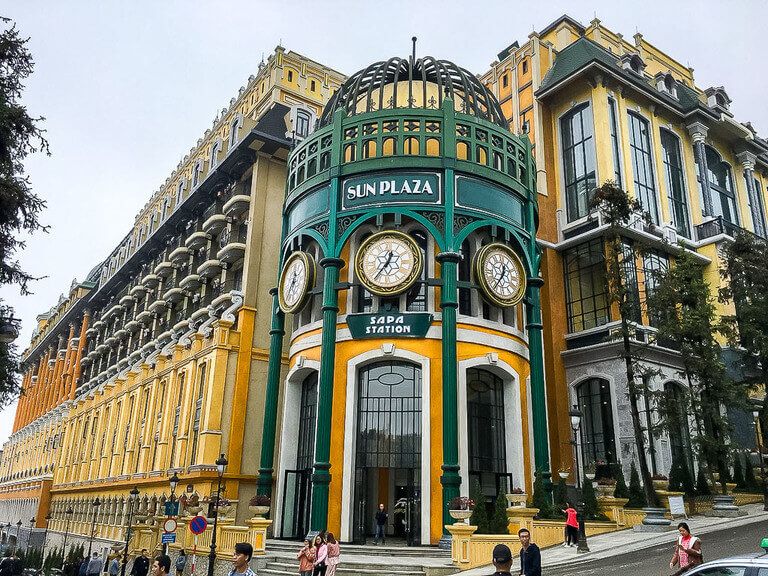 You will begin at Sun Plaza, that huge yellow building that looks out of place in town. Inside, you'll feel as though you've been transported to a state of the art mall in Dubai! There are ticket counters inside, but in high season you can book your ticket in advance. It's the same price and guarantees your ticket.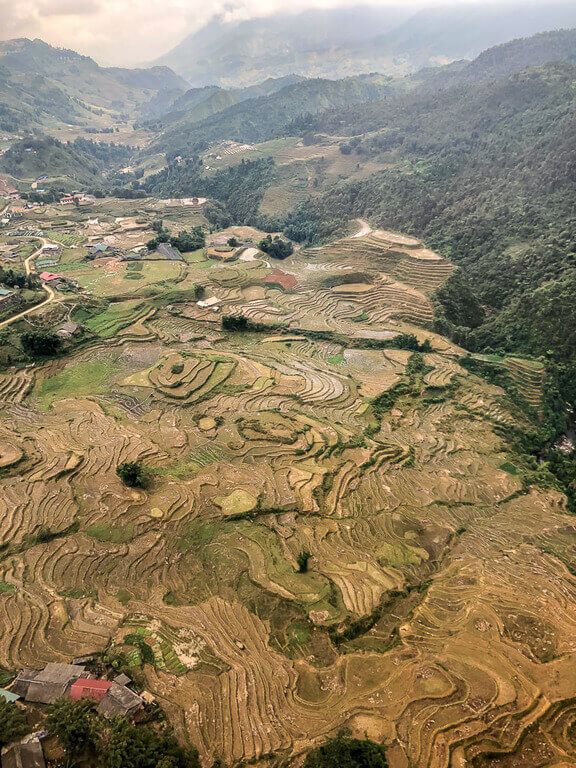 So, what are you paying for? First up is a spacious tram to the bottom of the cable car station, followed by a cable car ride that towers over Sapa valley below. The drop is significant for the majority of the 20 minute ride but the Birdseye view of the whole mountainside region is breathtaking.
There's a high probability you will disappear from view into thick cloud, at which point you won't be able to see the next cable car! You'll be amazed by what's up there at over 3000m! As well as thin air, you will find stunning granite staircases built into the side of the mountain.
There's a total of 600 walled steps to make the summit, but way before the top you will discover a huge statue of Buddha. Flanking the statue at either side are 2 steep, long and straight symmetrical staircases which look incredible.
You will find temple complexes and other statues, all the while clouds will eerily float around and below you. At the very top is a plaque to show the height at 3,143m. Photo opportunities at the summit of Fansipan are fantastic!
Day 2
Trekking and Homestay with a Local Guide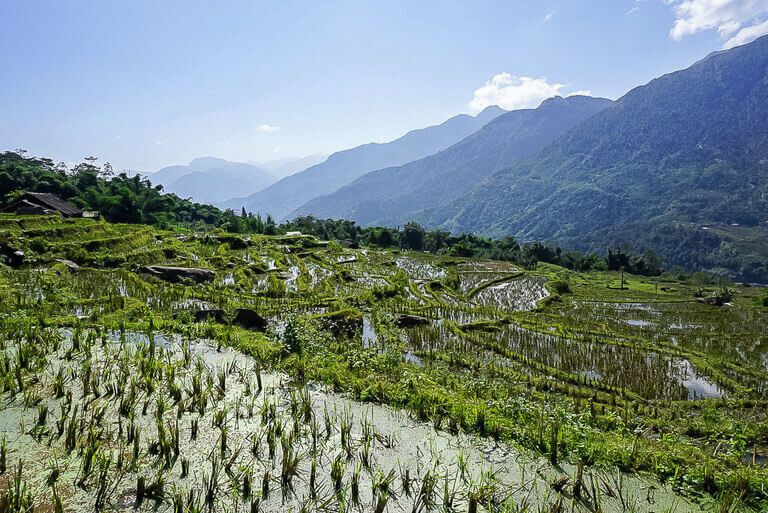 Begin your trekking tour with a guide who will meet you at your hotel. Once you head East out of town, you will begin to climb. It's either going to be hot and humid or raining, either way you're going to be sweaty! Gorgeous views over lush green rice paddy terraces immediately begin to appear. You will pass houses full of animals and bump into other tourists with their local guides.
A quick stop off for lunch will give you an insight into how touristy trekking in Sapa has become! But soon after, many of the groups head in different directions. Hopefully you will have clear weather and be able to take in the incredible valley views. Seeing the rice paddies up close gives you a more intricate perspective of the technical work that goes into creating and harvesting the terraces.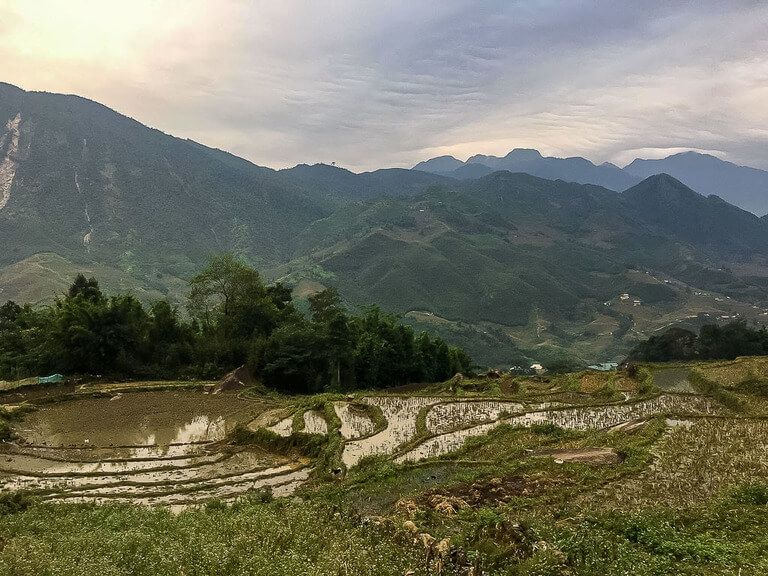 After 6 hours of trekking, you will arrive into a small village where you will be shown to your homestay for the night. Depending on season, you might be sharing the house with other tourists. A fantastic dinner will be served, typically including spring rolls, morning glory and a chicken with vegetables dish. You can be sure the 'Happy Water' will soon make an appearance.
Day 3
Second Full Day of Hiking in Sapa Valley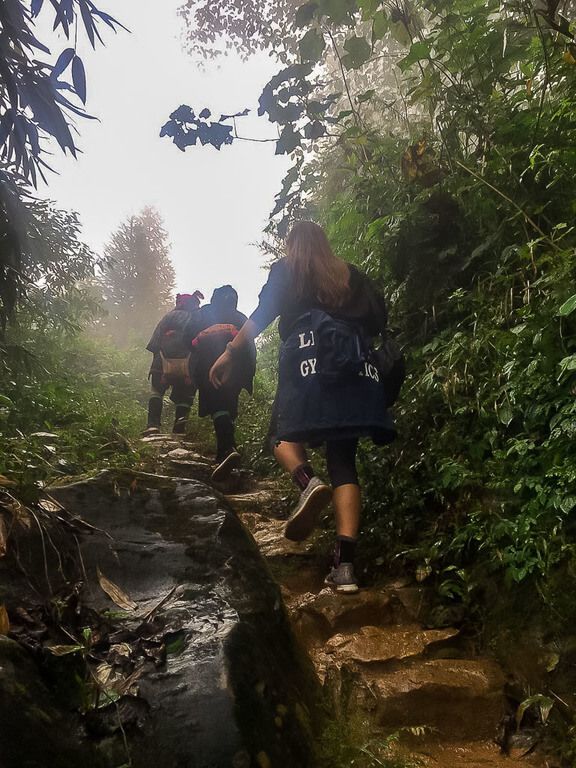 Wake up to the stunning views over green valleys and clear blue skies. Following breakfast you will have time to explore the local village, before cracking on with your second full day of hiking. Personally, we preferred the second day hiking as it was a bit more diverse and much of our hike included walking through the rice paddies.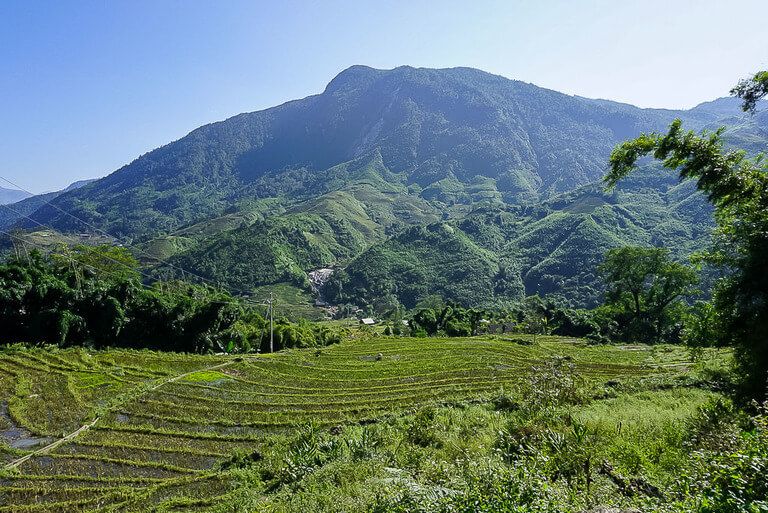 You will cross a dam to reach the far side of a river and loop back around in a giant C shape along the other side of the valley. Lunch on day 2 is much better than on day 1. The food is a higher quality and you'll eat right next to a large waterfall with huge boulders you can walk across.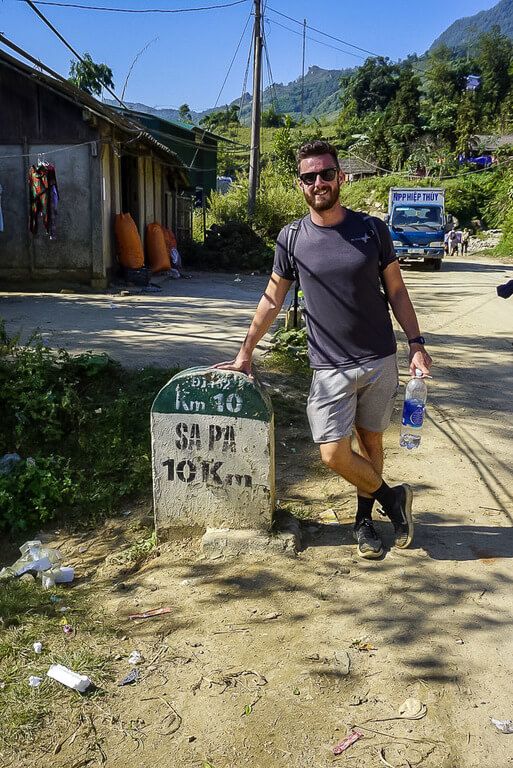 The final stretch after lunch is mostly uphill walking along the ridges of rice paddies. If they're waterlogged you will find water buffalo knee deep in mud! The end of the second day hiking in Sapa valley will coincide with other groups finishing around the same time and a minibus will bring you back to town. Plan on arriving back into Sapa town between 3-4pm. Just enough time to grab a quick shower and head out for dinner!
How to Choose and Book A Guided Sapa Trekking Tour
We were really unsure about how to book a trekking tour before we visited Sapa. Don't forget to check out our in depth Sapa Trekking guide for help with choosing and booking a tour.
What we will briefly mention here is that you do not need to worry about missing out if you don't book in advance. You can easily book a tour once you arrive in Sapa. There are pros and cons to both. By booking in advance, you know it's sorted and can relax, plus you can specify exactly what you would like to do on your tour and see the accommodation before hand. If you book on arrival, you probably won't know what you will get but it means you can be flexible.
For those who don't have enough spare time to visit for 3 days but still want to trek in Sapa, your best bet is to book a 2 day/1 night tour package in a travel agency in Hanoi OR pre-book online.
Have a look at these packages with Get Your Guide. They include transport Hanoi-Sapa-Hanoi, homestay in Sapa valley and 2 days trekking for extremely competitive prices.
Where To Stay Before and After Trekking in Sapa Valley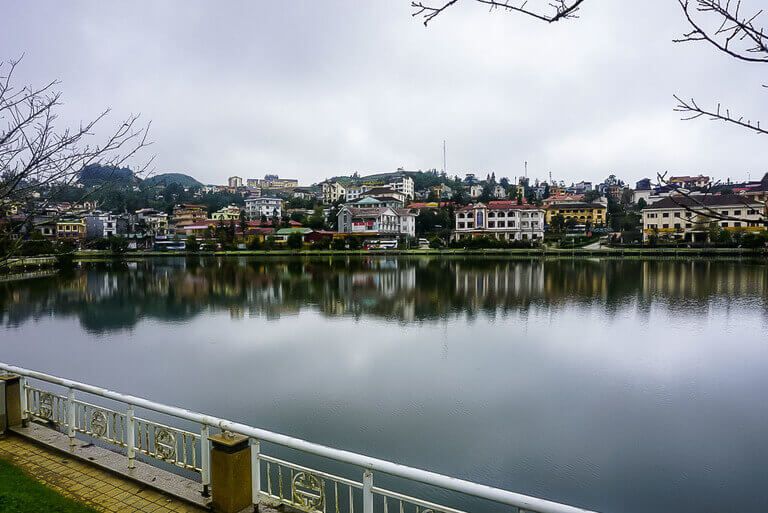 Use the booking.com search box below to find hotels and homestay's in Sapa. Be sure to book a hotel centrally if you plan to stay in a hotel and then take a trekking tour from there. Stay close to the lake. Muong Hoa valley is where you need to look for a homestay if that's how you want to do it instead. Look to the South East of Sapa town.
Sapa is a lovely town to spend a few days and there are plenty of great options for accommodation. We've scoured booking.com and put together the best deals we could find for each budget category! Check them out below the booking.com search box.
Heart of Sapa Hotel
If you're looking for a budget hotel in Sapa, look no further than the Heart of Sapa. Location is ideal just a few minutes walk from Sun Plaza and many of the best restaurants in town, plus it has a huge 9.5 rating on booking.com. Rooms are around US$15-20 per night depending on time of year. Bargain!
Sapa Relax Hotel & Spa
Just one street over can make a big difference. Sapa Relax Hotel & Spa has stunning views over the rice terraces, includes breakfast and is rated by guests at 9.5 on booking.com. In low season, superior rooms are US$25 and executive rooms with Mountain View are US$40. For those views, it's worth the upgrade!
Aira Boutique Sapa Hotel & Spa
This beautiful hotel with outdoor pool, gym, amazing views over the rice terraces and an excellent buffet breakfast is the luxurious way to spend your nights either side of trekking in Sapa valley. It has a 9.5 on booking.com and is located close to amenities but far enough away to be peaceful at night. Bliss!
Where to Eat in Sapa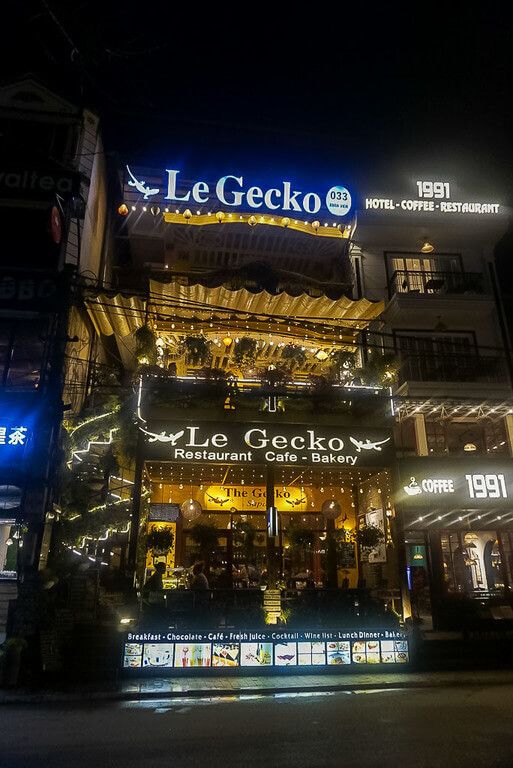 Eating out in Sapa is surprisingly awesome! There are a ton of great restaurants to choose from (Sapa does receive A LOT of Western tourists after all) but our top recommendation is Le Gecko. The building in the photo above is Le Gecko Restaurant but there's also a Le Gecko Café closer to the lake (see map at end).
We stumbled into the cafe upon our arrival to Sapa as the town was completely engulfed in a thick cloud. The food is amazing and the staff are even more amazing. We ate lunch all 4 days in the cafe and by the end we were being served complimentary items! The restaurant pictured is Le Petit Gecko and serves cuisine with French influence. It's good, but it's not as excellent as the cafe for lunch.
If you get caught in a cloud like we did, seriously check it out! Check out the Tripadvisor comments.
Tips For Your Sapa Itinerary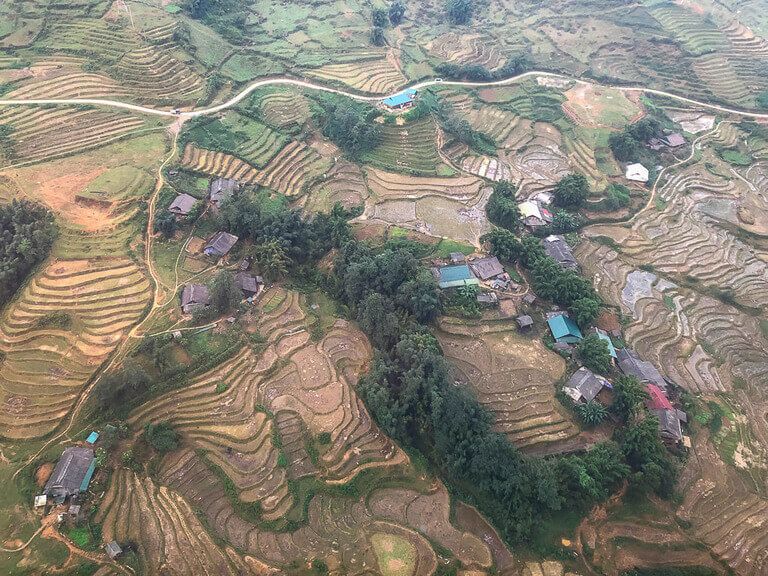 You can opt to take another funicular to the very top of Fansipan to save walking the steps. Only do this if you really can't do the stairs because it's awesome walking around up there!

The air is thin up there so go steady as you climb to avoid going dizzy. Take plenty of water, plus warm clothes because it will be cold!

In town, you will be approached regularly by locals trying to sell you things. This includes very small children. It can be a little upsetting, but please do not give them anything. The government forbids tourists from giving to beggars in Sapa.

The same applies to Cat Cat village. As you walk down the narrow path to the village, there are places to purchase items which is fine, but do not 'give away' your own things to locals.

September is the best month for trekking in Sapa as you will see the golden rice paddies. October was pretty wet when we visited as you can see!

Booking a trekking tour is easier than you might think. You can either do it before or after you arrive in Sapa.

As the weather can be pretty unpredictable, give yourself an extra day if possible to be flexible with your options.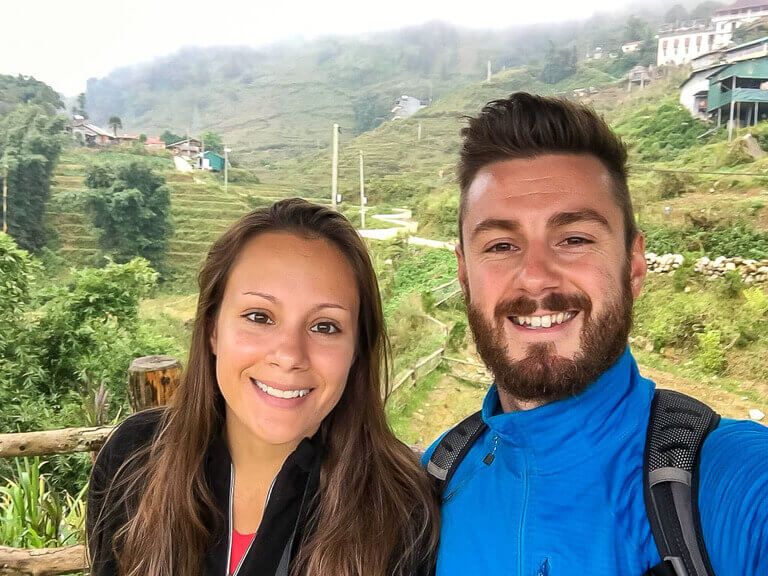 Read More About Vietnam …
---
We hope this Sapa itinerary helps you plan your trip to this beautiful city in Vietnam!
Have you ever visited Sapa? What was your favorite part?
Please let us know if you have any questions or need help planning your trip to Sapa in the comments below!
Happy Travels,
Mark and Kristen
Was This Post Helpful? Pin It For Your Visit!