Dark Cave is one of the most popular tourist attractions in Phong Nha Ke Bang National Park.
This National Park is famous for colossal caves and subterranean rivers that can be explored on multi-day expeditions. Sounds like an amazing adventure, right?!
Unfortunately, unless you have a healthy budget at your disposal, your explorations will be very limited. This is where Dark Cave enters as your salvation.
Are you looking for an unforgettable experience (you are in Vietnam's adventure capital after all!) but can't afford the dizzy heights of Son Doong Cave or the Lu Tan Cave system? We hear you, we've been there! Dark Cave is the bridge you have been searching for.
Dark Cave connects the void between a super-adventurous-but-expensive cave tour and a more-affordable-yet-relatively-adventurous cave tour. But is it worth your time and money?
We will walk you through what to expect, plus our experience. Then you can decide if a visit to Phong Nha Dark Cave is 'Hit' or 'Miss'?
*Please note this post may contain affiliate links. If you click on one, we may earn a small commission at no extra cost to you!*
What Is The Dark Cave?

Dark Cave is the Polar opposite of visiting nearby budget friendly favorite Paradise Cave.
At Paradise, you walk around a boardwalk and simply admire the spectacular stalactites and stalagmites (which is well worth doing!) whereas at the Dark Cave, you are seriously on an adventure but the cave time is minimal! It's like being at an adult playground.
What do we mean? Check out our photos! The Dark Cave incorporates exploring a cave (albeit not for long!) with some adventure activities, which appeals to a wide audience. Do you think it looks a little gimmicky? That's because it is.
Nevertheless, zip-lining, kayaking, attempting an over-water adventure course and throwing mud at your friends in a pitch black cavern remains a fun way to experience caves in the cave capital of the world! In fact, Dark Cave is the most visited of all the caves in Phong Nha. We think they should rename it 'the Dark Cave and Adventure Activities Experience in Phong Nha' because you don't actually do much once you're inside.
Would we choose the Dark Cave over Son Doong (the biggest cave in the world), HELL NO! But at 150 times the price of Dark Cave, it's not feasible for the majority of travelers through Vietnam.
Phong Nha is a stunning, relaxing and adventurous gem in Vietnam. Here are the 10 best things to do on your visit to Phong Nha.
Why Is It Called Dark Cave?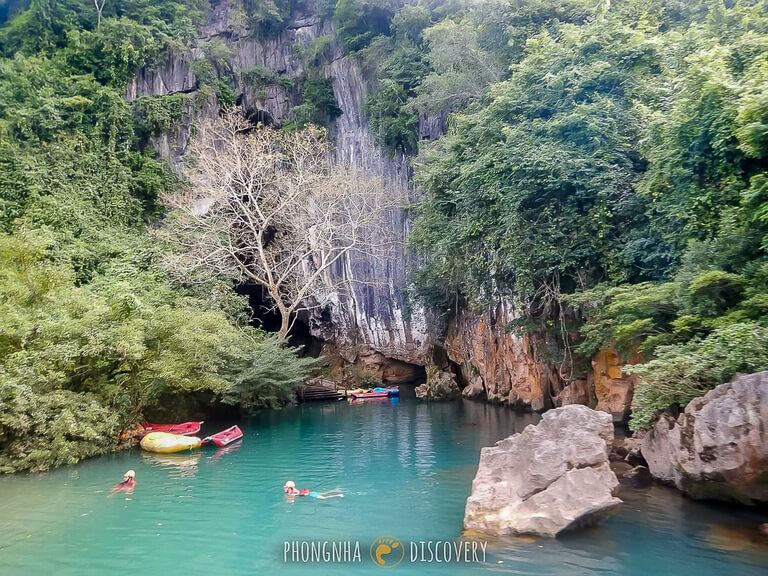 No, it's not some brooding, wicked, veiled and mysterious vacuum that's going to suck you up into an abyss for eternity! They just haven't put any artificial lights in there.
That way we can all explore it with head torches on and feel like we're embarking upon a mission into another world! Ok, it's not Stargate and that was a bit sarcastic. But it is a cool experience to walk through a pitch black cave. Senses like touch and sound become hypersensitive to your surroundings and your adrenal glands will produce higher levels of adrenaline hormone.
Although you aren't in the cave for long, it gives you a brief insight into what you would experience inside of the bigger caves. A taster for a fraction of the price!
Dark Cave Tour Or Independent Visit?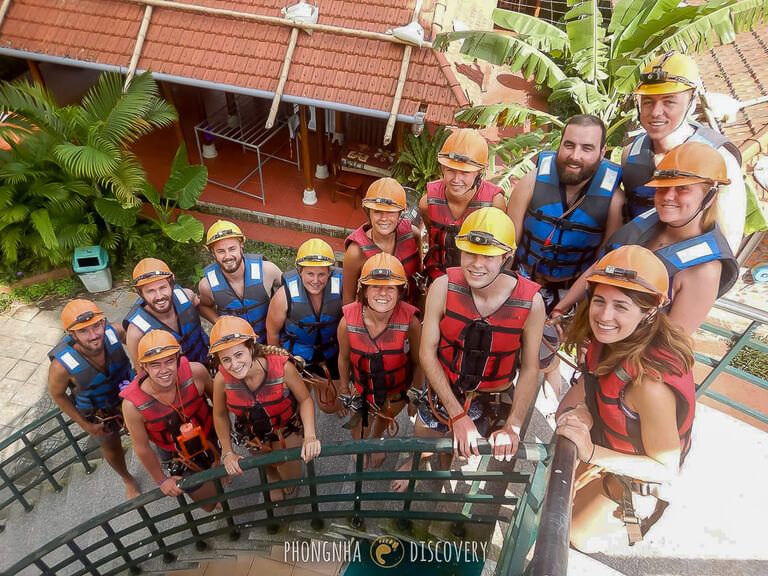 It's entirely up to you how you chose to visit Phong Nha Dark Cave. We went as part of a day tour that included Paradise Cave as well as 8 ladies cave. We thought this would be the easier option as they provide lunch, transport and it's a great way of meeting people! But you can absolutely go it alone by renting a scooter in town.
Something to bear in mind if you plan to visit the Dark Cave on your own is to turn up early in the day if possible. If you arrive late afternoon, you could end up paying to park and enter, but then you won't be allowed to visit the cave because it is "closing." We met a couple in the parking lot who had this happen to them. Just be aware that the Dark Cave can be a bit dodgy if you're not on a tour. Arriving early should avoid any issues.
If you still have questions, check out the comments on Tripadvisor to see what other people have said. Now let's move onto our Dark Cave experience so you know what to expect when you arrive in Phong Nha!
Top-Tip: If you go with a tour company, they most likely will take photos of your adventure. We opted to keep the go-pro home and let them do the work. The photos watermarked "PhongNha Discovery" were taken by our tour guides.
The Phong Nha Dark Cave Adventure Begins
Earlier in the day, Paradise Cave was filled with mesmerizing formations, stalactites and stalagmites. Our entire group had sweat a bucket full walking up to the entrance, suffering in the humidity. Back on the bus, it was time to visit Phong Nha Dark Cave and its mini adventure. There was an air of excitement, everyone had been looking forward to it all day. The mini bus pulled up, we were offloaded and shepherded to a partially covered canteen-like area overlooking the river. It was lunch time!
On big platters we were served rice, meat, veggie options and plenty of water. The food was great (and plentiful) but none of us were inclined to eat much because we were about to be physically active! We could see people zip-lining and maybe the anticipation (added to the inescapable humidity!) quashed our hunger slightly.
After lunch we were instructed to get changed into swimwear. There are plenty of private changing rooms so feel free to change here. Before we were allowed on the zip-line we had to pick up a life-jacket, harness and helmet. A safety briefing followed to warn us about lifting our legs up at the end of the zip-line to land safely. Let's just say, it was a 'brief' safety briefing!!
Finally! It's time to zip-line to the cave! Damn. Really?! As our group walked towards the lighthouse-like building from the top of which the zip-line begins, we realized that we wouldn't be zip-lining for a good half hour. A line snaked its way around the windy external staircase. The line went down slowly!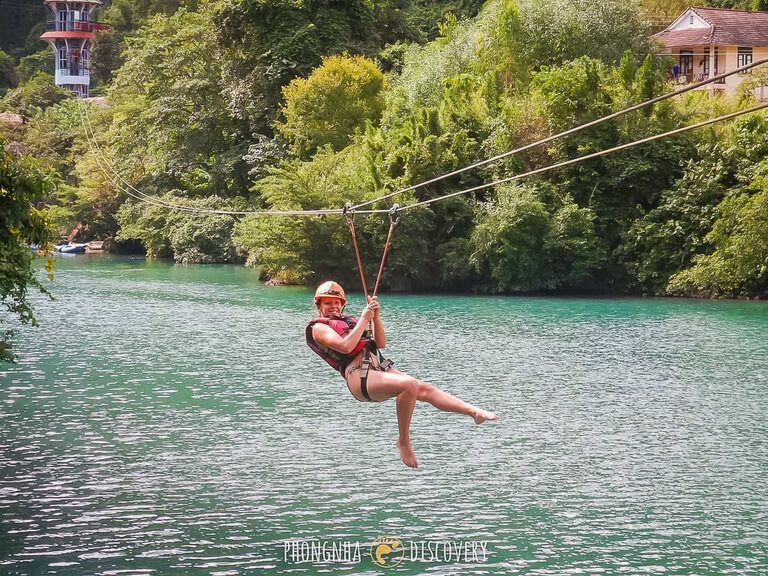 Longest Zip Line in Vietnam
We could see that it took each person about 3 minutes to get into position, strap in, zip-line and move away from the landing area. So if you have 10 people in front of you, half an hour! Everyone eventually filtered through and we were next. It turned out the zip-line was the longest in Vietnam!
Kristen hooked up first and took a run up before launching off over the turquoise pool below. It took around 30 seconds to zip 400m down the line. There was a hairy moment on the zip-line because the trajectory took us directly over the top of a roof that we thought our legs might hit! Near the bottom you have your photo taken so prepare your best Instagram pose!
At the end (legs lifted!) Kristen landed elegantly (must be the gymnastics!), unclipped and moved away for Mark to follow along. Let's just say Mark was less elegant, who also spun around a few times as though listening to Billy Idol's 80's classic on the way down!
Now we could see the entrance to the cave. Once the whole group had zip lined over, we all jumped in the river and swam 30 meters to the entrance. We say swam, but it was definitely a doggy paddle with the life-jacket on! The ice cold water was a welcome relief from the humidity. It feels as though it's as cold as the Arctic Ocean so be prepared!
Tip: The weight parameters are 40-90kg (90-200lbs) but they will let you go if you are lighter/heavier. Just be careful! We saw one woman hit her head pretty hard on the ground because she came in a bit too fast. She was fine, but it was a bit of a shock to her … and us! We also saw a child struggle to get down the line because they didn't weigh a lot! Please keep this in mind for safety.
Inside Phong Nha Dark Cave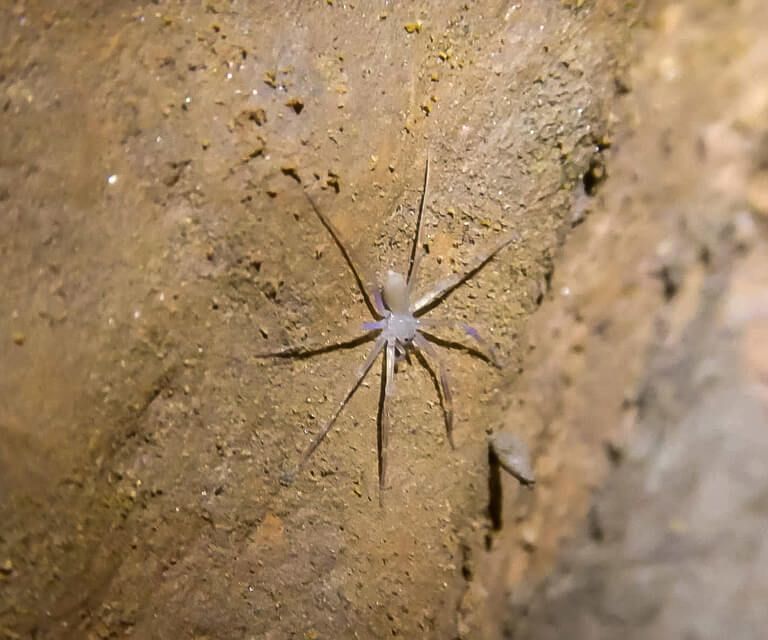 At the entrance, we climbed onto a wooden boardwalk, which took us into the huge cave opening. Now we were beginning to get excited. The boardwalk didn't last long and eventually we were walking on a sandy, gravelly surface. As our group penetrated the cave, the light began to fade and we could see our head torches for the first time.
We walked through some waist deep pools before finding ourselves in complete darkness, except for the head torch beams shallowly illuminating the black expanse surrounding us. Our guide told us all to turn our lights off at once and it was as dark as dark can be. The circumference of the cave didn't change much for the first section as we waded deeper into the unknown.
Some of the group were saying they should have brought a pair of water shoes (like you'd wear with a wet suit) but who has a pair of them in their backpack?! Before long, the way forward was blocked, but to the immediate right, a series of narrow passageways revealed themselves. Our guide led us through the confined spaces as we all stared around in amazement! It's worth noting now that a few of the passageways require a little bit of physical fitness, but you certainly don't have to be an athlete!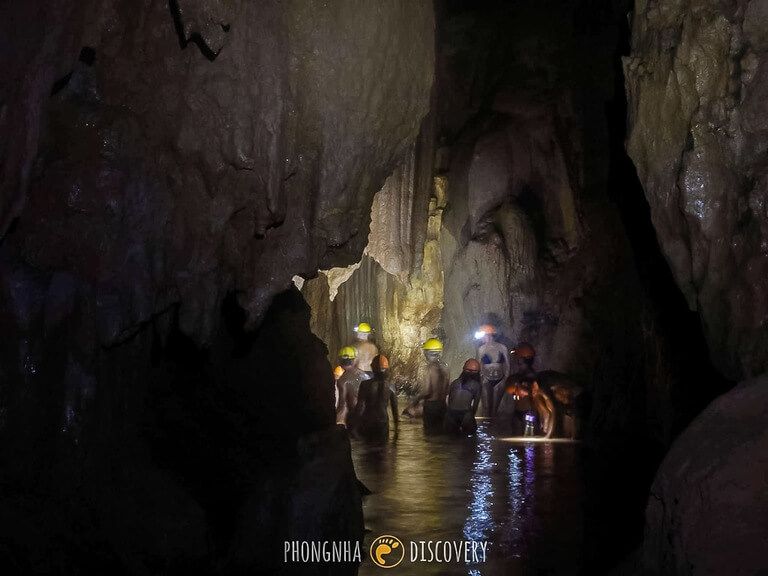 The Mud Room
There were no artificial footpaths to follow, the ground was uneven and the walls to our sides covered a broad spectrum of acute and obtuse angles. Left turn followed right turn, until eventually we were led into a cavern that instantly felt unusually slippery underfoot. Thick, sludgy water came up to our knees. We were in the mud room. Mark referenced it felt like the end of the movie National Treasure except it was the mud room instead of the treasure room!
Do you like the sound of a mud fight? It got a little wild in there! The mud is good for skin so everyone began by simply rubbing mud on themselves. It was freezing cold but the exfoliation was moreish. Every step taken would lead to a slip, even the walls in the cavern were sludgy. It was only a matter of time! The first piece of mud was thrown and splattered on someone's back with a dull and echoing 'thud' … that was it, floodgates open! Needless to say, we all left the mud room caked up to the eyeballs in gloopy grey mud!
Top-Tip: The mud is harsh and stains your bathing suit. Wear a suit you don't really care about unless you want it ruined!
The End Of The Phong Nha Dark Cave Adventure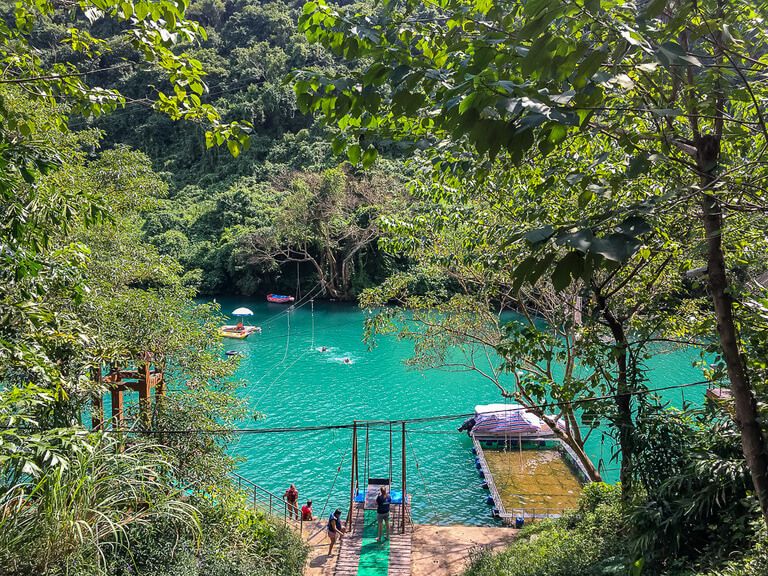 On the return leg out of the cave, we traversed more narrow, sandy and rocky passages. We even had to climb up an incline and slide down the other side like a waterslide at one point. The walk back was less exciting because we knew what to expect. Back at the cave entrance we were all blinded by the daylight.
It was time to jump in a kayak (mostly 2 person kayaks) and paddle our way back to the dock area. It was maybe 150-200 meters away. But the fun was not over yet. There was an over water obstacle course to attend to! We saw a lot of big drops into the water, let's go!
The main obstacle began by taking another zip wire. But this time we had to hold the handle and release at the right time to land in a rubber pocket. If we missed, there was a fair drop to the water below! Once out of the pocket, we had to clamber across a rope net, like on Ninja Warrior.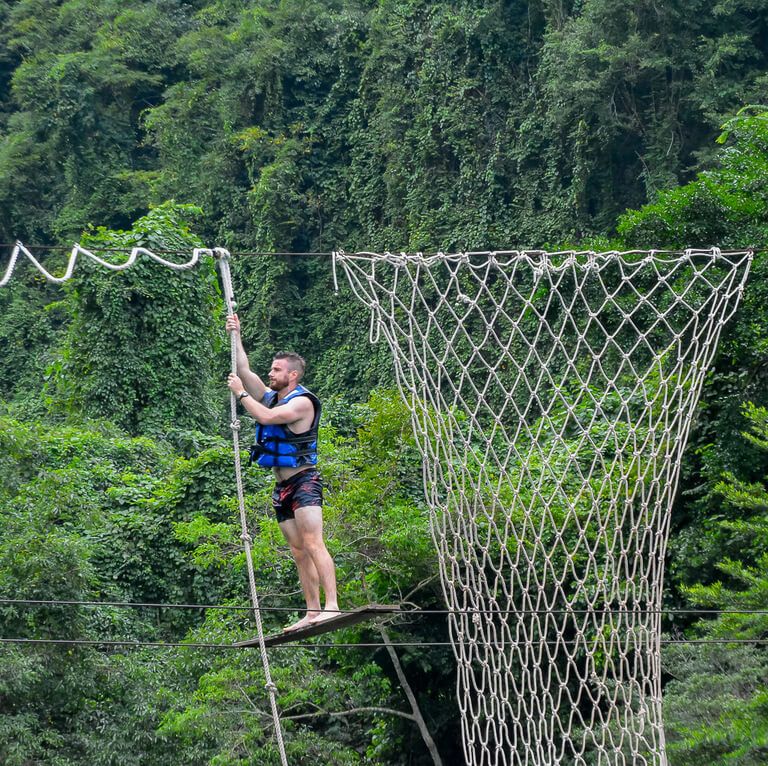 Swinging Like Tarzan
At the far side was a series of individual ropes that we had to 'Tarzan' across to reach the far side. And finally, we had some hard to reach monkey bars to contend with. And that was it. We still had to drop off into the water, but we'd completed the course. Well, Mark had! Kristen needed to work on her inner 'Jane'.
Only a handful a month complete the course apparently, so that's one for Mark's gold star collection then! There's also a see-saw swing we jumped in from and a double zip line so of course we raced each other to the water! What would be the perfect way to end the fun? Alcohol, of course! And they provided us with enough for the whole group to be acting a bit lairy on the way back to town!
Dark Cave Price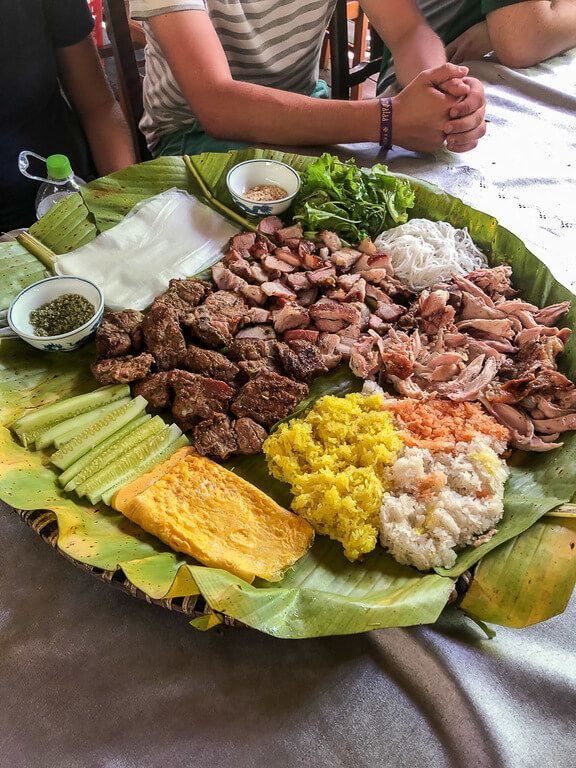 We took the National Park Tour which cost us US$55 each at the time. This price included pick up, 8 ladies cave, Paradise Cave, Dark Cave, lunch, alcohol and drop off at hotel. Yes, that's a bit steep when you consider you're in Vietnam but it was just way more convenient.
We also got to spend the day meeting other travelers and ended up in Andy's nightclub with everyone that night! Plus, we spent the day before at the massively underrated Botanic Gardens and spent less than US$4 total.
If you visit independently you will pay for parking (not much, and don't let them rip you off) and then an entrance fee of 450,000 Dong (US$20).
Reasons Not To Like Dark Cave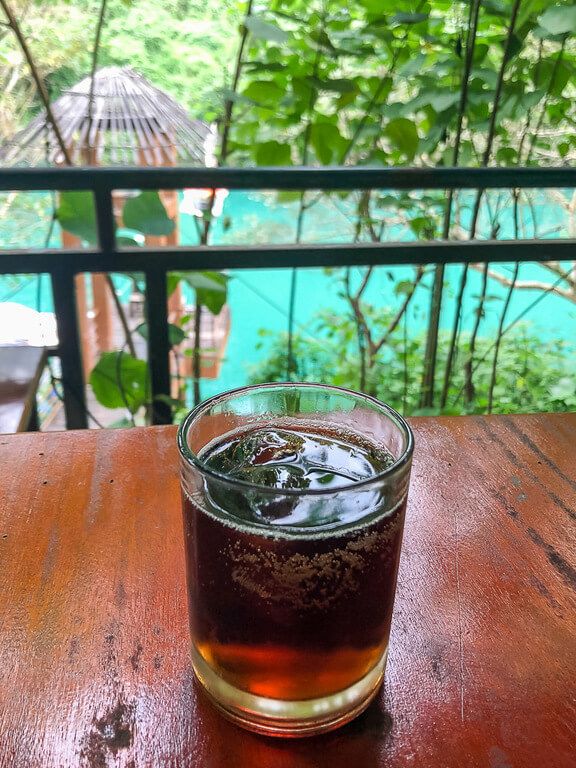 Here are some of the complaints we heard about Phong Nha Dark Cave, with our opinions/remedies included:
"It's not safe, the briefing isn't very good" – We thought it was perfectly safe considering the location. It might not be up to standard if you're from a Western country, but remember you're in Vietnam!
"The staff are miserable" – Some may be, but don't let it affect your day. Just ignore them so you enjoy the zip-line and cave!
"It's too expensive" – Fair comment, it is over priced for Vietnam, but it isn't a patch on the big caves!
"You don't really get to see a cave" – Again, fair enough! You don't get to see much inside the cave, but see it as a 'taster' – if you love being in the cave, consider booking an adventure cave tour with Oxalis.
"It's very touristy" – Yep, it is! But that's the price you pay for convenience and taking the budget option. Like everything else in life, you get what you pay for!
So, What's The Verdict? Hit Or Miss?
HIT – Phong Nha Dark Cave is the perfect option for those on a budget who still want to get a taste for what the famous caves in the region are like. It also works for those who only have one or two days in Phong Nha. Paradise cave gives you an insight to the beauty of the caves in the area, while Dark Cave allows you to experience the adventurous side of the caves. Win-win!
MISS – For anyone who doesn't like the idea of being herded around on a crowded tourist conveyor belt.
ALTERNATIVE – If you can get organized before you arrive, we would recommend you book onto a 1 or 2 day cave tour with Oxalis (the company who run tours into the major caves). For just a little more money at US$78 per person you can go on a 1 day tour to the Tu Lan Cave system. This would be a more authentic cave trek, away from the crowds.
In the future we will return to Phong Nha and hopefully do Son Doong, or a 4 day epic in Tu Lan.
Interactive Map How To Get To Dark Cave
Read More About Vietnam …
Didn't find what you are looking for? Read more of our popular Vietnam travel guides!
---
We hoped this helped you plan your visit to Dark Cave in Phong Nha!
Did you visit Dark Cave? What did you think?
If you need any help planning your trip to Phong Nha or Vietnam, please just let us know in the comments below!
Happy Travels,
Mark and Kristen
Like This Post? Pin It For Later!