The awe inspiring 360 degree panoramic vista at the summit of Mua Cave viewpoint is one of our favorite memories from a month traveling though Vietnam. Mua Cave viewpoint is easy to get to, cheap to enter, a great workout and most importantly offers spectacular scenes worthy of Hollywood.
If you're planning a visit to North or Central Vietnam, be sure to make time for a few days in Ninh Binh province. Have you been to Halong Bay? Imagine those towering limestone karsts, but surrounded by golden rice fields and meandering rivers in place of the Sea.
This guide will walk you through all you need to know for visiting Mua Cave and its ultra scenic viewpoint; including getting there, what to expect, where to stay and our top tips.
*Please note this post may contain affiliate links. If you click on one, we may earn a small commission at no extra cost to you!*
Where Is Mua Cave Viewpoint?
Mua Cave – or Hang Mua – is in Ninh Binh Province, Vietnam. It is just a few miles away from both Tam Coc and Trang An. Zoom in on the interactive map above to look around the area. You can also click the blue arrows for directions from exactly where you are in Vietnam!
How To Get To Mua Cave Viewpoint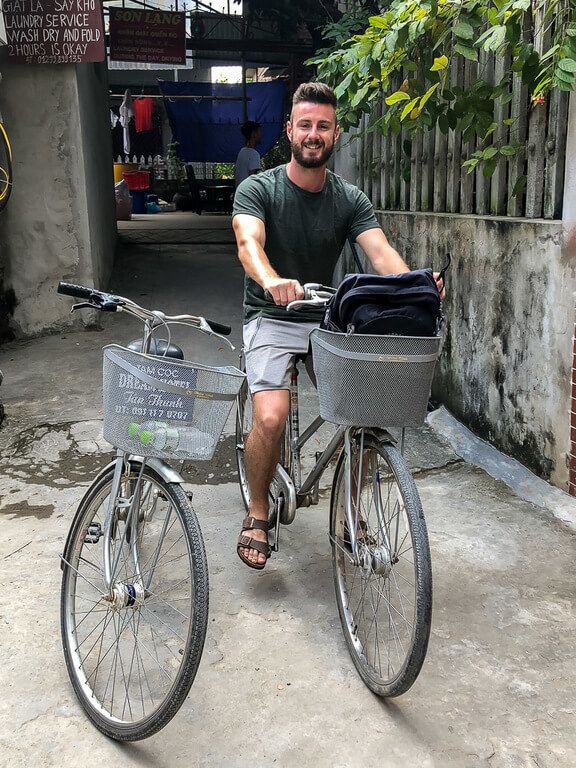 Best Options:
Scooter / Bicycle – The cheapest and easiest way to visit Mua Cave Viewpoint is to hire a motorbike or bicycle and make your own way over. You can pick up a scooter for 100,000 – 150,000 VND (US$ 4-6) per day. Fuel for a full day will set you back no more than US$ 3. Alternatively, you can rent a bicycle for 50,000 VND (US$ 2) for a day.
Usually we would recommend the bicycle because we're madly passionate about exploring actively but on this occasion we would suggest you grab a scooter. Local roads are in fairly good condition and if you want to explore further towards Trang An boat tour, you will need the motor for your 2 wheels. Plus, traffic is quiet so you'll be able to take it easy if you're not a hugely confident driver.
Alternative options:
1 – Grab a local taxi in town (be sure to negotiate a price!)
2 – Ask your hotel owners if they can offer a guided tour (or know someone who can)
3 – Day trip down from Hanoi independently or on a tour.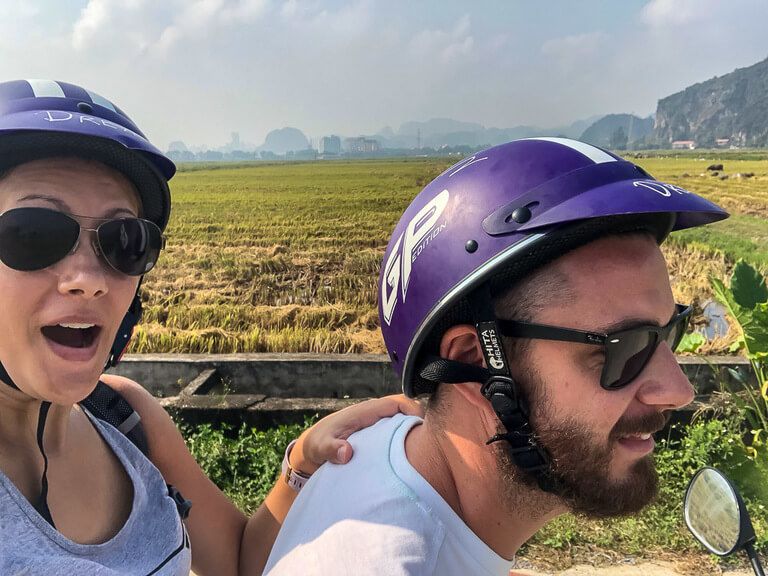 Mua Cave viewpoint is easily easily accessed from Tam Coc, Trang An and Ninh Binh. On the interactive map below we have included directions from Tam Coc as our recommended place to set up base. In addition, we included Ninh Binh train station incase you are independently visiting Mua Cave as part of a day trip from Hanoi.
Don't expect plain sailing all the way though! There's a strong possibility you will be delayed by one thing or another. For us, it was a herd of water buffalo walking down the narrow one lane road causing a backup of traffic!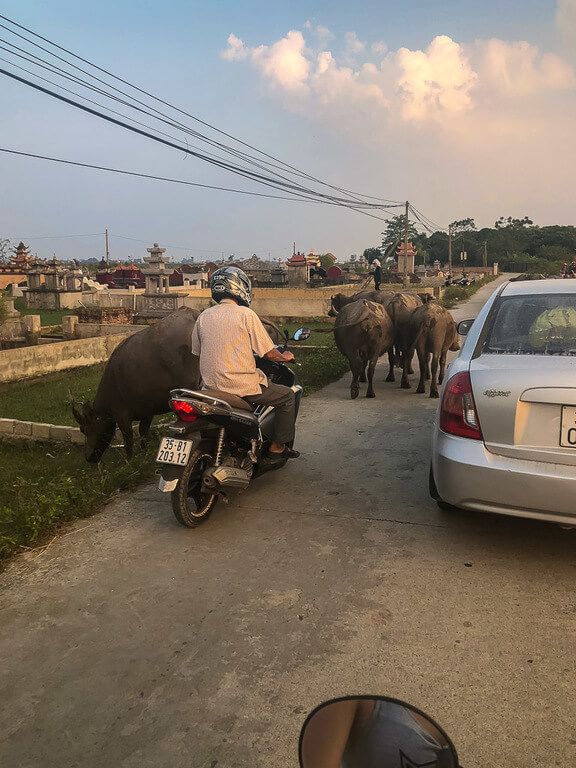 Click on the map below to zoom/move around and get to grips with the route. Save 'Hang Mua Ecolodge' into google maps when you have WiFi before setting off.
As you can see, Mua Cave viewpoint is not far from Tam Coc, which is why that's the place to set up HQ. In fact, it's a mere 3.5km (2.1 miles). If you plan to hire a motorbike at Ninh Binh train station it's still only 6.5km (4 miles).
How To Get To Ninh Binh
Independent Visit
If you are planning to travel down to Ninh Binh from Hanoi – or anywhere else in Vietnam – you will have plenty of options. Ninh Binh is easily accessible by bus and train, especially from Hanoi.
Once you arrive at Ninh Binh train station, hire a motorbike right outside for roughly 150,000 VND (US$ 6) and follow our map to Mua Cave Viewpoint.
How are you traveling through Vietnam? If you are considering the legendary Sleeper Bus, be sure to check out our Vietnam Sleeper Bus: Adventure or Peril? article! You can read about all of our hair raising experiences before you travel!
Best Tours Available to Ninh Binh
Would you would prefer to travel from Hanoi to Ninh Binh (Tam Coc and Trang An) as part of a full day organized tour with transport covering hotel pick up and drop off? They include entrance fees to Mua Cave viewpoint, Hoa Lu ancient capital, Bai Dinh pagoda and Trang An Boat Tour.
Search Get Your Guide for best available Mua Cave Tours
Avoid Scammers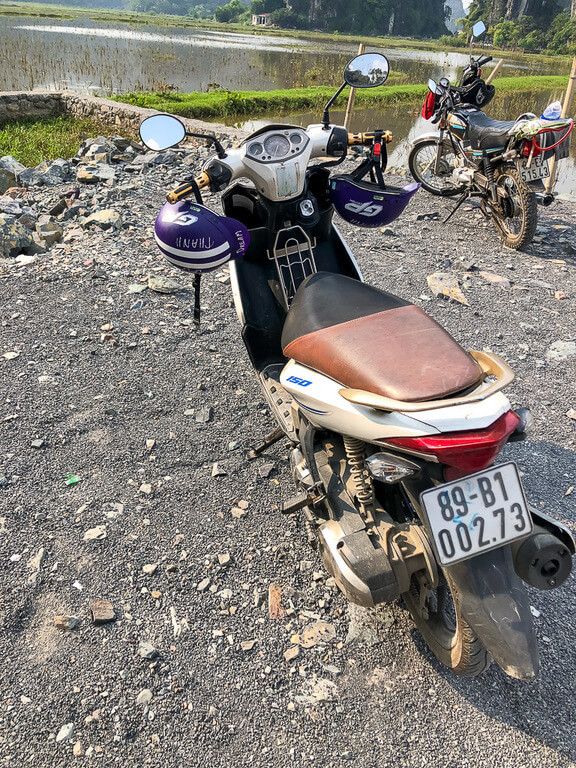 When you travel Vietnam, you are going to be on the receiving end of some attempted scams. It is as inevitable as Neo becoming The One in the Matrix. It's going to happen. Everyone who has traveled Vietnam will have a story to tell about scammers. Unfortunately, as the country grows with tourism, the scams also become a more common occurrence.
It's a sad reality that it's a part of traveling through a country filled with such beauty. One of the common scams is coercing tourists to pay over the odds for parking a bicycle or motorbike.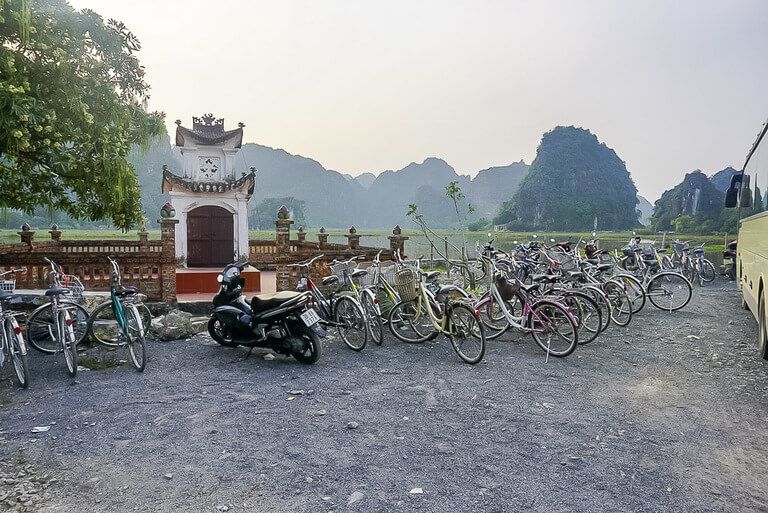 Locals will swarm out onto the road in front of you as you begin your approach up the dusty road towards the entrance. They will demand that you dismount and park immediately for a hefty charge. They might even be dressed in what looks like police uniforms.
IGNORE THEM ALL!
That's easier said than done when they grab a hold of your motorbike.
They might even stand in front as you try to drive on ahead.
What you need to do is stay firm and do NOT get off. Continue driving until you reach the end of the road, which luckily is the entrance to the trail. You can park your motorbike and bicycle for FREE inside the Hang Mua Ecolodge hotel at the entrance. We parked our motorbike outside the entrance to the right next to the water.
Many people suggest staying at 'Mua Cave Ecolodge' which is right on site at the entrance to the Mua Cave viewpoint trail.
Pro's: You can access the viewpoint trail any time, plus you could beat the crowds in the morning for sunrise and stay out later after sunset. In addition, you wouldn't have to pay entrance fee of 100,000 VND (US$ 4). A lot of perks.
Cons: The major problem is getting by the scammers every time you arrive back. And it's expensive. There are better and cheaper options close by to Mua Cave Viewpoint. Take a look at the booking.com map below for options to stay close to Mua Cave.
Area Between Entrance And Cave
Once you enter the site, there's a strange but fascinating mixture of things to see before you reach Mua Cave and the steps up to its viewpoint. Remember that dirty dusty road full of makeshift buildings you just drove up? Swap that for immaculately clean, curated and attractive water features with bamboo houses and horse statues. You will cross a gorgeous bridge surrounded by trees and overhanging branches with swings hanging off them, overlooking an emerald green lake.
The area is lovely and neatly finished but it just felt so utterly out of place in Vietnam, especially somewhere this rural. The contrast between artificial and real on either side of the entrance arch was a double take.
Mua Cave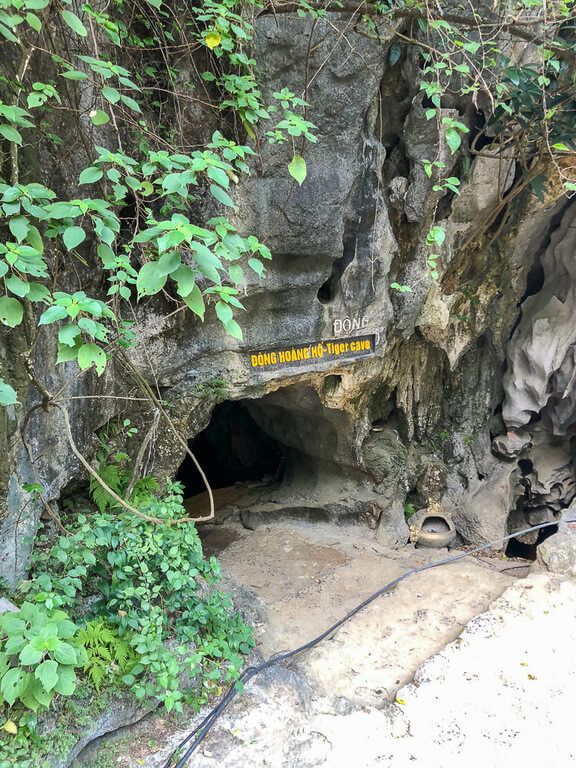 It's ironic that the whole place is called Mua Cave and not Mua Viewpoint because the cave itself isn't even worth discussing. It feels like an injustice to both caves and this unique viewpoint! Mua Cave was flooded when we visited but there's a second even smaller cave called Tiger Cave and the entrance was pretty tight! Are you looking for real caves? Head down to the adventure capital of Vietnam: Phong Nha.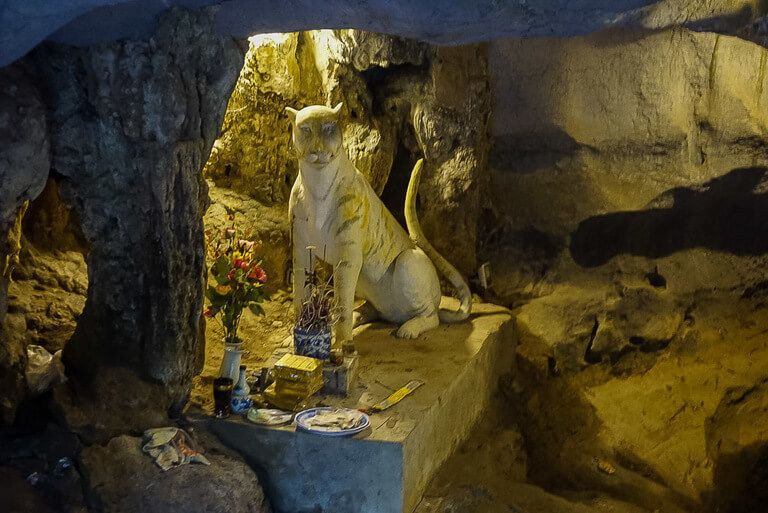 Inside, the cave isn't impressive, containing just a few paths that lead to a small body of water. You'll also find a rough and ready restaurant with vending machines. But we would recommend you bring your own snacks and water! In fact, we would recommend you skip the caves entirely and just head straight for the steps.
500 Steps: Worth the Reward
Yes, there are 500 stairs to walk up. We know that sounds a little daunting, but once you see the ancient and mysterious looking stone staircase, you will be distracted by its beauty. The staircase was built with the Great Wall of China as a reference, no less. That should help you get up at least a few. It won't be long until the views begin to wow you. Before you know it, the scenery becomes so unbelievable, you'll forget how exhausted you are!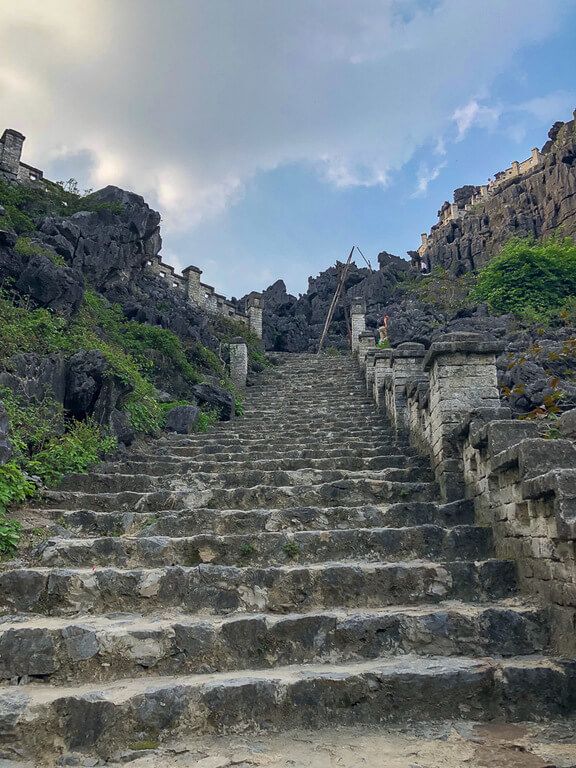 The very bottom section of the staircase is adorned with a colorful stone dragon snaking its way down as a beautifully designed hand rail. The dragons head marks the beginning of your climb, and there's another at the top to mark the summit. In Vietnamese Culture, the dragon brings rain which is important for agriculture in the region.
Looking up at the steep stone steps gives you the feeling that you must have been transported to Middle Earth, following Gollum up the staircase to Mordor. There are no orcs here though … only tourists!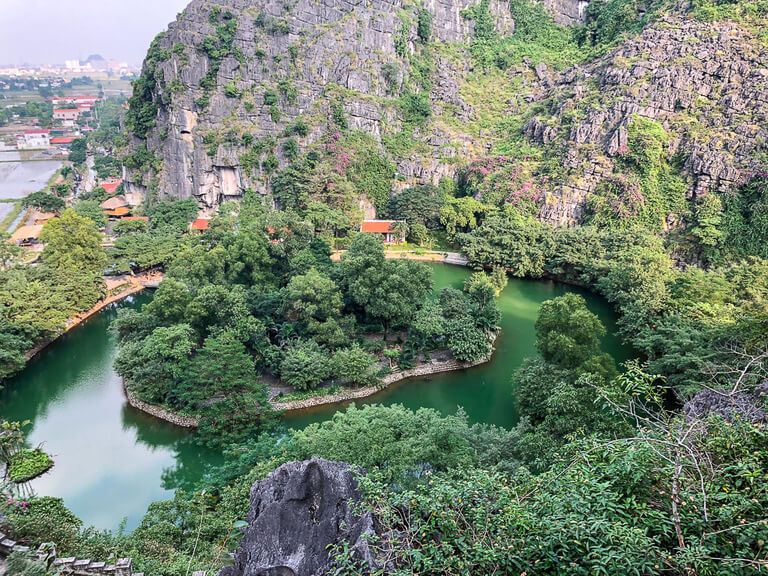 In all seriousness, the climb is tiring for any fitness level. Just be careful you don't overdo it, take as many breaks as you need and remember it's only 500 steps. There will be others who are enduring the sweat inducing humidity to share the ordeal with! It's all worth it for the viewpoints.
Amazing Vista – Mua Cave Viewpoint 1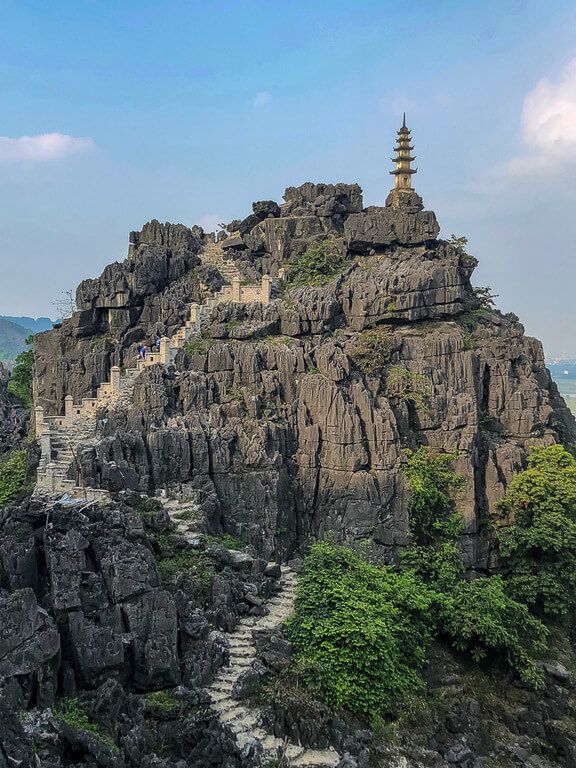 Around 15 minutes into your climb, you will reach a fork in the path. Take the right first if you wish to summit both peaks individually, saving the more epic views for the second peak. The path on the right will lead you to more steps and eventually a tall stone pagoda perched atop a narrow pyramid like peak.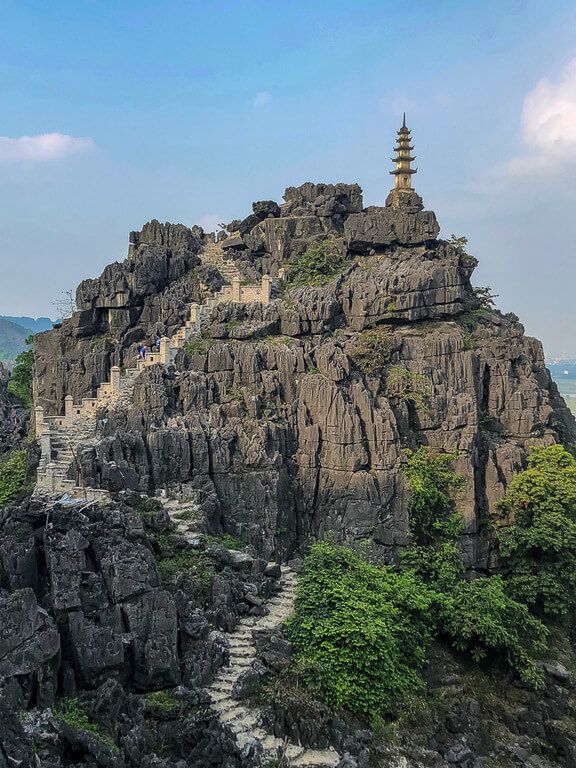 This is the best place to see Ninh Binh city behind you. Plus, you will be rewarded with views over endless flat rice fields with sporadic limestone karsts towering out of the ground, like gigantic shark fins piercing out of perfectly still water.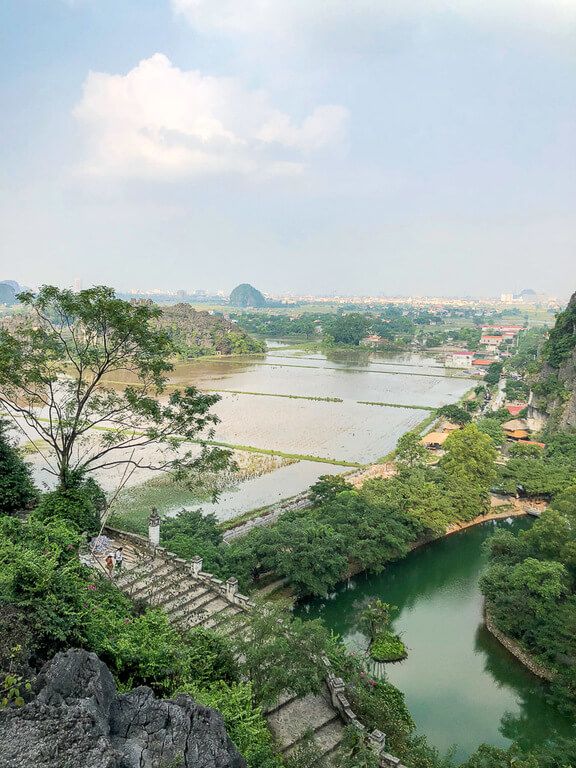 You will see it's much quieter up on this summit than the next. Therefore it's a good opportunity to get the photos you want without having to queue for camera space.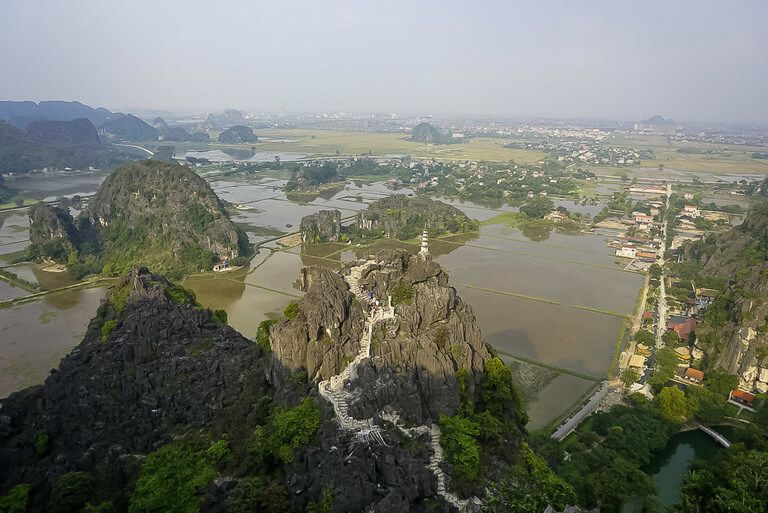 The views at this point are fantastic! It's definitely more than worth the effort to get here. However, continue on and take the left path next. Here you will be blown away by one of the best vistas in all of Vietnam.
Even Better Vista – Mua Cave Viewpoint 2
Not long after taking the left path, you will come across the first viewpoint facing towards the Ngo Dong River. And what a sight it is! Once you've taken in the incredible scene for the first time, collect yourself and look around. If there's no one else at the same viewpoint, now is the time to snap some serious photos while you have chance!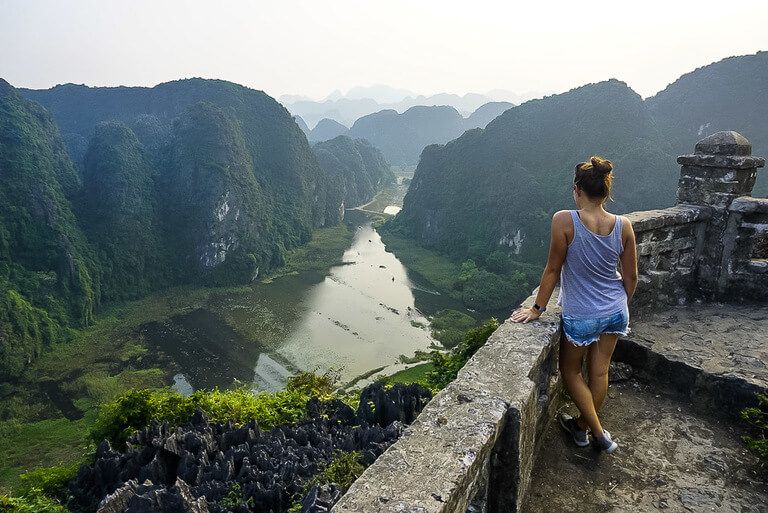 Flanked on either side by rice paddies and locals wading out to tend to their crops, the Ngo Dong River carves its way through towering limestone mountains. The very first time we saw the money shot is forever marked as one of our favorite memories from Vietnam. This is the reason we love to travel so much; breathtaking moments which make all the scams and hard times worth it on the road.
Continue to make your way up the remainder of the stone stairs towards the top. Stop off any time you get chance to snap a quick photo with that unbelievable view behind you. You might need to fix your hair a bit, or wait until your t-shirt has dried a bit!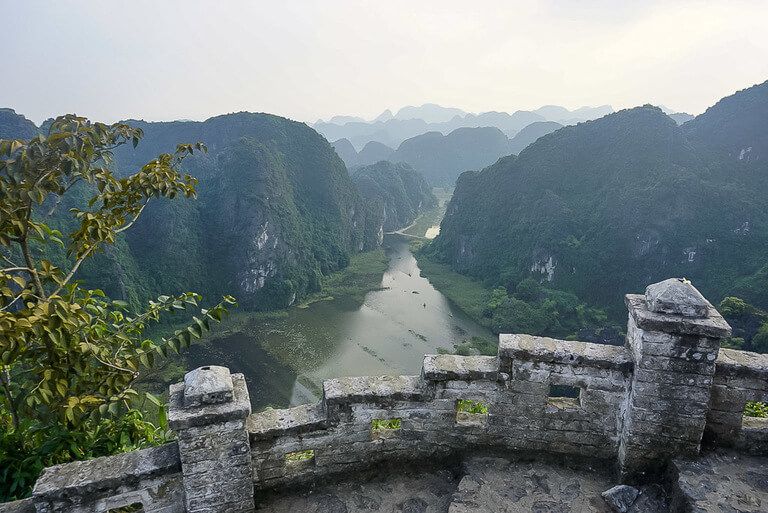 Once you arrive to the summit, you will be welcomed by a statue of Quan Am – the Goddess of Mercy. The Goddess overlooks the rice fields and represents prosperity in the region. The statue is covered by a typical Asian tiled roof atop 4 stone pillars.
Panoramic Vista
The higher you get, the more impressive the vista becomes. By the time you reach the Goddess of Mercy at the summit, you will have unobstructed 360 degree panoramic views of Tam Coc, Ngo Dong River and a huge amount of Ninh Binh province! Look for boats slowly gliding along the river, steered by men and women who use their feet to control the oars.
That's just one section of the Tam Coc boat ride. However, we recommend taking the Trang An boat ride instead. We heard some horror stories about the Tam Coc boat ride, like the drivers refusing to carry on unless they receive a big tip. It's a shame because word has spread and fewer people take the Tam Coc river journey. But that's how Vietnam is changing in a negative way. Anyway, it's a better view from the summit of Mua Cave viewpoint!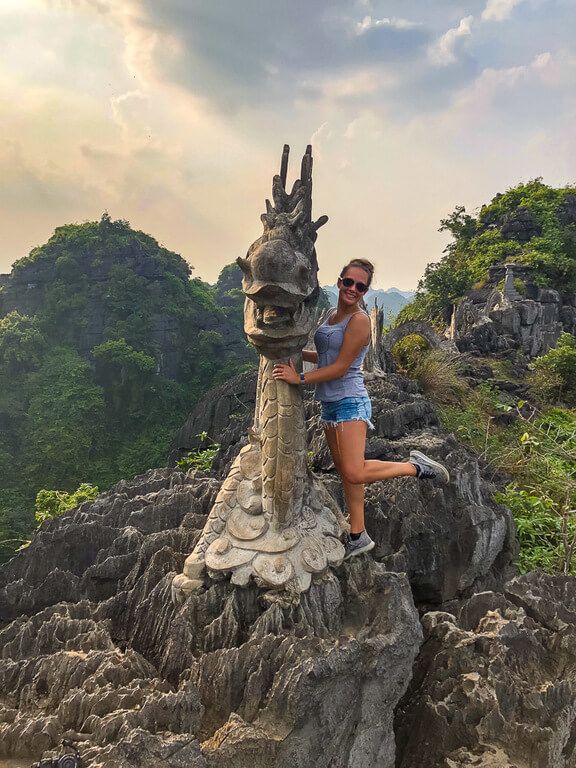 Look past Quan Am and you will finally spot the piece de resistance at Mua Cave viewpoint. A wonderfully designed stone dragon with a long slinking tail that meanders like a curving river. The Pokemon Gyrados has a doppelgänger! The mountain is called Nui Ngoa Long which translates to Lying Dragon Mountain – and once you see the statue you understand why.
The dragon statue will be packed if you arrive anytime after 9am. Your best bet is to arrive for the tranquility of sunrise. Sunrise is a massively underrated time of day that people just seem to forget about! Or maybe it's the whole getting out of bed thing…?!
We summited Mua Cave viewpoint around 4pm and it was very busy. Fortunately, a wave of people left all at once and we were able to quickly – but very carefully – navigate our way up the sharp jagged rocks to get our photos with the dragon. Use extreme caution when climbing over the rocks.
Headed to Vietnam? Be sure to read our top 30 key things to know about Vietnam before you visit.
Best Time to Visit Mua Cave Viewpoint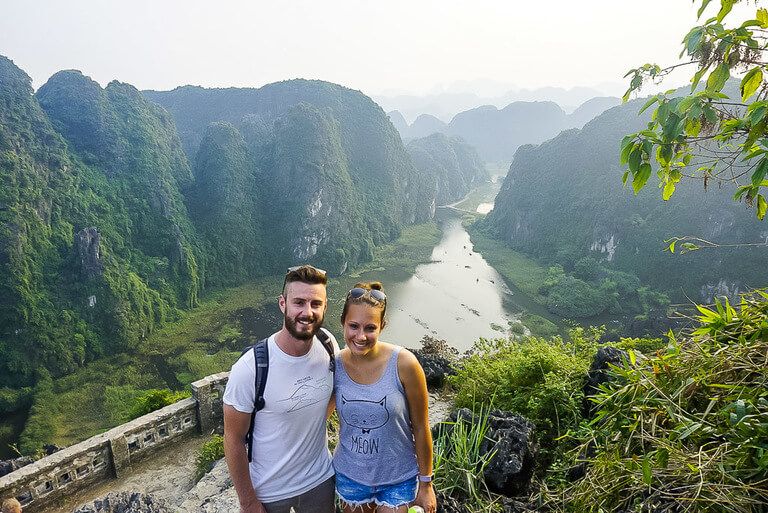 Best Time of Day
Here's the deal: Arrive early or late and avoid the middle of the day if possible. By arriving early, you beat the tour bus crowds and intolerable heat. It will be much quieter and cooler around sunrise. Although we expected it to be busy for sunset, we couldn't believe how busy it actually got.
Arrive late if you don't mind crowds because the sun sets over the mountains directly in line down the river to the West. You can see on our photos that it was quite a hazy day when we visited. The sun was dim and deeply hued in the haze.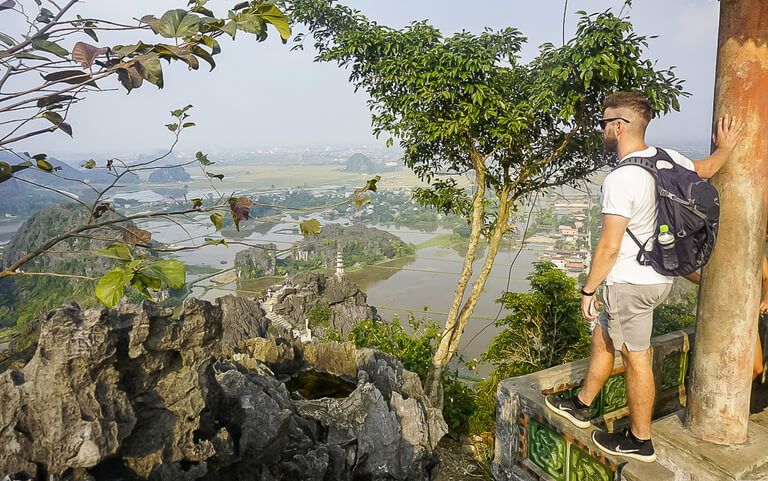 We began our climb at around 3pm so we could catch the beginning of sunset. We realized it was too early to climb 500 steps in Vietnam's unforgiving humidity. We're pretty fit and hike a lot, but we were no match for nature. And damn, did she turn the heat up on us! Everyone else we passed on the way up was soaking wet. If you're planning a photo shoot at the top, take a change of clothes!! And a towel!
Best Time of Year
The best time of year to visit depends on what you want to see and how it fits in with the rest of your schedule. Vietnam has an interesting and often baffling climate. There are 7 different climatic regions in Vietnam. Therefore, if you plan to visit Sapa, Ninh Binh, Phong Nha, Ho Chi Minh, etc on your trip, it's almost impossible to plan by weather.
May is the best time to visit if you are planning your trip solely around Ninh Binh. But anywhere between April – June will still be perfect to see the famous golden rice paddies surrounding the river. In addition, the sky will typically be clear and blue, creating a perfect contrast against the stunning mountain formation.
Don't Miss: When planning your visit Ninh Binh be sure to check out our complete guides to the Stunning Bich Dong Pagoda (Plus Bonus Area!) and Serene Trang An Boat Tour!
Where To Stay in Ninh Binh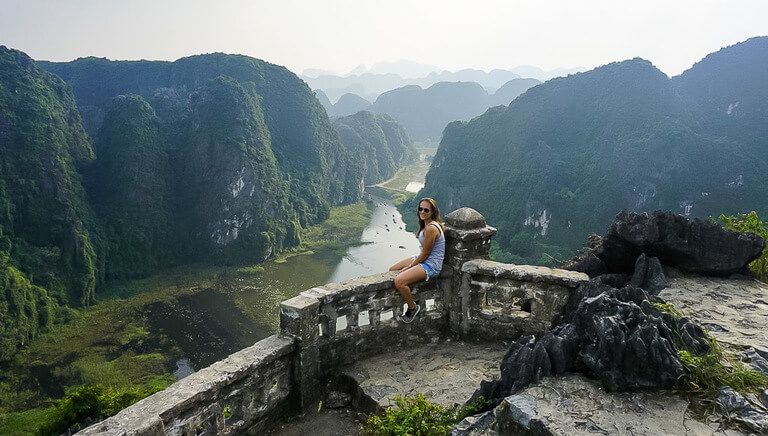 If you have a few days to spend in Ninh Binh, stay in Tam Coc. Forget the big industrial city Ninh Binh because you will be massively underwhelmed. Tam Coc is a gorgeous rural town perfectly located among all the best things to do in Ninh Binh.
We always use booking.com to book our accommodation when we travel. Plug your travel dates into the booking.com search engine box below to see all options available for your visit, or take a look at some of our favorites below the search box!
The best thing about staying in Tam Coc is the plethora of places with exceptional ratings above 9.5 / 10! We've scoured the area for amazing properties across budget, mid-range and luxury options and listed them for you to check out.
Tam Coc Sunrise Homestay
Located downtown close to restaurants and Tam Coc boat tour pier, this budget hotel has a swimming pool, breakfast included and an exceptional 9.6 on booking.com. There are a ton of amazing cheap budget hotels in Tam Coc. Be sure to check this one out as you search for your perfect hotel.
Tam Coc Wonderland Bungalow
Views over rice paddies to the front and limestone karsts directly behind from the swimming pool at Tam Coc Wonderland Bungalow make it worth staying alone! It is located perfectly just a few minutes walk out of Tam Coc town. Meaning you get a rural setting with amenities close by. Each bungalow faces in towards a brick courtyard and the pool as its center piece.
Tam Coc Garden Resort
Perfectly located for a luxurious and peaceful stay in Ninh Binh, close to Bich Dong Pagoda and Tam Coc. Tam Coc Garden Resort was voted 2019 travelers choice on TripAdvisor and has a 9.4 on booking.com. The hotel is surrounded by paddy fields and looks wonderfully serene.
Where Did We Stay?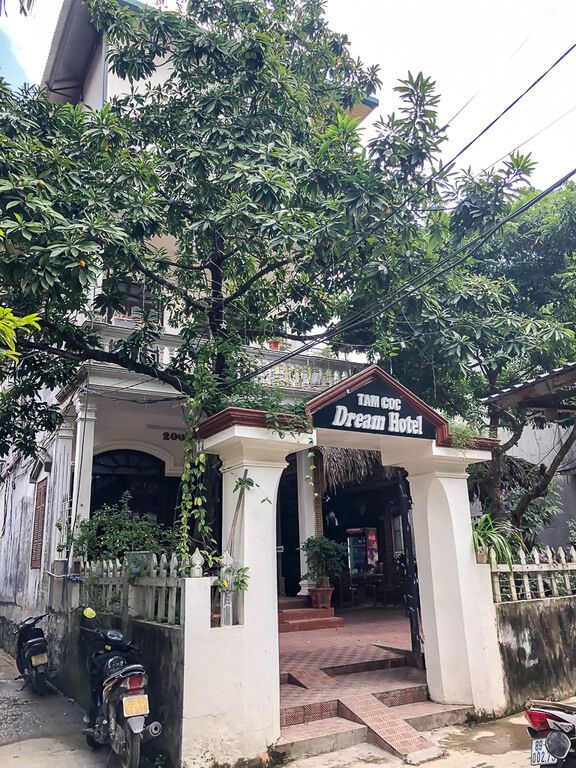 Dream Hotel is centrally located in Tam Coc just a few minutes walk from the best restaurants in town. The owners were lovely and the hotel came with a buffet breakfast each morning. We hired bicycles and a motorbike directly at the hotel for a better price than it cost in town, which was a nice touch. There are excellent views from the upper balcony over some of the nearby limestone karsts. We paid $US 10 per night when we stayed which was perfect for our budget at the time!
Book your stay at Tam Coc Dream Hotel now on booking.com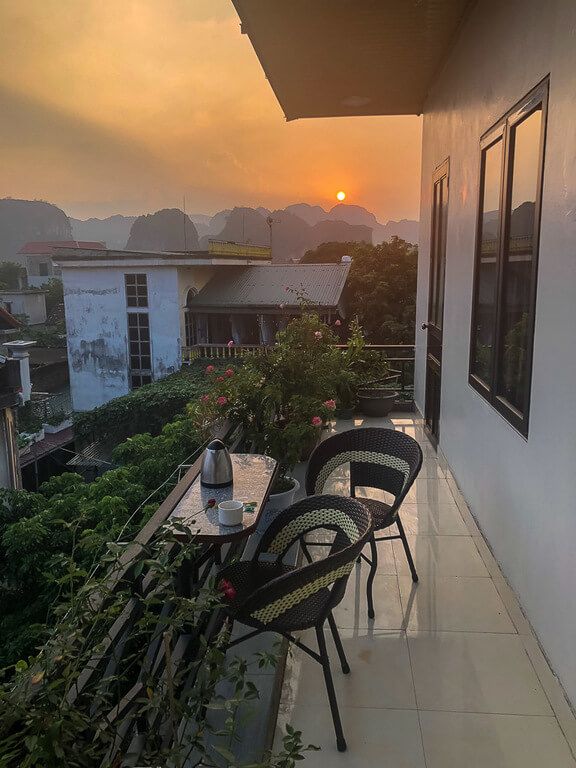 Tips For Your Visit
Mua Cave Viewpoint trail is open from 6am – 7pm. If you arrive earlier, there might be a guard on duty who will let you in. If your later than 7pm, no one will come up to check for stragglers but you don't want to get locked in either!
Entrance is 100,000 VND ($US 4.50) – an absolute steal if you consider how much you pay for other tourist attractions around the world.
As we mentioned earlier, don't let locals scam you into parking on the entrance road, continue to the end and park for free in the Ecolodge Hotel. If you do park along the road, negotiate!
If you can, arrive at sunrise. You will have the best experience and in hindsight, that's what we would have done if we had this information available!
Sunset will be extremely busy, it's by far the most popular time of day at the summit. If you're not a fan of being packed in like a sardine, move down a few steps until it clears, you will still have the same view.
If it's a foggy / misty / rainy day, avoid visiting Mua Cave viewpoint. It will be a lesser experience. If you have enough flexibility, wait for a clear day.
Wear sturdy footwear. Sounds obvious but you'll need something robust on your feet to get a photo with the dragon at the summit. Flip flops are not sensible!
Take as much water as you can comfortably fit into your day pack. You will need it! And be careful with exhaustion in the humidity. Even if you're fit, you will still feel it.
If you have a drone, get up there early to get the best photos before the tourist bus loads arrive around 9-10am. Unfortunately, we didn't have our drone yet!
Read More About Vietnam …
Didn't find what you were looking for? Be sure to check out all of our popular Vietnam travel guides!
---
We hope our post helps you plan your trip to Mua Cave Viewpoint in Ninh Binh, Vietnam!
Were the views as good as you imagined? What time of day did you visit?
If there's anything else you need help with regarding your visit to Mua Cave or Vietnam in general, please just ask us in the comments below!
Happy Travels,
Mark and Kristen
Like This Post? Pin It For Later!