Hoi An is one of Vietnam's most enchanting cities. Holiday makers from all over the world flock to Vietnam to soak up Hoi An's charming mustard yellow ancient town each year. But despite its obvious popularity, getting to Hoi An will require organizing a form of transportation from much larger Da Nang.
Why? Because Hoi An does not have an airport or a train station. Nearby Da Nang played a significant role in Vietnam's history as a major French colonial port and the city has grown into a busy tourist destination. Vietnam's third largest city contains both an international airport and a train station on the main line between Ho Chi Minh City and Hanoi.
This transport guide details the best travel options between Da Nang and Hoi An for holiday makers and backpackers traversing the country. Plus we will look at how to get to Da Nang, and how you can brave sleeper buses directly traveling into Hoi An.
*Please note this post may contain affiliate links. If you click on one, we may earn a small commission at no extra cost to you!*
Where is Hoi An?
Vietnam is a long and narrow country, shaped like an S. As you can see on the interactive map above, Hoi An is almost exactly in the middle of Vietnam. To its left is the border with Laos, around 150km away. To its immediate right is the South China Sea. But most importantly for tourists, Da Nang is located just a short distance away to the North.
How Far is Da Nang from Hoi An?
With a journey time of just 50 minutes, Da Nang to Hoi An is a relatively easy route by Vietnam's standards. Driving alongside the coast is lovely and you will be pleasantly surprised by Da Nang's architecture, but the road can be busy and there are a lot of traffic light stops along the way.
Da Nang Airport to Hoi An Ancient Town – 29.5km (18.3 miles). Drive time 49 minutes.
Da Nang Railway Station to Hoi An Ancient Town – 29.8km (18.5 miles). Drive time 50 minutes.
How to get to Da Nang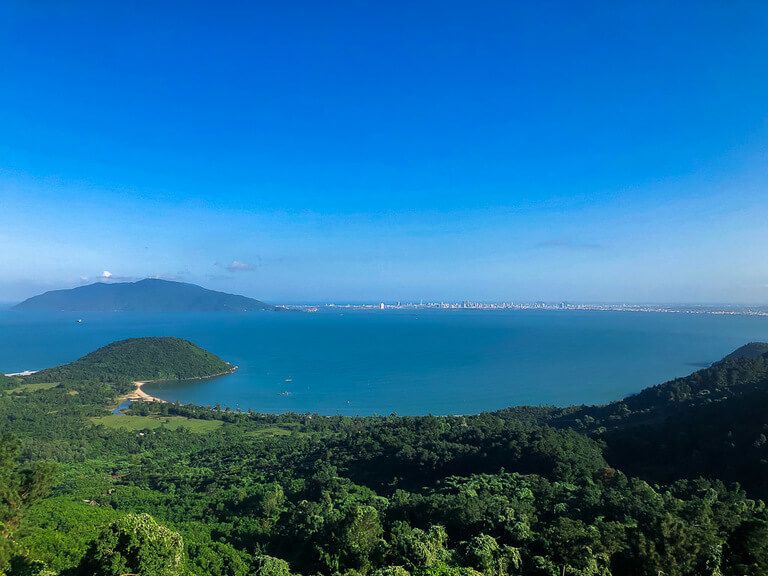 Fly to Da Nang
Traveling from afar to Da Nang International Airport (DAD) will require a change in either Hanoi Noi Bai (HAN) or Ho Chi Minh City Tan Son Nhat airport (SGN). However, if you're flying in from another Asian country, check first to see if there are direct flights available. New routes are being added each year. Keep in mind that it could be cheaper to change in either Hanoi or Ho Chi Minh.
Check prices using Skyscanner for best user interface and value. Flying internally in Vietnam typically is incredibly cheap, even for backpackers on a tight budget.
Flights Hanoi to Da Nang – 1h 20m. Over 20 flights per day with Vietjet, Vietnam Airlines, Bamboo Airways
Flights Ho Chi Minh City to Da Nang – 1h 20 m. Over 20 flights per day with JetStar, Vietjet, Vietnam Airlines, Bamboo Airways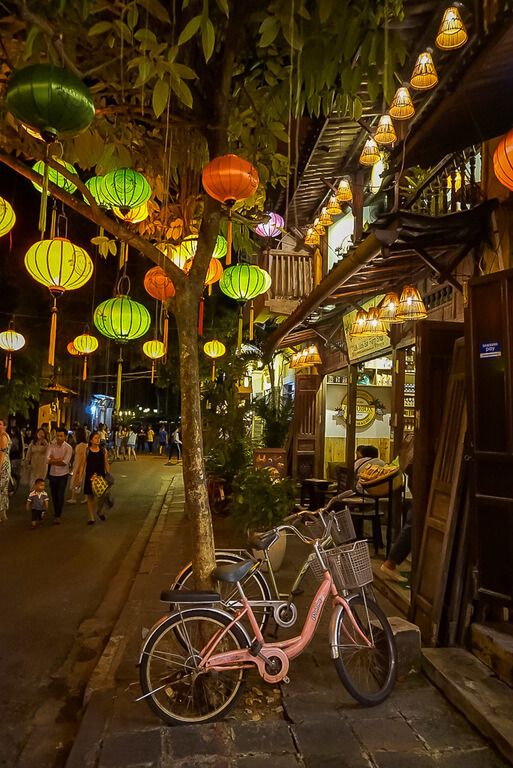 Train to Da Nang
Traveling by train in Vietnam is a wonderful way to see its beautiful countryside areas that you otherwise wouldn't be able to, by plane for example. With a little extra outlay, you can book a whole first class sleeper cabin, or simply keep it cheap by booking a second class seat.
Journey times can be long, which would put some people off, but excite others. Vietnam's train network runs from North to South encompassing the whole country, but there can be fairly large distances between each major station.
To ensure you get the best prices for train travel in Vietnam, be sure to look at more than one resource and compare costs for your upcoming trip. We recommend comparing prices on 12Go Asia and Baolau.
Train Hanoi to Da Nang – approximately 16 hours depending on train type. Roughly 10 trains per day. Cost US$35-80 depending on seat/cabin and train type.
Train Ho Chi Minh City to Da Nang – approximately 18 hours depending on train type. Only 5 trains per day. Cost US$43-66 depending on seat/cabin and train type.
Don't miss! Before you travel to the gorgeous ancient town of Hoi An, be sure to read our article The 13 Best Things to do in Hoi An including one secret, plus the 3 best day trips and where to stay!
Da Nang Airport/Train Station to Hoi An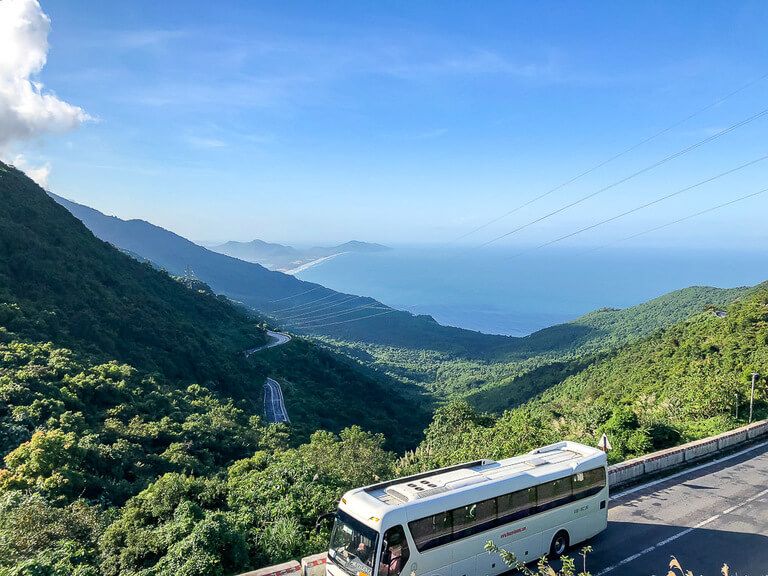 Da Nang is ideally located for easy access to Hoi An. Trust us, there are MUCH worse journeys in Vietnam! Traffic is usually a little crazy, with motorbikes relentlessly honking their horns and writing the alphabet with their directions. If Da Nang is your first stop in Vietnam, it's probably not the best idea to try a motorbike just yet.
Let's run through the list of your best transport options from Da Nang airport and Da Nang train station to Hoi An.
1. Private Car Da Nang to Hoi An
Private car is the most comfortable way to travel between Da Nang airport / train station and Hoi An. From the airport you have an awesome option with Klook who offer a private car transfer for a group of up to 3 people for only US$12. That's seriously cheap and by far the best option for comfort from Da Nang airport. Unfortunately, the same offer does not apply to a train station pickup.
Alternatively, you can communicate with your hotel in Hoi An to arrange a private car pickup service. A hotel provided private car should cost somewhere in the region of US$20 per vehicle and serves both the airport and train station. This is the best option for comfort travel from Da Nang train station.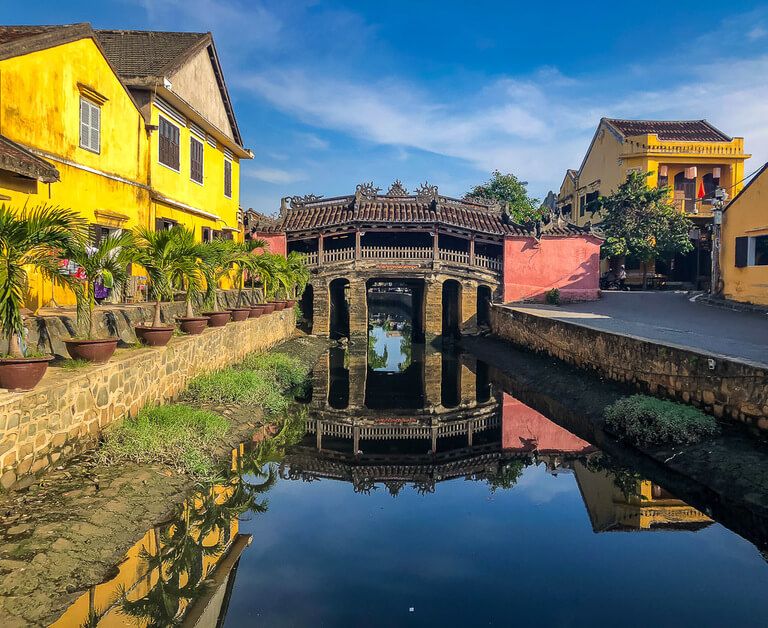 2. Da Nang Airport Express Shuttle to Hoi An
Another option but only for the airport (sorry train station!) is to pre-book the Hoi An Express airport shuttle with Get Your Guide for US$6 per person. This shared mini-van is more cost effective for a solo traveler, but the same price for a couple as the private car deal above.
Every hour between 5am and 11pm an air conditioned mini-van picks up at Da Nang airport and drops off at any hotel in Hoi An. All you have to do once you've booked is lookout for your name on a board in Arrivals. Reviews are excellent and the price is awesome! Journey time is around 60 minutes, depending on other drop off points.
3. Taxi Da Nang to Hoi An
Taking a taxi was once the only way to get from an airport or train station into town. But now, thanks to tour operators and modern services like Uber and Grab, taking a taxi seems a little outdated. Especially in Vietnam and on this particular route where there have been complaints of tourists being scammed.
But there are taxi firms who are known to be above board, such as Vinasun and Mai Linh taxis. You will need to have your Hoi An hotel address written in English and Vietnamese ideally, plus have google maps open with the route and destination.
If you flag a local taxi down at the airport prepare to spend US$20 and make sure they put the meter on. The benefit to a taxi is no arrangements are required, you can be completely flexible and not worry about flight delays.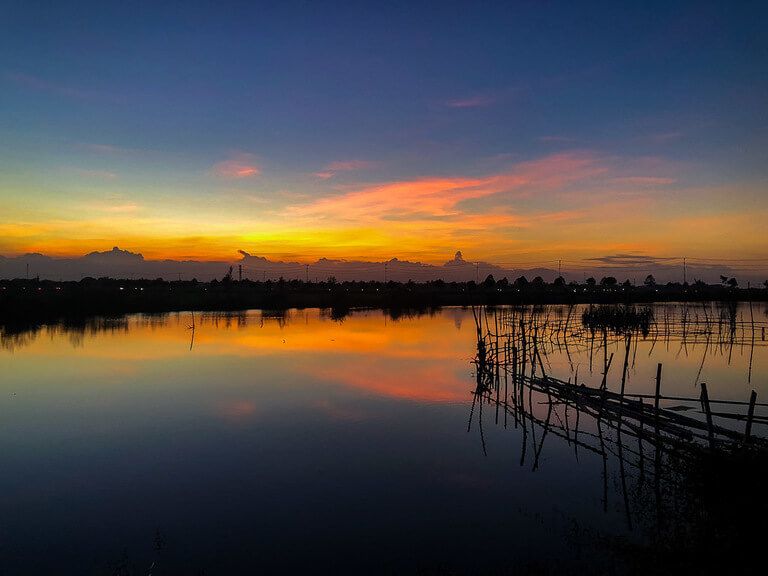 4. Public Bus Da Nang to Hoi An
For backpackers and those on a tight budget, you can leave the train station and hop on a local yellow bus that runs between Da Nang city and Hoi An every 20 minutes between 5.30am and 6pm.
The yellow bus departs Da Nang just one block away from Da Nang railway station at 162 Ong Ich Khiem. Which means if you arrive by plane, you will need to get a taxi 3km to the bus station – which in reality is far too much effort and not cost effective.
The best part for backpackers is that it costs US$ 1 per person, but double that if you have luggage bigger than a small backpack, which will need a seat of its own. While the price is unbeatable, remember its the most uncomfortable and longest journey of all options at 1h 30m.
5. Grab / Uber Da Nang to Hoi An
Grab is a Singaporean Uber-style taxi service, operational in the Da Nang / Hoi An area and is more readily available than Uber. All you need to do is use the WiFi at Da Nang airport to download the Grab smartphone app and use it in the exact same way you would Uber. Prices are pre-set so there's no room for 'misunderstanding'.
Are you a solo traveler with one backpack? You can search for available GrabBike's at the airport. You'll hop on the back of a motorbike and your driver will get you to your Hoi An hotel in around 1 hour, but it will only cost you around US$5.
For any couples or groups, you can search for 4 or 7 seater GrabCar's, plus shared GrabCar's, just like Uber. Pre-set prices mean you definitely won't be ripped off.
Remember that prices with these companies fluctuate according to how busy they are, so you could 'grab' a bargain or spend more than a private car transfer.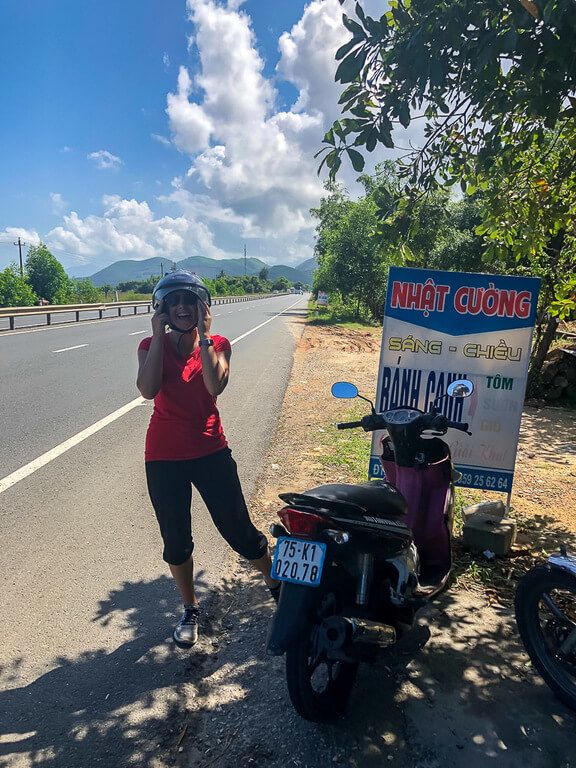 6. Motorbike Da Nang to Hoi An
Here's one for the most adventurous of travelers! Hire a motorbike and make the journey yourself. Sounds good, how do I do that? Well, if you arrive into Da Nang airport, you will need to get a taxi to the city. Arriving into the train station would be much easier as you are already in town.
Do your own research into motorbike hire places in Da Nang, but the motorbike station has a 5* rating on google after 500 reviews. And to make things even more convenient, it's a 1 minute walk from Da Nang train station.
The benefits to hiring a motorbike include complete flexibility and independence. Plus, you can take all the best day trips close to Hoi An and Da Nang without requiring a tour.
A motorbike will set you back around US$6-7 per day but you will need to provide and leave some form of ID as collateral. Copies of passports sometimes suffice but not always. Be very diligent when hiring motorbikes, check everything to make sure it all works firstly for you safety and secondly for avoiding being ripped off at the end.
Sleeper Bus to Hoi An
The only way to bypass Da Nang is to book the notorious Vietnam sleeper bus. This will be of particular interest to backpackers! Personally, we traveled by sleeper bus on 5 occasions in Vietnam.
No matter your opinion of sleeper buses, you can't argue with value and convenience. They are by far the cheapest way to reach Hoi An, not just from Hanoi and Ho Chi Minh but even directly from places like Phong Nha. Plus, you won't have to transfer to another bus or train. You get on, fall asleep and wake up in Hoi An.
As we mentioned earlier, always check multiple sources for best value when traveling Vietnam. For sleeper buses, we recommend you again check 12Go Asia and Baolau to compare costs. Alternatively, you can book sleeper buses as and when you want to travel in Vietnam, but we would recommend you book online as the quality of bus and service is much higher.
Sleeper Bus Hanoi to Hoi An – Approximately 17 hours journey time at a cost of around US$15.
Sleeper Bus Ho Chi Minh to Hoi An – The Sinh Tourist bus will change in Nha Trang and total travel time is 22h. Cost is around US$23 total.
Sleeper Bus Phong Nha to Hoi An – Travel time is around 7 to 8 hours at a cost of roughly US$10.
We recommend you read about our hair raising experiences before booking your own sleeper bus! Check out our Vietnam Sleeper Bus: Adventure or Peril? article!
Hue – Da Nang – Hoi An | Hai Van Pass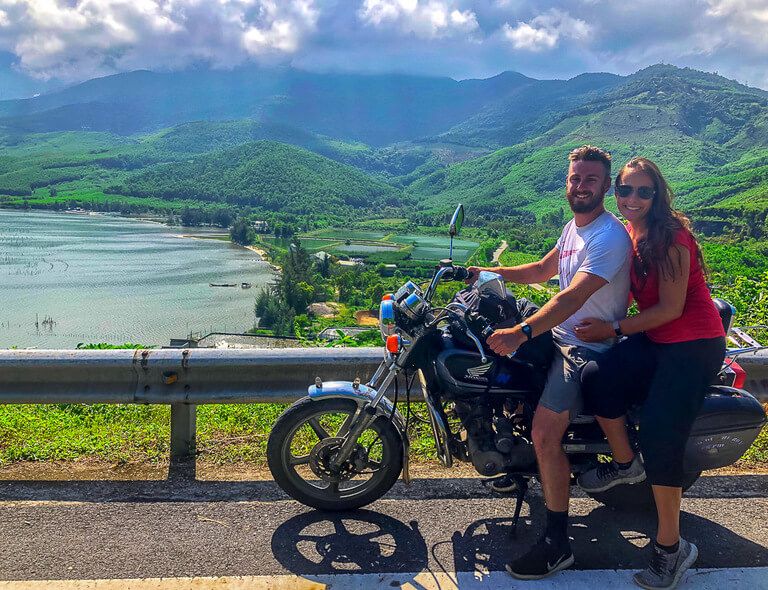 Are you in Hue and trying to work out how to get to Hoi An? Consider hiring a motorbike and driving over the Hai Van Pass. Not feeling too confident about driving in Vietnam? That's fine, you can do it with a guide.
In fact, driving the 130km (81 miles) with a guide allows you to completely relax about directions and all the best stop off points. We booked our Hai Van Pass motorbike tour guide through our hotel in Hue and he was awesome!
Driving a motorbike over the Hai Van Pass was high up on our list of Vietnam bucket list experiences and it did not disappoint. We can't recommend driving over the Hai Van Pass enough. If you have the chance, take it! Alternatively, if you absolutely do not want to drive, you can go on the back of your guides motorbike. Ask your hotel owners in Hue for details.
There are options involving 4 wheels too! You can enjoy a private transfer from Hue to Hoi An with English speaking guide, stopping off at each important site along the way including fishing villages, My Khe Beach, Marble Mountains and of course the Hai Van Pass. Check Get Your Guide for prices.
How much have you budgeted for your Vietnam trip? Take a look at our 1 Month Vietnam Expense Report to get an idea of how much you will spend.
Read More About Vietnam …
---
We hope our transport guide helps you plan your trip to from Da Nang to Hoi An!
Have you been to either Da Nang or Hoi An?
Please let us know if you have any questions or need help planning your trip to Hoi An in the comments below!
Happy Travels,
Mark and Kristen
Like This Post? Pin It For Later!